Tight on money? If you have days (or weeks) left in the month after your paycheck has run out or even if you just want to save money from your salary, this is your guide!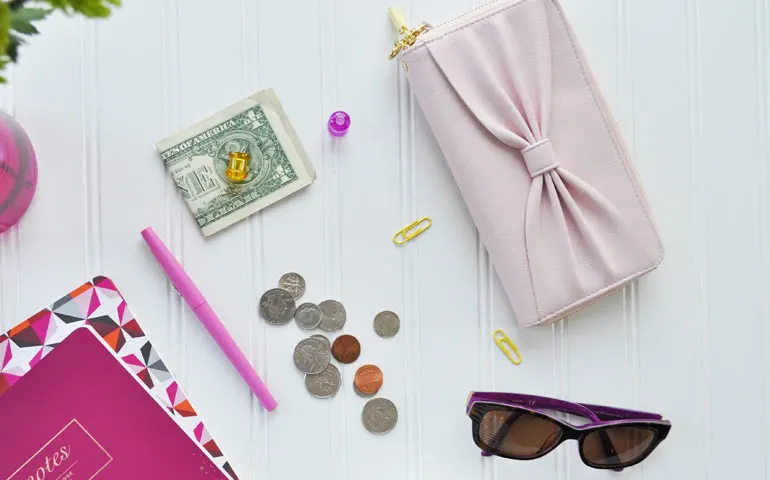 This post may contain affiliate links. For more info, see my disclosures.
Living paycheck-to-paycheck is hard to admit. It sort of feals like defeat, doesn't it? It's really hard to break that cycle, but it is possible!
It's simple in theory – either make more or spend less.
It's not always so simple to actually do that, right?!
Well this article is going to focus on how to save money without increasing your income. Because although that's really nice to just go out and make more, it's not always possible.
So let's dive in.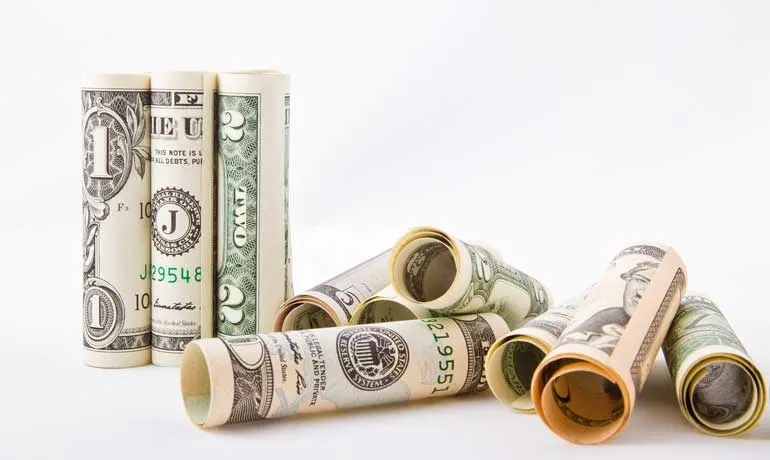 How to save money from your salary
1. Create a budget
I know, I know. It sounds boring. And tedious. But it's seriously the #1 way to save money. Period. If you don't know where your money is going every month, and you want to save money from your salary, creating a budget is the key!
So if you've never created a budget – or if you've tried and not been successful, hop on over to this article to finally create that budget that you deserve:
Budgeting 101: How to Make a Budget in 3 Simple Steps
2. Track your expenses – money in and money out
This is a critical part of budgeting and saving, but so important if you want to save more money. Because if you don't know where your money is going, then you can't change it.
So it's time to start using an app, a spreadsheet or a notebook to track your income and spending. Refer to the best methods of tracking your spending with a budget here.
Often times when you start tracking your spending, you're confronted with your money habits. All of them. The good, the bad and the ugly.
Butttttt that's the only way to change any of those habits and create new ones that will allow you to save!
Are you here because you're stressed, overwhelmed and motivated to change your financial situation? Working with a financial coach can help you crush your money goals fast! Find out more here.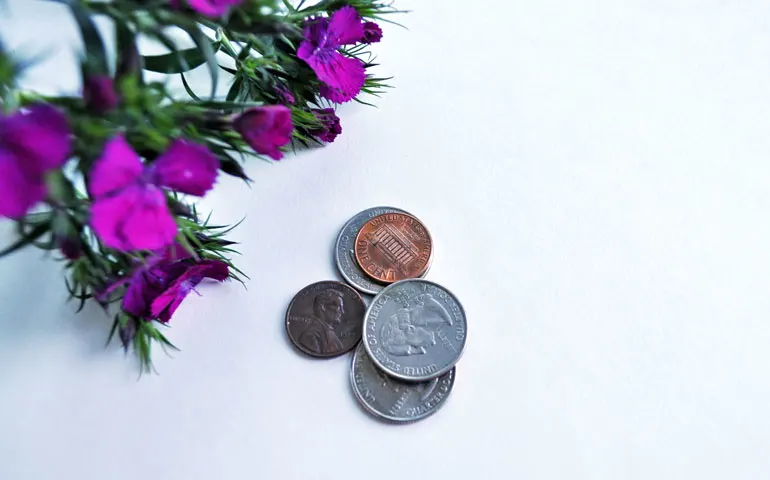 3. Ditch the bad habits
Speaking of habits, let's unfold this a bit. It's so easy to spend simply out of habit and not even realize it. Spending habits are hidden in our everyday life.
Here are a few examples that could be impactful to your finances:
Driving past a certain coffee shop / gas station / bakery on your regular route and making a quick stop
Browsing Etsy, Mercari or Facebook Marketplace 'just in case' there's something you need
Being 'influenced' to buy whatever it is that your favorite influencer is touting as you scroll Instagram
If you start tracking your spending and paying attention to your habits, you'll be able to notice where excess money is going, that could be saved instead! Try changing just 1 daily habit at a time. Get really good at that and then move onto the next.
4. Become a minimalist
When we spend less, we save more. It's that simple!
Adopting a minimalist lifestyle and living more simply usually means reducing your possessions and your desire to own (and buy) less. There's more to minimalism, like living according to your values, and getting rid of the mental and physical clutter to enjoy life.
Here's a great resource for learning more about minimalism.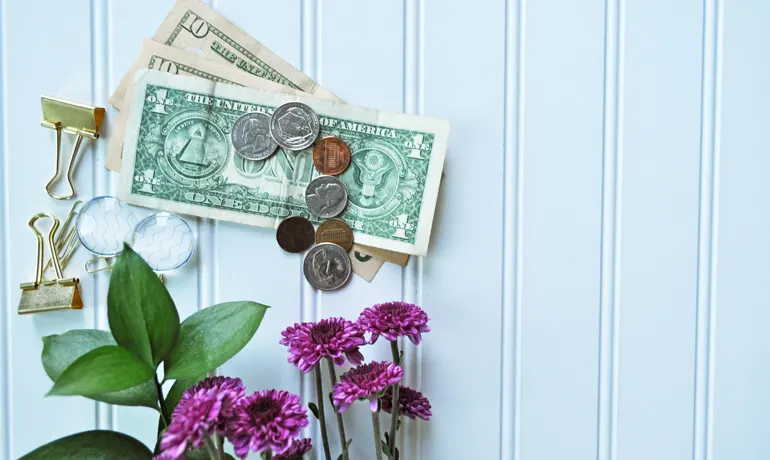 5. Save money from your salary: pay yourself first
Save money first and you'll be sure to save! This principle can be applied in many ways, but most commonly it's for retirement. If you contribute to retirement benefits through your employer, the money goes into retirement before it comes to you.
This has big tax benefits and simplifies your retirement funding.
(And if you're not currently contributing and your employer offers a match, sign up! You're leaving free money on the table.)
The other way this works is by saving money first after you recieve your paycheck. Putting money into your savings account before you spend your money for the month ensures you're saving!
Pro tip: start small with this one! It can be a number you're comfortable with (like something you won't necessarily miss). So it could be $5, $25 or $105 – whatever! Then as you adjust your spending throughout the month and get comfortable with that money, increase it to grow your savings.
You might also like: 50-30-20 Budget Rule and Spreadsheet
6. Pay down high interest debt
You work hard for your money so wouldn't it be nice to keep more of it? If so then pay down your debts and stop borrowing for things.
I know, it's easier said than done. Paying down debt is hard – especially if money is tight!
But, if you are intentional with your spending (build a budget!) and put the money that you were using towards old habits now towards debt, it's possible. Chip away at it dollar by dollar.
By getting out of debt, saving more of your salary and paying for things as you need them (instead of getting a loan), you'll be able to save more money from your salary.
No interest payments = more savings.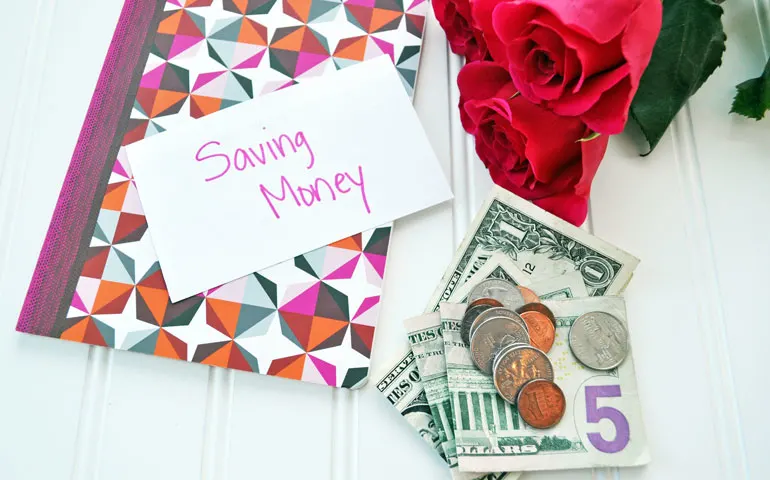 7. Ditch the pricey car (and loan)
Here's another way to pay down high-interest debt: drive an older, used vehicle. The average monthly car payment in the US for a new vehicle is $550. That's $1100 every other month, or $6600 every year that could be in your pocket instead!
If you're spending hundreds of dollars each month on a car loan, consider what life would be like with driving an older vehicle. Could you get from point A to point B safely? How would life be different if you had an extra few thousand dollars in your bank account right now?
If you're trying to do everything you can to save money from your salary every month and you're paying a big car payment, figure out a way to make the shift and get rid of that high car payment.
8. Save your salary increases or bonuses
Anytime you get a raise or bonus, save that money to reach your savings goals. It's super tempting to just want to spend it. But lifestyle creep is a real thing! Just because you make more, doesn't mean you have to spend more!
If it's a 2% raise, put that exra money from your salary right into your savings account. If it's a bonus, send it straight to savings, too!
Something that helped my husband and I pay off over $100,000 of debt was to save our raises. So if we got an extra $50/month in an raise, we'd make an extra debt payment each month of that same amount.
So whether your goal is to save up for a big vacation, a new home or start an emergency fund, every little bit helps!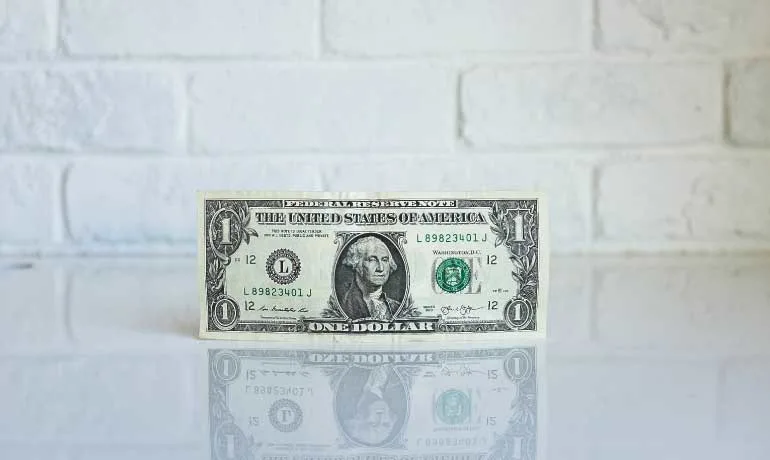 9. Make your savings automatic
This is a simple way to save more money! Set up a transfer from your checking account to your savings account. Or, set it up with your employer to put a portion of your paycheck in a savings account and the rest in your checking account.
This is my favorite way to save money for vacations, by the way!
You could set up a transfer for each time you get paid, weekly or monthly. Whatever works best for you! By setting it up to automatically save, it takes the work out of saving money so you won't have to remember to do it.
10. How to save money from your salary: free entertainment
Opt for free entertainment when you can! Instead of hitting happy hour or dinner with friends, try a hike or walk around a park. During date night, opt for a free (or cheap) festival instead of dinner and a movie.
Pinterest has a bazillion free entertainment ideas – give it a search when you're bored and don't want to spend money.
Related read: How to Save $1000 in 30 Days or Less
11. Give yourself money to spend each week
If you're struggling to save money from your salary or stretch your money throughout the month, try giving yourself a weekly spending amount. By breaking it down into smaller goals, it's easier to keep yourself on track.
For instance, instead of looking at a grocery budget of $400 for the whole month, try keeping to just $100 per week. This will work for any area you want to improve.
By piecing it down by week, it will make your spending more interesting – and exciting. If you're a natural spender, odds are that you'll look forward to getting more to spend in each area each week.
So it's sort of like a spending plan in order to maximize your savings.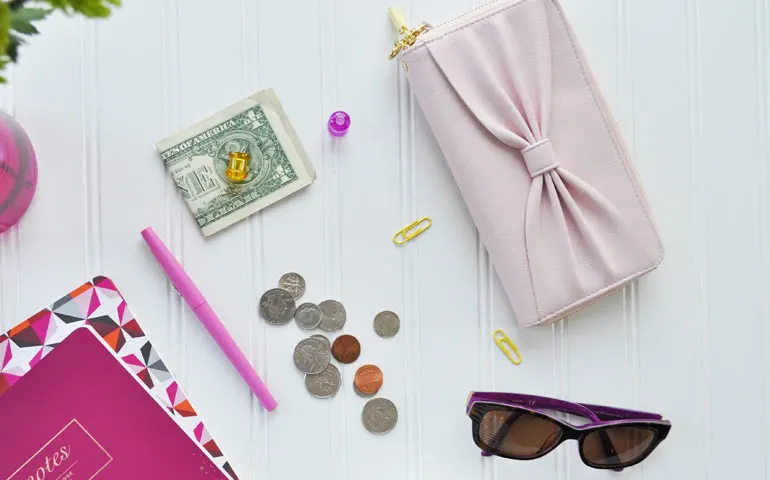 12. Get inspired and stay inspired
Saving money can be tough! Keeping your goal in front of you will help. Seek out online mentors that will inspire and motivate you.
Things like podcasts, social media accounts, and your favorite bloggers can help motivate you when you're feeling frustrated or like giving up. Sign up for emails, too so that the info can come to you instead of having to go searching for inspiration all the time.
By keeping your finance and savings goals in front of you, you'll find new ways to save.
13. Buy second-hand
I know, this does not sound glamorous. But you know what doesn't either? Staying in debt or stuck in your current financial situation.
Try searching second-hand consignment stores or online shopping sites. You'll be able to find gently used items like clothes, shoes, household items or furniture for a fraction of the price of new.
My favorite second-hand apps and sites are:
Facebook Marketplace
NextDoor app
Mercari
ThreadUp
And bonus – if you have any extra household clutter or clothing, those sites are good for selling, too.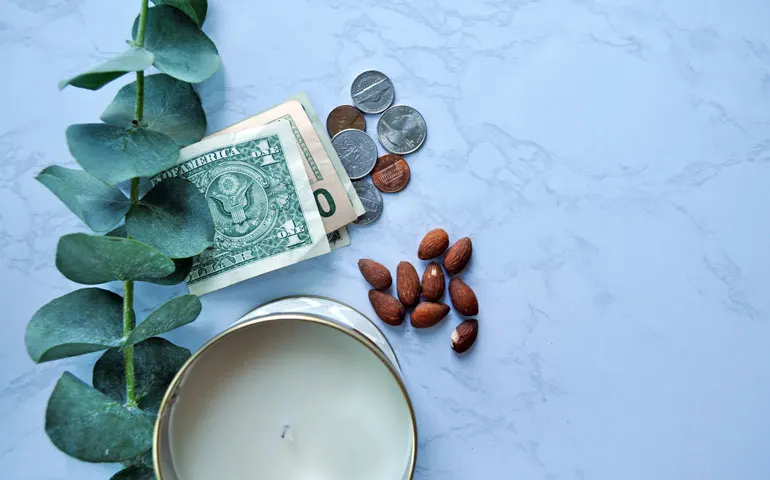 14. How to save more of your salary income: trick yourself
Tricking yourself into saving money is a fun way to go about it. This is possible by using apps to transfer money into a savings account based on your spending habits or preferences.
Each app works a bit differently – some you can even invest with to start growing your wealth. My favorites are Chime, Qapital and Digit. Here's a comprehensive list of the best savings apps.
15. Spend less money on food
Eating out at restaurants less will help boost your savings. But there are also ways to be strategic about saving money while eating at home, too.
Here are a few of my favorite ways to save money on groceries:
Planning what you'll eat for the week
'Shopping' your fridge, freezer and pantry before you go to the store
Reducing food waste by freezing extras
Buying from the bulk bins (even if you're not buying a lot)
Also check out how I trimmed $1,200 off my grocery budget in a year, and the 10 things you can do to reduce your food spending, too.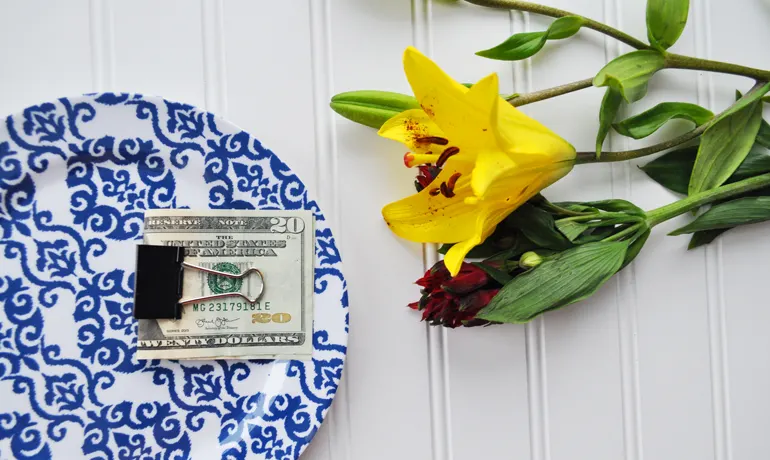 16. Get an outside perspective
When the goal is to save more, and you think you've done all you can do, try getting an outside perspective. Working with a money expert can help you see your budget, goals and savings habits differently.
How to save money from salary – recap
You can do this! By using the ideas above and getting creative about how to save money from your salary, you'll be on your way to reaching your savings goals in no time.
Creating a budget and being consistent is key. You got this!
Find this article helplful? Save it for later or share it on social media.