Few things are more magical on this earth than Haleakala at sunset! The breathtaking views of watching the sun set above the clouds is a phenomenal experience you'll remember forever.
This is your guide to everything you need to know about watching the sunset at Haleakala National Park.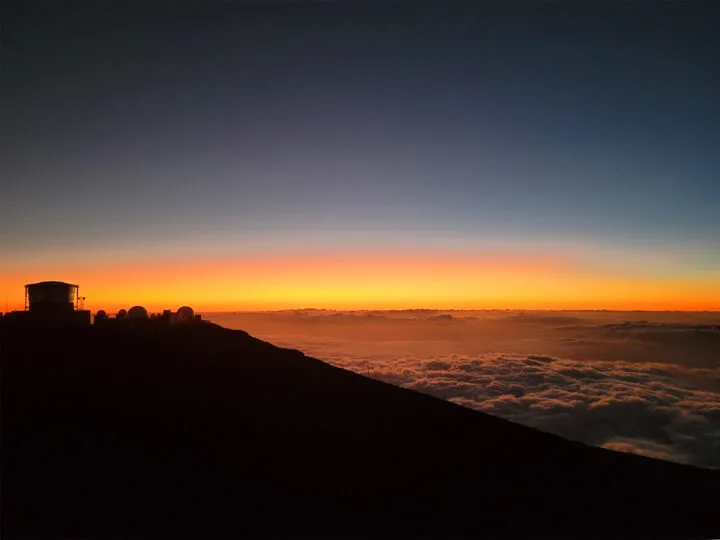 This post may contain affiliate links. For more info, see my disclosures.
Visitors come to Haleakala National Park and witness her beauty any time of day. With amazing hiking trails, waterfalls and out-of-this-world typography, it's a unique place to visit. And sunset Haleakala is an amazing experience!
As someone who has witnessed both Haleakala sunrise and Haleakala at sunset, this post covers why sunset is a great time to go, Haleakala sunset tips and how to plan your perfect adventure in the park!
Haleakala National Park in Maui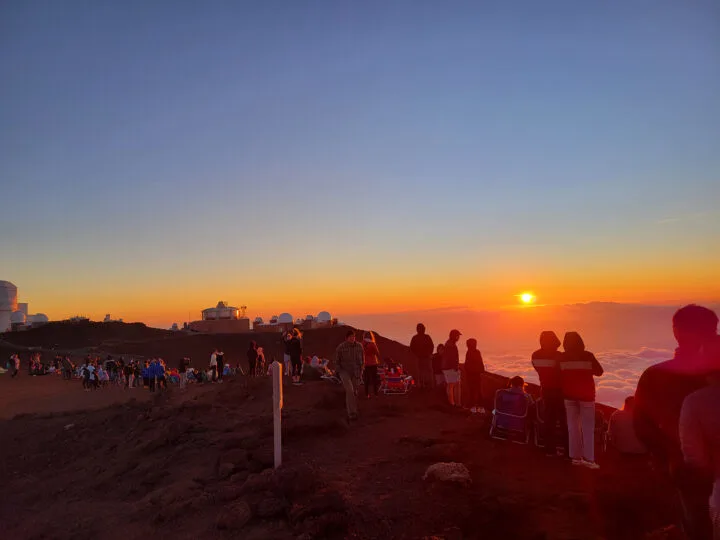 Visitors flock to the summit of Haleakala for sunrise. And it's truly an incredible experience! You can literally watch the sunrise above the crater.
As the sun peeks over the clouds, it will take your breath away!
But the Haleakala crater sunset is equally as beautiful, and with a fraction of the crowds!
Located on the island of Maui in Hawaii, Haleakala is situated on the eastern side and covers 30,183 acres. There are actually 2 main districts within the park.
The Summit District has excellent hiking opportunities and some of the best views of the island. The Kipahulu District is the coastal area that's much more remote and offers hiking, waterfalls and coastal experiences.
Visiting Haleakala National Park is one of the best things to do in Maui on a budget!
Haleakala is a sacred place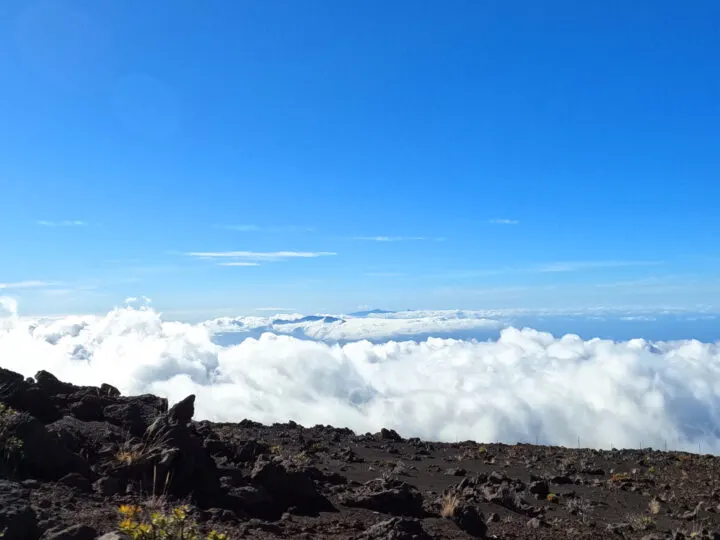 Haleakala is special to native Hawaiians throughout history and to this day. In native Hawaiian language, "Haleakala" means "House of the Sun." The demigod Maui seized the sun and created longer days, according to legend.
For centuries, only priests were allowed to walk on the summit because it was so sacred. These days native Hawaiians are allowed to conduct traditional Hawaiian cultural practices within the entire park. It's important for visitors to respect this history and cultural significance.
Now, the summit and crater are a national park and an epicenter for astronomers. Visitors are only allowed on hiking trails, walking paths and other public areas.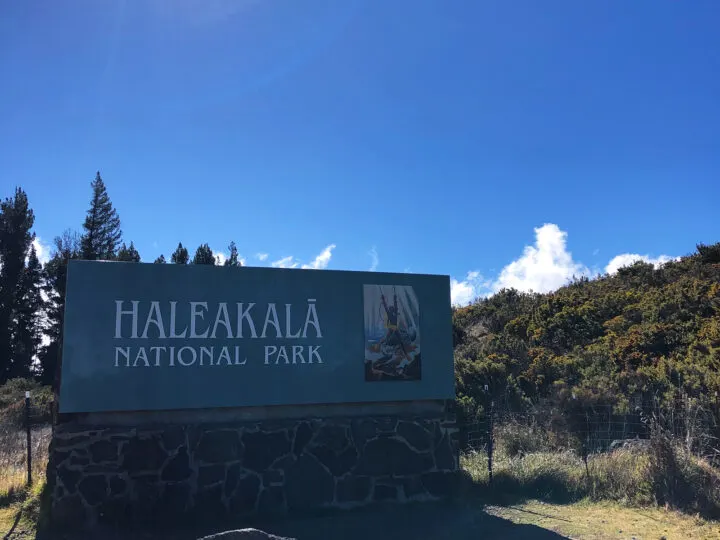 Map of Haleakala at sunset
It's a big place! Haleakala National Park covers a large portion of Maui, and the Kipahulu and Summit Districts are really far apart. If you're a visual person like I am, here is a map to help you plan your time in the park.
The orange icons are the suggested Haleakala crater sunset locations (more on that in a bit). The blue icons are nearby landmarks. Zoom in to see more detail!
Haleakala sunrise vs sunset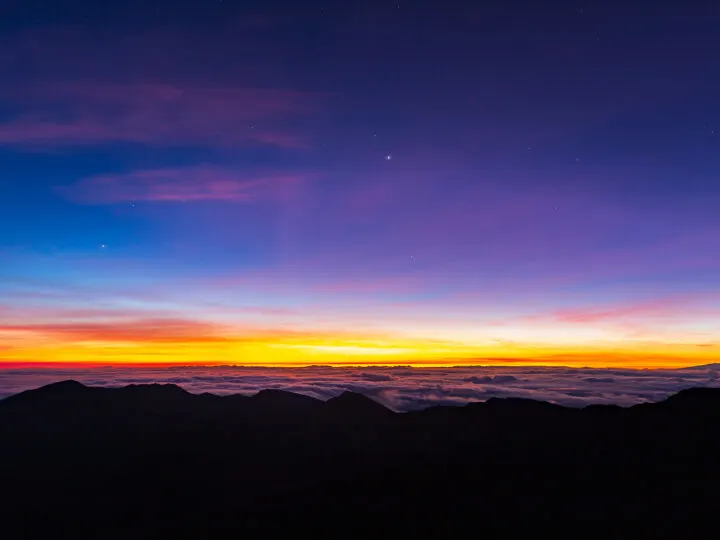 The first time I visited Haleakala National Park it was for a sunrise bike tour. We watched the sunrise then biked down Healeakala. I'd recommend it 10/10! Amazing.
You can also do a simple sunrise tour with breakfast or including the nearby towns. Based on your schedule, do what works best for you. Both are magical!
These days, since sunrise on Haleakala has become so popular, you'll need a reservation with the National Park Service, or a paid tour to access the park for sunrise. And if you do that, you'll wake up in the middle of the night to get there for sunrise.
Pro tip: if you choose to see Haleakala at sunrise, definitely sign up for a tour where you bike down the mountain once the sun is up. It's one of my favorite memories of Maui!
Haleakala at sunset is way more low key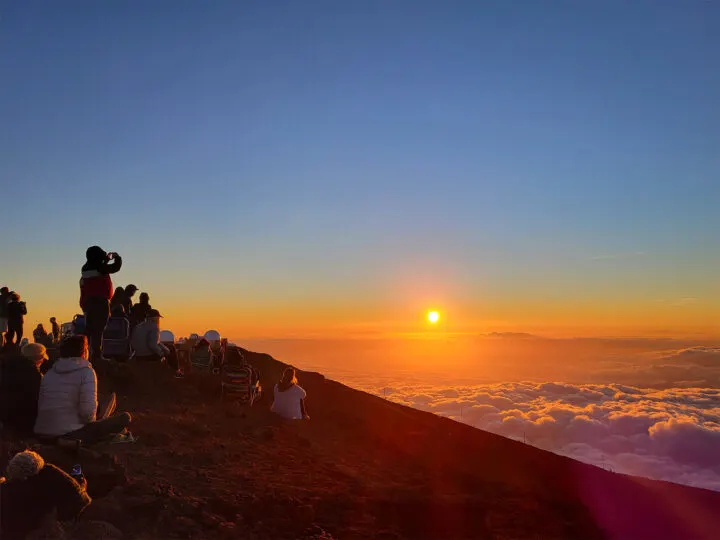 If you're considering Haleakala sunrise or sunset, just know that the parking lots definitely fill up at sunset, but getting there an hour or so before sunset is sufficient. And bonus – you don't need a Haleakala sunset reservation (at least at the time of this publication).
Watching the sun dip into the ocean with the rolling clouds below is so special!
With sunrise being the peak time to come, there's way less people in the evening. So you won't have busses full of tourists blocking your view.
If you like to plan adventures and be independent, Haleakala at sunset might be the way to go.
Before we get to Haleakala sunset tips, let's talk a little about what to see and do while you're in the national park.
Things to do in Haleakala National Park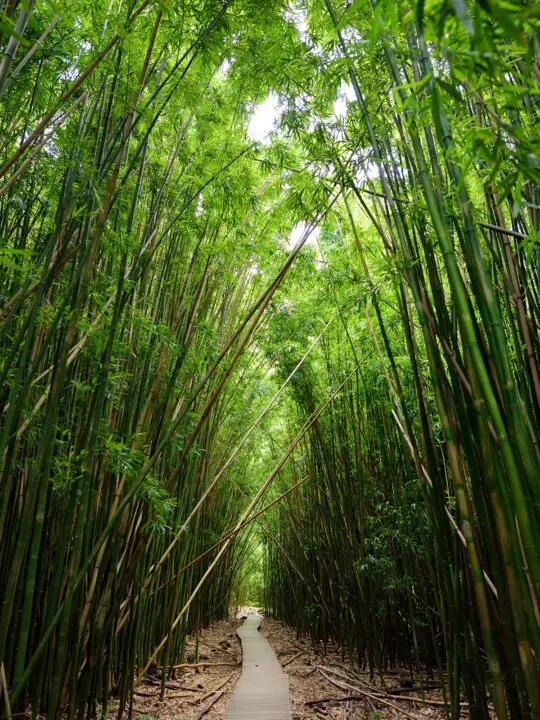 Haleakala is such an incredible destination in Hawaii. It reminds me of hiking the NaPali Coast in Kauai. It's stunning and looks like it's from another world!
Whether you're staying in Kaanapali, Hana, Kihei or anywhere else, it's a journey to get to the top of Haleakala. So make the most of your time and enjoy these other things in the park before watching the sunset!
Explore the bamboo forest via the Pipiwai Trail. At 3.8 miles, this moderate hike will take you through the lush bamboo forest, unlike any you've ever seen.

Check out the visitor center(s). Located near the summit and one near the 'Ohe'o Gulch, they include basic amenities like restrooms, water and park maps.

Visit the 'Ohe'o Gulch, or the 7 Sacred Pools of 'Ohe'o. It's about 35 minutes past Hana and about 15 minutes past Wailua Falls in the Kipahulu District of the park. You'll want to add this to your Maui itinerary for sure!

Hike into the crater, via the Sliding Sands Trail. It's a difficult trail and is 11 miles in total – or you can hike down part of it and return back when you're ready.

Catch views from the Pa Ka 'oao or White Hill Trail. Located above the crater, this short but steep trail provides fantastic, 360 degree views of the volcano.
Allow plenty of time for activities in Haleakala, plus getting to your sunset watching location an hour or 2 early. You'll want to explore this park to the fullest while you're there!
How to plan your sunset Haleakala experience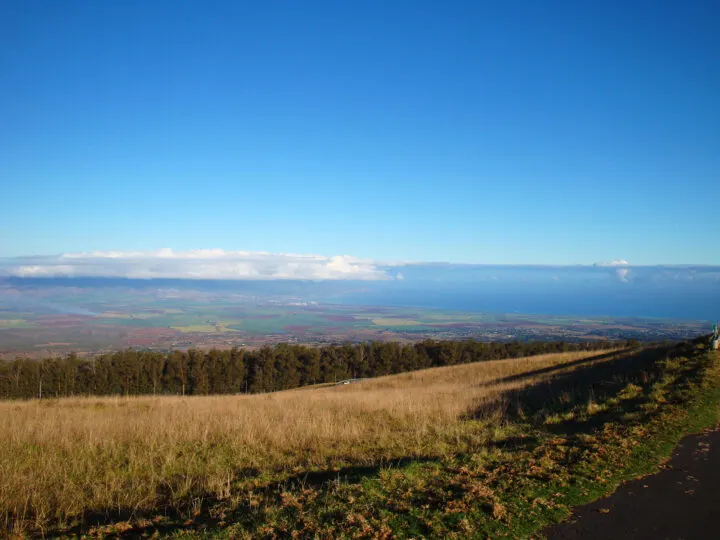 A few things should be taken into consideration when planning your sunset trip…
The entrance fee is $30 per vehicle, or included in your America the Beautiful annual parks pass. If you plan to visit 3 or more national public lands over 12 months, it's worth it to buy an annual pass. We've used it for Mt Rainier, Bryce Canyon, Glacier National Park and so many more!

You'll have to drive down the mountain in the dark. There are no street lights, so relying on your headlights is key.

Consider staying for stargazing! More info on this below!

It's cold. Really cold. Pack layers, then more layers as the wind on top of the summit is really cold. My favorite travel layers are merino wool, because it helps regulate your body temperature in warm and cool weather. With the wind, it can feel below freezing at the top of Haleakala!

Consider how long you'll stay. Are you planning to hike before? Are you coming after a long day on the Road to Hana? You won't want to arrive late!
Also, even if it's rainy and cloudy on Maui the day you plan to watch the sunset at Haleakala, it's likely clear at the summit. It sits so far above the clouds it doesn't get much rain so don't worry about bad weather!
What to pack for Haleakala at sunset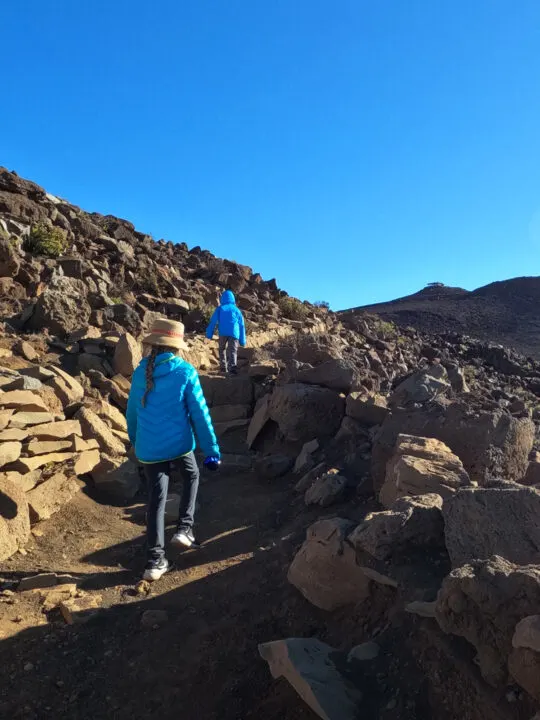 This is truly an experience of a lifetime! Be prepared by packing the right gear.
Each time I've visited Haleakala, I've seen people wearing shorts and no coats because they didn't plan properly and do their research. But you're reading this, so you'll know exactly what to bring!
Where to watch the sunset Haleakala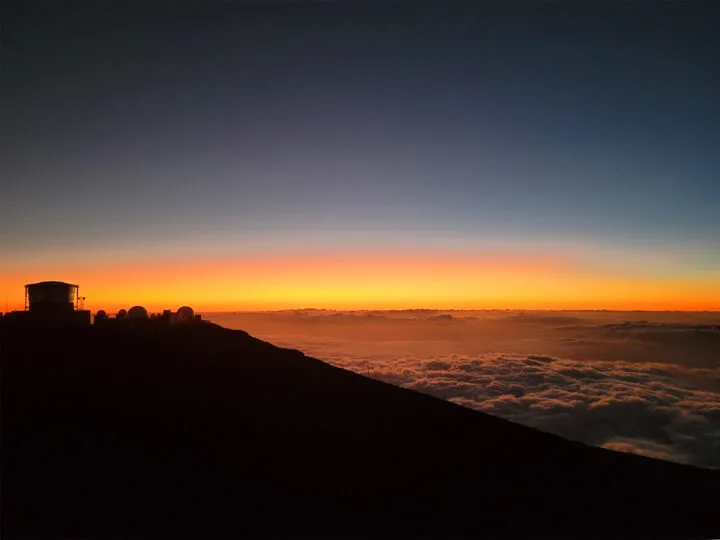 There are a few options on where to watch the sunset at Haleakala. Let's go over each spot in detail to help you make your decision.
1. Sunset view at Haleakala summit
The first – and most popular spot to watch the sunset – is at the summit. Sitting at 10,023 feet above sea level, this is the highest place on Maui and in Haleakala National Park.
Here you'll find the most people but also the best view. You'll want to get there at least 30 minutes early to find a parking spot, and potentially up to 1.5 hours in peak season. (I arrived an hour early and took one of the last spots.)
2. Views from the Haleakala Visitor Center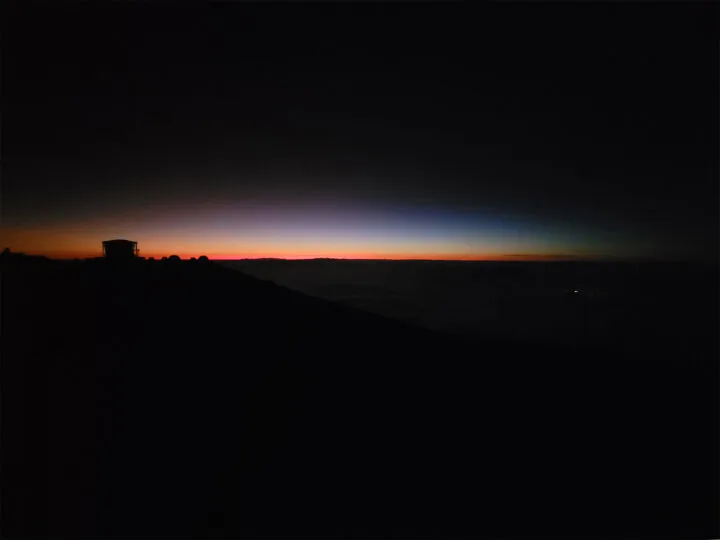 Another option to view the sunset is the Haleakala Visitor Center at the parking lot at the top of the crater. It's about 0.5 miles down from the summit, and still offers spectacular views.
The benefit of watching the sunset at the Haleakala Visitor Center is that the restrooms are located here, so even if you park extra early, you don't have to worry about losing your spot to hit the restroom.
This is also where the Sliding Sands and Pa Ka oao hiking trails are. So if you choose to hike earlier in the day and get back for sunset, you don't have to move your vehicle.
Pro tip: there are just a few stalls that face east. If you get there plenty early – at least 1.5 to 2 hours, you'll be able to back into those stalls and see the magical sunset from the warmth of your vehicle!
3. Sunset from the Kalahaku Overlook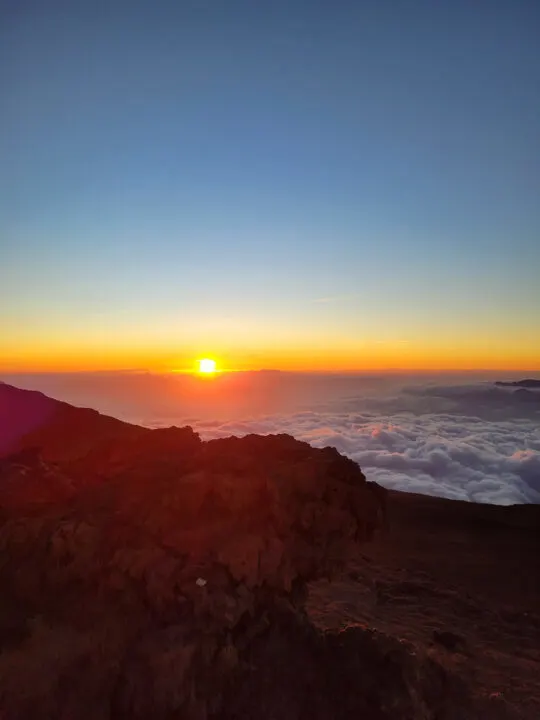 The Kalahaku Overlook is about 3 miles downhill from the summit. You're still above the clouds and you'll get uninterrupted views of the sunset.
Watching the sunset from the Kalahaku Overlook means there's far less crowds. Plus since you're already 3 miles lower, getting to the bottom of Haleakala will take less time and you'll beat the traffic, if you choose to leave right after the sun dips below the horizon.
Regardless of where you park, you'll catch a spectacular sunset! As long as you get there early enough, you can grab the spot you wish.
What to expect: Haleakala at sunset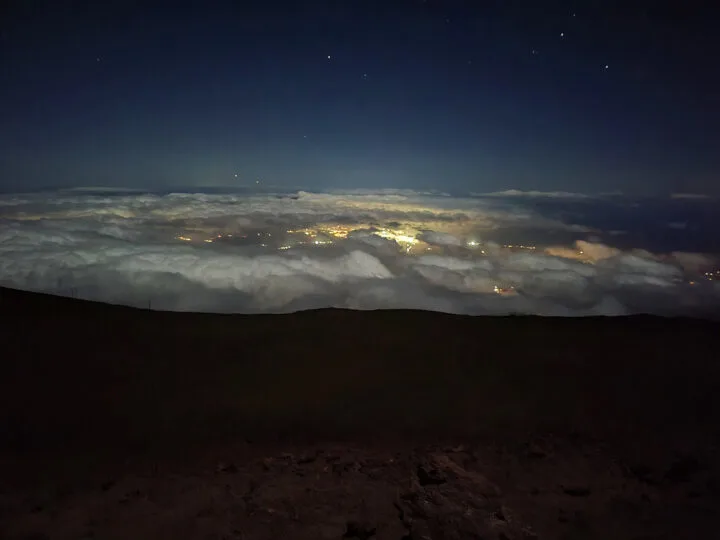 This is where the magic happens! Get to the summit at least an hour before sunset to ensure you get a parking space and seated space with a front row view.
Pack some beach chairs or a blanket and grab a seat. Get ready to watch a magnificent show!
The crowds will start filling in around you as everyone eagerly anticipates the gorgeous Maui sunset. Just be sure not to walk in front of anyone if you need to move around.
If you've packed dinner, a snack or even hot cocoa this is the time to enjoy it.
Pro tip: bring an extra camera, GoPro or cell phone and set up a tripod. Video the sunset or use the time lapse setting. It's surreal to go back and watch it later! The clouds look so cool rolling all around the volcano.
Haleakala stargazing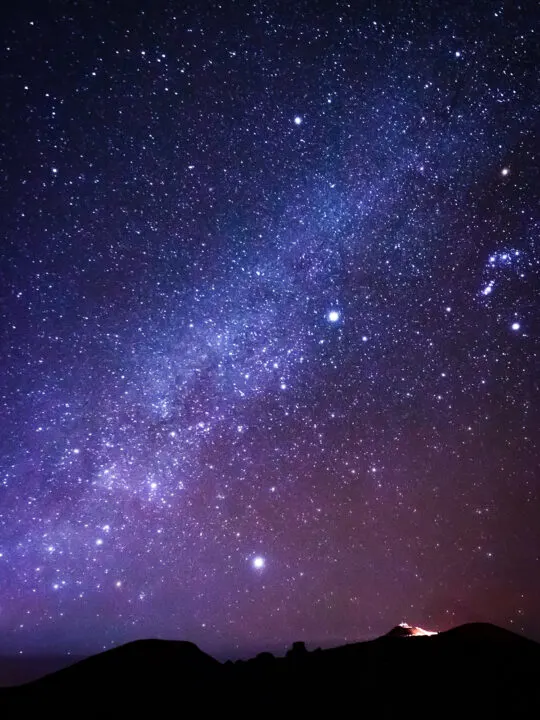 After the sun dips below the horizon and the glow in the sky disappears, there will be a new kind of show to see! You'll want to wait at least an hour after the sun sets to see a fully dark sky.
With barely any light pollution from the rest of Maui and because you're above 10,000′ up, the Milky Way can be crystal clear!
The best Haleakala stargazing views are on nearly moonless nights. Otherwise the moon can act like a street light and be pretty bright!
Be sure to turn off any lights (including interior and exterior car lights) for the best views. Sit back, relax and soak in the incredible view into our universe!
Stargazing at Haleakala reminds me of another dark sky park and it's one of the top things to do in Glacier National Park! That too is an unforgettable experience.
Haleakala sunset tips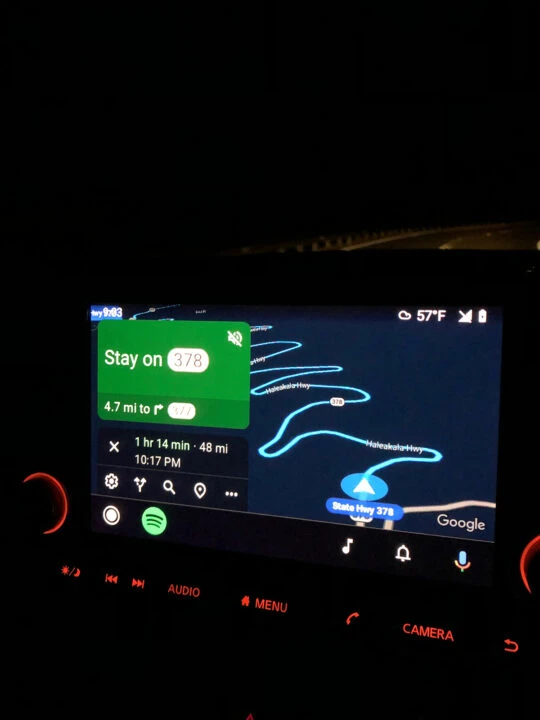 Before ending this guide on watching a Haleakala sunset, here are a few final tips to make the most of your time.
Gas up before you go. There are no services in the park and limited gas stations once you get into Maui's backcountry. Plan accordingly.

Layers, layers, layers. Did I mention before it's going to be cold? 😉

Bring a credit card for your entrance fee (if you don't have an America the Beautiful Pass)

Don't touch or disturb nature. The ecosystem in Haleakala is super fragile. Stay on the trails and paths and if you see something cool, don't touch it!

Practice leave no trace principles. Don't litter, recycle and toss garbage in their proper place.

Slower drivers should use pullouts. Whether you're going up or down, be courteous and mindful of others.
Haleakala at sunset – that's a wrap!
Well, are you ready to see a spectacular show? It's nature at its finest as the sun dips into the horizon.
With the right planning and gear, you're in for a truly memorable experience. Visiting Haleakala is incredible no matter what time of day. But if you get to witness a sunset above the clouds in Hawaii, it's a good day!
Related content you might like:
18 Fun and Underrated Things to Do in Kihei, Maui (You'll Love)
36 Incredible Things to Do with Kids in Maui
20 Free and Cheap Things to Do in Maui on a Budget
What to Pack for Hawaii: Practical Things not to Forget
Find this post helpful? Save it for later or share it on social media!