You're going to Hawaii! Woo-hoo! If you're wondering what to take to paradise, this list is for you. Here's a guide to exactly what to pack for Hawaii.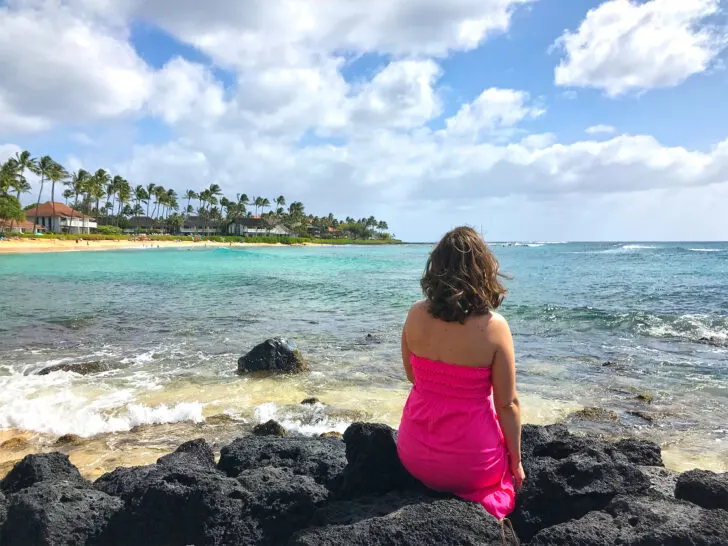 This post may contain affiliate links. For more info, see my disclosures.
You get to go to paradise! If you're a first-timer, you're going to have the time of your life. Hawaii is one of the most common bucket list destinations there is!
As someone who has been lucky enough to go to these gorgeous islands many times over the last 20 years, I've got all the insider info on exactly what needs to be included in a Hawaii packing list.
This guide won't go over regular packing basics…like socks and a toothbrush. But it will go over the Hawaiian essentials you need to pack, including some things you haven't even thought about!
What to pack for Hawaii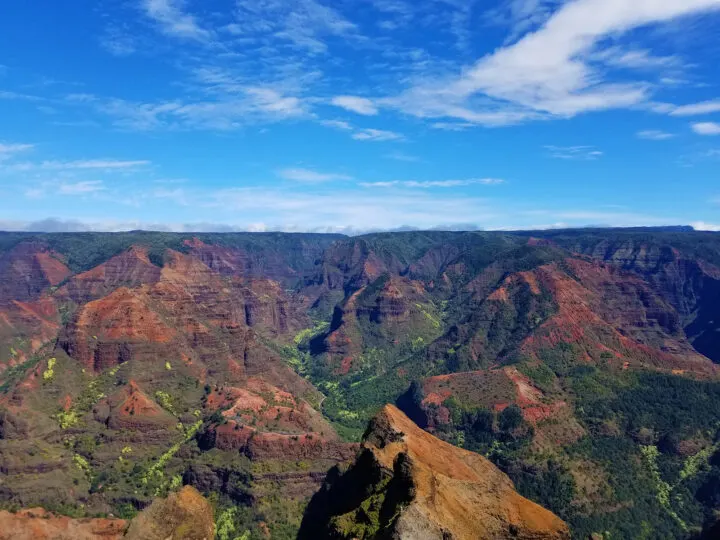 Hawaii is gorgeous, and each island is unique. To determine what to pack for Hawaii, you'll need to take a few things into consideration.
Hawaii is home to the most well-known beaches in the USA (Waikiki on Oahu), one of the most stunning coastlines in all of the world (NaPali Coast on Kauai), the most active volcano on earth (Volcanoes National Park on the Big Island), and an epic road trip you'll never forget (Road to Hana on Maui).
And this is only one highlight of each island! There are so many things to do in Hawaii!
What are your plans during your vacation? Which of the islands will you be traveling to, and are you going to multiple, meaning you don't want to carry around a bunch of luggage?
What to bring to Hawaii: considerations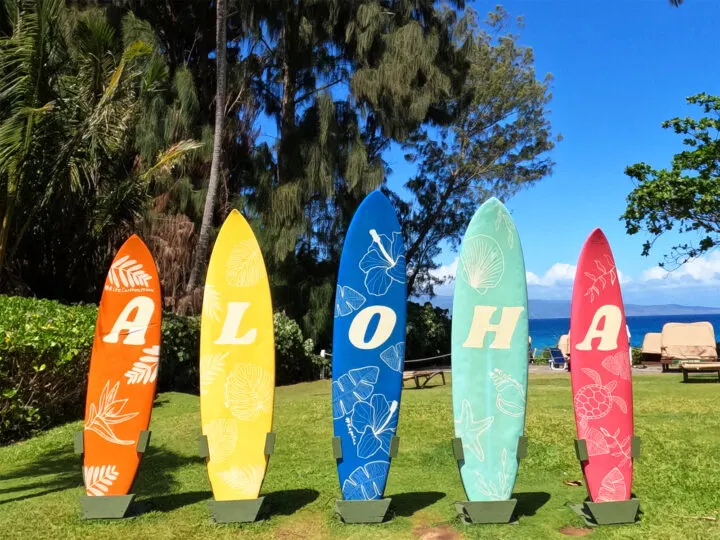 In order to decide what to pack for Hawaii, here are a few things to think about…
What's on your itinerary? What you do during your time in Hawaii will help you determine what to pack.

Are you bringing carry-on luggage only, or do you plan to check bags? There could be extra fees associated with checked baggage, so consider that!

Which island(s) are you headed to? If you're planning a longer stay or are visiting multiple islands, consider the fact that you'll have to pack and re-pack during your trip, which takes up precious vacation time. Plus, you'll want specific items for some unique attractions (like cold-weather layers for exploring volcanoes).

What to wear in Hawaii? You'll want comfortable clothing and be able to accommodate the weather, but not overpack! (See the list of what to wear in Hawaii later in this guide.)
Hawaii packing list (based on your itinerary)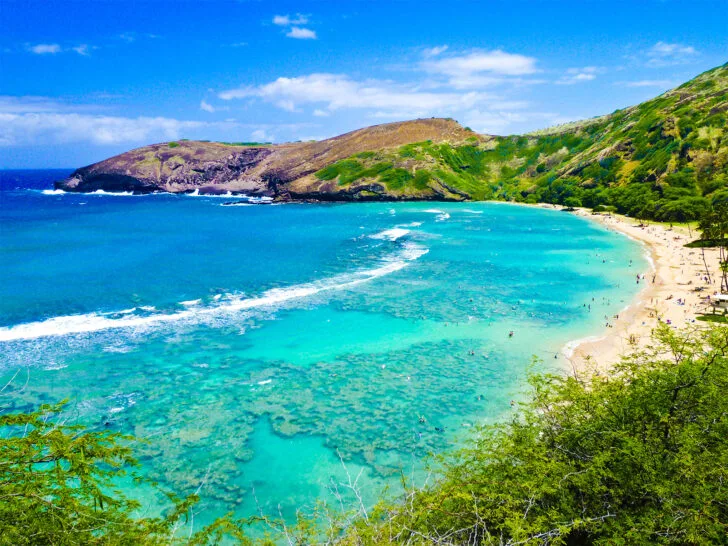 The very first thing you'll need to do is figure out what each day brings and pack based on your itinerary.
Consider these common activities in Hawaii:
Beaching
Hiking
Snorkeling and scuba diving
Deep sea fishing
Taking tours (on the island and from the water)
Shopping and dining
Whether you're looking for easy hikes on Oahu, bringing your kids to Maui or looking for hiking adventures, like the Waimea Canyon in Kauai, there's so much to fill your time!
Once you have an idea of what you'll be doing on vacation, it makes it much easier for packing for Hawaii!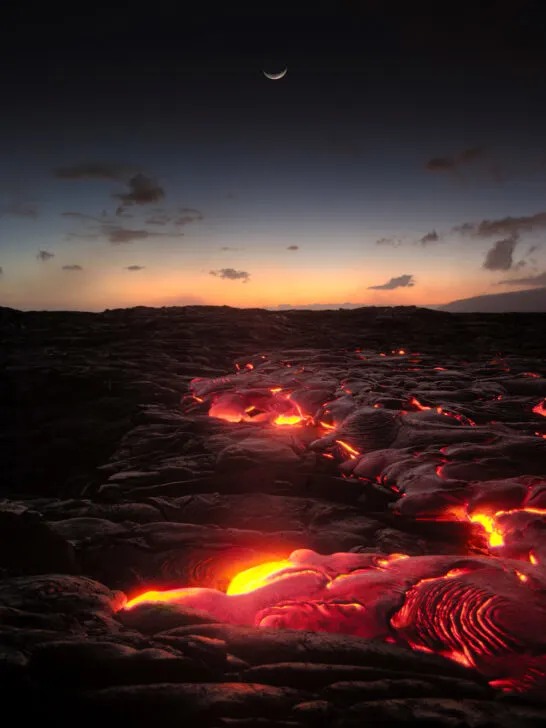 And if you're just planning to wing it, I love your style! Just pick and choose what to pack for Hawaii from the suggestions below. 🙂
Packing list for Hawaii
We'll get into details on clothing, hiking and beach gear in a bit. But what are the best things to pack for Hawaii? Well these are the practical items you'll need for a perfect vacation to paradise!
Water shoes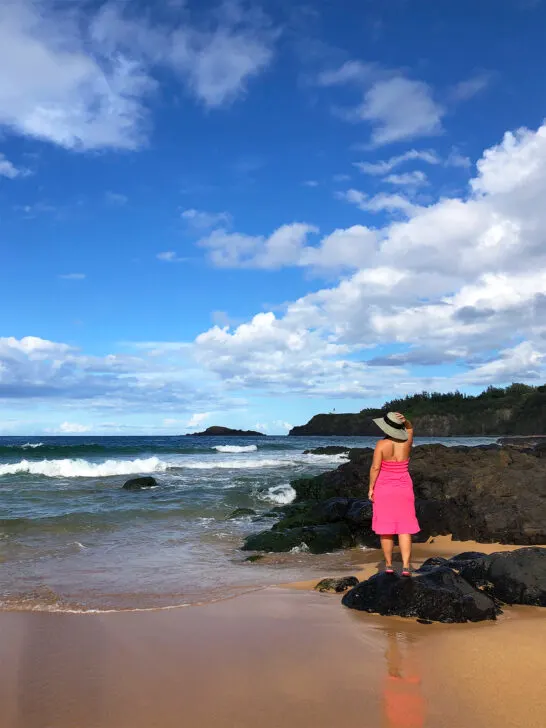 This is the #1 thing I recommend for a beach vacation in Hawaii! Because the beaches are majestic and beautiful, but not all are so soft under toe. These are my favorite water shoes that have literally traveled the world with me, including multiple trips to Hawaii.
Note: if you're planning some easy hikes, like the Mahaulepu Heritage Trail in Kauai, these are hardy enough for hiking but allow you to visit the beaches along the trail, without swapping out shoes! Water shoes are the most basic of items for your Hawaii packing list.
Mineral sunscreen (an essential when packing for Hawaii)
It's quite literally the law to use reef-safe sunblock in Hawaii. Maui even goes so far to announce mineral sunblock only, which is the best for the environment.
Why? Traditional sunblock kills reef systems so you'll need to wear the right stuff in Hawaii. After traveling to reefs all over the world, including Coral Island Phuket, the best beaches in Manuel Antonio Costa Rica and many other places, it's devastating to witness bleached reef systems.
You can tell the difference in vibrant reefs versus the bleached ones, including right in Hawaii. Using mineral sunscreen will help to restore our oceans!
Mineral sunscreen an essential item in this Hawaii packing list. This is my favorite reef-safe sunblock and it works great!
Pro tip: when applying mineral sunscreen, it doesn't take much! Rub it in thoroughly to prevent white marks on your skin.
Sun hat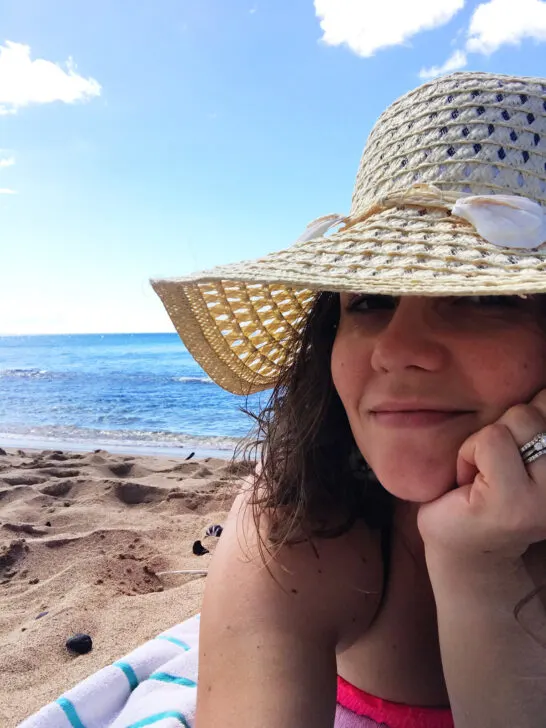 Not only for insta-worthy looks, but also because the sun is incredibly powerful that close to the equator! There's some places to buy sun hats on the islands, but if you want a great variety, purchase it online before hand.
Curious how to pack a beach hat and keep its shape? You can stuff the inside with small items like socks or swimming suit, then lay it flat on the bottom of your suitcase and add your packing cubes of clothes and other items around it.
Alternatively, you can just wear your beach hat on the plane. 🙂
Dry bag and beach bag (both essential items on this Hawaii packing list)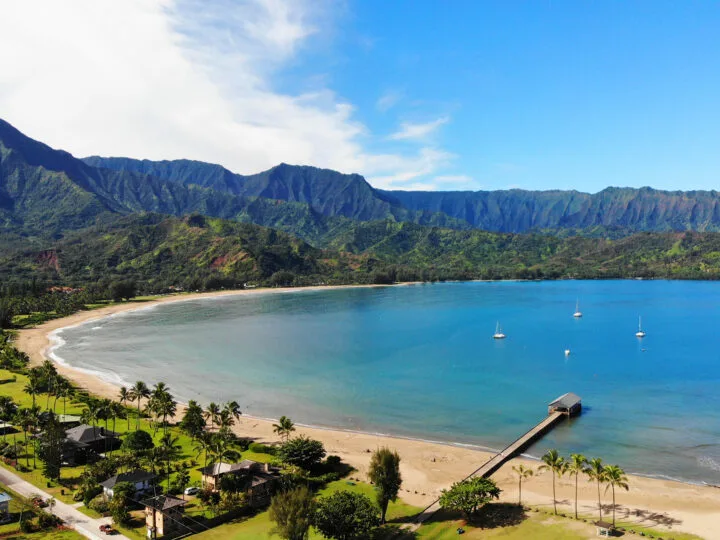 Whether you're exploring the best beaches on Kauai or the unique beaches on the Big Island like the green sand beach, Mahana Beach, you'll want the proper beach gear!
Don't forget a dry bag and a beach bag when packing Hawaii! Use a dry bag for anything you want to keep sand-free or dry. Think power bank, medications, or anything else that needs to stay dry.
A beach bag can hold your towels, snacks, water, sunblock, etc. So handy when visiting Hawaii, or any other beach for that matter!
Reusable water bottles
You'll want one for each person traveling with you, reusable water bottles are an essential item on this packing list for Hawaii. Helpful for the plane ride, but also for hiking, beaching and road tripping around the islands.
These are my favorite water bottles that keep water cold (for what feels like forever). They're an essential item on this list of what to pack for Hawaii.
♻️Hawaii struggles with over-tourism and an abundance of waste for these small islands. Always consider refilling your water bottle over buying bottled water. Try to reduce waste in other ways, too, in Hawaii and elsewhere!
Collapsible cooler (a handy item on this list of what to bring to Hawaii)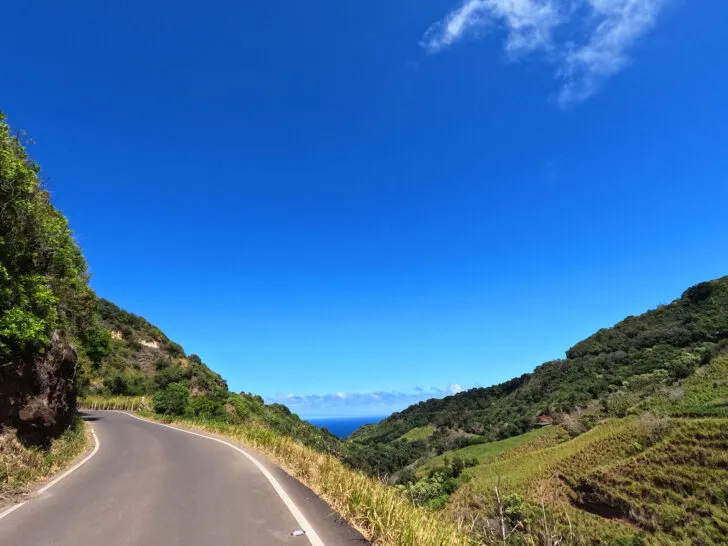 When considering what to bring to Hawaii, this needs to be on your checklist! A collapsible cooler is easiest for squeezing into a suitcase.
Taking a cooler full of beverages to the beach or just even while driving to the other side of the island is so convenient. I'll never go on another beach vacation without one!
You'll want a collapsible cooler while doing the epic Road to Hana on Maui, or the lesser-known scenic route on Maui, the Kahekili Highway.
Oh, and by the way – renting a car in Hawaii can be pricey! I love using Discover Cars, since I typically save 10-30% with them. They search top car carriers to find the best deals at no extra price to you. So search cheap rental cars now.
Pack for Hawaii: more on your checklist
There's so much to consider when packing for a trip to Hawaii. Let's keep going with this checklist. Up next, something you maybe haven't considered…
Beach towel with hidden zipper pocket (a must-have on this packing list for Hawaii)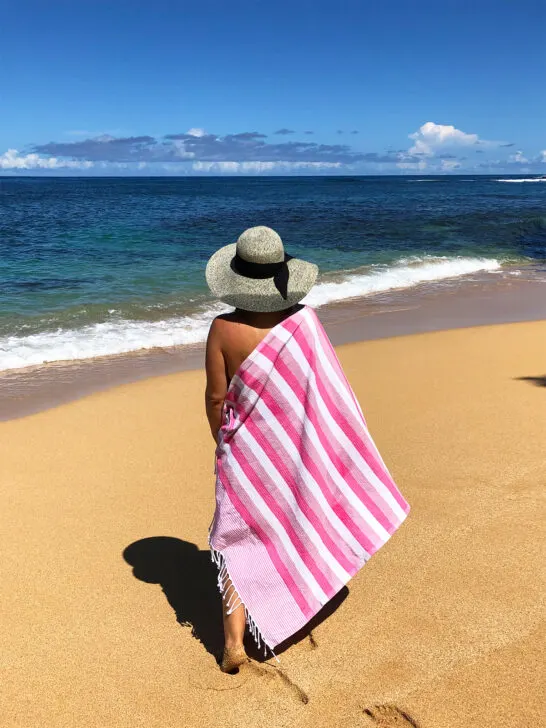 The towel with the secret pocket hides valuables on the beach, like phone, keys, etc. I first bought this towel for my trip to Belize, and it quickly turned into one of the most-used items for any trip! It's accompanied me to the best beaches in Thailand, on an Aegean Sea cruise, and so many more places.
Your beach towel with pocket can double as a blanket on the plane then transfers right over to the beach. The hidden pocket allows you to swim away from your towel knowing your valuables are hidden inside!
One of the best items on this packing list for Hawaii, and other beach vacations, for that matter!
Rash guard
Perfect if you're planning water activities like surfing, boogieboarding, snorkeling, or if you get sunburnt easily. I used a rash guard while tubing down a sugar plantation in Kauai and it was a skin-saver!
They're making cute swimming suits with rash guards now, too. Saving your skin from sunburn has never been so easy!
GoPro for underwater photos (a favorite on this list of what to pack for Hawaii)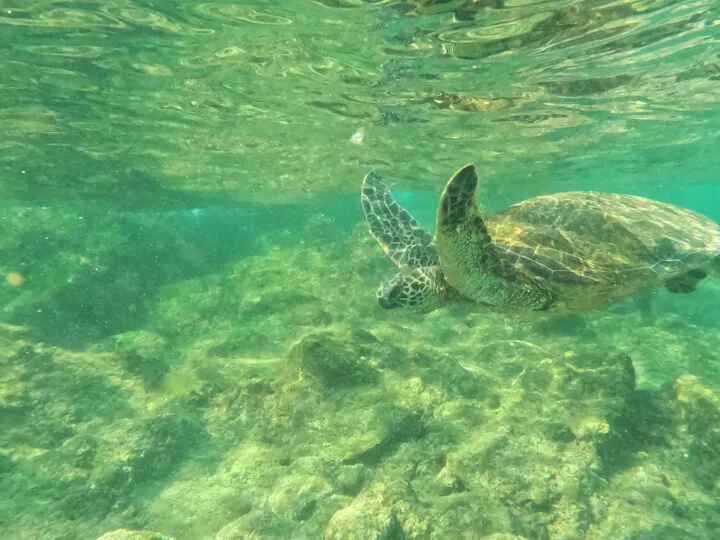 This is a must-have on any adventurer's packing list! It's especially critical on a trip to Hawaii! This GoPro allows you to take photos and videos underwater. Or hang it out the window while someone else is driving or on a boat to get cool moving footage!
The key to using this GoPro in Hawaii is to get the float strap and mount. You'll be able to attach it to your wrist without the fear of it falling, all while holding it while snorkeling.
Don't forget a few extra batteries so you can take photos all day without worrying about it. A GoPro is one of my very favorite essentials on this Hawaii packing list!
Body Glide
This is for sticky or sweaty skin that likes to rub together (ahem, hello thighs!). I find Body Glide useful for beach days. It's been a game changer since I discovered it years ago. Oh, and there's male and female versions of it!
Backpack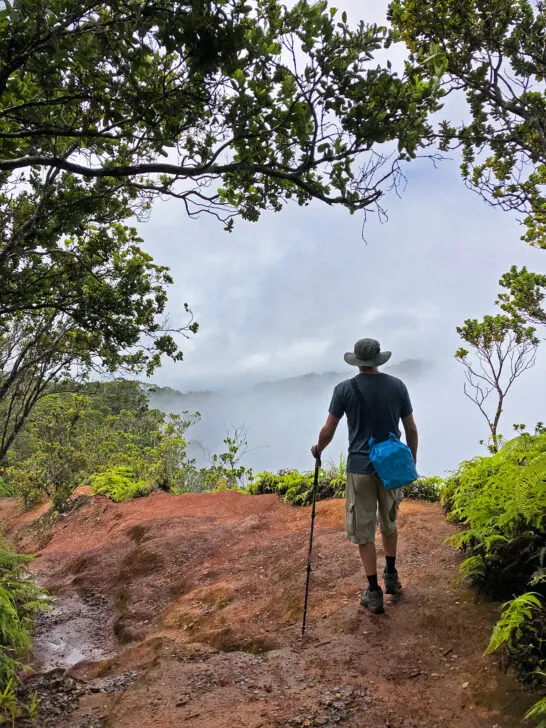 Store all your water, snacks and other gear while hiking. There's a bazillion trails in Hawaii, and even if you're not a big hiker, a hiking backpack is an easy, comfortable solution while on the islands.
This hiking backpack is like magic – pulling the weight off your shoulders as you hike. I've used this hiking backpack on the Skyline Trail in Mt Rainier, while visiting Sequoia National Park, on the Waihee Ridge Trail on Maui and many more places!
Also, if you're considering hiking the Kalalau Trail to Hanakapiai Beach or any other decent hike, you'll want proper hiking shoes and trekking poles, too! The mud is no joke.😳
Alternative to a hiking backpack, you could grab a sling back or fanny pack to carry just a few items around as you're exploring the islands. It's the perfect item on this what to pack for Hawaii checklist.
Packing for Hawaii: unique and practical things that will save you money
There's a few bonus items that I'd highly recommend for your vacation to paradise. Saving money is kinda my thing, and if it's yours too, then consider the price of these items now versus what you'll spend when you get there.
Snorkel gear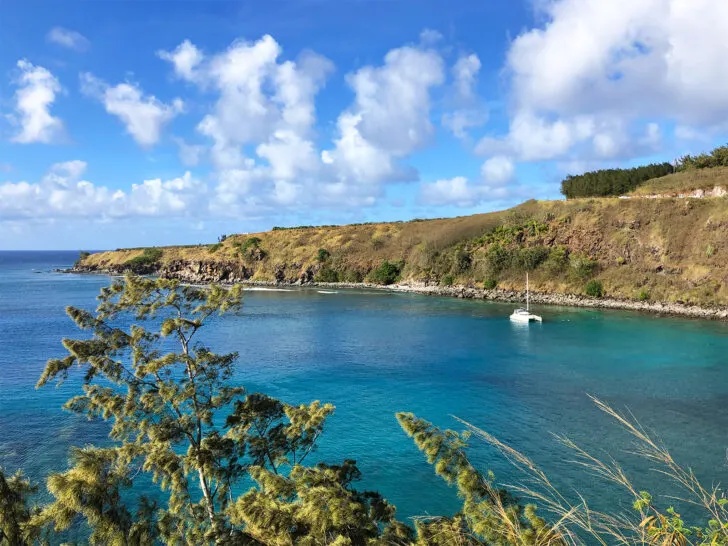 If you're planning to hit a lot of beaches or you just like to snorkel, buy your own in advance and pack it. That way you can have your snorkel gear handy in the car as you drive from beach to beach. It will save you money from having to take a snorkeling tour.
Snorkeling gear is the perfect item for any adventurer's Hawaii packing list. Here's the snorkel gear I use – worth every penny to snorkel when I want! This is the snorkel set my kids used in Hawaii and it's worked out great!
The only negative thing about taking your own snorkeling set is you'll likely have to check a bag, as they tend to take up a lot of space in a carry-on size suitcase. But if you can make it work, that's even better!
Speaking of traveling with kids, here's a packing list for teens, which can be used on the Hawaiian islands.
Travel blender (a favorite on this list of things to bring to Hawaii)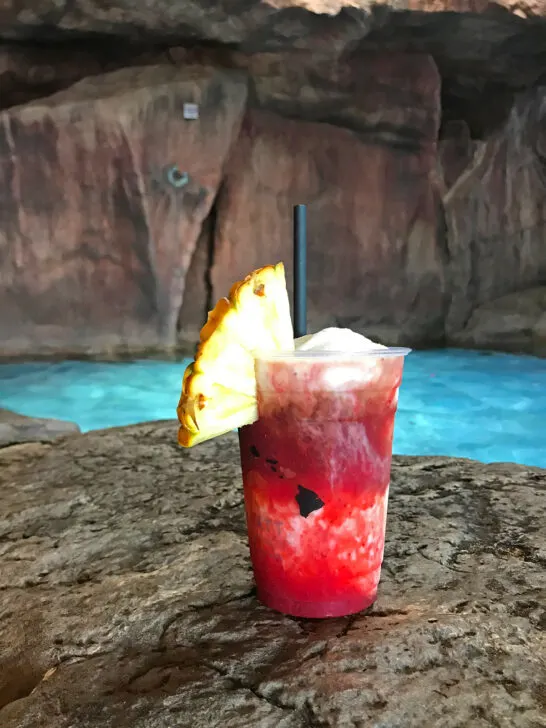 This is a game-changer! Fruity drinks on the beach are expensive! The cost of a travel blender blender is 2-3 drinks at a beach-front restaurant or resort.
I've taken this travel blender to Hawaii multiple times as well as other dreamy islands for a budget-friendly vacation. Buy mixes and ice on the island and you've got a fruity drink on the beach! Just make sure to bring insulated cups to keep your drinks cold, the perfect supplement for this packing list for Hawaii!
Bonus – this travel blender also works for breakfast smoothies! Stop at a local market for fresh fruit, or a grocery store for smoothie ingredients to make breakfasts while in Hawaii. If you pack your own protein powder from home, you won't have to pay island prices for it, either.
Note: the blade on this blender will have to go in a checked item. It cannot be carried onto the plane in a carry-on suitcase.
Packing cubes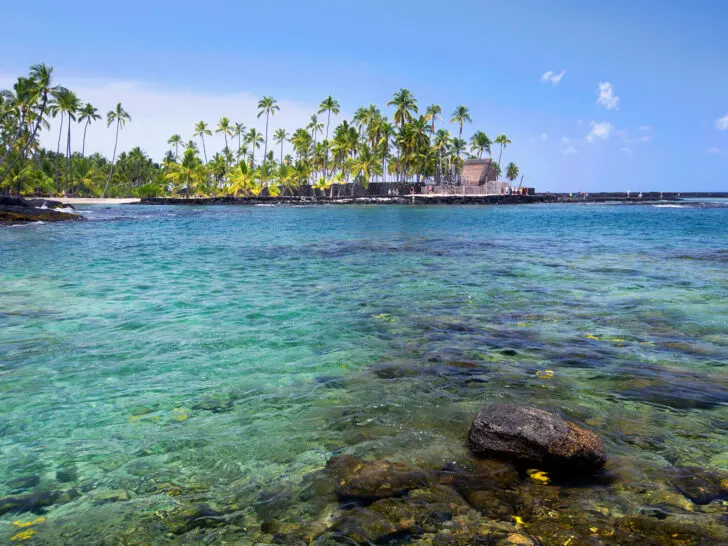 Lastly, but certainly not least on this list of what to bring to Hawaii, are packing cubes! They seriously save so much space in your suitcase. If you're carry-on only, use one smaller pouch in your carry-on bag for a few items and squeeze the rest of your clothing and essentials inside packing cubes.
A large set of packing cubes is essential for traveling to Hawaii. My family uses ours every time we travel, and it's nice to have a variety of sizes for adults and kids.
Note: I've had many brands of packing cubes over the years, but the Well Traveled packing cubes are my absolute favorite! I love that there are several sizes in a set, but also that they're adjustable, making it super convenient to fit any suitcase size. It also leaves room for souvenirs while traveling. 😉
What to wear in Hawaii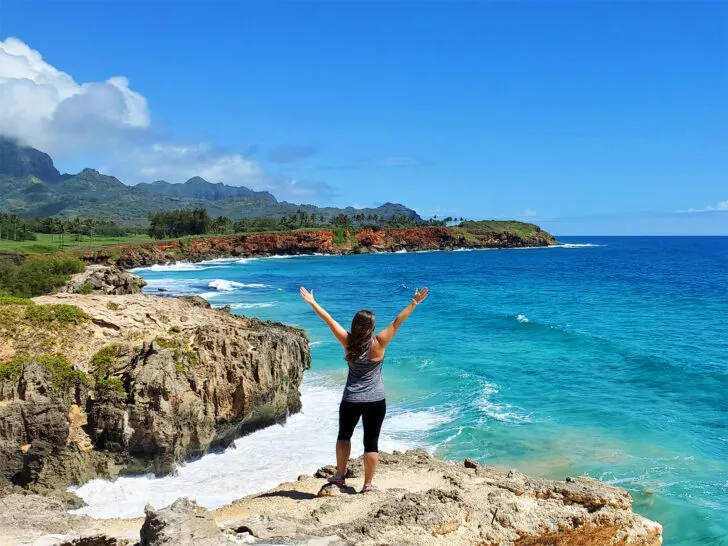 The weather in Hawaii can vary greatly based on your elevation and location. After all, Hawaii has 10 of the world's 14 climates! So you'll want a variety of clothing if you're planning lots of activities.
It can be hard to decide what to wear in Hawaii. So what activities will you be doing again? Pack based on that!
These are the clothing basics for what to pack for Hawaii – weeklong vacation:
Swimsuits (2)
Swimsuit cover ups (2)
Outfits for tours (like shorts and a top or a sundress) (1-2)
Nicer outfit/dress for fancy dinners or night out in Honolulu (1-2)
Beach sandals
Water shoes
Breathable athletic clothes for hiking trails (1 or more outfits)
Cardigans or pull-overs for layers (the wind and rain can be chilly)
Be sure to use packing cubes to save space and condense your clothes into a small space!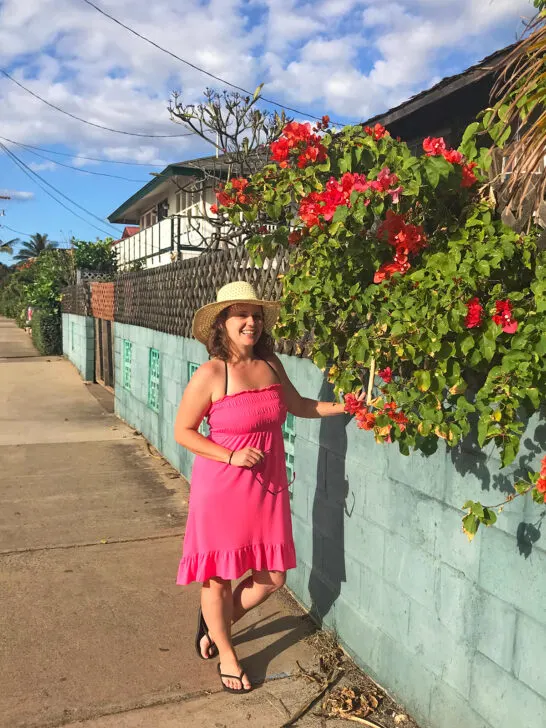 Wondering about accessories? Number of shoes to take? Things you'll want for the long flight to Hawaii?
Download a beach checklist for a week-long vacation here:

Things to pack for Hawaii if you're hiking
Every island in Hawaii has incredible hiking trails. Perhaps the most iconic hikes in all of Hawaii is the Kalalau Trail on Kauai.
As someone who's hiked in Hawaii unprepared, then went back and hiked more prepared, I can say hiking gear is essential for comfort and safety. So whether you're going for leisurely hike or a more challenging one, packing hiking gear will make your experience spectacular!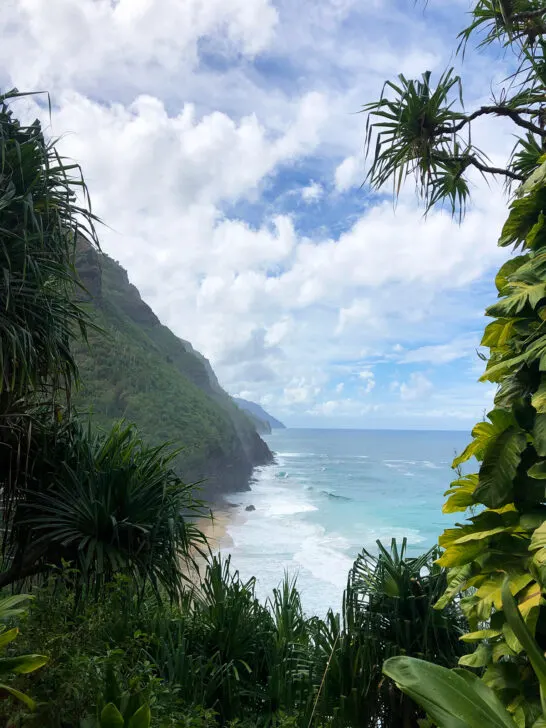 When considering what to wear in Hawaii for hiking, well, it's typically humid, you can run into rain or sunshine. And if you're in higher elevations, you'll want to layer up! My favorite clothing for hiking is merino wool to create the perfect layers that won't be too bulky for your suitcase.
Sidenote: if you're looking for awesome hiking trails on Kauai, here are a few:
Waimea Canyon Trail with Magnificent Views
Most Underrated Trail on Kauai: Maha'ulepu Heritage Trail
Stunning Kalalau Trail in Kauai (First 2 Miles)
What not to pack for Hawaii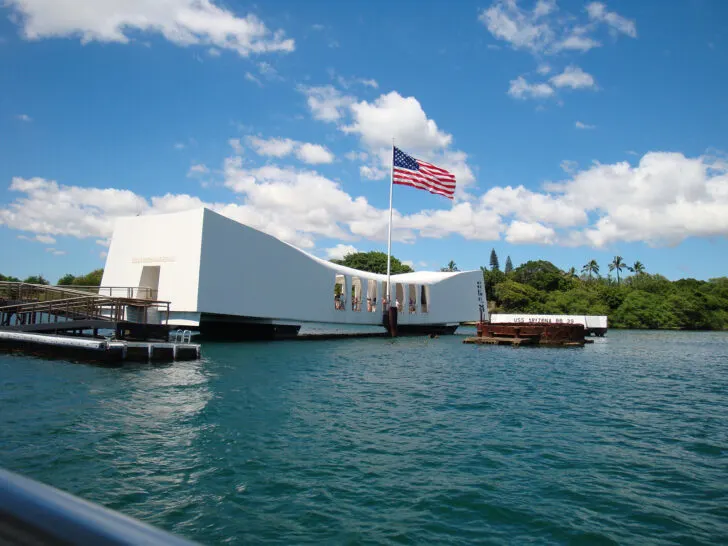 I mean, with the diverse climate and amazing adventures in Hawaii, there's a lot that you might need based on your itinerary.
But do NOT overpack! The last thing you want to do is carry around a bunch of luggage, and spend a bunch of time on the last day of your trip packing everything up.
Don't bring these on your trip to the islands…
Excessive accessories. Keep jewelry and accessories minimal. You don't want to be flashy or a target for robbery. Also, losing something expensive on vacation is never fun!

High heels. Comfortable shoes all the way. Those cute wedges will take up a ton of space in your luggage and chances are, you won't wear them for more than a few hours.

A bunch of fancy clothes. There's not a whole lot of places in Hawaii that you'll need to dress fancy. If you're coming for a special event, like a wedding, that's a good reason to dress up. Otherwise, beach dresses for women are easy for day and night, or linen pants for men are perfect.

3 of everything. Minimalism is key! Even if you're planing a 10 day Hawaii itinerary (or longer), you'll likely be wearing some thing a few hours at a time, and it can be re-worn a few times.

Jeans. Simply put, they aren't necessary in Hawaii! Wear athletic pants if you're doing something active at colder temperatures. Otherwise, it's shorts for your trip to Hawaii! Between the humidity and the year-round temperatures, jeans just aren't necessary.
Remember that most of your clothes will probably only be worn a few hours at time, and can be re-worn. Plus beach gear usually dries overnight, so you don't need a swimsuit for every day.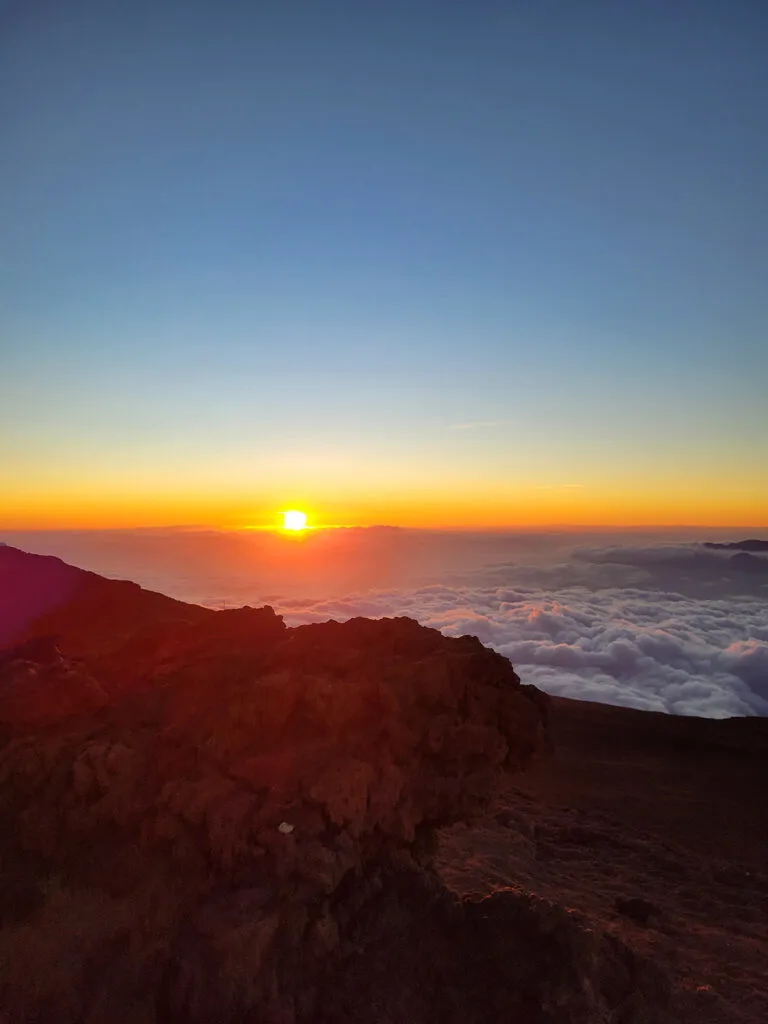 Pro tip for packing: lay out everything you think you'll need. Then re-evaluate before you put it into your suitcase.
Ask yourself these questions as you pack:
Does this item feel good when you wear it? (Do you love it?) If not, take it out of the pile.
Am I packing something similar to this item that can work instead?
Can I eliminate the 'just in case items' by using a laundry service (is laundry available at your accommodations?)
If there are 3 things that I could live without on this trip, what would they be?
Going through this process will help you to minimize what to bring to Hawaii and get rid of the 'just in case' items that seem to sneak themselves into suitcases.
Hawaii packing list (a recap)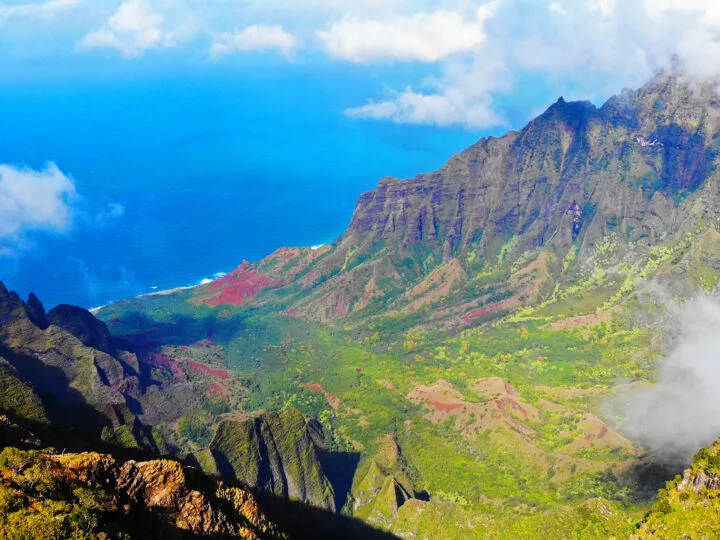 Okay are you ready to start packing for Hawaii? Just to recap, here are the best things to pack to Hawaii:
Water shoes
Reef-safe sunblock
Sun hat
Reusable water bottles
Collapsible cooler
Towel with hidden zipper pocket
GoPro for underwater footage
Rash guard
Body glide
Backpack
Clothing for a week (minimize!)
Hiking gear (as needed)
Snorkel gear (as needed)
Travel size blender (as needed)
Packing cubes
You're going to have an amazing time on your trip! Hawaii is the best! Enjoy and Aloha!
Other Hawaii content you might like:
36 Incredible Things to Do with Kids in Maui (Ideas for Never-ending Fun)
Haleakala at Sunset: Ultimate Guide to Watching Pure Magic in Hawaii
Best Snorkeling Kauai – 10 Beautiful Beaches You'll Love
20 Awesome Maui Adventures on a Budget
Best Things to Do in Kauai: 7-day Guide
Which Island in Hawaii to Visit? Take the Hawaiian Island Quiz
Kauai's Best Restaurants any Foodie will Love
Top 20 Kauai Hawaii Beaches that Promise Amazing Views
By the way, if you don't have a rental car for Hawaii yet, get on it! Find discounted rental cars using Discover Cars. I typically save 10-30%!
Find this article helpful? Save it for later or share it on social media!