You're going to Hawaii! Woo-hoo! If you're wondering what to take to paradise, this list is for you. Here's a guide to exactly what to pack for Hawaii.
First I gotta tell ya that I'm so pumped you get to go to paradise! If you're a first-timer, you're going to have the time of your life. Hawaii is one of the most common bucket list destinations there is!
As someone who has been lucky enough to go to these gorgeous islands many times over the last 20 years, I've got all the insider info on exactly what needs to be included in a Hawaii packing list.
This guide won't go over regular packing basics…like socks and a toothbrush. But it will go over the Hawaiian essentials you need to pack, including some things you haven't even thought about!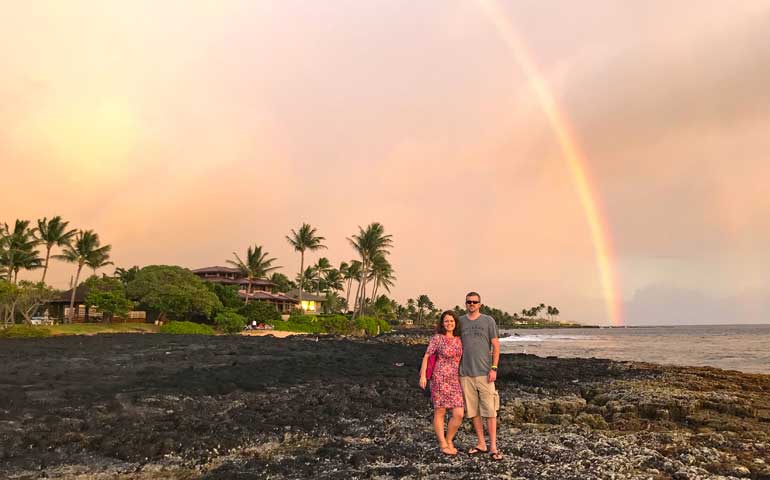 This post may contain affiliate links. For more info, see my disclosures.
What to bring to Hawaii… first, what are your plans?
Hawaii is gorgeous, and each island is unique. It's home to the most well-known beaches in the USA (Waikiki on Oahu), one of the most stunning coastlines in all of the world (NaPali Coast on Kauai), the most active volcano on earth (Volcanoes National Park on the Big Island), and an epic road trip you'll never forget (Road to Hana on Maui).
So what are your plans during your vacation? I'm sure you've got some awesome experiences in mind!
Here are my top 5 favorite things I've ever done in Hawaii:
Read next: 10 Easy Oahu Hikes that Promise Awe-inspiring Views
Hawaii checklist – pack based on your itinerary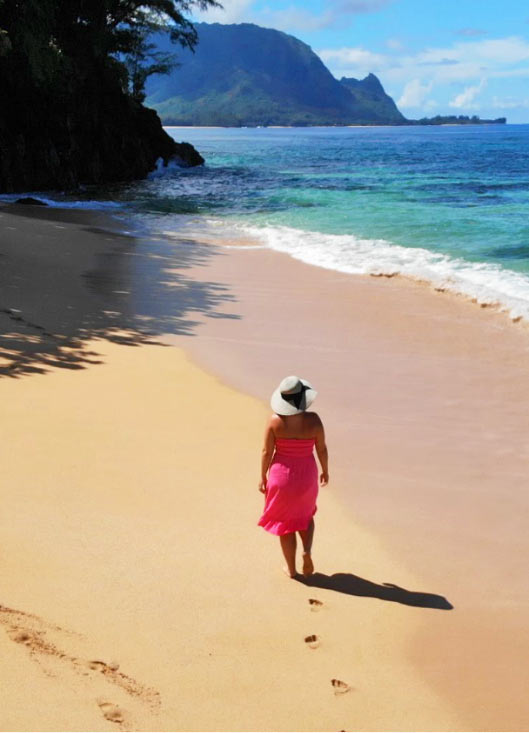 The very first thing you'll need to do is figure out what each day brings.
Consider these common activities in Hawaii:
Beaching
Hiking
Snorkeling and scuba diving
Deep sea fishing
Taking tours
Shopping and dining
Once you have an idea of what you'll be doing on vacation, it makes it much easier for packing for Hawaii!
If you're looking for island inspiration, here are a couple suggestions to get started:
20 Cheap and Free Things to Do on Maui
Perfect 7 Day Itinerary on Kauai
And if you're just planning to wing it, I love your style! Just pick and choose what to pack for Hawaii from the suggestions below. 🙂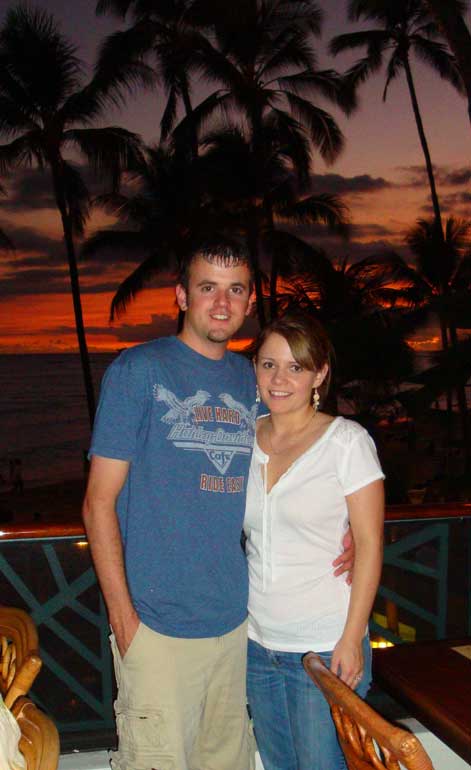 Oh, and by the way – renting a car in Hawaii can be pricey! I love using Discover Cars, since I typically save 10-30% with them. They search top car carriers to find the best deals at no extra price to you. So search cheap rental cars now.
Enough chatting already, let's get to the Hawaii checklist.
Hawaii packing list: the 10 essentials you need to bring
We'll get into details on clothing, hiking and beach gear in a bit. But what are the best things to pack? Well these are the unique and practical items you'll need for a perfect vacation to paradise!
No Hawaii vacation is not complete without these items…
1- Water shoes. This is the #1 thing I recommend for a beach vacation in Hawaii. Because the beaches are majestic and beautiful, but not so soft under toe. These are my favorite water shoes that have literally traveled the world with me, including multiple trips to Hawaii.
2- Reef-safe sunblock. Traditional sunblock threatens reefs so you'll need the right stuff. It's an essential item in this Hawaii packing list! This is my favorite reef-safe sunblock and it smells amazing.
3- Sun hat. Not only for insta-worthy looks, but also because the sun is incredibly powerful that close to the equator.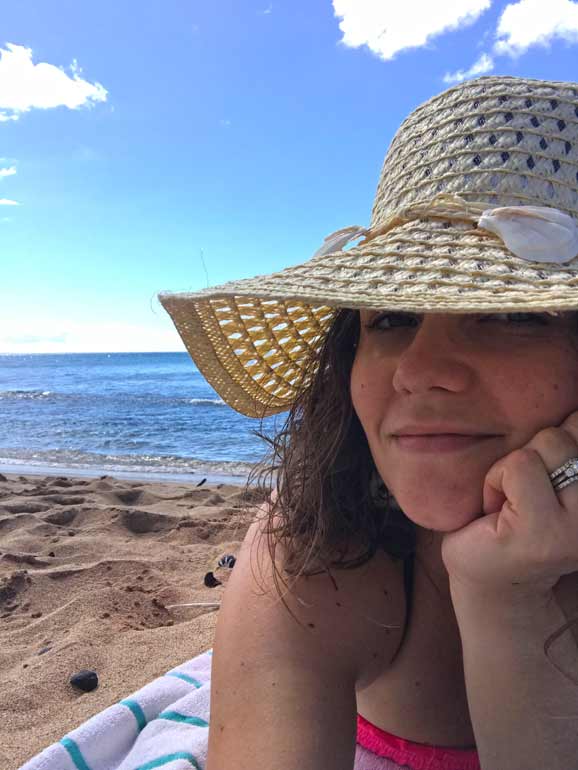 4- Reusable water bottles. You'll want one for each person traveling with you. Helpful for the plane ride, but also for hiking, beaching and road tripping around the island. These are my favorite water bottles that keep water cold (for what feels like forever).
5- Collapsable cooler. When considering what to bring to Hawaii, this needs to be on your checklist! A collapsible cooler is easiest for squeezing into a suitcase. Taking a cooler full of beverages to the beach or just even while driving to the other side of the island is so convenient. I'll never go on another beach vacation without one!
6- Towel with hidden zipper pocket. I first bought this towel for my trip to Belize, and it quickly turned into one of the most-used items for any trip. On a recent trip to Kauai I used it as a blanket on the plane, then on the many beaches. The towel with the secret pocket hides valuables on the beach, like phone, keys, etc.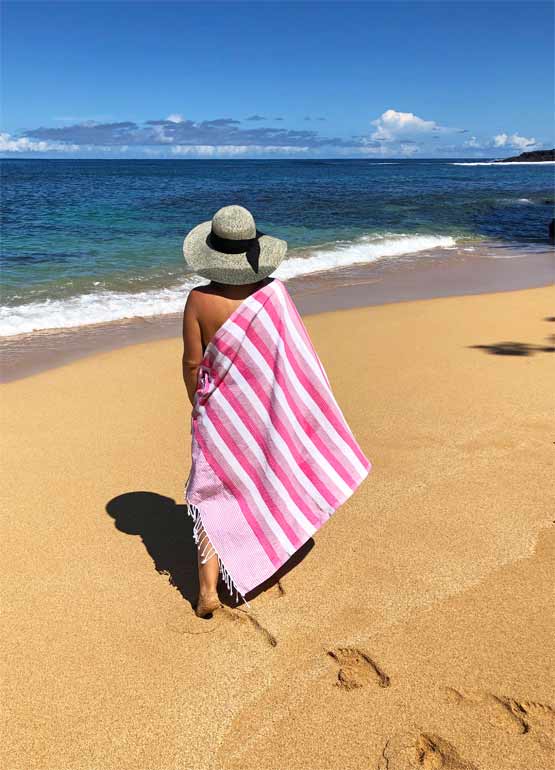 7- Waterproof phone case. This is a requirement when packing for Hawaii! It's an affordable solution to keeping your phone safe, handy, and sand-free. I've even snapped underwater pics and videos while snorkeling with this leak-proof phone case.
8- Rash guard. Perfect if you're planning water activities like surfing, boogieboarding, snorkeling, or if you get sunburnt easily. I used a rash guard in Kauai before tubing down a sugar plantation in Kauai and it was a skin-saver!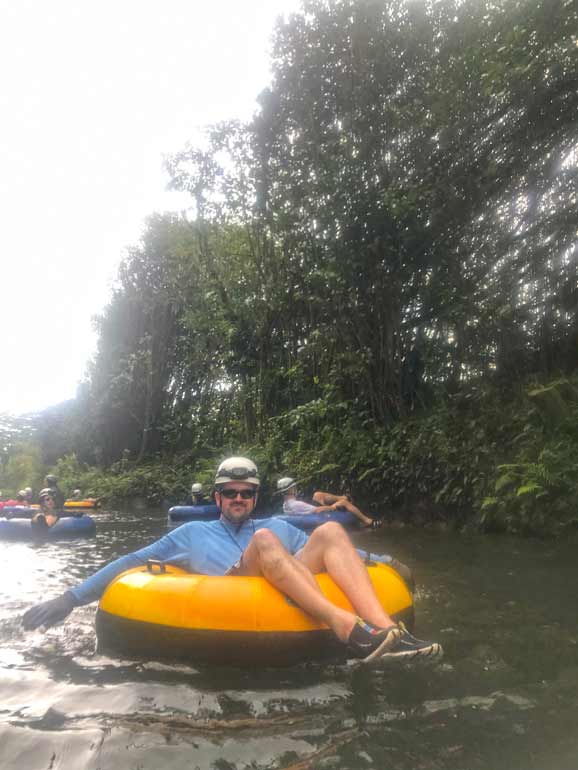 9- Body glide. This is for sticky or sweaty skin that likes to rub together (ahem, hello, thighs!). I find it useful for beach days. It's been a game changer since I discovered it years ago. Oh, and there's male and female versions of .
10- Backpack. For all your gear on tours or while hiking. There's a bazillion trails in Hawaii, and even if you're not a big hiker, a hiking backpack is an easy, comfortable solution for walking around the islands.
Unique and practical things to pack for Hawaii that will save you money:
There's a few bonus items that I'd highly recommend for your vacation to paradise. Saving money is kinda my thing, and if it's yours too, then consider the price of these items now versus what you'll spend when you get there.
11- Snorkel gear. If you're planning to hit a lot of beaches or you like to snorkel, buy it in advance and pack it. I love having snorkel gear handy in the car as we drive from beach to beach.
This is the perfect thing for any adventurer's Hawaii packing list. Here's the snorkel gear I recommend from Amazon – worth every penny to snorkel when I want!
12- Travel-sized blender. This is a game-changer! Fruity drinks on the beach are expensive! The cost of this blender is 2-3 drinks at a beach-front restaurant or resort.
I've taken this travel blender to Hawaii multiple times as well as other dreamy islands for a budget-friendly vacation. Buy mixes and ice on the island and you've got a fruity drink on the beach! Just make sure to bring insulated cups to keep your drinks cold!
Bonus – it also works for breakfast smoothies!
What to wear in Hawaii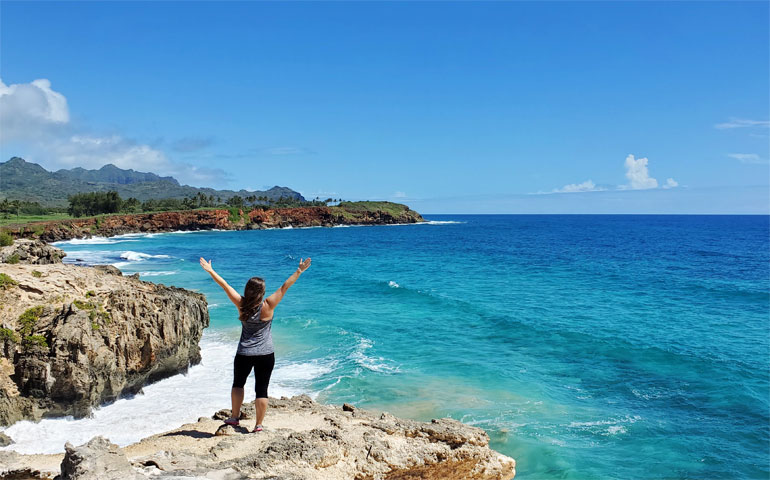 The weather in Hawaii can vary greatly based on your elevation and location. After all, Hawaii has 10 of the world's 14 climates! So you'll want a variety of clothing if you're planning lots of activities.
So what activities will you be doing again? Pack based on that!
These are the clothing basics for packing for a week in Hawaii:
Swimsuits (2)
Swimsuit cover ups (2)
Outfits for tours (like shorts and a top or a sundress) (1-2)
Nicer outfit/dress for fancy dinners or night out in Honolulu
Beach sandals
Water shoes
Athletic clothes for hiking trails (1 or more outfits)
Cardigans or pull-overs for layers (the wind and rain can be chilly)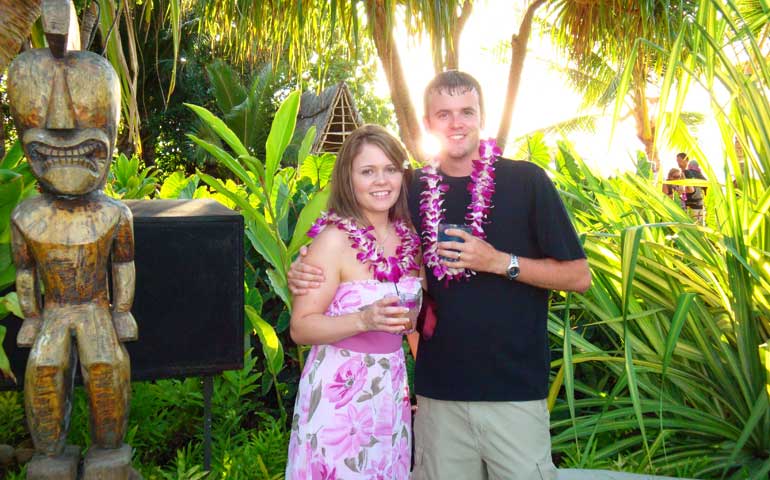 Wondering about accessories? Number of shoes to take? Things you'll want for the long flight to Hawaii?
Download a beach checklist for a week-long vacation here:

Packing for Hawaii if you're hiking
Every island in Hawaii has incredible hiking trails. Perhaps the most iconic hikes in all of Hawaii is the Kalalau Trail on Kauai.
As someone who's hiked in Hawaii unprepared, then went back and hiked more prepared, I know how important the right hiking gear is. So whether you're going for leisurely hike or a more challenging one, packing hiking gear will make your experience spectacular!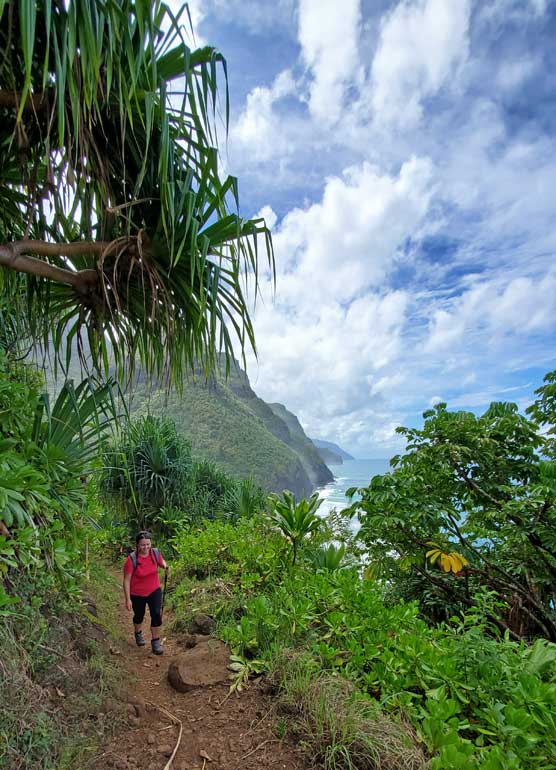 Sidenote: if you're looking for awesome hiking trails on Kauai, here are a few:
Waimea Canyon Trail with Magnificent Views
Most Underrated Trail on Kauai: Maha'ulepu Heritage Trail
Stunning Kalalau Trail in Kauai (First 2 Miles)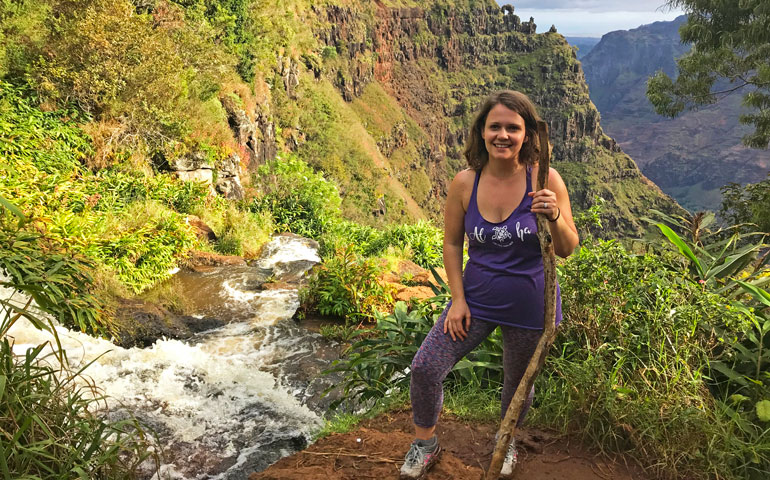 What you don't need for a trip to Hawaii
I mean, with the diverse climate and amazing adventures in Hawaii, there's a lot that you might need based on your itinerary.
But do NOT overpack! The last thing you want to do is carry around a bunch of luggage, and spend a bunch of time on the last day of your trip packing everything up.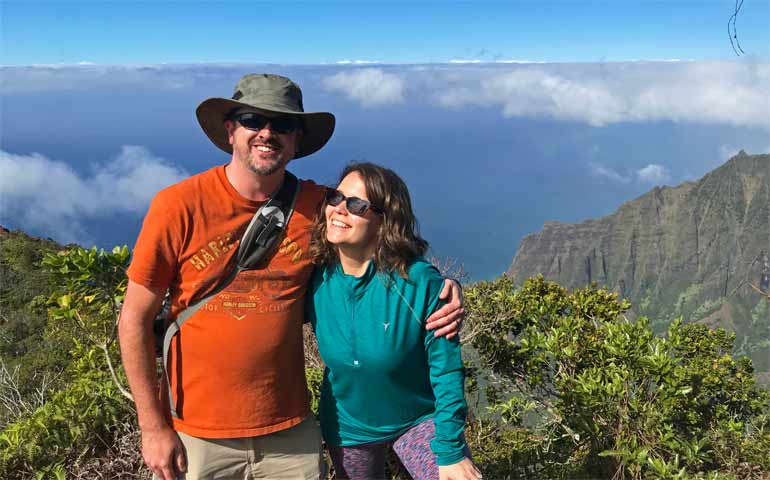 Remember that most of your clothes will probably only be worn a few hours at time, and can be re-worn. Plus beach gear usually dries overnight, so you don't need a swimsuit for every day.
Pro tip for packing: lay out everything you think you'll need. Then re-evaluate before you put it into your suitcase.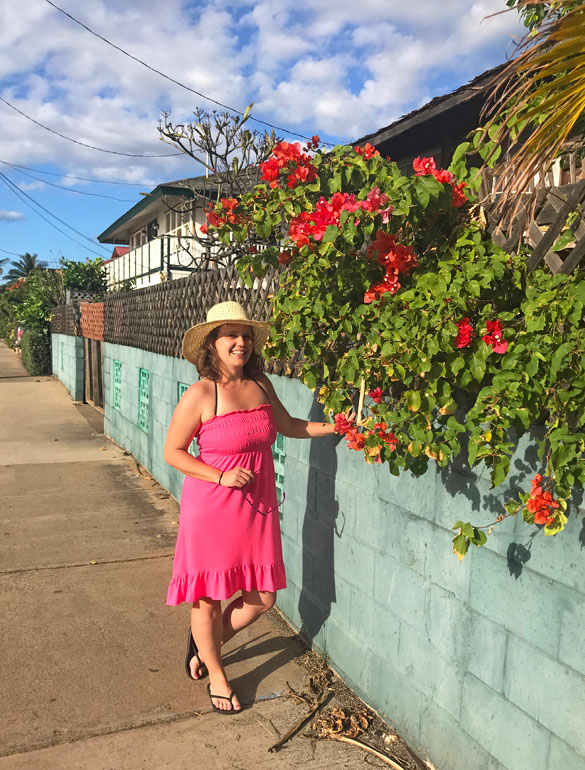 Ask yourself these questions as you pack:
Does this item feel good when you wear it? (Do you love it?) If not, take it out of the pile.
Am I packing something similar to this item that can work instead?
Can I eliminate the 'just in case items' by using a laundry service (is laundry available at your accommodations?)
If there are 3 things that I could live without on this trip, what would they be?
Going through this process will help you to minimize what to bring to Hawaii and get rid of the 'just in case' items that seem to sneak themselves into suitcases.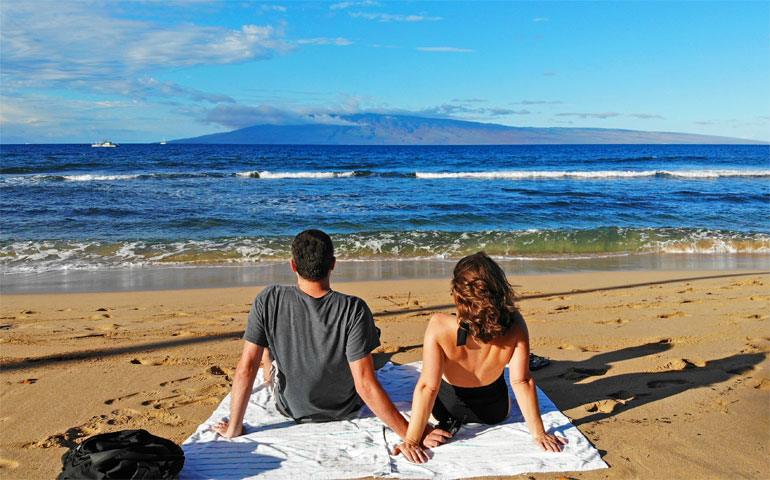 Hawaii packing list (a recap)
Okay are you ready to start packing for Hawaii? Just to recap, here are the best things to pack to Hawaii:
Water shoes
Reef-safe sunblock
Sun hat
Reusable water bottles
Collapsible cooler
Towel with hidden zipper pocket
Waterproof phone holder
Rash guard
Body glide
Backpack
Clothing for a week (minimize!)
Hiking gear (as needed)
Snorkel gear (as needed)
Travel size blender (as needed)
You're going to have an amazing time on your trip! Hawaii is the best! Enjoy and Aloha!
Other Hawaii content you might like:
20 Awesome Maui Adventures on a Budget
Best Snorkeling Kauai – 10 Beautiful Beaches You'll Love
Best Things to Do in Kauai: 7-day Guide
Which Island in Hawaii to Visit? Take the Hawaiian Island Quiz
Kauai's Best Restaurants any Foodie will Love
Top 20 Kauai Hawaii Beaches that Promise Amazing Views
Stunning Kalalau Trail – Hiking the First 2 "Easy" Miles
Maha'ulepu Heritage Trail – Underrated Kauai Hike You Need to See
Hiking Waimea Canyon Trail – Everything You Need to Know
By the way, if you don't have a rental car for Hawaii yet, get on it! Find discounted rental cars using Discover Cars. I typically save 10-30%!
Find this article helpful? Save it for later or share it on social media!