When you think of Austin, Texas you probably think of South by Southwest and all things music. Or maybe it's the city's weird and eclectic spirit. There's music and art around every corner, and everyone is welcome to the city as they are.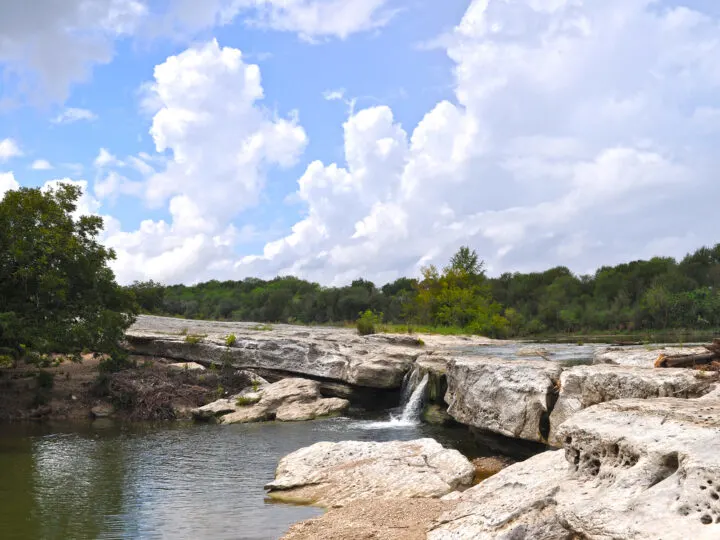 This post may contain affiliate links. For more info, see my disclosures.
But what takes a back seat to the music and countless murals, are the lakes, rivers and hiking in Austin. On my recent trip to Austin, I discovered there's a surprising amount of nature to explore in and around Austin.
The majority of trails I experienced in Austin were relatively flat. After all, hiking in Austin isn't exactly like scaling the Rockies or climbing Mount Everest…obviously. This is good news for those who want to leisurely enjoy nature, without a lot of hard work.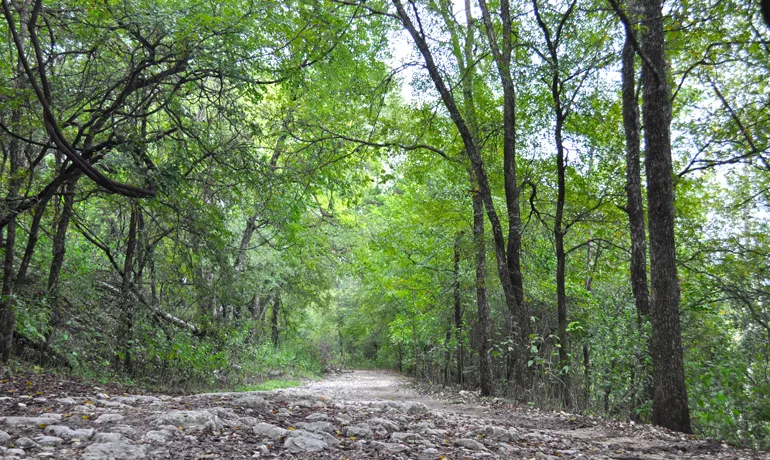 For the purposes of this article I'm writing about the three easy hikes where easy is defined as hikes with little incline, or hikes that are short in length. These hikes are perfect for families, beginner hikers or those who may not have the mobility or endurance for long hikes. They can truly be enjoyed by everyone!
Before we dive in to easy hiking in Austin, if you're looking to squeeze hiking into your Austin weekend getaway, check out this 48-hour guide to a weekend in Austin.
Okay, let's get to the hiking!
Hiking McKinney Falls State Park
While hiking in Austin, my favorite trails were at McKinney Falls State Park. On the outskirts of Austin, this is about 25 minutes drive from downtown. These trails were less busy than the others and I felt I could truly enjoy nature.
This could have been due to the time of year. I would expect it to get busy during the summer and holidays since there's a lot of camping options here.
When you arrive at the park there's a small fee of $6 and it comes with a map. You can ask the attendants for recommendations on trails based on the season and water levels. The Onion Creek Trail is a great option if you're looking for an easy hike because most of it is paved.
The best hiking at McKinney Falls State Park will take you past the upper and lower falls. They're both beautiful and open up to swimming holes. Depending on the rainfall, you may be able to walk across the upper and lower falls to get the view from above, if you're careful. Both are easy to get to, just off the trail, with mostly flat terrain.
Since this is a state park, there are plenty of facilities included with your entrance fee. There are restrooms and picnic tables so it's easy to make a day of exploring the various trails and points of interest in the park.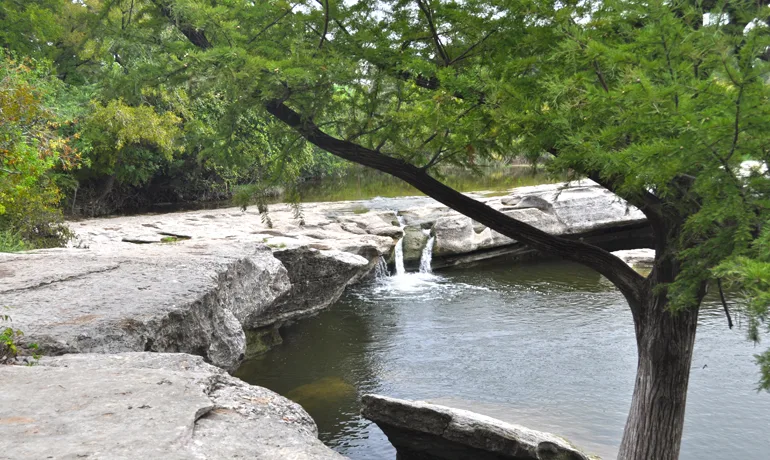 Recommendations for hiking in McKinney Falls State Park:
Limestone is fun to walk on, but can get very slippery when wet so use caution.
Bring bug spray and sunblock.
Pack a backpack with water bottles.
In the summer bring your swimming suit to cool off in the pools.
Plan to spend some time here! Beyond hiking, this is a historical site where Thomas McKinney built his homestead and the remains of several buildings are still on site.
Related reads:
10 Tips for Your Best Vacation Ever
Why Taking Vacations Makes You Happier
Hiking Mount Bonnell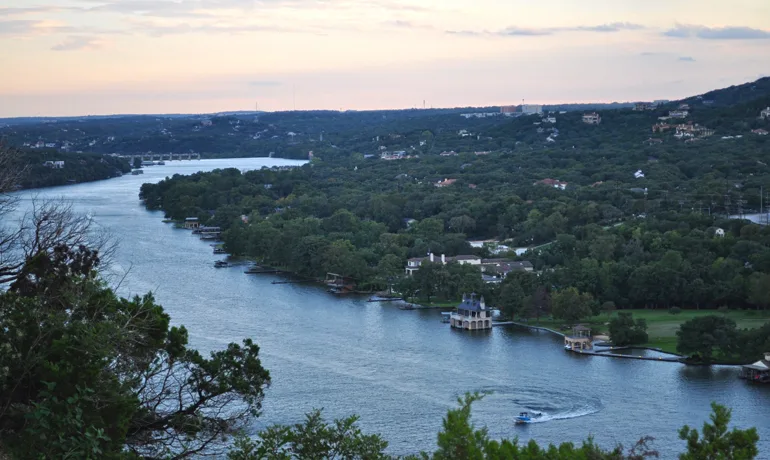 Overlooking the Colorado River, Mount Bonnell is a great place to check out the Austin skyline and watch the sunset. This hike falls under the 'short' category, with only 106 stone steps from the entrance to the top. So while it's vertically challenging, a quick jaunt up the steps and you'll get some of the best views in Austin.
There is a short hiking trail that takes you along the ridge of Mount Bonnell. At the summit is a shade structure, worthy of an Instagram photo or two.
This is also where you can stand at the highest point in Austin, 775 feet above sea level. If you take the trail south (turning left) from the top of the stairs, you'll get a view of the Austin skyline.
A hike easy enough to wear sandals, Mount Bonnell is one of the most popular spots for hiking in Austin for locals and tourists alike. You could do the whole thing in less than thirty minutes, so it's a nice activity to squeeze in a weekend visit to Austin.
Recommendations for hiking Mount Bonnell:
Go early in the day to avoid the crowds.
If you're going to watch the sunset, grab your seat early (an hour or more before the sun sets).
Remember the sunblock.
Explore the heart of Austin. Book an apartment with Vrbo.
Hiking Barton Creek Greenbelt Trail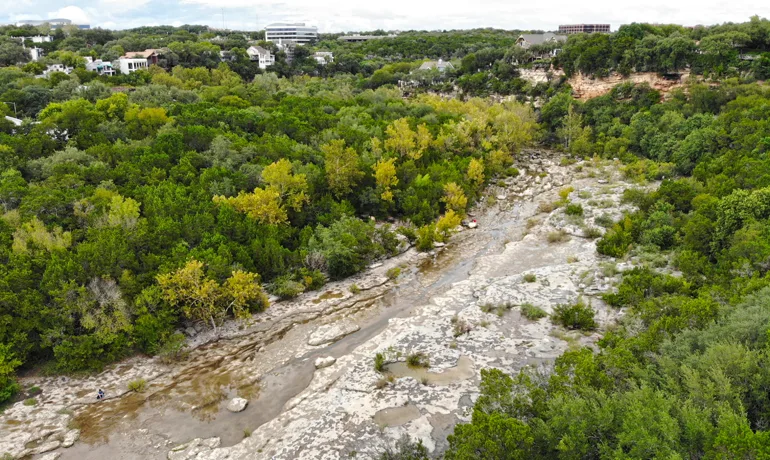 One of the most popular hikes in Austin is the Barton Creek Greenbelt trail. It offers a variety of activities including hiking and biking, plus swimming in the summertime. When it rains heavy, you can enjoy a dip in one of the five swimming holes.
I loved that this trail is centrally located and easy to get to. With over 12 miles and 11 access points, there's plenty to see and do at this trail.
Plus, the Barton Creek Greenbelt is a perfect spot for a picnic. So pack up a lunch and when you get to a clearing, grab a seat by the water and enjoy a break.
I enjoyed this trail for the variety. It seemed like something new around every corner. I came across unique limestone formations, waterfalls and of course the creek.
Most of the trail was covered with thick foliage so the shade was nice on a hot day. I saw lots of runners, bikers and people walking their dogs on the trail too.
Recommendations for hiking the Barton Creek Greenbelt Trail:
Bring bug spray, sunblock and plenty of water.
Wear good walking/hiking shoes and prepare for mud if it's recently rained.
There's no facilities on the trail, so plan accordingly and take any trash with you.
Read next: 28 Underrated Travel Destinations in the US You Need to See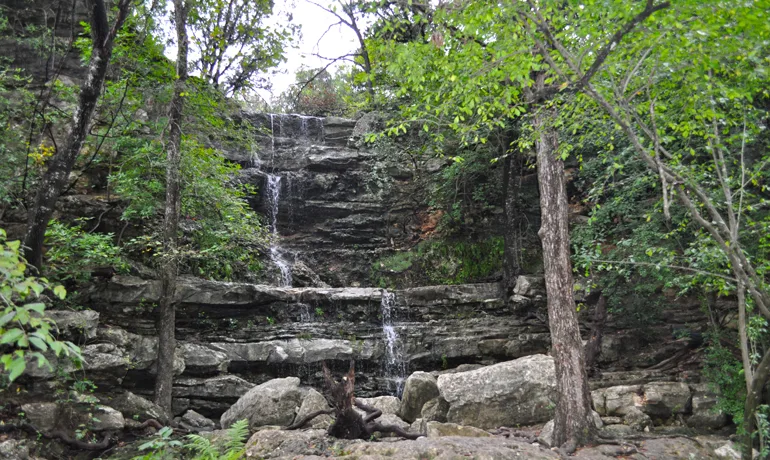 Hiking in Austin: 3 Easy Hikes
Well friend, have you decided which trail you'll hit in Austin? McKinney Falls State Park, Mount Bonnell and Barton Creek Greenbelt are all relatively easy hikes and perfect for beginners or families. Austin will entertain you with it's music, food and art. Now we can add hiking to that list, too.
So, which trail looks best to you? Comment below. 🙂
Related read: Packing for a Day Hike: 20+ Items not to Forget