If you're new to hiking or just don't want to forget an essential item, you're in the right spot! Here's the best checklist for packing for a day hike. It includes all the things you may need, without the bulky extra's.
But what do you really need? Compass? Hiking food? And are hiking boots really necessary for a day hike?
You don't want to carry too much because it's heavy and will slow you down. But if you have too little gear and run into a situation, it could be a terrible outcome.
What to pack for a hike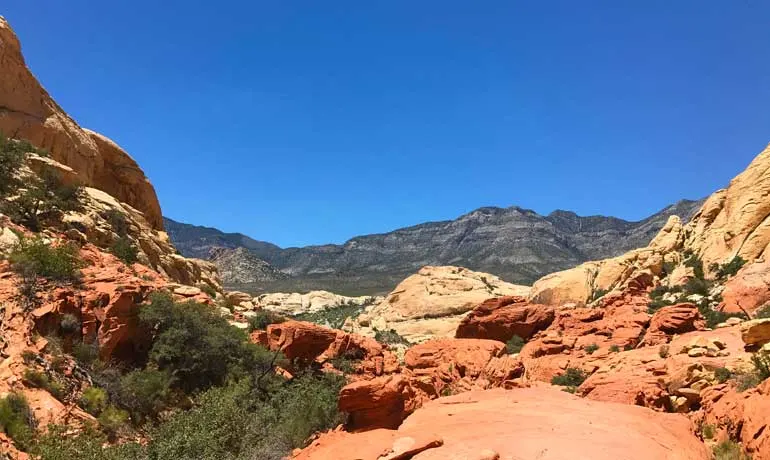 This post may contain affiliate links. For more info, see my disclosures.
If you're stuck on exactly what to pack for a day hike, then this is the list for you. There's even a section on this list of things to pack for hiking with kids and with dogs – if that's your style.
And connecting with nature through hiking is the prefect way to spend the day. Whether you're hiking solo, with friends or family, it's a great way to get some exercise and enjoy the outdoors.
There's plenty of health benefits to hiking, too. So if you're new to hiking or just want to make sure you've got what you need, this is the list of essentials for packing for a day hike.
Oh, and by the way: queen of the day hikers here! I'm not one for camping, but I love to hike so the day hike is the perfect solution! To be honest, when I started hiking I did very little research. I didn't think it would take much to hike a few miles. But I was so wrong!
As I've progressively hiked more complicated trails, I've gotten better about what's truly needed when packing for a day hike, and what you can leave back home.
Read next: 30 Hiking Trails for Beginners: Top USA Hikes that are Actually Easy
Let's dive into the list!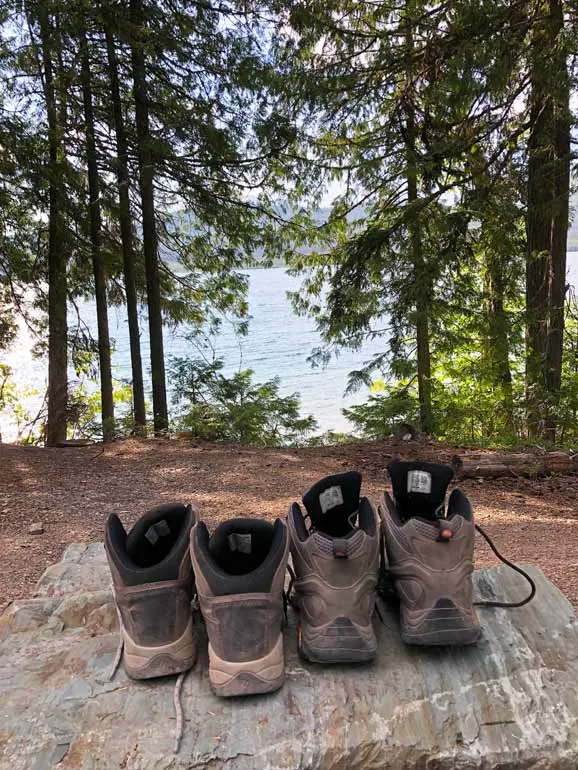 Packing for a day hike: the essentials
At the very least, I'd recommend these 9 essential items to bring along with you. You'll have a lot more fun knowing you have the right hiking gear, just in case!
1. Navigation
More often than not, the hiking trail you're on won't have GPS reception the whole way. So there's a few different options for navigation to make sure you don't get lost:
Hiking trail map. This probably would suffice if you're hiking in a well-marked trail, like at a national park.
AllTrails app. You can download the trails before you go and use them offline so you don't have to worry about GPS.
Compass and traditional map, old-school style 🙂
My personal favorite way to navigate a trail is by using AllTrails. Nearly every trail I've ever hiked has been on there, and it's easy and simple. Here's a list of other hiking apps for more options, too. This is one of the most important things to bring on a hike!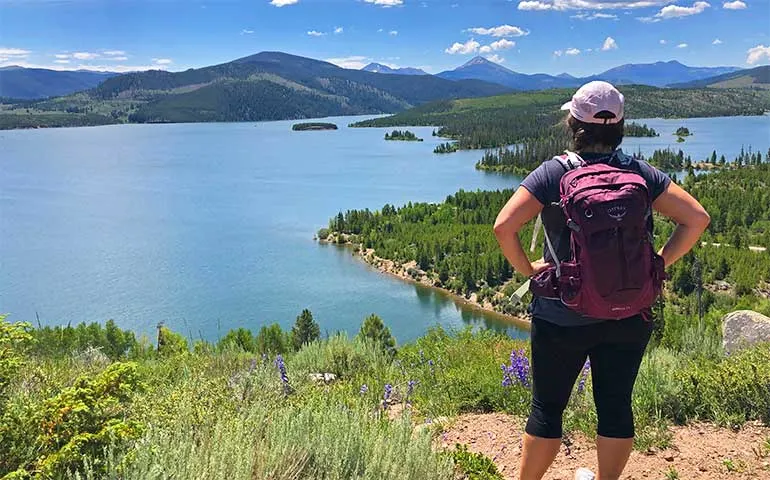 2. Backpack
I mean, it's easiest to carry the proper hiking gear with a backpack. I've hiked with a sling back and regular backpack, but a hiking backpack is truly the best option, if it's in your budget.
A true hiking backpack is beneficial because it will distribute the weight better, it's often weather-resistant and the pockets are set up for hiking rather than carrying other things like books or a laptop.
Here's my favorite, affordable hiking backpack from Amazon.
3. Water. Then more water!
Water can get heavy while hiking, but it's so important. A good rule of thumb is to bring 1/2 liter of water per hour of hiking for each adult.
Once when my husband and I were hiking in Red Rock Canyon outside of Las Vegas, we ran into a group of people who were in bad shape. One had a sprained ankle, and worse yet – they'd run out of water.
We gave them a full liter of water that we had as our back-up. We had enough with us to finish the hike, and they were obviously in great need of the water considering they were hiking in the desert.
I typically bring ice water in reusable bottles, then also freeze at least one bottle as a back-up. While I'm drinking the first ones, the others are thawing out and it provides cold, refreshing water all day. I did this while in Arches National Park hikes last summer.
You can also buy a water backpack that holds up to 2 liters of water. They typically have less overall storage, but it's a nice option for day hikes.
Of course, if you're hiking in an area where you can get fresh water from a mountain stream, you'll just need a way to purify it. This is an awesome water purifying system for hikers.
4. Protein snacks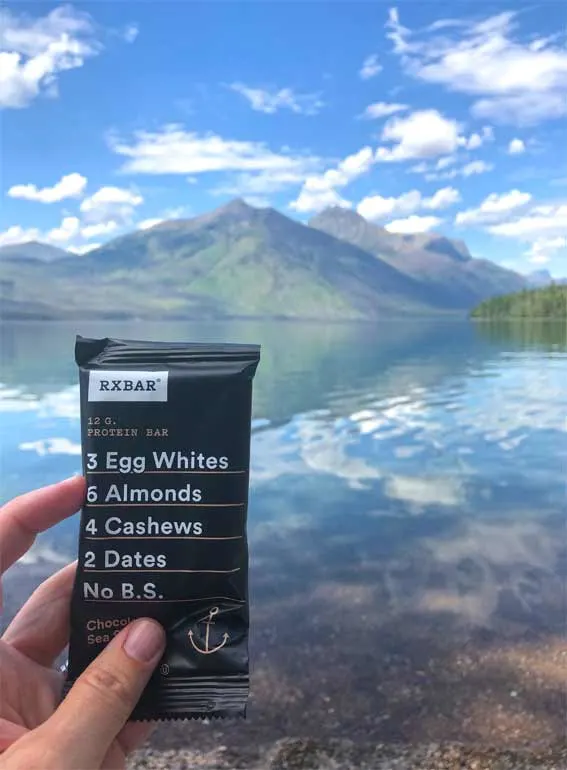 Snacks are a critical item on your day hike packing list! You'll be burning calories like crazy and will need to refuel along the way. Regardless if you're going one mile or 9, protein snacks will keep you going.
RX bars are my favorite protein snack while hiking. I've also packed homemade trail mix, and my husband loves beef jerky to refuel.
5. Sun protection (a must-have on this day hiking checklist)
This one I never leave home without. Sunscreen, sun glasses and hat are all basics for me. When hiking at high altitudes, a hat is one of the best ways to protect yourself – regardless of the time of year!
If you're concerned about weight in your backpack, you can apply sunblock before you hit the trail then take a small size container in your pack. Here's my favorite, earth-friendly sunscreen. (It's just an added bonus that it smells amazing, too.)
6. Bug spray
I'm not sure about you, but I hate pesky bug bites! While hiking the Kalalau Trail on the NaPali Coast in Kauai, I forgot to re-apply bug spray after enjoying the beach. I was eaten alive on the second half of the trail!
When you pack for a hike, be sure to grab the bug spray, bug bands or your essentials oil solution – whatever you use for bug protection.
7. Good hiking shoes
Yep, I said it! Hiking footwear is a must if you're doing any kind of incline, or are hiking on anything but a boardwalk.
In my early hiking days, I just wore athletic shoes and they just didn't cut it. Sore ankles and slipping didn't make for the best memories, plus it was a hazard!
I recommend hiking boots with good ankle support which helps to stabilize you while walking on all sorts of terrain. Good traction is also essential for any type of slick surface or scrambling you might run into.
These are my favorite hiking boots for women. And here are my husband's favorite hiking boots for men. We've worn them hiking throughout our worldly travels and cannot recommend them enough.
Oh, and don't forget hiking socks. Look for seamless, sweat-resistant and socks based on the temperature you're hiking in.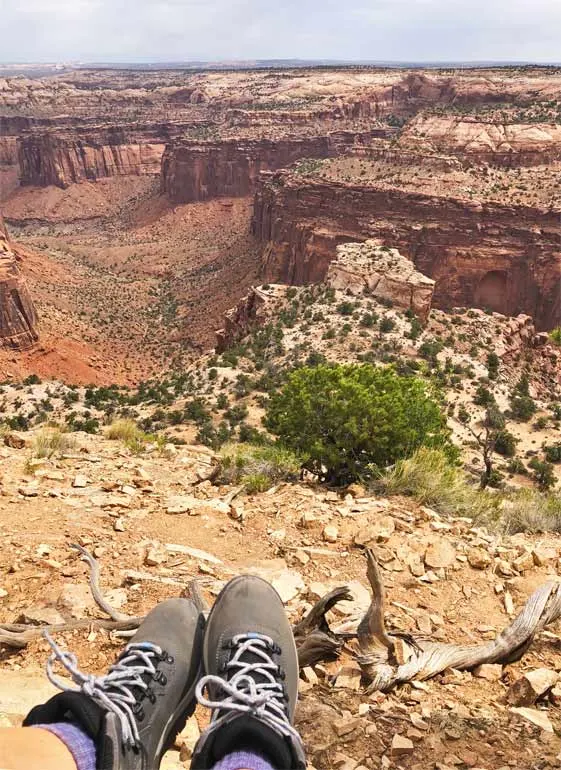 8. Basic first aid kit
I started carrying a small first aid kit with me a few years ago. I honestly didn't think I'd ever need it, but it's lightweight and 'just in case.'
Then my daughter had a small injury when we were hiking while on a Glacier National Park hike when she was 7. Nothing a simple band aid and antibiotic ointment couldn't fix, but it was still nice to have along with us.
9. Layers and rain protection (day hiking packing list essential)
I can't even tell you how many hikes I've started with clear, blue skies that's led to a hike in the rain. Truth is, the weather can change in an instant, especially if you're hiking in the mountains!
A layer for rain is essential while hiking. I recommend a thin, foldable poncho if the weather is warm. It's lightweight and easy to pack. If it's cooler, pack a rain jacket or weather-resistant coat.
Here's the rain jacket I love while hiking. It's thin enough to wear in warm weather while it's raining. Or layer it up for cooler temperatures. It's saved me so many times from getting soaked.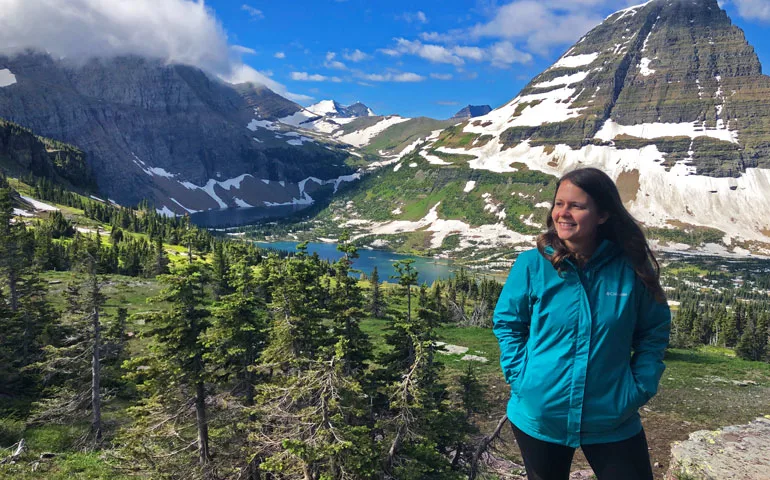 What to pack for a day hike for safety
Alright so we already talked about a first aid kit. But being prepared doesn't end there! These items may be helpful to you based on your situation, group size and where you're hiking.
10. Whistle
Carrying an emergency whistle is for the 'just in case.' It's lightweight and easy to fit in your backpack. It's a small, simple item on this day hike packing list.
If you're ever in a situation where you're lost or injured and need to call for help, a whistle is a loud noise that can alert other hikers. Give 3 short blows for a distress call.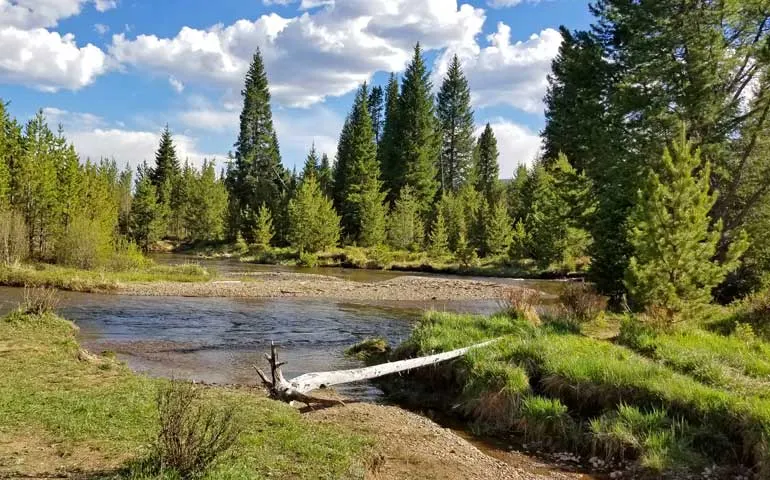 11. Knife or multi-tool, mace
You might not think you'll need these items, but they'll come in handy in case of an emergency. A knife or multi-tool can be used in many kinds of situations.
As a solo female traveler and hiker, I carry mace with me. It's in a handy spot in my backpack to easily access in case I'm confronted with an unfriendly hiker.
You just never know.
12. Bear spray (essential item to pack for a day hike in bear country)
This one's a biggie if you're hiking someplace where bears may be present. Just do your research ahead of time. My husband and I have hiked in bear country in Dillon, Colorado, Glacier NP in Montana plus many others and have had bear spray handy.
Each adult should have a can of bear spray on them, in a handy pocket in case you're confronted with a bear. Nobody likes to think about it, but it does happen.
Here are more tips on wildlife encounters from the NPS.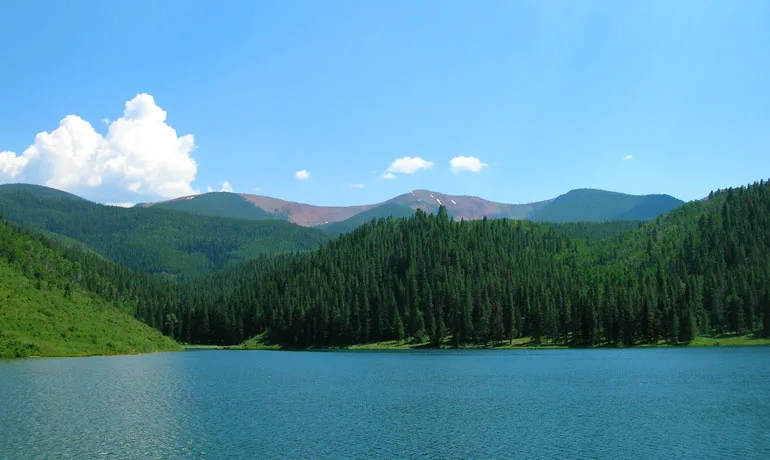 13. Headlamp
If you're packing for a day hike, you may not need this. Or will you? Here are just a few scenarios a head lamp will come in handy:
What if you hang out at the lookout way too long and it gets dark before you're back to your vehicle?
How about adding a sunrise hike when you're at this awesome hiking destination?
What if the slot canyons are darker than you think at dusk?
And what happens if you get lost or injured and need to see at night?
You get the point. 🙂
14. Lighter or matches
Same reason as the other safety things above. Purchasing either of these and carrying them with you is inexpensive and easy. Why not have them just in case?
15. Blister prevention and treatment
Okay, so if you're breaking in new hiking shoes, trying out new socks or are just planning a long hike (or several days of hiking), then blister prevention is key.
The first step for me – aside from quality shoes and socks – is Foot Glide. Simply rub Foot Glide over any part of your foot that is most susceptible for getting blisters and you'll be in better shape.
If blisters do pop up, be sure to have some blister band aids handy or moleskin. I prefer moleskin as it's very versatile, but you'll need scissors for it.
Hiking with blisters is no fun. I've gone on vacations where we hiked different trails every day and I've developed blisters. And on vacations where we've hiked a ton and I haven't had blisters.
I gotta say – good socks and shoes make a big difference! Again, here are my favorite hiking boots and hiking socks on Amazon.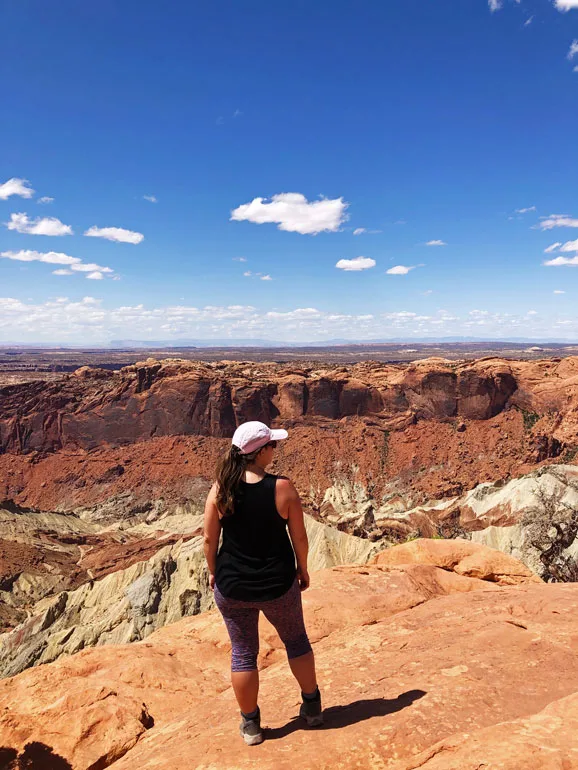 Packing for a day hike – more items
This next section is a list of packing items that will depend on personal preference and where you're going. Each item is useful, and each I've taken (or needed) at various hiking destinations.
16. Chap stick
When you pack for a hike, don't forget to grab this as you're heading out! Protect yourself from chapped lips, sunburns and wind burns while you hike.
17. Trekking poles (essential for tough terrain when packing for a day hike)
Guyyyyys this one is huge! I didn't start my hiking journey using trekking poles. But a few years ago I was hiking the Waimea Canyon in Kauai, Hawaii and didn't have them. Thankfully, the group I was with all grabbed hiking sticks at the entrance.
It was a muddy and challenging hike. The incline and tough terrain, not to mention the fact that we were racing the sunset all made a slippery hike. That was the first time I truly wished I'd had trekking poles – even though I had a good hiking stick.
Shortly thereafter I purchased trekking poles and I'll never look back!
Here are the benefits of trekking poles:
Provide stability
Give your arms and shoulders a job while hiking
Take stress off joints (think knees and ankles)
Test the depth of water, sand or mud
My favorite trekking poles are travel-friendly and condense in size. These are the light-weight trekking poles I use while hiking.
Anyway, I could write a whole post about the benefit of trekking poles. But for now, just know that if you're hiking anywhere with tricky terrain or an incline or descent, trekking poles will likely come in handy.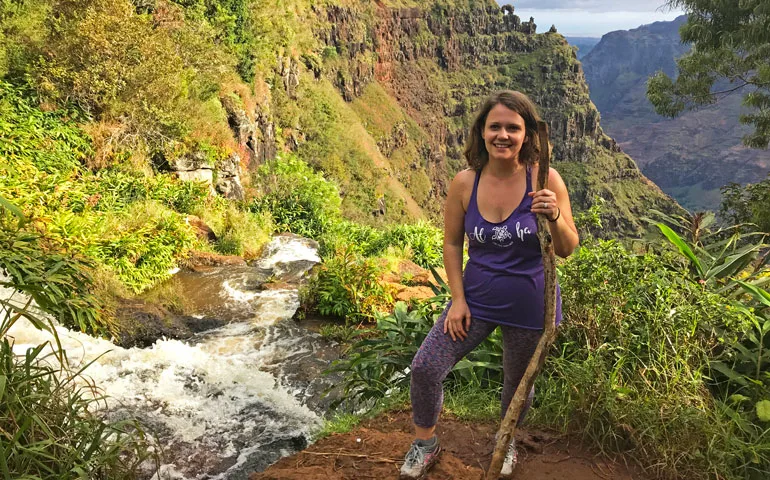 18. Toiletry items (another must-have for packing for a day hike)
Depending on the length of your hike and the services along the trail, you may need to squat a time or two. I'd recommend taking a small roll of toilet tissue or wet wipes.
Be sure to pack along a baggie, as you'll need to carry those items back out of the park or tail with you. The National Park Service's 'leave no trace' means leave nothing behind – not even toilet tissue.
Oh, and don't forget the hand sanitizer or hand wipes to make yourself feel better about the whole situation, okay?
19. Portable power bank
If you're using your phone for photos, music or the AllTrails app, you'll likely be testing it's battery. Packing along a cord and mini power bank to re-charge will ensure you're safe on the trail.
20. Water shoes and light towel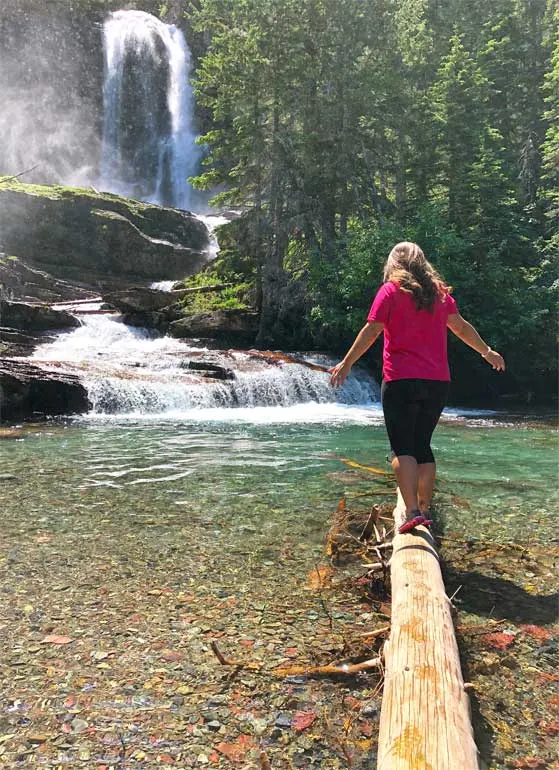 If you're hiking to a waterfall, creek or lake then you might just need this! Water shoes and a quick-dry towel are an essential item for me when hiking in the mountains, as I love to take a break and feel that cool water on my feet.
Every time I stop at a waterfall and break out my water shoes, I get comments from other hikers about what a g9 ood idea it is. I've especially found the water shoes to be super helpful, as most of the time streams and lakes are rocky and slippery.
These are my favorite water shoes and lightweight towel on Amazon. I've hiked and traveled with these all over and the quality is top notch!
21. Binoculars
I used to always think binoculars was an old person thing. But as I've hiked over the years, they've been quite helpful! I like pulling them out once I get to an overlook or mountaintop.
It's cool to check out the wildlife or far-away views while hiking. And a decent pair of binoculars isn't very expensive and doesn't weigh much in your pack.
22. Lunch (as needed)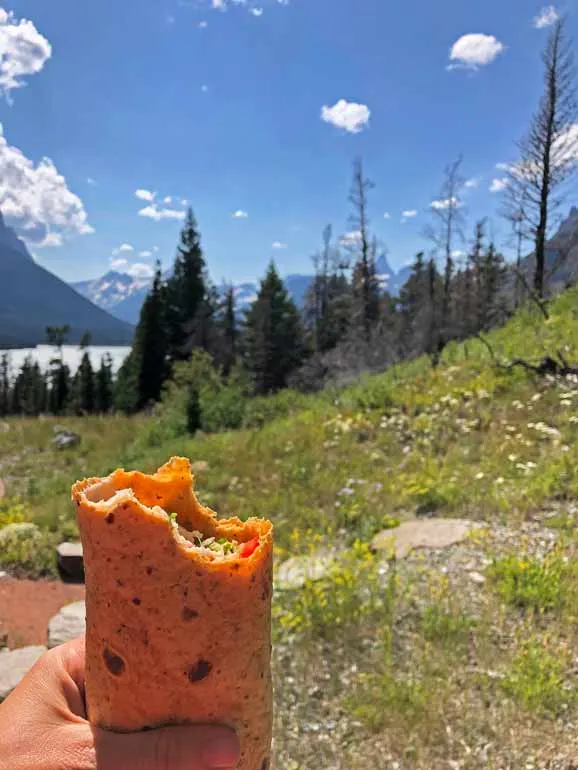 This is really breakfast, lunch or dinner, as needed. Basically, if you're going on a day hike and expect to be gone longer than 4-5 hours, you might need more than a snack to tide you over.
There's lots of different ways to can bring a meal hiking with you. Lightweight trail food and dehydrated foods make good options.
A hiker's favorite for protein is packaged meat – like tuna or salmon. Add a tortilla or bagel, fresh fruit like an apple and you've got a satisfying meal.
My personal favorite is a homemade wrap. I add meat, cheese, lettuce, tomato, etc. to a tortilla. Wrap it in foil and place it in the fridge the night before to get it nice an cold. I put a small hand towel in the freezer too.
Then just before I set out to hike, I pull it out of the fridge (or cooler if there was a drive) and wrap the foil sandwich in the frozen cloth. It keeps cold for several hours this way, even while hiking in the heat. Just be sure to separate any items in your backpack you don't want the towel condensation to transfer to.
23. Seasonal items
This probably goes without saying, but prepare for the season properly. In cold weather, pack extra gloves, hand warmers, hat and any other layers you might need.
While hiking in the desert, make sure to wear lightweight clothing and a bandana to protect your face from flying sand. Whatever weather you're facing, just be prepared.
Packing for hiking with kids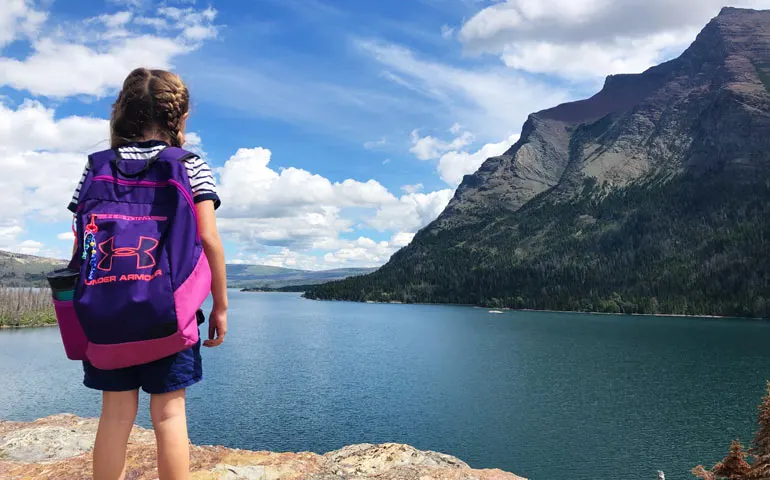 If you're heading out on a family adventure, then you're in for a real treat! Hiking with my kids has been some of my fondest travel memories with them. But, you don't want cranky kids!
Here are a few additional things to consider for packing for a day hike with kids:
The right layers. Kids will often need different clothing than adults. Pack that extra layer just in case!
Light backpack. Extra hikers means more supplies. Have each child carry a small, lightweight backpack to help carry the load.
Kid-friendly snacks. Some kids will eat the same snacks as adults, but others are pickier. Just make sure to pack some snacks with protein for them, too.
Good shoes and socks. Don't overlook this one! Make sure any kids with you have the proper footwear for comfort and traction.
Things to bring on a hike with a dog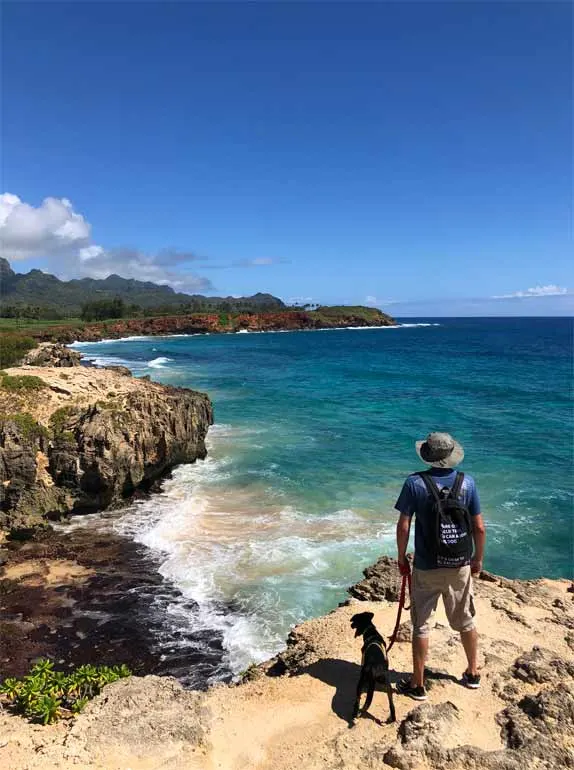 Bringing a pup – or two – along on your hike? While most dogs love the outdoors and they'll certainly add enjoyment to your hike. Just be sure to check the trails to see if they're dog-friendly!)
Here are a few things to add to your list for packing for a day hike with a dog.
Collapsible water bowl
Extra water for your dog
Good leash that won't break (recommend against a retractible leash)
Baggies for dog poo
Tags for his/her collar with their name and your contact info
Bell for their collar in case they get off leash so you can hear them
Dog backpack so they can help
If you've got a strong, active dog, you may be able to train him or her to carry their own backpack. Dogs should be able to carry 20-25% of their own weight while hiking, so that will help with supplies, water, etc. Of course, check with your vet first on this one.
As someone who's hiked with dogs multiple times, I can say it's a fun way to enjoy the trails! And it's one of the most fun things to bring on a hike. 😉
Things to pack for a day hike – that's a wrap!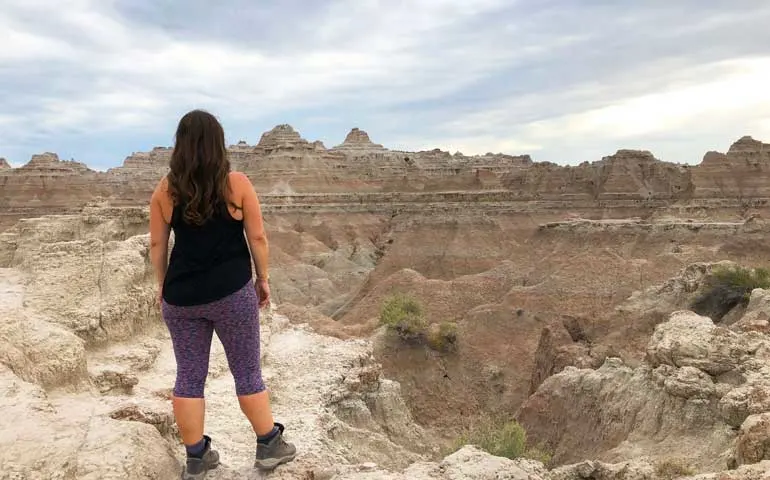 Whew that was a list! This checklist is totally customizable for your destination and your preferences.
Let's recap in a more condensed version!
What to pack for a hike:
Navigation
Backpack
Water
Protein snacks
Sun protection
Bug spray
Good hiking shoes
Basic first aid kit
Layers and rain protection
Whistle
Knife or multi-tool, mace
Bear spray
Headlamp
Lighter or matches
Blister prevention and treatment
Chap stick
Trekking poles
Toiletry items
Portable power bank
Water shoes & light towel
Binoculars
Lunch or larger meal
Seasonal clothing
Bonus items for your day hiking packing list:
Kids' gear (as needed)
Dog gear (as needed)
Wishing you all the best during your day hike! I hope you have a fantastic time, see amazing sights and have just what you need for the day.
Related content to read next:
28 Absolutely Best National Parks to Visit in Summer
101 Healthy & Fun Road Trip Food Ideas
28 Underrated Travel Destinations in the USA
Find this article helpful? Save it for later or share it on social media.