Flying in a cramped airplane may not be your definition of fun, but being at your destination will (hopefully) be worth the long flight! With limited personal space on an airplane, it can be tricky to get and stay comfortable. I'm not sure if anyone really ever loves flying for 8 or more hours, especially in economy seats. But if you plan ahead, pack the right gear and go in with a positive attitude, you can survive it! After years of traveling and going on some really long flights, I've experienced it all. Here are my top tips for long flights.
1. Choose Your Seats Wisely for Long Flights
When you're squished in an airplane with hundreds of fellow travelers, it's really nice to get a few extra inches of seat or leg room. So if it's possible to upgrade to business class or select an exit row, I'd highly recommend that. Those few extra inches of space on a 8, 10 or 12+ hour flight make a big difference in your comfort level.
If you can't upgrade your seat, next you'll need to consider which seat to select: window or aisle. I'd definitely recommend to avoid a middle seat, being squished between two people is no fun at all.
There are a few great things about a window seat for a long flight. The first is that you get a wall to sleep on. This provides an extra option if you're having troubles getting comfortable. I'm definitely a window seat person. Another benefit to choosing a window seat is that the person next to you isn't waking you up every time they have to use the bathroom, or just want to stretch their legs.
Plus you control the light from the window. I've been on flights where the flight attendants pretty much require that the window shades are pulled down the entire trip, so people can sleep. Then on other flights the flight crew doesn't address it. It's nice to be able to pull down the shade if you're going to be in the air for a long flight and you're trying to get some rest.
The biggest down side to a window seat is that you have to ask the people next to you to move if you want to get out of your seat. So it can feel a little claustrophobic. And it's really rough to wake someone up to hit the bathroom – that never feels good!
There are definitely benefits to aisle seats on long flights. The most obvious is that you can get up and down whenever you want to. You're free to roam the cabin to stretch your legs whenever you want. If you're tall there are times during the flight that you can get comfy by putting your feet in the aisle.
A bad part about an aisle seat is that if you're trying to sleep and your knees, elbows or shoulders, are in the aisle you are likely to get bumped by a beverage cart. That's not fun, either! Oh, and the person in the aisle seat is the one that gets woken up when others in the row have to hit the bathroom? So, that's you.
For comfort otherwise, the seats over the wing are usually the less turbulent. And planes typically fill up front to back, so choosing a seat toward the back you'll be more likely to have an empty seat next to you. Now that feels good!
Always wanted to see the Grand Canyon? Ready to marvel at the Taj Mahal? Wanting to hit the cobblestone streets of Italy? Whether they're trips with your significant other, family vacations, girls weekends away, trips with friends, or anything in between, those places that come to mind right away go on your travel bucket list first.
Choosing your seats: one of my best tips for long flights
If you're traveling with your spouse, partner or a friend, I highly recommend this trick. It worked for me on a recent 16 1/2 hour trip from India, and it was amazing!
You reserve a window seat. Your spouse pays for the aisle seat in the same row. Get it toward the back of the plane (unless you upgrade to business class). Since planes usually fill seats from front to back, if there are any solo travelers and middle seats are the only option, they're likely to pick a seat toward the front of the plane. So the seat between you two may end up empty! There's a bigger chance that you can get comfortable if you have three seats for the two of you.
If it doesn't end up empty, the person between you is most likely going to switch one of you seats. You'll just get to negotiate which one!
Note: I wouldn't recommend to get the very last row in the plane, because the seats may not recline. On a long flight that extra room matters.
2. What to Eat on Long Flights – Pack Snacks!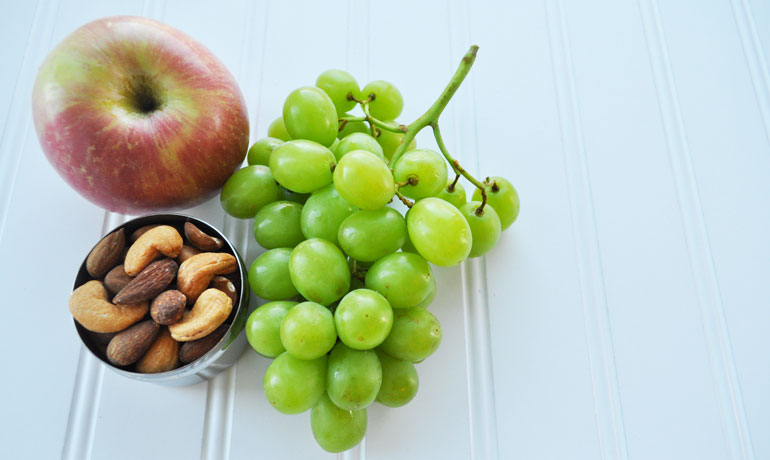 Depending on the length of your flight, you may get meal service, or multiple! If you're a picky eater or have allergies, it's tough to rely on airplane food. If you have to purchase your meal it can be expensive, or they may run out of the option you want. Plus, who knows when it will be served.
So before you board either eat a meal or buy a sandwich or salad to eat on the flight. You'll want your stomach nice and full if you're planning on getting any sleep. Plus, a full stomach helps calm your stomach if you're prone to motion sickness. Then, you'll have any packed snacks to tide you over between meals.
Grab some plane-friendly snacks ahead of time, either at home or in the airport. Travel-friendly, healthy snack options include fruits, nuts and granola bars. My favorite fruits to pack for a long flight are bananas, grapes and apples. They'll get through security without issues.
Note: If you're flying international, make sure to eat any fresh foods before you land. Most countries won't allow you to take produce or non-packaged nuts into the country for agricultural reasons.
Then, make sure to grab food during your layover. You never know when you'll eat next (or if you'll like it) so I typically try to grab something substantial during a layover, if there's time.
3. Entertainment Tips for Long Flights
Long flights can be boring, especially if you can't sleep on the plane. One of my best tips for long flights is to plan enough entertainment and activities to do in case you don't sleep a single minute. On a recent trip back from Hawaii, my husband didn't sleep a wink on an 8 hour flight. And it was even an overnight flight!
Activities take on a whole new level if you're taking a long flight with kids! Check out these tips for flying with kids.
Depending on the size of your airplane and the flight time, you may have in-seat entertainment systems that have movies, shows and games built in for free. Usually you can see the model of aircraft on your reservation and research if it has in-flight entertainment before hand. However, I've been on flights where the entertainment console was broken, so prepare ahead of time!
I recommend downloading content to your phone or tablet before you leave for your trip. Don't try to do it at the airport because wifi is not always reliable enough for downloading content. Sync podcasts, movies, music or games to your device. You'll want enough content for the long flight to and from your destination.
Consider Alternative Activities
If you're not one to watch movies or be otherwise entertained electronically, consider packing books, games or even a notebook. I take an adult coloring book with me for super long flights. It helps to give me something for my hands to do and it's a nice break from technology. If you're traveling with a friend or loved one, grab a deck of cards or other small game to keep you both busy.
Also think about other ways you could pass the time that doesn't include wifi. Whether it's getting a little extra work done on a laptop, journaling or finally creating your travel bucket list, it's time that you could use to focus without interruptions (unless you're flying with kids, of course!).
4. Noise-cancelling Headphones are Your New Best Friend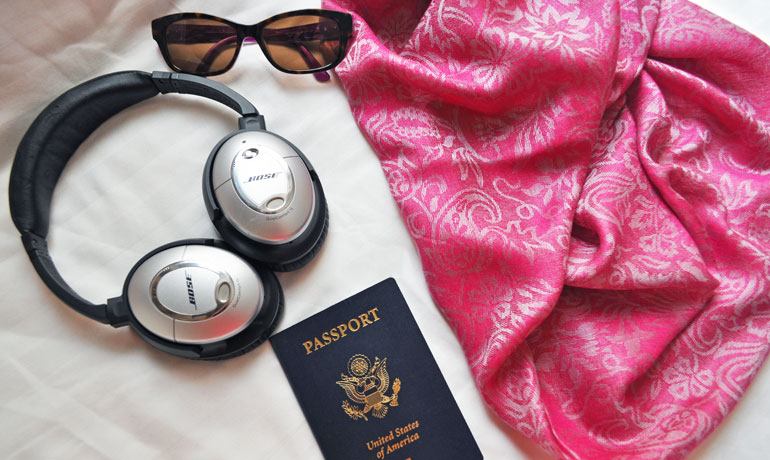 Friends, this is a game changer and one of my top tips for long flights! Airplanes are really loud with the constant humming of the engines and it can be mentally exhausting. Also, what if you're seated next to a screaming baby? NO FUN!
I'll be honest, I used to think that noise-cancelling headphones were too expensive and viewed them as a luxury. I didn't think I needed them on flights. But then I borrowed some for a long flight and I'll never go back!
Noise-cancelling headphones can be an investment. I have these headphones from Bose and they don't have all the extra fancy features, but they were a little easier on my budget, especially because I found them on an incredible sale. If buying noise-cancelling headphones isn't an option for you before your trip, see if you can borrow some from a friend or family member. It's so worth it!
If you don't have noise-cancelling headphones, make sure to take a good pair of earplugs. Drowning out extra sound however you can will help your comfort level during the flight.
5. Get Plenty of Sleep Before You Fly
This is one of the most essential tips for long flights! Try to get as much rest as possible the week leading up to your flight. For long flights you'll probably end up sleeping some, but do yourself a favor and rest before you go. Try to get 8-9 hours of sleep the night before. If it's not possible because of flight times, make sure you're getting as much sleep as possible the whole week before your long flight.
Make sure to pack a neck pillow, like this one. I'd recommend to make sure your neck pillow includes these features:
Easy to pack or carry
Has a washable cover
It's not flimsy and doesn't fall out of place
6. Wear Comfortable Clothes
Friends, this is important! Leggings or yoga pants are totally acceptable on a long flight, especially if you're flying overnight for 12 or more hours.
You could search on Pinterest for comfortable flight outfit ideas. Stay away from jeans or tight clothing that cause you discomfort. You don't need your clothing working against you here!
Think about everything head to toe. I always slide off my shoes during the flight and put a pair of fuzzy, warm socks over my others. Many travelers swear by compression socks, but I prefer warmth! I always pack an extra cardigan or pullover for another layer, and also a scarf. A scarf can also be used as a blanket or even lumbar support.
Depending on the length of your flight and your airline, they may hand out blankets and pillows to all travelers. These are nice but be prepared with your own stuff ahead of time. These will then be bonus items for extra comfort!
You've planned. You've dreamed. And now it's getting close. Your next vacation. But how do you make this trip memorable? And with as little stress as possible? Well, here are my top 10 tips to make this trip your best vacation ever.
7. Get Comfortable in Your Seat
I'm not sure if anyone is ever truly comfortable on a long flight, but there are things you can do to get as comfortable as possible. First, I always bring a pair of fuzzy socks and take my shoes off. There's something about your feet being free that automatically makes you more comfortable – and more likely to sleep!
Then cozy up and get ready for a long flight. I usually start the flight with productive work (like blogging!) or a movie for entertainment. So during this time I'm sitting upright. Then as the time comes to try to get some sleep, I'll put the tray up and recline my seat.
Using a blanket and pillow is helpful to create a little more cushion to a rigid airline seat. Plus using a good neck pillow gives your neck support and eye mask helps to drown out the light. I'm sure if you'd see me sleeping on an airplane it looks ridiculous. I have my noise-cancelling headphones on, eye mask on and pillow around my neck. Then a blanket or two for extra comfort.
If you get an empty seat beside you, it's nice to spread out a little more. With my 5'2″ frame, I can curl up and lay down across two seats, allowing me to be completely horizontal to get good (well, better) sleep.
If you don't have an empty seat beside you, consider propping your feet on your personal item (such as tote or backpack) underneath your seat. Your feet won't be quite as cold and the extra support is nice.
Related reads:
Why Vacations Make You Happier
45 Signs You Need a Vacation
10 Tips for Flying with Kids
8. Stretch and Move Around
Get up and walk around as much as you can during the flight. If you're flying in a large aircraft, walk the aisles. If you get up to use the bathroom, take a few extra minutes walking around or stretching to loosen stiff joints. During my flight last year to India, I walked the plane for 10 minute increments to keep the blood flowing.
If you're blocked in a window seat and the person next to you is snoring away (first be thankful for noise canceling headphones), you can do some simple stretches while seated to help rejuvenate your body.
Take a tennis ball with you and roll your feet. This will improve circulation and also helps to reduce anxiety about wanting to get off the plane.
9. Freshen Up Before You Land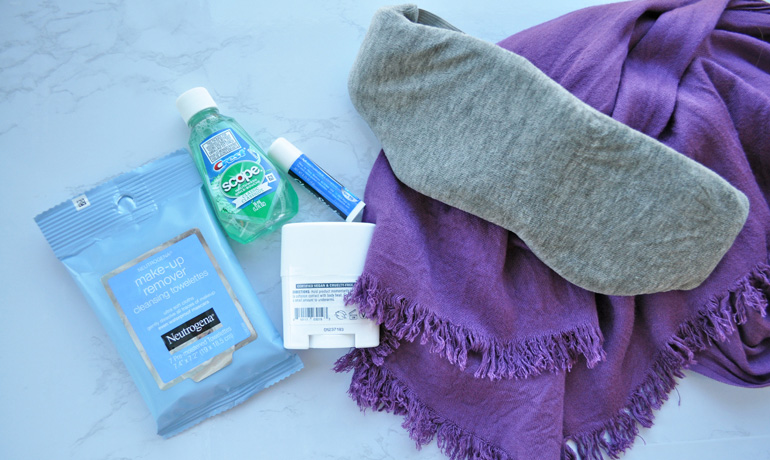 Whether you're getting to your destination after a long flight or traveling to another airport, you'll feel better as you step off the plane if you're slightly refreshed. Pack a toothbrush and mouth rinse, deodorant and face cleansers in your carry-on bag.
After you wake up from a long sleep it's nice to restart your day with a quick trip to the bathroom to freshen up. If you're traveling during the day, the hour before you land is also a great time to wash your face and get ready to start fresh as you hop off the plane.
10. Stay Hydrated
Now you've probably heard this before, but it's because it's so important! Airplanes are very dry environments so it's important to drink plenty of water before and during your flight. I always refill my reusable water bottle after going through security.
Anytime the beverage service goes around during the flight, I ask for multiple cups of water. Asking for 2-3 cups of water with ice lets you drink one or two during the meal and then rest you can pour into your water bottle.
Drinking more water usually means you'll have more bathroom breaks, but this helps to pass the time and keeps you active during your flight.
The Right Attitude (the most important of my tips for long flights)
Above all else, before and during the flight, remain optimistic. Focus on the end result: your destination. If you are positive and think about how easy of a flight it will be, that always helps! So do some research and create your packing list. Prep your activities and snacks, and truly try to enjoy the flight!
So, I hope you found these tips for long flights helpful. Where are you going on your next flight? Drop a comment below! 🙂