You've seen the list of the top destinations in the world, right? Those ones with insta-worthy backdrops, but will likely be packed with tourists and cost you thousands to get there?
Well those are fun to look at and certainly inspire wanderlust, but I wondered where else I could go to have an incredible experience without all the crowds. So I asked other travel bloggers to help me compile a list of the most underrated travel destinations in the US.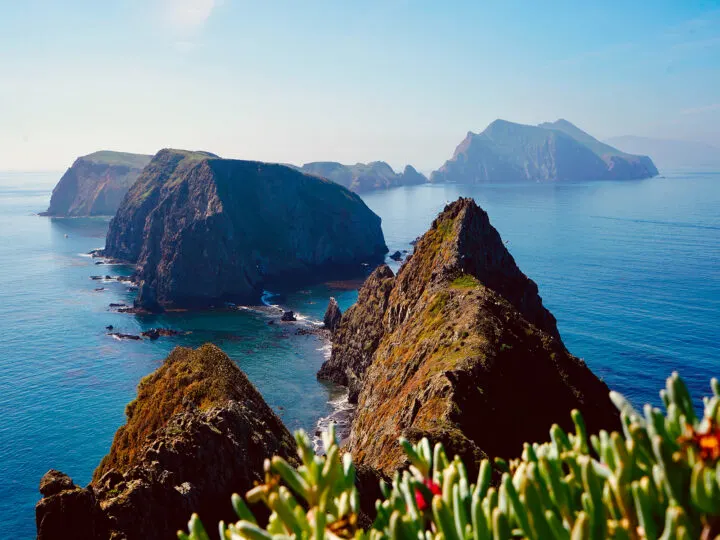 This post may contain affiliate links. For more info, see my disclosures.
Here's the best little known vacation spots! And bonus – you'll save a ton of money by going to these less traveled destinations in the US. Enjoy!
Most Underrated Travel Destinations in the US
Sandpoint, Idaho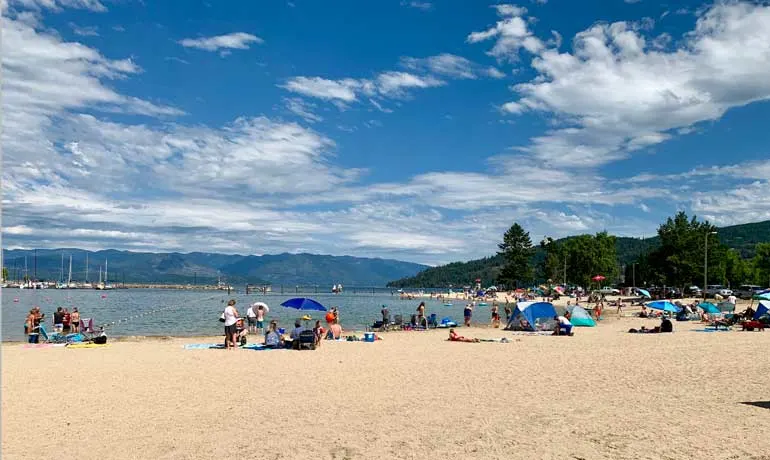 Sandpoint, Idaho, is located in Northern Idaho about one hour south of the Canadian border. Home to Lake Pend Orielle, the 5th deepest lake in the United States, and a world class ski resort at Schweitzer Mountain, Sandpoint is the perfect year-round destination.
Comparable to the popular travel destination of Lake Tahoe, there are lots of things to do in Sandpoint that rival Lake Tahoe's attractions but at a more affordable price and and with less tourists.
Whether it's spending the day on the lake during the summer, taking the family to Silverwood, the largest theme park and water park in the Pacific Northwest, or skiing or snow-shoeing in the winter, outdoor enthusiasts will enjoy a visit to this under-rated U.S. destination.
The easiest way to visit Sandpoint is by flying into the Spokane, Washington, airport and then renting a car to drive the 1 hour 30 minutes to Sandpoint. While there are a few hotel options in Sandpoint, they tend to book up far in advance, especially during the peak seasons.
Booking a house or a condo on Airbnb is great option for finding affordable accommodations and allows visitors to experience the comforts of home while visiting Sandpoint.
Recommended by Andrea of One Savvy Wanderer
You might also like:
20 BIG Adventure Vacations in the US Not to Miss
Solvang, California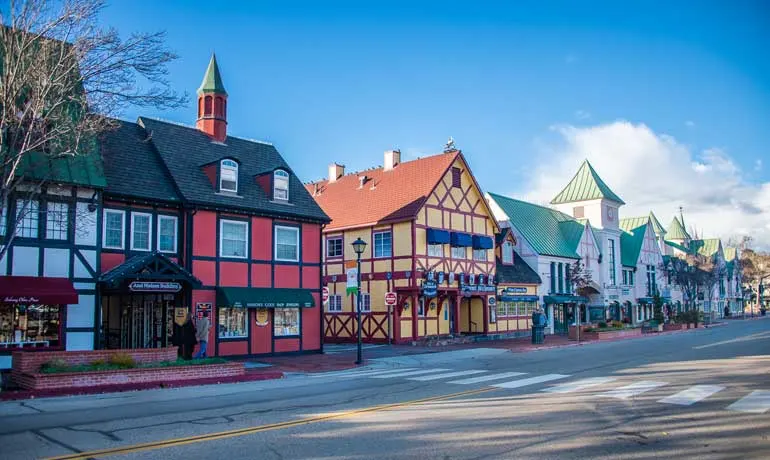 Solvang is a little known vacation spot in California, and it's a nice stop on a San Francisco to San Diego road trip. The best time to visit Solvang is during summer as there are many outdoor restaurants. The main attraction besides eating Danish Food is to stroll around the old town center.
Solvang is known as the Danish Capital of America and it's an old settler's town where Danish settlers came and created a city during the emigrations to America. Still today, you can visit some old houses and see restaurants that have the same iconic looks as when it was a Danish settlement.
You'll find plenty of cafes serving Danish pastries, and you'll even find some places selling the iconic red hot dog from Denmark, known as Pölse. Don't forget to visit the antique store where you can find lots of old stuff which has belonged to some of the settlers who used to live here.
Traveling to Solvang is like traveling back in time, and if you have Scandinavian heritage it definitely adds to the experience, and you'll feel instantly at home with many things being exactly like they are in Denmark. It reminds me of the Bavarian town in the Cascade Mountains, and is similar to the architecture you'l see while exploring the best places to eat in Leavenworth, WA.
Anyway, most of the people living there are descendants from the Danish settlers, and many still speak Danish which is quite fun.
Recommended by Alex of Swedish Nomad
Yachats, Oregon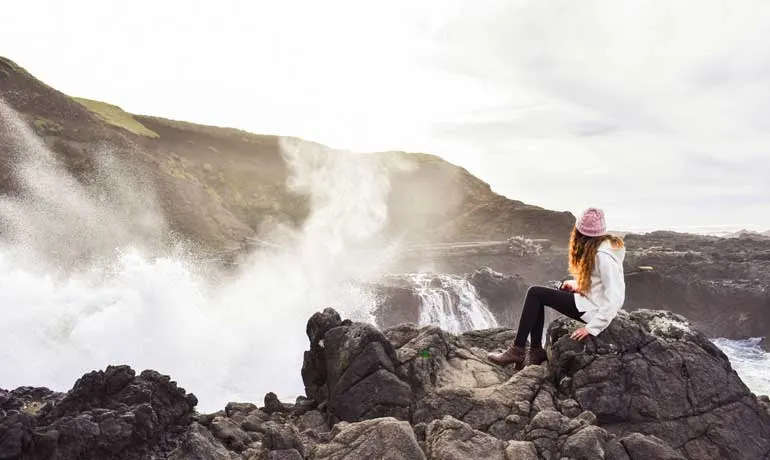 The small, sleepy town of Yachats, Oregon is truly a hidden gem in the U.S., under the radar even for Oregonians themselves! Yachats has the unique characteristic of being moody all year round, with gloomy skies, dramatic coastlines, and cozy cabin feels. Even in the peak of summer, though it tends to be less rainy in the summer.
Yachats is never busy, so it is the perfect place if you are looking to escape crowds but still experience breathtaking scenery. The seafood is fresh from the boat every day, and the entire town is dedicated to ethically and sustainably sourced food.
It's only a few hours southwest from Portland, Oregon, but it feels like a getaway in another world. Whether you want to explore the stunning tide pools, get lost in the looming forests, or just cuddle up with some tea and a good book, Yachats is the place to be.
Recommended by Kay of The Awkward Traveller
Grand Lake, Colorado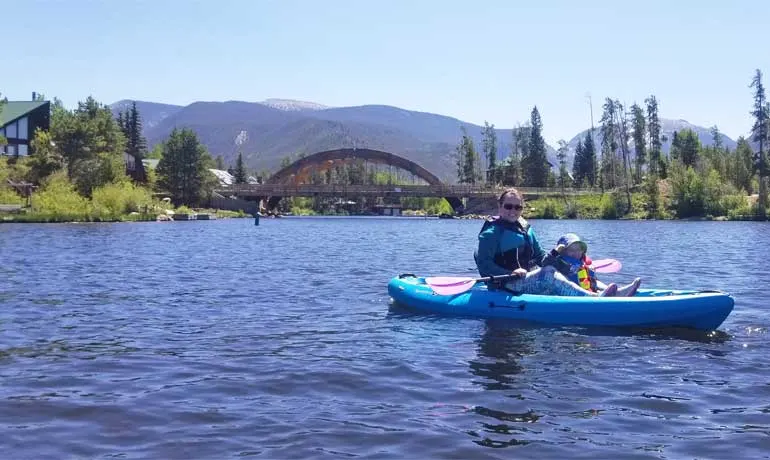 One of the best hidden gems I've ever traveled to was the town of Grand Lake, Colorado. It's located north and west of Boulder, up in the mountains.
Grand Lake is neighbors to Rocky Mountain National Park. It's largely undiscovered because of the popular Estes Park, which is located on the opposite end of the Rocky Mountain National Park takes all the fame.
You won't find big name brands and fancy hotels in Grand Lake. Instead you'll find small-town charm and budget-friendly rentals. Grab an ice cream on main street or rent a paddle board and explore Grand Lake itself.
The best time to go to Grand Lake is June – September, when the snow is melted and the daytime temperatures are warmest. It will still be chilly at night – perfect for a bonfire!
Recommended by me! Nikki of She Saves She Travels
Search VRBO to find the perfect property for you
Most secluded vacation spots in the USA
Cayo Costa, Florida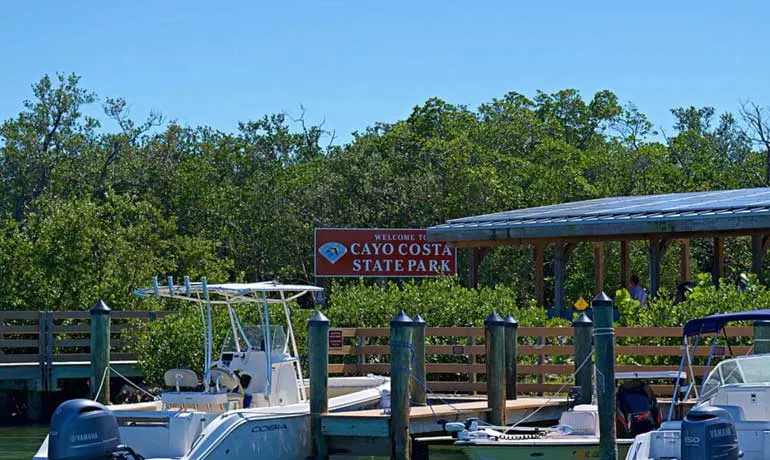 Cayo Costa is one of the most underrated travel destinations in Florida. In any other state, its seven miles of sandy beaches would elevate it to the top of every list. Nested between Sanibel Island and Amelia Island, Cayo Costa is often overlooked.
What's more, Cayo Costa is only accessible by boat, making it one of the most secluded vacation spots in the USA. If you're looking to park your car and walk out into a sea of beach blankets and umbrellas, Cayo Costa probably isn't for you.
Reaching Cayo Costa isn't hard. There are 3 ferries from Punta Gorda, Sanibel Island, and Pine Island you can choose from or take your own boat to the park marina. Once you land, the park tram takes you across the narrow island to the beaches on the Gulf side.
You can also rent a kayak from the park office and paddle along the chain of barrier islands. You might find osprey, alligators, and even manatees as you explore the mangroves. If you're yearning for even more adventure, you can camp near the beach or rent a primitive cabin.
Why follow the crowds when you can take the path less traveled? It will make all the difference. You'll have more shells to find, empty beaches to walk, and more adventures to discover.
Recommended by Ed & Jennifer of Coleman Concierge
You might also like: Miami to Key West Road Trip: 22 Awesome Activities You Need to Do
Waipio Valley, Big Island, Hawaii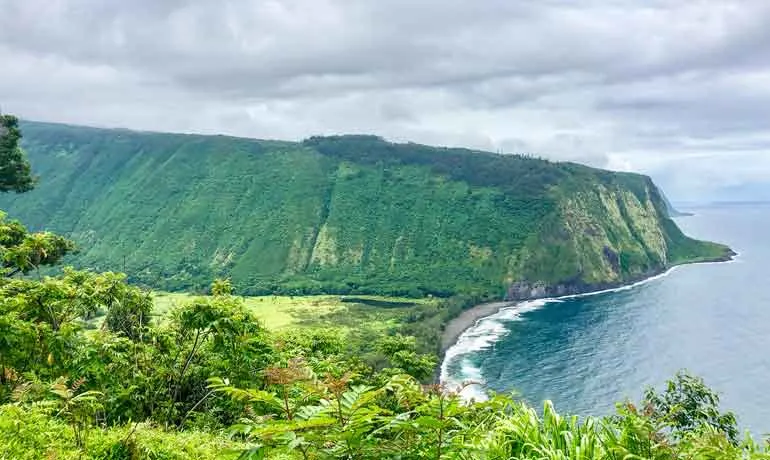 Waipio Valley is located off the Hamakua Coast on the Big Island of Hawaii. It's one of the most underrated travel destinations in the US and is also one of the most stunning valleys in the Hawaiian Islands. Waipio Valley is a hiking paradise, with a trail that takes you directly from the lookout point above the valley down nearly 2,000 feet below.
From here you can explore the stunning black sand beach, hike inland towards a towering waterfall, or just picnic and enjoy the wild horses roaming the taro fields.
Whether you are looking to hike down into the valley and enjoy the scenery or just relax at the lookout point, the views won't disappoint.
The Hamakua Coast receives rain year-round but stays the driest in the late summer months. We've hiked it multiple times, finding that September or October yield the smallest crowds and best weather. Crowds will be largest in December and January, so avoid going then if you want this valley all to yourself.
Getting to the valley is relatively easy, but requires a rental car on the island. Simply type in Waipio Valley lookout on your maps application and you will be directed to the lookout point/start of the trail-head.
The Big Island is home to two key cities: Kailua-Kona and Hilo. Waipio Valley is located on the northern tip of the Big Island, over an hour away from both Kona and Hilo, making it very quiet and one of the best secluded vacation spots in the USA.
Recommended by Kelly of Adventure For Less
Bear Lake, Idaho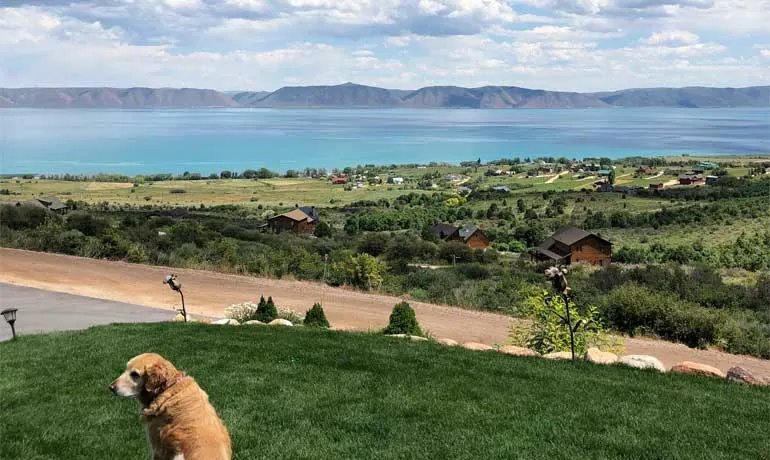 Bear Lake, Idaho, is one of our family's favorite secluded vacation spots in the USA. This natural freshwater lake straddles the Utah-Idaho border is a haven for anyone looking to unplug, breath fresh air and relax for a while!
Bear Lake is a gorgeous lake nestled in the Wasatch mountains. It's often called the Caribbean of the Rockies because of the teal, bright color of the water.
Our favorite things to do in Bear Lake State Park include hiking, swimming in the lake, reading on the beach, paddle boarding and enjoying delicious raspberry shakes made with local berries (seriously, you don't know what you are missing if you've never had a famous Bear Lake raspberry milkshake!).
Our favorite time of year to go is June and July. The weather is very temperate in Bear Lake due to elevation so it's a great escape from hotter parts of the country!
When booking accommodations in Bear Lake, look for spots in Garden City, Utah, or Fish Haven, Idaho. These communities have the most to do in terms of fun restaurants and availability of rental equipment (kayaks, bikes, boats, ATVs and more!).
The closest major airport is Salt Lake International Airport. From the airport, it's a 2.5-hour drive to Bear Lake, which includes going through the beautiful Logan Canyon. I recommend renting a car so that you have one to use while in Bear Lake, since there isn't any public transportation.
Recommended by Molly of Exploring Through Life
Lanai, Hawaii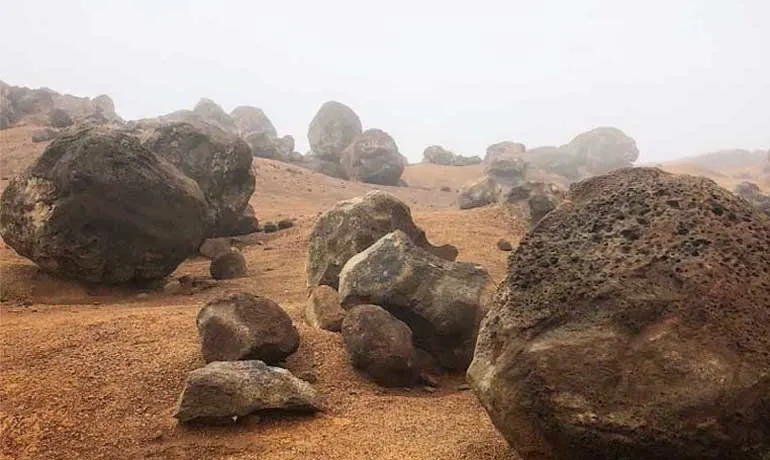 Everyone knows that Hawaii is one of the world's most popular tourist destinations. After all, the Hawaiian Islands have over ten million visitors each year! But the tiny island of Lanai is one that tends to fly under the radar.
As the sixth smallest island in Hawaii, Lanai is home to about 3,000 people, 30 miles of paved roads, and no stoplights. Lanai is only a short flight from Honolulu, Oahu or a quick ferry ride from Lahaina, Maui.
There are three different hotels on the island to choose from. The best time to visit Lanai is in the late spring or early summer, as that is usually when the perfect temperature rolls around.
There are quite a few things to do on this tiny island. You'll need to rent a 4WD to access most of them. The Garden of the Gods, also known as Keahiakawelo, is definitely at the top of the list. This barren, foggy landscape of haphazardly placed round rocks and bright orange swatches of dirt creates a sacred, untouched landscape.
You can also visit Polihua Beach, Shipwreck Beach (with a real shipwreck), Puu Pehe (Sweetheart Rock), Hulopoe Beach, Manele Bay, and the Lanai Cat Sanctuary.
As a quick tip, be sure to download the Google Map of Lanai before flying to the island. This is one of the most secluded vacation spots in the USA and service is rather limited on the island. So if you want to explore as much as you can, downloading Google Maps is a must.
Recommended by Sarah of Borders & Bucket Lists
Read next:
Hiking the Waimea Canyon Trail in Hawaii: Breathtaking Views Included
20 Things to do in Maui on a Budget
Hawaiian Island Quiz (determine which island is right for you)
Best of Kauai: Your Guide to 7 Days on Kauai
Underrated vacation spots – with a view!
Medora, North Dakota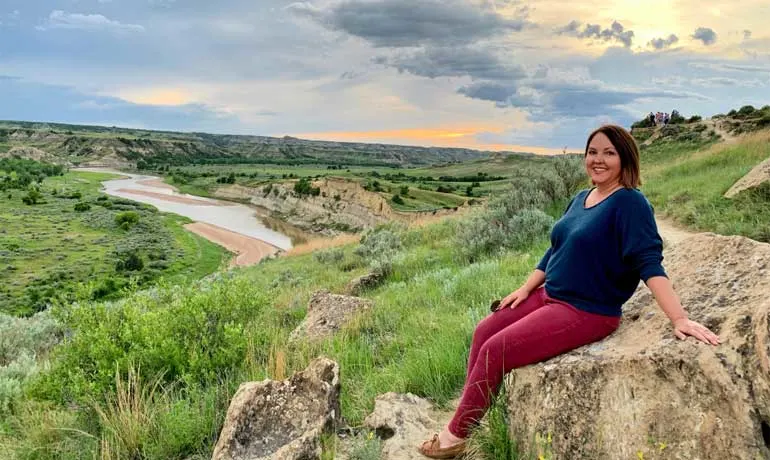 My ideal walk in a park includes a lot of nature and not a lot of people. If you agree, you will love Theodore Roosevelt National Park. It's like they've been keeping this little secret and I discovered it. Now you can too!
The magical little town of Medora, North Dakota sits right at the entrance to Theodore Roosevelt National Park South Unit. This tiny little town takes you back in time to the cowboy days.
It offers several hotels. I stayed at the Rough Riders Hotel and would recommend it. Medora has several places to eat and shops to enjoy.
It is also known for its Musical that happens every night in the summer. The summer weather is perfect for a visit. A new fun business called Perception just opened with many optical illusions that are fun for all ages.
Once you make your way into the park, a quick and easy trail is the Wind Canyon Trail. 15 minutes of moderate walking gets you to a gorgeous overlook. I recommend it at sunset…absolutely beautiful. Medora and the South Unit are a quick 15 minute drive off of highway 94 that goes all the way across North Dakota.
Not only are you seeing a very unique landscape in this area, but also wildlife that includes bison, wild horses, elk, moose, deer and one of my favorites to watch, the prairie dogs. The park and the town of Medora are definitely an underrated vacation spots in the US.
Recommended by Sonja of The Happy Travel Bug
Shawnee National Forest, Illinois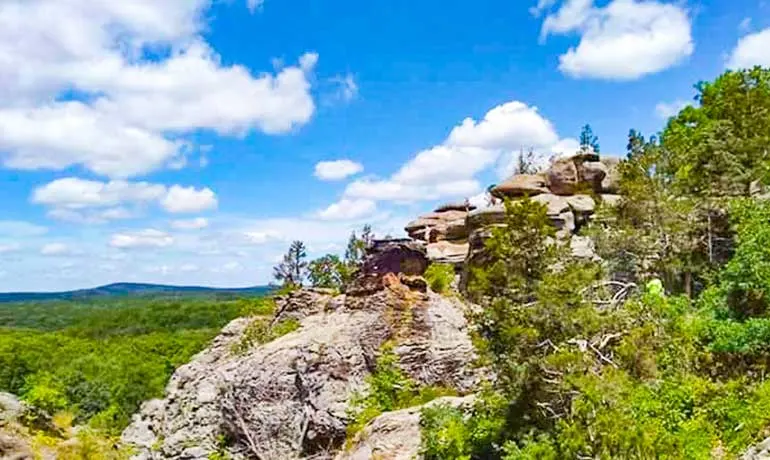 In our opinion, the Shawnee National Forest area in Southern Illinois is one of the most underrated vacation spots in the US. Although the forest covers a large area, it is easy to get around. Plus there is a plethora of things to do for all types of travelers.
It is also a very economical travel option. A private woodland cabin is the perfect lodging in the Shawnee. Many come outfitted with patio Jacuzzis, and cost less than a city hotel.
Hiking options abound, and take in a variety of scenery, including waterfalls, unique rock formations, and stunning overlooks. You might try the trails at Giant City State Park or Garden of the Gods National Recreation Area, or the lesser known Panther Den Wilderness Trail or Little Grand Canyon Trail.
When you want to get off your feet, try horseback riding at Giant City Stables. If you need an adrenaline rush, try the Shawnee Canopy Tour. For something quite unexpected, canoe between the cypress trees at the Cache River Wetlands Area. It feels like the Louisiana swamp!
If you tire of outdoor activities, add a bit of sophistication to your trip and spend a day on the Shawnee Wine Trail. Or, drive into Metropolis to feel like a kid again. Play at the Superman Museum, take your photo with the giant Superman, and try your luck at Harrah's Casino.
Recommended by Roxanna & Keyauni of Gypsy With a Day Job
Channel Islands National Park, California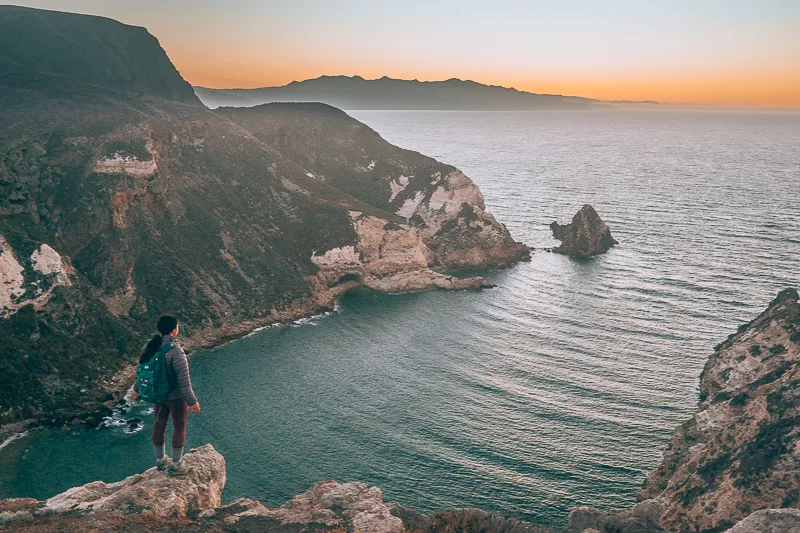 One of the most underrated travel destinations in the United States is Channel Islands National Park. This national park is made up of 5 islands and can only be accessed through a ferry or a boat near Ventura, California.
Due to no hotels on the islands and its pure remoteness, these islands only receive 30,000 visitors a year! The low amount of visitors provides you with a tremendous opportunity to explore the islands with virtually no crowds.
The best times to visit are the spring and summertime. The spring brings in vibrant green hills and flowers, while the summertime is the best time for perfect sunny weather.
The most popular island is Santa Cruz Island. It is a great island to explore for a few days. The popular activities include sea kayaking, hiking to potato harbor or smugglers cove, and snorkeling. If you want even fewer crowds, you can always camp on the island.
Only a select number of people can spend the night on the island; then you truly get to explore Santa Cruz all on your own. One of our favorite activities was watching the sunset at Potato Harbor.
If you are looking for a vastly underrated vacation spot in California with minimal crowds and one of the best adventure vacations in the USA, then Channel Islands is a great national park to explore.
Recommended by Michelle of The Wandering Queen
Lookout Mountain, Georgia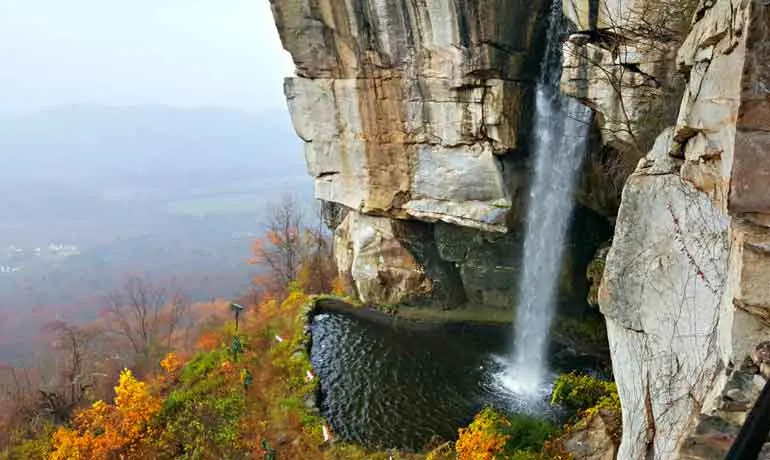 There's a small mountain town on the border of Tennessee and Georgia that's one of my favorite places in the world to visit. Lookout Mountain, Georgia lies just 6 miles from Chattanooga and is definitely one of the most underrated travel destinations in the United States.
A mountain bearing the same name as the town is the highlight of the whole area, and hidden away at the top of it lies a unique tourist attraction that feels a bit like stepping into another world. Paths carved through gigantic boulders will lead you on a journey through gardens, across a swinging bridge, and ultimately to a 90-foot waterfall.
From a lookout located at the top of the falls, you can see seven states on a clear, cloudless day.
A nearby tunnel carved into rock has been fitted with colored glass so that a rainbow effect appears when sunlight streams in through the windows. There's even a cave located at the top of this mountain, and inside it you'll find fairies, storybook characters, and recreations of popular fairy tales.
There's truly nothing else like this place anywhere else in the US, and I highly recommend you stop by the next time you're anywhere near Georgia or Tennessee. For the prettiest views and photos, plan a visit during fall!
Recommended by Jillian of Adventure Dragon
Little known vacation spots in the US you need to see
The Berkshires, New England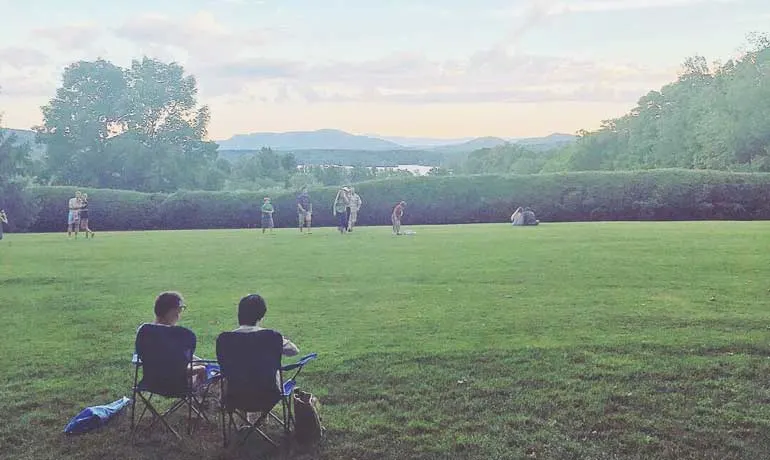 The Berkshires is the paragon of New England travel experience. The green lands of Berkshires incorporate the natural beauty of the old New England with the modern taste of culture and art.
Located within a couple hours of the two biggest cities in the east, New York and Boston, the Berkshires is a great place for those who want to venture out into the pastoral lands, explore the quaint countryside ambiance, and taste signature New England dishes.
The summer months are truly the best time to visit the Berkshires for culture-driven travel. Swimming in the natural lakes in the region has been a favorite summer vacation for many New Englanders for decades.
And not only can you hike the Ramblewild Aerical Park and take in the breathtaking views, you can stop by cute towns like the Great Barrington or Lee to explore the local culture. A lunch at the local butcher meat market is a must – you can sort through the amazing assortments of New England's finest charcuterie, cheese, and accouterments.
The Berkshires also boasts rich history, art, and culture. Some of the prominent spots that are worth a visit are the renowned Norman Rockwell Museum, which hosts the famous illustrator's original works, and the Edith Wharton House – the famed writer's house that's now turned into a local hub for cultural tours and exhibitions.
Additionally, art museums in Williamstown and North Adams are perfect places to get lost in the rich history of colonial America. Seeing a musical performance at Tanglewood by the Boston Symphony Orchestra during the summer is a must. From adventure to culture, the Berkshires has it all.
Recommended by Andrew of RoadGoat
You might also like:
Best Budget Travel Tips (so good you'll want to try them now)
Is Travel Insurance Worth It? Your Guide to Decide
Why Taking Vacations Makes You Happier
Estherville, Iowa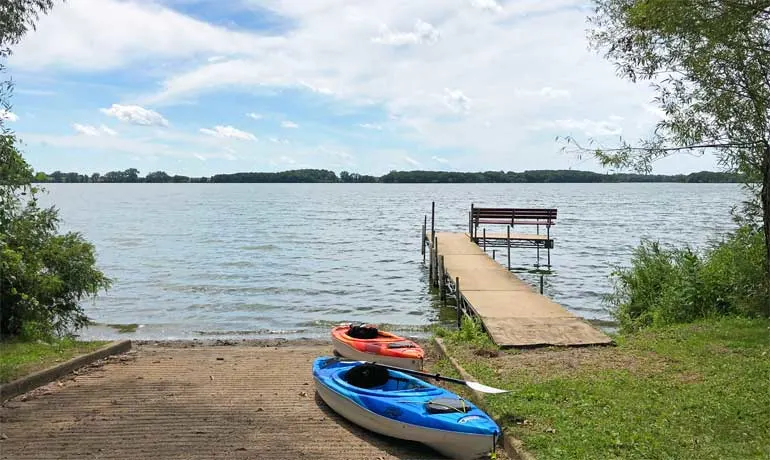 A little known vacation spot in the US is Estherville, Iowa. Perhaps most famous for being the site of the largest seen meteorite that crashed into North America, there's so much more to this charming little town in the Midwest.
Outdoor adventures such as hiking and kayaking are plentiful. Grab a bike and hit the roads with locals, or head out to the winery just outside of town.
Soak in the Midwestern charm as you shop the boutique stores and enjoy a good meal (the kind your grandma would make). And before you leave town, make sure you stop at the 80+ year old swinging bridge.
The best time to take full advantage of all there is to do in Estherville, Iowa is May – October. This is when the weather is the best for outdoor activities and the town really comes alive.
Recommended by me! Nikki of She Saves She Travels
Portland, Maine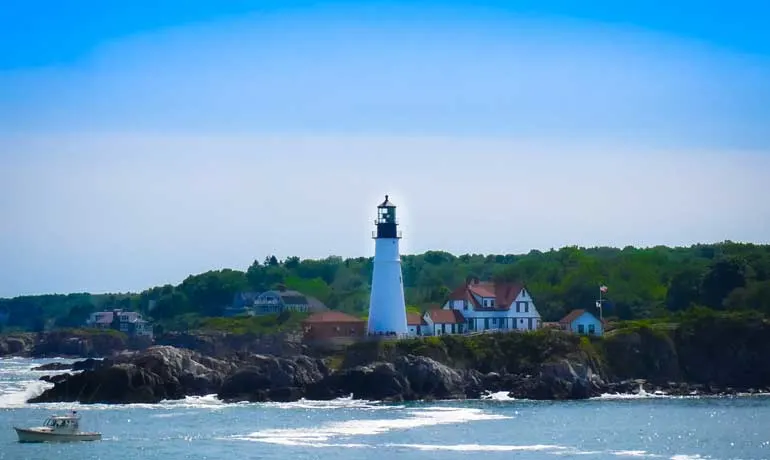 When someone says the word "Portland" to you, the first city that likely comes to mind is Portland, Oregon. However, on the opposite side of the country you'll find a little known vacation spot, the other Portland. It's small, quaint, walk able – and also a foodie haven.
If you only have a couple of days to spend here you'll likely have a difficult time attempting to narrow down where to eat. There's an abundance of fabulous and unique restaurants (Duckfat, Eventide Oyster Co and Central Provisions to name just a few) in the city – and because it's located directly on the coast you'll find some of the best seafood around.
The city also happens to be a mecca for the craft beer aficionados out there – perhaps being one of the best in the country.
Portland has that distinct New England charm, that includes historic buildings, a waterfront, and of course the frequently photographed Portland Head Lighthouse.
For moderate weather and to check out the changing colorful leaves – the absolute best time to visit is in the fall.
Getting there is pretty simple, Portland has an international airport just outside the city (Portland International Jetport). You can also take a relatively quick Amtrak train directly from Boston.
Maine is also a great place for a road trip where you can stop at small towns and fishing villages along the way.
Recommended by Anna & Trevor of Delightful Travellers
Cambria, California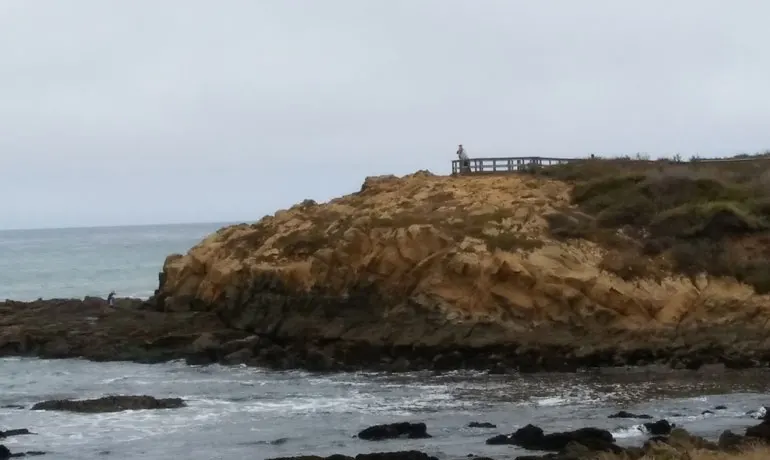 Cambia is a seaside village nestled on California's Central Coast between San Francisco and Los Angeles. The main attractions in Cambria are its spectacular beaches. The highlight is Moonstone Beach where you can spot sea otters, whales, and dolphins in season. Cambria also boasts numerous hiking trails and state parks, some with docent tours.
After all this exercise, you'll want some refreshment at Linn's Restaurant, a local landmark. Be sure to try one of the dishes featuring the olallieberry (a type of blackberry) and one of the local wines.
You can also pick up some olallieberry jam or tea to take home with you at the adjacent shop. Other restaurants to try include The Sow's Ear, Black Cat Bistro, Sea Chest Oyster Bar, and Robin's. While in town, check out the many quaint shops and arts' events.
To keep with the local flavor, one great place to stay is the Olallieberry Inn B&B. If you prefer a beachfront setting, check out the Fireside Inn on Moonstone Beach or FogCatcher Inn.
No trip to Cambria is complete without a visit to nearby Heart Castle. It's a national historic landmark built by publishing tycoon William Randolph Hearst starting in 1919. Tours give you an inside peek into the opulent lives of the Hearst family and their celebrity friends in the middle of the 20th century. The stunning hillside views are an added bonus.
Recommended by Patrice Rutledge of Cardamom Magazine
You might also be interested in:
2 Days in San Diego: Your Perfect San Diego Itinerary
Hiking in Austin: 3 Easy Hikes Anyone Can Do
Omaha, Nebraska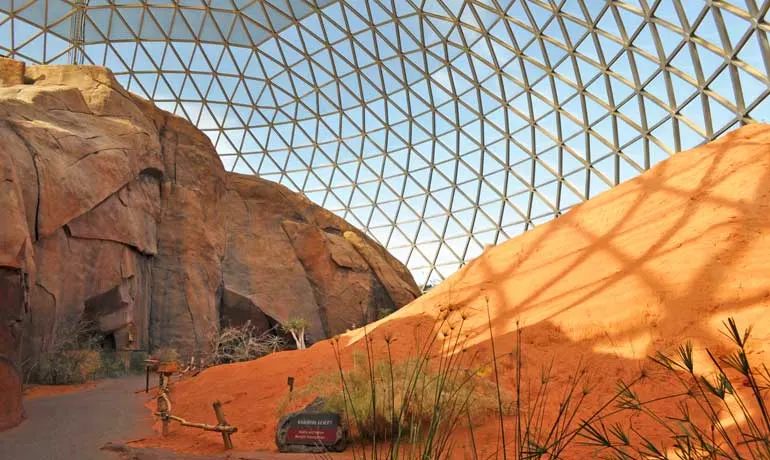 Where's the best zoo in the world? Well head on over to Omaha to find out! Omaha's Henry Doorly Zoo and Aquarium is consistently ranked in the top 5 zoos in the world, and regularly competes with the San Diego Zoo for top spot in the US.
Feed the giraffes, touch the stingrays, visit the world's largest indoor desert and walk alongside the monkeys in the jungle at the zoo in Omaha. It's the state's largest tourist attraction, and one you won't want to miss.
Beyond the zoo, Omaha is a center for art, history and of course, Omaha steaks. Make sure to check out the Old Market, which includes some of the most Instagrammable places in Omaha.
Enjoy outdoor hiking, kayaking, zip lining and a lot more in Omaha. It's an affordable destination, where your vacation fund will truly stretch.
The best time to visit Omaha is May – October when you can enjoy the various outdoor activities and walk around the zoo comfortably. You can fly into the main airport in Omaha or make it part of a road trip. It's truly one of the most underrated vacation spots in the US!
Recommended by me! Nikki of She Saves She Travels
Asheville, North Carolina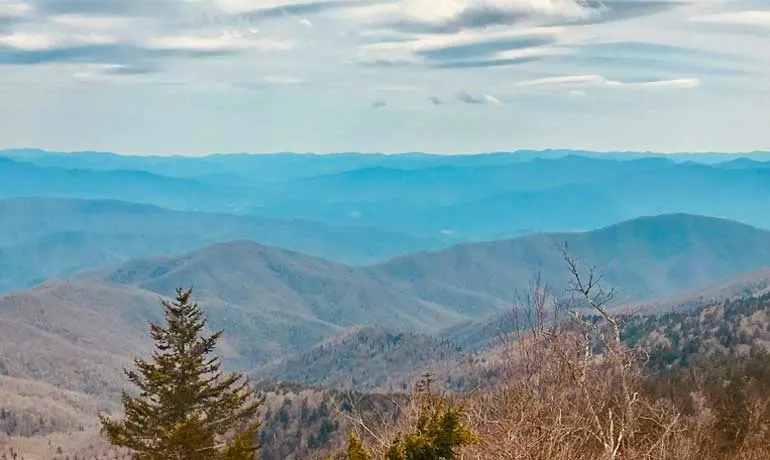 Asheville is nestled in the Blue Ridge Mountains and is a place for dreamers, explorers, art observers, foodies, outdoor enthusiasts, and really anyone. There's just something about Asheville – maybe it's the water or the fresh mountain air.
Asheville downtown is a hive of activity, always humming. With all it's got going on, you'll want to spend a good bit of time exploring boutiques, quirky shops, art galleries and fantastic restaurants here.
The hip rooftop bars serve as the perfect perch for watching the sun sink low behind the peaks. On summer Friday nights, the city center erupts into a drum circle. From 6:00 PM until 10:00 PM, people bang on the drums like mad as an audience dances to the beats.
In Asheville, there's a surprise around every bend in the road. The thrill of discovery reaches epic heights on the Blue Ridge Parkway. The scenic road climbs at 6,000 feet in elevation as it winds out of town. You can pull your car or bike to the side of the road at any of the numerous overlooks, and soak in the display. It's especially gorgeous in the fall, making it one of the best places to see in October in the USA.
And at more than 175,00 square feet, the 250-room Biltmore Estate is America's largest home, and a sight not to be missed. Thanks to its tree-lined streets, and the English village vibe, it feels like a world away.
Don't leave without booking a sunrise or sunset stand up paddle board from a local outfitter and watch the pinks and blues reflect off the beloved French Broad River.
Recommended by Divya of Travel Savings Addict
More of the best underrated travel destinations in the US
Charlottesville, Virginia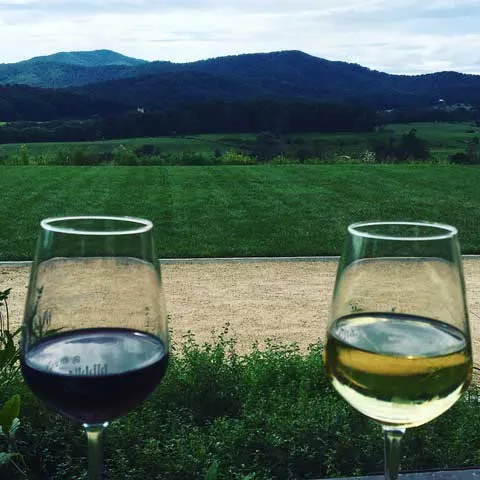 Charlottesville, Virginia is an idyllic college town located near the Blue Ridge Mountains and home to the University of Virginia. It's a two hour drive from Washington, DC and one hour from Richmond, VA. Charlottesville is an easy drive from either of these two cities and also reachable via Charlottesville Albemarle Airport if you'd rather not make the drive.
Once in Charlottesville, there's something to do for everyone. For the hiking aficionados, Old Rag, Humpback Rock and Crabtree Falls are day-long hikes about an hour away from Charlottesville.
On your way back, you can go to one of Charlottesville's famous wineries: Veritas, Blenheim (owned by Dave Matthews), Pippin Hill and King Family, or one of the many breweries: Pro Re Nata, Blue Mountain Brewery and Starr Hill.
For those who are interested in history, Thomas Jefferson's famous plantation, Monticello is a 15 minute drive from the heart of Charlottesville while James Madison's Montpelier Mansion is a 30 minute drive from the city. Additionally, University of Virginia was founded by Thomas Jefferson and there are daily historical tours of the university available.
Charlottesville is definitely one of the most underrated vacation spots, and is a great destination to visit at anytime of the year. The fall and early winter are especially nice seasons to visit as the temperatures stay in the 50s-70s until January, which is perfect for hiking and exploring the city.
Recommended by Michaela of Well Balanced Adventures
Harpers Ferry, West Virginia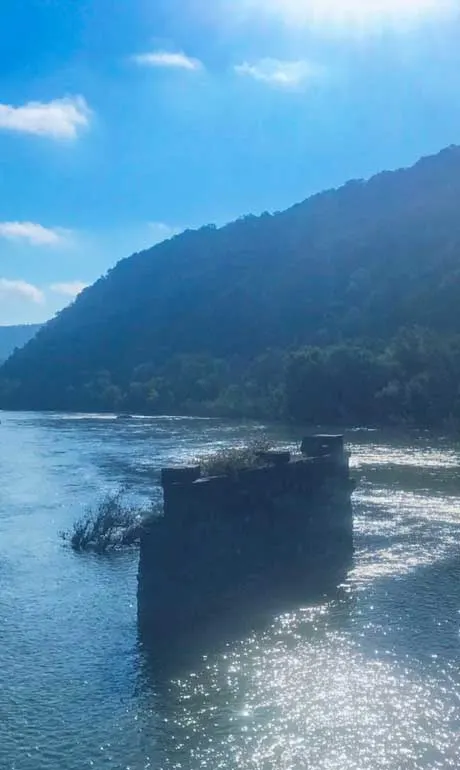 My favorite lesser known place in the United States is Harpers Ferry, West Virginia! Harpers Ferry is a very tiny historical town in West Virginia near the borders of both Maryland and Virginia.
Much of the town's history involves the Civil War. During the war, Harpers Ferry was a significant headquarters site and army camp. The town also had the largest surrender of United States forces in 1862 during the war. Pretty interesting!
Harpers Ferry is a little over an hour away by car or train from both Baltimore, Maryland and Washington DC. The closest airport is Dulles International Airport in Dulles, VA. It's about a 50 minute drive to Harpers Ferry.
With so much history, you can be sure to find quite a few historical sites and museums! You can visit Jefferson Rock where Thomas Jefferson stood in 1783 (quite a steep hike!), John Brown's fort and even a Restoration Museum filled with old items found within the city.
With two rivers in Harpers Ferry (Shenandoah and Potomac), the most popular thing to do is river tubing. You can also white water raft, canoe, kayak and paddle board.
You will find a few home style restaurants within the town. No chain restaurants here! There are also a lot of cute little shops with handmade items, if you're into that.
Harpers Ferry has so much nature to explore. The closest park is Harpers Ferry National Park where you will find hiking trails, river access and historical sites.
Recommended by Nicole of Gallivanting Nicole
Oklahoma City, Oklahoma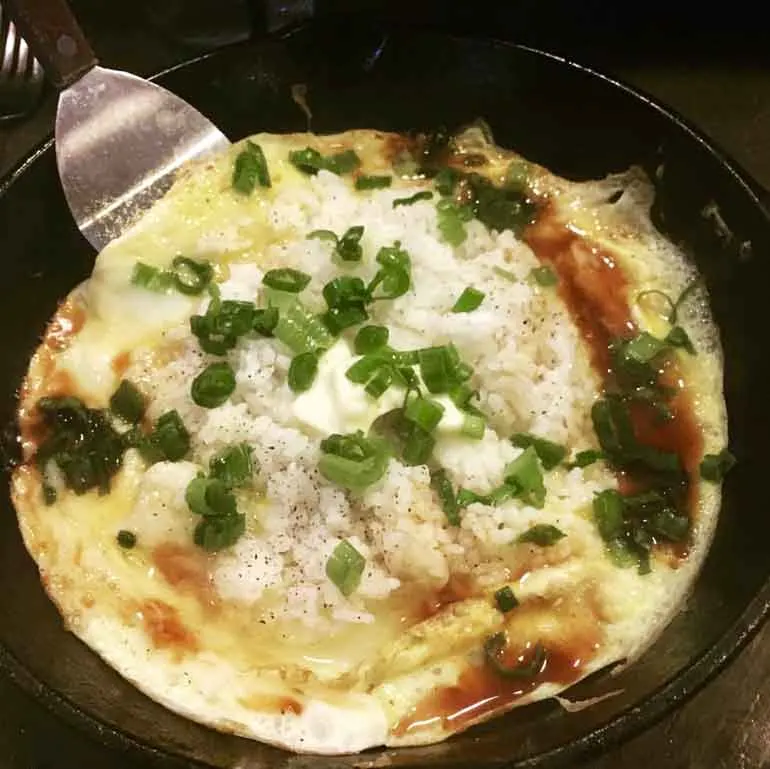 I promise I'm not biased (fellow Okie here), but Oklahoma City is one of the most underrated travel destinations in the States. When people think of Oklahoma City, the first thing that comes to mind is our NBA team – OKC Thunder.
However, there's so much more to Oklahoma City than just that. This vibrant city is buzzing with tons of delicious restaurants, trendy coffee shops, Instagrammable street art, and great museums. It has small-town hospitality even though it's a big city.
Locals aren't afraid to take tourists under their wing and chat it up with them. Oklahoma City is a foodie's heaven. Eat your way through gourmet food trucks at Bleu Garten or sample seven different culinary concepts under one roof at The Collective Kitchens and Cocktails. Also, OKC is perfect for those who love outdoor adventures.
Situated in the downtown area is the Myriad Botanical Gardens where you can walk around and soak in the lush greenery. If you're up for a real adventure, head on over to Riversport Adventures where you can go whitewater rafting right in downtown.
Further, Oklahoma City takes a lot of pride in their hotels. You won't go wrong staying at one of the relaxing hotels in Bricktown. The best way to get to OKC is by flying into Will Rogers World Airport, which is about 6 miles away from downtown. The best time to visit is in the Spring or Fall when the weather is mild so you can really take advantage of exploring this charming city.
Recommended by Disha of Disha Discovers
Mobile, Alabama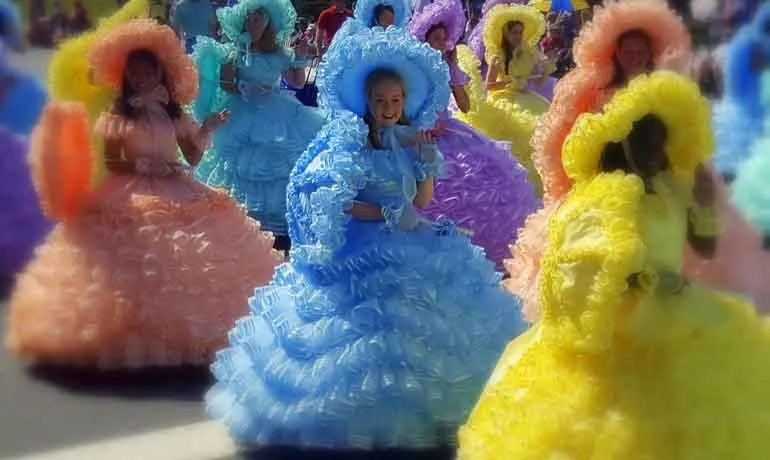 Mobile, Alabama is a great alternative to the much louder and more crowded New Orleans, which lies just 150 miles west across the Louisiana border. In many ways, Mobile is like a miniature, family-friendly version of New Orleans. Both cities were established by French colonists, and they share a common architecture of stately buildings with wrought-iron balconies.
But Mobilians won't be pleased if you refer to their city as "the other New Orleans". They'll be quick to tell you that Mobile is the older of the two and was founded back in 1703!
It was the original capital of French Louisiana. Not many people realize that Mobile is home to the oldest Mardi Gras tradition in the United States. The celebrations here pre-date the more famous New Orleans Mardi Gras by about 15 years.
In addition to its similarities with New Orleans, Mobile also holds some attractions that are completely unique and can only be seen here. The most important of these is the Azalea Trail Festival in the early spring. Covered in pink azalea blooms, the city becomes a riot of color, and local high school girls selected to be "Azalea Trail Maids" dress up like Southern Belles in pastel-colored hoop skirts and frilly bonnets.
Even if you don't catch the Azalea Trail Festival or Mardi Gras celebrations, the imposing antebellum mansions and oak trees covered in Spanish moss that you'll find throughout Old Mobile make it worth visiting at any time of the year.
Recommended by Wendy Werneth of The Nomadic Vegan
Read next:
Road Trip Essentials: 15 Things to Pack on a Road Trip with Kids
10 Tips for Your Best Vacation Ever
Torrance, California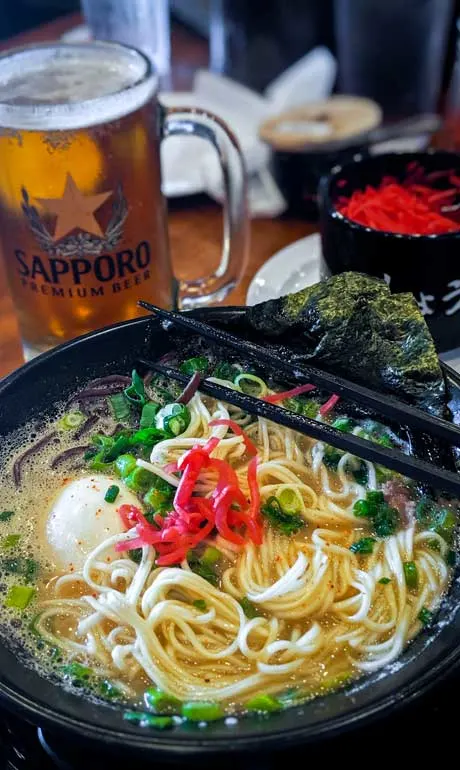 There's no doubt that Los Angeles is considered a world class city with millions visiting it each year. But few tourists know that the best food in Los Angeles is actually outside the city!
Torrance is only 16 miles from LAX, has one of the best beaches in the area and is where to go to get the real deal for authentic food. With a population of just 150,000 it is much more tranquil.
Chefs here aren't creating restaurants for hipster crowds who just want to be seen, they are making their name by serving food that is so good people will drive through the treacherous LA traffic to dine. Torrance restaurants are diverse. They range from incredible Mexican at Madre! Oaxacan Restaurant and Mezcaleria to authentic Hawaiian at King's Hawaiian bakery.
But Torrance is also well-known as THE place to get ramen in California and also has fantastic Japanese restaurants. One of the most popular spots is Hakata Ikkousha, which has a sister restaurant in Japan.
What makes this ramen joint so popular is that the recipe wasn't adapted for American tastes when it opened in Torrance. It's the authentic, unadulterated recipe straight from Japan. The most popular item is Tonkotsu, which a deep rich pork broth that draws over 200 people a day during the week and 300 on weekends.
Wherever you go in Torrance, you're assured to have some of the best food in the greater Los Angeles area.
Recommended by Ayngelina of Bacon is Magic
https://www.awin1.com/cread.php?awinaffid=554853&awinmid=6776&clickref=underrateddestinations&platform=dl&p=%5B%5Bhttps%253A%252F%252Fwww.booking.com%252F%5D%5D
New Haven, Connecticut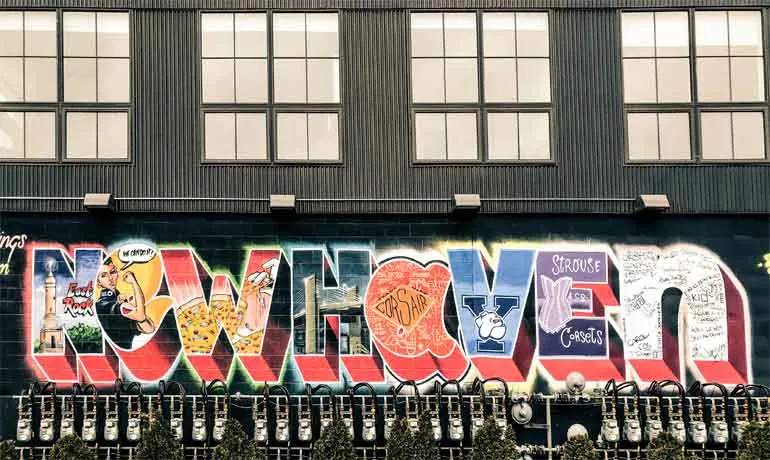 With Boston and New York City flanking the borders of Connecticut, it is easy to overlook New Haven as an attractive travel destination.
New Haven is famous for its most recognizable resident, Yale University. Yale's gorgeous architecture in all its American gothic style glory is truly a remarkable sight. Especially when you see it nestled beneath the multicolored leaves in the fall or when freshly painted in a coat of white snow.
However, there is much more to the Elm City than just housing an Ivy League institution. New Haven is home to some of the best pizza, or locally called apizza, in the country. If you are a pizzaphile, then you must make the trip and get your fill. One of the top pies in the country is the white clam pizza from Frank Pepe or the Italian bomb from Modern Apizza, my favorite!
New Haven is also rich with the arts and culture. With attractions like the Peabody Museum of Natural History and the Yale Art Gallery, which displays works by great artists like Pablo Picasso and Vincent Van Gogh.
For those fans of the performing arts, there is the Shubert Theater and Toad's Place. You'll find major recording artists of all genres performing on any given night.
The nightlife is quite vibrant with entertainment options, that there is something in New Haven for everyone to do. So when you have the opportunity, do not overlook New Haven as a possible destination!
Recommended by Joel of Conquering Bounds
You might also like:
How to Save Money for Travel: Your Vacation Savings Plan
Best Budget Travel Tips (So Good You'll Want to Try Them Now)
Hudson Valley, New York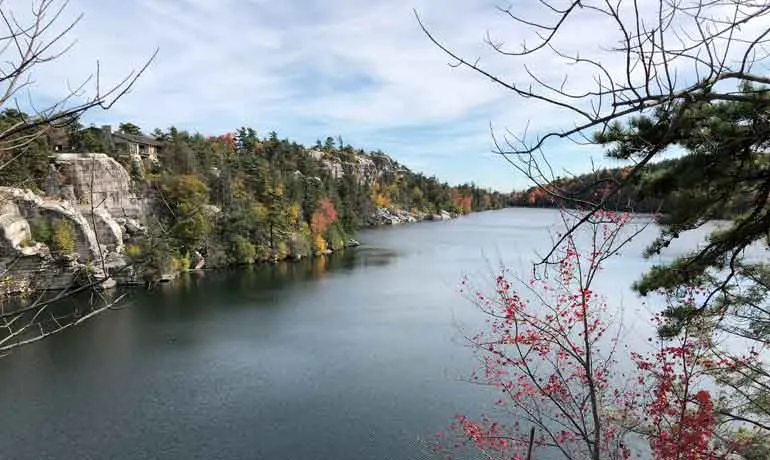 New York City gets all of the attention, but the Hudson Valley, just north of NYC, is well worth a visit. The valley, which spreads along the length of the Hudson River from New York to Albany, is great to visit any time of the year.
On the east side of the river, there are several impressive historic mansions where the rich and powerful used to spend their summers. FDR's home and presidential library, as well as Eleanor Roosevelt's former home, Val-kill, are in Hyde Park in this area. There is also an old-style drive-in open in the summer for a taste of nostalgia.
Other things to do in the warmer months include swimming in one of the lakes or tubing down the Esopus River from Phoenix. Summer is also a great time to pick your own fruit at one of the local farms.
Fall is also a wonderful time to visit the Hudson Valley. You can find a pumpkin for Halloween at a pumpkin patch and get lost in a corn maze. Fall color is spectacular in the Hudson Valley – a personal favorite spot is Minnewaska State Park.
In winter, there is cross-country skiing, or stay inside by the fire in a cozy B and B or old inn – the Beekman Arms in Rhinebeck is the oldest inn in the United States! Rhinebeck is also the site of the Sinterclaas festival in December, where the old Dutch tradition is celebrated with a delightful holiday parade. Spring sees the beautiful flowers and is perfect for hiking in the Mohonk Preserve.
The main train line from NYC to Albany goes right along the Hudson River and is one of the most beautiful train journeys in the world. There are also buses servicing many towns; however, for full independence, I would recommend driving, so you can stop off at tiny antique stores and cafes along the way.
Recommended by James of Travel Collecting
Amish Country, Ohio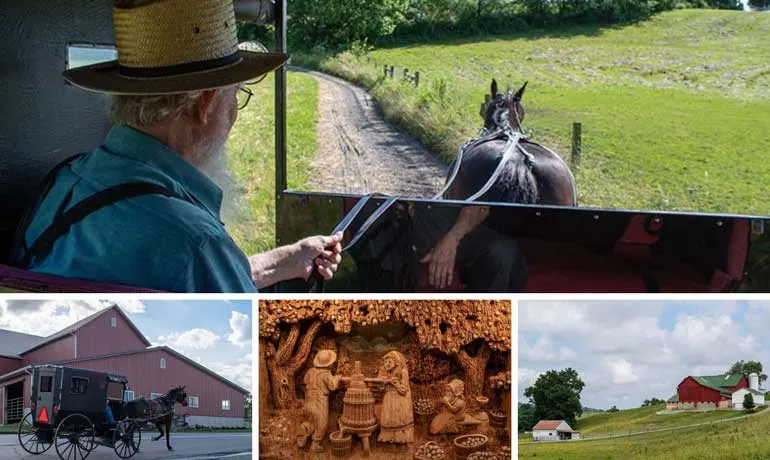 Most people are familiar with the Amish in Lancaster County, PA due to the large urban populations nearby. However, Amish Country Ohio is actually the largest and most authentic Amish community in the USA!
Having visited both within the same month, it was evident just how underrated Amish Country Ohio was. Compared to Lancaster, the Holmes County Amish were well integrated into the community instead of simply being gawked at. It was common to see Amish working and shopping in modern businesses along with "English", or non-Amish.
Part of the reason for better integration is being relatively remote. Many of the stores in the small towns of Millersburg and Berlin either specialize in products required for manual work, or finished hand-made goods.
Tourists to the region will appreciate all the things to do in Amish Country Ohio.
Check out some of the highlights below:
Watch (or participate in) the Kidron hay and livestock auction
Learn about the Amish at Yoder's Amish House
Catch a buggy ride, or appreciate the horse drawn carriages on the road
Sample cheese, watch chocolate being made, or enjoy comfort food at a restaurant
Shop for knick-knacks, apparel, or furniture
There truly is something for everyone in Amish Country Ohio. Discover this underrated region today!
Recommended by Erik of DIY Travel HQ
Related: 27 Amazing Things to Do in Sandusky, Ohio
Huntsville, Alabama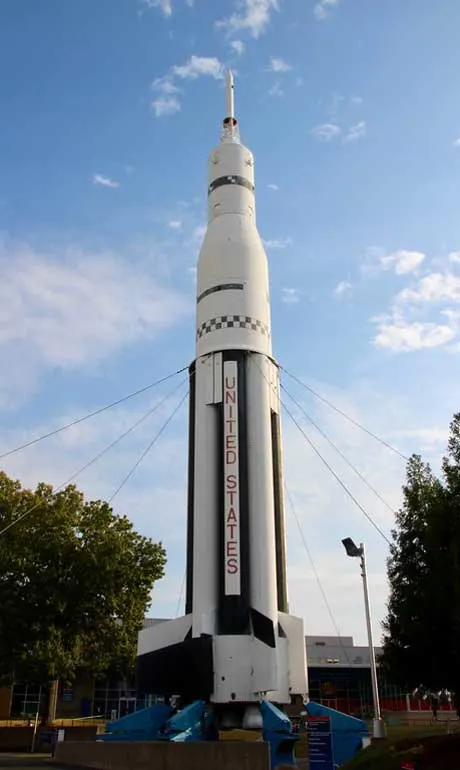 If I told you I was visiting the city in the United States with the most PhDs per capita… would you guess that I was visiting Huntsville, Alabama? Huntsville will defy your stereotypes of Alabama.
It is best known as the place where America's rockets were designed and built. One of only 3 remaining Saturn V rockets can be found at the U.S. Space & Rocket Center in Huntsville.
When you visit that museum and some old docent walks up to you and starts talking about the rocket you are likely to find out that he designed the very part that you are looking at. Right next to the Rocket Center is another site that draws visitors from around the world, Space Camp. Kids can certainly attend Space Camp but adults are welcome as well.
But Huntsville is not just about space. It also has one of the largest and best art spaces in the U.S. in the old Lowe Mill. This converted cotton mill has many artists and crafters in its cavernous 171,000 square foot space.
Huntsville also has a great food scene, a botanic gardens and a vibrant downtown. It is an interesting, beautiful, friendly and surprising destination that too many visitors have not even considered. If you ask the locals how they manage all that, just don't let them say that it is "not rocket science"… because it sort of is.
Recommended by Chris of Amateur Traveler
Durham, North Carolina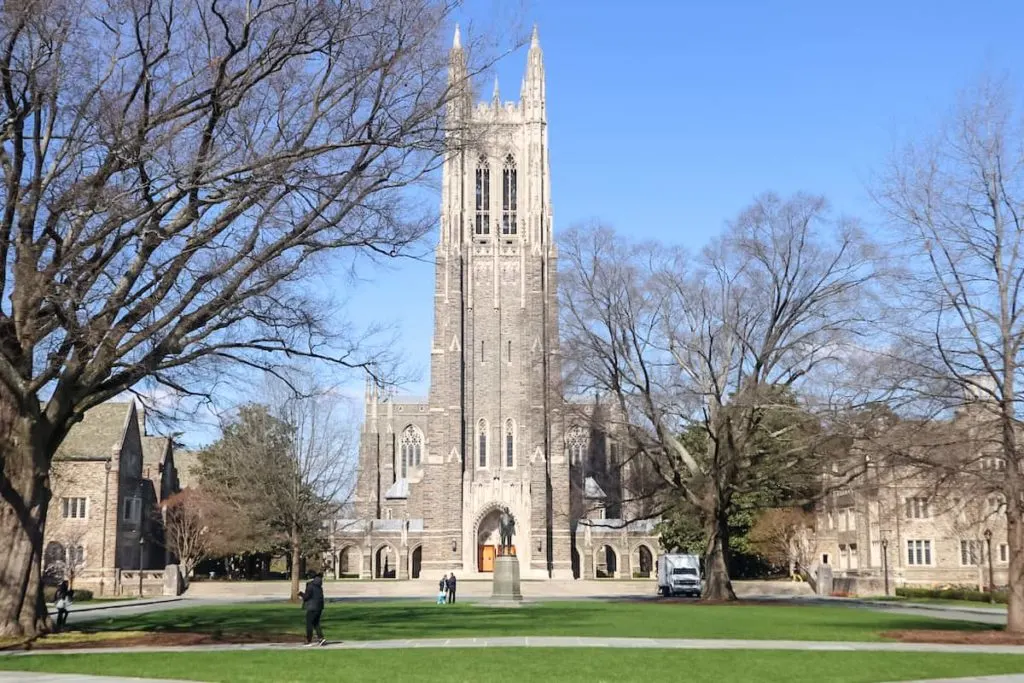 Our favorite underrated travel destination in North Carolina is the city of Durham. Its small downtown takes you back in time, with streets dotted with historic architecture and re-purposed buildings.
You can even walk around the old Lucky Tabaco Factory, which has been re-purposed as the American Tobacco Campus, with restaurants, startups, a theater and the Triple A Durham Bulls baseball stadium.
The beauty about Durham is that you can visit any time of the year. It's never crowded and the weather is comfortable, even during winter. Although we recommend to go late summer or early fall to avoid the summer heat and enjoy a baseball game.
The best things to do in Durham is to stroll around the downtown district, eat churros at Cocoa Cinnamon, have lunch at Nano Tacos and take a Bull City Laughs comedy bus tour around the city.
Durham is easy accessible by bus and is only 20 minutes from Raleigh-Durham Airport. Once you are in Durham, a majority of the things to do are within walking distance, so get ready to explore.
Recommended by Jazmin of Travel to Blank
A recap: the most underrated travel destinations
Whew! If you made it to this point you deserve a medal. Or maybe a scratch-off map based on all the fun places you're about to go.
I hope you found some new favorites so you can start planning your next trip! With so many unknown and secluded vacation spots in the US to go to, how do you even begin to choose?
Okay so tell me, which ones are you adding to your travel bucket list? Drop your comment below – I'd love to hear it!
By the way, if you're planning to rent a car to visit one of these underrated spots, check out the discounted rates on Discover Cars. I routinely save 10% – 30% on rentals. They search top car carriers to find the best deal, at no extra price to you! Here's that link again to search rental cars.
Read next:
101 Travel Bucket List Ideas: How to Create Your Ultimate List
21 Surprisingly Affordable Island Destinations
100 Most Romantic Vacations in the US You'll Love
8 Best Beaches in Turks & Caicos
If you loved this article, share it on social media with your friends or pin it for later.