This iconic mountain town is the quintessential Colorado destination. It's year-round activities and stunning scenic landscape is the perfect spot to create vacation memories. Summer in Breckenridge is especially magical!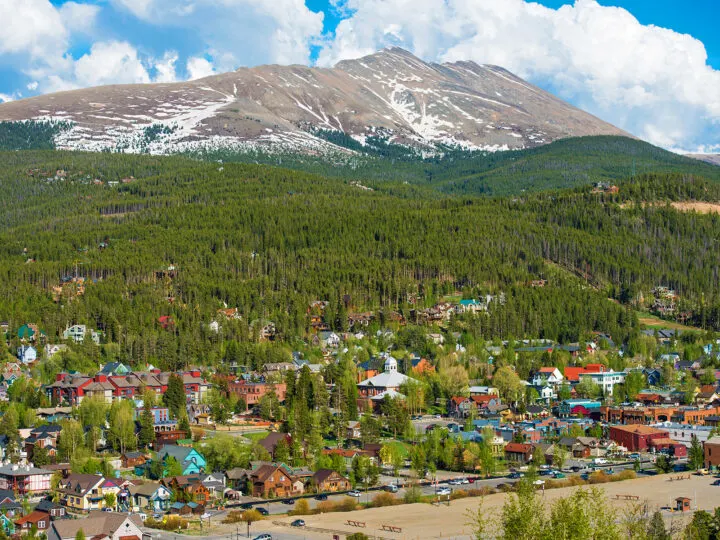 This post may contain affiliate links. For more info, see my disclosures.
It's often thought of as a ski town – and it is! However, a visit in the summertime means Breckenridge really comes alive. Beautiful lakes and wildflowers, a lively downtown and plenty of activities perfect for warm weather.
If you're spending a week in Breckenridge (Breck, as the locals call it) or you're making a stop as part of a Colorado road trip, there's plenty of things to do and see.
👉Don't have time to read the whole article? This is the best gold mine tour, ghost tour, and my favorite, this bike and brews tour to fill your summer days and nights in Breckenridge!
Oh, and you can't miss the Breckenridge fun park! More on that later. Here's your guide to this lovely town in the middle of the Rocky Mountains.
Why visit Breckenridge in summer?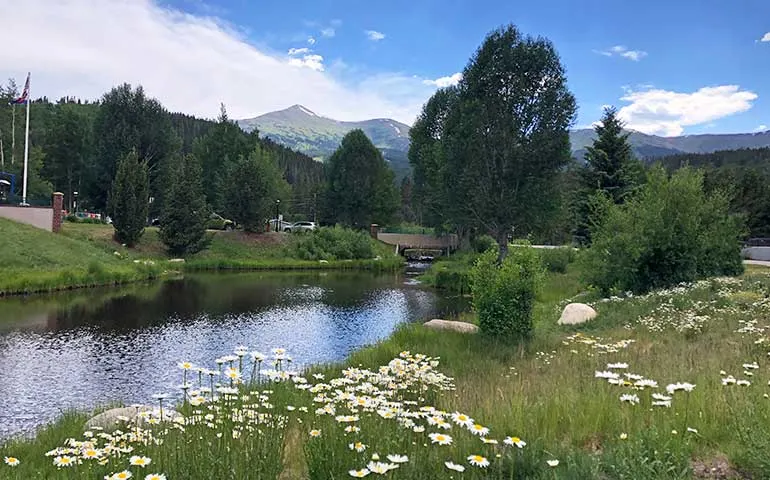 Before we get to the best ways to maximize your time this summer in Breckenridge, let's talk about the pros and cons.
Summer is among the best times to visit this amazing destination if you're looking for warm weather, sunshine and not a lot of rain to get in your way of outdoor activities.
Breckenridge average summer temperatures:
June temps: 66/ 50
July temps: 72 / 56
August temps: 68 / 53
Also if you're looking for an affordable vacation in Breckenridge, summertime is perfect! With many free or cheap outdoor activities, it's a great time for couples, families or individuals to explore the area.
The cons to visiting Breckenridge in summer is that a lot of other people also want to see this beautiful mountain town, too! That means the pricing for accommodations can be higher, more crowds and long lines for certain activities.
Tips for enjoying summer in Breckenridge, Colorado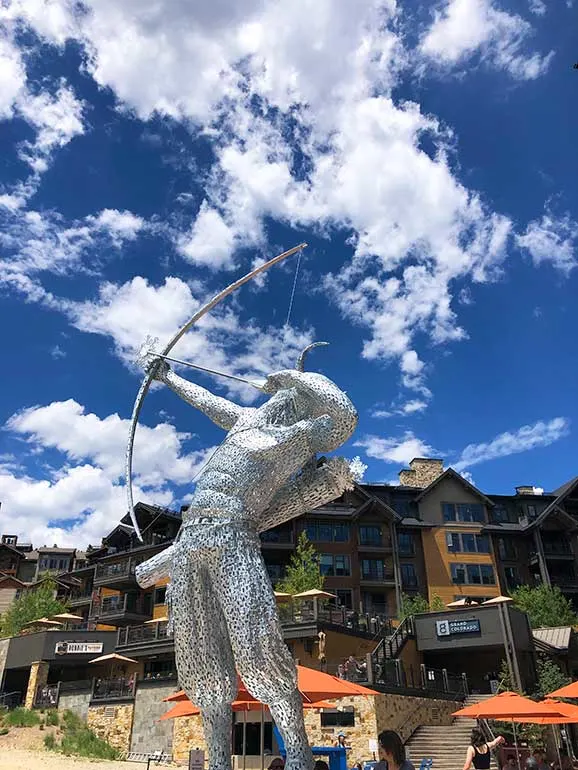 This beautiful mountain town is picturesque and is sure to put a smile on your face! Here are some top tips for enjoying summer in Breckenridge:
Book your trip as far in advance as possible. This ensures the best pricing on accommodations. And don't forget about booking activities early, too.
Pack layers. Early mornings and evenings are cool in the mountains. Merino wool make the perfect layers for mountain vacations.
Respect local fire restrictions. Colorado is dry and has been the home to devastating wild fires. Pay attention to county restrictions and follow directions. Common restrictions are fire pits, grills, fireworks, etc.
Expect crowds. It's summertime and you're on vacation! Bring your patience and enjoy your time in Breck!
Best things to do in summer in Breckenridge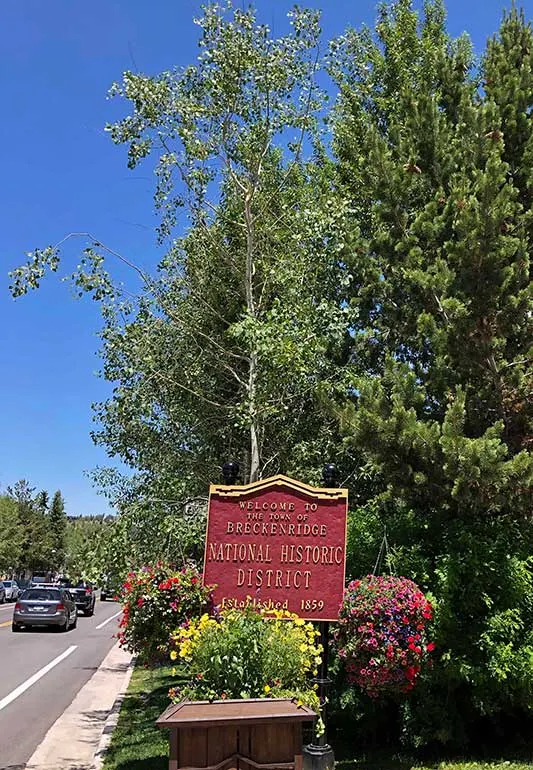 Sitting at 9,600 elevation at the town center, the air is thin but the activities are not! There's so many things to do in Breckenridge in summer that no matter your vacation style, you'll find as much adventure – or relaxation – as you desire.
This guide leans toward family-friendly fun with some high-adventure activities. But the nice thing about a destination like this is that you can make it your own.
Map of Breckenridge activities
Breckenridge, Colorado is nestled in the Rocky Mountains, just 1.5 hours west of Denver along Interstate 70. And if you're a visual person like I am, this map will help you plan your days in Breckenridge.

Okay enough chatting….let's dive into the list!
30 things to do in Breckenridge in summer
Here's the very best things to do in and around Breckenridge during summer.
1. Epic Discovery at Breckenridge
One of the town's main attractions, Epic Discovery at Breckenridge is full of adventure for any age! This ski resort in the winter turns to pure fun in the summer! Visit the Peak 8 Base Camp, where you'll find this mountain-top fun park is quite the thrill!
Of course there's food and drink, but the focus is all about the adventures!
Activities at Epic Discovery at Breckenridge:
Bungee trampolines
Ropes course
Mini golf
Lil' flyer zipline
Climbing wall
Alpine slide (see #2 below)
Goldrunner coaster
Mountain biking
Scenic chair lift
Grab tickets at the entrance of the park where you can buy al a carte rides, a bundle of 3 or all-day fun passes for each person. Visit the park website for real-time hours and pricing info.
Pro tip: the Breckenridge adventure park can get pricey. Decide how much you'll spend during your time there and stick to it!
2. Breckenridge alpine slide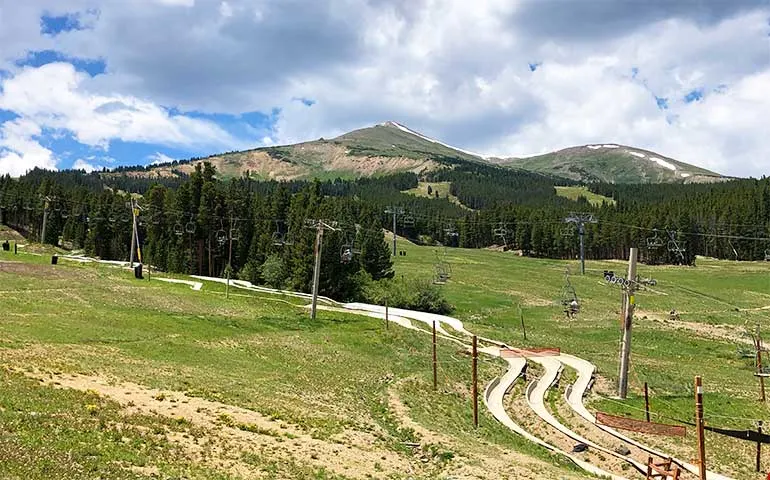 Part of the Breckenridge adventure park, this is the perfect way to enjoy the mountain scenery. For young and old, the Breckenridge alpine slide and alpine roller coaster are thrill-inducing for anyone looking for adventure!
The Breckenridge alpine slide is not your typical slide. You'll sit in a cart and ride down the slopes while enjoying the view. Young children can go with a parent or older kids can experience it themselves.
If you're looking to fly down the mountain with great speed, you'll want to try the roller coaster!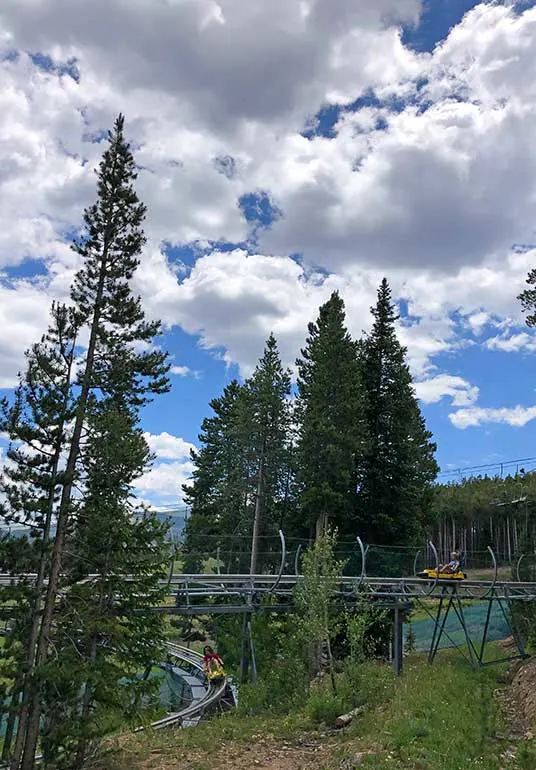 Create vacation memories on the Breckenridge alpine coaster at the Epic Discovery. It's self-controlled so you get to determine your speed. Hop on the cart and ride down the mountain on the alpine roller coaster unlike any other!
Twist and turn your way down 2500 feet on the mountaintop. So fun!
3. Breckenridge gondola (a family favorite activity during summer in Breckenridge)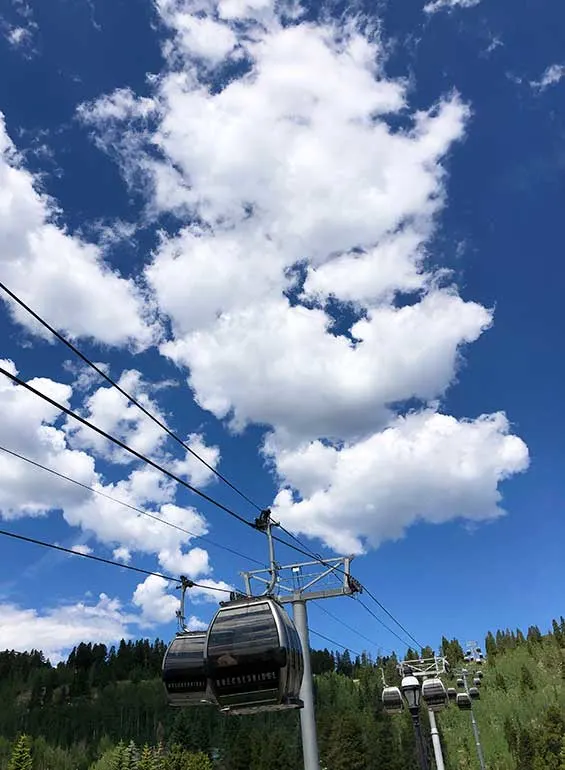 Speaking of adventure park, a fun way to get there is by taking the free Breckenridge gondola. Fun for nearly any age, the Breckenridge gondola is perfect for snow gear in the winter, but ideal for strollers, dogs and bikes in the summer.
Soak in the beautiful views on a 13-minute ride as you raise nearly 400 feet in elevation on the BreckConnect gondola. With 360 degree views of the Rocky Mountains and the town of Breckenridge, this free attraction cannot be beat!
Of course once you get to the top you can enjoy the adventures of the Epic Discovery Fun Park, grab food, watch live music or otherwise enjoy the sights of the mountain.
Riding the Breckenridge gondola will be a highlight of your trip if you're traveling with young kids.
4. Visit the Breckenridge Troll
Isak Heartstone, AKA the Breckenridge Troll is a fun, free attraction for kids and adults alike. It's one of the most Insta-worthy attractions in Breckenridge in summer.
The troll was originally created for the Breckenridge International Festival of Arts and is now a popular tourist attraction.
See also: Breckenridge Troll Guide – Insider Tips, How to Get There & Everything You Need to Know
Located about a mile from downtown Breckenridge, getting to the troll is relatively easy. Here are specific directions to find the troll from the city of Breckenridge.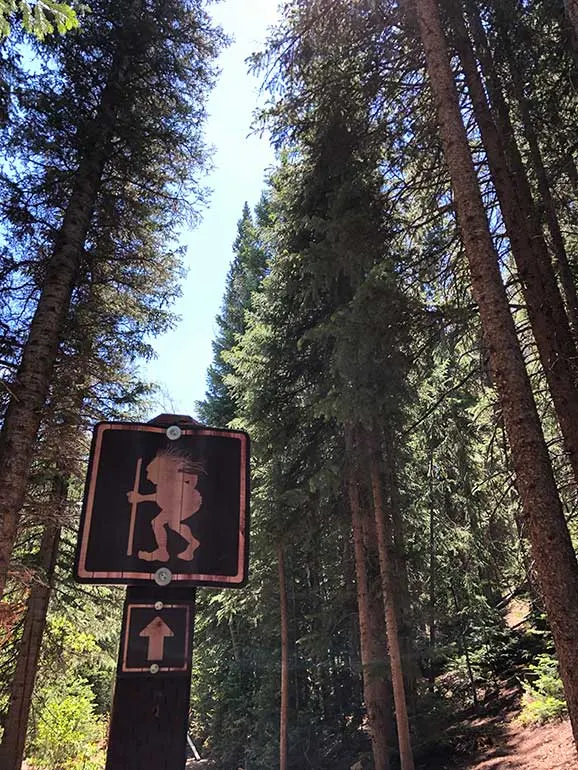 Pro tip: the official directions will tell you to walk to the troll. However, if you're traveling with young kids, know that it's a steep walk uphill in high elevation and can be quite exhausting.
I'd recommend to take the free shuttle from downtown. Alternatively, if you navigate to the Illinois Creek Trailhead, you'll find parking near the trailhead to the troll. Then it's just a short walk to see Isak.
You'll probably need about an hour's time to get to the troll, hang out and take a few photos and get back to your vehicle. Visiting the Breck Troll is one of the top things on a Colorado bucket list for residents and visitors alike. 🙂
Downtown Breckenridge
Continuing this list of things to do in Breckenridge during summer, downtown is a hot spot!
Breckenridge isn't just another ski resort town, its downtown area includes over 200 shops and 80 restaurants. Let's explore a bit more!
5. Shop for souvenirs in Breck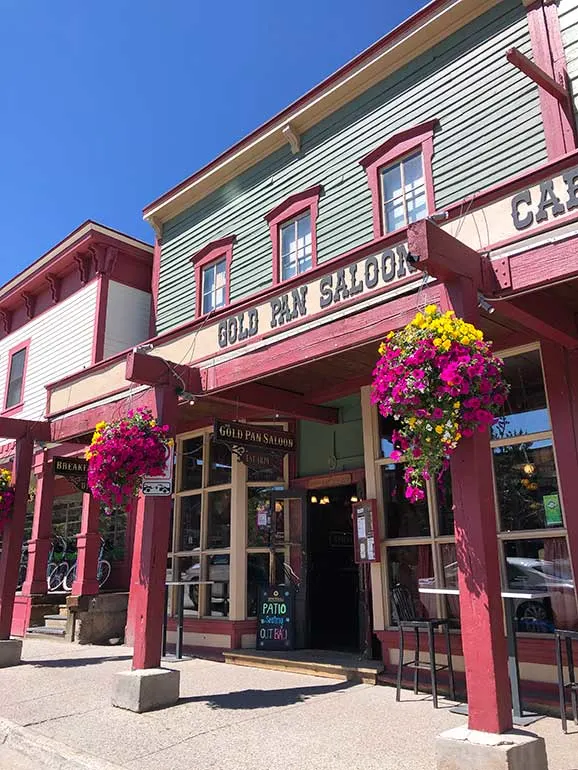 If you love to shop, you have a collection from travels (like Christmas ornaments) or you simply love to buy souvenirs while you travel, this is the perfect spot for you!
Downtown Breckenridge shops include everything from jewelry to shoes, rustic home decor and even specialty chocolates. Cute boutiques and high-end brands line the streets. You'll find exactly what you're looking for in this cute mountain town.
6. Rita's margaritas and tacos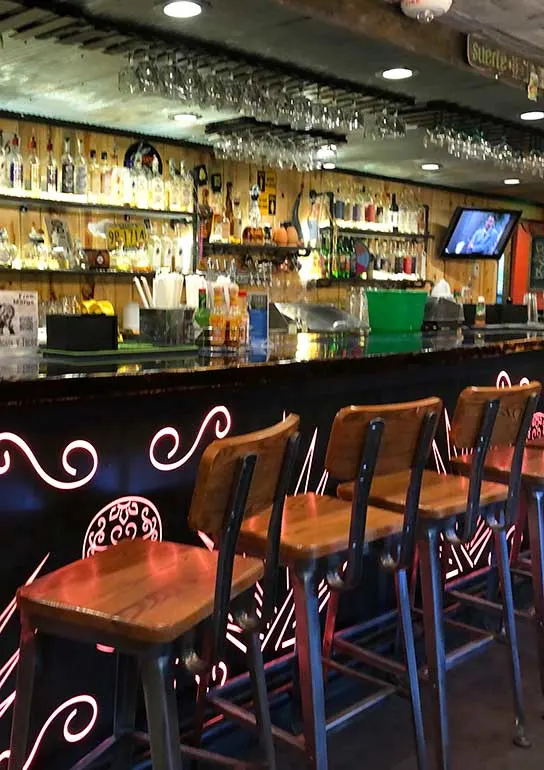 If you're a fan of margaritas, tequila or tacos, you need this place in your life. Seriously.
Rita's margs are the best we had in all of Summit County (including spots like Frisco, Dillon, Silverthorne and more). When you walk in and see tequila lining the bar, you know you're in a good spot for margaritas!
Anyway, it's not the most kid-friendly place (they don't even have high chairs), however for older kids and vacations without kids, this place is a must!
7. Try the local brews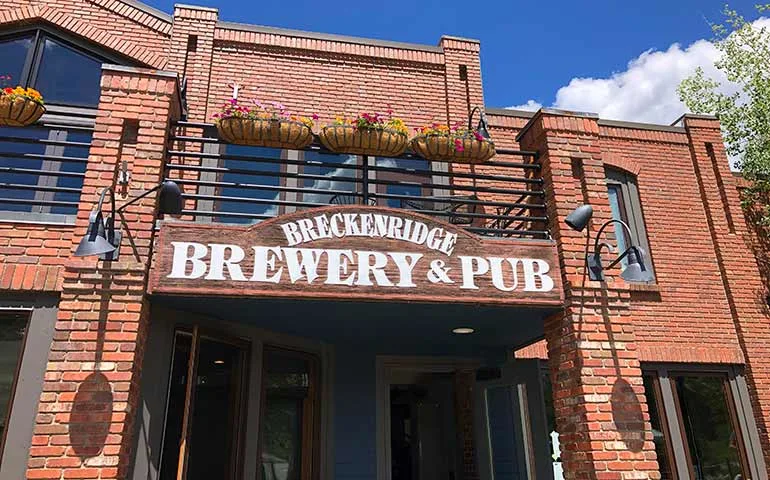 Let's stick with the boozy theme. While there are 1001 breweries in Colorado (seems like it, right??), this one is a good one. The food is awesome, which is a bonus.
Breckenridge Brewery and Pub has a cool indoor and outdoor seating area. And bonus – it's dog friendly too! From salads to burgers and of course, cold brews, this brewery is one of our favorites in Colorado.
8. Blue River Plaza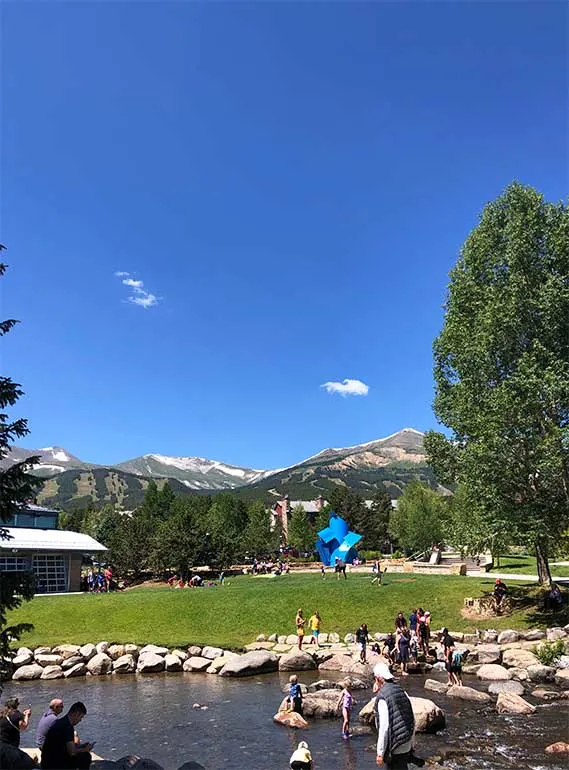 The Blue River Plaza is a wide open space in the center of town. It's a very scenic area with mountains in the background and the Blue River running through it.
The plaza is a natural gathering place, and a perfect spot for a free outdoor concert. Catch some live music by the National Repertory Orchestra and hang out by the river. Check out the event schedule for the NRO here.
If you're traveling with littles, this area is a great pit stop from walking downtown. There's plenty of shade for adults, too. That mountain sunshine is powerful!
Watch as your young kids climb on the slide and natural playground with such a scenic background. Plus picnic tables for takeout. It's a perfect pit stop after a day exploring the downtown area.
9. Free museum at the Breckenridge Welcome Center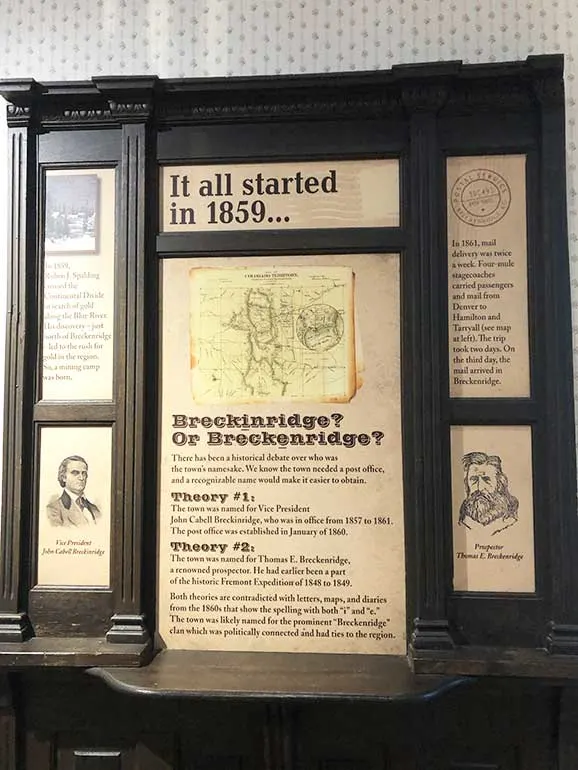 The Breckenridge Welcome Center is in the heart of downtown. You can get advice and guides, use restrooms but my favorite part is the interactive museum. And bonus – it's free!
During the construction of the welcome center, demolition crews discovered a 19th century log cabin, which is now part of the museum. The museum also includes info and history on the Gulch Wildlife Preserve, the Native American settlement, gold mining and much more.
Top things to do in Breckenridge
Can you believe all of this is in downtown Breck? Let's keep going!
10. Arcade at Downstairs at Eric's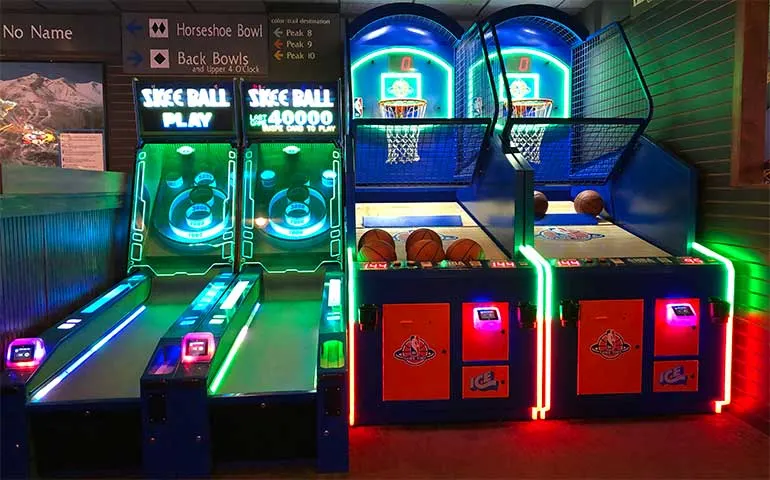 Wondering what to do in Breckenridge? How about a throwback to arcade games?
Pizza, beer, burgers and an arcade! This is the perfect spot for a rainy day or just to switch it up from outside adventures!
Find old-school arcade games like skiball and Donkey Kong. It's perfect for youngsters and those young at heart. And after your games are done, be sure to grab food. Our large group loved everything we ordered, so you really can't go wrong!
11. Gelato at I Scream Gelato (pretty much a requirement in Breckenridge in summer!)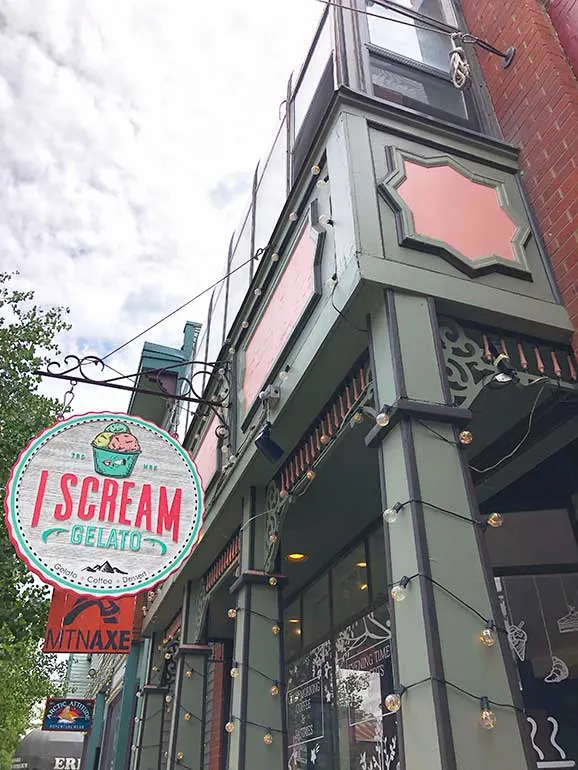 Guyssss- I consider myself an ice cream lover. And while this isn't technically ice cream, it's in the same family and it's mighty delicious!
With classic flavors like mint chip and vanilla to complex, mouth-watering flavors of raspberry cheesecake, key lime pie and Ferrero Rocher, you'll love them all. As you're planning your day in Breck, make sure you leave room for gelato. You won't regret it!
12. Axe throwing
If you're a competitor at heart and love extreme sports, then you'll love this activity! Located in downtown Breck right next to your new favorite gelato place, grab some friends or your partner and get ready for some fun!
Axe throwing is gaining popularity and what better way to experience it than on vacation. Reserve your spot with an axe throwing pro to win the competition and hit the bullseye!
Book it now: axe throwing in Breckenridge
13. Breckenridge Alpine Gardens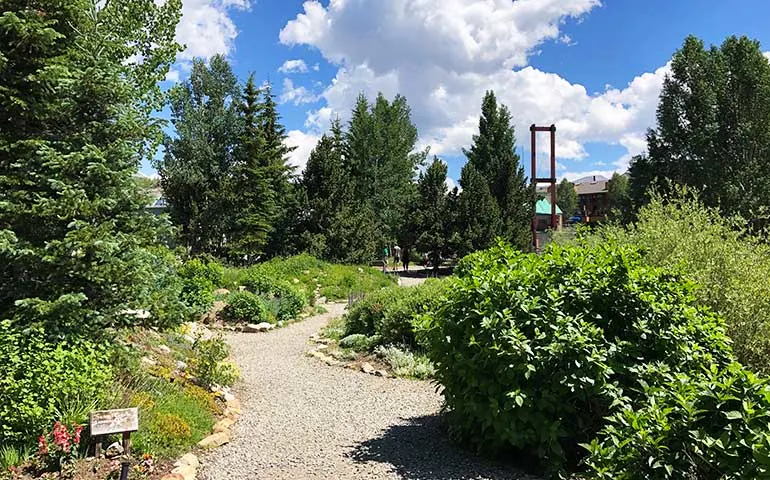 The town center is pretty busy, yet this garden is peaceful and serene. Tucked behind the busy main street, the Alpine Gardens are simple and beautiful.
Take a stroll down the path as you transplant yourself away from the crowds and into the garden scene. The garden is situated right next to the Blue River and is very representative of what grows in this high altitude environment.
14. Take a ghost tour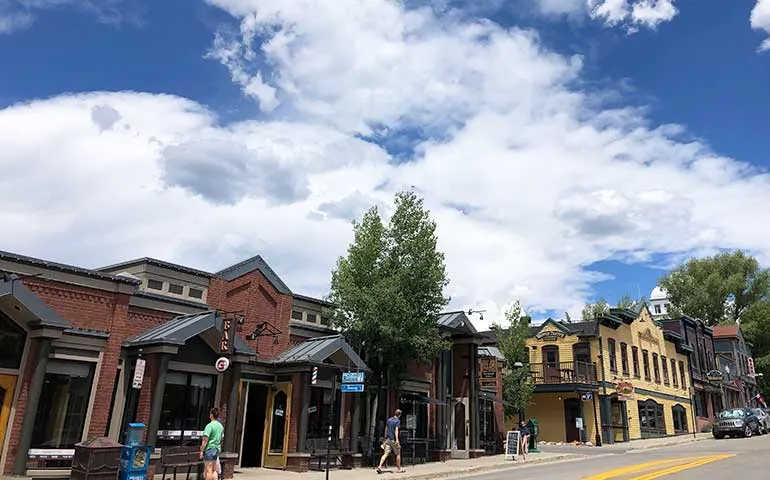 One of the coolest things to do in summer in Breckenridge if you're into history is take a ghost tour. It's widely believed that Breckenridge has some paranormal activity due to its turbulent past. This is a fun way to learn about that history!
Take a glimpse into Breckenridge's past, listening to spooky stories and seeing the old buildings in downtown Breck.
Book it now: ghostly tales of Breckenridge
More of the best summer activities in Breckenridge Colorado
Up next – more amazing things to do in Breckenridge in summer! Beautiful scenes, family-friendly ideas and the area's top activities that will get your adrenaline pumping – let's keep going!
15. Afternoon at Lake Dillon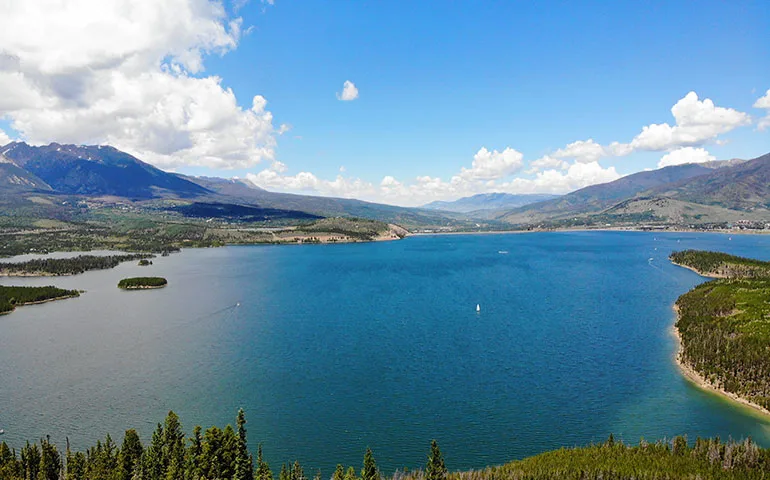 Perhaps one of my favorite things to do in the Breckenridge area is to visit Lake Dillon. Located about 25 minutes northeast, this beautiful lake will win your heart.
With scenic views surrounding the entire lake, you'll find there's quite a lot of things to do in Dillon CO, too!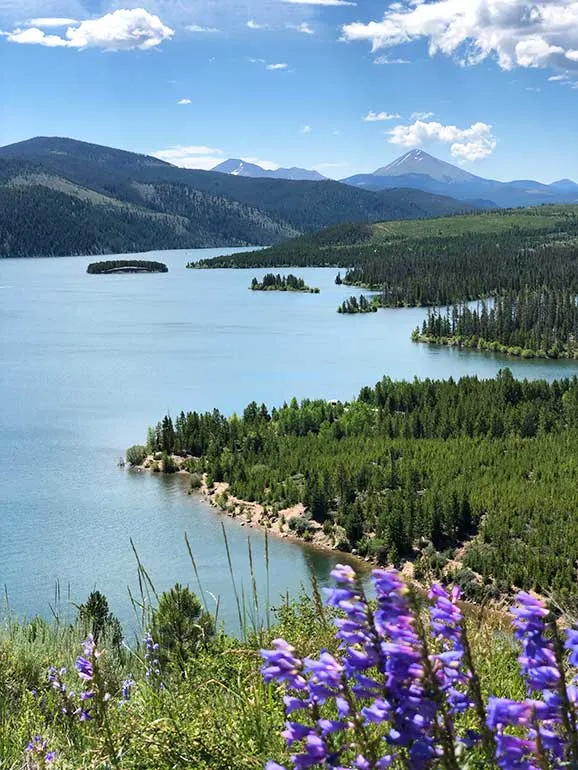 How to spend an afternoon at Lake Dillon:
Visit the Sapphire Point Overlook
Rent a boat and enjoy the water
Bike parts of the 26 scenic mile shoreline
Hike the Old Dillon Reservoir trail for epic lake views
16. Pan for gold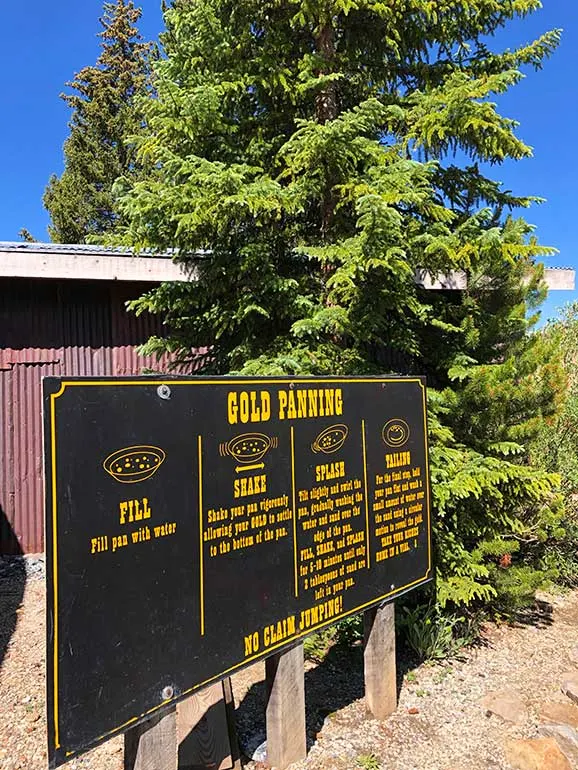 Breckenridge's unique history dates back to 1859, established during the Pike's Peak gold rush. Gold mining was alive and well for decades, and only in the 1970's did the town become a popular ski destination.
So needless to say, panning for gold is a big tourist attraction in Breck. You'll find panning for gold in many spots in and around Breckenridge. However, my favorite spot was at Country Boy Mine. It's located on a historic gold mine, which is fun to learn about.
Best spots to pan for gold in Breckenridge:
Lomax Placer Mine
Washington Mine Site and Milling Exhibit
Country Boy Mine
17. Go on a treasure hunt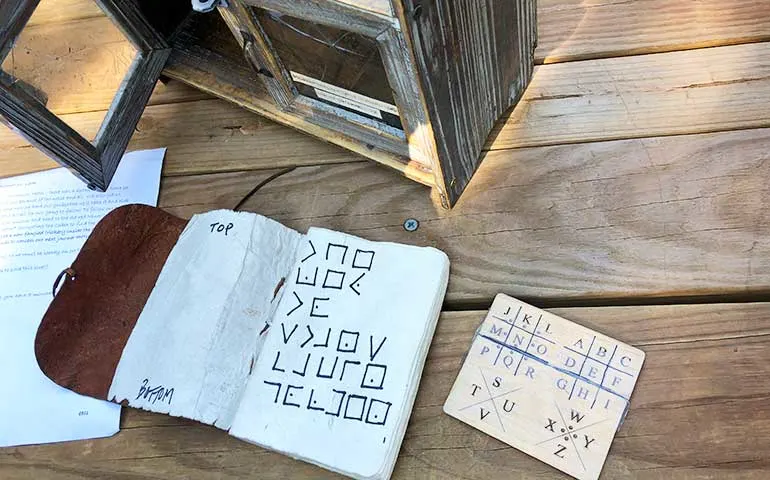 One of the most kid-friendly things you can do in Breck is visit the Country Boy Mine for a treasure hunt. It's an old-fashioned hunt for gold, buried at an old gold mine in Breck.
Kids solve puzzles and riddles, challenging themselves to think outside the box and complete tasks to find clues. It's highly entertaining and challenging, with a fun souvenir at the end of the hunt!
Pro tip: reservations are highly encouraged as they sell out quickly! Treasure hunt is best for kids 5+.
18. Bike and brews tour (top activity during summer in Breckenridge)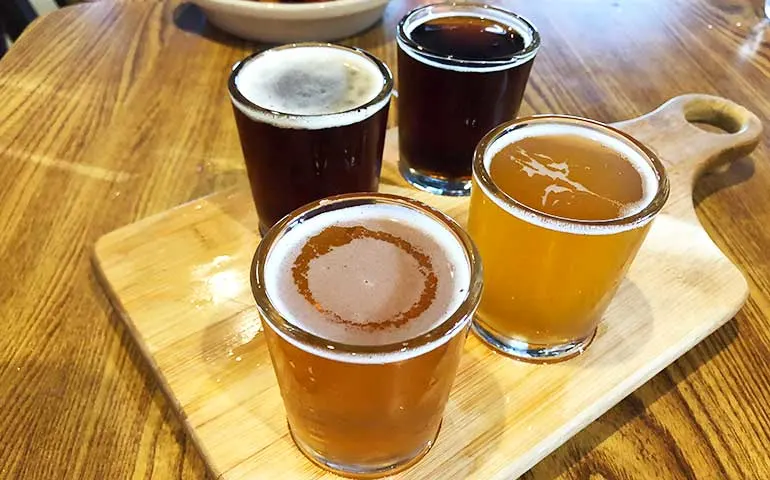 If you'e a spirited adventurer, this is the perfect activity for you! Take a tour of the best distilleries, breweries and wineries in Breckenridge, all on bike!
Visit the highest distillery in the US, tour a winery inside a historic saloon, and take a ski lift (bike included) to the best breweries in the area. Expect high adventure, lots of laughs and some good booze on this one-of-a-kind tour you won't find anywhere else!
Book it now: bike and brews tour in Breckenridge
19. Skate park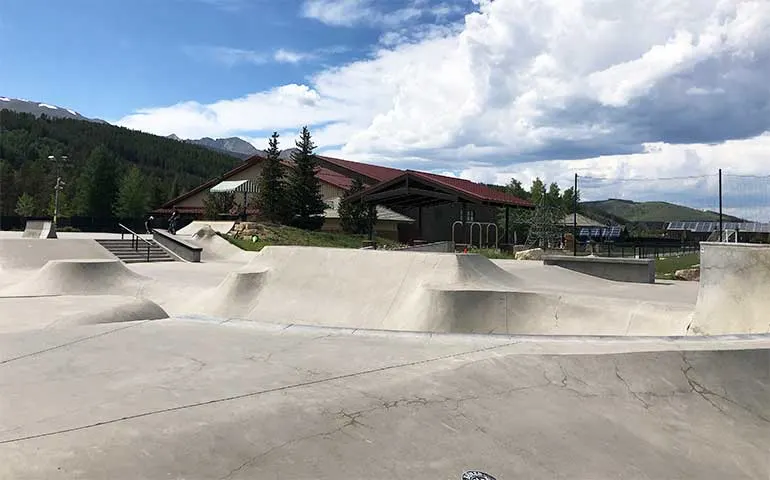 If you're into skate boarding, then Breckenridge is a great spot to relive the good 'ole days and hop on your board. Located just north of town by the Breckenridge Rec Center, this skate park has everything you need for a few hours of fun!
In its picturesque setting, even those watching skaters will have a good time with the scenic stream and mountain backdrops.
20. Afternoon in Frisco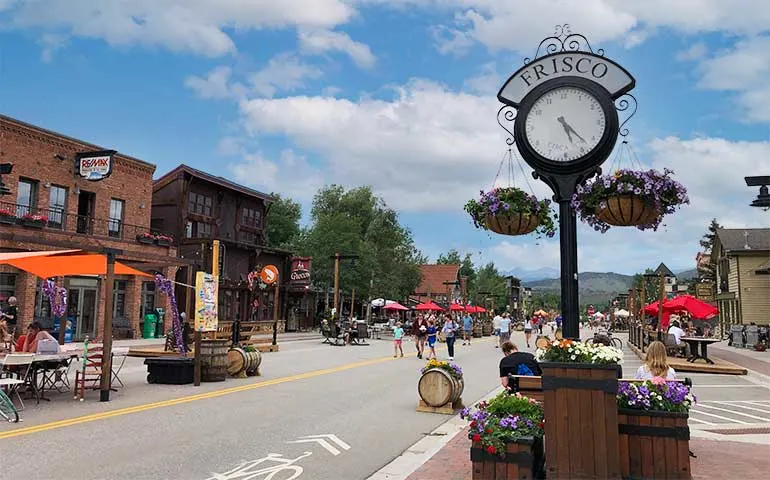 Frisco is an adorable town just 20 minutes north of Breckenridge, and definitely worthy of spending a morning or afternoon. It's charming main street will remind you of Breck's, but without all the crowds. Downtown is colorful and full of life!
Shop at a fun boutique, visit the Frisco Historic Park and Museum or dine on the street. The city even blocks off driving on Main Street for pedestrian traffic and extra restaurant tables. Frisco also touches Lake Dillon, so you could spend some time kayaking on the lake or enjoying simply enjoying the sights.
21. Hike the Illinois Creek Trail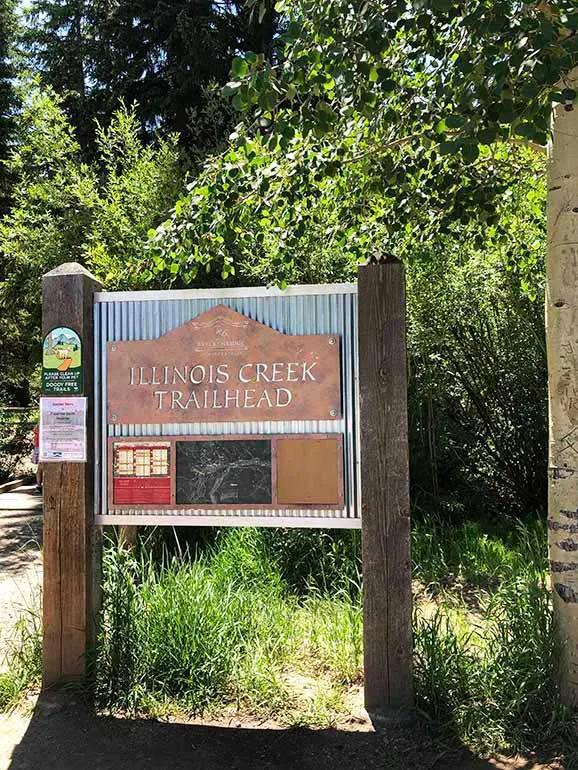 A great way to get active in summer in Breckenridge is to hike the South Illinois Creek Trail. At 1.9 miles and rated as easy, it's a trail that's doable for most.
The trailhead is located adjacent to the Breckenridge Troll and features beautiful trees and a river. However, perhaps the best part of the trail is getting to Little Mountain. About .7 miles in, you'll see a smaller, unmarked trail on the left. Take it to Little Mountain for beautiful views of the mountains surrounding Breck.
22. Rent UTV's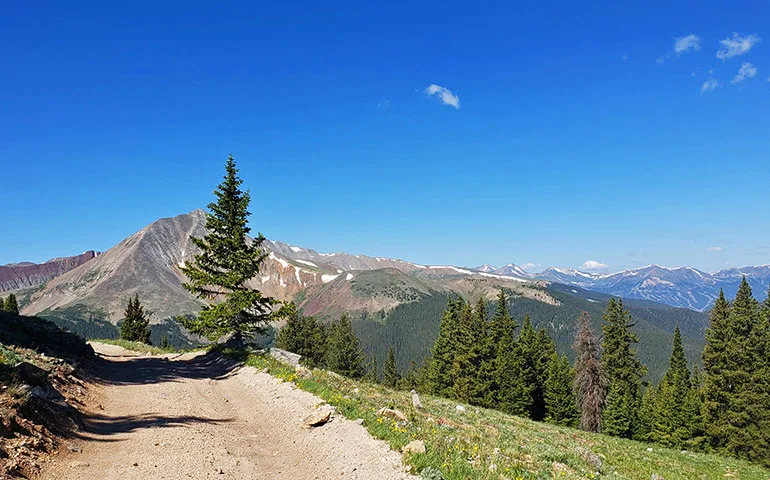 Perhaps one of the most adrenaline-inducing activities you can do in Breckenridge is to rent UTV's and go off-roading. My husband and friend did this while in the area, and he said it was the highlight of the trip!
If you love adventure, extreme sports and driving, then you definitely need to rent an all-terrain vehicle during the summer in Breckenridge! With epic views, these trails don't compete anywhere else based on the amount of fun you'll have!
Book it now: rent UTV's near Breckenridge
What to do in Breckenridge during summertime
Can you believe this list?! This area of Colorado has so much to offer visitors! Here's a few more activities to help you plan the perfect vacation to Breckenridge!
23. Play in the stream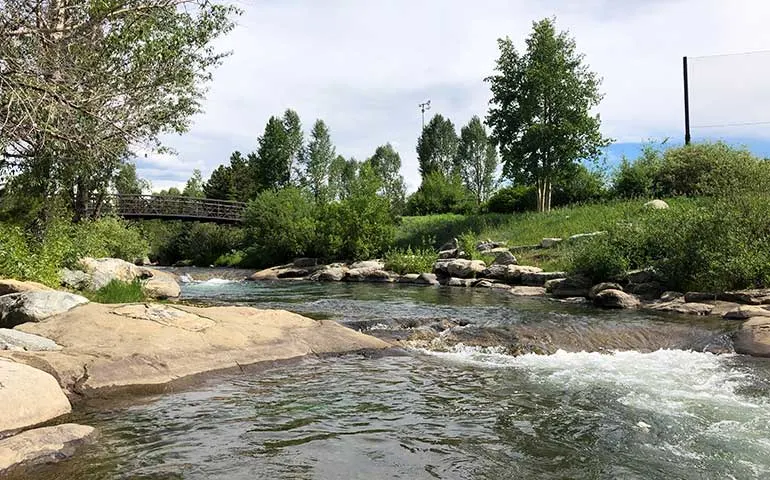 It's the quintessential activity for kids in the mountains in the summer: play in the water!
The Blue River runs through Breckenridge, along Main Street and out of town to the north, along Highway 9. While there's several options for playing in nearby streams, I highly recommend the area near the Breckenridge Rec Center.
Pro tip: it's highly recommended to bring your water shoes (for kids and adults) as the base of the river is rocky, slippery and in some spots quite slimy. This is my favorite brand of water shoes, and mine travel with me everywhere!
24. Tube down the Blue River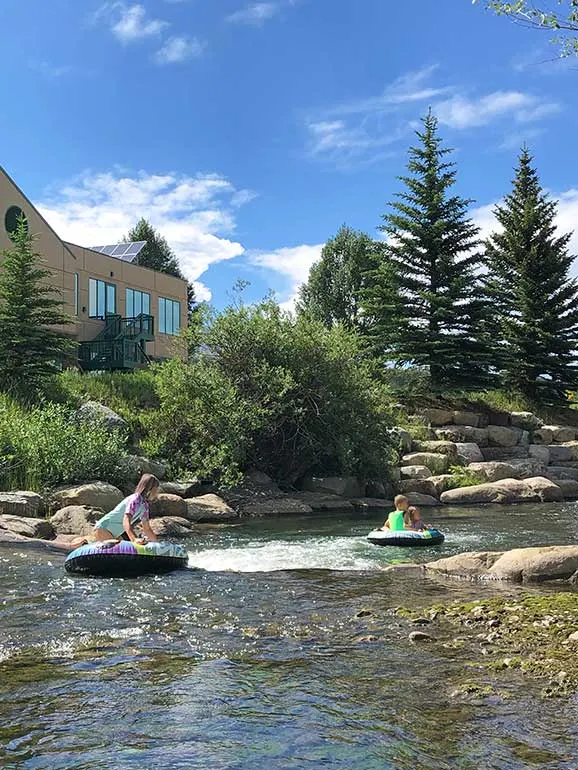 This kids activity is so much fun! All you need is your water shoes, swim gear and a snow tube. There are plenty of spots to "launch" in the Blue River near the Breckenridge Rec Center.
Kids can sit in the snow tube, protecting their bottoms from scraping on shallow points in the river, all while having an absolute blast! Snow tubes on Amazon are affordable and if you live in a snowy climate or plan to vacation during winter to the snow, you'll use them again.
Using a snow tube is like sledding, only better! In this case, hang out on the river. Just be sure to float only as far as you want to walk back up! There's a bike path alongside the river making it easy to drop in and walk back up, so you can tube as many times as you'd like.
25. Skate at the ice rink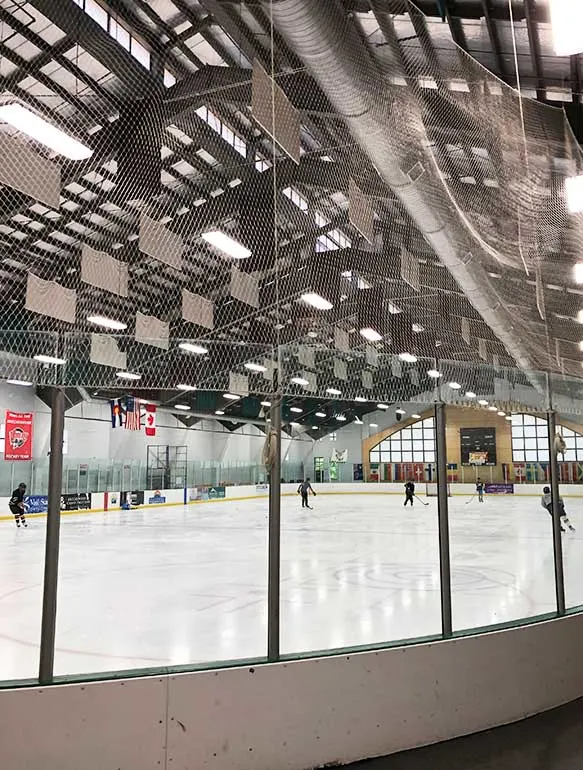 An activity for any age, this is a great inside alternative for rainy days in Breckenridge. The Ice Arena has open skate times (check their website for details), as well as many programs.
Rent some ice skates and cool off at the ice arena! This is a fun time and one of the most unique things to do in Breckenridge.
26. High Line Railroad Park and Museum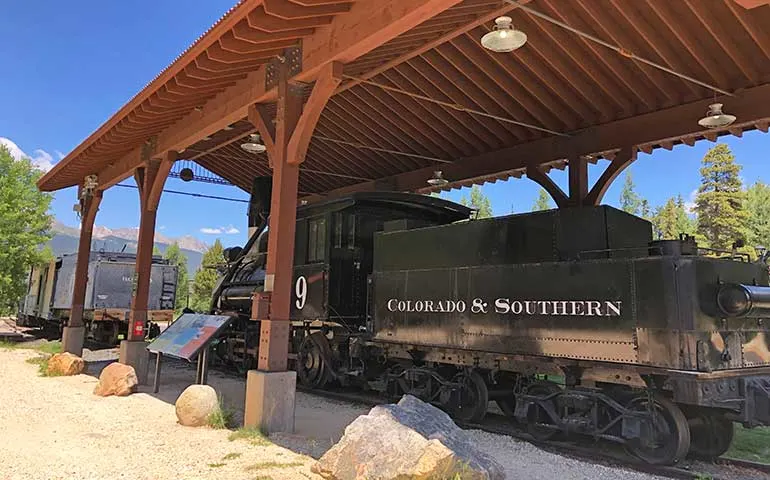 Near the ice rink is the fun spot perfect for young children and train enthusiasts. You'll learn about the history of the railroad in Breckenridge, and how it changed the trajectory of the town forever.
The High Line Railroad Park and Museum is free (although a $5 donation is recommended). Walk around the old fashioned train, read the signage and hang out at the playground for a bit.
This is a great spot to stop for any train lover – young or old!
27. White water rafting (perfect activity during summer in Breckenridge)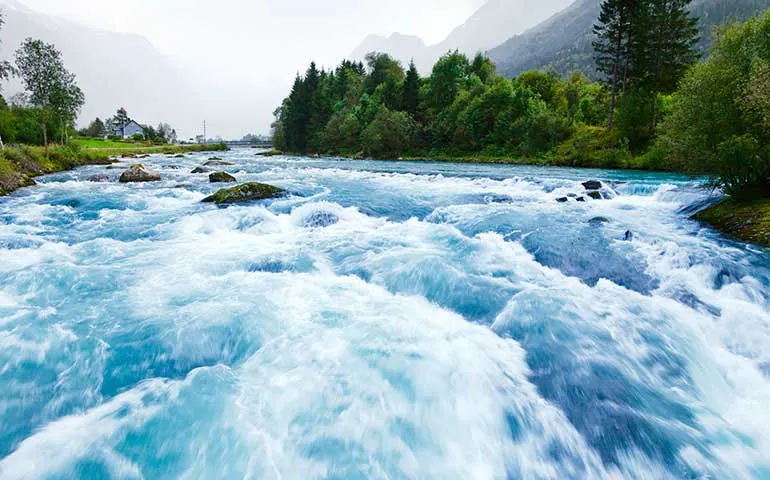 White water rafting in Colorado has been one of my favorite memories! If you love being on the water and you want high adventure, this is the activity for you!
There's a variety of options for white water rafting near Breckenridge. The closest launch is from Silverthorne, near Lake Dillon, just 25 minutes away.
You'll ride down the Blue River for 3 fun-filled miles of rapids. This is also one of the most easy-going rapid trips around. Alternatives include rafting down the Colorado River (departing near Kremmling), Clear Creek (near Idaho Springs) or Browns Canyon (near Buena Vista).
28. Day trip to Vail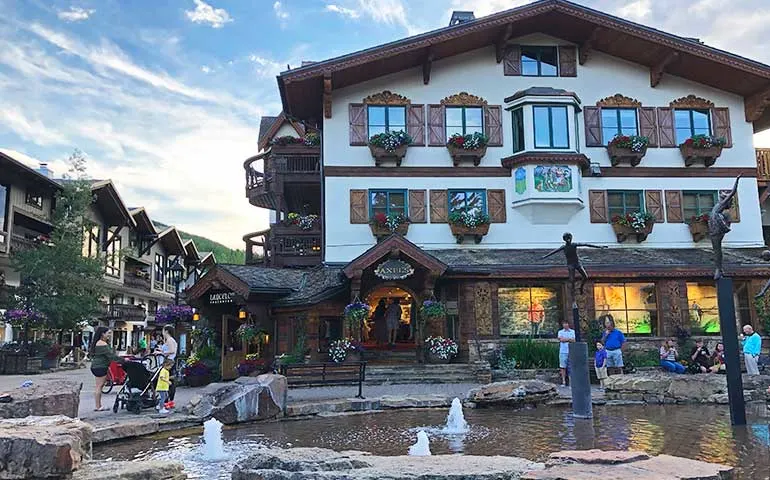 Another popular tourist spot and about an hour northwest of Breckenridge is the bougie Vail Village. While there's plenty of hiking, spa activities and things to do in Vail, the Village is where all the action happens.
The cobblestone streets will take you to different regions of the world based on cuisine and what's in the nearby shops. It's a cool spot to walk around and people watch, perfect for all ages.
If you're traveling with young ones, don't miss the water feature and stream on the eastern end of the Village. Of all the times I've ever been to Vail Village, I've never once been disappointed in the food!
Pro tip: In the summer it gets chilly at night, so be prepared if you're dining outside after the sun goes down.
29. Catch live music
Summer in Breckenridge often means live music. It just adds that extra ambiance to the evening, you know? Whether it's catching live music at the Blue River Plaza, at a festival or live music at a restaurant, you'll have plenty of options in the summertime.
Best places to find live music in Breckenridge:
Events by the National Repertory Orchestra around town
Restaurants such as Blue Rive Bistro, Mother Loaded Tavern, Base Nine Bar or just walk Main Street in the evening
30. Hike to Mohawk Lakes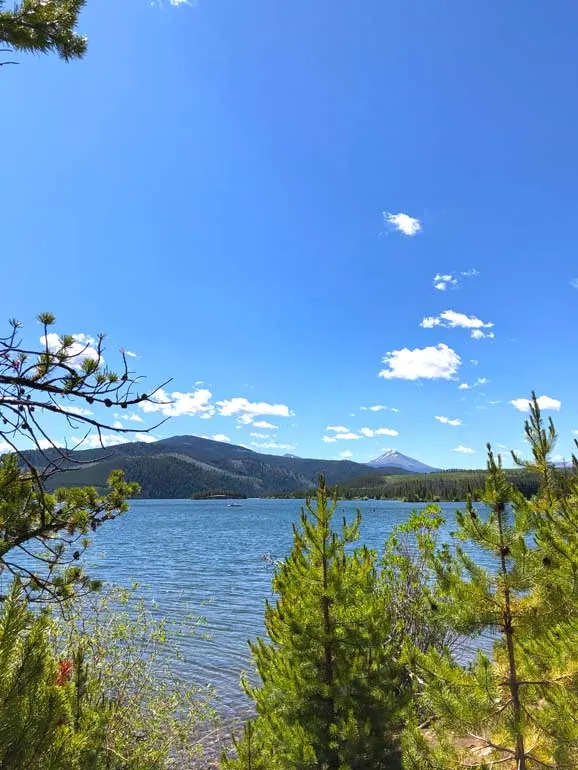 If you're looking for more of a challenge – and stunning scenery, then hiking to Mohawk Lakes is a must! While I haven't actually been able to hike to Mowhawk Lakes any of the times I've visited Beck, it's high on my list for the next trip!
With gorgeous wildflowers, aspen trees, wildlife and beautiful water features (hello waterfalls!), this is sure to be an adventure. The full trail is 8.6 miles round trip, with an elevation gain of 2100 feet – which is a lot considering the elevation at the upper lake is just over 12,100 feet.
You'll need lots of water, bear spray, trekking poles, good hiking shoes and hiking essentials for a day trip.
Pro tip: if you're from an area with thicker air, the altitude is no joke. Take plenty of breaks to breathe, drink lots of water and go slow!
Summer in Breckenridge – area highlights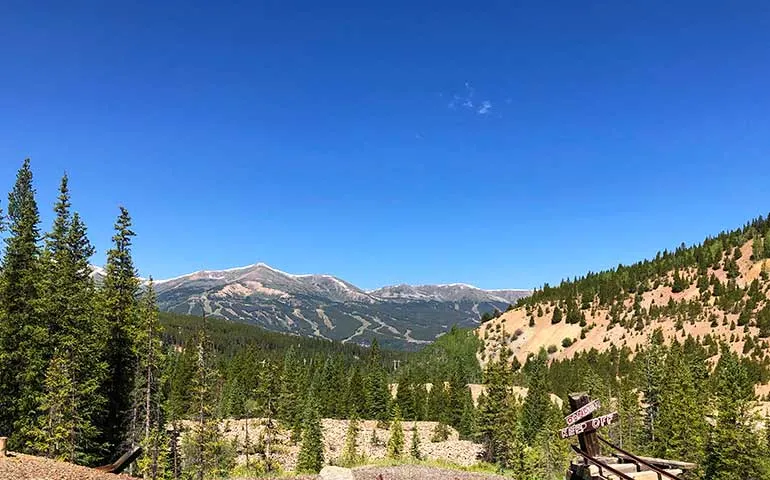 Whew what a list! This popular spot in Colorado is a vacationer's dream. With gorgeous scenery, plenty of activities for all types of trips and tons of dining options, a trip to Breckenridge in summer is always a good choice!
So, have you decided which of these activities you'll do to create your perfect summertime vacation to the mountains? If so, comment below!
Let's recap the list again…
Best things to do in Breckenridge in summer
Epic Discovery at Breckenridge
Breckenridge alpine slide
Ride the Breckenridge gondola
Visit the Breckenridge Troll
Shop for souvenirs in downtown Breck
Rita's margaritas and tacos
Try the local brews
Blue River Plaza
Free museum at the Breckenridge Welcome Center
Arcade at Downstairs at Eric's
Gelato at I Scream Gelato
Axe throwing
Breckenridge Alpine Gardens
Take a ghost tour
Afternoon at Lake Dillon
Pan for gold
Go on a treasure hunt
Bike and brews tour
Skate park
Afternoon in Frisco
Hike the Illinois Creek Trail
Rent UTV's
Play in the stream
Tube down the Blue River
Skate at the ice rink
High Line Railroad Park and Museum
White water rafting
Day trip to Vail
Catch live music
Hike to Mohawk Lakes
You might also like:
22 Epic Road Trip Stops: the Best Colorado Itinerary
26 Fun and Unique Things to Do in Dillon, Colorado
Denver to Albuquerque Drive: 10 Scenic Stops You Can't Miss
Exactly What to Pack for a Day Hike
Road Trip Essentials – What to Pack when Traveling with Kids
Find this post helpful? Save it for later or share it on social media!