This picturesque – and underrated – destination in Colorado is a must visit! Dramatic Rocky Mountains provide a serene backdrop for this beautiful lake town. It's the perfect vacation destination for mountain lovers. And to top it off, there's plenty of things to do in Dillon, CO too!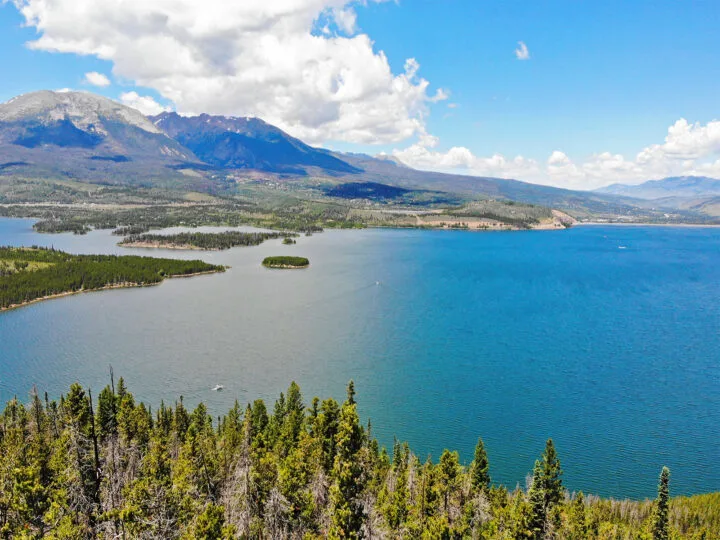 This post may contain affiliate links. For more info, see my disclosures.
Whether you're planning a visit to Dillon for a family vacation, couple's getaway, solo trip or literally anything else, you'll find this town fascinating and full of adventure!
The town of Dillon, Colorado is home to the Dillon Reservoir, which is actually Denver's largest water storage facility. It's the star of the show, and many of the activities on this list feature the lake.
The entire area makes for a fantastic vacation, so you'll see a few spots within a short drive from Dillon included in this guide, too.
👉Don't have time to read the whole article? This is the best Dillon Reservoir kayaking tour, which is a fun way to experience the lake.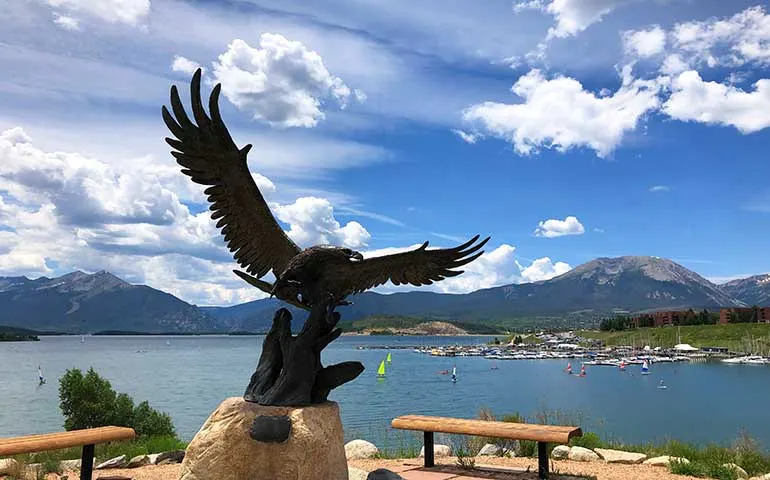 Map of things to do in Dillon, CO
If you're a visual person, use this map to help plan your trip to Lake Dillon. The Colorado towns of Dillon, Silverthorne and Frisco all surround the lake and are within Summit County, Colorado. Each town is just minutes away from each other.
So a trip to Dillon likely means time spent in Silverthorne and Frisco, too!

Denver to Dillon, CO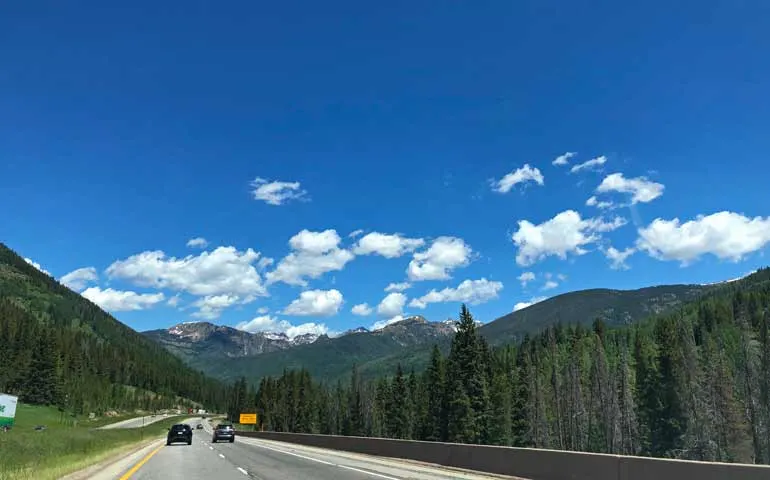 If you're wondering how to get to Dillon, the nearest airport and largest city is Denver. Set along I-70, but positioned much higher than the interstate, you'd pass up this beautiful spot if you didn't know to look for it!
To get from Denver to Dillon, CO, take Interstate 70 about an hour straight west. It's a gorgeous drive through the Rocky Mountains with windy roads that shift dramatically in elevation with every passing mile. Whether you're driving from a nearby state or have a rental car from Denver, get ready for some views!
While the drive is fun in the summertime, it can get a bit crazy in the winter. (I wish I could tell that to 21-year old me on my first drive to the area!)
Anyway, it's close enough for a day trip to Dillon from Denver, but there's so many things to do in Dillon Colorado you'll want – no, need – to spend more time there!
Top things to do in Dillon Colorado
Alright, I'm starting off this list with a few of my favorites…but honestly they're all good!
Let's dive in!
1. Hang out at Lake Dillon Colorado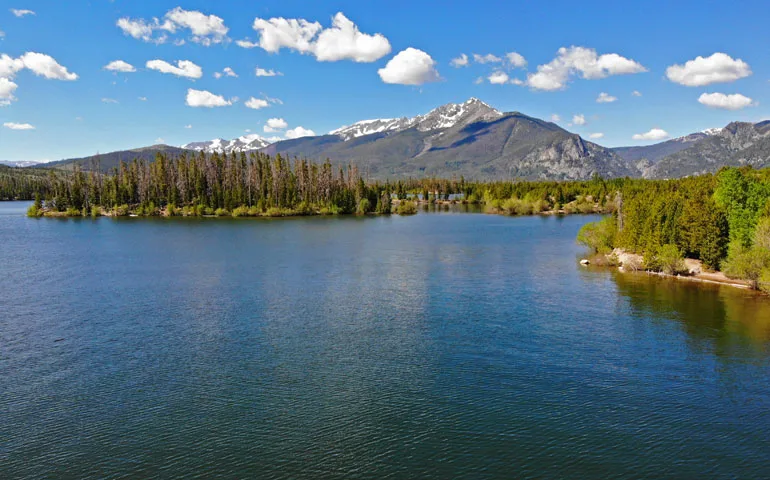 This may sound like an obvious choice considering the destination. But honestly, plan to spend some time at – or on – the lake. It's simply gorgeous!
You can't actually swim in Lake Dillon, however, there are many other ways to enjoy the water. Rent a boat, kayaks or stand up paddle board. And of course there's fishing!
There are many hiking trails near the lake or with views of Lake Dillon. A few of them detailed later on in this post.
If you're vacationing to Lake Dillon, Colorado, be sure to soak in plenty of lake views!
2. Next up: Sapphire Point Overlook (one of my favorite things to do in Dillon CO)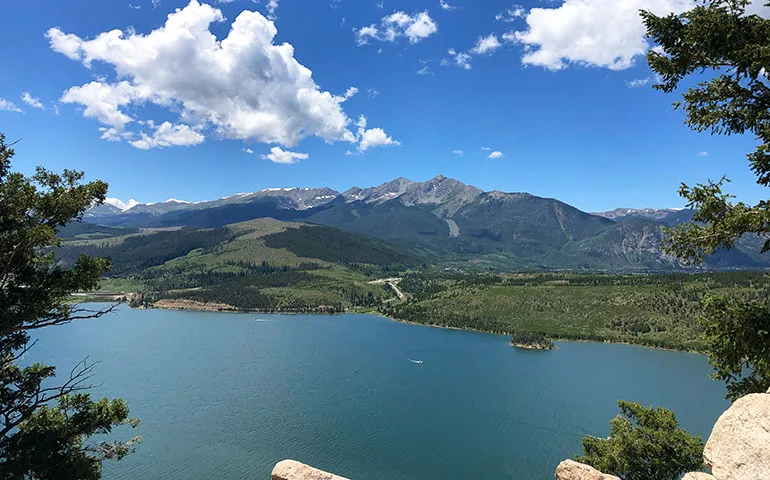 Speaking of lake views, this is an absolute must in the Lake Dillon area! Known for it's sapphire blue water, this overlook is absolutely stunning! Because of it's beauty, you may even catch a wedding there.
Sapphire Point Overlook is a quick walk from the parking lot. It's relatively accessible for most, with a flat gravel trail to the overlook. The entire Sapphire Point loop trail is just .6 miles so it's a perfect walk to see the overlook and then more views of Lake Dillon.
3. Visit downtown Dillon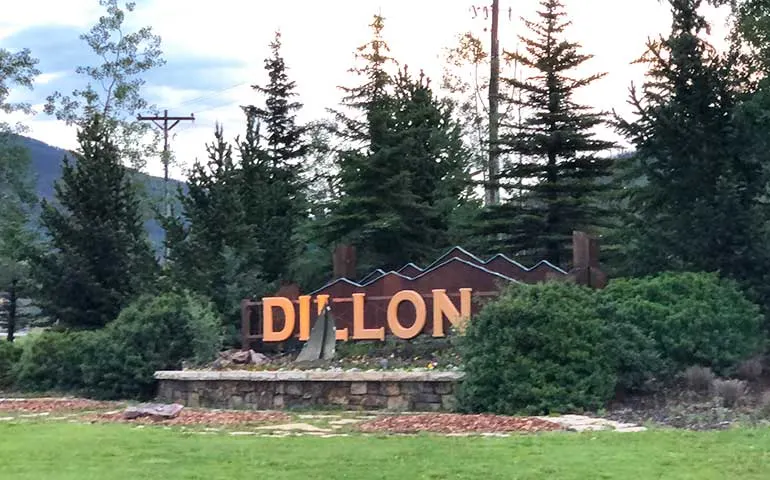 Off the lake, downtown Dillon is a fun spot. From restaurants and dining, this cute little downtown is the perfect break in any vacation schedule.
If you're traveling with kids, be sure to hang out at the grassy area at the Dillon Town Park to get those wiggles out.
History lovers will enjoy visiting the Dillon Schoolhouse Museum in downtown Dillon. Built in 1883, it's a one-room schoolhouse, commonly seen in communities across the USA in the 1800's. It's restored back to its 1892 condition to see what life was like over 100 years ago.
4. Hang loose at the tiki bar, Dillon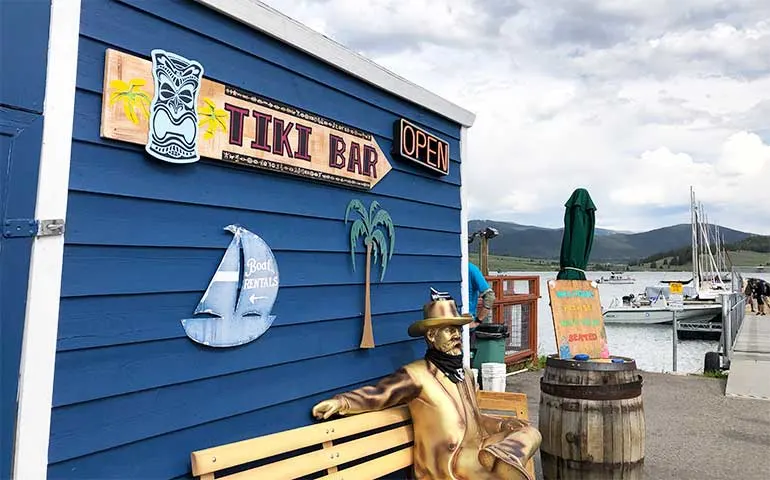 If you love a cocktail with a view, then this is a must-do for your trip to Dillon, CO. Pug Ryan's Tiki Bar at the Lake Dillon Marina is right down the road from the Dillon Amphitheater and situated in the heart of the Dillon Marina.
With fun specialty drinks like Tiki Rita, Sapphire Point Lemonade, Kokomo and beers from Pug Ryan's brewery, this is a fun spot after a day spent hiking or on the water. Oh, and they have just a few items on the menu, if you come hungry.
Grab yourself a drink and soak in the incredible views of Lake Dillon, Colorado. Watch the boats come in and out of the marina, or stay for sunset. Cocktails and vacation are the perfect combination, so plan to hop down to the Tiki Bar during your stay in Dillon.
5. Lake Dillon Marina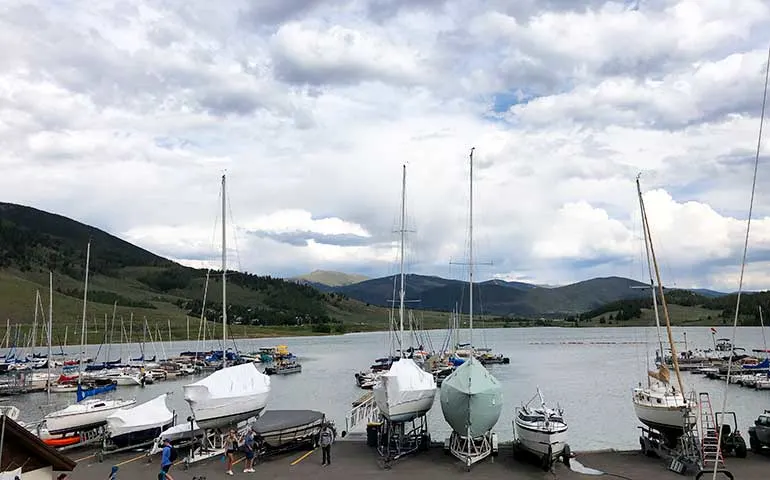 Real close to downtown Dillon – maybe 3 minutes via car – is the Dillon Marina. This is your spot for launching that boat you're renting for the afternoon. Or watching the sailboats take off from the marina. Or grabbing a drink!
Fun fact: the Dillon Marina is the world's highest deep water marina.
One of the coolest things you can do on Lake Dillon in Colorado is take sailing lessons. Available during the summer, sailing lessons are for adults 18+ and for groups of 2-5 people. Finish a lesson and you'll be able to cross sailing off of your bucket list!
Of course, the Dillon Marina also offers boat tours and rentals, kayaking and stand up paddle boarding as well.
6. See what downtown Frisco has to offer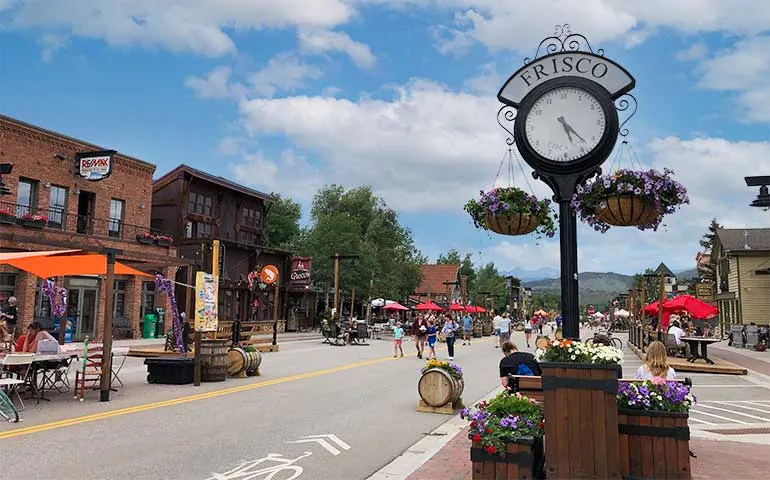 Just a few short minutes drive away from downtown Dillon is downtown Frisco. This picturesque mountain town has the cutest main street filled with so many things to do!
This is the perfect way to spend an afternoon! Boutique shops with all things mountain decor will call your name. Plenty of restaurant choices to fill your belly any time of day. And in the summer evenings, catch live music at the Frisco Historic Park gazebo. Check out the live music schedule.
You certainly won't get bored in downtown Frisco!
7. Frisco Historic Park and Museum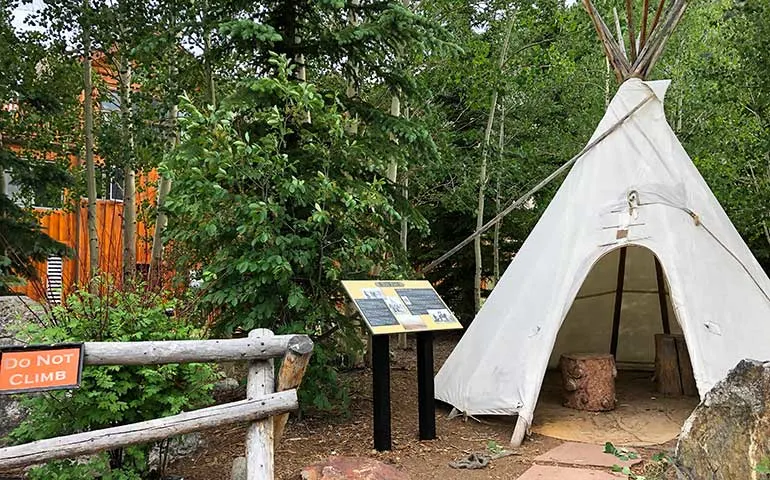 Speaking of Frisco, this cool activity is for young and old and is in the heart of Frisco. Visit the Frisco Historic Park and Museum for a chance to look back to the history and heritage of the area.
This free museum includes a collection of small historic buildings, each with their own theme and artifacts. See original newspapers from 1884, an original log chapel, mining artifacts and even an old jail.
Be sure to stop by the main museum entrance to pick up a museum passport. Collect stamps for each building and activity in a Passport to History Frisco Historic Park and Museum book.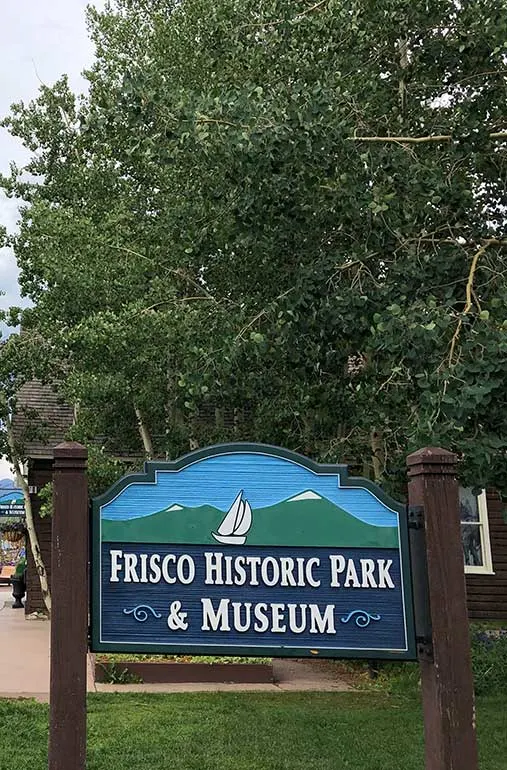 8. Dillon ice castles (a Colorado favorite)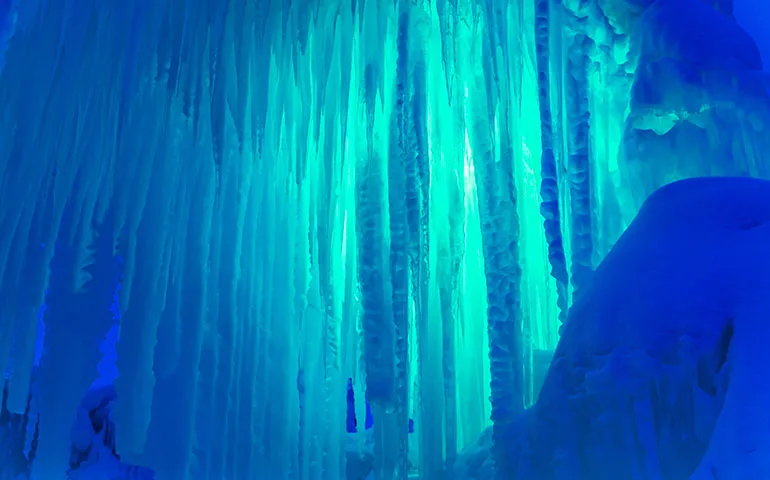 Most of the activities on this list of best things to do in Dillon, CO are when the weather is nice enough to spend time outdoors without navigating the snow of the Rockies.
However, the Dillon ice castles absolutely needs to be on the list! Located in just 6 cities in the US, this frozen attraction is an unforgettable one.
The ice castles are unlike any you've ever seen. With slides and tunnels, towers and amazing light effects, you'll be blown away by the Dillion ice castles. Be sure to check out the ice tunnels, ice maze,
The display typically runs December through March, so plan your wintertime trip to Dillon accordingly!
9. Hiking near Dillon CO: Ptarmigan Trail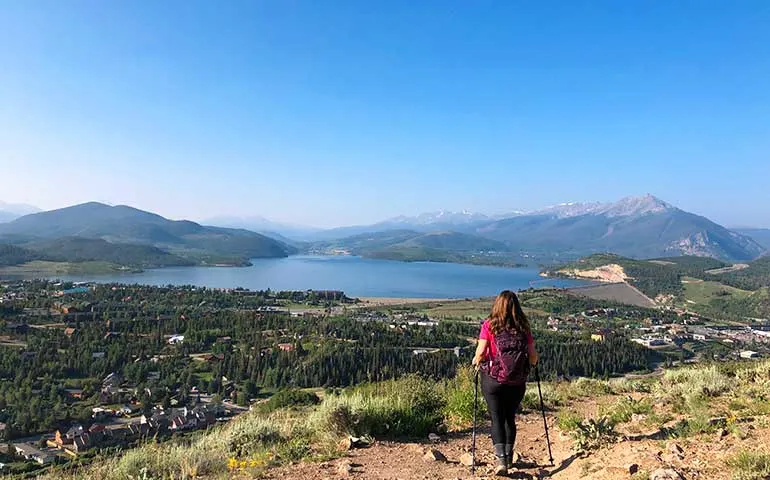 If you're in decent athletic shape, I'd highly recommend the Ptarmigan Peak Trail. As a hiker who likes a good day hike, this trail is one of my favorites in Colorado. In the summer, catch wildflowers along the trail and of course views of Lake Dillon Colorado and the surrounding mountain range.
There's actually two versions of this trail. Both start on the northeast side of Silverthorne. The Ptarmigan Trail is 4.6 miles round-trip, with 1141 feet of elevation gain and considered moderate. However, if you want to hike to the Ptarmigan Peak Trail, it's a 10.4 mile trail round-trip, with 3638 feet of elevation gain.
On the Ptarmigan Peat Trail, the last mile to the summit is above the tree line, creating dramatic views!
I would definitely recommend good hiking shoes, trekking poles and hiking backpack for this hike as it can be steep! Of course the other 10 hiking essentials and what you'd pack for a day hike should be considered, too.
Pro tip: be sure to carry bear spray, as it's possible to encounter one in this area of Colorado. This is the bear spray I carry while hiking. (Just don't pack it on an airplane!)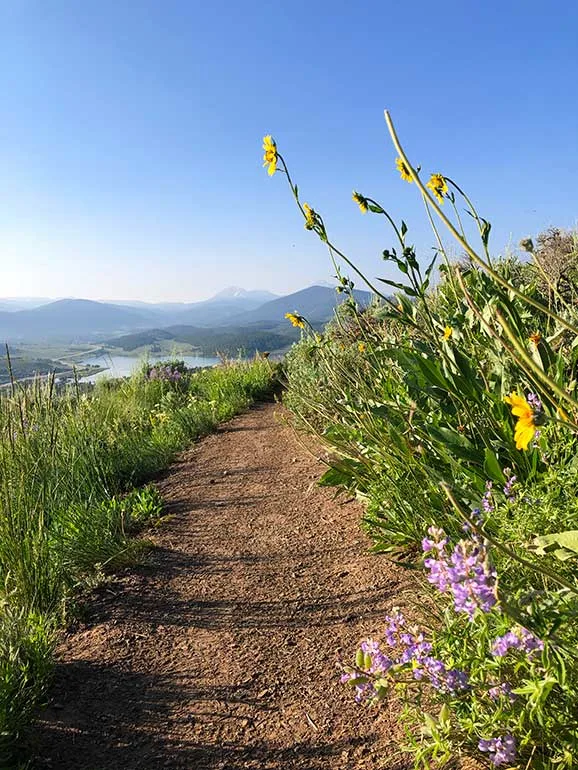 More fun things to do in Dillon Colorado
This list has been pretty epic so far…and it's just getting fun! Let's keep going!
10. Try the local brews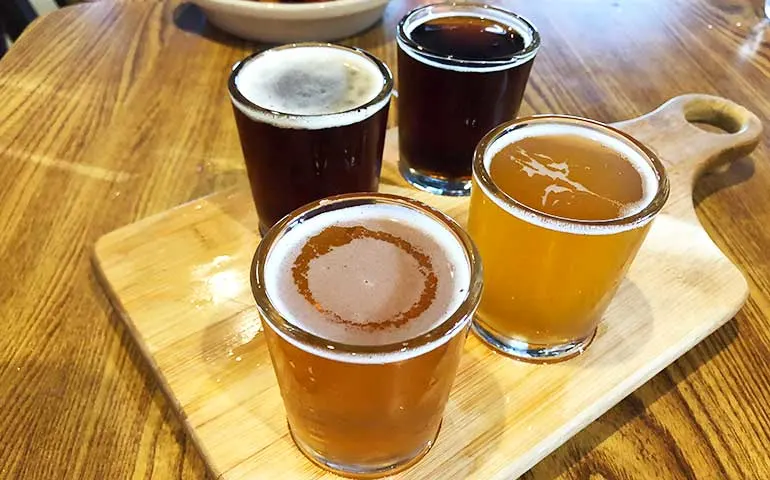 Having visited Colorado for vacation more times than I can count, I can say this state has about a bazillion breweries. We visited several during our time spent in the area, and each of them has their own flair.
Here's a list of breweries in the Dillon, Colorado area:
11. Get your thrill on: rent UTV's near Dillon, CO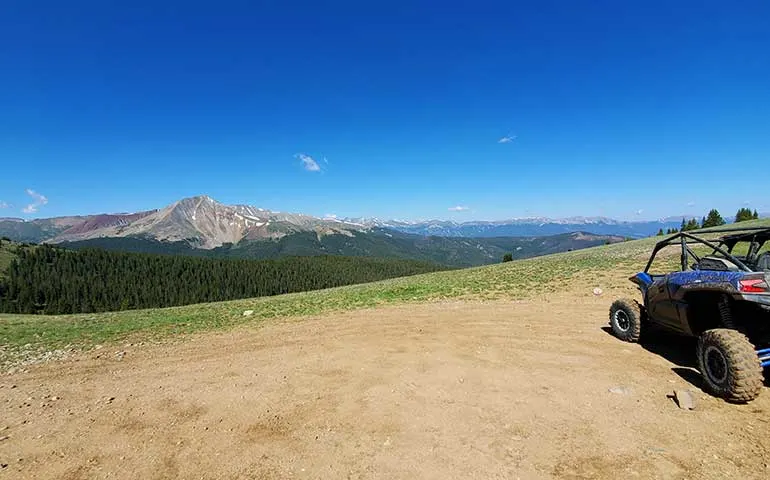 If you like to get your adrenaline pumping on vacation, then rent a side-by-side all terrain vehicle or UTV and hit a trail! You can opt for a guided tour, by I personally like renting UTV's and exploring on my own! This is definitely one of the top things to do in Dillon, CO!
On our most recent trip to the Dillon area, my husband and friend tore up some trails together and they said it was the highlight of the trip. The best part is that the UTV companies give you maps of exactly where the trails are, and you can explore them on your own!
Book it now: UTV rental near Dillon, CO
12. Day trip to Breckenridge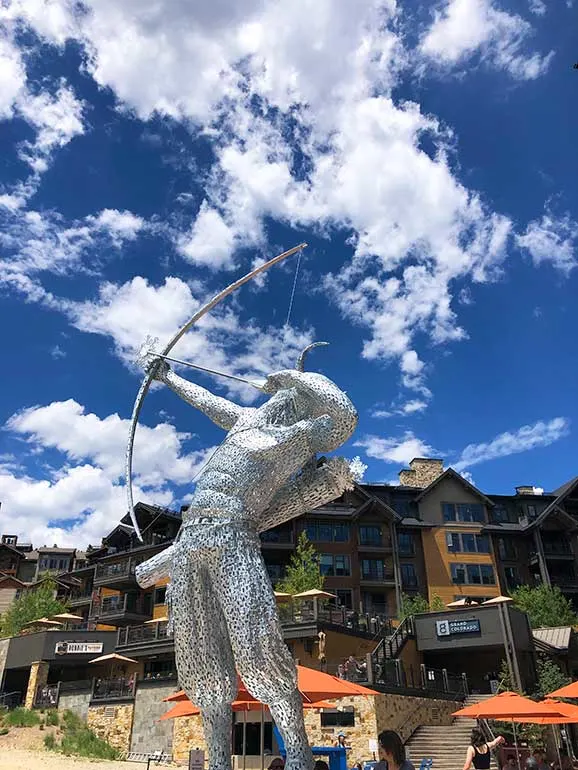 A little further from Dillon at about 25 minutes is the popular tourist town of Breckenridge. There's a ton of things to do in Breckenridge and it's perfect as a day trip from Dillon.
Breckenridge is a good time any time of year. It's one of the top ski destinations in the state during the winter months. And Breckenridge in summer is equally fun! With so many adventures for visitors of any age, you'll be sure to have a great time.
Here are some of the best activities for a day trip from Dillon to Breckenridge:
Ride the alpine coaster at the Breckenridge Fun Park
Gold panning
Hike for stunning views of the Rocky Mountains
Shopping and dining in downtown Breckenridge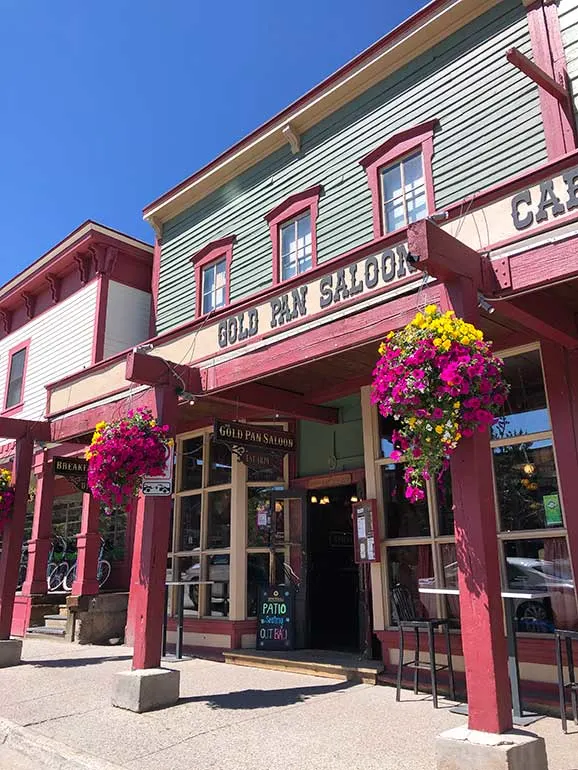 13. Ghost tour (if you don't mind goose bumps!)
Speaking of Breckenridge, one of the unique things about the town is that some think it's haunted. With actual gold mines, old mining stories and old west tales, there are many mysteries in the town.
A fun way to learn about these haunted stories is through a ghost tour of Breckenridge. Visit the town's historic and haunted buildings while hearing about the town's spooky stories and colorful past.
Just a word of caution – this tour isn't for young kids! This tour is better suited for teens and adults.
Book it now: Breckenridge ghost tour
14. Foodie lovers' fave: grab a slice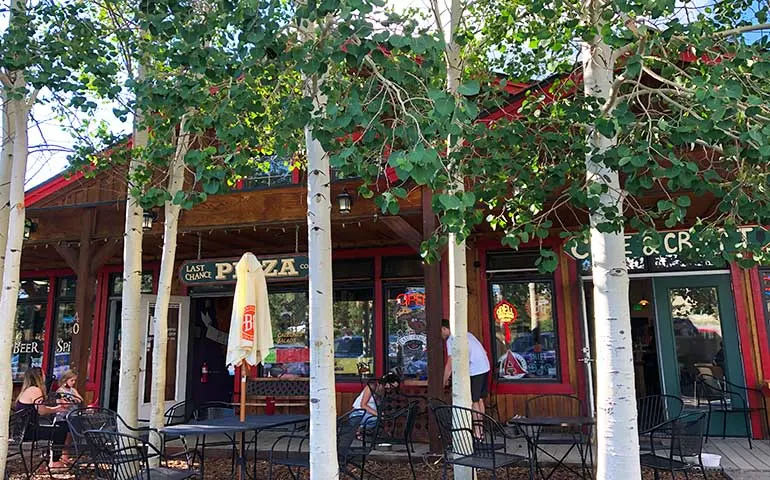 While this guide isn't a list of the best restaurants in Dillon, I do have to mention Last Chance Pizza.
Guyssss – you can smell this place as you drive by. And your mouth will start watering as you step inside to order or grab your carry-out. It's fantastic!
Order to go and sit lake-side, or dine at the outdoor tables in a picturesque mountain setting. Either way, you can't go wrong!
15. Shores of Lake Dillon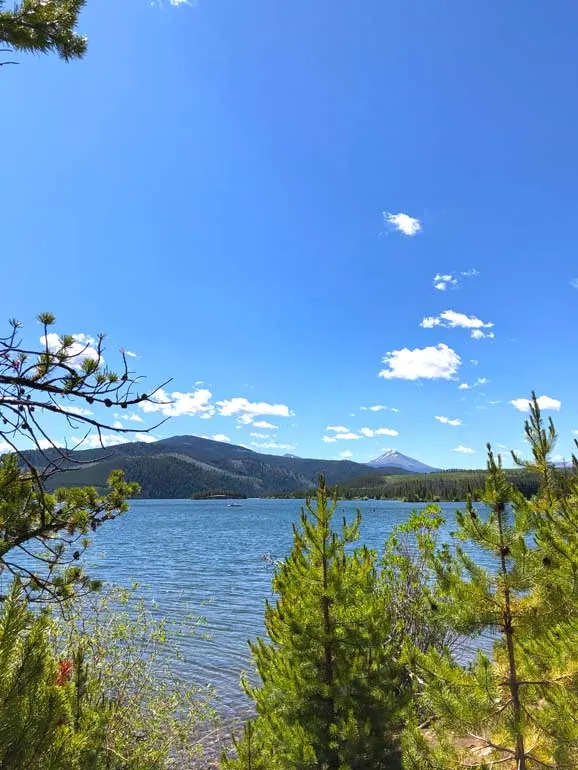 Back at Lake Dillon, it's time to explore the shoreline at the lake. With 25 miles of shoreline, there's certainly a lot of ways to enjoy this gorgeous lake!
Here are some of the best ways to experience the Dillon CO lake:
Ride bikes on the path around the lake
Camp at Lake Dillon
Picnic at the lake
Walk along the shoreline directly on the water
The best walkable spot along the shore I found after several visits to the lake was just southwest of the reservoir. There's a parking area long the road and a short bike path you can walk to get to the shore. It's a fun spot to explore, for sure!
Remember there's no swimming in the lake, but walking along the edge, having a picnic or just listening to the waves is so relaxing! Visiting the lake is one of my very favorite things to do in Dillon CO.
16. Catch a killer sunset (another favorite view of Lake Dillon Colorado)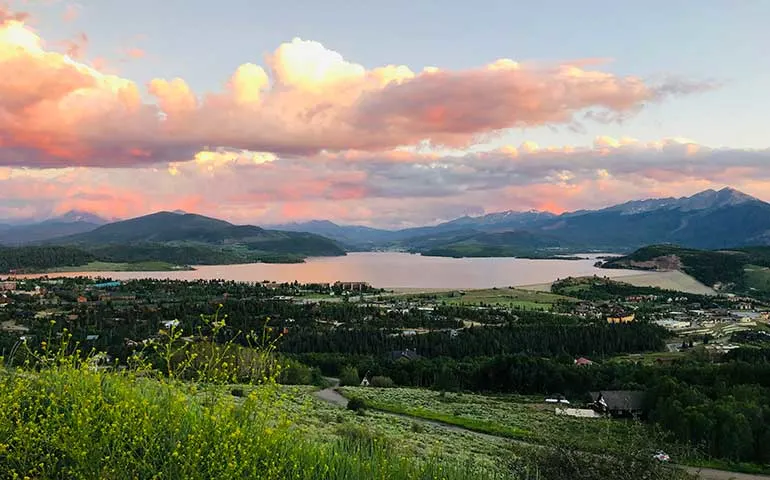 I mean, I can't guarantee you'll catch a colorful sunset. But the mountains are known for gorgeous sunsets!
The best spots to see the sunset are up high in elevation. The Sapphire Point Overlook is a perfect spot to watch the sun set over the lake. During my last trip to Dillon, we stayed at a vacation cabin in Silverthorne where we caught the sunset in the photo above.
Pro tip: by the time the sun is setting over the mountains near Dillon, it's getting pretty cool in the summertime. So bring the layers and dress accordingly! Merino wool is my favorite travel-friendly way to layer!
17. Next stop: ice cream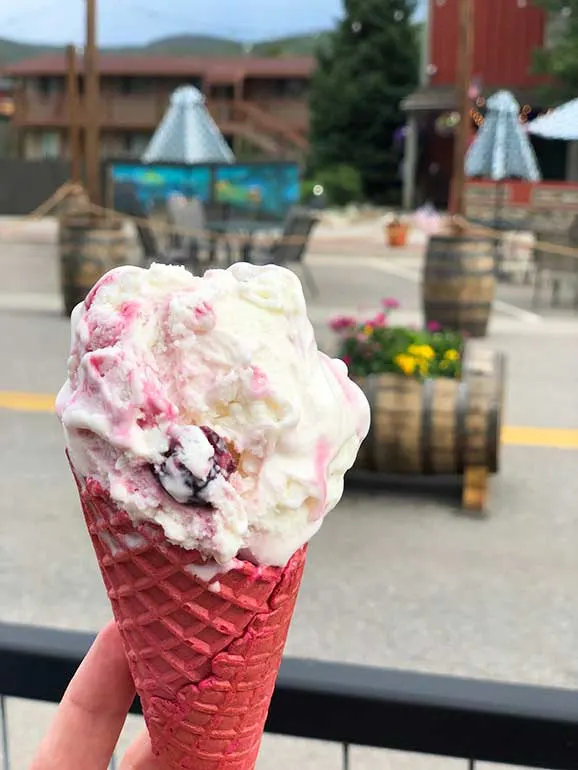 As someone who tries the local ice cream place on nearly every vacation, I can safely say some of the best gelato I've ever had was in Frisco. (Another note-worthy gelato is in La Jolla, which is a perfect activity on a weekend trip to San Diego).
Anyway, if you have a sweet tooth, I Scream Gelato in Frisco is seriously perfect.
Pro tip: they run out of the best flavors by evening (yes, it's that good!) So go at lunchtime or just after for the biggest selection!
18. Catch a concert at Dillon Amphitheater
Back in town, the Dillon Amphitheater is a busy spot during the summer months! Check the amphitheater schedule for concerts and outdoor events happening during your time in Dillon, Colorado.
With the scenic lake as the backdrop, I'm pretty sure it makes the concert sound better, right? 😉
Pro tip: there's not much parking at the amphitheater. Plan to arrive early or walk a bit!
Things to do in Dillon CO, continued
Can you even believe this list?! Whether your main destination is Dillon or you're combining it as part of an epic Colorado road trip, this area is one of the most underrated, for sure.
Let's keep going!
19. Fun Dillon Colorado hike: Old Dillon Reservoir Trail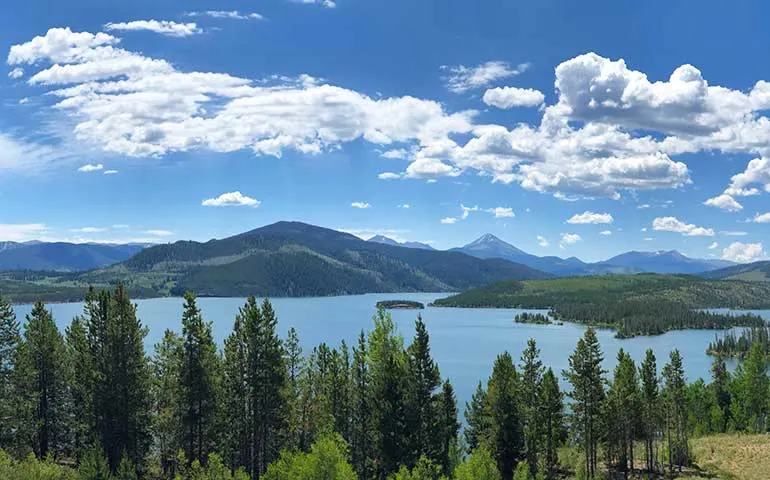 If you're looking for the best hiking near Dillon CO, then check out the Old Dillon Reservoir Trail. With beautiful views for just a little effort, this one is a gorgeous way to spend an hour enjoying nature.
The trail is 1.7 miles and is rated as easy. With beautiful wild flowers and aspen trees, it's a fun hike up to the Old Dillon Reservoir.
Once you reach the reservoir, you can walk around it and see the town of Silverthorne to the north and epic lake views to the south.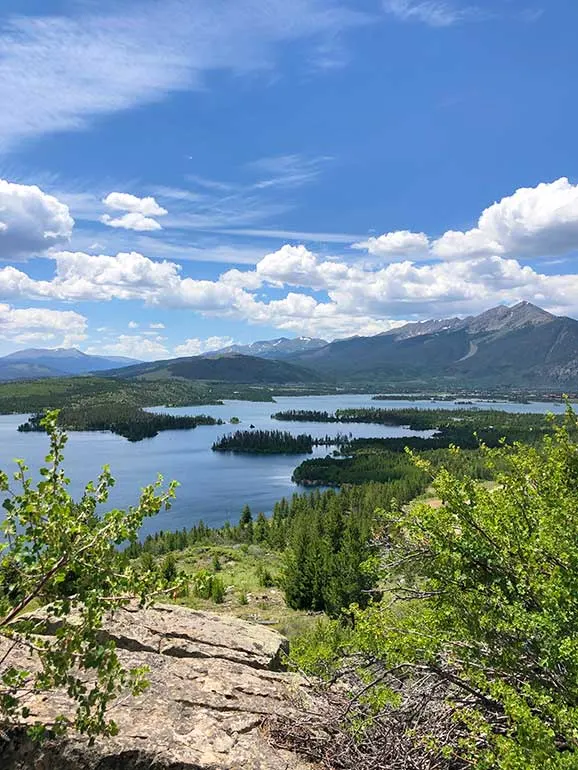 Pro tip: For an added bonus, climb the Lake Hill trail. You'll see the trail about half way around the reservoir. It's a steep incline and more tricky than the first part of the hike, but this is where you'll find the best views!
By the way, if you're looking for more hiking and more adventure, hiking at Lake Dillon could be just one stop on a Denver to Moab adventure! With an incredible amount of sights to see and trails to hike in Colorado and Moab, it's an amazing scenic road trip worthy of your next trip to the area. 😊
20. Visit a candy shop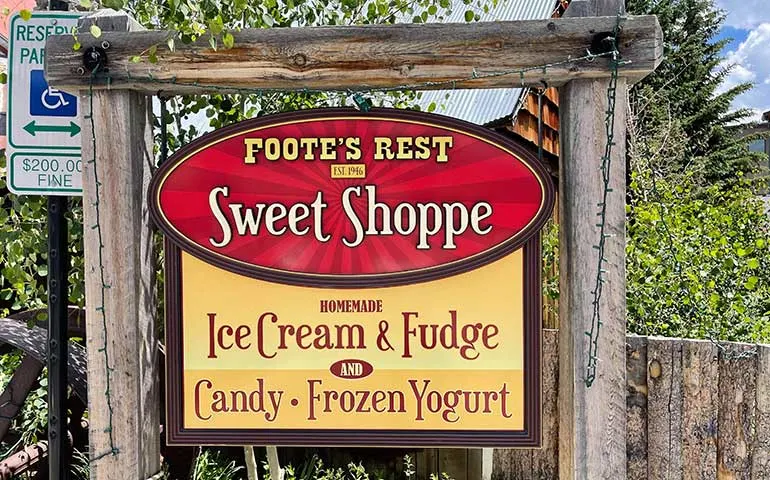 If you're looking for the best fudge in Colorado, then you absolutely must visit Foote's Rest Sweet Shoppe in Frisco. Specializing in handmade fudge and ice cream this sweets shop will be a hit with kids and adults alike.
Buy candy by the pound, or grab a slice of homemade pie and eat it outside while enjoying views of Frisco. Don't forget fudge or freshly baked cookies to go!
Pro tip: try the red velvet and tiger stripe fudge – you won't regret it!
21. Experience Vail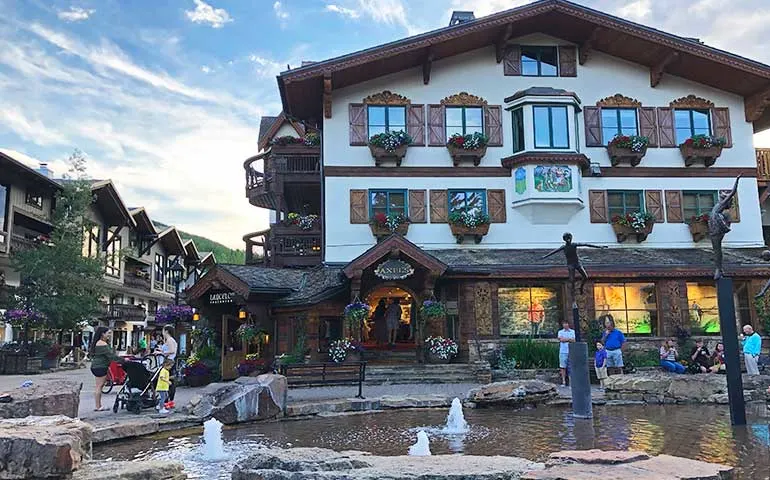 About a 45-minute drive from Dillon, Colorado is the popular Vail. It's a scenic town perfect for skiing in the winter or hiking in the summer. With ample activities, it's great for a day trip from Dillon.
If you're on a couple's trip, you could split the time between renting UTV's for the adventurers and spending the day soaking up the sights in Vail!
It's the perfect spot for an afternoon at the spa and shopping. Be sure to have dinner in Vail Village, and finish up with ice cream, too!
22. What to do in Dillon Colorado on a Friday: hit the Dillon Farmers Market
Nestled in downtown Dillon on Lodgepole Street, the Dillon Farmers Market is one of the largest markets in Colorado. Held on Fridays from 9:00am – 2:00pm in the summers, you'll find all kinds of goodies here.
Of course you can find locally grown fruits and veggies. But you can also shop from local vendors who provide a variety of goods. Think soaps, crepes, jewelry, fudge, candles, breads, flowers, clothing and even hats. It's all available at the Dillon Farmers Market.
Quick note: dogs are not allowed, so be sure to leave your furry friends back at home, your hotel or vacation rental.
23. See the famous Breckenridge Troll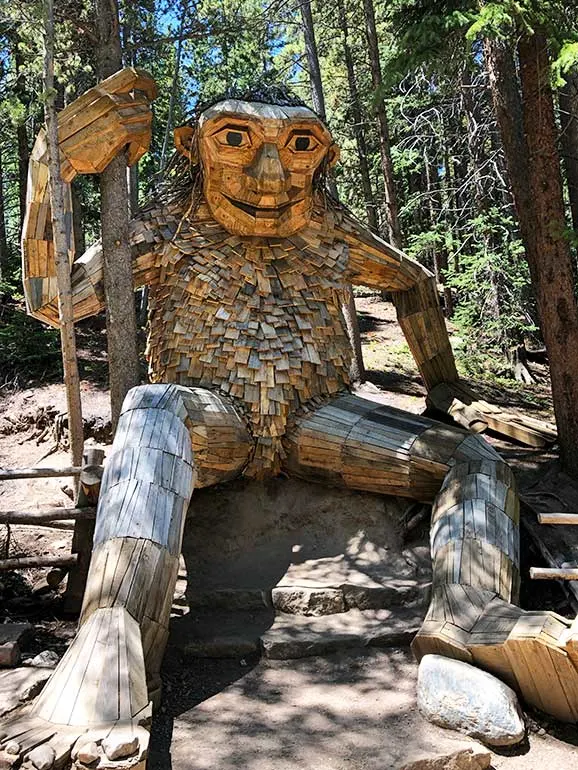 Alright so this is also over in Breckenridge, but is 100% worth mentioning, especially if you're traveling with kids. The Breckenridge Troll, AKA Isak Heartstone is one of the state's largest man-made tourist attractions. Sitting at over 15 foot tall, this is quite the troll!
Built of recycled materials, visiting the troll is free to the public. It can be a bit tricky to get to the troll as parking nearby is sparse, but it's worth the walk from downtown Breckenridge. Once you get to the trailhead, it's just a short hike to see Isak.
Check out: Breckenridge Troll Guide – Everything You Need to Know Before You Go
This is about a 30 minute drive from Dillon, but worth heading over there and combining it with lunch or other fun activities from #11, above.
24. Play in a mountain stream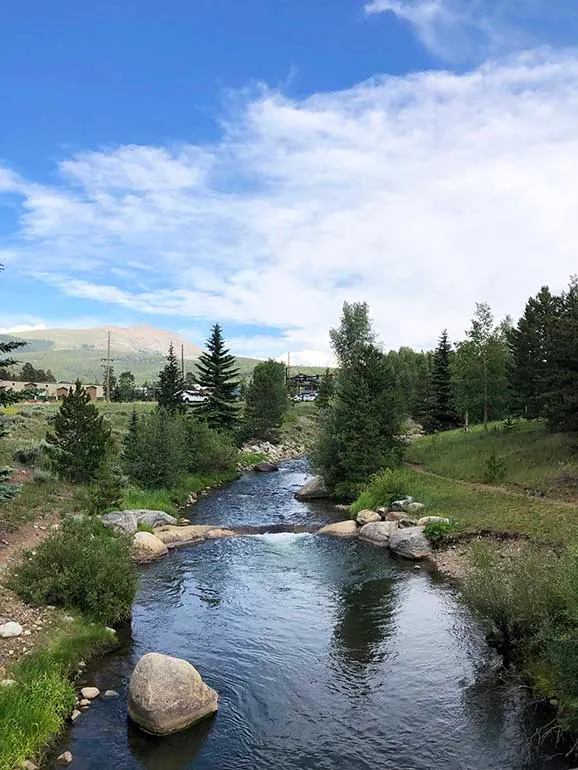 If you're traveling with kids (let's be honest – or those young at heart), then be sure to visit a stream while in the area! With so much snow melt, there seems to be streams around every corner in this area of Colorado.
So pack the water shoes and prepare yourself for some 'refreshing' water! It's cold but awesome to cool down and enjoy the fresh mountain water.
The Blue River runs through the town of Breckenridge, with several places to stop and play in the water. There's also a stream that runs through Silverthorne and Vail, as well as countless others. Keep your water shoes in the car and when you see the opportunity, jump in!
25. Outlets in Silverthorne (shopping near Dillon Colorado)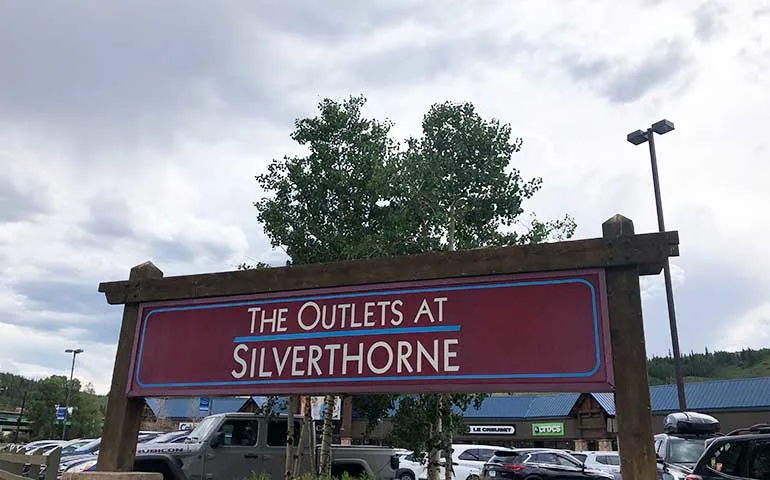 A perfect rainy day activity, wintertime activity or lake time break, the shops are a perfect way to spend a low-key afternoon.
From high-end brands to affordable options, there's something for every price point at the Outlets in Silverthorne. Nestled in the heart of Silverthorne, yet it feels quite 'outdoorsy' with the babbling stream running between buildings.
Save room for lunch, too. There's plenty of options to grab a snack or even a full meal at the shopping center.
26. Hike Tenderfoot Trail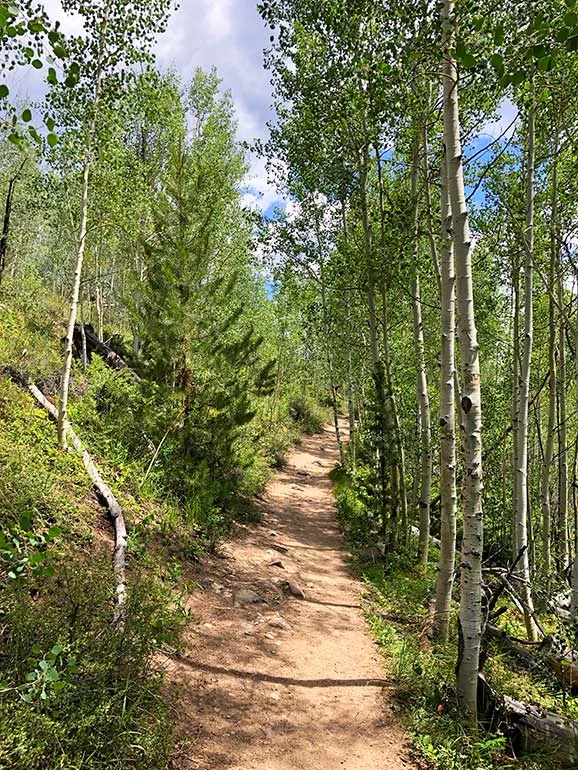 The Tenderfoot Trail is an easy to moderate trail on the eastern side of Lake Dillon. The trail is just 1.2 miles and provides great views of the lake.
The Tenderfoot Trail is a great spot for a picnic or if you just have an extra hour or so to spare. The trail leads you past a disc golf course and features beautiful aspen trees which change to vivid oranges and yellows in the fall.
Pro tip: be sure to navigate to Tenderfoot Trailhead and use the map at the beginning of this article. There's also a Tenderfoot Mountain Trail, which is an 11.5 mile hike, rated as difficult.
With amazing hiking trails in the area, you may just find that your favorite thing to do in Dillon Colorado is hiking!
Lake Dillon, Colorado: what will you do first?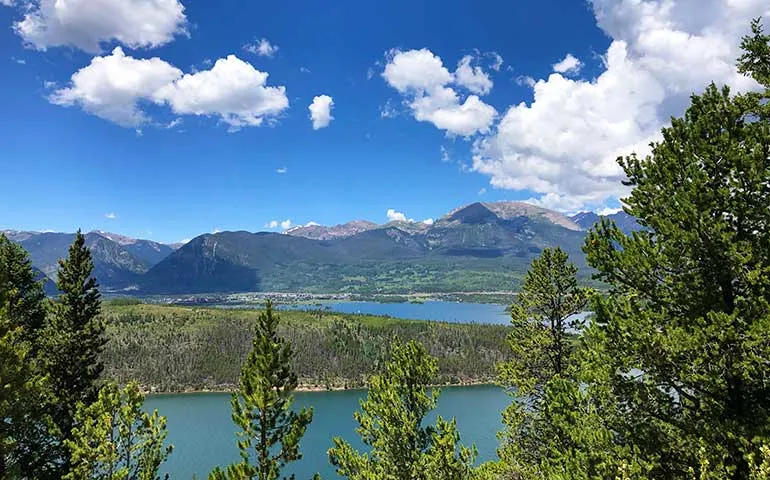 Whew! What a list! There's so many things to do in Dillon CO, that there's something here for every style of vacation. Whether you're visiting the area to see the sights, explore the outdoors or prefer a low-key vacation, the whole area has so much to offer.
So, have you decided what you'll do first during your vacation to the Dillon area? Let's recap that list one more time…
Best things to do in Dillon CO
Hang out at Lake Dillon
Sapphire Point Overlook
Downtown Dillon
Tiki Bar
Dillon Marina
Downtown Frisco
Frisco Historic Park and Museum
Dillon ice castles
Ptarmigan Trail
Try the local brews
Rent UTV's
Day trip to Breckenridge
Ghost tour
Foodie lover's fave: pizza
Lake Dillon shores
Catch an epic sunset
Try the local ice cream
Dillon Amphitheater
Old Dillon Reservoir Trail
Visit a candy shop
Day trip to Vail
Dillon Farmers Market
Breckenridge Troll
Play in a mountain stream
Outlets at Silverthorne
Tenderfoot Trail
What are you most looking forward to doing in the Dillon area? Drop your comment below!
Related:
30 Amazing Things to Do in Breckenridge in Summer
Perfect Colorado Road Trip Itinerary: 22 Epic Stops You'll Love
Breckenridge Troll: Insider Tips, How to Get There & Everything You Need to Know
By the way, if you're looking for a cheap rental car for your vacation in Dillon, check out the discounted rates on Discover Cars. I usually see 10-30% discounts on cars, which can add up! They search the major carriers for deals and it's a FREE service! Search rental car rates now.
Find this article helpful? Save it for later or share it on social media!