Heading to Utah and just have one day in Arches National Park? It's such an adventure-packed park, how do you fill your day?
With so many things to do in Arches National Park, it can be overwhelming to decide. As someone who's spent an extensive amount of time in the park, I've got just the guide for you!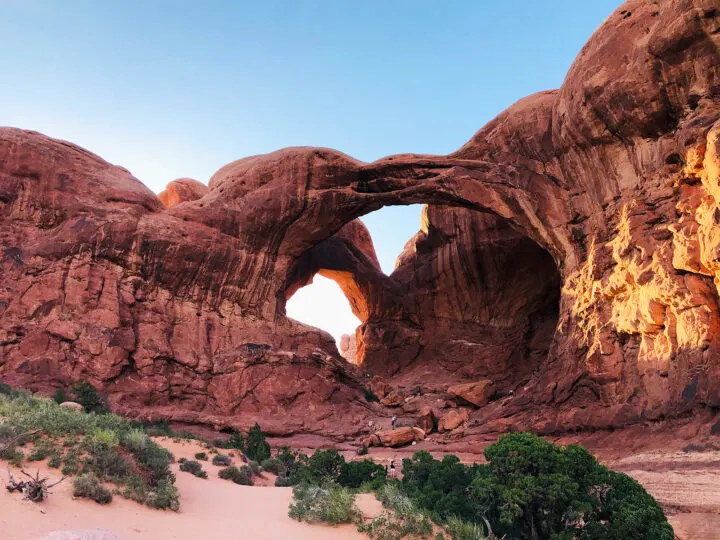 This post may contain affiliate links. For more info, see my disclosures.
One of the most recognizable parks in the USA, Arches National Park is a popular destination for families, nature-lovers and adventurers. It's an archeological wonderland and seriously a great time.
This itinerary for one day in Arches National Park will go over the best sights and hikes, which order to do them in and plenty of tips for the park. Get ready for a fun-filled day you'll never forget!
Must see in Arches National Park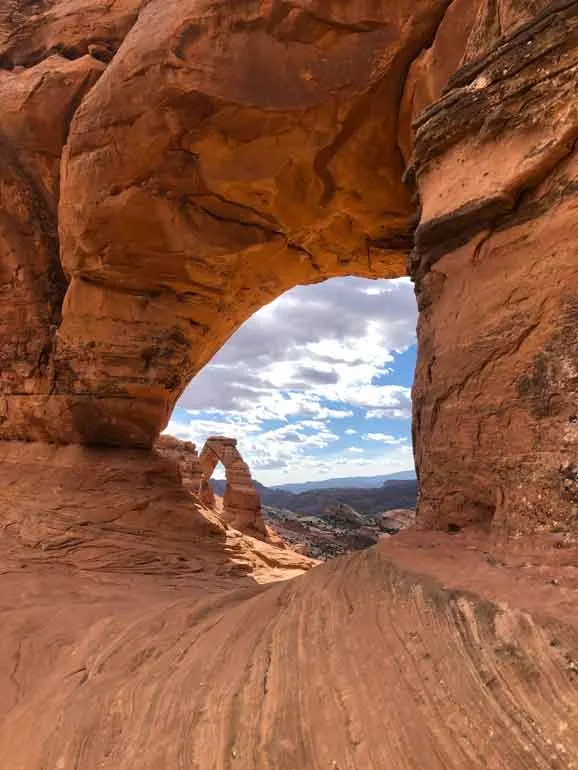 This guide will cover everything you absolutely must see in Arches National Park, as well as tips and tricks to make the most of your time in a single day. This is a sneak peek of what to expect in this post:
Location, hours, what to bring to the park, etc.
Delicate Arch – most famous arch!
Devil's Garden – Landscape Arch, Pine Tree Arch and more
Arches Scenic Drive
Lunch stop
The Windows
Balanced Rock
Courthouse Towers
Park Avenue
Sunset in Arches NP
How to prepare for the trip
Where to stay in Moab
Best places to eat in Moab
Here's a visual of what to see and do in a day in Arches National Park:

Before we get into the itinerary, let's go over some details about the park….
Where is Arches National Park?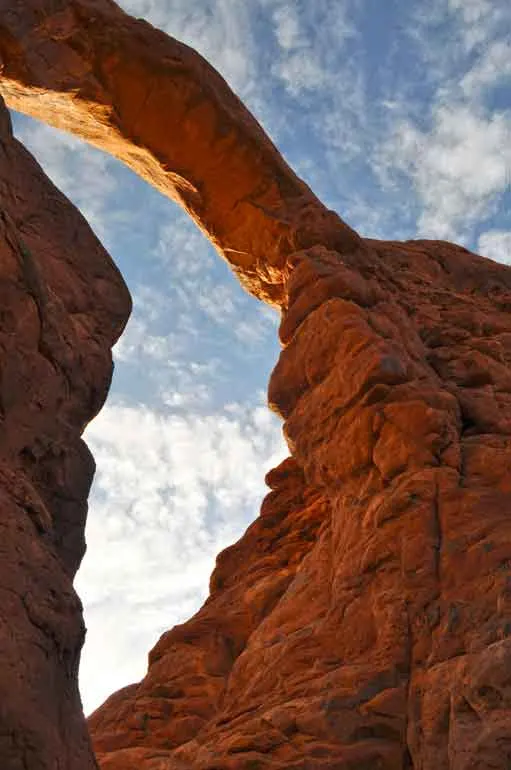 Arches NP is tucked in the southeast corner of Utah. It's located just minutes from the town of Moab and also near Canyonlands National Park. If you're taking a road trip around Utah's Mighty 5 – the 5 spectacular national parks in Utah, a good home base for part of your trip is Moab.
In fact, visiting Arches is one of the top things to do in Moab!
Arches National Park hours
One of the best things about this itinerary is that Arches National Park is open 24 hours a day. So depending on what time you roll into the area or need to depart, you can plan your day accordingly.
Arches National Park entrance fee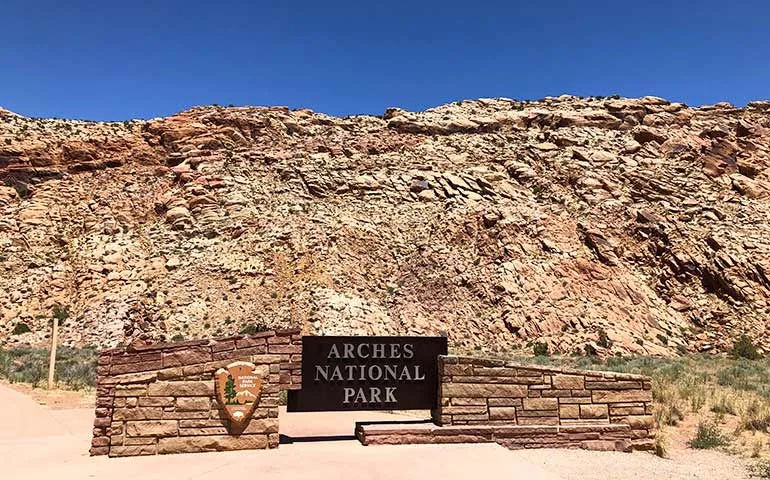 It's $30 per vehicle to enter Arches National Park, $25 for a motorcycle or $15 for walk-ins.
If you plan on visiting more than 2 national parks in a year, I recommend getting the America the Beautiful annual pass. It allows access to all national parks and federal recreational lands for $80 per year. So if you're hitting the other Utah national parks or any others, that's a really good value!
I bought the annual pass while visiting Glacier, Badlands, Canyonlands, Arches and a few more. Totally worth it!
Note: fees accurate as of the time of publication. Check the NPS website for more info.
What time should you get to the park?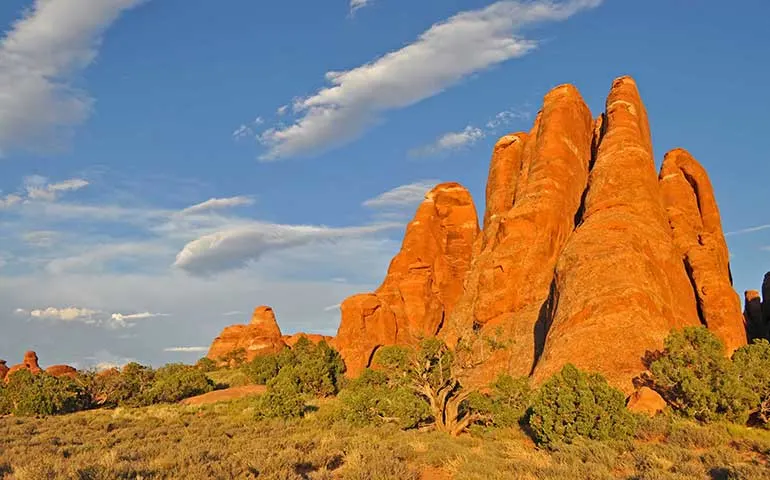 If you're visiting during peak season (summertime) or holidays, you'll need to get to the park entrance by 7:00am at the latest to ensure you get a full day to see the park. After all, if you only have one day in Arches National Park, you'll want to make the most of it!
If you're wanting to see the most famous arches, I'd recommend getting to the parking lot trailhead as early as possible before 7:00am (more on that below). Sunrise hikes are a lot of fun, too so if you're an early riser consider that!
The National Park Service actually blocks off the entrance and restricts more cars from entering once the parking lots are full. If you get to the park after they've temporarily closed the entrance, it can be 3-5 hours before letting any more cars in.
So get there early, ok? Okay 🙂
Best time to visit Arches National Park
If you're wondering what season or time of year to visit the park, that will depend on what you're looking for! To avoid crowds, stay away from traveling to the park in the summer. Winter brings snow and ice to southeastern Utah, so be prepared for closed trails in snowy conditions.
That leaves us with spring and fall. With mild temperatures and less crowds, the best time to visit Arches National Park is March – May and September – November.
What to bring to Arches National Park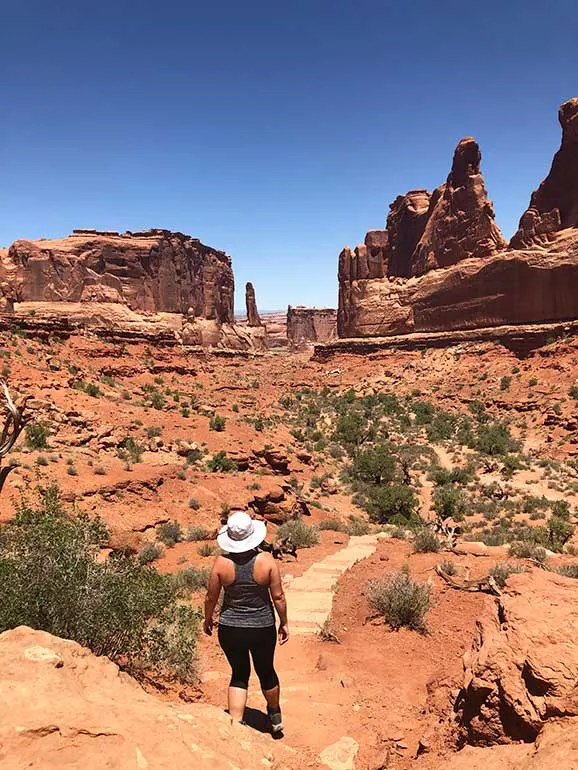 Let's talk about what you'll need to bring with you to the park. Obviously you'll want to dress seasonally, so I won't touch on that. Oh, and be sure to check with park rangers in the visitor center for closed trails if it's snowy or rainy.
Things to pack for Arches National Park for just 1 day
Good hiking shoes with traction. All of the arches require a walk or hike. While some trails are easier than others, the slickrock that formed the arches is also under foot, so you'll want good traction. Here are the hiking boots I wore to the park and I had no challenges.
Water, water, water. There are very limited services in the park, so bring more than you think you'll need. Pack a cooler and leave it in your trunk for cold water throughout the day. Or freeze water bottles so they thaw during your time in the park.
Sunblock and sun hat. It can get really hot in the desert and the heat is nothing to mess around with. Be prepared for strong rays! This is my favorite eco-friendly sunscreen that I wore and it smells great too.
Grab a park map when you pass through the entrance.
Snacks and lunch if you're spending the whole day in the park. There's really no place to buy anything to eat after the park entrance. Bring high protein snacks for fuel, or a cooler with food for a mid-day meal.
If you're hiking in Arches and other Utah parks, I highly recommend a hiking backpack. I love my Osprey Sirrus 24 backpack for hiking, and it's especially nice that it's breathable, perfect for the high temperatures of Arches NP.
Oh, and if you're looking for more hiking, check out these best trails in Arches National Park.
Tips for making the most out of your one day in Arches National Park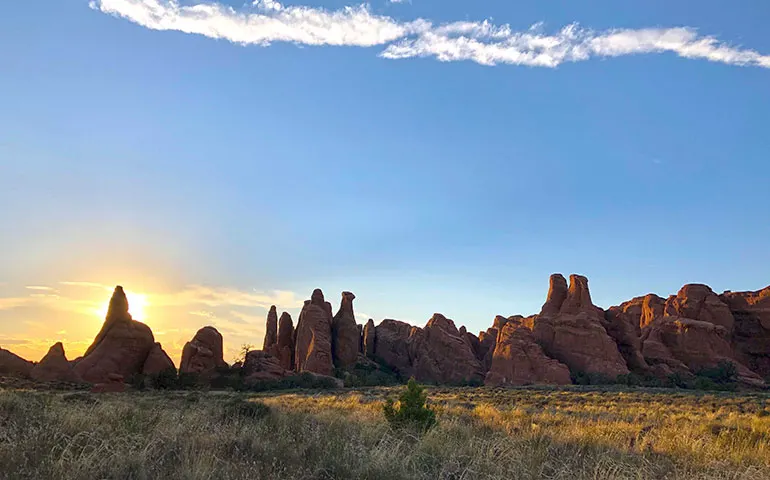 When you have just one day to spend in Arches National Park, you want to make it worth it! Here are some tips that help you do just that.
Get there early. I already said it but it's so critical! During peak visiting times, the park fills up fast – before 8:00 am. You don't want to be that vehicle that has to wait.
Take this itinerary with you. But know that if a parking lot is full, you'll have to move onto the next attraction and swing back through your planned route.
The peak times of the day for the park are 10:00 am – 3:00 pm. Expect it to be busy with lots of people.
There's very little cell phone service at the park. Take your photos and videos, but don't count on uploading them or messaging someone right away.
Perfect itinerary
Okay, let's get to exploring the park! As you work through this Arches National Park itinerary, it's important that you're realistic with your timeline on how long things will take. Some of the areas are simple and straightforward. Others you'll want to spend more time.
And of course, if you're wanting photos under the arches, you'll need to use your patience and wait for others to finish up their turn. And depending on when you're going to the park, that could take a while!
First up: famous arch in Arches National Park – Delicate Arch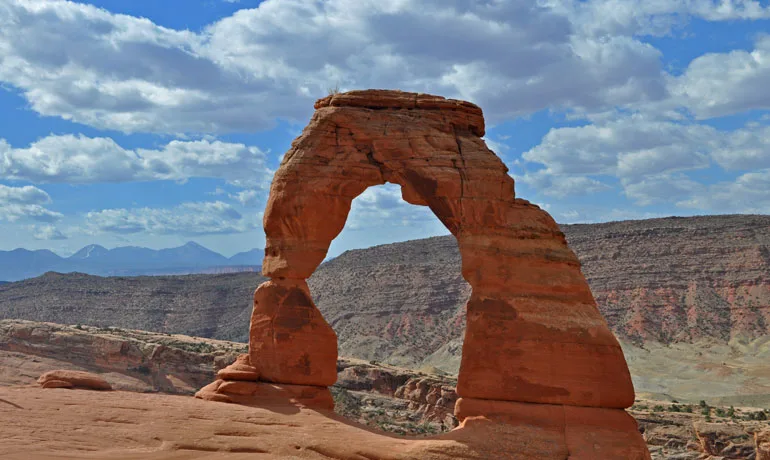 Recommended time: 1.5 – 2 hours
Hike length: 3.0 miles round trip
Difficulty level: difficult
A famous sight around Utah and actually the most recognized arch in the world is Delicate Arch. You'll see it on license plates, murals, souvenirs and so much more. It's surprisingly one of the most intense hikes in the park, too.
The hike to Delicate Arch is 3 miles and rated as a difficult terrain. The last stretch of the hike is extremely narrow and you'll hike right alongside a cliff. So this hike isn't for everyone. I didn't visit this park with my young kids, but would have been nervous on the last part of the hike.
However, you're rewarded by the difficult hike with phenomenal views of Delicate Arch! The arch itself much larger in person it looks in photos, so it's really neat to see in real life.
You'll want to spend some time at this arch. After all, this is probably one of the main reasons you chose this spot for vacation! There's plenty of places to sit with views of the arch. And if you left your accommodations early, it's a perfect spot for breakfast, too!
If you can get to the park early – by 7:00 am during the summer, 8:00 am other times of year, hopefully this can be your first hike of the day.
As you return back to the parking lot, be sure to check out the petroglyphs carved into the stone at Wolfe Ranch. It's such a cool sight!
Oh and by the way, if you're planning on visiting the nearby Canyonlands NP, be sure to check out the best hikes in Canyonlands.
Next stop on your one day in Arches National Park: Devil's Garden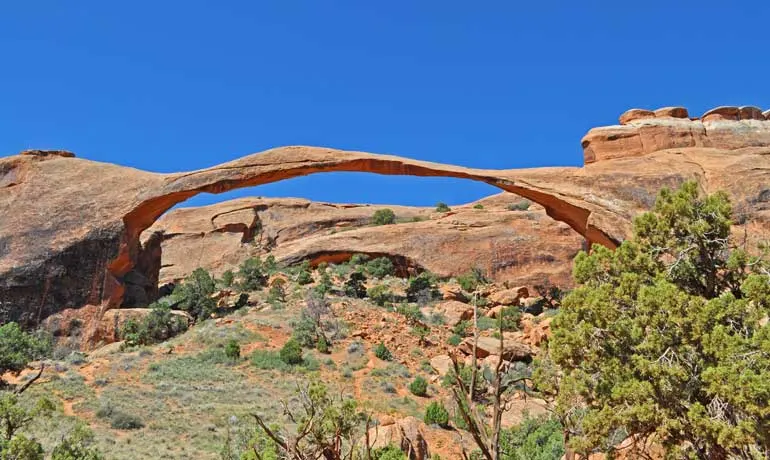 Recommended time: 1.5 – 2 hours to see this area
Because seeing Delicate Arch is probably on your bucket list, you definitely want to cross that off first. Next, head to the very end of Arches Scenic Drive to Devil's Garden. Then you can hit all the other sights and trails within the park on the way back out of the park.
This makes your time in the park very efficient!
The really nice thing about Devil's Garden is that there is a lot to see in this area, so you get to cover a lot of ground while not taking up too much of your limited time in the park. You could spend less than the 2 hours as estimated above, depending on crowds and how fast you hike.
The other thing about Devil's Garden is that most of it is paved and it's a pretty easy walk, and the whole paved area is less than 2 miles round trip. If you had more than one day in Arches National Park, you could hike the primitive trail and is much more difficult than most others in the park, often including scrambling rock to pass.
Probably the most notable thing to see in Devil's Garden is Landscape Arch. It's a natural phenomenon due to it's sheer size, and the fact that it's barely supported! To get to Landscape Arch, you'll pass a few other arches. That's okay – you can check those out on the way back!
Pine Tree Arch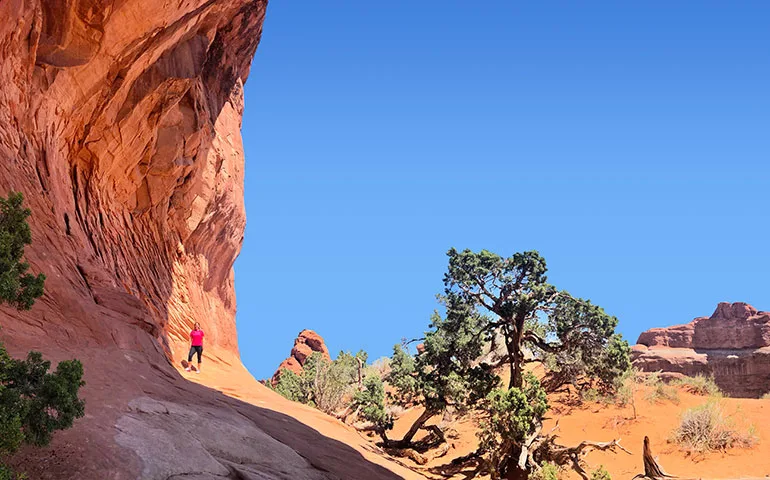 This was actually one of my favorite arches as it was a fun area to rest and find shade while hanging out under the arch! It's also within the Devil's Garden section of the park.
Because of the large amount of shade under this arch, it's a good spot to have a little protein snack and rest for a few minutes.
Arches Scenic Drive is a must on this itinerary!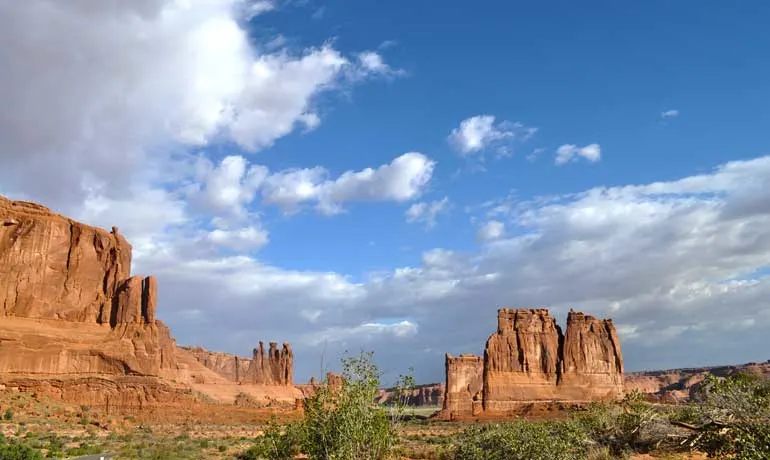 Recommended time: up to 1 hour (depending on traffic)
Alright so you technically would have driven this from the entrance to Delicate Arch, then all the way to Devil's Garden. But now that you've spent a bit of time in the park, you can really soak in the sights.
After leaving the Devil's Garden area, it's a bit of a drive back towards the entrance to see the other sights on this Arches National Park itinerary. So now's the time to stop at the overlooks, take your photos and simply marvel at the beauty of this park.
In the many times I've taken this drive, the most fun was around sunrise, and the least fun was after the sun was set, because it was completely dark and bumper-to-bumper as people were exiting the park.
It's a really fun drive! And regardless of when you end up entering and leaving the park, I know you'll catch some amazing sights along the way! This is a popular activity if you have just 1 day in Arches National Park, and honestly it's unavoidable, too. 🙂
By the way…another awesome drive to check out is the route from Denver to Moab (or vice versa!) It's incredibly scenic and filled with amazing sights, hikes and the most unexpected (and underrated) things to do.
Lunch at Panorama Point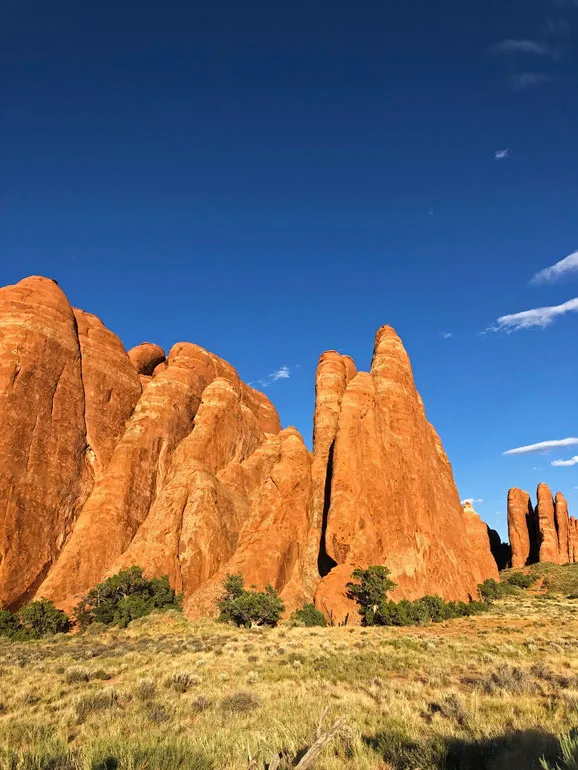 Recommended time: up to 30 minutes
By this time in the day you may be getting close to lunch. This of course, is depending on traffic, parking lot availability and how long you hang out at the arches.
There's really only a few areas in the park with picnic tables, and Panorama Point is one of them. Of course you could eat at your vehicle, but sometimes it's nice to spread out and take a mid-day break from a full day of adventuring.
If you packed a cooler or otherwise brought food, now's a good time to refuel.
Next up: The Windows section of the park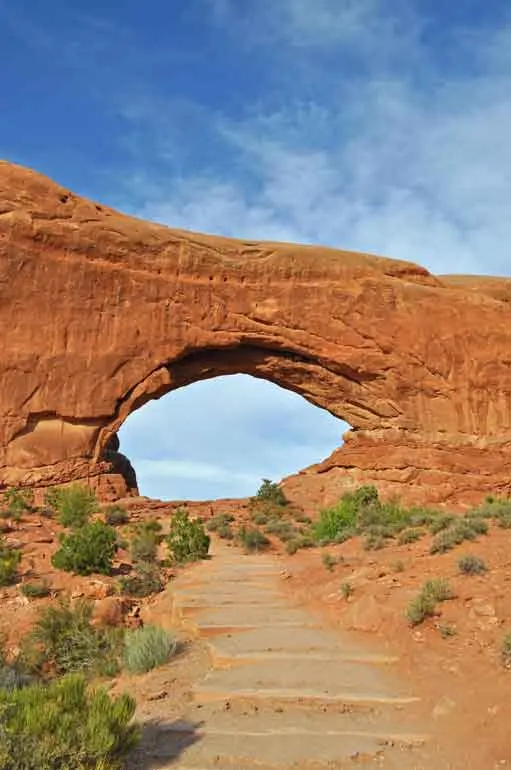 Recommended time: up to 1 hour
This is another adventure-filled section of the park. I love that you can cross off several arches at a time with this one stop!
The Windows section of Arches National Park consists of 4 arches: Double Arch, North Window, South Window and Turret Arch. Three of the arches are in a mostly paved loop and Double Arch is just a quick parking lot away.
This area is very accessible so it makes a great stop for seniors, young families or anyone with accessibility needs.
These arches are all unique in nature. Seeing the sunset behind the Double O Arch is beyond impressive. Walk through the North Window Arch in awe at its height and diameter. Climb through the Turret Arch and feel the impressive winds carving out the middle with each passing day.
This whole area is awesome if you're traveling with young kids. It's honestly like nature's playground!
There's a lot to explore here, but the day is not done so let's continue on!
See Balanced Rock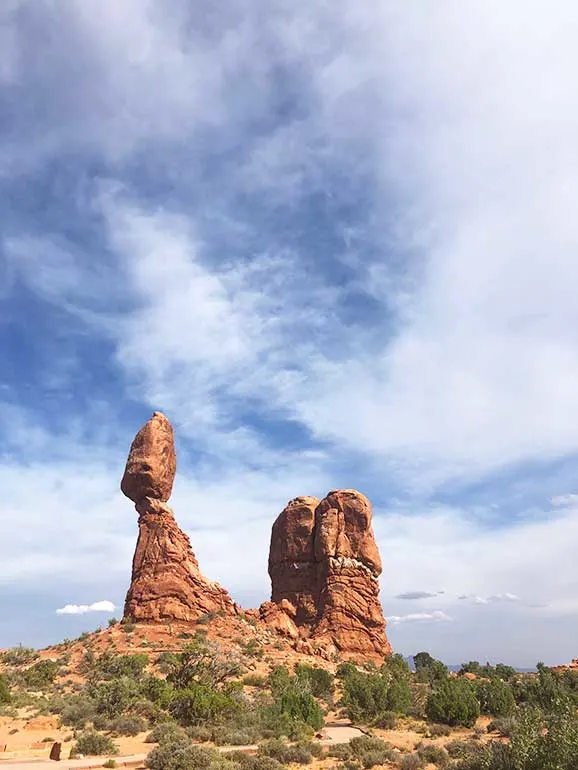 Recommended time: 15 – 30 minutes
Let's do a quick stop for the next activity on this Arches National Park itinerary.
You can see Balanced Rock from the Arches Scenic Drive, but it's also worth a quick stop to get out of your vehicle. There's a path all the way around Balance Rock so it's fun to see it from all angles.
It's incredible to know that some day the rock that's so cautiously balancing on the spire will someday fall over. Will it be tomorrow? Or 1,000 years from now? How about 10,000 years in the future?
This park is full of amazing sights like these, and if you had more than one day in Arches National Park, you'd have more time to explore fun sights. However, I'm sure you have a packed itinerary so let's get back to the planning, shall we?
Check out Courthouse Towers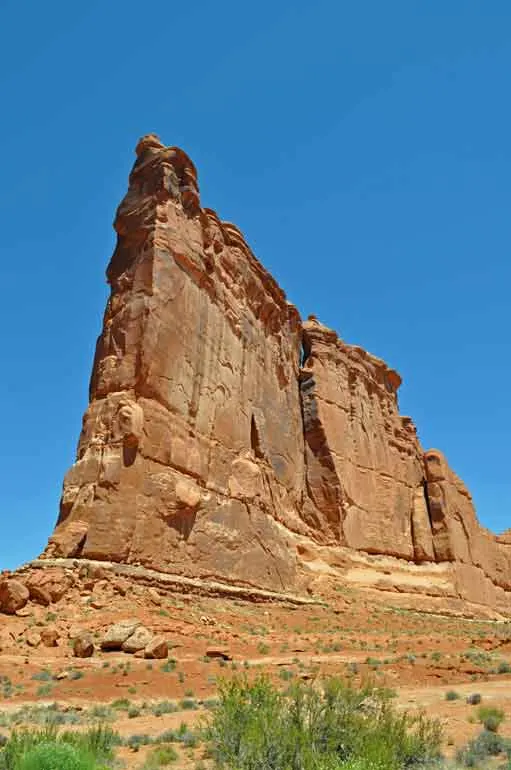 Recommended time: 10 – 20 minutes
These giant slabs of rock have been carved away over millions of years to present these two towers. The Courthouse Towers are large columns of rock that jump toward the sky, resembling skyscrapers.
You can see them up close by simply stopping on the side of the road at a scenic overlook. I spent almost a week hiking in Arches National Park so my favorite way to see these huge pillars was hiking through the Park Avenue Trail.
The towers look different from each side of the Arches Scenic Drive and the sunlight dances off them differently throughout the day. I've added this to the last part of your day, but if you're simply making a stop along the road, you can see them at any time.
Park Avenue Viewpoint and Trail (can't forget this on your one day in Arches National Park)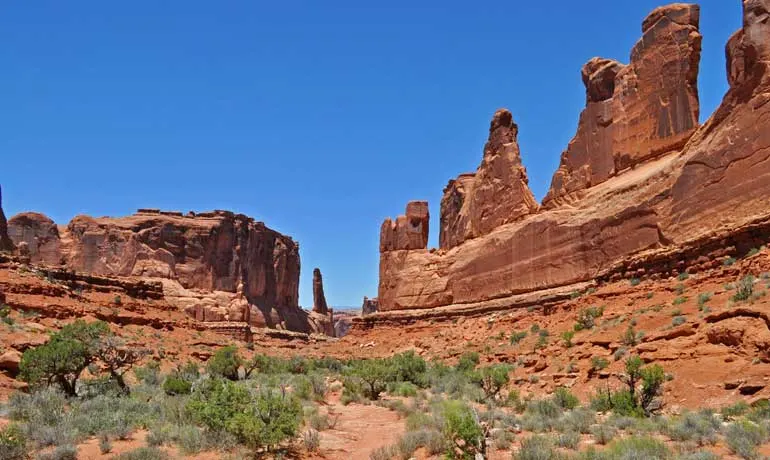 Recommended time: 10 minutes for the viewpoint, up to an hour for the hike
Okay, I'll be honest about this one. My first time in the park I didn't even stop at Park Avenue. I wasn't quite sure what the appeal was. But then one day I decided to add this hike to the last part of my day, and it blew me away!
Since you only have one day in Arches National Park, I'm assuming you're crunched for time. If so, be sure to at least check out the Park Avenue Viewpoint.
If you can squeeze in an hour for a hike, then absolutely this is a must-do! It's a relatively easy hike, but it does get blistering hot so be prepared. You'll descend into the valley and the views are absolutely incredible. Seeing those giant slab walls – and the rock 'fins' that could actually develop into arches someday is quite surreal.
Sunset in Arches National Park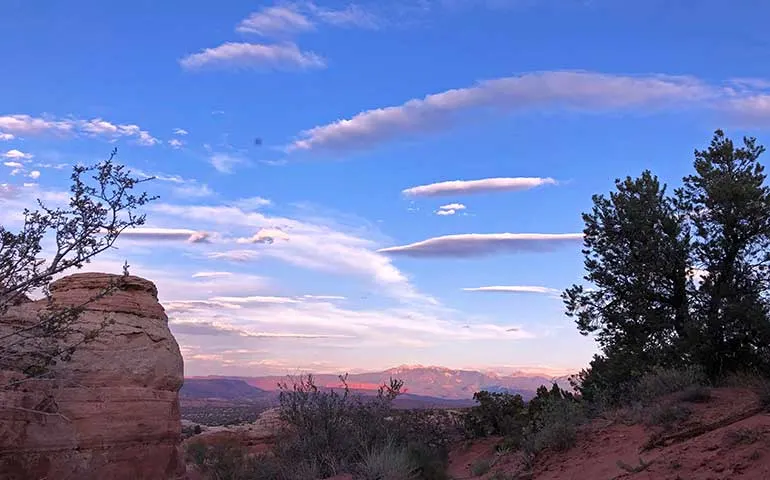 By this time you've likely had a action-packed day. If you've brought plenty of food and you're up for it, hang out in the park for an epic sunset! While there's probably not a bad spot for a sunset in Arches National Park, there's a few locations that are ideal.
Best locations to watch the sunset in Arches National Park:
Delicate Arch. This one is especially spectacular if the parking lot was full and you didn't get to see the most popular arch earlier in the day. Just remember to bring a headlamp and/or flashlight for the hike back to your car!
The landscape near the Sand Dune Arch and Broken Arch makes a beautiful backdrop for a sunset. I got to experience this during a sunset hike, and it was phenomenal.
North Window Arch in the Windows section. You can actually sit inside the arch, which is a fun experience! Watch the shadows cast over the horizon, or photograph the nearby arches at different angles at sunset. It's an evening you'll never forget!
Oh, and if you stay for sunset in Arches National Park, hang out until it gets really dark. Arches NP is a designated Dark Sky Park, meaning that there's little light pollution in the area, preventing you from a spectacular view of the Milky Way.
One day in Arches National Park: action-packed itinerary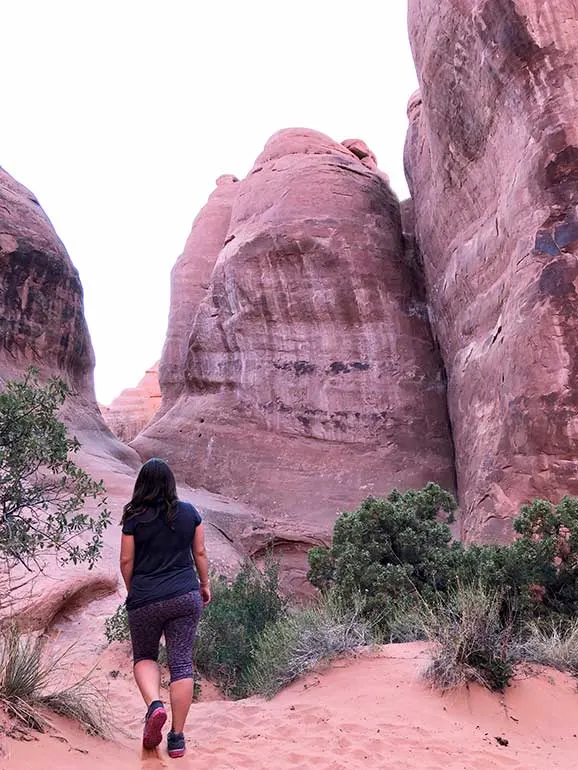 Well, that's it! That's the perfect plan for a single day in this unforgettable park. With all the top sights and most popular arches explored, you can safely say you've made the most of your time in the park.
Before signing off, there's a few more things that may be helpful for your trip…
How to prepare for this trip
To make the absolute most of your time in this park, I'd recommend to be in decent physical shape. And here's why: Delicate Arch hike is somewhat difficult. The incline to get to the arch isn't super easy, not to mention it's on slick rock.
Of course you can take breaks and go as slow as needed! The hike to Delicate Arch will always be busy, so it's not a race to the top, either. 🙂
You can also prepare to see Arches National Park in one day by packing or preparing food ahead of time. It's so important not to get caught up in exploring that you forget to eat! So pack food in and don't forget about the leave no trace principles and bring it back out or dispose of it properly.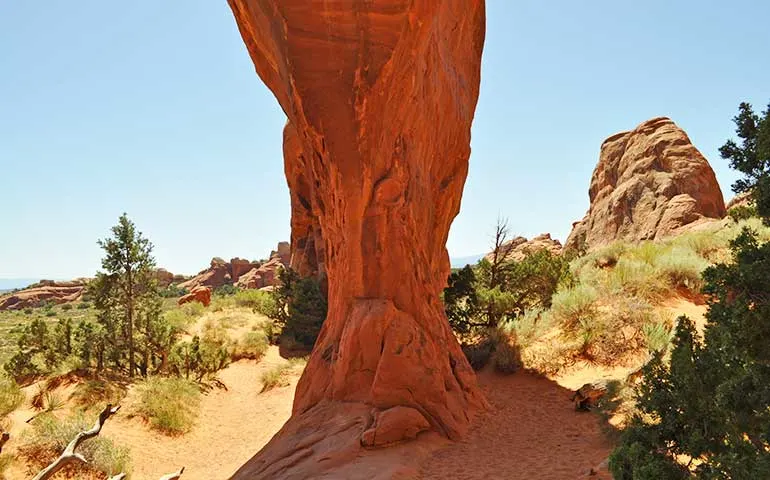 Where to stay in Moab
If you're only going to be in Moab for a short time, you may not need lavish accommodations, especially if you'll be gone all day. But let's assume you're planning one day at Arches and one day exploring Canyonlands National Park. So you'll need at least 2 nights, if not 3 in Moab.
Well, there's a ton of hotels to choose from. I love finding deals on hotels using Booking.com.
I recommend staying as close to the park as possible. Traffic in and out of Moab isn't a whole lot of fun, so the closer, the better! (Please learn from my mistake as I booked accommodations furthest from the park!)
Best places to eat in Moab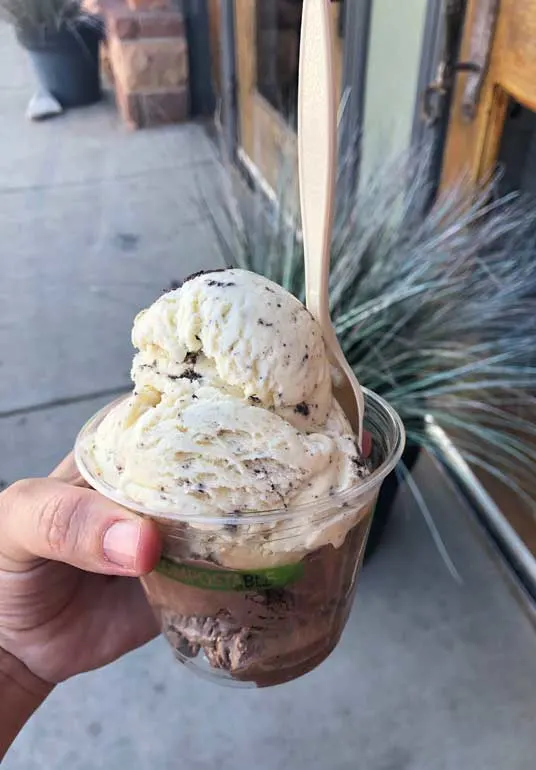 OMG flashbacks of the best quesadilla I've ever had in my life are going through my head as I write this. If you happen to make it to the food truck park during the day, the Quesadilla Mobilla is to die for!
You'll also find restaurants up and down the main street in Moab. From ice cream to burgers, breweries, Mexican food, pizza, Mediterranean food and more.
Pro tip: if you want to catch dinner in Moab, be sure to leave the park early enough. I found most restaurants closed earlier than I expected.
Arches National Park itinerary is complete!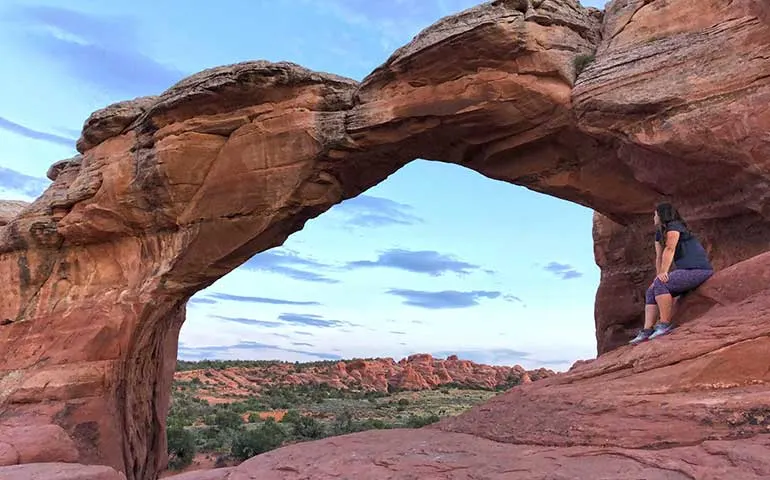 So…are you ready for a fun-filled day at this incredible park? There's so much to see and do in the park. But the good news is that it's pretty easy to see the park highlights in a single day.
With a little bit of prep, a solid plan and energy to last the day, you're about to have an unforgettable day in Arches National Park!
And for more related content, check out these posts:
Arches National Park Hikes: 12 Top-rated Trails You'll Love
30 Cool Things to Do in Moab, Utah
Faux Falls, Moab: Discover this Hidden Gem in Utah
10 Best Hikes in Canyonlands National Park that Promise Incredible Views
Find this post helpful? Save it for later or share it on social media!