Winnipeg, Manitoba is a city rich in history, culture and a foodie's dream. There's no shortage of things to do in Winnipeg, and this guide covers 26 activities you'll absolutely love!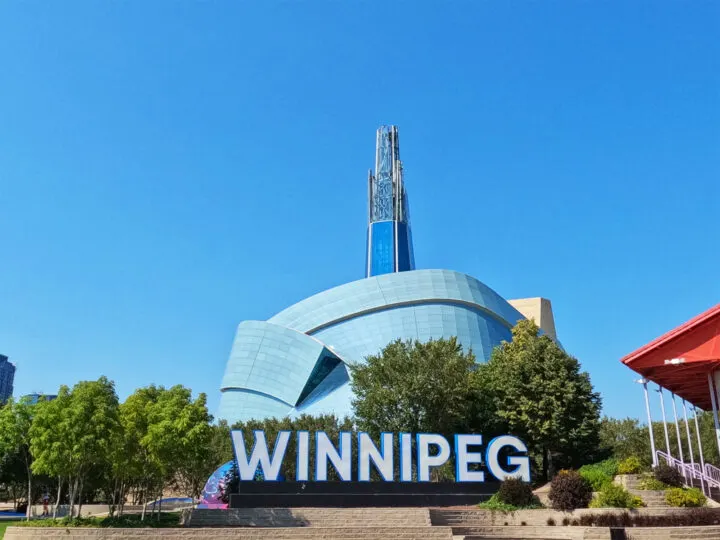 This post may contain affiliate links. For more info, see my disclosures.
Winnipeg has a thriving art scene, which can be experienced through museums, street art and retail galleries. The diverse food scene is amongst the best in North America, which will send your taste buds through a gratifying adventure as you discover cuisines from all over the world.
Experience Winnipeg's history through cultural festivals and historical landmarks. And of course, get active with a plethora of outdoor activities in Winnipeg.
There's truly something for everyone in Winnipeg! Let's dive into this list of the best activities in this great city. But first, let's go over a few details…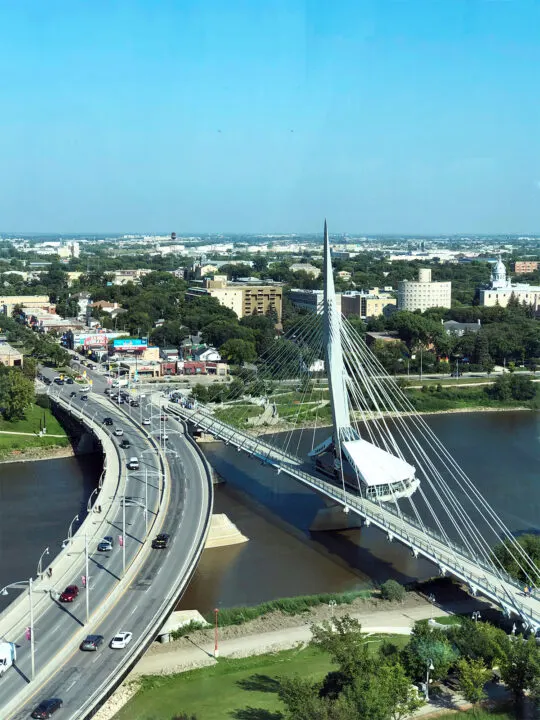 Where is Winnipeg?
Located in the heart of Canada, Winnipeg is in southern Manitoba. The province of Saskatchewan is to the west, Ontario to the east and Nunavut to the north. Manitoba is directly north of Minnesota and North Dakota in the United States.
Fun fact: Winnipeg is actually the geographic center of North America. Winnipeg is southeast of Lake Manitoba and southwest of Lake Winnipeg in Manitoba.
On a Manitoba vacation, Winnipeg is perhaps one of the main parts of your trip! If you're flying into Winnipeg, you'll want to search for flights into the Winnipeg Richardson International Airport.
Things to do in Winnipeg – map
This beautiful city has so much going for it, that you'll want to plan your visit in detail – or at least have a few ideas in mind!
This map of the best things to do in Winnipeg is a visual to help with planning your time in the city.
Note: Winnipeg is located on Treaty 1 territory, whose original inhabitants were the Oji-Cree, Cree, Dakota, Anishinaabeg and Dene Peoples. It was the homeland of the Metis Nation, and should be respected as such during your visit.
Where to stay in Winnipeg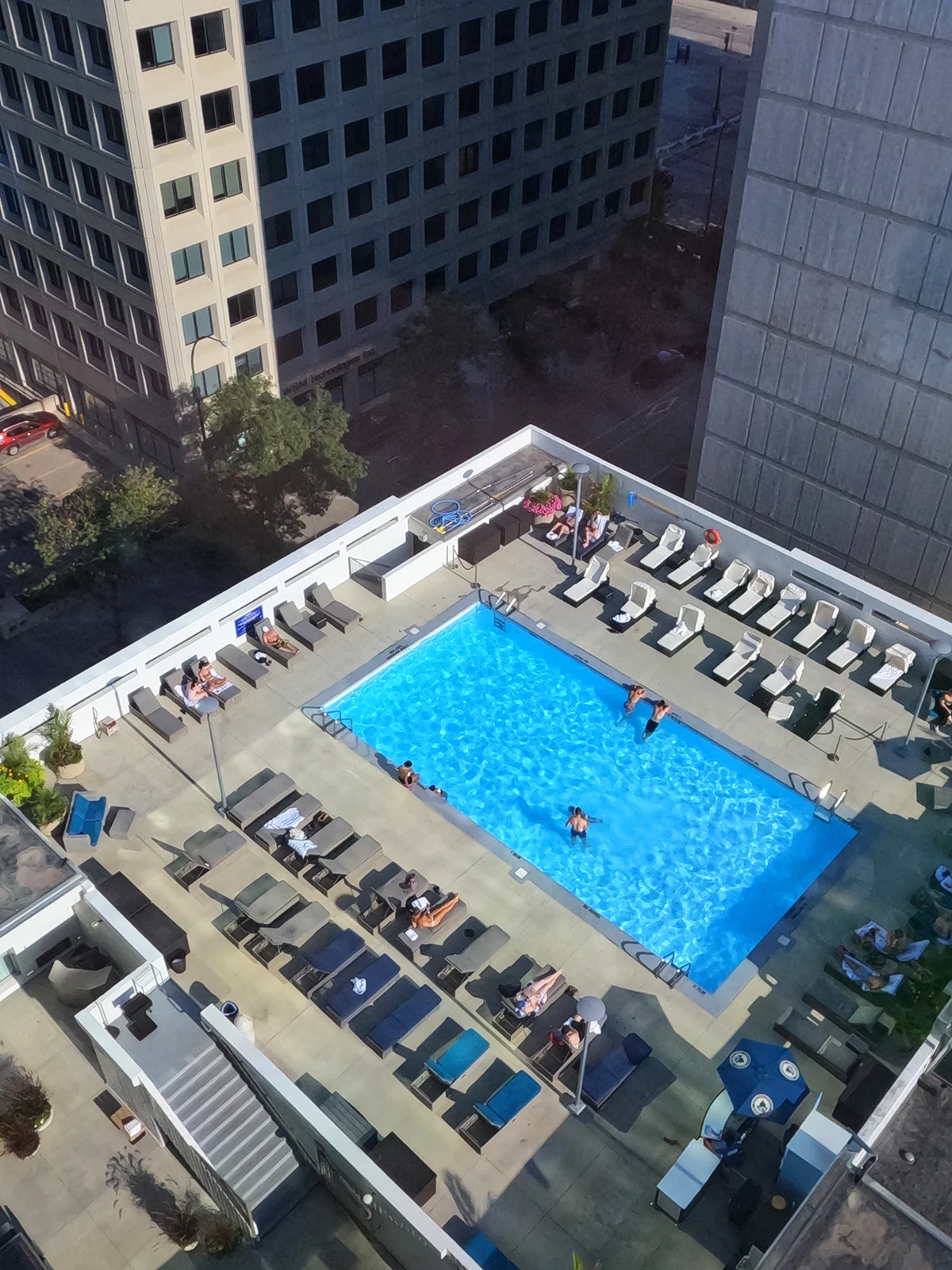 If you're trying to decide where to stay in Winnipeg, it completely depends on what activities you plan! While this list of the best things to do in Winnipeg will surely help that, the most popular spot to stay is downtown.
Winnipeg is the kind of city that it takes 20-25 minutes drive time to get almost anywhere, so there's not a huge issue getting around (which I personally love). However, staying downtown will allow you quicker access to the biggest hot spots in the city.
I loved staying at the Delta Hotels by Marriott Winnipeg. With it's great location and awesome amenities, it was the right fit as I explored what to do in Winnipeg.
By the way, I love using Booking.com for accommodations. With a mix of hotels and vacation rental properties, it's perfect for any size group or budget.
What to pack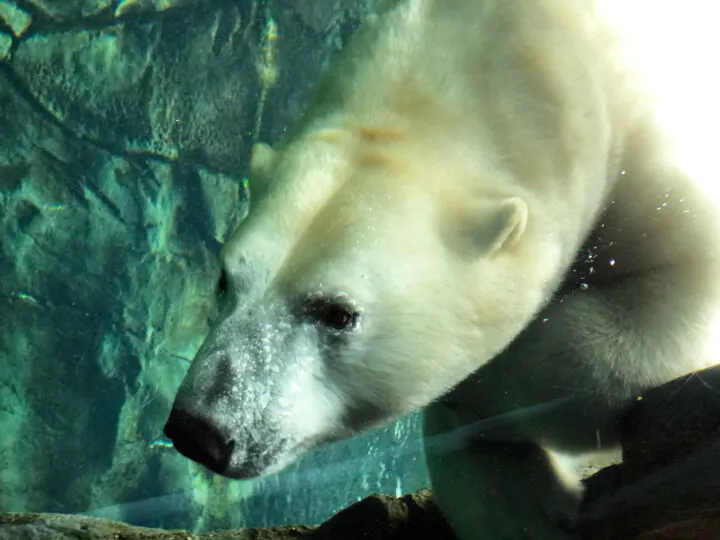 There's a few key items you'll want to make sure you pack for your time exploring Winnipeg and all the things to do!
Cute walking shoes. There's so many places to visit in Winnipeg that include walking, so be sure to wear comfy shoes.

Bug spray. If you're traveling anytime between May and October, bug spray is a must. Put it on before you go out and reapply it as needed. Here's the natural bug repellent I use in Winnipeg (it's also followed me to Monetary California, Old San Juan Puerto Rico, and so many other destinations!

Small backpack. Perfect for biking in FortWhyte Alive (see #16) attending a festival (#3 below) or exploring the Exchange District (#14), this is a handy small backpack to carry a reusable water bottle, bug spray or other essentials.

GoPro camera. Perfect for those action shots like taking a river cruise (#9) or some cute videos for social media at the Back Alley Arctic (#5), a GoPro is my favorite travel accessory. Versatile for movement, underwater action or just great-quality family photos, I always recommend it for keeping those memories alive long after you've returned home. ❤️
Geesh, enough chatting already! Let's dive into this list of the best activities in Winnipeg!
Things to Do in Winnipeg
So many adventures await in this fun city. Whether you're traveling as a solo, with family, your significant other or on a friends trip, these are all the places to visit in Winnipeg!
1. Experience the Canadian Museum for Human Rights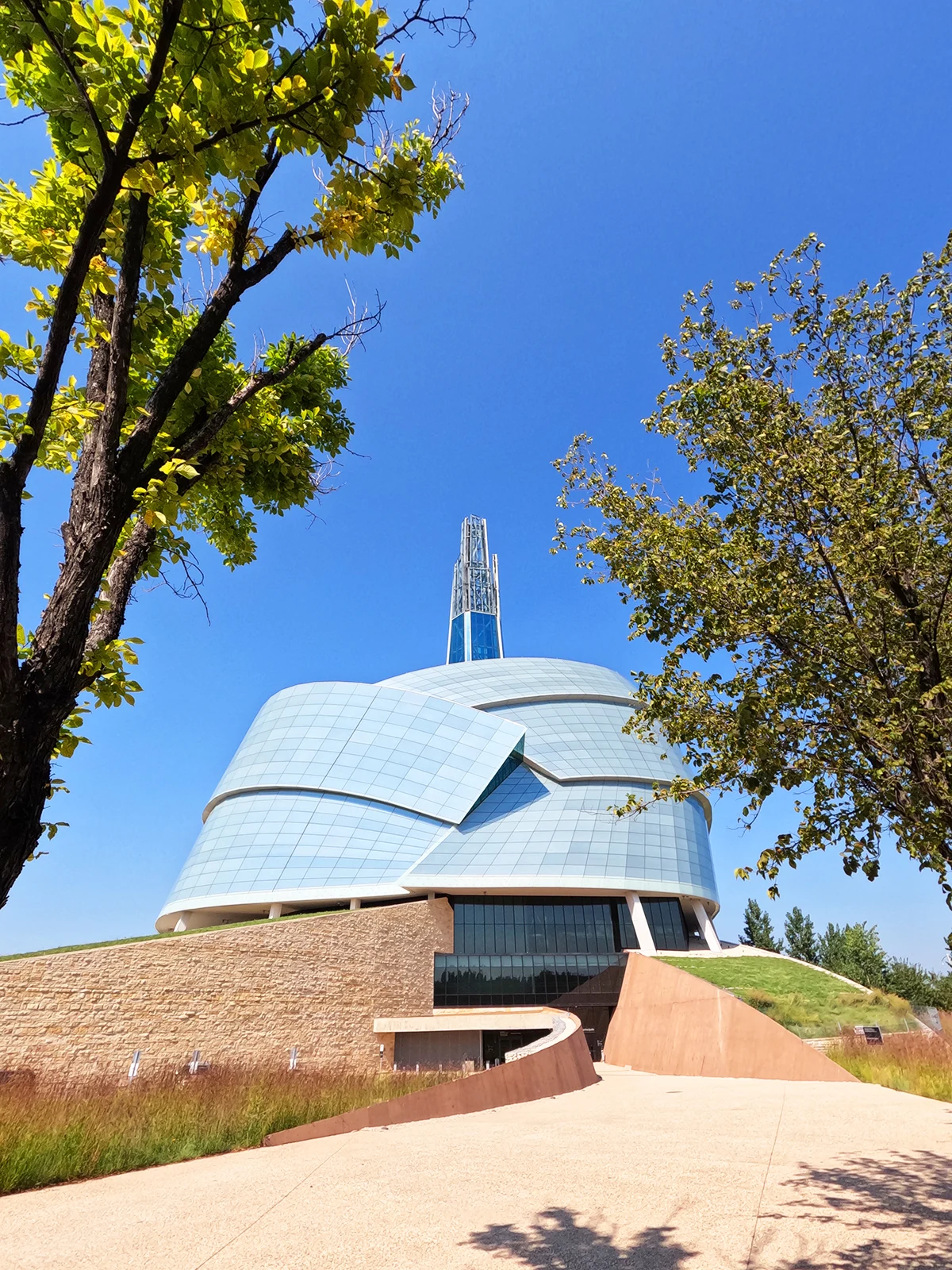 An icon in the Winnipeg skyline, this museum offers an incredible human experience. The architecture itself is award-winning. As you walk through the Canadian Museum for Human Rights, floor to floor, you'll marvel at the amazing structure.
The museum offers a look inside human rights throughout history. From cultural interpretations of what human rights are to the violation of those rights throughout history, it's an eye-opening experience.
The Canadian Museum for Human Rights content is heavy, at times, but well distributed. Each of the 7 levels of the museum has a theme and walking through it, you'll experience a variety of ways to understand the content.
The video and audio displays are helpful in portraying real stories and experiences. Sit and listen to survivor stories to truly feel the violations against them. Interactive features allow you to go at your own pace – which is essential to grasping the content within the museum.
While the content will make you contemplate the human experience, there's also light as you make your way up through the levels of the museum. With inspiring risk-takers governing for equality and inspiring ways to get involved, you'll walk away with a new perspective for the life we live today, and hopefully an understanding of what can be done to create further equality for all humans around the globe.
You'll want to reserve at least 2 hours to tour this museum, although you could spend a full day here and still not see it all! If you've ever wondered 'what is Winnipeg known for' – then this museum is certain one of the top recognizable spots, and an absolute must see.
Location: 85 Israel Asper Way, Winnipeg, MB R3C 0L5
2. Rejuvenate at Thermea Nordik Spa (a favorite on this list of things to do in Winnipeg)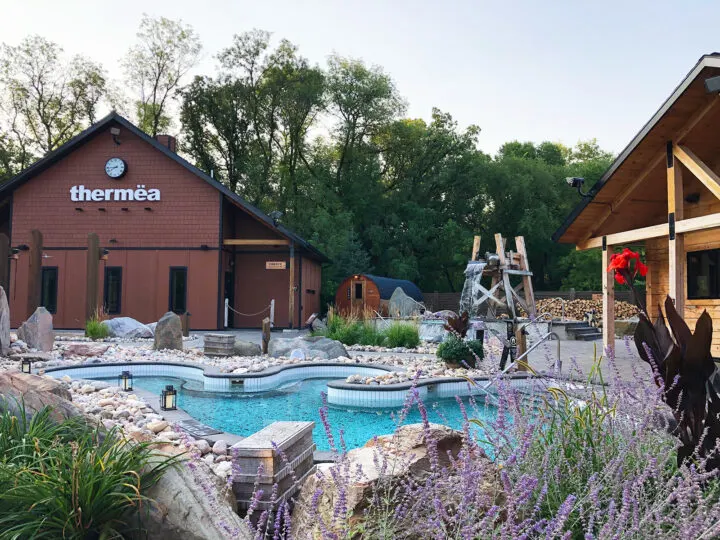 For the ultimate relaxation and one of the best things to do in Winnipeg, head to Thermea Nordik Spa! Rooted in Scandinavian traditions, the thermotherapy and relaxation techniques in this spa will have you feeling like a new person.
Open year-round, this experience can be a refreshing outdoor activity in the dead of winter, summer, or anytime you need a spa day.
With features like an aromatic steam sauna, relaxing warm bath, rejuvenating exfoliation room, the perfect temperature hot tub and so much more, you'll literally fill a day here. Enjoy lunch at their indoor restaurant or out back in the forest beach and wood-fired oven.
To get the most out of your experience, Thermea Nordik Spa recommends to do a hot treatment for 5-15 minutes, cold treatment then a relaxation period of 20 minutes.
Doing this eliminates toxins, releases adrenaline and secretes endorphins. I personally opted for the sauna, polar plunge, then warm bath.
What an incredible set of sensations that take you to complete relaxation!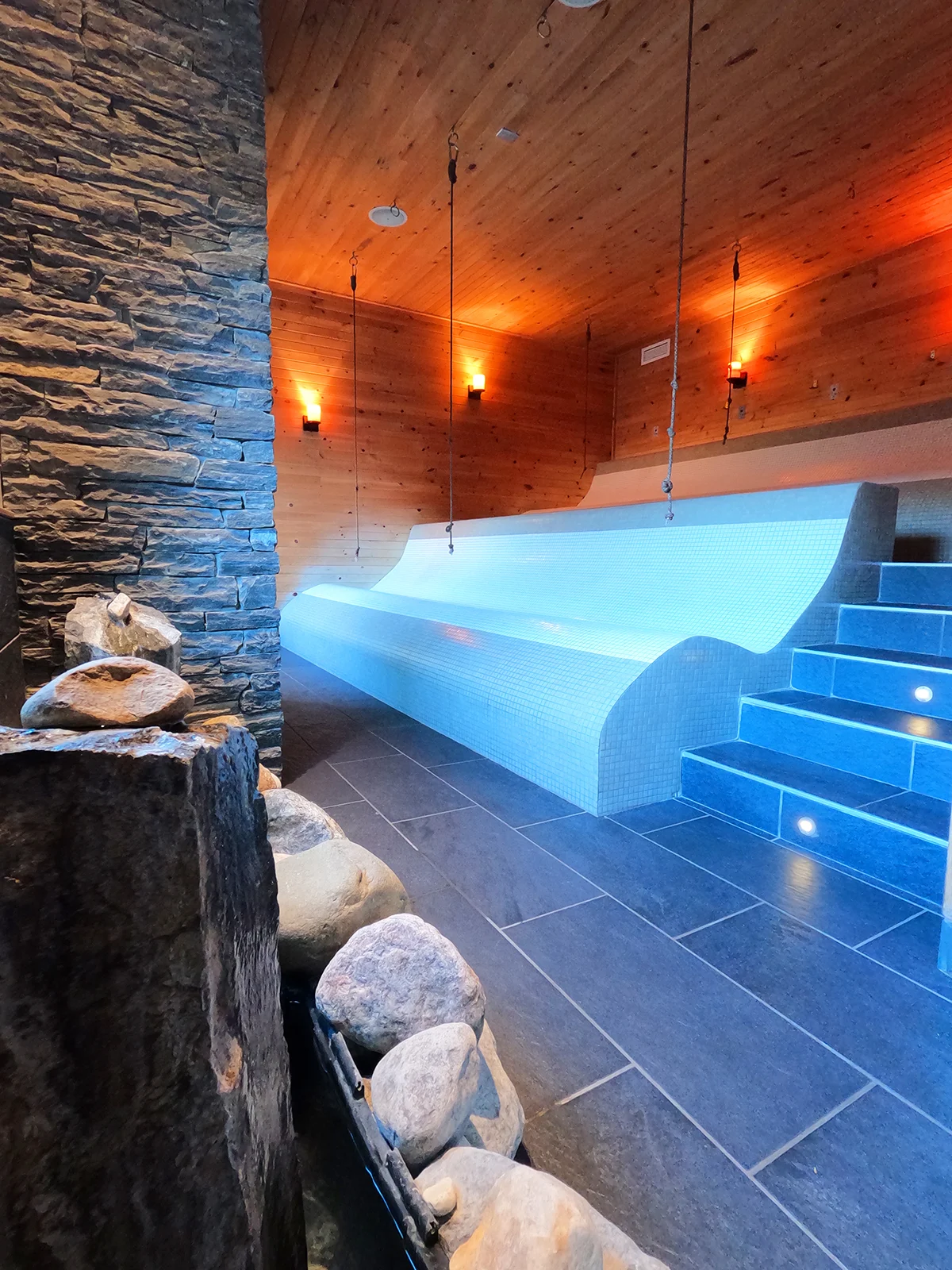 Whether you're in Winnipeg as a couple, solo or on a girl's getaway, Thermea Nordik Spa is just what you need!
Note: make reservations in advance as the spa fills up! During holidays and weekends, you'll want to book your spot online several days in advance.
Location: 775 Crescent Drive Winnipeg, Manitoba, R3T 1X3
3. Check out a festival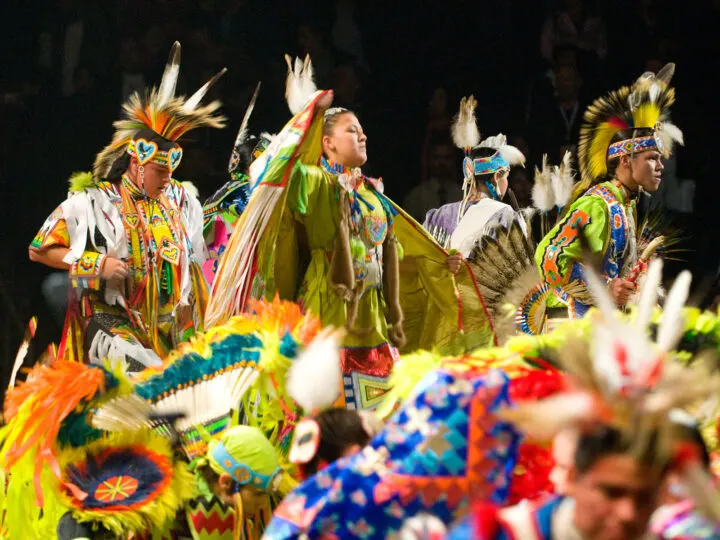 From January to December, festivals are happening in Winnipeg! Whether you're wishing for long summer days listening to music at an outdoor event, celebrate the Indigenous arts or admire giant snow sculptures in the heart of winter, there's so many to choose from year-round.
Fun fact: Winnipeg is a Wold Festival and Event City, as deemed by the International Festivals and Events Association.
Fun, creative festival ideas that are put on annually in Winnipeg:
Festival du Voyageur; winter wonderland happens in February
Freeze Frame International Film Festival for Kids of All Ages; interactive media event in March
Manito Albee Festival; cultural music, marketplace and more in May
Pride Winnipeg Festival; celebrating LGBTTQ* in June
Folklorama; food, art, music and dance in August
Manyfest; downtown Winnipeg's Festival of Lights, food, art, dances in September
Canad Inns Winter Wonderland; drive-through light show in December
For more festivals, and to check out the current events happening all around Winnipeg, here's the list.
4. Try Arabic street food at Yafa Cafe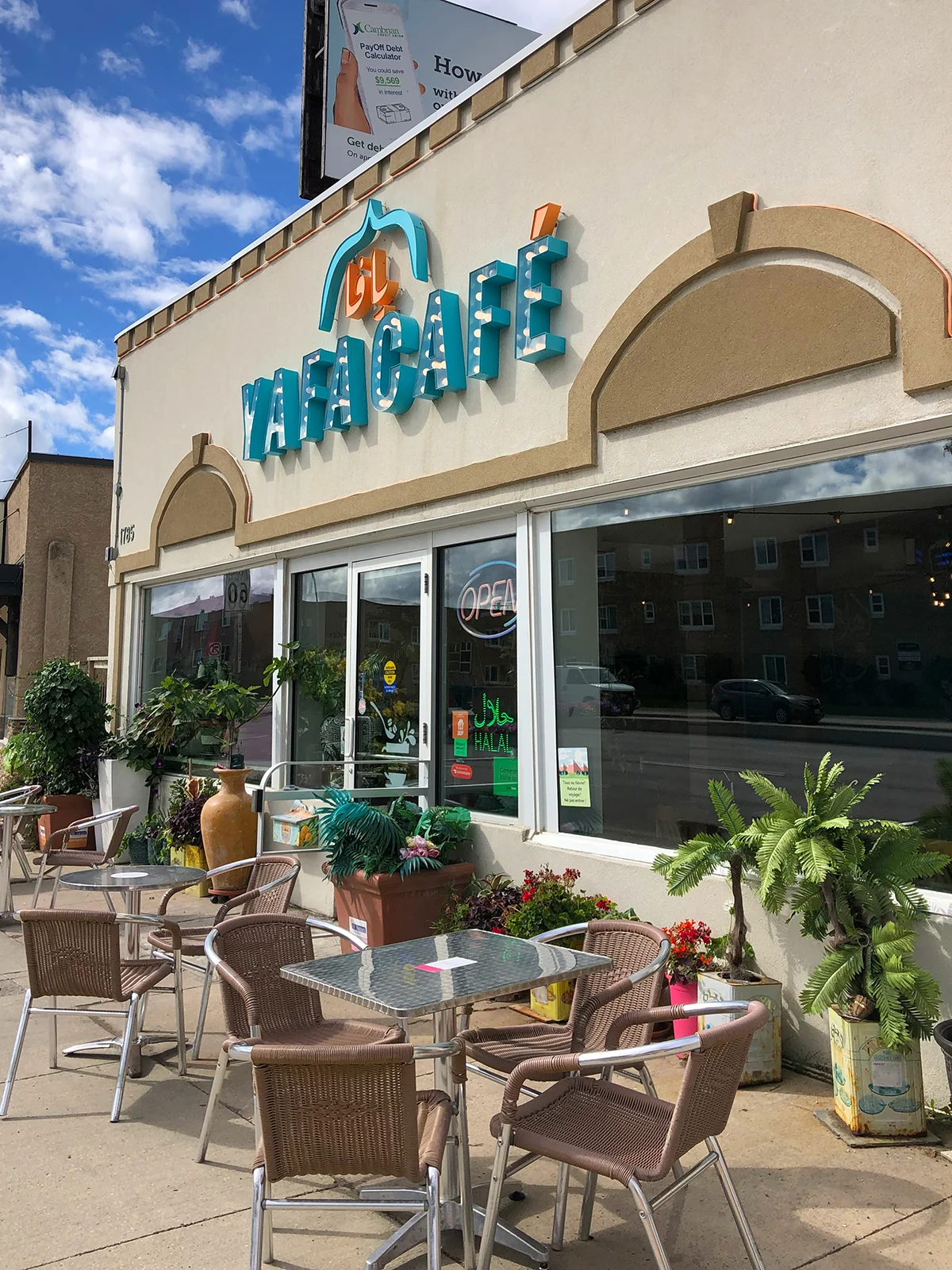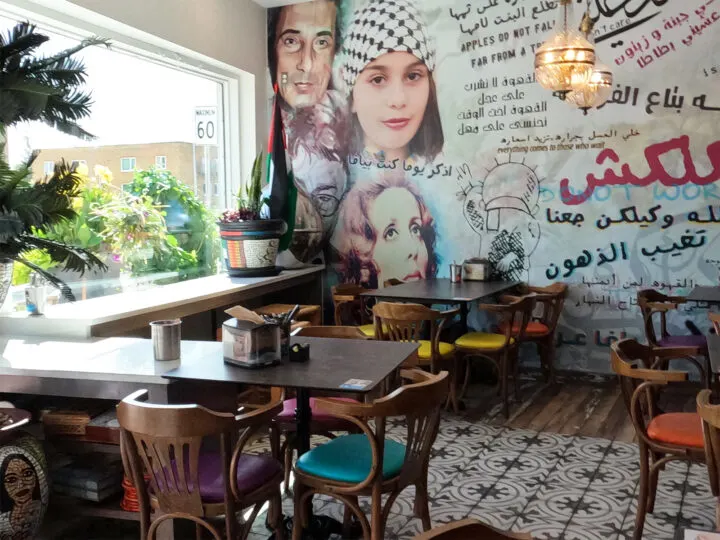 There's something really important you need to know about Winnipeg: the food scene is incredible!🔥
Keep reading this list of best things to do in Winnipeg for more food ideas, but the first one to introduce to you is Yafa Cafe. Specializing in flavors of the Arab world, you'll simply love the food here.
From cold appetizers like Pali Salad and Fattouche, delicious flatbreads (Manakeesh) like Cheese Fusion and Spicy Chicken, Falafel sandwich or a Vegan Feast, there's truly something here for everyone!
Be sure to stay for dessert to try the hand-made sweets! Enjoy Basbousa, the Classical Arabic cake or Baklawa, a nutty rich dish you'll absolutely love. In fact, it was one of my favorite foods in all of Winnipeg!
Location: 1785 Portage Ave, Winnipeg, MB R3J 0E8
5. Check out Back Alley Arctic (one of the most unique things to do in Winnipeg Manitoba)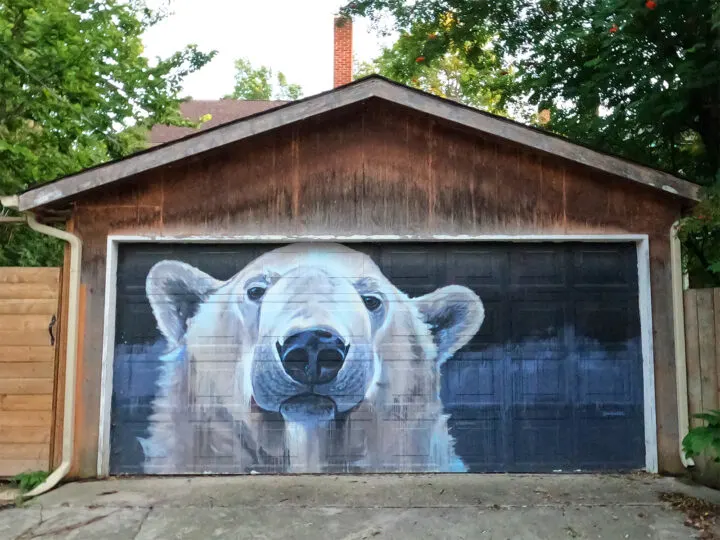 This fun, hidden attraction is located in an alley in a neighborhood in the heart of Winnipeg. Created by local artist Kat Barteski, you'll find incredible murals painted on garage doors in an alley, featuring your favorite arctic species.
It's quite literally artwork in an alley, and really cool to see! Unlike other murals in Winnipeg (or most cities, for that matter) that are created on downtown businesses, this neighborhood welcomed the artist and she created her masterpieces on their alley garages!
Bring a friend or tripod and a brightly colored outfit if you want photos with the murals. Be sure to park on the nearby streets to respect the alley and private property.
It's a little tricky to find, so if you need something to plug into your GPS that will get you close, Mulvey School is about 6 blocks away.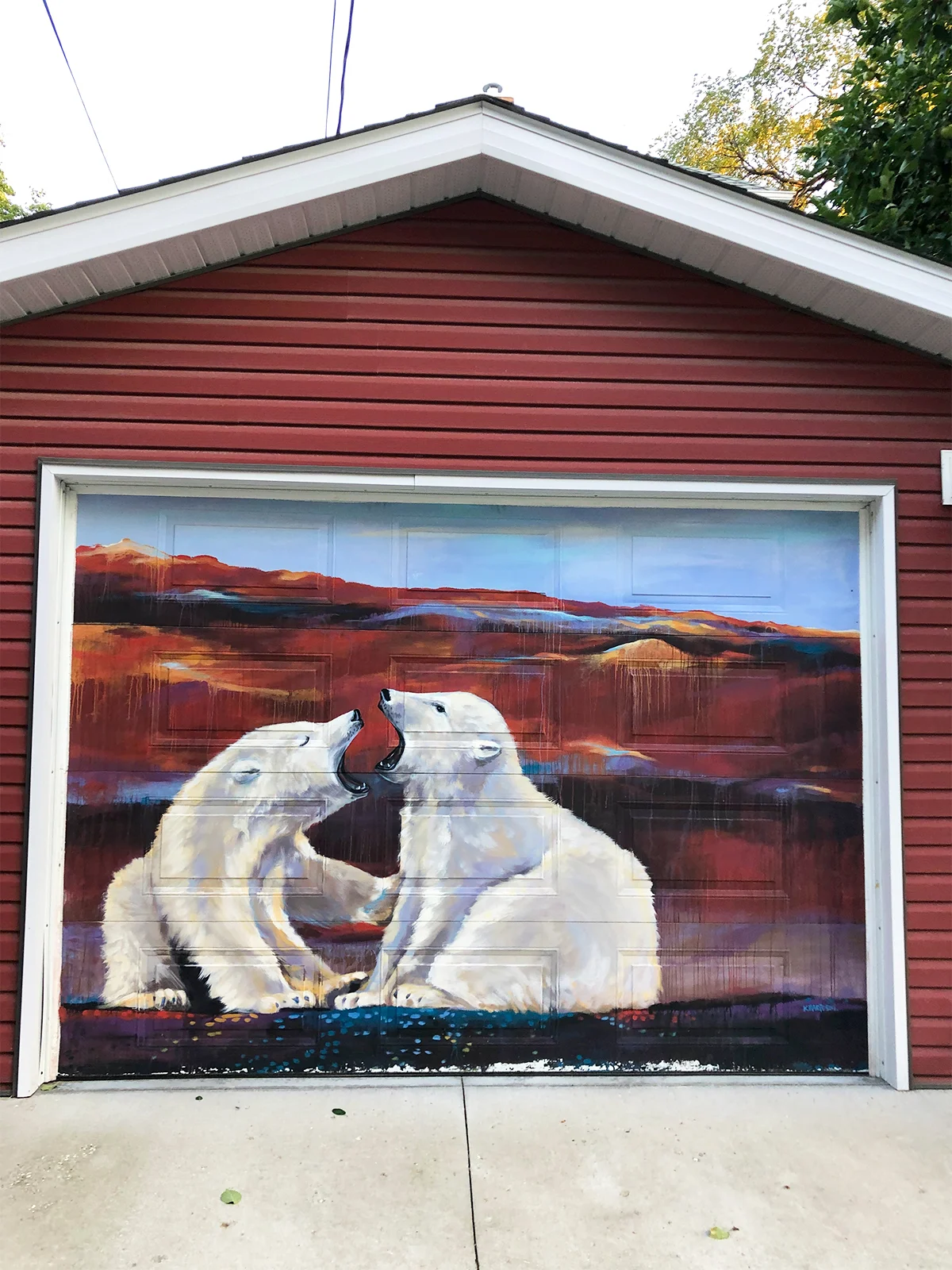 Note: this is a quiet neighborhood so please respect it's residents by staying quiet and visiting during daytime hours.
Location: alleyway of Canora and Ethelbert Street, between Westminster and Wolseley
6. Go ice skating (one of the best things to do in Winnipeg in winter)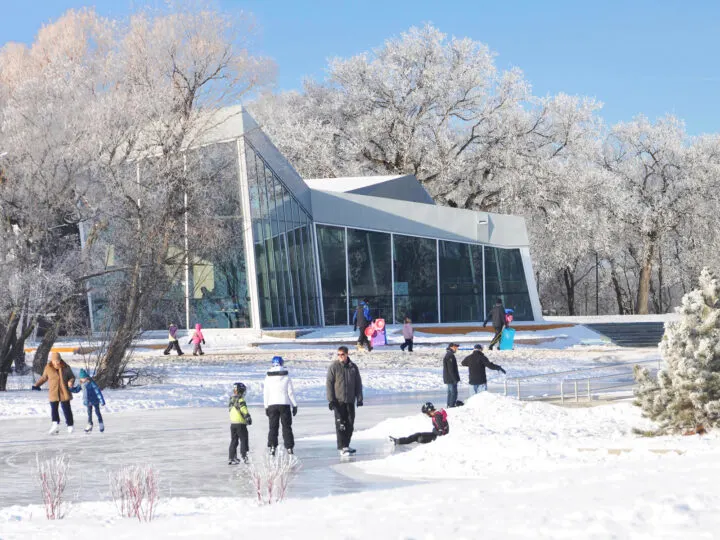 If you're looking for the best things to do in Winnipeg during the winter, then you're in luck. Winters in Canada last what seems like forever, so the city of Winnipeg has thought of soooo many ways to enjoy it!
Ice skating is a popular outdoor activity, and with several spots around town to enjoy an outdoor rink, there's sure to be a spot convenient to you.
Ice skating in Winnipeg:
St. Vital Duck Pond at Assiniboine Park
Arctic Glacier Winter Park (near the Winnipeg sign)
Skating under the canopy at the Forks
Nestaweya River Trail
Find a full list of Winnipeg winter skating rinks here.
Of course, there's more outdoor winter fun to be had. As mentioned in #3 earlier, the winter festivals are really fun. A favorite is the snow sculpture at Festival du Voyageur or climbing the Saint Boniface Ice Tower.
Winnipeg: things to do
Can you believe this list? And it's just getting started! One of my favorite things to do in Winnipeg is up next…
7. Visit The Forks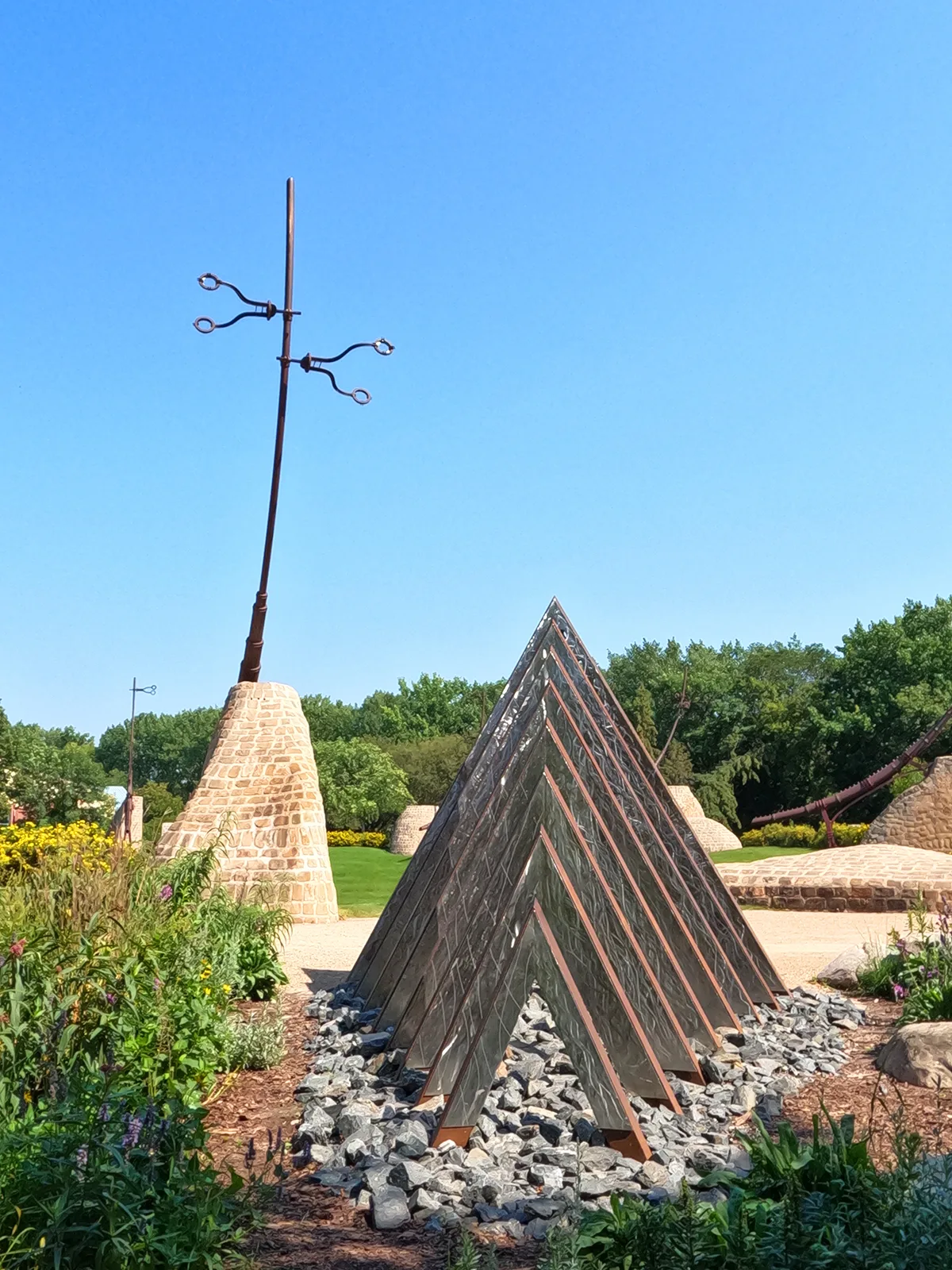 The largest tourist attraction in the city, The Forks' history is over 6,000 years old, and the unique mix of modern and old makes this a must-visit destination in Winnipeg. Named for the location where the Red River meets the Assiniboine River, this was home to Aboriginal settlers, and later a hub for the fur trade in the 1700's.
The popular spot downtown, The Forks, offers shopping, dining and lots of entertainment, indoors and out, including some of the best Winnipeg nightlife. Check out the year-round events, see a show at the Manitoba Theatre for Young People, rail cars, Public Orchard and much more.
In the winter, The Forks Market Plaza turns into an ice skating rink or in the summer, enjoy an outdoor concert at the CN Stage and Field. Year-round this is a great place to be, and a must-see on this list of things to do in Winnipeg!
Location: navigate to 1 Forks Market Rd, Winnipeg, MB R3C 4L8 (find nearby parking then walk to visit the sights!)
8. Check out The Forks Market (a favorite on this list of Winnipeg tourist attractions)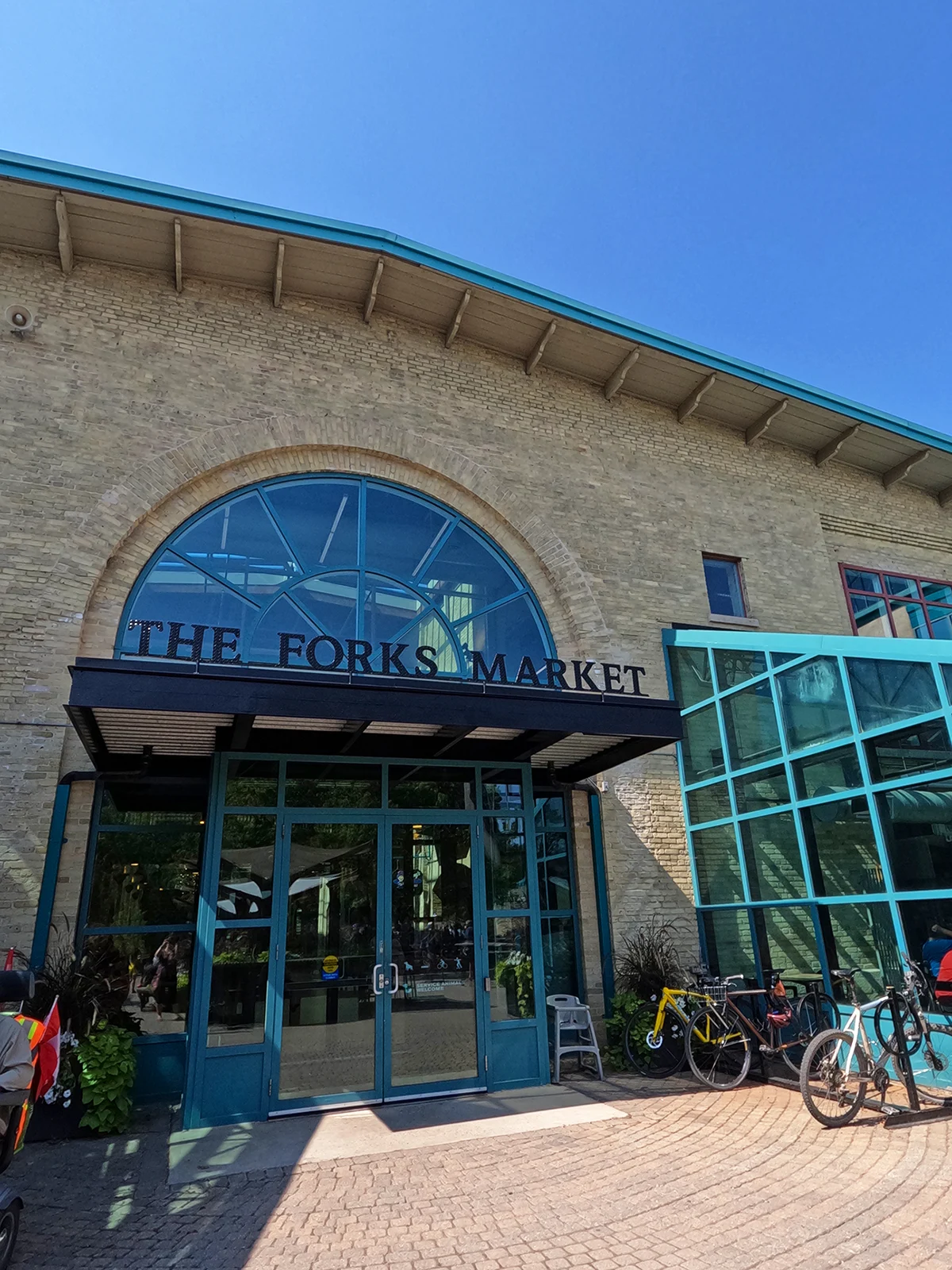 The Forks Market is a large dining and shopping complex right on The Forks Historic Port, and is a phenomenal place to spend the afternoon during a vacation to Winnipeg.
First, sink your teeth into an amazing dining experience. Try cuisine from all over the world! From Caribbean eats to Sri Lankan, Greek to Sushi, there's truly something for everyone at The Forks Market.
After your belly is full of delight, head upstairs to shop the unique boutiques on the second floor. Art galleries, unique clothing finds, a book store and so much more!
Enjoy the view from the second floor down, too. It's such a fun spot to walk around.
Location: 1 Forks Market Rd, Winnipeg, MB R3C 4L8
9. Take a river boat tour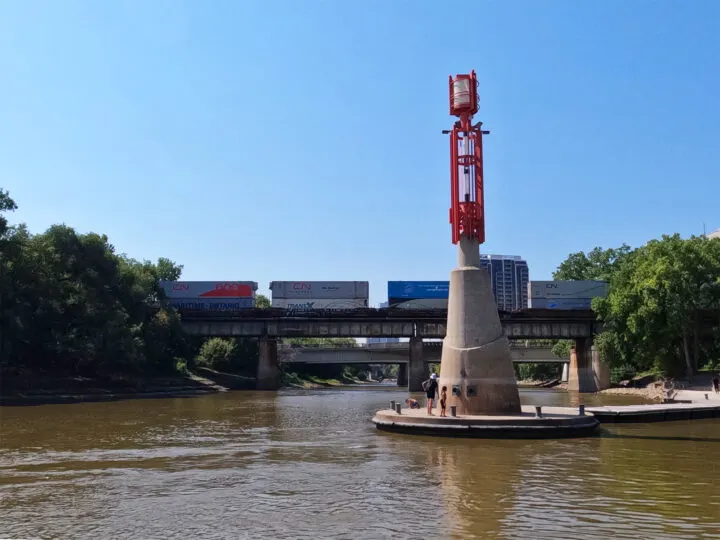 Enjoy the scenic river via boat on the Red and Assiniboine Rivers. See the legislative building, The Forks Market, St. Boniface Cathedral and more!
Splash Dash River Tours offer 30 minute boat rides, running every 15 minutes during the summer season. Open between noon and 6pm daily, the tours are less than $15 for adults and kids.
Check out current pricing and operating hours for Splash Dash here. Tickets in advance are not necessary; look for the ticket counter near the dock.
Location: 1 Forks Market Rd, Winnipeg, MB R3C 4L8 (walk down to The Forks Historic Port and you'll see the boat and ticket stand on the water)
10. Discover history at Johnston Terminal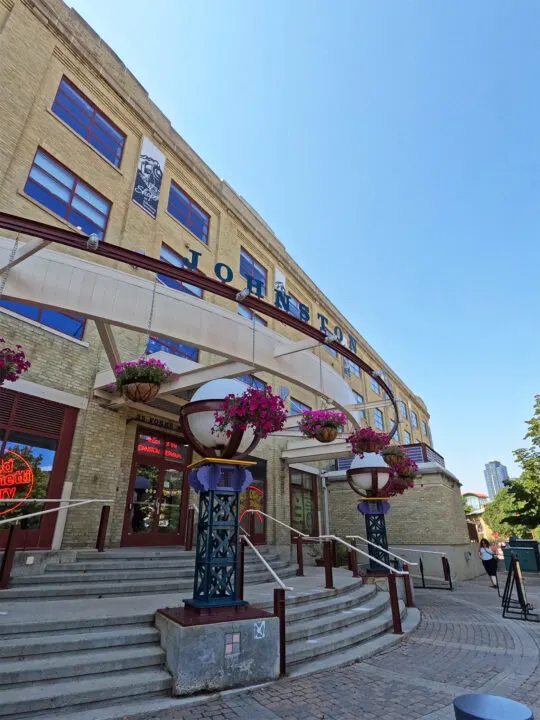 A hub for the railway in the 1800's, The Forks is home to several railway stables. The Forks brought in many regional and national rail companies, many of which are no longer operating. Many buildings in prominent positions at The Forks transitioned over time to alternative uses, but the history is fun to see, no less.
Johnston Terminal is the reminiscent of an old railway company. Originally it was built as a warehouse for the rail yard in the early 1900's. But today, it's been converted to retail space in this entertainment district.
Inside and out, the history is evident as you explore this building at The Forks!
Location: 25 Forks Market Rd, Winnipeg, MB R3C 4Y3
11. Enjoy the river walk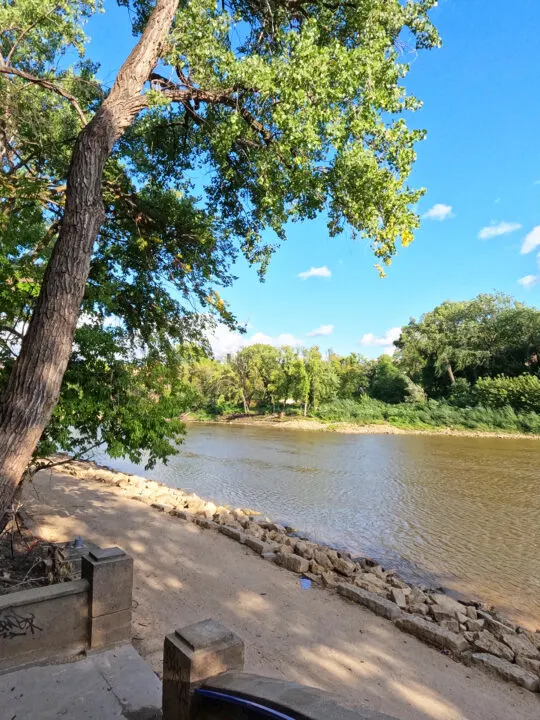 The Assiniboine River runs right through the heart of Winnipeg. Stretch your legs and go for a stroll along the river with views of the downtown skyline as you walk this riverfront trail.
Check out the L'Esplanade Riel Pedestrian Bridge, Fort Rouge Park and more. It's a great way to spend a leisurely afternoon, soaking in the Winnipeg sights.
The Red River Trail is accessible at The Forks as well, and takes you north and south between Churchill Drive Park and Point Douglas.
Walk (or bike) as little or much of these trails as you want!
Location: 1 Forks Market Rd, Winnipeg, MB R3C 4L8 (access the Riverwalk in front of The Forks Market)
12. Watch the polar bears at the Assiniboine Park Zoo (another favorite on this list of Winnipeg things to do)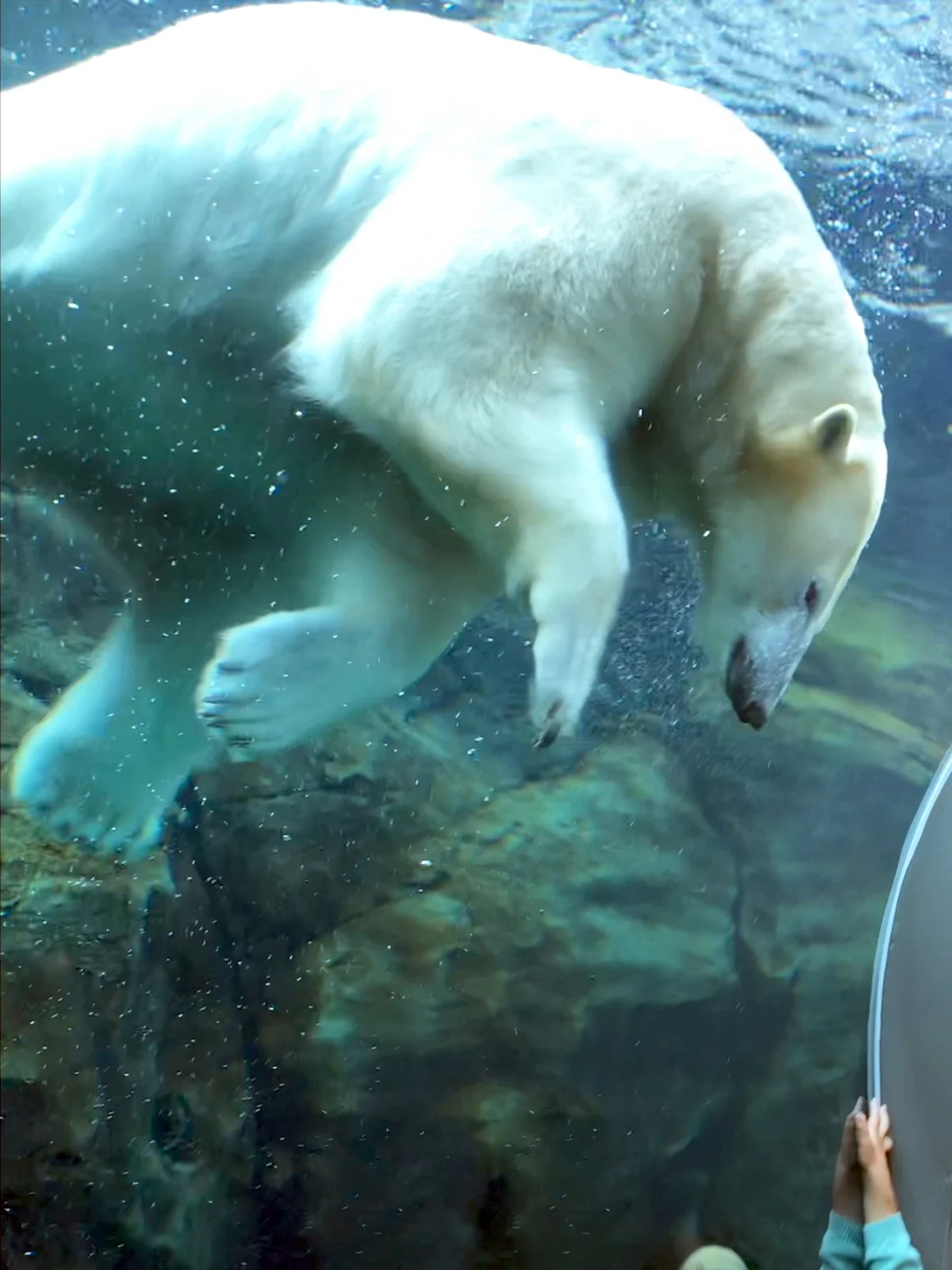 Animal lovers will delight in this attraction! One of the top things to do in Winnipeg for those young and old is to visit the Assiniboine Park Zoo.
Home to 170 species of animals from the Amur Tiger to Meerkats, Elk to Gibbons, the zoo that's been welcoming visitors for over 100 years will fascinate you. Spend 2 hours or a day exploring all the indoor and outdoor exhibits at the Assiniboine Park Zoo!
Perhaps the most popular attractions is the Journey to Churchill. Featuring species you'd find in Northern Manitoba and Canada, you'll see the Arctic Fox, Snowy Owl, Reindeer, Muskoxen and of course, Polar Bears!
The Journey to Churchill is an indoor/outdoor exhibit, but the draw is walking through the tunnel in hopes the Polar Bear will swim above. And of course, be sure to check out the other animals along the way. The seals are particularly fun to watch swimming upside down, too!
Pro tip: avoid hot, sunny days, especially in mid-afternoon to try to catch the polar bears while they're active. They much prefer the cooler temperatures and they're quite fun to see!
Location: 2595 Roblin Blvd, Winnipeg, MB R3R 2N7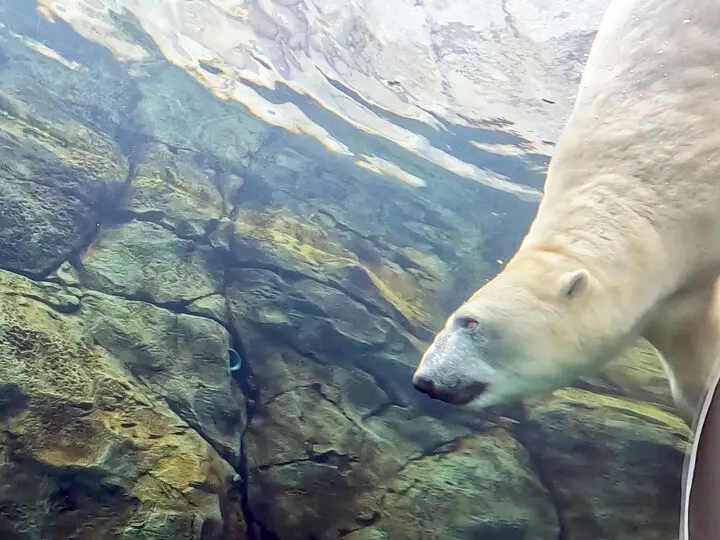 13. Visit the Leo Mol Sculpture Garden
In the heart of Assiniboine Park is the Leo Mol Sculpture Garden. The beautiful gardens and unique sculptures showcase the work of international artist Leo Mol. Dedicated to Winnipeg after moving from Europe, Leo Mol had a profound impact on the community.
The gardens represent stunning varieties of flowers, perfect for nature lovers to enjoy. Marvel at Mol's collection of work as you make your way through the gardens. There are many shaded areas to sit and soak in the beauty of the gardens and sculptures.
Pro tip: bring your bug spray as the gardens are home to an abundance of nature, including mosquitos!
Location: Assiniboine Park Dr, Winnipeg, MB R3P 2N7
More things to do in Winnipeg
Just half way done with this guide, hopefully you've added some fun things to do in Winnipeg to your itinerary. Let's keep going…
14. Walk, shop and dine in the Exchange District (one of the top fun things to do in Winnipeg)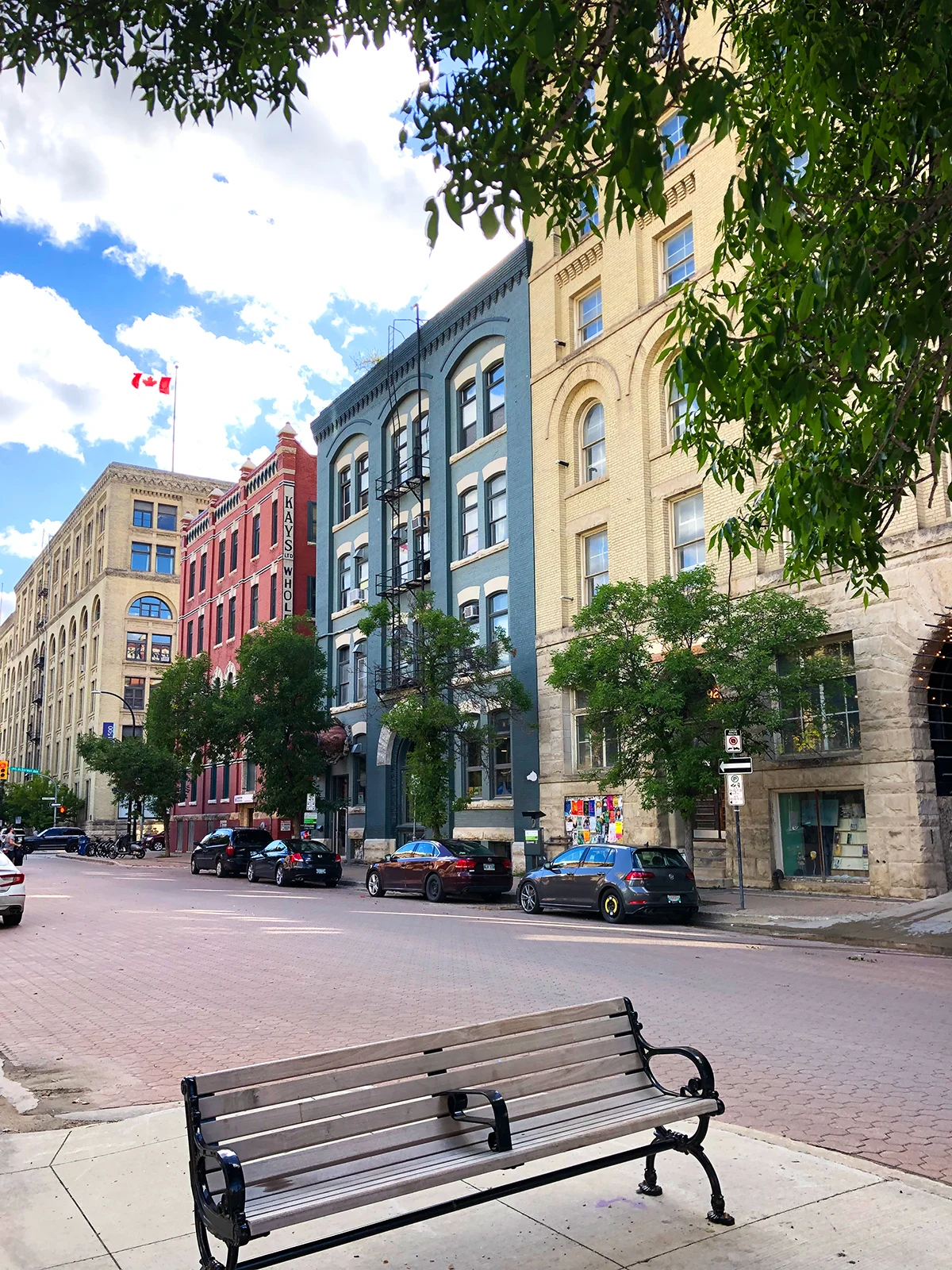 The Exchange District is a set of over 150 heritage buildings in downtown Winnipeg. With cool architecture rich in history, the Exchange District is a must see when on vacation in Winnipeg.
From art galleries to fun street art, bars to boutique shops, the Exchange District has something for everyone! You can go at a leisurely pace and walk the area, or take a walking tour to learn the fascinating history of the Exchange District.
Of course there's great food within the Exchange District, too. With over 50 restaurants, you certainly won't go hungry!
Location: 492 Main StWinnipeg, MB R3B 1G6
15. Get inspired at the Winnipeg Art Gallery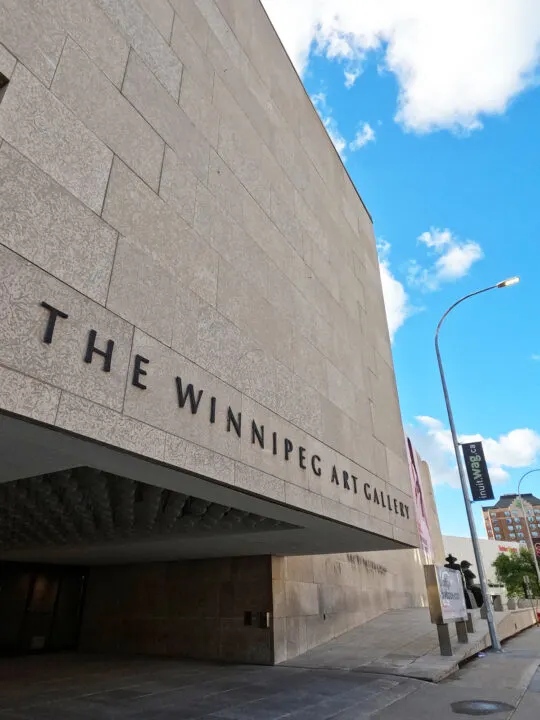 The Winnipeg Art Gallery, also known as WAG by locals, is a must-visit and one of the top things to do in Winnipeg!
Featuring textiles and paintings, carvings and sculptures, the vast gallery displays thousands of pieces of art. A gem in downtown and perfect for art lovers, it's an essential part of any Winnipeg itinerary.
Fun fact: the world's largest collection of contemporary Intuit art of nearly 14,000 pieces. The WAG-Qaumajuq includes over 27,000 pieces of work, showcasing talent from Manitoba and Canadian artists.
You'll want to spend at least 2 hours to soak in the art, learn history through art and wander through the many galleries at your leisure.
In addition to world-class exhibits, the Winnipeg Art Gallery also offers art classes for kids and adults alike. Drawing, painting, pottery and mixed media, you can learn new skills (or brush up on old ones) at the WAG Studio. Check out the art class schedule when planning your visit!
Location: 300 Memorial Blvd, Winnipeg, MB R3C 1V1
16. Enjoy nature at FortWhyte Alive (a favorite on this list of best places to visit in Winnipeg)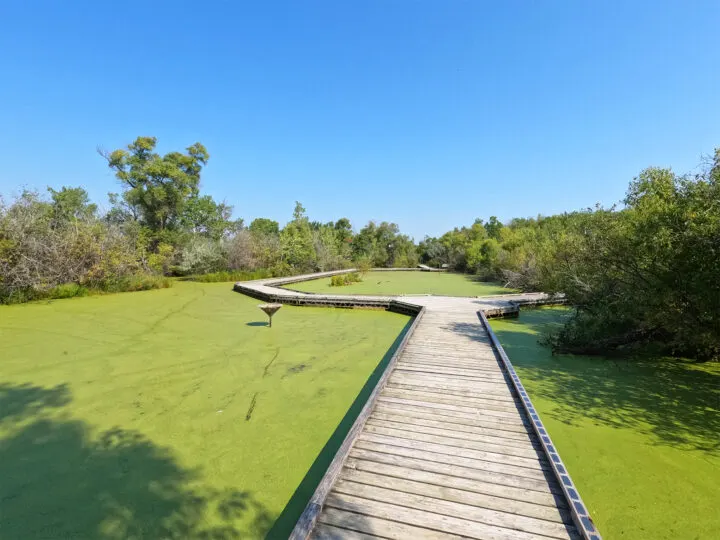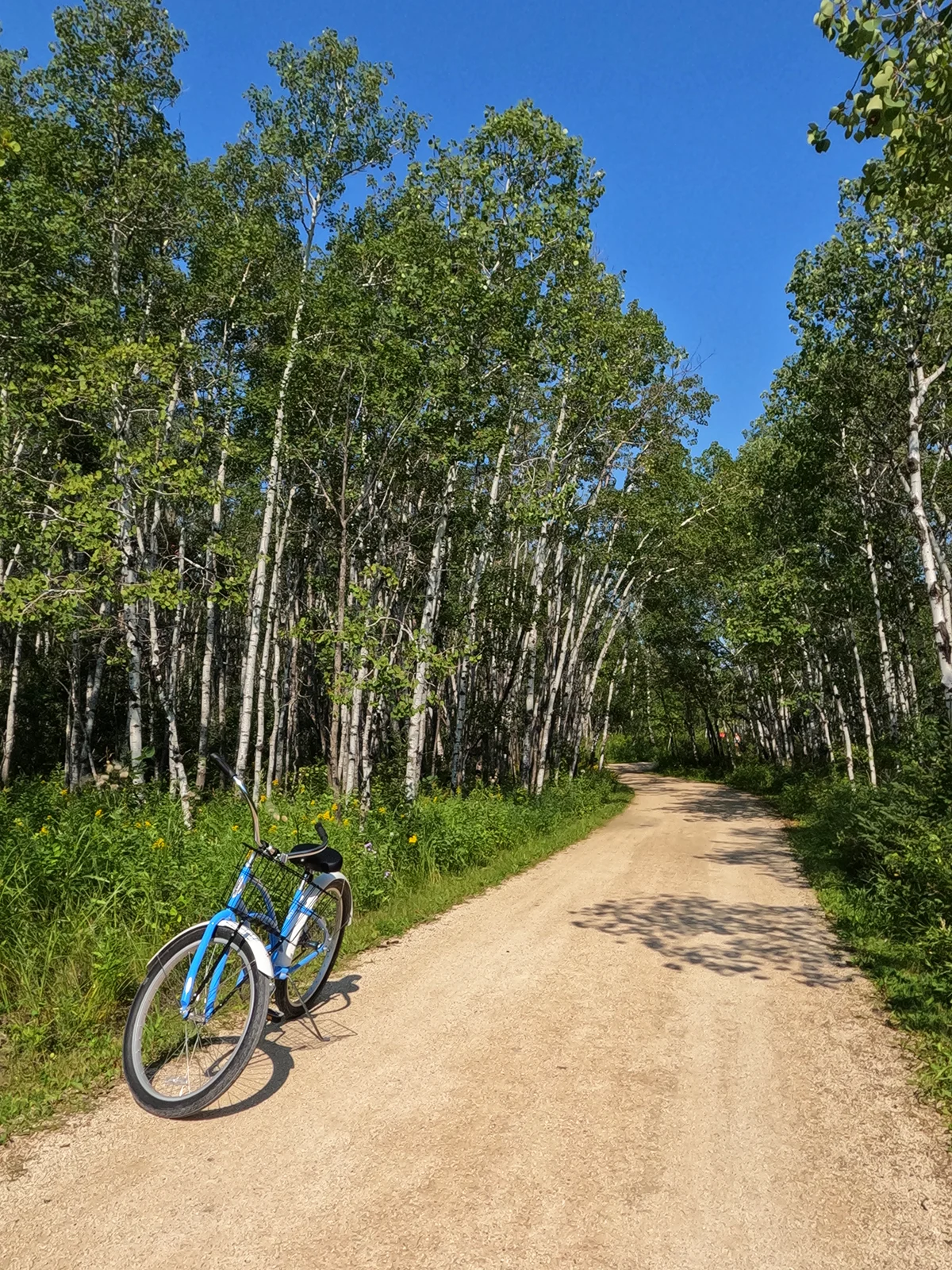 A large, beautiful oasis within the city, FortWhyte Alive is a perfect spot to enjoy the outdoors year round. Lakes and prairies, groves of Aspen trees alongside hiking and biking trails, plus the largest urban bison herd in Canada.
Summer brings biking, hiking and plenty of lake activities. FortWhyte Alive has all the gear you need for paddling, fishing, cycling and more! During winter, hit the cross-country ski trail, go snowshoeing and ice skating, or have a run at the toboggan slide!
You'll want to spend at least 2-4 hours here, but could definitely spend an entire day enjoying nature and the educational opportunities at FortWhyte Alive. Be sure to grab lunch or a snack at the Buffalo Stone Café. Unique attractions like the Manitou Buffalo Rubbing Stone and floating boardwalk are fun for all ages.
Experience a sliver of Manitoba's story in the interpretive trail, The Storied People's Trail. View the sod house, tipi encampment, bison prairie, family treehouse, and more.
You don't need reservations for admittance or rentals at FortWhyte Alive. Just keep in mind it gets busier on the weekends and everything is first come, first serve. Check current hours and pricing before you go!
Location: 1961 McCreary Rd, Winnipeg, MB R3P 2K9
By the way, if you love the activities here and are heading east, check out all these outdoorsy things to do near Toronto!
17. Devour ice cream at BDI (must-do if you're looking for what to do in Winnipeg)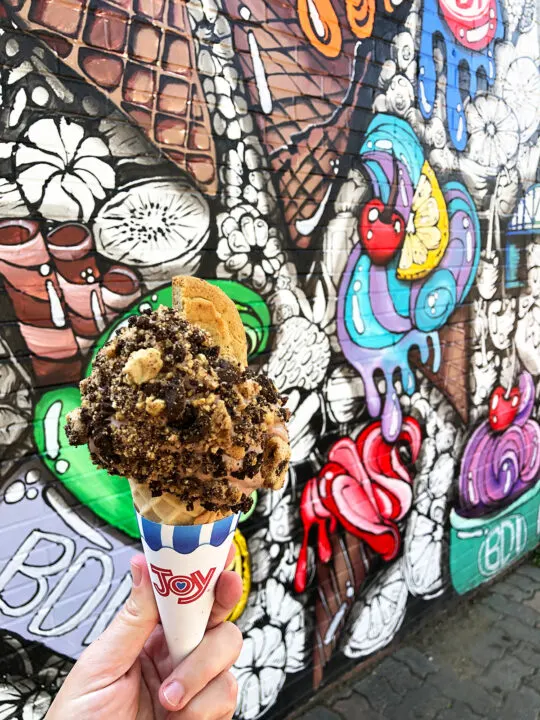 Bridge Drive-In, or BDI, is an icon in Winnipeg. Serving ice cream since 1957, you know it's gotta be good! With thick, creamy soft serve ice cream and shakes, BDI is the perfect stop for anyone with a sweet tooth!
If you like blueberry, try their best-selling 'Goog' consisting of blueberry milkshake with a hot fudge sundae, whipped cream and bananas. Their Fruit Salad is another winner, a sundae with strawberry, pineapple, peach, banana and whipped cream. The unique creations like So-Much-S'more, Boomerang and Biggie-Smalls are fun to try!
Of course, you can go for something more traditional as well. Soft serve, shakes and flurries round out the menu. Visiting BDI is one of the best things to do in Winnipeg in summer!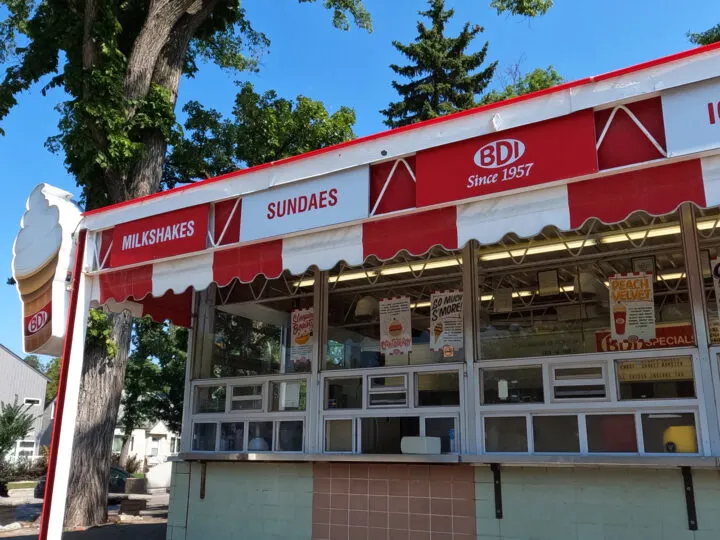 Pro tip: go when they first open, because there's always a line at BDI! If you can't get there early, plan for a long wait. It will be worth it!😋
Location: 766 Jubilee Ave, Winnipeg, MB R3L 1P7
18. Solve the Hermetic Code at the Manitoba Legislative Building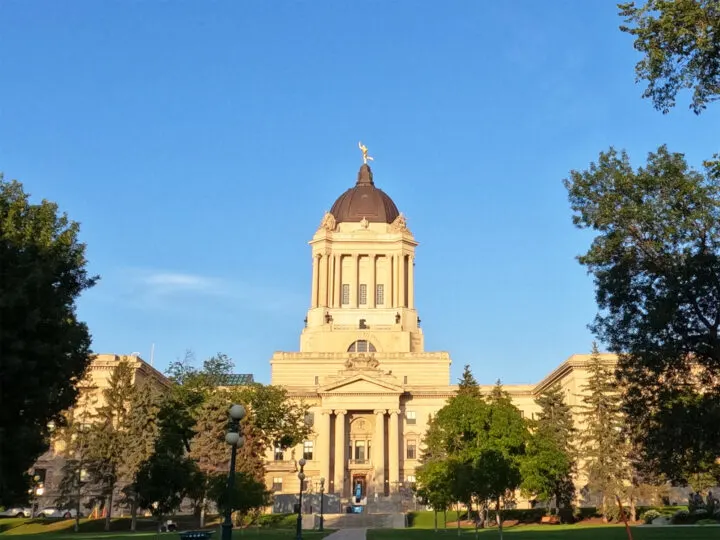 If you love solving puzzles, this one's for you! Clues are concealed in the Manitoba Legislative Building's architecture, like hieroglyphics, numerological codes and Freemasonic symbols.
It actually took over a century to decipher the meaning of the code! Due to the complex nature of all the decorative symbolism and clues, its highly recommended take a Hermetic Code Tour, which needs to be booked in advance.
Before you go, check out this video of Winnipeg's Secret Code!
Note: at the time of publication the Hermetic Code Tours have been temporarily paused. Check current operating hours and availability for your dates.
Location: 450 Broadway, Winnipeg, MB R3C 0V8
19. Do a Winnipeg scavenger hunt (one of the most unique things to do in Winnipeg)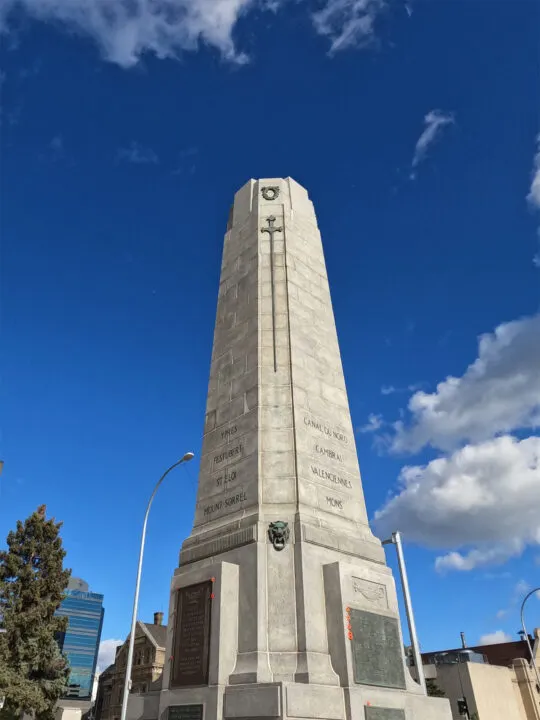 Alright, this is a fun, creative idea! One of the most unique activities in Winnipeg, explore the city at your own pace by doing a scavenger hunt.
Perfect for couples, families with older kids or small groups, the Winnipeg scavenger hunt takes you through a series of clues and challenges to find the next destination. All done through an app that allows you to do the scavenger hunt on your own time, you'll be guided through downtown Winnipeg, seeing the sights and learning fun facts along the way.
Grab your walking shoes, be prepared to take fun photos and have a great time on your Winnipeg scavenger hunt!
Location: Eastbound York at Memorial, Winnipeg, MB R3C
20. Hit up a local brewery or distillery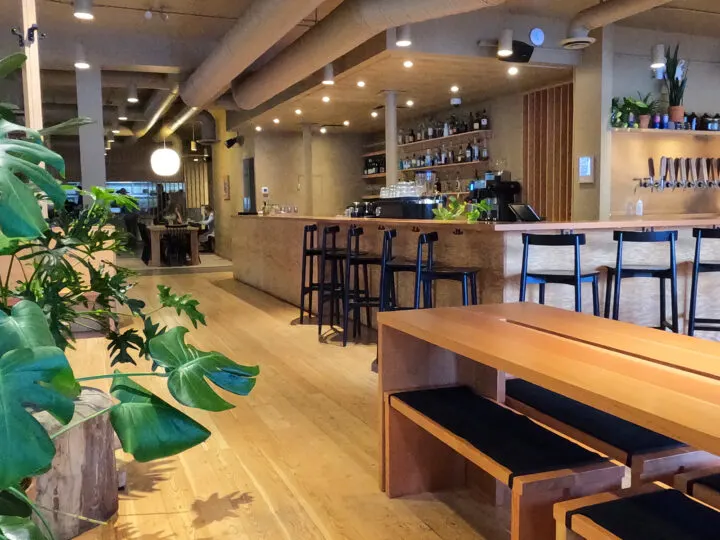 We've already talked about Winnipeg's incredible food scene. But what goes great with food? Local spirits! There are over 20 in the city, so likely there's one convenient for you.
My personal favorite is One Sixteen, featuring Good Neighbour Brewing Company, which is Winnipeg's first all-female owned and operated brewery. With and indoor-outdoor area, plus amazing food by Two Hands, you'll have an absolute delightful time dining and sipping on the perfect combination of flavors.
If you're looking for more taprooms, consider Lake of the Woods Brew Company, Little Brown Jug, Torque Brewing or Nonsuch Brewing Co.
Location: 116 Sherbrook St, Winnipeg, MB R3C 2B4
What to do in Winnipeg
Seriously though, can you believe this list?! Winnipeg certainly has a lot going on. Here's the final activities on this guide to Winnipeg tourist attractions!
21. Visit the Manitoba Museum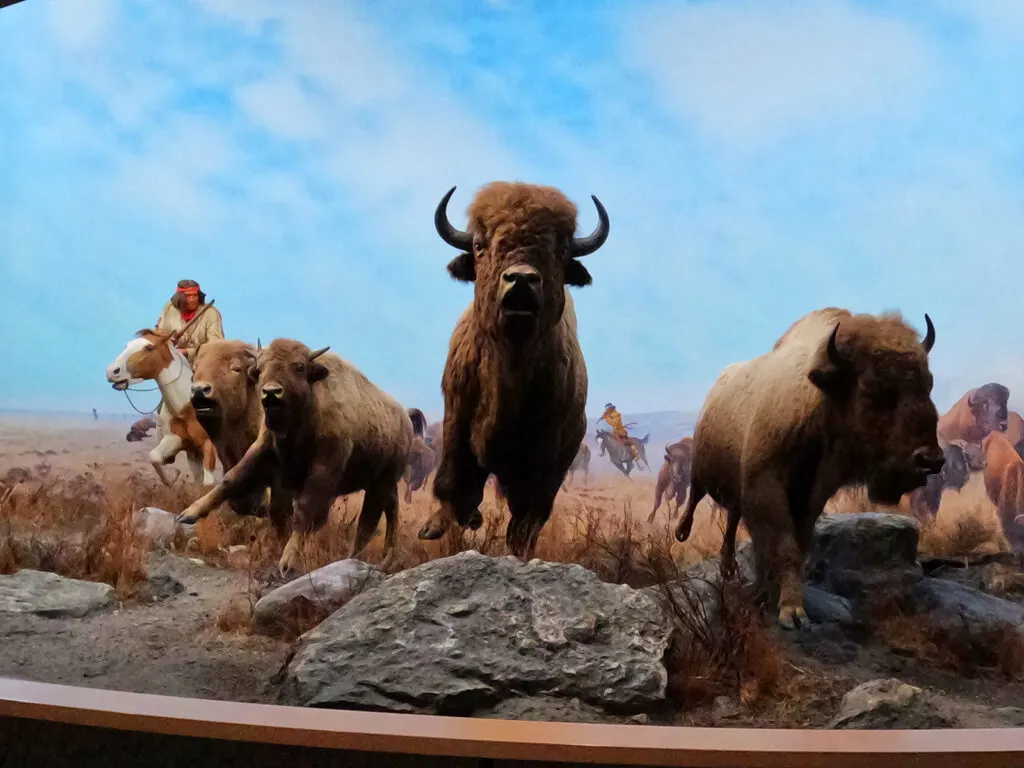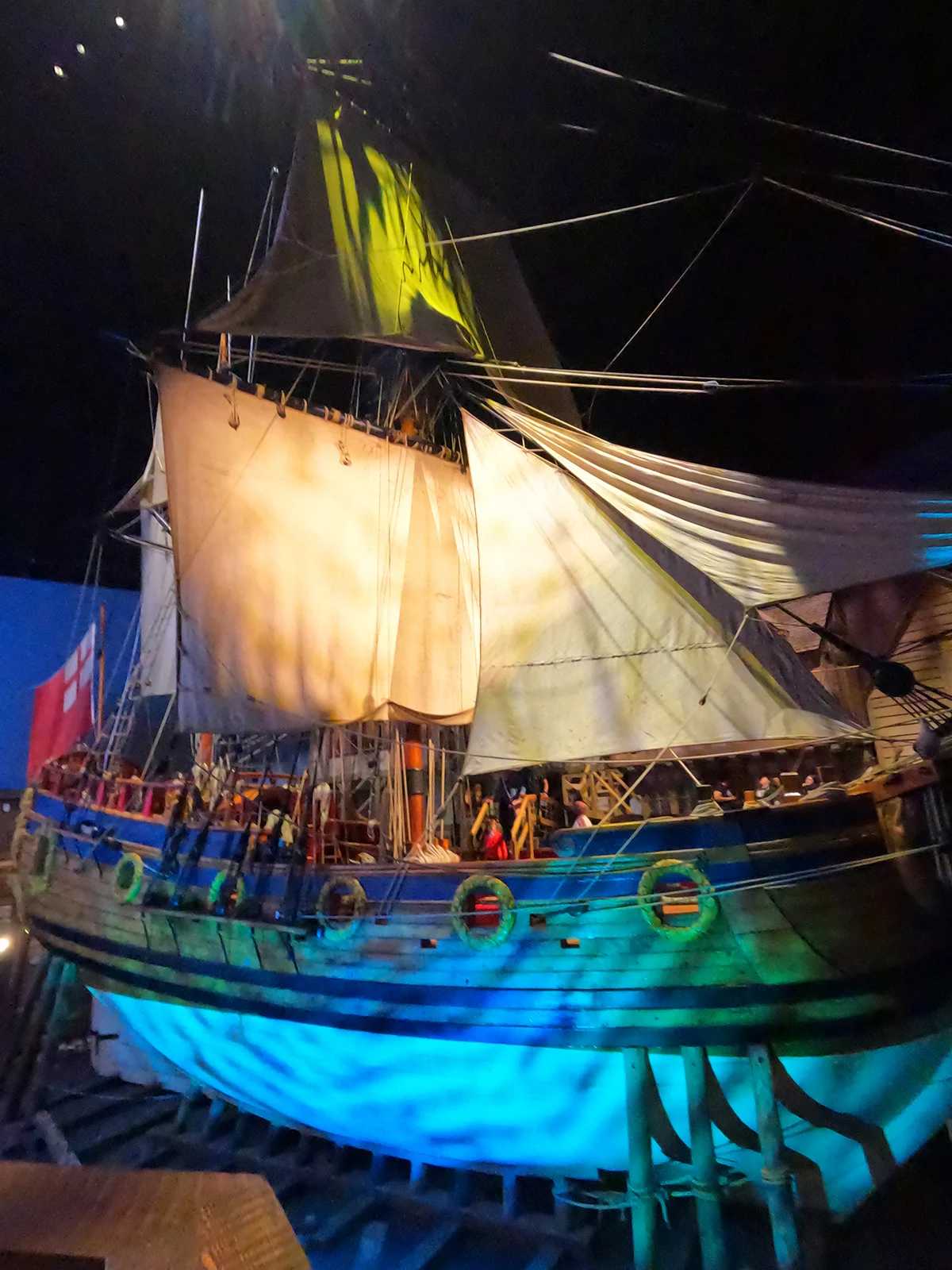 Thrilling for kids and adults alike, the Manitoba Museum provides an extensive look into the history of Manitoba and the prairies of Canada. From astrology to geology and anthropology, the museum offers so much to learn in a fun, interactive way.
The Manitoba Museum is a fantastic rainy day or wintertime activity in Winnipeg. The life-size sailing replica of a trading ship is fun to imagine what life used to be like. Or walk through the dinosaur exhibit, checking out what animals used to live in the region 65 million years ago.
The Planetarium offers several shows throughout the week, and if you can schedule your visit to catch a show, it's highly recommended! Plan at least 2-4 hours here to see most of the exhibits. It's completely fascinating!
Location: 190 Rupert Ave, Winnipeg, MB R3B 0N2
22. Grab photos at the Winnipeg Sign (one of the best free things to do in Winnipeg)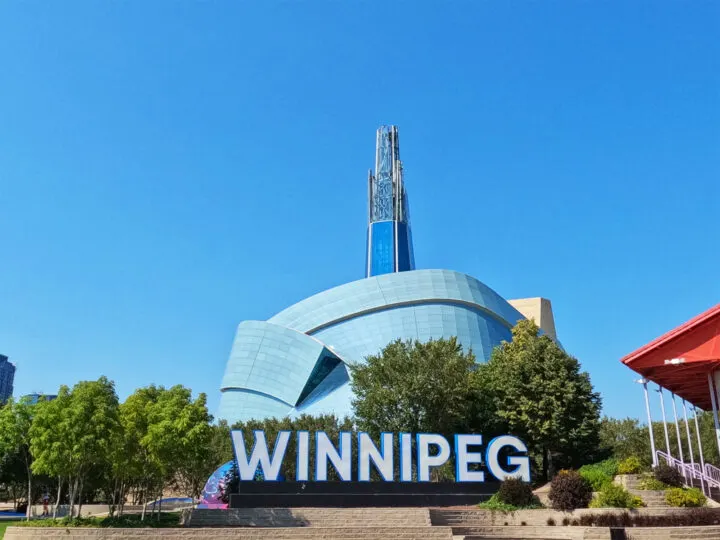 Have you really visited Winnipeg without getting a photo by the famous sign? Didn't think so.😉
Located at The Plaza at The Forks, right near the Canadian Museum for Human Rights is the Winnipeg Sign. Whether it's sunny or snowy, you'll want to grab your shot in front of the sign!
Be sure to check out the whole area too, including the Forever Bicycles art installation.
Location: 1 Forks Market Rd, Winnipeg, MB R3C 4X1
23. Visit Upper Fort Garry Heritage Provincial Park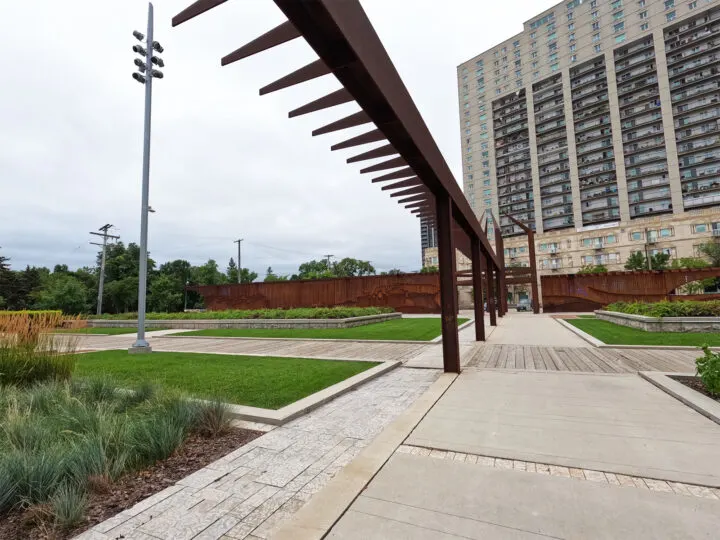 A provincial park in an urban downtown setting, this historical park combines modern landscaping and recreation with a mix of classical elements.
For centuries, the Assiniboine and Red Rivers were a meeting place. Upper Fort Garry was a European trading post in the 1800's, and one of the most important landmarks in Canada for trading goods, including prominent fur trading in Winnipeg.
While the original Upper Fort Garry was destroyed (all but the Governor's Gate), the land around what used to be the trading port was redeveloped as a commemorative site.
The interactive element of Upper Fort Garry is in it's sound and light show display along the decorative steel wall. While there are some signs up reflecting the site's history, the accompanying app provides information about the stories on the electronic wall. It's truly a fun, creative way to learn about Upper Fort Garry.
Location: 130 Main St, Winnipeg, MB R3C 1A4
24. Take a Winnipeg sightseeing helicopter tour (one of the most fun activities in Winnipeg)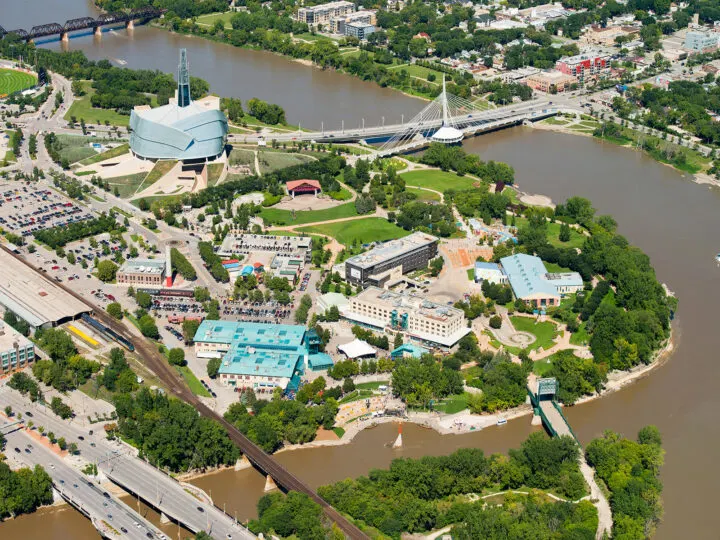 One of the most unique things to do in Winnipeg is to take a sightseeing helicopter tour. Not many can say they've done it! It reminds me of the best part of my Kauai itinerary, when we saw the island via helicopter, including the NaPali Coast. So cool!
You'll get a fun, new perspective of the city from above. See the Golden Boy on the Manitoba Legislative Building, The Forks, Assiniboine and Red Rivers, and so much more.
Note: you'll want a party of 4 for this tour to keep the price per person to a lower level.
View helicopter tour rates and availability.
25. Visit the Manitoba Children's Museum (one of the best things to do in Winnipeg with kids)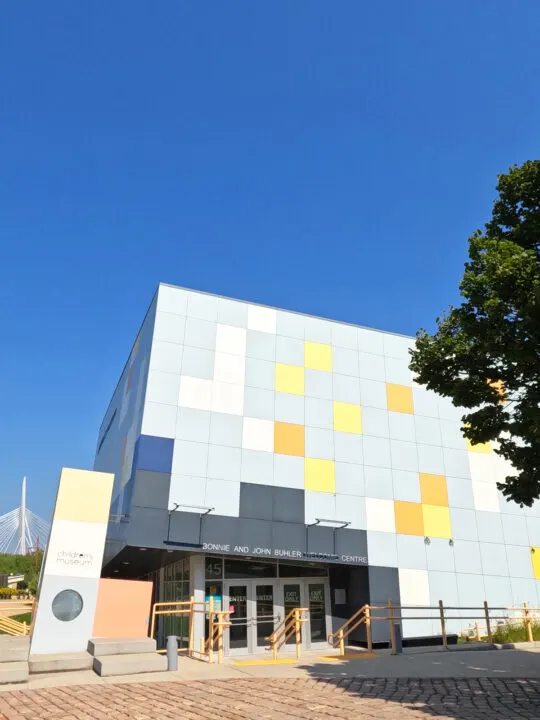 A fabulous outing for the whole family, the Manitoba Children's Museum is the perfect activity for winter or a rainy day. Located at The Forks, it's in the heart of the action in Winnipeg. And bonus – there's free parking for museum visitors, up to 3 hours, which you can't beat at The Forks!
Great for kids ages 10 and under, top exhibits include the Engine House with a historic locomotive, multi-level food complex called the Lasagna Lookout, Splash Lab and more. The Manitoba Children's Museum is more focused on interactive play rather than learning through history.
Location: 45 Forks Market Rd, Winnipeg, MB R3C 4T6
26. Check out the Royal Aviation Museum of Western Canada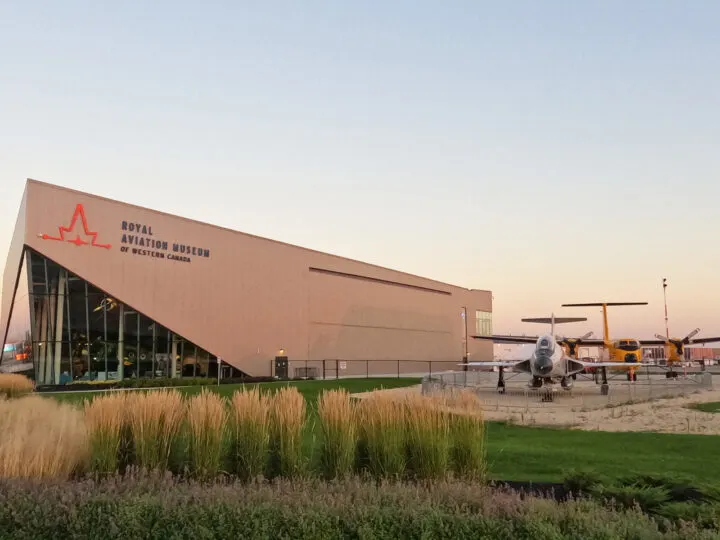 A must-visit on this list of fun things to do in Winnipeg for aviation enthusiasts is the Royal Aviation Museum of Western Canada. The history of Winnipeg and the Canadian aerospace innovations lie within the walls of the building, and they're told in a fun, creative way.
Great for kids and adults alike, you can sit in old airplanes (and see how spacious the seats were!) or see an old cockpit up close. The airplanes are spread out so it's easy to walk around and look at everything.
Oh, and while you're looking at the old planes you'll hear loud engines taking off and landing, as the museum is right next door to the Winnipeg James Armstrong Richardson International Airport! For the best view of the airport, head up to the observation deck.
Location: 2088 Wellington Ave, Winnipeg, MB R3H 1C1
Things to do in Winnipeg Canada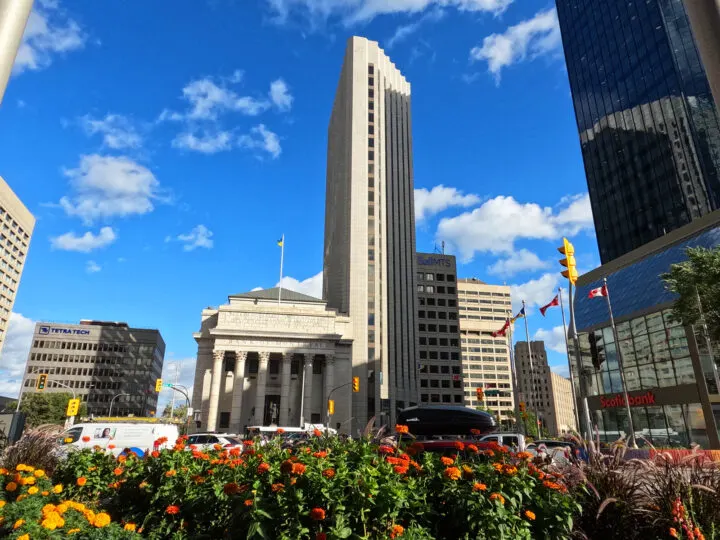 Winnipeg is a fun city to explore! From culture and art to outdoor activities, there's something to see and do year-round here. Winnipeg truly has something for everyone!
Let's recap that list again, in a more succinct fashion…
Winnipeg things to do
Canadian Museum for Human Rights
Thermea Nordik Spa
Festivals and events
Arabic street food at Yafa Cafe
Back Alley Arctic
Ice skating
The Forks
The Forks Market
River boat tour
Johnston Terminal
River walk
Assiniboine Park Zoo
Leo Mol Sculpture Garden
Exchange District
Winnipeg Art Gallery
FortWhyte Alive
BDI
Hermetic Code at the Manitoba Legislative Building
Winnipeg scavenger hunt
Local brewery or distillery
Manitoba Museum
Winnipeg Sign
Upper Fort Garry Heritage Provincial Park
Winnipeg sightseeing helicopter tour
Manitoba Children's Museu
Royal Aviation Museum of Western Canada
Related content to read next:
Clear Lake Manitoba: 20 Things to Do (You'll Love this Gem in Canada)
Find this helpful? Save it for later or share it on social media!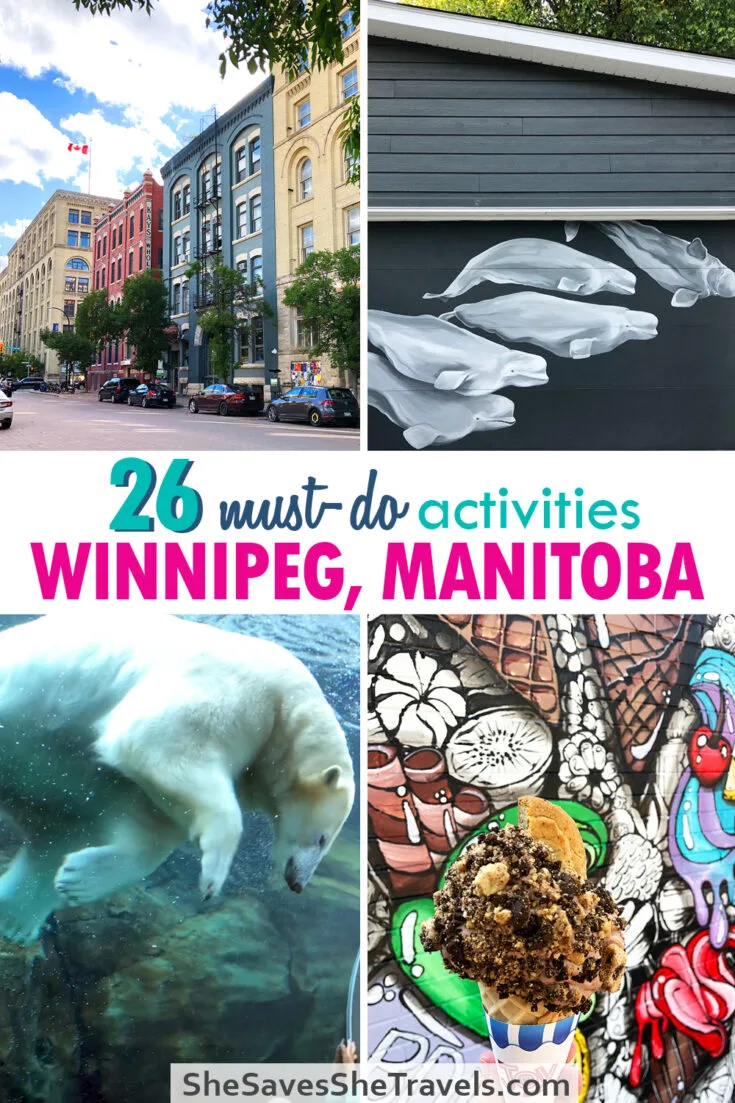 Thank you to Tourism Winnipeg and Travel Manitoba for hosting me! As always, all opinions are my own.