The island of Kauai is a dream destination with a natural sweetness and, in my opinion, is the best island in Hawaii to travel to! With more adventures on the island of Kauai than you could possibly do on a vacation, you'll have plenty to choose from. Here's my ultimate guide to Kauai: 7 days of the best things to do in Kauai, Hawaii.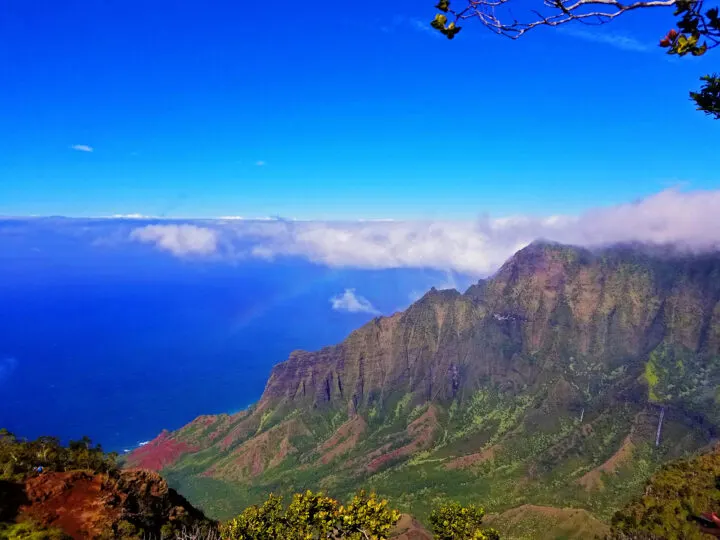 This post may contain affiliate links. For more info, see my disclosures.
My husband and I spent a week in Kauai celebrating our 10 year anniversary and I'm just going to say it's my absolute favorite place on earth! Our week was full of adventure as we absorbed all that Kauai had to offer.
Here are the highlights, keep reading for details!
Best beaches in Kauai – enjoy a beach day (or two) discovering your favorites!
Hiking in Kauai – Waimea Canyon was my favorite!
Whale watching in Kauai
Snorkeling in Kauai
Hiking in Kauai – Maha'ulepu Heritage Trail gives amazing views of the coast!
Helicopter tour of Kauai
Mountain tubing in Kauai
Day 1: Beach day
Pick from the Best Beaches in Kauai
After the long flight over the Pacific to get to Hawaii, you need a day to sit and soak in the sun. I'd recommend hitting a local beach to relax for the day. Our favorite beaches in Kauai were Anini Beach, Poipu Beach, Hanalei beach and Salt Pond beach. Remember to grab your water shoes as some beaches may be rocky!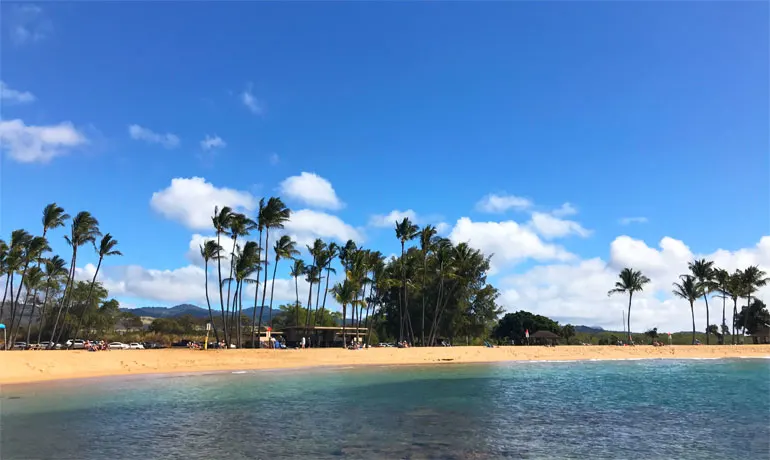 Salt Pond beach is highly rated and a great spot to grab lunch for a picnic. We witnessed the most sea life on this beach. A seal was sunning himself on the beach, crabs crawling on the rocks and even jellyfish washing up on shore. This was one of the only public beaches we went to that had a lifeguard on duty, which would be great if you're traveling with kids.
We saw the most surfers at Hanalei beach, but it could have been because it was quite windy and a bit stormy when we got to this beach. The waves looked fun to ride for experienced surfers. Hanalei beach is also where you'll find the iconic boardwalk in a picturesque Hawaiian beach setting.
We loved Anini Beach because it was a large stretch of sand with few visitors. If you go all the way to the end of Anini Road, which that leads you to the beach, you'll find a really large coral shelf which stops the big waves from hitting the sand.
The shelf in the ocean floor creates a large, lake-like effect in the ocean with very light waves making it all the way to the shoreline. It's a nice break from the waves and a great spot to enjoy if you're traveling with kids.
Check out a full Kauai Snorkeling Guide here
Poipu Beach is a white sand beach with beautiful teal water. It's a popular destination since the south side of the island typically gets the most sun. Poipu Beach attracts locals and tourists alike. In the evenings you are likely to catch Hawaiian Monk Seals, which are critically endangered. They love to sleep on Poipu beach.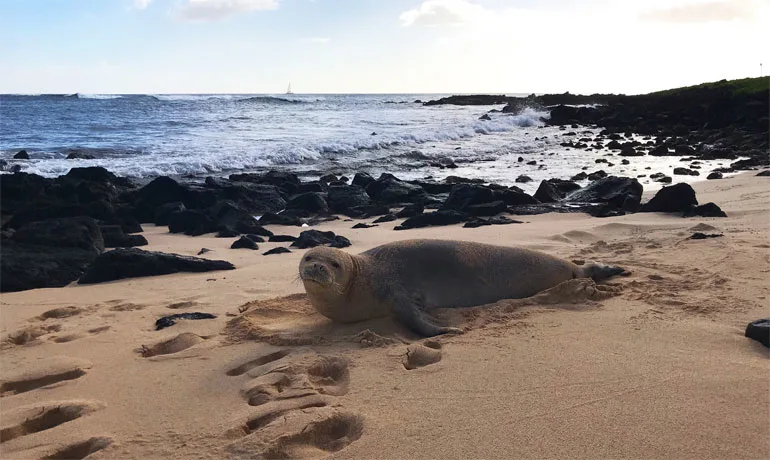 Things to take to the beach in Hawaii with you:
Related reads:
10 Tips for Your Best Vacation Ever
Why Taking Vacations Makes You Happier
Day 2: Hiking Kauai: Waimea Canyon
You could actually spend an entire week (or more) hiking Waimea Canyon, experiencing a new part of the canyon each day. But for a shorter stay on Kauai, make sure to pick a day when it's not raining and head over to the canyon for unforgettable views and a hike you'll remember forever.
Before you hike, drive up route 550 and stop at lookouts all along Waimea Canyon. Take a deep breath and take in the sight of the vast canyon. It's truly incredible! You can grab some fresh island fruits and banana bread or other treats at various stops, too.
The Na Pali Coast is just on the other side of Waimea Canyon in Kauai, so I'd recommend driving the entire way up to Kalalau Lookout in Koke'e State Park, to overlook the Na Pali Coast. As you stand above the clouds and see the deep ocean blues, the red, green, purple and orange of the cliffs, you'll seriously wonder if this is the most beautiful sight you've ever seen.
Grab a hiking trail map at Koke'e state park, and ask the guides which trails are safe to hike, as it varies based on the season and weather. We went during an especially rainy season so every hiking trail in Waimea Canyon and Na Pali Coast was muddy – so be prepared!
The map will tell you the duration and intensity of each hike so you can pick your trail accordingly. Some of the hikes can be extremely treacherous so trust the guides and map and don't get in over your head.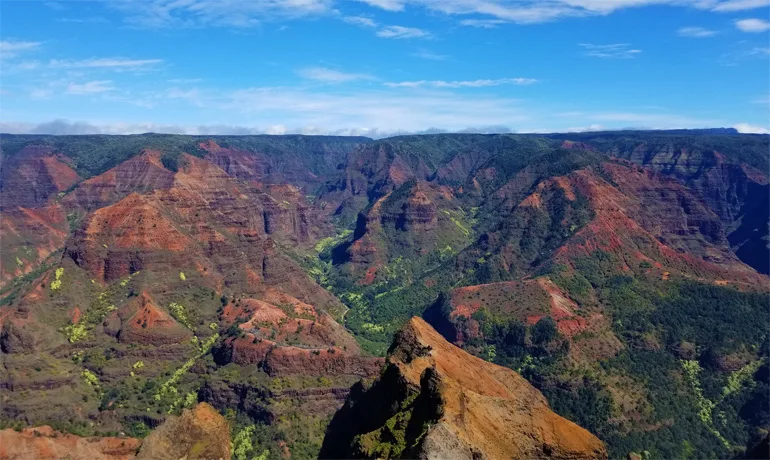 We hiked the Waimea Canyon Trail down to the top of dual waterfalls, which was a very intense and difficult hike. It took us about three and a half hours total, and was a steep, muddy trail.
It's the kind of hike that challenges your leg muscles and reminds you what you're there for. Once we came to the clearing and saw the Waimea Canyon and its vivid colors, it was all worth it. The dual waterfalls were just a bonus to the incredible view!
Read all the details of the Waimea Canyon Trail Hike here
Things to take with you:
Hiking shoes (these are so comfy, water resistant and perfect for hiking)
Bottled water (you'll need more than you think – it gets hot in the canyon)
Bug spray
Lunch
Camera
Layers of clothing for changes in weather
Backpack (I love this lightweight one – durable and folds down for luggage space)
Day 3: Whale watching in Kauai (during season)
I'd highly recommend traveling to Hawaii during whale season! I've been to Hawaii three times and my most recent trip I traveled during whale season. The large, majestic creatures breed and play in the warm Hawaiian waters between December – April with the peak months being January and February.
If you're lucky you'll catch views of humpback whales in Kauai from the shoreline. There were several days and nights when we saw them out in the deep blue ocean from the beach. But to catch the best view, book a whale watching tour where you'll go out in the deep waters to see the large beautiful whales closer up.
Hawaii state law requires boats and tourists to get no closer than 100 yards from the whales to give them their space. We saw whales breaching out of the water and slapping the water with their pectoral fins.
Our whale watching tour also spotted two pods of dolphins, which played and swam alongside the boat. That was a bonus for our whale watching tour!
Things to take with you:
Day 3 alternative: Snorkeling in Kauai
If you're not traveling to Kauai during whale season, an alternative is to snorkel until your heart is content. Hawaii is a prime snorkeling destination, including Kauai.
Tunnels beach on the north side of the island is perfect for snorkeling in the summer and fall. The winter and rainy season may create waves too large for snorkeling here. Sea turtle sightings are common while snorkeling at Tunnels beach.
Lawai Beach on the south side of the island is one of the most popular snorkeling destinations in Kauai. It can be crowded, but there's ample parking. The beautiful coral reef hosts colorful fish, just be sure to stay within the reef.
Things to take with you:
For a complete Hawaii Packing List, visit this post.
Day 4: Hiking Kauai: Maha'ulepu Heritage Trail
This was one of my favorite days on Kauai. It's an easy hike in Kauai that you could do it in flip flops, but would probably be more comfortable in shoes or water shoes. The trail is about two miles long, but you definitely get great views without going the whole way.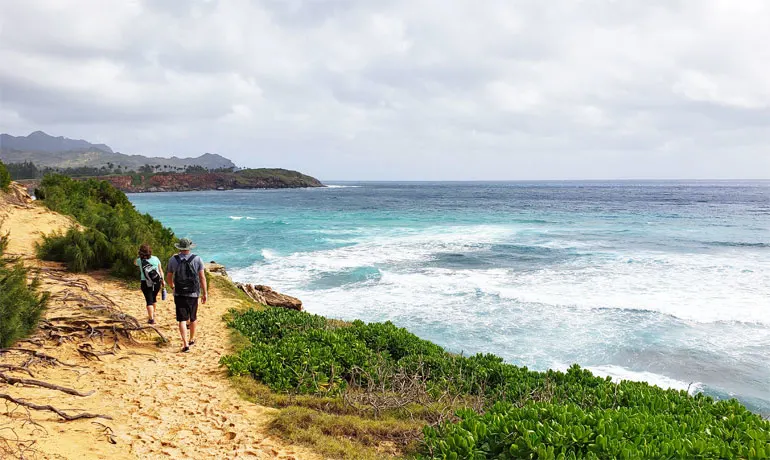 Park at Shipwreck Beach, and look for the opening in the trees, near the cliff. There's the start! The trail goes up the cliff and along the coast. The path doesn't really have signage or guardrails, so use caution.
I loved hiking Maha'ulepu Heritage Trail because every turn there was a new, different view of the coast of Kauai. The waters are deep blue and you can see for miles up the coast or out to the ocean. Enjoy your time by climbing down the rocks to get to the water, soaking our feet in the cool ocean, watching sea turtles and enjoying the view.
We spent just under two hours hiking to the end of the Maha'ulepu Heritage Trail. Our hike back was quicker and it only took us about thirty minutes when we just focused on hiking without all the photo taking. This hike is easy enough to do with kids or inexperienced hikers, too.
Kauai is a hiking lover's dream, and with so many options I liked the Maha'ulepu Heritage Trail because it can be done in a half a day or less.
Hiking the Maha'ulepu Heritage Trail in Kauai is perfect for soaking up all that Hawaii has to offer, as you admire the beautiful coast on the south side of Kauai. After your hike you can also enjoy some swimming at Shipwreck Beach. The sand is soft and the water is bright blue!
Things to take with you:
Check out the full guide on hiking the Mahaulepu Heritage Trail
Day 5: Helicopter Tour of Kauai
Best Way to See Kauai!
Eighty percent of Kauai is inaccessible by car, so a helicopter tour is the best way to see the island. There are several options for tour companies offering helicopter rides to see the island by air. They book up so you'll want to reserve a time a few days in advance.
Note that the helicopters are small so you'll likely get a 4 or 6 passenger helicopter, allowing everyone to experience a great view of the island. However keep that in mind when scheduling large groups.
Our helicopter tour went over a majority of the island, including inside the Waimea Canyon and the cliffs of the Na Pali Coast. The landscape is so lush and green – now I know why they call it the 'garden isle' with all its beauty! I couldn't even count how many waterfalls we went over, I saw so many. The tour also includes a sighting of the famous waterfall from Jurassic Park, Manawaiopuna Falls.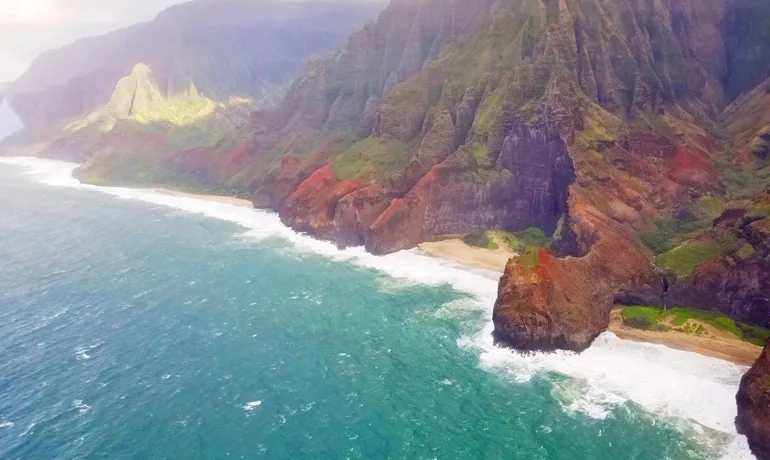 Kauai gets a lot of rain and it was rainy on part of the helicopter tour, but from the air that just meant it we saw a ton of rainbows. And they're so bright when you're flying right through them!
The helicopter also dropped into the Mt Waialeale crater, the rainiest place on earth, getting over 400 inches of rain per year. I was shocked that the rainiest place on earth is in Hawaii!
A couple people in my group got sick on the helicopter, so if you're prone to motion sickness this is probably not the activity for you. However if you can work through it you will get the view of your lifetime!
A helicopter tour can be expensive at over $200 per person, so be sure to add this to your vacation savings plan as you prepare to go on your trip! The helicopter tour on Kauai was one of the most incredible experiences of my entire life.
Things to take with you:
Camera/video camera
Motion sickness remedy
Dark clothing (light clothing and skin reflects on the windows and shows up more in photos)
Read next: Best Places to Eat in Kauai
Day 6: Tubing in the Mountains of Kauai, then Wailea Falls
The tunnels and irrigation tubes of an old sugar plantation makes quite a memorable adventure as you tube down them. Friends, the scenery is straight out of Jurassic Park (quite literally – part of the first movie was filmed here!)
A mountain tubing tour is about 3 hours long, including a short tour of the property and a picnic lunch. The tubing adventure is a great experience if you're looking for things to do in Kauai on a rainy day! It's also a great activity for larger groups, as our tour had over a dozen people in it.
Things to take with you:
Water camera
Bug spray
Swimsuit with rash guard (to protect your skin from the tube)
Sunblock (optional – most of your time is spent in the tunnels)
After you go mountain tubing in Kauai, head up the road to check out Wailea Falls. It's a short drive from the old sugar cane plantation, and an easy trip up to see the waterfall. The waterfall isn't accessible by foot, but there's a large overlook to check out the falls. My favorite part was the constant rainbow coming from the mist off the falls.
Read next:
20 Things to do in Maui on a Budget
Hawaiian Island Quiz: What's the Best Island for You?
Day 7: Pick one more of these things to do in Kauai!
Kilauea Lighthouse
Tour the century-old lighthouse, while taking in panoramic views of Kauai. The Kileuea Lighthouse is on the northern part of the island, so you could pair it with a trip to Hanalei Bay or Tunnels Beach.
Kayak and Hike to Secret Falls
This one you can do on your own or with a tour guide. You'll rent a kayak and head over to the Wailua River. You'll park the kayaks on the shore and hike up to Secret Falls (also known as Uluwehi Falls).
We unfortunately didn't get to experience the Secret Falls (planning it for the next trip to Kauai though!) My friend and fellow travel blogger, Leah of An Adventure is Calling got to experience this adventure on her last trip to Kauai.
Kayaking Tour of Na Pali Coast
The Na Pali Coast is on the northwestern part of Kauai so the waters can be too dangerous for kayaks or catamarans during high winds. When the water is calm you'll get an absolutely gorgeous view of some of the most famous cliffs in all of the world, with a front-row seat! Take a kayaking tour or book a catamaran ride out to the iconic cliffs of the Na Pali Coast.
Read next: Hiking the NaPali Coast via the Kalalau Trail
Kauai is a dreamy island with natural landscapes and is one of the best adventure vacations in the US. The island's beauty has been captured by Hollywood countless times, yet it's small-town vibes are laid back and genuinely humble. Kauai is not the Hawaiian island to go to if you're looking for high-end shopping. But if you're looking for adventures at every turn, you've found the right place!
I hope you found this list of things to do in Kauai inspirational for your next trip. Whether this is your first trip to Hawaii or you're coming back for more, the Hawaiian islands never disappoint!
Comment below with what you would look forward to the most on a trip to Kauai! 🙂