Up for an adventure so incredible it feels like it's out of this world? Then visiting Tikal in Guatemala has to be on your list of things to do in Central America! Tikal is an incredible archeological site and one of the most impressive ever built.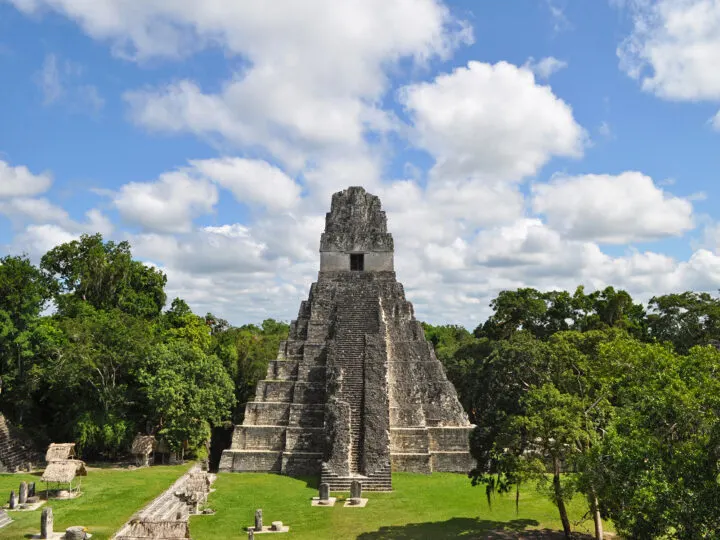 This post may contain affiliate links. For more info, see my disclosures.
So maybe you've heard of Tikal, but you might be asking…
Is Tikal worth it?
My answer is absolutely! It's truly an impressive place. I recently visited Tikal during my trip to Belize and I'm so glad I took the day to see this great Mayan city.
When you get to Tikal, you'll feel like you just stepped into a scene of a Jurassic Park movie. Or Star Wars. Oh wait – that's already been done! A scene from Star Wars: Episode IV A New Hope was filmed in Tikal.
Visiting the Tikal ruins is an experience you won't soon forget!
Getting to Tikal
Tikal is located in the northeastern part of Guatemala in the Peten Provence. Whether you're taking a day trip from Belize to Tikal or staying in Flores and doing a sunrise tour, you really can't go wrong.
Tikal National Park is huge with lots to explore! It covers 222 square miles so even after you reach the park entrance, you'll have another 15-20 minutes of driving to get to the parking lot.
Here's a map of Tikal in relation to the location in Guatemala:
You'll park and see restaurants and a few small shops. You could buy some water or a hat or something for the day. I'd recommend saving any big shopping until you're done exploring the park so you don't have to carry extra stuff around with you.
Map of Tikal
A map of Tikal doesn't come with your entry fee, so be sure to buy one at a little shop if you want one. Like this one: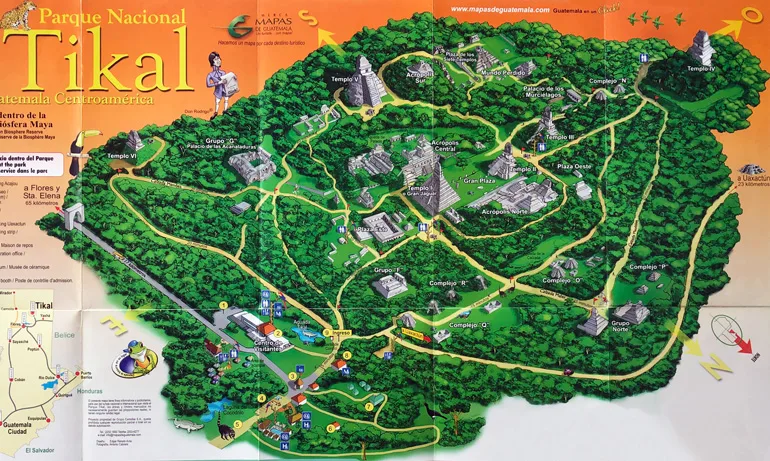 Shortly after you park, you'll see a large sign with the map of Tikal. It's a huge place, and the main attraction in the park is the Grand Plaza and a few of the temples. Those main areas are on the map, and that's where you'll most likely be spending your time in the park.
Getting around Tikal
Get ready for a lot of walking around the Tikal ruins! After you park, you'll probably be on foot most of the time.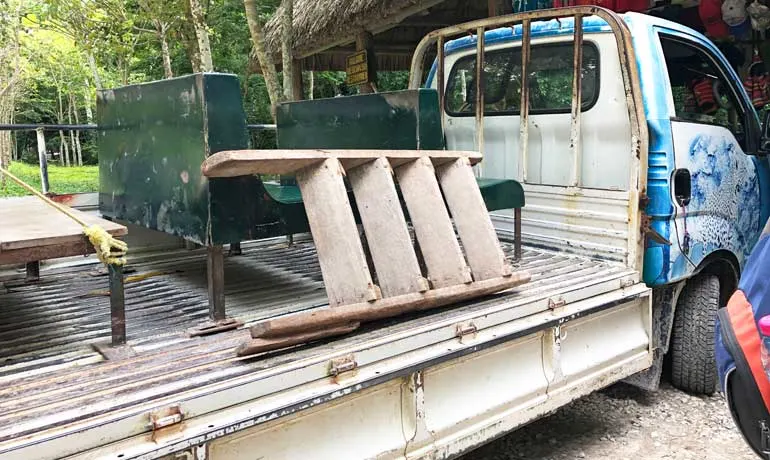 As we walked along we saw little pick-ups with seats in the back of them carrying passengers. At one point our guide decided to ask the driver for a ride for our group to get us past the bulk of the walking. The ride allowed us to get to the fun part faster, so was much appreciated.
Twin Pyramid Complexes at the Tikal ruins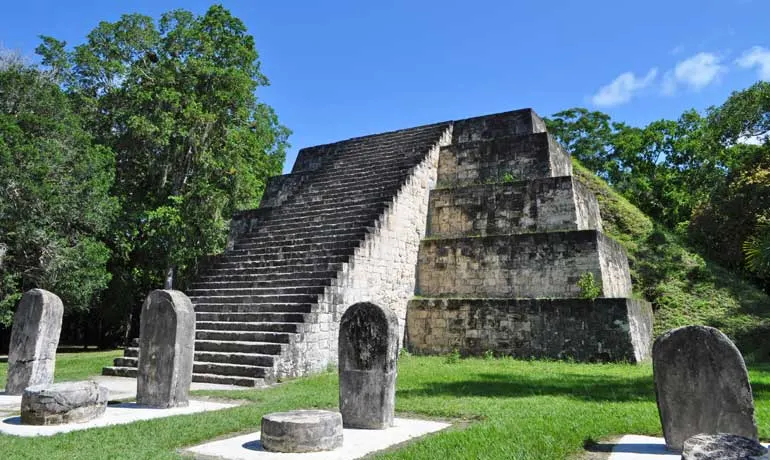 Coming in the main entrance, one of the first archaeological structures you'll see when visiting Tikal is the Twin Pyramid Complex. Rounding the corner of the complex, you see the back of Pyramid Q, which was covered in vegetation so just looked like a hill from behind.
It was super cool to stand on top of the pyramid and see other structures in the distance. Just in front of the pyramid sat these 7 huge stones. The Mayans used them as platforms for sacrificial offerings to the gods.
By the way, this is where I first started to feel the Central American sun for the day! Sidenote: bring sunblock!
Grand Plaza in Tikal
The main attraction in Tikal is the Grand Plaza. It's where Temple 1, Temple 2, the North Acropolis, Central Acropolis and a ball game court is. So basically, it's the center of the powerful city of Tikal.
The Grand Plaza is where religious events occurred. And honestly, it's the most impressive part of Tikal. You'll probably spend most of your time visiting Tikal in the Grand Plaza.
Tikal Temple 1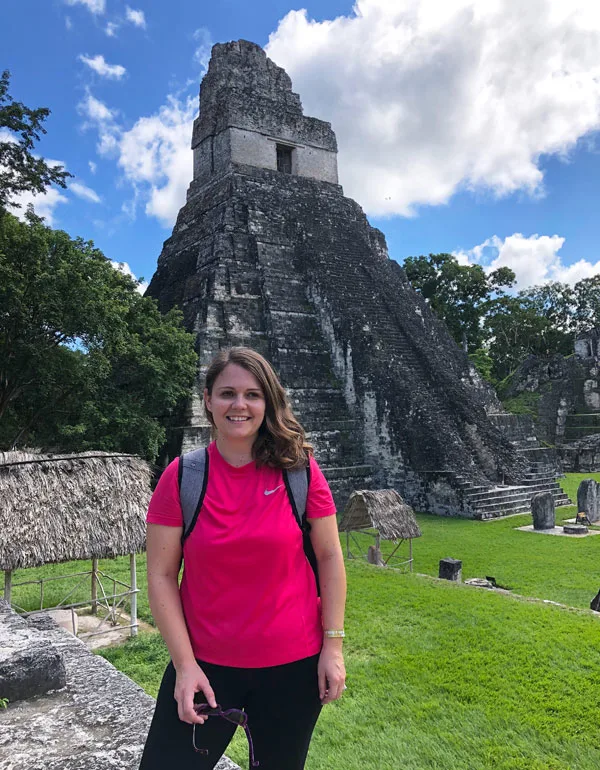 The most iconic photo when you google Tikal ruins is Temple 1. It's off-limits to visitors to climb, but you can marvel at its significance from many spots within the Grand Plaza.
On my visit to Tikal, my guide told my group that Temple 1 is known as the temple of the great jaguar. The 26th ruler of Tikal, Jasaw Chan K'awiil, was one of the most powerful rulers of this ancient Mayan city. He ruled the city between 682–734 AD. His tomb was found in Tikal Temple 1.
It's referred to as the great jaguar because his body was found with jaguar skins. Our guide said when the archaeologists found his body, he measured at over 6′ tall. Which is extremely tall for the Mayan culture at the time, signifying great power.
Also, he was found buried with 12 pounds of jade, which is absolutely incredible for the year 734 AD.
Visiting Tikal: climbing Temple 2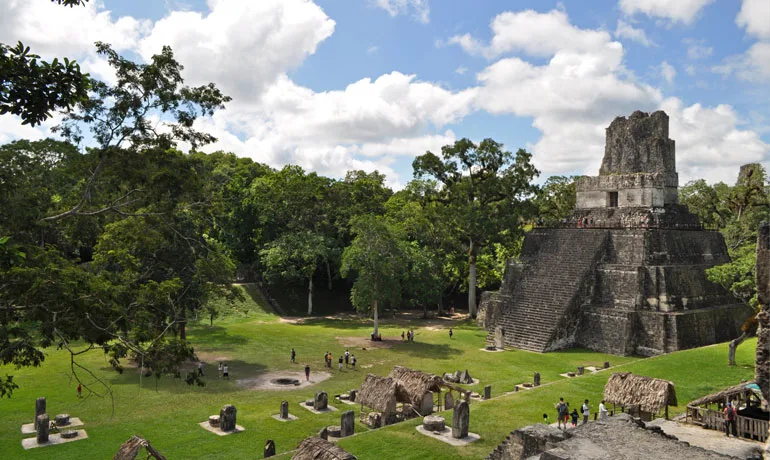 Temple 2 in Tikal has a wooden staircase built on the backside of it. You're climbing the equivalent to a several story building, so the handrails help! 🙂
As the story goes, Temple 2 was built in honor of Jasaw Chan K'awiil's wife as her tomb was discovered there.
It's maybe not fair to say that the most impressive part of climbing Temple 2 is the view of Temple 1, but that's probably true for most people. Temple 2 does have some really impressive carvings toward the top of it.
There's a wooden platform that goes toward the front of Temple 2, which is the perfect viewpoint to see Tikal in all it's glory…and take your Insta-worthy pic.
It's an excellent spot to view the entire North Acropolis as well. I spent some time admiring the significance of this incredible ancient city. You can see the entire Grand Plaza and just imagine the activities that took place over a thousand years ago.
As you exit Temple 2, you'll be able to look in the opposite direction of the Grand Plaza and see the tops of temples 3 and 4, too.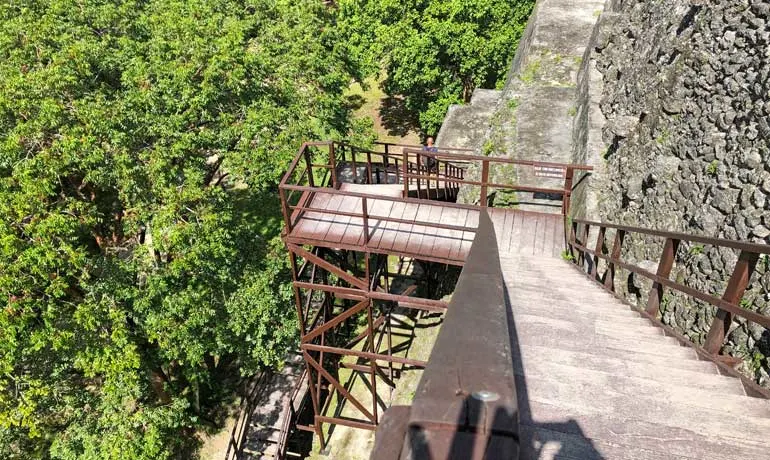 On a related note, if you have another day to explore ancient Mayan Ruins, a trip to Xunantunich in Belize is totally worth it! It's located about 2 hours southeast of Tikal. It's a smaller city and has way less crowds!
Visiting Tikal: exploring the North Acropolis
I honestly probably had the most fun exploring the North Acropolis in Tikal. There's several areas to climb and around each corner it feels like you're discovering this famous city all over again.
The North Acropolis is significant to the city because it's 1000 years old, and is the cemetery for the rulers of Tikal. Many royal tombs were discovered there.
I especially liked the large mask built into the side of one of the structures. The mask is of Chac, a rain god to the Mayans.
Must do at the North Acropolis: check out the mask. It's sheltered by a grass canopy which helps to prevent erosion.
Related reads:
Is travel insurance worth it? Your guide to decide
Best budget travel tips (so good you'll want to try them now)
Central Acropolis in Tikal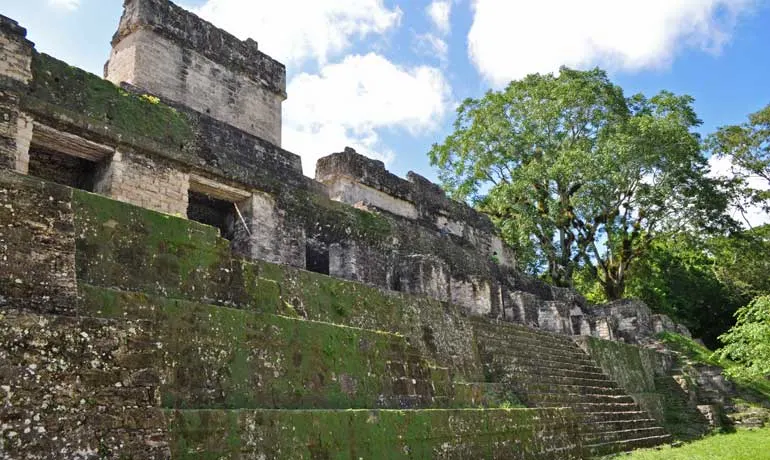 Full of wonder, walking the steps of the residential area in Tikal was a cool experience. The Central Acropolis had several rooms and areas to explore.
My favorite part? Hearing the echoes of a clap while in standing on the Central Acropolis. The ancient Maya designed their buildings so you could hear people talking from far distances. So mimicking how a ruler would talk to his people, you can clap and hear it echo over and over, which was really cool.
Temple 3 in Tikal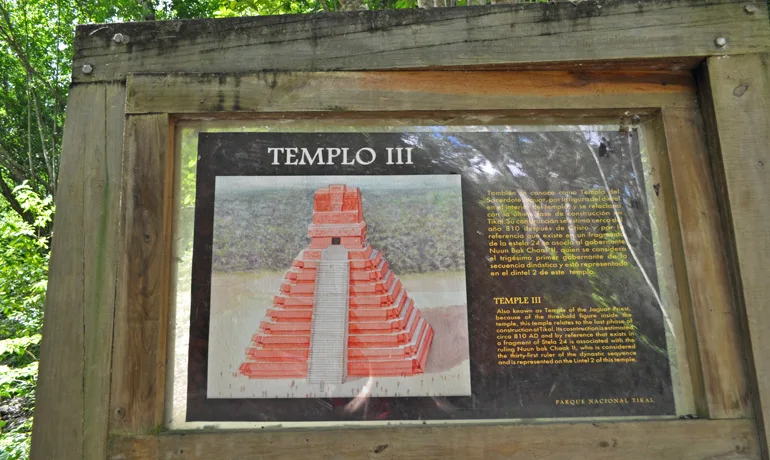 Visiting temple 3 is pretty simple. You can only see the very top part of the temple sticking up above the treetops. The rest of it is hidden under vegetation.
So at ground level, it just looks like a hill!
Tikal Temple 4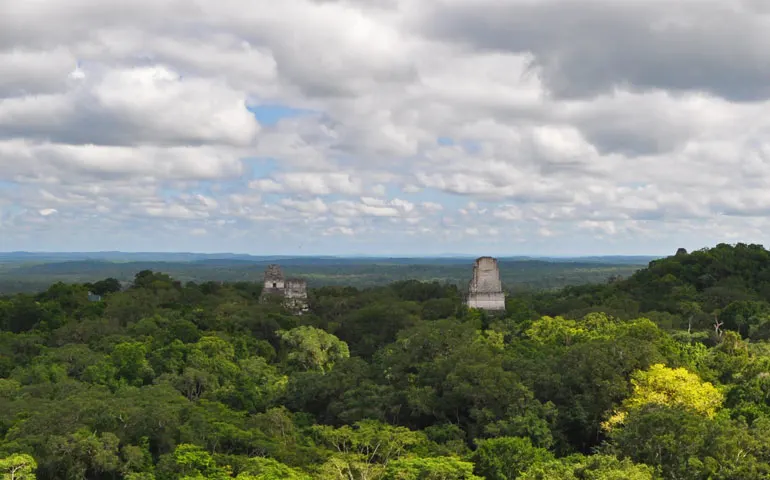 Walking another stretch past the Grand Plaza (and past Temple 3) is Temple 4. A similar story to Temple 3 in that not much of Temple 4 is excavated. However, the cool thing about Temple 4 is that there's a staircase to climb up to reach the top.
And when I say staircase, it's massive. Tikal Temple 4 stands 70 meters high, or 230 feet. That's taller than a 10 story building. So get ready to sweat, ok?
After the climb, you can catch your breath while hanging out at the top steps on an archeological wonder. At the top of Temple 4 you can see the tops of Temples 1, 2 and 3.
The jungle is so dense in this part of Guatemala that you're really only seeing the very tops peeking through the forest canopy.
Tikal Temple 5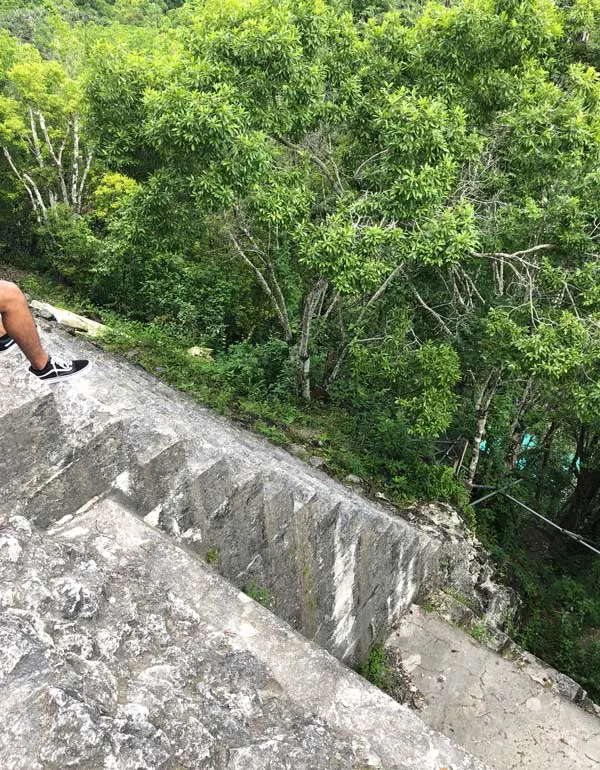 When visiting Tikal, you're probably there for a limited amount of time. At least compared to all there is to do! So many people don't venture over to Temple 5 because it's not in the main pathway with the other temples.
However, because of this it's less crowded and worth the trek. Temple 5 is the second tallest of all the Tikal ruins, and you can climb it!
I'll warn you though, it's a super steep climb. There's wooden steps built next to the original steep limestone steps. However the wooden steps resemble a ladder more than steps, so it's definitely for adventure seekers!
Temple 5 is believed to be a burial tomb, but experts are not sure who was buried there. Tikal is such a mysterious place!
Tikal National Park is huge! For the purposes of this article, I'll move on to other things you need to know for your visit to Tikal.
10 fun facts about the Tikal ruins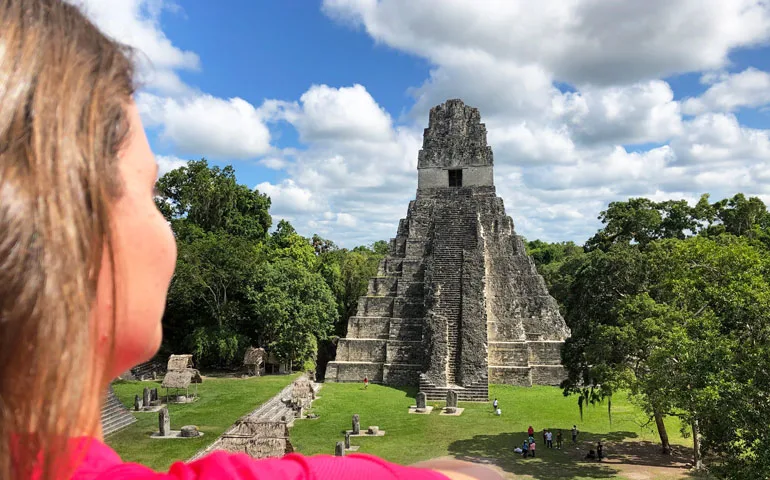 I loved exploring and learning all about Tikal. Here are the most interesting facts I learned during my visit:
Tikal is a designated UNESCO World Heritage Site
There's over 4000 structures in Tikal National Park.
Historians believe that Mayans lived at Tikal as far back as 1000 BC. However, the majority of the structures were built between 250 – 900 AD.
An estimated 100,000 Mayans lived in the city of Tikal.
Most of the structures in Tikal are under "vegetation" meaning they're not exposed, but instead covered in dirt, shrubs, trees, etc. The exposed pyramids, temples, acropolis', etc. were all dug up before 1979.
All the buried structures will remain buried forever. The exposed structures are deteriorating and maintaining them is difficult. Weather and people are causing erosion so they don't want that to happen to the other structures.
Tikal was one of the most powerful kingdoms of the ancient Maya.
The stone used to build this incredible city was limestone.
The difference between a pyramid and a temple is that the pyramid is flat on the top versus a temple has a shrine at the top.
Things to take to Tikal
Walking around Tikal, you're going to want to pack light. Central America is very hot and humid. Layer in the sun and climbing ancient Mayan structures, and you're going to be tired of lugging anything around.
Here are some things to take to the Tikal ruins:
Sunblock and hat
Bug spray (seriously – don't skip this)
Bottled water! Even better…freeze a bottle or 2 overnight to have cold water with you all day.
Selfie stick with tripod (this one's my fave!) or other camera and best camera backpack
Portable power bank and cord if you're planning to take lots of photos (and/or have a drive to get there)
Walking shoes. Don't try sandals…just don't!
Backpack or over-the-shoulder purse. You don't want to have to carry your map, sunblock, bugspray, phone etc. in your hands the whole day.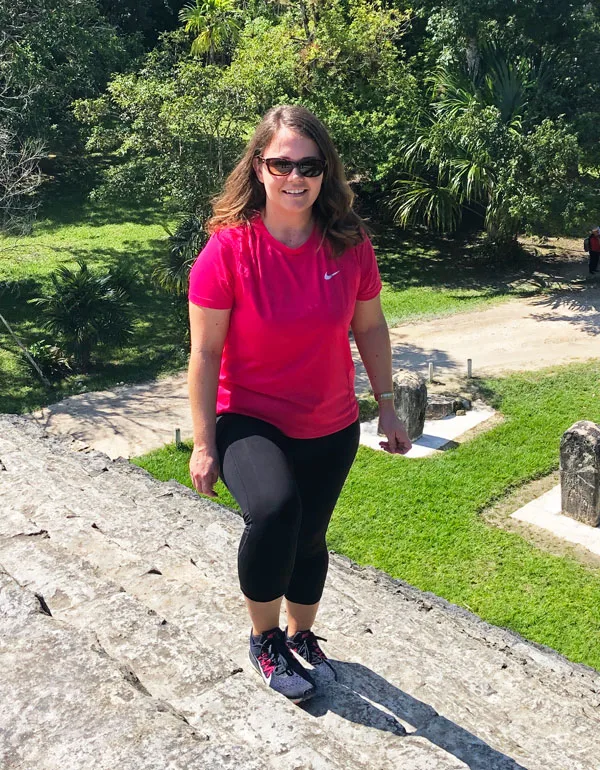 Read next: How to Visit Belize on a Budget: Money Saving Tips and Tricks
Tips for visiting Tikal
A few more notes for your trip to Tikal…
The steps of the pyramids and temples are steep! Take it slow as you climb up or descend. If you have kids with you, be extra careful and aware of what they're doing.
Best time of year to go to Tikal
It rains a lot in Guatemala, so avoid rainy season. Pretty sure visiting the Tikal ruins just wouldn't be the same in the rain!
So go between November-March as it's the dry season. December-February is the peak tourism season, so visiting in November or March would be ideal.
Cost of visiting Tikal National Park
The entrance fee is 150 GTQ or about $20 USD. Although if you book a tour to Tikal, it's likely included.
Eat in Tikal
After exploring Tikal for the day you'll be starving. If you're going as part of a Tikal tour, your lunch will likely be included. There are a couple of restaurants within the park that are reasonably priced. Check out Tikal restaurant reviews on Trip Advisor.
Expect traditional Guatemalan food like fried plantains, rice and beans and your choice of meat. Oh, and the corn tortillas are to die for! So good.
Okay so you've heard all about Tikal, seen a map of Tikal, the best pyramids and temples, interesting facts and more tips for Tikal. But a surprising bonus to your day might just be the wildlife at Tikal!
Interesting nature and wildlife at Tikal National Park
As you walk around the Tikal ruins, you'll see tons of wildlife. After all, you're in the dense jungle region of Central America! Here's a few to watch out for.
Ceiba trees at Tikal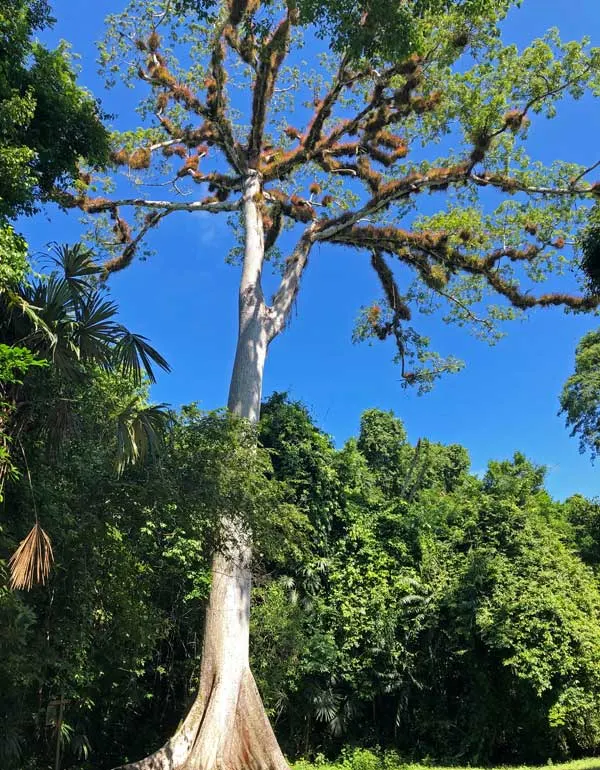 One of the coolest trees, and the most culturally significant to the ancient Maya is the Ceiba tree. They tower over other trees as they're fast growing. Looking up, the trees almost look like they have hair growing from them.
Our guide told us that the Maya believed the roots of the tree reached the underworld. The trunk was the middle world, where humans lived. And the branches were a symbol of the heavens.
Monkeys hanging around the Mayan ruins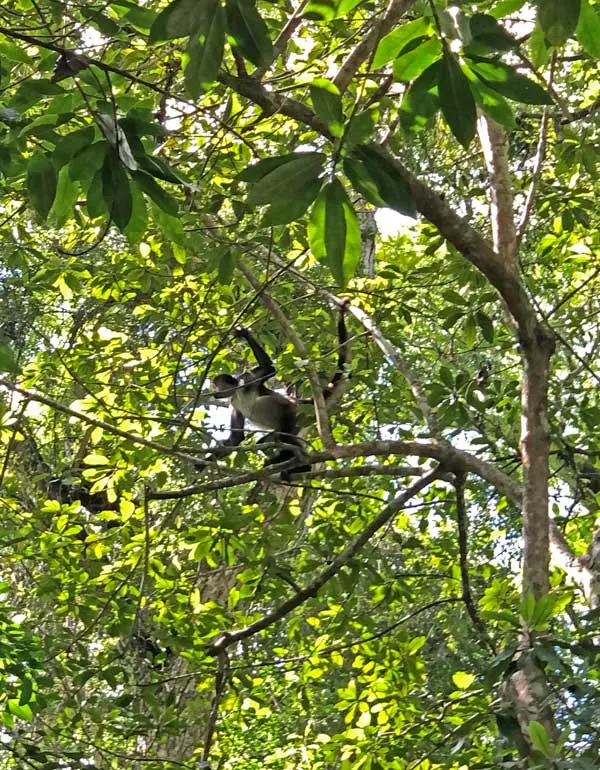 While visiting Tikal, I saw quite a few monkeys in the treetops above! Howler monkeys were loud and proud yelling from up high. And the spyder monkeys were swinging fast from branch to branch, like they were putting on an acrobatic show.
Word of caution: don't linger directly underneath the monkeys. They're used to tourists and I've heard they like to poo right on a group of people!
Coati in Guatemala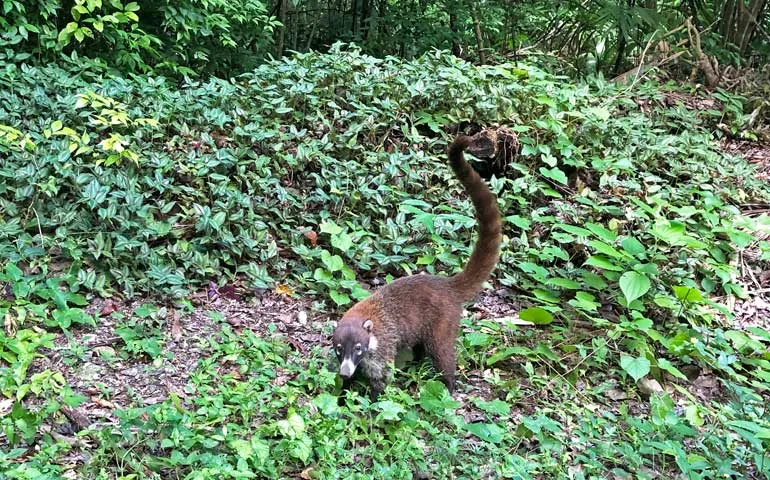 These little guys are fun to watch! They're related to the raccoon family, and love to forage through the dirt for insects. They travel in packs and are probably what you'll hear rustling in the bushes.
At one point I was walking down a path and turned around to a pack of about 30 coatis following me. They're curious, fun and not afraid of people.
What to do in Tikal (now you know!)
I've traveled to destinations all over the world, and Tikal is a place I'd definitely go back to. It's full of adventure and history, excitement and mystery.
I hope you've enjoyed this guide to the Tikal ruins, and that you make it there very soon!
Find this post helpful? Save it for later or share it on social media!