You found it! The perfect mix of adventure and history within the jungle of Belize. Xunantunich Mayan Ruins is an ancient archeological site, and one that you absolutely must visit to learn the past and soak in the rich culture of this beautiful country.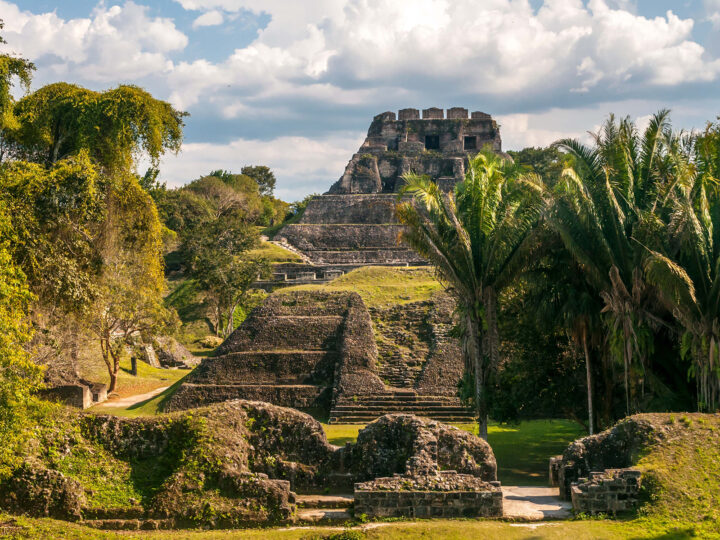 This post may contain affiliate links. For more info, see my disclosures.
Xunantunich is the tallest Mayan ruins site in Belize, located on the very western edge of the country, close to Guatemala. I visited this amazing site on a budget trip to Belize, and it's a really fun adventure!
This guide will cover everything you need to know about visiting Xunantunich Mayan Ruins, from how long it takes to explore, the best way to see it, exact location, what to do nearby and so much more.
Let's dive in!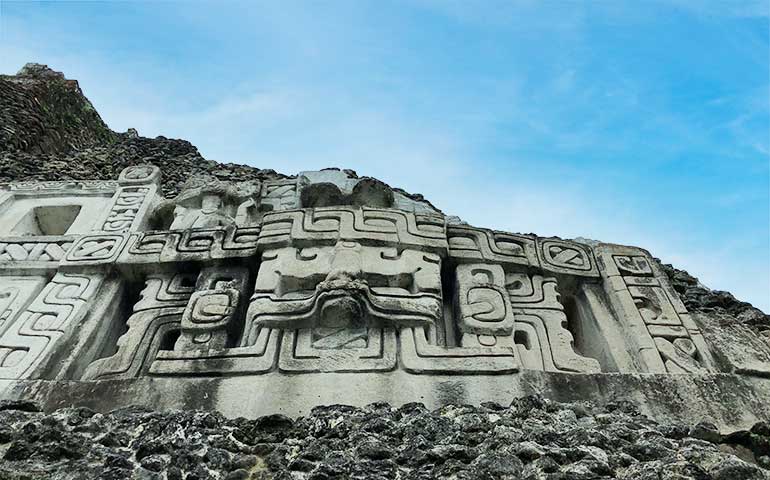 Xunantunich Mayan Ruins quick guide
Location: Xunantunich Access Rd, San Jose Succotz, Belize
Recommended stay: 2-4 hours
Hours: 8am-5pm daily
Best known for: the site's largest temple, "El Castillo"
Tour guide: highly recommended (find one here)
It's one of the best things to do in Belize, and an adventure you won't forget!
What does Xunantunich mean?
If you're an English speaker or have limited knowledge of Mayan history, you may not even know how to say the name of this place. Don't worry! I didn't either until I hired a guide!
Xunantunich translates to "Stone Lady" in the Yucatec Maya language. More about the importance of this in a little bit.
To pronounce it, thinks of the 'xu' as 'shoe' and the rest just flows into place.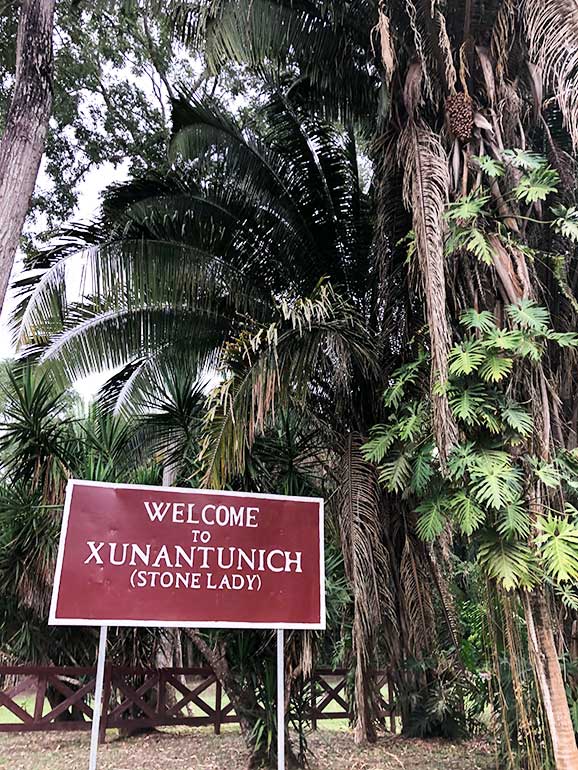 Feeling better, right? Let's dive into the history next!
Xunantunich Map
If you're a visual person like myself, this map will help you see where Xunantunich is located within the country of Belize. I've also added a marker for Belize City (east coast) and Placencia (southeast city) for easy reference.

And if you're looking for a site map of Xunantunich Archaeological Reserve, here's a photo of the map and layout. This includes the visitor center, plazas and other sites with historical significance.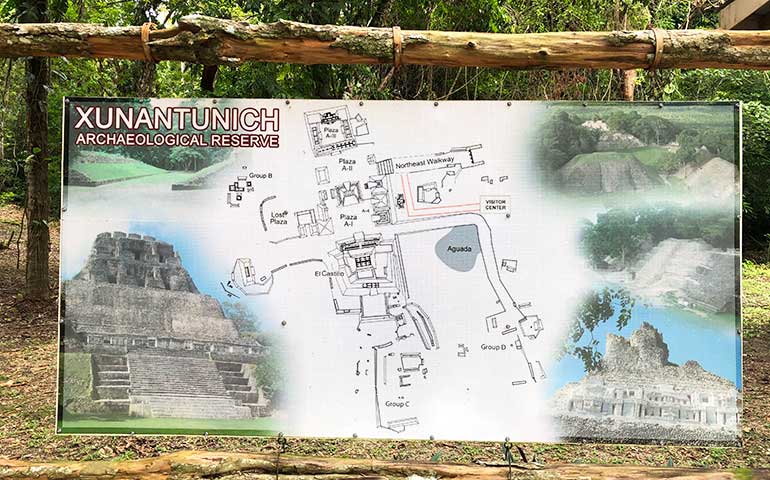 Getting excited yet? Let's keep going!
How to get to Xunantunich Mayan Ruins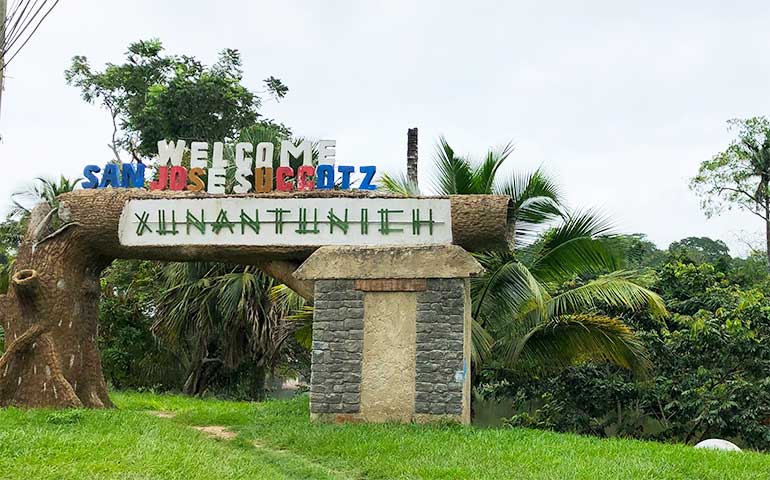 The largest city near Xunantunich is San Ignacio, and is about 30 minutes drive. If you're looking for a place to stay nearby, that's a great town with hotels and vacation properties, with quick access to the Mayan ruins.
Alternatively, Xunantunich is about 2.5 hours drive via car (80 mi/125km) from Belize City. If you have a rental car you can drive there yourself! Being from the US, it's very easy to drive in Belize and that's what I did!
And by the way if you need to rent a car in Belize, I highly recommend the discounted rates on Discover Cars. I routinely save 10% – 30% on rentals (using the most reputable car carriers)!
Or when you book a tour of Xunantunich, it will include a ride.
Crossing the Mopan River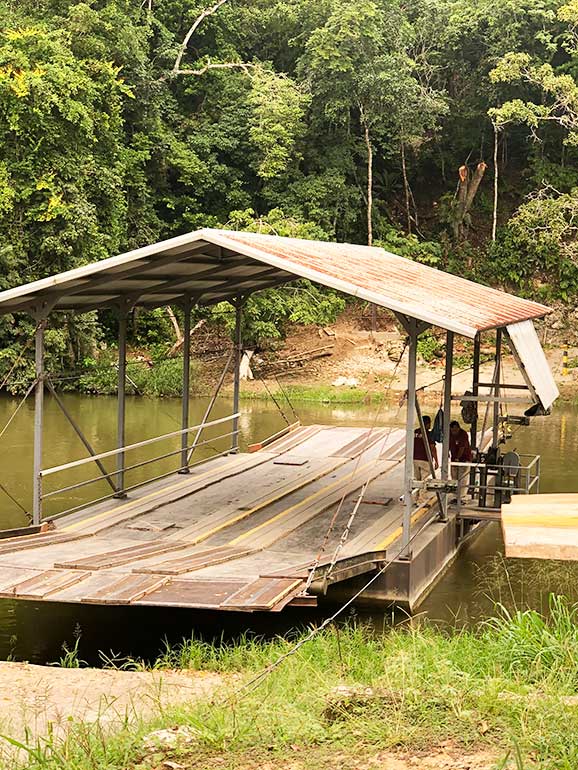 Part of the adventure of this archeological preserve is crossing the Mopan River. Whether you're driving yourself or taking another form of transportation, you'll need to use the Xunantunich Hand Cranked River Ferry.
And – it's exactly what it sounds like! You'll drive your car onto a ferry which is operated by 2-3 people, who will take you across the river. The whole thing takes just a few minutes and is quite fun, especially if you don't typically get to use a ferry.
Pro tip: it's not required to tip the workers, but it's customary to do so. A $10 tip should do it!
Xunantunich Tours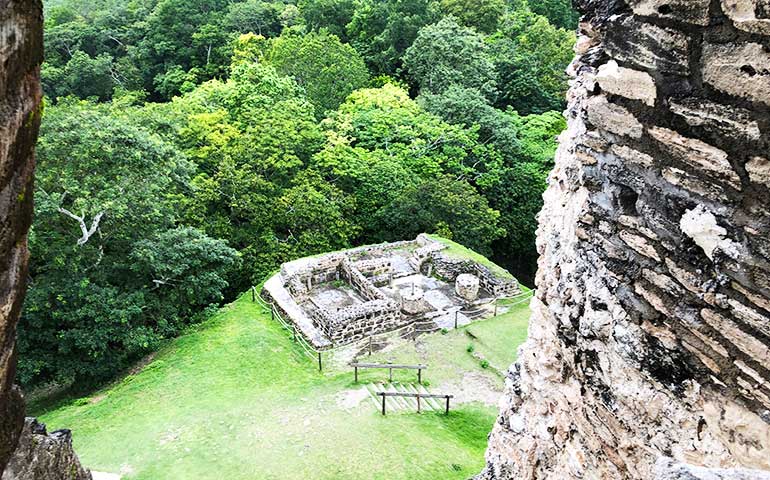 Real quick – if you really want to learn the most about this amazing site, you'll want to book a tour. I used a tour guide and I'm so glad I did! He told me all kinds of interesting facts about the Mayan Ruins of Xunantunich that I wouldn't have heard otherwise.
Many of the facts within this guide are from the knowledgeable tour guide!
Book a Xunantunich tour in advance to secure your spot. During peak season (summer and January/February), tours will sell out so be sure to reserve your time.
Just be sure to tip your tour guide, too.
History of this Mayan city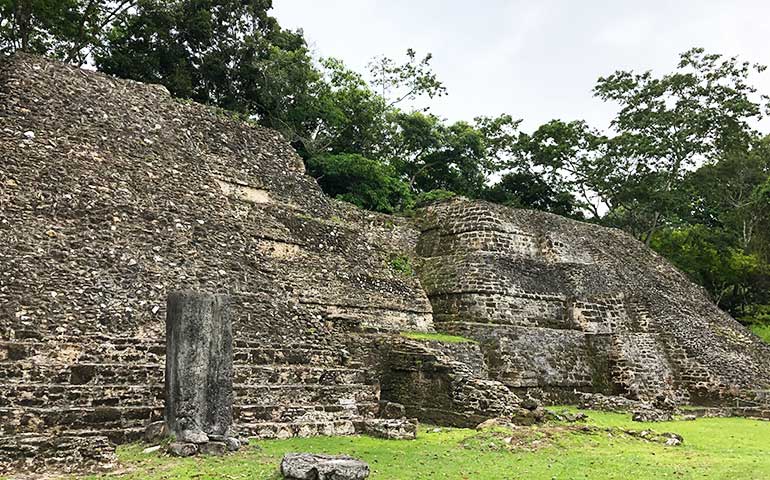 Diving into the history of Xunantunich Mayan Ruins, it's got a little bit of a rocky one…but so many of these ancient cities do!
The exact date of Xunantunich's discovery by western civilization is unknown. The first site reports were made by a British Governor, Sir Alfred Maloney, in 1881 and British medical doctor, Thomas Gann, in 1894. Further documentation reported that residents of San Jose Succotz performed rituals here, indicating it was a sacred place.
Xunantunich is located in the Belize River Valley, which is home to several other medium-sized Maya Kingdoms. Often, these kingdoms were under control by one of the larger cites, such as Caracol, Calakmul, Naranjo or Tikal.
Because Xunantunich was perched on the river, it had the ability to control trade and the movement of goods, which allowed it to become more powerful.
Although a smaller footprint than nearby enemies, Xunantunich had victories over Caracol and Tikal during wars in 552 and 562 AD, respectively.
Xunantunich was at the top of it's fame in 800-900 AD, when many other cities in the area were declining. It's estimated the city was abandoned over 1,000 years ago.
By the way, if you're looking for another ancient city to visit, I highly recommend a day trip from San Ignacio to Tikal in Guatemala.
Archeology details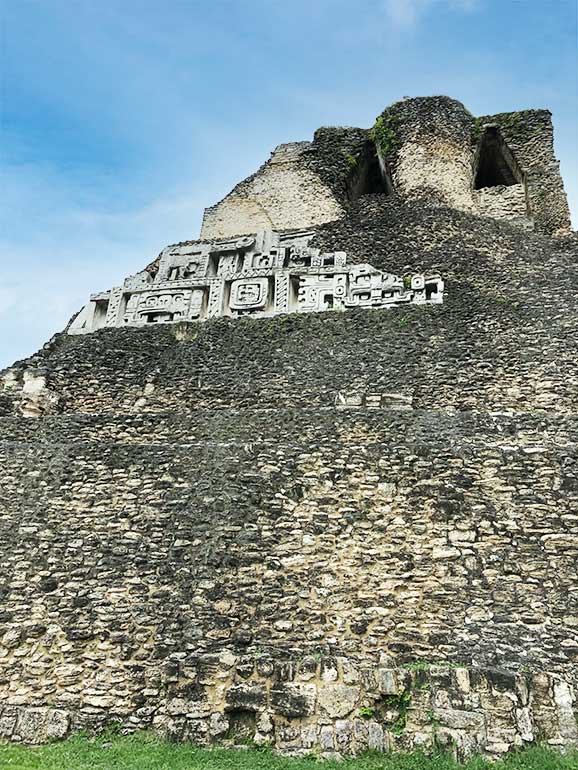 Like many Mayan cities, Xunantunich is an archeological wonder! And although it's been studied for over 130 years by modern archeologists, there's still a lot we don't know about this place.
El Castillo, the largest temple, is actually solid on the inside. There's only a small area near the top that has doors and hallways to walk through. More about El Castillo in a bit.
Only a small portion of the city has been excavated. Xunantunich has 6 plazas and 32 structures. It's large enough to house an estimated 20,000 people in it's prime!
Fun fact: as you're walking on the plaza, you're actually standing on 6 layers of plazas below you, too!
It took the Mayans 300 years to build Xunantunich!
The temple, "El Castillo"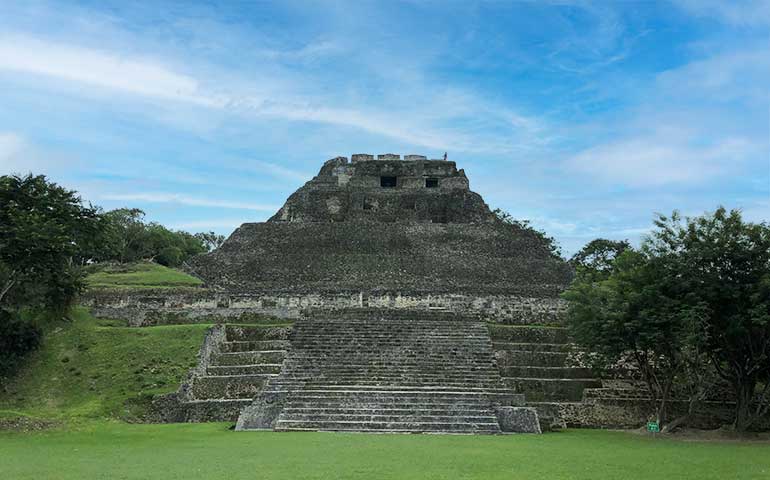 The shining star of this archeological preserve is El Castillo, Spanish for 'the castle.' It's the second-largest building in Belize.
The pyramid demands your attention as you walk into the main area and plaza. It's believed the pyramid was used as a shrine, dwelling and meeting place for the most elite rulers of the city. The top was used for star gazing, speaking and sacrificial events.
With 4 sets of stairs leading up to the top, visitors can climb the ancient stairs to oversee the plaza.
My guide in Xunantunich said the ancient rulers would stand on the top and talk down to everyone during announcements and ceremonies. The entire city was built for the sound to reflect and bounce off the structures, allowing those in power to project their voice easily.
Pro tip: if you arrive early and have the place to yourself, one person in your party can stand at the center of the plaza while the other climbs to the top. Test this theory as it did! It gave me chills!!
Standing at the top of El Castillo, you can see the river valley and into Guatemala. I highly recommend the walk to the top!
Carvings on El Castillo Xunantunich
On the east and west sides of the pyramid lies large carvings. The original ones are made of stucco and buried for preservation. Fiberglas replicas currently fill the space. They're amazing to witness up close!
These carvings represent astronomical symbols of the moon god, world tree (Pax gods) and Venus. Furthermore, the Bacabs lie along the 4 corners. Here's more, as taken from the visitor center at Xunantunich:
"In Maya mythology, there are four bacabs who served as skybearers. The bacabs were positioned along the four cardinal directions at the edge of the universe. Throughout Mesoamerica, the bacabs, or skybearers, were widely associated with rulers and are often depicted supporting celestial thrones. It is therefore not surprising to find bacabs on the stucco frieze at Xunantunich given that the Castillo served as the elevated palace of the site's rulers."
More about the Mayan Ruins of Xunantunich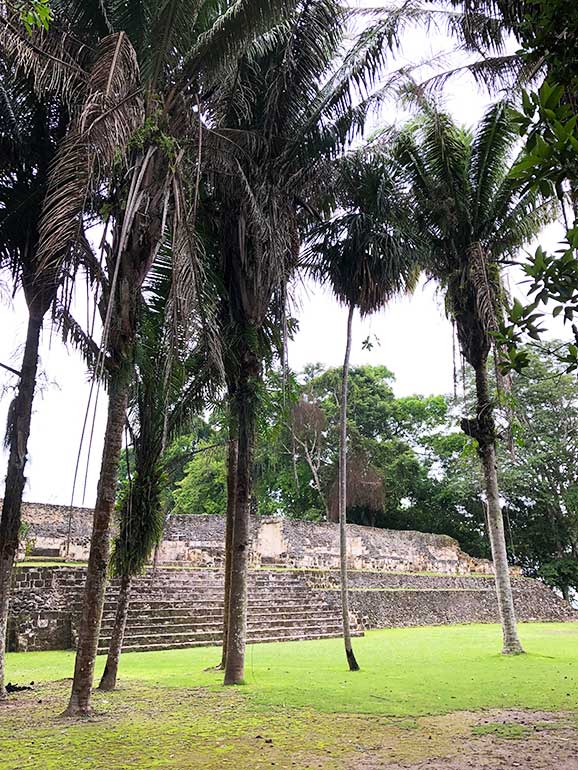 The 2nd ruler of Xunantunich was a woman, which was rare of Mayan cities. Even more impressive, the empire was one of the most powerful cities for over 300 years in time while other Mayan cities were falling.
During excavation, archeologists found the tomb of the woman emperor. However in the early 1900's, Gann's crew used dynamite to try to search for valuables and they crushed parts of the body. But that ultimately led them to her discovery.
The Pok-ta-pok game
Within the city of Xunantunich, there was a court for Pok-ta-pok. While there are several variations of the game across ancient cities in Mesoamerica, the rules as the guide told me are as follows:
It's a cross between soccer and basketball, but much more difficult.
The ball was 10 pounds and made of rubber from sap trees, mixed with cotton and very firm.
Pak-ta-pok was played with elbows and hips.
The goal was for players to hit the ball into a stone hoop at either end of the playing field.
It's believed that the players on the losing team were sacrificed. 😬
Not sure about you…but that's not a game I'm looking to play anytime soon!
Can you climb Xunantunich?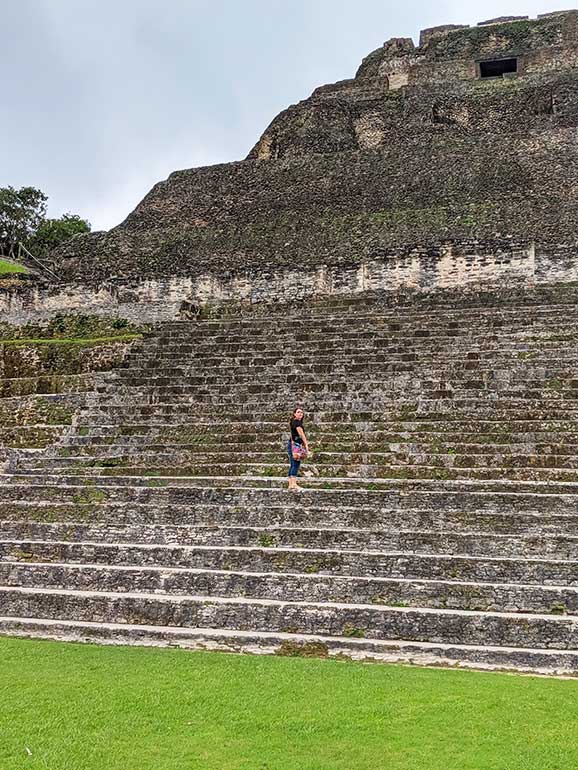 Yes! Yes you can.
To get to the top of Xunantunich, you can climb the steep steps on the front and sides. This is different than other ancient Mayan cities, like Chichen-Itza in Mexico, although I was one of the lucky ones to climb them in the late 90's as a teen before they closed it down.
Alternatively, there's a less steep path on the back side of the pyramid. Once at the top, you can look out over the entire city, the Belize jungle and even into Guatemala at just 0.6 miles away.
Xunantunich ghost
Adding to the mystery of this ancient Mayan city is the Xunantunich ghost. She was originally seen in 1892 and has been sighted several times since then.
With red eyes that glow like fire and dressed in completely white, she has typically been sighted in front of El Castillo. She comes down the stone stairs and then disappears into the stone wall.
To be honest, I'm glad I didn't know about her before visiting – it might have swayed my opinion to visit!
Visitor center and artifacts in Xunantunich Belize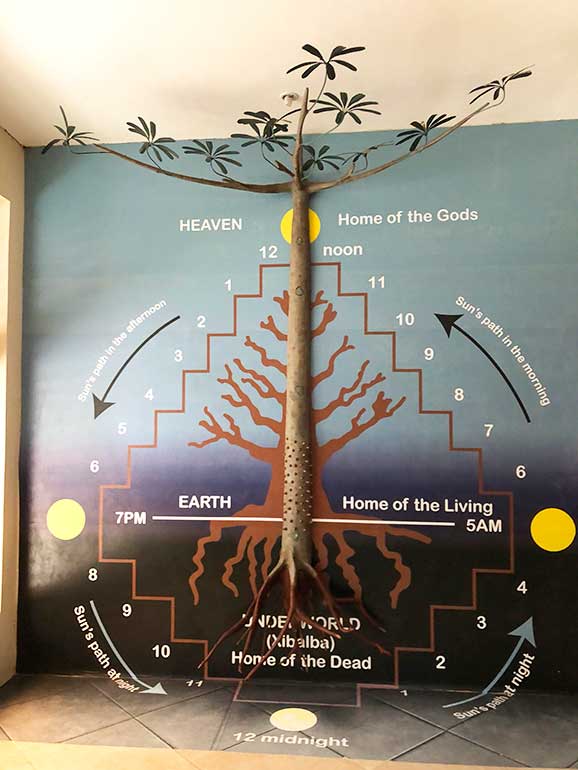 One of the things that makes this archaeological reserve unique is the large collection of artifacts (and replicas) on display. It's like a mini museum with tons of Mayan history!
The Mayan clock is one of the coolest things in the visitor center. You can see how they determined the time using the natural elements like the sun and stars.
See replicas of the pok-ta-pok game court, the stucco carvings (also known as friezes) and other interactive displays.
Nearby is a small gift shop as well. You can purchase artisan fabrics, crafts and other souvenirs to remember your visit to Xunantunich Mayan Ruins.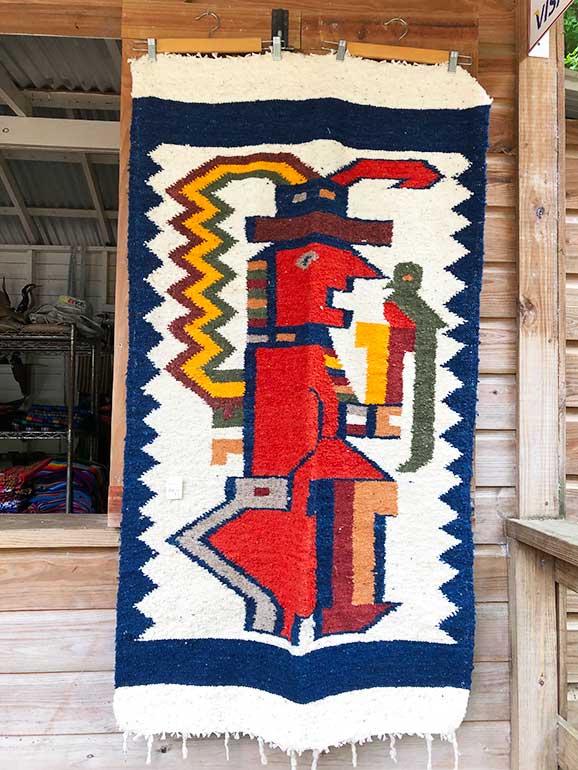 Other Belize Mayan ruins
Feeling even more adventurous? Well the country of Belize might be small, but it packs a punch! With so much history within the country, there's more Mayan cities to explore.
Xunantunich vs. Tikal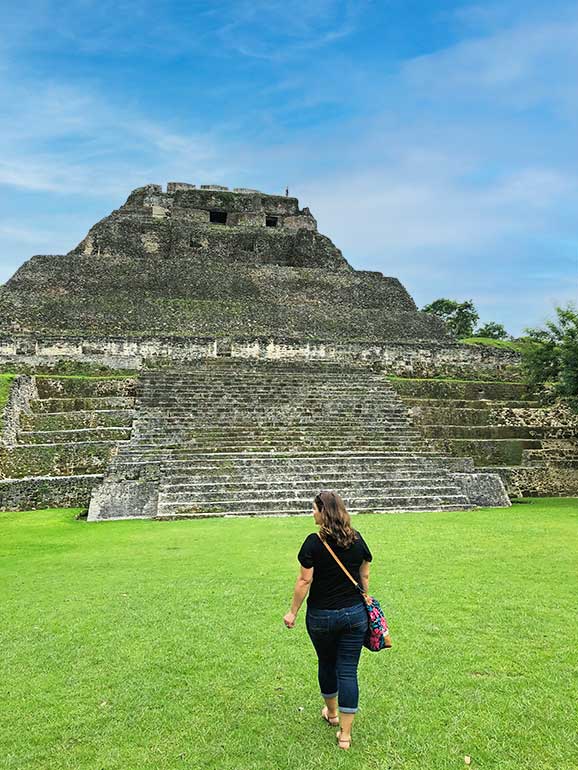 Some of the coolest Mayan ruins I've ever visited have been Teotihuacan near San Martin Centro, Mexico, Chichen-Itza and Tulum in the Yucatan peninsula in Mexico and Tikal in northeastern Guatemala.
Because Xunantunich and Tikal are so close (within a 2 hour drive from each other), let's compare the two!
Xunantunich vs Tikal – which is better?
If less crowds are important to you, then Xunantunich Mayan Ruins is the right spot to explore.
How much time do you have? Xunantunich can be done in as little as 2 hours, while Tikal takes at least 4 to see the highlights.
If you want food options and a great selection of shopping, Tikal is your spot.
Is bigger always better? You be the judge! Xunantunich has 32 structures while Tikal is a much larger city, with over 2,000.
Both have been preserved and cared for differently. Tikal had a lot of looting early on and lost important artifacts. Meanwhile, Xunantunich is one of the longest continuous city to be excavated, with the ongoing process over 100 years!
So why not visit both? If you can make time on your trip to Belize to spend a day in Guatemala, I highly recommend it!
Book it now: day trip to Tikal.
Here's a guide to everything you need to know about Tikal ruins in Guatemala.
Tips for visiting Xunantunich Mayan Ruins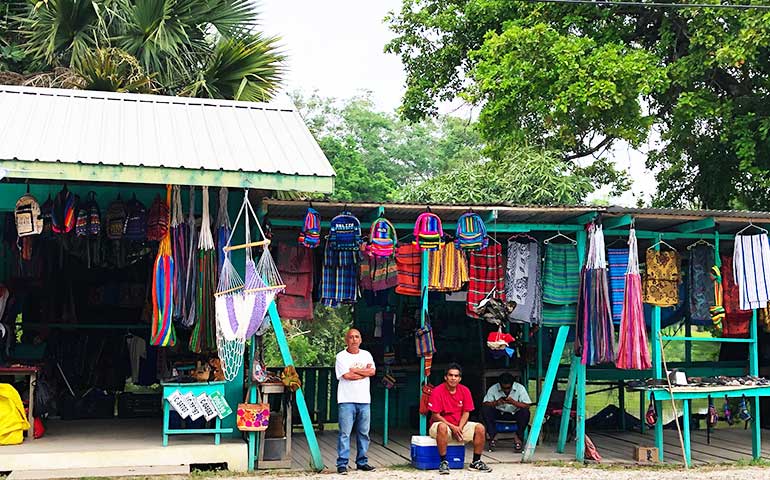 First of all, you're going to love seeing this ancient city! Here are a few more tips to help make the most of it:
If possible, stay in San Ignacio and arrive when Xunantunich opens. Getting there early, before the cruise ship tours start will allow you to explore the site when it's less busy.

Wear shoes with good traction, especially if you plan on climbing El Castillo!

Sunblock and bug spray are musts! In fact, just slather yourself in bug spray. You're in a jungle in Central America, after all. 😊 By the way, this is my favorite natural bug spray I travel with (that actually works).

Be prepared to walk a bit. From the entrance to the plaza is an uphill walk. You'll be able to explore the whole area on foot so just keep that in mind.

Remember to bring cash to tip. Your tour guide will be full of helpful info and he/she works hard at giving you a great experience! Book a tour here.

You can shop inside the entrance or just before getting on the ferry to cross the river. You'll find unique, handmade items perfect for souvenirs.
Nearby things to do in San Ignacio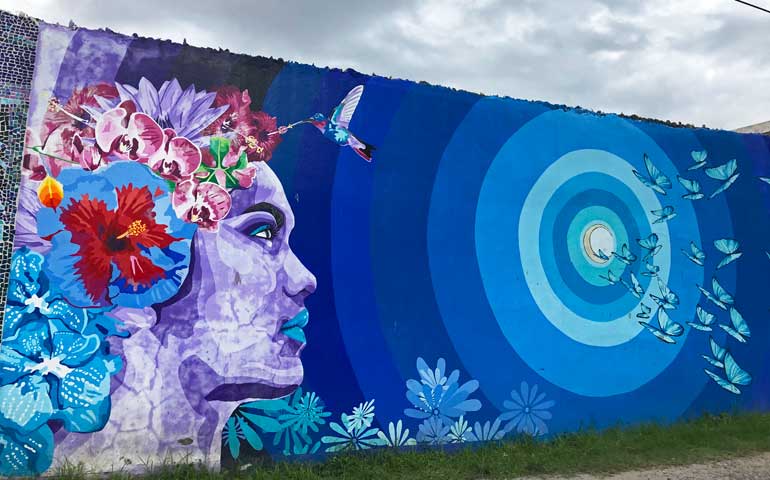 Just 30 minutes from the Mayan Ruins of Xunantunich, San Ignacio is an underrated destination within Belize. So many tourists focus on seeing the gorgeous beaches along the Caribbean that they don't look inland. Here are a few other things to do near Xunantunich and San Ignacio…
Take a chocolate making class through AJAW Chocolate. Learn how to make chocolate like the ancient Mayans did centuries ago. (This is one of my favorite things in San Ignacio!)

A really fun nearby attraction is touring the Actun Tunichil Muknal (ATM) Cave. It's an incredible adventure exploring another Mayan archaeological site.

Go mural hunting. For a low-key afternoon, check out the fun street art in downtown San Ignacio.

Day trip to Caracol Ruins. It's a full-day adventure exploring another ancient city and Rio on the Pools.
There are so many more things to do in the area, but this post is getting long so let's wrap it up already!
Xunantunich Mayan Ruins – that's a wrap!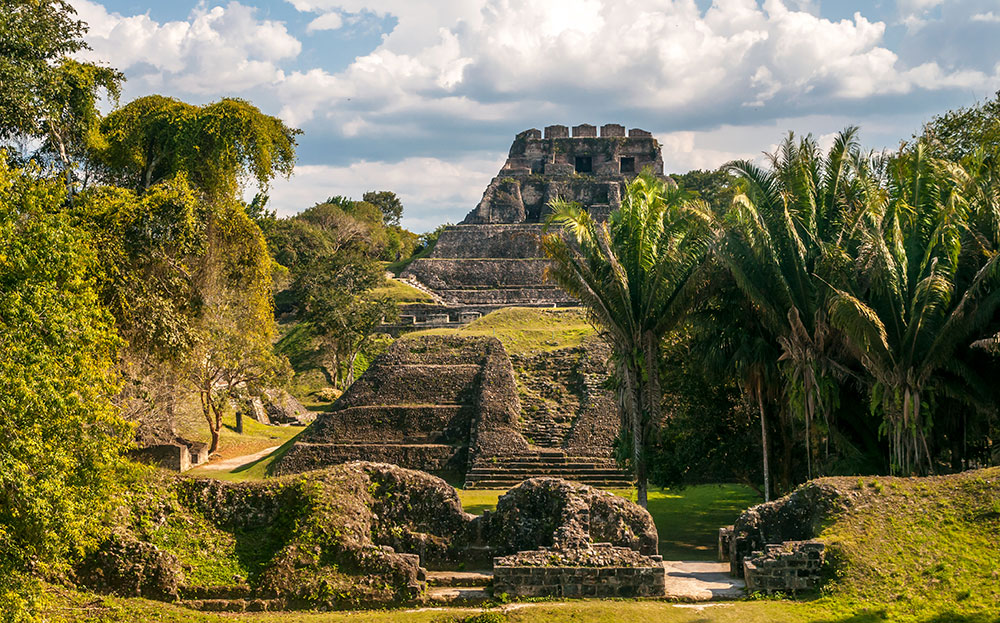 Xunantunich is an incredible site in Belize – and you'll love exploring these Mayan ruins. You can feel the energy walking into the plaza in front of El Castillo and it's truly a moving experience.
Nestled in the Belize jungle an adventure awaits – are you ready for it?
Related content to read next:
20 Epic Things to Do in Belize for an Amazing Vacation
How to Visit Belize on a Budget: Money-saving Tips and Tricks
Belize's Secret Island: Laughing Bird Caye
17 Reasons to Visit Puerto Morelos, Mexico
Find this post helpful? Save it for later or share it on social media!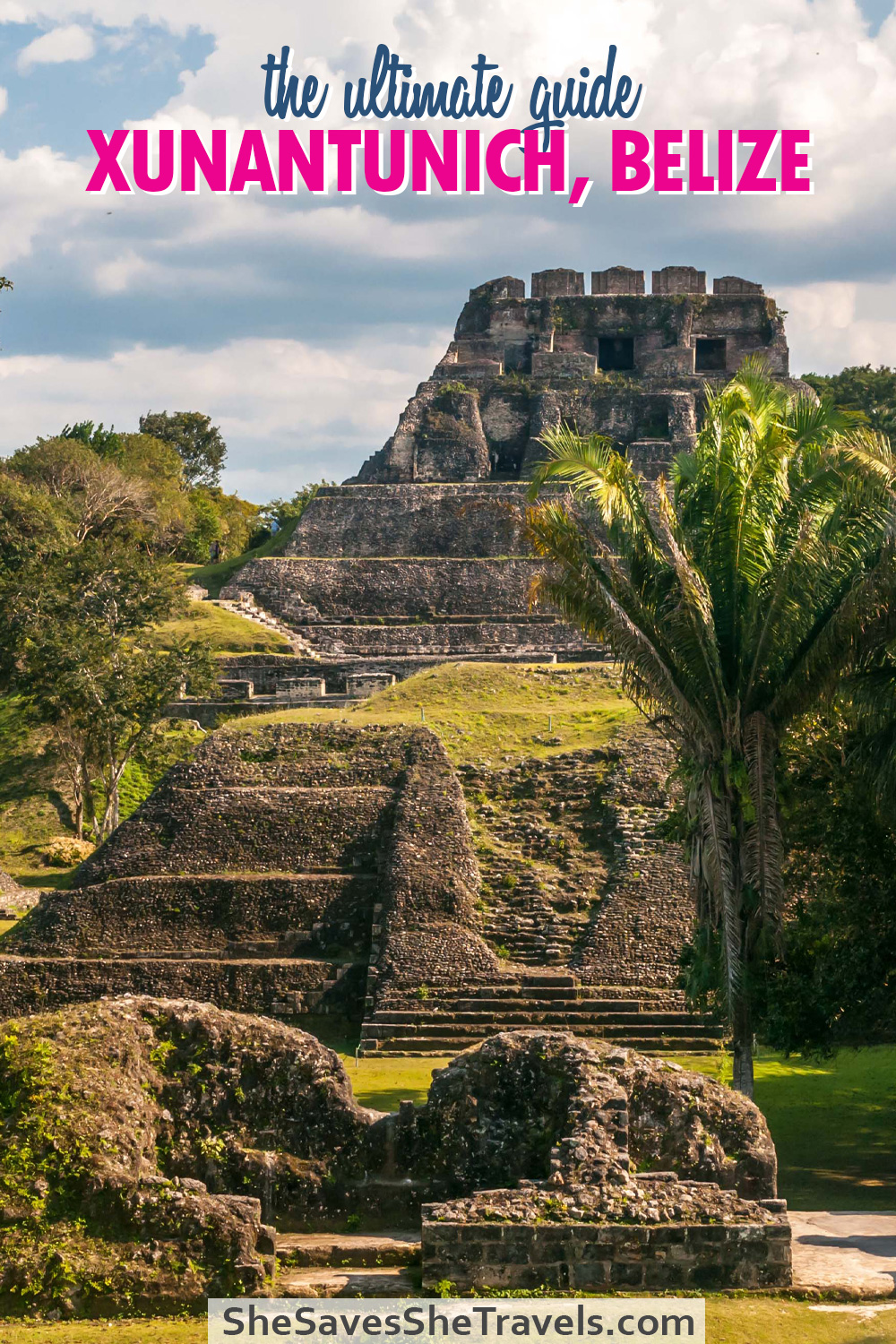 Info above is accurate as of the publish date of this post.