Cobblestone streets, ancient ruins and mouthwatering Greek cuisine – there's so much to love about Athens, Greece! But how do you make the most of your short time in this vibrant city? From the Acropolis to city markets and even a rooftop restaurants, this 2 days in Athens itinerary has the exact details you need to plan an amazing time in this historic city!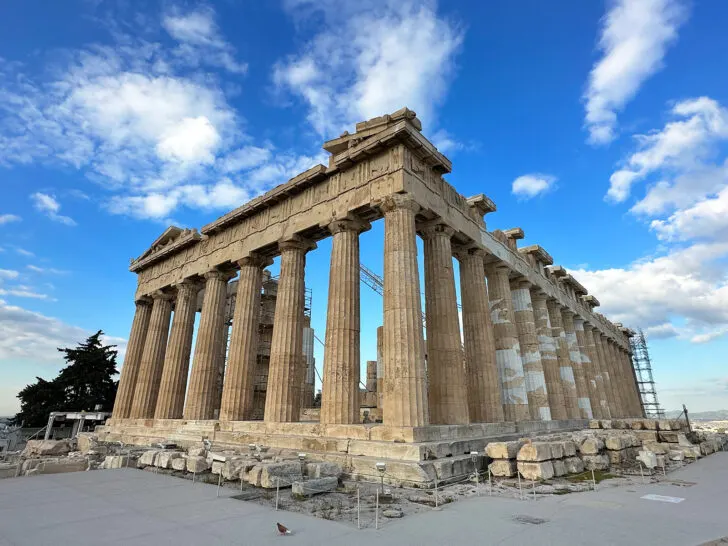 This post may contain affiliate links. For more info, see my disclosures.
Athens, Greece is a city where every corner whispers history, the aroma of Mediterranean cuisine fills the air and where every alley tells a story. This Athens 2 day itinerary is a whirlwind of ancient marvels, culinary delights and unforgettable moments.
A perfect destination for a quick city escape, or spending a few days here before heading out on an Aegean Sea cruise, or continuing on to other areas of this fabulous country. Whether you have one week in Greece or get to explore it more with a robust 2 weeks Greece itinerary, your 2 days in Athens will certainly be a highlight!
👉Don't have time to read the whole article? This is the best Athens food tour for amazing Greek food and this is the best 1/2 day tour to see the Acropolis. Also get the complete Greece Travel Guide for Families for everything you need to know about traveling to Greece with kids!
Before diving into what to do on each day of your time in this ancient city, let's go over some details that will help you plan your trip.
How many days in Athens?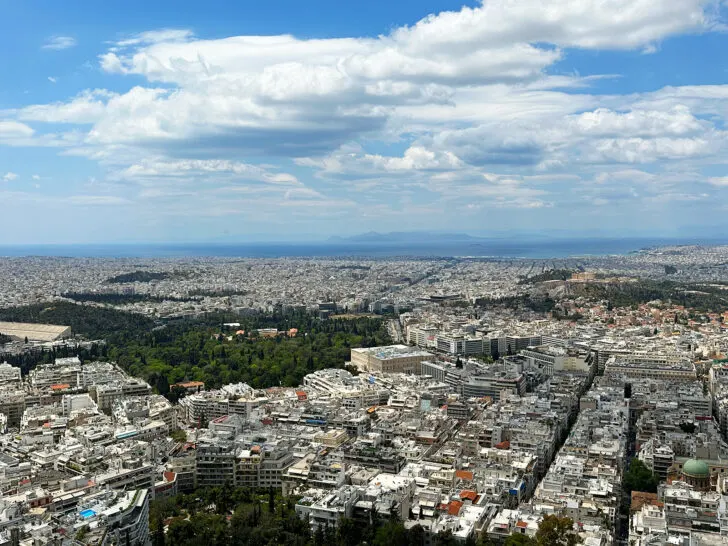 Athens is honestly a perfect destination for travelers seeking a quick getaway or a stopover on your way to other destinations. After visiting Athens multiple times, my recommendations are…
One day in Athens: you'll just see the highlights. It's a great option if you're needing to get onto your next destination quickly. Just hope the weather cooperates as many of the activities are outdoors.

Two days in Athens is the perfect amount to explore the city, learn the history and culture, and also see more of Greece.

Three days is nice if you have an extended time in the area. You can relax your schedule a bit and dive into the cafe culture of sitting around socializing and people watching for a few hours each day.
But after spending quite a bit of time in the city, I think 2 days is just right!
In this short span, you can explore iconic historical sites like the Acropolis and the Ancient Agora, savor mouthwatering Greek cuisine and immerse yourself in the city's vibrant culture. Athens' city size and attraction layout allows you to experience its highlights efficiently, making it an ideal choice if you're limited on time.
Best time to visit Athens Greece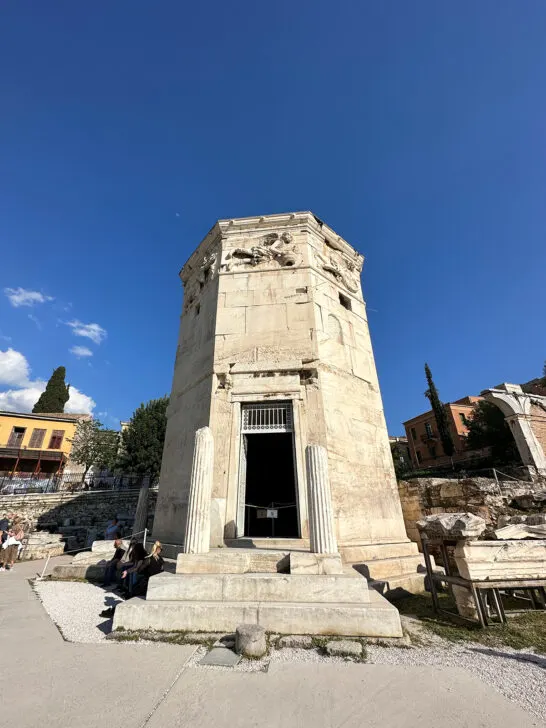 Unlike other areas of Greece that are extremely seasonal, there's not really a bad time to visit Athens. During the winter is the slowest time of year for tourism in Greece, with summer being the exact opposite.
If you're looking for mild weather and reduced crowds, visit Athens in the shoulder season: April – May or September – October. To be honest, that's the best time of year to visit most of Greece!
Summer is the busy season in Greece, particularly June through August. It's also the hottest time of the year, making it a great time to visit the ocean or a neighboring island, like Mykonos or Santorini!
But if you're visiting in the summer, be sure to prepare for the sun and head adequately, and make adjustments to this schedule to rest and recover as needed. That sun is powerful in Athens!
Map of your 2 days in Athens
This is a map of the itinerary in this guide. If you're wondering what to do in Athens in 2 days, check out the icons within the map and the descriptions below.
The yellow icons are what to see on day 1 and the orange icons are your 2nd day activities. A few alternative options are in blue.
Pro tip: download this map beforehand so you can reference it throughout your time in Athens.
How to get around Athens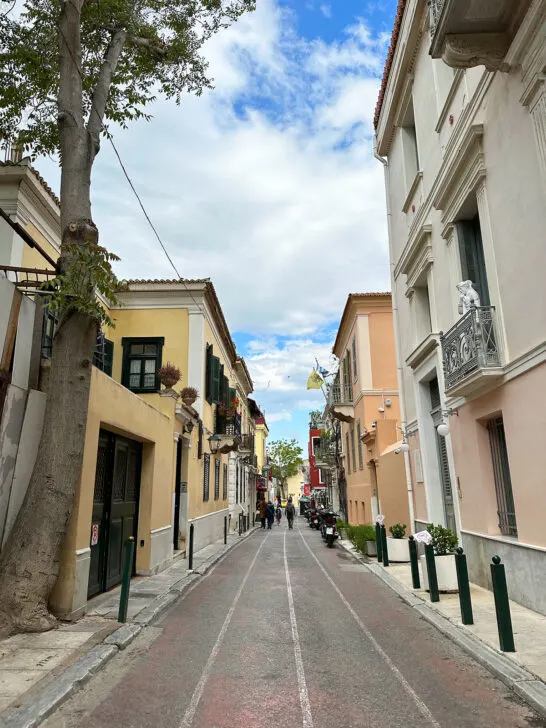 While staying in Athens, you do not need a rental car. It's kind of like visiting Old San Juan, Puerto Rico – there's no parking and it's a very walkable city so it just doesn't make sense.
You'll likely do a lot of walking during your two days in Athens. Prepare with good walking shoes! Next, it's public transportation.
Navigating Athens with public transportation is like picking your own adventure – each mode has its unique charm and purpose. Let's go through the options so you can determine which is best for you.
Athens Metro: a sleek, efficient marvel. Use it for speed and comfort when you're hitting the major attractions or escaping the summer sizzle. Bonus: it's an affordable option when traveling around Athens, Greece.

Bus: it's like the city's intricate web of veins, connecting neighborhoods that the metro might miss. The schedule can be a bit confusing, but overall it's an easy form of public transportation that will likely get you close to where you want to be.

Taxi: still a popular choice with visitors, and reliable! Hailing a taxi is easy enough around the big tourist spots in the city.
Rideshare: note that there are some Uber operations in Athens, but the more popular rideshare app is called FreeNow.

Hop on Hop off bus: explore at your own pace. There are 3 route choices, and most of the stops are at or near the activities on this 2 day Athens itinerary.
Pro tip: the Moovit app is a great way to determine which is the best form of public transportation while you're in Athens, and based on your needs.
Getting from the airport to downtown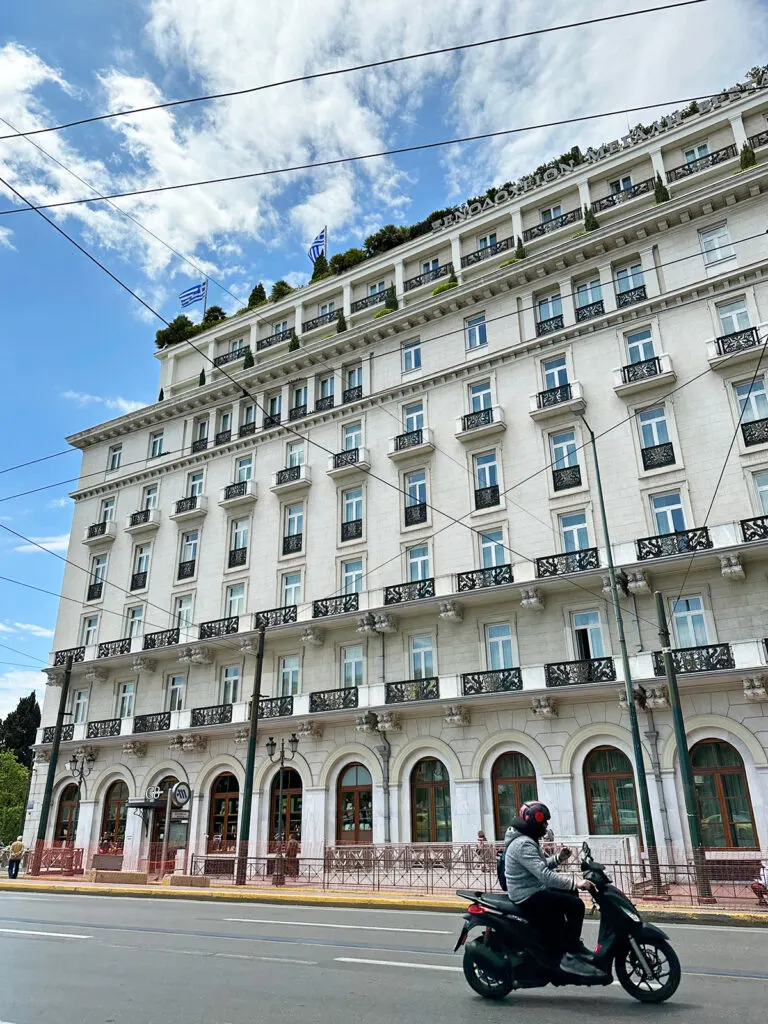 One of the biggest challenges for visitors is transportation from the Athens International Airport to the city center. It's a minimum of 40 minutes from downtown Athens to the airport, so plan for that on your travel days in and out of the city.
Private transfer or taxi: this is by far the most convenient option, although can be pricey.
Athens Metro: reliable and affordable if your flights fall within the train hours.
Bus: this will take the longest amount of time but is a good option when the other two don't work for you.
Find the exact metro and bus stops on the Athens Airport website.
What to pack for your 2 day itinerary Athens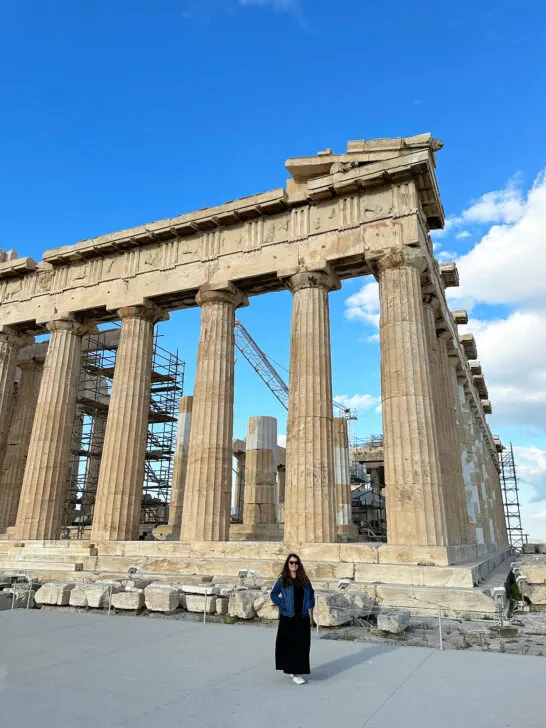 Be prepared for an amazing two days in Athens with this list of essentials!
Sun protection. Sunscreen and a sun hat are critical, especially in the summertime. These two days in Athens will have you at a lot of outdoor attractions, so prepare for it! I always recommend using mineral sunscreen because it's better for the Earth's waterways and marine life.

Mini umbrella. Depending on when you're visiting Athens, you may really need an umbrella!

Power bank and cord. You're likely going to be taking photos, so have a back up plan so your phone doesn't die.

US-Europe adapter plug. If you're from the US, you'll definitely need this.
Tips for your time in this ancient city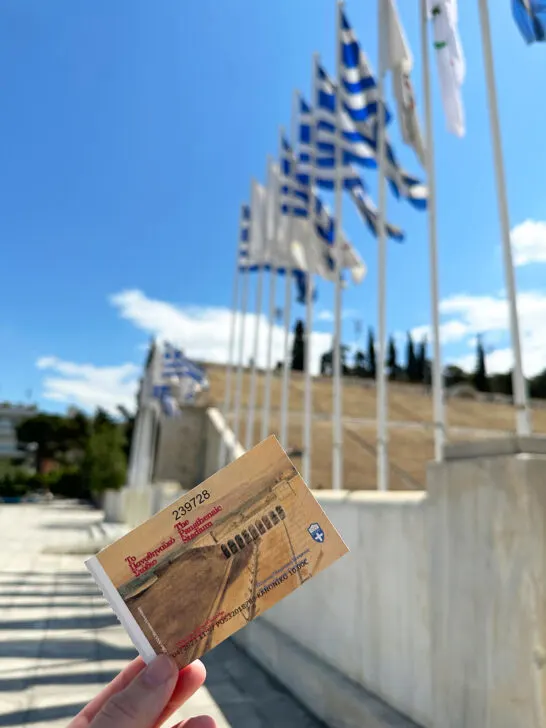 Here are a few more tips before diving into this fabulous itinerary.
The city is very walkable and this two days in Athens itinerary will have you walking a lot! One of the best tips for traveling to Greece is to have the right shoes and socks for comfort.

Like many European cities, watch for pickpocketing. I used this credit card bra clip for my trip and it worked like a charm! This was in addition to this shoulder bag.
Consider buying the Combo Pass. It gets you into 6 archeological sites for 41€, when each are about 10€ so it saves a bunch if you see 4 or more. It's valid for 5 days and you get to skip the line!! I'll mark each recommended location with a 🎟️ in this guide!

Use the Google Translate app. Many information signs at these historic sights have an English interpretation. However, when it's just in Greek, use the photo tool within the app to translate the info into English.
Athens 2 day itinerary (using this guide)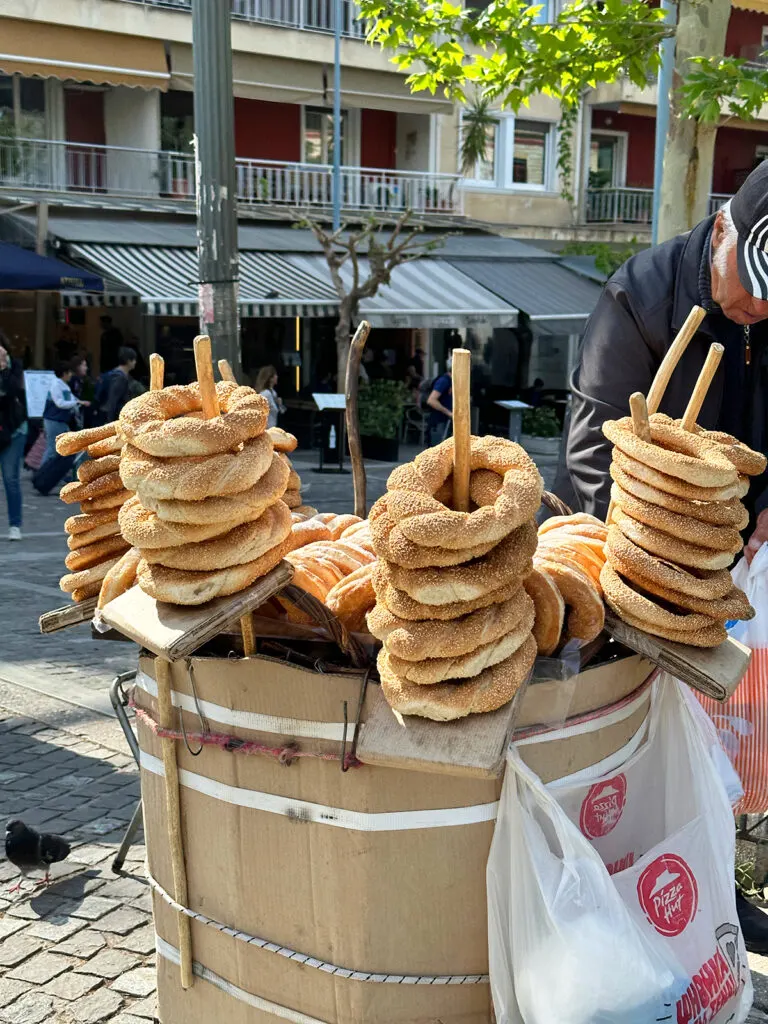 Alright let's get to it! This itinerary is laid out to make the most of your time in the city, in a very efficient manner, while still seeing all the top sights. That means you shouldn't have to walk past something awesome, just to circle back and see it later.
⏰The timeline for each day gives you enough time to walk from one attraction to the other, with most of them being within 10 or 15 minutes from each other.
And because it's nice to have options, you'll get alternative recommendations so you can customize your Athens itinerary based on what you want to do.
And for the purposes of seeing as much as you can in a day, this guide assumes you'll start the day early in Athens. This guide does not include the timeline for organized tours, as they all operate differently. If you decide to take a tour with an expert guide, modify the timeline accordingly.
Pro tip: If you're flying in or planning to get in mid-morning, swap days 1 and 2 – getting to the Acropolis early in the day is essential!
Let's dive in!
Day 1 on this Athens itinerary
Your first day in Athens is a captivating blend of ancient history and vibrant modern culture. You'll find yourself immersed in the echoes of classical Greece while strolling through historic streets and marveling at iconic landmarks.
Acropolis (a favorite stop during your 2 days in Athens)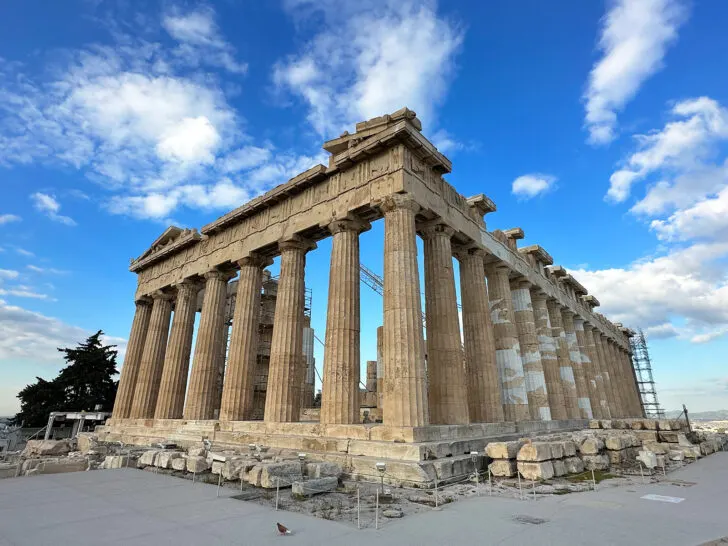 Estimated time: 2 – 3 hours
Schedule: 8:00 – 10:30 am
It's the most popular tourist attraction in Athens, and for good reason. The Acropolis is what you've likely seen in history books in school, in blogs, magazines, social media and on TV. Be sure not to miss it while in Athens!
The Acropolis is the set of buildings upon a hilltop that towers 150 meters (490 feet) above Athens. Most of the structures were built around 400BC.
The Parthenon is the most note-worthy of these buildings. (And honestly a pinch-me moment to see in real life for history lovers!)
If you're taking an organized tour, you'll go with the flow, and get so much out of your tour guide on the history of the Acropolis!
🎟️Included in the combo ticket. Skip the line will save you tons of time here!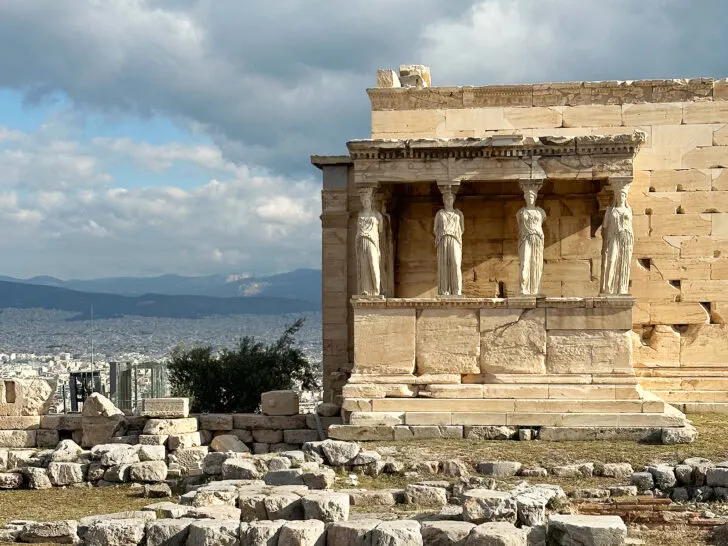 Acropolis tips
If you're on your own, here are a few tips to make the most of your time at the Acropolis.
Use the side entrance – the line will be significantly shorter.
Arrive before 8:00 and buy the advance pass to skip the line.
If you want photos without people, hustle to the top! It's an uphill climb so prepare yourself and take water with you, especially in summer!
The rocks and stones near the Parthenon are super slick. I saw several people fall! This is definitely a place to wear good walking shoes and skip the sandals.
If you have mobility challenges, have a taxi drop you at the main gate, which is closer to the top sights in the Acropolis.
Tour buses start arriving by 9:00am and the site will be full all day, until dusk.
Things to see at the Acropolis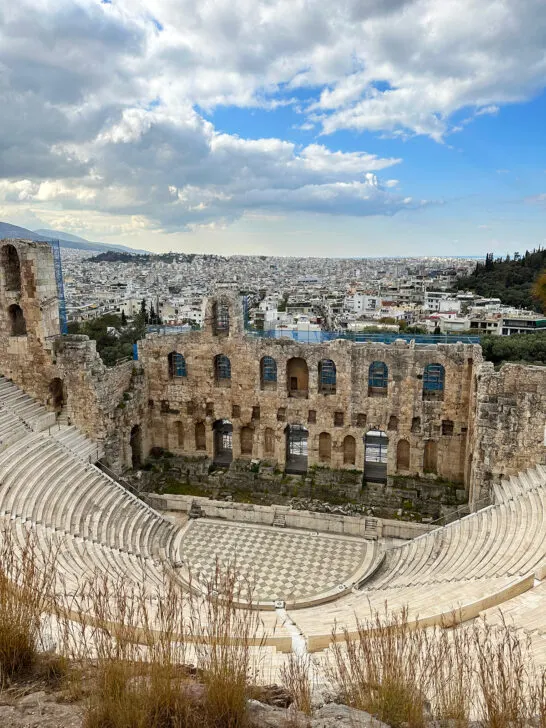 Because there's so much to see, you likely won't have a lot of time to review every single information sign and review each building in their entirety. After all, you have a lot to squeeze into your 2 days in Athens!
Be sure to catch these spots:
Parthenon
Temple of Athena Nike
Propylaia
Erechtheion
Odeon of Herodes Atticus
Theatre of Dionysus
Aeropogus Hill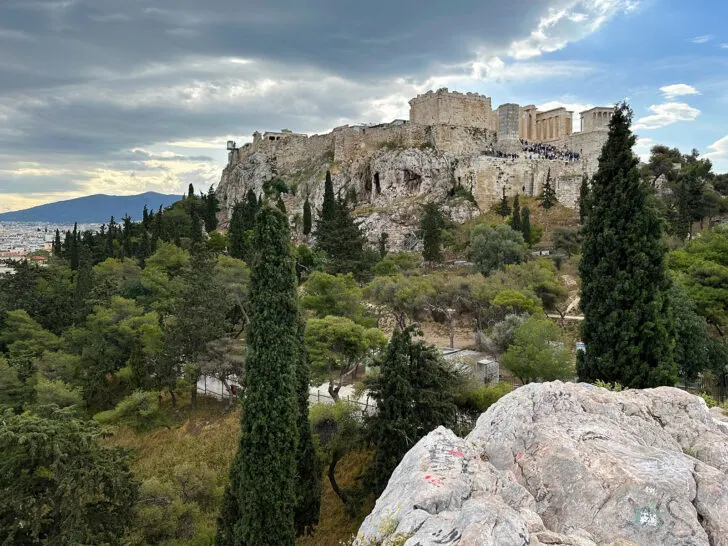 Estimated time: less than 30 minutes
Schedule: 10:30 – 11:00am
The next stop for the day is actually just outside of the main gate to the Acropolis, and no ticket is needed to enter. Just walk outside the main entrance and climb the few steps to get to the top of the hill.
From Aeropogus Hill, you'll get views of the Acropolis on the hilltop and the city. You can see the Ancient Agora and Temple of Hephaestus (which are both on day 2 of this 2 days in Athens itinerary).
Watch out for slick rocks on the Aeropogus Hill. Because it's been visited by millions of people over the years, the rock on the top is very slick.
Acropolis Museum
Estimated time: 1 – 1.5 hours
Schedule: 11:00 – 12:30pm
Located just down the hill from the Acropolis, the Acropolis Museum building is made from glass with great views of Athens and on level 3, a fantastic view of the Parthenon. Be sure to spend some time viewing the huge collection of artifacts and historically significant statues.
It's truly an amazing collection of parts of the Acropolis that have been found and reconstructed over the years. A really cool part is the outdoors where there's a large archaeological ruins beneath the museum floor, which you can see through glass.
Visiting the Acropolis Museum is kind of like visiting Mount Olympus in the western Peloponnese, the museum helps understand the full story of the Acropolis!
Pro tip: I recommend booking this audio tour and entry ticket, which walks you through the museum plus you'll get to skip the line.
Lunch in Plaka (a must-see area during your 2 days in Athens)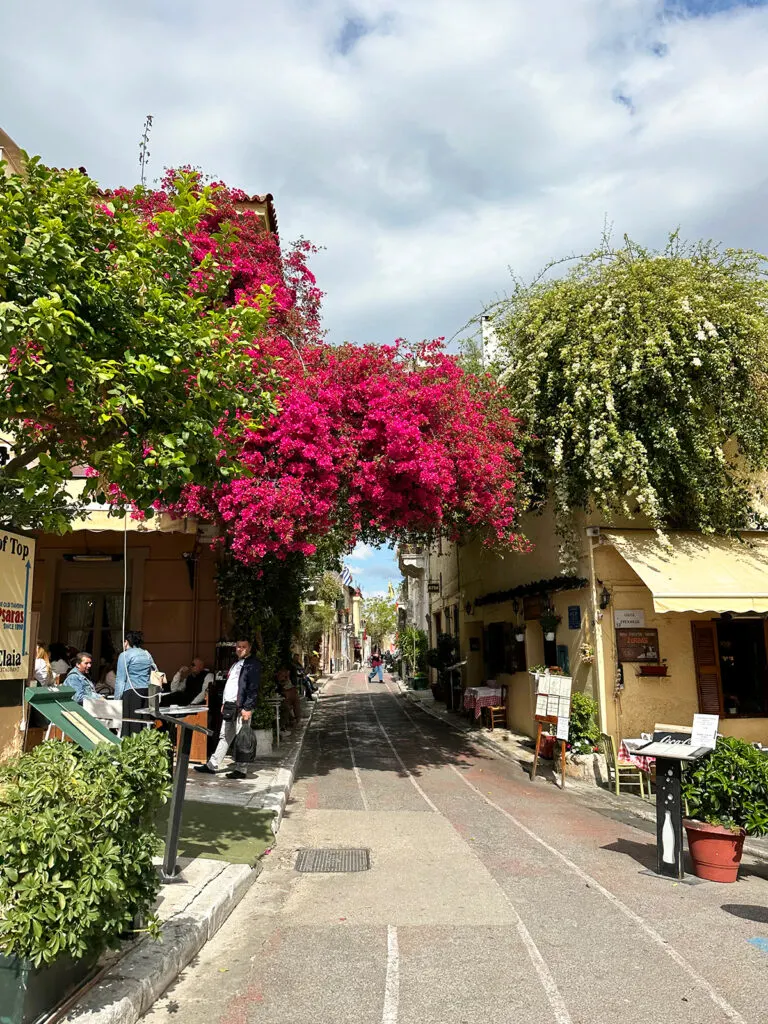 Estimated time: 1 hour +
Schedule: 12:30 – 2:00pm
Plaka, nestled at the foot of the Acropolis in Athens, is a charming and picturesque neighborhood that feels like a journey back in time. It's almost like you've escaped the busy city and are in a quiet escape!
Its narrow cobblestone streets wind through colorful houses, charming cafes (tavernas is the official name in Greece) and quaint shops selling handmade crafts and souvenirs. Find what suits your taste buds to savor Greek cuisine at a traditional taverna, and soak up the rich history and ambiance that this historic neighborhood exudes.
Pro tip: being from the US, I found it a bit challenging at first to adapt to the timelines in Greece. Greeks eat late and very much have a different schedule than many parts of the world. Breakfast isn't common, lunch begins around 2pm and a typical dinner is about 9 or 10pm. So when you search restaurants near you, be sure to use the 'open now' filter!
Oh, and don't even think about grabbing coffee until at least 8:30am in Athens.
While you're in Plaka, be sure to visit one of the oldest streets in Greece – Tripodon Street, which is over 2,500 years old! These days, it just looks like most other streets in Athens – showcasing shops, restaurants and other buildings.
Hadrian's Arch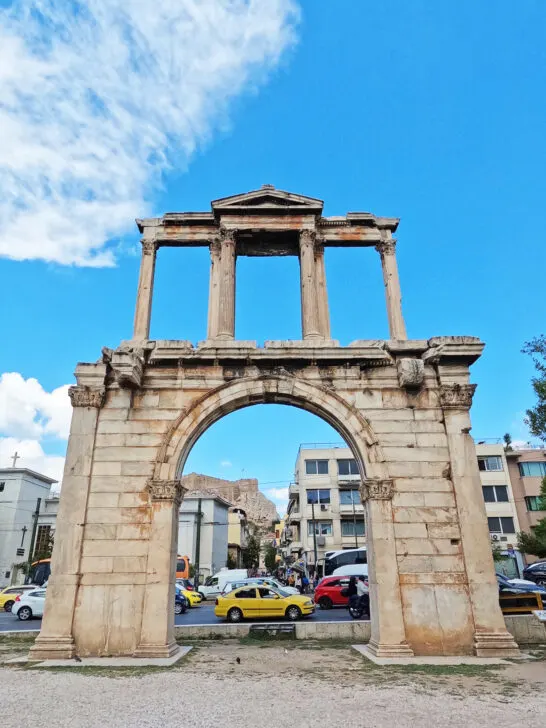 Estimated time: quick stop, less than 10 minutes
Schedule: 2:00 – 2:30pm
Walking from Plaka towards the Temple of Olympian Zeus, you'll see Hadrian's Arch. This ancient structure seems very much out of place – right next to a busy street. But that's typical of Greece; mixing modern life with ancient ruins.
It only takes a few minutes to stop and admire this architectural marvel that was built nearly 2,000 years ago. Hadrian's Arch was initially constructed on an ancient street that led from the old city of Athens to the new section
Bonus: this is a free attraction in Athens!
Temple of Olympian Zeus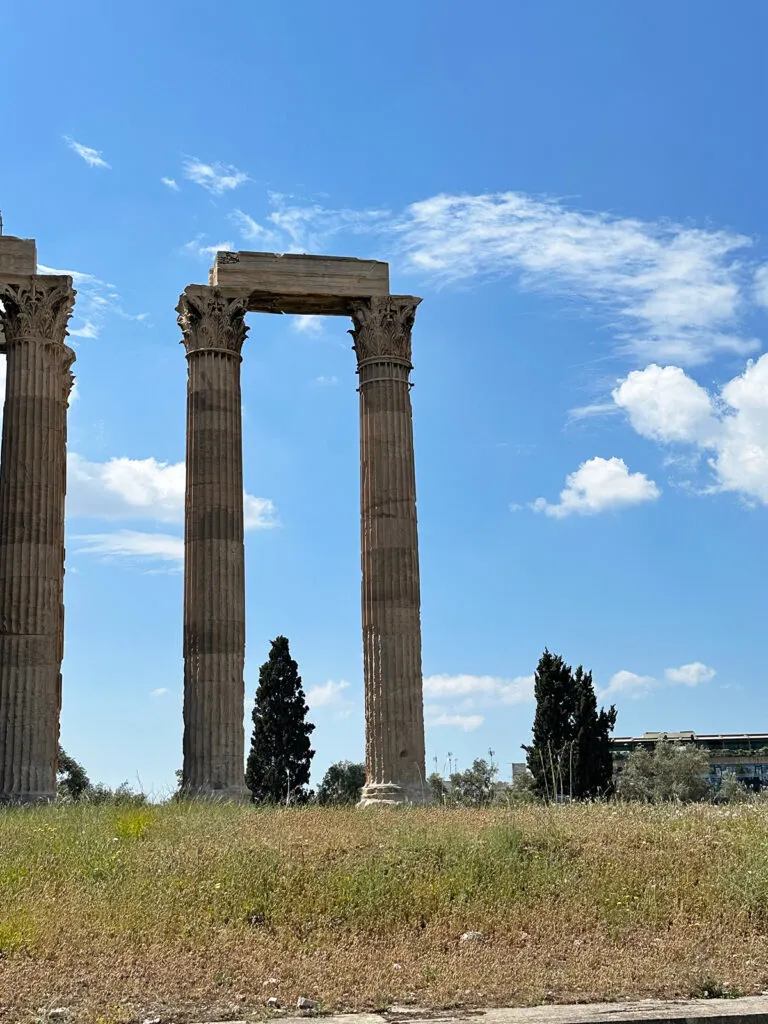 Estimated time: up to 1 hour
Schedule: 2:30 – 3:30pm
The Temple of Olympian Zeus has unfortunately, seen a lot of destruction over the centuries. But even so you can tell it was grand during it's prime.
Construction started in the 6th century BC, aiming to be the greatest temple in the ancient world and dedicated to the Olympian god Zeus. The enormous temple originally had 104 columns and today it's down to just a few left standing.
An interesting thing about traveling around Greece, is that if they find ruins many times they'll just leave them be until reconstruction. You can see the downed pillars (mainly due to earthquakes and other natural disasters), which have been there for hundreds of years but look like they just fell yesterday!
🎟️Included in the combo ticket.
Panathenaic Stadium (original home of the modern Olympic Games)
Estimated time: 1 hour – 1.5 hours
Schedule: 3:30 – 5:00pm
Just a 10 min walk from the Temple of Olympian Zeus is another historical landmark, and a must-see on this 2 day Athens itinerary.
Built originally in 330BC then rebuilt again in 144AD then finally in 1890 for the first modern Olympic Games. It housed the opening ceremony of the first modern-day Olympics in 1896.
The Panathenaic Stadium holds 60,000 people, which is such a sight to see. It's also incredible that the bleachers are made of marble!
While you're visiting the Panathenaic Stadium, you can even go under the bleachers and walk the tunnels where the Olympians enter the stadium. It's surreal and gives you the chills thinking about it!
Further inside, a series of information boards with the history of the stadium are available to read through. Olympic torches and official posters are housed in a room within the stadium, which you can access easily as well.
If you love seeing and learning about the Olympic Games, a 2 weeks Greece itinerary can take you to western Peloponnese, the site of the original Olympic Games played in 330BC.🤯
Visiting the Panathenaic Stadium is a lot like visiting The Colosseum during a 3-day Rome itinerary. So fun!
Athens itinerary, day 1 continued
Whew! So many amazing things to do in Athens. It's really easy to pack a lot in a day in this fun city. Let's talk about a few more leisurely activities then dinner to finish off the evening.
Athens National Gardens (peaceful retreat during this Athens 2 day itinerary)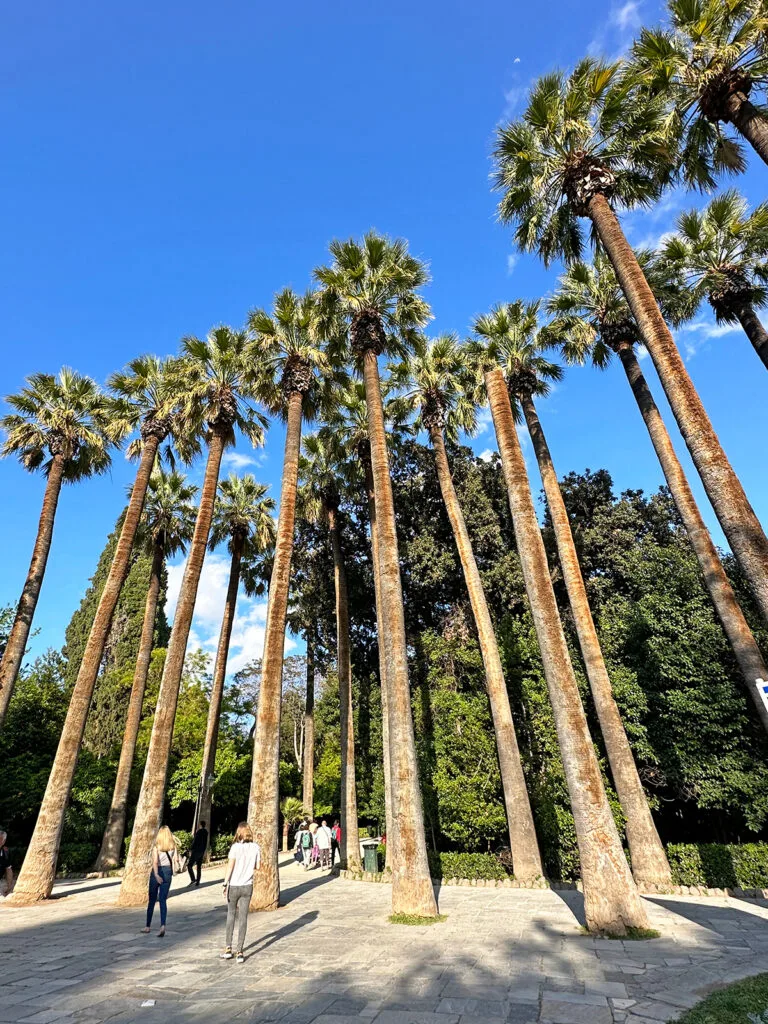 Estimated time: up to 1 hour
Schedule: 5:00 – 6:00pm
At this point in the day you may be getting tired. Or maybe sensory overload from all that history you've just soaked in?
Well, visiting the Athens National Garden is a serene and refreshing escape! This lush oasis invites visitors to unwind amidst nature's beauty and tranquility. It's in the heart of the city, yet feels so far away from everything.
This pleasant escape has a variety of foliage, birds and wildlife. Stroll along its shaded pathways and discover hidden gems like neoclassical statues and historical ruins, which provide a unique blend of nature and culture.
The Athens National Garden is a green sanctuary that's well worth exploring, making it a delightful stop for a moment of respite and connection with nature towards the end of your first day in Athens.
Hellenic Parliament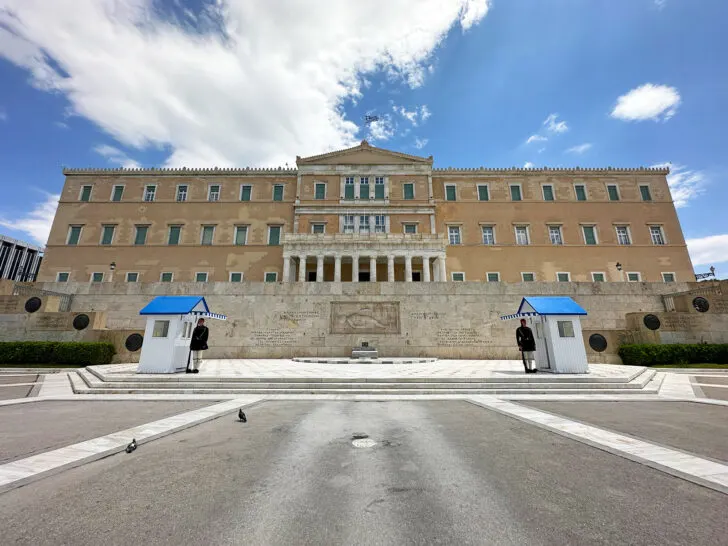 Estimated time: less than 30 minutes
Schedule: 6:00 – 6:30pm
One of the last stops on this two days in Athens itinerary is seeing the Hellenic Parliament. It's actually located right next to the Athens National Garden, so it's very convenient.
If you can go right on the hour (in this case, at 6:00pm), you'll get to see the changing of the guard. It's a performance in it's own!
This Greek tradition is a must-see while in Athens, and typically draws a crowd. The Hellenic Parliament is also the location of the monument of the Unknown Soldier. A worthy stop as well.
Syntagma Square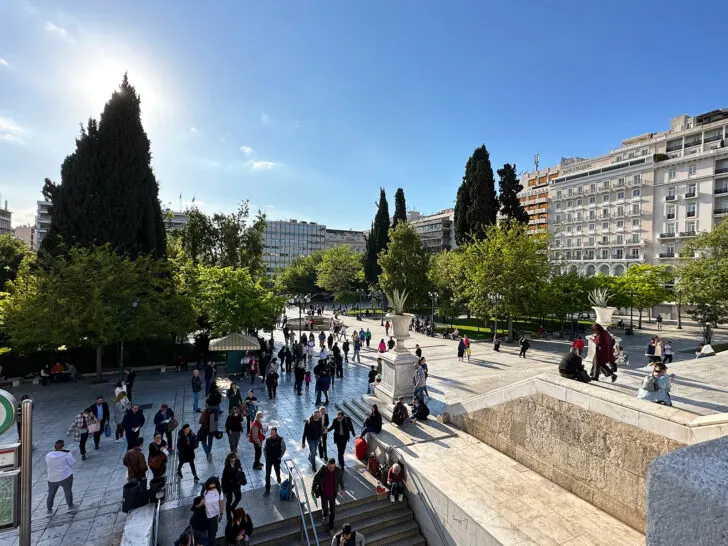 Estimated time: less than 30 minutes
Schedule: 6:30 – 7:00pm
Across the street from the Hellenic Parliament is Syntagma Square. It's a busy place, especially in the evening. Check out the local street performers, merchants and water fountain in the city square.
It's historical significance (because of course, you're in Athens!) is that it's also been called Constitution Square. This is because it's the location that the Athenians rose up against King Otto of Greece on September 3, 1843 to demand a constitution.
Today, it's a common hang out spot great for attending events and people watching. Take a rest for a bit or walk through the square quickly before your evening begins!
Dinner at a rooftop bar (must-do during your two days in Athens)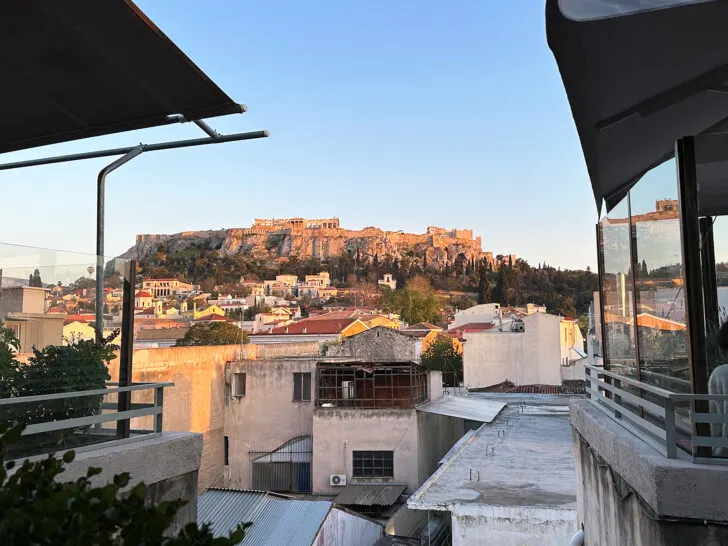 Estimated time: 2 hours
Schedule: 7:00 – 9:00pm
Remember, in Greek culture dinner is late. And after the busy day of walking you've had, I bet dinner is just what you'll need!
While there are hundreds – likely thousands – of restaurants in Athens, a really fun way to celebrate your time in this ancient city is from a rooftop restaurant.
Best rooftop restaurants in Athens
Couleur Locale (Normanou 3, Athina 105 55, Greece)
A for Athens (Miaouli 2, Athina 105 54, Greece)
POINT a (Acropolis Point) (Rovertou Galli 4a, Athina 117 42, Greece)
Polis Roof Top (Veranzerou 10, Athina 104 32, Greece)
Fun fact: all these restaurants have a view of the Acropolis, which looks phenomenal lit up at night!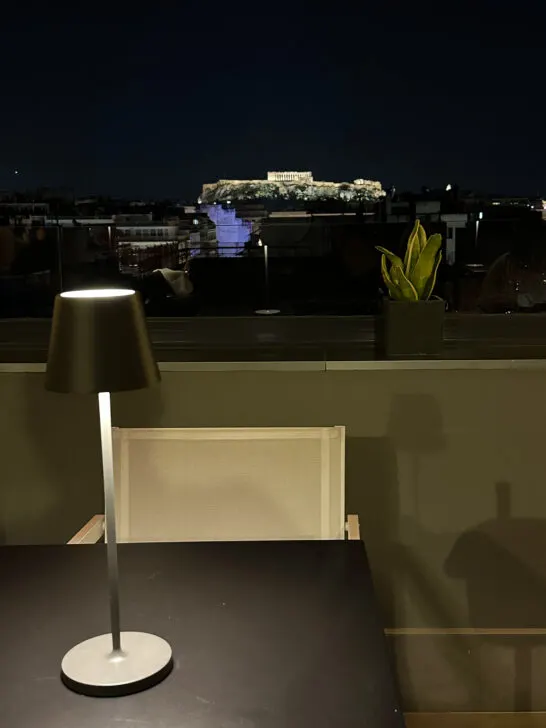 Depending on which location you choose (may be based on which has an open reservation), you may want to catch a ride share or taxi, based on how you're feeling!
Pro tip: for a dinner in Athens at a rooftop bar, you may want to make a reservation in advance, especially during the busy summer months.
If you're still up for it, and not completely exhausted from the day, grab drinks at a bar near the restaurant you choose or near your hotel.
Day 2 in Athens, Greece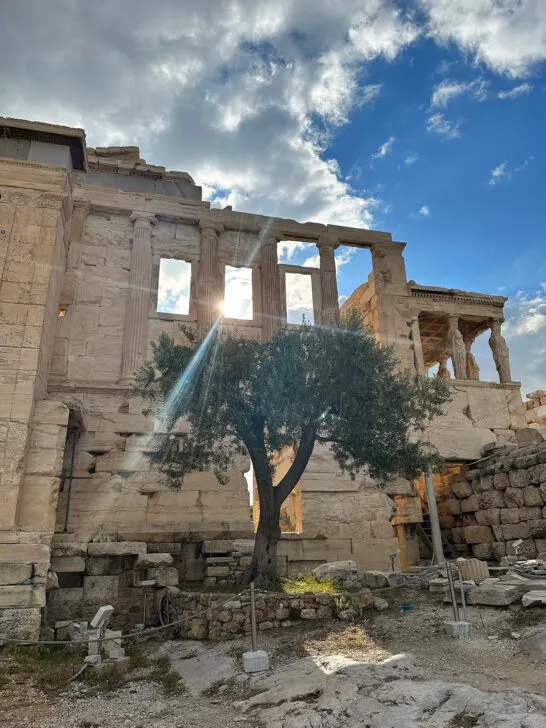 Of your 2 days in Athens, the 2nd day is a bit more laid back than the first. Get a leisurely start to the day, there's not quite as much walking, and you'll get more time to enjoy the cafe culture in Greece!
The city's rich heritage is palpable, whether you're gazing at historic ruins or savoring authentic Greek cuisine, Athens is a city that seamlessly fuses its past with its present, creating an unforgettable experience that showcases its enduring spirit and timeless charm. Let's dive into day 2!
Grab breakfast at your hotel before getting a start on your day.
Hadrian's Library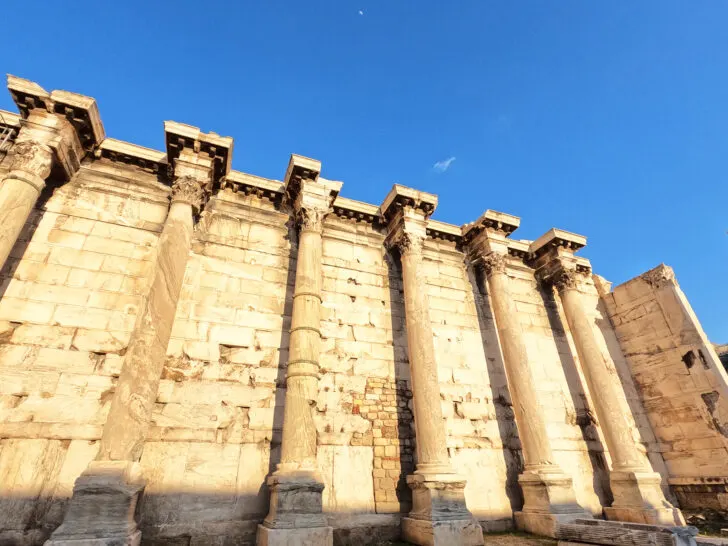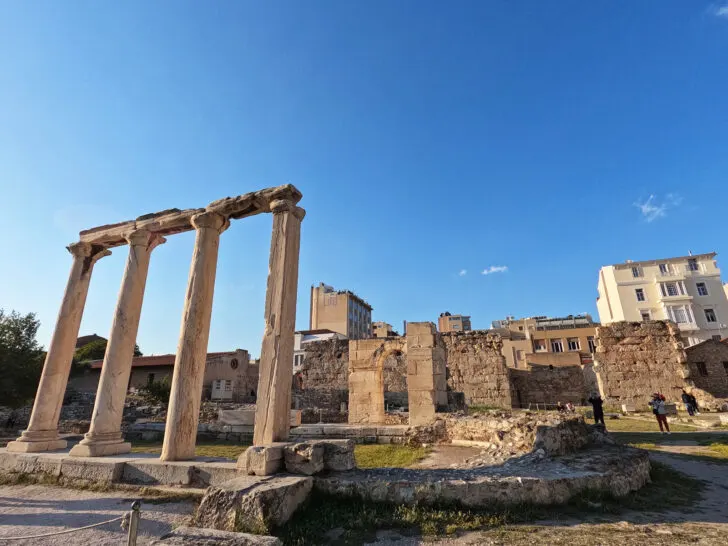 Estimated time: less than 1 hour
Schedule: 9:00 – 10:00am
A visit to Hadrian's Library offers a captivating journey into the past. This ancient Roman library, built in the 2nd century AD, reflects the rich history of the city and the enduring legacy of Emperor Hadrian.
As with many of the archaeological ruins in Greece, only parts of the library remain. There's many structures in the area, including the remains of the Tetraconch Church.
It's so fascinating to see pieces of these old buildings remain. Your imagination – along with good signage with structural information – helps you understand the way of life for the people of Athens centuries ago.
🎟️Included in the combo ticket.
Roman Agora
Estimated time: less than 1 hour
Schedule: 10:00 – 11:00am
Fun fact: 'agora' means a gathering place. Helpful for these next two sites. 🙂
The Roman Agora of Athens historical site dates back to the 1st century BC. It showcases the Roman influence on Athens and offers a glimpse into daily life during that era.
Check out the Gate of Athena Archegetis and wander through the ancient marketplace where traders and philosophers once gathered. Be sure to see the Tower of the Winds, which was the world's first meteorological center with a sundial, water clock and wind vane!
🎟️Included in the combo ticket.
Ancient Agora of Athens (one of the top things to do in Athens)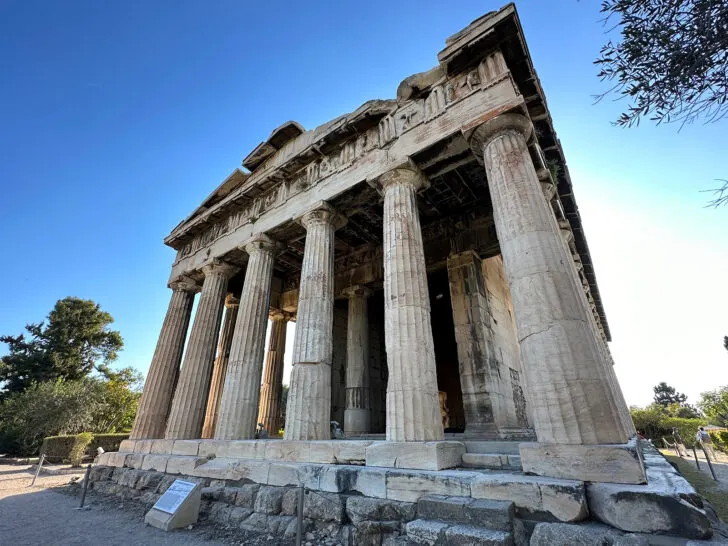 Estimated time: 1 hour – 1.5 hours
Schedule: 11:00 – 12:30pm
A larger site than the previous two activities, visitng the Ancient Agora of Athens will take you more time to see the highlights.
Perhaps the most historically significant place you'll visit on your second day of this Athens itinerary, the Agora of Athens is the birthplace of democracy. In fact, brilliant minds like Aristotle and Socrates frequented this spot to study and socialize!
Walk amidst the columns, temples and stoas, you can almost feel the vibrancy of this once-thriving hub in ancient Greece. My favorite spot was the well-preserved Temple of Hephaistos. The building is in spectacular shape, and from here you'll get another great view of the Acropolis as well.
🎟️Included in the combo ticket.
Monastiraki Square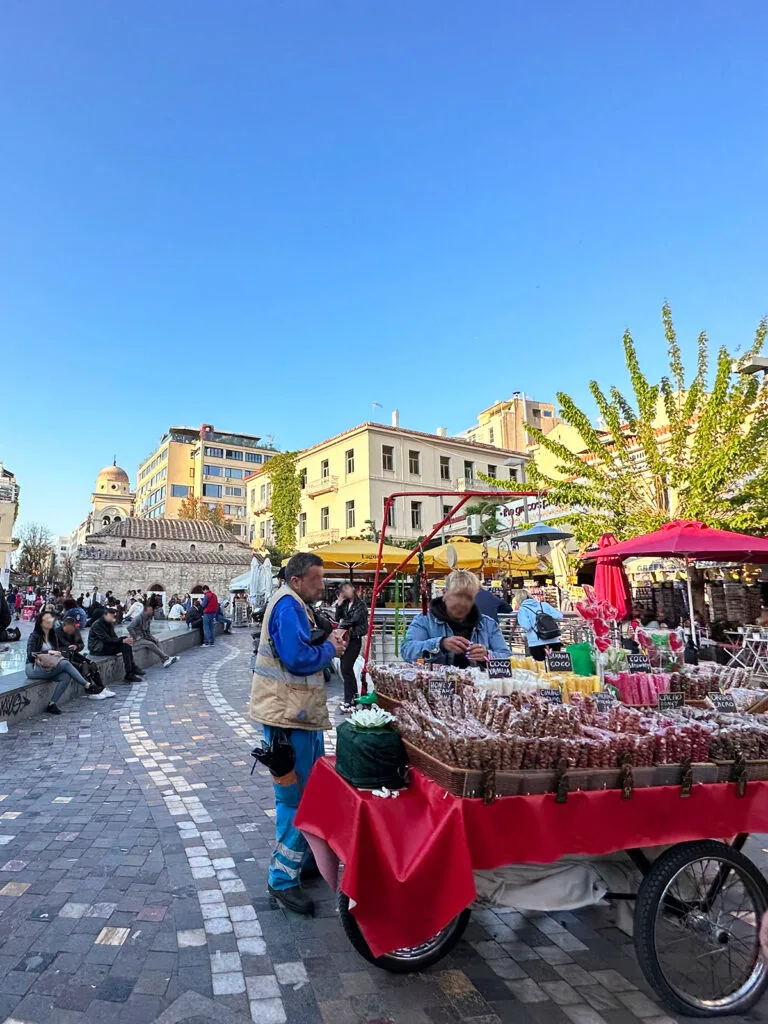 Estimated time: less than 1 hour
Schedule: 12:30 – 1:00pm
This popular spot is a must-do on your 2 day itinerary Athens! You can start by exploring the Monastiraki Flea Market, where an eclectic array of antiques, vintage finds and souvenirs await. Choose from hats, keychains, clothing, shoes, jewelry, mugs and so much more.
At night, the atmosphere comes alive with lively street performances and music at Monastiraki Square. It's an eclectic mix, providing visitors a taste of Athens' bustling street culture and a chance to uncover treasures from its past.
You can walk through the square, shop and people watch before lunch!
Pro tip: Monastiraki Square is an area known for pick-pocketing, so watch your valuables closely here.
Lunch at Monastiraki Square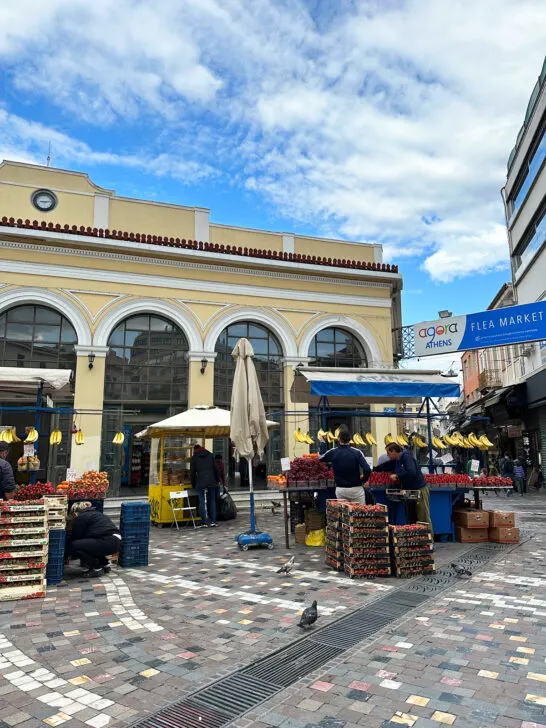 Estimated time: 1 hour – 1.5 hours
Schedule: 1:00 – 2:30pm
From traditional Greek food to pizza, gelato and even fresh fruit stands, there's something for everyone at Monastiraki Square! Sample delectable Greek street food or sip a traditional Greek coffee at one of the many cafes and eateries lining the square.
Find a restaurant that suits your taste buds – there's plenty around. And don't forget to filter your search by open restaurants, as some may only be open at dinnertime.
Of the many times I ate at Monastiraki Square, I never had a bad meal!
Varvakios Central Market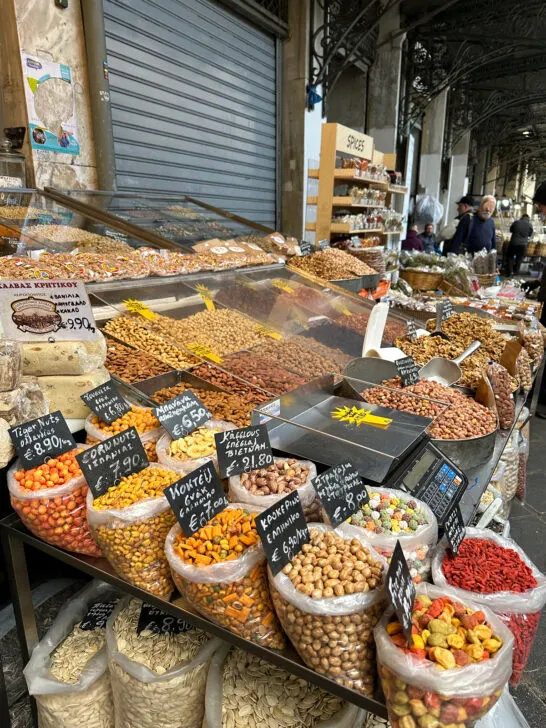 Estimated time: up to 1 hour
Schedule: 2:30 – 3:30
Walking a few blocks from Monastiraki Square, you'll find the largest market in Athens. It's popularly known as the Varvakios Market, although it's official name is the Central Municipal Athens Market.
This not only sells goods to purchase but also food and meat. It's where locals buy their food, and is worth going to so you can get a taste for the Greek culture and way of life.
You could even pick up some spices or nuts as a consumable souvenir! There are some other vendors selling goods at the market as well.
Pro tip: Beware if you have a queasy stomach! I was personally caught off guard by it allllll the kinds of meat available for purchase.🤢
Athens 2 day itinerary, continued
With just a few hours left to explore Athens, there's a few more things yet to do. The next activity is a good one!
Mount Lycabettus (another favorite during this 2 days in Athens itinerary)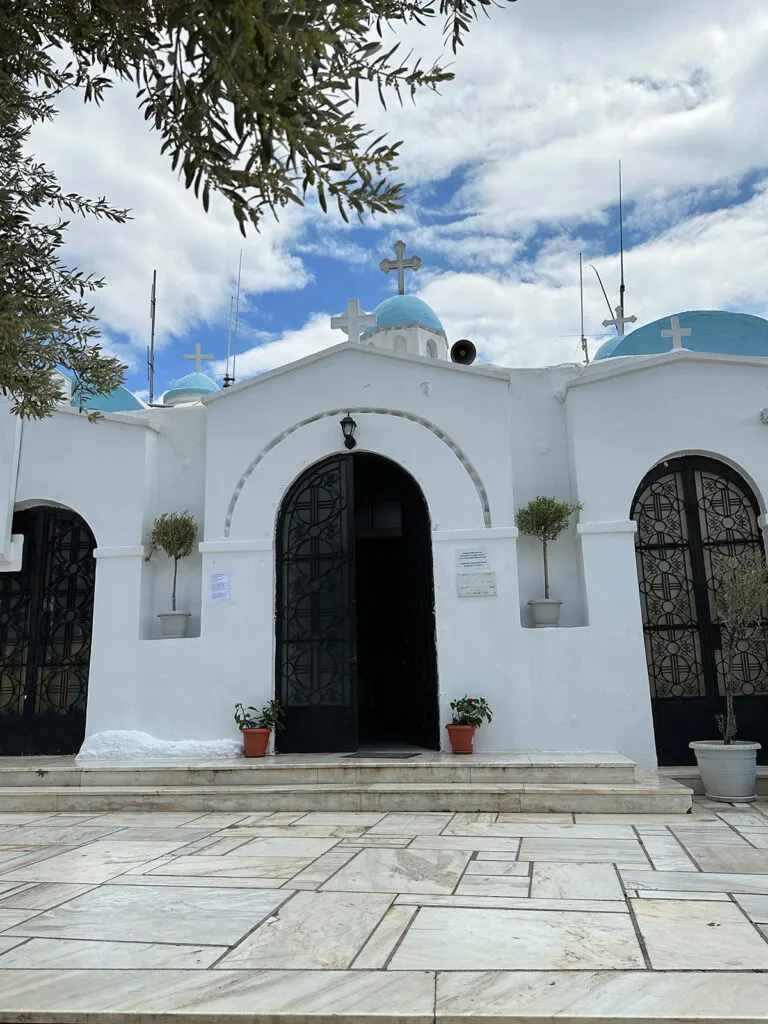 Estimated time: 1 hour
Schedule: 3:30 – 5:00pm
Real quick: this is further out of the way than most of the other activities on day 2 of this Athens itinerary. So if there's anytime to take public transportation, this is it! However, I've walked to and from Lycabettus Hill to Monastiraki Square and even Syntagma Square multiple times, so it's definitely doable!
This is truly a must-see during your two days in Athens! To be honest, I wasn't sure it would be worth it, but I'm so glad I got to experience Lycabettus Hill.
Fun fact: Mount Lycabettus is actually the highest point in Athens at 277 meters (908 feet), which is even higher than the Acropolis.
The legend of Mount Lycabettus is that it was created by Athena, the Greek goddess of wisdom. She was moving limestone for the construction of the Acropolis, but accidentally dropped it when she was given bad news by a raven.
To get to the top, you have two options: use the paved trail or ride the Lycabettus Cable Car. You'll ascend 210 meters (688 feet) either way! It's just 10€ per person round trip or 7€ per person one way.
Once at the top, enjoy amazing views of Athens to peak of Mount Lycabettus. There's also a restaurant and bar and St. George church.
Dinner in Athens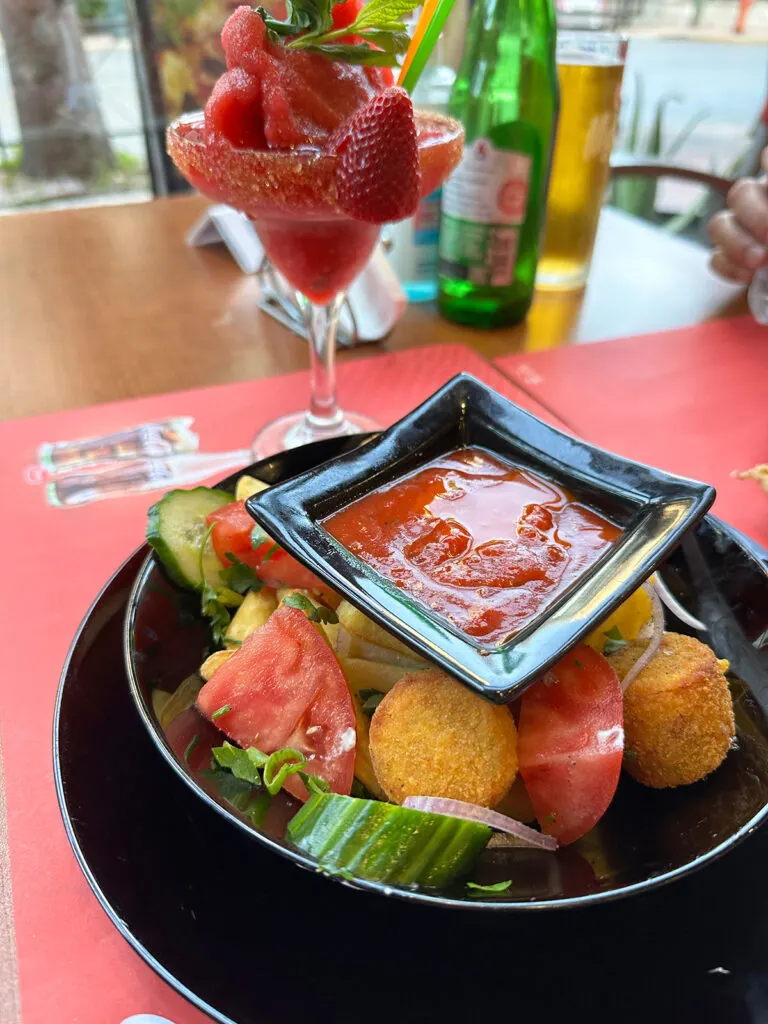 Estimated time: up to 2 hours
Schedule: 5:30 – 7:30pm
Okay so for this night you can try out a restaurant – maybe there's a place you walked past during the last two days in Athens you wanted to try? Or maybe you head back to Monastiraki Square to the plethora of restaurants in that area.
Of course, you could always try another one of the rooftop restaurant suggestions above.
One of my personal favorite restaurants in Athens, which I've eaten at on multiple occasions, is Victory. It's just a block away from the Athens National Garden, at Filellinon 22, Athina 105 57, Greece.
The food at Victory is incredibly fresh, and the owners have traditional Greek hospitality and certainly show you a good time!
Dessert at Mona Lisa Gelato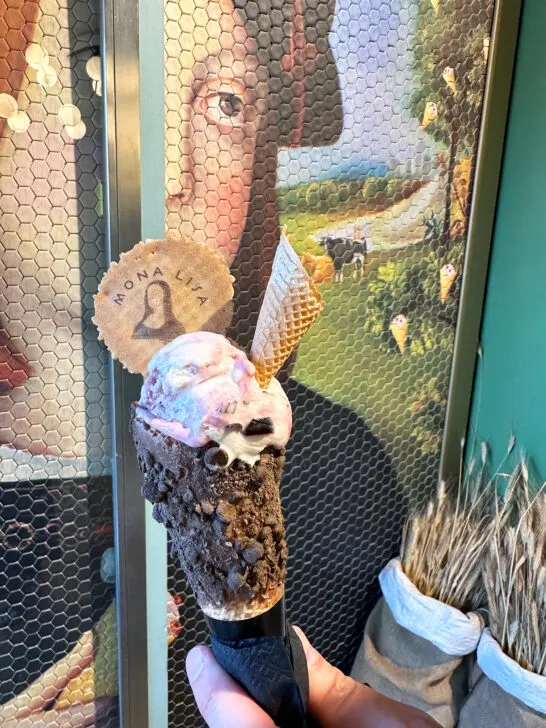 Estimated time: up to 1 hour
Schedule: 7:30 – 8:30pm
I had sooo many delicious desserts in Athens (and Greece in general), but one that particularly stands out is gelato. My husband and I have ice cream or gelato almost every destination we go to, and I'd have to say that the gelato we had in Athens reigns supreme!
During your Athens 2 day itinerary, the best place in Athens to get gelato is Mona Lisa Gelato, located at Adrianoy 48, Athina 105 55, Greece. It's very close to the Ancient Agora of Athens and Hadrian's Library.
With flavors like Banana Caramel, Blueberry Cheesecake, Pistachio and Belgium Dark Chocolate, how can you go wrong?
Pro tip: expect a line! But don't worry about the wait, they're open until 1:00am most nights!
It's a perfect way to end your time in Athens, honestly.
2 day Athens itinerary: additional things to do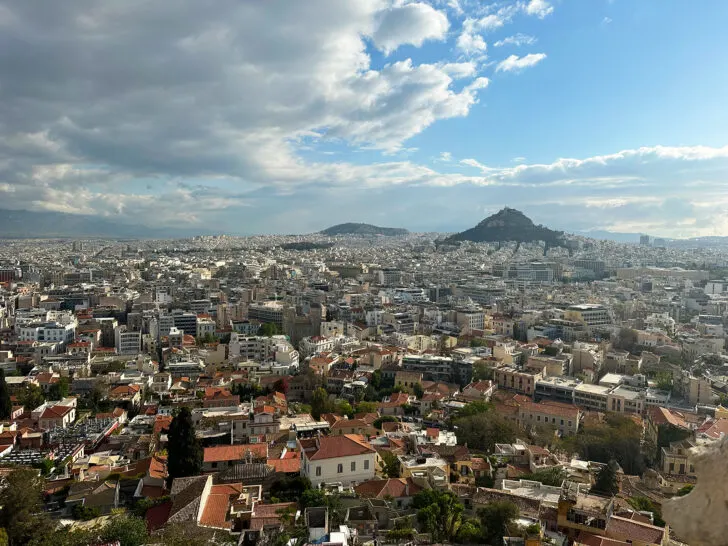 It's nice to have options, isn't it? Well if you find that one of the things above isn't your cuppa tea, here are some alternative ideas for how to fill your time!
And bonus: most are indoors, which offers a great alternative on hot summer days!
2 days in Athens itinerary: more ideas
National Archaeological Museum. Learn about both art and handicraft throughout the ancient periods in Greece. Perfect for those who love Ancient Greek mythology, archeology and art.

Benaki Museum of Islamic Art. This is one of the lesser known museums and attractions in Athens, but worth a visit. See the diverse selection of art, and better understand the Islamic influence on Greek culture throughout history.
National Observatory of Athens. This place is amazing to see during a night tour! See the night sky through a telescope while an astronomer explains what you're seeing. So fun.

Philopappos Hill. Another hill to climb in the city for beautiful views of Athens! Surrounded by nature, this is a great spot to go for sunset or sunrise. This underrated spot is more peaceful, and you likely won't find crowds here, either.
Alright do you have your plan set for your 2 days in Athens? Next let's go over a few more details for your time in the city.
Where to stay in Athens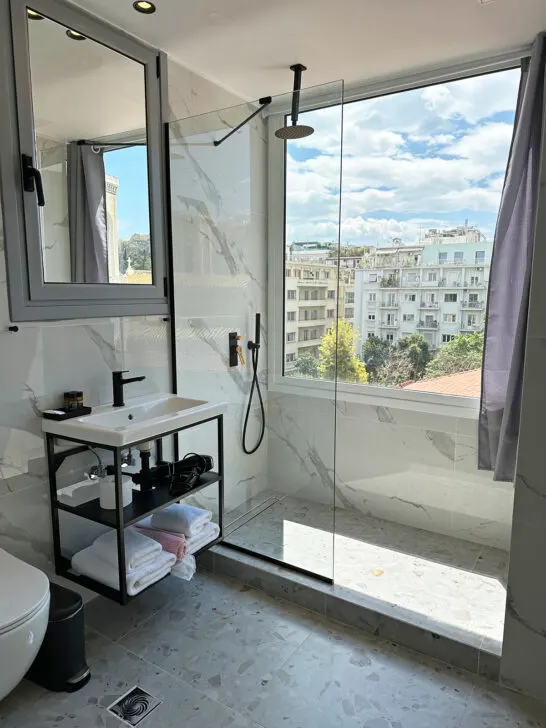 You'll want a location convenient for all the walking you'll be doing. The main attractions within Athens are all within a few miles of each other, so put yourself right in the middle of the action.
Pro tip: if you're a light sleeper use a (free) white noise app on your phone or bring ear plugs for overnights. The city is really old with old buildings and a vibrant nightlife, so prepare for lots of city noise.
My first night in Athens there was a party with live music in the apartment across from the hotel, which was enough music for a block dance party. It was a fun vibe…all the way until 3:00am. 🤪
Places to stay in Athens Greece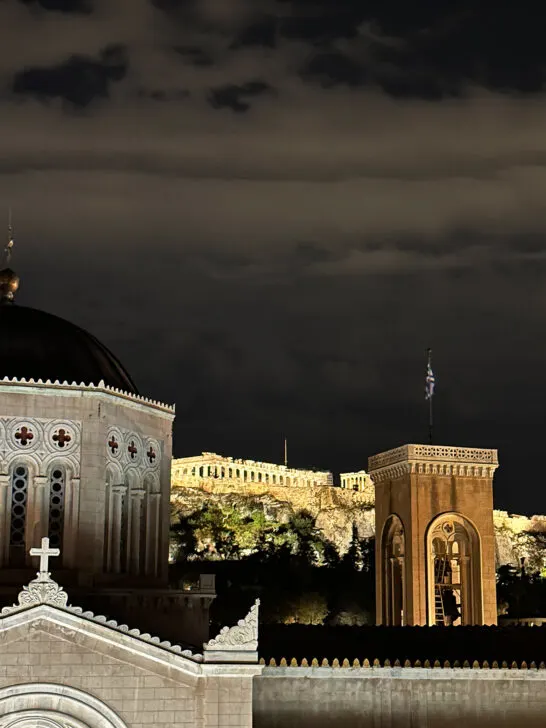 AboV Athens. This boutique hotel in the city center is prime location, and won't break the bank during your 2 days in Athens. Be sure to book a room with a balcony and request a high floor for views of the Parthenon!
Central Stay Athens. Close to Monastiraki Square and the Ancient Agora of Athens, this is a great spot to be.
Evripides Hotel. With views of the Parthenon from your terrace, this is another excellent spot in the city center.
2 days in Athens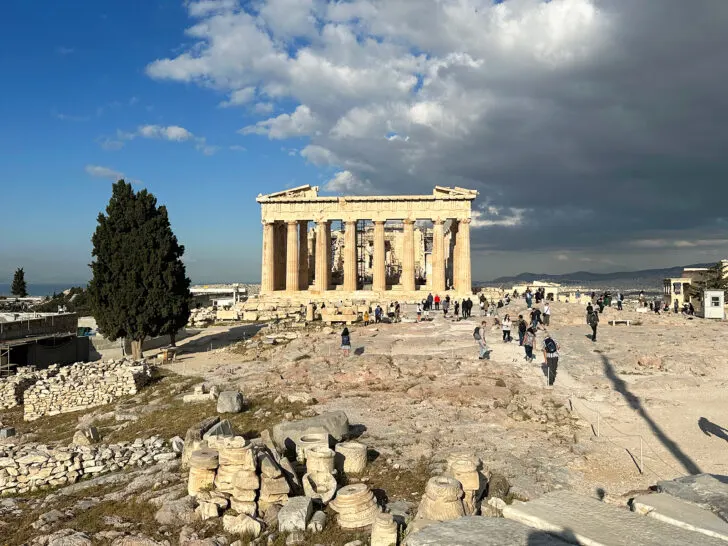 Can you believe all the sightseeing and amazing experiences you can see in just two days in Athens? With its rich tapestry of history, from ancient wonders like the Acropolis to the birthplace of democracy, Athens immerses you in the cradle of Western civilization.
Savor mouthwatering Greek cuisine at tavernas, stroll through charming streets, and take in breathtaking views from scenic vantage points like Lycabettus Hill. Athens is a place where the past mingles seamlessly with the present, and you're sure to enjoy your time in this extraordinary city.
Hope you have a great time during your 2 days in Athens!
Related content to read next:
29 Best Greek Islands for Couples You'll Love (Romance, Beaches, Adventure + More)
Incredible Aegean Cruise in the Greek Islands (Plus Honest Celestyal Cruises Review)
Mykonos vs Santorini: Which is the PERFECT Greek Island for You?
Find this guide helpful? Save it for later or share it on social media!