This pristine island surrounded by the turquoise waters of the Caribbean is the perfect day trip in Puerto Rico! Escape the busy city of Old San Juan and head to Icacos Island! This is the ultimate guide to everything you need to know before you go.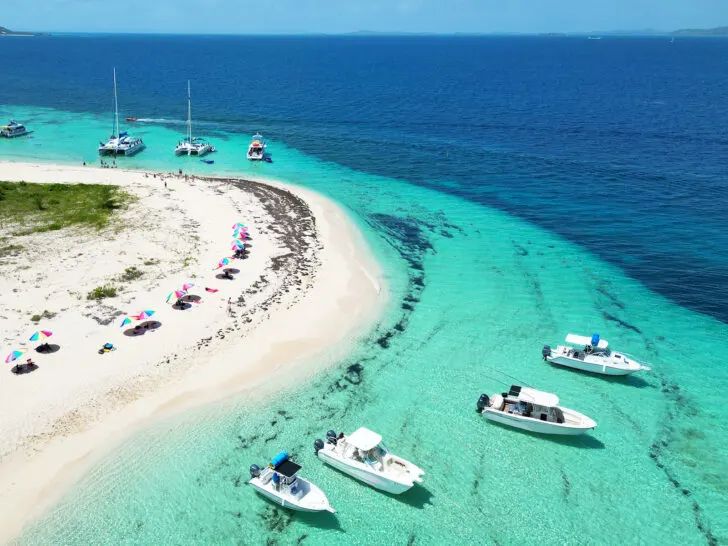 This post may contain affiliate links. For more info, see my disclosures.
Icacos Island, also referred to as Cayo Icacos, is nestled in the crystal-clear waters off Puerto Rico's northeastern coast. It's an absolute must-visit for those seeking an unforgettable tropical escape from mainland Puerto Rico.
Puerto Rico is a phenomenal destination. Whether you're spending a few days exploring all the best things to do in Old San Juan, El Yunque National Forest or another island like Vieques or Culebra, Puerto Rico is a destination unlike any other!
👉Don't have time to read the whole article? This is the best catamaran tour of Icacos Island, which is a full day trip including lunch and snorkeling.
If you're wondering if Icacos Island is worth your time, you're in the right spot! This guide will go over all the details essential to planning your trip to the island.
Map of Icacos Puerto Rico
If you're wondering just where is Icacos Island Puerto Rico, here's a map that will help you familiarize yourself with the area. The orange icon is Icacos Island and the yellow icons are other major landmarks on mainland Puerto Rico and nearby islands.
How to get to Icacos Island Puerto Rico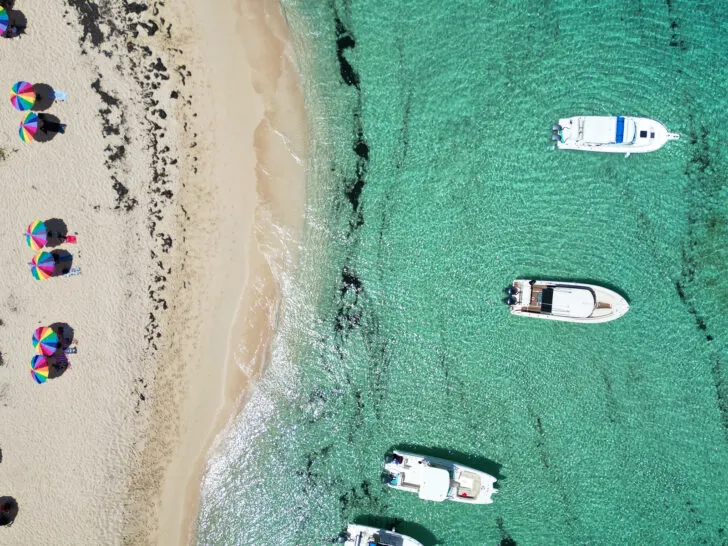 You basically have two options on getting to Icacos Puerto Rico.
Private boat
Island tour
Because most of us don't own boats, I'm going to focus on the second option.
There are no accommodations or overnights on the island. It's uninhabited with basically no services. With that said, your tour company will provide the amenities for the day.
Icacos Island tours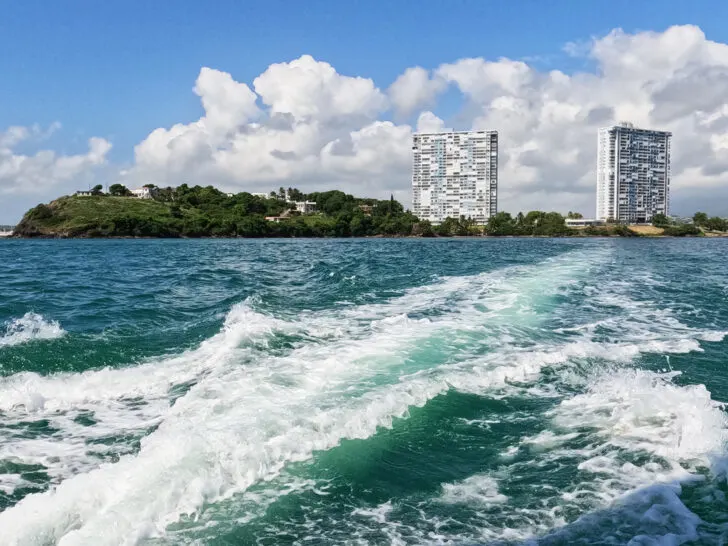 Not all day tours to Icacos Island Puerto Rico are created equal. You'll want a reputable tour operator that creates an immersive experience and has the amenities and timeframe you're looking for.
Icacos Island Catamaran Cruise. This full-day cruise is honestly a perfect way to spend a day visiting Cayo Icacos! Expect lunch and tropical drinks, too.
Icacos Island Boat Trip. This 1/2 day cruise just offers light refreshments instead of a full lunch. I love that this tour also offers umbrellas to lounge at the beach.
Tours to Cayo Icacos leave from Fajardo, so you'll have to consider transportation to the marina, depending on where you're staying.
I personally enjoyed the Catamaran cruise from Fajardo. This tour struck the perfect balance between adventure and comfort, while providing enough time to relax and adventure on the island as a full day tour.
These tour itineraries are thoughtfully crafted, offering a perfect blend of relaxation and exploration of this uninhabited island. From basking in the sun on the pristine beach to snorkeling adventures, you're sure to have a good time!
What to expect at Icacos Puerto Rico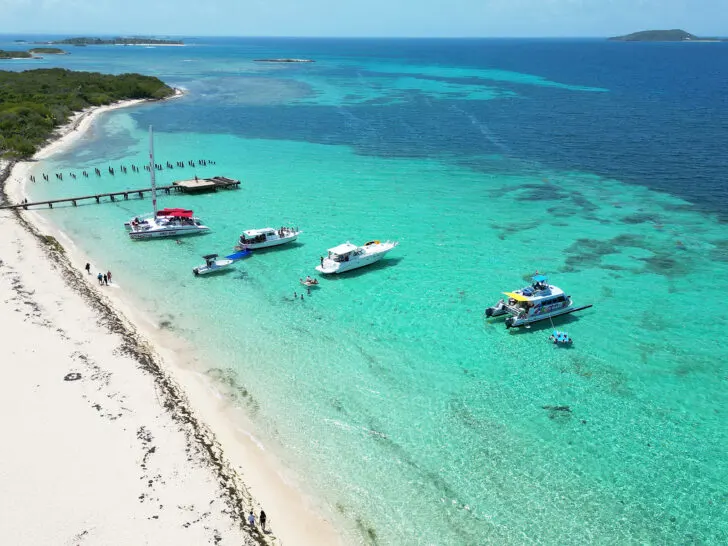 Immerse yourself in nature's beauty, as Mother Nature really nailed it with this island! Create moments that linger in your memory long after your trip concludes.
The way to the island is about a 30 – 45 minute boat ride. You'll see the beautiful coast of the mainland and Tortuga Reef as you go from Fajardo to Icacos Island.
As you pull up to the from the scenic catamaran ride to the island, the water goes from vivid blue to bright teal – a breathtaking sight to see in the Caribbean!
Your tour should ensure that you have ample time to soak in the sun, explore the underwater wonders and even enjoy water activities.
Amenities on the island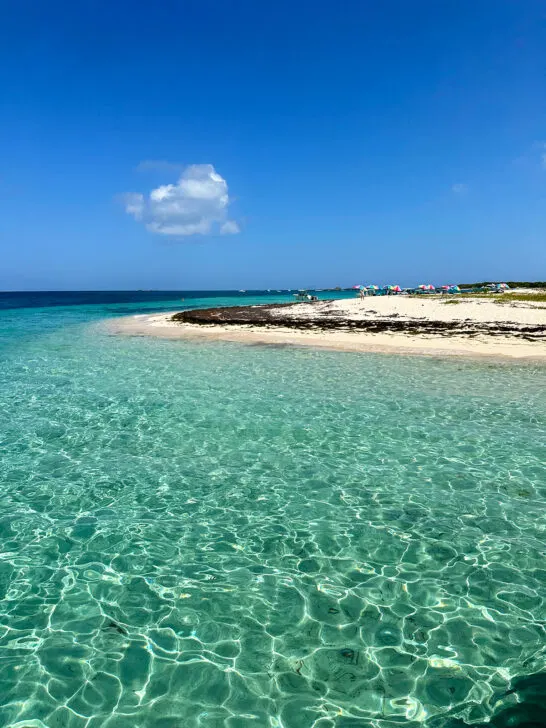 Well, there really aren't any! Instead of restrooms and restaurants, you'll see coastal forests, sand dunes and beaches! You'll need to rely on your catamaran for a restroom and food.
Oh, and make sure you bring the proper beach gear with you – list is below!
Lunch during your tour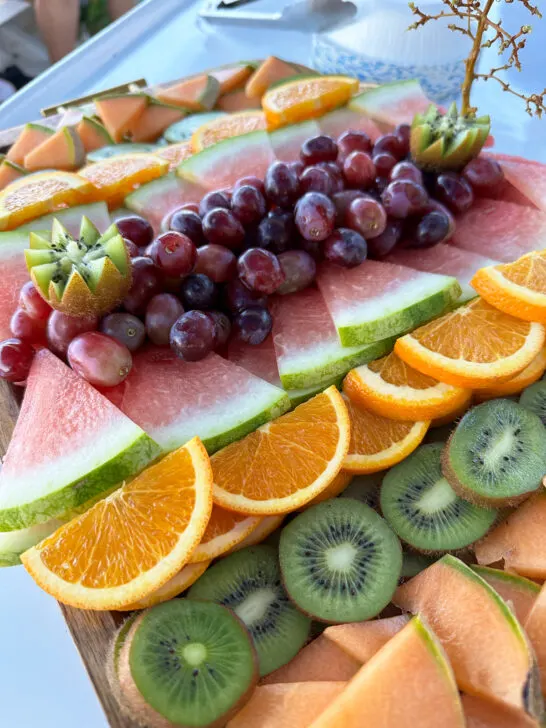 Your lunch or food options will vary based on the tour you select. From seafood wraps and tropical fruits to deli meats and alcoholic beverages, there's a variety of items served on the tour boats and catamarans.
Pro tip: being out in the sun is dehydrating. Remember to drink water and reapply the mineral sunscreen!
Oh, and if you're prone to motion sickness, be sure to get a full belly so it doesn't get worse.
Can I swim at Cayo Icacos?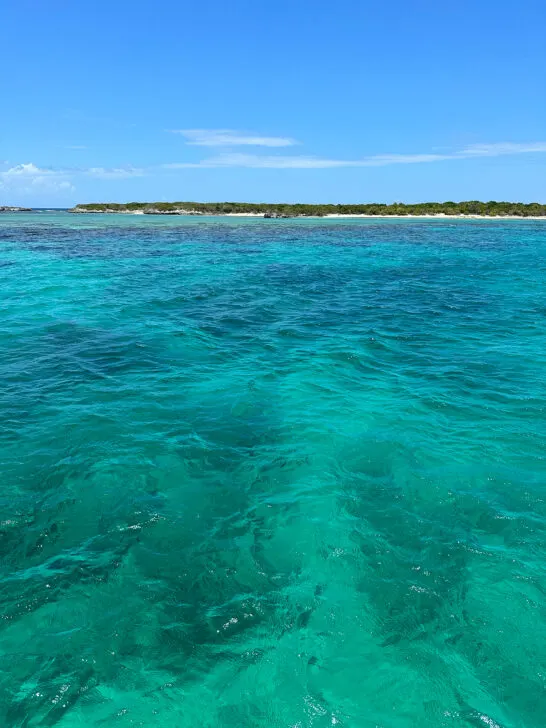 Of course! Icacos Island boasts unspoiled, powdery white-sand beaches and is surrounded by vibrant turquoise waters. So swim until your heart is content! Just be sure to watch for other boats and large waves.
And while most destinations I recommend water shoes, Icacos Puerto Rico isn't one of them! Similar to Flamenco Beach in Culebra, the luxurious soft sand under toe is amazing!
You'll want plenty of reef-safe sunblock, a beach hat and rash guard to protect yourself from the sun, though. More recommended items to pack, below.
Note: during the summer months you'll see some sargassum (seaweed) in the area. This is common across the Caribbean!
Snorkeling at Icacos Island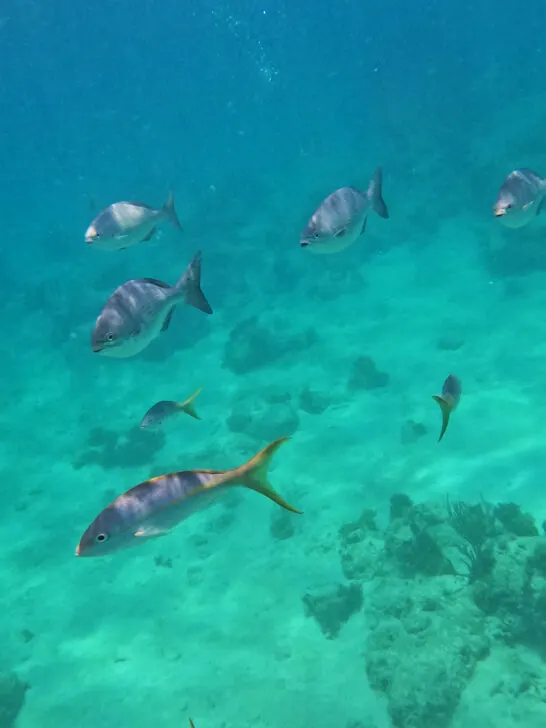 The island is surrounded by vibrant coral reefs teeming with marine life. Whether you're an experienced snorkeler or a novice, the opportunity to explore the underwater wonders of Icacos amongst the best snorkeling in Puerto Rico.
Your catamaran will have to transport you from the swimming area to the snorkeling area, which is just a few minutes' drive away. Full day tours will allow you to spend 30 – 90 minutes of snorkeling, complete with all the necessary gear.
The crystal-clear waters provide visibility that allows you to witness the kaleidoscope of colors beneath the surface at Cayo Icacos.
For those new to snorkeling, fear not; the tour provides equipment and guidance, ensuring a safe and enjoyable experience for all skill levels.
My group saw many fish and colorful reef. Remember the reef-safe mineral sunblock to continue to protect our oceans, reef and marine life!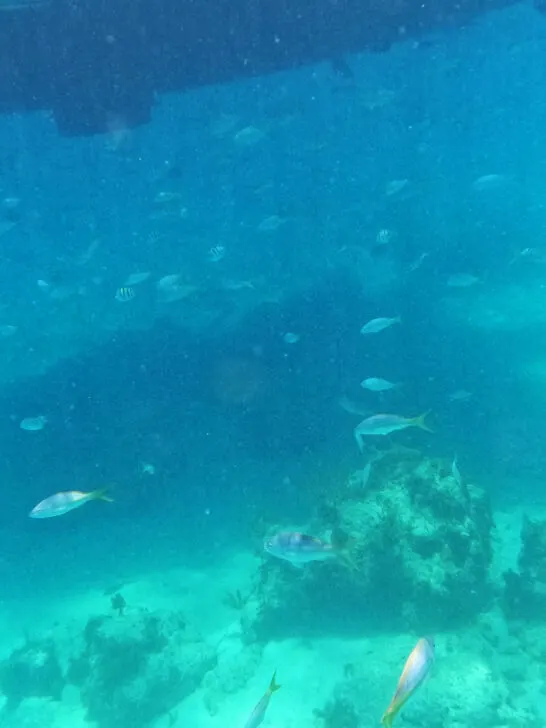 Marine life while snorkeling at Cayo Icacos
Hawksbill Sea Turtle
Green Sea Turtle
Mutton Snapper
French Angelfish
Sea Star
Ghost Crab
Sea Fan
French Grunt
Reef Shark
Queen Angelfish
Lionfish
Sergeant Major
And more!
After snorkeling, swimming and lounging around Icacos Island Puerto Rico, you'll likely head back into the marina.
Tips for visiting one of the best islands in Puerto Rico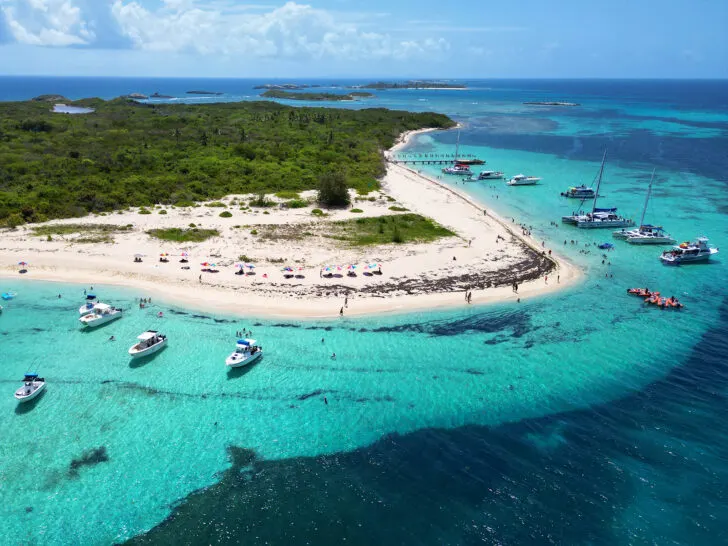 The journey to the island, soaking in the beautiful scenery on the island and snorkeling through the reef provides such a sense of adventure! Here are a few more tips to help ensure your day goes smoothly.
Icacos Island is busy. It's not exactly a hidden gem anymore, with a dozen or more boats coming daily. Although you'll want to step onto an unspoiled island, surrounded by the beauty of nature, consider the other 100 people that will want to do the same.

Take advantage of water activities! Whether your tour offers a slide, floatables or sun umbrellas and loungers, you paid for it so be sure to enjoy it!

Use a dry bag during your day. Catamarans are wet places so to ensure your towel, phone and money doesn't get wet, keep them in a dry bag.
Motion sickness medication is your friend. If you get queasy while boating or snorkeling, then grab your motion sickness remedy or whatever you need to help you feel your best while on this trip!

Leave no trace. It's often used in hiking and outdoorsy travel, but it's so important to leave this island with zero evidence that you were there. Don't bring back sand or rocks, don't disturb vegetation or marine life and definitely no littering.

Don't touch or stand on coral. One single fingerprint can kill coral from the oils on your fingers. This fragile ecosystem has a lot to contend with already. Don't touch or step on coral here, or anywhere in the world's oceans.
What to pack for the day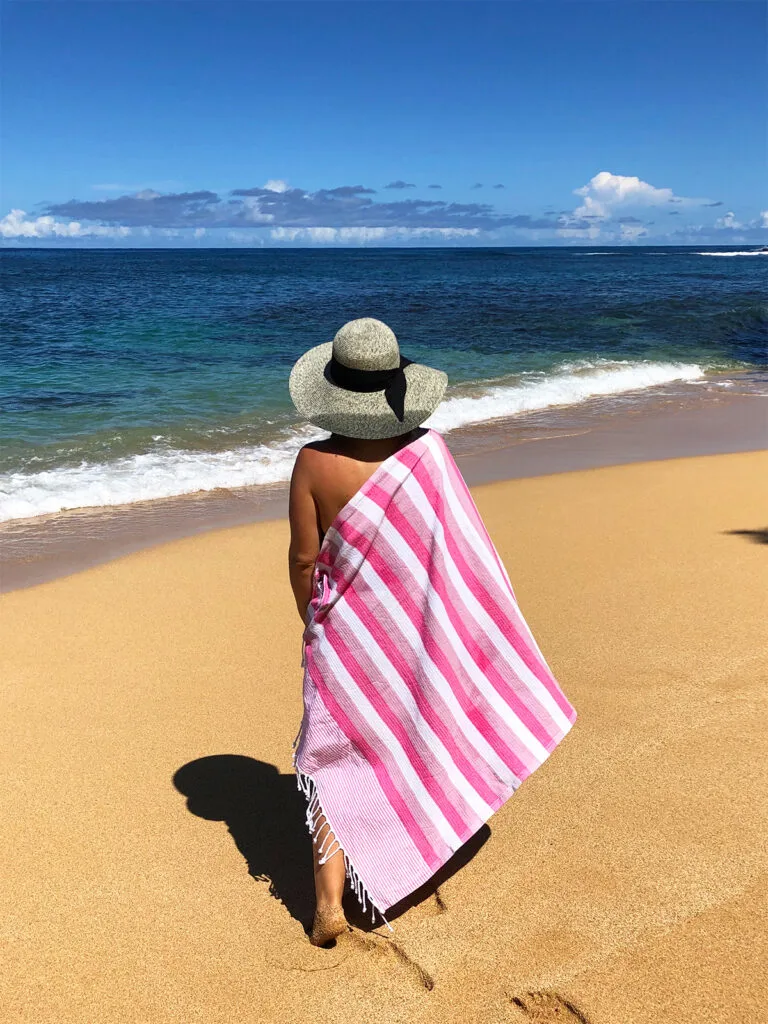 As promised, here are the beach essentials you'll need for your time in Cayo Icacos…
Underwater camera. Capture photos of you and/or your loved ones in the water, not to mention all the amazing fish and reef! This is the GoPro I used at the island, and so many other places, like discovering the best things to do in Kihei Maui. Don't forget the float strap accessory!

Dry bag. If you want to take your phone, a power bank or even extra GoPro batteries, use a dry bag! I have this dry bag in orange and it's the perfect size to carry by itself or to place inside a beach bag.
Beach towel. Most tours don't offer beach towels because they're towing the other essentials like food, drinks and snorkel gear. I love this quick drying beach towel with a hidden pocket for your cell phone, cash or keys.

Hair care. Protect your hair from the salt water and windy boat. Bring leave-in conditioner, comb or other essentials with you.

Cash for tip. While you'll pay for the food and tour in advance, don't forget to tip your tour guides! A 10% tip is customary for this type of thing in Puerto Rico.

Travel insurance. Literally anything can happen while you're on vacation! Take travel insurance with you on your trip to Puerto Rico and Icacos Island.
Things to do near Icacos Island Puerto Rico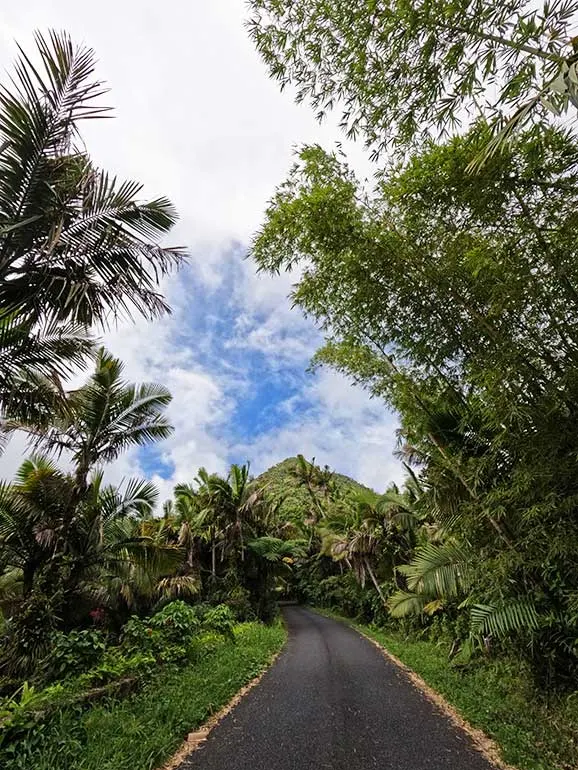 There's so many things to do in this area of Puerto Rico. You'll definitely want to squeeze a few days into your itinerary for this region!
El Yunque National Forest. This is the only National Rainforest in the USA, and it's truly a beautiful one at that. From waterfall hikes to amazing lookout towers with 360-degree views, this is best done as a day trip.

Flamenco Beach, Culebra. Commonly done as a day trip but better if you can spend a few nights to fully explore the island. Flamenco Beach is world-famous and commonly voted as one of the best in the world. It's truly impeccable!
Vieques, Puerto Rico. From the bioluminescent bay to the Black Sand Beach Vieques, there's a ton to see and do on this island, too. You'll want at least one night and 2 days here.

Old San Juan. Less than an hour's drive from Fajardo is Old San Juan. Marvel at the 500+ year old cobblestone streets, tour El Morro, the old fort that protected the city from the 1500's, and enjoy a Pina Colada at it's birthplace, there are so many things to do in Old San Juan!
Where to stay near Cayo Icacos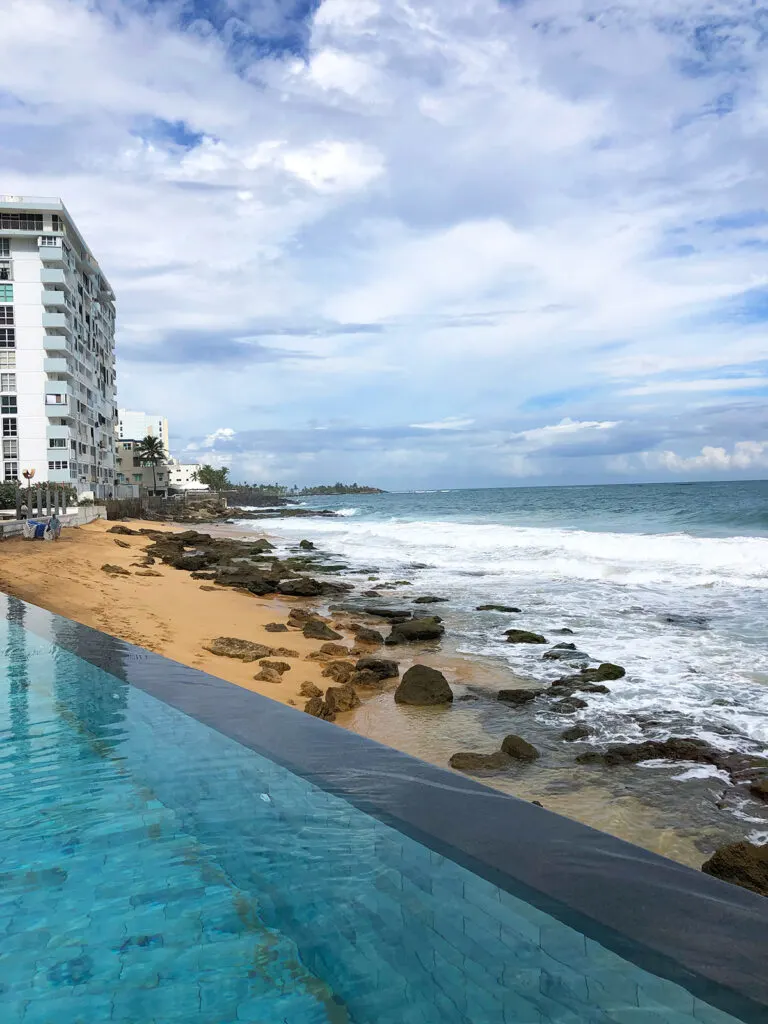 There's a plethora of options to stay in or near Fajardo and your launching point to Icacos Island. Here are a few recommendations:
El Conquistador Resort. Gorgeous and with an amazing pool, located right near the marina. It's a stunning property in Fajardo!
Condado Ocean Club. Closer to Old San Juan, this adults-only hotel in Condado is just what to you need to relax before and after your day tour to the island!
Palacio Provincial. In the heart of Old San Juan, stay in the middle of the action and take a day trip to Icacos Island from here.
Icacos Island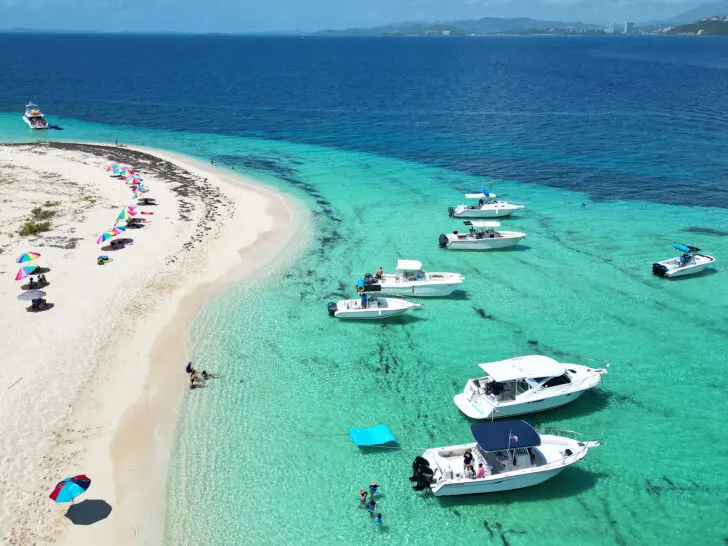 Well, that's a wrap! Everything you need to know about visiting Icacos Island, Puerto Rico!
With its pristine beaches, vibrant marine life, and thoughtfully designed tours, Icacos Island Puerto Rico promises an experience that will leave you breathless! It's a fun adventure, and a perfect way to spend the day in Puerto Rico!
Enjoy this incredible island!
Related content to read next:
28 Fun and Unique Things to Do in Old San Juan You'll Love
Gorgeous Culebra Puerto Rico: 25 Things to Do + Best Beaches & How to Get There
Stunning Flamenco Beach Puerto Rico: Everything You Need to Know Before You Go
Culebra vs Vieques: Which Island is Perfect for You?
Stunning Black Sand Beach Vieques, Puerto Rico: What to Know Before You Go
Find this guide helpful? Save it for later or share it on social media!