Are you dreaming of a romantic getaway that combines breathtaking natural beauty, gorgeous beaches, ancient history and the charm of traditional villages? The enchanting islands of Greece are perfect to spend with your loved one. Here's the ultimate list of the very best Greek islands for couples!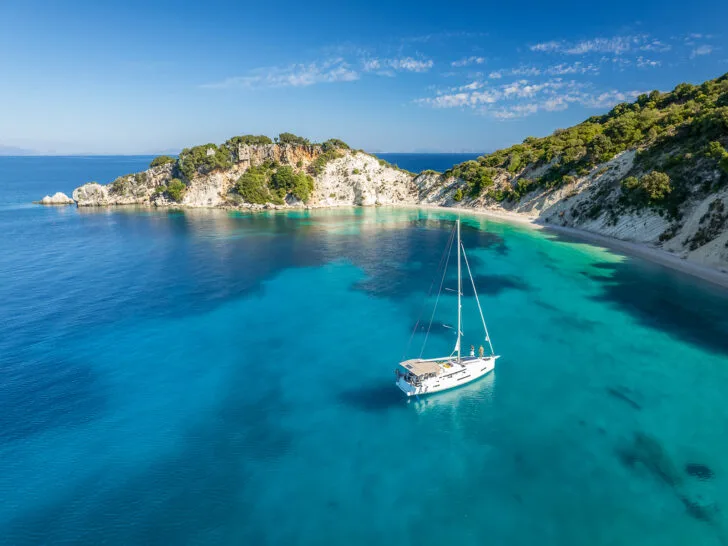 This post may contain affiliate links. For more info, see my disclosures.
From stunning seaside resorts on incredible beaches to underrated gems, there's more to the Greek islands than the famous blue and white buildings of Santorini! Whether you're looking for a couples holiday to Greece for a weekend or to spend multiple weeks island hopping, there's so many destinations to choose from.
Discover ancient ruins, wineries, olive oil tastings, water activities and so much more. Add in dreamy sunsets and you're bound to have an incredible time.
With stunning coastlines, crystal-clear waters and idyllic landscapes, Greece offers an abundance of options for couples seeking a truly unforgettable escape.
Best Greek island to visit map
Check out the map for a sneak peak at the best islands in Greece for couples. Find details of each island below!
By the way, I (unfortunately) haven't been to all 227 inhabited Greek islands (yet), so I've enlisted some of my fellow travel writers to help me compile this list. Enjoy!
Couples holiday to Greece packing list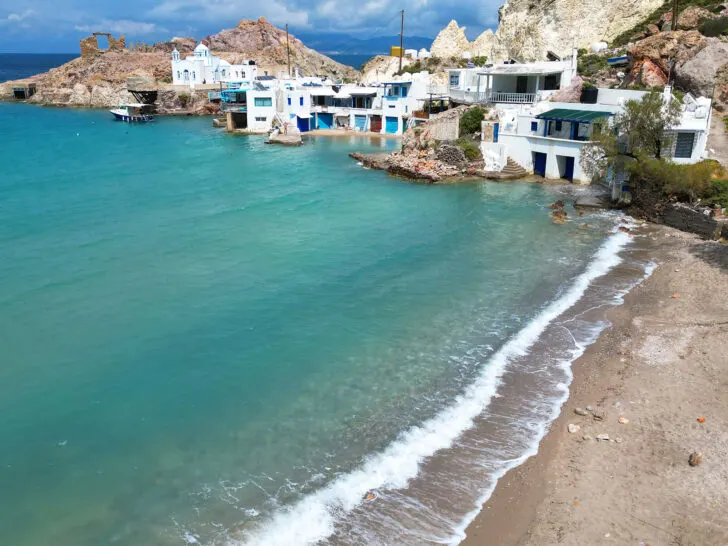 Whether you're spending one week in Greece on a dreamy island or are packing for a longer holiday, here are some essentials you don't want to forget!
GoPro. Get awesome beach and underwater photos without having to worry if your phone will get wet or have enough battery. I take a GoPro with me on every adventure and never travel without it!

US-Europe adapter plug. You'll need this if you're from the states.
Just try not to overpack – it's not any fun to lug around a bunch of extra things you don't need.
Tips for planning your Greece vacation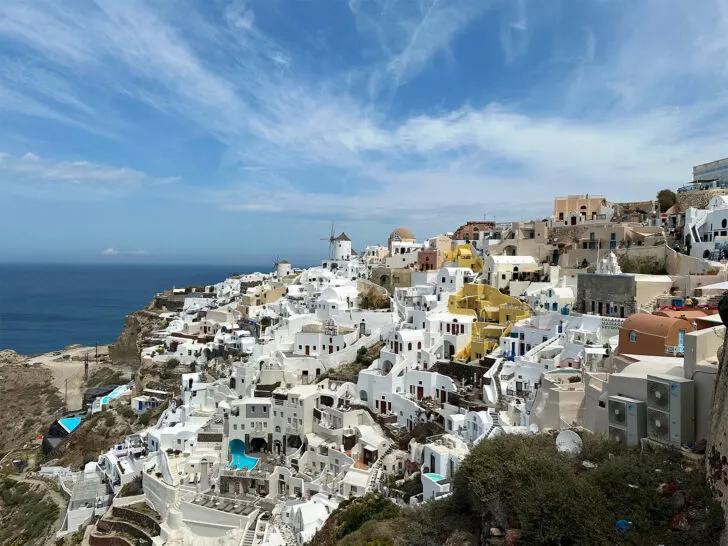 Just a few more tips before starting this list of the best Greek islands to visit!
These islands are very seasonal! Shops, restaurants and many hotels shut down over the winter months. April – October is the extended season for travel, although you'll find more options for hotels, flights and ferries from June – September.

Consider a cruise to make the most of your time. A Greek island cruise will take you to multiple places without having pack, unpack and worry about transportation details. Read this Celestyal Cruises review to see which islands I visited during my cruise!

Carry cash with you. Many shops and restaurants don't take cards, so having euro is handy for your couples holiday to Greece.
Best Greek islands for couples
It's time to start planning the ultimate couples holiday to Greece. But, how will you decide which dreamy Greek island to visit first?! Let's start the list off with one of my faves…
1. Milos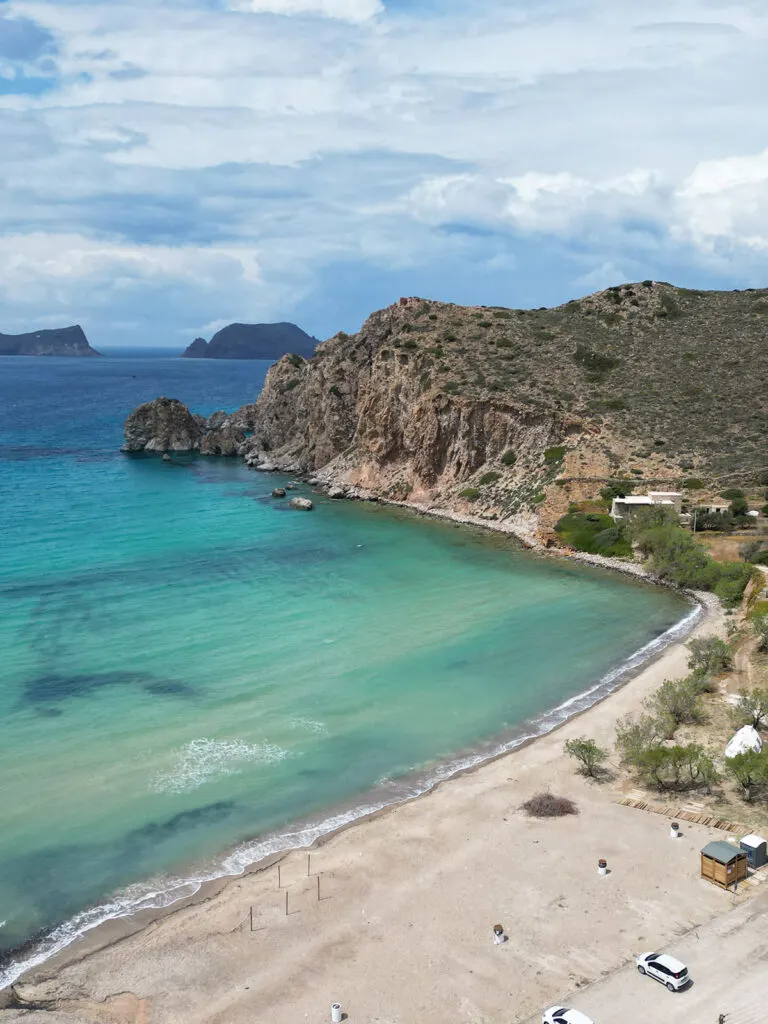 One of the best Greek islands for couples to visit is Milos! Part of the Cyclades, it's a great island to visit and spend a week in full relaxation. This charming island has two main villages, Andamantas and Plaka, which are perfect for sitting at a café or grabbing dinner and then seeing the local sights.
The must-see spot on the island, and one that every tour bus and Aegean Sea cruise recommends is Sarakiniko, AKA Moon Beach. This unique rock formation along the edge of the sea truly looks like a part of another world! Wear some grippy water shoes to walk along the coves, soaking in the sights.
Couples will love beach-hopping in Milos, too. Plathiena Beach offers many amenities in the summertime, and is a great way to spend the day.
Another stunning, although tricky to get to spot is Tsigrado. You can view it from above, or climb the ladder to the cove and enjoy the waves. Nearby is Fyriplaka, which is a long beach with ample parking. Enjoy scenic views of the Andaman Sea and the colorful rocky shoreline.
There aren't large hotel chains on the island, which is part of the appeal! Couples will love staying in a vacation rental property throughout the island or in Plaka. Be sure to grab brunch on the rooftop café En Plo, which has beautiful views of Milos!
A rental car is the best way to see Milos. To get to Milos, it's just a short 2.5 hour ferry ride from Athens, making it a really convenient option on this list of the best islands in Greece for couples.
You'll want at least 2 full days to see the highlights, but a relaxing week-long holiday or honeymoon is perfect for this dreamy island in Greece!
Recommended by me – Nikki of She Saves She Travels
2. Zakynthos (a favorite on this list of best Greek islands to visit)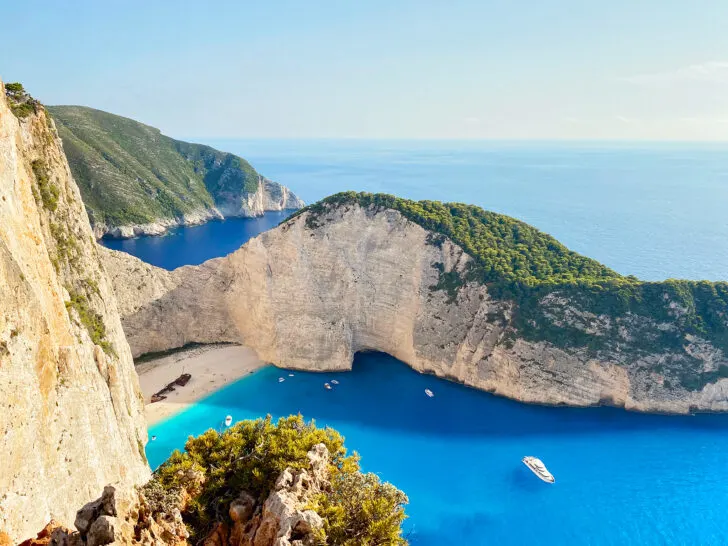 Zakynthos is undeniably deserving of a spot of this list of best Greek islands for couples to visit. With its pristine beaches, crystal-clear turquoise waters, and breathtaking sunsets, this Greek island offers a truly romantic escape with so much to see and do in Zakynthos.
Whether it's strolling hand in hand along the shoreline, exploring hidden coves, or indulging in candlelit dinners overlooking the sea, Zakynthos creates moments of pure magic and enchantment that couples will cherish forever.
Embark on an unforgettable morning couples' adventure! Rent a boat for 3-5 hours and discover the stunning caves and waters of the mesmerizing Ionian Sea.
Swim and snorkel in the crystal clear water and head to Cameo Island. It is well-known as a haven for turtles. For an exceptional experience, we suggest Fun at Sea as they offer top-notch services at great value.
To reach Zakynthos International, you have two options. Firstly, you can take a 1-hour flight from Athens. Alternatively, you can hop on a ferry from Kyllini in mainland Greece to Zakynthos, which will take approximately 1 hour and 15 minutes.
The Ionian Hill Hotel has stunning views from your room balcony and pool terrace overlooking the Ionion Sea. The hotel is small and intimate which is perfect for couples looking for a romantic break.
Recommended by Jolene of Wanderlust Storytellers
3. Ithaca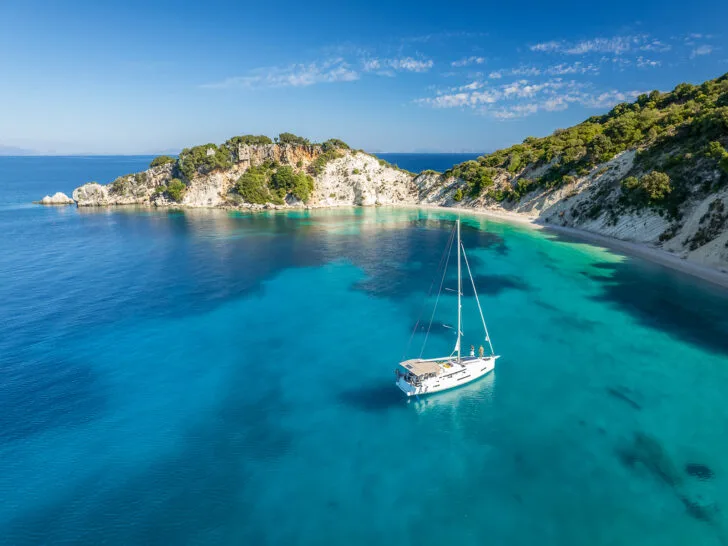 The island of Ithaca, in the Ionian Sea, is one of Greece's most underrated spots. It's known for its dramatic landscapes, clear waters, and picturesque villages. Across the island, you'll find hidden beaches, beautiful hikes, and some of the tastiest food in the country.
One of the prettiest and romantic villages on the island is Kioni: a scenic spot with colourful houses scattered across its hillsides.
Grab a coffee and an ice cream from one of the charming cafes, then hike up to the nearby viewpoint to view the village from above. Ithaca is the best Greek island for couples who desire a variety of activities.
For a romantic night out, venture out to Nikos Tavern in Vathy, where you can sample authentic moussaka and fresh Greek salads. Once you've finished your meal, stroll down to the waterfront to admire the mix of sizeable yachts and humble fishing boats.
Ithaca is home to plenty of secluded coves that will allow you to stake out a stretch of sand for yourselves. It could even be the best place in Greece for couples who love the sea!
But if you're not beach people, there's plenty of activities to sign up for. Renting a scooter will allow you to cover the island from top to bottom, from the ruins of Odysseus Palace to the Pyramids of Exogi.
Reaching paradise isn't too complicated, either. While Ithaca doesn't have an airport, the nearby island of Kefalonia does, and a ferry ride from there will take just over two hours. If you're coming from the mainland, you'll be taking a four-hour ferry across from the port of Patras.
The best time to visit Ithaca is during the shoulder season: May, June, and September are all equally delightful. At this time of year, you can expect temperatures in the mid-20s and prices that are lower than in July and August.
Greece can be an expensive country to travel to during those peak summer months, so if you can cut those prices down, it's worth doing so.
One of the most romantic guesthouses on the island is Familia, in the heart of Vathy. A beautiful boutique hotel, Familia offers up modern, stylish furnishings along with welcoming staff, a delicious breakfast, and a seriously comfortable bed.
Ithaca is by far one of the best Greek islands for couples with its beautiful scenery, romantic villages and picturesque hillsides.
Recommended by Lauren of Never Ending Footsteps
4. Tinos (underrated gem on this list of best islands in Greece for couples)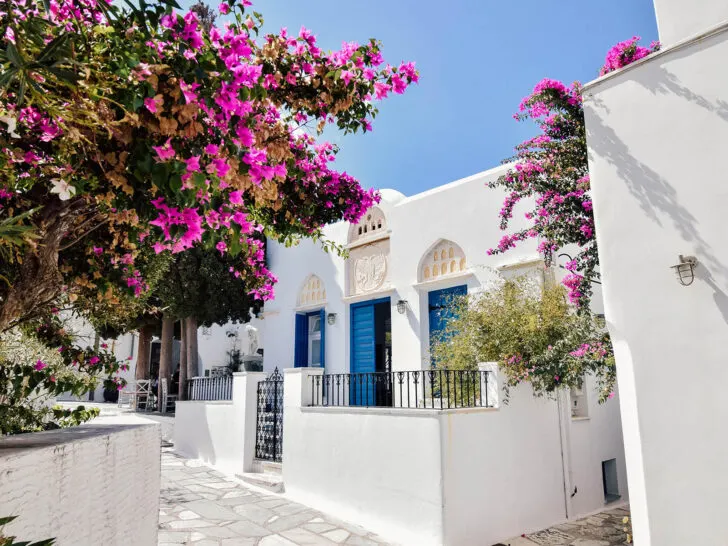 Tinos is among the less touristy and quieter Greek islands and therefore one of the best Greek Islands for couples looking for a relaxing and romantic holiday.
It's located in the Cyclades archipelago close to the islands Andros, Mykonos, and Delos and can be best reached by ferry from any of these islands or from Athens.
Empty sandy beaches, picturesque villages, and the most friendly and warm-hearted people – that's the best way to describe Tinos. The island is full of exciting and romantic places waiting to be explored!
One place that needs to be included when visiting Tinos is the capital called Tinos Town (Chora). Its promenade is perfect for a leisurely stroll, especially in the evening to experience a romantic sunset. It's also home to some of the best restaurants on the island.
One of the delicious restaurants is To Koutouki tis Elenis. Although the name is quite a tongue-twister the food, service, and atmosphere are outstanding!
Another lovely place to visit is Panormos Bay which is less than 30 kilometers from Tinos Town. Think of a small harbor with fishing boats, cozy taverns, and cafés along the promenade. Together with Pyrgos, which is famous for its stunning marble-made buildings, it's definitely one of the most romantic places on Tinos!
There are many great hotels all around the island but one that can't be exceeded is Big Blue Tinos. This 3-star hotel close to Tinos Town offers 11 cozy apartments with sea view and an outdoor pool. Thanks to its location facing the south, couples can enjoy the most romantic sunsets while having a drink on their own terrace!
Recommended by Alina of World of Lina
5. Koufonisia Islands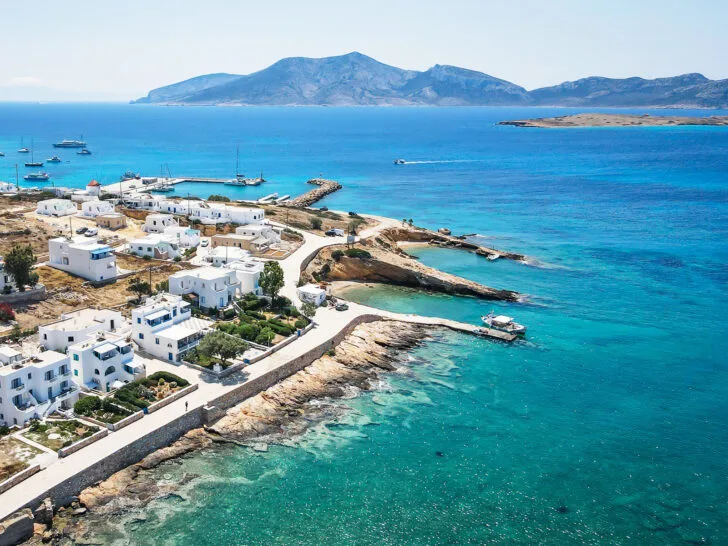 The Koufonisia Islands, often referred to as the "Mykonos of the Little Cyclades," may be small but has some of Greece's most beautiful beaches. With its easy accessibility and laid-back vibes, it's a great addition for couples on an island-hopping itinerary.
This Cyclades archipelago comprises three islands – Ano Koufonisia, Kato Koufonisia, and Keros. Ano Koufonissi, the livelier of them, has hotels, restaurants, bars and more developed roadways.
For more adventurous couples, free camp on Kato Koufonisia and hike to secluded beaches all to yourselves.
What really makes Koufonisia special are its sandy beaches with clear turquoise waters. Ammos, Fanos, Italiada, and Finikas are a few of your best options with sandy shores, a rarity to the many rocky beaches in Greece. As you wander along the coastline, stop for a swim at the natural pools or cliff-jump off the rock formations.
Being so small, you can easily get around on foot. But renting a bike or hopping on a boat taxi makes exploring the island even more convenient.
When the sun sets, the island's nightlife comes alive. Have a romantic evening at one of the taverns in Chora, like the fantastic Mikres Cyclades, where you can savor gastronomic Greek cuisine paired with fine wine.
Despite its popularity, Koufonisia remains relatively affordable. Keros Art Hotel is a great modern boutique hotel option for couples who want to stay near the beach.
Recommended by Catherine of Nomadicated
6. Corfu (one of the best places in Greece for couples)
If you're looking for a romantic escape with your special someone, look no further than the beautiful island of Corfu. With its inviting people and stunning scenery, Corfu is one of Greece's best islands for couples.
From its gorgeous blue waters and hidden coves to its quaint villages, Corfu is the perfect destination for a romantic getaway.
There's no better way to explore Corfu than on a private romantic boat trip. You can cruise around the island, discovering all of its incredible beauty as you take in breathtaking views of crystal-clear waters and lush greenery. Or you can explore all the hidden coves and stop for a swim in some of the most romantic spots.
Corfu also offers plenty of opportunities to soak up the sun, whether it's on a beach or even just relaxing in your own private spot!
But what really makes Corfu so special is its welcoming people and LGBT-friendly attitude. Everywhere across the Island you will be welcomed and made to feel at home.
And if you're looking for the perfect place to stay, try the charming village of Benitses. With its rustic streets and blue waters, it's the perfect spot for you and your someone special to relax and escape from reality. The best place to book your stay is at Angsana Corfu Resort & Spa.
So if you want a romantic Greek Island getaway, try Corfu! You can easily fly into Corfu International Airport from all across Europe.
Corfu is the best Greek island for couples who are looking for romance and spectacular scenery.
Recommended by Lowri of Many Other Roads
7. Lefkada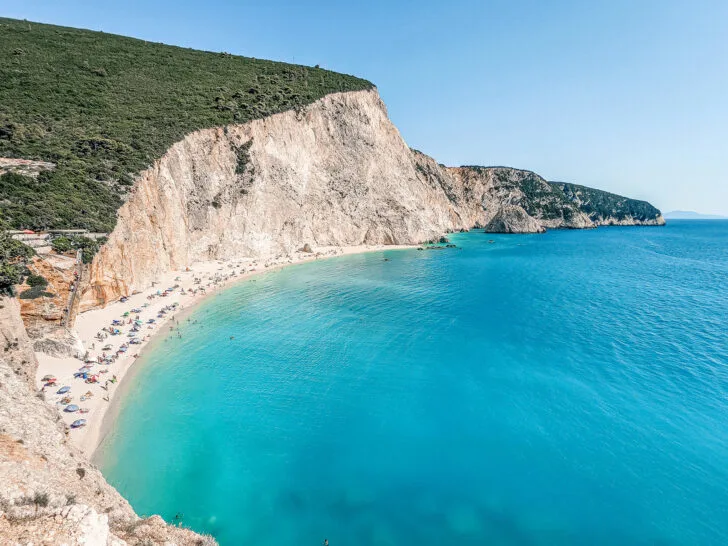 Lefkada, one of the Greek islands in the Ionian Sea, offers stunning landscapes, amazing beaches, and lots of activities that make it an idyllic destination for couples.
Upon arrival, couples can either fly directly to Aktion Airport, which is the nearest airport to Lefkada, or to Athens and then drive to the island.
Renting a car is recommended for convenient exploration, and the scenic drive from Athens to Lefkada offers beautiful sights along the way. No ferry is required to reach the island, making it easily accessible.
Lefkada is renowned for its breathtaking beaches, including Kathisma and Porto Katsiki. These pristine stretches of sand and crystal-clear waters provide the perfect setting for couples to relax, soak up the sun, and enjoy each other's company.
For a touch of luxury, you can visit beach bars like Copla at Kathisma, where you can unwind in a pool overlooking the azure sea.
To add some adventure to your trip, you can venture to the waterfalls in Nydri. There you can swim in refreshing natural pools.
Taking a romantic stroll through the charming streets of Lefkada Town or Vassiliki, with their traditional architecture and vibrant atmosphere, is also highly recommended.
When it comes to dining, Rachi and Amente are must-visit restaurants for couples. Not only do they offer excellent food, but they also provide the best sunset views on the island.
For accommodation, Porto Galini is a fantastic choice for couples. The resort offers two swimming pools and a spa, making it a perfect retreat after a day of exploration.
In summary, Lefkada is a paradise for couples seeking a romantic escape. From its stunning beaches and beach bars to its waterfalls, charming towns, and exquisite restaurants, Lefkada is the best Greek island for couples who love to explore.
Recommended by Jo of World Wild Schooling
More of the best Islands for a couples holiday to Greece
Whether you're planning a honeymoon, anniversary celebration, or simply looking for some romantic time away, these are the best Greek islands for couples to visit.
8. Mykonos (a popular spot on this list of best places to stay in Greece for couples)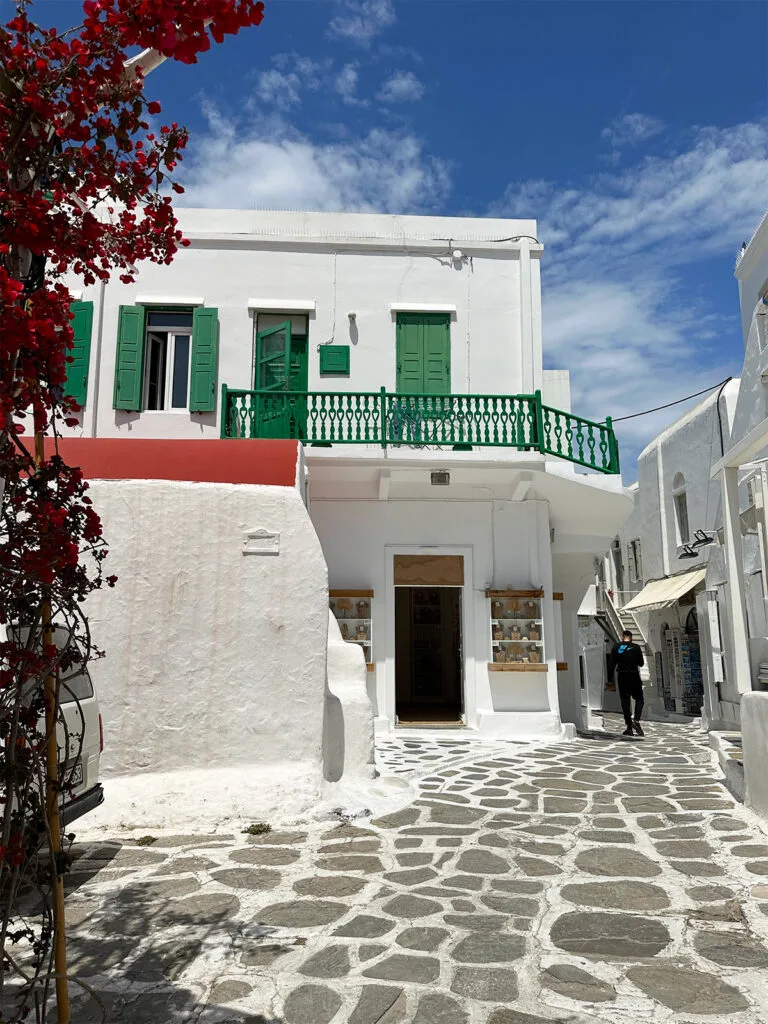 The island of Mykonos is perfect for a couples holiday to Greece! Mykonos turns up the romance and charm for couples, and is an iconic Greece getaway. Out of all the islands on this list, Mykonos is also one of the most welcoming for the LGBTIQA+ community!
With white-washed streets that you can literally get lost in, this island is full of surprises and adventures for couples looking for a bit of fun on their getaway. Be sure to make reservations for dinner during sunset along the coast the popular Little Venice. It's a great way to spend a romantic evening for two!
See the historic Windmills of Mykonos and if you want to see one of the most important archeological sites in Greece, take a day tour of Delos.
Mykonos has a reputation for being a party island, so if you're looking for great nightlife, head to Paradise Beach. If you're hoping for more of a chill holiday, then the town of Ano Mera. This sleepy village will provide all the peace and relaxation you need.
One of the most popular islands in the Cyclades and all of Greece, Mykonos is easy to get to with an airport that's busy with direct flights from a few European cities, and many connecting flights a day to Athens. Summer season you should be able to find many flight options that fit your timeline.
Recommended by me – Nikki of She Saves She Travels
9. Kefalonia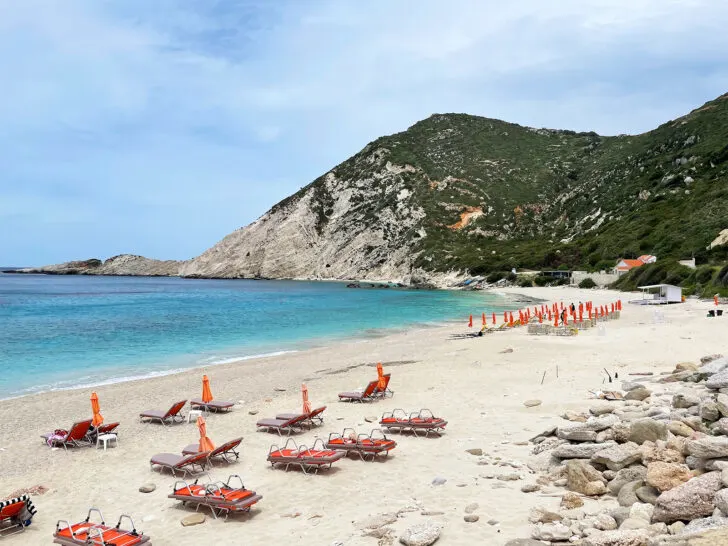 Though not yet a household name, Kefalonia offers all the sunny charm of the Mediterranean without the mood-killing crowds (and exploitative prices) of the more famous Cyclades to the southeast of the mainland.
Kefalonia is a paradise of white sandy beaches surrounded by cliff tops carpeted in lush vegetation, fascinating archeological ruins, warm and welcoming locals, and some of the world's best seafood.
Couples can explore mesmerizing natural wonders rooted in Greek mythology, such as the spectacular Melissani Cave, the legendary home of the nymphs. It could possibly be the best place in Greece for couples who love history.
But if you're not up for sightseeing, days in Kefalonia are best spent lounging on Myrtos Beach (or one of the 40 other beaches on the island), snorkeling, and sailing by sunset.
You can reach Kefalonia by air or sea; the former will get you there quicker with less hassle, but the latter tends to be more scenic.
It's reachable by ferry from a few other Greek islands, mainland Greece, and across the Ionian Sea in Italy. If you're flying, you can touch down at Kefalonia International Airport from several European cities, including Athens.
The island is brimming with honeymoon-worthy accommodation, and among the best is the adults-only boutique F Zeen Retreat. It features villas with private pools, expansive ocean views, stellar dining establishments serving fresh, balanced Greek meals, and of course, a spa offering lavender-infused couples massages.
Recommended by Lewis of Way to Stay
10. Serifos (one of the best islands in Greece for couples who like to hike)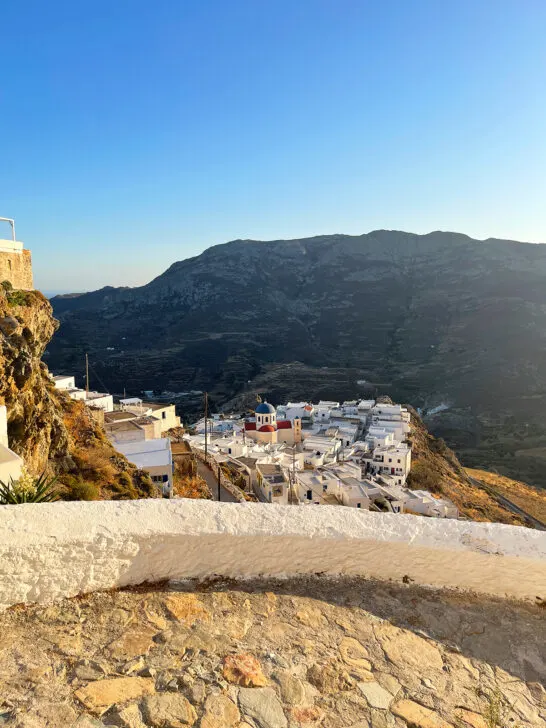 One of the best Greek Islands for couples looking to escape the crowds at some of the more popular islands is Serifos!
Serifos is one of the 16 islands in the Cyclades, located about 2 hours from Athens by ferry. The best and only way to reach this island is by ferry.
For couples, Serifos is especially perfect for those who want to experience authentic Greek island life. There are main towns on the island, Lividi Port and the Chora. The Chora is located atop the mountain which can be easily reached by bus from the port.
Serifos is known for its incredible beaches such as Agios Sostis & Psili Ammos beach. Couples can enjoy the privacy and serenity of the beaches on this incredible Greek island.
One of the most romantic things to do in Serifos is to watch the sunset at Chrysoloras Winery. The winery opens daily at 6 pm and closes at 9:30 pm. Enjoy a wine tasting with an incredible view of the Aegean Sea as the sun sets.
Serifos also has incredible hiking trails for couples that are more active and want to explore. There are several trails to check out, but one of the most beautiful is the Chora-Kallitsos trail. You will follow a mostly paved path down the route of the old mule track.
No matter what your travel style is, this island has something for everyone! You can't go wrong with choosing the island of Serfios for your romantic getaway!
Recommended by Melissa of A Solo Woman Traveling
11. Elafonisos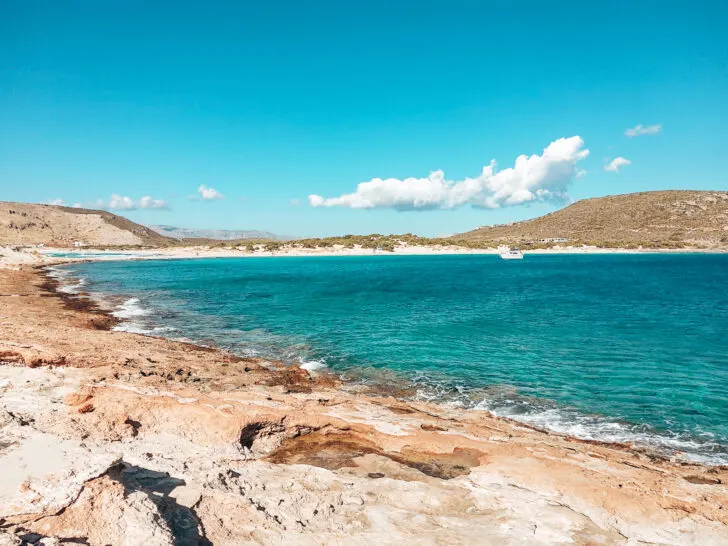 The island of Elafonisos is a slice of paradise and the perfect place for couples holiday to Greece. Especially, if you and your partner prefer the quiet Greek islands.
Visiting Elafonisos in Greece is an unforgettable experience because of the unrivaled natural beauty of this small island.
In ancient times, Elafonisos was connected to the Peloponnese by a small strip of land, making it a peninsula rather than an island. Nowadays, Elafonis is an island.
The main activity on Elafonisos for couples is of course sunbathing on the gorgeous beaches, swimming in the clearest turquoise waters, and just enjoying time in paradise on Earth.
The most famous beach on the island is called Sarakiniko, known for its long stretches of sand and exquisite turquoise waters.
Simos Beach is another beautiful beach that you will definitely remember for its crystal clear waters.
Half of the beach has beach bars with lounge chairs and umbrellas for guests, while the other half is a "wild beach". On this side, you can spend time with your loved one completely alone.
Besides spending lots of time on the beach, you can explore the ancient ruins.
On Elafonisos, there is an ancient sunken city, the archaeological site of Pavlopetri, dating back to the beginning of the third century BC. It is believed to have been swallowed by the sea somewhere around 1000 BC.
You and your partner can also throw in romantic dinners. On this little paradise island, you'll find plenty to delight your taste buds. You can enjoy the freshest seafood and other delicious local food while sipping a glass of wine and watching the sunset.
Recommended by Alexandra of The Alternative Travel Guide
12. Paros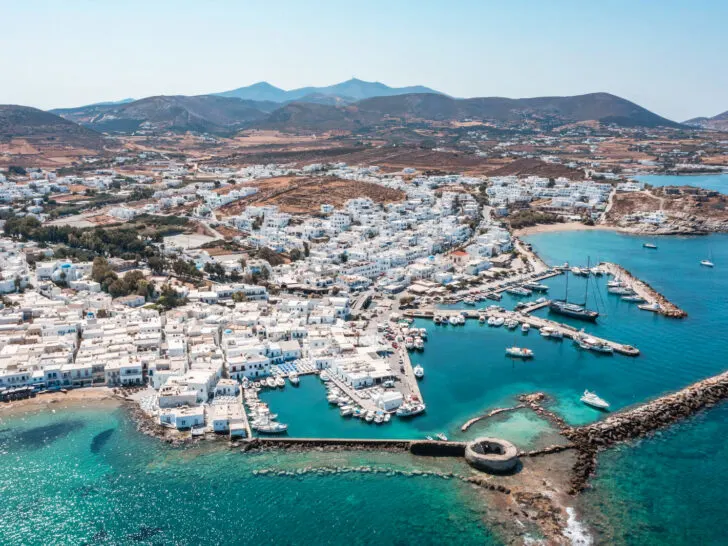 While it may not have the same name recognition as Santorini, the island of Paros with its stunning beaches, picturesque Cycladic architecture and laid-back atmosphere. It definitely rivals for the title of the best place in Greece for couples.
What's awesome about Paros is that it is a much more affordable and a way less crowded alterative to Santorini!
Renting a car in Paros is super easy and the best way of exploring the island at your own pace. As you breeze along scenic roads, stop by chic beach club at Monastiri, nestled in a picturesque bay. Here, you can soak up the sun while sipping cocktails.
For a romantic dinner head to the picturesque marina in Naoussa, where you'll find some fantastic seafood eateries such as Barbarossa.
Also, be sure to visit the Moraitis Winery, where you can sample some of the island's finest wines and take a tour of the vineyards.
And don't forget to explore the charming village of Lefkes, where quaint Cycladic architecture and traditional hospitality await you.
One of the best places to stay on Paros for couples is in Naoussa boasting a range of boutique hotels. The adults-only Bohemain Luxury Boutique Hotel is a fantastic choice.
You can either take a ferry from Piraeus Port in Athens, which is a preferred mode of transport, or take a domestic flight from Athens to the island's airport.
Recommended by Mal of Raw Mal Roams
13. Skiathos (couples holiday to Greece: beach-lovers dream spot)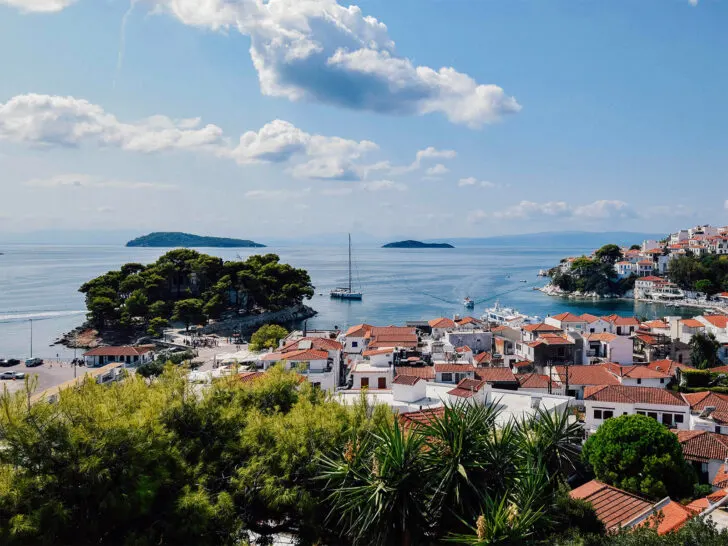 With its unique combination of stunning beaches, charming villages, and breathtaking landscapes, the small island of Skiathos is perfect for couples who want a good mix of both, adventures and relaxing holidays.
Because Skiathos has its own airport, it's easy to reach as well. It may be one of the best and most accessible Greek islands for couples to visit.
Some of the best places to see on Skiathos include Evangelisteria Monastery. This monastery is built on a mountainside and is surrounded by lush greens, making it a wonderful and calm place to visit.
The island has also many historically interesting spots to see and one of them is Kastro. Kastro is a medieval fortified site located in the north of the island.
It was once the main settlement hundreds of years ago and is a great place to learn more about the island's history. However, many people come here to enjoy a fantastic view of the deep blue ocean from the rock promontory.
Skiathos has more than 50 different beaches, one more beautiful than the other. This makes it a very deserving spot on this list of the best Greek islands to visit for couples!
A very quiet and romantic beach is Mikros Aselinos Beach. Although it's an organized beach featuring sunbeds, parasols, a tavern, and a small bar, it's still one of the most peaceful and laid-back beaches.
When looking for the best places to stay in Greece for couples, Poseidon Villas in Skiathos Town is a great place to choose. This hotel is located on a hill offering breathtaking views of Skiathos Town and the Aegean Sea.
Recommended by Alina of World of Lina
14. Crete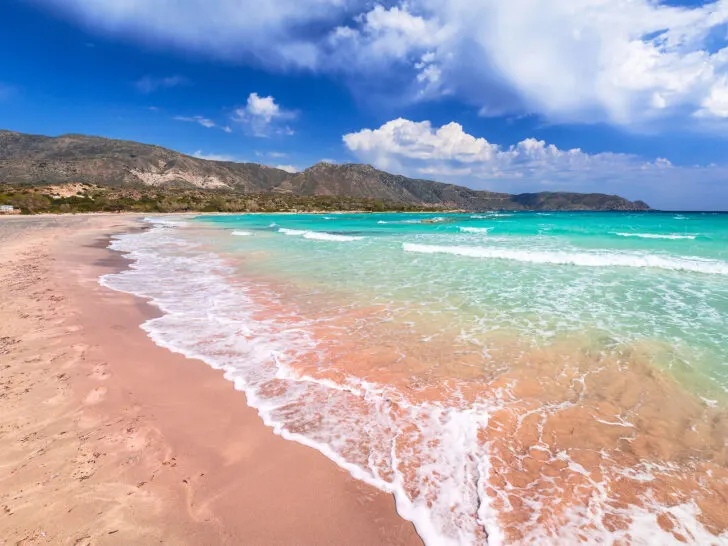 Crete, the largest island in the country, is one of the absolute best islands in Greece for couples!
It has two of the most beautiful cities in Greece, some of the outstanding beaches in the Mediterranean, wild mountain scenery and superb hikes.
Chania is the most romantic city in Crete. It boasts ancient, Venetian and Ottoman Turkish buildings clustered around a gorgeous harbour lined with boutique hotels and restaurants. The 4-star Belmondo Hotel is one of the best, and some rooms have amazing harbour views.
Its warren of centuries-old back streets is just as charming, with wonderful restaurants like the Well of the Turk hidden away in tiny ancient squares. It's also worth taking the time to walk along the harbour wall to the lighthouse.
Chania also makes a great base for exploring the west of Crete, whether by hire car, bus or day tours.
The pink sand paradise of Elafonissi Beach is one of the most popular, its sands fringed with a frosting of pink made up of millions of crushed sea shells. Remote Balos Beach – reached by ferry – and Falassarna Beach are further north on Crete's wild western coast.
If you want to enjoy these beaches at their best, consider visiting in the shoulder season – June or early October are the optimum times – when the weather and water are still warm but most of the crowds have gone. This is the best time for couples to visit as you'll find more seclusion and relaxation.
Crete's third city, Rethymno, is halfway between Chania and capital Heraklion. Its Old Town is gorgeous, a labyrinth of narrow medieval lanes and a huge town beach just beyond the old harbour. It's another good base for travelling around Crete, with mountain villages like Spili and the beaches of the south coast within reach.
Recommended by Faye of Delve Into Europe
Best Islands in Greece for couples continued…
Geesh can you even believe this list?! What a great start! Let's keep going for more – dreamy islands await!
15. Sifnos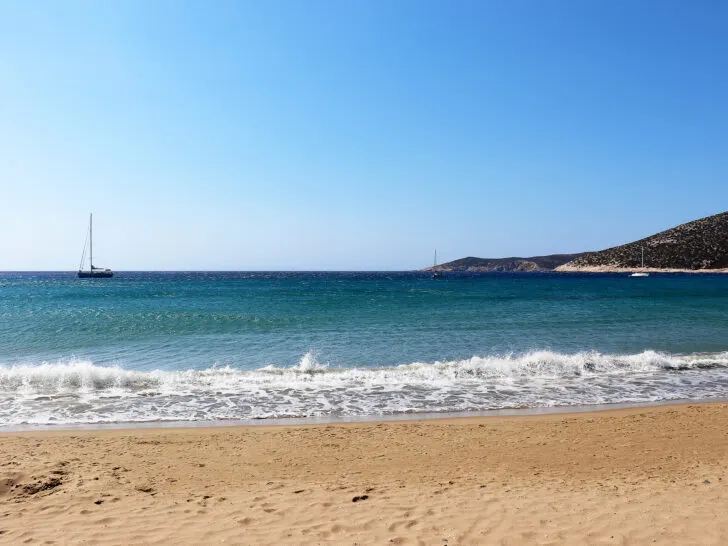 Sifnos is one of the best islands in Greece for couples seeking a romantic getaway. From picture-perfect towns to breathtaking landscapes, there are so many reasons to visit Sifnos.
Located in the Cyclades, this idyllic paradise offers a mix of romance, tranquility, and authentic Greek charm. Sifnos is known for its natural beauty, traditional architecture, laid-back vibe, and sandy beaches.
Being less touristy than other Greek islands, couples can expect quiet days of relaxation and adventure. Perfect for exploring hidden coves on a private boat tour or sunbathing the day away at a secluded beach.
Rent a motorbike and explore the adorable towns on the island. Stroll through the cobbled streets of medieval Kastro, shop traditional ceramics in Apollonia, then watch the sunset from the fishing village of Faros.
As the foodie capital of the Cyclades, expect to indulge in delicious Greek cuisine no matter where you dine on Sifnos. To enjoy the best fish dishes on the island, make reservations at the beach restaurant Omega 3.
Platys Gialos Hotel Sifnos is perfect for a romantic stay on the island. The hotel offers unobstructed views of the beautiful Aegean Sea from each suite. Couples can enjoy breakfast on the beautiful terrace and spend the day on the private beach.
There are two ferry options from Piraeus Port in Athens. Aegean Sea Lines offers a direct 4-hour ferry ride for €43. Or hop on the SeaJet Speed Ferry for a quick 2.5 hour journey for €65.
Recommended by Robyn of Two Empty Passports
16. Santorini (a popular spot and best Greek islands for honeymoon)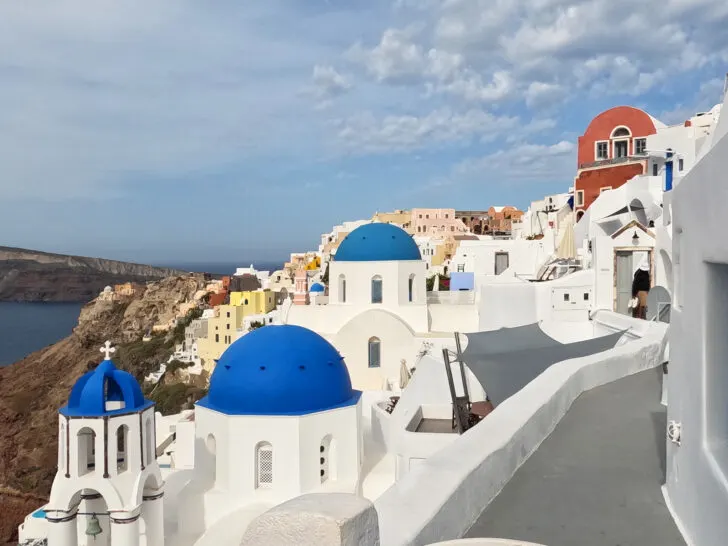 Of course, you can't have a list of the best Greek islands for couples without Santorini! It's the most popular island in Greece when it comes to number of visitors, and offers incredibly romantic vibes for those in love.
Santorini is located in the Cyclades in the Aegean Sea. If you're wondering is Santorini worth it – well, its unique topography sets itself apart from many of the other islands in Greece! The villages are built on a volcano caldera! This means you'll get stunning ocean views from most places on the island.
Santorini is also known for it's sunsets. Make your cocktail or dinner reservation for sunset and enjoy a romantic evening for two.
The most popular spot on the island is Oia. With famous blue dome churches and sweeping caldera sea views, it's a must-visit during your couples getaway to Santorini.
The port city of Fira is busy with shops and restaurants and lots of cruise passengers wandering the town. Imerovigli is more laid back, with far fewer visitors than Oia or Fira, if you're looking for a quieter place to stay.
One of the fun things about staying in Santorini is that you can find villas that offer private pools or spas, right on the coast! Watch the sunset from the privacy of your pool on the picturesque cliff. What beautiful memories to create with your loved one!
Santorini is a must on anyone's 2 weeks Greece itinerary. To get to Santorini, you can book a flight during the summer season from Athens or a handful of European cities.
Alternatively, you can fly into Athens and take a ferry. High speed ferries can get there in 5-6 hours, and the slower ferries will take about 7-9 hours.
Santorini is deserving of a spot on this list of the best couples holiday to Greece!
Recommended by me – Nikki of She Saves She Travels
17. Amorgos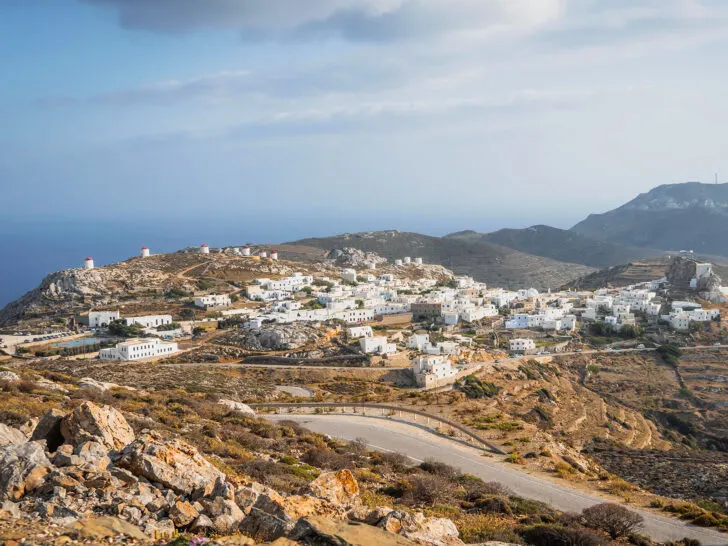 Having a mix of secluded mountain landscapes and beautiful beaches, Amorgos Island is known for being unspoiled and great for couples looking for a remote getaway with each other. It's one of the very best Greek Islands for couples to visit!
Far from Athens, the direct ferry will take between 5.5 to 9 hours, depending on the route and company. Once you arrive, renting a car will be your best way to get around this relatively large island.
Ride around the island, passing traditional white-washed villages and dramatic cliffside coastlines. One of the best attractions to visit is the Monastery of Panagia Hozoviotissa, a 40-meter-tall monastery hugging the rocks 300 meters above the Aegean Sea. Enter inside to walk the maze-like layout and be greeted by the resident monks with a shot of Raki and Greek sweets.
Amorgos is home to epic mountainscapes and coastlines, with picturesque beaches like Mouros Beach, Agia Anna Beach, and Kalotaritissa Bay.
And while you're on your way to the southern tip, stop for a hike to the rusty remains of the Shipwreck of Olympia.
Most people stay in Chora or the two port towns, Aegiali or Katapola. For a fantastic accommodation option, Aliori Art Caves is a creatively designed space with a beautiful pool overlooking Aegiali Bay.
Amorgos is the best Greek island for couples looking for amazing scenery!
Recommended by Catherine of Nomadicated
18. Agistri (relaxing island for a couples holiday to Greece)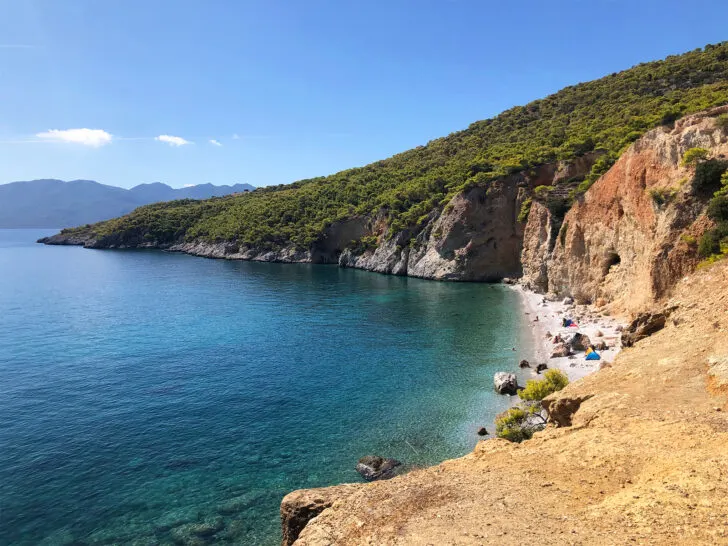 Agistri is a tiny Greek island that is only an hour ferry ride away from Athens.
Despite Agistri's proximity to Athens, the stunning island still feels like a bit of an off-the-beaten-track destination. The island still has an authentic Greek charm, with uncrowded beaches and a slow way of life.
Agistri is a great island for couples who want to take it slow and soak in natural beauty and small town charm. It only takes ten minutes to drive from one edge of the island to the other, and it's easy to explore by foot or bike.
One of the most notable things to do on Agistri is visit the breathtaking secluded Chalikiada Beach. The beach is famous for being the island's nude beach, but it attracts a wide array of folks—nude and not—who wish to take in the beauty of the turquoise blue waters and cascading seaside cliffs. The beach is only a 12 minute walk (uphill) from the main Skala port, or a four minute drive.
Other things to do on the island include renting a boat for a day, relaxing at a beachfront bar, taking a day trip to nearby Aegina or Athens, biking around the island, and beach hopping.
For a relaxing getaway, this is by far one of the best Greek islands to visit!
Recommended by Annie of Your Friend the Nomad
19. Symi (one of the most picturesque and best Greek islands to visit)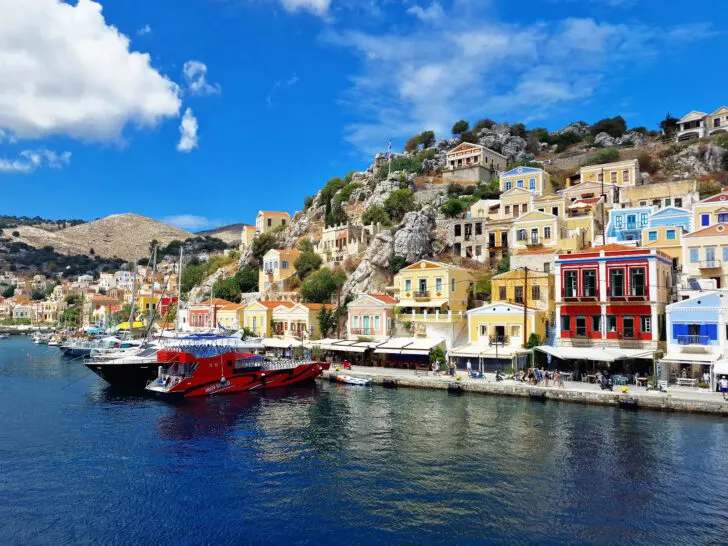 When it comes to planning a romantic getaway for couples, Symi stands out as one of the best Greek islands for couples to visit. Its picturesque landscapes, charming atmosphere, and colorful houses lining the harbor create a postcard-worthy backdrop that exudes romance and charm.
The island's architecture is a highlight that sets it apart from other Greek islands. However, besides pastel houses, you can also admire the Monastery of Archangel Michael with one of the most impressive baroque towers in the world.
For those seeking adventure, Symi offers numerous hiking trails that lead to breathtaking viewpoints overlooking the island's scenic vistas. Imagine watching a spectacular sunset with your loved one from one of these vantage points – an experience that will undoubtedly leave you in awe.
To enhance your romantic getaway further, indulge in delicious local cuisine at one of Symi's waterfront tavernas such as Taverna Haris. There is nothing better than enjoying fresh seafood dishes while savoring panoramic views of the sea.
The best way to get to Symi is from the nearby island of Rhodes. Marikas Deluxe Rooms are a short walk from the Symi Port is a fantastic place for a romantic stay in Greece.
Whether you're celebrating an anniversary or simply taking a relaxing couples holiday to Greece, there are plenty of hotels, restaurants, and things to do in Symi that will make your holiday unforgettable.
Recommended by Paulina of UK Every Day
20. Skopelos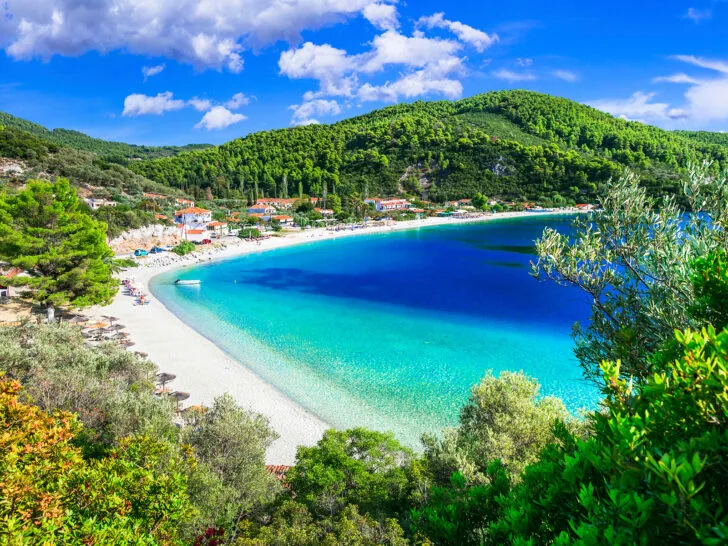 Skopelos is an enchanting Greek island in the Sporades archipelago that undoubtedly deserves a spot on this list of best islands in Greece for couples. Mainly because it offers a perfect blend of breathtaking landscapes, romantic activities, and intimate experiences that will leave you both spellbound.
As you arrive at Skopelos, you'll be greeted by its azure waters and lush greenery, setting the stage for a dreamy vacation. Couples can expect to explore picturesque beaches hand in hand, such as Kastani Beach, where you can relive scenes from the famous movie "Mamma Mia!" with its crystal-clear waters and sandy coves.
To immerse yourselves in the island's charm, take a leisurely stroll through the quaint streets of Skopelos Town, admiring its traditional white-washed buildings adorned with vibrant bougainvillea. The town is home to numerous charming restaurants and tavernas, perfect for candlelit dinners with authentic Greek cuisine and locally-produced wine, creating an intimate ambience for couples.
For a truly magical experience, make sure to visit the iconic Agios Ioannis Chapel, situated atop a rocky cliff, offering panoramic views of the sea and the surrounding landscape. This spot gained fame as the wedding location in "Mamma Mia!" and is an ideal spot for a romantic sunset proposal or a heartfelt exchange of vows.
When it comes to accommodation, the Adrina Beach Hotel stands out as an excellent choice for couples.
Nestled along the coastline, this luxurious boutique hotel offers private bungalows with stunning sea views, allowing you to enjoy a peaceful and intimate stay. It's also one of a few spots on the island where you can enjoy scuba diving, starting the dive straight from the beach (which is much easier for beginner divers).
To make the most of your trip, rent a scooter or a small car to explore the island's secluded beaches, adding a sense of adventure to your romantic getaway.
The island boasts a variety of stunning beaches, each with its own unique charm, making it a beach lover's paradise. More of the best Skopelos beaches include Hovolo Beach and Panormos Bay. Couples will love this island, whether visiting for a quick holiday or spending a relaxing honeymoon here.
Recommended by Marta of Where Life is Great
21. Aegina (best Greek island to visit for secluded coves and beaches)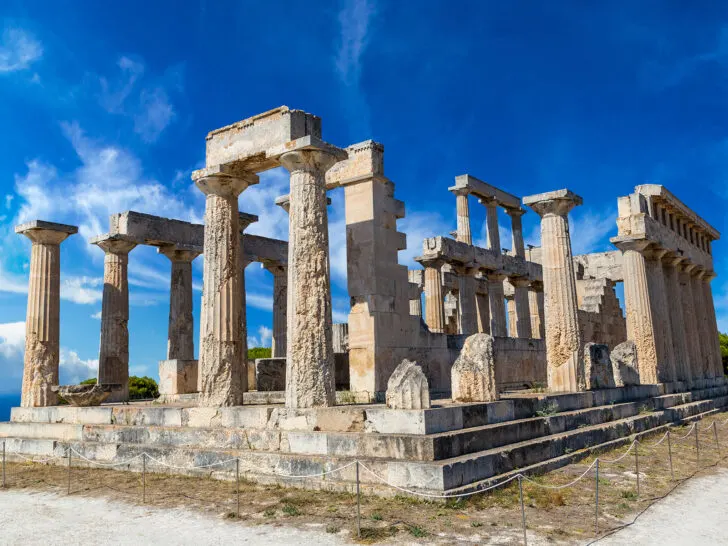 When you and your partner seek a romantic escape, Aegina Island beckons with its enchanting beauty and idyllic atmosphere.
To start your romantic adventure, set sail on the azure waters surrounding Aegina. Rent a private boat and explore the hidden coves and secluded beaches scattered along the coastline.
Find a secluded spot and enjoy a leisurely picnic with your loved one. You'll enjoy basking in the sun and relishing the serenity of your surroundings. The sunsets witnessed from Agia Marina, and Marathonas beaches will leave you in awe and create an intimate setting for your romantic evening.
For a touch of history and culture, embark on a journey to the ancient Temple of Aphaia. Hand in hand, walk amidst the ancient ruins atop the hill and marvel at the panoramic views of the island and the Aegean Sea. This historic site provides an ideal backdrop for a romantic stroll and a moment to reflect on the timeless bond you share.
For a truly romantic accommodation experience, book a stay at the Klonos Kyriakos Hotel. This boutique hotel, nestled in the heart of Aegina Town, offers elegant rooms with breathtaking sea views. It's truly one of the best places to stay in Greece for couples.
Begin your mornings with a romantic breakfast on your private balcony, savoring the gentle breeze and the tranquility of the surroundings. The rooftop pool provides a perfect spot to unwind together, and the hotel's spa and wellness center offers indulgent treatments to pamper yourselves.
To reach Aegina, embark on a ferry journey from the port of Piraeus in Athens, which takes approximately 40 minutes. This is a convenient option for a holiday, not to mention one of the best Greek islands to visit!
Recommended by Ana of Chasing the Donkey
More of the best Greek islands for couples
Do you have a favorite picked out yet? There are a few left before you make up your mind! Let's round out this list of the best place in Greece for couples.
22. Thassos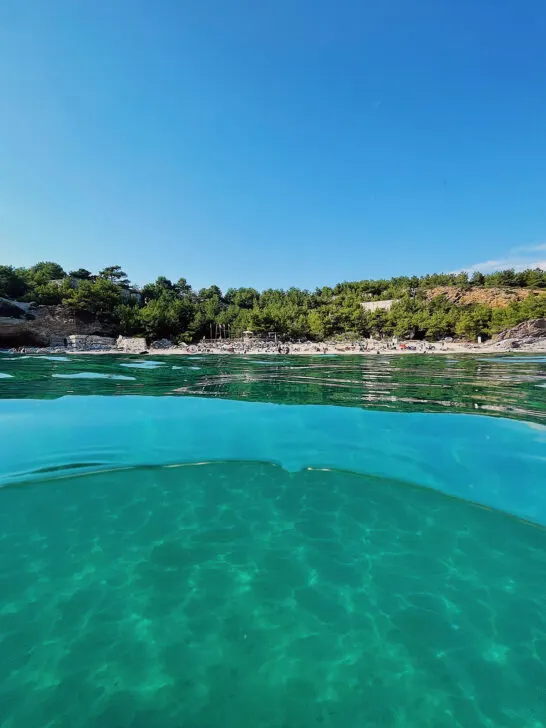 Thassos, a hidden gem in the Aegean Sea, is the perfect destination for couples looking for a truly unforgettable experience filled with love, beauty, and serenity in an idyllic destination.
Its picturesque villages like Panagia and Theologos invite romantic strolls along cobbled streets (and shopping for the most unique holiday souvenirs!). While the island's pristine beaches with crystal-clear waters provide the perfect setting for intimate moments and relaxation.
To truly immerse themselves in the island's charm, couples can spend the day exploring the quaint villages of Panagia and Theologos, known for their traditional architecture and charming streets or chasing secluded beaches along the island.
They can also venture into the lush greenery of Thassos, where they can discover picturesque villages like Potamia, nestled amidst olive groves and offering breathtaking panoramic views.
As the sun sets, couples can revel in the magical ambience of Thassos, indulging in romantic dinners at restaurants located on the waterfront (like Simi in Limenas) or perched on a hilltop (Utopia Wine Bar in Panagia). All promise a romantic evening surrounded by the island's natural beauty.
And, when it's finally time to rest after a day full of sun, sea and love, they can rest their head at A for Art Design Hotel enveloping couples in luxury and intimacy.
To reach Thassos, couples can take a ferry from Kavala, located on the mainland of Greece. The ferry ride offers stunning views of the Aegean Sea and adds to the sense of adventure and anticipation.
Once on the island, couples can explore its beauty by renting scooters or cars. This is sure to add a touch of adventure to their romantic escapades. Or, couples can take advantage of boat trips to discover hidden coves and secluded beaches.
Whether exploring the island's landscapes, enjoying tranquil beach escapades, or immersing in its local culture, Thassos promises an unforgettable and one of the most romantic Greek islands for couples to visit.
Recommended by Goya of Goya Galeotto
23. Naxos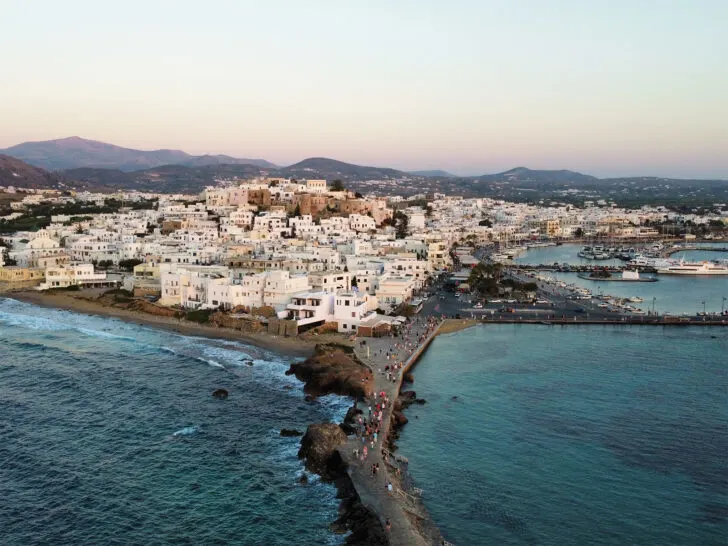 Located in the Cyclades, Naxos is easily one of the best Greek islands for couples to visit. Everything from the laid-back atmosphere to the picturesque landscapes makes it the ideal island for traveling couples. The island is also LGBTQ friendly destination.
While many Greek islands are known for having stunning or unique beaches, Naxos is a leader in this category. The island is regarded as having some of Greece's best sandy beaches; setting it apart from nearby island Paros. A few of the best beaches for couples are Plaka and Agios Prokopios.
Naxos is also an excellent option for couples wanting to avoid intense crowds and party atmospheres. They won't find shoulder-to-shoulder congestion or rowdiness that can happen when visiting Santorini or Mykonos. Naxos has a calm, relaxing ambiance.
There are several things to do in Naxos that couples will enjoy. These include catamaran cruises, cooking classes, and exploring serene towns and villages.
On top of being the largest island in the Cyclades group, Naxos also provides the most agricultural production for the island group. Given that, visitors will find delicious and top-quality food.
Couples can find great and abundant food options in Naxos Town. Some romantic choices include Doukato and Oniro Wine Bar Restaruant.
Regarding getting to Naxos, you have two main options: a ferry or an airplane. The ferry has the most frequency and connections to neighboring islands and Athens. Meanwhile, the airport is small and only connected to Athens.
Princess Mare Hotel – Adults Only is a stylish hotel in Naxos Town offering a rooftop pool, comfy rooms, and breakfast offerings.
Recommended by Tamara of My Elated Odyssey
24. Astypalaia (one of the most romantic spots on this list of best places in Greece for couples)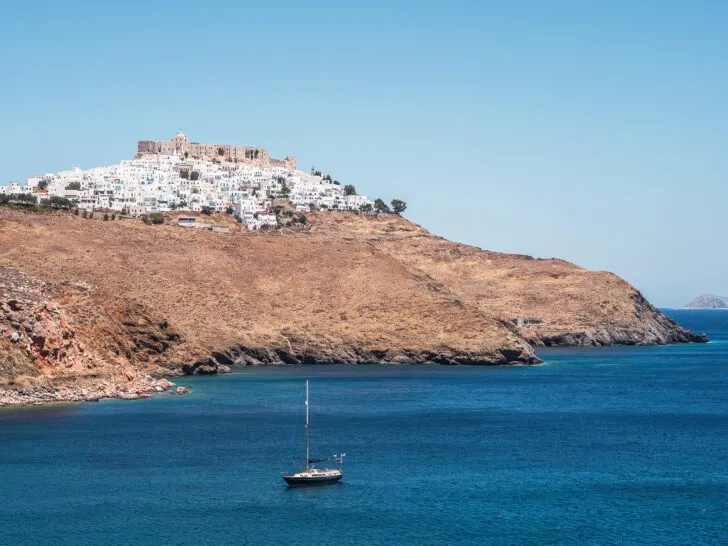 Often called the Butterfly of the Aegean Sea because of its unique shape, Astypalaia is one of the best Greek Islands to visit as a couple. With its narrow winding alleys, secluded beaches and intimate restaurants, couples in love have no shortage of opportunities to celebrate their love in the most picturesque setting.
Astypalaia is part of the Dodecanese Islands, but its architecture, vibe and very soul remind more of the Cyclades instead. Renowned for its warm hospitality and authenticity, Astypalaia is also the ideal place to live the most romantic moments with your better half.
With its turquoise waters and relaxing ambience, Kaminakia Beach is a slice of heaven on earth. A stroll around the enchanting Old Town is the perfect way to spend an evening in Astypalaia before you end up at Castro Bar.
Dimly lit under the shadow of the Castle of Astypalaia, Castro Bar is one of the most romantic bars you've ever seen, while Kafeneio Apanemia is one of the quaintest restaurants in the Old Town.
However, if you're dreaming of a picturesque setting under the stars with your toes touching the sand, you should have dinner at Akrogiali in Pera Gialos.
There are direct flights to Astypalaia from Athens. Alternatively, you can get to Astypalaia by ferry from Piraeus Port in Athens or several other islands.
If you're wondering where to stay in Astypalaia, Esperia Luxury Suites is the ideal accommodation option for couples. These boutique suites boast breathtaking sea views and elegant yet homelike interiors that can render your romantic escape all the more memorable.
Recommended by Maria & Katerina of It's All Trip To Me
25. los (best Greek island to visit for budget-friendly nightlife)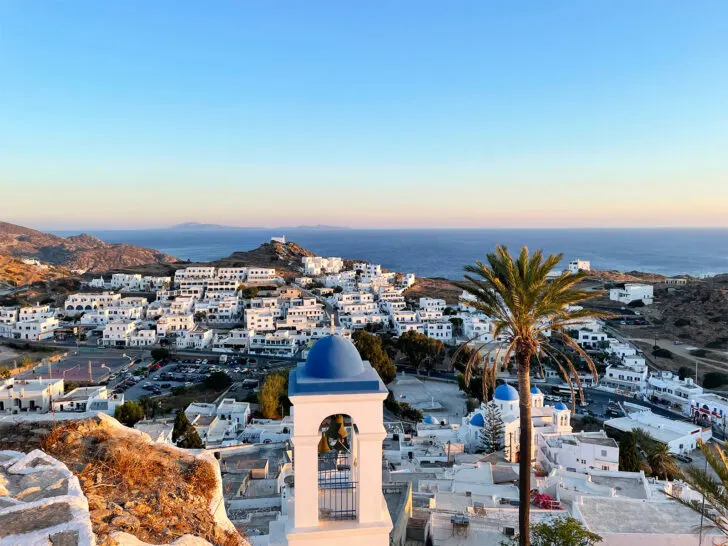 Ios island is one of the most incredible islands in the Cyclades and perfectly suited for couples who want to go Cyclades island hopping.
The first thing you should know about Ios is that it is only accessible by ferry from Athens or other nearby islands such as Santorini and Milos, which is why it's perfect to tack on to an island hopping trip.
Ios is known as the "little sister" of nearby island Mykonos because it has good nightlife, but it's quite different from Mykonos and a lot more budget-friendly.
Ios is a small island at only 18 kilometers wide and 10 kilometers wide, but there's still loads of fun things to do with your significant other, especially if you rent an ATV.
Some of the best things to do for couples are take a boat trip, visit archeological sites such as the Tomb of Homer and the Odyseas Elytis Amphitheater, and watch the sunset from the top of the old town (be prepared for A LOT of steps).
You should also be sure to have a romantic dinner at the upscale restaurant Gramma's. While there is a good nightlife scene on Ios, it is not overwhelming and if you choose to not take part you won't even notice it's there.
The best place to stay on Ios island is near the port. This allows you to be close to the beautiful white and blue old town (Chora), beaches, and archeological sites.
A lovely and cozy choice for couples is to stay at Olga's Pension, a family owned boutique yet affordable hotel. Since Ios is a small island, most accommodations and restaurants are family-owned, which gives the island a nice hometown feel.
All in all, Ios is one of the best Greek islands for couples to visit who want to spend a few days both relaxing and exploring. You do not have to worry about breaking the bank and you can enjoy the small island lifestyle.
Recommended by Taylor or Taylor Travelgram
26. Sapientza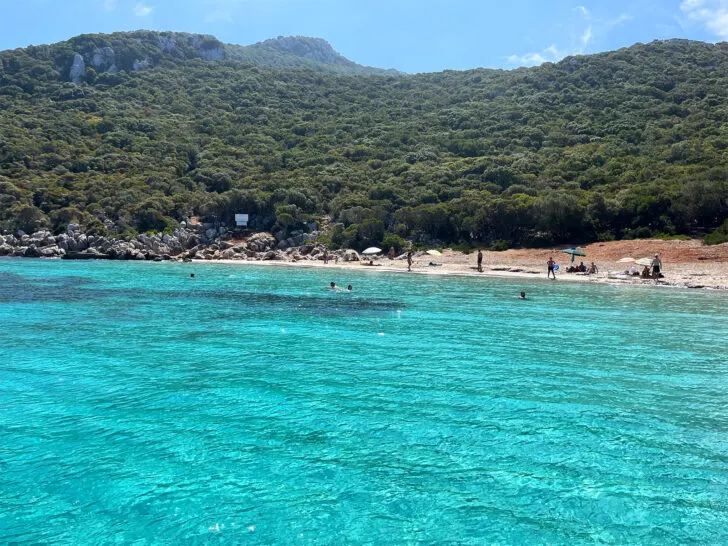 Sapientza Island is to be found in the southern Peloponnese, Greece. It is near the city of Methoni and is part of the municipality of the famous Pylos in Messenia.
It's a very special island because the only way to get to it is by renting a boat from the port of Methoni.
It earns a deserving spot on this list of best Greek islands for couples because Sapientza's island shape from above is a heart! This is why it is the perfect hidden gem, perfect for an unforgettable romantic getaway for couples.
Not many people visit the island of Sapientza, and this is great for couples seeking relaxation from the stress of everyday life. It truly makes an amazing couples holiday to Greece!
Couples can swim in its crystal-clear waters, enjoy each other's company, stroll along the quiet beaches, or simply relax on the shore with a good book and your loved one by your side.
For those seeking adventure, you can explore the island's landscapes by hiking, or discover hidden coves by boat.
To get to Sapienza, you can fly into Kalamata and then drive to Methoni. From the port of Methoni, you'll rent a boat or charter a yacht service to visit the island of Sapientza.
When it comes to dining, Methoni has a variety of tavernas serving Greek cuisine. Imagine savouring a candlelit dinner overlooking the sea and sharing yummy Mediterranean dishes.
As for accommodation, Bay View Villas stands out as an excellent option for couples. It is nestled among lush greenery and offers breathtaking views of the sea. The owners are very attentive, and the home is cosy with a terrace and is close to everything you need.
Consider Sapientza for the best islands in Greece for couples looking for the perfect swimming destination!
Recommended by Simina of Travel with Simina
27. Antiparos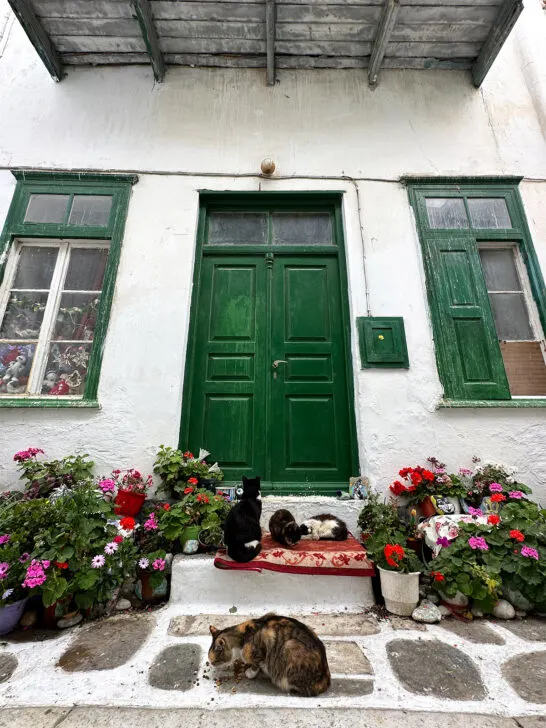 Antiparos is one of the best Greek islands for honeymoon as it offers so many romantic activities, restaurants, and views. It's in the Cyclades and can be reached by ferry from Santorini. The island has a tranquil and intimate atmosphere, making it ideal for couples.
When you arrive in Antiparos, you'll be captivated by its white-washed buildings adorned with colorful flowers and picturesque streets, perfect for leisurely strolls with your partner. The breathtaking views of the Aegean Sea will captivate you.
Antiparos offers a variety of romantic activities. You can visit its secluded beaches, such as Psaralyki Beach, to relax, swim, and soak up the sun in a peaceful setting.
Take advantage of a truly magical experience by visiting the enchanting Cave of Antiparos. Hop on a private sunset cruise with your partner and witness the breathtaking beauty of the sun setting over the Aegean Sea.
You can also go stargazing or rent bicycles to explore the island's charming countryside.
A great way to explore the island is by renting a scooter or a car; this will allow you to explore the beautiful island at your own pace, discovering hidden gems and secluded spots.
Don't miss out on delicious Greek food over a candle-lit dinner while watching the sunset over the sea at the Sifneiko Café.
The Kouros Village Hotel is perfect for a romantic stay, featuring rooms and suites that are beautifully decorated, featuring traditional Cycladic architecture with modern amenities.
Antiparos is a haven for couples looking to rekindle their love and make lasting memories amid the idyllic Greek island charm.
Recommended by Lavina of Continent Hop
28. Folegandros (one of the most authentic and best Greek islands to visit)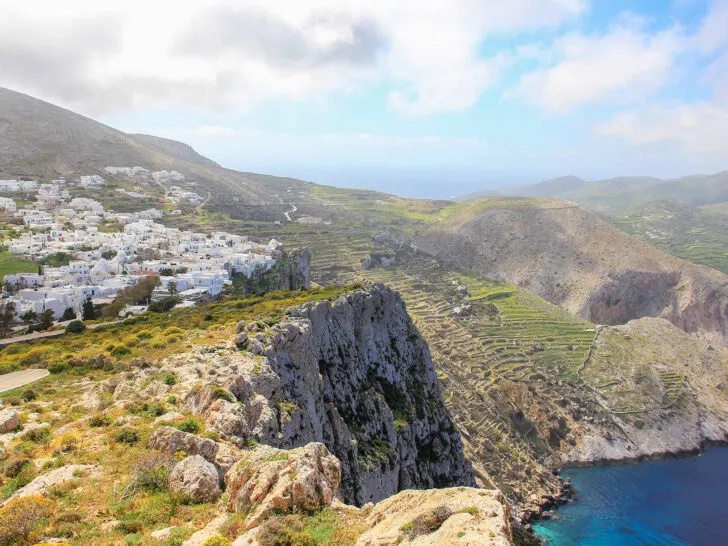 The island of Folegandros is a real insider tip for a couple's trip to Greece because it's not only beautiful, but also absolutely romantic.
This dream island is still very quiet and authentic and gives you the Greek feeling at its best. It is part of the Cyclades, a group of islands a few hours south of Athens and not far from Santorini.
The fascinating landscape of this small mini-island is absolutely enchanting. It's extremely rocky, with a rugged cliff, and the beaches of Folegandros are a sight to behold.
The highlight, however, is the romantic Chora, perched on an imposing rock hundreds of meters above the sea. Here you can walk through the narrow streets, eat in authentic taverns and enjoy the peaceful atmosphere.
A little bit further on you will find the church of the Virgin Mary. It's the landmark of the island and can be reached via a beautiful footpath. For a very special experience, you should visit this church in the evening, as the sunsets from above are more than spectacular.
Folegandros is an excellent destination for couples who love hiking, thanks to the beautiful landscapes and unspoiled nature. There are many well-marked trails around the island that will take you to spectacular viewpoints and secluded beaches.
If you are more adventurous, you can rent a quad bike or scooter and explore the island.
For a romantic getaway, visit the traditional village of Ano Meria. Here you'll find cozy tavernas and authentic scenery. For a couple's vacation, there are some great places to stay on the island. We highly recommend the Onar Suites & Villas with its beautiful pool and stunning views.
Recommended by Martina of PlacesofJuma
29. Rhodes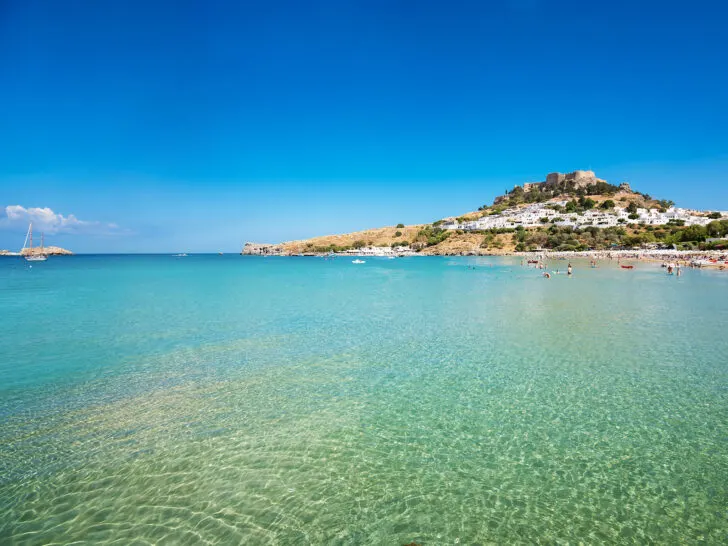 Rhodes, the capital of the Dodecanese island group, makes an excellent destination for couples who enjoy history, diverse activities and good food.
There are 42 villages on Rhodes (some very charming), but Rhodes Town is the first stop for most visitors. Wander through the walled town, a UNESCO World Heritage site, exploring its winding streets and discovering secluded courtyards and gardens.
You'll find a range of dining options on Rhodes, ranging from casual tavernas to upscale restaurants, offering seafood and local produce.
Then head down the coast, where you'll find the village of Lindos. It's another popular, beautiful destination to add to your Rhodes itinerary. Relax on sandy beaches, admire the white houses built on the hillside, and visit the Acropolis with some well-preserved Greek ruins.
Further afield, the fortress of Monolithos offers stunning views of the sea. Or, take a day trip to pretty Symi island with colourful houses surrounding a picturesque harbour.
Rhodes is accessible by direct flights from numerous European cities. You could also opt for a scenic, but long, ferry trip from Piraeus, Athens' port. You can also get a direct ferry from Fethiye in Turkey – the journey takes only a couple of hours.
Consider travelling to Rhodes in the shoulder seasons (May-June, September-October). This way, the weather is pleasant, the island less crowded, and accommodation more affordable. It's truly an excellent couples holiday to Greece destination.
Stay at the Lindos Blu Luxury Hotel & Suites with stunning views, beach access and an on-site spa. No matter what you choose to do, Rhodes will surely prove to be one of the best Greek islands for couples to visit.
Recommended by Roxanne of Far Away Worlds
Best Greek islands for couples to visit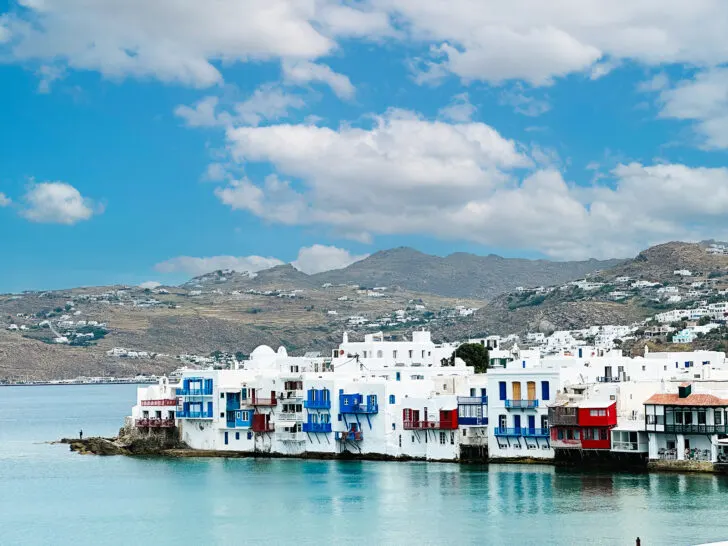 What a dreamy list! How will you ever decide which Greek island to visit?! Epic hikes and white sandy beaches, to quaint villages the options are truly endless.
From popular spots like Santorini or Crete to underrated gems like Serifos or Ithaca, there's so many great options to choose from.
Here's a quick recap of the best Greek Islands for couples to visit…
Best place in Greece for couples
Milos
Zakynthos
Ithaca
Tinos
Koufonisia Islands
Corfu
Lefkada
Mykonos
Kefalonia
Serifos
Elafonisos
Paros
Skiathos
Crete
Sifnos
Santorini
Amorgos
Agistri
Symi
Skopelos
Aegina
Thassos
Naxos
Astypalaia
los
Sapientza
Antiparos
Folegandros
Rhodes
Related content to read next:
Mykonos vs Santorini: Which is the PERFECT Greek Island for You?
Incredible Aegean Cruise in the Greek Islands (Plus Honest Celestyal Cruises Review)
AMAZING 2 Days in Athens Itinerary You'll Love (+ Map & Tips for First Timers)
Find this post helpful? Save it for later or share it on social media!