Do the blue domes of Santorini and the white-washed streets of Mykonos have you wondering which island is better: Mykonos or Santorini? Both of these Greek islands are travel bucket list destinations, and for good reason! Let's compare the two islands in an epic battle: Mykonos vs Santorini!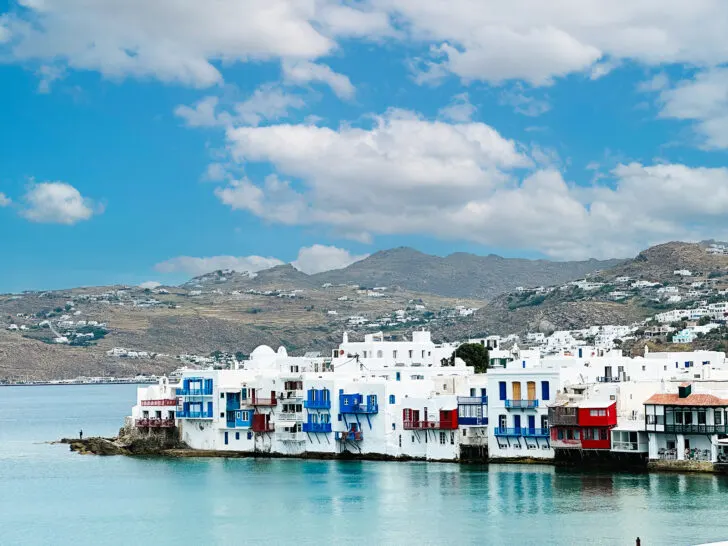 This post may contain affiliate links. For more info, see my disclosures.
Whether you have a month to slowly travel through the Greek islands or a single day to visit Santorini or Mykonos, it can be hard to choose which island to visit! They're truly so different, having their own personality!
You've probably seen photos and heard stories over the years and wondered which Greek island is the best to visit. But if you're considering a visit, then it's time to actually figure out which one you want to go to, Santorini vs Mykonos!
This guide compares both gorgeous islands in the Aegean Sea based on category. So you can choose which island to visit based on what's most important to you!
Where is Mykonos and Santorini? (Map)
Santorini and Mykonos are located in the Aegean Sea, just north of the Mediterranean Sea between mainland Greece and Türkiye. We'll talk later in this guide about the best ways to get to the islands.
Let's review where the islands are in relation to Athens, as this is a major access point for many people. If you were to take an Aegean cruise of the Greek islands, you may hop as far south as Crete, so that's on the map as well.
Mykonos is closest to Athens and Santorini is further south, closer to Crete on the map.
And, if you're looking for a great way to get a taste of several destinations in Greece, consider an Aegean Sea Cruise! Here's a full guide to my Celestyal Cruises review, while visiting 7 destinations in just 7 days.
It was honestly fabulous, and a cruise is a great way to see both Santorini and Mykonos without having to worry about all the transportation details.
Santorini vs Mykonos
Before we dive into comparing your vacation details for Mykonos vs. Santorini, let's first take a look at each island independently. They're vastly different, with a variety of things to do, places to eat and stay at each.
Visiting Mykonos or Santorini really are two totally different set of experiences!
What is Santorini known for?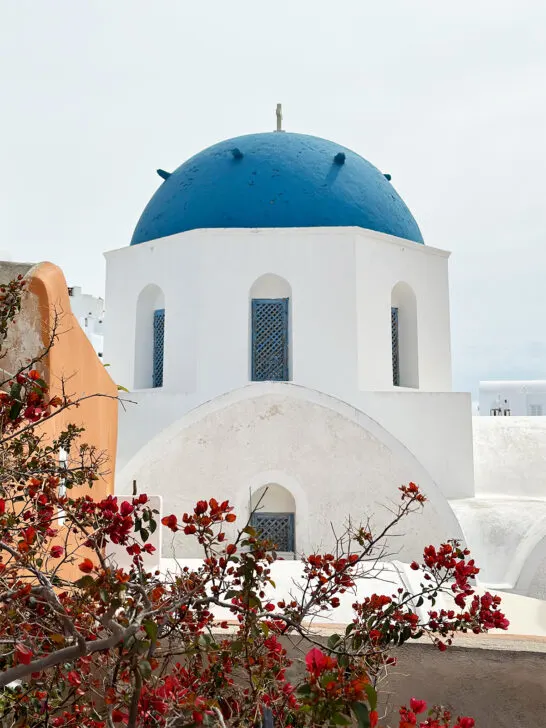 The picture child for Greece for decades, Santorini was the original Greek island experience, luring travelers in for years and years!
And to be honest, the marketing has worked because Santorini is the most popular island in the Aegean Sea. It's also one of the best Greek islands for couples as well!
Santorini is famous for being built on a caldera, so the views are spectacular, especially for sunset. Mix in the Churches and stunning white buildings in Oia, and you've got yourself a picturesque vacation!
The famous blue domed churches are on so many Greece souvenirs, from coffee mugs and coasters to beach bags and Christmas ornaments. And honestly, it's a bucket list check for many visitors to see it in real life!
What is Mykonos famous for?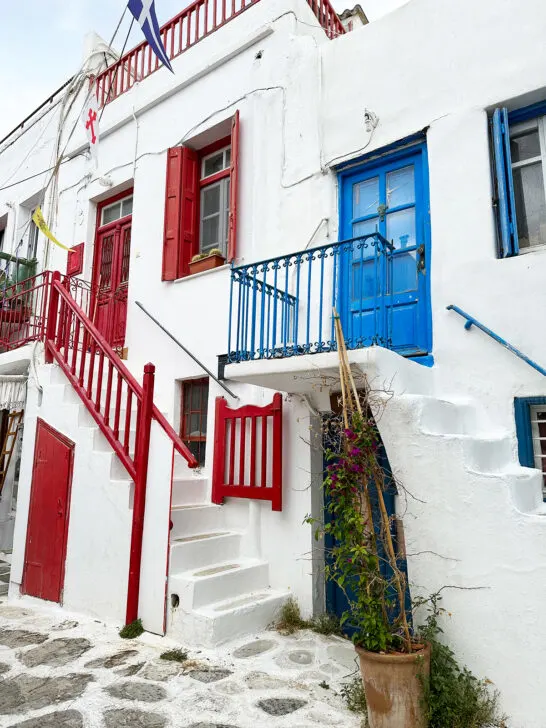 Mykonos was the 2nd rise to fame for popular vacation getaways, and remains the 2nd most popular island for tourism in Greece.
Mykonos is known for its party atmosphere – beach bars and clubs are abundant on the island! It's perfect for anyone who wants to have a good time – young or old, queer or straight, you'll be able to make yourself right at home at a club in Mykonos if you're looking for a party.
Of course, it's not always about partying, either.
Mykonos is also known as the island of the wind. The famous Mykonos windmills are no longer in commission, but you've likely seen photos of them in travel guides, and they remain a 'must-do' in Mykonos to this day.
Okay enough chatting – let's get to the comparison guide: Santorini vs. Mykonos!
Greece island showdown: Mykonos vs. Santorini
Gah! Are you so excited to compare the two? They're both so so so good! Completely unique from anywhere else in the world, Santorini and Mykonos are really fun to visit.
As you read through each section, this guide will (hopefully) help you decide which island is perfect for your holiday.
Best beaches – Santorini vs Mykonos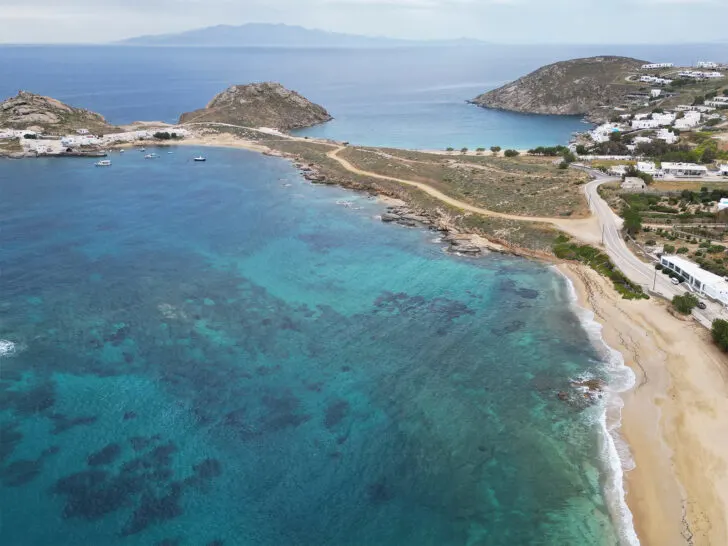 If you're wondering which is better Santorini or Mykonos for beaches, I can say that there's clear choice. But honestly, the Greek islands are a phenomenal spot for a beachy getaway in the summer months!
Fun fact: there are over 1600 islands in Greece and many are home to stunning beaches. However, I hate to tell you this, but Santorini is not a great beachy destination.
Because of the caldera that Santorini sits on, most of the island is really high above sea level. The beaches on Santorini just aren't old enough to be large or soft yet. Sure, there's several black sand beaches and even a red sand beach on the island. But they're not great in terms of swimming, sunbathing or snorkeling.
Mykonos, on the other hand, has excellent beaches. With more than 20 beautiful beaches to choose from for swimming, sunbathing and boogie boarding, there's plenty of them to create a fun beach-hopping getaway.
Pro tip: be sure to wear water shoes on the beaches in Mykonos and Santorini. Most beaches are rocky, instead of soft sand under toe.
🏆 Mykonos wins for best beaches! Visit a new beach every day of your getaway if that's your thing!
Best scenery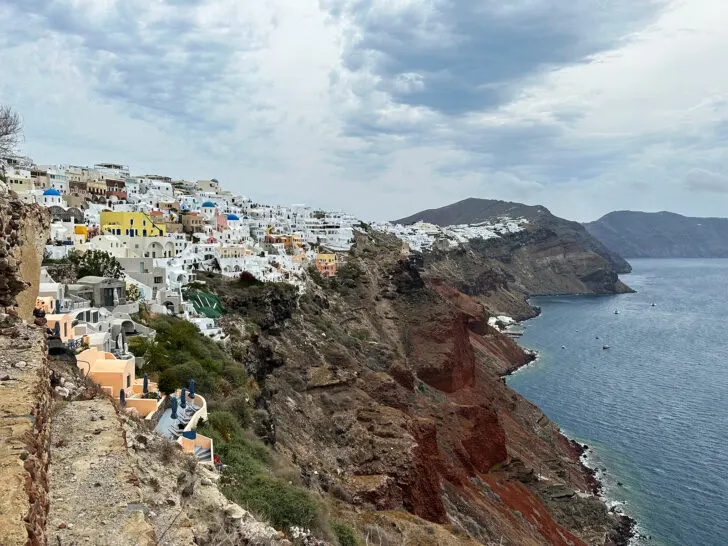 Let's compare the islands based on the natural beauty and human-made architecture in this battle of Mykonos vs Santorini. Geesh this is a tough one!
Both islands are a dry climate – which is truly so bizarre! They've got cacti and succulents, similar to what you'd see while taking a day trip to Phoenix. On the other hand, you'll see stunning ocean views of the Aegean Sea, similar to the blue waters you'll find in Maui or Kauai, Hawaii. Such an interesting combination.
Santorini is built on a tall island – so much so that it's 600+ steps from the port to the town of Fira, or a short gondola ride. The highest elevation is 567 meters (1,860 feet) above sea level and you can really feel the height when you're looking down at the ocean below.
Mykonos is a flatter island, with the highest elevation at 372 meters (1,220 feet). There are hills as you drive around but not really hairpin turns high up on a cliff like on Santorini.
As for human-made architecture, both are impressive in their own way! The stunning white buildings of Santorini are like no other place in the world, and are truly a sight to see. The fun alleyways of Mykonos are fun to walk through, and places like Little Venice in Mykonos bring some fun color to the island as well.
🏆 Santorini wins! Beaches aside, the island of Mykonos looks just a bit less….interesting than Santorini.
Santorini vs Mykonos – accessibility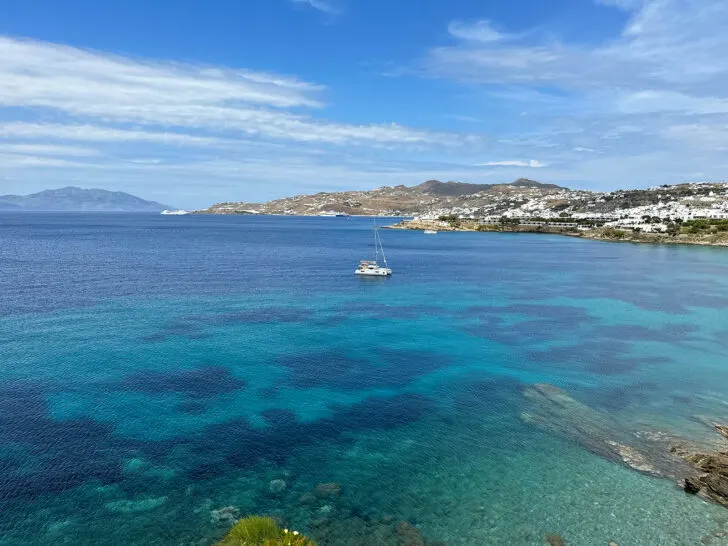 This is a tough category, but so important. The details when deciding to visit Mykonos vs. Santorini are things like how to get to the island, and how to get around once you're there.
As far as accessibilities for those who are in wheelchairs, walkers or need extra accommodations, just know that both islands will be challenging from that standpoint. The stone streets are unforgiving and getting around will be difficult on either island.
Flying to the Greek islands
While you can find some direct flights to each island from a few cities in Europe, the easiest and most reliable way to visit is to fly into Athens then over to either Santorini or Mykonos. You'll find the largest volume of flights from June through August.
Note: both islands are very seasonal, with shops, restaurants and tourist attractions open from May through October.
So if you're traveling to Greece over the winter months, consider both islands to be a ghost town with extremely limited – well, everything.
Both Santorini and Mykonos have an airport with several flights a day to and from Athens in the peak season. So flying there should be ok.
Ferries to the islands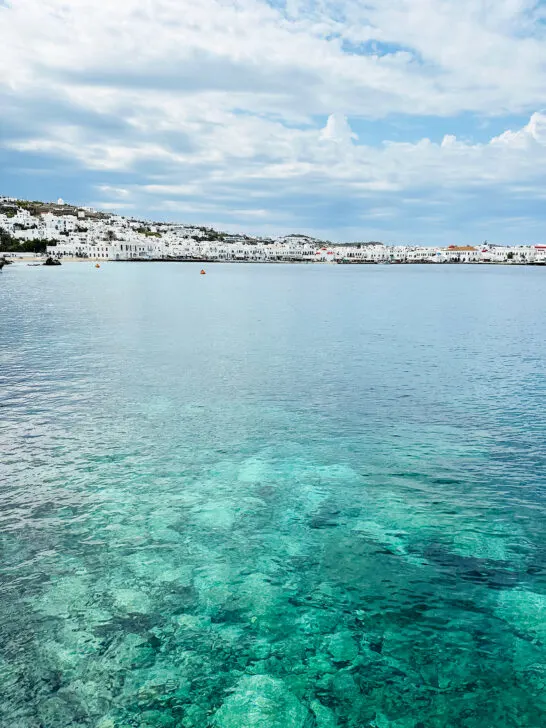 Finding an affordable ferry from Athens is relatively easy in the summer months. The challenge is the amount of time it takes to get there.
High speed ferries take a minimum of 4.5 hours to reach Santorini from Athens. On the longer side, it's more like 9 (or more) for larger, slower ferries.
To Mykonos from Athens, it's just under 3 hours for a high-speed ferry, and around 5 hours for a slower ferry.
If you choose this route, just make sure it's worth the price vs. the time you have to spend on the islands. It's always a give and take, right?
How to get around the islands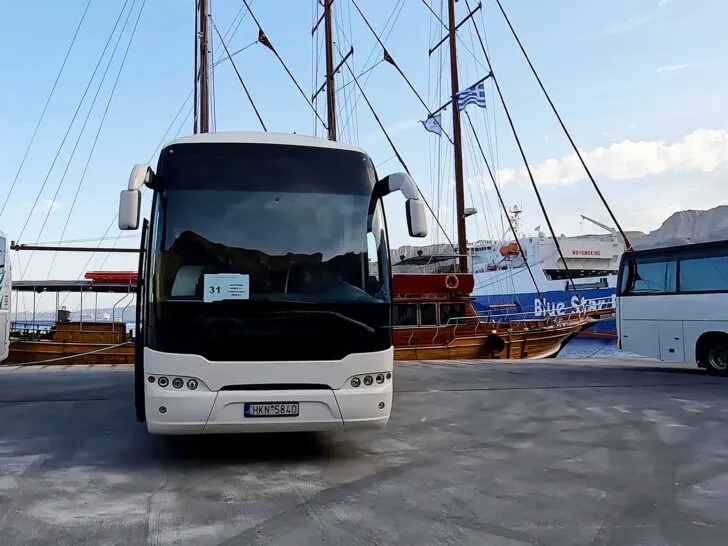 Once you're on the island, it's relatively easy to get around. You can take a public bus, tour or rental car to get around Mykonos and Santorini.
If your preferred method of transportation is walking, then Mykonos is for you. Once you're in the city, if you stay nearby you could walk to anything you need to do. But the island is a bit spread out and if you want to go to the beaches or hit a few beach clubs, you'll need to get a rental car or take a taxi.
The villages on Santorini are more spread out, with Fira and Oia being the most popular areas. You'll need to take a taxi or bus between the cities (it's about a 20-30 minute drive between them). But once you're in Oia or Fira, it's very walkable!
Note: if you plan to rent a car on either island (or anywhere else in Greece) and are not from the EU, you'll need an international drivers permit. I live in the US and it was relatively easy to get one for my time in Greece.
Note #2: you'll need to let the rental car company know if you can't drive a manual transmission. There may be a slight upcharge for an automatic, if it's available.
🏆For this category, it's a tie! You have many options to get to and from each island, as well as around the islands.
Sight-seeing and tours
In the battle of Santorini vs Mykonos, this is another tough category! There are honestly a ton of tours and sight-seeing opportunities available on both islands. Here are some of the highlights:
Best things to do on Santorini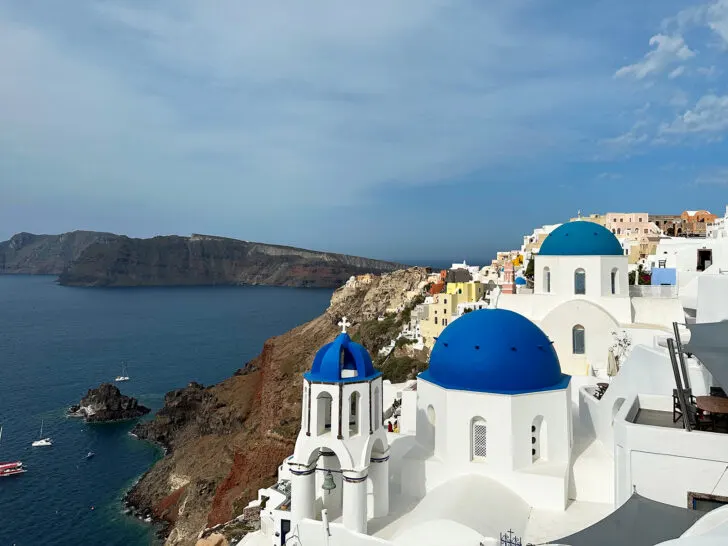 You definitely don't want to miss Oia on your time in Santorini. Whether you take a tour or make your way through the charming village yourself, it's a must-see!
Best things to do in Mykonos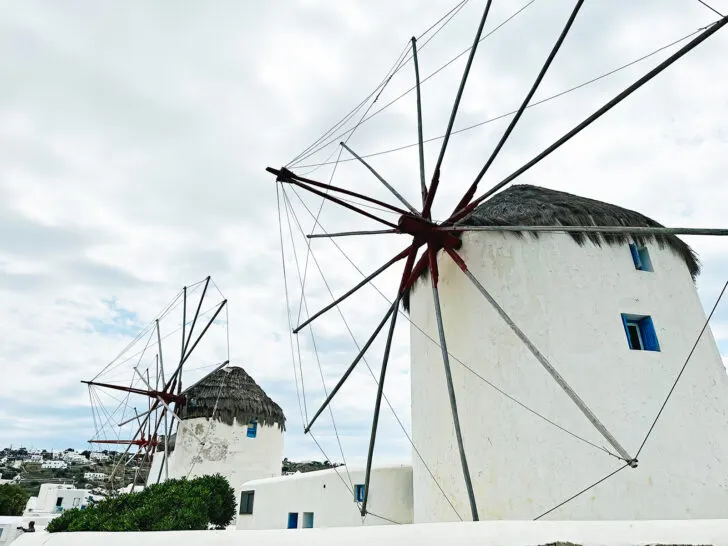 While in Mykonos, spend some time exploring the main streets of Mykonos town and have some fun doing some of the other tours, activities and beach-hopping.
🏆In this category, it's a tie! In the battle of Mykonos vs. Santorini, both islands offer a ton of unique experiences you'll love.
Santorini vs. Mykonos: restaurants
It's not a fair comparison, this one. Truly, it depends on your specific tastes and what you're looking for on the islands.
Both Santorini and Mykonos have plenty of places to eat. Of course, you might just have some of the best Greek food of your life while exploring the islands!
Or, you can go for another cuisine. As international destinations, they truly cater to everyone so you'll find something you love.
Having spent time on both islands, I'll say this:
Enjoy Greek fast food – the souvlaki, at least once on the island(s).
Find a nice sit-down dinner for the sunset.
Read reviews. Those sneaky restaurant hosts will draw you in – make sure it's a good spot!
🏆It's a tie! (And truly impossible to pick a winner here.) I had amazing food on both islands!
Mykonos or Santorini honeymoon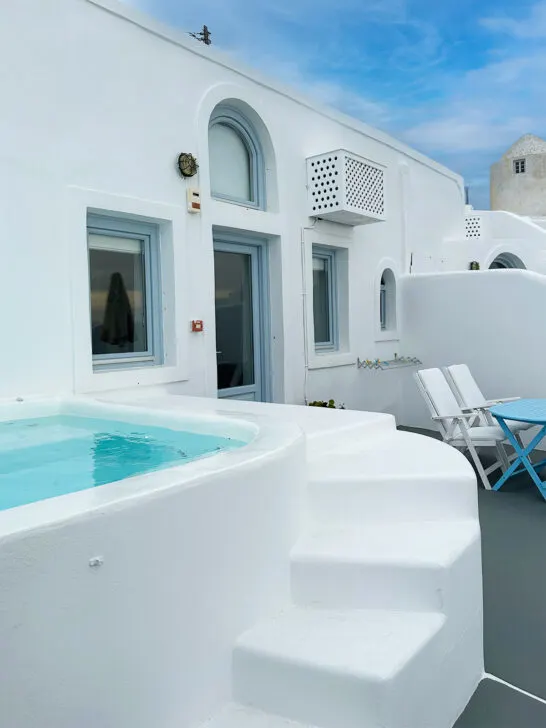 If you're looking for romance, you can find it on both islands. However, Santorini is known for it's honeymoon-level romance.
From the well-known, stunning sunsets of Oia to the perfect ocean-view cafes in Imerovigli or walking hand-in-hand on the stone streets in Fira, Santorini is an amazing place for a romantic vacation!
Of course, you can find romance in Mykonos, too. The ocean-front cafes lend well for a dinner for 2, and renting a car and exploring some wide open spaces is fun, too.
🏆Santorini wins! This is hands-down the right answer in this comparison of Mykonos vs Santorini.
Mykonos or Santorini for families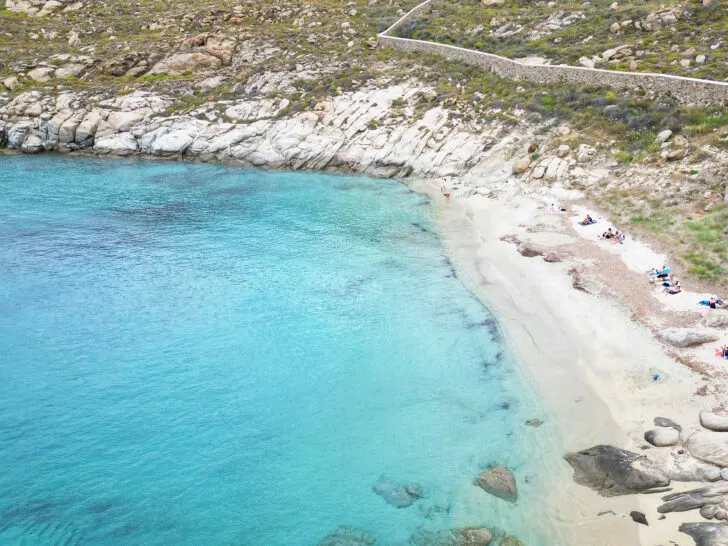 When trying to decide on Santorini or Mykonos if you're traveling with kids, that may be a tough one to answer! I'd say it depends on the ages of your kids.
Similar to a vacation to Maui with kids, there's a lot to do for all ages. Younger kids might have more fun spending time on the beaches of Mykonos. Meanwhile, teens may love the social media-worthy photos they'll get in Santorini.
You know your kids best. And after reading some of the other content in this guide, by now you might know which activities and vibe they'll connect with most.
Honestly, both Greek islands would make for a fabulous family holiday that you'll remember for years to come.
🏆Mykonos wins this category! Only because Santorini won the couples category.🤣
Santorini vs. Mykonos – which island is cheaper?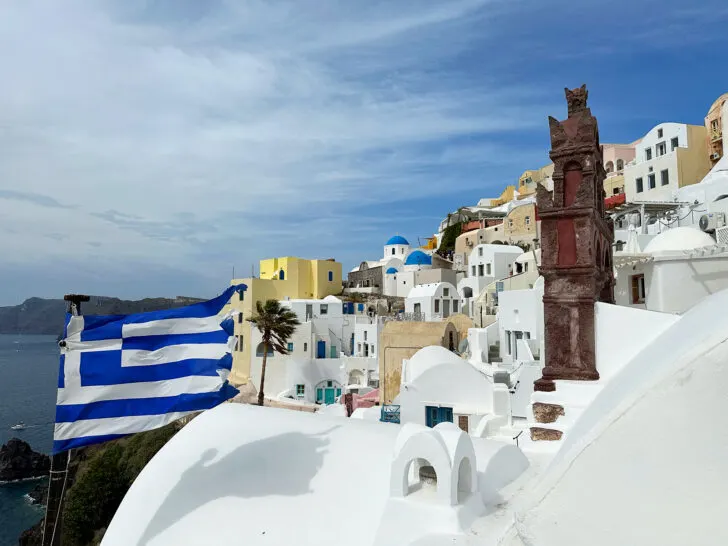 I'm sorry, but in the battle of Mykonos vs Santorini on price, this might be impossible to answer. If you ask the locals or tour guides on the islands, they will likely say that Mykonos is more expensive than Santorini.
However, they are islands in the middle of the sea so both are not really very cheap. The cost of food and transportation affects a lot of pricing here. Expect to pay 2-3 times the cost of a similar meal in Athens.
Rental cars and tours are similar in price in Santorini and Mykonos as they are on other Greek islands, like checking out the sights in Milos or visiting the best southern beaches in Crete.
As for accommodations, well, that's a whole lotta depends!
Pricing will depend on the time of year you visit; April-August will be the most expensive due to high demand. It also depends on your tastes, group size and how far in advance you reserve your accommodations.
I personally love a mix of hotels (usually booking them with points from travel rewards credit cards) or vacation properties. You can search both using Booking.com which typically has decent prices. Alternatively, I love using VRBO for fun and unique stays, too.
🏆Santorini wins! The fact that Mykonos is known for being more expensive and Santorini has more accommodation options makes it a winner.
Fewer crowds: Mykonos vs Santorini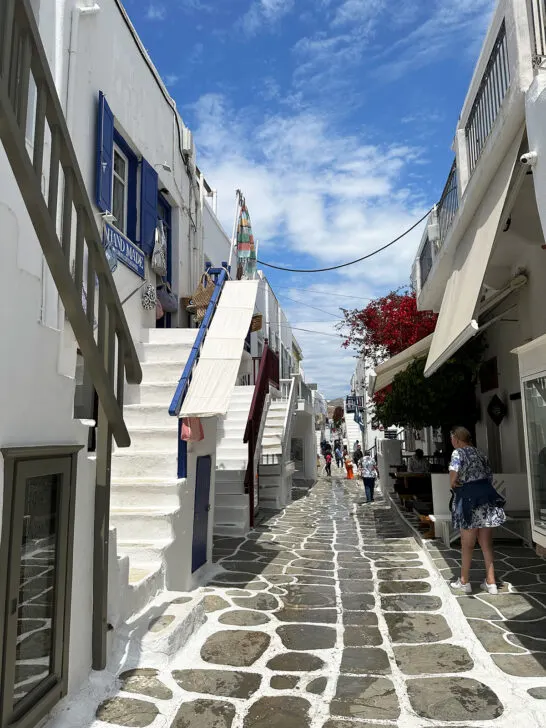 Okay let's be honest. If you're traveling to Greece during the summer, both islands will be busy. Bring your patience and wait your turn for popular photo spots, to get a seat at a restaurant and for traffic while driving a car or riding in a bus.
No doubt about it: both Mykonos and Santorini are popular and draw in crowds.
Pro tip: go early to destinations to enjoy them before the crowds come in!
I personally witnessed insane crowds in the streets of Oia once 10am hit. You could barely walk down the narrow alleyways.
And in Mykonos, popular spots like the windmills and Little Venice are almost always busy.
Try traveling in May or September, when the islands are open but the summer isn't in full swing. You will still see plenty of other tourists, but will definitely beat some of the – quite literally – millions of people who visit in the summertime.
🏆Mykonos wins! It's no secret Santorini is the most popular island, so naturally you'll experience (slightly) less crowds in Mykonos.
Santorini vs Mykonos in the off-season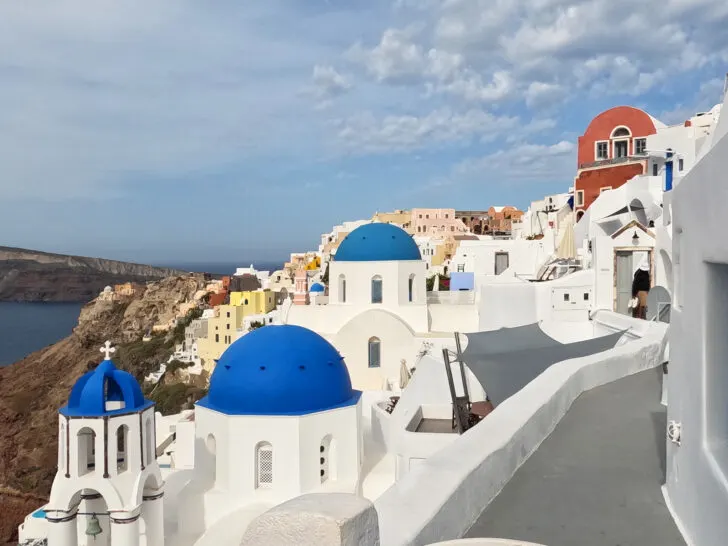 Fun fact: most tourist spots in Greece are seasonal. That includes all the islands, major cities and entire regions. You'll find few restaurants open, tours not operating and even attractions like ancient sites and museums closed.
Why? Because many of the workers who run tourism in the summer are harvesting olives in the winter. True story. This allows them to focus on producing olive oil when it's fresh, and giving visitors a great time when the weather is best.
So, with that said, both Santorini and Mykonos are like ghost towns between November through April.
Sparsely run ferries and ports mean it's hard to arrange transportation, and most flights don't operate. Even hotels close up.
However, logistics aside, if you're able to visit Mykonos or Santorini in the off season, you'll love walking through the streets of the villages nearly solo!
If you're just there to see the island and not experience tours or beach-worthy weather, then you'll have a clear winner:
🏆 Santorini wins! Even when the island is closed, you'll be able to see the iconic sights that make the island unique.
Santorini and Mykonos – why not both?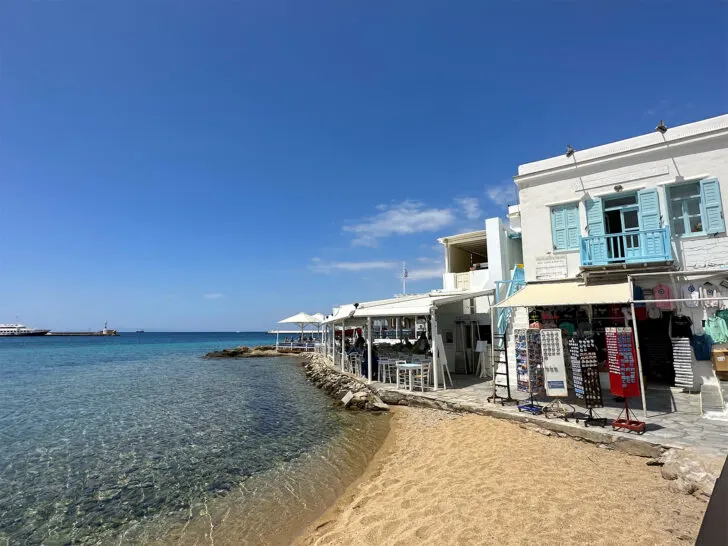 Okay, okay, in an ideal world you'd have time to visit both islands. And if you have 6 or more days to explore the Greek islands, I'd recommend splitting your time between the two.
If, after reading this guide, you decide to squeeze both islands into your timeline, I'd advise you to…
Fly to Santorini (Athens, plus many cities in Western Europe fly direct during the summer months)
Spend 2-3 nights in Santorini
Get a ferry to Mykonos from Santorini
Spend 2-3 nights in Mykonos
Fly out of Mykonos (back to Athens for a flight home or to another European city)
There are plenty of ferry options from Athens, Crete or other nearby islands, but they can take in excess of 5 to 7 hours (or more). Usually the ferry price is more affordable than flights, but if you look far enough in advance you may be able to find a deal there too.
By the way, if you're flying into Athens, I highly recommend spending at least 2 days in Athens to see the rich history and culture of the city. Add it to the beginning or end of your trip to the islands!
And, if you want to visit more of Europe, check out this 2 week Eastern Europe itinerary!
How to get from Santorini to Mykonos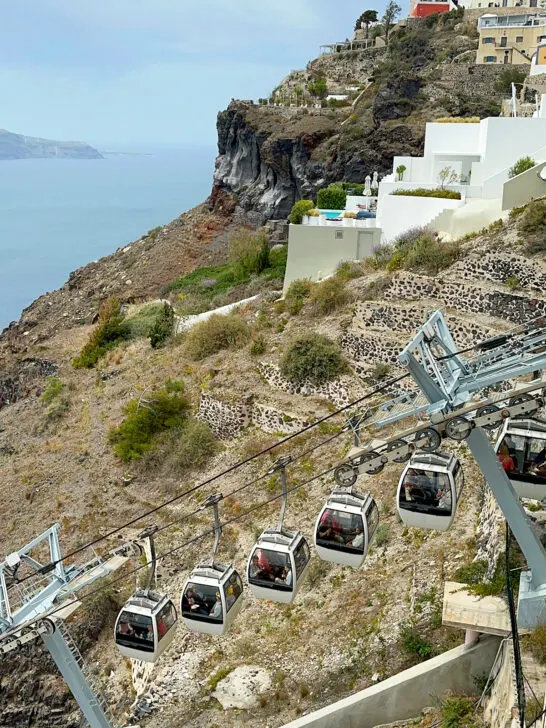 To get from Santorini to Mykonos it's typically less than 3 hours in a ferry, depending on sea conditions of course. There are a variety of ferry options, including ones that serve meals or can bring a car on board.
You'll find the most ferry options from Santorini to Mykonos from June-August, and less in the shoulder season (April-May and September-October).
If your timeline is short, be sure to book your ferry tickets in advance if you're particular about the day and time of day of your transfer.
But, I'm assuming you're reading about this because you have limited time or limited budget. So it makes sense to choose just one island, especially if you want to get plenty of rest and relaxation in during your Greek island getaway.
Tips for traveling to the Greek Islands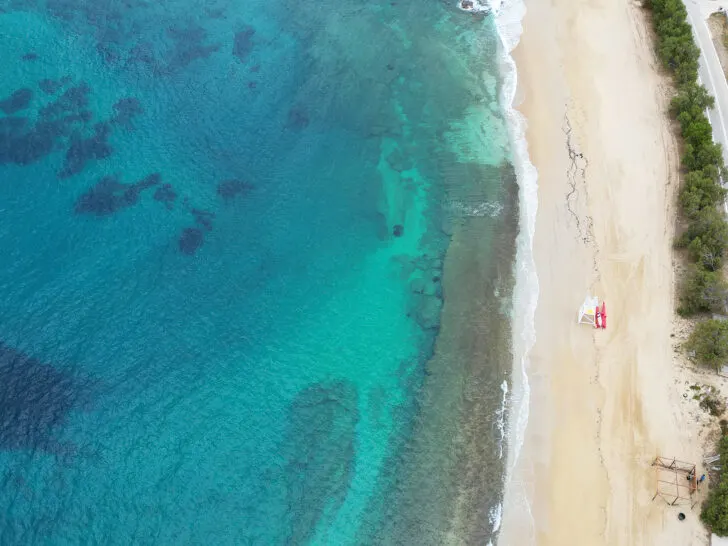 Before wrapping up this guide on Mykonos or Santorini, let's go through a few important tips for traveling the Greek islands. These tips are relevant regardless of which island you choose for your holiday!
Wear mineral sunscreen. Protect our oceans and marine life by wearing mineral sunscreen. The chemicals in traditional sunblock bleach the reefs, killing our oceans. I've seen the first-hand effects while visiting the best beaches in Thailand, snorkeling in Kauai and many other places in the world.

Carry cash on you. While most place accept a credit card, there are some restaurants and shops that don't. Carry enough Euro to cover any of these types of expenses, along with tips for tours.
Book your tours and activities in advance. This is especially important during the high summer season!

Go green. Both these islands are small and tapped for resources. Refill a reusable water bottle at restaurants and recycle when possible.
While this guide covered the best of Mykonos and Santorini, there's so many more Greek islands to visit. Check out the best Greek islands for couples and this guide to Paros, Greece.
What to pack for the Greek islands
Lastly, here are a few packing tips for your trip to Mykonos or Santorini.
Comfortable walking shoes. Cobblestones and flip flops don't work together – you don't want to fall! Wear a comfortable shoe for walking during tours and around the villages.

Water shoes. If you're planning to hit the beach, you'll need water shoes. These are rocky beaches which don't feel great under toe!

Sun hat. Protect your face from the sun while looking cute.
US to Europe adapter. If you're from the US, you'll need this to charge any devices.

GoPro. Perfect for amazing photos and videos under water and above.
And remember not to over pack! You really don't need a ton for your time in Santorini or Mykonos!
Mykonos vs Santorini – which island is right for you?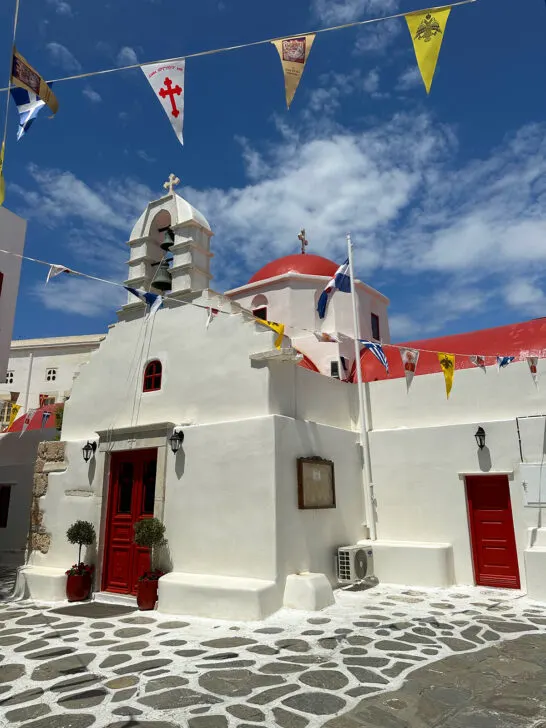 So, have you decided which Greek island is the perfect one for you? Whether you're planning your honeymoon, family holiday, solo adventure or friends' trip, you're really going to love Mykonos and Santorini!
From wine tastings to famous views, adorable villages and stunning scenery, you can't really go wrong with either island!
I hope this guide helped you decide and that you have an amazing time in Greece, regardless of which island you choose!
Related content to read next:
Incredible Aegean Cruise in the Greek Islands (Plus Honest Celestyal Cruises Review)
29 Best Greek Islands for Couples You'll Love (Romance, Beaches, Adventure + More)
AMAZING 2 Days in Athens Itinerary You'll Love (+ Map & Tips for First Timers)
Find this post helpful? Save it for later or share it on social media!