It's a bucket-list worthy adventure, cruising the Greek islands and the Aegean Sea! The vivid blue waters are met with unique flair that each destination has to offer. Whether you're dreaming of visiting the blue domes in Santorini, amazing beaches in Milos or food scene in Crete, this Celestyal Cruises review of the Idyllic Aegean will help guide your next vacation!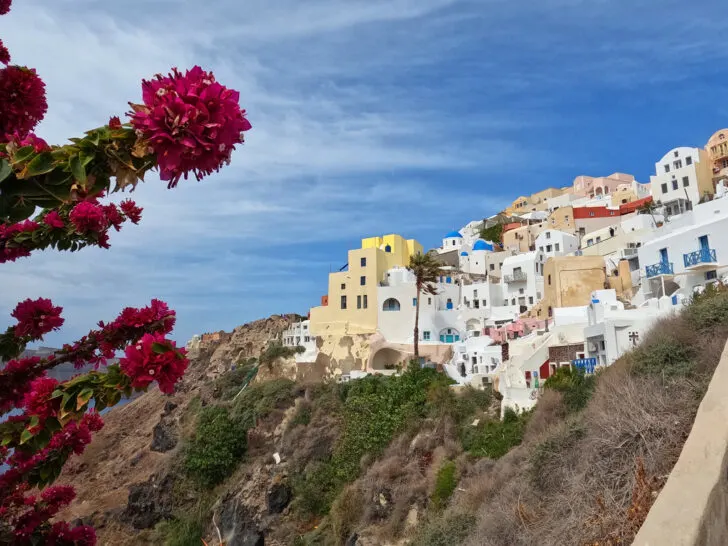 This post may contain affiliate links. For more info, see my disclosures.
Going on an Aegean cruise is a magical experience. Sounds cheesy, I know. But just think about those sparkling blue waters of the Aegean Sea, mixed with picturesque villages on the islands of Greece, plus adventures at every port.
If you're considering an Aegean Sea cruise, or are wondering about Celestyal Cruises reviews, this is the guide for you!
Aegean Sea cruises can vary greatly. The size of the ships, which islands you visit and even which countries you'll visit as part of your cruise. So many things to consider!
Aegean Cruise with Celestyal Cruises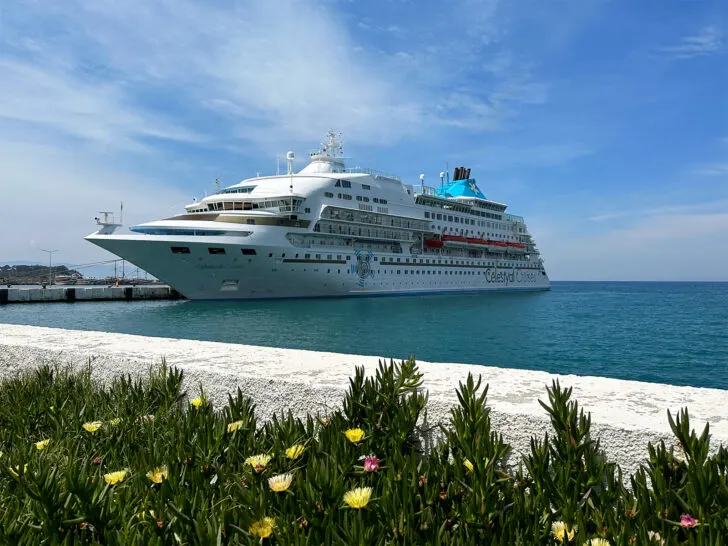 First, let's go over reasons you'd go on an Aegean cruise, then review what you can expect with Celestyal Cruises Greece.
In this guide you can expect:
🛳️Why and when to cruise the Aegean Sea
💲Pricing and how to make it budget-friendly
🏝️Aegean cruise itinerary
🇬🇷Celestyal Cruises review – ship experience
⚓️Greek island cruise (summary of each destination)
‼️Tips for first time cruisers
🧳What to pack for cruising Greek islands
This fabulous vacation is an amazing way to explore Greece and potentially the surrounding area. Let's get to some of the most commonly asked questions that will help you decide!
Why cruise the Aegean Sea?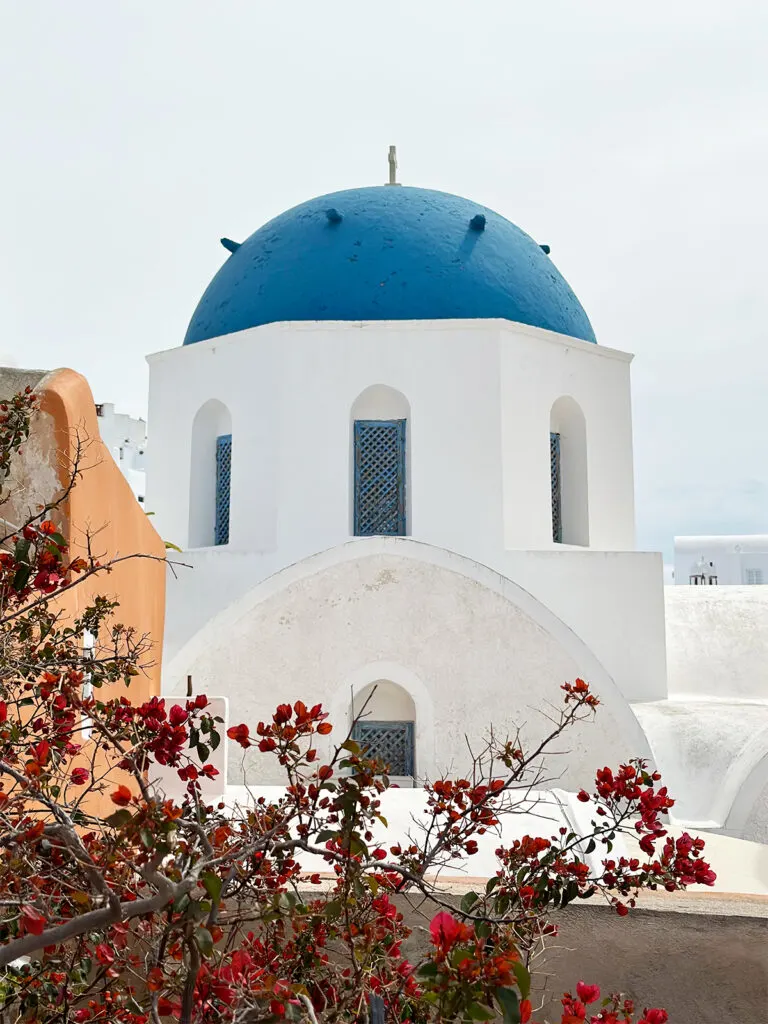 Two words: it's fabulous!
In all honesty, taking an Aegean Sea cruise is the perfect way to get into cruising if you've never been. It's also one of the best ways to explore the Greek islands!
You'll get a taste of many destinations in Greece. If you've never been to Greece, this is one of the best ways to experience the islands. Check them each out for a day and see which is your favorite!
Santorini or Mykonos, Rhodes and Crete, Milos or Patmos – the list goes on!
An Aegean Sea cruise will sometimes drop down south further into the Mediterranean Sea as well, making stops in Egypt, Cyprus and Israel. There's truly so many options!
And as a bonus – every destination in the Aegean Sea is totally unique! It's not like taking a Caribbean Cruise where so many islands look the same. Instead, you'll get tons of personality with each destination you visit.
Aegean Sea map (Celestyal Cruises review itinerary)
If you're still wondering where the Aegean Sea is exactly, here's a map for a visual. It's basically the northern part of the Mediterranean Sea between Greece and Türkiye (Turkey). Here were the stops on my cruise – more about the itinerary in a bit!
Use this Aegean Sea map to reference the destination details below.
When do cruises go to the Aegean Sea?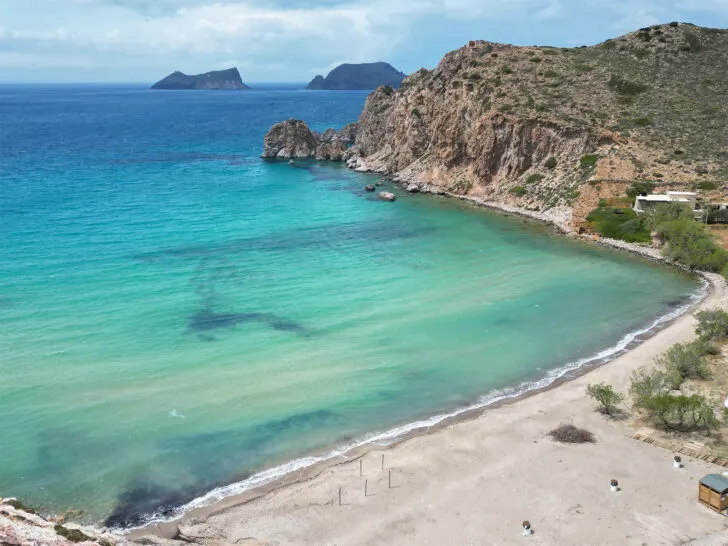 You can take an Aegean Sea cruise year-round. However, not all the destinations will be fully open and operational. The Greek islands are very seasonal, so even if the cruise company makes a stop, you may not be able to dine or shop at very many places.
The best time to do an Aegean Sea cruise is in the summertime. June through September offer the best months for weather. Plus you'll see each destination completely open to tourism where the attractions, restaurants and activities are available to enjoy.
If you're looking to avoid crowds during your Aegean cruise, I'd recommend cruising in May or September during the shoulder season. As a bonus – prices are typically better during these months, too.
Some companies do not operate during the winter. Celestyal Cruises offers slightly different stops in the wintertime. A popular option is the 3-continent cruise: Europe, Asia and Africa.
When to book an Aegean cruise with Celestyal Cruises Greece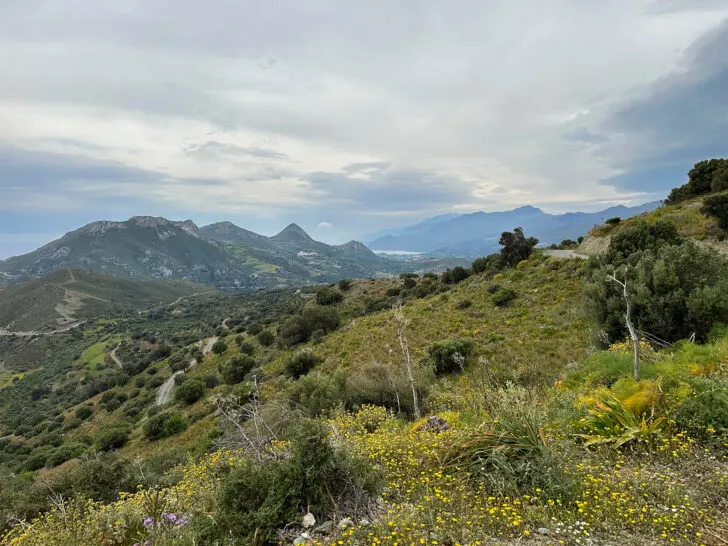 Consider the time of year when you want to cruise. But basically you'll want to book as far in advance as possible for the best pricing and room options.
If you're particular about which Greek islands to see or the room type you want during your Aegean Sea cruise, you'll want to book the season before. If you're less particular about the room type because you're all about seeing sunshine in the summer, you could probably book in the springtime and be ok!
What does an Aegean Sea cruise cost?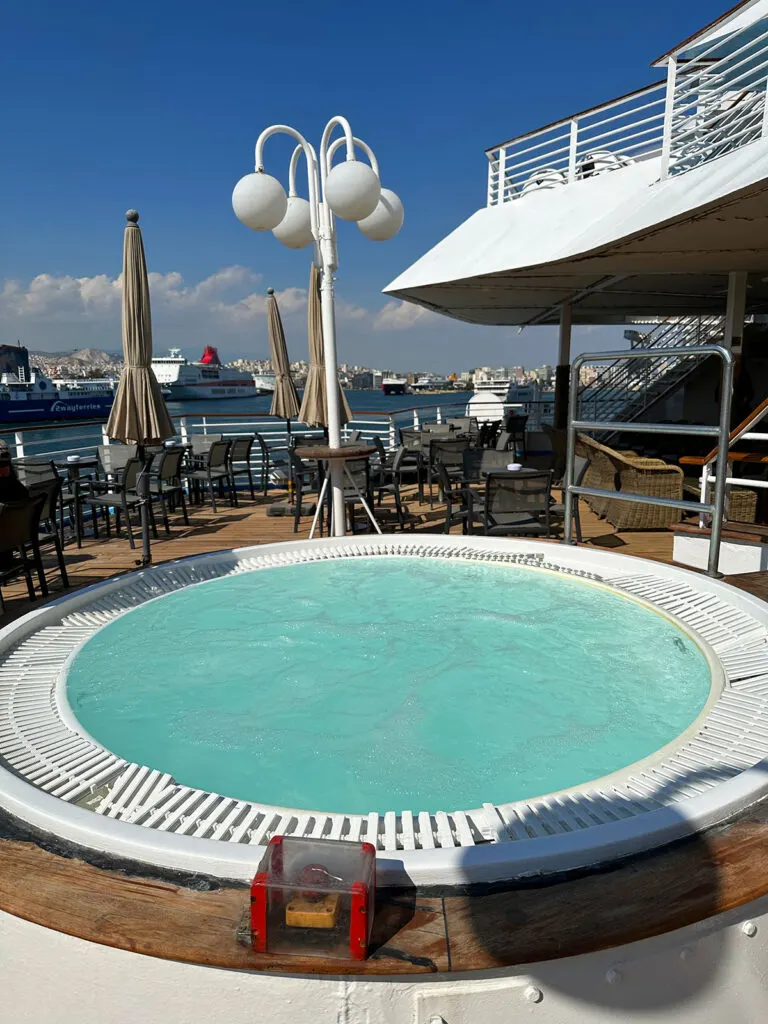 This question is tricky to answer! There's so many options from 4 days to 14 days – or longer! The room type and overall package options play a role, too.
I've seen some 4-night cruises for less than $500, which just seems like a spectacular deal based on the places you'll go for that much. Celestyal Cruises offers great value for the money, considering you're seeing the Greek islands, dining on board and have built-in accommodations.
Cruising Greek islands: standard pricing should include:
Port charges
Basic dining package
On-board entertainment and activities
Sailing Aegean Sea: add-on pricing:
Premium drinks package
Wifi options
Specialty dining options
Excursions
Also check into the price of excursions and if gratuities are included, as these things can really add up! Later in the Celestyal Cruises review you'll see their cruises all include gratuities, which is so nice!
If you're cruising on a budget, consider reducing the number of nights, keeping excursions to a minimum or avoiding the premium food and drink options to keep pricing low.
What kind of excursions are on an Aegean sea cruise?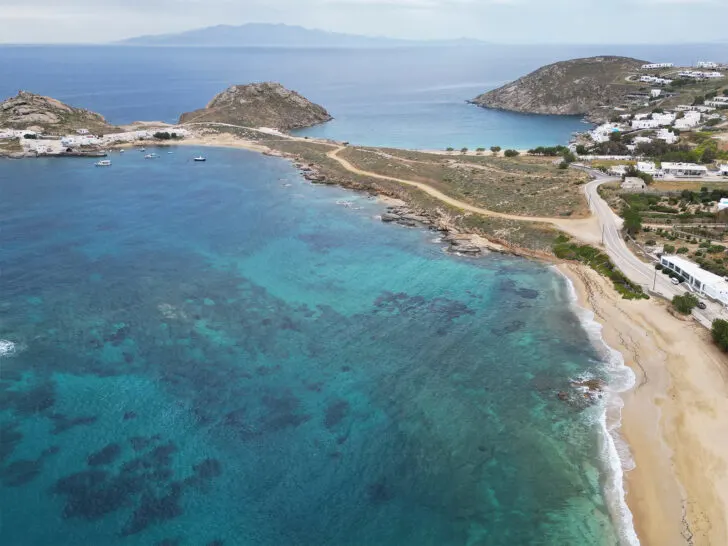 The possibilities truly seem endless! When sailing the Aegean Sea, it really depends where you go, which will determine which activities are available via excursion.
You'll find food tours, archeological sites and other historical landmarks, religious sites and so much more to see during excursions! The Greek islands and nearby regions are pretty phenomenal to visit!
I'll review the excursions I took with Celestyal Cruises in a bit. 🙂
Celestyal Cruises Review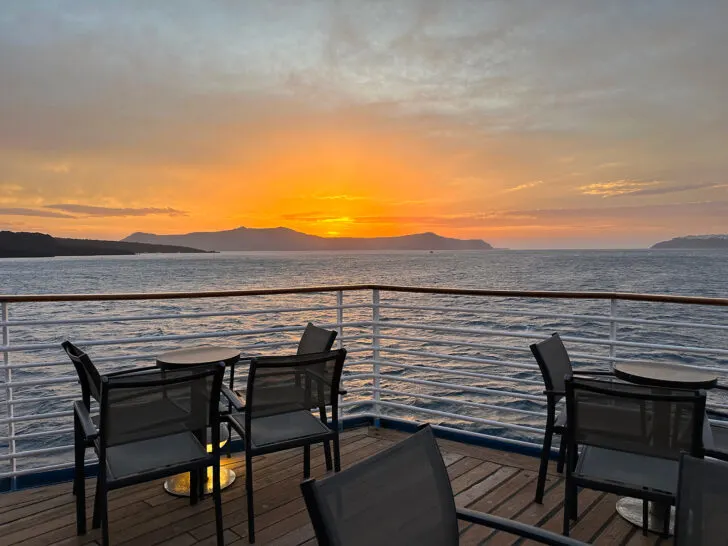 First thing's first, Celestyal Cruises is the only Greek cruise company. Other companies may come to Greece but it's not the same authenticity. So in other words, if you're considering the best cruise Greek islands, it's a smart choice.
Cruise Greek islands highlights
There are too many individual moments to list in this guide. However, here were some of the best and unexpected highlights….
😳Stunning views from the balcony
🇬🇷Bucket-list destinations
😋Award-winning dining options
🌍Destinations I wouldn't necessarily have chosen independently
And these are the details for the route I chose:
Idyllic Aegean, Celestyal Cruises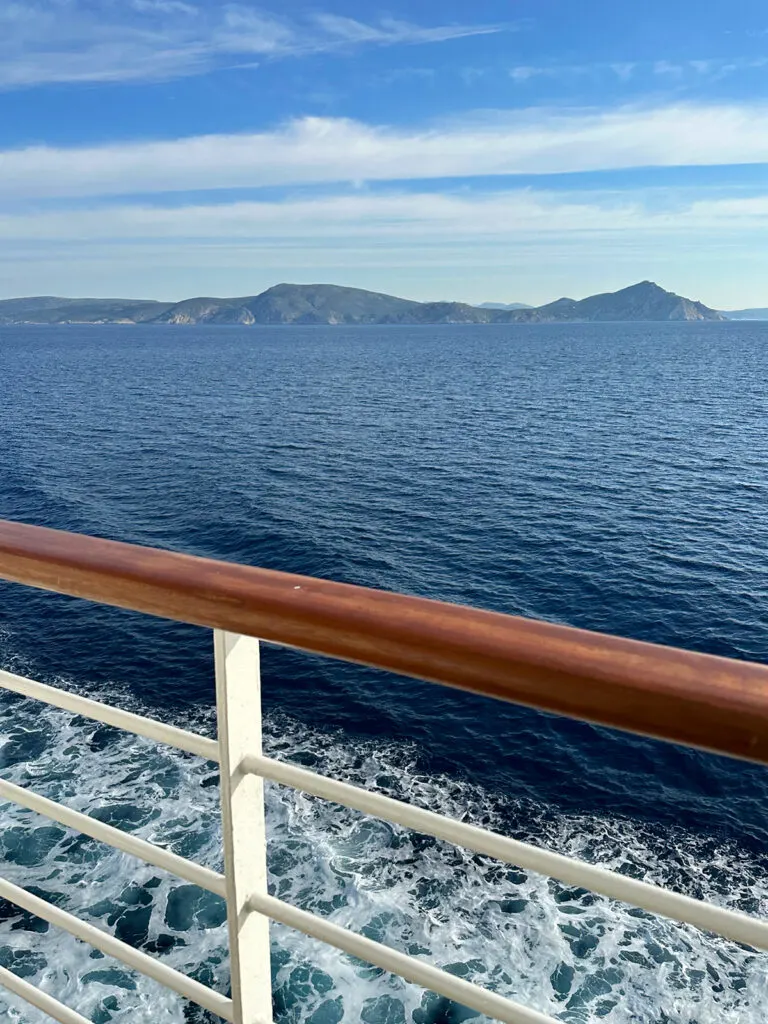 Nights: 7
Ports: 7
Departure Port: Athens (Piraeus)
Celestyal Cruises is considered a medium sized cruise company. This means they carry around 1000 people, and are nimble enough to squeeze into smaller ports (like Milos). The Idyllic Aegean cruise was the perfect mix of culture, popular spots and lesser-known gems.
The cruise company felt really authentic and the staff and service was outstanding! More on that in a bit. 🙂
Aegean Cruise itinerary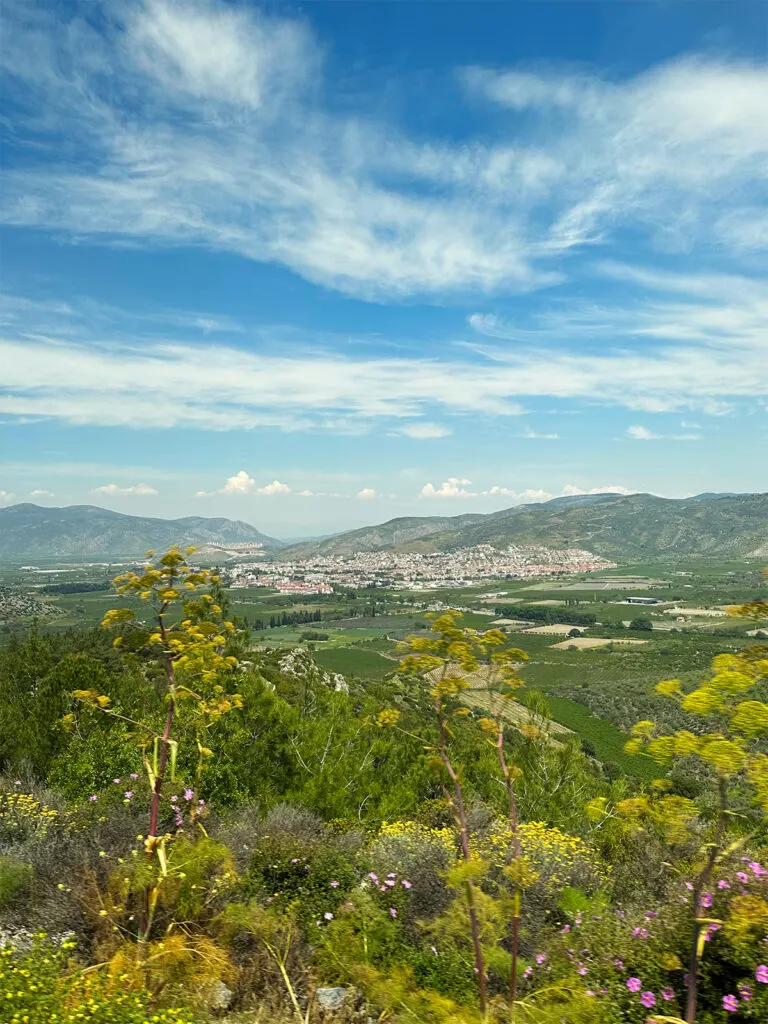 To say cruising the Greek islands with Celestyal Cruises was amazing is an extreme understatement!
Here's the route and itinerary of the Celestyal Cruise Idyllic Aegean Sea:
Athens (departure city)
Thessaloniki
Kusadasi (Türkiye/Turkey)
Crete
Santorini
Mykonos
Milos
Each day is a new port and a new adventure! On this Celestyal Cruises review, it's important to emphasize that one of the best things about choosing this company is the emphasis on the destination.
Of course there's plenty of on-board entertainment and amenities. But they really focus on the ports! With 10-12 hours or more at most destinations, you can really see a lot in that amount of time.
Celestyal Cruises reviews: ship experience
Not having ever been on a cruise before, I really didn't know what to expect. But honestly, it was everything it needed to be and a really great time on board the ship!
Keeping in mind that Celestyal Cruises is a medium cruise company and their emphasis is on the itinerary and destinations, there are some things that really mattered. After all, you're spending every night on the ship!
Celestyal Cruises staterooms (important while cruise Aegean Sea)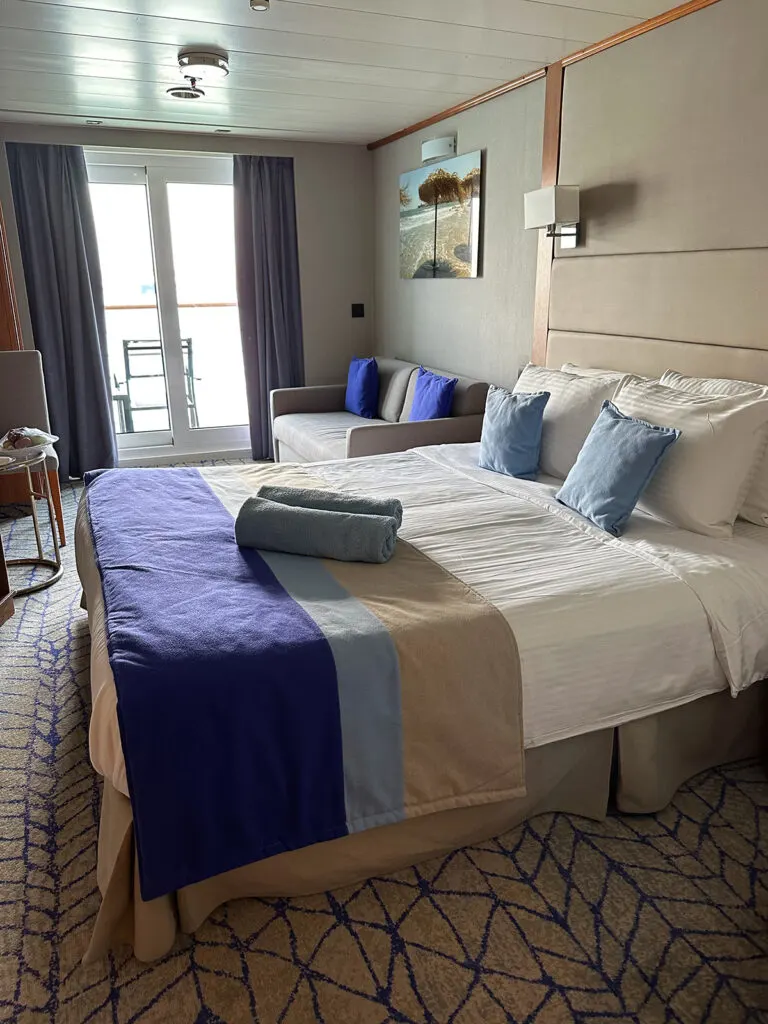 The cabins on board are comfortable and adequate. There's obviously several stateroom options for your budget, too. I cruised in a junior suite, which included a balcony. And if you can swing it, I'd highly recommend!
Having a room with a balcony allows you to wake up and see the open ocean or port you've arrived in or check the weather outside without having to fully leave your room. You can also see sunrises or sunsets from the comfort of your room, or your robe on your balcony!
The junior balcony suites are a bit larger offering more room to spread out as well.
There's staterooms with windows and interior staterooms without windows as well. It all depends on your preference and budget which is the right room type for you.
Staterooms on the ship come with turndown service, offering a late night snack and the next day's activities and itinerary, which is super helpful.
Since this is an honest Celestyal Cruises review, I'll say the only thing that was lacking in the room was the size of the shower. It was really tight but manageable.
Restaurants on the ship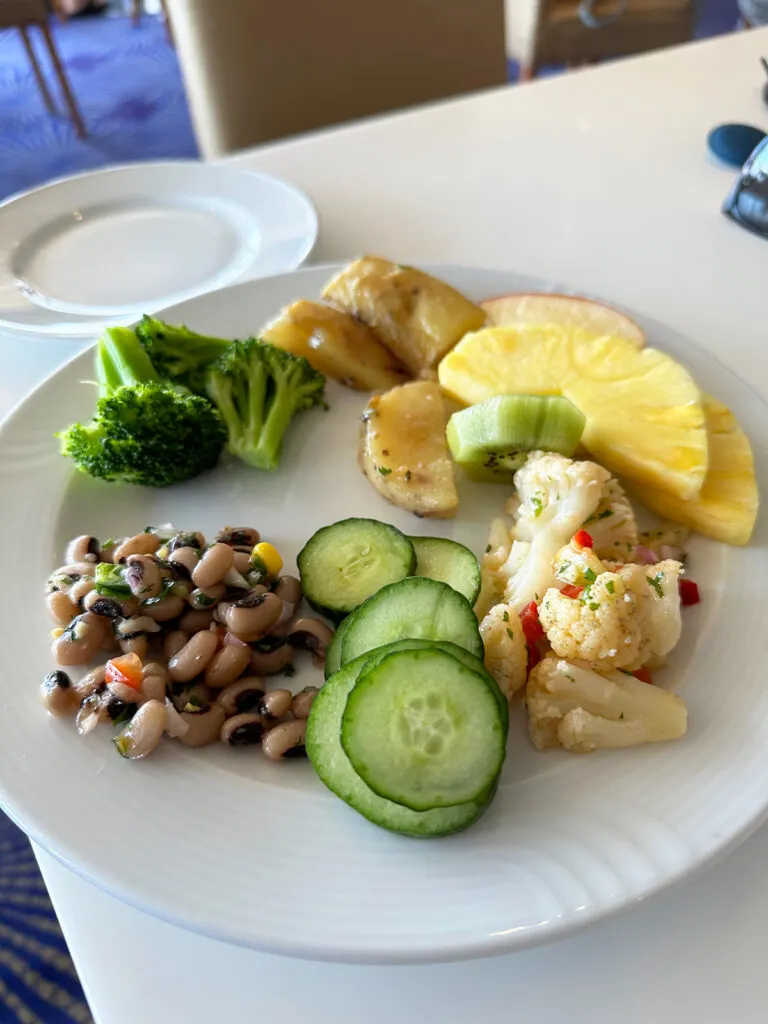 On a ship this size, you don't actually need a ton of restaurant options, especially if you consider that you'll be at port for most days. However, when you do eat on the ship just know there's enough variety in meal choices.
The buffet is an easy choice for a quick breakfast, lunch or dinner. You can find snacking menus throughout the ship, offering just a handful of items like burgers, pizzas or sandwiches.
Fun fact: there can be as many as 140 nationalities on board a Celestyal Cruises ship at any given time, so they really do a great job of catering to a lot of cuisines, with Greek being in the forefront, of course!
Pro tip: if you want the classic restaurant experience, go early when they open (closer to 6:00pm or 6:30pm) or late after the dinner crowd (8:30pm or 9:00pm) to avoid the dinner rush.
Of course you could always grab a cocktail at the bar while you wait as well!
The main restaurant and buffet do change their menu daily, which offers variety during the week considering there's only a few restaurant options. Also consider eating at port the days when the ship leaves late.
My Greek Table – Celestyal Cruise review of the special dinner on board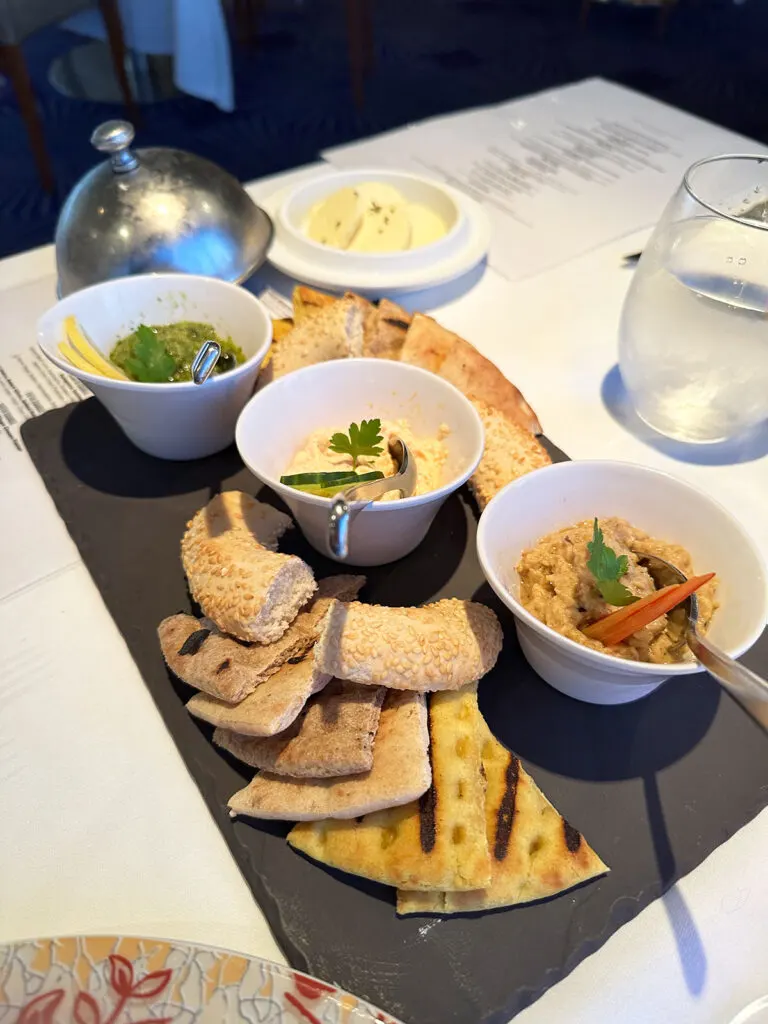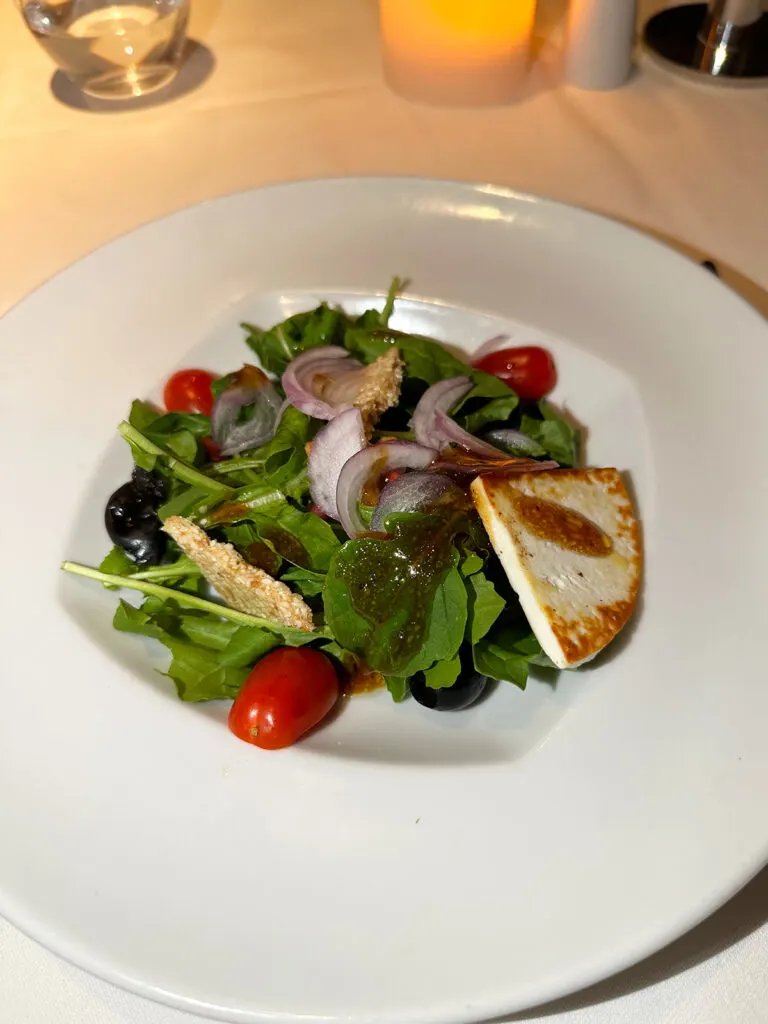 If it's available during your cruise and not sold out, I'd highly recommend the "My Greek Table" dining experience. With 6 delightful Greek foods plus an intermezzo, you'll want to come hungry!
Our menu consisted of:
Appetizer with 3 homemade dips: Syros maintanosalata, roasted tomato kopanisti and smoked eggplant caviar
First course: Cretan Octopus carpaccio
Second course: Aegean fisherman's saffron avgolemono
Third course: escallop of Aegean lobster, saffron jeweled pilafi
Intermezzo: pappardelle of zucchini, marinated tomatoes and mint
Fourth course: Kalogeros Terrine
Fifth course: arugula, red onion, baked olives, grilled manure and pastell crumble
Sixth course: Greek village cheese platter or floating Greek island in a wine-dark sea dessert
Oh my goodness don't expect to eat it all. But you'll really get a great taste of Greece during this authentic and spectacular dining experience!
Celestyal Cruises review: ship amenities and entertainment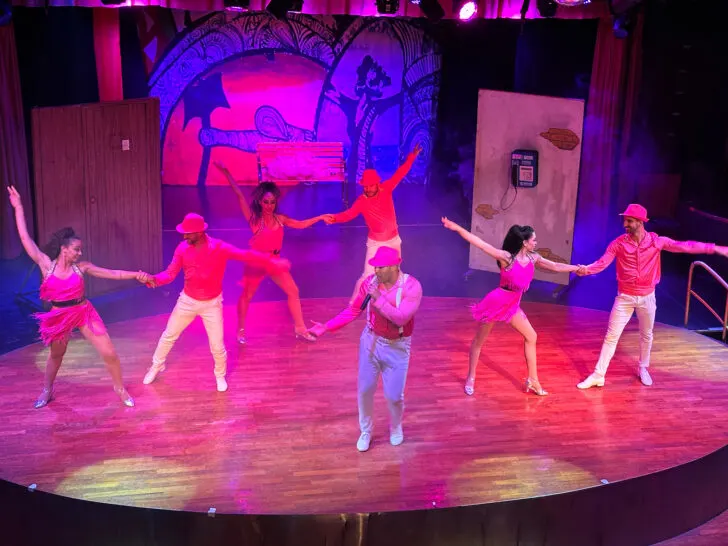 Maybe by now you're asking what you'll do when you're not at port and not sleeping. Well, there's a pool and hot tub, which can be used at your leisure. The onboard spa services are a great way to get a little self care in while on the boat as well!
Once you're on board the ship, sign up for a spa service before it's booked up. From facials to massages, hot stone treatments to mud wraps, there's a bit of everything!
Celestyal Cruises does a good job with providing other daily activities, like cooking demonstrations, wine and cheese tastings, ping pong tournament and much more. The ship can be a really peaceful experience to take a break and rest during a long day at port, too. Grab a book and sun on a deck, or people watch from the ship!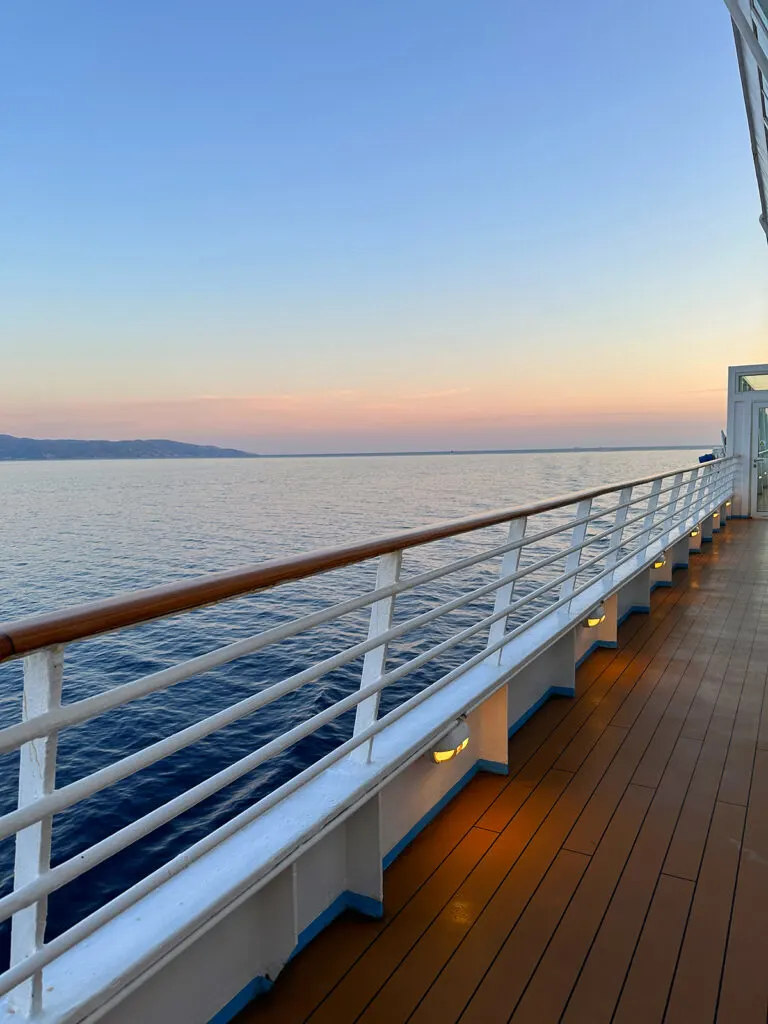 The nightly entertainment is also a hit when you've had dinner but you're just not ready for sleep yet. There are typically two shows a night, an earlier performance and a later one. But if you want a great seat get there early because the lounge fills up fast since it's such a popular spot!
You can also spend time in the casino, business center, fitness center or one of the other bars as well.
Service on board (honest Greek island cruise review)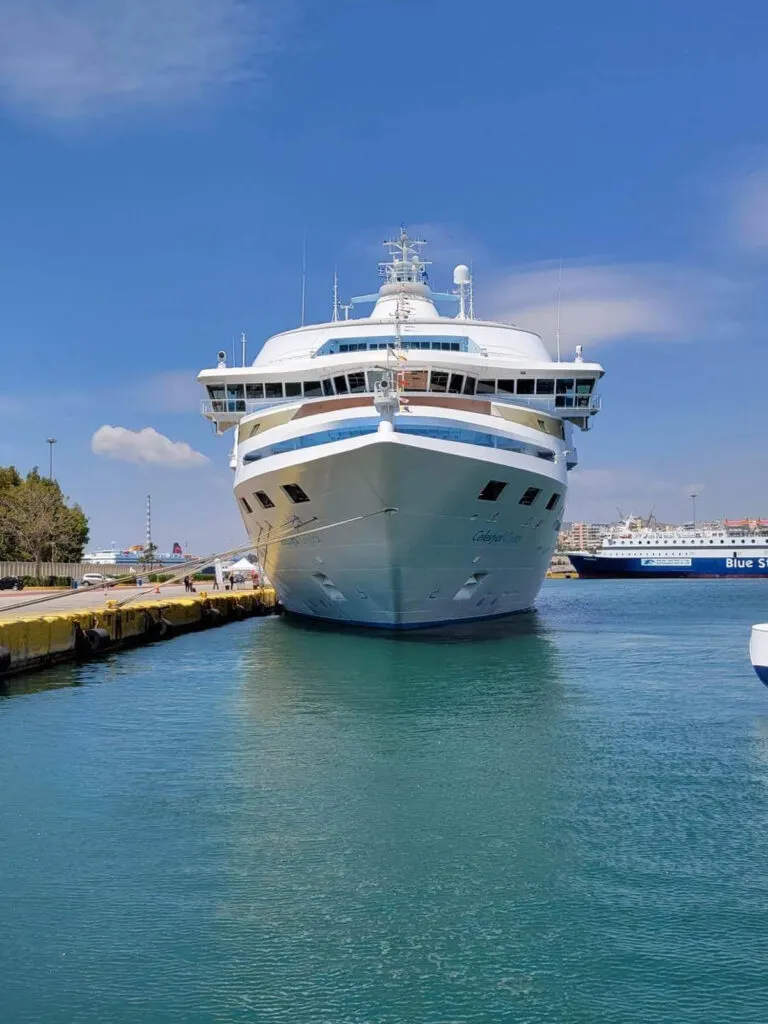 One of the areas Celestyal Cruises excels is in their service. Every single service member and encounter exceeded my expectations. From the tour desk to the restaurant host, bartenders and tour guides, everything was truly fabulous.
It's amazing how in just a week time the crew learned our names. We even hugged as we left the ship!
The Celestyal Cruises crew were so kind and authentic. Day in and day out, you really can appreciate the hard work they put in to make the experience so memorable!
Best cruise Greek islands: Celestyal Cruises Idyllic Aegean itinerary
Alright let's get to the itinerary already! There arso many factors to consider when deciding if an Aegean cruise is right for you, and we've reviewed a whole lot of them.
But one of the most fun parts of planning your trip is finding out more about each destination along the way! Let's dive into what ports are included on the Idyllic Aegean Sea cruise, and what you can expect at each stop.
Athens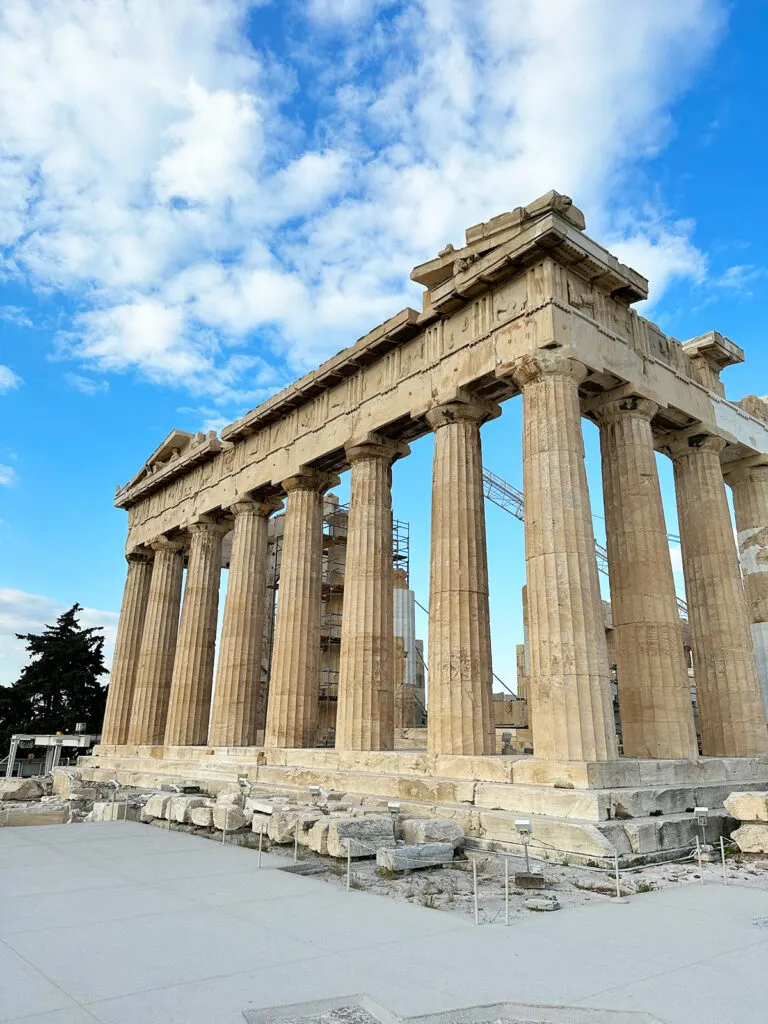 While it is possible to board the ship from other ports, most people embark and disembark in Athens. Being the largest city in Greece, there are multiple cruise ports. The Celestyal Cruises uses the Piraeus port.
Boarding the ship is easy! Once you're on board, you can enjoy lunch or dinner and check out the amenities of the ship. This is a great chance to unpack your things too – one of the benefits of cruising is not having to move your stuff the whole week!
If you happen to embark at another location, Celestyal Cruises offers several 1/2 day tours within Athens. See the Acropolis and Parthenon, the Acropolis Museum, take a food tour, and so much more!
Athens is a great city and you can truly spend a lot of time there, soaking up the sights. It's easy to fill 2 days in Athens, or even more. But if you're cruising, the day at port is just enough time to just get a taste of Athens before boarding the ship again!
Thessaloniki (your first stop on your Celestyal Cruises Greece trip)
Pronunciation: theh-suh-low-nee-kee
Thessaloniki is the 2nd largest city in Greece. Located in Northern Greece, and being from the US, I wasn't quite sure what to expect in this city. It's not a region I was familiar with prior to planning this trip to Greece.
Thessaloniki is a fun port city built right on the water. Most everything you'll want to see in a day is within walking distance of the port.
Celestyal Cruises offers 1/2 day tours within the region. Learn about the impact Alexander the Great had on the city, visit a Greek winery, go on a food tour or see the city's highlights.
My husband and I chose to walk the city and experience the local flair on our own. Some 20,000 steps later, I can say we saw a lot of the city!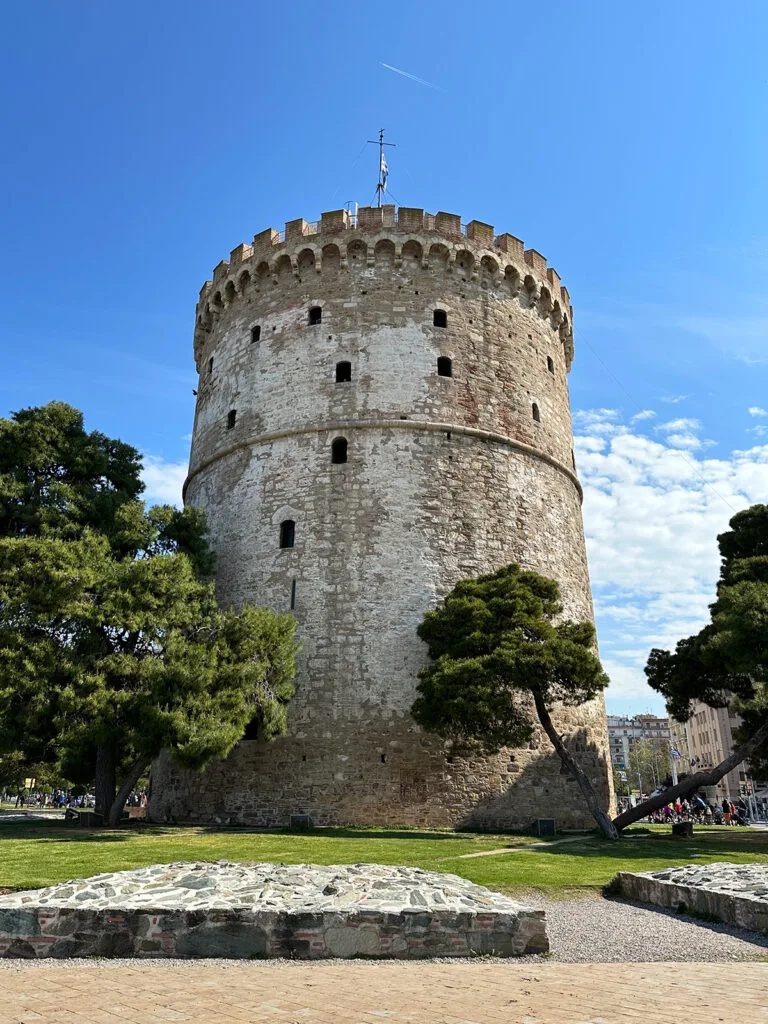 Thessaloniki highlights:
Climbing White Tower – the city's iconic landmark near the sea.
Museum of Byzantine Culture for incredible history and artifacts.
Walking through the Arch of Galerius and the Rotunda, nestled in the heart of town.
Seeing the Alexander the Great Statue and learning about his history in Thessaloniki.
One of the most fun things I witnessed in Thessaloniki was the way they built the city around the ancient ruins. You'd be walking down a street between buildings and all of a sudden it opens up to an ancient ruin thousands of years old. Reminds me of a perfect Rome itinerary where you have the right mix of history, food and culture in a city. So cool.
Kusadasi, Türkiye (an Aegean cruise delight)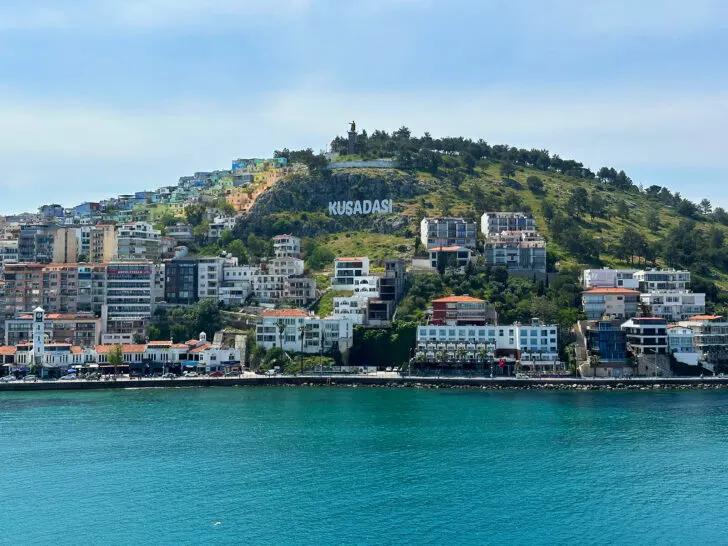 Pronunciation: KOOSH-ah-dah-suh
On this Celestyal Cruises review, this was the only spot that my cruise went that was not in Greece. It honestly wasn't on my travel bucket list, but I'm so glad I experienced it!
Kusadasi is a port city in Türkiye (Turkey), home to amazing culture, food and history. The shining star of the region is Ephesus, part of the Izmir province and just 45 minutes drive from the port. It's actually the most well-preserved ancient city in the country.
Kusadasi is the shortest stop on the Idyllic Aegean cruise (6 hours), so my husband and I enjoyed a tour through Celestyal Cruises for this port city. Our tour focused on the ancient city of Ephesus.
We also visited the House of the Virgin Mary, which the Vatican recognizes as a holy place where Mary spent her final years.
Bonus: if you're taking a cruise with your family, Kusadasi is home to amazing water parks, and you can take an excursion through Celestyal Cruises during the summer months to the water parks.
Visiting Ancient Ephesus (one of the surprise activities while sailing Aegean Sea)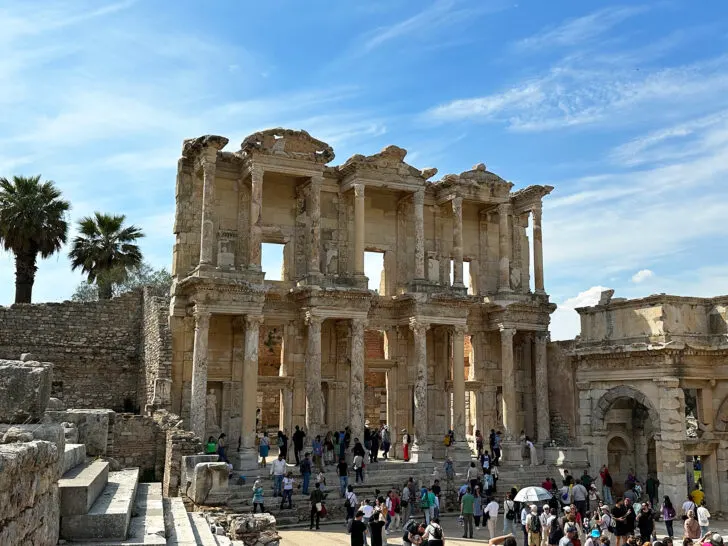 This ancient city is incredible! It's home to so many structures. Ephesus is not as well kept as Parthenon in Athens, for example, but it's still a work in progress! When you first walk through there's quite a bit of columns and piles of ruins. It's hard to tell what most of it was, except for the signage and tour guide.
As you go in further you can see more structures and detail. The most impressive part of Ephesus is the library. It was the 3rd largest library in the world at the time it was built, with approximately 12,000 books (scrolls).
The city of Ephesus was approximately 240,000 people and an estimated 80% of it is still uncovered. 🤯
It's truly amazing much of today's world began in ancient times. The symbol for medicine – carved here. The Goddess Nike herself has a statue here as well.
The theatre is one of the most well preserved landmarks in Ephesus, with reconstruction, of course. It's actually kept in relatively good shape, and some classic musicians like Elton John and Sting have played concerts there. The theatre holds 24,000 people. They open it up just once a year for concerts to the public.
Buying Turkish rugs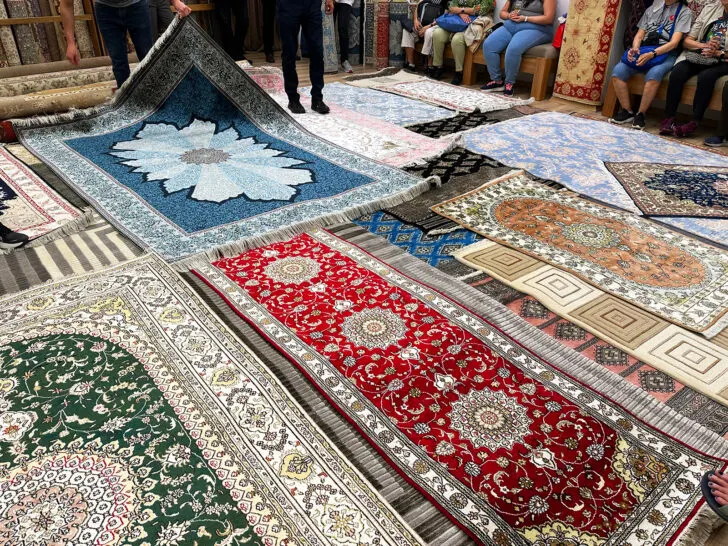 One of the stops on the tour was to see the culturally significant Turkish rugs. A timeless tradition in Turkey, and one they're really proud of.
Our tour learned how they use the cocoon to grab silk and create thread. They get up to 1 mile of silk per cocoon! We saw the process of weaving the rugs using the loom, and stunning creations created in this small Turkish town.
During the tour, they serve you Turkish wine (white and red) and Raki, which is the official drink in Turkey. It tastes like ouzo or black licorice, so wasn't my personal favorite!😜
By the way, Turkish rugs can be several varieties of fabric including wool, cashmere and silk. Because you're paying a salary for a weaver (or multiple), they can be quite pricey. Consider adding this to your vacation budget when visiting Kusadasi!
Crete, Greece (one of my favorite stops on an Aegean cruise)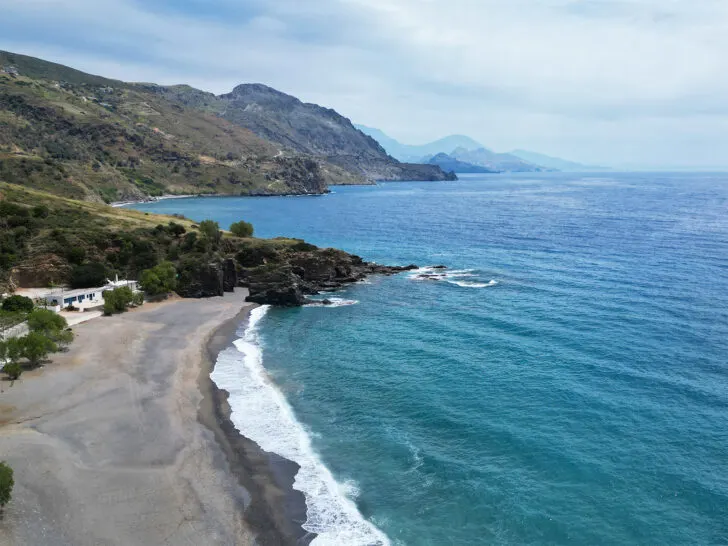 Fun fact: Crete is the largest island in Greece, and the 5th largest in the Mediterranean Sea. So although this is an Aegean Sea cruise, you're technically dipping down into the Mediterranean Sea for a day!
With 11 hours at port, you'll have a lot of time to explore. The Idyllic Aegean cruise arrives at the Heraklion port, in the north-central part of the island.
Compared to the Cyclades, which are the other island stops on this itinerary, this island has a much different personality. An organized tour through Celestyal Cruises can take you through ancient ruins, a lifestyle experience where you'll see the countryside and dancing, through a walking food tour and more.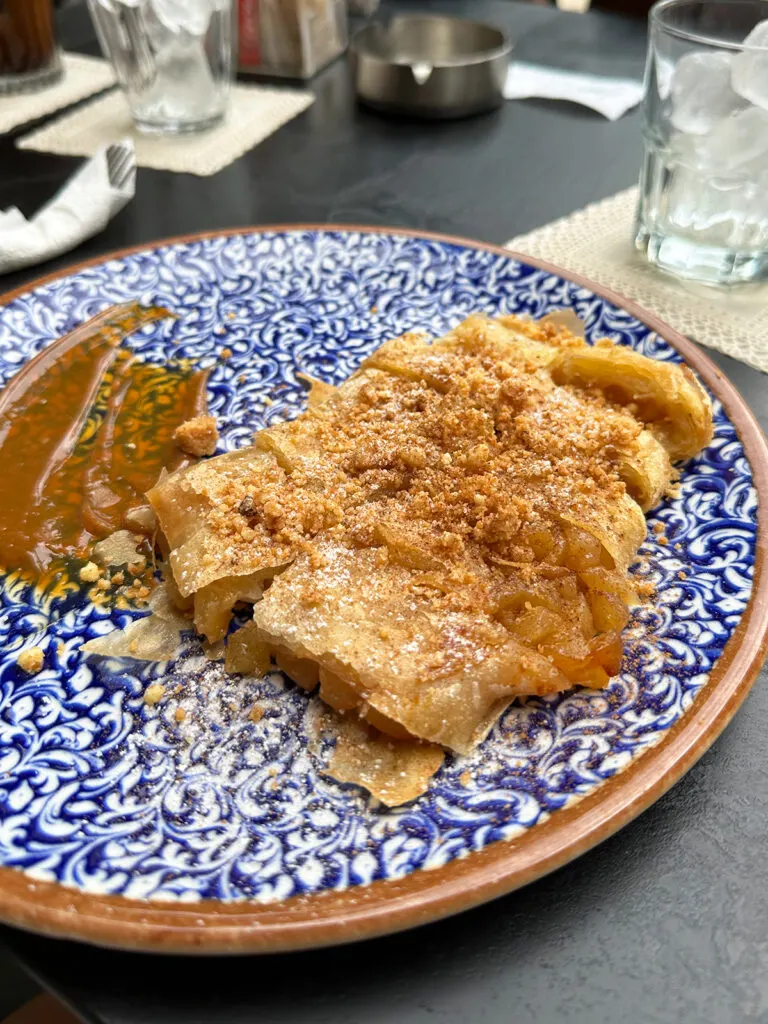 My husband and I rented a car and road-tripped through the island. Visiting the most underrated beaches on the southern side of Crete, it's such a picturesque place!
The island is so large, you'll see huge mountains which get snow during the winter, and stunning beaches all on the same landscape! The island is home to olive groves and open land where you'll see far more sheep than people!
Crete, Greece is such an interesting island. You'll definitely want to explore it while on your cruise!
Santorini (a classic destination on this Celestyal Cruises review guide)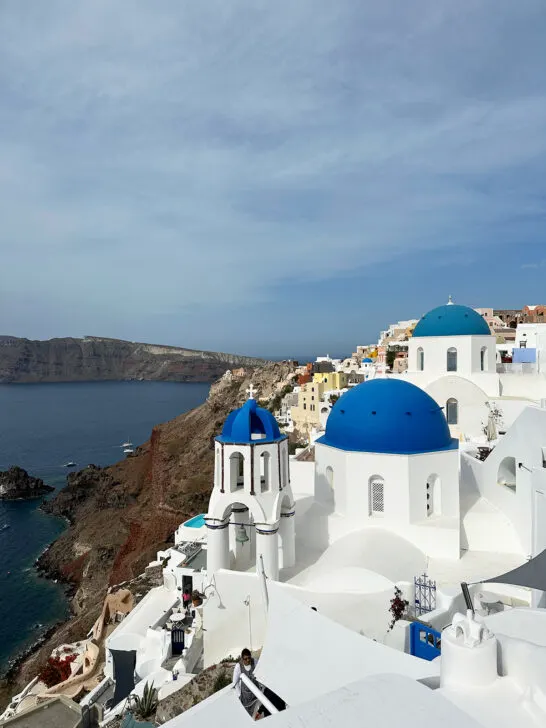 It's the most popular Greek island by far, and on a travel bucket list for so many people! Santorini was the mid-way point on our Aegean Sea cruise, and one island we won't soon forget!
A few things you should know about visiting Santorini:
It's super busy. Get off the boat early to maximize your time before the crowds really set in. And expect lots of people, especially in the high season (June-August).

Santorini is actually on a caldera. The island is on a giant rock, and you'll need to go up that rock to see anything.

Your Aegean cruise will use tender boats to get you from the cruise ship to the island. There's no actual port, so the ship is just docked at sea and you're transferred on smaller boats.

It's the 2nd most expensive Greek island. Expect to pay more for food and cocktails when you're on the island.
Once you're on the island, the town of Oia (pronounced ee-uh) is the most popular spot. It's where you'll find the blue dome churches and excellent sunset views.
Oia is also where the crowds are so thick you can barely walk through the narrow streets. Just prepare yourself!
Celestyal Cruises offers several tour excursions, most of them including Oia. You could also do a wine tour or visit ancient ruins. There's seriously so much history in Greece it's incredible!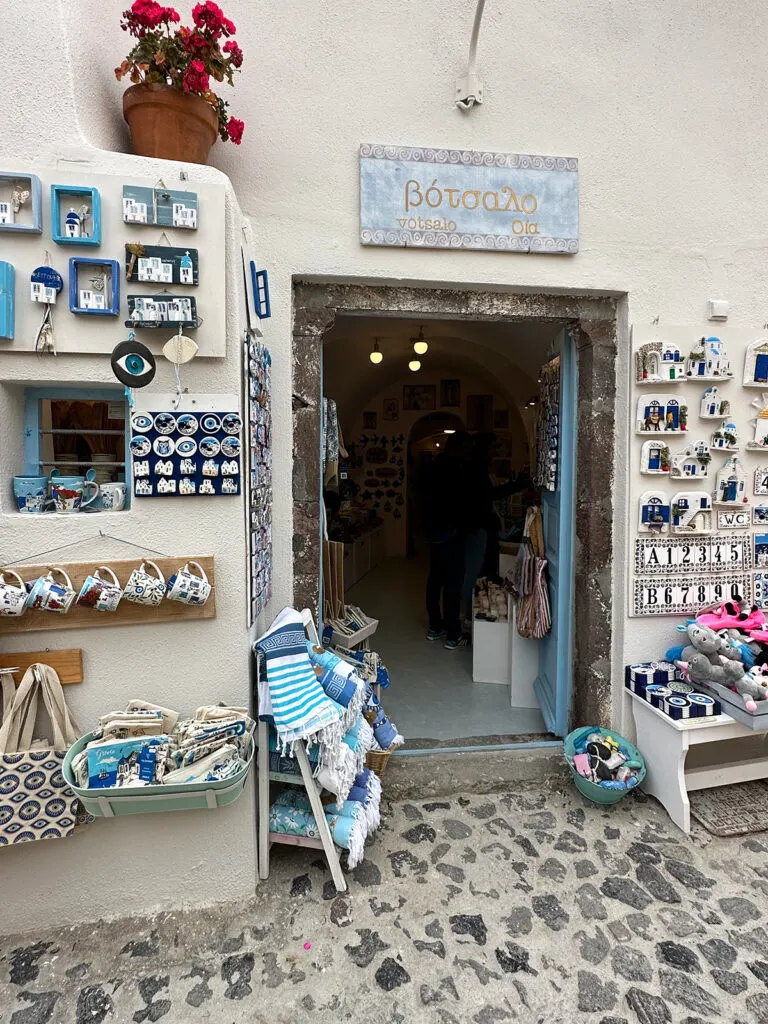 Santorini highlights:
Picturesque blue domed churches in Oia.
Village of Imerovigli for less crowds and great views.
Shopping in Fira, the gateway to and from the island for cruise ships.
Sunsets in Imerovigli or Oia. Just be sure to make dinner or cocktail reservations for the best views.
Pro tip: plan to spend the day on the island. Most cruises wrap up early afternoon, and the line to get on the gondola to back to the boat can be hundreds of people deep. Alternatively, you can walk the 600+ steps down to the tender boats from Fira.
Pro tip #2: plan to pay for toilet tissue at public restrooms, or bring your own along with you. Most restaurants are free of course.
The overnight path from Santorini to your next stop is so brief, you can soak in the nightlife in Santorini considering the ship doesn't leave until after midnight! One of these Santorini beach bars would be perfect for the evening.
Since this is an honest Celestyal Cruises review, I'll say that Santorini was my least favorite stop. I'm certainly glad I saw this iconic island, but it was far too touristy for me (and I didn't even go during peak season!) I'm glad I went but likely won't plan to go back to Santorini.
Mykonos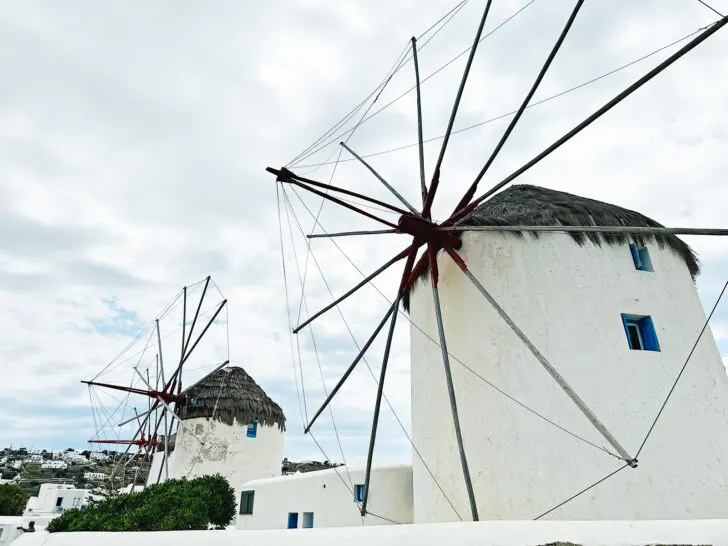 Known as the party island, Mykonos has a personality bigger than life! One of the most picturesque islands due to the white streets, village alleyways and colorful shops, Mykonos is a fun island to visit.
Mykonos is the 2nd most popular island in Greece, and the most expensive island.
Celestyal Cruises Greece offers a few excursion options in Mykonos, the most popular being a 1/2 day trip to Delos, which is a UNESCO World Heritage Site. Delos is one of the most important archeological sites in Greece, only behind the Parthenon and Mount Olympia.
My husband and I had visited many other archeological sites in Greece, so we opted for the Mykonian countryside tour with Chora and Little Venice with Celestyal Cruises. Off the beaten path, we visited the small town of Ano Mera Village then the popular Windmills of Mykonos as well as some other popular spots.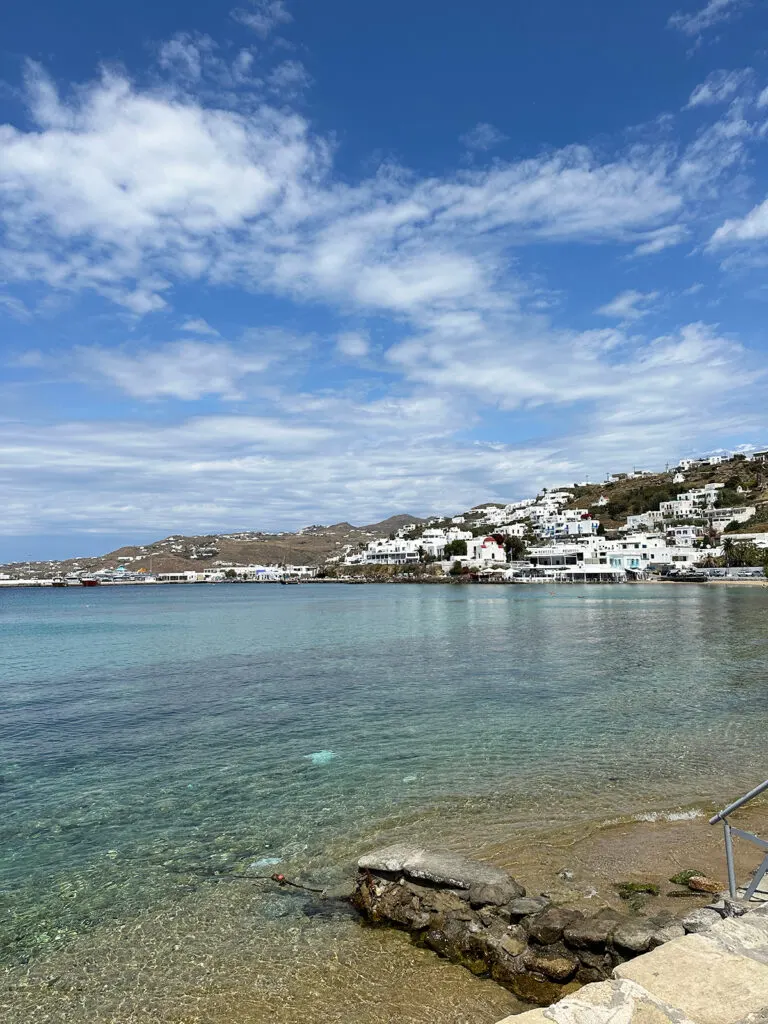 Mykonos highlights:
Walking the pedestrian-only streets in Mykonos Town.
Seeing Little Venice and the Windmills of Mykonos.
Beach hopping to Kalafati and Paradise Beach.
Fun fact: this review of Celestyal Cruises lists yet another reason why it's such a great option for cruising the Greek islands. The mid-sized ship is able to dock at the port, instead of utilizing tender boats like many of the mega sized cruise ships. This makes it more convenient to go back and forth from the boat to the town as needed.
You can have another late night in Mykonos if you desire. The trip from Mykonos to Milos isn't very long, so the boat leaves really late at night and you can visit the bars and restaurants into the night hours.
Milos (a gem while cruising Aegean Sea)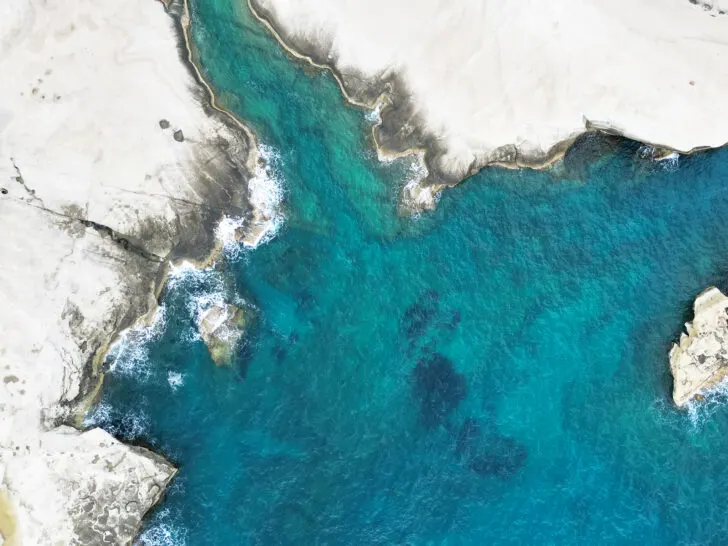 One of the most underrated Greek islands is Milos! The island doesn't have the capacity to disembark the volume of passengers from large cruise ships, so visiting Milos during your Celestyal Cruises Greece truly feels like a secret.
This island has a natural feel, and is way more laid back than the previous 2 days in Mykonos and Santorini. It's a fresh break if you don't love crowded places!
On Milos, I highly recommend you either rent a car for the day or take a tour from Celestyal Cruises. The island itself isn't as walkable as Mykonos and doesn't have the public transportation structure of Santorini.
Organized tours through Celestyal Cruises include visiting beaches, historical or religious tours. My husband and I rented a car and explored the beaches on the island – and actually ran into a tour bus from the ship!
Having visited beaches all over the world like the best beaches in Thailand, Flamenco Beach in Culebra Puerto Rico, the beaches of Manuel Antonio Costa Rica and so many more, I can honestly say Milos had way better beaches than Santorini or Mykonos, in my opinion.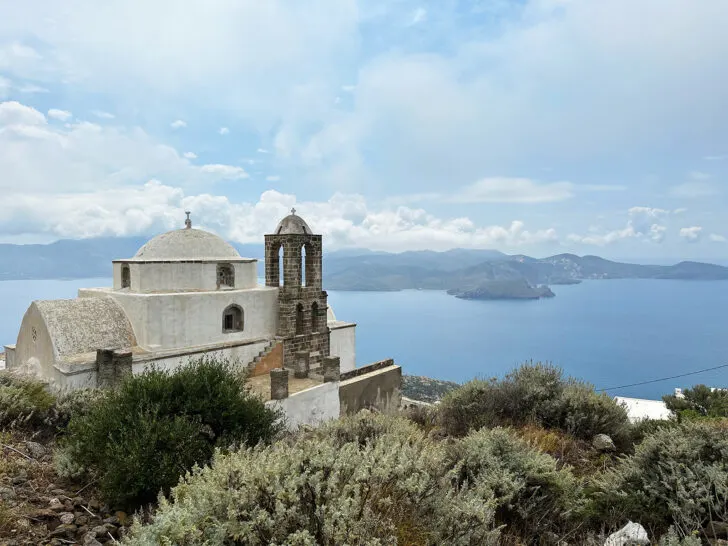 Milos highlights:
Exploring the beaches and tunnels at Sarakiniko.
Hiking to the Plaka Castle and seeing the incredible panoramic views.
Plathiena Beach, which was a ghost town before the summer crowds set in.
Tsigrado & Fyriplaka Beaches on the south side of Milos.
You'll definitely want to visit Sarakiniko, aka Moon Beach. With over 70 beaches on the island, this is the most popular. The white rock formations from volcanic ash create the most stunning coastline. In contrast to the bright blue waters of Greece, it's truly stunning!
You'll want water shoes on this day, as it's much easier to walk around Sarakiniko with these grippy shoes, and it will protect your feet from rocks and shells on some of the other beaches.
Milos is one of the best stops on your Aegean cruise for beaches, and one of the best Greek islands for couples!
Celestyal Cruises review: back to Athens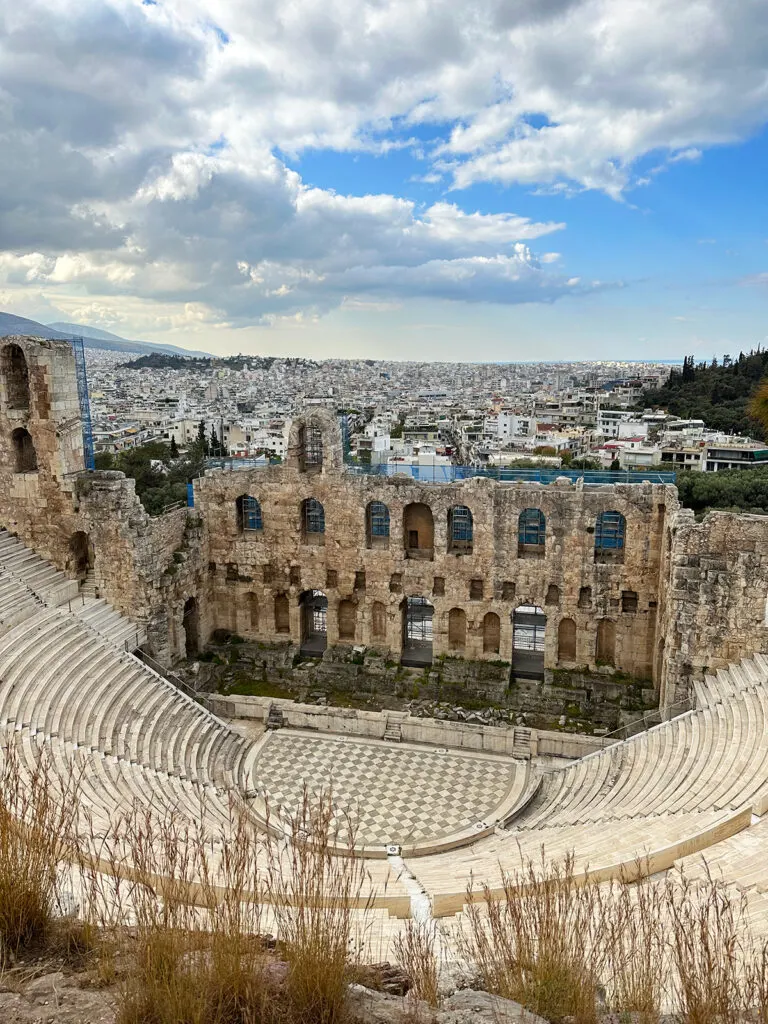 That wraps up the 7 nights on the Idyllic Aegan cruise with Celestyal Cruises! There's truly so much variety during a cruise Greek islands. Each destination was unique, interesting and worthy of a stop!
Whether you're dreaming of the iconic photos of Santorini, looking for some culture in Kusadasi or beach-hopping in Milos, there's truly something for everyone!
And the extra bonus is that by selecting excursions through Celestyal Cruises that pique your interest, each cruise will have a customized experience to your personal preferences.
With such major airport in Athens, cruising with Celestyal Cruises is really accessible, too. If you're coming in and departing from Athens, be sure to spend at least 2 days in Athens exploring all the most popular sights!
Let's cover a few more tips before wrapping up this guide.
Tips for first time cruisers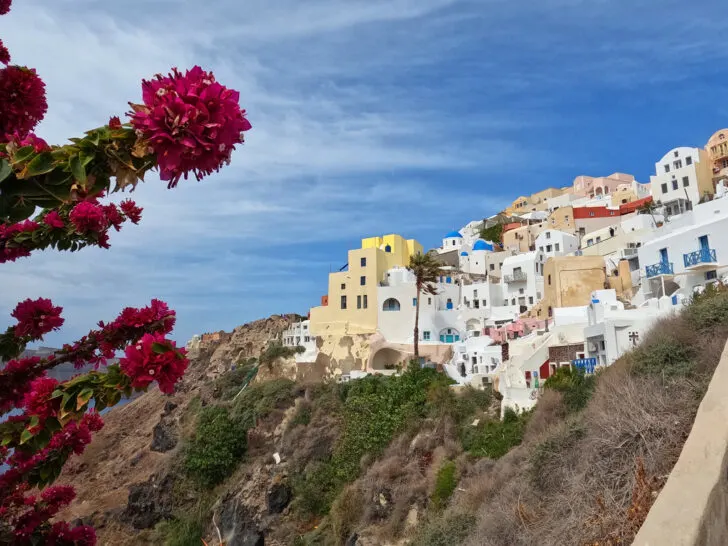 If this is your first cruise – congratulations for taking the leap! There's no right or wrong way to travel – and cruising is a fun option to see new destinations.
You'll wake up each morning in (or on the way to a new place), and only have to pack up once. So convenient! Here are a few tips to make the most of your experience.
Book your excursion early. After you get settled on the boat, go to the tour desk and sign up for your excursion, if you don't do it prior to boarding. Depending on season and popularity, you may have to choose your #2 choice as well.

If you've ever had motion sickness, prepare yourself adequately. Over the counter medicines can be helpful. I absolutely loved my motion sickness bracelet. I get really bad motion sickness and this helped most of the trip. Just two nights I had to layer Dramamine on top because the sea was especially rocky.

Be sure to plan your day to be back at the port early. Celestyal Cruises allows passengers to board up to 30 minutes before they depart. You certainly don't want to push your luck there!

Take advantage of laundry service on the boat. Don't worry about packing 7 full outfits if you don't want to. Laundry service is quick and relatively inexpensive.

Carry cash with you. Although most places take credit cards, there were some restaurants and shops that only accepted euro.
Things to pack for a Greek island cruise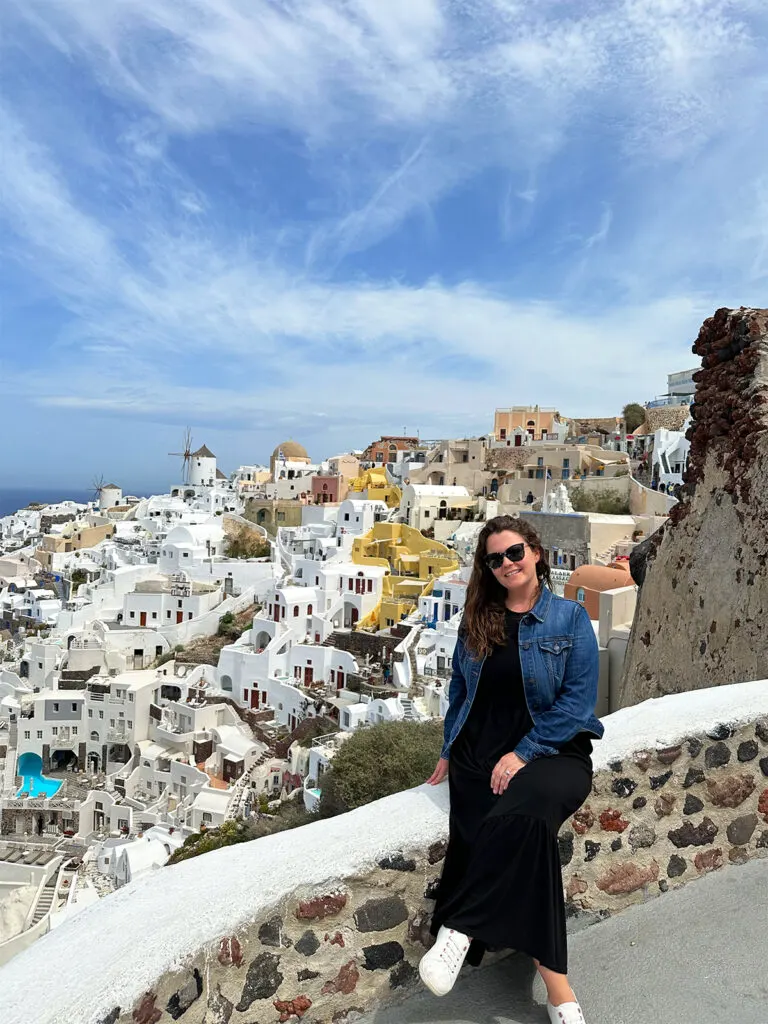 Depending on the time of year you take your cruise, your packing list will vary. But these essentials should come with you on your cruise!
Sun hat. Protect yourself from the sun whether you're walking the streets of Mykonos or lounging on a beach in Crete.

Sunscreen. You're going to need it in Greece! Anytime you're in or near the ocean, be sure to use mineral sunscreen to protect marine life. Chemicals in traditional sunblocks kill the reefs and the marine life that relies on it.

Water shoes. Not all Greek beaches are created equal and most of them are rocky, not soft sand. This is my favorite pair of water shoes that literally travels the world with me and they're great for light hikes, too!

Comfortable walking shoes. Cobblestone streets and thin sandals are not a good combination. I loved these simple white shoes – and bonus, they washed up easily after walking through rain puddles in Milos.

Umbrella. Carry a mini one with you if the weather calls for rain.
Power bank and cord. One of the great things about long days at port is that you'll get to see a lot! But plan for your phone battery to need a recharge.

GoPro. Take excellent underwater photos and videos! Plus, it's great for smooth videos as you're walking. You can see me carrying my GoPro in the photo in Kusadasi, above.

Comfortable shoulder bag. It's popular in Greece for men and women to carry a shoulder bag for money and other essentials. This is the bag I carried everywhere around Greece!

Cash. As previously stated, not every business accepts credit cards. Have cash on hand just in case.

US-Europe adapter plug. If you're from the US, you'll definitely need this. 🙂
During summer you'll want a swimming suit and over winter you'll want extra layers. Check the weather before you go and try not to overpack!
Celestyal Cruises review of the Aegean Cruise – that's a wrap!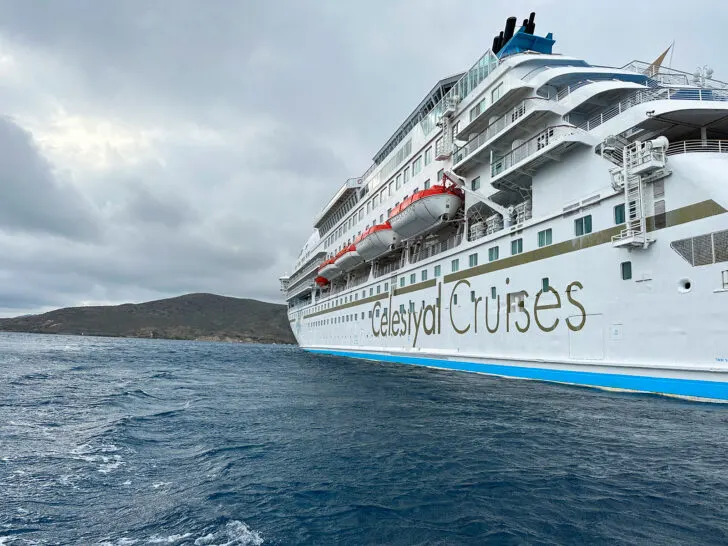 Well, are you so ready to book a tour? After reviewing why Aegean cruises are amazing and details around a Celestyal Cruise, is it clear yet it's time to book?
There's so many itinerary options with Celestyal Cruises. Honestly, I was looking at the 4-night cruise, but I'm so glad I went on the 7-night Idyllic Aegean cruise.
I personally think visiting multiple islands in a day isn't enough – it would leave me begging for more! With a 7 day cruise you really get to see and experience a lot. Go at your own pace and get back to the ship earlier if you please!
Questions about the cruise? Drop them in the comments below!
Related content to read next:
Mykonos vs Santorini: Which is the PERFECT Greek Island for You?
29 Best Greek Islands for Couples You'll Love (Romance, Beaches, Adventure + More)
AMAZING 2 Days in Athens Itinerary You'll Love (+ Map & Tips for First Timers)
Find this post helpful? Save it for later or share it on social media!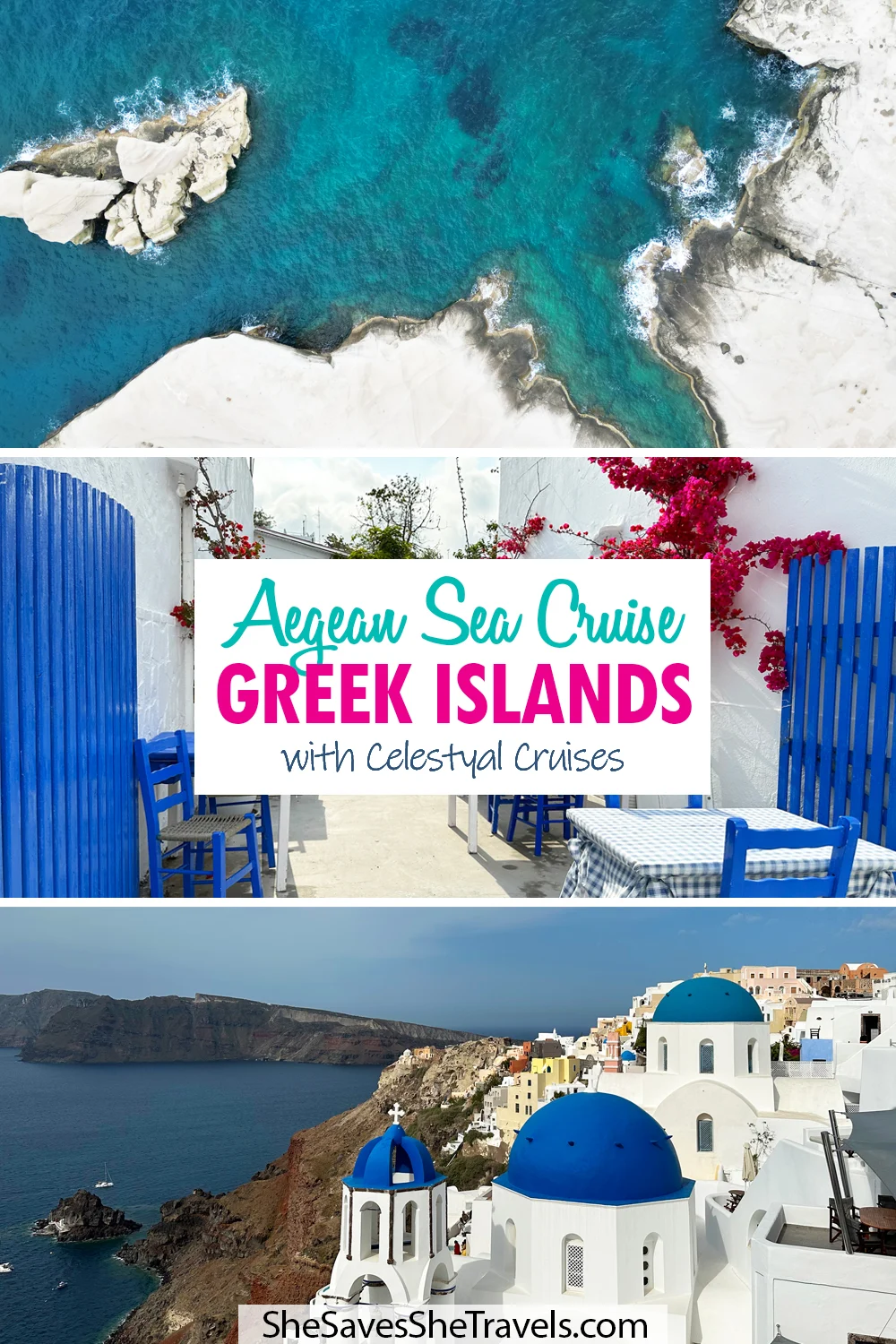 Thank you to Celestyal Cruises for hosting me! As always, all opinions are my own.