Kauai is a place of adventure, where there are endless possibilities to enjoy the great outdoors. The island is absolutely gorgeous, and it truly makes you wonder how a place so beautiful even exists. With so much of the island natural and untouched, I thought finding a great place to eat would be challenging. I was wrong! I enjoyed a variety of foods on Kauai. Here's my run down of the best places to eat in Kauai.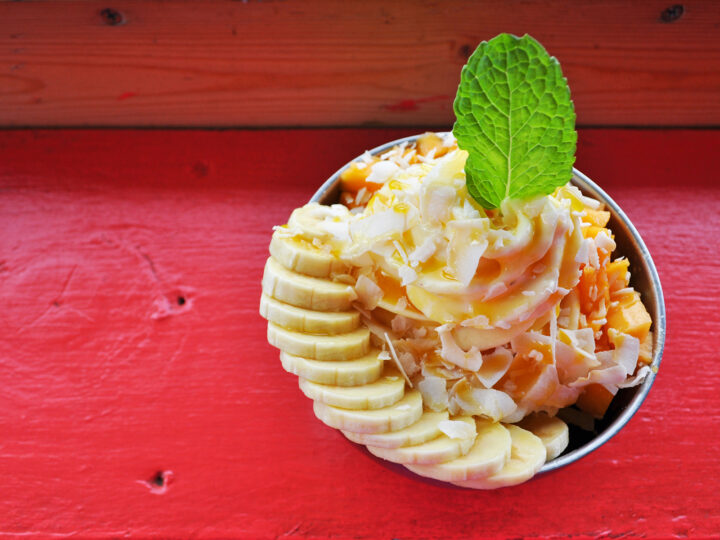 This post may contain affiliate links. For more info, see my disclosures.
On this list you'll find recommendations in Poipu, Kapaa, Lihue and Waimea. I stayed in the Poipu area but ventured to many other parts of the island during my stay on Kauai.
Also, if you're looking for things to do while on Kauai, check out this guide.
Little Fish Coffee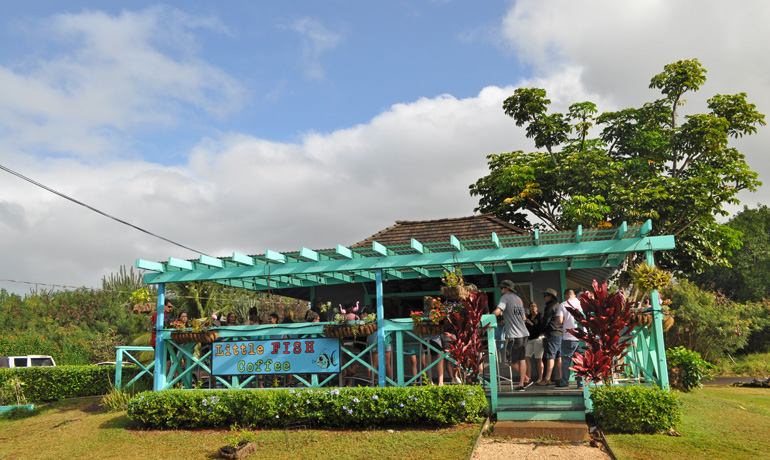 Alright I have to start the article with my favorite breakfast place on Kauai. During our week-long trip on Kauai, we spent three of the mornings eating at Little Fish Coffee in Poipu. Their name says coffee, but this place has so much more to offer.
The highlight was their açaí breakfast bowls! Each bowl had a unique mix of toppings including fruit, granola, proteins and more. It was the right amount of healthy foods plus sweet treats to enjoy for a balanced breakfast on vacation.
If you grab a açaí bowl, don't let the size fool you. The small bowls are very filling and you could probably feed a family with the large option.
Now I can't recommend Little Fish Coffee without mentioning their coffee options! I'm actually not a coffee drinker but I know the coffee grinder was always going at Little Fish Coffee. My fellow travelers loved their fresh brews, their favorite being the Mexican Mocha Latte on their signature coffee menu.
Little Fish Coffee also has smoothies that could please pretty much anyone, and a great variety of breakfast sandwiches to fill you up before your adventures on Kauai.
Note: I enjoyed the location in Poipu but they have a second location in Hanapepe.
Da Crack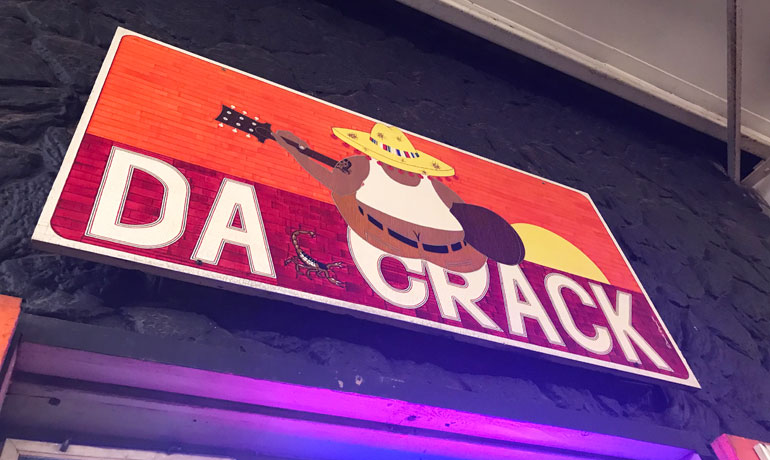 Don't let the name fool you… Da Crack is one of the best places to eat in Kauai, and perhaps my favorite dinner place! It was recommended to us by locals, and it was amazing. They serve fresh, hot Mexican food and you can easily get a meal for two for less than $25. That's tricky to find on Kauai!
The servings are large though, so one taco per person or a burrito to share will do it. The meat tastes like it's been marinating for days and all the toppings taste super fresh.
Note: this is a to-go place only, so you won't find any tables. There are a couple of benches you could grab if they're free. Eating Da Crack out the back of your SUV is definitely acceptable on Kauai. Better yet, grab some tacos for dinner and catch the sunset!
You might also like:
Best Budget Travel Tips (so good you'll want to try them now)
Is Travel Insurance Worth It? Your Guide to Decide
Poipu Food Truck Park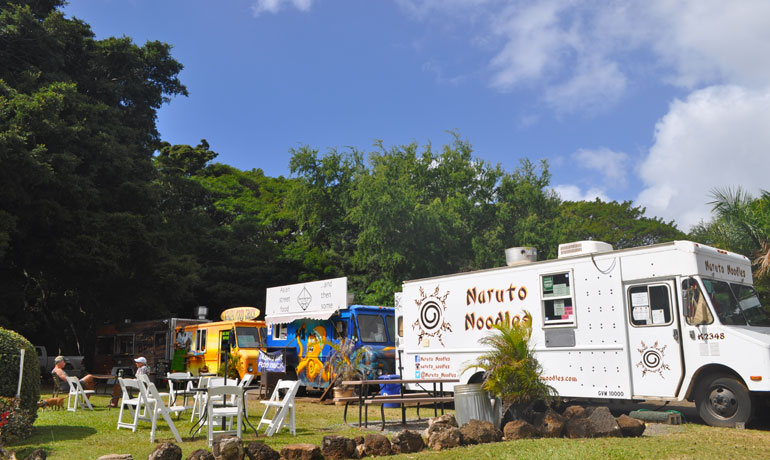 Okay I couldn't decide on the best food truck in Poipu so I'll recommend the food truck park as one of the best places to eat in Kauai. The group I was traveling with enjoyed lunch at the Poipu food truck park off Koloa Road. We ate fish at Kauai Food Truck and sandwiches at D-Green's BBQ. We only ventured there once, otherwise we would have loved to try the other two food trucks.
The Poipu food trucks pricing ran around $10-$15 each per plate, so you can get a good meal at a decent price.
Gina's at Yumi's Restaurant
If you're going through Waimea to hit the trails and lookouts of Waimea Canyon (which I highly recommend), make sure you stop in at Gina's place for lunch. It's a quaint little restaurant with home cooked food.
They're known for their Loco Moco. A Hawaiian favorite meal, it's basically a hamburger patty served over rice, topped with eggs and gravy. Gina's at Yumi's is also known for their cheeseburgers as they serve Kauai grass-fed beef.
The best part about Gina's is that you can get almost anything on the menu for less than $10! Stop there on the way up Waimea Canyon to fuel your hiking adventures!
Related reads:
Best Island on Hawaii: Take the Hawaiian Island Quiz
Travel Bucket List Ideas: 101 Ideas to Create Your List
10 Tips for Your Best Vacation Ever
The Spot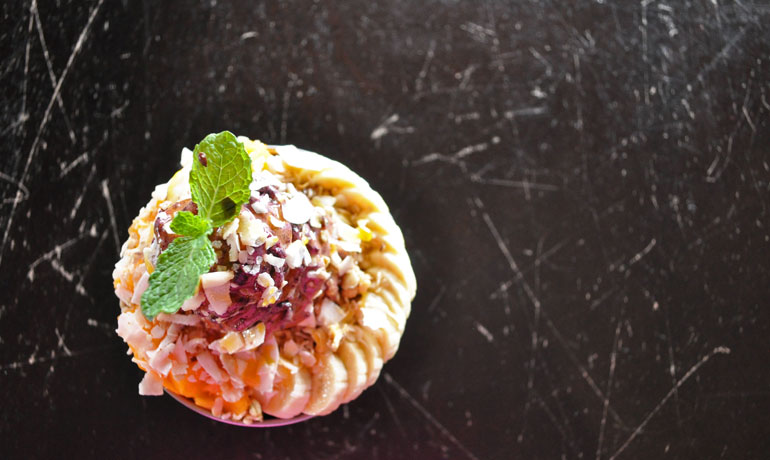 You will never have to persuade me to eat frozen yogurt, ice cream or gelato. So when I ran across @thespotkauai on Instagram months before my trip to Kauai, I knew I needed to check them out.
I'm a sucker for health food, so I love that they have lots of options. Add some fruit, frozen yogurt and açaí to a bowl and you've got a perfect afternoon. Enjoy your sweet treat outside on their lanai overlooking the town.
I visited The Spot's location in Kapaa but they also have a location in Princeville. Their Princeville restaurant also has a full espresso bar, in addition to the soft serve frozen yogurt. Make sure The Spot is on your list when you're on the island, because it's definitely one of the best places to eat in Kauai.
Pietro's Pizzeria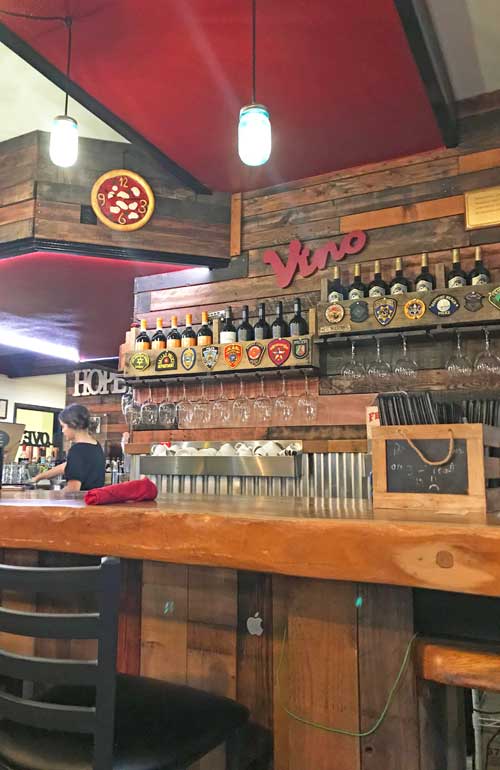 Up in Lihue, there's a strip mall with a pizza shop tucked inside. This place is one of my favorites on my list of best places to eat in Kauai because of its delicious and affordable pizza. The pizzas are 12″ in diameter so you can get one for two of you to share.
The vibe is casual and a great place to enjoy a cold brew with friends. Watch your pizza being made in the open air kitchen and brick oven. It's like a little slice of Italy in Hawaii. I opted for the gluten-free crust which was quite delicious!
Pietro's Pizzeria has 2 locations, one in Lihue and the other in Poipu.
If you're headed to Kauai for your next vacation, you are in for a special treat! The island of Kauai is a dream destination with a natural sweetness and, in my opinion, is the best island in Hawaii to travel to.
Brennecke's
If you're heading to Kauai, you're going to run into a lot of delicious seafood. The dinner we ate at Brennecke's is no exception. Now, this dinner was more pricey than most of the others on this list with dinner plates starting at around $30 each.
But seriously, try the macadamia nut crusted mahi mahi. They're known for this dish and they cook it extremely well. The fillet of fish was larger than I expected and was quite filling.
Oh, and you'll probably have many opportunities to try a Mai Tai, but Brennecke's is one of the best. They've served over 1,000,000 of them so they've got to be good, right?
If you go to Brennecke's during the day, grab a table by the windows and enjoy a view of the ocean from your seat. The restaurant is right across from the beach, so you can enjoy the breeze as you grab a bite to eat.
Read next:
How to Save Money for Travel: Your Vacation Savings Plan
Things to do in Maui on a Budget
Keoki's Paradise
If you're looking for a great restaurant with a tropical setting, Keoki's Paradise is your place. With a variety of steak and island favorites, you're sure to please everyone at Keoki's Paradise. Make sure to make a reservation a few days in advance because they fill up early!
Keoki's Paradise is a bit on the high end for price, but if you go right before their dinner rush you'll get to enjoy their Chef's Tasting Menu, which includes an appetizer, entrée and dessert for $26. The portions are a little smaller but so is the price so it's a great option!
If you get to Keoki's Paradise you absolutely must try their Hula Pie! It's a favorite dish among visitors, and my favorite dessert in Hawaii.
Hula pie is macadamia nut ice cream layered on top of a cookie crust, with layers of hot fudge and whipped cream. You absolutely cannot go wrong! It's the best Hula Pie in Kauai.
Make sure to get it to share – one slice is rather large and can be split between two or even four people, if you've just had an entrée.
Sleeping Giant Grill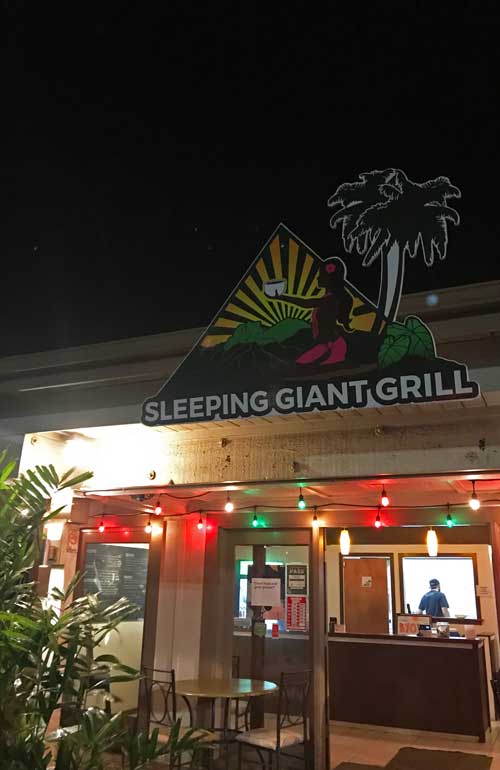 If you're serious about fish tacos, you're going to need to check out Sleeping Giant Grill in Kapaa. The secret is in the breading. Wrapped in a soft tortilla, each taco is like a little slice of heaven. Enough said!
While many places on Kauai have outdoor seating, Sleeping Giant Grill does it right for the cost-conscious traveler. They have a BYOB policy so grab yourself a beverage and enjoy a delicious meal without the hefty price tag for drinks.
You might be interested in:
Hawaii Packing List: Everything You Need for an Unforgettable Vacation
10 Tips for Long Flights
Best Travel TED Talks That Inspire Wanderlust
Road Side Fruit Stand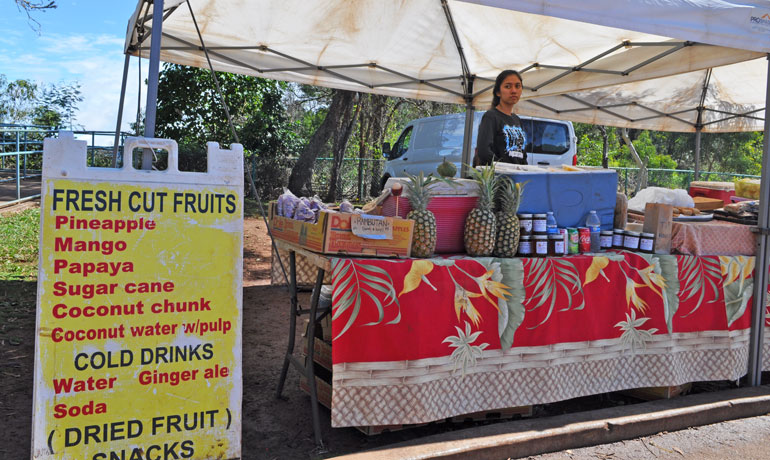 My last recommendation is to eat as much fresh fruit as you can in Kauai. The pineapple was my fave and it just doesn't taste the same anywhere else. Don't be afraid to stop at a roadside fruit stand as you explore the island. You could taste the best pineapple of your life, incredible banana bread or a variety of other goodies that might just hit the spot!
Recap: The Best Places to Eat in Kauai
Well friend there you have it. I loved the variety of restaurants in Kauai, and especially that I didn't have to spend a fortune to get a great meal. Here's the recap of the top 10 best places to eat in Kauai:
Little Fish Coffee
Da Crack
Poipu Food Truck Park
Gina's at Yumi's
The Spot
Pietro's Pizzeria
Brennecke's
Keoki's Paradise
Sleeping Giant Grill
Road Side Fruit Stand
One last recommendation to find great restaurants in Kauai is to ask a local resident or check out the reviews on TripAdvisor or Google. Lots of reviews even have the menus included from other customers photos, which is helpful if you can't find a menu online.
So, when are you visiting Kauai and where will you eat first? Comment below! 🙂
More Kauai content:
20 Kauai, Hawaii Beaches that Promise Incredible Views
Best Snorkeling Kauai – 10 Beautiful Beaches You'll Love
Hike the NaPali Coast (Kalalau Trail) – the First 2 Miles
Hiking the Waimea Canyon Trail: Unbelievable Views Included
Underrated Hike on Kauai You Need to See – Mahaulepu Heritage Trail
Your Perfect 7 Day Itinerary on Kauai