Full of adventure and beauty, Waimea Canyon on Kauai is impressive and quite the thrill. Its nickname, the Grand Canyon of the Pacific is no joke – it's a massive canyon with epic views. Oh, and the best way to see it? Hike the Waimea Canyon Trail!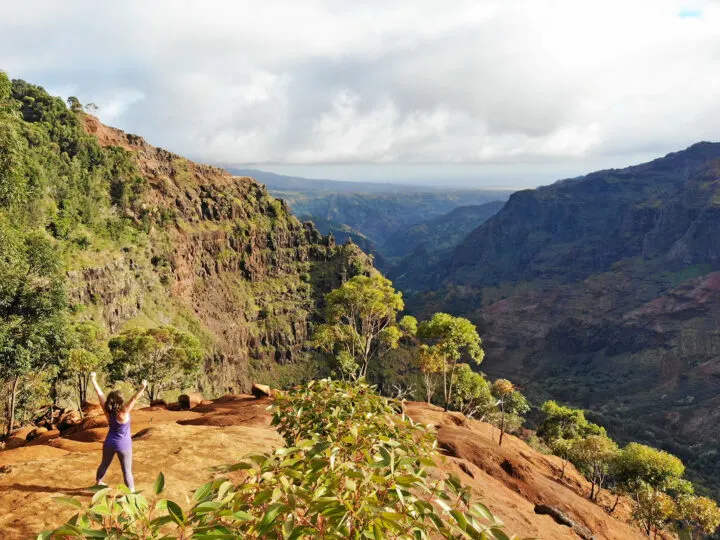 This post may contain affiliate links. For more info, see my disclosures.
Kauai is a hiker's paradise. In fact, 90% of the island of Kauai is inaccessible by car. So to truly explore Kauai, you're either going to go by air (which I also recommend) or by foot. The Waimea Canyon Trail is one of the more popular hikes on Kauai because of the views and waterfalls.
The Waimea Canyon trail takes you to Waipoo Falls, one of the most recognized waterfalls on Kauai. I'll get to that in a sec!
This guide will go over it all: hiking the Waimea Canyon trail
Everything you need to know about the Canyon Trail:
How to access the trail and where to park
What to expect while hiking
Tips for hiking the Canyon trail
When to hike (and when not to)
What to bring on the hike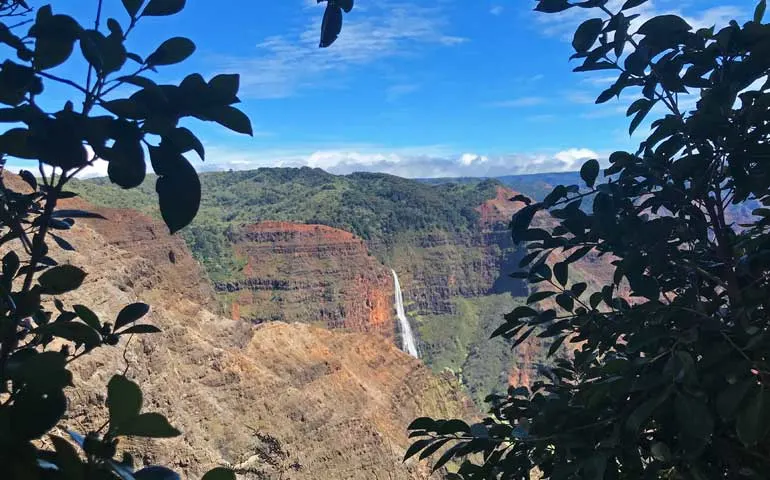 Getting to Waimea Canyon
Head north from Waimea town to Waimea Canyon Park on Highway 550. I'd highly recommend stopping at the lookout point just past mile marker 10. Snap a few pics of the canyon, and check out the waterfall in the distance. You're going there on foot!
Quick note: the Canyon trail is usually paired up with the Cliff Trail, because the Cliff Trail is a small off-shoot of the Canyon Trail. I'll note later on where you can find the Cliff Trail lookout.
Parking and access to Waimea Canyon Trail
Hop back in your vehicle and continue on Kokee Road / Highway 550. After mile 13 and the Pu'u Ka Pele lookout, you'll get to a parking area. This is where the trailhead is. You'll see a sign and from this point it's a 2.5 – 3 hour hike, round trip.
However, there's another – much shorter – option for hiking Waimea Canyon Trail to Waipoo Falls.
Note: you'll need a 4×4 vehicle, and I wouldn't chance it if it's muddy.
You'd continue on Highway 550 until you get to Halemanu Road. Once you're on the road, watch for the 1st right turn onto a dirt road. If you take this, it will drop you right at the entrance of Cliff Trail.
Park here and instead of going straight from the parking lot, take a left to continue on Canyon Trail.
If you take the shortcut, it will cut down about 45 minutes to an hour of hiking. So it just depends on what you're looking for in your adventure!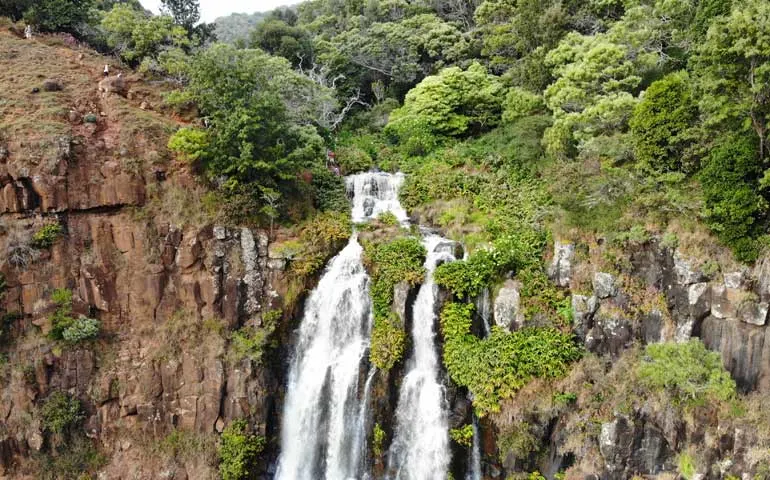 Waimea Canyon Hikes: prepare for mud and moderately difficult terrain
My visit was in early February, which is the start of the island's rainy season (rainy season runs Feb – April). Thankfully the day I hiked it was clear skies and no rainfall. The weather was tolerable – no – perfect, at 79 degrees and sunny.
However, the entire week leading up to the hike was rainy. So the park rangers said every trail in Waimea Canyon was muddy.
And I'm not talking a little mud. I'm talking trails where you were trying your hardest to avoid the mud, but areas where mud could easily cover your entire shoe is definitely possible. Ankle-deep in some areas!
What to expect: starting at the trailhead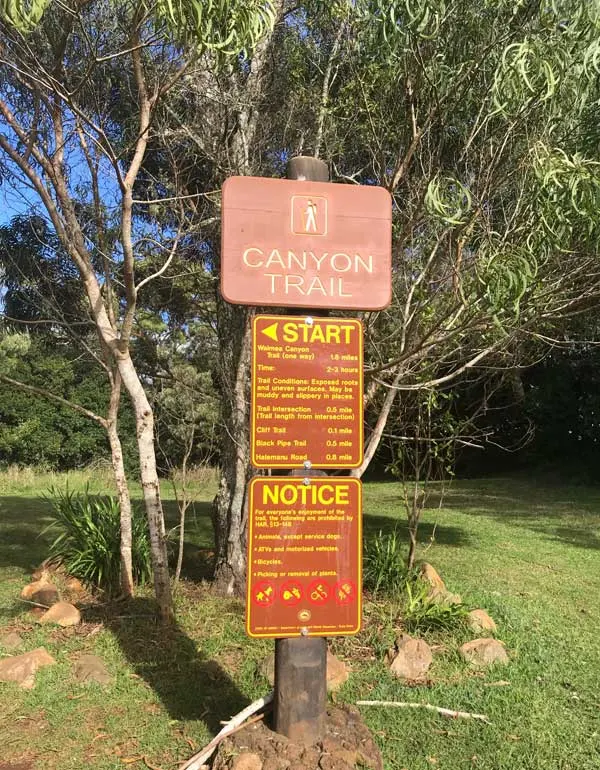 My group (2 couples) didn't know about the shortcut and we planned for an afternoon hike. After stopping for a picnic lunch and checking the views of the Na Pali Coast at Kalalau Lookout, which I highly recommend, we hiked the entire Canyon Trail.
The trail is moderate intensity, and with heavy rains, the trail can get very slippery. Luckily, we spotted some hiking sticks as we entered the trail, and each of us grabbed one to aide our balance.
The trail is almost completely covered by foliage, so you can see sunlight through the trees but very little views of the canyon while you're hiking.
I recall at one point, after hiking for an hour or so, meeting a larger group of people, maybe 10 or 12. One of them was an elderly lady who was probably 75 or 80 years old, just as happy as can be. We were going through a difficult part of the trail and were out of breath. I remember thinking "well if she can do it so can we" and it was just the light we needed!
Related read: Maha'ulepu Heritage Trail – the Underrated Hike on Kauai You Need to See
Reaching the Cliff Trail / Canyon Trail lookouts
Once you reach the parking lot and Cliff Trail or Canyon Trail signs, you're getting close. The Cliff Trail takes you to a lookout point to see the Waimea Canyon, but no view of the Waipoo Falls. If you're looking for a short hike, this is your trail!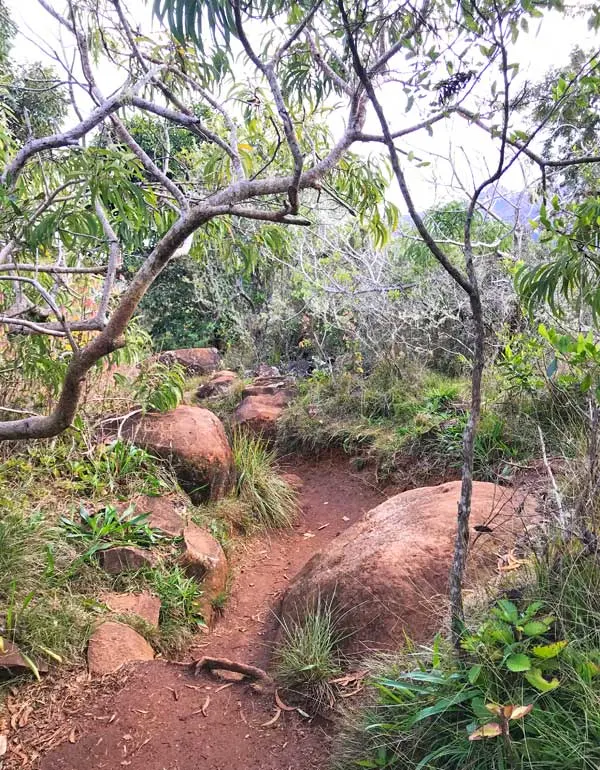 Read next:
Best Things to do in Kauai: Your 7-day Itinerary
Best Places to Eat in Kauai
Canyon Trail to Waipoo Falls
Your other option is to continue on the Canyon Trail to the famous Waipoo Falls, also known as the Waipoo Falls Trail. The trail takes you to the top of the falls, with an incredible, 180-degree view of the canyon.
Fun fact: Waipoo Falls is the tallest waterfall on Kauai, at over 800 feet! You'll be able to see the top of the 2-tiered waterfall, but not the whole waterfall.
Continue on the Canyon Trail for another 15-20 minutes to reach the ridge of the canyon. It is worth it!
As we powered through, we came to the clearing and saw it. Waimea Canyon from the inside of the canyon. To just soak in this beautiful, incredible earth in that moment was breathtaking.
Truly indescribable. I still get goosebumps thinking about it.
The canyon is impressive, to say the least. You'll see reds, purples, blues, greens, yellows and browns as you look at the inside of the canyon walls.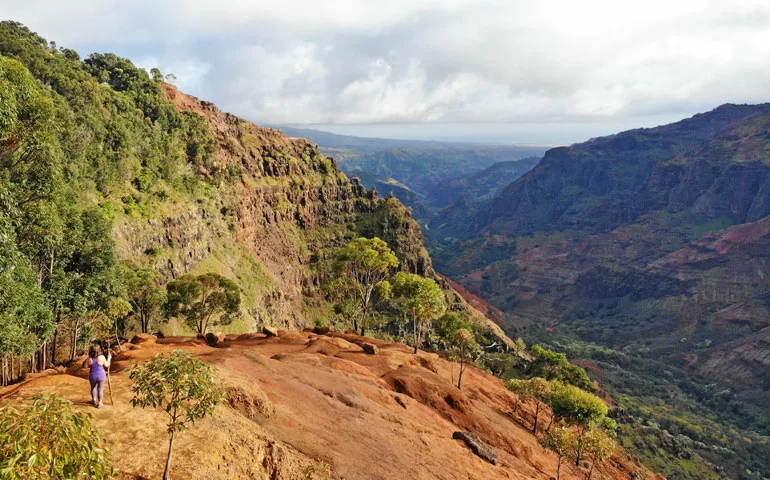 Waipoo Falls – views from the top
Continue on the red dirt, down the trail and there are 2 spots to see the Waipoo Falls. As the trail splits in a 'Y' you can go left to reach the very top of the falls with a swimming hole.
It's a little tricky getting here, you'll have to climb 6+ foot boulders, but it's a fun adventure! Once you're there, the pool that leads into Waipoo Falls is a fun spot for a swim or to dip your feet in the water.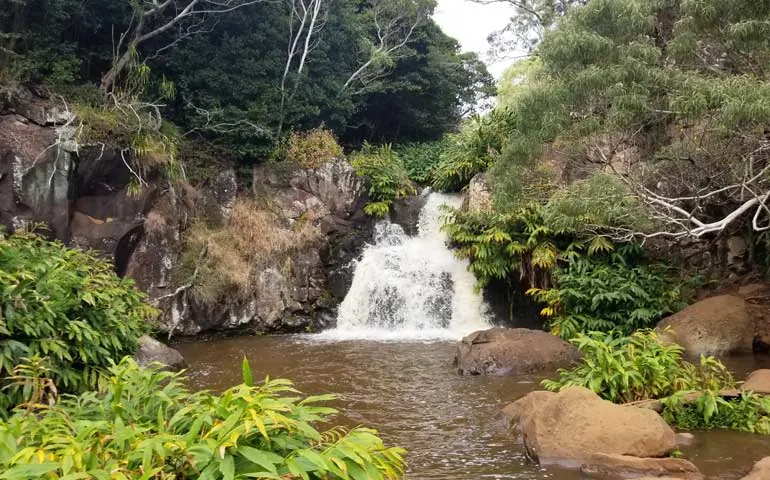 Heading back towards the 'Y' take the right and you'll get to the cusp of the massive Waipoo Falls. From this ledge, you'll see an epic view of the canyon.
It's an incredible spot for a few photos, but the water is moving incredibly fast so it's not a safe spot to get in the water. Be careful at this lookout, there's not a lot of standing room and no railing of any kind.
This is the end of the Waimea Canyon Trail / Waipoo Falls Trail. Time to celebrate before heading back!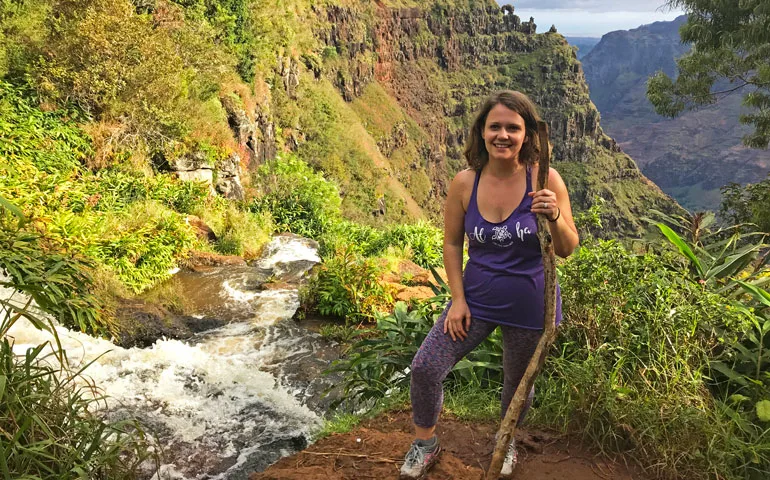 Our group hiked back up to the ridge to the large clearing where we soaked in the canyon and all its greatness. To see almost every color of the rainbow inside the canyon was incredible. We sat on a rock and marveled at the beauty.
I'd been hiking in plenty of beautiful places before, but this was the best. I'm not sure if I'll be able to top the views of Waimea Canyon!
Read next: Hawaii Packing List (Everything You Need for an Unforgettable Vacation)
Tips for hiking Waimea Canyon Trail
Make the most of your time hiking in Hawaii with these tips:
Trail maps are available at Kokee State Park (right up Highway 550)
If it's rained recently, head up to the visitor station at Kokee State Park and ask a park guide if the Waimea Canyon Trail (or any others) are closed due to mud.
If you're heading out for a day trip, make sure to estimate long for each hike and plan your hours accordingly. Get back to your car before it gets dark.
Best time to hike Waimea Canyon
The best advice I can give you is this: go when it's not raining. It's kind of like these easy Oahu hikes – all of them are better when it's dry!
Kauai is a very rainy, lush island. Its nickname is 'The Garden Isle' and it rains somewhere on the island almost every day. So check the forecast for the best time of day to hike, and don't go in the rain.
Generally, Feb-April is the rainiest weather, so hiking will be most difficult during that time. Hawaii's low season is Sept – Nov, so that would be the best time to avoid lots of people. But honestly, there are so many great hikes in Waimea Canyon that you likely won't run into tons of overcrowding issues.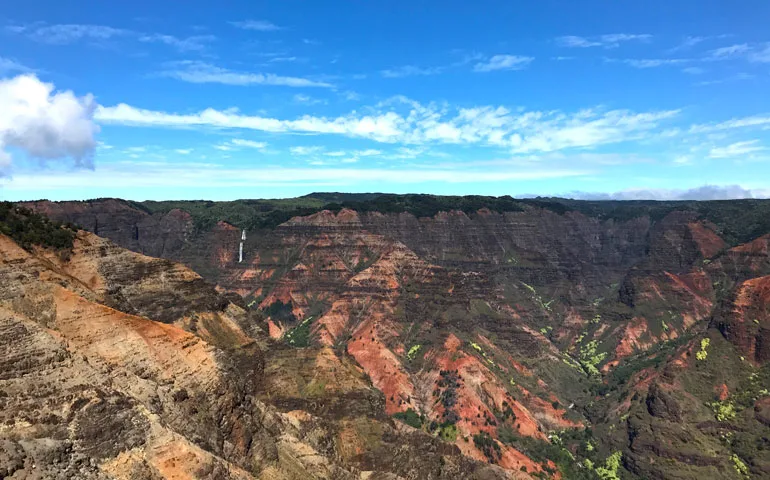 You might also be interested in:
Best Island in Hawaii: Take the Hawaii Island Quiz
20 Things to do in Maui on a Budget
What to take hiking the Waimea Canyon Trail/ Cliff Trail
Plan properly for your day and consider packing these things for your hike:
Water! Bring several bottles of water for each person hiking. At least 20 ounces per hour of hiking you're planning. Kauai is small and single-use plastic bottles are an issue – consider bringing reusable water bottles for your hike. These are my favorite water bottles for hiking.
Food! Pack high protein snacks to fuel your hike. If you're going out for a whole day, hit up a store or stop by a sandwich shop in Waimea town. Just remember there's no trash cans on the trail so take it with you!
Sunblock. It's obviously hot in Hawaii so grab your sunblock for your hike. This is my favorite reef-safe sunscreen so you can use it at the beach too. (It seriously smells so good!)
Bug spray. You're in a heavily wooded area and bug spray is a good idea.
Good hiking shoes. I honestly wasn't super prepared with the right shoes and my ankles were sore after the long hike. These hiking shoes are highly rated on Amazon and will be coming with me on my next hiking adventure! Check them out here.
Light rain jacket. Even if you plan around the rain, the weather can change in a second! (It changed on us while hiking the Maha'ulepu Heritage Trail in Poipu, Kauai!) Anyway, I love this lightweight rain jacket for hiking.
Lightweight backpack for hiking. Throw all your gear in a backpack perfect for hiking – including sweat and rain! I've been hiking with all kinds of gear and having a quality backpack makes a difference! I love this backpack for hiking.
Related: Packing for a Day Hike: 20+ Items Not to Forget
Last tip: see the Waimea Canyon from the air!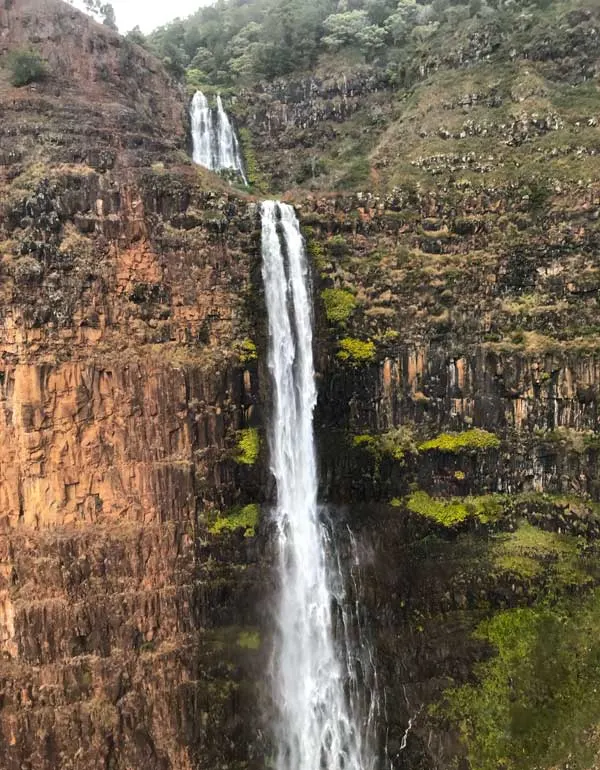 A few days before the hike, I got to see the Waimea Canyon via a helicopter tour of Kauai. It was one of the most incredible experiences of my life! I'd highly recommend to work it into your vacation budget and book the tour.
We flew through the Waimea Canyon, over the Waipoo Falls and of course all along the Na Pali Coast and the rest of the island. It's such a unique view of the island and an experience you'll never forget!
Final thoughts on the hike
Have you ever had a day that was so incredible you just looked back and thought "I can't believe that happened?"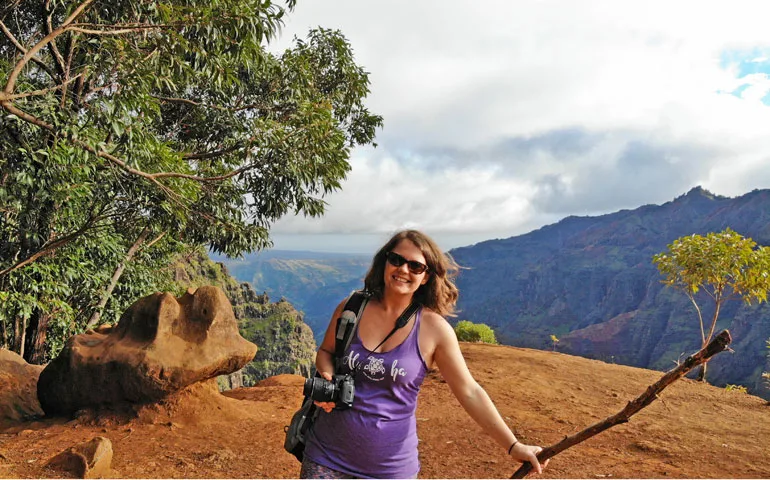 I'm so lucky to get to experience hiking Waimea Canyon. My only regret is that I didn't have a week full of hiking experiences while in Kauai. Next time I travel to the island, I'll hit another trail in Waimea Canyon (or 5!)
I truly hope you get to experience the magnificence and beauty of Waimea Canyon via the Canyon Trail. You'll get the best views of the canyon with lots of adventure, too.
So, what do you think – would you hike the Waimea Canyon Trail? Comment below!
If you found this helpful, pin this for later!