Hawaii is home to amazing beaches, picturesque mountain cliffs and quite possibly the bluest water you'll ever see. Yet to explore beneath the water is a whole new adventure! Here's your guide to the best snorkeling Kauai has to offer.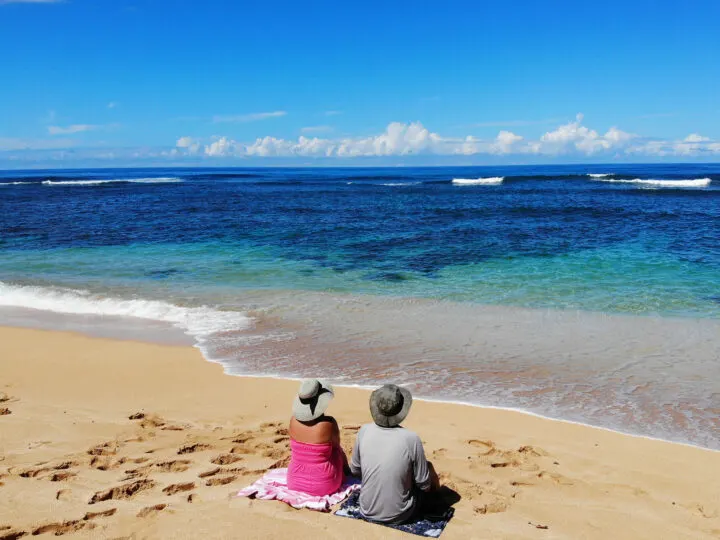 This post may contain affiliate links. For more info, see my disclosures.
If you're in search of sea turtles, beautiful coral reefs or snorkeling with a view, this guide breaks down the best snorkeling tours and the Kauai snorkeling beaches you can't miss.
So whether you're a beginner snorkeler or have experienced phenomenal snorkeling in the past, this guide has everything you'll need to plan your Kauai snorkeling adventures.
Snorkeling Kauai – tour vs. beach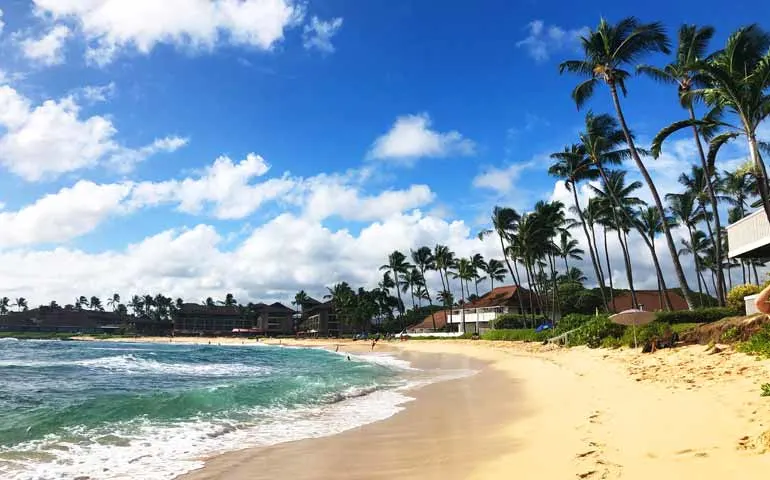 Kauai has an incredibly robust underwater ecosystem that begs to be explored. And taking a snorkeling tour or hitting one of Kauai's gorgeous beaches are both really good options.
Here are a few things to consider when deciding between a tour or just hitting a beach:
Equipment
Convenience
Price
Let's chat about each real quick…
Snorkeling equipment
With a Kauai snorkeling tour, all the gear is there and ready for you. They'll size you for everything you'll need for your underwater adventure. Plus the tour company will haul it around for you!
If you decide to opt out of the tour and hit a beach (or several) during your trip to Hawaii, you'll need to bring snorkeling gear to the islands with you or rent gear from a local shop on the island.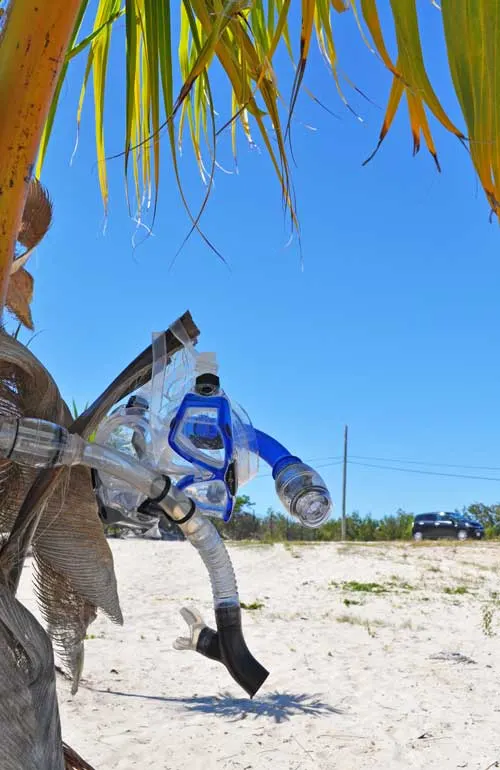 Renting gear can be relatively inexpensive if you just go once or twice, but if you want to hit many of the best snorkeling beaches in Kauai, it can really add up.
My husband and I always travel with snorkeling gear. Having snorkeled places like Belize and Turks and Caicos, it's just one of those things we expect to pack when hitting a tropical destination.
If you love to travel, it's a great idea to buy snorkeling equipment now for your Kauai trip and future vacations. Here's the snorkeling gear I recommend from Amazon.
Convenience
Well, it's probably way more convenient to take a snorkeling tour in Kauai than lugging around snorkeling gear. Especially if you're just planning to snorkel once.
However if you're staying near an amazing beach that's perfect for underwater sightseeing, then perhaps packing some snorkel gear for your trip is the right fit.
Also consider your group size – it may be more convenient for large groups or even for solo traveling to Hawaii to take an organized tour.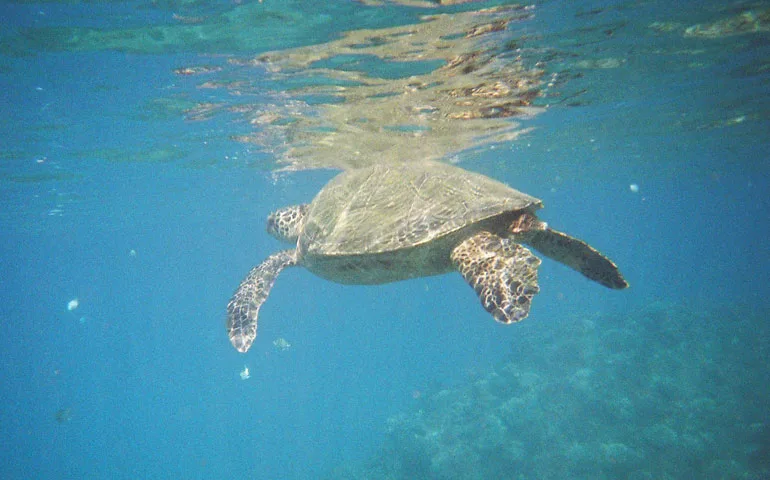 Price
Well you can bet that taking a snorkeling tour will be far more expensive than buying your own snorkeling gear before you go. But also consider how expensive your checked bags are! Because if you're packing face masks and fins, your luggage fills up fast.
These extra perks of taking a Kauai snorkeling tour may be worth the price:
Many snorkeling tours on Kauai include lunch, snacks or drinks
You could get incredible island views from the boat that you just can't get from the beach
Option to purchase beautiful snorkeling photos of yourself and your group with cameras actually designed to take photos underwater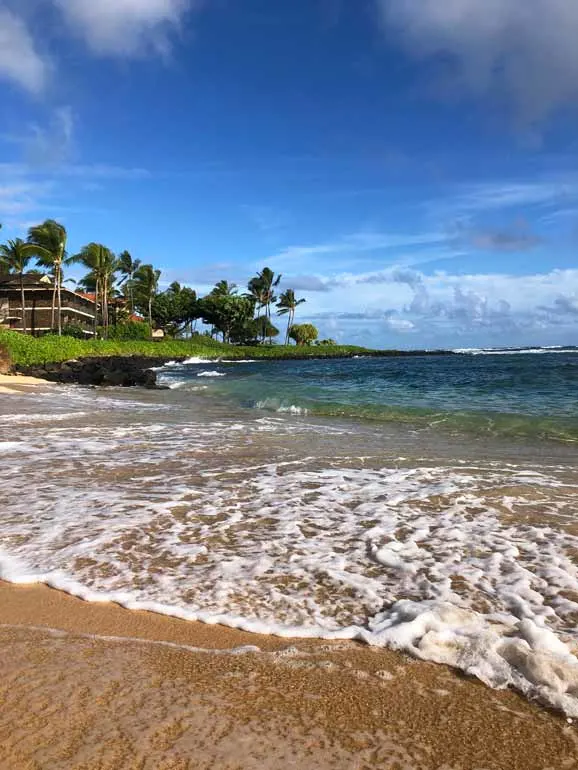 Snorkeling tours Kauai
There are many options for snorkeling tours in Kauai! And with a knowledgeable guide to lead your tour, they'll steer you in the right direction to make sure you see some cool underwater sights!
From shorter, 2-hour snorkeling tours on the south shore of Kauai, to a day trip up the majestic NaPali Coast or even a kayaking and snorkel combination, this site has a ton of options for snorkeling tours in Kauai.
Check out the best Kauai snorkeling tours here.
Alright now that we've covered snorkeling options and amazing Kauai snorkeling tours, let's get to the best beaches to snorkel!
Best snorkeling beaches in Kauai
Not all Kauai beaches are great for snorkeling so this guide goes over which beaches are best and why.
Let's dive in!
1. Hanalei Bay snorkeling (great for families)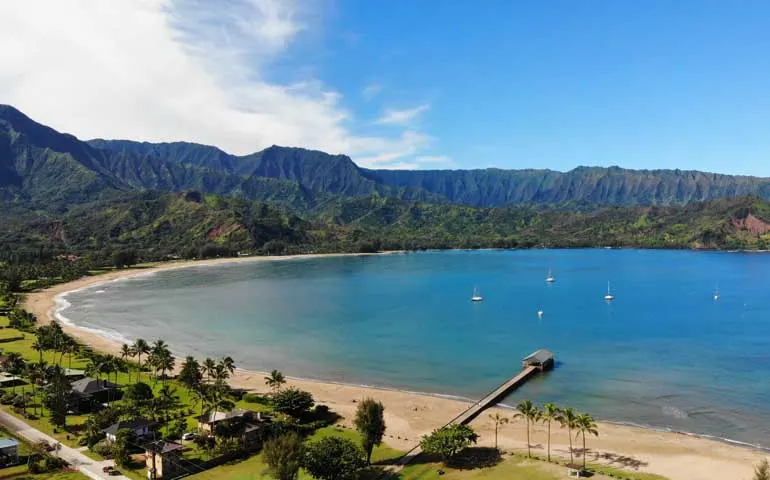 Hanalei Bay is a popular spot for swimming, snorkeling and even surfing. I've seen this beach on beautiful calm days and on high surf days, and if you can make it to this beach on a calm day, then you're in for a great time!
It's a perfect spot for families because the depth of the beach is significant, so there's lots of room for kids to play in the sand. And even though this beach is on the north shore of Kauai, which traditionally has stronger waves, the bay tends to break up the surf.
The water is relatively shallow, especially near the Hanalei Pier so it's really a great spot to snorkel!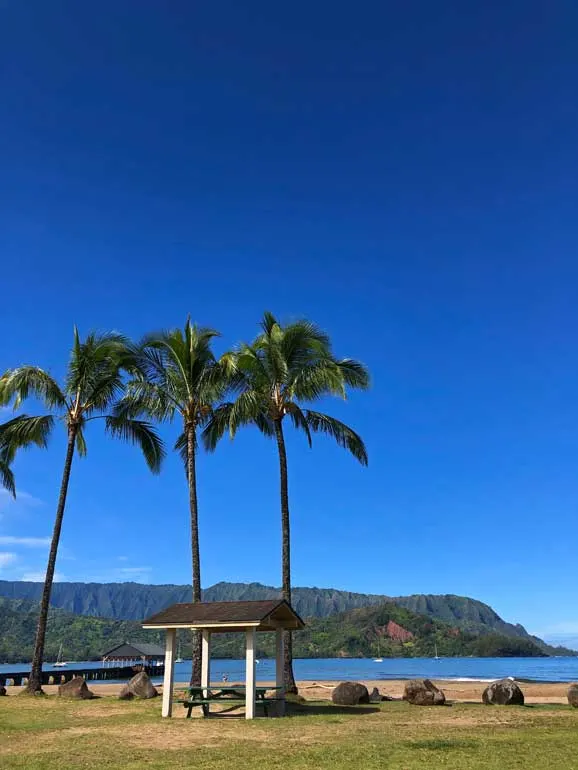 Address: navigate to Hanalei Beach or Hanalei Pavillion Beach Park, Hawaii 96714
Restrooms and rinse off stations: yes, multiple
2. Lawai Beach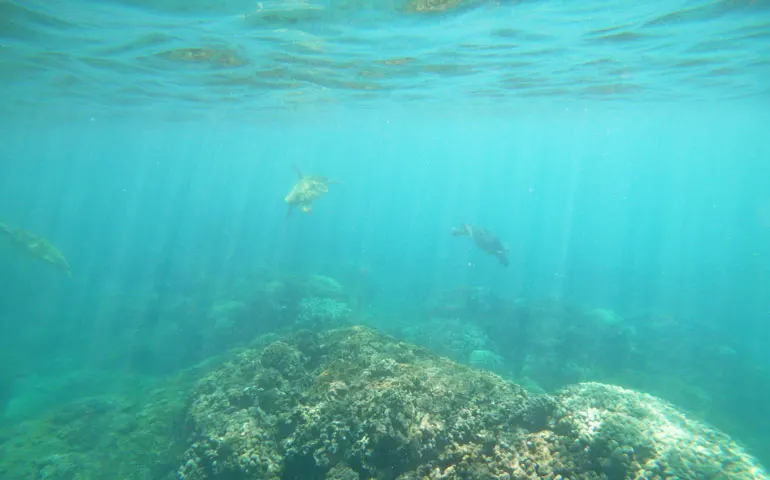 This tiny beach located on the south shore of Kauai is perfect for watching sea turtles! It's a rocky beach with tons of coral and the sea turtles love this cove!
This is one of the top snorkeling beaches in Kauai, because you're almost guaranteed to see a sea turtle!
Use caution not to step on the coral as you get in and out of the water. Doing so damages the delicate coral. And NEVER touch a sea turtle. Snorkeling etiquette is important, okay?
Address: navigate to Lawai Beach Koloa, HI 96756
Restrooms and rinse off stations: yes, across the street
Read next: Exactly What to Pack for Hawaii (Everything You Need for an Unforgettable Vacation)
3. Tunnels Beach snorkeling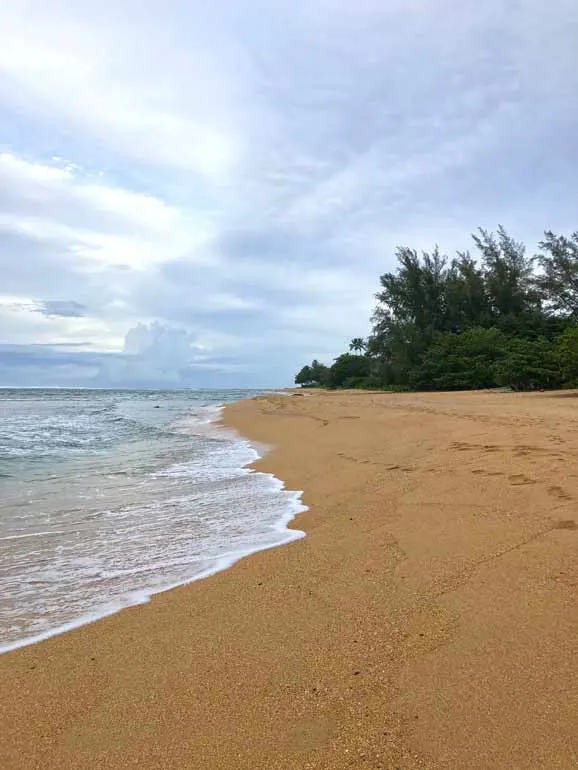 This is one of the most popular snorkeling spots in all of Kauai. Tunnels Beach is on the north shore, with a large reef formation next to the beach.
It's one of those beaches you just walk right off the beach with your snorkel gear. The reef does a great job of breaking up the waves, but the currents can still be strong in this area.
Considering it's such a popular snorkeling spot, it can be difficult to find parking. Be courteous to the locals and don't park on private property. Walk further if you need to!
Pro tip: pack your water shoes for this beach. I recommend water shoes for many beaches in Kauai, but Tunnels Beach is especially rough.
These are the water shoes I took with me to Kauai. They've traveled all over the world with me and have lasted several years.
Address: 5-7652 Kuhio Hwy, Hanalei, HI 96714 (address is for Makua Beach, a short walk away)
Restrooms and rinse off stations: no
4. Hideaway Beach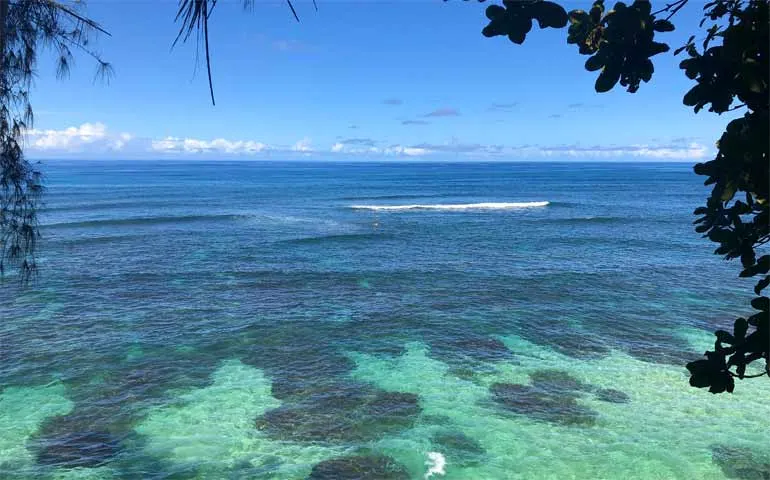 My favorite beach in Kauai! Hideaway Beach is a gorgeous hidden beach that requires a hike to get to it. It's a perfect spot to spend an afternoon snorkeling, too!
The patches of coral look stunning as you hike down the steep path towards the beach below. Once out in the water, you'll snorkel those coral spots as brightly colored fish swim about, and maybe even a glimpse of a sea turtle or two!
Hideaway Beach is a great snorkeling spot for beginners or kids, as long as the steep hike is not a problem.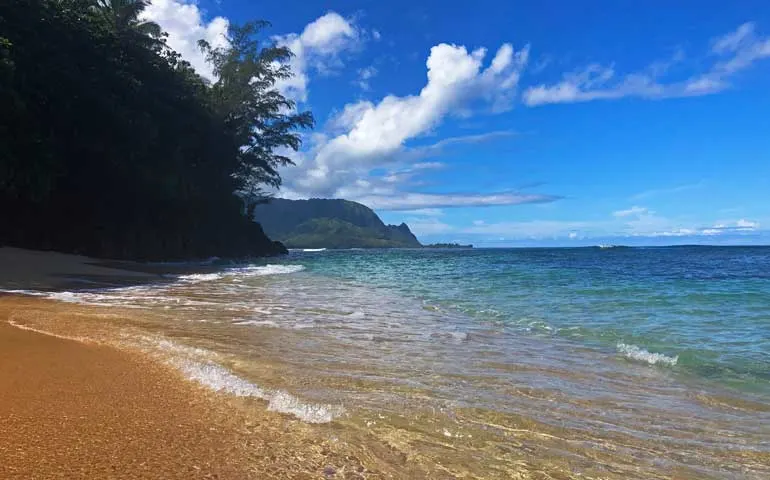 Pro tip: start your snorkeling adventure during non-peak hours by getting to Hideaway Beach early! There's extremely limited parking and hefty fines for parking anywhere but a designated spot.
Address: navigate to Hideaway Beach, Princeville, HI 96722
Restrooms and rinse off stations: no
Kauai snorkeling tips
Okay, I just want to pause this list here to mention a few things.
Hawaii is a sacred place and if you're going to visit this gorgeous destination, be respectful of the local culture and marine life. Here are my top tips for snorkeling Kauai.
Keep your distance from sea turtles or "honu"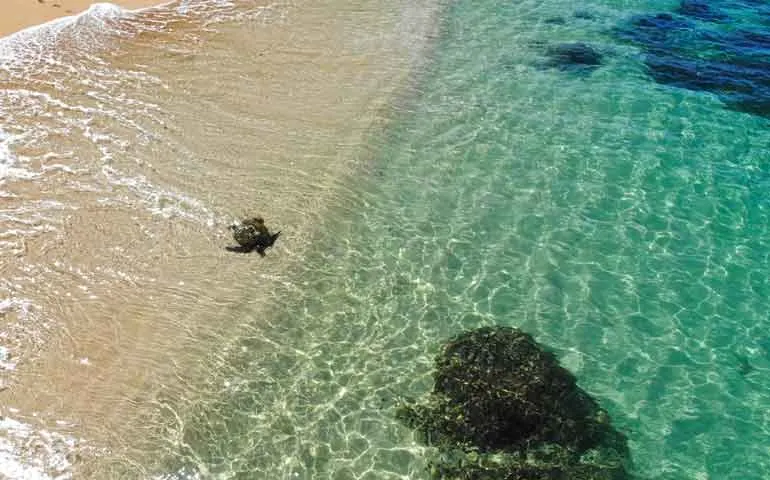 It's such a delight to encounter sea turtles while snorkeling! They're so smooth underwater and interesting to watch, it almost feels magical.
Sea turtles, or honu, are significant in Hawaiian culture, providing a connection between sea, land and people. It's critically important that people don't touch or get too close to sea turtles as they lie on the beach or while snorkeling.
Read about honu and the cultural significance here. Learn more about Hawaii's sea turtle recommendations here.
Do not step on coral reefs
Coral reefs are extremely fragile and should be protected. As visitors, it's important that you look with your eyes only, and not touch or stand on the coral.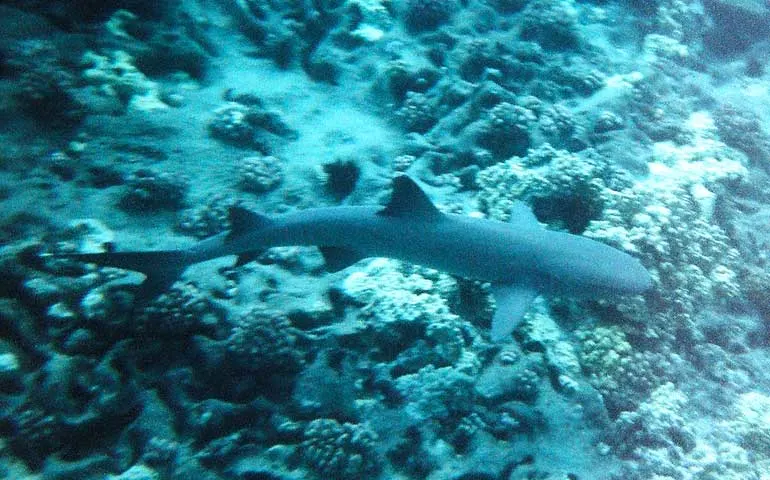 Oils from fingers can damage or even kill an entire colony of coral. And standing up on it kills living coral polyps that are the foundation of the reef structure.
So don't touch and use care when getting in and out of the water or while adjusting your snorkel mask.
Use reef-safe sunblock
Traditional sunblock is toxic to marine life. Be sure to only use reef-safe sunscreen while you're in Kauai, or any other beach destination for that matter.
Here's my favorite sunblock on Amazon, I've used it on several beachy getaways and it even smells delightful. Save the marine life and buy the right sunblock now.
Best snorkeling Kauai – list continued
5. Anini Beach Kauai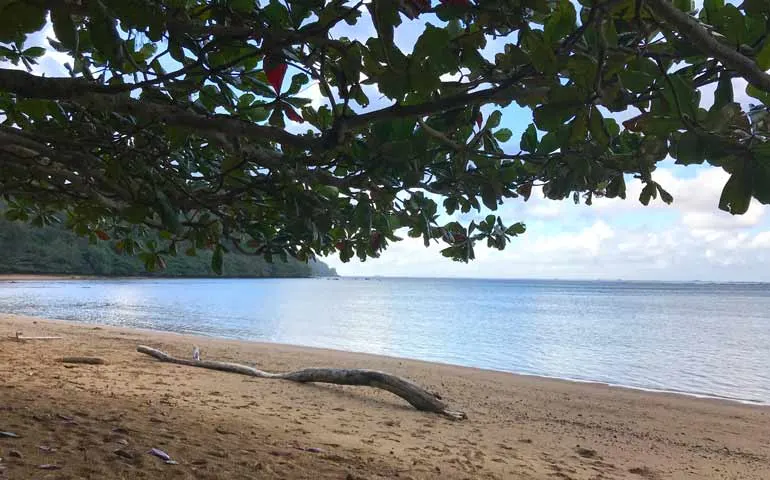 Can I just say this beach might be perfect for snorkeling? On a list of the best snorkeling beaches in Kauai, Anini Beach is a highlight for sure!
Anini Beach is one of the largest beaches on Kauai and spans an area with a huge coral reef. It has extremely shallow water and the surf is mild… even non-existent at times.
Anini Beach is always a nice break from the strong waves of other popular snorkeling beaches on the island. It's a perfect snorkeling spot for kids, beginners, or anyone who loves snorkeling!
This is one of those snorkeling beaches that can be difficult to get in and out of the water without standing on coral, so just be cautious not to damage the coral reef.
Address: navigate to Anini Beach, Kalihiwai, HI 96754
Restrooms and rinse off stations: yes, multiple
6. Snorkeling Kauai at Kiahuna Beach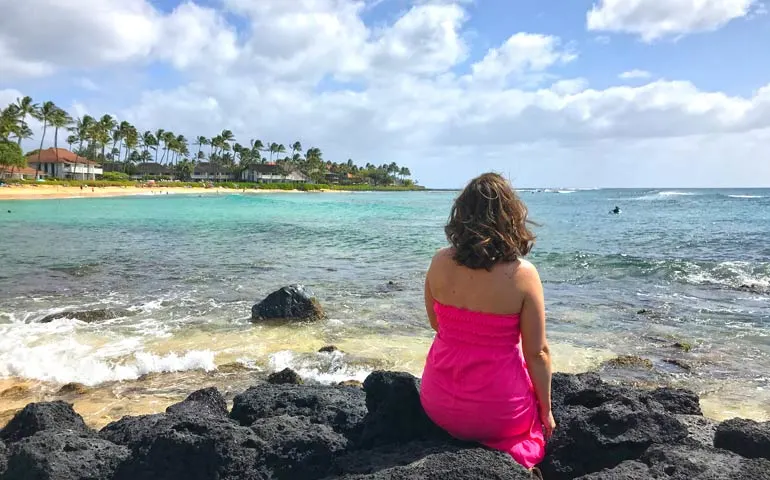 Located on the south shore of Kauai, this beach is an active one. I've regularly seen snorkelers, surfers and swimmers…even all at once!
Kauai snorkeling beaches are plentiful on the south side of the island due to the calmer nature of the ocean compared to the north shore. I like snorkeling at Kiahuna Beach, because it's a large cove so there's usually a lot of space for everyone to enjoy.
Also, I've spotted a few sea turtles at this cove over the years. 🙂
Bonus: this area is awesome for sunsets! I've spent many nights sitting with my toes in the sand while the sun lights up the sky. If you like palm trees in your sunset, you'll get the perfect photo at the Kiahuna Plantation or just beyond the beach at the Sheraton Kauai Resort.
Address: navigate to Kiahuna Beach, Koloa, HI 96756
Restrooms and rinse off stations: yes (restrooms are a ways off the beach though)
7. NaPali Coast snorkeling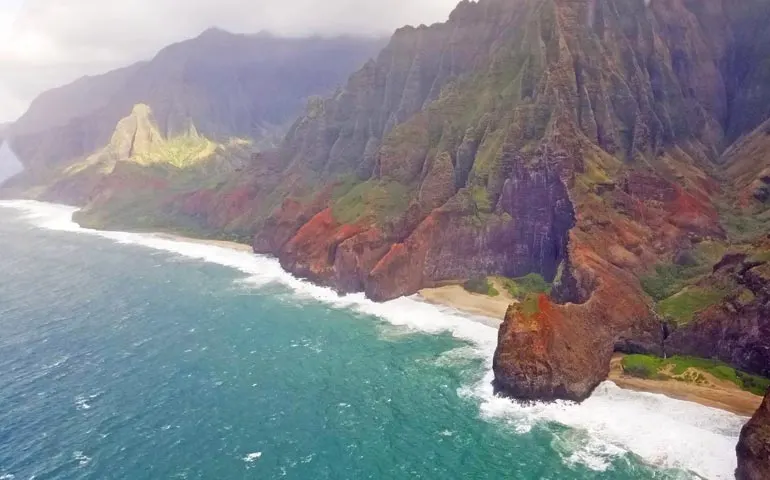 Okay so this snorkeling spot can only be done via snorkeling tour. But to see the spectacular views of the NaPali coast via boat is a snorkeling adventure you'll never forget!
Side note: The first time I saw the NaPali Coast was via helicopter and it was mind-blowing! I've experienced it's beauty by hiking the Kalalau Trail and let me tell ya, you gotta see this coast here during your trip to Kauai!
The best time to do a snorkeling tour on the NaPali Coast is during summer, as the ocean tends to be more calm. The waves and surf can get very rough during the winter months, so you'll more likely set sail in the summer, although tours are offered all year long.
Pro tip: check out the cancellation and reschedule policy by your snorkeling tour provider. The weather is not always favorable for boating to the coast.
Book your NaPali Coast snorkeling tour here.
NaPali Coast snorkeling is a bucket list experience that will stick with you for a lifetime!
8. Lydgate Beach Park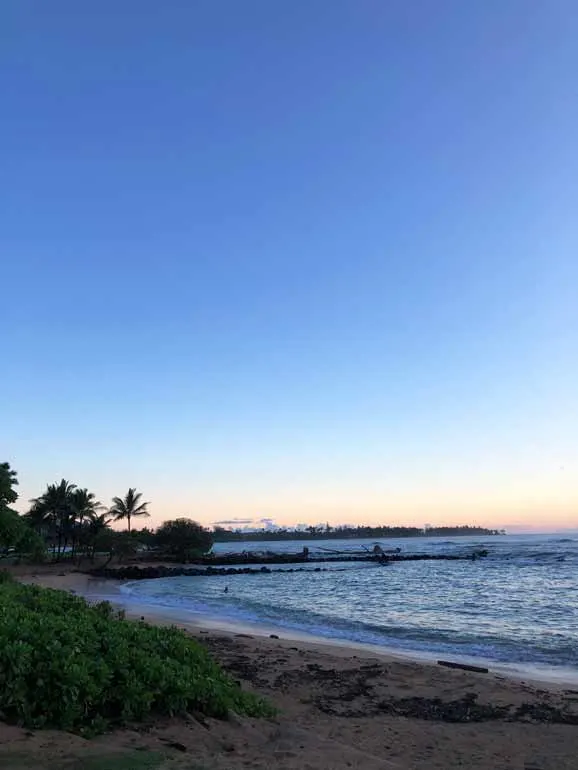 Lydgate Beach Park on east Kauai is a unique beach, and a perfect spot to learn how to snorkel. The beach itself sits near the Wailua River, which dumps driftwood out of the river and it settles on the beach. So it's a fun spot to watch a sunrise and for kids to explore.
But back to the snorkeling! The waves on Kauai can be relentless, so back in the 1960's two large rock-enclosed pools were created with underwater rock walls. That prevents strong currents from taking over your snorkeling activity.
It's fun to see fish while snorkeling in the pool, as they'll regularly make their way through the holes in the rock wall. It's a great spot for beginners or young snorkelers.
Bonus: Lydgate Beach Park has a ton of other family-friendly features too, such as a large playground, picnic tables and even a pavilion.
Address: Leho Dr, Lihue, HI 96766
Restrooms and rinse off stations: yes, multiple
9. Kauai Snorkeling on the North Shore: Ke'e Beach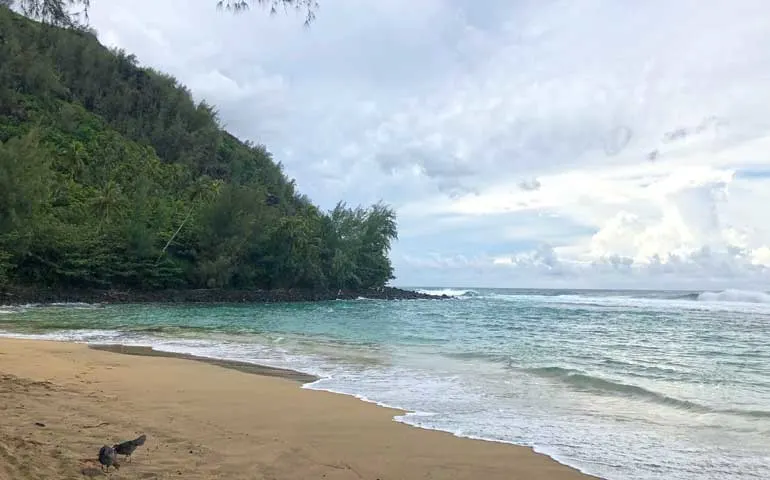 As far north as you can get via car on Kauai is Ke'e Beach in Ha'ena State Park. Snorkeling is only recommended at Ke'e Beach on calm water days, as the currents on the north shore are very strong. Generally, summer is the best time to snorkel at Ke'e Beach.
The state park requires a reservation as it's home of the famous Kalalau Trail, so there's a bit of planning involved and a small fee.
Make state park reservations here. And if you're interested in hiking one of the most famous trails in the world, check out the Kalalau Trail details, too!
Address: navigate to Ke'e Beach Hawaii 96746
Restrooms and rinse off stations: yes
Related read: Exactly What to Pack for a Beach Vacation
10. Poipu Beach snorkeling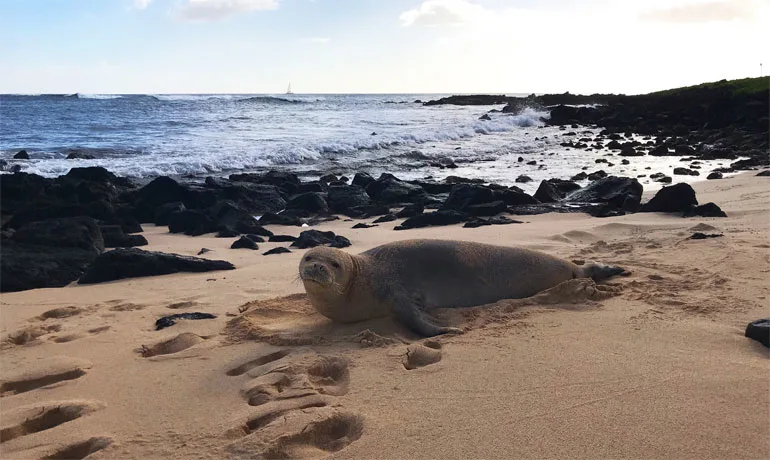 Alright the last on this list of best snorkeling beaches in Kauai is the popular Poipu Beach. Named one of the world's best beaches by the Travel Channel, Poipu Beach cannot be missed on a trip to Kauai.
There's plenty of sunshine and marine life at Poipu Beach, making for excellent snorkeling! I've seen sea turtles, seals and plenty of colorful fish. Just a reminder to keep a far distance from all sea life – in the water or on the beach!
The beach is large and the has great amenities, including a park for kids, picnic tables, restrooms and rinse-off stations. After a day of snorkeling and beaching, grab a bite to eat at one of Kauai's best restaurants. The area has plenty of places nearby!
Address: navigate to Poipu Beach, Koloa, HI 96756
Restrooms and rinse off stations: yes
Best places to snorkel in Kauai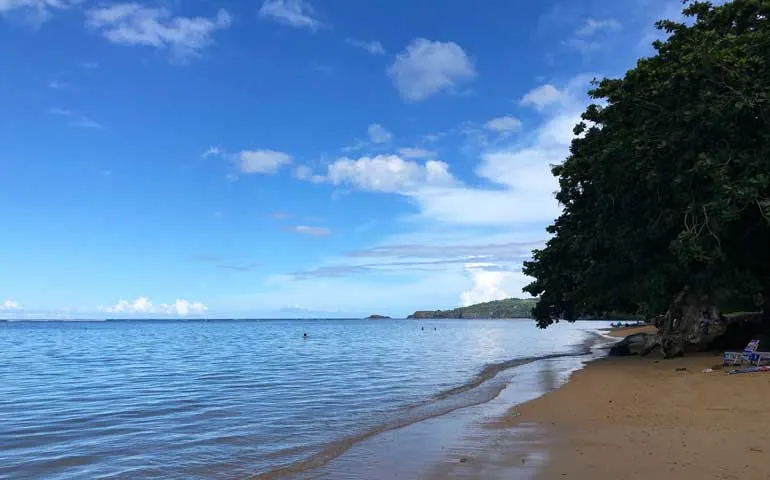 Well there you have it! 10 best snorkeling beaches in Kauai. Whether you're a beginner or just a newbie to snorkeling in Kauai, I hope you get to snorkel to your hearts' content!
Real quick, let's review the best snorkeling Kauai:
Hanalei Bay
Lawai Beach
Tunnels Beach
Hideaway Beach
Anini Beach
Kiahuna Beach
Lydgate Beach Park
NaPali Coast snorkeling tour
Ke'e Beach
Poipu Beach
Snorkeling in Kauai will not disappoint! From white sand beaches to hidden spots, snorkeling excursions with dramatic coastlines and beaches where you're destined to see turtles, Kauai has truly amazing snorkeling options.
Other Kauai content you might like:
Best Things to Do in Kauai: 7-day Guide
Kauai's Best Restaurants any Foodie will Love
Stunning Kalalau Trail – Hiking the First 2 "Easy" Miles
Maha'ulepu Heritage Trail – Underrated Kauai Hike You Need to See
Hiking Waimea Canyon Trail – Everything You Need to Know
Top 20 Kauai, Hawaii Beaches that Promise Amazing Views
Exactly What to Pack for Hawaii: (for an Unforgettable Vacation)

Find this article helpful? Save it for later or share it on social media!