Looking for a magical getaway this holiday season? Swap the cold, dreary weather for a warm, tropical Christmas! From palm trees and white sand beaches to festive traditions while experiencing a new culture, these are the best places to spend Christmas.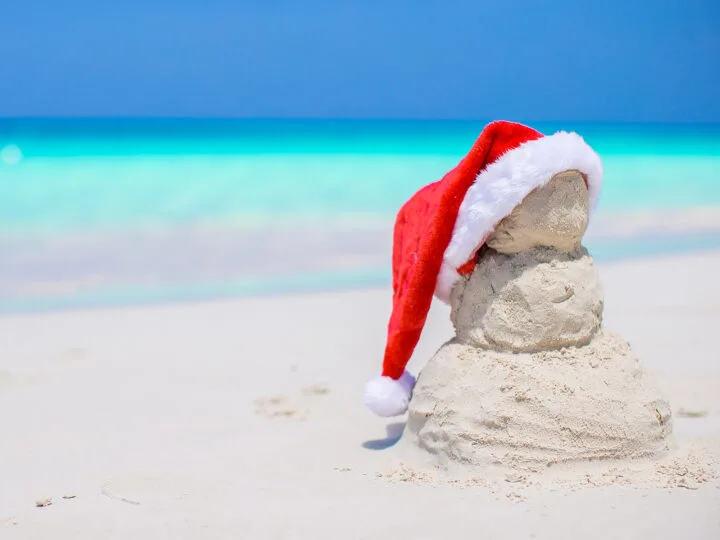 This post may contain affiliate links. For more info, see my disclosures.
Traveling over Christmas is one of the most popular times to vacation. There's excitement in the air as the holiday approaches. From twinkling lights on palm trees to Santa hats throughout the airport, there's just something special about traveling during the holiday season.
Whether this is your first time traveling over Christmas, or your family tradition is to pick someplace new, not every destination is great for holiday travel. The spots on this list have been hand-selected as amazing tropical Christmas vacations!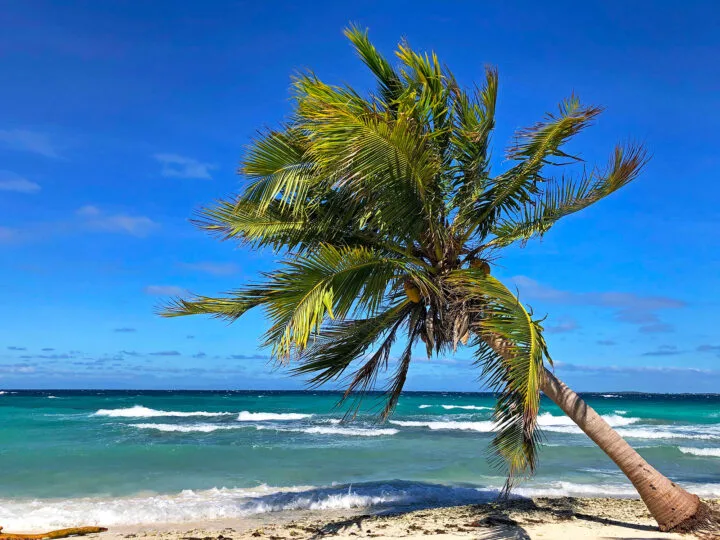 From popular Christmas vacations for families (hello Hawaii) to unexpected island getaways (see #8 and #25 below), you'll love these Christmas vacation ideas!
And by the way, I've been checking places off my travel bucket list for years, but haven't been everywhere…yet! So I've enlisted some of my fellow travel writers to help out with this list. Enjoy!
Map of the best places to spend Christmas
This list covers a lot of tropical destinations near and far. Use this map below as a visual, then check out the details for each spot below.
Pinch or zoom in to see the region and destinations based on your interest. Start daydreaming now…then planning after you check out the descriptions. 😉
Tips for traveling over Christmas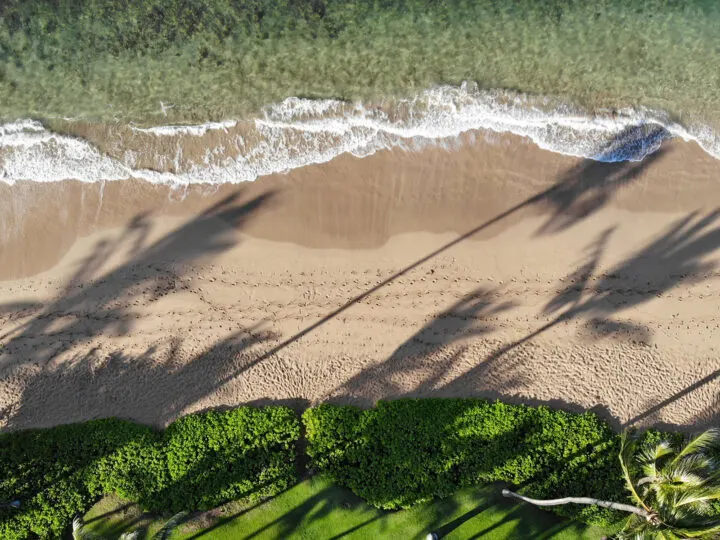 We'd all be lying if we said traveling over the holidays was super easy and stress-free. So before we dive into these tropical Christmas vacation destinations, let's go over a few tips that will help reduce your stress and make your traveling quite jolly.✨
Use a luggage tracker. We've all heard the horror stories – lost luggage does happen. Place a tile or AirTag in your checked bag so you know where it is at all times.

Have a back-up plan for flights. Airlines are in a pinch right now. If you're delayed and miss a connection or your flight gets canceled, be your own advocate and have an alternative plan to provide to the airline. You certainly don't want to wait days for them to get you to your destination!
Get TSA Pre-check and Global Entry. These will save you a ton of time and hassle, especially for international travel. Many travel rewards credit cards offer these as free benefits of the card.

Never wrap gifts. Speaking of TSA, be sure not to wrap any gifts until you get to the destination. It's a red flag and you'll be forced to unwrap them and show what's inside. Even in checked bags, they're more likely to be searched and be unwrapped when you arrive.

Bring your patience. Above all else, remember this is a vacation and kindness always wins!
Tropical Christmas: best destinations
Alright let's get to the list already! These Christmas vacation ideas are going to blow you away. Get your bank account or travel rewards points ready to book this trip…your tropical getaway awaits!
1. Fiji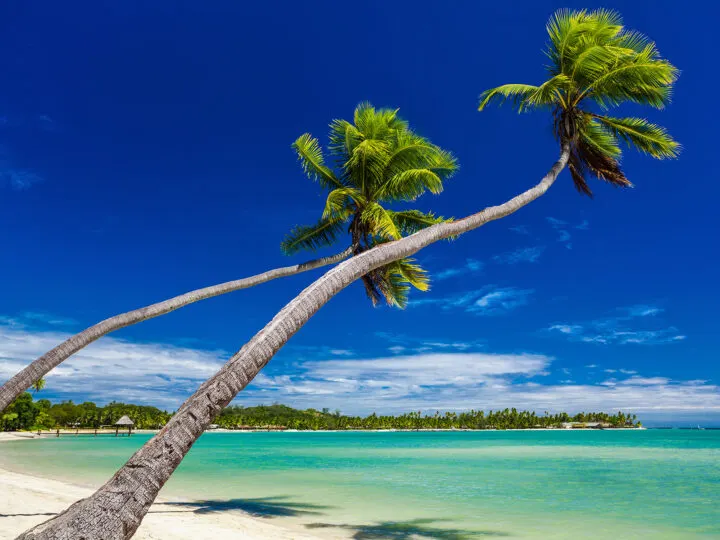 Average temp: high 85, low 74
Fly into: Nadi International Airport, Nadi
When you're looking for a tropical Christmas destination, then you can't go past the Pacific Coast in Fiji.
This southern region on the mainland has brilliant options with places to stay, things to do and less travel time than the Islands. Furthermore, December is right before the Monsoon season and the perfect time to catch those sun-filled days.
Your international gateway Airport is Nadi, and car transfers will take you anywhere on the rest of the mainland. Alternatively, you can catch a connecting domestic flight to Suva, depending on where you're staying.
The resorts are packed full of daily activities from cooking classes, opening coconuts, Kava ceremonies or hand weaving your own baskets. This is a great way to learn about the Fijian culture and keep yourself entertained.
Imagine passing the days away by swimming or snorkelling in the beautiful, clear blue waters. Or walk the palm tree lined beaches, relaxing in the sun while enjoying a Fijian cocktail. On the other hand, you can book tours for zip lining through the rainforests, visiting waterfalls, scuba diving with the sharks or touring through a local village.
When looking for amazing places to stay, The Uprising Resort has cute huts on the beach, or The Pearl South Pacific Resort will help lap up the luxury. Either way, you're not going to regret your time spent here!
Don't forget, you're on "Fiji Time" and destined to relax over your holiday vacation!
Recommended by Chris of The Aquarius Traveller
2. Moorea, French Polynesia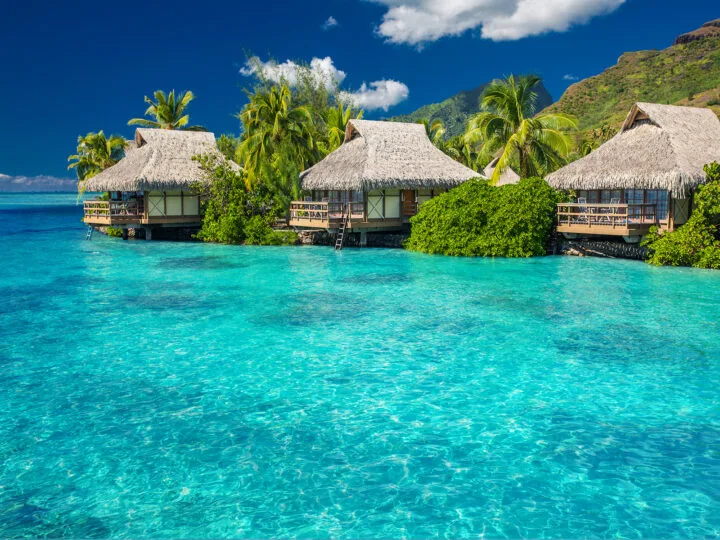 Average temp: high 81, low 62
Fly into: Faa'a International Airport, Tahiti
If you are looking to head somewhere exotic for Christmas where you will feel like you are living in a desktop screensaver, head to Moorea, French Polynesia!
Moorea is one of the best islands in French Polynesia. While Bora Bora may be talked about quite often, it's younger, more reasonable and cuter younger sister Moorea is the real gem of the islands. It offers the perfect balance of luxury and culture.
How to get to Moorea French Polynesia? The best part about visiting is that you just need to take a ferry from Tahiti there versus hopping on a seaplane. This saves you time and money. Most international flights arrive into Faa'a International Airport and you could stay a night or two in Tahiti to get adjusted to the time change and also see some spots there too!
After a night or two in Tahiti, take the quick ferry ride over to Moorea. If you rented a car, you can even take it on with you.
Once you are there, check out the Sofitel Kia Ora Moorea Beach Resort or Hilton Moorea Lagoon Resort & Spa. These 5-star resorts offer the best views and each of them have the option of staying in an overwater bungalow! If that's not in your budget, Moorea is home to some of the best vacation rentals in the French Polynesia.
Christmas is a great time to travel with family so a vacation home might be perfect for that.
Looking for things to do when you are there? Why not spend Christmas doing a boat tour! Voila Moorea offers half day trips and takes you to some very remote beaches. You also have the chance to swim with stingrays and other colorful fish.
Moorea in French Polynesia is one of the best places to spend Christmas! It's an island you will not forget!
Recommended by Marisa of The Daydream Diaries
3. Big Island, Hawaii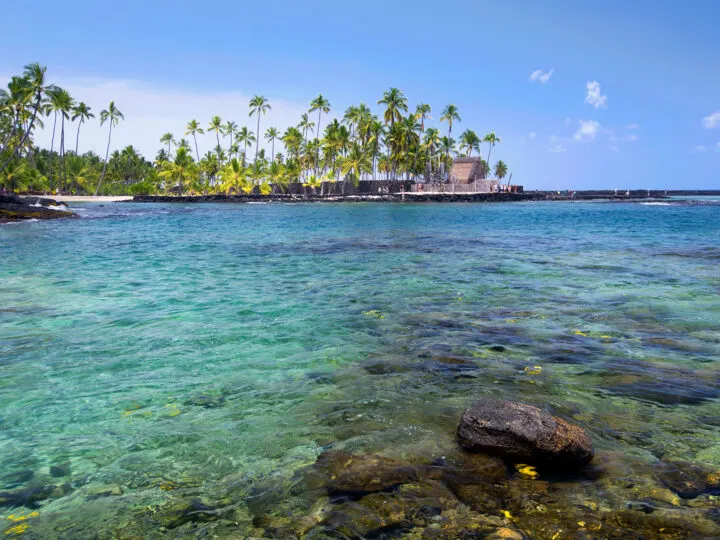 Average temp: high 82, low 67
Fly into: Kona International Airport, Kalaoa
The Big Island in Hawaii has a plethora of activities available during the holidays. If you're looking for hikes to waterfalls or adventurous tours, you will have a blast visiting Hawaii during Christmas. The best airport to fly to is the Kona International Airport.
The Captain Cook Memorial and Kealakekau Bay are a fantastic areas for snorkeling. The tropical fish are amazing, with a beautiful coral reef. Snorkeling tours will have everything you need and make a great experience, even if you have small children.
If you want to see all the different scenery the island has to offer, make sure you check out Hilo Falls and Hawaii Volcanoes National Park. It's fun to see how the volcanoes shape the island and how it grows into a lush paradise!
The Big Island in Hawaii is a wonderful island and is one of the most diverse islands in Hawaii and one of the best beach vacations in December. It has lots of places to adventure with lots of fun activities. You don't get the same crowds as Oahu, and you will enjoy some fantastic and unique scenery.
Recommended by Candice of CS Ginger
4. Turks and Caicos (one of the best beaches in December – or anytime!)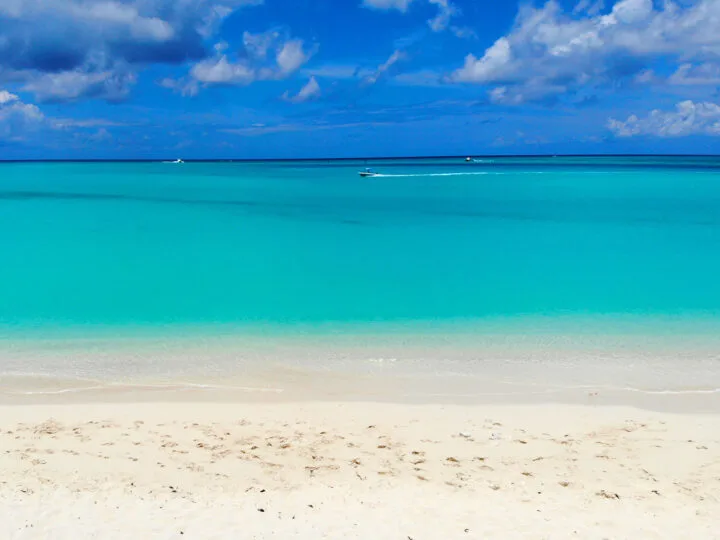 Average temp: high 82, low 74
Fly into: Providenciales International Airport, Turks & Caicos Islands
Perhaps the perfect tropical Christmas destination is in the middle of the Caribbean Sea. Turks and Caicos is a small archipelago of islands that welcome some of the most turquoise water and white sand you'll ever see!
Turks and Caicos is one of the best Christmas vacations for families, couples or solo travelers. The main area for visitors near Grace Bay Beach is where you'll find resorts decked out with holiday lights and decor. Each resort has it's own celebrations, so if you're staying along this popular stretch, expect to have a magical holiday.
Perhaps one of the best festivals during your Christmas stay in Turks and Caicos is on December 26th. Locals dress up for a masquerade festival, Maskanoo Parade, which celebrates the country's history.
While you're on Turks and Caicos, be sure to enjoy a beach at one of the best beaches in Turks and Caicos, Grace Bay Beach. There's plenty of amenities along this popular beach. Rent clear kayaks or try jet skiing, too.
If you're celebrating Christmas with young kids, they'll love hunting for conch shells! While they can be found throughout the island, one of the best beaches for finding conch is Long Bay Beach.
You'll love a vacation to Turks and Caicos in the Caribbean. It's certainly deserving of a spot on this list of best places to spend Christmas!
Recommended by me – Nikki of She Saves She Travels
5. Krabi, Thailand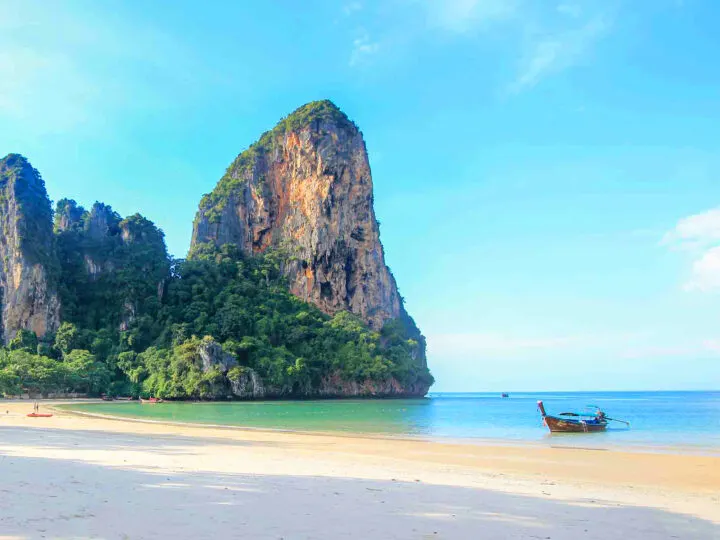 Average temp: high 88, low 71
Fly into: Krabi International Airport, Nuea Khlong
Krabi in Thailand is definitely an absolutely fantastic choice for a tropical Christmas destination. At this time of year you can expect a dry climate, nice temperatures, plenty of sunshine and clear weather. It's perfect if you want to escape winter during the Christmas season!
This beautiful region is located in the south of Thailand, on the Andaman Sea and is definitely one of the most beautiful places in the country. Here, rugged limestone cliffs, dense green jungle, snow-white sandy beaches, turquoise sea and tiny offshore islands fascinate!
The ambience is especially beautiful at Christmas, when the many restaurants and bars are decorated with colorful fairy lights as well as Christmas trees.
One of the most beautiful attractions is the Railay Peninsula with its world famous Railay Beach and the even more stunning Phra Nang Beach. But also the quiet Tonsai Beach in Krabi and the wonderful Klong Muang Beach are worth a trip.
If you're on a Christmas vacation, you should also take a trip to the offshore islands such as Koh Hong, Koh Poda and Chicken Island, where there is a chicken head rock.
Krabi has its own airport, Krabi International Airport, though many come from Bangkok. After landing, it's best to take a cab, which will take you to the resorts in the area at a reasonable price.
The Nakamanda Resort and Spa might just be the perfect spot to stay. It convinces with direct beach location, beautiful view, large pool and very nice rooms!
Recommended by Martina of Places of Juma
6. San Juan, Puerto Rico (one of the best Christmas vacations for families)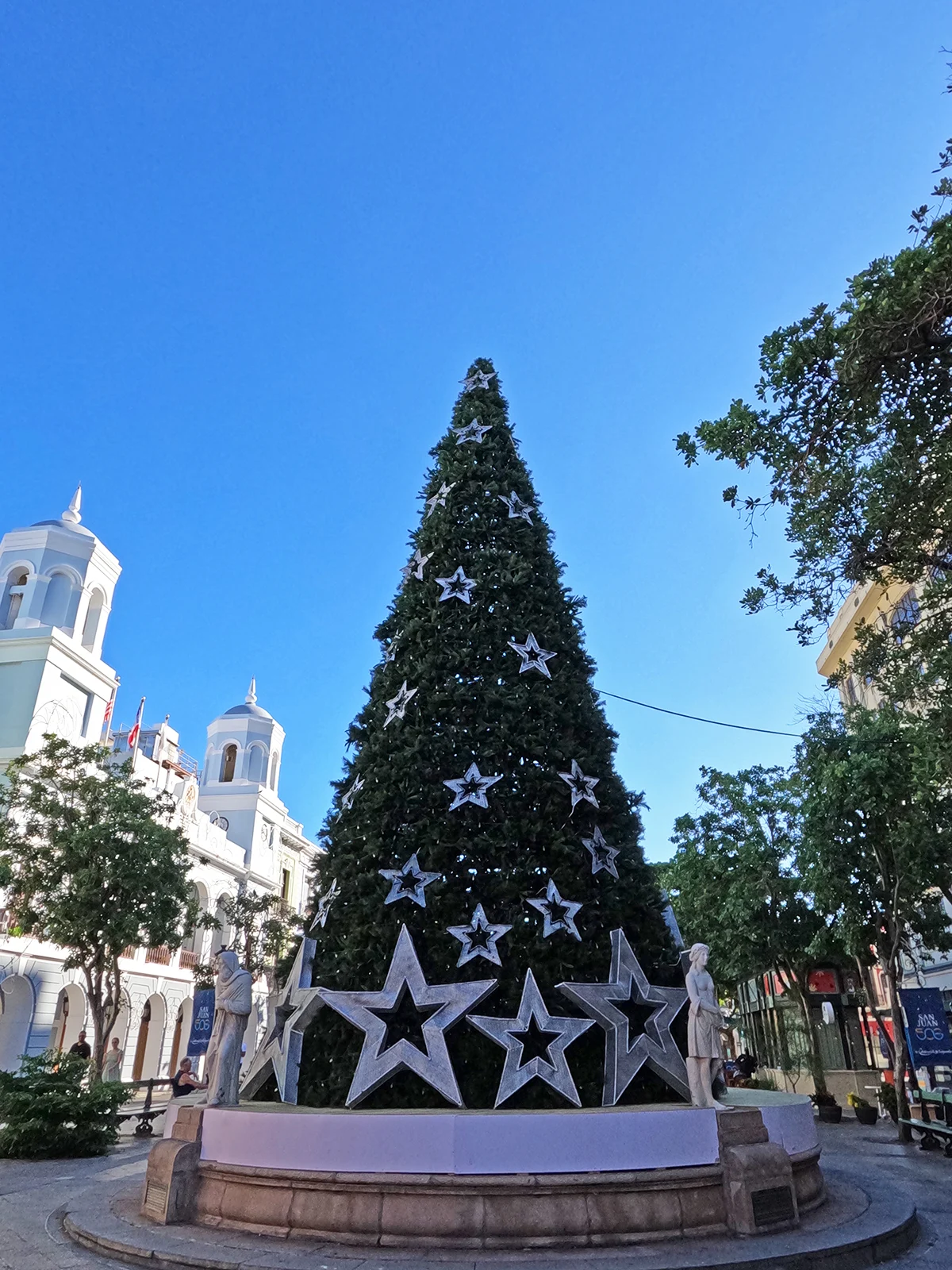 Average temp: high 85, low 67
Fly into: José Martí International Airport, Havana
One of the best destinations for Christmas with the perfect mix of culture, festivities and amazing weather is San Juan, Puerto Rico. If you live in the US, you don't need a passport to travel to Puerto Rico, which is convenient as well.
And here's the thing: Puerto Rico goes hard for Christmas! Celebrations start November 1st, when the historic city of Old San Juan gets decorated with trees, displays and lights. Holiday festivals and celebrations take place throughout Puerto Rico, although the place to be is San Juan, which is the heart of the action.
With so many things to do in Old San Juan, you won't get bored! Be sure to visit El Morro, the historic San Juan Fort over 500 years old! Walk the cobblestone streets and check out the old architecture. Take a day trip to El Yunque National Rainforest and chase waterfalls!
And no tropical Christmas would be complete without beach time! While there are a few beaches in the San Juan area, some of the most popular in Puerto Rico are on the neighboring islands of Vieques and Culebra, Puerto Rico.
See also: Culebra vs Vieques: Which Island is Perfect for You?
You can take a day trip from San Juan or add a couple nights to your itinerary to stay on the smaller islands. These are some of the best beaches in December in the Caribbean!
You'll want to spend at least a long weekend in Puerto Rico, although if you have the time you can easily fill a 2-week stay with the sights, activities and excursions in Puerto Rico around Christmas time.
Recommended by me – Nikki of She Saves She Travels
Best places to spend Christmas
Some pretty incredible destinations have been listed already, but there's so many more tropical Christmas destinations ahead…
7. Bali, Indonesia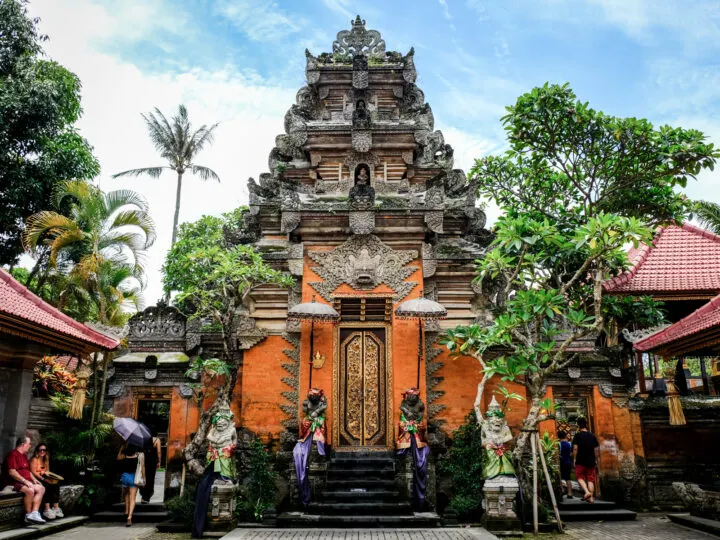 Average temp: high 82, low 77
Fly into: Ngurah Rai International Airport, Kuta
One great tropical Christmas destination is the island of Bali, Indonesia in Southeast Asia. This island is becoming famous for its food, hotels, culture and many things to see and do.
For Americans, winter is a great time to visit Bali because it's less busy and hotel prices are generally a bit lower than in high season.
One of the best areas to stay in Bali during your first visit is Ubud, which is known as the cultural center of Bali. A great hotel choice in Ubud is the Pondok Serayu guesthouse, which should fit almost any travel budget.
Some of the best things to do in Ubud Bali include visiting the markets, palaces, jungles and ancient temples. Of course there are lots of great cafes, restaurants, and comfy luxury hotels to enjoy. If you're adventurous, there are also waterfalls and rice terraces to see while hiking in the areas near Ubud.
There are lots of international flights to the Ngurah Rai International Airport (Denpasar International Airport) from many countries around the world. Most tourist accommodation is within a 30-45 minute drive from the airport, and private drivers are affordable and easy to hire in advance or upon arrival in the airport.
Recommended by David & Intan of The World Travel Guy
8. Sao Tome and Principe (one of the most underrated Christmas vacation ideas)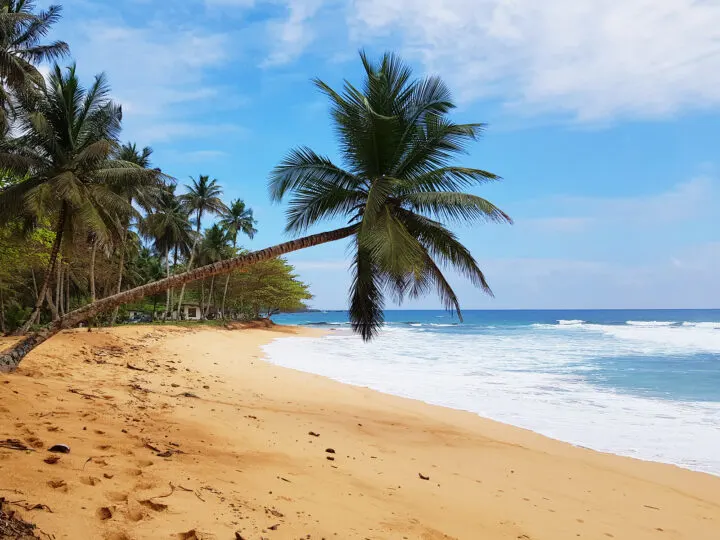 Average temp: high 80, low 71
Fly into: Sao Tome International Airport, Sao Tome and Principe
For a truly tropical Christmas destination, the remote islands of Sao Tome and Principe off the coast of Africa ticks all the boxes. It's a great place to go if you want to escape all the usual commercial madness and clichéd festivities and what better way to spend Christmas than at the beach!
The main religion in the islands is Christianity, so Christmas is widely celebrated. It's considered a national holiday and most people take the day off work to feast and party with their families.
As a visitor you can attend mass in the gorgeous local churches and join in the festivities, which often take place on the beach. Some of the larger hotels put on a celebratory dinner with live music to help get you in the mood.
There are lots of activities in Sao Tome and Principe to enjoy on Christmas day. You could celebrate by watching turtle hatchlings scurry down the beach to the sea or going snorkelling in a secluded bay lined by palm trees.
There are hiking trails and cacao plantations to explore too. One of the benefits to visiting the islands is that Sao Tome and Principe is still a newcomer when it comes to tourism, so you won't be jostling for space with a bunch of other travellers. In fact, it's more likely that you'll be celebrating with the locals!
Despite the off-beat location, it's relatively easy to get to the islands. The best way is via Lisbon on TAP Airways. Omali Lodge on Sao Tome makes a great base for exploring, and if you head to Principe, opt for a plantation stay at Hotel Roça Sundy.
Recommended by Heather of Conversant Traveller
9. St. Croix, USVI (one of the very best places to spend Christmas)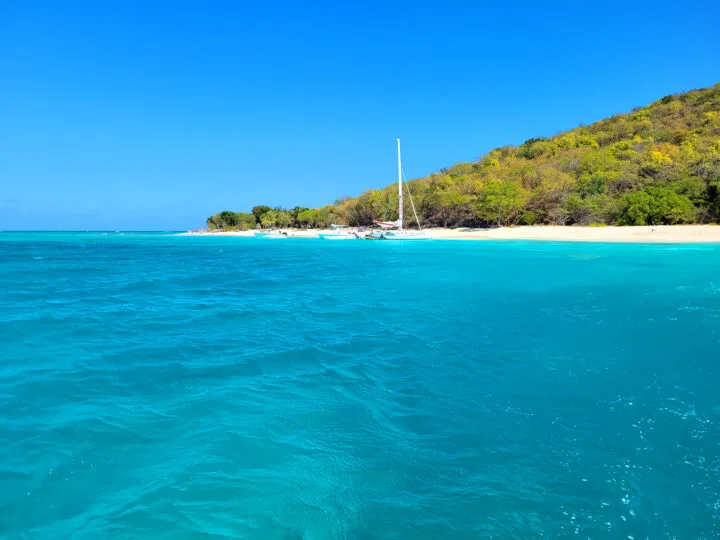 Average temp: high 82, low 72
Fly into: Henry E. Rohlsen Airport, St Croix
Visiting the U.S. Virgin Island of St. Croix is always a great idea, but especially at Christmas. The weather is absolutely perfect, with most days hovering around 80 degrees and coastal tradewinds cooling everything down at night. The real reasons to visit, however, are all the festive events in December!
Starting the day after Thanksgiving, the entire island launches into holiday mode, and it lasts through the new year. One of the most anticipated events is Christmas Jump-Up in Christiansted.
The town-wide celebration involves live music and fire dancers in the street, local shops and vendors holding big sidewalk sales to jump-start the holiday shopping season, and all sorts of special events and performances.
Another popular event is the St. Croix Christmas Boat Parade through the Christiansted Harbor. On the Frederiksted side of the island, family-friendly Holiday Fest features the big town Christmas tree lighting.
The island's biggest holiday event of all also happens in December, Crucian Christmas Festival, AKA Carnival. This colorful, lively event is a blast to participate in and really showcases the strong sense of community on St. Croix.
Of course, you don't necessarily have to attend events to enjoy Christmas in St. Croix! There's plenty to do at the beaches and on the water. This is an especially great time to rent jet skis or join a guided kayaking tour to see the island's bioluminescent bay!
If you're planning to visit St. Croix over the holidays, getting there is easy. The island has an airport just a few miles outside of Christiansted, with several flights a day coming in from Charlotte, Atlanta, and Miami.
And for fantastic accommodations, check out Hotel on the Cay. It's on its very own island with a private beach! A water taxi frequently runs back and forth between the island and Christiansted, and hotel guests can call it on demand. Best of all, the hotel is shockingly affordable!
St. Croix is one of the best Christmas vacation ideas if you're looking for sunshine, white beaches and turquoise water.
Recommended by Taryn of Chasing Trail
10. Playa Del Carmen, Mexico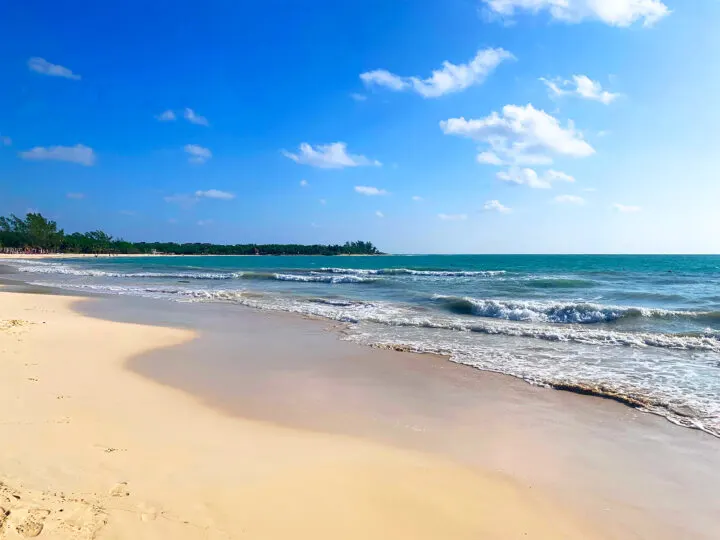 Average temp: high 82, low 70
Fly into: Cancun International Airport, Quintana Roo
Are you looking for a tropical Christmas destination to give you all the festive feelings? If so, Playa del Carmen in Mexico is the perfect place for you!
This vibrant and colorful town is located on the coast of the Caribbean Sea and is known for its stunning beaches, amazing nightlife, and delicious food. During Christmas, the town comes alive with festive decorations, markets selling traditional Mexican goods and plenty of holiday cheer.
During the holidays 5th avenue (the main strip in Playa Del Carmen) is super festive and is turned into a magical Christmas wonderland.
And, if you're looking for a little adventure, you can even explore the nearby ruins of Tulum or take a dip in one of the many cenotes (natural pools). To get to Playa del Carmen, the closest airport is Cancun International Airport, which is about a 45-minute drive away.
When visiting Playa Del Carmen, you have a few options. There are several all-inclusive resorts in Playa Del Carmen that do a great job making things festive during the holidays. The Riu Palace Riviera Maya puts on a show with beautiful Christmas decorations and even holiday-related shows. Playa Del Carmen is one of the best places for Mexico all inclusive resorts!
For those that are looking to stay in the heart of Playa Del Carmen, check out the Grand Hyatt Playa del Carmen Resort, which is located just steps from 5th Avenue.
Whatever you decide to do, you're sure to have a magical Christmas in Playa del Carmen!
Recommended by Taima of Poor in a Private Plane
11. Boracay Island, Philippines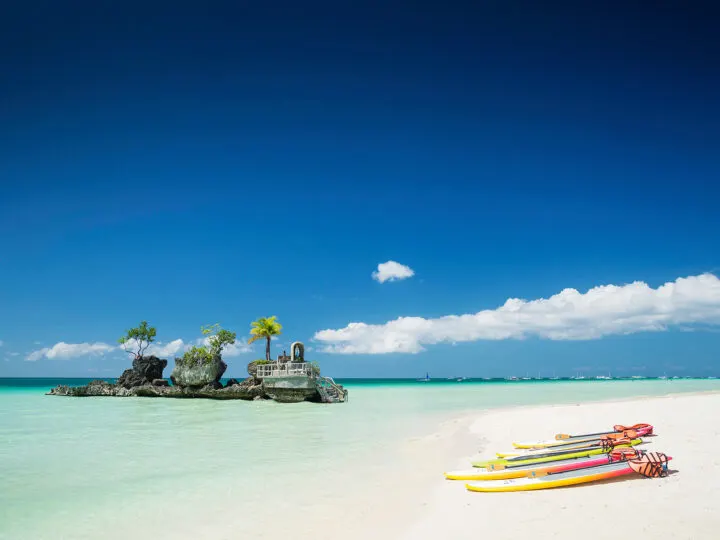 Average temp: high 84, low 78
Fly into: Kalibo International Airport / Godofredo P. Ramos Airport, Malay, Aklan
One of the best tropical Christmas destinations in the world is Boracay Island, located in the Philippines. In December, temperatures average around 27 degrees Celsius, or 80 degrees Fahrenheit, so it's the best time to enjoy the beach with perfect weather.
There are many Boracay beaches to choose from, but the most popular is White Beach. Known for its turquoise water and powder white sand, this beach is one of the most-visited places on the island, so it's also where you'll find the most activities to celebrate a Christmas vacation.
White Beach is within walking distance to many restaurants, bars, and shops. Most meals cost just a few dollars, so it's easy to experience authentic Filipino cuisine at affordable prices.
During Christmas, you can even try Bibingka, a sweet rice cake that's made with coconut milk and served throughout the holiday season. It's baked inside banana leaves in order to impart a unique, tropical flavor to the Christmas treat.
If you feel like taking a short, easy hike, you can walk to the top of Mount Luho to get a panoramic view of the entire island. Since the island is only 7 kilometers long, this is a popular spot for travelers to go to watch the sunset over Boracay's shoreline. Evening sailboat tours are another popular way to watch the setting sun.
There are no airports or flights in Boracay. To reach the island, you can fly into the closest airport, which is located in Caticlan. From there, you will transfer to Caticlan Jetty Port and then take a 15 minute ferry ride over to Boracay Island.
For luxurious beachfront accommodation located near top attractions, stay on White Beach Station 1 at the Lind Boracay Hotel. If you're looking for a tropical destination to spend Christmas away from home, definitely consider Boracay for your next holiday trip!
Recommended by Jillian of Adventure Dragon
12. Viñales, Cuba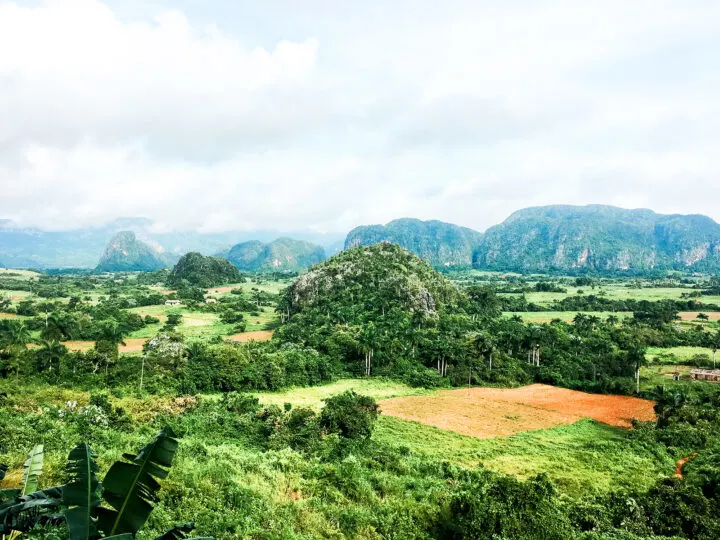 Average temp: high 81, low 62
Fly into: José Martí International Airport, Havana
For an unforgettable tropical holiday, head to Cuba for delicious holiday feasts, perfect beach weather and local celebrations throughout the country.
While Havana might seem like an obvious choice for celebrating the holiday, travelers will see more of the most festive celebrations in the countryside, including smaller cities and towns like Viñales, Trinidad, or even communities on the outskirts of the city of Havana.
In Cuba, the big celebrations around Christmastime occur on Christmas Eve and generally focus on food! Christmas Eve feasts usually include whole-roasted pig, often cooked on a spit and slow-roasted, fried plantains, rice and beans and all the fixings for a traditional Caribbean meal.
While you're sure to find some big parties in the city, most people gather for meals with families. They'll head to the countryside where they'll gather to roast the pig, meaning you're likely to have a more tropical Christmas experience outside of the city.
Whether you're traveling to the stunning Viñales Valley or anywhere in Cuba, make sure to stay at a casa particular – or, private home – for rent by local Cubans. You'll support small business and have a much more culturally significant experience, meeting and learning from locals firsthand.
Viñales is just a few hours away from Havana by car, so you're sure to pass through Havana to arrive in Cuba, traveling onward from there.
Recommended by Carley of Home to Havana
Best beaches in December for Christmas
When you think about a tropical Christmas getaway, there really are so many options! Laid-back island time or exotic cities, these are some pretty incredible destinations to consider.
Let's keep going!
13. Key West, Florida (a fun spot on this list of best tropical vacations in December)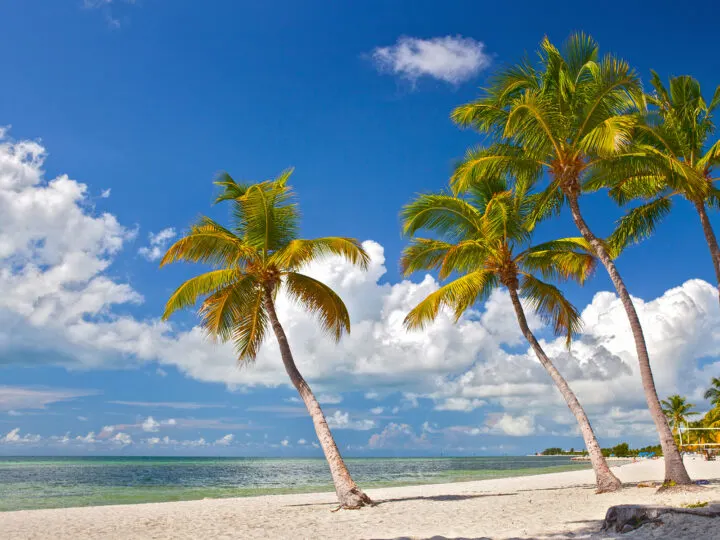 Average temp: high 77, low 70
Fly into: Key West International Airport, Key West
Grab a bathing suit, head to the most southern point in the United States, and enjoy all of the very best things to do in Key West in December. Because as you might not know, Key West easily makes for one of the best tropical Christmas destinations in the world!
Not only is the weather pleasant, with daily highs around 77F and daily lows around 70F, but there are a ton of holiday-inspired activities for visitors to enjoy.
So, after flying into Key West International Airport, grab a local shuttle bus and experience the glitz and glamor of Duval Street with its many shops, restaurants and vibrant decorations.
Greet Santa as he rolls into town during the Key West Holiday Parade, or check out the totally free classic car show.
No trip to Key West for the holidays would be complete without marveling at the totally unique, lighted boat parade. During this incredible event, you'll see boats bedazzled in lights and holiday decorations aplenty as they navigate through Key West Bight.
Finally, head indoors and enjoy the charming architectural grandeur of this historic town during a Historic Inns Holiday Tour.
Typically, this event is held on two days throughout the holiday season as various local bed and breakfasts open their doors to visitors so that they can admire the stunning holiday decorations during a guided tour.
And if you're not sure where to stay, book an individually decorated, bohemian-style room at the Key West Bed and Breakfast. After all, this historic, Victorain-style building has a distinct tropical theme to it that is only enhance by an on site hot tub and sauna, making it an exceptional place to stay.
Recommended by Victoria of Florida Trippers
Related read: Miami to Key West Road Trip: 22 Awesome Activities You Need to Do
14. Antigua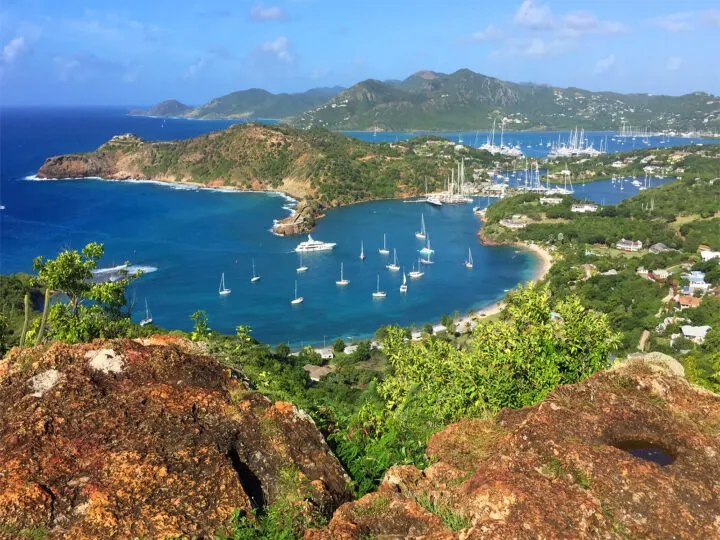 Average temp: high 84, low 73
Fly into: V.C. Bird International Airport, Antigua & Barbuda
If you're looking for blue skies and sunshine for Christmas, consider Antigua! One of the best Caribbean islands to visit for a tropical vacation, Antigua spells blissful rest and relaxation. It's also close to the island of Barbuda, for twice the fun!
Antigua and Barbuda are renowned for their beautiful beaches, and they have 365 of them, so you won't run out of options, even on a long visit! The white sandy beaches are made for savoring the sun, the crystal clear blue waters, and the warm ocean breezes in what is typically the dreariest month of the year.
Activities on the water are a must when you visit Antigua. Go on a sailboat tour, or snorkel the coral reef bays that surround the island to find colorful fish.
If you're looking to do some holiday shopping for yourself or for gifts, St. John's, the capital city, is renowned for its boutiques. Designer jewelry, designer apparel, textiles and pottery are all excellent options. Many stores offer duty free shopping.
Looking for some festive cheer? St. John's is decked out in Christmas decorations and lights. Nelson's Dockyard, worth visiting any time of year, hosts a Christmas champagne party that anyone can join! Buy a bottle and celebrate with locals and other visitors. There's live music and food.
Fly into V.C. Bird International Airport, about 5 miles from St. John's. Cocobay Resort is an all-inclusive, adult-only resort that's perfect for a relaxing stay in Antigua, one of the best beach vacations in December.
Recommended by Dhara of It's Not About the Miles
15. Koh Phangan, Thailand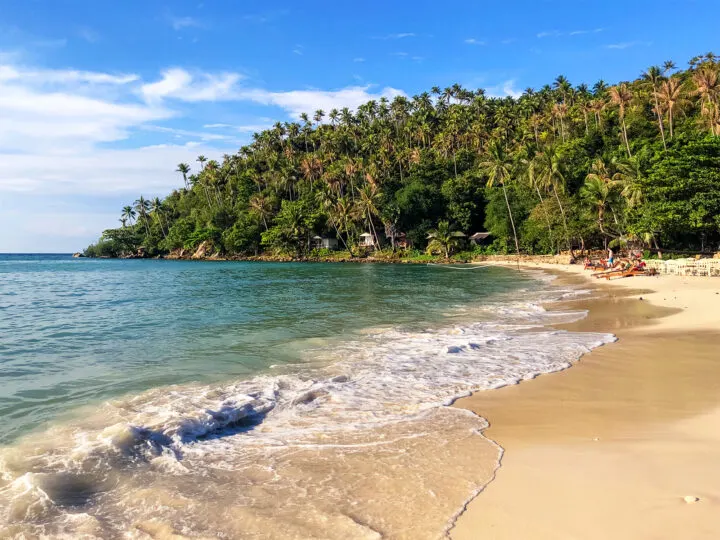 Average temp: high 85, low 77
Fly into: Surat Thani International Airport in Hua Toei or Samui Airport in Samui
Koh Phangan belongs to the most dreamy of Thai islands and it's a great place to visit during Christmas. In fact, it's when the temperatures are nice and balmy, yet not much rain is expected anymore as the rainy season has just ended.
The best thing about the island is that there are so many diverse things to do in Koh Phangan. When it comes to Christmas-related activities, it's quite chilled there. Don't expect some wild parades but those wanting a bit of that Christmas cheer can still find a few events.
First of all, there are different parties. Since they're around year-round only with themes changing, in December it's all about Christmas and New Year's. Expat-run restaurants have special menus and often organize special events like live music.
The end of the year is definitely celebrated more and a few restaurants offer a New Year dinner with a fire show and even some fireworks. Since Koh Phangan is known for its Full Moon party, you can expect a Christmas- or New Years'-themed one too, depending on the moon cycle.
The good news is that it's business as usual and the public holiday falls only on January 1st. You're welcome to go for Koh Phangan's numerous beaches, do yoga, hang out in the cool cafés and enjoy the island life. Please note Koh Phangan does get popular during December and there's an influx of tourists.
To get to Koh Phangan, you can fly to Surat Thani on the Thai mainland and then take a ferry, or fly to the neighboring island of Koh Samui and then take a shorter ferry from there. Consider staying at the Seaflower Bungalows which are conveniently located and fall under the mid-range category.
Visit Thailand for some of the best beaches in December and a relaxing getaway.
Recommended by Veronika of Travel Geekery
16. Kerala, India (one of the most unique Christmas vacation ideas)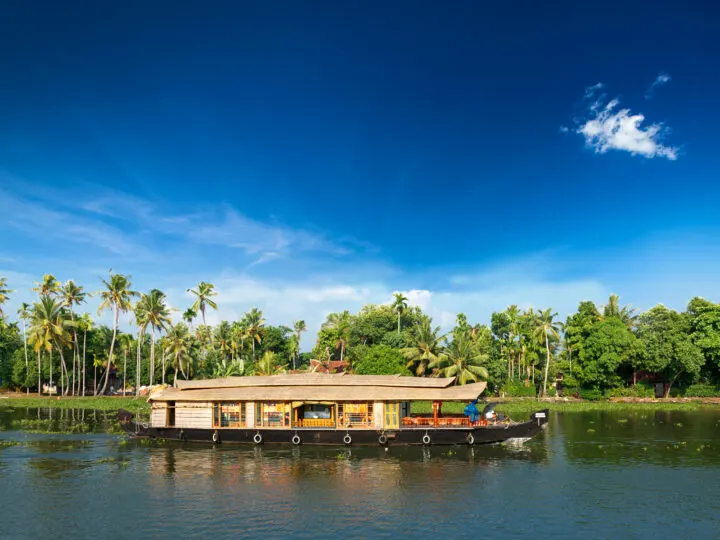 Average temp: high 86, low 75
Fly into: Cochin International Airport, Kerala
Located between the Arabian sea to the west and the Western Ghats to the east, Kerala is a beautiful state in India with a tropical climate. Boasting pristine sandy beaches, palm trees, lush backwaters, and waterfront resorts, Kerala is a warm destination year-round with perfect weather during the holiday season.
Begin your time in Kerala by exploring Kochi, a major port city along the Malabar Coast, to get your bearings.
Spend a couple of days visiting the colonial buildings in Fort Kochi, watching the sunset by the Chinese Fishing nets, and strolling around Jew Town and Muziris, a spice hub. The Indo-Portuguese Museum in the city is also worth checking out.
Next, hop on a car and make your way directly to Kumarakom, a verdant green village on Lake Vembanad. Immediately upon arriving at this nature's paradise, you'll understand why the state of Kerala is also known as God's Own Country. This area is known for traditional wooden houseboats you must spend a night or two in.
Alternatively, Kumarakom Lake Resort by the banks of Lake Vembanad is an incredible place to relax. Apart from taking in the serene views of the lake from nearly everywhere at the property, you can go for a sunrise canoe ride to explore the adjacent backwaters, a complimentary sunset cruise, or visit the Kumarakom Bird Sanctuary. The nearby Alappuzha is also popular, though more touristy, for its backwaters and canals.
Cochin International Airport in Kochi is the largest airport in Kerala, with connectivity to most international and domestic cities. You can fly there and spend some days in Kochi or take a taxi directly to Kumarakom or Alappuzha. Some other places to visit in Kerala are Kovalam, Varkala, Kannur, and Mararikulam.
Recommended by Charu of Travel with CG
17. Puerto Escondido, Mexico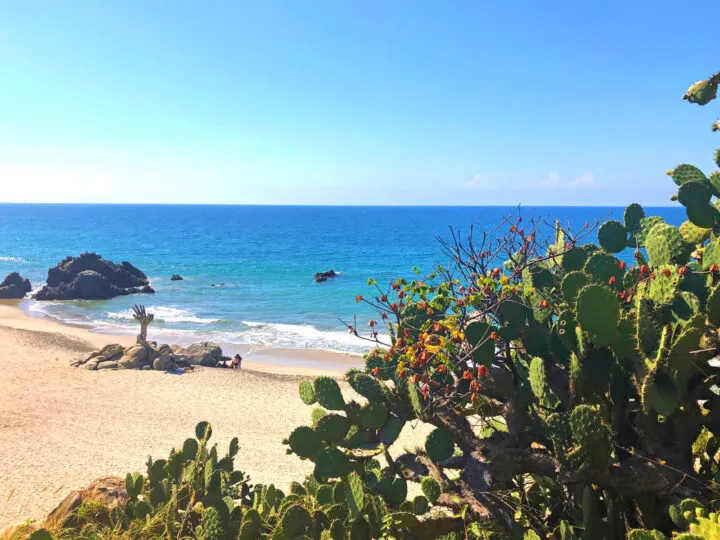 Average temp: high 84, low 72
Fly into: Puerto Escondido International, Oaxaca, Mexico
Puerto Escondido, Mexico is located in the state of Oaxaca. It is the most popular and most visited beach town in this state.
Oaxaca (pronounced waa-haa-kah) is best known for its food, festivals and culture, but it also has gorgeous beaches on the Oaxacan coast. With perfect weather in winter, Puerto Escondido makes an ideal destination for a tropical Christmas.
Puerto Escondido is best known as a surf town, but that's not the whole story. If you've never surfed before, but have always wanted to learn, there are several surf schools in Puerto Escondido, as well as beaches with beginner-friendly waves.
There's also plenty to do for non-surfers. With about 10 beaches in town, you can visit a different beach per day and soak up the sun. The best beaches in town include Playa Carrizalillo, Playa Zicatela, Playa La Punta, Playa Bacocho and Playa Manzanillo.
Located about 30 minutes outside of town, don't miss Laguna Manialtepec. It's a bioluminescent lake, so many go at night to see the bioluminescence. You can also visit by day and paddleboard around the lake.
It is easy to get to Puerto Escondido, as there's an airport only minutes from the beaches called Puerto Escondido International. Although the word "international" is in its name, there's rarely international flights, though you can connect through Mexico City or Tijuana.
If you're looking for a more laid back trip, you'll want to stay around La Rinconada near Playa Carrizalillo. To stay where all the action is, book a hotel on Playa Zicatela or Playa La Punta.
Either way, Puerto Escondido is one of the best places to spend Christmas in Mexico!
Recommended by Shelley of Travel To Oaxaca
18. Costa Rica (perfect for adventure and tropical Christmas)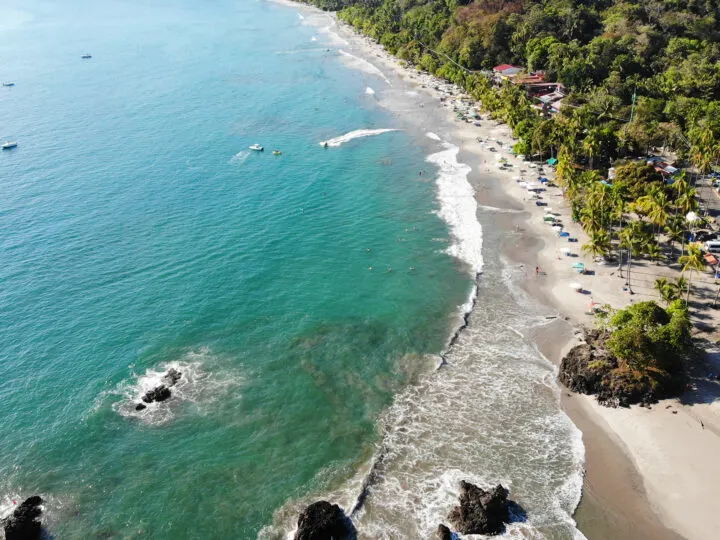 Average temp: high 77, low 64 / varies by region
Fly into: Juan Santamaría International Airport, San José, Alajuela
One of the best Christmas vacations for families is in Costa Rica! Although it's a beautiful and diverse country, one thing is the same: they go big for Christmas!
Predominantly a Christian country, the days leading up to Christmas are filled with excitement as events and festivals take place throughout the country. Christmas Eve is traditionally celebrated with family gatherings with traditional Christmas dinner and Midnight Mass.
Christmas Day is typically low-key with businesses closed, which means it's a great day for visitors to hit the beach!
One of the biggest celebrations at Christmas in Costa Rica is the 26th of December, with the Tope Nacional de Caballos horseback parade. It's a huge parade in San Jose where horsemen parade through the streets. Then on December 27th is El Carnaval, which is another huge festival on the streets of San Jose.
From the volcano in La Fortuna to the beaches in Manuel Antonio, there's something to do for every vacation style in Costa Rica. Families will enjoy the wildlife and natural beaches at Manuel Antonio National Park. Or for more adventure, head to the Cloud Forest and experience ziplining in Monteverde.
Two other popular spots for visitors with resorts and plenty of amenities is in Tamarindo and La Fortuna. You'll find plenty of tropical Christmas festivities to enjoy throughout Costa Rica!
Recommended by me – Nikki of She Saves She Travels
Christmas vacation ideas
Wow, can you believe this list?! With just over 1/3 left, there's so much more to see! More warm beaches and sunshine ahead…
19. Okinawa, Japan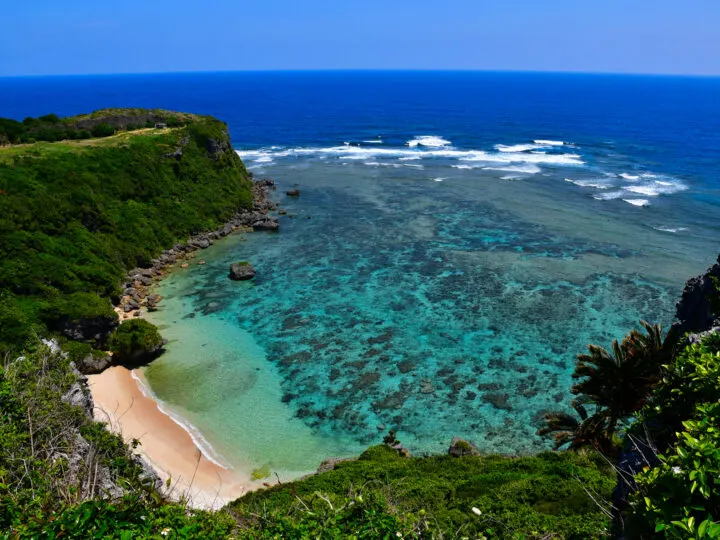 Average temp: high 69, low 57
Fly into: Naha Airport, Naha
You won't find snow or cold temperatures in Okinawa, Japan. Instead, you'll find beautiful tropical beaches, botanical gardens, resorts and a great night life!
Okinawa is easily reachable from major cities in mainland Japan as well as other larger international cities. Naha, the capital of Okinawa is home to Naha International Airport. Visitors have the option to stay in the Naha area, or drive 40 minutes north to Okinawa City. Okinawa City is close to popular attractions like American Village and the Southeast Botanical Gardens.
Typically, Japan does not celebrate Christmas but there is a huge American population living on the island of Okinawa. Because of the population of Americans living on the island, Okinawa has adopted many American traditions and celebrations to include getting in the Christmas Spirit.
During Christmas many attractions will have illuminated light displays. Both Okinawa Zoo and the Southeast Botanical Gardens have holiday illuminations with over a million lights. Visitors come to see the tropical palm trees glowing with lights.
Another attraction worth visiting during a tropical Christmas vacation to Okinawa is American Village. American Village is a part of town that is quite touristy but beautiful at the same time. During the holidays, American Village is lit up and there are even Christmas decorations scattered about.
If lights and the holiday celebrations just aren't for you, why not just relax on one of the many beaches around Okinawa. Since there are so many beaches here, chances are you'll have a beach to yourself or share it with very few people.
Since winters are pretty mild in Okinawa, many of the resorts still offer water activities so you can enjoy the water and sunshine during the holidays while it's cold and snowy back home.
Okinawa is one of the best Christmas vacation ideas if you're looking for a tropical getaway.
Recommended by Brandon of Zimmin Around the World
20. Maui, Hawaii (one of the best Christmas vacations for families)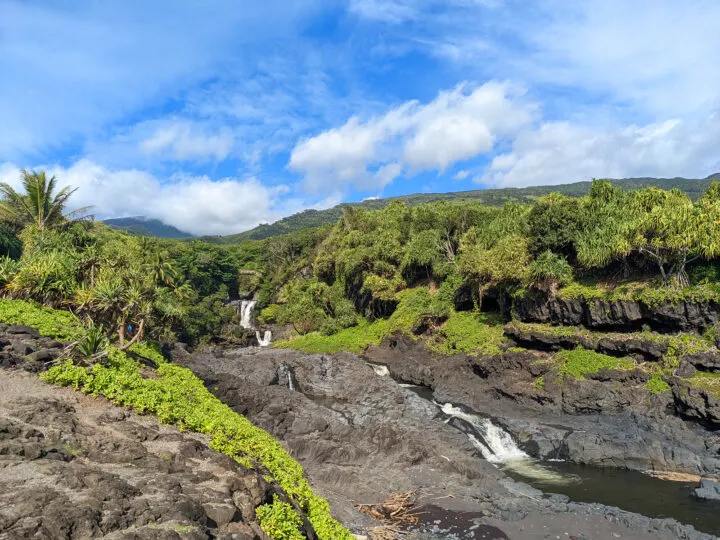 Average temp: high 83, low 66
Fly into: Kahului Airport, Maui
Maui, Hawaii is the ideal tropical Christmas destination whether you're looking for luxury, adventure or a combination of both.
There are plenty of lodging options throughout the island. Kihei, Wailea and Lahaina are 2 cities to consider. Regardless of where you stay, look into attending a luau to celebrate Christmas!
Maui offers beautiful beaches and resorts in the Wailea area. Enjoy snorkeling or laying in the sun on this part of the island. If you can afford to splurge and stay at the Grand Wailea Resort Hotel & Spa you won't regret it! The resort is over the top and you will have a very relaxing experience!
For adventure, rent a car and drive the infamous Road to Hana. This road is known for waterfalls, hairpin turns, single-lane bridges and great views.
Near Hana, you can see the famous 7 Sacred Pools or hike to a red sand beach. Take a tour if you'd rather not feel the pressure of driving this road.
There are hotels in Hana if you'd like to spend more time in the area but it's possible to experience the road to Hana in one, very long day.
For the road less traveled, consider taking the Kahekili Highway. Another day full of adventure, explore hikes, waterfalls and coastal views in northwest Maui.
Haleakalā National Park is also a must-do! Exploring a landscape and location that is sacred to the Hawaiians is a special experience. Bring warm layers with you to Haleakalā; it's at the top of a volcano so it can be chilly.
Stay for Haleakalā at sunset and stargazing afterward for a truly memorable experience!
Maui is a very popular Christmas destination so you need to plan early. Make sure you have your flights, lodging, rental car and activities booked well in advance otherwise you may miss out.
Recommended by Jami of Celiac Travel Pack
21. Belize (one of the best tropical destinations in December)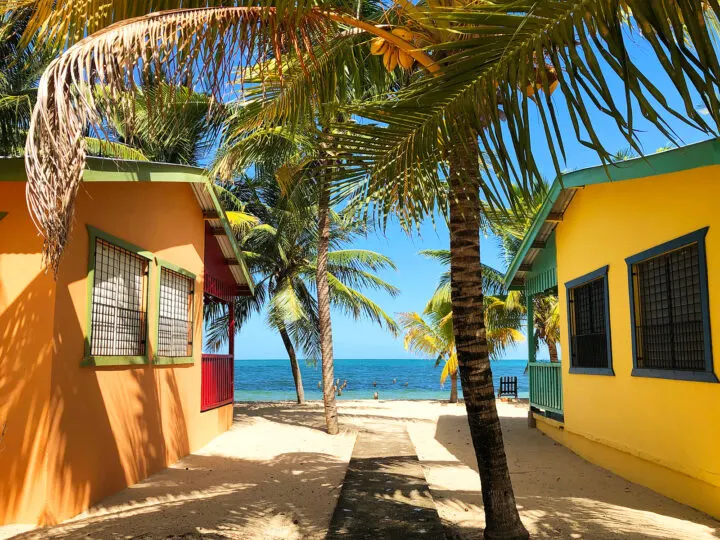 Average temp: high 83, low 70
Fly into: Philip S.W. Goldson International Airport, Belize City
If you're looking for the best tropical vacations in December, then look no further than Belize! A small country in Central America, Belize really packs a punch!
December in Belize means the hurricane season is over, so you're met with plenty of sunshine for your winter escape! With festive celebrations all month long, December is a great time to get to know the local culture in Belize.
The Garifuna community show off traditional dances: Jankunu and Charikanari down in Hopkins throughout December. Or go to a traditional Christian Midnight Mass on Christmas Eve – found throughout the country.
For the most resort options on the cutest small island off the coast of Belize, stay in San Pedro on Ambergris Caye. For less touristy and more genuine Belize experience, explore all the things to do in Placencia. And if you're up for more adventures, discover the ancient Mayan ruins inland like Xunantunich, staying in San Ignacio as a home base.
Fly into the international airport in Belize City. If you're staying in San Pedro, arrange a ferry ride over then rent bikes or a golf cart for your stay. Otherwise, Belize is a very drivable country and renting a car is a great option for visitors.
Regardless of how or where you decide to visit in Belize, it's an incredible country and one worth visiting, especially during the holiday season!
Recommended by me – Nikki of She Saves She Travels
22. New Zealand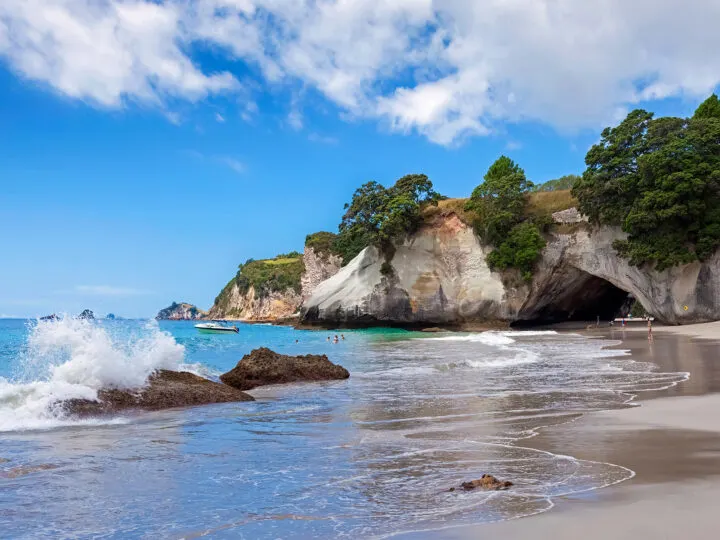 Average temp: high 74, low 58 (varies by region)
Fly into: Auckland International Airport, Auckland
Perfectly timed for the Southern Hemisphere summer, New Zealand is the best tropical Christmas destination for outdoor lovers and adventurers. Escape the northern hemisphere winter and fly across the Pacific Ocean into Auckland International Airport, the launch pad to discover volcanic mountains, wild sandy beaches, breathtaking hiking and world-class wineries.
Kiwis love to get out of main cities for their summer break, so do as the locals do and take your pick of the countless options for spending the Christmas holiday.
Head to the beach and spend Christmas barbecuing, surfing and enjoying a game of beach cricket in the Coromandel. Or head to the South Island to spend Christmas at the lake, swimming, kayaking and cycling around Queenstown.
Adventurous types can explore the mountains on a multi-day hike on one of the Great Walks in Fiordland. For a getaway with friends, hit one of the multi day dance music festivals, such as Rhythm & Vines, set in a beautiful vineyard.
The classic New Zealand holiday is to simply rent a campervan and follow a South Island road trip itinerary to explore some of the country's best sights.
With long days and sunny skies, Christmas is a great time of year to explore New Zealand. Be sure to book accommodation and transport well in advance as it's a popular vacation time for locals too.
Recommended by Laura of Laura the Explorer
23. Antigua, Guatemala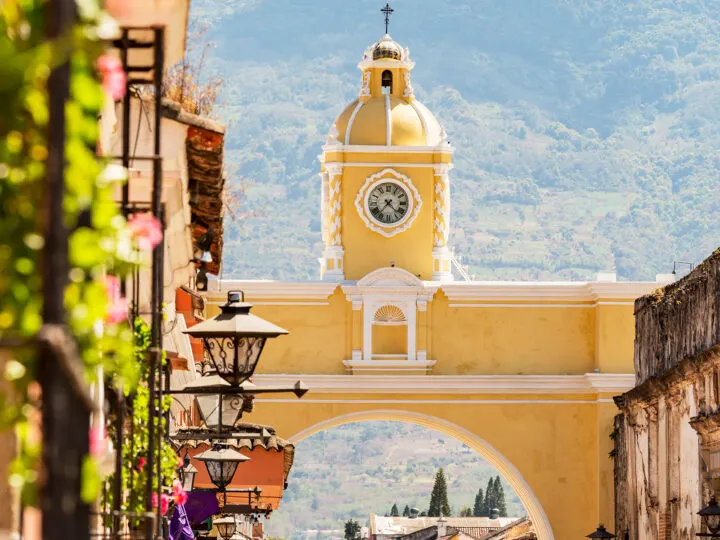 Average temp: high 74, low 54
Fly into: La Aurora International Guatemala Airport, Guatemala City
Guatemala is a great tropical destination to spend Christmas. In Guatemala, Christmas is the most important holiday and by visiting the country during this time, you can attend some special events that are organised for this occasion.
A great place to be in Guatemala during Christmas time is Antigua. You can easily get here in an hour and a half from Guatemala City, where the main airport in the country is. There are minibuses that leave towards Antigua when full, in front of the airport.
On Christmas Eve, there is a very interesting parade that starts from the main church and goes around the city. The locals dress up in the most bizarre costumes and follow a procession with different statues of Jesus and Mary led by the local priests. At midnight on Christmas Eve, there is a big fireworks display, celebrated by all locals.
On Christmas Day, most of the businesses closed. However, there will be restaurants that stay open, as well as some touristic experiences, such as the cooking class you can take in Antigua. The market is closed as well, but there are a few vendors that will still come to sell their produce.
A great place to stay in Antigua during Christmas time is Selina Antigua. They organise special dinners for their guests, combining the traditional Guatemalan dishes with other traditional holiday foods from the countries of their employees.
Recommended by Joanna of The World in my Pocket
24. Sayulita, Mexico (one of the best tropical Christmas vacation ideas on this list)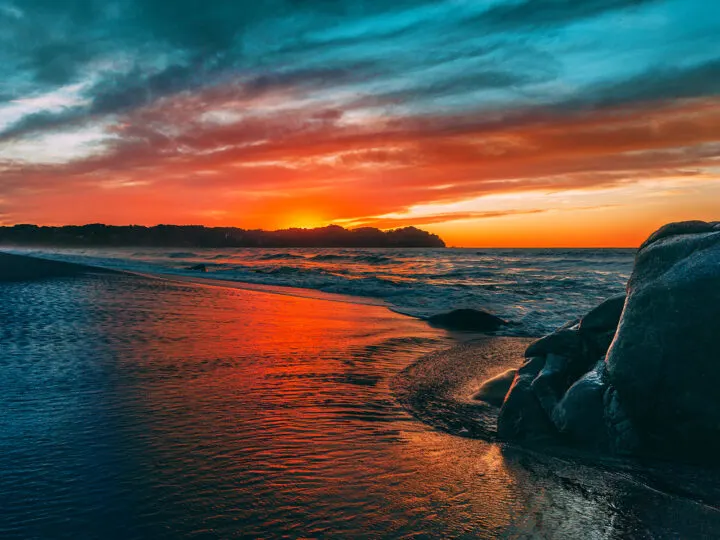 Average temp: high 82, low 64
Fly into: Puerto Vallarta International Airport, Jalisco
If you're looking for a laidback place to enjoy Christmas, Sayulita, Mexico should definitely be on your list! This sleepy town, located approximately an hour north of the glitzy resort city of Puerto Vallarta along the Riviera Nayarit, is the perfect destination for a low-key holiday.
Sayulita's chill vibes are thanks to the activity that put this town on the map: surfing! Although December is not the best month to catch gnarly waves here, the town enjoys up to 15 consistent and gentle surf breaks all year long, making this the perfect place for both beginner and expert surfers alike.
If surfing isn't your jam, there's tons of other things to do in Sayulita. Try your hand at other water sports like stand-up paddleboarding or kayaking. December is also prime time to go on a tour to spot a beloved annual visitor to Sayulita's warm lagoons, the magnificent humpback whale, who migrates from the Arctic to these waters to breed and raise their calves.
While Sayulita does not have any kind of large organized Christmas events, it's a popular destination around the holidays, both for local families and visitors all around the world. The town, which always has quite a lively party-atmosphere, feels even more jovial due to the influx of visitors.
On Christmas Eve and Christmas Day, most of the town's colorful shops, bars, and restaurants close and everyone heads to the beach. So stock up on drinks and food the day before and celebrate the holidays by soaking up the sun, cerveza in hand.
Sayulita is one of the best places to spend Christmas for a tropical getaway!
Recommended by Jessica of Uprooted Traveler
Tropical Christmas vacations
So many tropical destinations around the globe perfect for the holidays. From the best beaches in the Caribbean, South America, Europe and Australia, there's much more to see…
25. Mauritius, Africa (another one of the best beach vacations in December)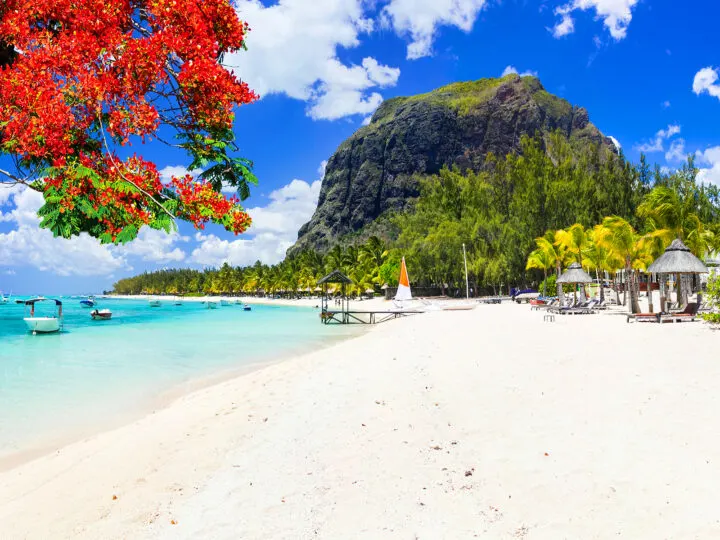 Average temp: high 84, low 75
Fly into: Sir Seewoosagur Ramgoolam International Airport, Plaine Magnie
Spending Christmas far away from the cold is a dream of many, and Mauritius is happy to fulfill that wish.
This island smack dab in the Indian Ocean is not an obvious choice for spending the end of the year in tropical comfort, though it still has all the amenities for all types of travelers. Whether you want to be pampered in a beachside resort such as Riu Creole or get in touch with local culture at a guesthouse like Villa Orchidée à Pereybere, you can find it all.
The most famous place to stay is at Le Morne, an iconic inselberg on a peninsula surrounded by a turquoise lagoon. That's where you can learn about the island's history and go hiking.
Join a tour to the nearby waterfalls and taste Mauritian rum, or join a boat trip to Crystal Rock and Île aux Bénitiers. Mauritius is a fantastic destination to try out a new watersport, such as windsurfing, kitesurfing, snorkeling, diving, kayaking and dinghy/pirogue sailing.
Mauritians adhere to a variety of religions, of which Christianity is only one. Christmas is widely celebrated but doesn't interfere with business; December and January are the most important months for tourism in Mauritius. Restaurant owners will often offer a Christmas menu with a choice of vegetarian or non-vegetarian.
If you're staying over New Year as well, it's important to know that the first week of January sees irregular opening times. Getting to Mauritius is fairly straightforward as there's only one airport on the island from where you can take a taxi to anywhere.
Recommended by Iris of Mind of a Hitchhiker
26. Rio de Janeiro, Brazil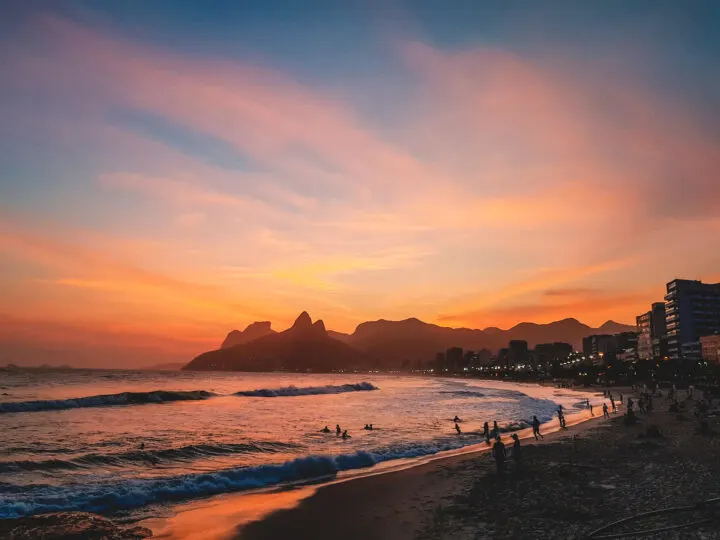 Average temp: high 85, low 74
Fly into: Rio de Janeiro Galeão International Airport, Rio de Janeiro
Brazil may not usually be a destination associated with a tropical Christmas getaway, but it is a great place to go during the holidays. There is one city in particular that blooms during the high season: Rio de Janeiro.
The city is at its best during the summer season. Especially during the holidays, you'll find a wide variety of parties, shows and cultural events around the city. You'd have to work really hard to get bored when visiting Rio during the holidays!
Here are a few things you should definitely experience while in Rio de Janeiro:
Try rabanada, a typical Brazilian Christmas sweet
Go to a traditional samba at Pedra do Sal
Visit the Rodrigo de Freitas Lagoon in the evening to see the floating Christmas tree lit up
Watch the sunset at Arpoador (spoiler alert: applaud when the sun goes down!)
Visit the iconic Maracana Stadium if you're a sports fan
The best way to get to Rio from abroad is to fly to Rio de Janeiro Galeão International Airport. Stay in the neighborhoods of Ipanema, Copacabana or Botafogo for the best location and culture.
One of the best hotels in Rio is Yoo2 Rio de Janeiro. They have an incredible rooftop bar (with amazing views!) that you can visit even if you choose to stay somewhere else.
Recommended by Fernanda of Mauka Travels
27. Lanzarote, Canary Islands, Spain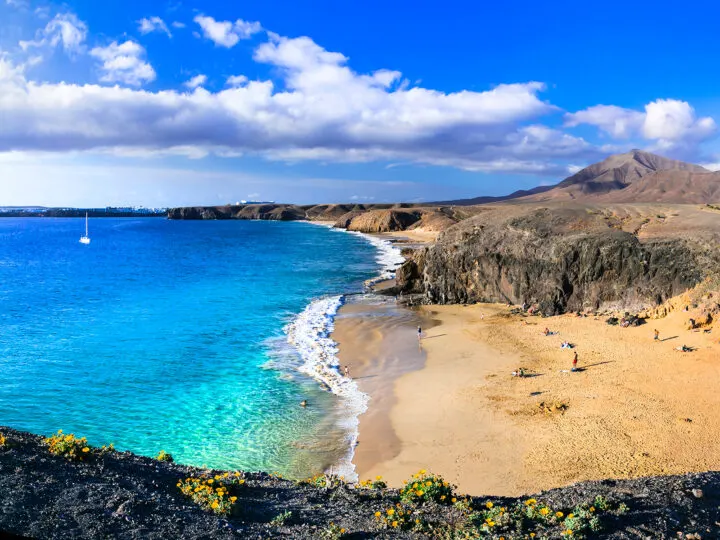 Average temp: high 69, low 57
Fly into: César Manrique-Lanzarote Airport, Lanzarote
Wanting to escape the frigid cold that most of the northern hemisphere experiences during the winter holidays? Look no further than to the volcanic island of Lanzarote. This dry and sub-tropical Canary Island in Spain has the perfect weather during Christmas, with temperatures in the 60's and 70's.
For anyone in North America, Lanzarote is a little tricky to get to, as there are no direct flights to the island. Connections can be made in various European cities including London, Edinburgh, Paris and Madrid, to name a few. Direct flights from Madrid are frequent to Lanzarote Airport and take around 2.5 hours.
Timanfaya National Park and Caldera Blanca are 2 great places to explore to immerse yourself into the volcanic region. These areas offer unique experiences to walk through black lava rocks, hike to massive 1km wide craters and feel the heat literally at your feet.
If you're wanting to get into the holiday spirit, Lanzarote puts on quite a show with their nativity scenes throughout the island. The Nativity Scene of Yaiza is a particular popular one to visit around Christmas.
Many Europeans flock to Lanzarote over the holidays to enjoy the sun, so book well in advance for accommodations and tours. Unlike the neighboring Canary Islands, Lanzarote doesn't offer as much selection when it comes to large resorts as there are only 3 on the entire island.
Opting for a vacation rental or guest houses will allow you the freedom to explore the far reaches of the island. Ecofinca La Buganvilla is an eco friendly guest house that is in San Bartolomé. It offers a pool, BBQ and kitchenette.
You'll love spending a tropical Christmas in Lanzarote. It might just be the perfect spot you're looking for this holiday season.
Recommended by Deirdre of Build and Board Travel
28. Punta Cana, Dominican Republic (one of the most tropical Christmas vacations)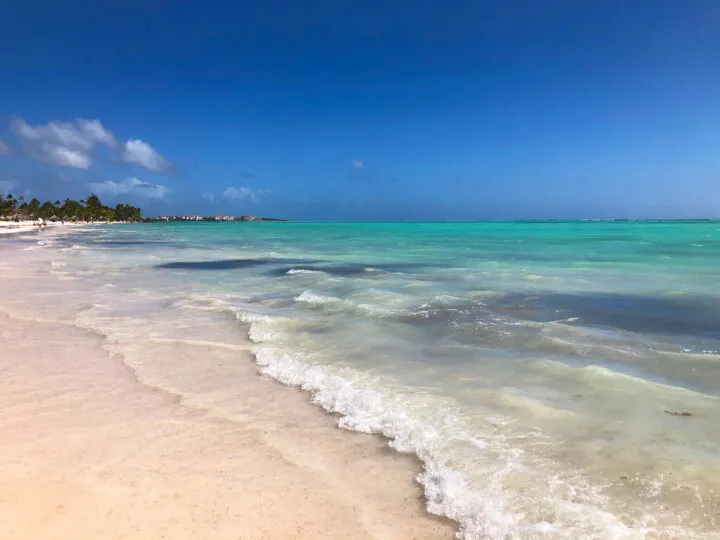 Average temp: high 85, low 71
Fly into: Punta Cana International Airport, Punta Cana
Punta Cana, located in the Dominican Republic, is a beautiful sea-side area to relax during your Christmas vacation. It just so happens to be one of the best times to visit Punta Cana, as the rainy season has passed and you are likely to have incredible weather for your Christmas getaway.
While there are many beaches and areas to stay within Punta Cana, staying in the Cap Cana area is the best option. It has beautiful beach access and a multitude of stunning resorts which are all exceedingly safe.
Fly into the Punta Cana International Airport and hop in taxi. It's only about a 15 minute ride to paradise at the Hyatt Ziva Cap Cana and Hyatt Zilara Cap Cana.
Punta Cana is incredibly festive and it's one of the best Christmas vacation ideas on this list!
Resorts go all out with their decorations, and you'll find Christmas trees in lobbies, palm trees decorated with lights, special shows and parades are put on, and most resorts even have a Christmas dinner gala. There's also a pretty good chance you'll see Santa by the pool or the beach!
Just keep in mind that all day tours are cancelled on Christmas Day.
Recommended by Taylor of Traverse With Taylor
29. Cairns, Queensland, Australia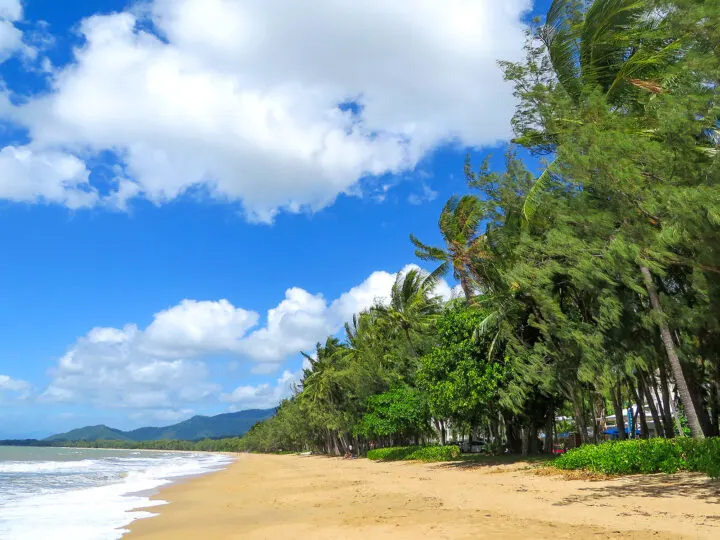 Average temp: high 88, low 74
Fly into: Cairns Airport, Cairns City
Christmas in Cairns is a truly unique experience. Situated in the far north of Australia, Cairns enjoys warm weather and beautiful tropical beaches at Christmas time.
On Christmas Day, head to the beach! With its white sand and clear blue water, with sandmen wearing Christmas hats instead of snowmen. Cairns is the perfect place to relax and soak up the festive spirit.
If you're feeling more adventurous during your stay, there are plenty of things to do in Cairns, why not try some of the many water sports on offer? Christmas is also a great time to explore the Great Barrier Reef – one of the 7 wonders of the natural world.
You can take a boat trip out to the reef, or even go snorkelling or diving to get up close and personal with the colourful fish and coral.
And when Christmas dinner rolls around, you'll be spoiled for choice with the amazing selection of seafood on offer in Cairns or a good old Aussie Barbecue!
Walk along the esplanade at night time to see the palm trees filled with Christmas lights, or take the Kuranda Railway to Kuranda village to see a truly magical Christmas display. There's nothing like a warm night singing to carols by candlelight in Fogarty Park.
The Shangri-la is a beautiful place to stay as it's located right on the Cairns Marina, where you can watch the sunset on a warm summers night from your balcony on Christmas Eve and wait for Santa to arrive in the morning.
Recommended by Fiona of Travelling Thirties
30. Cabo San Lucas, Mexico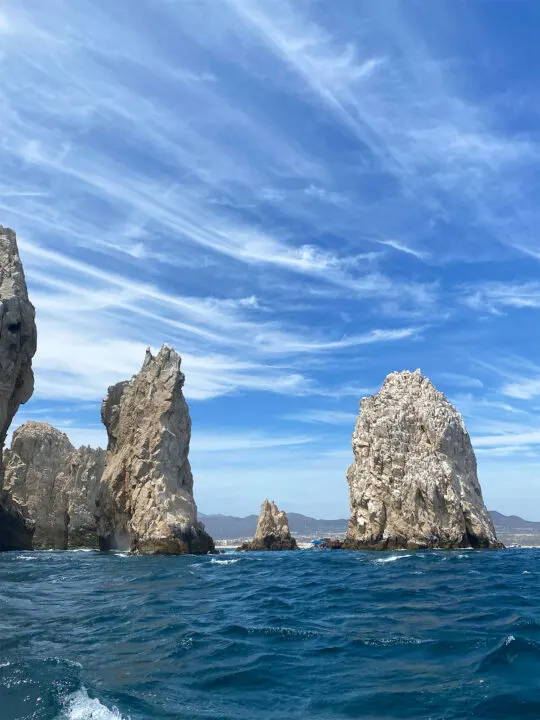 Average temp: high 81, low 62
Fly into: San Jose Del Cabo International Airport, Baja California Sur
Located in Baja California, Cabo San Lucas is a popular winter getaway.
Christmas is a perfect time to visit this popular resort town thanks to perfect weather and many opportunities for outdoor like surfing, hiking and diving.
Whether you want to watch the spectacular sunset from the boat, visit the famous Arch of Cabo San Lucas or go on a zip line tour, there are plenty of things to do in Cabo San Lucas to keep you busy during your Christmas vacation.
Cabo San Lucas is also a popular destination for foodies. Visitors enjoy many food tours that offer a glimpse into the Baja California cuisine and good party scene with many bars, restaurants and night clubs where you can party away like the Squid Roe or Cabo Wabo.
Cabo San Lucas is also a getaway to the best surfing spots in Mexico, with winter bringing some of the best conditions. Many travelers spend a few days in Cabo San Lucas before heading to other destinations in Baja California to catch the wave.
The city boasts a year-round sunny climate with dry and warm weather, which is perfect for spending time outside. Cabo's temperatures in December hover between high 70's and low-80's, which makes it a perfect spot to escape snow and grey skies and have a nice, sunny getaway.
Most travelers come to Cabo San Lucas via San Jose Del Cabo International Airport located about 35 minutes away. The airport has flights from many major airports within the United States.
Recommended by Daria of Explore Baja California
Tropical Christmas vacation ideas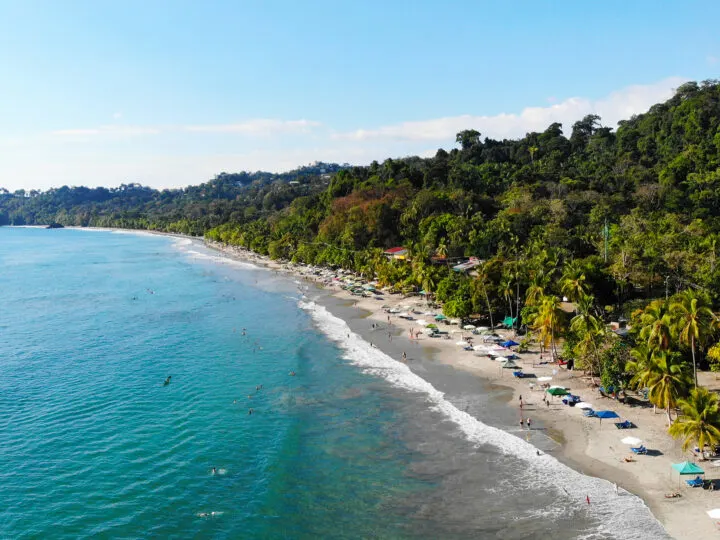 Whew what a list! Those are the very best places to spend Christmas that are actually warm and amazing. Whether you're looking for a relaxed vacation or one full of adventure, there are so many incredible Christmas vacations for families, couples, friends or solo travelers.
Let's go through that list again, in a much more condensed list…
Best places to spend Christmas
Fiji
Moorea, French Polynesia
Big Island, Hawaii
Turks and Caicos
Krabi, Thailand
San Juan, Puerto Rico
Bali, Indonesia
Sao Tome and Principe
St. Croix, USVI
Playa Del Carmen, Mexico
Boracay Island, Philippines
Viñales, Cuba
Key West, Florida
Antigua
Koh Phangan, Thailand
Kerala, India
Puerto Escondido, Mexico
Costa Rica
Okinawa, Japan
Maui, Hawaii
Belize
New Zealand
Antigua, Guatemala
Sayulita, Mexico
Mauritius, Africa
Rio de Janeiro, Brazil
Lanzarote, Canary Islands, Spain
Punta Cana, Dominican Republic
Cairns, Queensland, Australia
Cabo San Lucas, Mexico
Related content you might like:
30 Incredible Warm Winter Vacations USA (Say Goodbye to the Cold)
Amazing Food, Culture and Beaches in Puerto Rico
21 Best Beaches in Florida for Families You'll Absolutely Love
Sunsets, Sea Turtles and Hiking in the Hawaiian Islands
Best of the Caribbean: Aruba, Belize, Turks and Caicos (Plus More)
Find this post helpful? Save it for later or share it on social media!