While Bangalore (Bengaluru) is perhaps most well-known as a tech hub in India, it truly has so much more to offer! Bangalore is famous for it's gardens, religious sites, nightlife, shopping and architecture. If you're traveling to Bangalore for the first time, you'll have a lot of options to explore!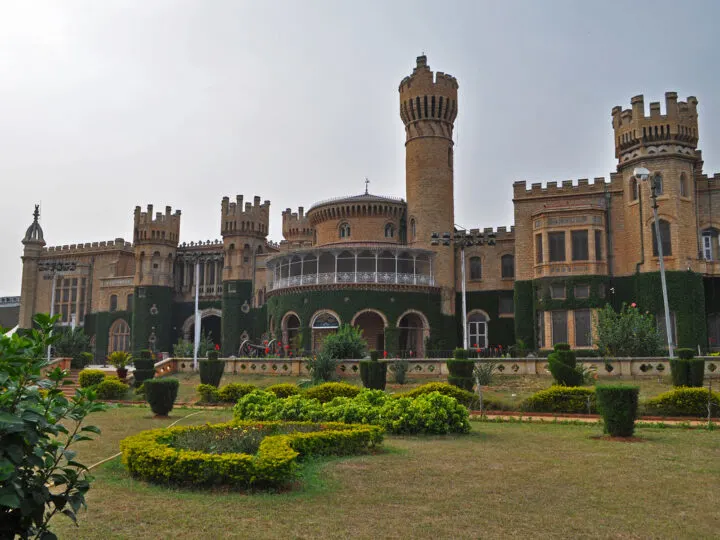 This post may contain affiliate links. For more info, see my disclosures.
The capital of Karnataka, Bangalore is in the southern part of India. The city and outskirts have over 8 million residents so it's full of energy and life! Whether you're traveling to Bangalore on business or just to get a taste of the culture in southern India, here's a guide to help you explore all the best things that Bangalore is famous for.
What to do in Bangalore
Explore Bangalore's famous Lalbagh Botanical Garden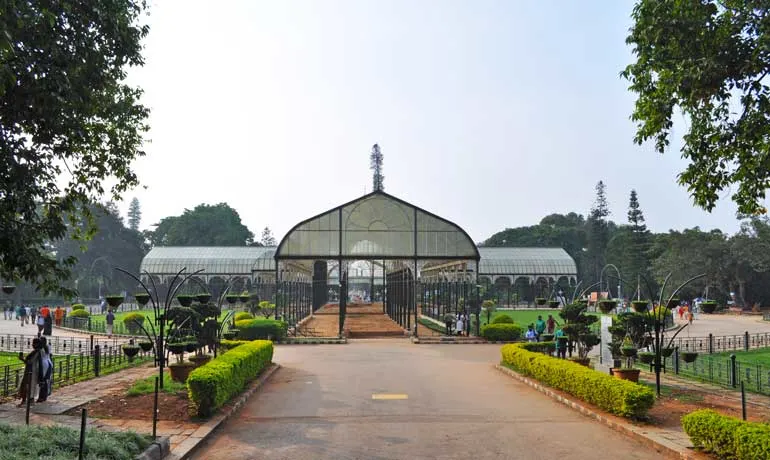 With trees larger than office buildings and more green space than you can imagine in a large city, first time visitors to Bangalore absolutely must explore the Lalbagh Botanical Garden.
Let me be honest with you for a second. During my first visit to Bangalore, I honestly wasn't thrilled with the idea of checking out a garden. But I'm so glad I went! Trust me, you will regret not making this stop. I was impressed with it's natural beauty and the unique man-made structures. It was one of the top places to visit in Bangalore for sure.
Main attractions at Lalbagh Botanical Garden:
130-year old glass house which displays various flower shows throughout the year.
Tree fossil that's 20 million years old. Repeat: 20 million!
Solar operated, seven meter dial clock, which is accommodated by giant figurines of Snow White and the Seven Dwarfs.
Multiple water fountains, 250+ year-old trees, and so much more.
Pro tip: bring good walking shoes but not your bottled water. The gardens are a plastic-free environment so security will make you leave your water bottle behind.
And if you're looking for another green space to visit during your first time in Bangalore, the Cubbon Park Bangalore is another great spot!
Tour the Bangalore Palace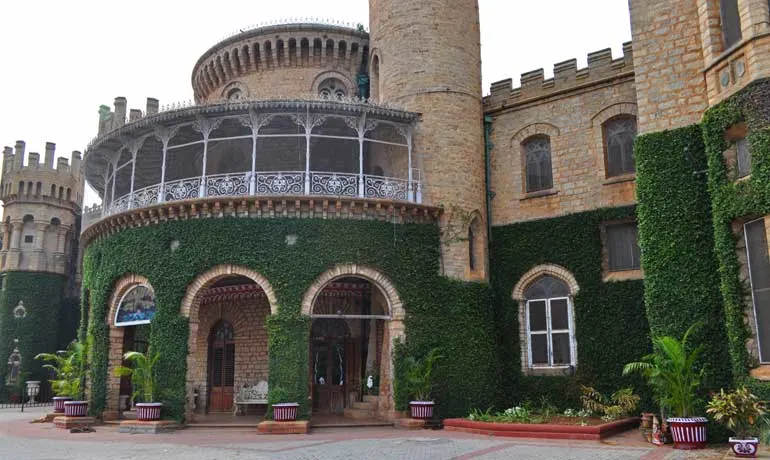 The Bangalore palace is full of rich history and never-ending charm. It's greenery is Instagram-worthy and the palace gardens are absolutely beautiful. Get caught up in the rich history and artwork as you explore the palace.
From the gorgeous architecture to the open atriums, it's easy to spend an afternoon admiring the Bangalore palace. When the palace was built, you could tell that every detail was considered. The craftsmanship is magnificent with even the ceilings decorated.
You can walk through the palace at your own pace or take an audio tour. The tour dives into the rich history of the palace. It's a nice way to ensure you're soaking in all the Bangalore palace has to offer.
Pro tip: visit on a weekday to avoid the crowds. I went on a Wednesday afternoon and felt like I had the place to myself!
Related reads:
101 Travel bucket list ideas (how to create your own list)
Best budget travel tips (so good you'll want to try them now)
Visit a Religious Site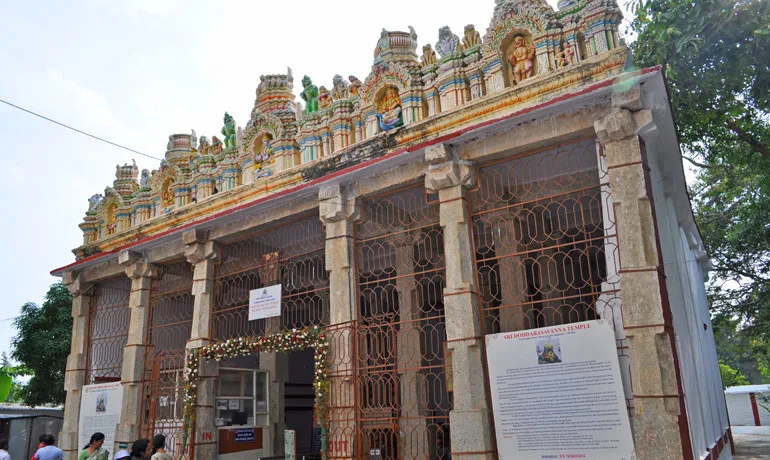 India is a melting pot of religions. Bangalore is known for it's 1000+ temples and various religious sites. Visitors come to find peace, inspiration and to connect spiritually. The energy within the temples and religious sites is simply incredible! Bonus: I also loved the unique architecture.
Here are a few religious sites to experience the first time you visit Bangalore:
ISKON Hindu Temple
Saint Mark's Cathedral
Big Bull Temple/Sri Doddabasavanna Temple (pictured above)
Jamia Masjid
Saint Mary's Basilica
Art of Living International Center
Hanuman Temple
Pro tip: Carry socks with you as you'll need to remove your shoes in many of the religious sites. So to keep your feet clean if you are wearing sandals, toss an extra pair of socks in your bag or purse on your way out the door.
Pro tip #2: don't expect to take photos inside. Photos outside the religious sites are typically okay, but inside it's disrespectful. Put your cell phone or camera away once inside.
Shopping in Bangalore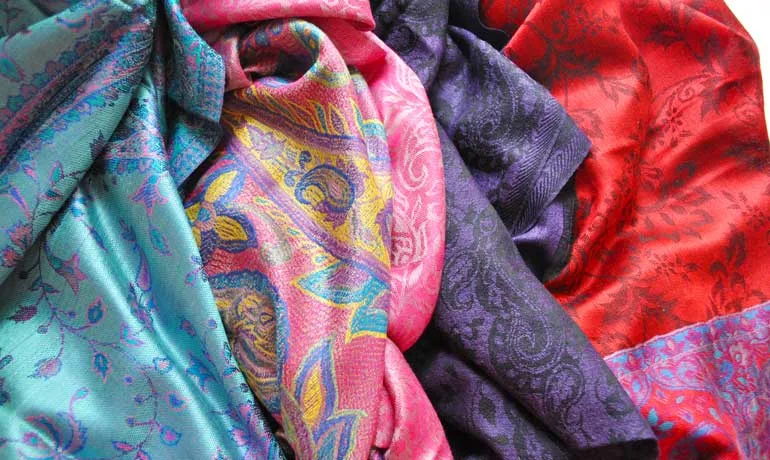 If you're looking to bring home the best souvenir in Bangalore, then carve out some time to go shopping for Indian silks. I think it's sometimes challenging to find natural fabrics in the U.S. Well in India that's not the case! Bangalore is famous for their silk sarees, scarves and other fabrics.
True silk isn't necessarily cheap in India, but it's not nearly as pricey as the U.S. either. But seriously, talk about soft on your skin. And you can find cashmere and silk in thousands of patterns so you're sure to find some you love!
Best shopping places in Bangalore
Name brands or not, the Bangalore shopping scene leaves nothing to be desired. Here are the top shopping places in Bangalore:
Commercial Street (see more below)
Brigade Road (name brand and market combo)
UB City (luxury shopping)
Garuda Mall (huge shopping center)
More about Commercial Street: Don't let the name fool you! Commercial street is more than a single street. It's a large shopping center in Bangalore and has everything and anything you can think of! From spices to jewelry, hand-made trinkets to luxurious fabrics. Experience all that the marketplace has to offer.
Pro tip: Haggle your price at markets and walk away with rare and genuine items you can't buy anywhere else.
Anxious to see more of the area? Check out these 10 weekend getaways near Bangalore.
Head over to a Bangalore famous landmark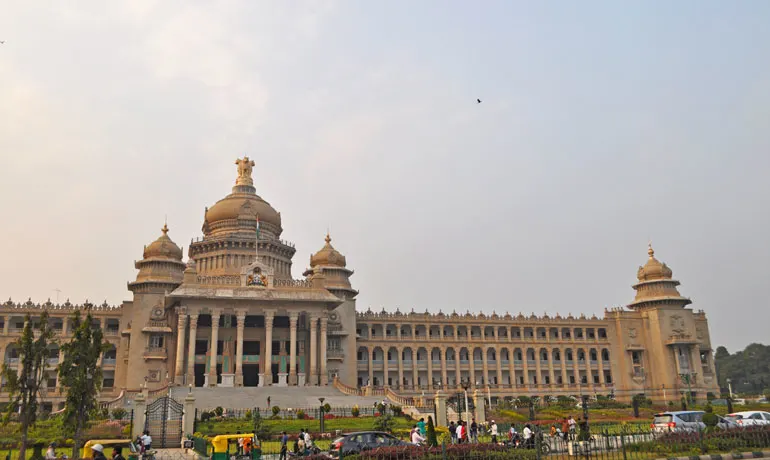 Another famous landmark in Bangalore is the Vidhana Soudha, which is the largest state legislative building in India. Check out this iconic landmark and admire it's grand architecture. Across the street you're in for a treat as you'll notice the bold red building. It's the High Court of Karnataka.
Vidhana Soudha and the High Court of Karnataka are located in Cubbon Park which is a popular green space in Bangalore.
Pro tip: grab your walking shoes and spend a morning visiting the buildings and walking around the park.
Related reads:
Is travel insurance worth it?
10 tips for long flights
Bangalore is famous for it's amazing food, too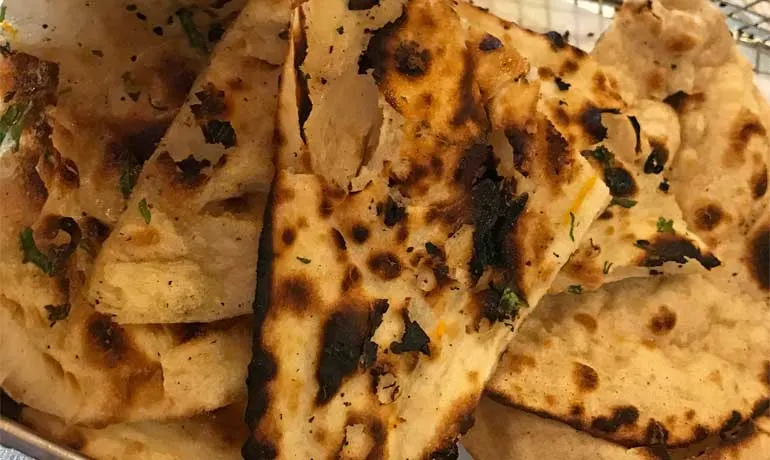 Living in the Midwest in the U.S., I can truthfully say I'd never had authentic (read: excellent) Indian food before traveling to India. But wow the food in Bangalore is intensely flavorful and uniquely delicious!
Compared to the U.S., I found many of the dishes there were some type of bread, sauce and either a meat or meat alternative. I didn't run across as many fruits and vegetables as traditional side dishes as in the U.S.
Here's a list of foods Bangalore is known for that you must try:
Naan. I mean, of course! The naan in Bangalore begs to be eaten. It's fresh, flaky and melt-in-your-mouth perfect.
Dosa. A type of crepe, it's delicious in literally any flavor combination I met.
Mangalore Bun. Like banana bread but lighter and fried like a doughnut. Yum!
Obbattu. A sweet flatbread, it's almost like a super thin pancake but sweeter.
Chaat and pani puri. Chaats are combination foods, usually savory mixes of potato, chickpeas, or other veggies and spices. Pair it with with pani puri, which is like a fried hollow crisp that basically makes a boat for the chaat. Delicious!
Ice cream. This one surprised me, but it tasted like no U.S. ice cream I've ever had. The flavors were incredibly fresh and intense. It's almost like there's a little old lady in every kitchen who's job is solely to create the best ice cream in the world.
Mouth watering yet? Thought so.
What else is Bangalore famous for?
More experiences you must have as a first-timer in Bangalore…
Ride in a Tuk tuk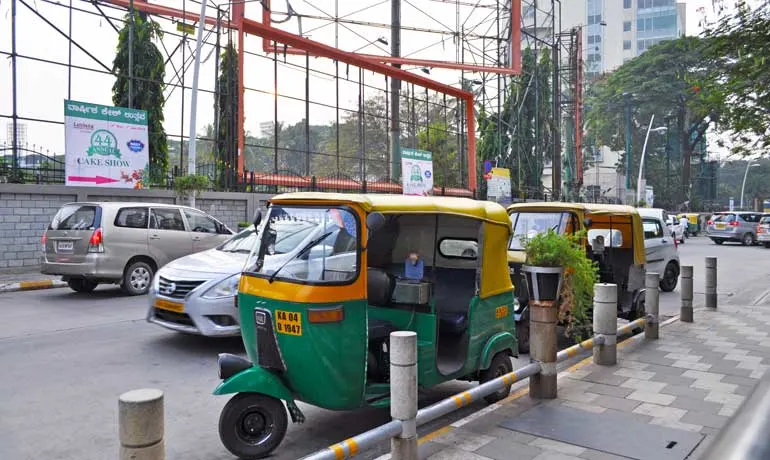 The traffic in southern India is crazy. Like super crazy. Get the authentic Bangalore experience by riding in a tuk tuk from place to place. They're a cheap mode of transportation and it's easy to catch a ride in a tuk tuk almost anywhere in the city.
Also read about another exciting city: what's famous in New York, USA!
The people and culture in Bangalore
Bangalore is also known for it's people. I met some of the nicest people on the planet in Bangalore, I'm just sure of it. They're kind, thoughtful and genuinely helpful. The kind of people that open their home to you only after you've just met. So be sure to make a friend, or two on your first trip to Bangalore.
Speaking of culture, make sure you check out the 10 things about the culture in India that nobody tells you.
Bonus travel experience: take a weekend trip to Mysore from Bangalore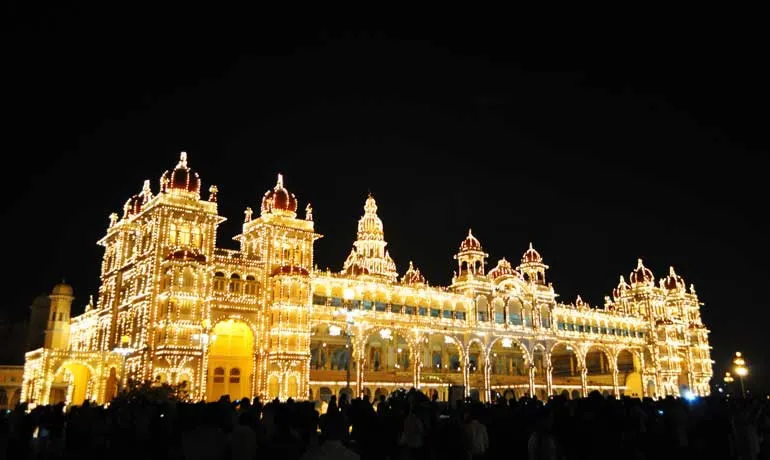 If you're planning a trip to Bangalore, make sure you add a couple extra days to head out to Mysore. It's a note-worthy add on, trust me.
Mysore is another large city just a few hours from Bangalore and is perfect for an overnight trip. It's most famous for the Mysore palace, which is stunning! If you make the trip, be sure to take a tour during the day and go back at dusk. The palace is lit up with over 100,000 light bulbs during a nightly lighting ceremony. Also be sure to check out Sri Chamundeshwari Devi Temple, and the view of the palace from the hilltop. There are so many places to visit near Bangalore, the options truly seem endless!
While the northern part of India might be on your travel bucket list for the famous Taj Mahal, the southern part of India, specifically Bangalore, is an incredible city to explore! Enjoy Bangalore's beautiful palaces, luscious green space, inspiring temples, incredible food and so much more.
So, what do you think? What would you do first when traveling to Bangalore? Put a comment in the box below with the details! 🙂