Omaha is a simple Midwestern city with a mix of green space and trendy neighborhoods. Where small town means big business and the people are kind and generous. The city and it's suburbs are filled with places to take pictures. Here's a list of the most Instagrammable spots in Omaha.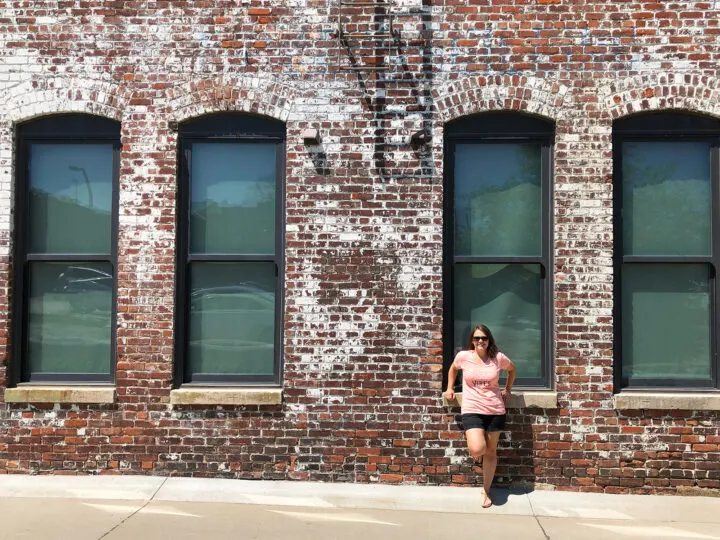 This post may contain affiliate links. For more info, see my disclosures.
Below you'll find…
Best areas of Omaha for Instagram shots
Insta-worthy restaurants
Outdoor places to take pictures in Omaha
Best family photo spots in Omaha NE
Plus each one of these locations address for Google maps!
Alright so where are the best Instagrammable spots in Omaha? Let's get started.
Best Instagram spots in Omaha: Blackstone District
First up is the Blackstone District in Omaha. It's been redeveloped with trendy vibes, a bunch of painted brick and to-die-for eats. You could probably find 50 spots to take Instagram-worthy pics here, but I'll show just a few.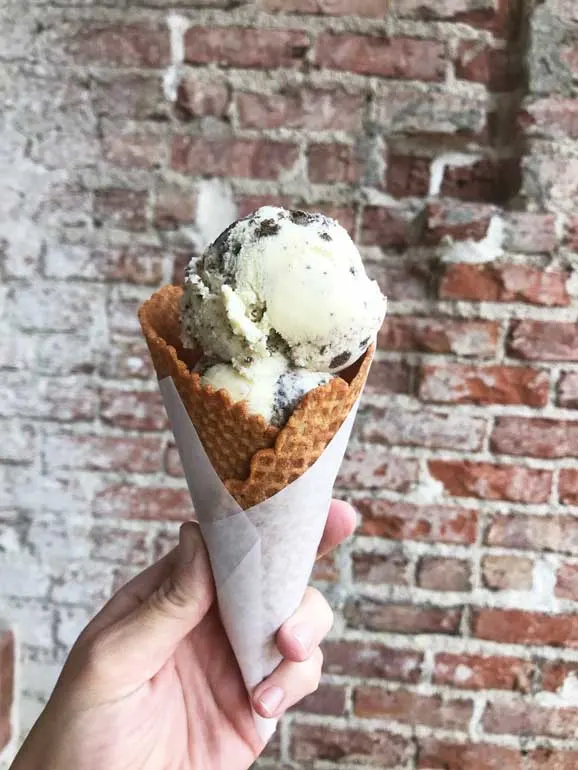 Why not start with ice cream? Recognized nationally for artisan, farm-to-cone ice cream, if you're making a trip to Omaha annnnd have a love for all things sweet, you need to make a stop into Coneflower Creamery. Your palate will thank you.
Location: 3921 Farnam Street, Omaha, NE 68131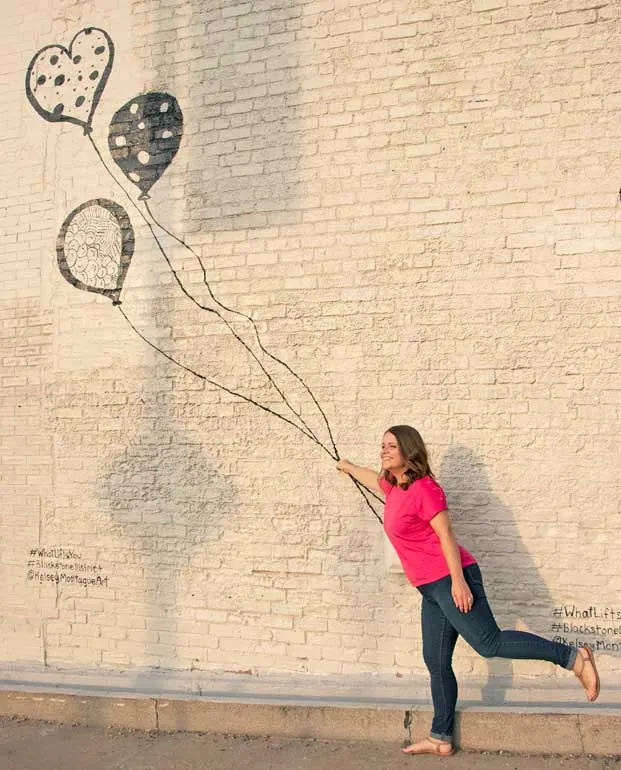 Okay so maybe the most globally recognized street art and the most Instagrammable spot in Omaha is the Kelsey Montague art in Omaha in Blackstone District. In true Kelsey Montague style, there's 3 art pieces so grab your dog or kids and head over to the mural. You'll want to post this one to Instagram.
Location: 4013 Farnam St, Omaha, NE 68131 (wall on west side of bouquet)
Good places to take pictures in Omaha: Downtown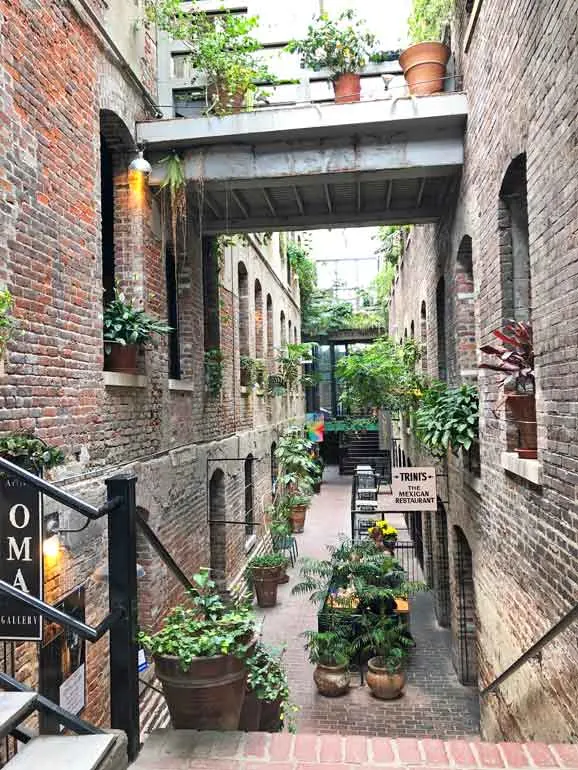 While almost anywhere in the Old Market is Insta-worthy material, here's one of the absolute best places to take photos in Omaha. The Old Market Passageway is an old alley turned into a shopping and dining spot. Also perfect for photos! In fact, it's such a popular place there's rules around taking photos in the passageway, including cell phones only.
Location: 1020 Howard St, Omaha, NE 68102 (there's no actual address to the passageway so this is the address to Trini's, but google maps should take you directly to the Old Market Passageway)
Related reads:
Best travel TED Talks that will inspire wanderlust
101 travel bucket list ideas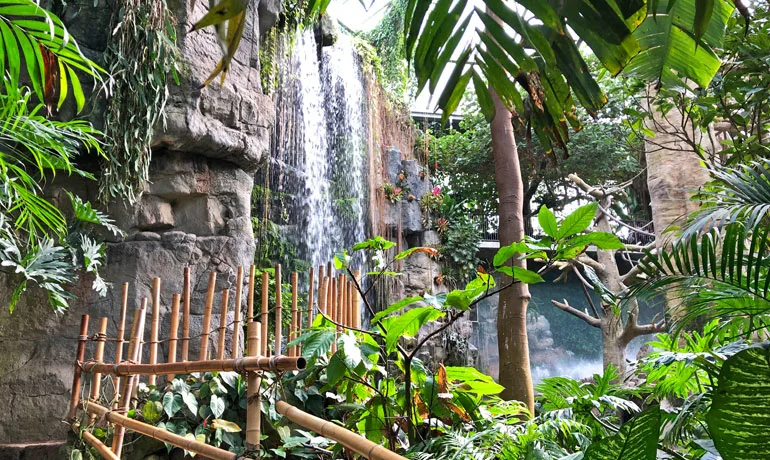 Nebraska's #1 tourist attraction had to be included in this list, right? A trip to the Henry Doorly Zoo and Aquarium will give you a day packed full of spots for family photos or the most Instagrammable pics.
One of the best places in the zoo for photos is the Lied Jungle. It's the largest indoor rainforest and has plenty of spots for a posed or natural shot, including a swinging rope bridge and several waterfalls.
Tip: get there right when the zoo opens, or late in the day around 4pm to avoid the crowds.
Location: 3701 S 10th Street, Omaha NE 68107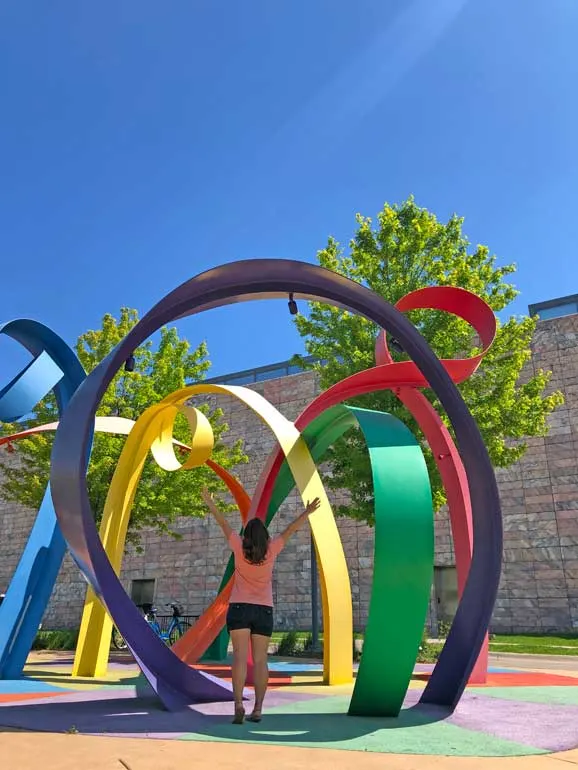 The Joslyn Art Museum Sculpture Garden is a fun spot to enjoy art outdoors in Omaha. Part of the sculpture garden is colorful and playful, and some of it's more interesting and artistic. Walk around and find yourself surrounded by art, and definitely grab an Instagram shot or two.
Location: 2200 Dodge St, Omaha, NE 68102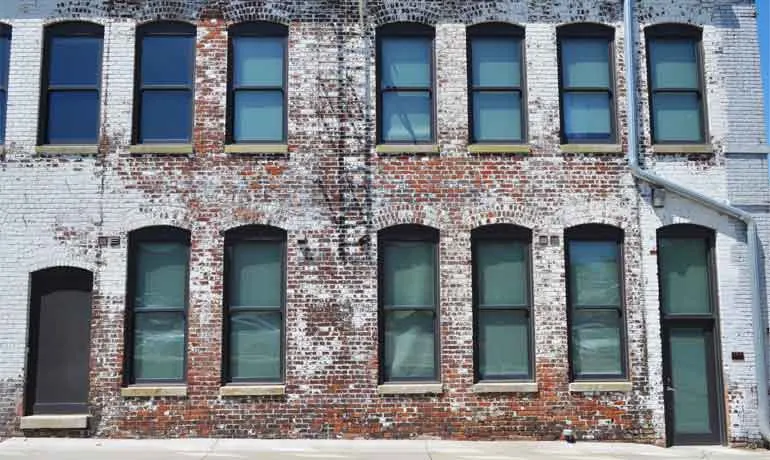 Find a random brick wall in Omaha and get creative! Some of the best Instagrammable spots in Omaha are the ones you stumble upon on accident! You'll find the most traditional architecture and fun brick wall in downtown Omaha, including the Old Market.
Location: 2401 Farnam St, Omaha, Ne 68131 (wall on south side of The Grove Juicery)
The most Insta-worthy restaurants in Omaha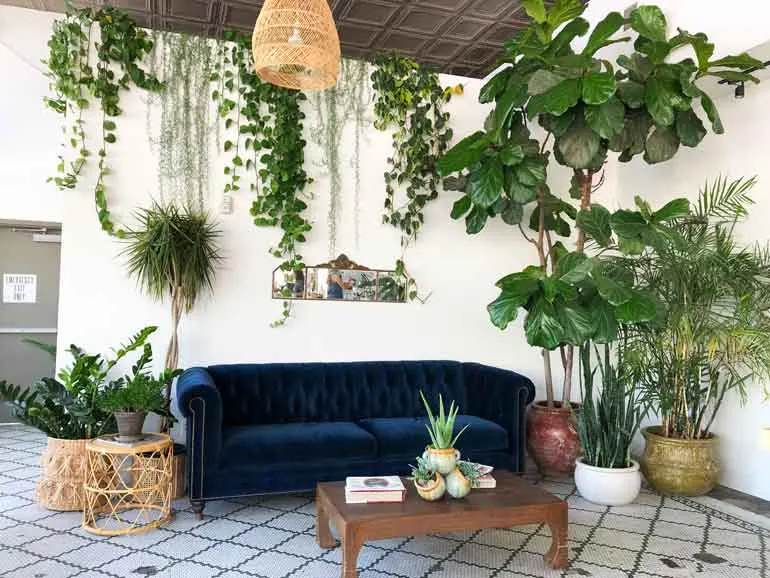 Speaking of, the Grove Juicery and Wellness Cafe in downtown Omaha offers Instagram worthy floor, ceiling and everything in between. With juice flavors like sunrise, blue jay and tango, you can craft your Instagram caption around your drink. Or grab an acai bowl or smoothie and hit their couch for some perfect pics!
Location: 2401 Farnam St, Omaha, NE 68131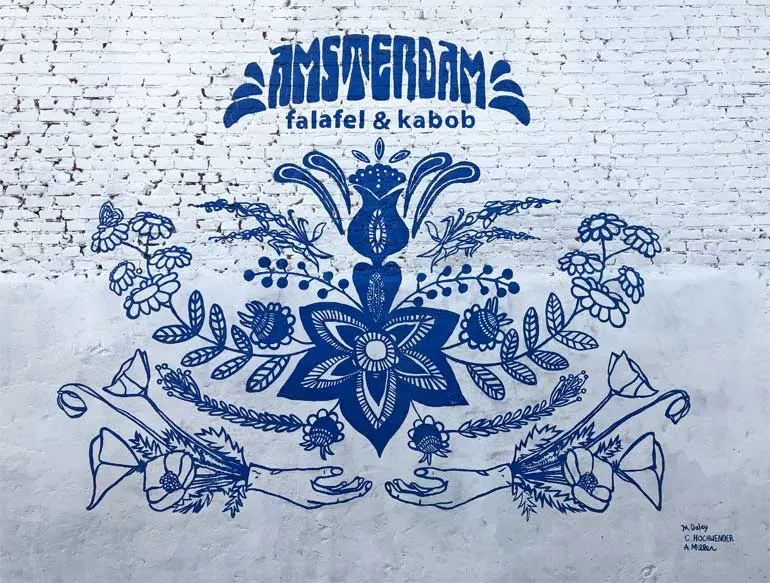 Tucked in the heart of the Dundee area in Omaha, Amsterdam Falafel & Kabob is a cozy restaurant that packs a punch. Grab a photo by the mural around the side of the building or even with the artwork (and food!) inside. Oh, and they're open super late on the weekends for your late night Instagramming.
Location: 620 N 50th St, Omaha, NE 68132
You might also like: 28 Underrated Destinations in the US You Need to See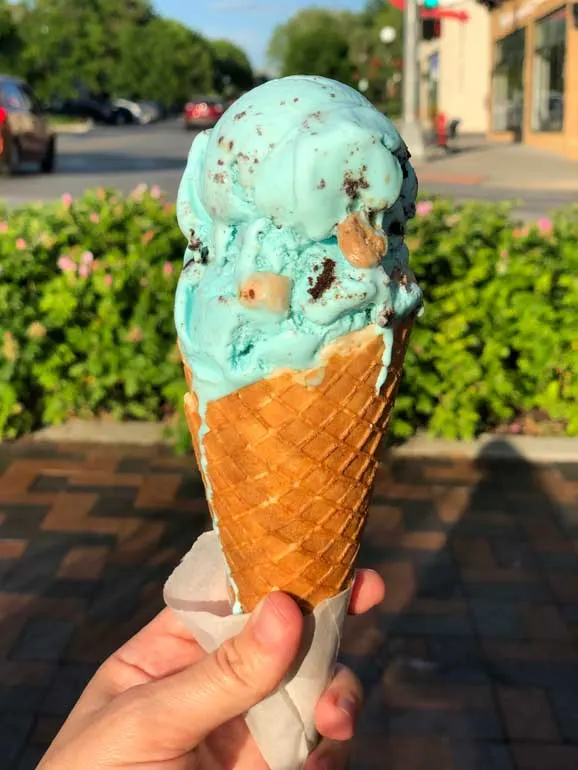 Ice cream again? You got it. (This is coming from the gal who once planned an entire vacation around ice cream. #truestory) So be sure to stop by eCreamery in Dundee for fresh ice cream, gelato and sorbet. With flavors like cookie monster (pictured above), blackberry sorbet or vegan spiced rum, place your order and upload to Instagram faster than you can snap your sticky fingers.
Location: 5001 Underwood Ave, Omaha, NE 68132
More Instagram worthy places in Omaha:
With so much green space in and around Omaha there's no wonder that so many of the most Instagrammable spots in Omaha are outdoor. Here's more…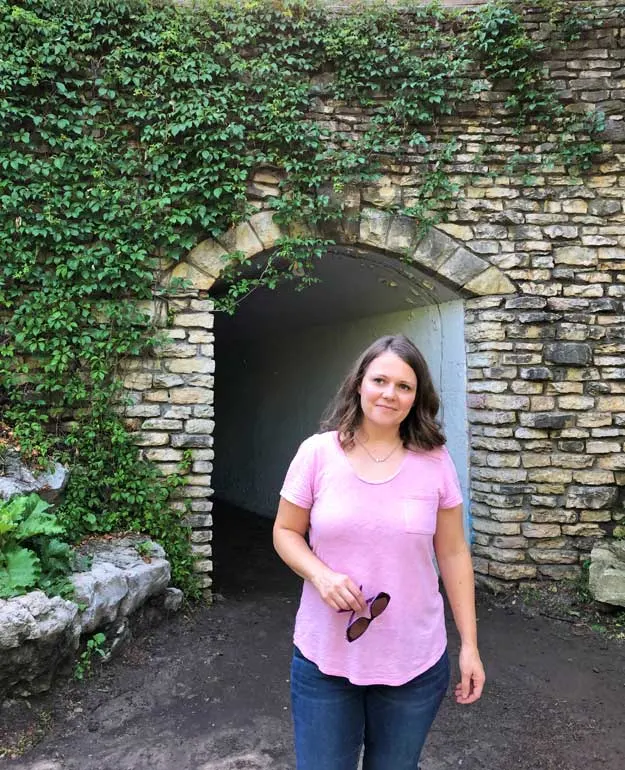 Grab your family or your girlfriends and head on down to Elmwood Park Grotto for one of my favorite instagrammable spots in Omaha! The best time to go is late spring or summer to catch all the greenery.
Location: 802 S 60th St, Omaha, NE 68106 (find the staircase down to the grotto south and east of the parking lot at the park pavilion)
Related reads:
Why taking vacations makes you happier
10 tips for your best vacation ever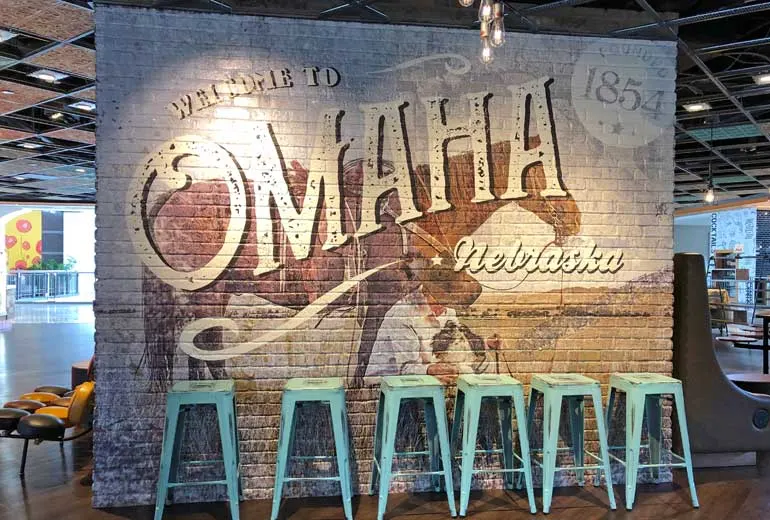 If the weather is bad (it is Nebraska) head on over to Westroads mall to grab a shot in front of this simple mural. I'm not sure the cowboy represents Omaha these days, but probably when the city was founded in the 1850's. While you're here, grab some incredible food at Flagship Commons. It's an uncommon food court and is incredibly delicious. Seriously.
Location: 10000 California St, Omaha, NE 68114 (enter through the northwest side of the mall at Flagship Commons; the mural is across the hallway)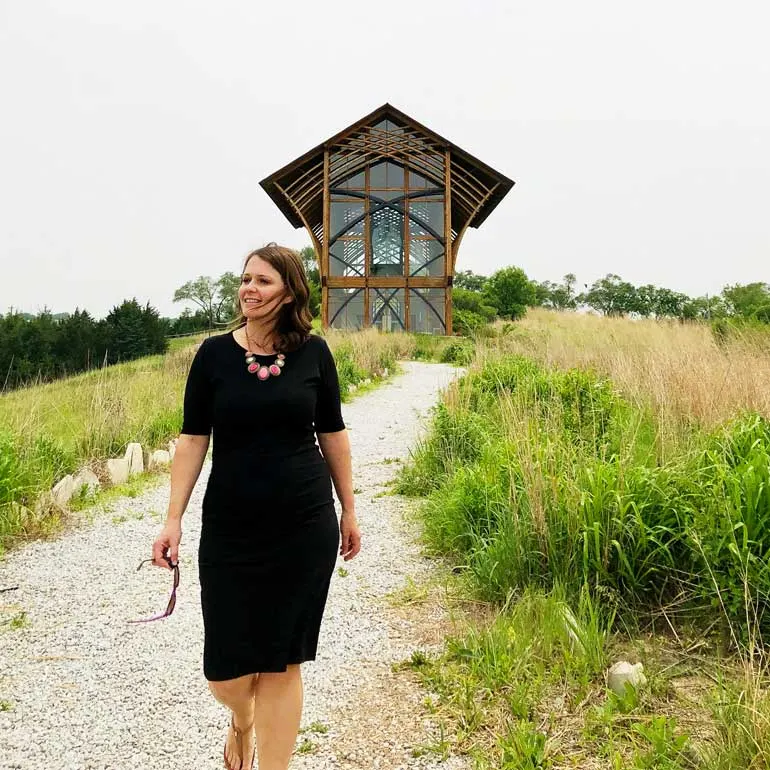 This photo op is outside of Omaha about 30 minutes, but close enough to include in this list! Made mostly of glass and absolutely incredible architecture, it's a marvel to look at. Check out more Instagram pics here. This church is near the suburb of Gretna, in what feels like the middle of nowhere. Insta-perfect.
Tip: the church is open for visitors most days so make sure the Holy Family Shrine is open when you go. There's no trespassing after hours!
Location: 23132 Pflug Road, Gretna NE 68028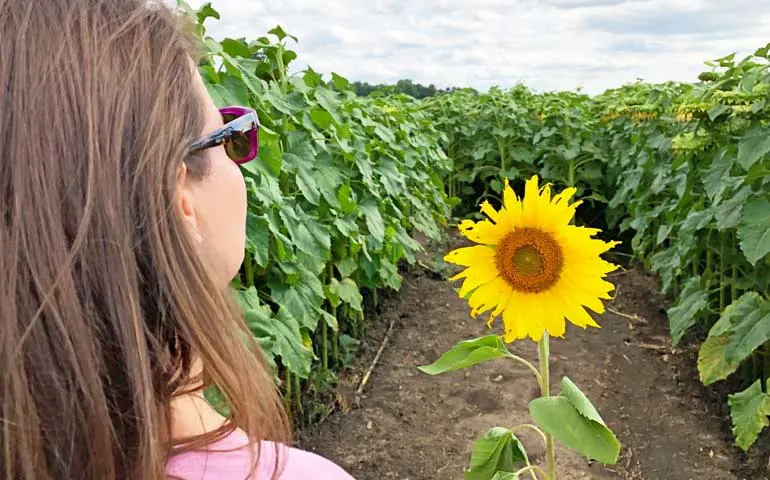 A fun and unique outdoor adventure perfect for taking photos is Nelson Produce Farm right on the northwest edge of Omaha. Recently open to the public, it's full of fun activities for kids or a place to wonder around looking for the perfect shot.
Cutest picturesque spots include a sunflower maze and strawberry fields. The best time to visit is in August, during peak sunflower season.
Location: 10505 N 234th St, Valley, NE 68064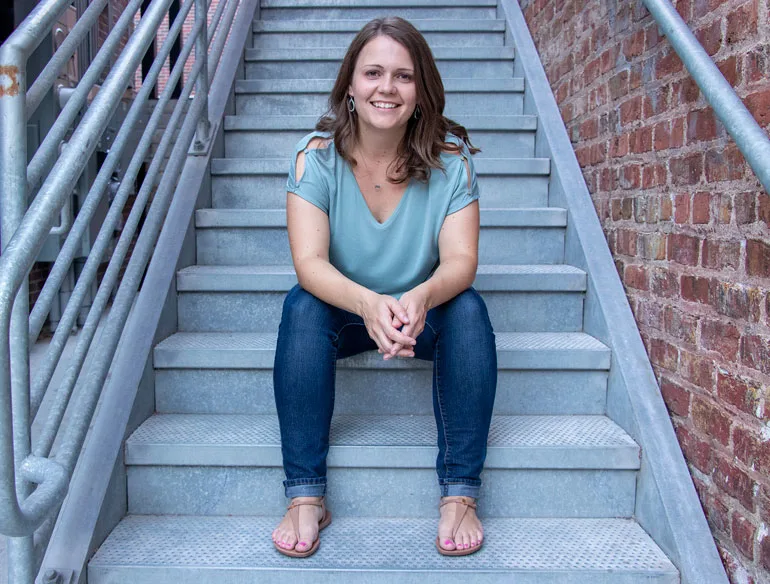 Okay, so this one miiiight be best for senior photos in Omaha, but I had to include it. The Blackstone District is full of unique brick walls and spots to grab a seat and take a few pics. Spend a bit of time walking around and you'll find plenty of photo opportunities.
Location: 3824 Farnam St, Omaha, NE 68131 (just east of Early Bird Brunch)
Where to take family pictures Omaha NE
So if you haven't found the perfect location in any of the photo spots above, you'll want to head to one of the following locations for a little extra space and inspiration.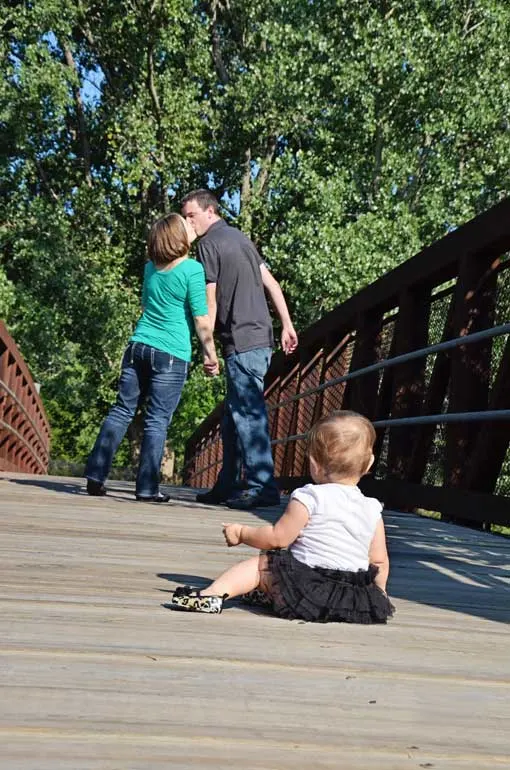 A bridge plus green space equals a great spot for family photos, right? Well at Chalco Hills Recreation Area surrounding Wehrspann Lake, you'll find just the right spot for your family photos. Lake photos, bridge photos or green fields, you're bound to find your perfect spot. Share with family and friends or show off your littles on Instagram!
Location: 8901 S 154th St, Omaha, NE 68138
You might also like:
Best budget travel tips
45 signs you need a vacation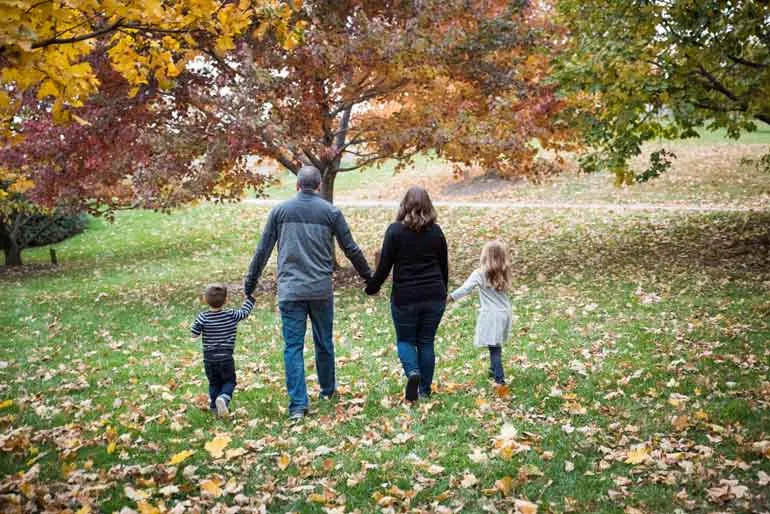 Now for my favorite place to take family pictures in Omaha…OPPD Arboretum! It's a beautiful outdoor space for spring, summer or fall! In fact, it's so popular while you're there grabbing your perfect family photo or Instagram shot, you'll likely see photographers grabbing photos of families or solo shots.
Location: 10600 Blondo St, Omaha, NE 68164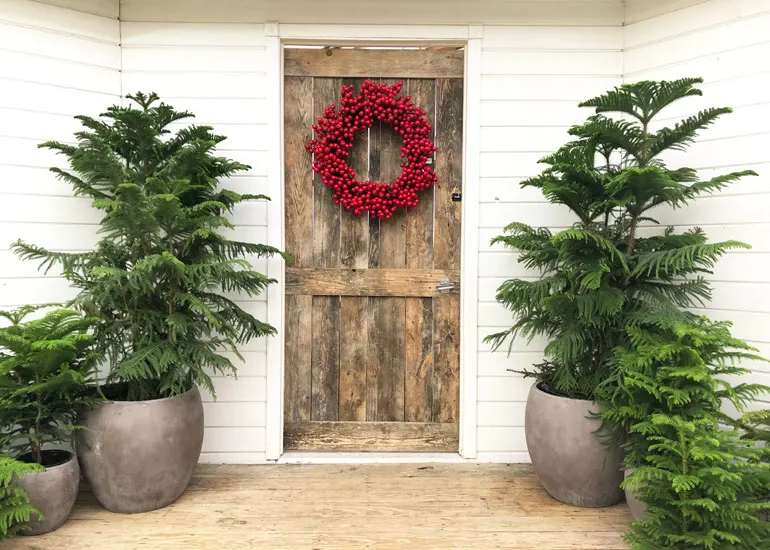 A local nursery is truly one of the most fun indoor spots in Omaha for photos. Mulhall's is so much more than a garden store, and definitely insta-worthy.
While there are great spots to grab a photo year-long at Mulhall's, the absolute best time is during the holiday season. They bring in several props and sets to take family photos. Examples include a vintage Volkswagen with a Christmas tree tied to the top, sleigh big enough for a family, and so much more.
Santa and his real-life reindeer come in during the month of December for the most picturesque photo session for your littles. Find seasonal events at Mulhall's here.
Location: 3615 N 120th St, Omaha, NE 68164
Best photography spots in Omaha – a recap
As you can see, Omaha has some incredible photo spots! So whether you're visiting from out of town, grabbing new photos for Instagram or taking photos with your kids, there's a ton to choose from!
So, which will you try first? Comment below with your 1st choice! And if you found this list helpful, save it for later. More fun stuff if you follow me on Instagram, too!
Read next:
16 Best Hikes in the Midwest (including the Loess Hills)
Best Iowa Bed & Breakfast for Rustic Charm