Laughing Bird Caye is a national park, photographer's dream, and perfect for a day of lounging on what feels like your own private island in Belize. Turquoise water, swaying palm trees and your toes in the sand…what's not to love?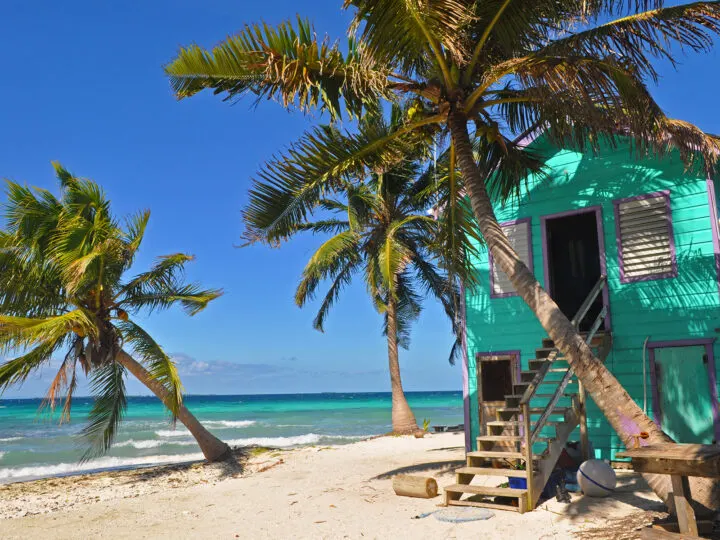 This post may contain affiliate links. For more info, see my disclosures.
This island gives alllll the beach vibes you'll need on your vacation. It's one of my most favorite memories and definitely one of the top things to do in Belize.
Prepare yourself – you're about to get to paradise for the day!
But first, you may be asking…
Where is Laughing Bird Caye?
Laughing Bird Caye is about 12 miles off the coast of Belize, southwest of Placencia. It takes about 45 minutes to an hour to drive there via boat. If you're wondering how to get to Laughing Bird Caye, you'll need to book a tour.
Here's a map to help visualize where it is. I've also put a pin in Placencia and Belize City for perspective.

Laughing Bird Caye National Park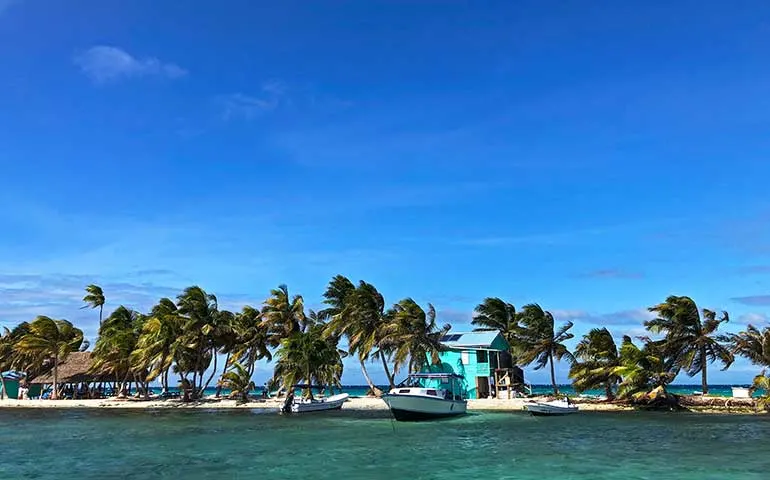 Many parts of this Central American country is full of history. And Laughing Bird Caye is no exception!
Laughing Bird Caye has been a national park since 1991. It got its name from the Laughing Gulls that used to occupy the island. They've since moved to other inhabited islands, with less human presence.
Today it's home to Brown Pelicans, Green Heron, Melodious Blackbird, lizards, turtles and many other species.
The tiny island is part of the Belize Barrier Reef Reserve System, which is a protected UNESCO World Heritage Site since 1996. The national park rangers live on this tiny 1.4 acre island to see that it stays a protected place.
Fun fact: caye is pronounced 'key' in Belize.
Preserving this island: what to do and how to help
The park has a recreational and dedicated preservation zone. The north end of the island is the bird sanctuary, so people are not allowed walk over to, dock boats or touch that end of the caye. While snorkeling, make sure to keep a safe distance from the protected area.
It's also a no-take zone, so you cannot collect sea shells, coconuts, sand or anything else from the park. If you create trash, take it with you to prevent litter from this beautiful little island.
By the way, if you want to visit an island where taking a beautiful conch shell home is encouraged, you should definitely go snorkeling in Turks and Caicos!
You'll be able to see that like other national parks, the preservation of the land and delicate ecosystem is important. Let all the creatures of this park and surrounding waters just do their thing! Don't touch the sea turtles and avoid their nests. And even those cute little crabs – leave them be.
It's easy to see the negative impacts of humans on this island. 😞 And while you may not want to think of this kind of stuff while on vacation, it's quite obvious when you get to the island. Tourists may not have littered here directly, but there's plenty of plastic and trash that has washed up on shore.
To preserve our oceans, be sure to reduce what you use, reuse what you have and recycle everything possible. It's true for vacations and back home!

Things to do at Laughing Bird Caye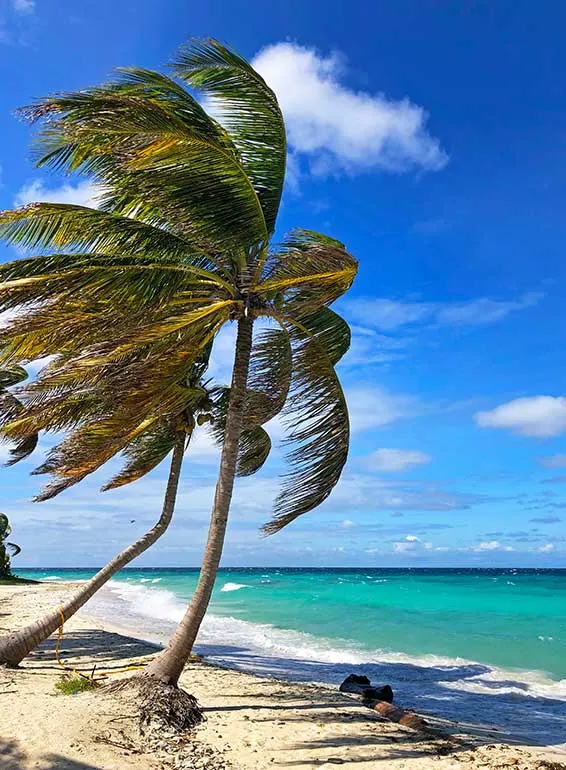 On this tiny island, this is a short list! 😆 Half of this island is devoted to wildlife, so the space is limited. Luckily, so are the people!
And unlike Glacier National Park in Montana, Arches National Park in Utah or Arikok National Park in Aruba, there's not a whole lot of hiking or opportunities to explore.
What to do at Laughing Bird Caye, Belize:
Snorkel
Relax on a beach chair
Nap in a hammock
Eat at a picnic table under a giant palapa
Watch the crabs, birds and lizards as they go about their day
Take photos of this swoon-worthy island
Alternatively, you could bring a book and read while listening to the ocean waves crash on the island. So just enjoy your low-key day on the island.
Laughing Bird Caye snorkeling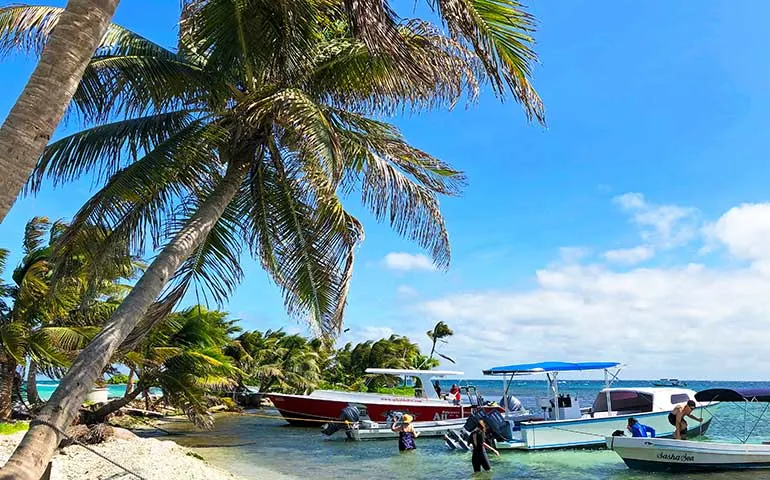 If snorkeling is your thing, you're in the right spot!
Considering that Laughing Bird Caye National Park sits on the Belize Barrier Reef Reserve System, which is the 2nd largest reef zone in the world, the snorkeling is great!
As someone who's snorkeled some of the best dives in the northern hemisphere including gorgeous Turks and Caicos and the best snorkeling spots in Kauai, I can say with certainty the snorkeling at Laughing Bird Caye is top notch!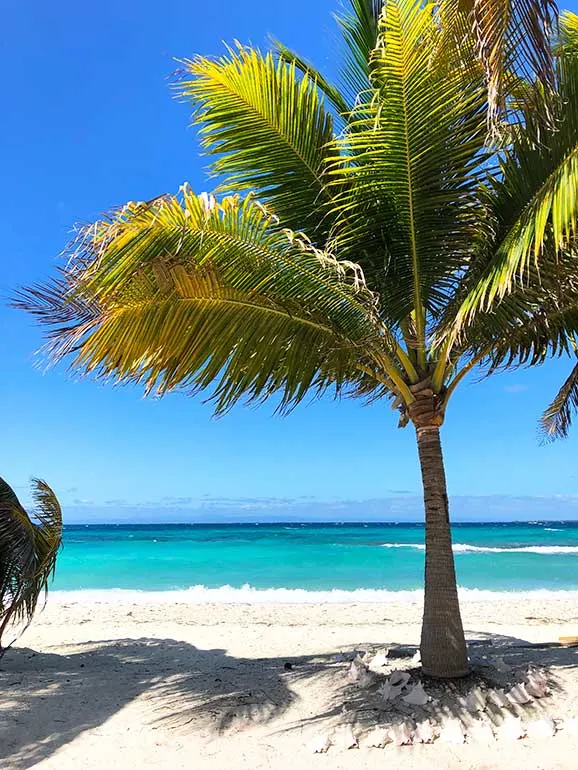 While snorkeling you could see:
Hawksbill Turtle
Lionfish
Stingrays
Nurse Sharks
Conch
Reef Squid
Lobsters
Sea Cucumbers
Barracuda
and so much more!
I'm not familiar enough with fish to name everything I saw, but I loved seeing the schools of thousands of fish swimming right next to me. So cool!
My favorite thing was the bright purple coral. The colors were very vivid in contrast to the rest of the ocean floor and it was stunning!
Snorkeling trip details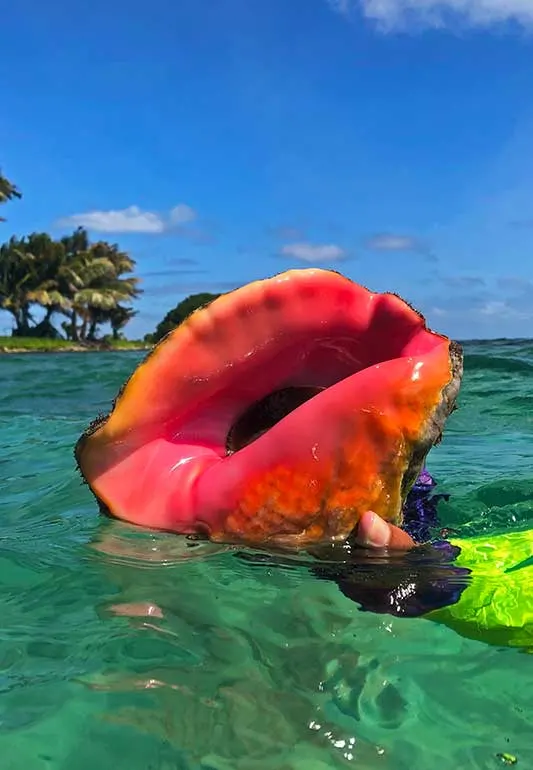 When you book a snorkeling tour for Laughing Bird Caye National Park, your guide(s) will get you to this tiny island in the Caribbean. Plus they'll have all the snorkeling gear you'll need to enjoy the water. Lunch is often included in the price.
This is a picture of a typical day on the island:
Meet the boat at the marina, or get picked up by the tour company. Boat leaves the dock between 8:00 – 9:00am.
Spend around 45 minutes boating to the island. Prepare yourself – the ride could get bumpy if it's windy!
Your boat till drop its anchor and tie to the caye. There's no dock, so you'll hop off the boat into the water to walk up to the caye. The water is waist or chest high at this point, so make sure to take off any clothing you don't want wet and carry it above your head.
Snorkeling is usually 1 – 2 hours in the morning.
You're probably starving at this point, so it's time to get some food in your belly. Your snorkeling tour typically includes lunch. There's also charcoal grills on the island if you're looking to put in the effort!
More Laughing Bird Caye snorkeling or lounging for another hour or 2 in the afternoon.
Boat back to Placencia (and maybe shed a tear😭). Don't forget to tip your tour guide!
Most tours include snorkeling guides, which are so helpful to point out the different marine life along the way. They're also there to help any beginner snorkelers to learn the ropes!
Book it now: snorkel and island experience at Laughing Bird Caye
Book it now: Laughing Bird Caye premium sailing and snorkeling experience
Lounging at Laughing Bird Caye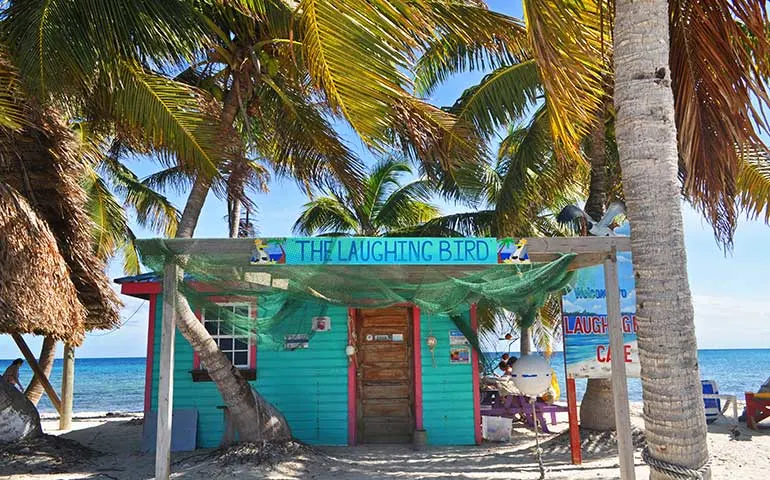 If you're not into snorkeling much or just need a break, there's plenty of spots to lounge on the island. Enjoy one of the many picnic tables or lounge chairs on the beach. Choose a spot in the shade or get soak up some more vitamin D on the beach.
Pro tip: if you go during peak season when there's lots of other tours on the island, hop off the boat and grab a seat right away. Put your towels or dry bag on your chair so it's saved for lounge time.
Things to take to Laughing Bird Caye
Reminder there are zero services on the island. So if you think you'll need something, just bring it! Here's what I recommend to make your day smooth and comfortable.
Dry bag. Since there's not a dock or pier, you'll hop out of the boat and immediately into the water. Put all your gear into the dry bag so it doesn't get soaked. I have this dry bag in orange and take it everywhere!

Waterproof phone sleeve. This inexpensive phone sleeve has gone to tons of beaches and lakes during my travels! I've completely submerged it into water with no leakage, too.

Water shoes. Some parts of this island are full of shells and rocks. Wearing water shoes most of the day was comfortable while walking around.

Snorkeling clothes. If you snorkel in a rash guard, you can apply way less sunblock! Plus consider what will be tight enough to move around in the waves without being too loose.

Reef-safe sunblock. Protect these gorgeous reefs and your skin! This is my favorite reef-safe sunblock that travels with me on all my beachy trips. And bonus – it smells great, too!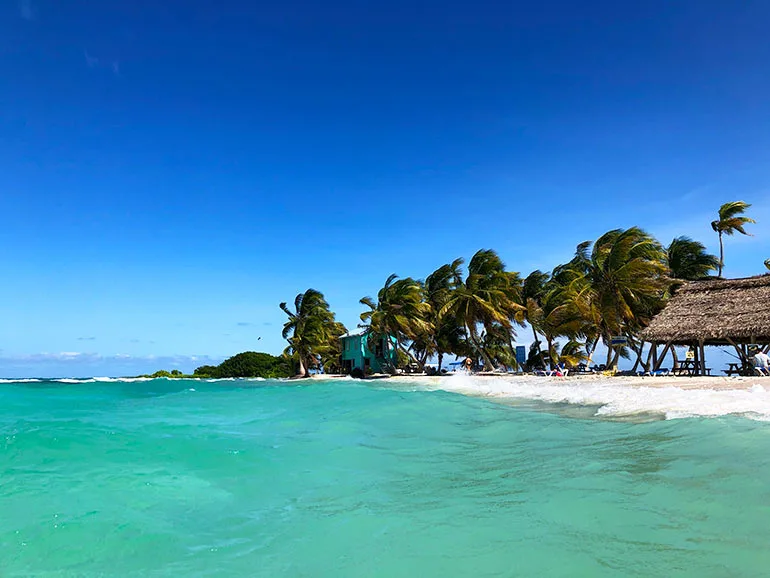 Camera. I mean, obviously this place is the most picturesque island setting ever! Whether it's your phone or fancier camera, don't forget it.

GoPro. I so WISH I had an underwater GoPro for snorkeling here. It was seriously some of the most beautiful coral and fish I'd ever seen!

Lens cloth. A pet peeve of mine is sitting on a beach and the humidity and salt fogs over my camera on my phone. Pack a lens cloth to keep pics looking nice and crisp. It works way better than wiping it with a towel or shirt, too!

Motion sickness remedy. If you're prone to motion sickness, grab your medicine! The rocky boat ride and strong waves could upset your stomach.

Extra water. I took a refillable water bottle and froze a water bottle for refills. Your snorkeling tour guides will have water, but I just preferred to have mine available for convenience.

Alcohol. Speaking of drinks, you're allowed to bring alcohol to the island. Use it responsibly and take any trash back out with you.

Snacks. If you're a picky eater or like to snack while lounging on the beach, pack some of those, too.
Tips for visiting this tiny island oasis
Before wrapping up this guide to Laughing Bird Caye, let's talk about a few things that will help your day be over the top!
There are no services. Like none. No flushing toilets, no snacks or soda. So bring what you need for the day and expect basic accommodations.

Once you arrive on the island, you'll get talk with the park ranger. Ask them anything!

Do not step on the coral. It's taken thousands of years to build this coral shelf and one human footprint could be detrimental to that area. Swim all the way to the shore or look down before standing up.

There's no food service on the island, so if you're picky about lunch or have allergies, you should check that when you book your tour.

After snorkeling, grab a towel to dry off and reapply sunscreen. Don't make the same mistake I did! The sun is powerful in Belize!
That's all of Laughing Bird Caye!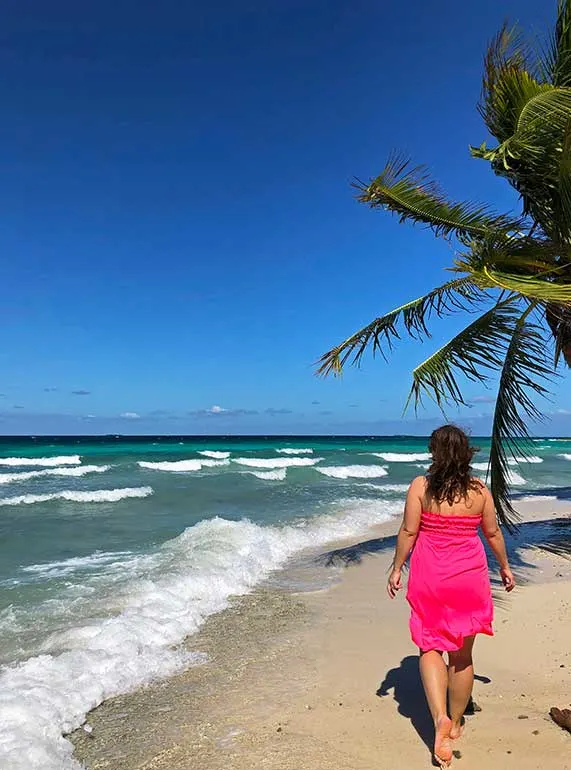 Gorgeous, right!? Laughing Bird Caye in Belize is a swoon-worthy island that's pure joy to experience! The turquoise blue water and sweeping palm trees just doesn't get any more beautiful! Add in amazing snorkeling and a relaxing afternoon and this is a bucket-list destination, for sure!
Related posts to check out next:
20 Things to Do in Belize for an Epic Vacation
How to Visit Belize on a Budget
Explore Xunantunich Belize: the Ancient Mayan City
21 Cheapest Island Vacations that are Actually Fun
33 Amazing Spring Break Ideas for Families on a Budget
26 Gorgeous Beaches in Aruba (and 1 to Avoid)
Jaw-dropping Beaches in Turks and Caicos
Find this post helpful? Save it for later or share it on social media!