It's one of the most beautiful – no magical – places in all of Belize. And with so many things to do in Placencia Belize, it's a must on every tropical vacation bucket list.
This post may contain affiliate links. For more info, see my disclosures.
Placencia has the right mix of small-town charm, beautiful beaches and jungles to explore. It's certainly one of the most underrated spots and a bit hidden from tourism at this point too.
Whether you're looking to spend a day on a private island like Laughing Bird Caye, have some of the best food and cocktails in the area, or hit up a local waterfall, it can all be done in a day in Placencia.
This guide covers the best things to do in Placencia Belize, as well as how to get there and places to stay. After reading this guide, you'll be ready to pack your bags and hit the beach!
Why visit Placencia Belize?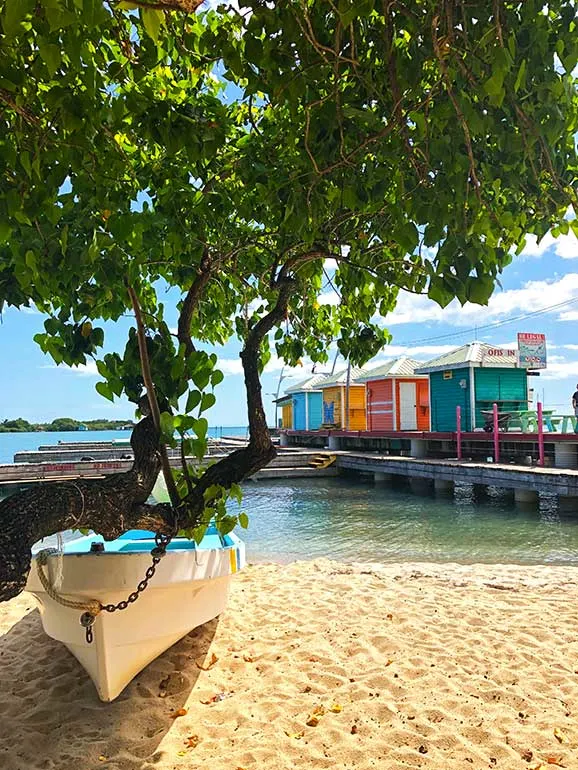 It's a small, residential spot that tourism hasn't really hit yet. With only a few hotels, most of the accommodations are in vacation rental properties. More about where to stay later in this guide.
If you're from the US, it's a relatively affordable destination, too. Belize dollars are approximately twice as much as the US dollar. So if your dinner is $20 BZ, it's actually just $10 USD.
Check out this post for a full guide to visiting Belize on a budget.
Placencia is a destination where you can lounge on the beach the entire time, or submerge yourself in the history and culture. It's a fantastic spots for couples, friends trips and even families, too.
Getting to Placencia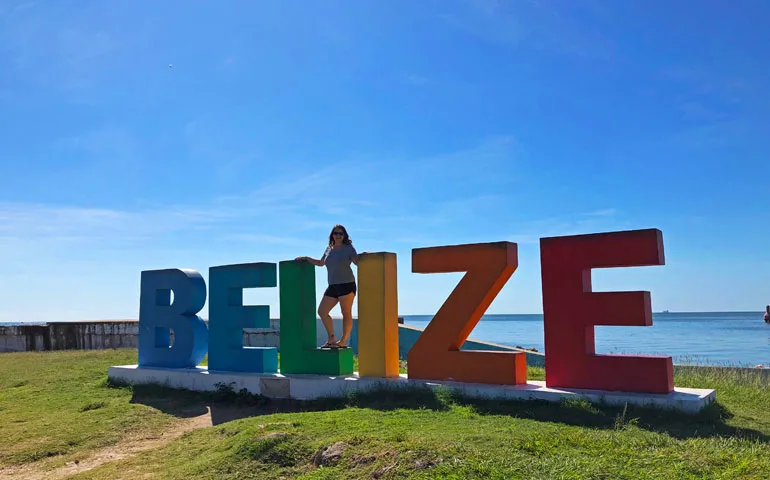 You might be asking yourself "where is Placencia?" Located on the very tip of the peninsula on the eastern side of the country is the village of Placencia.
There is a small airport in Placencia which you could fly a small plane from Belize city do Placencia. However, I'd highly recommend renting a car in Belize City and driving to Placencia.
It really gives you ultimate freedom and flexibility for your time in the area, plus it's a beautiful drive through the mountains and jungle region of Belize. And if you're from the US, driving a car is relatively easy in Belize with similar traffic laws.
Belize City to Placencia is a little over 3 hour drive.
By the way, if you're looking for an affordable rental car, try the discount car service at Discover Cars. It's a free service where they find the best rates on reputable rental cars – at no cost to you. I typically save 10-30% this way!
Map of things to do in Placencia Belize
If you're a visual person like I am, then this map will help you get familiar with the area and plan out your days in Belize. Zoom in and scroll to find more detail about specific activities on the map.
As you can see, this guide is full of the best activities in Placencia and the entire area!
Best things to do in Placencia Belize
You ready for a fantastic vacation full of adventure? Thought so!
Placencia Village is a small town with such a fun vibe! Since it's so small and the country itself is small and drivable, this guide will explore everything there is to do in the village plus the best day trips from Placencia. Staying in Placencia opens up so many possibilities to explore the country based on it's proximity to so much.
Alright enough chatting already, let's dive in!
1. Placencia Beach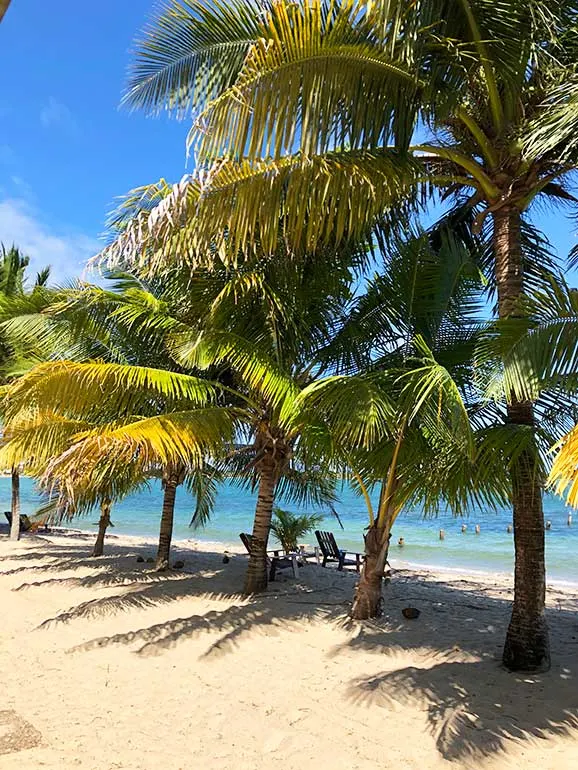 You cannot go to a tropical destination like Belize and not go to the beach! The Caribbean blues are strong in Belize.
Gorgeous, turquoise water meets the sand and welcomes you in. Palm trees line these beaches creating a stunning beach scene and the perfect way to spend the afternoon.
The beaches in Placencia are perfect for swimming or snorkeling (we'll get to that later!) The Placencia Beach on the Placencia Peninsula is the longest stretch beach in the entire country of Belize.
Many hotels and restaurants can be enjoyed from the beach. But perhaps the best place to enjoy it is the public access point on the very tip of the peninsula.

2. Cockscomb Basin Wildlife Sanctuary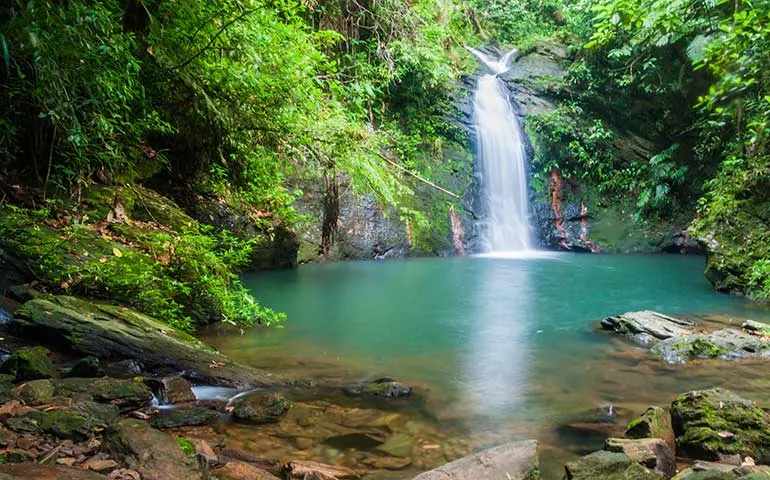 For nature lovers, this is a must! The Cockscomb Basin Wildlife Sanctuary is a protected area for the jaguar. It's one of the best spots in the world to observe wild jaguar in their natural habitat.
It's also a great hiking destination with gorgeous mountain views and beautiful waterfalls.
Here's a guide to the best hikes in Cockscomb Basin Wildlife Sanctuary.
Aside from jaguars and amazing scenery, the Cockscomb Basin Wildlife Sanctuary is also home to monkeys and hundreds of species of birds. It's highly recommended to hire a local guide when visiting the sanctuary to make the most of your time there.
Just remember you'll be in the jungle of Belize, so bring these items when visiting:
Book it now: Cockscomb Basin Wildlife Sanctuary tour from Placencia
3. Try the local food: Fry Jacks (find them at most Placencia Belize restaurants)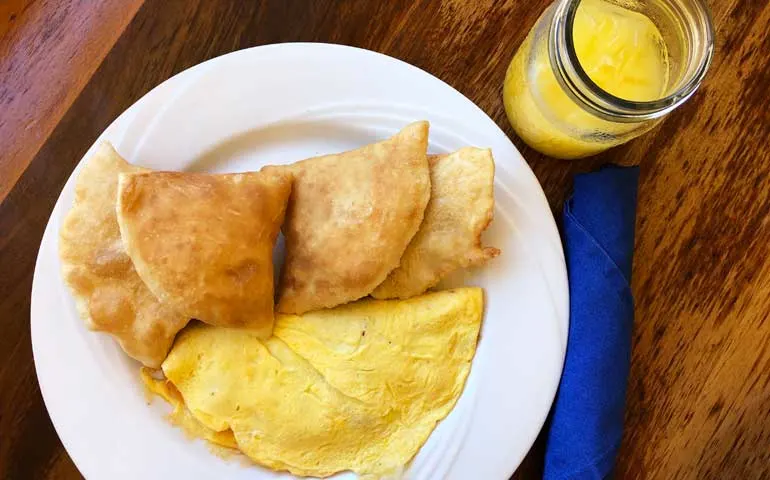 Finding local foods is one of the best ways to experience local culture. In Belize, one of the local favorites are Fry Jacks.
They're basically deep fried dough in the shape of triangles. Oh, and they're delicious! Think of them as similar to beignets in New Orleans an sopaipillas in Mexico.
You can find them at many Placencia restaurants. One of my favorite breakfast spots is Wendy's Creole Restaurant and Bar.
4. Hang out at the Tipsy Strip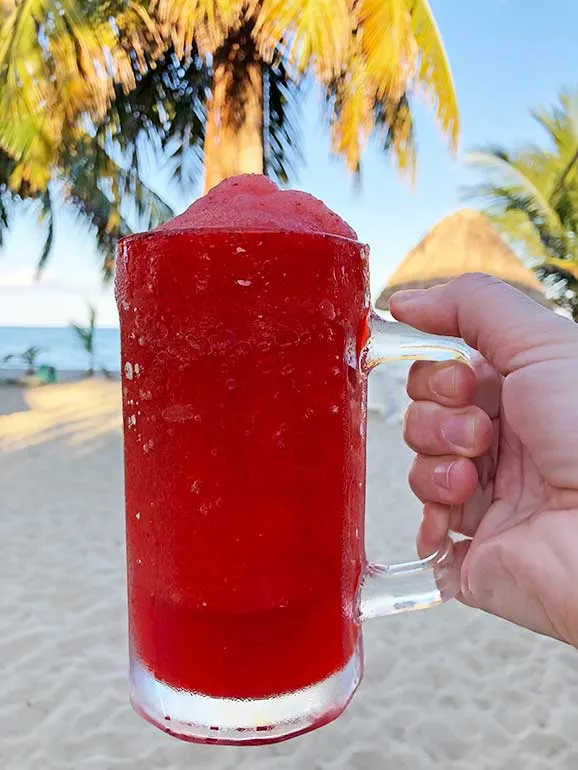 One of the most popular areas in Placencia Belize for tourists is the Tipsy Strip. It gets it's name because of the proximity to the Tipsy Tuna Sports Bar.
Tipsy Strip includes:
Restaurants and bars
Water sports
Art gallery
Gift shops
Spa treatments
Tours departures
Baked goods
In the evenings and weekends you'll find live music along the Tipsy Strip. The bars can get a bit wild on the weekends and after dark, too.
The Tipsy Strip is right on the beach on the east side of the peninsula in Placencia Village. Visit the Tipsy Strip on Facebook for the latest happenings.
5. Day trip to Xunantunich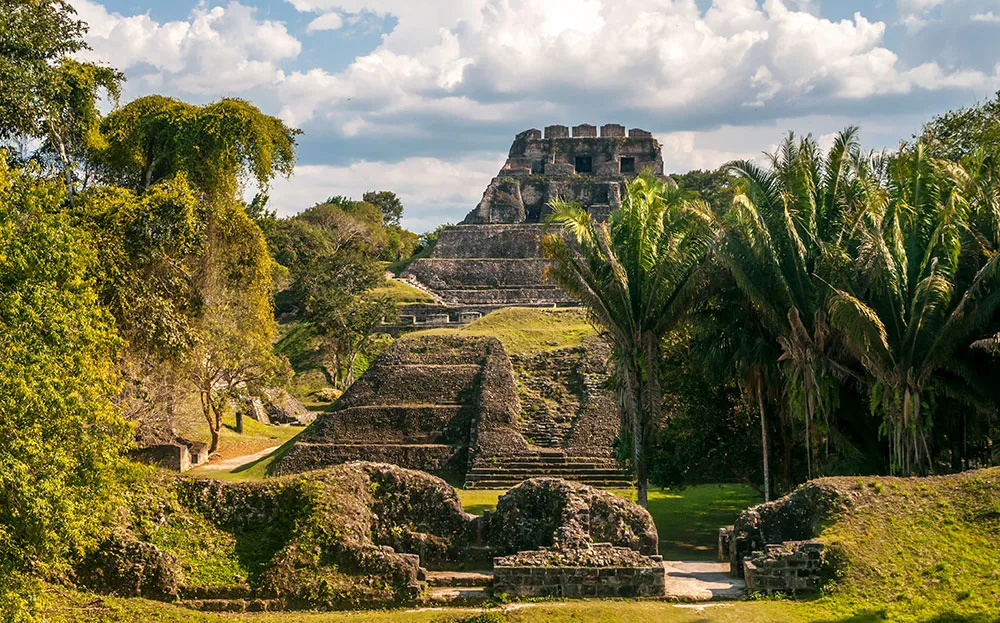 One of the most incredible Mayan cities in all of Central America is the Xunantunich Mayan Ruins. Located near San Ignacio, this is a day trip from Placencia.
It was one of the coolest experiences I had in Belize, and I'd highly recommend it! If you have a rental car in Belize, you can drive yourself. If you don't feel comfortable driving or want the inside knowledge on the Mayan ruins with a tour guide, you can book a day trip from Placencia.
Xunanutnich is different than other Mayan ruins you may have seen in Mexico, because you can actually climb to the top of the highest pyramid. You can literally feel the energy when standing on top – it's truly an indescribable experience!
Book it now: Xunantunich Mayan Ruins tour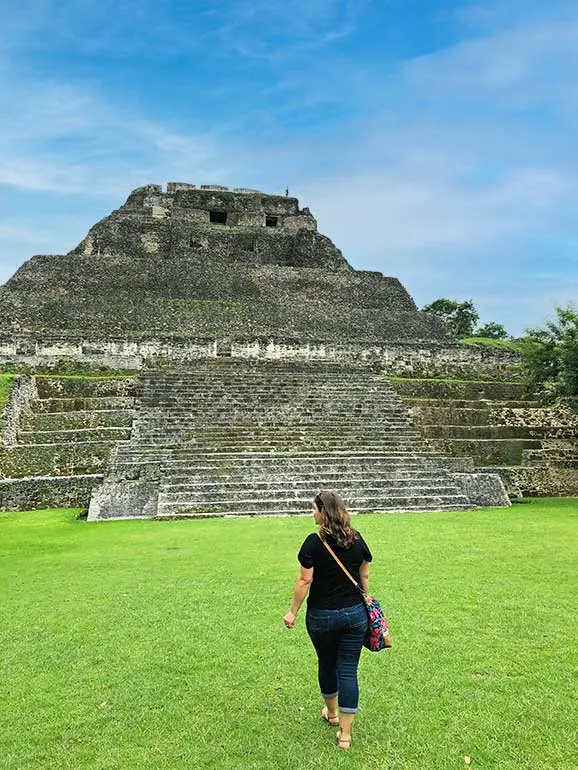 6. Visit the Nim Li Punit ruins
More history and culture is on the southern end of Belize. A little less than 2 hours southwest of Placencia is the Mayan ruins of Nim Li Punit. It's one of the smaller Mayan Cities, but definitely worth visiting.
Known for the large volume of intricately carved stones and monuments (called stelae), these stones are one of the features that attract visitors. There are also 3 plazas and pyramids you can explore.
Be sure to check out the ball court, which is one of the most preserved on all Mayan cities! There are also these fun artificial hills with flat tops that were created during the city's rich history, which are interesting to see.
If you're renting a car in Belize, you can drive there yourself from Placencia. Guides are typically available near the entrance for hire to provide details that may otherwise be missed!
7. Day trip to Laughing Bird Caye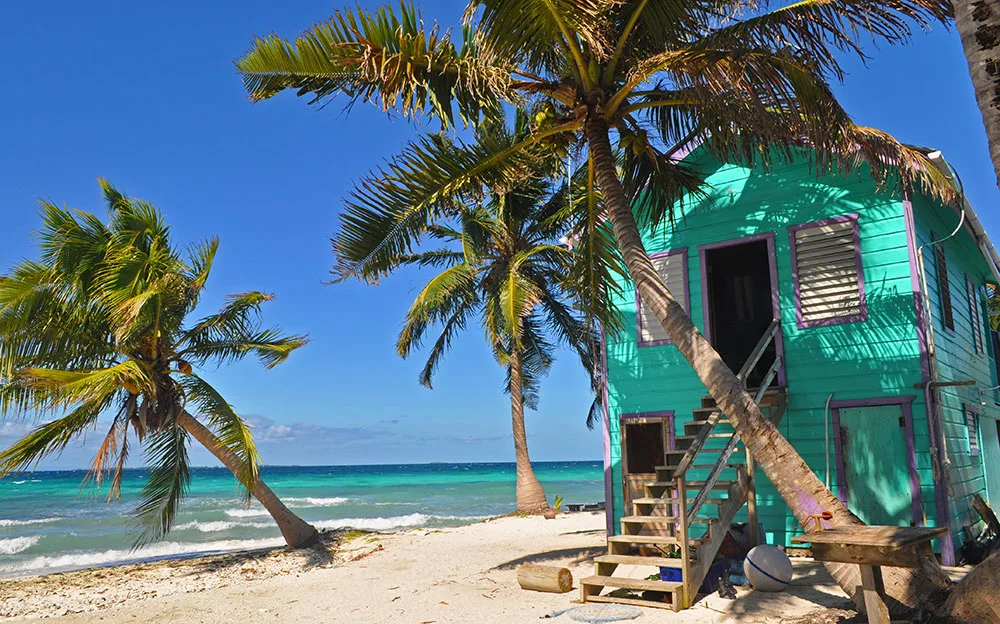 One of the most natural, pristine beaches in all of Belize is a short boat ride from Placencia. Laughing Bird Caye National Park is a gorgeous island worthy of spending a day.
It's a bird sanctuary and popular snorkeling destination. Located about 45 minutes from Placencia via boat, this island is every bit as perfect as you imagine a tiny island in Belize to be. It's actually one of my favorite things to do in Placencia Belize (that's not actually in Placencia!😆).
Palm tree lined beaches. Bright white sand. Stunning turquoise water. It's perfection in an island!
By booking a tour to Laughing Bird Caye, you'll be able to snorkel or lounge your day away on this tropical paradise. And it will be one of your favorite experiences in Belize!
Book it now: Laughing Bird Caye tour
8. Explore Mayflower Bocawina National Park
A little over an hour north of Placencia is the Mayflower Bocawina National Park. It's an amazing jungle that simply begs to be explored!
If you're looking for a way to stay active during your vacation, this is it! Seeing the stunning Antelope Falls is a reward after a steep, challenging hike. Pack your swimming suits and water shoes for this one!
With ropes that help you during the steep parts, the hike to Antelope Falls is as challenging as it is rewarding. You'll even get a Tarzan-style swing rope into the cool pool of water!
Pro tip: slather up in bug spray for this one! You'll be in the rainforest. This is my favorite all-natural bug spray I travel with and it actually works great! Don't forget to reapply after swimming.
And if you really want to experience the jungle, be sure to go zip lining in Bocawina! With 9 zips, it's almost 2 hours of zip lining fun!
9. Find all the photo ops (one of the unique things to do in Placencia Belize)
Whether you're going for the most Instagrammable spots in Placencia or you just like to be cheesy and take some group shots, you'll find plenty in Placencia!
This oversized chair and boardwalk is at the tip of the island near the marina. Also check out the Tipsy Strip for plenty more! From the picturesque beaches and signs for the local premium rum – you'll know it when you see it. 😆
Part of the fun of exploring a new place is the photos you get to bring home!
10. Swing on the beach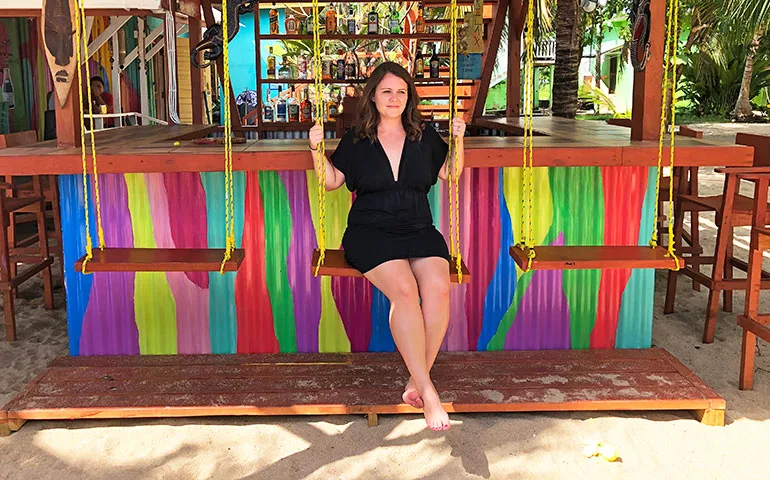 Speaking of photos…on the very tip of the Placencia Peninsula, right near the water is The Shak Beach Cafe. It's the perfect vibe for your Placencia vacation!
The whole area is beautiful and visiting it is one of the top things to do in Placencia Belize. Not to mention the food is fantastic! From fruit smoothies and sandwiches to frozen cocktails, you'll find something you love at The Shak Beach Cafe.
If you're looking for the most vibrant photo op, make sure to grab a seat on the swings. Plop your toes in the sand and enjoy a beverage with a beautiful view of the marina. Perfection!
11. Take a chocolate making class (one of my favorite things to do in Placencia)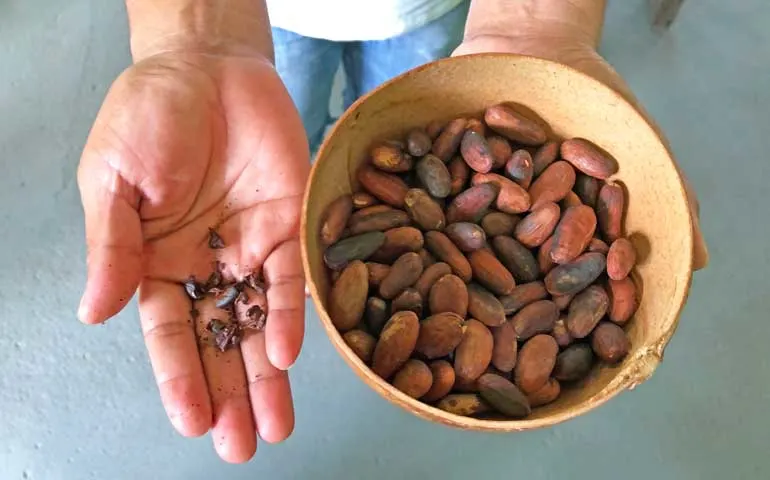 Dive into the Mayan culture with a chocolate making class. This was one of the most fun activities I experienced in Belize, and highly recommend it!
You'll learn how to turn cacao beans from a local farm into a chocolate paste, then finally how into a chocolate bar! The entire process is so interesting, and you'll get to taste the cacao along the way.
Mayans have created some of the most well-known chocolate in the world. However, if you go to the EU, you've got to try Belgian chocolate, it's one of the things Belgium is famous for.
Anyway, if you're looking for an informative immersion into local culture, take a chocolate making class.
Book it now: Mayan chocolate making class
12. Watch a sunrise on the beach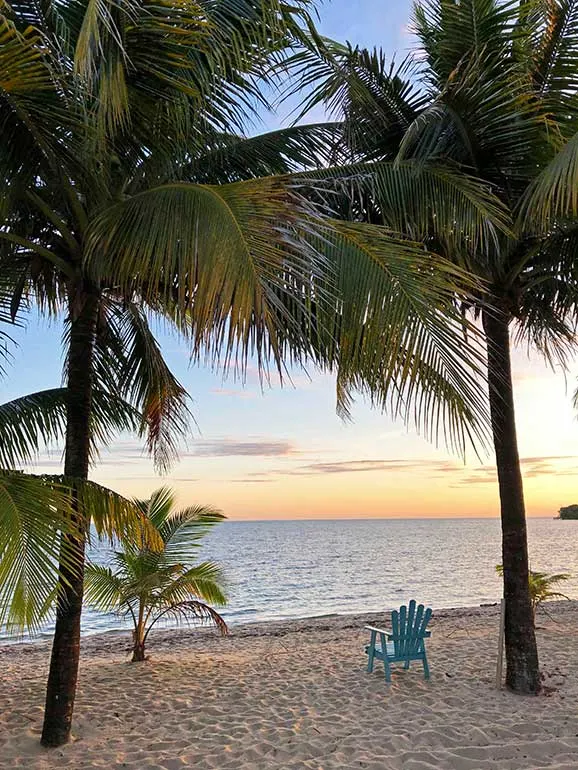 Considering the beach faces to the east, it's not the best place for a tropical sunset. But sunrises are! I was fortunate enough to catch multiple sunrises during my stay in Placencia.
Staying directly on the beach is the best way to catch a sunrise comfortably (suggestions below). Otherwise head over to the public beach at the end of the peninsula or at the Tipsy Strip to catch the morning glow.😍
13. Gelato at Tuttifrutti Gelateria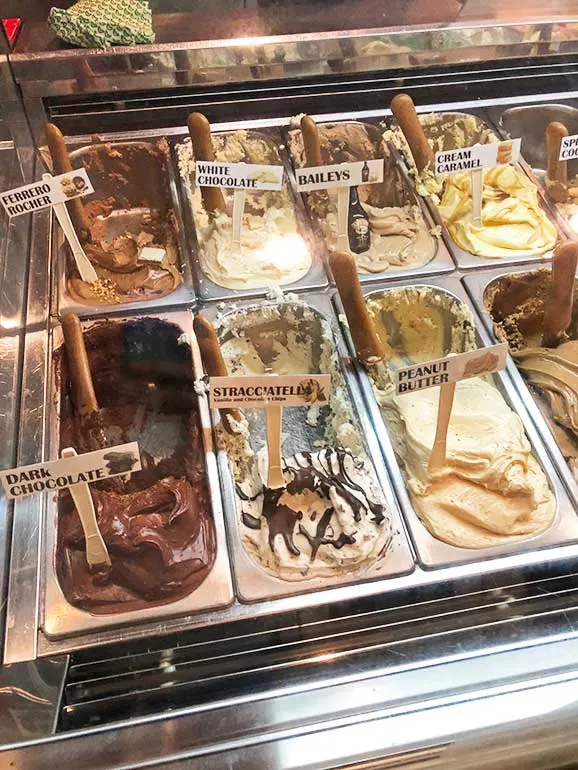 As someone who takes ice cream and its cousins, gelato and sorbet very seriously, I can tell you this is worth the stop. After all, From San Diego, California to Providenciales, Turks and Caicos, ice cream is a part of nearly every trip. I stopped twice during my time in Placencia!
Anyway, the owners of Tutti Frutti are from Italy so this is the real deal. Gelato as it's intended to be. And with fun flavors like Passion Fruit, Ferrero Rocher and Stracciatella, you'll find something you love.
Tutti Frutti is located on the main street in Placencia Village Belize.
14. Kayak or paddle board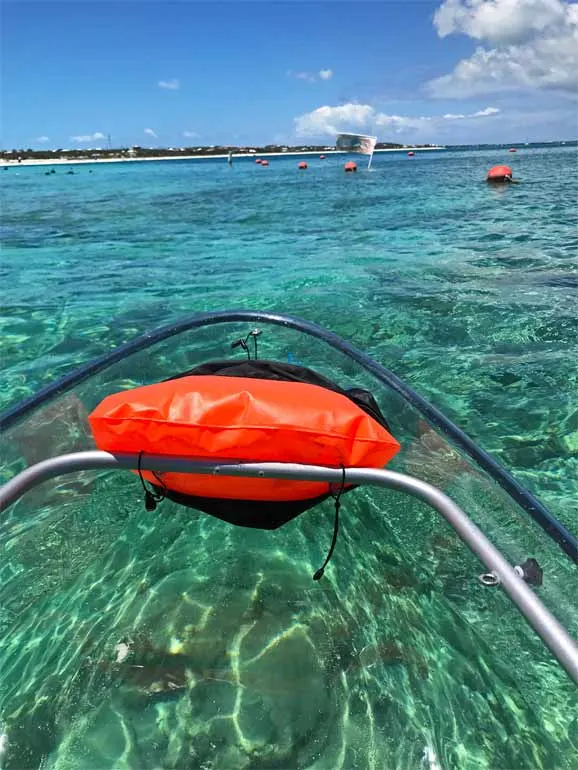 Experience the gorgeous Caribbean water from above! Renting stand-up paddle boards or kayaks and hit the surf!
Whether it's kayaking on Put-in-Bay, Lake Erie, through the mangrove forest in Siesta Key, Florida or off the coast of Aruba, being on the water with a kayak or paddle board never gets old!
Located on the Tipsy Strip, simply walk up to grab your board or boat and hit the water! No advance reservations required through Placencia Awesome Water Sports. 😊 It's a fun way to spend an hour (or more) enjoying the water right off the coast of Belize.
15. Shopping in Placencia Belize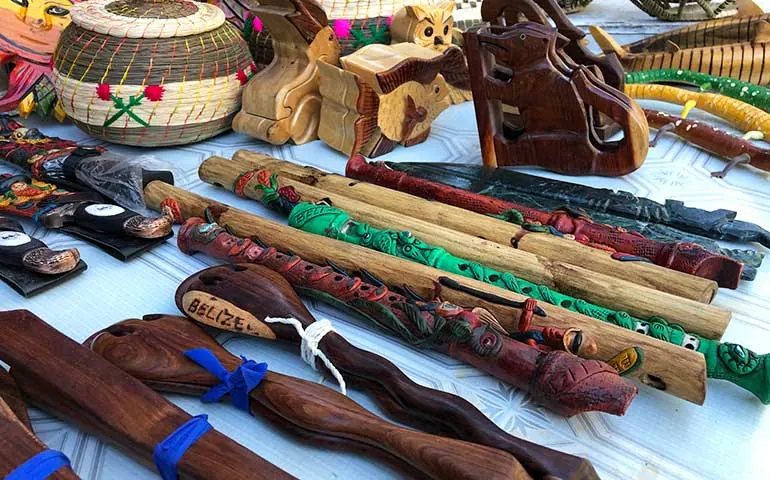 This quaint village is a fun spot for shopping and picking up souvenirs. It's one of the best things to do in Placencia Belize if you like a slower pace for vacation.
You won't find big chains or high-end stores here. Instead, you'll find hand-crafted items from local artisans. Pick up a Belize-carved salad set or napkin holder. How about unique book ends or Mayan wall decor? Purses, seashell crafts and jewelry, you'll find a bit of everything in Placencia.
One of the best places for shopping in Placencia is the artisan market near the Tipsy Strip. You'll also find a few shops in the main street downtown in the Village.
16. Maya King Waterfall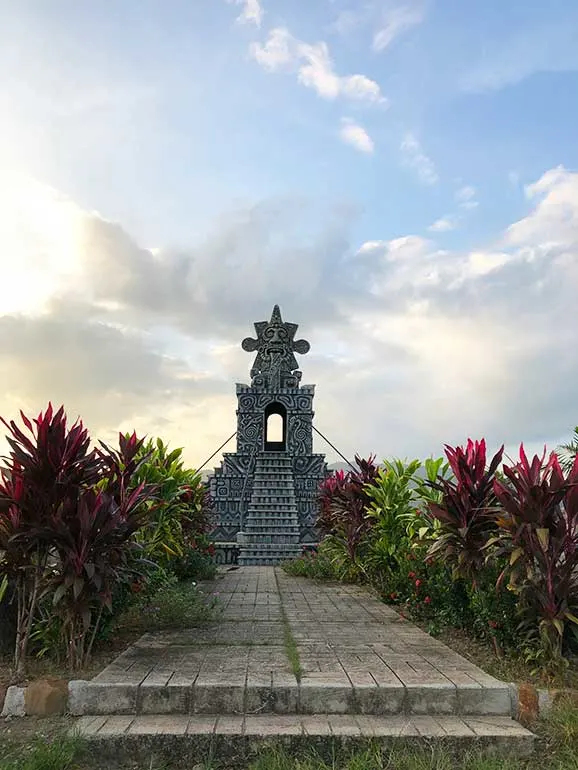 Are you up for swimming in a waterfall in the jungle of Belize? Well you need to go to Maya King Waterfall! At less than an hour from the village, it's one of the closest activities to Placencia and it's worth a stop.
Grab your swimming suit and expect a fun time. The waterfall is especially fun during the rainy season, June to December. You may want to bring your water shoes too, so you don't worry about the slippery rock when walking around the falls.
The Maya King Waterfall has more to offer as well – like hiking, horseback riding, rafting and zip lining!
17. Placencia snorkeling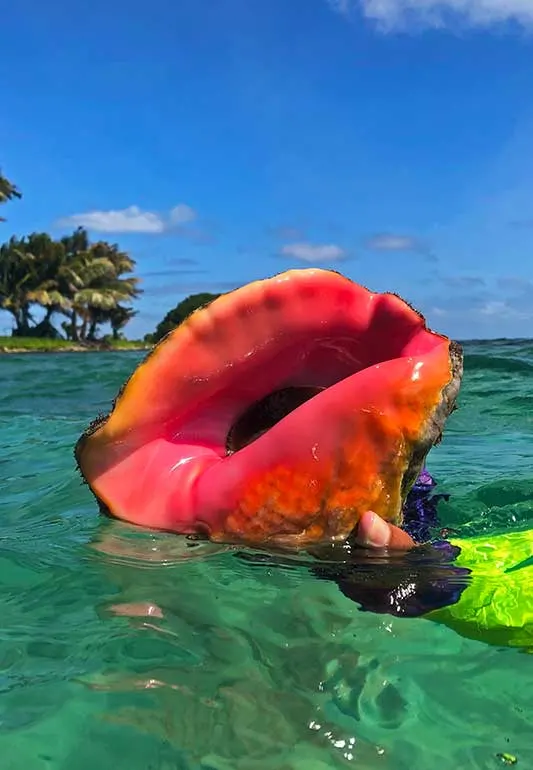 If you love the water, you absolutely must experience Placencia snorkeling! One of my favorite ways to snorkel is by bringing my own snorkel gear to beachy destinations. I've done this while snorkeling in Kauai, Turks and Caicos, Puerto Rico, Costa Rica and a ton of other beachy destinations.
I recommend buying this snorkel gear before you leave for your vacation to Belize if you want to snorkel right off the beach.
If you're looking to snorkel the incredible reef system right off the coast of Belize, you'll need to book a tour and get there via boat.
Best places to snorkel near Placencia:
Pro tip: be sure to book your tour in advance, as they do sell out! Also make sure to bring your anti-nausea medicine for the boat ride if you're on the queasy side. And pack your beach bag with a few extra snacks and drinks for the day, too!
18. Monkey river tour (one of the most popular things to do in Placencia Belize)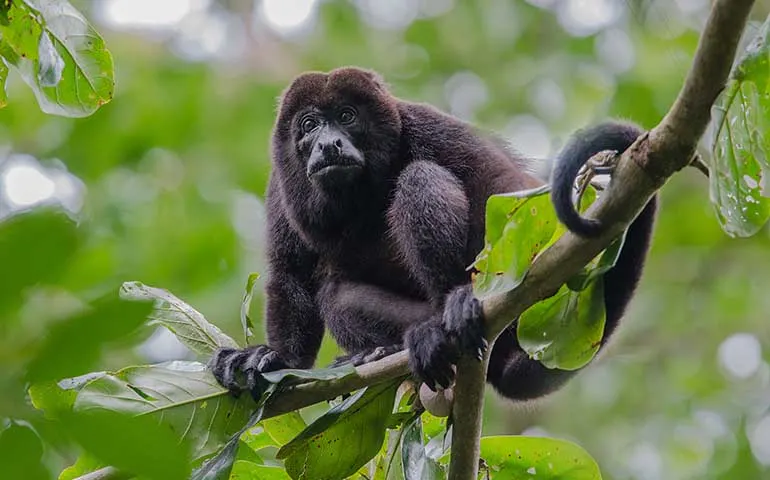 This! It's a fantastic adventure and you'll have a blast! It's a must-see if you're traveling to Belize with kids, too.
Explore the Monkey River and see the local wildlife including – you guessed it – Howler Monkeys. They're the star of the show, but you'll also get a chance at crocodiles, huge iguanas, manatees and countless birds.
The Monkey River tour is a full day from Placencia and includes lunch.
I didn't get to take this tour while in Belize, but did experience how funny Howler Monkeys are while visiting Tikal in Guatemala. This tour is on my list next time I'm in the area!
Book it now: Monkey River tour in Belize
19. Hop on up to Hopkins Beach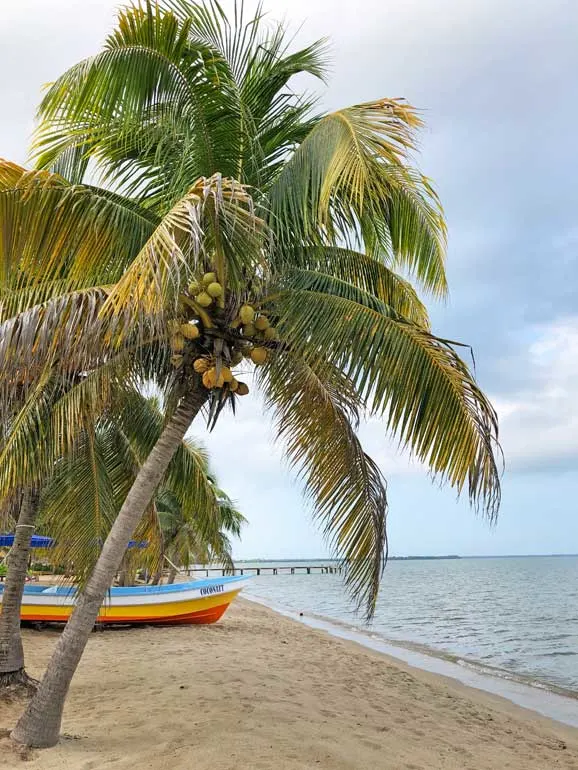 One of my very favorite afternoons while visiting Belize was spent in Hopkins. It's a laid-back beach town about an hour north of Placencia Village. If you have a rental car, it's a fun way to enjoy a quiet afternoon.
The beaches and restaurants in Hopkins are in a picturesque setting and the perfect day enjoying the sand and surf in Belize. I loved hanging out on the beach at Coconut Row. The frozen drinks from the Coconut Husk were fantastic!
So while this isn't in Placencia directly, if you're looking for a low-key change of pace, Hopkins might be a good idea!
Best places to stay in Placencia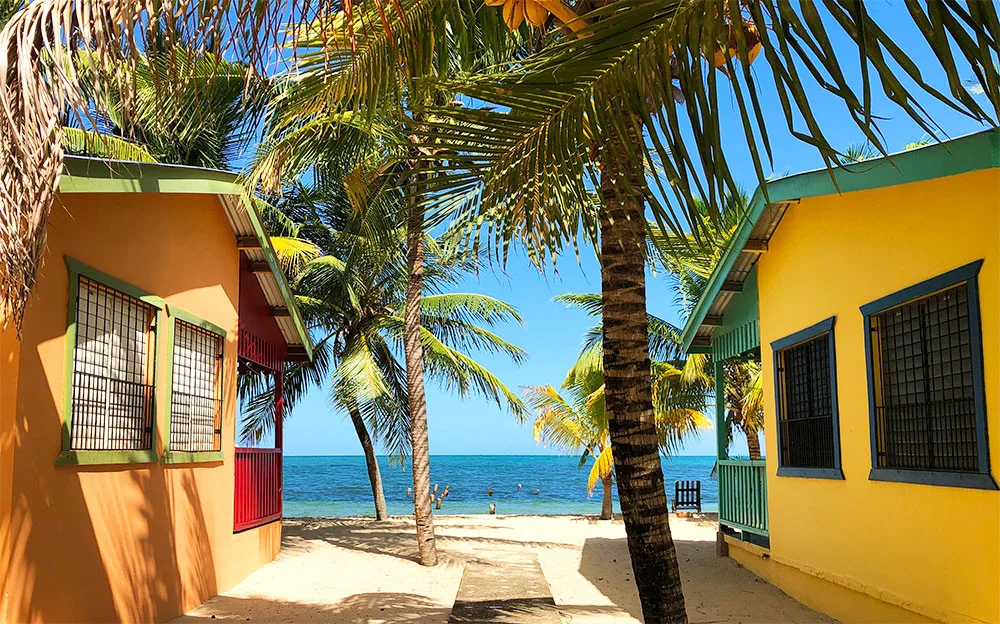 Now iff you're wondering where to stay in Placencia, this is the list for you!
I stayed in Placencia as part of a budget trip to Belize, so I had very basic accommodations. The picturesque photo above of the cabanas on the beach was where I laid my head a few nights!
Honestly, the accommodations were very basic – few amenities and not much for modern luxuries (like A/C or a pool). But I was so busy out exploring that I put my priority on activities versus amenities.
If you want to book these super affordable cabanas in a perfect location, check the availability here.
Placencia has such a variety of properties to stay at. You won't find mega hotels and high rises here, which is part of the allure! The list below are the best places you might want to consider.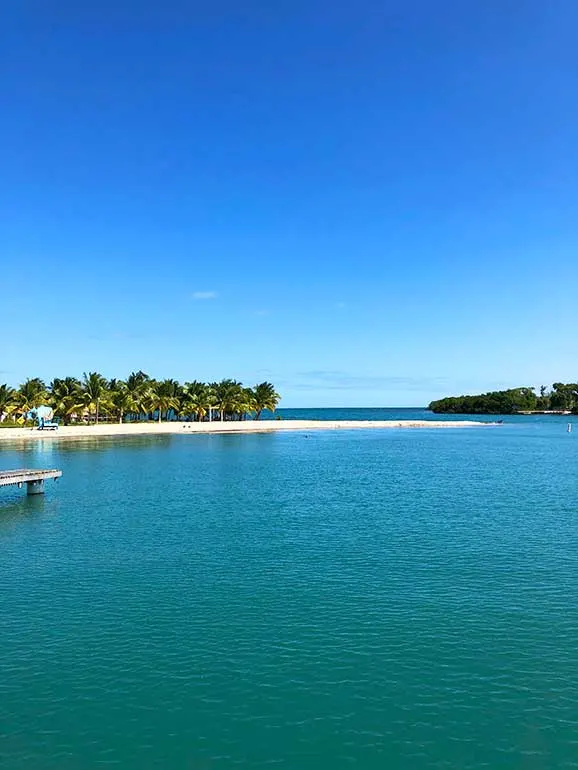 Where to stay in Placencia Belize
During peak season (Dec – Feb) you'll want to book property as early as possible for the best rates and to get your preferred spot!
Best things to do in Placencia Belize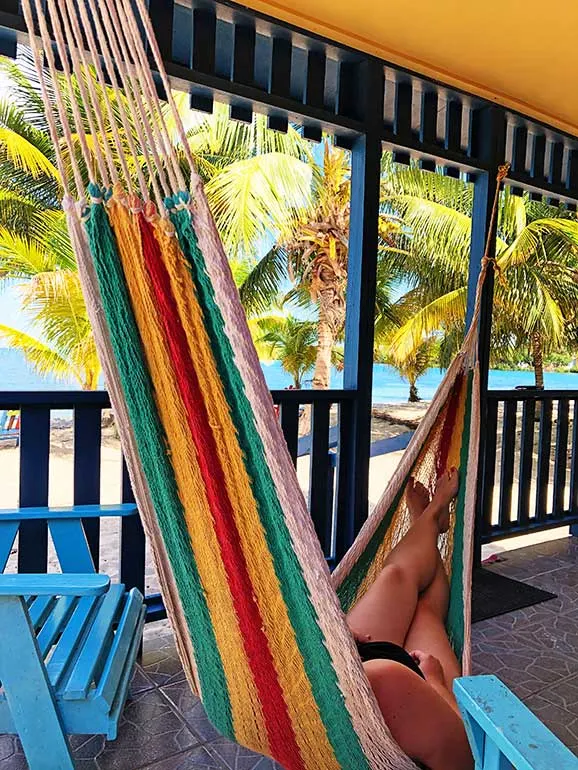 Whew! What a fun list, right?! I hope you've had fun checking out all the best activities in and around Placencia. With so many amazing things to see and do, I'm sure you'll have a fantastic vacation!
Let's recap those activities again in a much more condensed list…
What to do in Placencia Belize
Beach time at Placencia Beach
Cockscomb Basin Wildlife Sanctuary
Local food: Fry Jacks
Hang out at the Tipsy Strip
Day trip to Xunantunich
Visit the Nim Li Punit ruins
Day trip to Laughing Bird Caye
Explore Mayflower Bocawina National Park
Find all the photo ops
Swing on the beach
Take a chocolate making class
Watch a sunrise on the beach
Gelato at Tuttifrutti Gelateria
Kayak or paddle board
Shopping in Placencia Belize
Maya King Waterfall
Placencia snorkeling
Monkey river tour
Hop on up to Hopkins Beach
So have you decided how you'll spend your time in Placencia? Comment below with your plans!
Related content:
Ultimate Guide to Belize: 20 Things to Do for an Epic Vacation
How to Visit Belize on a Budget: Money Saving Tips & Tricks
Laughing Bird Caye: Ultimate Guide to Belize's Secret Island
Belize's Xunantunich Mayan Ruins: What to Know Before You Go

Find this post helpful? Save it for later or share it on social media!