San Diego is one of my favorite cities in the USA. Okay, it might just be my very favorite city. After venturing to this city many times in the last decade, I've seen a lot of it. But how do you soak it all in if you only have 2 days in San Diego?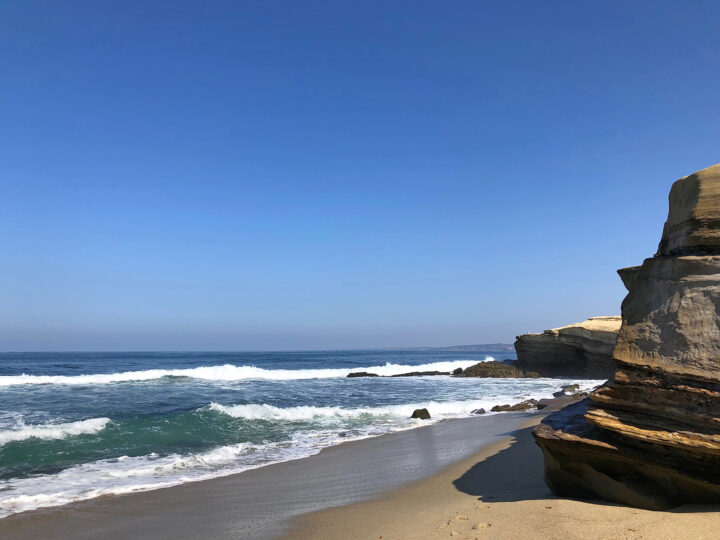 This post may contain affiliate links. For more info, see my disclosures.
While there's a ton to do in just 2 days, here's a list of awesome San Diego activities!
You can really pack a lot into a weekend in San Diego. Get ready for a serious dose of fun! And at the end of the article are bonus activities, in case you want to swap anything out. I know it's nice to have options. 😉
Let's get started.
2 days in San Diego – a complete itinerary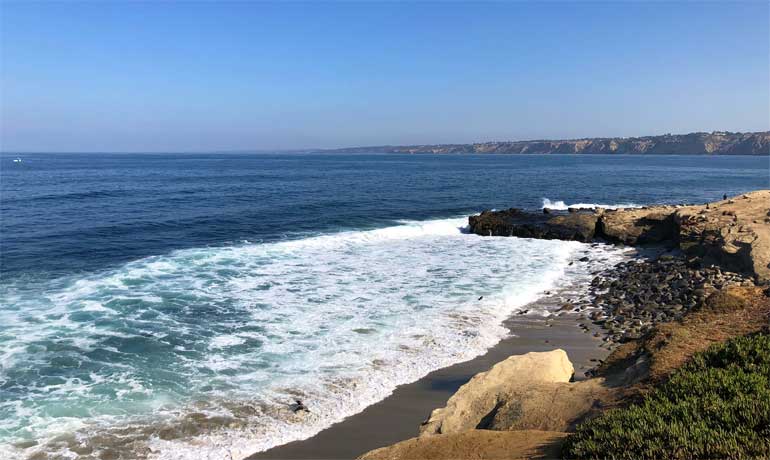 Day 1: La Jolla, Old Town & Gaslamp
Grab a quick breakfast in San Diego
Wake up in sunny San Diego. I mean, San Diego has excellent weather year-round, so let's hope for full sunshine for ya!
Grab a quick breakfast – you have a lot to see! Eat a fast, light breakfast or grab something on the go. Trust me, you're going to have lots of delicious food these next few days.
Your weekend in San Diego starts in La Jolla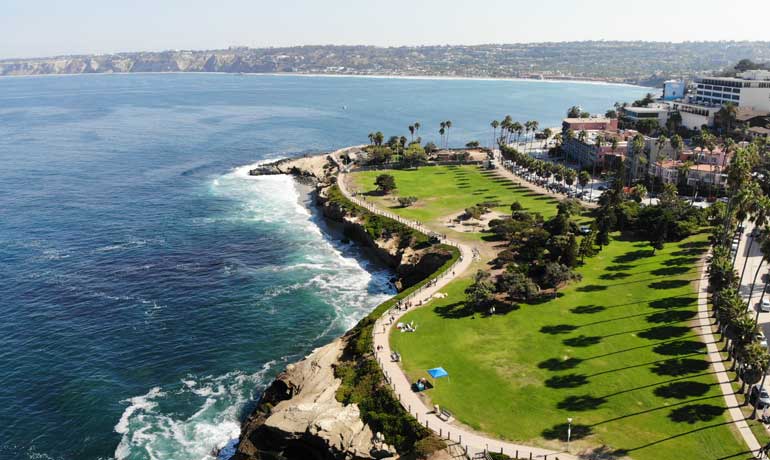 Every time I've been to the San Diego area, I've come to La Jolla. There's so much to do and see!
La Jolla is a posh area with vivid blue waters and high-end shopping. They refer to it as 'San Diego's jewel of the sea' for good reason.
I especially love to walk the cove and watch the sea lions frolicking and diving off the cliffs into the ocean. Even if you've been to excellent zoos, it's just not the same as seeing these huge creatures in real life.
La Jolla is a romantic spot for couples to take a walk. It's also a great spot for families.
You'll likely see artists or vendors selling trinkets. On the weekends street performers will give you a good show, too.
If you're feeling adventurous, take a kayak tour of the La Jolla Cove. Watch tiger sharks and explore the nearby cave. This is the first of many kayaking adventures my husband and I ever went on and it was a blast!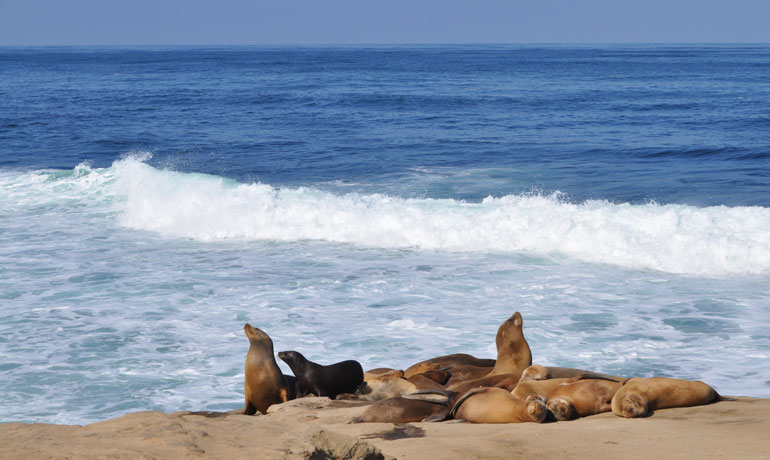 La Jolla Shores location:
You'll want to head toward Prospect Street in downtown La Jolla where it's a short walk to the coast. There's not exactly an address but Google can get you close. 🙂
Parking in La Jolla
Get here early to find the good parking! There's 2 hour maximum street parking or they'll give you a ticket. (Don't ask me how I know.) Or you can park in a public parking garage for a fee, $10-$15 depending on how long you stay.
Day 1 lunch in La Jolla (with a view)
So if you're in southern California, you should definitely eat seafood. My favorite place is Duke's. It comes with a phenomenal view overlooking the ocean. The best seating is outside on the upper level.
I've been to Duke's several times with large parties and small, everyone has loved the food! The fish tacos are excellent. Read Duke's reviews on TripAdvisor.
Lunch location:
Duke's address is 1216 Prospect St, La Jolla, CA 92037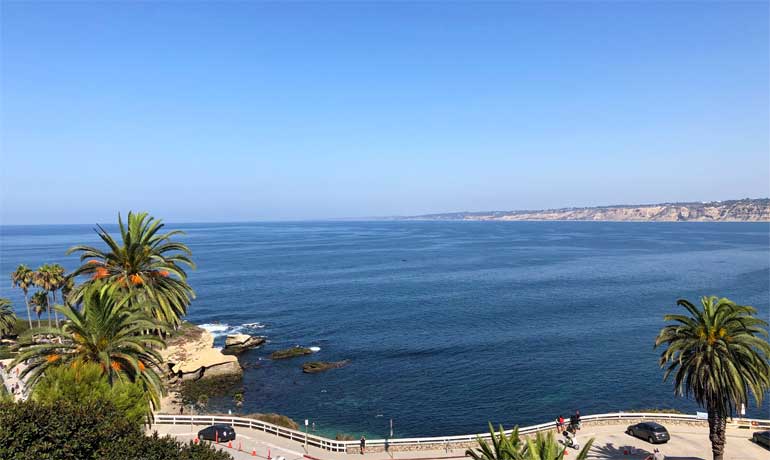 La Jolla Gelato, anyone?
If you're in the mood for something sweet after your lunch, stop by Bobboi's Natural Gelato. Their gelato is perfection. I've had several flavors and it's all divine.
And if you like pistachio flavored anything, it's a must try at Bobboi's. While their flavors change daily, you're sure to find something you like.
Bobboi's in La Jolla location:
Your gelato stop is at 8008 Girard Ave #150, La Jolla, CA 92037
Recommended time in La Jolla: 2-4 hours.
(add 1-2 hours if you opt to do a kayaking tour)
Read next: How to Save Money for Travel – Your Vacation Savings Plan
Next up: Old Town San Diego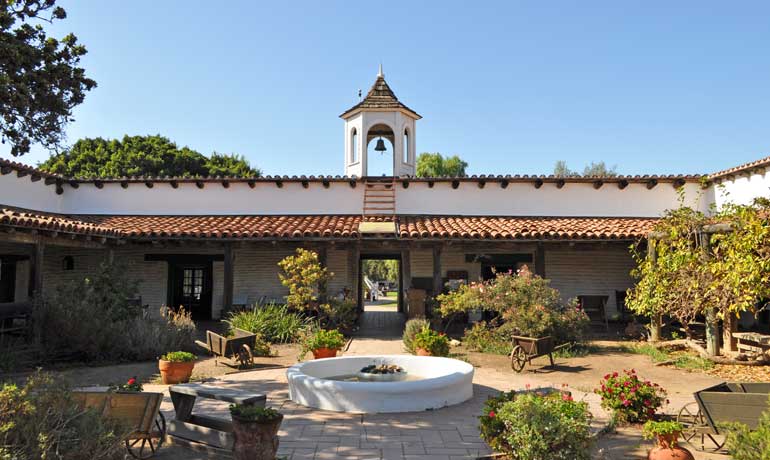 Old Town San Diego is a perfect spot to spend the afternoon. It's the birthplace of California and full of history.
While there's many reasons to visit Old Town during your 2 days in San Diego, here are my favorite:
Free museums and entertainment
Mexican food!!
You'll also find shopping, guided tours and a whole lot more. It's a fun place in San Diego for all ages.
I recommend wandering around the Cosmopolitan Hotel and checking out the pottery shops. In the evenings at the Casa De Reyes there's usually a band playing, which is fun to watch as you wait for dinner.
Old Town San Diego State Historic Park location:
Navigate to 4002 Wallace St, San Diego, CA 92110. This will get you to the center of Old Town and you can go from there.
Parking in Old Town San Diego:
There's a bunch of free parking at Old Town. Unfortunately, there's typically also a bunch of people there. I've had pretty good luck with parking lots C & D. Access free public parking lot C from Juan Street, driving south on Harney Street.
Parking at Old Town fills up quickly. Plan time to drive around for a bit, especially during peak hours. It's tough but not impossible. Don't be afraid to walk if needed and just stay positive – you're on vacation! 🙂
Hungry yet? Dinner at Old Town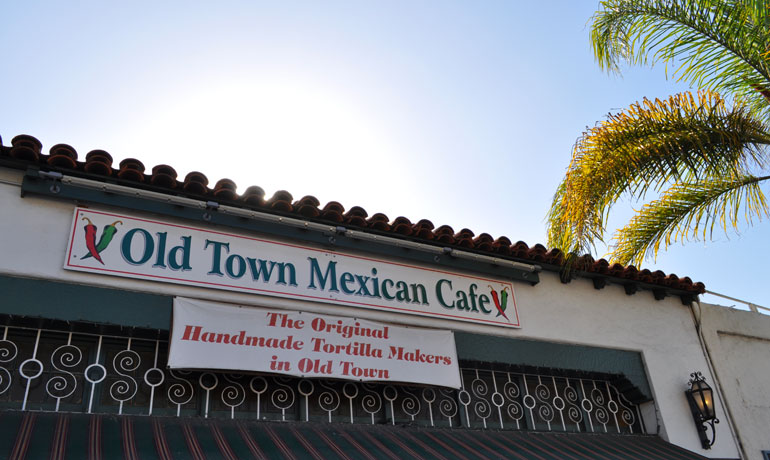 Okay so you absolutely need to have Mexican food while in Old Town. And there's a ton to choose from. I mean, several entire blocks of Mexican restaurants.
It's a salsa-lover's dream.
My favorite place in Old Town to eat (and I've heard it's THE local's favorite, too), is Old Town Mexican Cafe.
Handmade tortillas and quality Mexican flavors are to-die-for. I've never had a meal I didn't like at Old Town Mexican Cafe. Read the reviews here.
Old Town Mexican Cafe location:
Yummy Mexican food awaits for you at 2489 San Diego Ave, San Diego, CA 92110
Recommended time in Old Town San Diego: 2-4 hours.
Here's a full guide to Old Town, including 22 cool and unusual things to do.
End your 1st of 2 days in San Diego in Gaslamp Quarter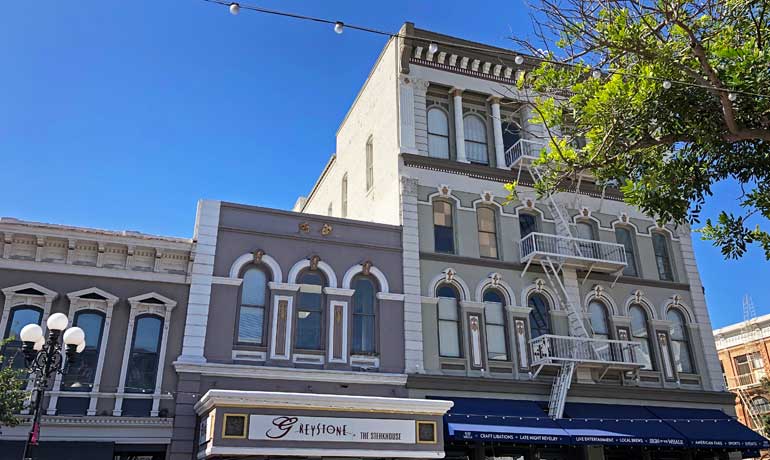 Okay so if you haven't had enough of San Diego yet, head down to Gaslamp Quarter for some nightlife. The best action is, of course, on the weekends in San Diego.
From sports bars and Irish pubs to night clubs, you'll find pretty much any kind of nightlife in the Gaslamp Quarter.
Gaslamp location:
Downtown between Harbor Drive and Broadway streets. Bars and restaurants line 4th Avenue, 5th Avenue and 6th Avenue.
Parking in Gaslamp San Diego:
On the weekends after 6pm and Sundays the metered street parking is free in Gaslamp. However it's usually really full.
There are several paid parking lots. I've used the large parking garage on 4th Avenue and F Street. It's usually available (but not necessarily cheap).
Recommended time in Gaslamp: 1-2 hours
That's a wrap of your first of two days in San Diego!
Day 2: USS Midway, Ocean Beach, Gaslamp & Coronado Island
A breakfast you'll remember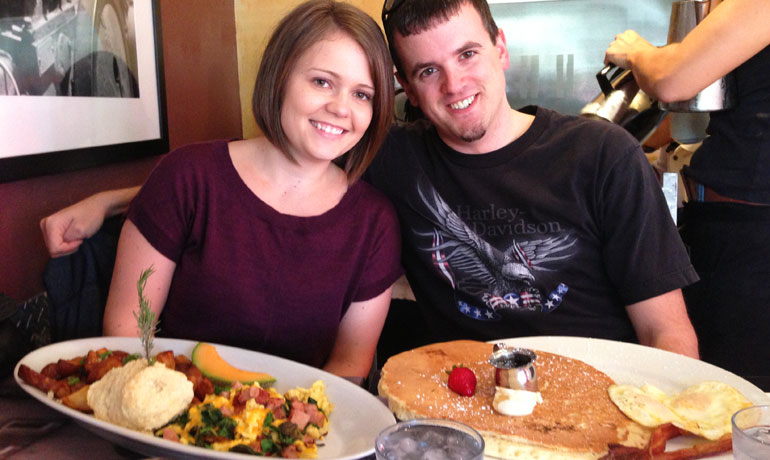 Alright if you're big into breakfast, you'll love this unique breakfast spot in San Diego: Hash House a Go Go. Yup, you read that right.
Known for their over-sized portions, this place is one to check out. But get there early, because there will be a line if you don't.
Pro tip: order a plate to split. I think my food could have fed a family of 4!
Breakfast location:
Hash House a Go Go is at 3628 Fifth Ave, San Diego, CA 92103
Next up: the USS Midway Museum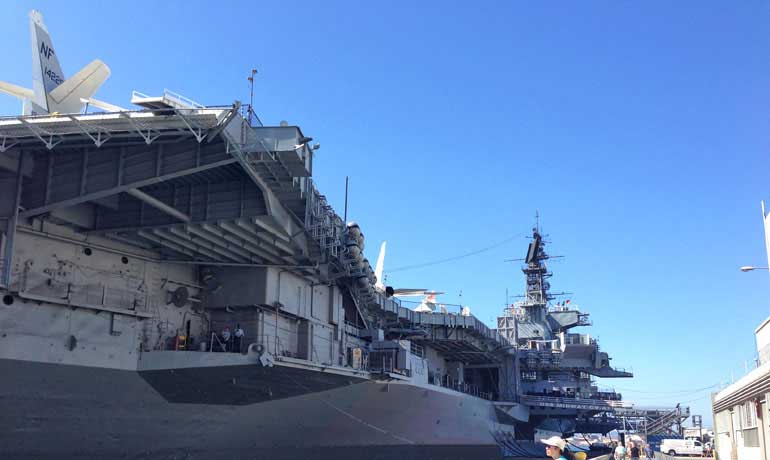 The USS Midway Museum is a unique museum experience – it's all on a ship! You'll be able to climb on an actual retired military ship, where you can see what a day in the life of a sailor was.
You'll get to go see where they slept when at sea, their living quarters, and even check out the ship's control center.
On the top deck you'll get phenomenal views of the entire ship and the city! You'll see downtown San Diego and the bridge from San Diego over to Coronado. Plenty of photo opportunities throughout the museum.
If you have kids with you they can climb in and out of various aircraft and kids love it! It's really interactive and kids are encouraged to touch buttons, pull levers and all the things needed to fly the planes and helicopters.
USS Midway Museum location:
The USS Midway Museum is at 910 N Harbor Dr, San Diego, CA 92101
Parking near USS Midway:
There's no dedicated parking for the museum, but there's a parking lot right near the entrance, for a $10 fee. It does fill up so come early to get a spot there. Otherwise there's metered parking along the city streets.
Recommended time at the USS Midway: 2-3 hours.
Lunch on day 2 in San Diego: Ocean Beach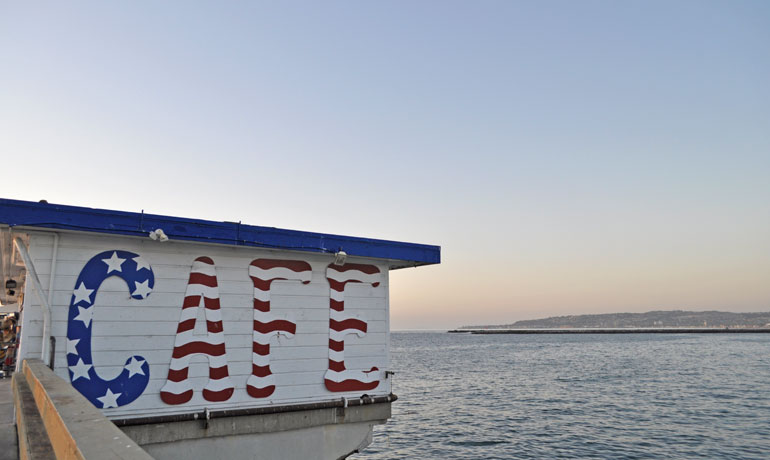 After your morning full of military history, head out to Ocean Beach and check out the sites and grab some lunch.
There's so many fabulous beaches in the San Diego area and Ocean Beach is one way you'll get fun ocean views and a great, eclectic vibe. There's often festivals, street performers, and artist all along the boardwalk at Ocean Beach.
At the Ocean Beach pier, there's a restaurant where you can dine over the water. The Walking on Water Cafe (WOW Cafe) serves a variety of seafood options and excellent fish tacos. (Are you noticing a theme with the fish tacos?)
From the shore the restaurant doesn't look too far out there but prepare yourself for a small trek! You'll definitely work your way up to a hungry belly by the time you get there!
Beachfront Vacation Rentals in San Diego
Walking on Water Cafe location:
Your lunch spot is at 5091 Niagara Ave, San Diego, CA 92107
Parking near Ocean Beach:
There's street parking for free near the pier at Ocean Beach. Otherwise you'll find 3 parking lots along Abbott street, which is parallel to the beach.
Recommended time at Ocean Beach and lunch: 1-2 hours
No weekend in San Diego is complete without Ghirardelli ice cream at Gaslamp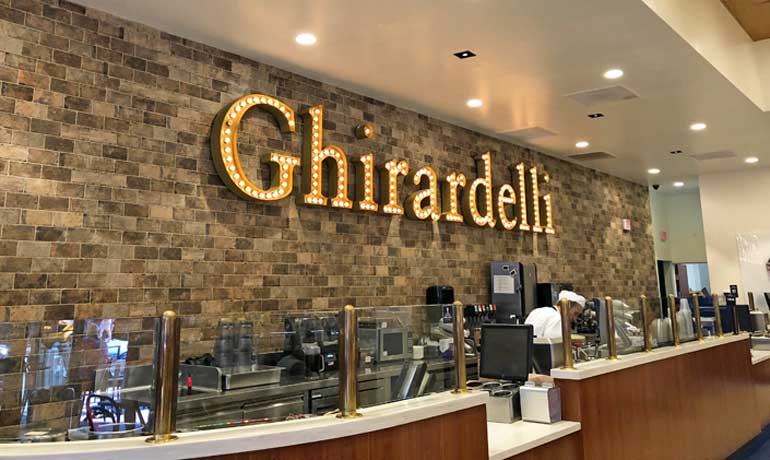 So next up, and especially if you didn't get to Gaslamp on day 1, head down to the Gaslamp district in downtown San Diego. Ghirardelli ice cream is a must in San Diego.
This is coming from the girl who once planned and entire vacation around Ghirardelli ice cream. That's not even a joke.
It's my favorite chocolate ice cream in the entire world. Stop by Ghirardelli where you can buy their lovely chocolates in more flavors than you probably ever seen in a grocery store. And of course, enjoy their amazingly delicious ice cream.
Servings are large so be prepared. You might even get one to share.
After your ice cream, take a minute to walk around Gaslamp. From affordable souvenirs to high-end shopping, there's a ton of shops in the area if you choose to take a souvenir home.
Ghirardelli ice cream San Diego location:
Ice cream located at 643 Fifth Ave, San Diego, CA 92101
Gaslamp Quarters parking San Diego:
Metered parking on the streets or parking lots for a fee. More details above on day 1.
Recommended time at the Ghirardelli in Gaslamp : up to 1 hour.
(more if you're shopping)
Read next: How to Create Your Travel Bucket List (with 101 destination ideas)
End your 2 days in San Diego at Coronado Beach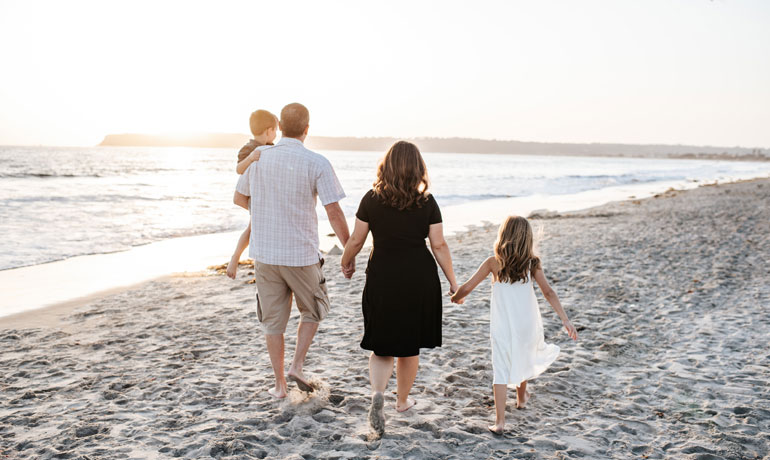 To end your perfect two days in San Diego itinerary, head out to the beautiful beaches of Coronado Island.
Coronado is known for its super soft, fine white sand. There's actually an element in the sand on Coronado, mica, that has a glittery effect on the sand. The water along the shore literally looks like glittery gold. It's unique and very beautiful.
This beach is less crowded than many of the other beaches in the San Diego area, and it's very clean. There's not a whole lot of amenities at the beach (like restrooms) so plan accordingly.
But my favorite part is watching the sun set beyond the horizon. It was one of the first places and my husband and I came to watch the sunset in San Diego, and absolutely fell in love with the beach. We continue to bring our kids here years later.
This is also an awesome spot to grab a photo of your family at sunset.
While you're at Coronado, be sure to check out the famous Hotel Del Coronado, (or 'The Del' as the locals call it). It's over 130 years old and has hosted the rich and famous forever. It's truly an icon in San Diego.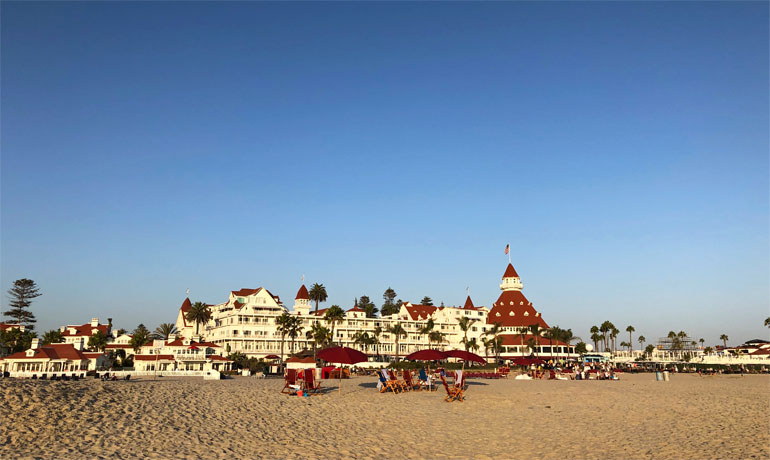 Coronado Beach location:
There's not really an address for the beach, but you can navigate to The Del at 1500 Orange Ave, Coronado, CA 92118
Parking at Coronado Beach:
There's free parking all along Ocean Blvd, parallel to the beach. More parking in the neighborhoods near the beach if you need it.
Recommended time at the Coronado Beach: 2-3 hours.
After Coronado, grab a bit to eat before you call it a night. Here's the best restaurants in Coronado to choose from.
2 days in San Diego – bonus activities!
Well if you're anything like me you like to have options, so here are a few other activities that you can spend your weekend in San Diego. Or even better if you have a long weekend in San Diego you can take some extra time to do these activities.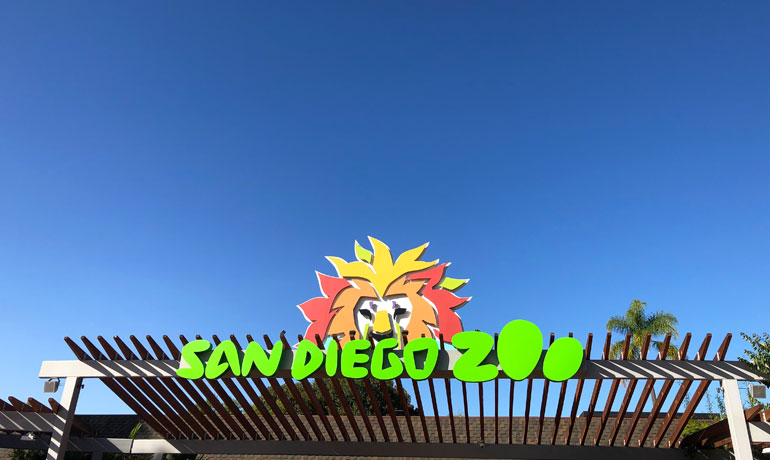 More things to do in San Diego for a long weekend:
San Diego Zoo
Balboa Park
SeaWorld
San Diego Zoo
Now I absolutely cannot mention a perfect itinerary for San Diego without mentioning the world famous San Diego zoo! You could spend an entire day at the San Diego zoo, but if you're just here for a weekend in San Diego you could come for a half day trip and just see your favorite animals.
Balboa Park
Balboa Park in downtown San Diego is amazing. Hiking trails, botanical gardens, playgrounds, and free museums are just the start to Balboa Park. You could literally spend an entire day (or more) exploring the area.
SeaWorld
SeaWorld is another staple in the San Diego area. It's a fun activity for adults and children alike, and creates a truly unique experience in San Diego. Rides, shows and animal encounters – sounds like a day of fun, right?
Perfect itinerary: 2 days in San Diego
So, do you have your perfect activities for your 2 days in San Diego?
I can say without a doubt you can easily spend more than a week in the San Diego area without ever getting bored! Good news is you really can't make a bad choice when visiting San Diego.
I certainly hope that you make the best of your 2 days in San Diego! Soak in all the sites, relax and enjoy yourself!
Related reads:
22 Cool and Unusual Things to Do in Old Town San Diego
Exactly What to Pack for a Beach Vacation
Tips for Flying with Kids
45 Signs You Need a Vacation
If you found this article helpful, pin it for later or share it with a friend.