Turks and Caicos is absolutely breathtaking. White sand that feels like you're walking on clouds. Vivid turquoise water that's genuinely perfect. But does all that beauty come with a price? Is Turks and Caicos expensive? And can you travel to Turks and Caicos on a budget?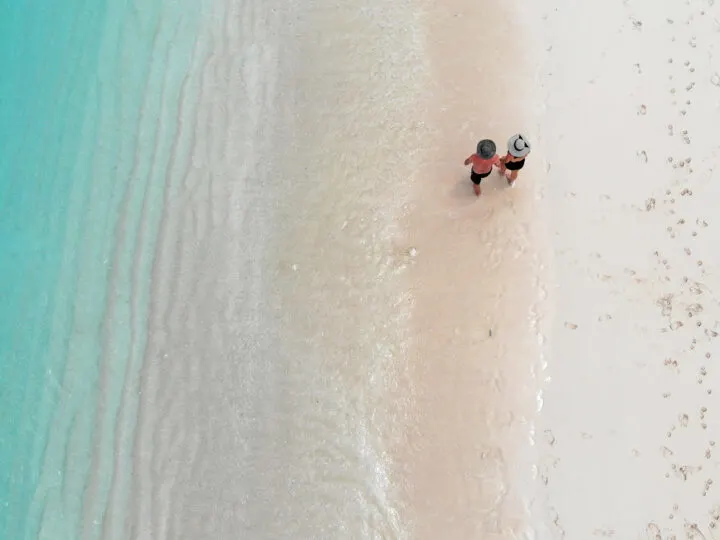 This post may contain affiliate links. For more info, see my disclosures.
Well….yes! My husband and I took a 7 night, 8 day vacation to the beautiful Turks and Caicos. We stayed on Providenciales and pretty much had the best time ever – without breaking the bank!
With research and only a little bit of frugality, it's totally possible to have a perfect beachy vacay for cheap. Let me repeat that:
You can go to Turks and Caicos on a budget.
My husband and I saved over $7,000 on this trip. It's true.
I'll show you how to do the same with the guide below.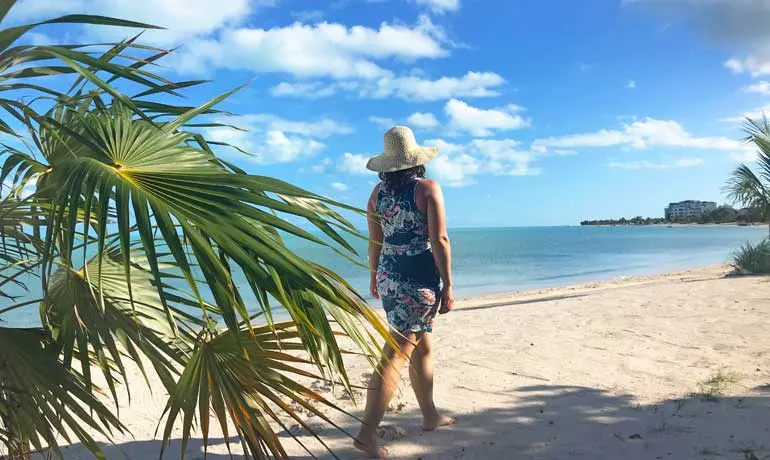 But first, I wanted to address a question I've received a lot since my trip:
Is Turks and Caicos safe?
Absolutely! I felt safe 100% of the time in Turks and Caicos. My husband and I stayed on Providenciales and explored the entire island. Never once did I fear anyone or any situation.
We went all over the island. We had to go everywhere to check out all the best beaches on Turks and Caicos.
I've been to other islands in the Caribbean that did not feel safe. There's just something about policemen and security guards carrying large weapons that don't make a girl feel safe, ya know?
But for those asking if Turks and Caicos is safe – my answer is yes!
Okay, let's get back to the guide.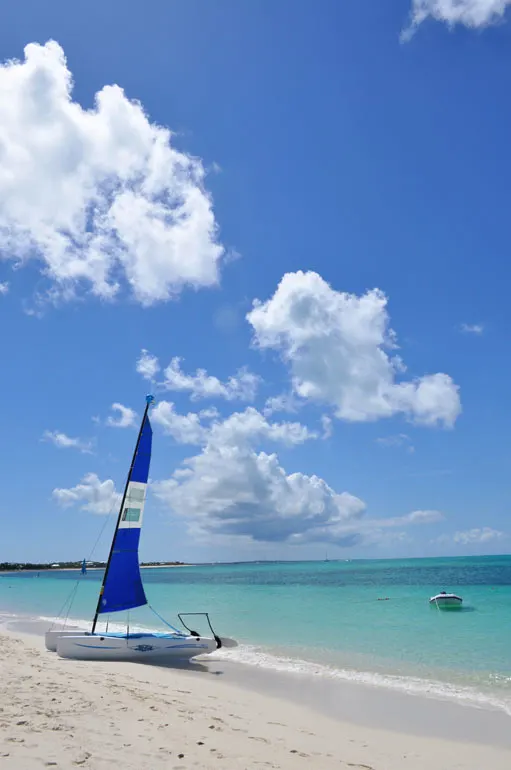 Turks and Caicos on a Budget
How to buy cheap flights to Turks and Caicos
My best tip to saving money on your luxury island vacation is to find cheap flights.
I mean, obviously that's the goal. But how do you find a cheap flight to the beach? Wait for the deals to come to you. Yep, you read that right.
Hop on over to my best budget travel tips article where I break down my favorite free and cheap flight subscription services. They're seriously so good!
I signed up for flight alerts and received an alert that flights were 40% off to Providenciales, Turks and Caicos.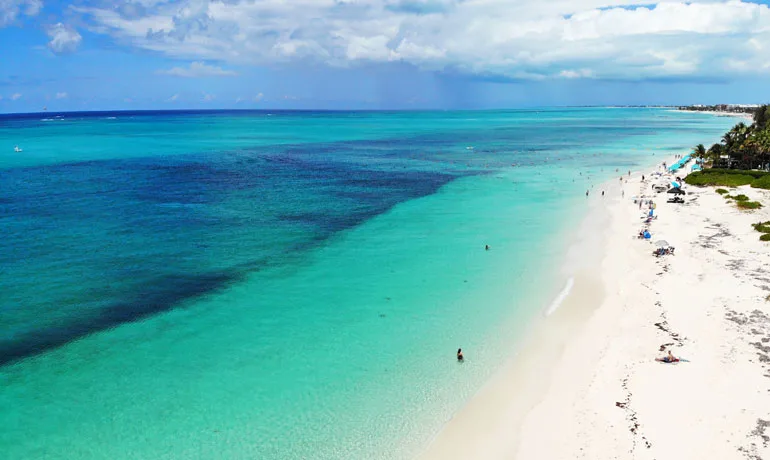 Cheap flights to Turks and Caicos:
Price I paid for flights: $415 per person
'Normal' flight price: $690+ per person
Savings for 2 people: $550
Pro tips:
Be flexible with your dates
Save the money for vacation ahead of time so you're ready to buy on a whim
Get flight alerts through FareDrop. Book the flight right away before the deal is gone!
Your biggest trip costs are typically getting there and staying there. Which leads me to my next tip….how to save money on accommodations in Turks and Caicos.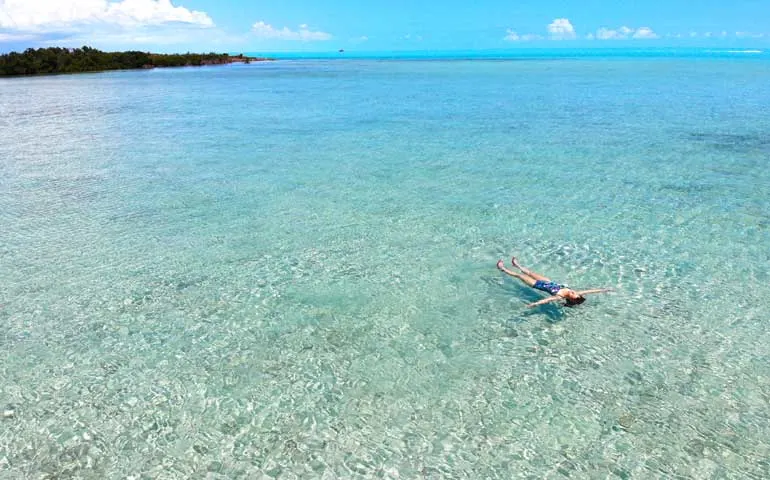 Turks and Caicos – where to stay
Don't stay at a pricey resort on Turks and Caicos. I mean, not if you want to save a boatload of money anyhow.
With all the things to do in Turks and Caicos, are you really planning to stay in your room much anyway?
Let me caveat this: there are absolutely times where staying at a luxury resort is an incredible experience. But if you want to find out how to travel to Turks and Caicos on a budget, pricey hotels or all-inclusive resorts are not the answer.
There's simply not a lot of hotel options right now on Providenciales (or the other islands for that matter) so hotels are really expensive.
Instead, find a vacation rental that will fit your needs. Vacation rentals are a fraction of the price of hotels or all-inclusive resorts. I was really surprised at how many options for vacation rentals were available on Turks and Caicos.
My husband and I stayed at a guesthouse that was literally the perfect size for just us. Bonus – it came with a kitchenette which also helped us save money on food (more on that later).
Budget-friendly accommodations on Turks and Caicos:
Price: $207/night at a vacation rental (includes all fees and taxes)
Standard room at the most popular all-inclusive resort on Grace Bay Beach: $1,105/night (includes all fees and taxes)
Savings: $6,290 (minus food, of course)
Okay, can you seriously believe the savings here???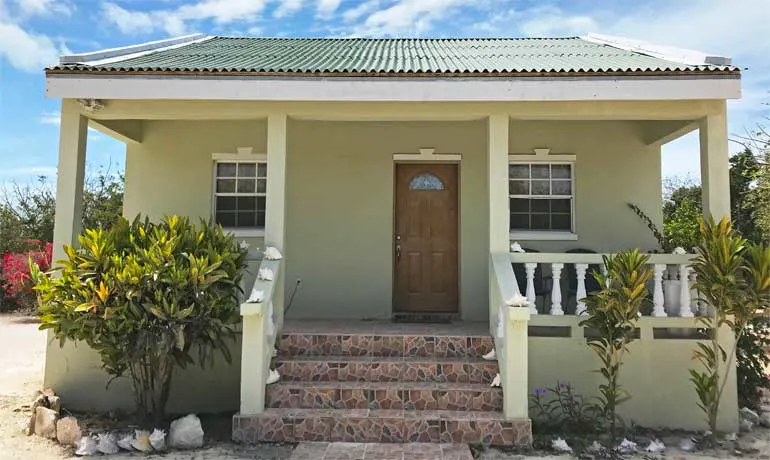 Pro tip: make sure to ask your host if the rental includes beach towels, chairs, an umbrella, cooler and other beach items. Our rental came with lots of beach gear and it was amazing!
What it didn't come with:
Someone to wait on us hand and foot
Swimming pool
The ability to walk out of our hotel room and be on the ocean
We had a much different experience than staying at a hotel on Turks and Caicos, but we actually enjoyed it much more. It allowed us to explore the island, including all it's gorgeous beaches instead of sticking around the hotel.
It also required a rental car…so let's get to that next.
Getting around Turks and Caicos
You'll need a rental car as they don't have Uber or Lyft in Turks and Caicos. There are taxi's but they're pricey.
Review all my suggestions for saving money on rental cars here.
If you can't save money using travel rewards points or finding a discount, just opt for the smallest vehicle that will fit you and your luggage.
Seriously. The smallest one.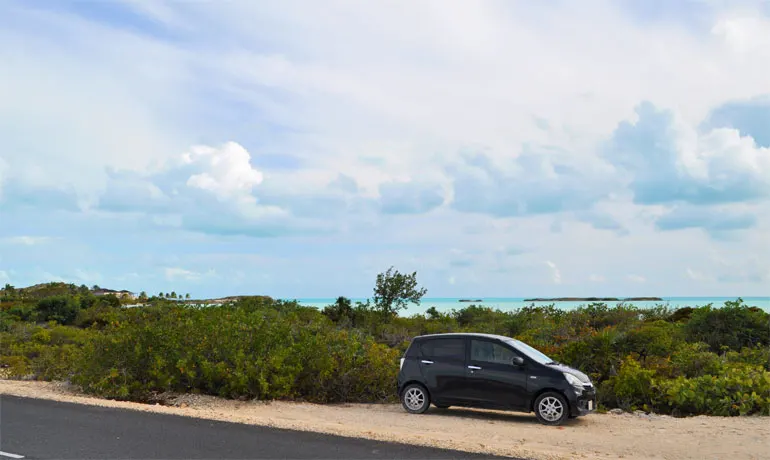 Do you really NEED all that leg room for your 20 minute trek across the island? Do you need it more than you need the extra $100 it will cost you for the upgrade? My husband is 6' and drove around in a compact rental car, which was actually surprisingly spacious inside.
Pro tip: you'll be driving on the left side of the road. Start wrapping your head around that now.
If you're trying to do Turks and Caicos on a budget, save money on a rental car.
Side note: we ventured down an extremely rough road over to Malcolm's Road Beach which was one of the best adventures of the trip. After our mini car made it through the bumpiest road I've probably been on in my life, we named it 'Thor' for the rest of the trip. #BestRentalCarEver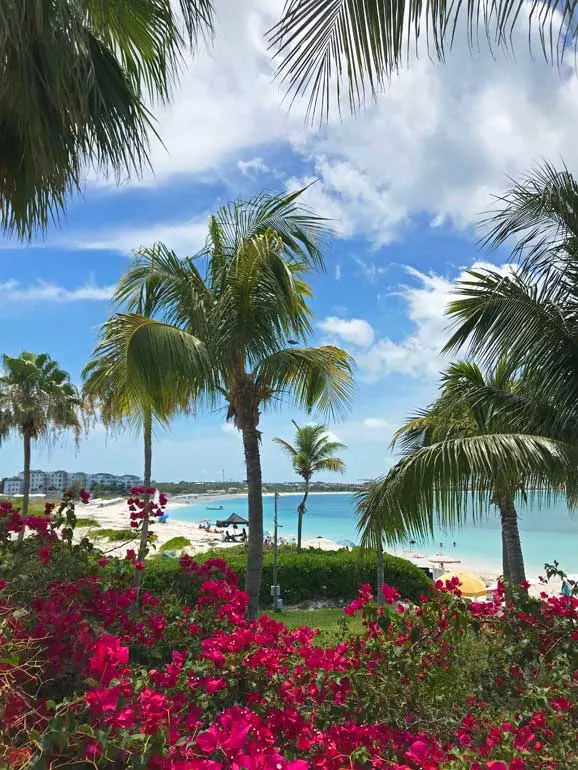 Turks and Caicos – cost of food
If you're not staying at an all-inclusive, the cost of food can really add up! Especially if you're not careful.
Food prices on an island can be high, whether you're heading to Hawaii, Turks and Caicos or anywhere else for that matter. So consider this and make sure you add food into your vacation savings plan in advance.
Here are some tips for enjoying Turks and Caicos on a budget while not spending a ton on food:
Eat at restaurants further inland, without an ocean view. Typically the priciest places to eat on an island are those with a view, where the tourists will spend their money. Avoid this trap.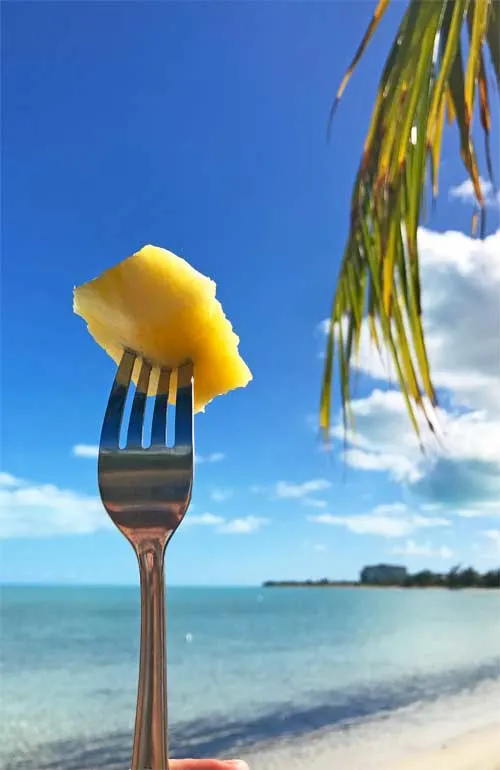 Hit up a grocery store and buy breakfasts and lunches for your stay and eat at your vacation rental. I know this doesn't sound like the most fun thing ever on your trip, but trust me you'll save a serious stack of cash! Just keep it simple so it's not a lot of work and you'll be glad you did.
Pro tip: buy gallons of water instead of bottles because it's way cheaper. Just make sure to buy the gallons inside the store, not the ones sitting out in the sun to avoid that plastic taste.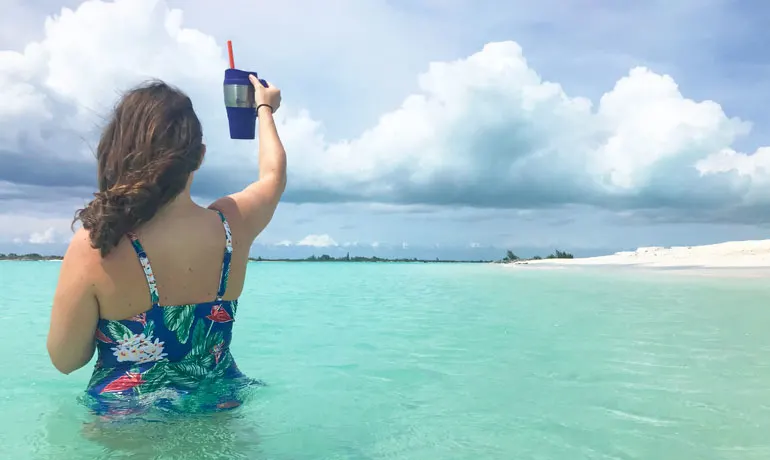 Pack snacks from home. With prices being more than double what they are back home, why not throw a couple boxes of granola bars in your luggage?
Bring your own mini blender and hit the liquor store. If you like fruity cocktails as much as I do, this a huge savings hack! You'll have to pack it in your checked bags, but if you're planning to enjoy a few drinks on vacation, this is the way to go.
This is my favorite travel-size blender. Make sure to get insulated cups and reusable straws for the beach.
Turks and Caicos food on a budget:
Breakfasts, lunches and alcohol at vacation rental: $261
Breakfasts, lunches and alcohol at restaurants and bars: $840
Savings: $579
Savings calculation for food and drinks: We spent $145 at the grocery store, $116 on alcohol and mixes. Divided by 6 days based on our travel schedule is $11 per person, per meal. (We did bring a bottle home with us and had some leftover food and drinks for the next guest.)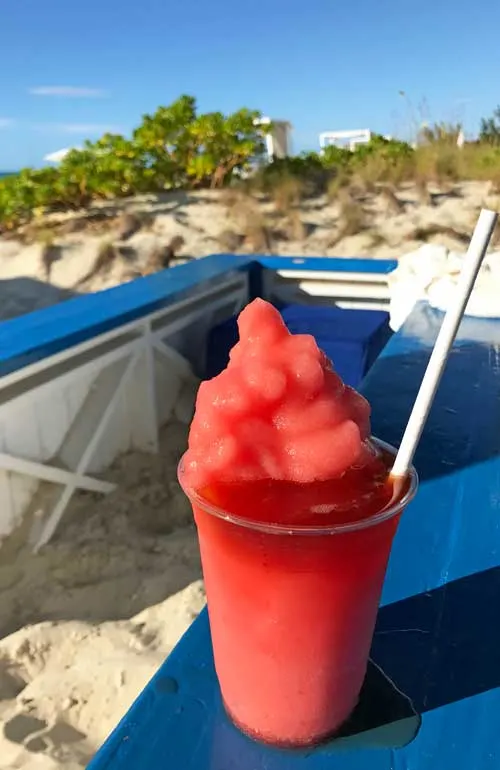 At restaurants, $20 per person was the cheapest meal we found on the island during our stay. For a nicer meal you'd expect to pay $50 or more per person. Alcoholic drinks ranged from $15-$25 each.
I estimated a conservative $480 for breakfasts and lunches and $360 for alcohol (2 drinks per person per day).
Pro tip: don't skimp on every meal or it won't feel like vacation. My husband and I ate dinner out each night which was a splurge to help us find balance on our trip. This allowed us to feel like it was a luxury vacation but without the luxury price tag!
Your next biggest spending area could be activities. Let's get to that!
Turks and Caicos activities (for less)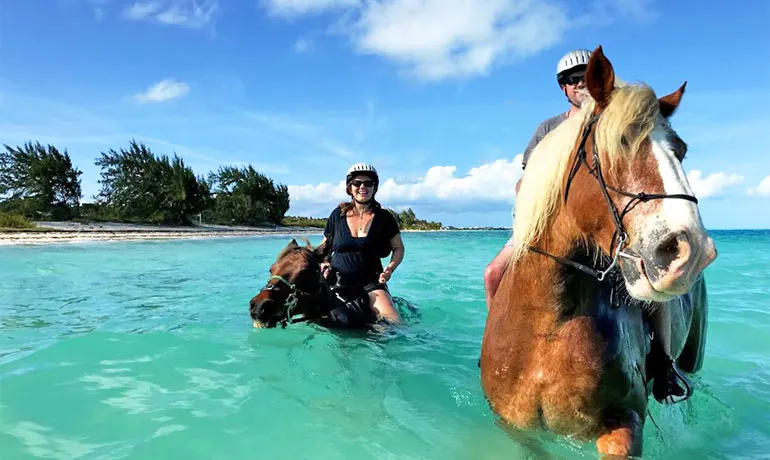 This could make or break your vacation budget. Considering Turks and Caicos has some of the most gorgeous beaches in the world, it's really easy to enjoy the sunshine and turquoise water for free.
Check out this guide to the best beaches on Turks and Caicos.
There are lots of options for activities in Turks and Caicos, ranging from catamaran sunset tours to renting glass-bottom kayaks on the beach. I'd recommend to pick one or two that cost money and spend the rest of your days soaking in the sights (for free) if you're trying to stick to a budget on Turks and Caicos.
Our favorite activity that we splurged on was horseback riding in the ocean. It was one of the coolest travel experiences I've had. Ever.
Snorkeling on Providenciales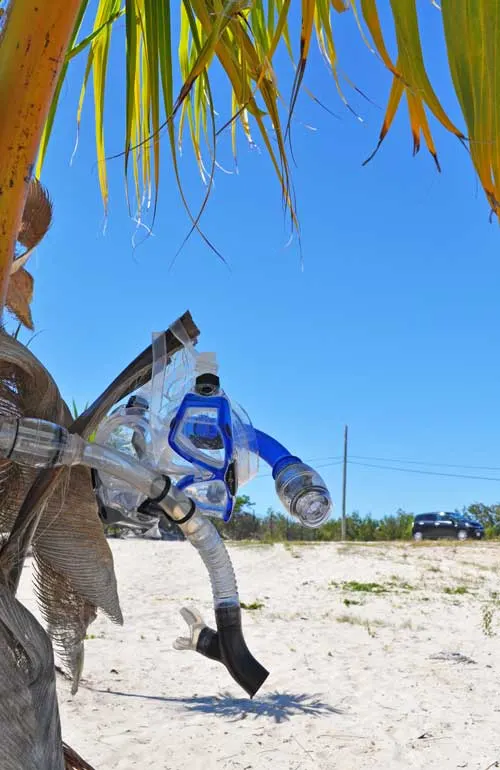 Because Turks and Caicos is famous for it's snorkeling and diving, I'd highly recommend to bring your own snorkel gear. It's cheaper than taking a snorkeling tour and you can snorkel when and where you want.
My husband and I brought our own snorkel masks and were able to snorkel all day long – for free!
Our favorite free snorkeling spot was the beach at Smith's Reef.
Cost to buy snorkel gear on Amazon: $52
Cost for 1/2 day snorkel excursion off Providenciales: $110 per person or more
Savings: $168
Related read: Best places to watch the sunset in Turks and Caicos
A recap – is Turks and Caicos expensive?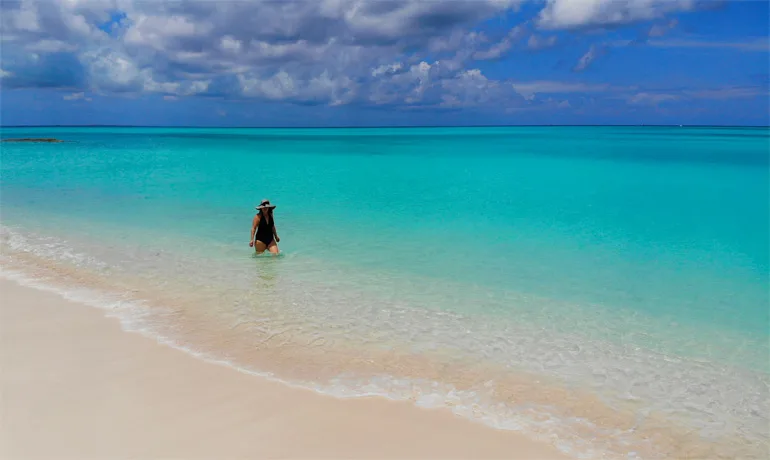 There's no doubt that Turks and Caicos is a luxury destination. It can be very expensive, running over $10,000 for a week-long stay for a couple. But my husband and I enjoyed this luxury destination for less than $3,000.
Best advice? Fly and stay for cheap. You can save money at many points throughout your trip but your largest savings will be getting cheap flights and avoiding pricey hotels.
Before your book your trip to Turks and Caicos, you'll need to decide what type of vacation it's going to be. If you're looking to save some money and go on a budget, it's absolutely possible.
Also, I'd take a luxury vacation with the gorgeous views of the most turquoise water ever if it meant sticking to a budget. Would you?

More beachy budget-friendly destinations:
Is Aruba Expensive? Ultimate Guide to a Cheap Aruba Vacation
How to Visit Belize on a Budget: Money-saving Tips and Tricks
21 Cheapest Island Vacation that are Surprisingly Affordable
Like this article? Pin it for later!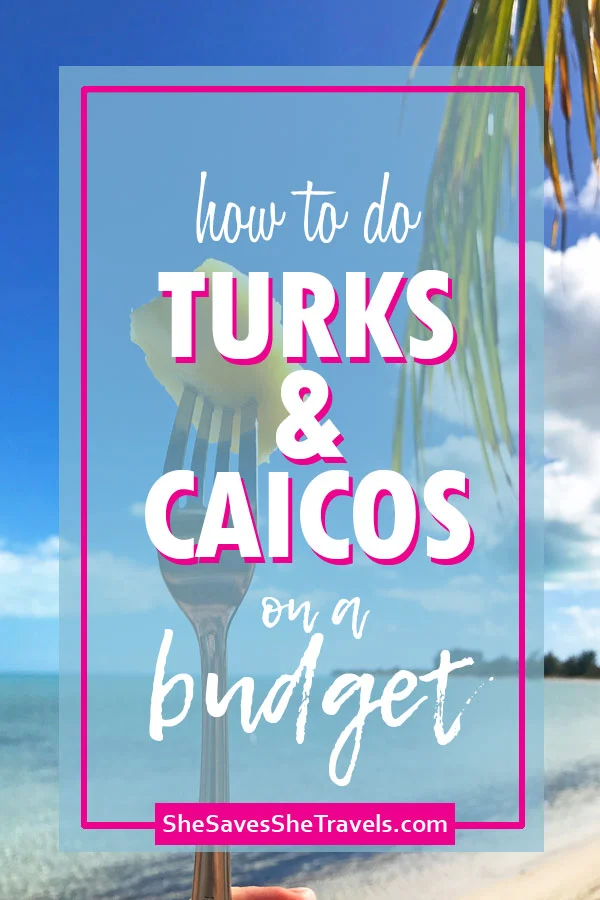 *Prices accurate at the time of this publication.