Ahhhh San Diego. It's a city known for mild temperatures, laid-back beach vibes and about a bazillion amazing sights and activities. But no stop in San Diego is complete without spending some time in Old Town!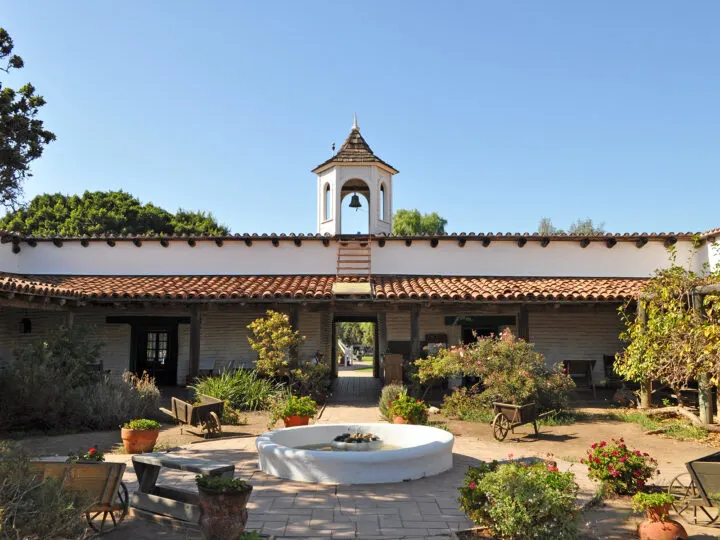 This post may contain affiliate links. For more info, see my disclosures.
After many trips to this fun city, I've put together a list of 22 things to do in Old Town San Diego that you absolutely must do.
You could spend a few hours in Old Town if you are only visiting for a weekend in San Diego. Or you could literally spend a whole day touring the sights of Old Town. And it would take dayssss to eat at all the Old Town San Diego restaurants!
Between the restaurants, shopping and free activities in Old Town, how could you really go wrong?
That's right, you really can't.
👉Don't have time to read the whole article? This is the best tour of Old Town San Diego, which is aptly named Tequila, Tacos and Tombstones Culinary Tour. So fun!
Before we get into the top things to do in Old Town San Diego, let's go something important. The thing I'm asked about when I travel to new cities and countries around the world.
Is San Diego safe?
San Diego Safety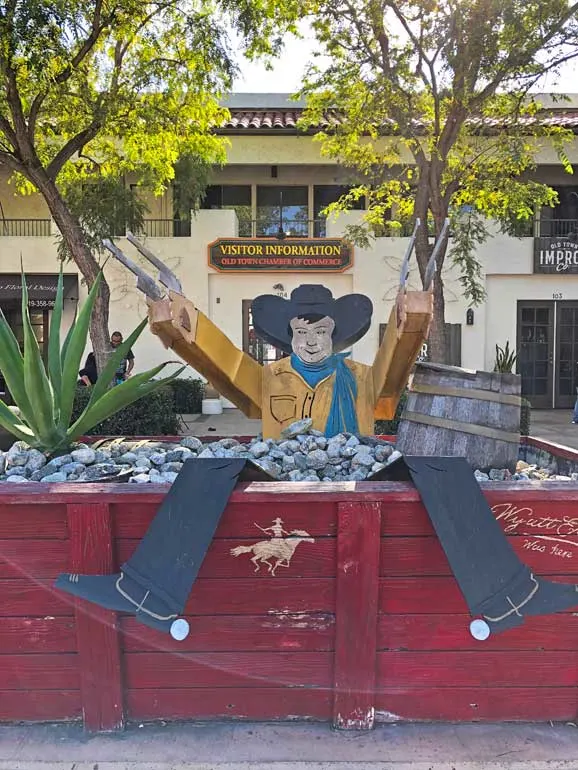 Over the years I've traveled to San Diego many times and I've felt very safe. There are, of course, certain precautions you should take in any city, and San Diego is no exception.
There are areas of town that I feel especially safe in San Diego, and Old Town is one of them. I've been there during the day and at night, and I've never had a reason to worry.
Check out these tips for staying safe while traveling and consider them on your trip to Old Town.
I've visited Old Town solo, with just my husband, with a group and have taken my kids. I'm sure there is crime like in every big city, but it's not prevalent.
One more thing before getting into the list of things to do in Old Town San Diego…. let's get to parking in Old Town.
Old Town San Diego Parking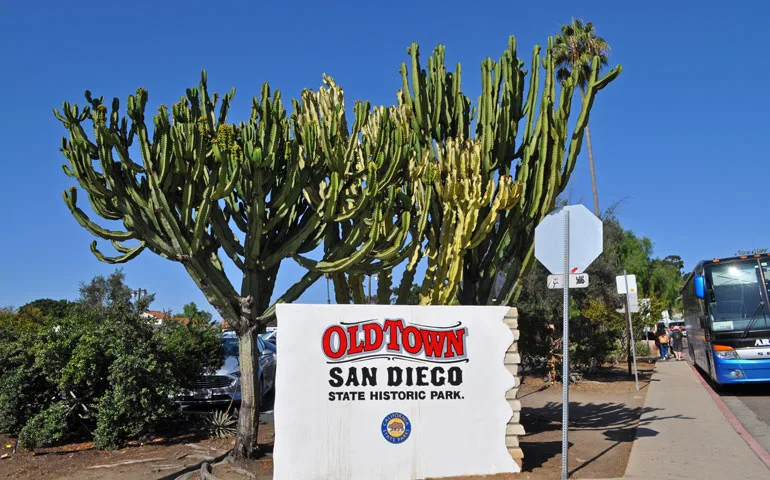 I'll be honest with ya. Parking in Old Town is rough! It's a small area and a big spot for tourists and locals, so prepare yourself. Whether you're driving your own vehicle or got a cheap rental car, parking is a bit of a challenge.
There's free public parking along the outer streets of Old Town, and it fills up quickly. Plan time to drive around for a bit, especially during peak hours. It's tough but not impossible. Don't be afraid to walk if needed and just stay positive – you're on vacation! 🙂
I've had pretty good luck with parking lots C and D. Access free public parking lot C and D from Juan Street. Lot C is located right off Harney Street. Lot D is located where Twiggs Street meets Juan Street.
Next up: my favorite things to do in Old Town San Diego!
22 cool and unusual things to do in Old Town San Diego
There's so much to do in Old Town, I'm breaking this list up into areas that are easy to digest. Starting with food first because #ilovetacos.
Old Town San Diego restaurants
There are over a dozen Mexican restaurants in Old Town San Diego. My kind of place! So if you're all about the Mexcian food, you're bound to find something you like. Here are a few of my faves.
1. Old Town Mexican Cafe San Diego
Okay, so I have to start with my absolute favorite! Old Town Mexican Cafe has – hands down – the best homemade, fresh tortillas I've ever tasted.
You can see the tortilla ladies (as the restaurant calls them) through the front window. They're tirelessly making the delicious tortillas from scratch, to perfection, by hand. Watch them through the window for some entertainment while you wait for your table!
A favorite by the locals for authentic Mexican food, you just can't go wrong with Old Town Mexican Cafe.
Location: 2489 San Diego Ave, San Diego, CA 92110
2. Drink a margarita bigger than your face at Casa De Reyes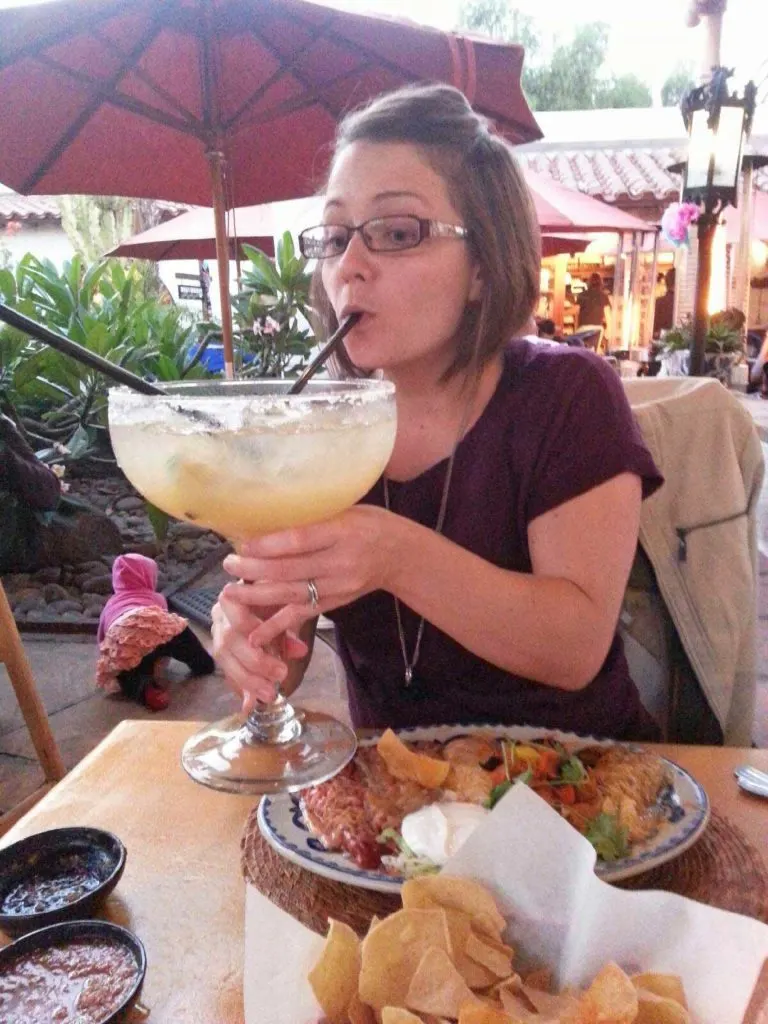 If you're a margarita lover, you'll want to head on over to Casa De Reyes, one of the best restaurants in Old Town San Diego! This restaurant features several flavors, but a they're known for their 58-ounce margs. The El Jefe Margarita is large enough that the Old Town restaurant requires 2 or more people to order it!
On one of my weekend trips to San Diego, my husband and I tried to share one. The key word there is tried. It was too big for 2 of us.
Location: 2754 Calhoun St, San Diego, CA 92110
Read next: 2 Days in San Diego: Your Perfect San Diego Itinerary
3. Dine with your dog at one of the most dog-friendly restaurants San Diego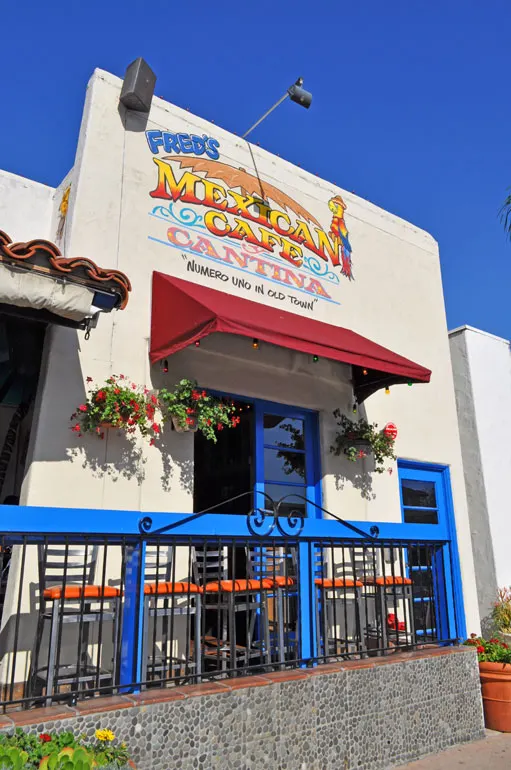 If your trip to Old Town includes your dog, then head over to Fred's Mexican Cafe and Cantina. Known for their excellent chips and guac, carnitas and shrimp diablo, it's a dog-friendly restaurant that's a great experience all around.
Location: 2470 San Diego Ave, San Diego, CA 92110
4. Eat the best chips and salsa at Cafe Coyote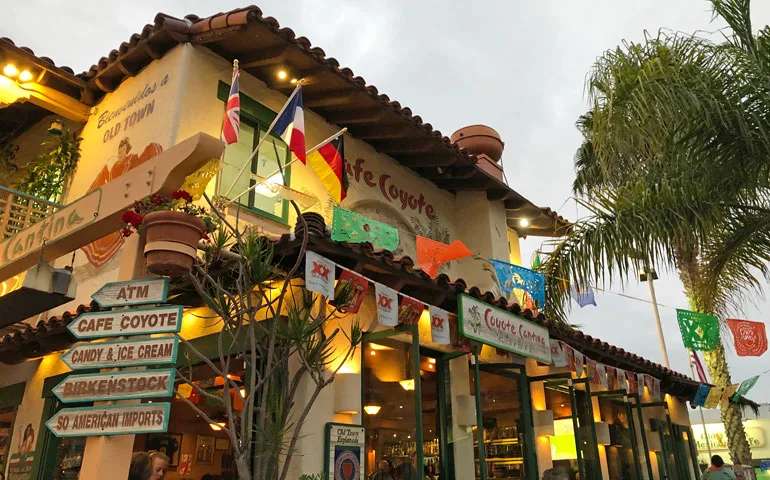 Get the open-air dining experience while you enjoy some fresh chips and salsa at Cafe Coyote. A restaurant staple in Old Town, Cafe Coyote also makes tortillas fresh daily.
And if you're a fajita lover, you'll love Cafe Coyote. So good!
Location: 2461 San Diego Ave, San Diego, CA 92110
Unique things to do in Old Town
Let's dig into the stuff that makes Old Town a fun, quirky place to visit.
5. Take a haunted tour at the Whaley House
The Whaley House in Old Town is known for its paranormal activity. It's considered to be the most haunted house in all of the U.S.! Visit it on your own or as part of a San Diego ghost tour!
The Whaley House admission: daytime admission $10, evening is $13
Location: 2476 San Diego Ave, San Diego, CA 92110
Book your Whaley House tour here
6. Get a tarot reading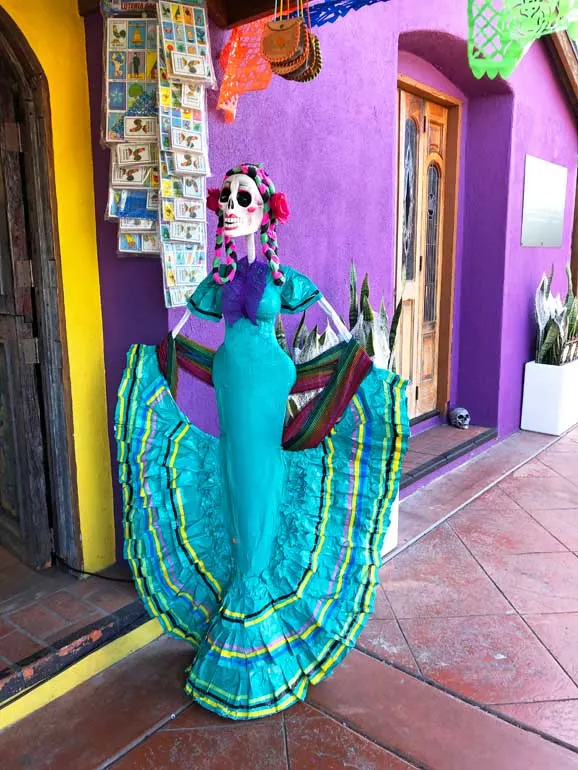 In a little strip of shops near the edge of Old Town is a psychic who does tarot and palm readings. I didn't get a reading done, but if you're in the area and are interested be sure to check out Mystical Psychic Visions.
Loacation: 2607 Congress St, San Diego, CA 92110
7. Stay overnight at the classic Cosmopolitan Hotel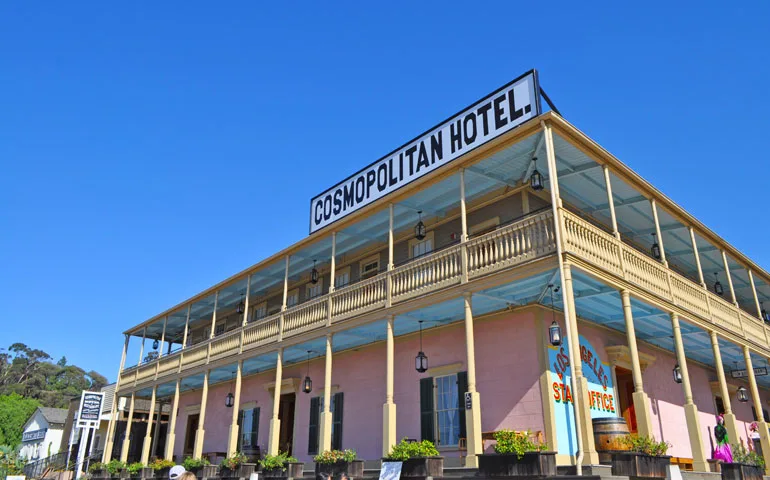 The Cosmopolitan Hotel in Old Town has quite the history! It seems like the building has been a little of everything – home, hotel, restaurant, post office, even an olive cannery. But today it's a functioning hotel and restaurant.
It's been restored to 1870's style, staying at the Cosmopolitan Hotel is quite the experience! The interior is not a museum, but has the detail of it. Everything from the wallpaper to the silverware, no detail was left undone.
Book your stay at the Cosmopolitan Hotel here
Location: 2660 Calhoun St, San Diego, CA 92110
8. Make your own candles
One of the more popular shops I've seen in Old Town is a candle-making shop. It smelled amazing! There were dozens of people making, or waiting to make candles at Toby's Candle and Soap Shop.
Location: 2645 San Diego Ave, San Diego, CA 92110
9. Stop by a Mexican candy shop
If you have a sweet tooth or are looking for a fun souvenir to share, get some Mexican candy! La Dulceria Mexican Candy has a great selection of authentic candy.
Location: 3985 Harney St, San Diego, CA 92110
10. Take a selfie – dead or alive!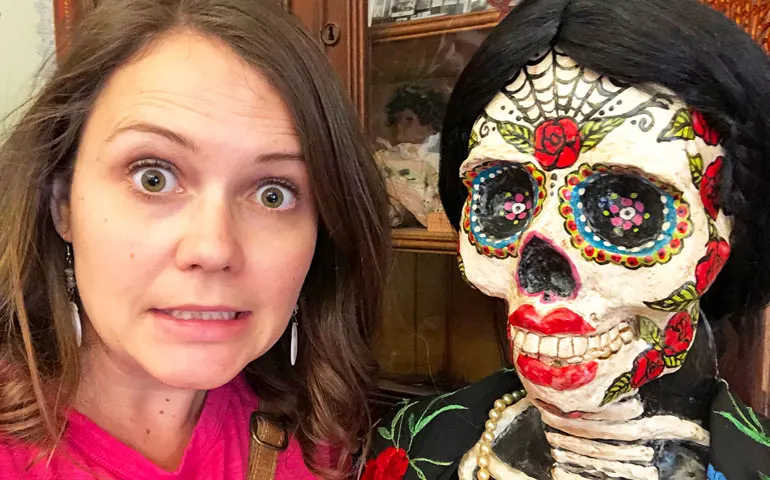 In October and November, all the decor is up for Dia de los Muertos (Day of the Dead) events. All around Old Town are life-size figures celebrating the Mexican heritage that inspires Old Town today. So snap a photo, or check out an event.
11. Take a hop-on hop-off tour of Old Town
Got limited time? See Old Town and other areas of San Diego with a quick tour. It's the best way to experience the best of San Diego!
Old Town San Diego history and museums
Old Town is the birthplace of the entire state of California! So it's kind of a big deal. There's a bunch of history and free museums to check out. Here are a few of my favorite things.
12. Visit the Old Town State Historic Park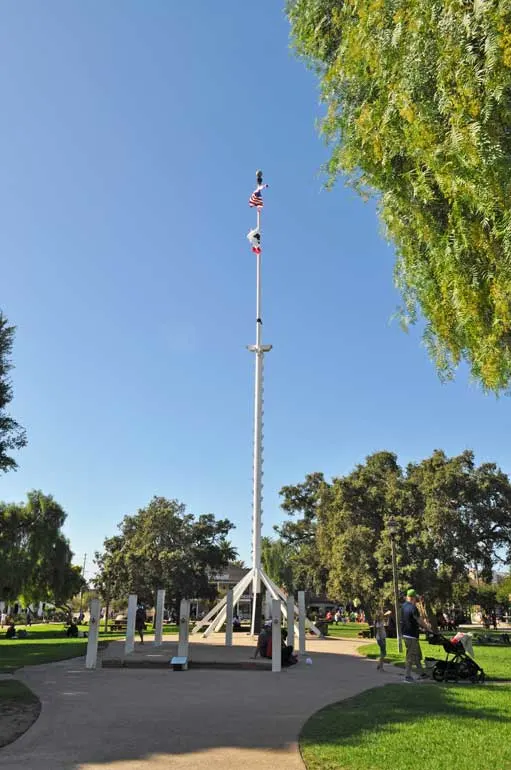 Founded in 1769, the center of Old Town has a monument to celebrate California and San Diego's origin. There's room for a picnic at the park near the monument. Saturdays are celebrated with special historical demonstrations. Here's more of the history of Old Town.
Location: 4000 Mason St, San Diego, CA 92110
13. Learn about traditional Spanish Architecture at La Casa De Estudillo Museum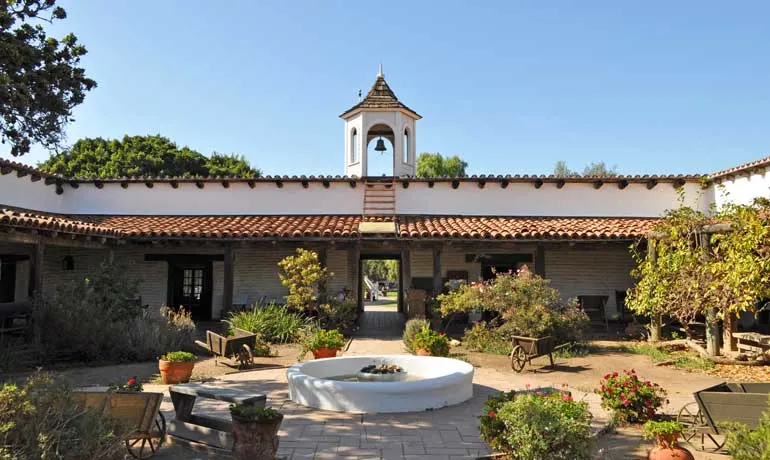 Built during California's Mexican period, this beautiful home was established in 1827. Belonging to the wealthy Estudillo family, the home was constructed with traditional adobe architecture.
Today the structure serves as a museum, with replicas of furnishings and decor from over a century ago. This was my favorite of the free Old Town San Diego museums. Read more about the history of the Estudillo Museum here.
Location: across from the monument, 4000 Mason St, San Diego, CA 92110
Cost of the Estudillo Museum: free!
You might also like:
Exactly What to Pack for a Beach Vacation
28 Underrated Destinations in the US You Need to See
101 Travel Bucket List Ideas
14. Sheriff's Museum Old Town
This one is especially fun if you have kids with you on your visit to Old Town! This museum is focused on educating visitors, especially school-aged kids, about the importance of law enforcement through interactive exhibits.
This is a free attraction, although donations are accepted.
Location: 2384 San Diego Ave, San Diego, CA 92110
15. Another Old Town San Diego museum to visit: Casa de Aguirre Museum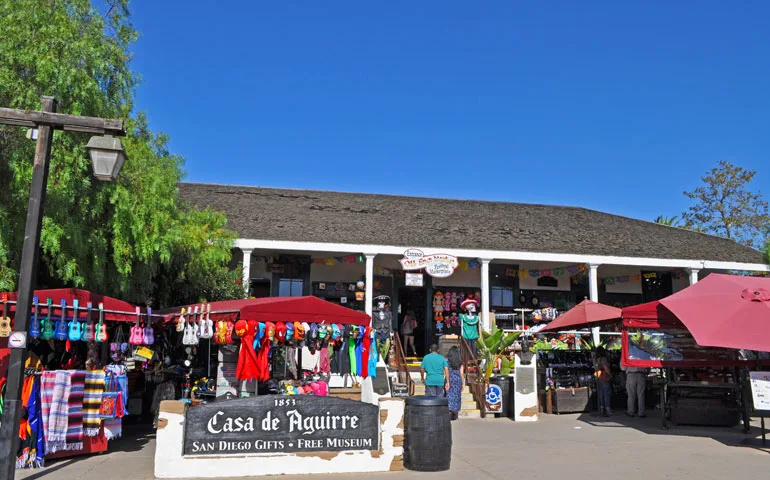 Just outside of this museum is a large shopping area, which kind of disguises the building a bit. But step inside and you'll see a little museum, symbolizing a big part of Old Town's history.
Casa de Aguirre was one of the first homes built in Old Town. The unique artifacts inside demonstrate what it was like living in the mid-19th century. It's now part of the Old Town State Historic Park, with free admission.
Location: at the intersection of San Diego Avenue at Twiggs Street. No real address but navigating to 2612 San Diego Ave should get you there.
16. Seeley Stable Museum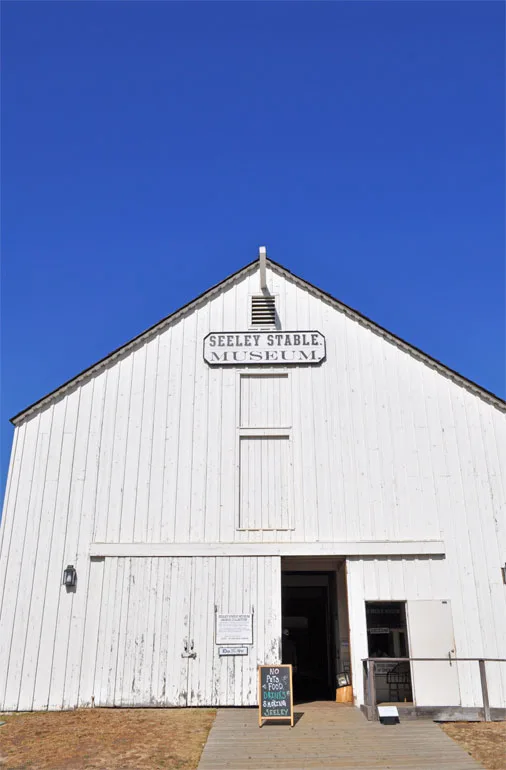 Step back in time before to see how people got around in the 1800s. It will really make you appreciate modern conveniences!
Location: 2648 Calhoun St, San Diego, CA 92110
Old Town market San Diego
There's shopping to do in Old Town, for sure! You'll find shops are around every corner and vendors lined up on the streets.
17. Find the right souvenir and atmosphere at Fiesta de Reyes
Closest to the Old Town State Historic Park is an area with restaurants and 19 shops, Fiesta de Reyes. It's a cute spot to walk around and do a little Old Town shopping!
Location: 2754 Calhoun St, San Diego, CA 92110
18. Get your plants a new home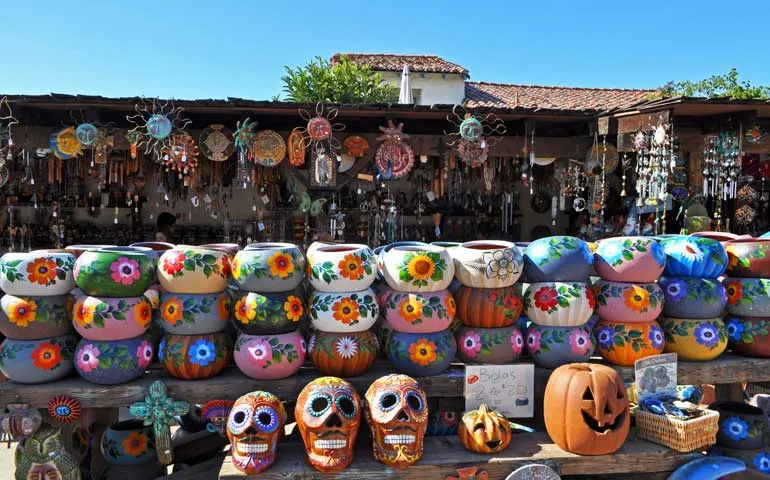 On my last trip to Old Town, I walked into this store that I just adored! El Centro Artesano is an outdoor decor store with items with traditional Mexican flair, including and plenty of pots. I had my hands full with my kids on this trip, or I would have braved traveling home via airplane with a new pot (or 2) for my plants.
Location: 2637 San Diego Ave, San Diego, CA 92110
19. Grab some maracas and start making some music
One of my first trips to Old Town, I picked up some maracas for my kids. Such a fun souvenir! The maracas in Old Town are unique, coming in all sizes, colors and materials. Maracas originated in Latin America, so it's fitting that you can find a ton of them in Old Town.
20. Shop the Harney Street artisan market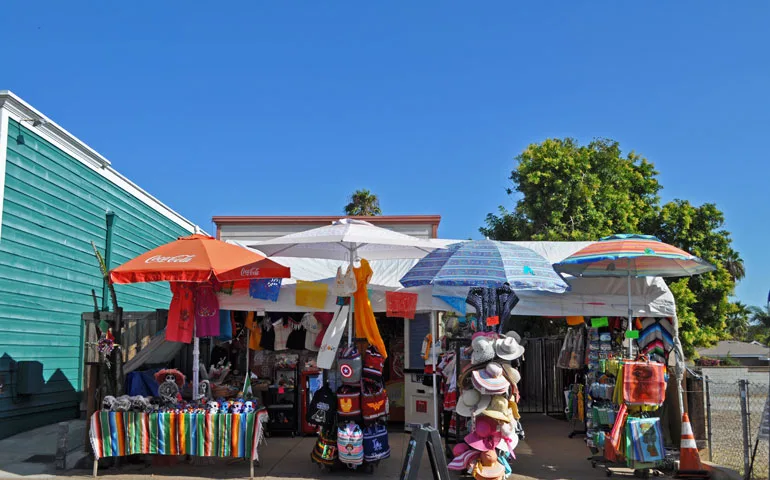 On Saturdays and Sundays, Harney Street fills up with vendors. One of my first trips to San Diego, I spent one afternoon walking around the market, marveling at all the jewelry, art, clothing and hand-made items to buy.
I walked away with a bracelet, which years later, is still one of my favorite accessories! So if you're a shopper, weekends are the best time to go. 🙂
Location: on Harney Street between San Diego Ave and Congress St
More things to do in Old Town
21. More cheesy photo ops: #likeatourist with 3 tin westerners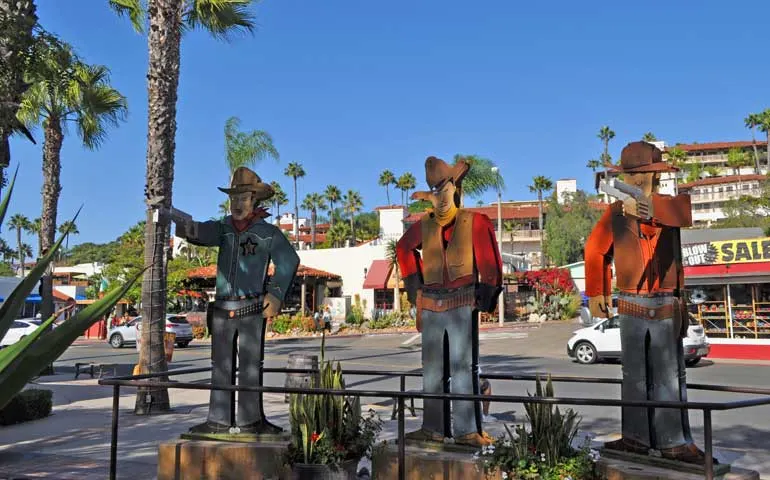 It's hard to walk past these things and not take a pic! So grab your friend, husband or kids and just do it. 🙂
By the way, this outdoor artwork installation reminds me of walking around Balboa Park and all the fun activities there. It's one of the best things to do in San Diego, and a fun way to spend an afternoon during a San Diego bachelorette party too!
Location: 2415 San Diego Ave, San Diego, CA 92110
22. Listen to a band at Fiesta de Reyes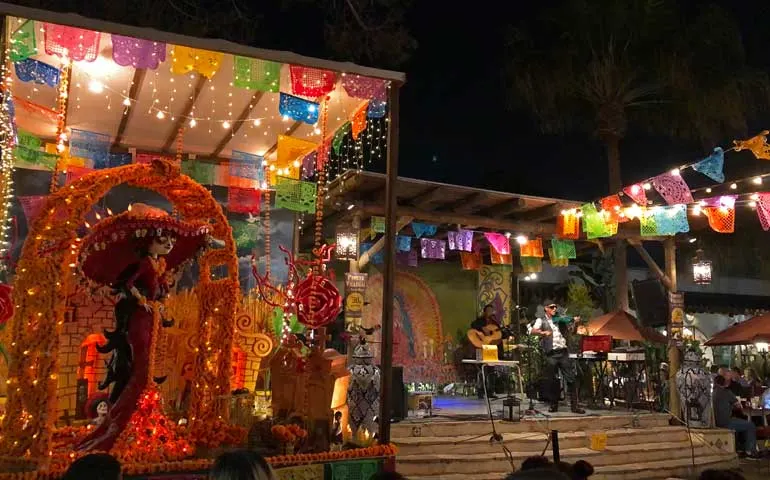 Enjoy live free entertainment at Fiesta de Reyes! There's some kind of free event or activity every day in the courtyard. Our last visit we heard a Mexcian band singing classic rock and roll, which was actually really fun! It's appropriate entertainment for all ages.
Location: 2754 Calhoun St, San Diego, CA 92110
Headed to the beach while in San Diego? Grab this free packing list to make sure you have everything you need!
Old Town San Diego: that's a wrap!
San Diego is an incredible city – one of my absolute favorites in the U.S. San Diego has so much to offer, but a highlight is definitely Old Town. Hope you've got your mind made and you're ready to explore!
What's your first stop? Comment below – I'd love to know!
By the way, if you need a rental car in San Diego, I typically use Discover Cars because they're cheap. I regularly save 10-30% on rental cars. They search the top carriers to find the best deal at no extra cost. Here's that link to search rental cars again.
Find this article helpful? Save it for later or share it on social media!