Vieques is an absolutely incredible island off the coast of mainland Puerto Rico. This sleepy island is home to many natural wonders, including Playa Negra, the Black Sand Beach Vieques. Here's everything you need to know before you go!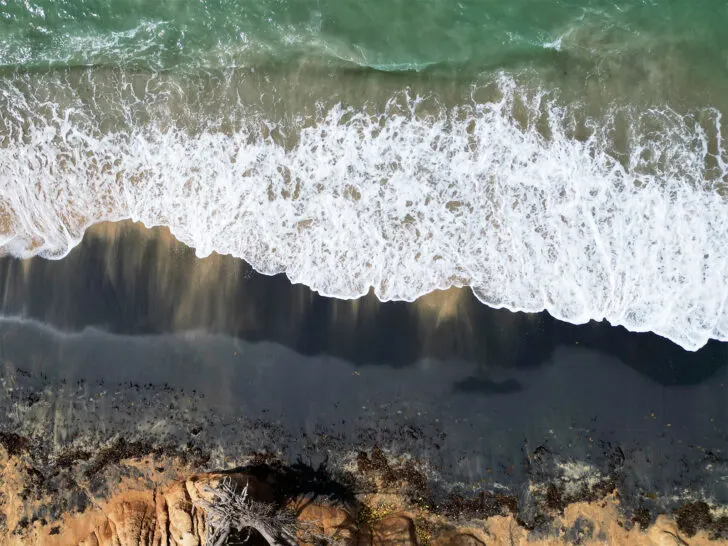 This post may contain affiliate links. For more info, see my disclosures.
The small island of Vieques, Puerto Rico is a definite visit on a Puerto Rico itinerary. The world-famous bioluminescent bay is simply incredible. The laid-back island feel, good food and wild horses adds so much adventure to any vacation.
But perhaps one of the most fun spots is the Black Sand Beach Vieques! This unique spot on the island is worth a visit. Spend an hour enjoying the beach or pack a cooler and some beach chairs for a fun afternoon!
Here's your ultimate guide to the Black Sand Beach in Vieques, including how to get there, what to expect and more!
Map of Playa Negra Vieques
To familiarize yourself with the area, here's a map of the Black Sand Beach, AKA Playa Negra. The orange icons are the trailhead (near the parking area) and beach. The blue icons are other nearby landmarks on the island.
How to get to Vieques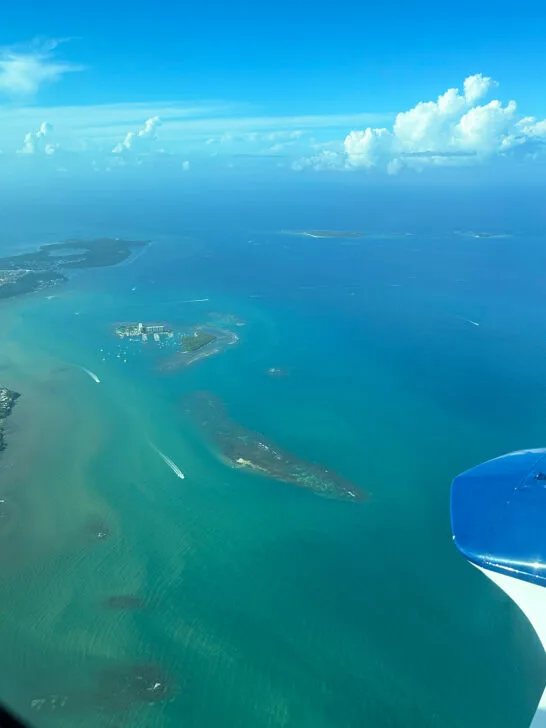 So if you're wanting to go to this Black Sand Beach but need to get to Vieques first, read on. Sort of like Culebra or Vieques; you basically have 2 options to get from mainland Puerto Rico to Vieques.
The ferry to Vieques is the cheapest way to get to the island. It takes longer, can be difficult to get tickets unless you live in Puerto Rico, and can be challenging to arrange transportation to the port from the main tourist spots.
But if you're coming to Puerto Rico and spending some time exploring all the things to do in Old San Juan then making your way to Vieques for a week or at least a few days, then it may be worth your time to use the ferry.
Alternatively, you can fly to Vieques from Old San Juan and it's just a 25 minute flight. It's pricier than the ferry, but gets you there faster and is quite the experience, seeing the islands from above!
There are typically many flights a day between Old San Juan and Vieques, so if you plan a few days – or even a few months in advance, you should be able to find one that works for your schedule.
I've personally used Cape Air when flying to Vieques and when visiting Culebra, Puerto Rico and have had really good experiences with them.
How this unique beach was formed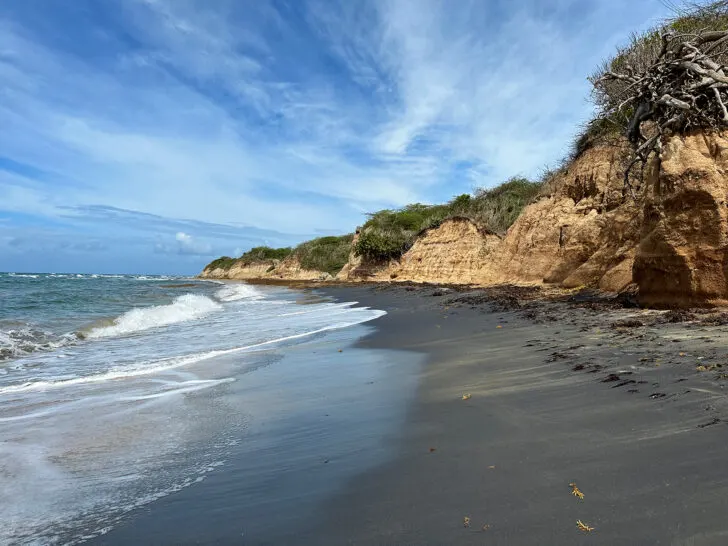 Black Sand Beaches are rare, and visiting one is a bucket-list item! Each Black Sand Beach is a little unique, like the Honokalani Beach during a budget trip to Maui – this 'sand' is larger, like tiny pebbles.
I'll break it to you now, before you visit: the black sand on one of the best beaches in Veiques, Playa Negra, isn't fully black. The waves bring tan sand in and out of the water, and black sand is further up on the beach. There's many areas on the beach that bring more dense black sand.
The actual black sand gets its color due to the leftover particles of the volcanic material and minerals from when the island was formed. So cool!
Also there's a short walk on a trial to get there. Let's dive into those details!
How to get to the Black Sand Beach Vieques, Puerto Rico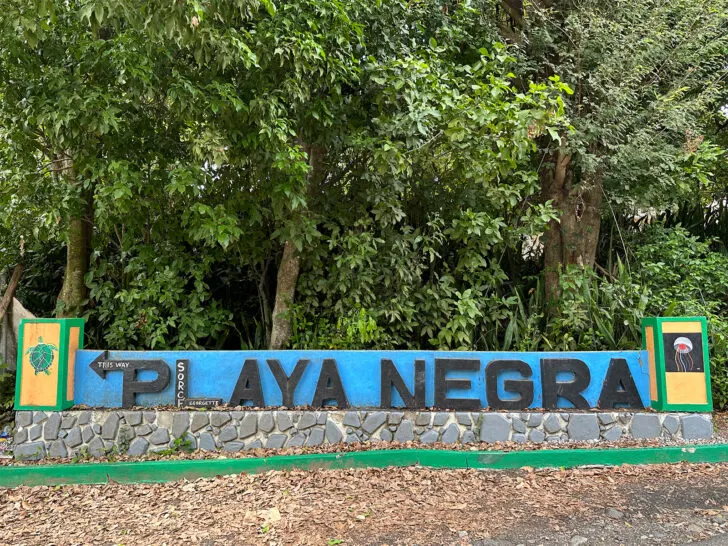 First thing to note: the Black Sand Beach is not ADA accessible and not stroller-friendly.
To get to the Vieques Black Sand Beach, use GPS to navigate to it. It's on the south side of Vieques near Esperanza.
Basically, it's on Highway 201 and the entrance to the trail tucked away. Depending on which way you're coming from, you may see an art gallery sign first.
There's a large sign outside the entrance of Playa Negra Vieques, and parking just up the street. On a busy day this can get full so just go further down the road. (Please be respectful and don't park on private property.)
After parking your vehicle, it's a 15-20 minute walk to get to the black beach Vieques. It's a beautiful walk through the lush, tropical foliage in Puerto Rico.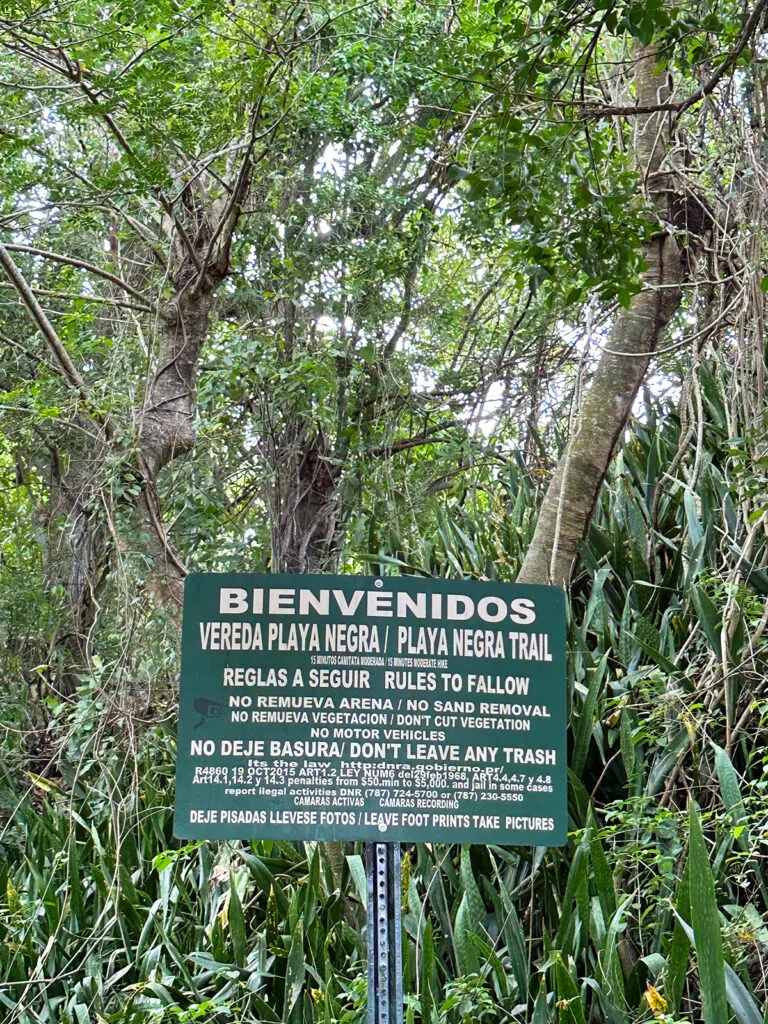 I wouldn't call it a hike, but it's on uneven terrain and you'll descend on the way to the beach and have to go back up the hill to your car.
Pro tip: you'll want to wear water shoes for this part. You'll actually walk through a small stream that dumps out in the ocean, so expect your shoes to be wet, sandy and maybe even muddy.
Also watch out for horse manure! With wild horses on the island and horseback riding tours of the area, it's common to see lots of piles along the trail to the Black Sand Beach Puerto Rico.
You'll know you're at the end of the trail when you start hearing the ocean waves crashing along the shore!
What to expect at Vieques Black Sand Beach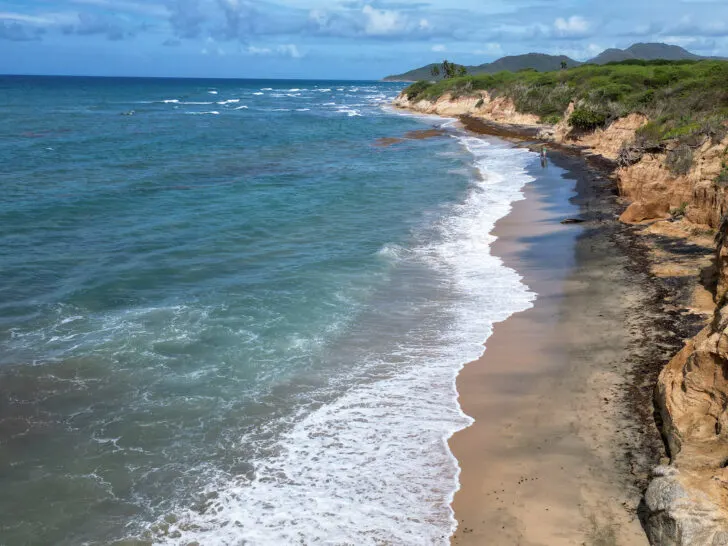 Once you see the beach you'll notice right away the black sand! It's so unique and interesting!
This unique make up of the sand reminded me of the Black Sand Beach in Khao Lak, Phang Nga, Thailand!
And one of the most interesting things about it is that it's actually magnetic! So if you're still at home while reading this pack a magnet to bring to Puerto Rico!
Buttttt don't take any of the black sand home. It's posted on the signs…and if everyone took some home there wouldn't be a Black Sand Beach to enjoy!
As mentioned earlier, the entire beach is not made of black sand. There are sort of patches of black sand. Definitely walk around from end to end to check out the sand – it's so cool.
The beach is a sort of cove, with cliffs lining the beach, giving it quite the dramatic appearance! Walk along the beach to the left or right of the entrance to find even more patches of black sand.
So you may be asking yourself…
Can I swim at the Black Sand Beach Puerto Rico?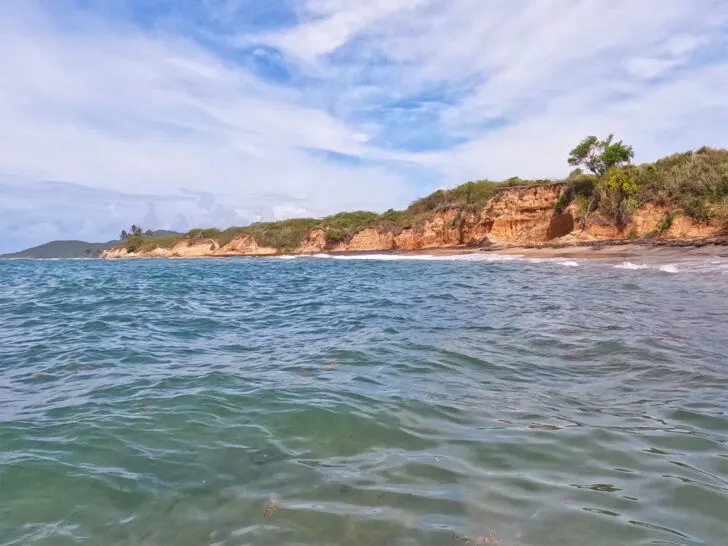 The answer is yes, you can swim at Playa Negra Vieques! It's a fun beach for swimming, although the waves can be quite rough. You could also do boogie boarding if you carry your boards from your car.
The sand does drop off pretty abruptly so may not be great for young kids. There's also a rocky bottom intermixed with sand, so wear water shoes for the beach!
For a nearby beach with gentle waves and softer sand, try the popular Sun Bay Beach.
Amenities at Playa Negra Puerto Rico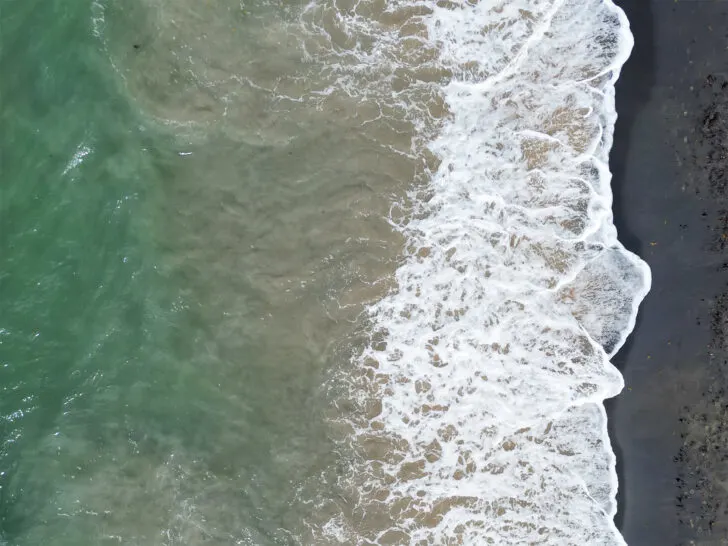 Great news is that this beach is phenomenal! Not so great news is that there's really nothing in terms of amenities at the beach itself.
No restrooms
Zero food or drink options
Rental items are non-existent
But honestly, that's part of the allure! Please do not expect an experience similar to Flamenco Beach in Culebra, where you have rinse stations, food and drink and even snorkel gear rentals.
The Black Sand Beach Vieques is quiet and undisturbed. It's amazing, actually! The most action you might see is a large group of people or a horseback riding tour.
Near the trailhead and parking lot there may be an option or two in terms of some level of amenities. Open just a few days a week, there's art studio, Gallery Galleon, and they sell refreshments here.
Basically, plan to not have any amenities when you visit Veiques Black Sand Beach – it's just a bonus if you run into some!😆
Keep in mind with no amenities means no trash or recycling services. Follow the leave no trace principles by taking everything with you when you go – including trash and compostable food scraps.
Tips for visiting one of the best beaches in Vieques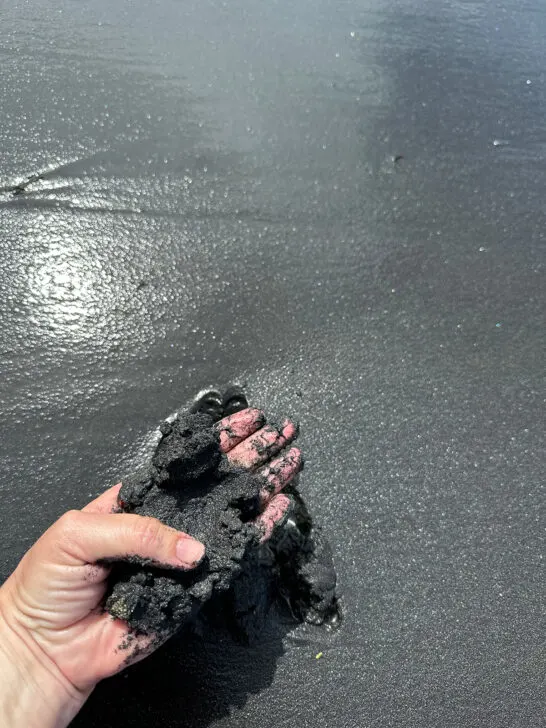 You're in for a great time at this beach. And a small adventure getting to it, too! Here are more tips to make the most of your experience…
Put bug spray on before hitting the trailhead. The mosquitos are thick in Vieques!

Walk up and down the beach to find more black sand.

Bring food and drinks with you to the beach. Just remember to pack out what you pack in. Oh, and remember there are no restrooms. 🙂
Get a rental property with beach chairs and an umbrella or bring collapsible beach chairs to make the most of your experience.

Don't park on private property if the parking lot is full. Be respectful to the locals.
Fun fact: the Black Sand Beach Vieques Puerto Rico is also great for seashell hunting! Find conch shells and more by checking out the shoreline and coast.
What to pack for the Black Sand Beach Puerto Rico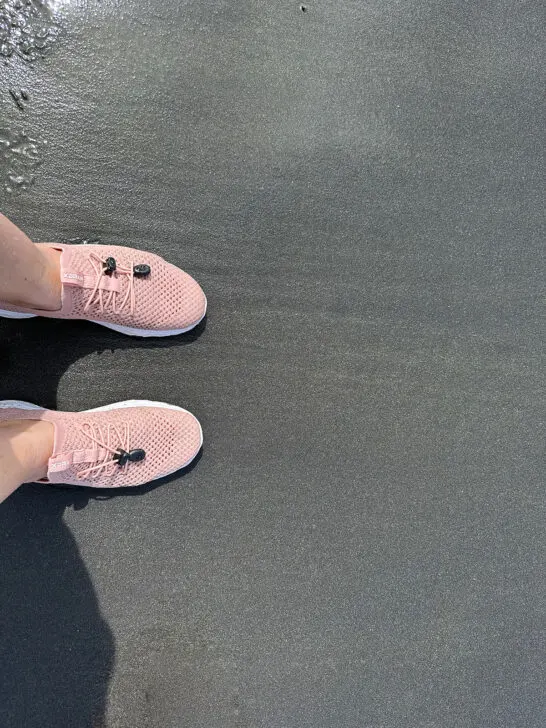 Let's go over a few more things before wrapping up this guide to one of the best beaches in Vieques. Here are some beach essentials you don't want to forget!
Ocean-safe mineral sunblock. Chemicals in traditional sunblocks kill our reefs and are harmful to marine life. Use mineral sunscreen when at Playa Negra Puerto Rico (or any other beach for that matter!)

Sun hat or rash guard. To minimize how much sunscreen you use and the time it takes to apply it, protect your skin with a sun hat and rash guard. They even make rash guards with swimming suits that are super cute.
Things to do near Playa Negra Vieques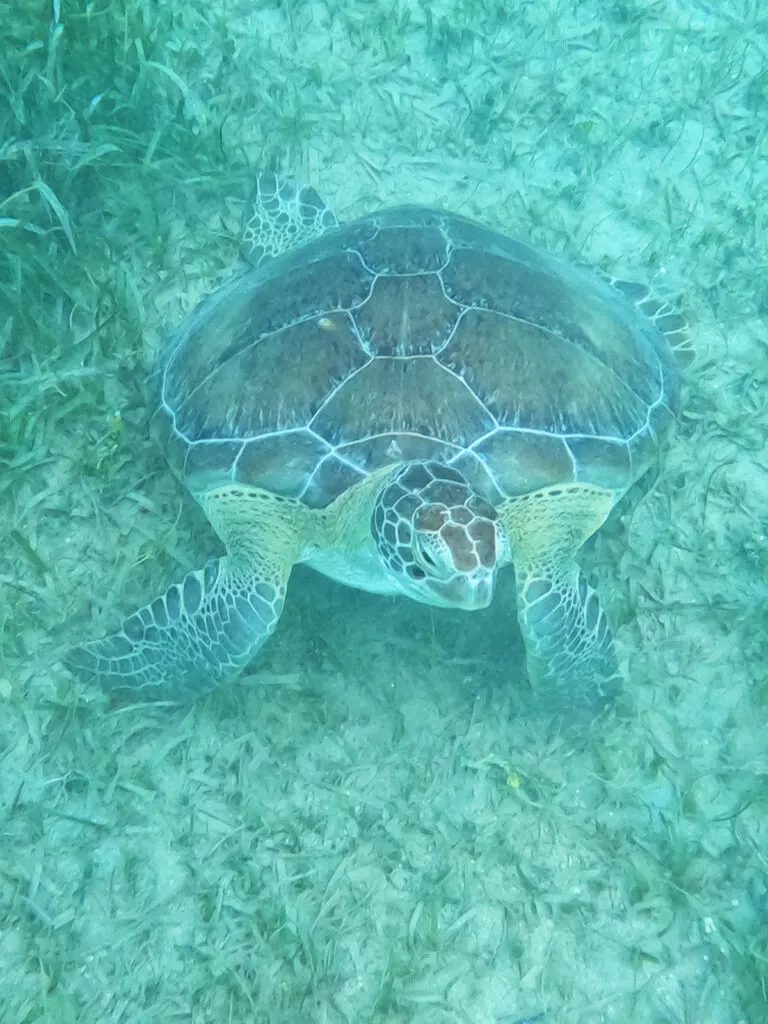 Spending some time at the Black Sand Beach in Vieques is a must while on the island! But there's a lot to experience on this small Puerto Rican island. Here are a few more suggestions near the beach.
Visit Caracas, Sun Bay and El Gallito beaches. See the island and go beach hopping!

Lunch or dinner in Esperanza. There's quite a few options and the area really comes alive at night.

Bioluminescent Bay tour. It's not directly near the Black Sand Beach, but the departing point is located nearby in Esperanza town. And hands-down, one of the most magical experiences of my life!
To be honest, the island is relatively small and the area you can visit is even smaller. So almost everything there is to do in Vieques is near the Black Sand Beach Puerto Rico.😆
Where to stay nearby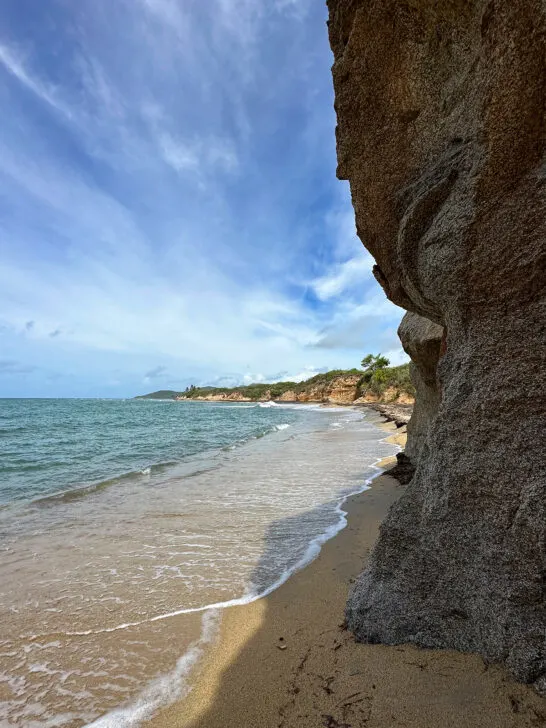 Okay, if you don't have a place to stay yet in Vieques, here are some great options for you. Part of what makes this island so charming is the fact that there's not really big chain restaurants, hotels or stores. So that means there's a lot of boutique hotels and vacation rentals for accommodation options.
The Vieques Guesthouse. Located in Esperanza, stay in a spot with great views and just a short walk to restaurants and nightlife.

Bravo Beach Hotel. On the north side of the island, this cute property with a pool is great for couples.

Finca Victoria. Secluded and quiet, this getaway puts you at peace with nature. Oh, and the food on property is vegan, too!

Black Sand Beach Vieques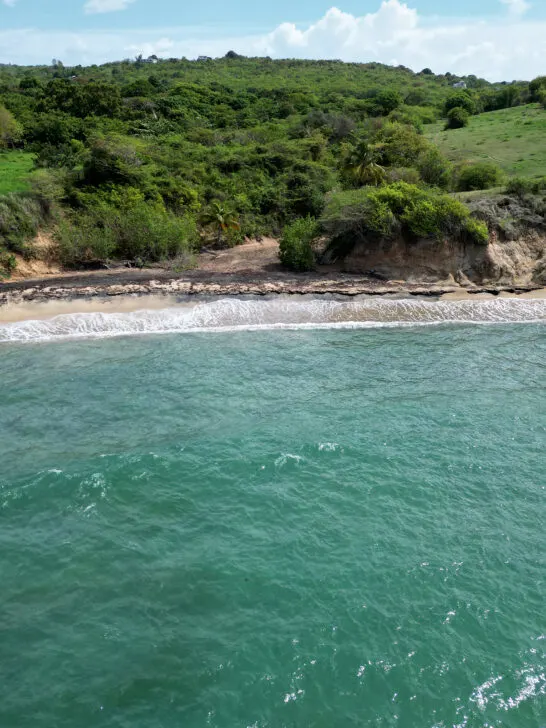 Well, that's a wrap! Everything you need to know about visiting Playa Negra in Vieques, Puerto Rico!
This fun beach located on the small island of Vieques is perfect for an hour or an afternoon. So whether you're spending a little bit of time on the island, or you have a week to soak in the sights and relax, this is a must-do on Vieques, for sure!
Enjoy this incredible beach!
Related content to read next:
Culebra vs Vieques: Which Island is Perfect for You?
28 Fun and Unique Things to Do in Old San Juan You'll Love
Stunning Flamenco Beach Puerto Rico: Everything You Need to Know Before You Go
Gorgeous Culebra Puerto Rico: 25 Things to Do + Best Beaches & How to Get There
Find this guide helpful? Save it for later or share it on social media!