Yayyyy! You're going to Puerto Rico for a fabulous getaway. But how do you possibly decide which island is the best? In the epic battle of Culebra vs Vieques, let's compare these destinations so you can choose.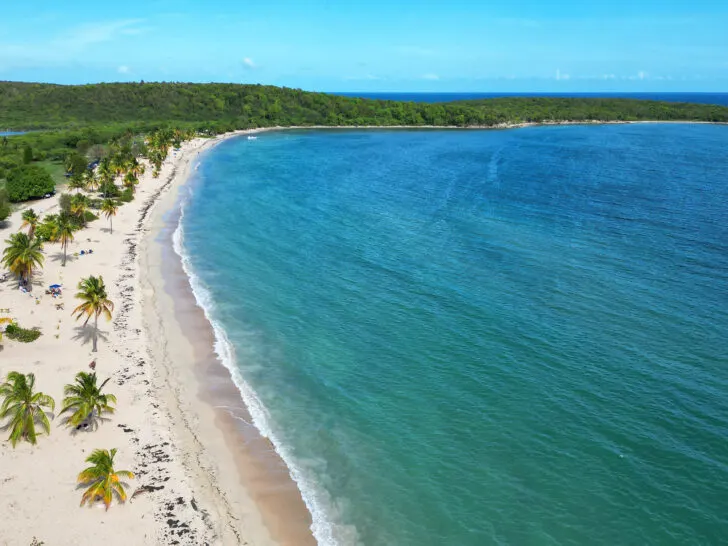 This post may contain affiliate links. For more info, see my disclosures.
Empty beaches, gorgeous landscapes and unique attractions will have you swooning over these Puerto Rico islands. From the stunning Flamenco Beach in Culebra to the world-famous Bioluminescent Bay in Vieques, these islands have so much to see!
But how do you choose: Culebra or Vieques?
This guide goes through the reasons you might choose a getaway in Vieques, and the reasons you'd want to go to Culebra. Having visited both islands I can truly say they're both unique and amazing!
Map: Vieques and Culebra
Before we dive into the comparison guide, here's a map of Vieques and Culebra. This helps to show the size and location of each island, especially in comparison to mainland Puerto Rico.
The orange icons are the popular spots on Culebra, yellow icons are locations on Vieques and the blue icon is Old San Juan.
Culebra vs Vieques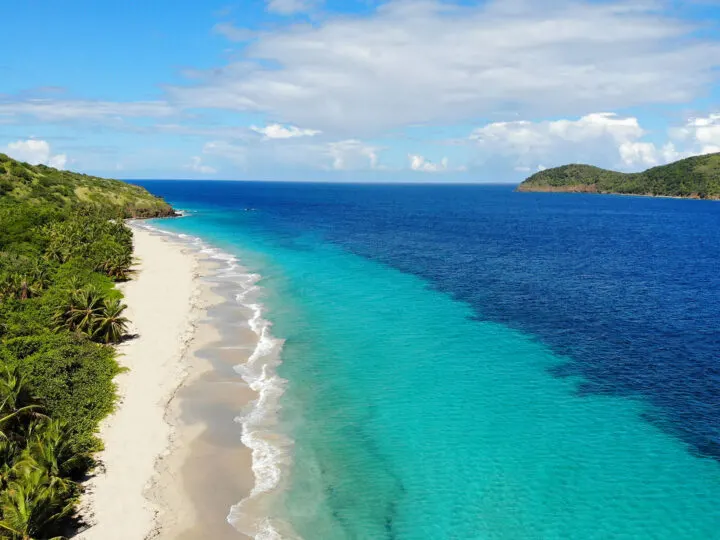 To help you decide which island is best for you, let's compare each island based on category.
Each section will have a clear winner, which will help you determine if Vieques or Culebra is the best destination based on what's most important to you.
First, a little about each island's popularity.
What is Culebra known for?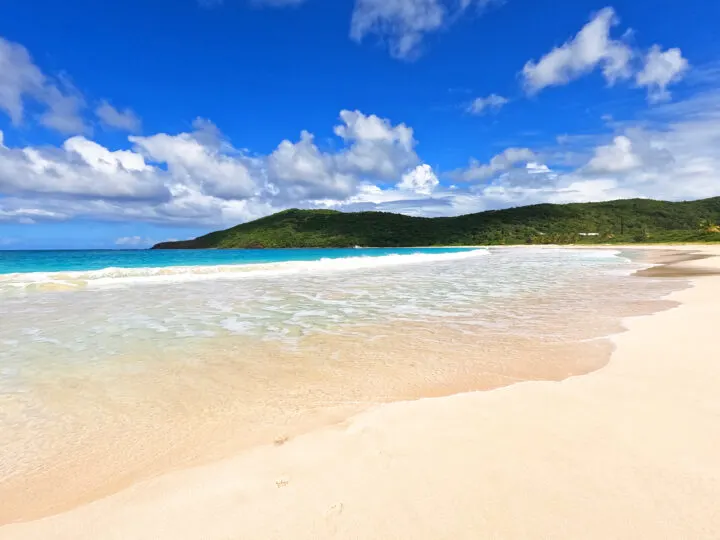 Two words: Flamenco Beach!
Flamenco Beach is one of the most gorgeous beaches in the Caribbean. Winning multiple awards for best beach over the years, Flamenco Beach is worth visiting.
Its pristine white sand welcomes you in. The crescent shaped beach is completely natural, lacking large, busy hotels and vacation rental properties. The coastline is absolutely stunning!
With a few amenities tucked away, it's the best of both worlds. It's one of the very best spot in Culebra, Puerto Rico.
What is Vieques known for?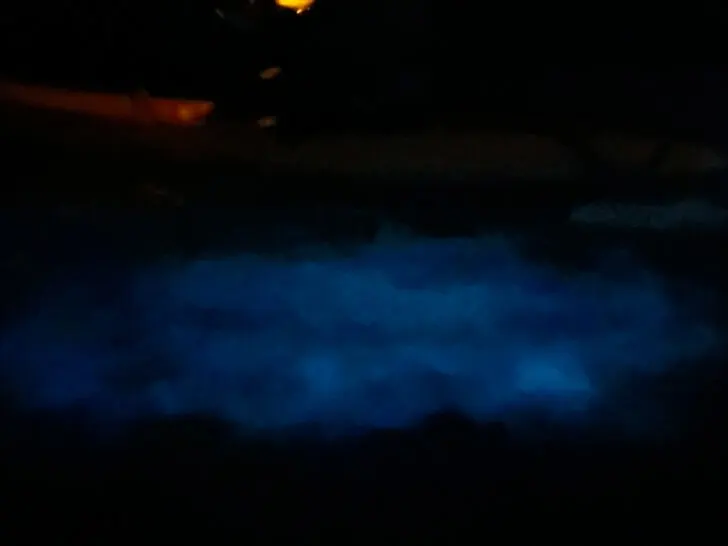 Vieques has two prominent features: the Bioluminescent Bay and the Black Sand Beach Vieques.
The Bioluminescent Bay has won the world record for the brightest in the world. Despite other bioluminescence areas in Puerto Rico, Vieques has the brightest – and it's purely magical!!
Black Sand Beach AKA Playa Negra is also a famous spot in Vieques. It's an incredible sight to see. Lastly, Vieques has thousands of wild horses on the island, so it's fun to spot them as you explore.
Battle of the islands: Vieques vs Culebra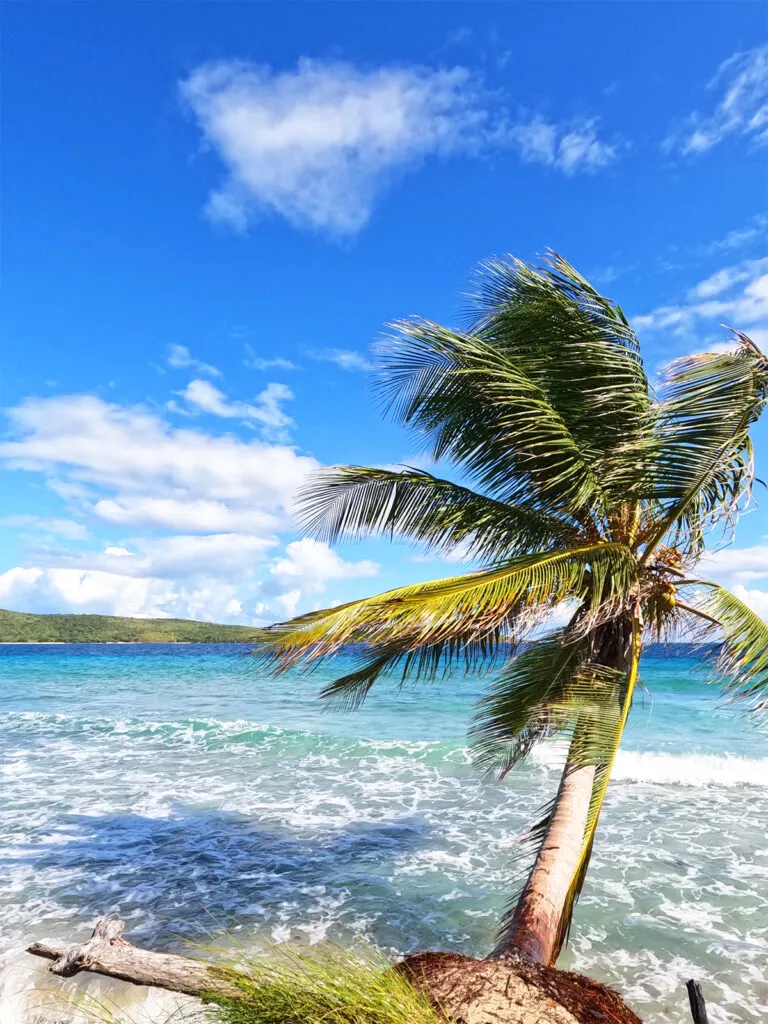 Before we dive into this Culebra vs Vieques guide, please know that if this is your first visit to Puerto Rico, there's so much to see and do!
You'll definitely want to check out the best things to do in Old San Juan because it's amazing. Try to stay 1-2 nights in the city to experience it fully before or after traveling to Vieques or Culebra.
Best beaches: Culebra or Vieques, Puerto Rico
Alright if you're heading to one of the islands off mainland Puerto Rico, beaches are probably your thing! I'm a bit obsessed with beaches, so here's the rundown about the beaches on both islands.
Best beaches on Culebra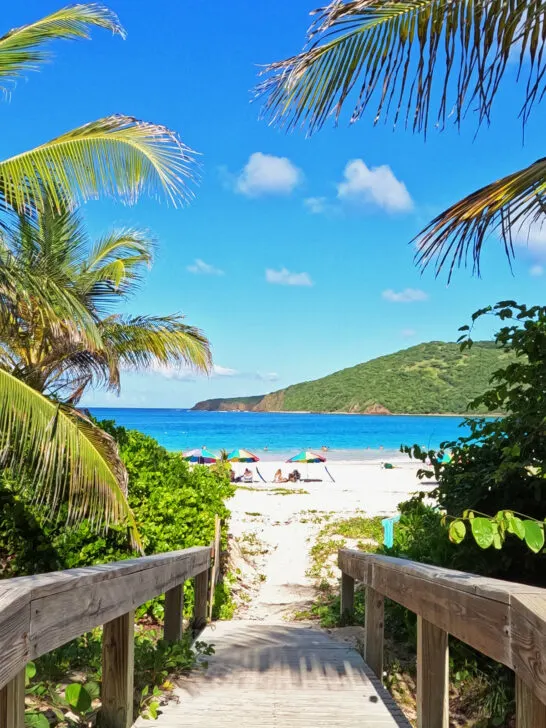 The previously mentioned Flamenco Beach is the shining star of Culebra. It's absolutely amazing!
Having traveled all over the Caribbean, visited the best beaches in Turks and Caicos, discovering the pristine beaches in southern Thailand while discovering all the things to do in the Phi Phi Islands, I'll say this:
Flamenco Beach is one of the most naturally stunning beaches in the world!
The sand is incredibly soft and the combination with the teal water, it's simply eye candy. Clear water allows you to see to the bottom easily as you wade or swim in the water.
Depending on where you are on the beach, the waves can be a bit intense. Great for boogie-boarding, but not so fun to swim in. But no worries – walk towards either end of the beach for calm water, perfect for swimming.
Flamenco Beach does have a minimal fee to enter of $2 per person, which basically pays for the use of the amenities, like bathrooms. There's also outdoor showers and vendors for food and drink. You can even rent beach chairs, umbrellas and snorkeling equipment.
Of course, this review of Culebra vs Vieques wouldn't be fair to only mention that one beach! Zoni Beach on the east side of the island is far less busy and really beautiful. During high tide, be prepared with water shoes to walk through the water to get to the best sandy spots.
You'll also find more fun spots to enjoy the coastline and surf at Playa Tamarindo Grande and Playa Resaca.
Vieques beaches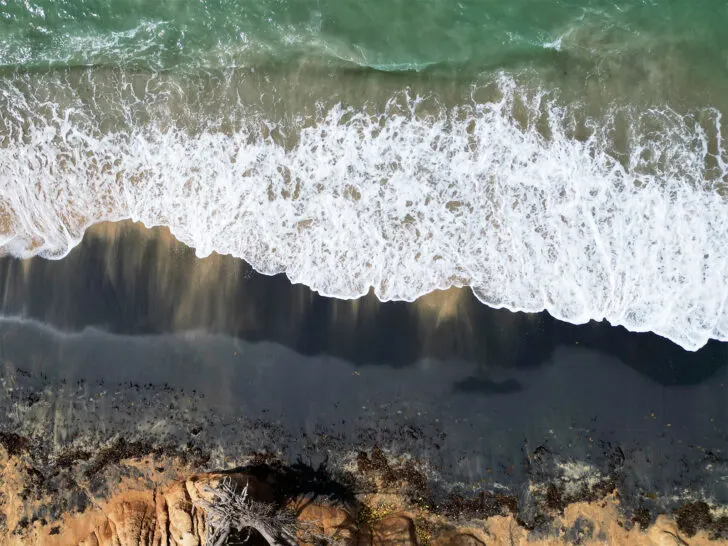 This comparison of Vieques vs Culebra is just getting good!
The beaches on Vieques are amazing in their own way. With over 70 beaches on Vieques, you'll likely find yourself at a spot with incredible views, and maybe even all to yourself!
One of the best beaches for swimming is Sun Bay Beach. This long, white stretch of sand is a popular spot for locals and tourists alike. With palm trees lining this large, crescent cove, it truly feels like you're in paradise.
Further on the south side of the island is Caracas Beach. Located in Vieques National Wildlife Refuge, it's a beautiful spot to spend an afternoon. There are so many beaches in the reserve that you could beach hop all day to find your perfect spot.
And of course, this section wouldn't be complete without talking about the black sand beach – Playa Negra, in Vieques. This unique beach is about a 15 minute walk to get to, but completely worth it!
The black sand is due to the leftover particles of the volcanic material and minerals from when the island was formed. And it's actually magnetic! You'll notice not the entire beach is black, and it's heavier in some areas more than others.
Having been to Maui with kids and exploring the black sand beach there – Honokalani Beach – I'd say this is a totally different experience. The sand is ultra fine and really spectacular.
🏆 In the battle of beaches, I'd have to say Culebra wins! In this guide of Culebra vs Vieques, it's tough with so many beaches to choose from. But Flamenco Beach is on Culebra!
Is snorkeling better on Culebra or Vieques?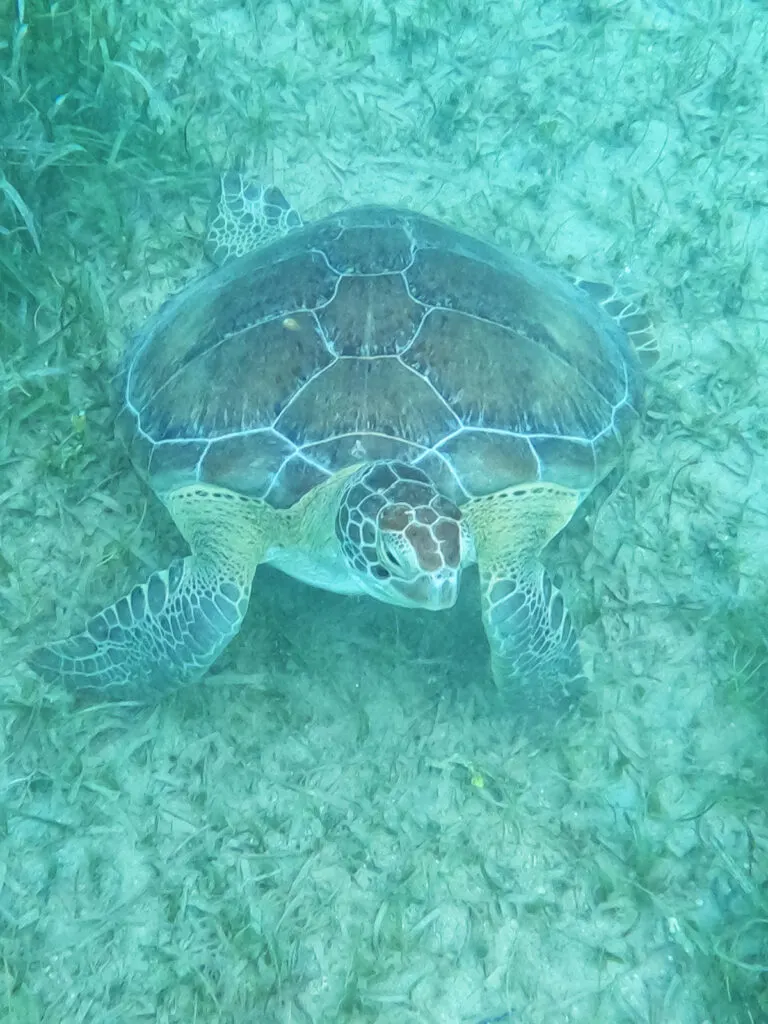 Ok this is a tough category in the battle of Vieques vs Culebra!
There are snorkeling spots on both islands. Expect to see a variety of coral, fish and even sea turtles and sting rays while snorkeling on the islands.
The best snorkeling beach in Culebra is Tamarindo Beach. Meanwhile, the best snorkeling beach in Vieques is Playa Punta Arenas.
The best way to get the most out of your snorkeling experience on either island is to hire an expert. A day trip or even just a few hours with someone who knows where to find good marine life is key!
If you have limited time or like to go at your own pace, bring your snorkel gear to the island and enjoy snorkeling when and where you'd like!
Just think of it this way: if the beach is awesome for swimming, it's probably not great for snorkeling. You want a vibrant reef system for snorkeling, and clear, sandy bottom for swimming.
Just be sure as you're snorkeling to always respect marine life.
Wear mineral sunscreen. Chemicals in traditional sunblock bleach and kill the reef.
Do not touch or step on the coral reefs as it damages them.
Keep away (10 yards) from sea turtles, fish or other marine life – and definitely don't touch them!
🏆 In the battle of snorkeling, Vieques wins! There's simply more spots for snorkeling and more available tour options. (Plus I personally saw more unique marine life in Vieques.)
Vieques or Culebra: restaurants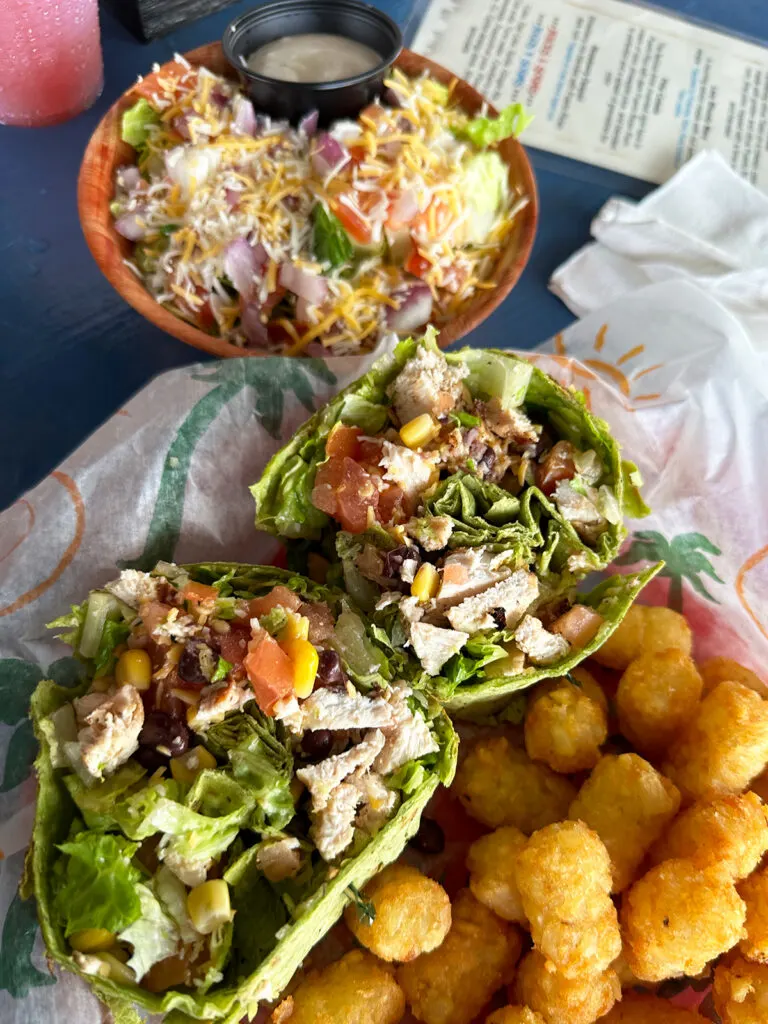 Some of the best food I've ever eaten is in Puerto Rico! True story.
However, when you're traveling to Culebra or Vieques, you'll have limited options so lower your expectations. You can still find really good food and drink, but it's just trickier.
These islands are tiny and most restaurants and businesses are closed multiple days a week. So depending on when you visit Culebra or Vieques, you'll just have to consider your options.
In Culebra, my favorite place to eat is Dinghy Dock. They have a lively atmosphere, are located in town and you can even feed the tarpons from the deck at the restaurant!
In Vieques, my favorite place to eat is Lazy Jacks. The vibes and views are really fun. The town of Esperanza has quite a few options for food, especially in the evenings.
Pro tip: be sure to pack some snacks with you on either island. Between all-day sun adventures, island-time service and limited options, you'll want a protein bar or snack on hand.
🏆 For restaurants, Vieques wins in the battle of Culebra vs Vieques! It's a larger island and there's just more options.
Vieques vs Culebra: which is the better honeymoon destination?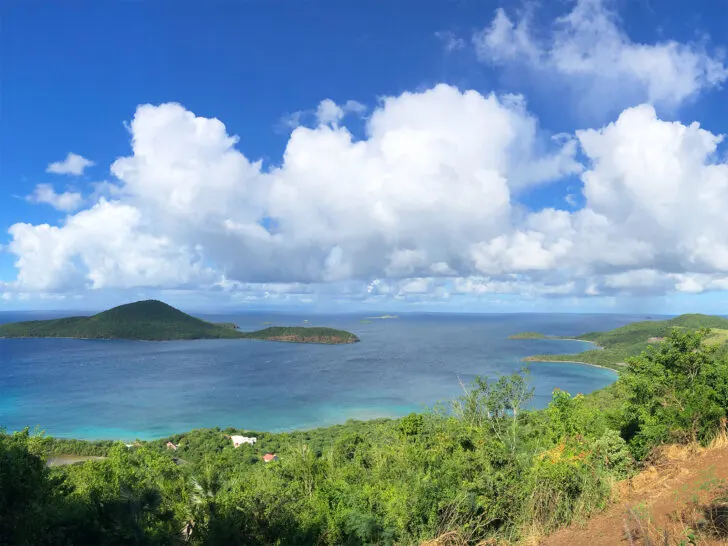 If you're looking for some romance for a couple's getaway or honeymoon destination, you're in luck! Both Culebra and Vieques are beautiful islands that offer romantic stays, amazing sunsets and even some adventure if you're up for it.
In Culebra, stay on the hilltop in Aleli Cottages and feel like you're the only couple there! Over on Vieques, a romantic spot is the Bravo Beach Hotel with it's beautiful ocean views.
Rent a Jeep on either island and try to find a secluded beach! Traveling during non-peak seasons (avoiding the holiday season or summer) will help you find less crowds and more together time, too.
But ultimately, if you're looking for a romantic getaway, the only couple that matters here is you. Both islands are beautiful in their own way.
🏆 Culebra wins for better island for couples! In the battle of Vieques vs Culebra, well, Culebra is just a bit more secluded and the sweeping views are perfect for romantic sunsets.❤️
And if you want to compare more fun Caribbean destinations, definitely check out the battle of Playa del Carmen vs Cancun!
Fewer crowds: Culebra or Vieques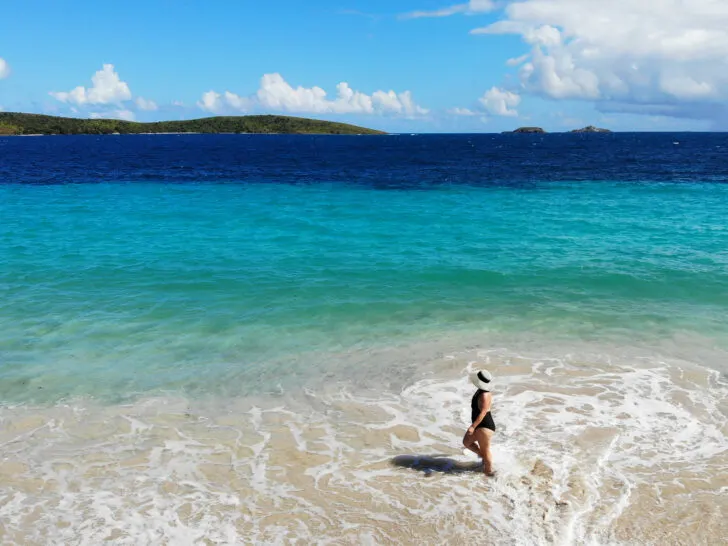 The fun fact about both of these islands is that neither is nearly as busy as many destinations, like Siesta Key in Florida or a visit to Santorini or Mykonos in Greece, just to name a few.
Culebra and Vieques are both underrated vacation spots in Puerto Rico, drawing far fewer visitors than the mainland Puerto Rico.
You'll find lots of day trips from San Juan to Flamenco Beach in Culebra, which is likely the most busy spot on either Vieques or Culebra. But the good news is that Flamenco Beach is really big so you'll likely be able to spread out.
Vieques is a much larger island, and although roughly 1/2 isn't accessible because it's the Vieques National Wildlife Refuge, the island feels larger with more space between you and the crowds.
Of all the time I've spent in Puerto Rico mainland, on Vieques, Icacos, Culebra and so many more spots, I've never really had to wait in any kind of line on these islands. Which is great news if you're looking to avoid crowds.
🏆 In the battle of the crowds, Vieques wins! It's a larger island and seems more spread out with fewer day trip travelers.
Vieques vs Culebra: which is easier to get to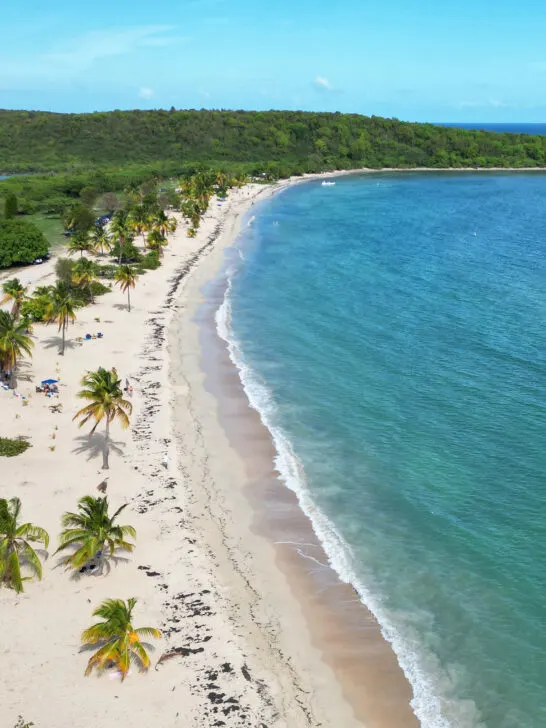 Can you believe we've made it so far into this Vieques vs Culebra guide before even addressing how to get to each island? There's just too much other fun stuff to share!
Both Vieques and Culebra are far enough off the mainland Puerto Rico that it takes some time arranging transportation to these beautiful islands.
You have 3 choices to get to Vieques or Culebra:
Fly via small plane
Take the ferry
Day trip
I suppose a private boat might be another option, and if that's your style hat's off to you. But for now, let's focus on the first two.
Flying to Culebra or Vieques Puerto Rico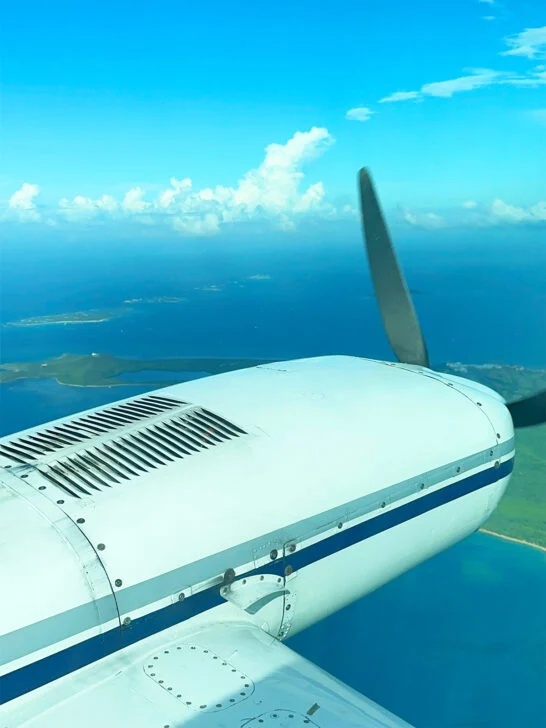 This is the fastest and easiest way to get to Vieques or Culebra. If you're only in Puerto Rico for a few days or even a week, this is the way to go. Flights leave from the Luis Muñoz Marin International Airport in San Juan, which is handy for if you're spending time in Old San Juan or you don't have rental car.
Con: this is by far the pricier option. Depending on the season and how far in advance you book, you could be looking at a few hundred dollars for round-trip tickets, per person.
Flights are also really quick – less than 30 minutes flight time to either island. So if you're really consider Culebra vs Vieques, it's a tie on flights.
Vieques ferry and Culebra ferry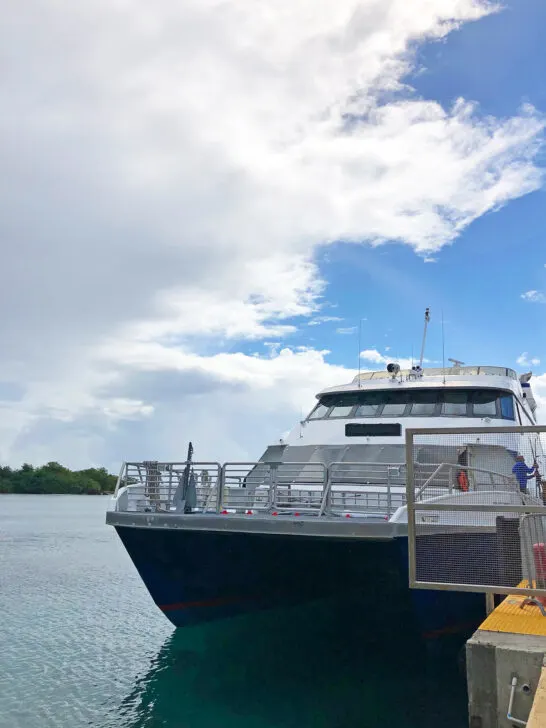 The ferry to Vieques or Culebra is definitely the most budget-friendly option. The ferry leaves from Ceiba in eastern mainland Puerto Rico, so you'll have to arrange transport if you're flying into San Juan.
The challenge is that tickets aren't sold very far in advance (typically just one month ahead), and online there are only about 20% available. The rest is done in-person.
This makes travel planning difficult.
Although the ticket price is much more affordable ($2), you'll need to arrive at the ferry disembarkation location at least 1 hour in advance and hope that tickets are available for the day and time that works in your schedule.
Ferry time to Vieques from Ceiba is 30 minutes.
Taking the Culebra ferry from Ceiba is 45 minutes.
🏆 There's no clear winner here. Both Culebra and Vieques are relatively the same to get to.
Culebra vs Vieques: price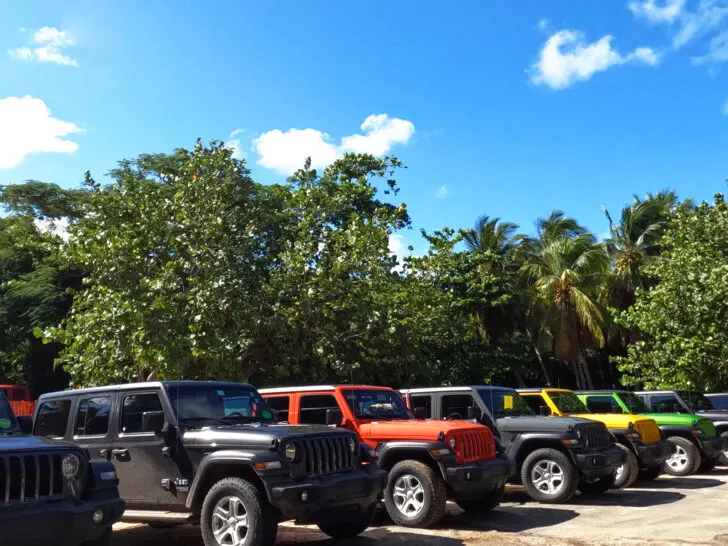 In the battle of Vieques vs Culebra, this is a tough category to rank! There are definitely more accommodation options in Vieques. But I personally was able to spend less in Culebra based on my needs.
You'll need to consider this in your overall travel budget for both islands:
Hotel or vacation rental property
Rental car (golf cart is cheaper but won't hold luggage well and it's not ideal for the rain or rough terrain)
Food and drink
Tours or activities
Of course like most destinations, you'll find a wide range of options. There's plenty of free activities on the islands such as hiking and beach-hopping, so you don't necessarily have to spend a lot of money on tours. (Although as someone who's done tours on these gorgeous islands, I'd highly recommend it!)
If you're price-conscious, maybe just look at both islands for rental car and overnight availability before deciding which island to visit.
🏆 It's a tie on price!
Tips for traveling to the Puerto Rico islands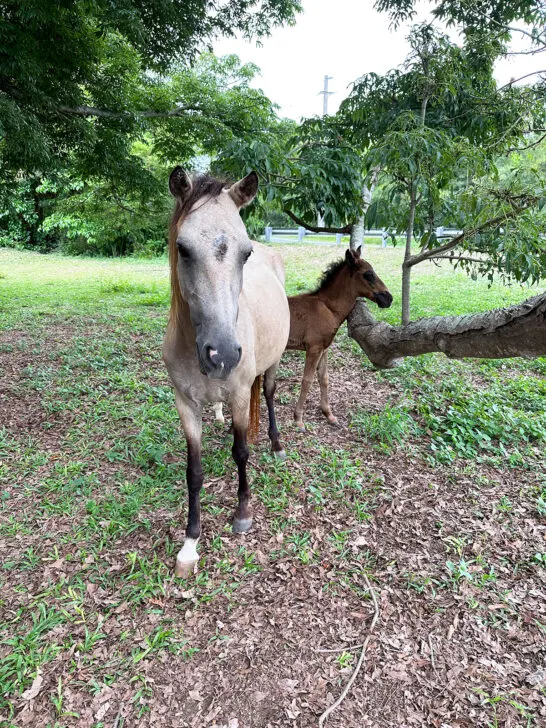 Before wrapping up this comparison guide on Culebra vs Vieques, let's go over some additional details that will be oh-so-helpful for your Puerto Rican adventure.
Book your rental car and overnight stay as far in advance as possible. These islands are small and you don't want to be stranded without a plan.

Bring cash. Not everywhere takes cards. Plus you'll want some for tipping your tour guides.

Learn a few Spanish phrases. If you're a native English speaker, just know that Puerto Rico uses Spanish language and the metric system. Although most who work in the tourism industry know some (or are fluent in English), a few phrases will go far. 🙂
Use (reef-safe) sunscreen often. The sun is no joke here. Cover up and re-apply often.

Spray yourself with mosquito repellent often. Stick with all-natural to protect the environment, and apply day or night.

Be mindful of your footprint. These islands are small and have really limited resources. Don't use excess water, throw trash away (and recycle when possible).
Things to pack on a trip to Puerto Rico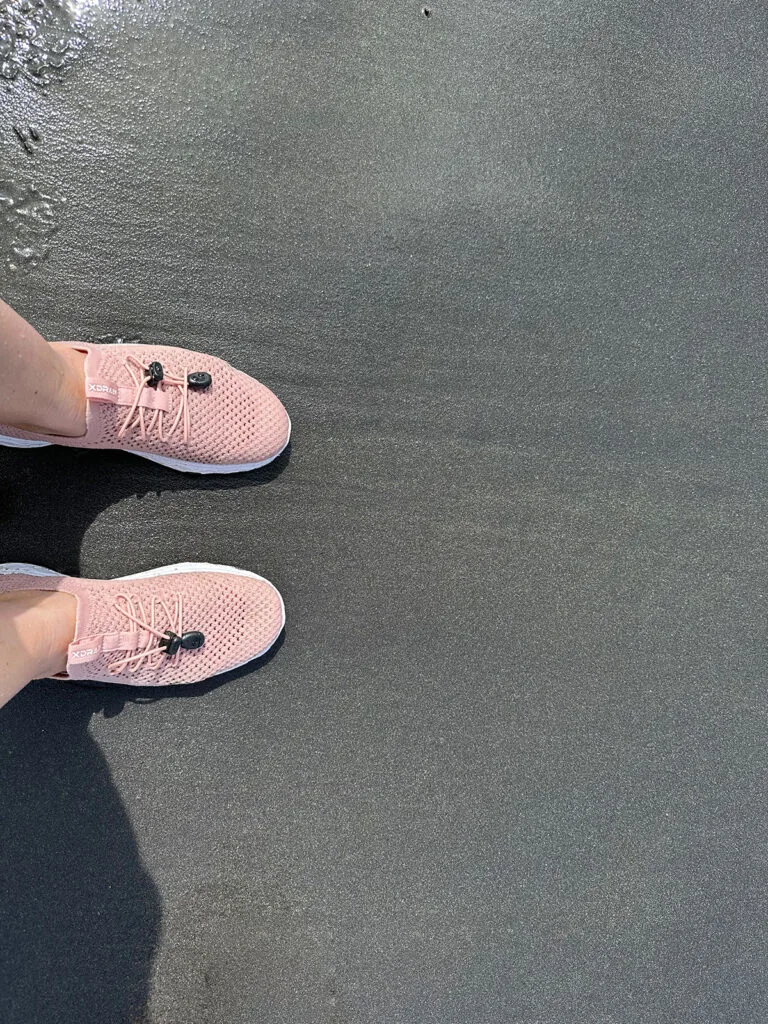 A packing list for Puerto Rico should include all your beach essentials! Here's a few things not to forget:
Reef-safe, mineral sunblock. It's mentioned again here because it's so so so important. Bleached reefs aren't good for the environment, not to mention no fun for snorkeling.

Water shoes. You won't need these everywhere, but on both islands there's rocky beaches to explore. These are my favorite water shoes that literally travel the world with me.

Bug spray. Here's my favorite all-natural bug spray that works!
Beach towel. Even if your accommodations have them, it's helpful to travel with a beach towel. Use it as an extra or for beach time before or after check-out. Bonus: it doubles as a blanket on the plane ride!

Sun hat and rash guard. You can use less sunblock if you just cover your skin. They make cute rash guards and swimming suits combos. Perfect for snorkeling, too!

Beach bag. For all your detangling spray and other beach gear on your visit to the islands!

Culebra vs Vieques – which island is right for you?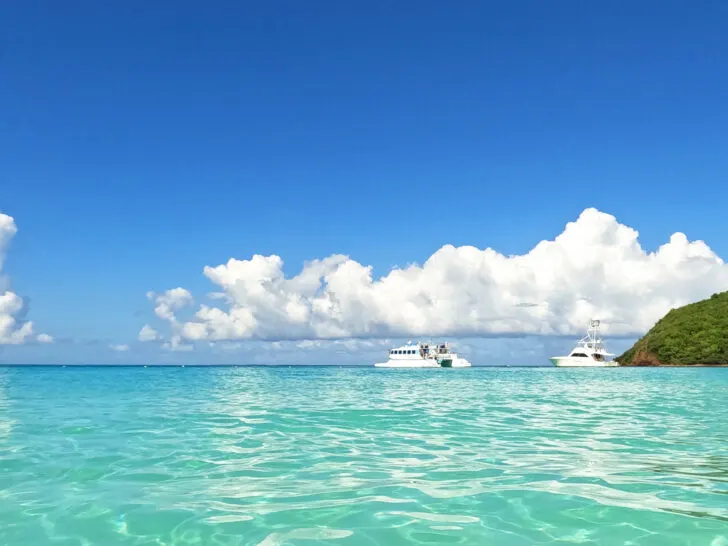 That's a wrap! Have you decided which island is perfect for your Puerto Rican escape? In the battle of Vieques vs Culebra, it's so difficult to choose!
As someone who's been to both islands, I can truly say that each has their own unique features and attractions, and you really can't go wrong. If you have the time, maybe try to do both?! 😉
Related content you might like:
Gorgeous Culebra Puerto Rico: 25 Things to Do + Best Beaches & How to Get There
STUNNING Black Sand Beach Vieques, Puerto Rico: What to Know Before You Go
Stunning Flamenco Beach Puerto Rico: Everything You Need to Know Before You Go
28 Fun and Unique Things to Do in Old San Juan You'll Love
Find this post helpful? Save it for later or share it on social media!