Just when you think Turks and Caicos can't get any dreamier, you realize you can ride horses on the beach! Yassss! *catches breath* Here's everything you need to know about horseback riding Turks and Caicos.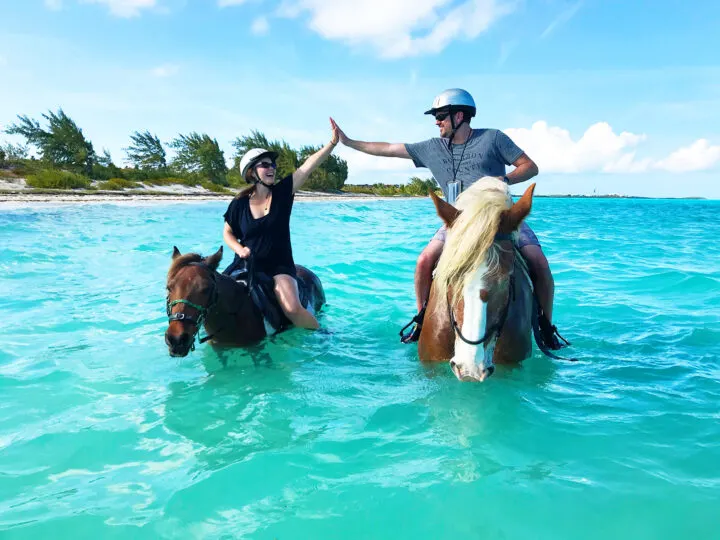 This post may contain affiliate links. For more info, see my disclosures.
First let me just say that being an animal lover, beach lover and adventure traveler, it was seriously one of the best travel experiences ever! Riding a horse on the beach in the Caribbean is simply a dream!
Ok, let's get back to it. Where do you go horseback riding in Providenciales, when should you book your tour, what do you wear and what should you bring with you?
Read on to find out how to make the best of your experience horseback riding on the beach.
You might also like: Best Beaches in Turks and Caicos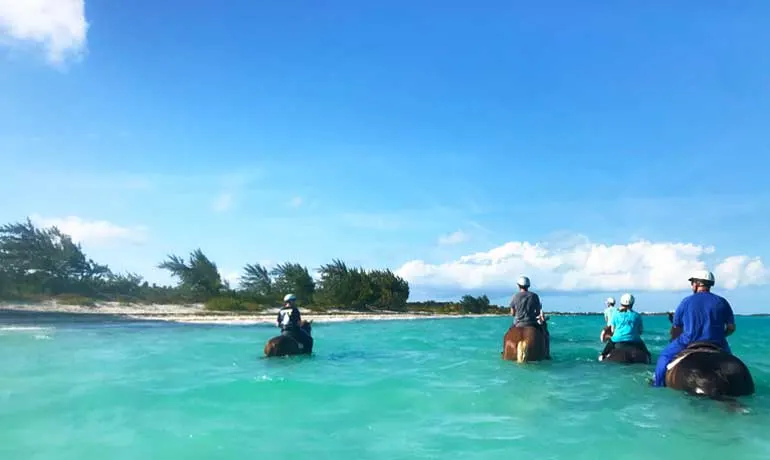 Provo Ponies – an honest review
Let me just start off by saying that this post is not in any way sponsored by Provo Ponies. My review of Provo Ponies is so positive that it might sound like they sponsored this article but friend, I promise you it's not!
I just had the most spectacular time and I feel very strongly about their mission! Their passion for horses and how they're treated is admirable – I'd highly recommend them.
Provo Ponies location: 32 Dolphin Lane, Providenciales, Turks and Caicos
Provo Ponies is located in Long Bay Hills which right off Long Bay Beach (where you'll take your ride). It's about a 5-minute drive from the popular Grace Bay Beach and on the north and east side of Providenciales.
Related read: 28 Amazing and Unexpected Things to Do in Turks and Caicos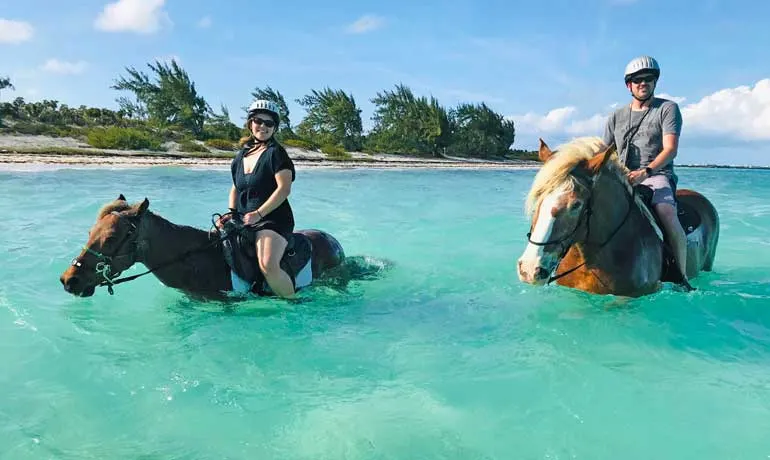 As of this article publication date, Provo Ponies offers 2 tours a day, morning and afternoon, Monday – Friday. They avoid the heat of mid-day and let the horses and ponies rest as needed so group sizes vary.
Provo Ponies has 60 and 90-minute group tours and private rides. Rides start at $110 for the 60 minute ride and go up from there. (Also don't forget to tip!)
Limitations: kids under 7 or people over 230 pounds are generally not allowed to ride. Refer to Provo Ponies website for the most up-to-date info.
Why I chose Provo Ponies
Simple: their mission and history.
Provo Ponies started as a rescue organization after the owner, Camille Slattery, saw how mistreated the horses on the island were. She originally rescued 7 horses, and it grew from there. According to our tour guide, Camille turned Provo Ponies into tours in order to pay for treatment, food and supplies for the operation.
There are now over 30 horses at the rescue, most of them providing horseback riding trips for tourists regularly. Read the whole Provo Ponies story here.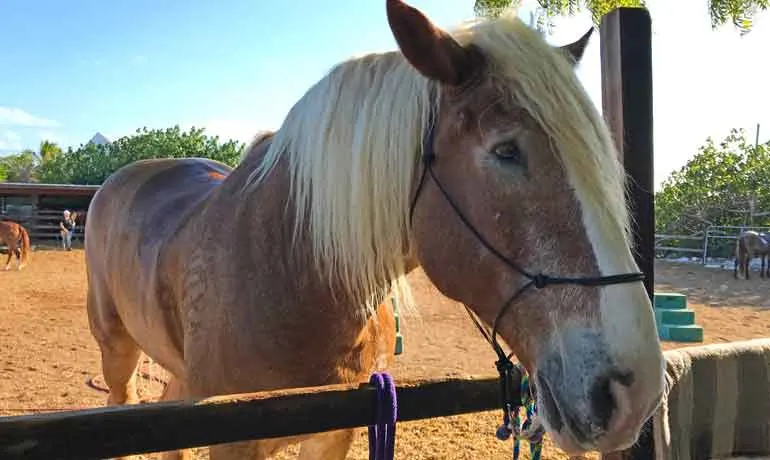 Tips for Horseback Riding Turks and Caicos
Before I get to the awesome experience I had with Provo Ponies, here's some tips as you plan to go horse riding on the beach:
Book your tour weeks in advance, especially during high tourist season.
The 60-minute horse riding tour was the perfect amount of time for a newbie.
If you're an experienced rider, book the private tour for a more flexibility.
Bring a waterproof camera sleeve with strap. You won't be able to hold on to your phone with your hands so a neck strap is ideal. Here's a waterproof case on Amazon that's perfect for your ride.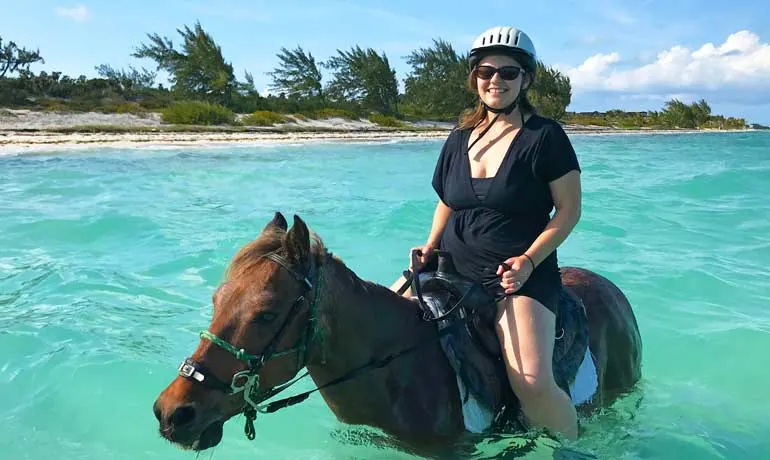 What to wear horseback riding on the beach
As you plan your horseback riding tour, plan your clothes and shoes, too. You'll want to wear:
Comfortable clothing that can get wet! Between ocean waves and splashing from the horses, you'll likely get wet up to your waist.
Swimming suits are nice and cool but realize your inner thighs will be exposed to the saddle and rubbing can be annoying or painful.
Athletic leggings or shorts work well for women.
Men would be comfortable in swim trunks or athletic shorts.
Water shoes! Sandals are not good because they could fall off in the water and tennis shoes are uncomfortable and heavy when wet. These are my absolute favorite water shoes on Amazon.
My husband and I wore our swimming suits but most of the people in our group had on leggings, shorts and tank tops. Just make sure it's photo-worthy!
You might also like:
Best places to watch the sunset Turks and Caicos
10 tips for your best vacation ever
Best travel TED Talks that inspire wanderlust
Horseback Riding Turks and Caicos – the Experience
Back to my dream, ahem, I mean the horseback riding tour! I arrived at the stable and saw the horses waiting for their rides. I noticed the horses had plenty of space, all appeared well fed and cared for, and there were quite a few staff members tending to the horses.
All good signs Provo Ponies is an ethical animal tourist operation.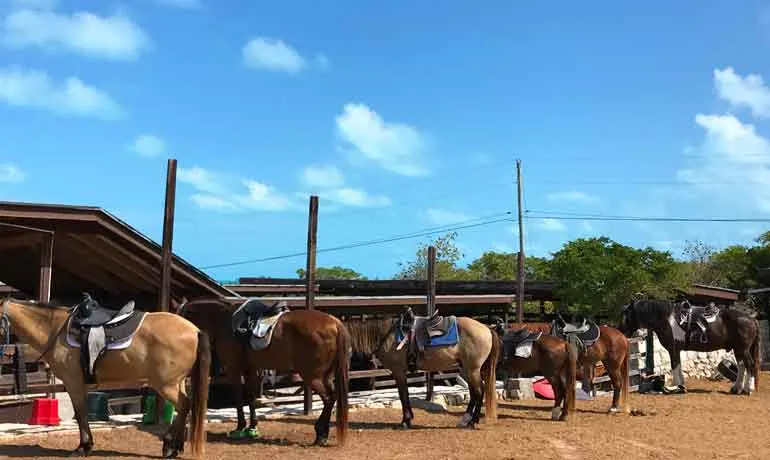 Next the tour guides asked each person in the tour about their previous experience horseback riding. They do this to pair the horse and the rider as well as possible. So if you're more experienced, you'll be able to handle a different type of horse than if you have no experience at all.
Next you get helmets on and sign waivers. At Provo Ponies you could skip the helmet as long as you signed an additional waiver. Considering I had limited experience on a horse, I went ahead and wore one.
So then one by one they grab the horses and you hop on the horse. You'll get a mini lesson on how to start, stop, go faster, slow down and turn. The guides also tell all about the horse's personality. Like which horses they get along with best and which to avoid.
And also any particular quirks. My horse was Patches and he was really mellow. He listened really well and was easy to ride. However Patches loves the beach so much that he sometimes likes to roll in the nice soft sand. So the instructors told me to just keep him moving while on the beach and it wouldn't be a problem.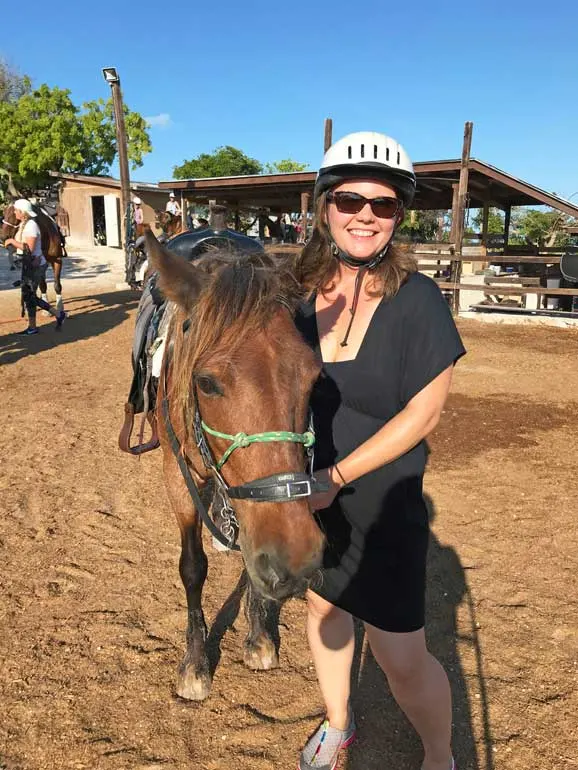 After everyone gets a horse it's finally time to start! Horseback riding Turks and Caicos – eeeek!
The tour: horse riding on the beach
Provo ponies rides on Long Bay Beach, which is one of the best beaches in Turks and Caicos! Check out my full review of Long Bay, here.
Long Bay Beach is so shallow it's the perfect spot to go horseback riding on the ocean. You'll leave the ranch and take about a 10 minute horse ride down to the beach. Some of the horses tried to nibble the plants and shrubs on the way to the beach, so we just had to keep them on task and moving toward the ocean.
As you approach the water you'll get to a narrow path. Then it opens up and you'll see the turquoise water of the Caribbean.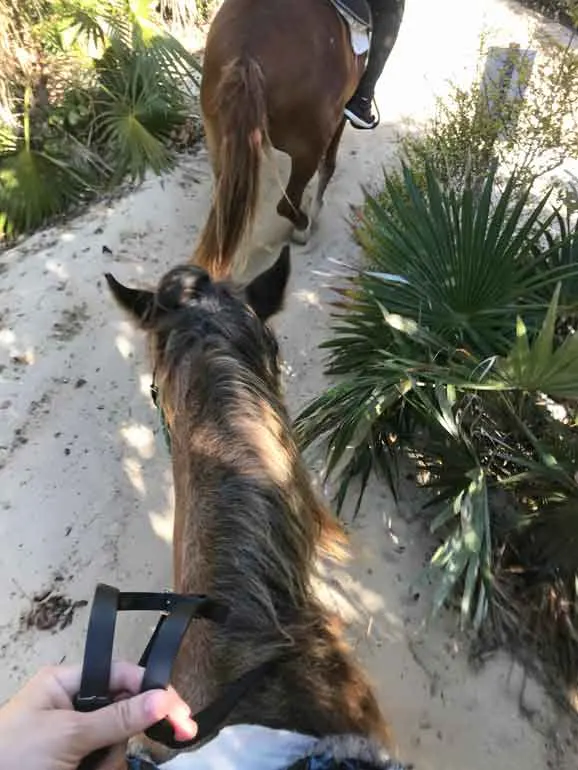 We rode the horses on the beach for just a few minutes along the shore before we entered the water. This was the highlight of my entire trip to Turks and Caicos!
Some of the horses were actually moaning as we entered the water! It was adorable and unexpected. The horses and ponies absolutely loved the ocean!
Looking at photos beforehand, I was nervous of going too deep in the water. I guess I thought that the horses would have a hard time carrying a person if they were in too deep.
But in fact, the guides told us that we had to be in deep enough so the water would cover their bellies. Otherwise they'd try to sit or lay down. (That might have changed my experience!!)
So we rode the horses in the ocean for about 30 minutes and simply enjoyed the island breeze, horse sounds and soaked in the experience. There were a few people on the beach enjoying the turquoise waters of Providenciales. It was fun to watch the kids' eyes sparkle when they saw horses on the beach!
Best of Turks and Caicos excursions: grab your horseback riding photos
The guides at Provo Ponies did a fantastic job of taking photos of my husband and I! Everyone on the tour got plenty of photos as the guides made their way around to the entire group. We have so many pictures to remember the special activity.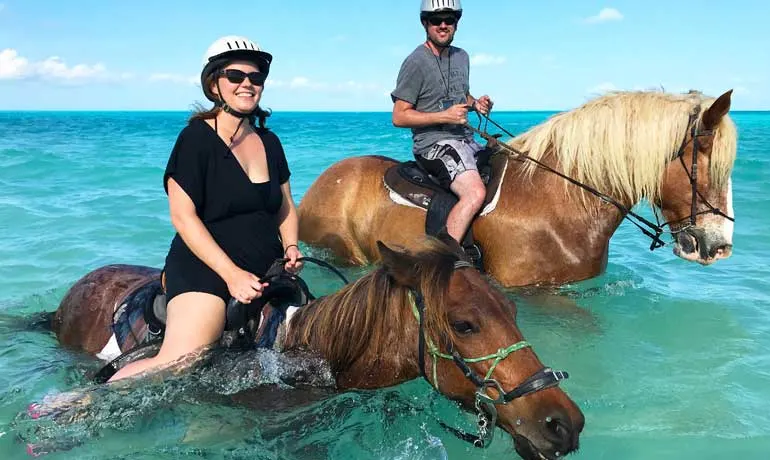 After our photo op we headed back up to the shore and back to the ranch. Patches did a great job with not stopping to roll in the sand and he got me back safely.
This is a routine for the horses so they pretty much know what to do. But I do think they're like kids sometimes and like to get rowdy!
I had no issues riding Patches. My husband's ride on Turtle was the same. We had an absolutely incredible time horseback riding on the beach in Providenciales.
After you get back to the stable, you say your goodbye's to the horses and everyone is done. The whole tour took about 2 hours.
Related reads:
101 travel bucket list ideas
Best budget travel tips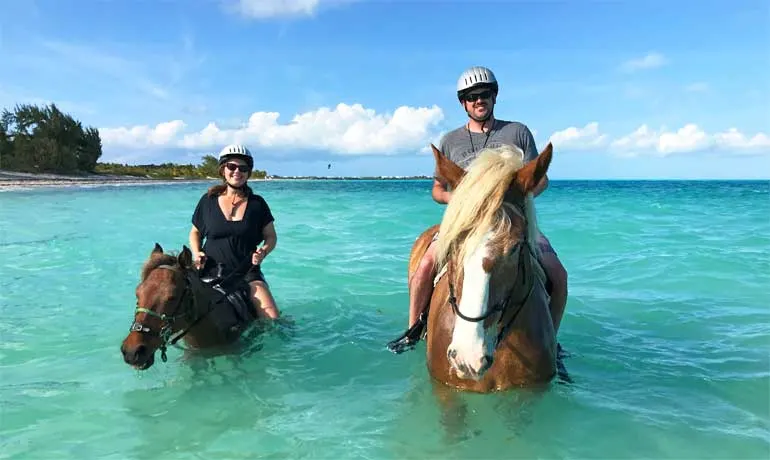 While this experience was an absolute blessing, I made sure to research Provo Ponies before booking this tour. So many animals all over the world are treated terribly for tourism. I want no part of that and encourage you to research before booking a tourist activity with animals, too.
It felt good to financially support the rescue of horses.
Horseback riding Turks and Caicos is literally a dream bucket list activity! Provo Ponies made the experience absolutely wonderful, and one I won't be forgetting anytime soon.
Okay now that you know what to wear, what to take and all about horseback riding in Providenciales, what do you think? Are you ready to book your tour?