You're on a beautiful island in the Caribbean. Yay! The turquoise waters are absolutely stunning during the day. They're swoon-worthy and may just make you want to relocate to this gorgeous island.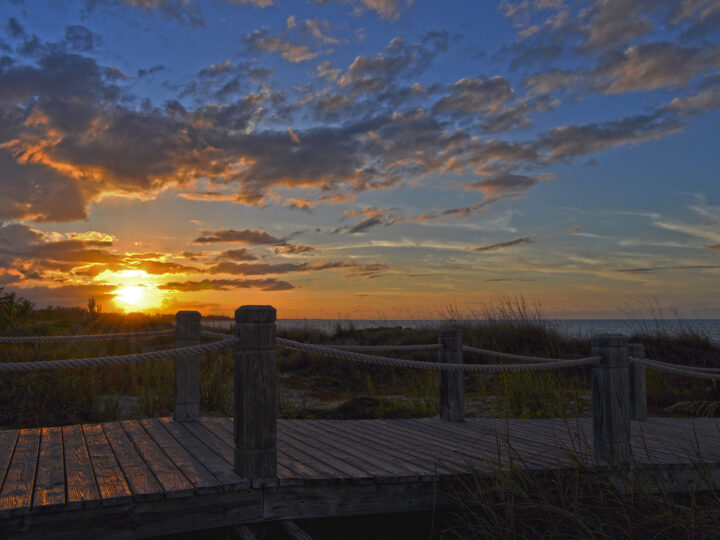 This post may contain affiliate links. For more info, see my disclosures.
But as the sun starts to set late in the day, it's time to watch the sunset.
Where are the best places to watch the Sunset in Turks & Caicos? Here's your guide!
Quick note: my experience was on the island of Providenciales. I planned to explore more of the islands, but turns out Provo (as the locals call it) had more than enough things to do and beaches to explore!
Sunset in Turks and Caicos – best beaches with a view!
Sunset at Grace Bay Beach
Pull up a beach chair or plop down on the super soft sand. The sand on Grace Bay Beach is some of the most luxurious in the world. Add the beautiful sunset views and you're simply in paradise.
Whether you're lounging on a chair or walking along the water, you can't go wrong with Grace Bay Beach at sunset.
Pro tip: some places on Grace Bay Beach can get crowded at sunset. Avoid the beaches near restaurants or hotels if you're looking for some quiet.
Related read: 8 Best Beaches on Turks and Caicos
Bight Beach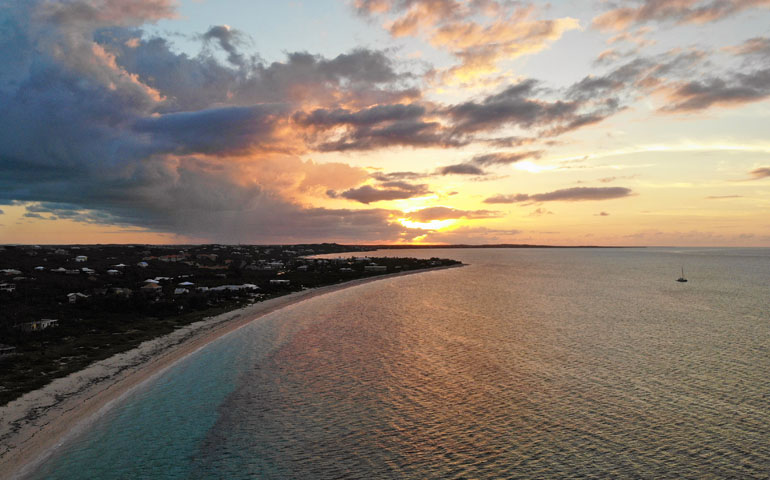 Head out to Bight Beach for excellent snorkeling during the day, and stay for the sunset in the evening. Bight Beach has less people than Grace Bay, but is busier than all the rest of the beaches on this list.
Bonus! There are amenities at Bight Beach so you can set up for the day and evening in one spot. Renting a glass-bottom kayak on Bight Beach was one of my favorite things to do in Turks and Caicos!
Pro tip: if you're heading there on a Thursday, get ready for the giant fish fry (more below) and make sure you get your parking spot early.
Pelican Beach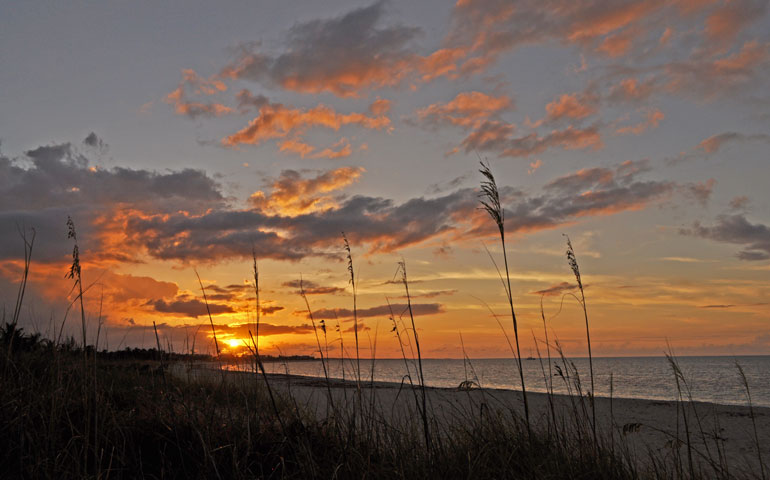 Up the coast from Grace Bay Beach is Pelican Beach. Pretty sure you can guess what it's known for! Pelican Beach is also another perfect spot to watch the sunset in Turks and Caicos.
Soak in paradise – and an awesome sunset at Pelican Beach.
Pro tip: there's no amenities at Pelican Beach so come prepared!
Read next: How to do Turks and Caicos on a budget
Malcolm's Road Beach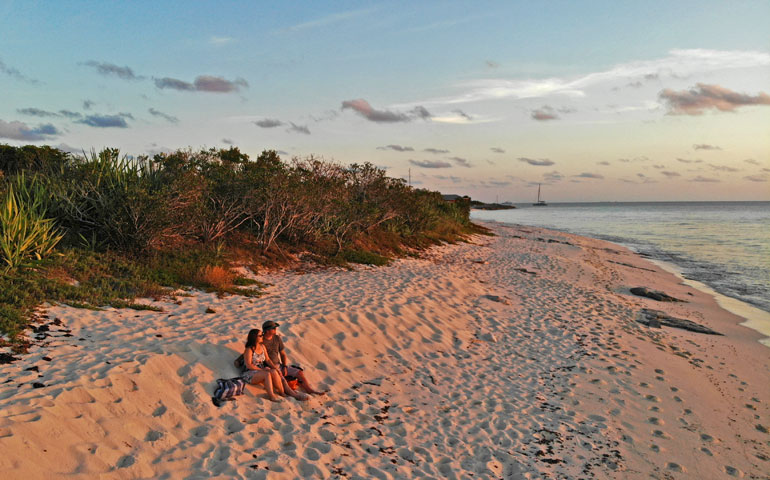 This one is tricky to experience, but absolutely worth the drive. Being on the far west point of Providenciales, this is one of the best places to watch the sunset on Turks and Caicos. Getting there is a real challenge and it's recommended to have a 4×4 vehicle.
View details of Malcolm's Road Beach here.
The beach is sort of rocky so be sure to grab your beach chairs or towels to enjoy the view. You won't find amenities at Malcolm's Road Beach so take bottled water or snacks with you as you watch the sunset into the water.
Pro tip: as you enter the area, signage shows that the road to get to Malcolm's Road Beach closes at sunset. So make sure you head out shortly after the sun actually sets. Plus with the terrain, you probably don't want to be driving those roads in the pitch black.
Pro tip #2: this is the only beach on this list that you'll need water shoes. The sand is decent but the limestone rocks along the shore can be tricky to walk on. These are my favorite water shoes (get them on Amazon) and have traveled with me everywhere!
Leeward Beach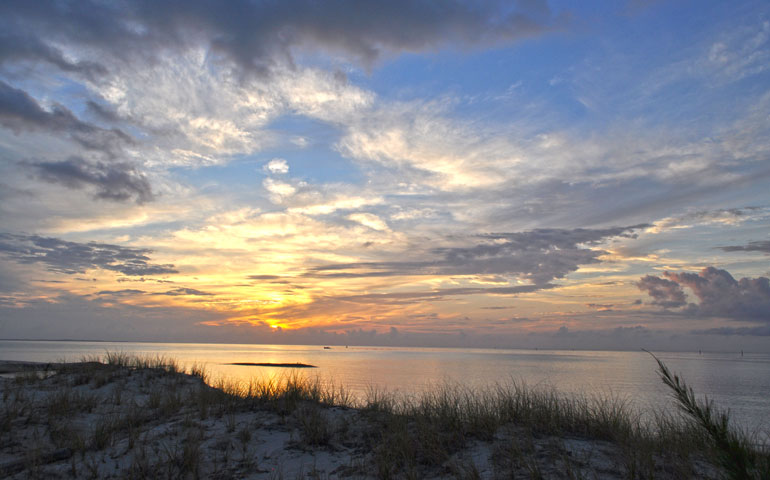 The furthest up the coast from Grace Bay Beach on the northeast side of Providenciales is Leeward Beach. It's a quiet beach with very few people. (It's my favorite beach in Turks and Caicos for daytime!)
So if you want to experience a romantic sunset where you could have the beach to yourself, head for Leeward Beach. The angle of the beach towards the sun provides a superior view of the colorful sky in the distance.
Pro tip: parking and access can be a bit tricky as there's no direct shot to the beach. Here are good directions.
Related reads:
8 Stunning Beaches in Turks and Caicos
How to Do Turks and Caicos on a Budget
Horseback Riding Turks and Caicos
Best restaurants Turks and Caicos with a sunset view
Bay Bistro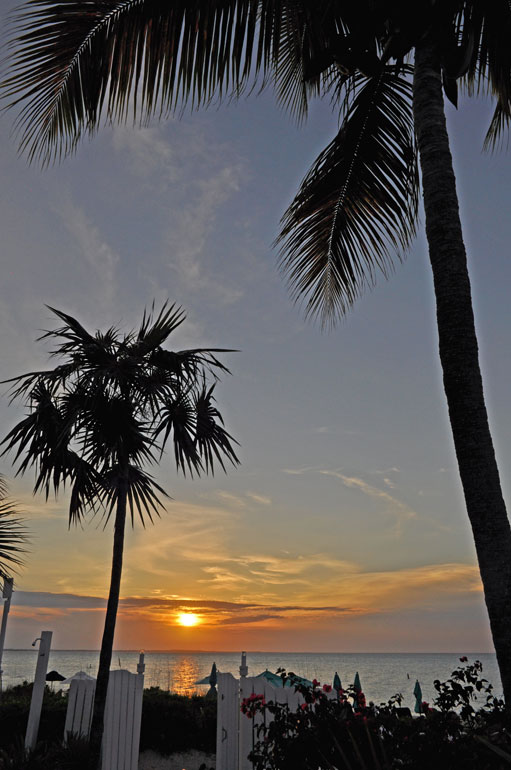 Located right on Grace Bay Beach, the Bay Bistro restaurant is a perfect view of the sun dipping into the ocean. It's right on the water with nothing but your dinner and some sand between you and your view.
There's plenty of indoor and outdoor seating at Bay Bistro and the place fills up. So snag your spot next to the water early if you want a prime view!
The Deck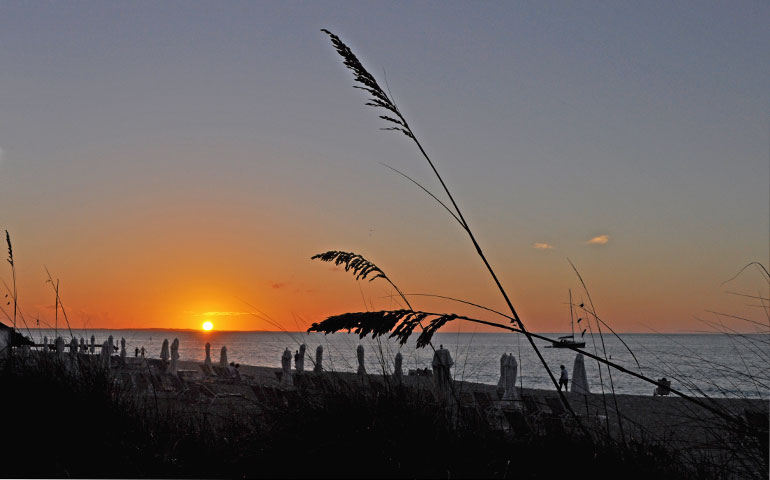 My favorite dinner with a view on Providenciales was at The Deck. It's within walking distance to many hotels right on Grace Bay Beach.
It's the perfect spot to grab a cocktail early (direct views of the sunset are limited). I mean, can island life get any better than lounging on a deck watching the sunset? Didn't think so.
More restaurants with sunset views on Turks and Caicos
You'll find the most restaurant sunset views on Grace Bay and Bight Beach, as that's the most commercially developed spot on the island. Many of the best spots are located within hotels as well, but everyone is welcome!
Somewhere Café & Lounge – also has delicious breakfast! (Bight Beach)
Hemingway's Restaurant (Grace Bay Beach)
Neptunes Restaurant (Grace Bay Beach)
Schooners Restaurant (Grace Bay Beach)
More places to watch the Sunset in Turks and Caicos
Thursday Night Fish Fry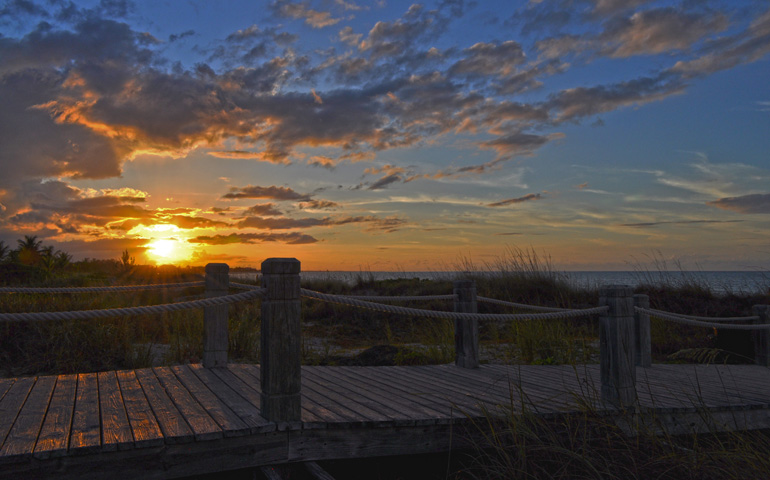 This site was one of my favorite places to watch the sunset in Turks and Caicos! Grab dinner from a local vendor or a beverage served out of a pineapple first. Then head over to the picnic tables on the beach to watch the sunset. You're in for a treat!
Thursday Night Fish Fry is a huge deal on Providenciales. Expect to spend some time there to get the most out of it!
On a sunset cruise!
I didn't actually take a sunset cruise but know it's one of the most popular activities on Providenciales. With a completely uninterrupted view of the sunset on the water, it's a great option for catching a beautiful sunset.
Head on over to Trip Advisor to check out the sunset cruise options.
Sunset in Turks and Caicos – quick review
On an island as dreamy as Turks and Caicos, it's super easy to catch a beautiful sunset. Whether you're heading to one of the world's best beaches or grabbing dinner with a view, there's so many options for a gorgeous view of the sky.
Find this article helpful? Pin it for later!