Imagine going to a place where you can feel silky soft sand beneath your feet and experience the most turquoise water you've ever seen in your life. Whether you're looking for a perfect honeymoon location, a beach for your kids to enjoy, a romantic spot for couples or a beachy destination for a girls' trip, Turks and Caicos is an amazing destination for a beach vacation.
I experienced many incredible beaches on a recent visit to the island chain. Here is my breakdown of the best beaches in Turks and Caicos.
Tip: be sure to read to the end to find the best one (in my opinion)!
A set of islands in the Caribbean south of the Bahamas, Turks and Caicos is a place of fun and relaxation on the sand. There are a few things about the beaches that make them so spectacular.
What are the beaches like in Turks and Caicos?
Turks and Caicos beaches are not overcrowded
Did you ever go to a destination where the beaches are so full you can barely find a spot to set your towel and beach bag down? That's not really my idea of a good time – at least not when there are places like Turks and Caicos to adventure to!
The review of the best beaches in Turks and Caicos below has the complete summary of the most and least popular spots.
The sand is not too hot in Turks and Caicos
I've been to many beaches where the sand burns your feet as you're trying to enjoy the beach. You end up running from your towel to the water. That's not super fun! But in Turks and Caicos, even in the hottest part of the day I didn't experience that burning sand feeling. The sand was warm, but not scalding hot.
Just when you think Turks and Caicos can't get any dreamier, you realize you can ride horses on the beach! Yassss! *catches breath* Here's everything you need to know about horseback riding Turks and Caicos. First let me just say that being an animal lover, beach lover and adventure traveler, it was seriously one of the best travel experiences ever!
There is a variety of beaches in Turks and Caicos
Another reason I love the beaches at Turks & Caicos is that there are a lot of options to choose from. Some beaches offer water so shallow you can walk for miles and miles from the shore and still be waist deep in water. Some have deeper blues and snorkeling.
Yet others were better for young kids to play. It was so much fun to explore the island and see what each type of beach had to offer.
Read next: How to Do Turks & Caicos on a Budget
Notes about this review of the best beaches in Turks and Caicos:
My time on the Turks and Caicos islands was on the popular island of Providenciales. I actually planned to venture to the other islands within the chain to find seclusion and private beaches. However I found that I couldn't ask for better beach experiences so didn't have to adventure beyond Providenciales.
The numbers below don't necessarily rank the best beach at #1, but are simply a way to count the best beaches in Turks and Caicos. The best beach for you is dependent on what you're looking for in a beach!
Also, you'll want a great pair of water shoes when headed to any beach destination. While some of the beaches below were perfect without shoes, it's helpful to have water shoes in your beach bag for some of the others. Check out the best water shoes I've ever owned.
Here they are: Best Beaches in Turks and Caicos
First, I'm going to start off with the beach that is known around the world: Grace Bay Beach. There's a reason Trip Advisor, Forbes, Coastal Living and countless others have named this one of the top beaches in the world!
1. Grace Bay Beach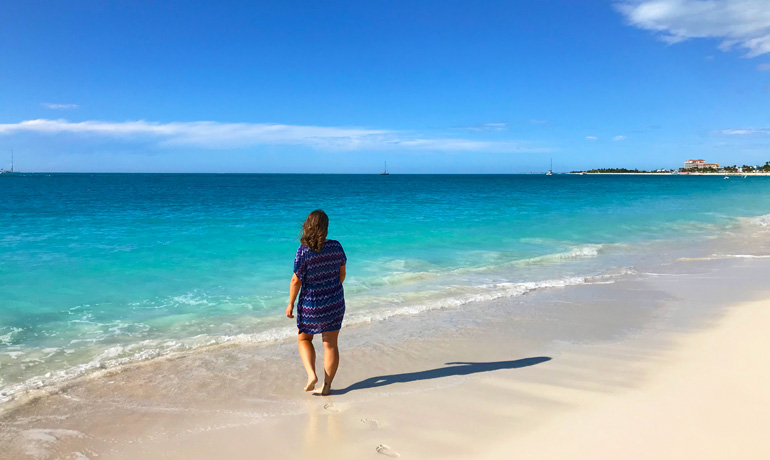 Your toes are stepping into pure luxury on Grace Bay Beach with it's silky soft sand. Looking out from the beach you'll see the turquoise water turn to vivid blue. It's no wonder this beach is so popular. Grace Bay Beach is the busiest of all of the beaches in Turks and Caicos because of it's perfect sand, view and amenities.
Grace Bay Beach is easily accessible and offers a lot of restaurants, bars and hotels right off the beach. It's a great place to plan a hotel stay or to grab lunch with a view!
There's even pop-up bars and restaurants right on the sand so you can keep those toes in luxury all day long. Rent beach chairs and an umbrella for the day and relax at gorgeous Grace Bay Beach.
Book the perfect hotel near Grace Bay Beach – complete with a price match guarantee!
The waves are typically gentle and the ocean floor isn't filled with seashells or seaweed, swimming or wading in the water is really comfortable. Grace Bay Beach is also a great place for kids to build sandcastles on the beach or otherwise enjoy the water.
Overall, Grace Bay Beach is the picture-perfect beach! The only negative thing I could possibly say is that it's popularity means it's the most crowded beach on Providenciales.
Access and parking at Grace Bay Beach: There are several public beach access points with free parking to enjoy this gorgeous beach.
Sunset worthy? Yes! You'll be able to catch the sunset most places along Grace Bay Beach.
Rent a house for half the price of a hotel®
2. Sapodilla Bay Beach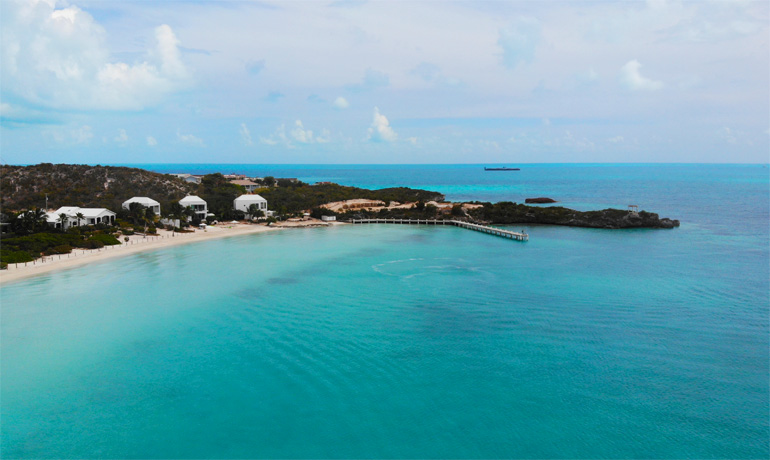 Find entertainment and extra warm water at Sapodilla Bay Beach. This beach is small, but packs a punch! Music, food, drinks and activities are all right on the beach!
Sapodilla Bay Beach is a perfect spot to try a water sport while on the island. You can rent jetskis, paddle board or kayak right from the beach! Or, hang back and lounge on beach chairs and watch others as they make their way out on the water.
This beach might also be the perfect spot for young children, as the water is quite shallow. It's also free of seaweed and has minimal shells! Although the water throughout the beaches on Turks and Caicos is warm, the Bay creates extra warm water for the kids.
Access and parking at Sapodilla Bay Beach: free parking is extremely limited with many beach-goers opting to park along the roadway. Parking is also available at Las Brisas restaurant between Sapodilla Bay Beach and Chalk Sound for $3.
Sunset worthy? Yes! You'll watch the sunset directly into the water from here.
3. Malcolm's Road Beach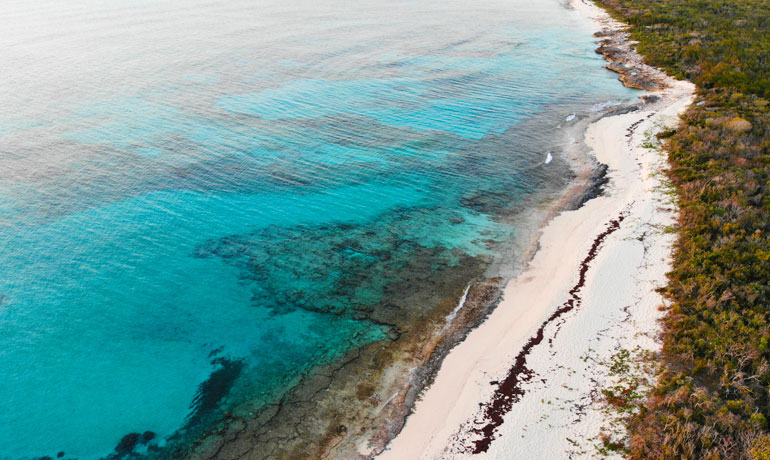 Bring on the adventure! Located on the very west end of Providenciales, Malcolm's Road Beach is difficult to access, but oh so worth it! This beach is the furthest from the densely-popular tourist spots near Grace Bay Beach and Bight Beach, so the beach is likely to be less busy.
During especially windy days, beach-goers can find refuge at Malcolm's Road Beach. It's often sheltered from the island's winds so it's a perfect spot to enjoy the sand and water.
Make sure to grab your beach shoes as the sand is pretty rocky at Malcolm's Road Beach. Bring your chairs, towels and beach gear too since there's no amenities at this remote part of Providenciales. This is also a location to pack bug spray because the area surrounding the beach is thick brush and home to lots of mosquitoes.
Because of the treacherous drive, the hours are minimized at Malcolm's Road Beach. The road is closed from sunset to sunrise, so if you head to the beach for a view of the sunset, be sure to leave promptly afterward.
Access and parking at Malcolm's Road Beach: The drive is extremely difficult to get to the beach. The road is unpaved and very rough. It's recommended to have 4×4 to make it to the beach. However, our economy sized rental car made it just fine with some precautionary driving. Once you make the drive, there's plenty of parking.
Sunset worthy? Absolutely. You're at the most western point on the island with nothing to block your view. This is an excellent beach to watch the sunset!
Want to take an awesome tour of the island? Book one here.
4. Turtle Tail Beaches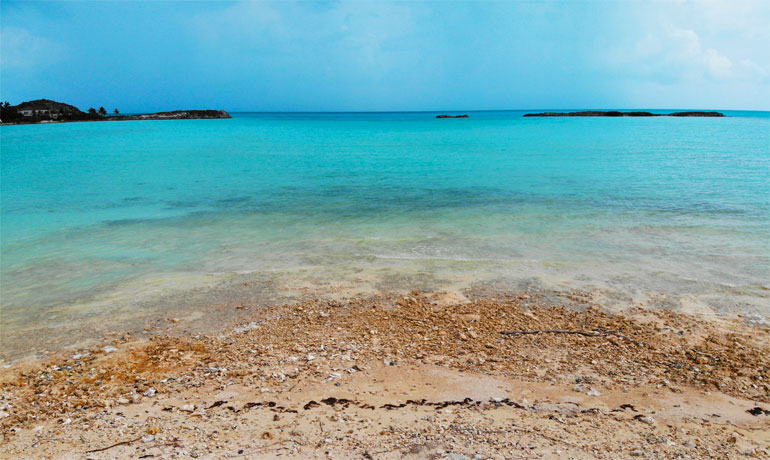 Not to be confused with Turtle Cove, Turtle Tail Beaches are a string of beaches in a residential area of Providenciales. Finding this string of beaches is tricky, but worth it for the seclusion. It's easy to be the only one on the sand at a Turtle Tail Beach!
The beach is unique in that you can actually walk out to mini islands from the coast, because of the shallow water. Turtle Tail Beaches are rocky and full of shells in certain spots, so water shoes are highly recommended! There's also a fair amount of seaweed in the area.
You've planned. You've dreamed. And now it's getting close. Your next vacation. But how do you make this trip memorable? And with as little stress as possible? Well, here are my top 10 tips to make this trip your best vacation ever.
There are no amenities along the Turtle Tail Beaches, so be sure to grab your gear if you plan to make a day of it!
Access and parking at Turtle Tail Beaches: considering the beaches are so remote, parking and access can be hard to find. Check out this site for step-by-step directions to access one of the beaches. The drive to Turtle Tail Beach is fun because of all the luxurious homes and mansions.
Sunset worthy? Nope. Wrong side of the island to enjoy a good sunset.
Check out the complete guide to best beaches and restaurants in Turks and Caicos with a sunset view!
5. Bight Beach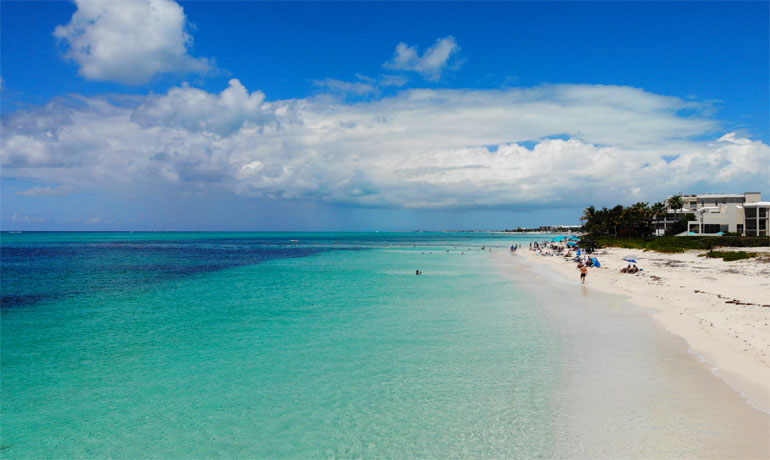 Another popular beach destination, Bight Beach is just down the coast from Grace Bay Beach. In addition to the beautiful sand and turquoise waters, Bight Beach is most known for two reasons:
Bight Beach hosts the Bight Reef, which is a popular snorkeling destination in Turks and Caicos. The reef is right off the beach so you can find a spot for your towels and hit the water without anything getting in your way.
Bight Beach is also next to Bight Park, where the hugely popular Thursday Night Fish Fry is located. Because it's near the park, there are more amenities (like restrooms!) here than the other beaches I visited. There are a few restaurants along the beach as well.
The quality of the sand is slightly rougher than Grace Bay Beach, with little sea shells and a small amount of seaweed. Water shoes aren't needed on Bight Beach.
Access and parking at Bight Beach: the parking is easy to find and there's plenty of it near the Bight Reef or Bight Park.
Sunset worthy? Yes! You'll watch it dip behind the tip of the island as it lowers into the sky.
Beachside properties. Vrbo Vacation Rentals.
6. Beach at Smith's Reef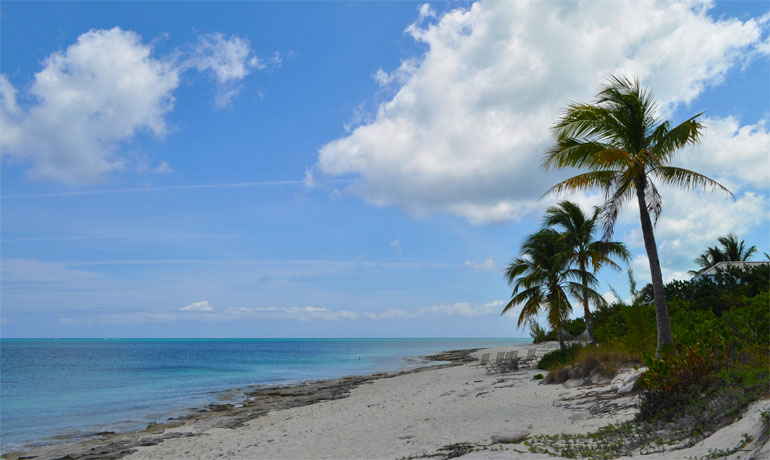 The beach at Smith's Reef is really all about the snorkeling. With an absolutely incredible snorkeling experience right off the shore, most everyone on the beach at Smith's Reef is there to snorkel.
The beach has soft sand but as you enter the water it's mostly large, flat rocks. Water shoes are highly encouraged for this location!
Be sure to pack your beach towels, snorkel gear, sunblock and sun hats as there are no amenities once you get out to the beach.
Access and parking at the beach at Smith's Reef: the beach has three access points and plenty of parking.
Sunset worthy? Not really. This part of the coast is curved so depending where you are on the beach at Smith's Reef, you may or may not catch the sunset.
Shop my favorite reef-safe sunscreen:
7. Long Bay Beach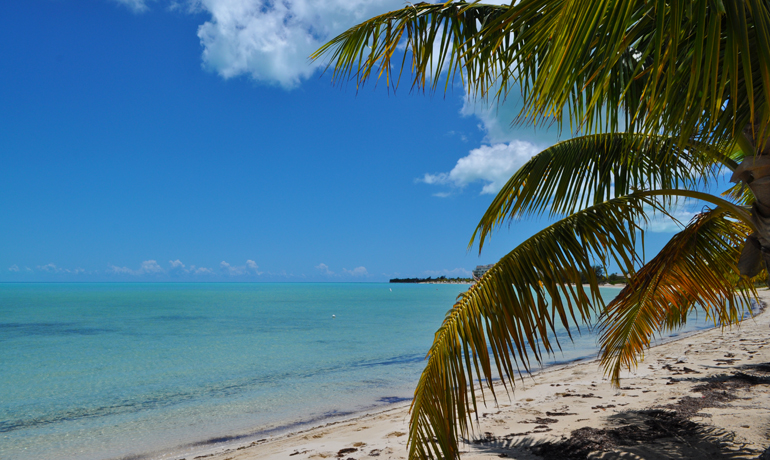 Long Bay Beach is a kiteboarder's paradise. It's the perfect beach to learn to kiteboard because it's on the windy side of the island and has really shallow water. Beginner kiteboarders can simply stand up when they fall off their board!
On calm days without wind, the beach is practically empty, so Long Bay Beach is a perfect spot for solitude! Grab your water shoes and wade out into the ocean as far as the eye can see. You will still only be waist deep!
Long Bay Beach has more seaweed than I saw on any other beach, which also makes it perfect for hunting for conch shells and other marine life! Turks and Caicos is known for their conch and this beach has a lot of them because the beach is not picked over by tourists.
Despite the seaweed, Long Bay Beach is still quite pretty with a green color and more naturally growing palm trees than I saw anywhere else in Turks and Caicos.
Long Bay Beach has more private residences and vacation rentals than most other beaches I explored, so be sure to respectfully enjoy the beach. Also note there aren't many amenities along the beach with minimal hotels and restaurants.
Long Bay Beach is also where you can go horseback riding in Turks and Caicos, which I'd highly recommend!
Access and parking at Long Bay Beach: parking is somewhat limited, but considering this isn't a hugely popular destination for beach lounging it doesn't seem problematic.
Sunset worthy? Nope. You won't be able to see the sunset from Long Bay Beach.
Related reads:
Best Budget Travel Tips (so good you'll want to try them now)
10 Tips for Long Flights
Why Taking Vacations Makes You Happier
8. Leeward Beach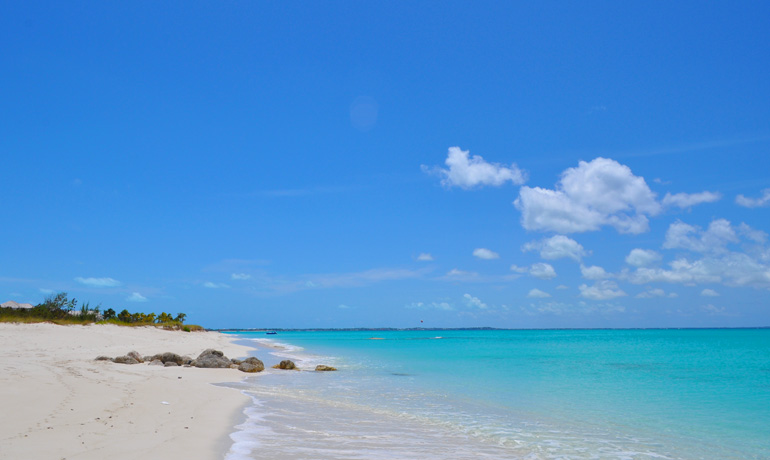 I saved my personal favorite for last! Leeward Beach is just up the coast from the famous Grace Bay Beach, so it has a lot of similar qualities. Leeward Beach is the last beach on the end of Providenciales, and if you walk all the way to the tip of the island you can actually see the next island (or Cay as they call it in Turks and Caicos) in the distance.
If you're looking for a chance at a private beach, try Leeward Beach! During my time on Providenciales, my husband and I got the beach to ourselves twice – for several hours both times! So you get the luxury of Grace Bay Beach but the seclusion of Turtle Tail Beach or Malcolm's Road Beach.
The sand isn't quite as perfect as Grace Bay, although you can still skip the water shoes. There's not seaweed but are slightly more shells throughout the beach (which can be quite fun to hunt). The sand is still very soft but just not the silky smooth texture of Grace Bay Beach.
The beach gets deeper faster right off Leeward Beach, so I don't think this beach is the perfect spot for children. It's a great beach for older children and adults.
Be sure to grab your beach towels, beach gear and drinks as the amenities are sparse at Leeward Beach. Remember less amenities often means fewer people and more privacy!
Access and parking at Leeward Beach: the parking is a little hard to find and is through a residential area. However the beach isn't overcrowded so it isn't an issue.
Sunset worthy? Yes! You'll see the sunset disappear in the distance just past the tip of the island.
Let's Review: the Best Beaches in Turks and Caicos:
Grace Bay Beach
Sapodilla Bay Beach
Malcolm's Road Beach
Turtle Tail Beaches
Bight Beach
Beach at Smith's Reef
Long Bay Beach
Leeward Beach
I hope you've enjoyed my evaluation of the best beaches in Turks and Caicos! You have so many options for great beaches on the island of Providenciales, you truly cannot make a wrong decision!
I just want to leave with one final thought. Don't be surprised if you are literally making the shocked emoji expression your first few days on the island. The color of water is truly breathtaking!
So, which beach will you choose first? Comment below! And be sure to pin this list for later.
Headed to Providenciales? Be sure to check out how to go horseback riding in Turks and Caicos – it's a must-do activity!