You found it! Perfection in a beach. Flamenco Beach Puerto Rico is an amazing destination, and one you'll swoon over.
Quite possibly the softest sand on earth and most turquoise water you'll ever see is met with the most picturesque backdrop of the rolling hills of the island of Culebra Puerto Rico. With a natural, palm tree-lined ocean and not a hotel in sight, Flamenco Beach is what some would describe as Heaven on Earth.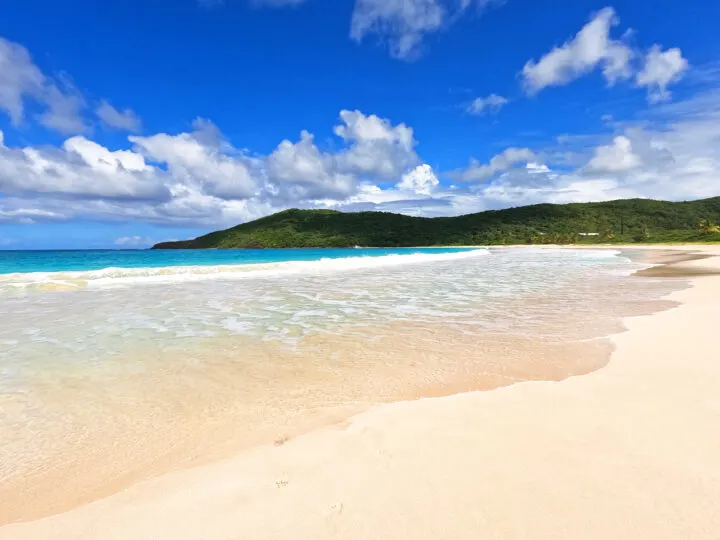 This post may contain affiliate links. For more info, see my disclosures.
Flamenco Beach is on a tiny island off the coast of mainland Puerto Rico, and it's a truly unbelievable destination.
What makes Flamenco Beach in Culebra amazing?
Here are the top 3 reasons why you should visit Flamenco Beach (AKA Playa Flamenco)!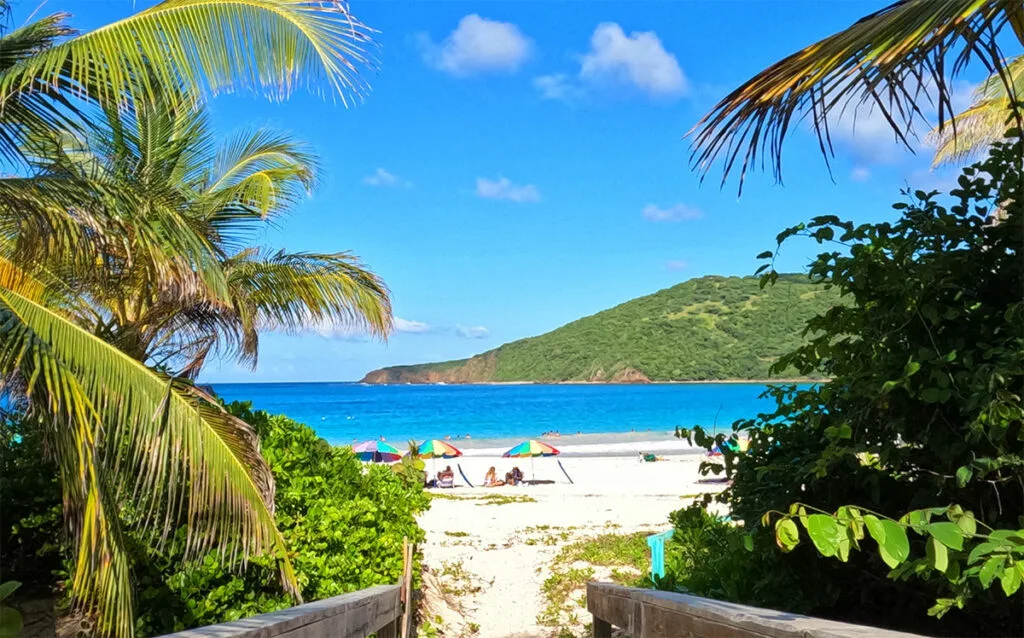 1. It's stunning (you won't believe your eyes)
Flamenco Beach Puerto Rico is such a stunning sight, it's been rated as a Top 10 Beach in the World over and over again. And as someone who's been to other beaches in the top 10, like Palm Beach in Aruba and Grace Bay Beach in Turks and Caicos, I can tell you it deserves all the accolades it's received!
Wait, it actually might deserve the top spot on any best beaches list!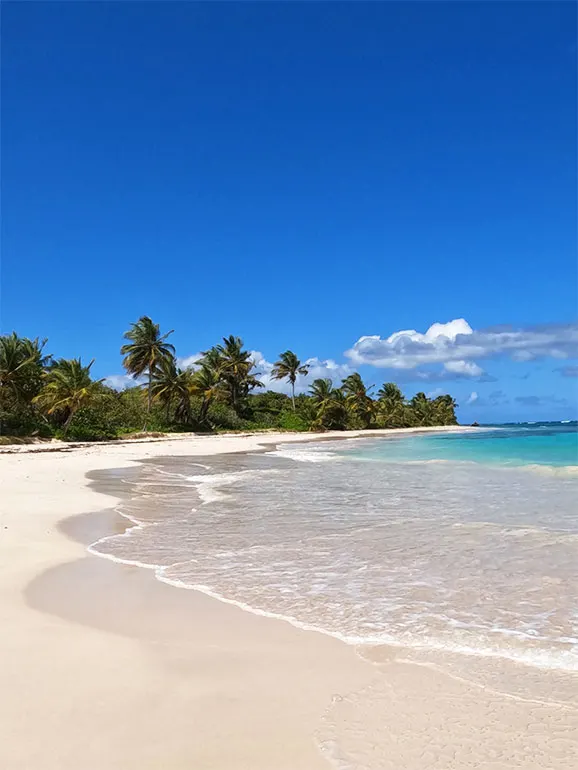 2. There's truly something magical about it
The island of Culebra is largely undeveloped, which lets it's natural beauty shine. Unlike other popular Caribbean destinations with hotel-lined beaches and restaurants with great views, Flamenco Beach offers none of that. Instead, you'll get to enjoy the island in it's gorgeous natural state.
3. Flamenco Beach in Puerto Rico isn't crowded
Even more spectacular? It's remote location makes it harder to get to, and the beach is not over crowded. The crescent-shaped beach is large with enough room to spread out and sit away from the crowd.
Flamenco Beach Puerto Rico is most busy over the summer months and during the peak of winter. However, just walk left or right of the main entrance and you'll be able to find solitude. It's sort of like the beaches in Vieques or Culebra – so perfect!

Alright, enough about why you should visit. Let's chat about how to get there…
Where is Flamenco Beach Puerto Rico?
Just 18 miles to the east of the mainland Puerto Rico is the tiny island of Culebra, Puerto Rico. It's only 10 square miles, and the perfect island escape. Playa Flamenco is on the northwest part of the island.
Here's a map of Flamenco Beach in Culebra, as well as the location of the port for the ferry, the airport and a couple of mainland spots. This will give you a sense of the island. Zoom in as needed to check out Culebra Island and Flamenco Beach on the map!

While Flamenco Beach is the main attraction in Culebra, there's actually quite a bit to see and do on this tiny island. Check out this Ultimate Guide to Culebra Puerto Rico for more!
How to get to Flamenco Beach, Culebra
To get to the stunning Flamenco Beach Puerto Rico, you have 3 options…
1. Day trip to Flamenco Beach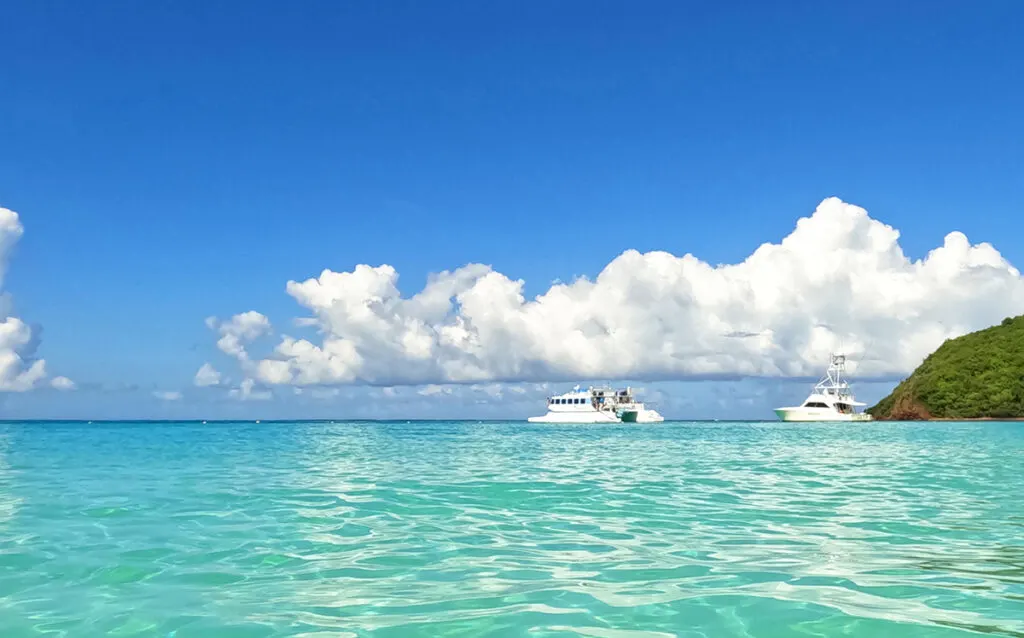 This is ideal if you're only spending a few days in Puerto Rico and you want to maximize your time. There's a few options departing from mainland Puerto Rico that visit Flamenco Beach for the day.
Best day trips to Flamenco Beach Puerto Rico
These Flamenco Beach tours have your whole day planned out for you, minimizing your stress on your vacation! From food to snorkeling gear plus local expertise, this is a great way to experience Flamenco Beach in Culebra!
If booking a tour, just remember to pack your ocean-safe sunscreen and beach towel. This is going to be amazing!
2. Ferry to Flamenco Beach (Culebra) from Ceiba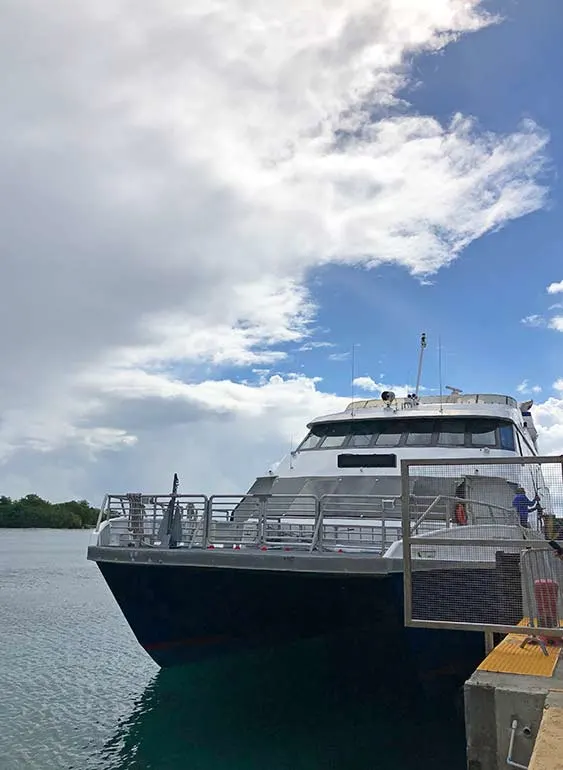 If you're staying on Culebra longer than a day – and I highly recommend it – you can take the ferry over to the island, then rent a jeep or golf cart to get to Flamenco Beach. (For more info on logistics, read this post.)
While extremely affordable at less than $5 per person, I personally found the ferry to Flamenco Beach to be risky. Advance reservations are difficult because the ferry prioritizes spots for locals first (which honestly they should do). But that means you could show up the day you're planning to go to Flamenco Beach and find out you actually can't get a seat on the ferry.
Additionally, the Puerto Rico Ferry doesn't release tickets very far in advance – it's only a month at a time. So for instance, June's tickets for the Flamenco Beach ferry would be available for purchase very late May, until they're sold out.
So because of that, I'd recommend the next option if you have more than a day to spend here.
3. Fly to Flamenco Beach in Culebra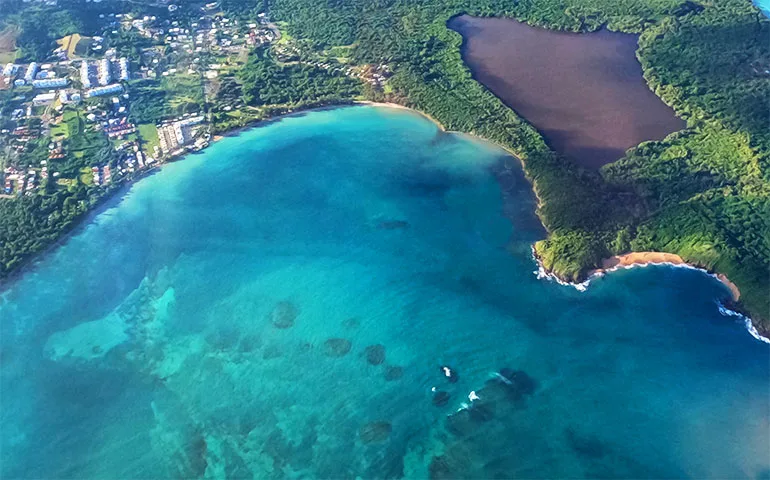 While more expensive than taking a ferry, flying to Culebra Island/Flamenco Beach is quick and reliable. You can fly there via Cape Air or Air Flamenco. Flights depart from Luis Muñoz Marín International Airport in San Juan directly to Benjamin Rivera Noriega Airport, Culebra's small airport.
Once you arrive on the island, you'll need to rent a golf cart or Jeep through Carlos Jeep Rental or Jerry's Jeep Rental. With less than 2000 residents, there's no ride share option!
Pro tip: during peak season, be sure to reserve your rental car in advance because there's a limited supply.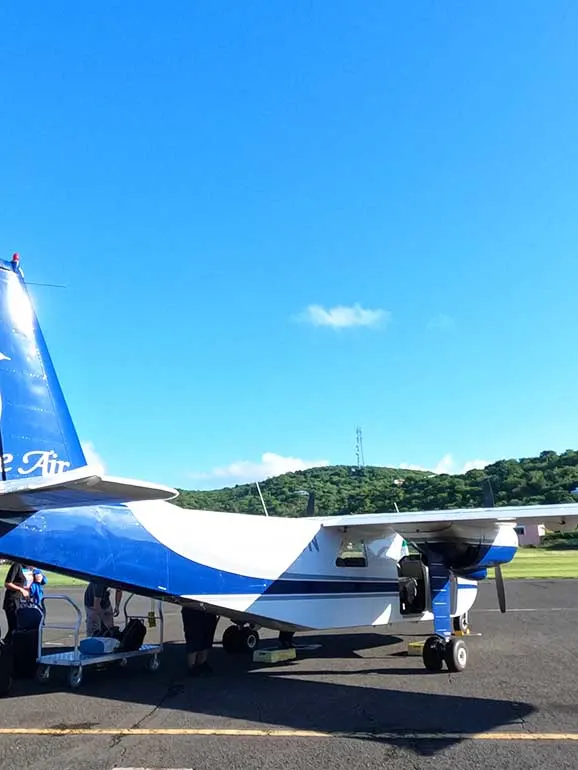 Driving to Flamenco Beach
Once you're on the island, GPS can be unreliable. To get to the main entrance to Flamenco Beach, pick up a map at your Jeep rental spot. It's a helpful visual. 😊
You'll want to take highway 251 on Culebra and stay on the paved road drive it all the way to the end of the island. GPS will tell you to turn right before the lake, but that's not where you want to go. Drive past the lake – Laguna del Flamenco (on the right side of the road) and continue on until you see the entrance to Flamenco Beach Puerto Rico.
Note: it does cost $5 per vehicle and $2 per person, per day to enjoy the amenities at Flamenco Beach Culebra. Pay at the main entrance and they'll guide you where to park.
The stunning Flamenco Beach Puerto Rico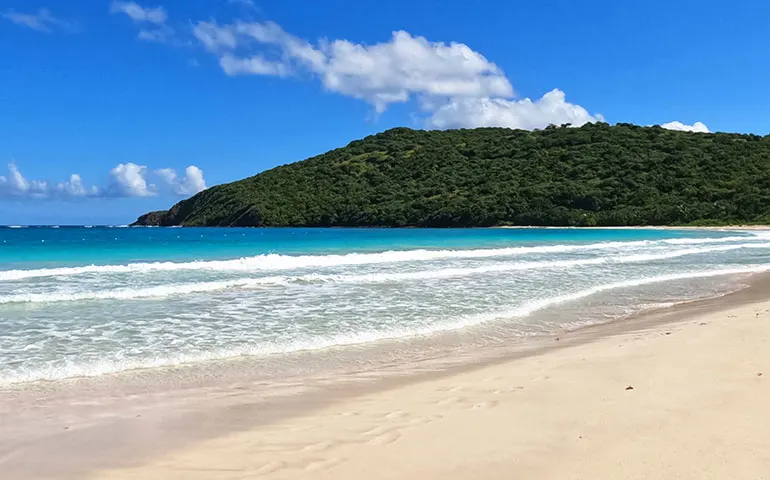 Alright already let's see the beach!
Flamenco Beach in Culebra is the kind of place that you truly cannot believe until you see it.
As someone who's actively crossing places off my bucket list, I've only felt this way about 3 other spots in this world: the gorgeous Leeward Beach in Turks and Caicos, the majestic mountains of Glacier National Park in Montana, USA and while hiking the NaPali Coast in Kauai, Hawaii.
Anyways, you're gonna love it!
Best spots to sit on Playa Flamenco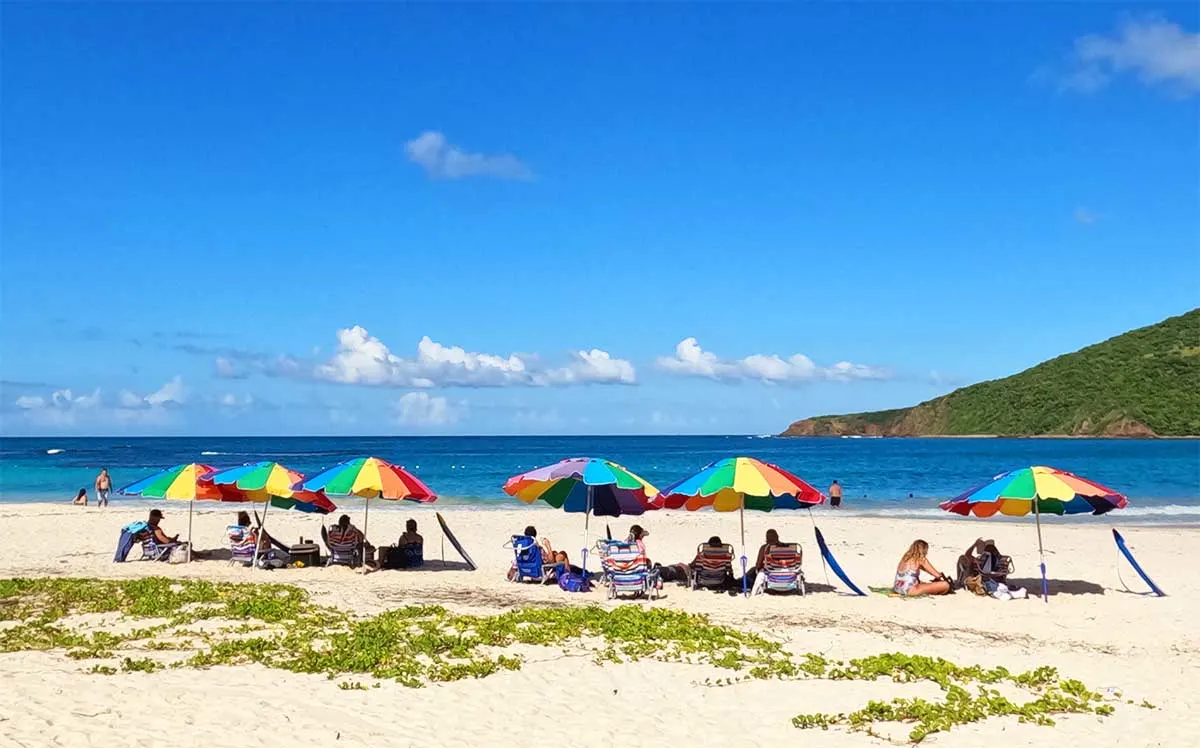 Once you walk through the designated path and onto the beach, you can turn left towards the end of the island, or right up the crescent-shaped beach. I personally feel it's more peaceful to enjoy the beach further from the crowds, so that's what I typically do. But being close to the amenities has it's advantages, too!
I'd recommend walking in either direction up the beach if you plan to get in the water. The waves are the biggest and most powerful right in the middle when they come in directly from the Caribbean Sea.
Far end on the west side has more palm trees and spots to cozy up under. If you don't want to pay for an umbrella, grab a palm tree! You might want to get there early to snag one though, especially in peak summer travel or the dead of winter when the beach is busiest.
If you're feeling adventurous, bring a hammock and hang it between palms for the afternoon. This is the travel hammock I have and it's perfect for this kind of beachy getaway!
But basically, sitting anywhere on Flamenco Beach Puerto Rico is like eye candy for you. You'll love this beach!
Painted Tanks at Flamenco Beach Puerto Rico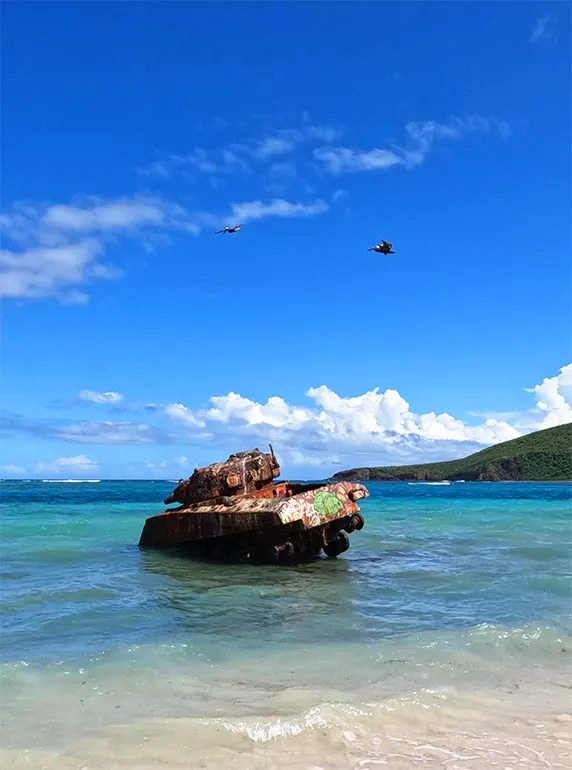 All the way to the west end of Flamenco Beach is an interesting sight: a tank left over from when the U.S. Navy used the island for target practice.
It's a sad time in the islands history. You can read more about it here. There's another tank just off the beach you can see on land, too.
Unfortunately, the tank was left sitting on the beach to rot. As you walk on the sand towards the tank, you'll begin to see black sediment on the sand from the disintegrating tanks. It's really sad.
But the locals have done something to turn that dark period into some thing beautiful. The tanks are regularly painted to make them more visually appealing, giving them their name.
It's now a feature on at Puerto Rico Flamenco Beach, and one that makes for an interesting walk. Kids especially love to look at the old tanks!
Flamenco Beach snorkeling
Real talk: snorkeling Flamenco Beach is great for seeing sting rays and the occasional sea turtle. But you won't see a lot under the water because there's not really a good reef system close to the shore.
As someone who's snorkeled the best reefs in Belize like Laughing Bird Caye and the best snorkeling beaches in Kauai, this just doesn't compare to that.
But honestly, it shouldn't! Part of the allure of this beach is the fine white sand and perfect turquoise water. If there was a large reef for snorkeling you wouldn't have those other aspects that make it perfect!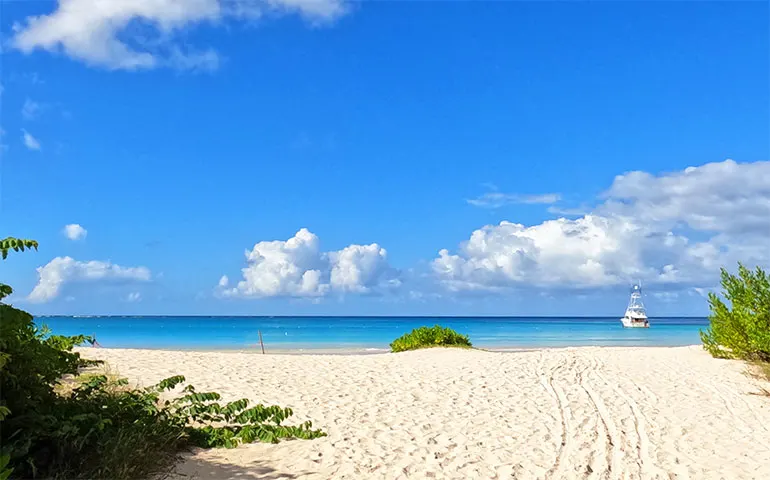 So if you're looking for the best snorkeling on Culebra, I'd highly recommend heading to Tamarindo Beach or Melones Beach. There is much better snorkeling for sea turtles, sting rays and a variety of fish.
Note: if you do want to snorkel to see the amazing white sand under the water, you can rent snorkel gear from one of the vendors (details below). You can also bring your own snorkel gear.
My husband and I travel with snorkel gear so we have the ultimate flexibility to snorkel when and where we want, for free. This is the snorkel set I took to Culebra and love it.
Amenities at Flamenco Beach Puerto Rico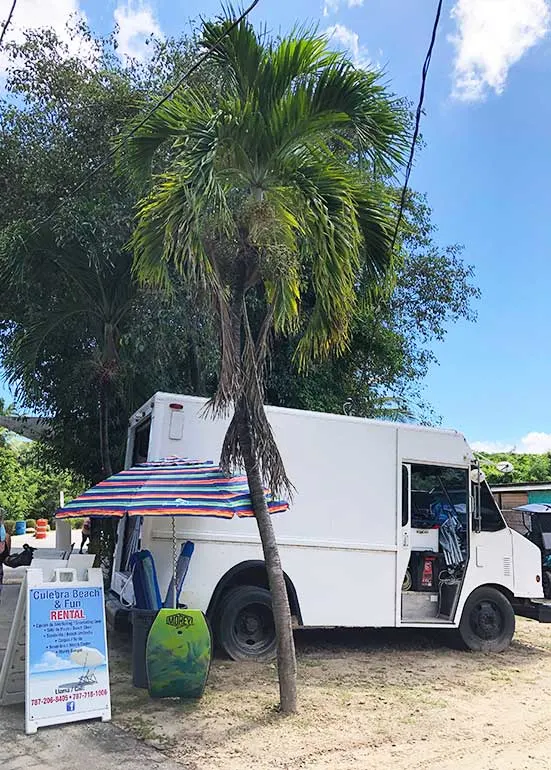 One of the nicest amenities on Flamenco Beach Puerto Rico is the fact that you can rent chairs and an umbrella for the day. It's not super cheap at $10 per chair and $20 for the umbrella (prices accurate based on article publish date). Snorkeling equipment is available to rent from the on-site vendors, too.
Renting an umbrella will help you from getting sunburnt while putting you close enough to the water to watch the waves crash.
You'll also find restrooms, rinse stations and even restaurants at Flamenco Beach. So you can sit your happy self on the beach all day and not have to go into town!
Food and drinks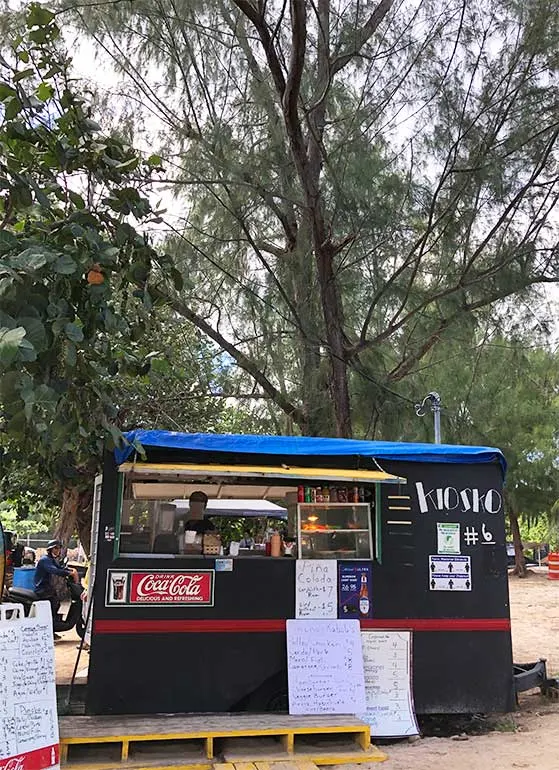 This amazing beach offers a whole lot more for amenities than the beautiful, although more remote, Black Sand Beach Vieques Puerto Rico.
When you're hungry after spending time on Playa Flamenco, grab a burger or kabobs. For more traditional Puerto Rican food, have some rice and beans or try the empanadas, stuffed with all kids of goodies like chicken, crab, shrimp or octopus.
Need water? They've got that too!
Cocktails and beer are also available. Or, pack a cooler and bring your own!
Unlike other cushy Caribbean destinations, here's not service directly on the beach (so nobody will bring you drinks). Again, I think that's part of the allure of Flamenco Beach Culebra! But the food stands are between the parking lot and beach, so they're close.
Note: there is construction happening at the time of this article's publication, which will expand the services at Flamenco Beach in the future.
Puerto Rico Flamenco Beach with kids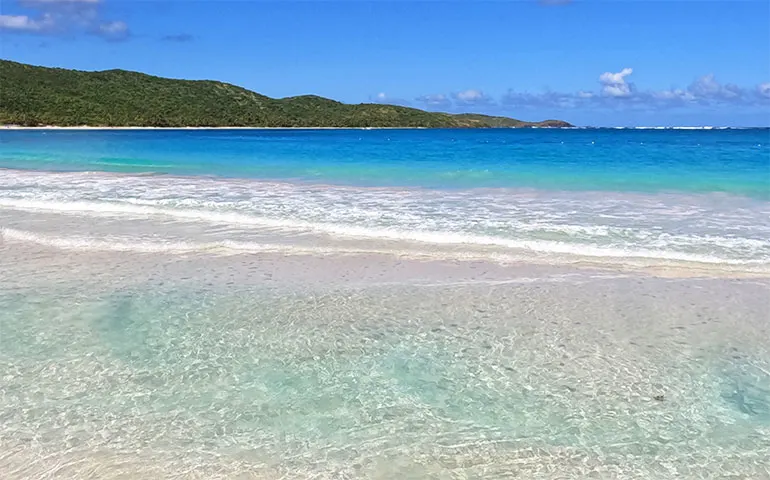 If you're visiting Flamenco Beach with kids, here are a few suggestions for you…
If you walk towards the hillside on the far end of the crescent (towards the east), the water is really shallow and the ideal spot for kids to play.
The waves are most gentle on the ends of the crescent. The waves can be really strong in the middle of the beach, where there's direct access from the open Caribbean Sea.
There's not sand toys available at Flamenco Beach. I recommend bringing your own sand toys, like this set.
What to bring to Flamenco Beach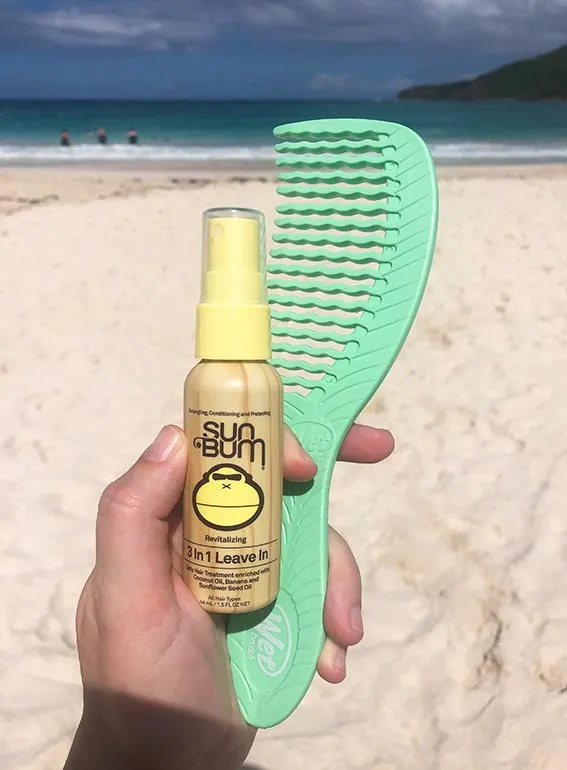 This beach is gorgeous and I hope you enjoy your time here! These are the things you might want to bring to Flamenco Beach.
GoPro for the best photos and videos. By taking a GoPro you'll get super crisp video and photos in and out of the water. And bonus – the lens doesn't fog or get spotty like other cameras. It can seamlessly go underwater for beautiful shots, like in the video at the beginning of this article. Just be sure to grab a float strap, too!

Snorkel gear. Mentioned earlier in this post, bringing your own snorkeling gear means you can snorkel when and where you want to!

Detangler for long hair. If you're swimming or snorkeling and get your hair wet, this stuff is a life saver! Grab a wide-tooth comb and spray it for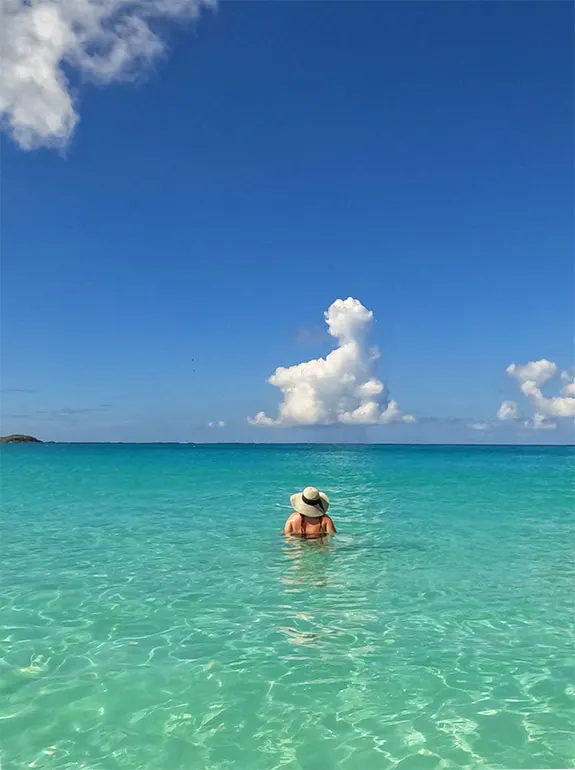 Reef-safe sunblock. This is a must! The sun is hoooot in the Caribbean and you'll want to slather the sunblock. Make sure it's reef safe so it doesn't hurt the fish and reefs in the ocean. This is my favorite reef-safe sunblock. And bonus – it actually smells great

Cash and credit card. I'd highly recommend cash for Playa Flamenco entrance fee and tips, and credit or debit card for food.

Bug spray. Guyyyyyys. I cannot stress this enough. The mosquitos are thick in Puerto Rico. So while you're on the island and not directly in the water, make sure to apply bug spray. This is my favorite all-natural bug spray and it works great!

Beach Towel with hidden pocket. If you're weary of sticky fingers, bring a beach towel with hidden pocket. I put my phone and keys in it and it's pretty much non-existent for someone looking to grab my stuff.

Snacks or food. If you have food allergies or just like to snack, consider bringing your own to the island. If you pack a lunch, there are picnic tables available along the trees to sit and eat.
To view a full list of things to bring to Flamenco Beach, check out this beach packing list.
Where to stay near Flamenco Beach Puerto Rico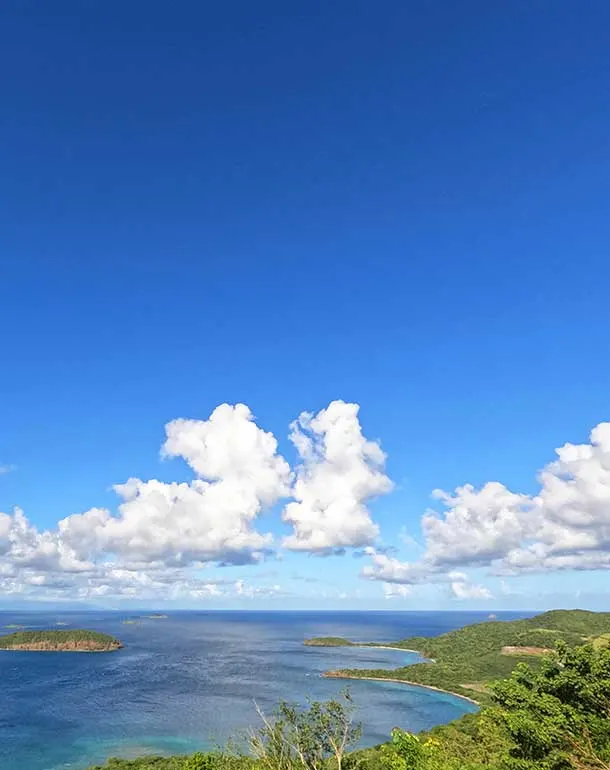 Alright before I wrap up this post on one of the most gorgeous spots on the planet, let's talk accommodations.
Because of the natural state of the beach and Culebra in general, you won't find Flamenco Beach resorts right on the water. It's what keeps the beach so beautiful!
There are no high-rise hotels or large chains on Culebra Island. But you will find locally-owned vacation rentals and villas.
I recommend using Booking.com to find the right spot because they have a variety of properties at affordable prices. I used them and found the cutest villa, perfect for 2, Aleli Cottages.
There is one tiny resort right on the beach with just a few rooms, Villa Flamenco Beach. Otherwise the entire island is only a 20 minute drive from one end to the next, so anywhere you stay will be close to Flamenco Beach. 😊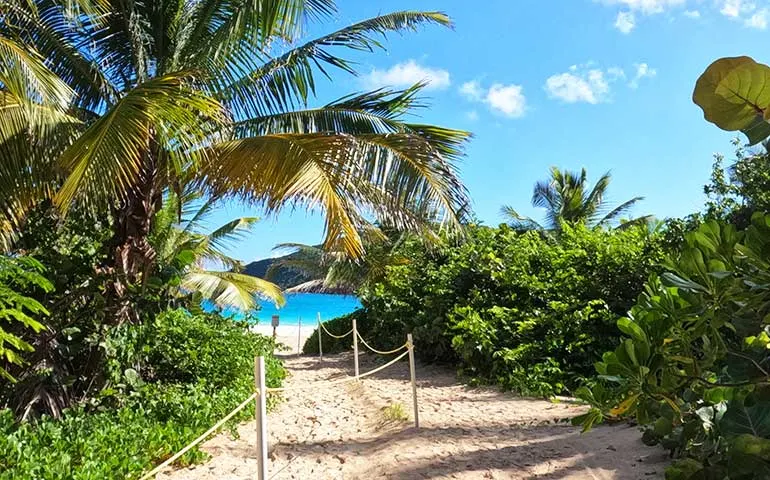 Flamenco Beach hotels & vacation properties
Aleli Cottages. Pictured above – it has spectacular views of the island. Perfect for couples, it's affordable and is a great little vacation property.
Ulala Culebra. With water views, these rental units are just a short drive from the beach and town.
Island Charm Culebra. With picturesque balcony views, you'll love these accommodations.
If you're planning to stay a night (or more) on Culebra, you'll want to book accommodations early to get the most variety.
Flamenco Beach Puerto Rico – that's a wrap!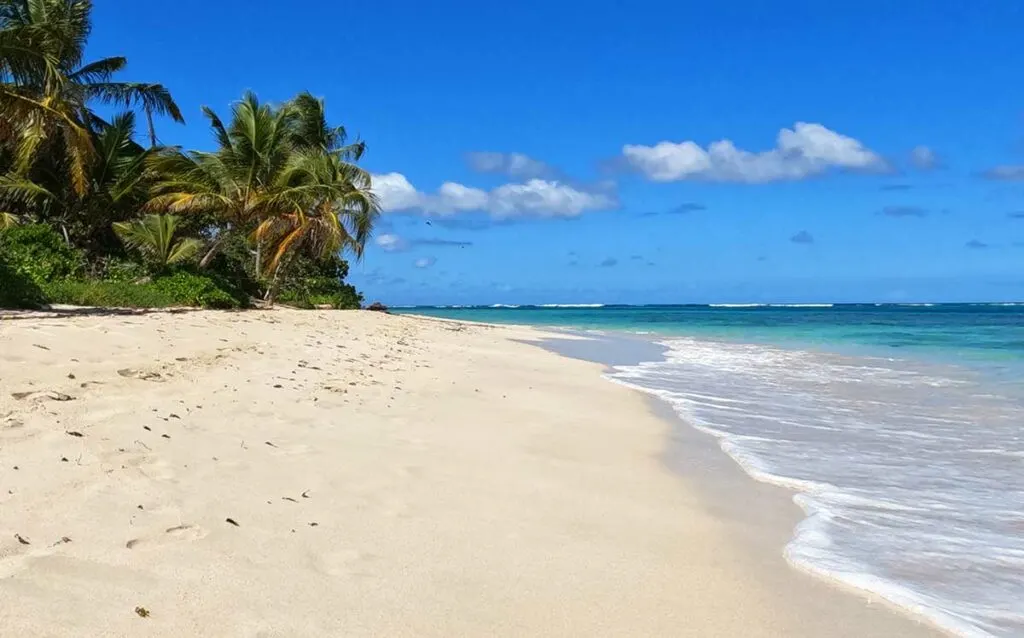 Have you seen enough to book your trip? Or maybe it's already booked and now this just teased you a bit more!
It's a truly stunning beach that deserves to be seen. But shhhhh – don't tell everyone you know because the small crowds are part of the allure 😉.
Whether you have 2 hours or a week, enjoy your time at Flamenco Beach Puerto Rico. You're gonna love it!

Related content:
Culebra Puerto Rico: 25 Things to Do + Best Beaches and How to Get There
Culebra vs Vieques: Which Island is Perfect for You?
STUNNING Black Sand Beach Vieques, Puerto Rico: What to Know Before You Go
28 Fun and Unique Things to Do in Old San Juan Puerto Rico
Beach Packing List: What to Bring (and What to Leave at Home)
Find this post helpful? Save it for later or share it on social media!