Culebra Puerto Rico is what every Caribbean island should be. Bright, turquoise water. Lush, soft sand. Rolling hills that hug the beach. Perfection.
This is your guide to everything you need to know before you go and things to do in Culebra Puerto Rico!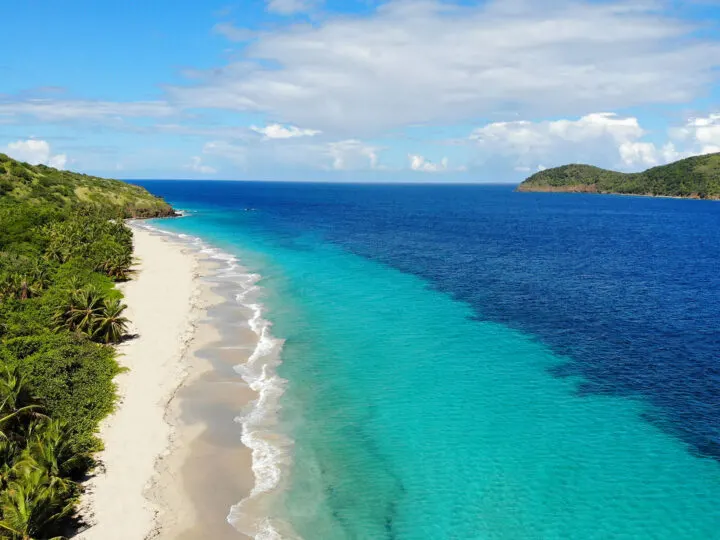 This post may contain affiliate links. For more info, see my disclosures.
Culebra is a small island off the coast of mainland Puerto Rico, but boy does it pack a punch! Culebra is beautiful, fun and the perfect spot for a getaway to paradise! And bonus – it's home to one of the world's best beaches, Flamenco Beach.
If you're traveling to Culebra Puerto Rico, this guide will help you figure out how to get there, what to pack,where to stay and things to do in Culebra. This gorgeous island has so much to offer – let's get going!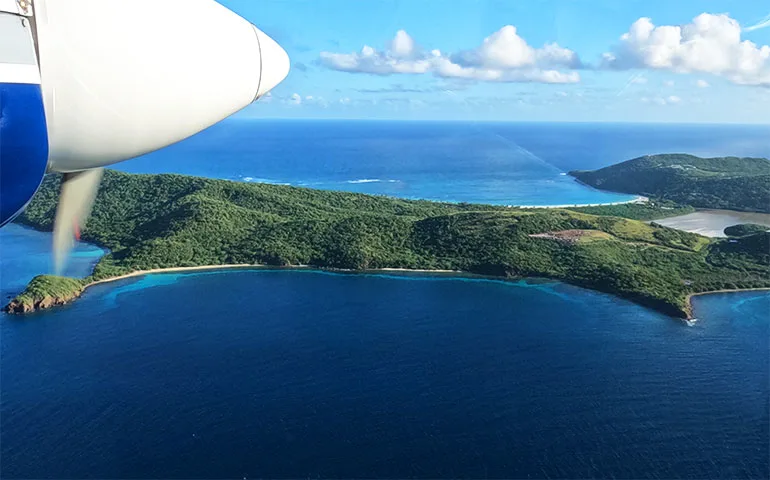 Ultimate guide to Culebra
This post is going to cover a lot! Use it to plan your time on this amazing island. Here's what you can expect:
Location
How to get to Culebra
Culebra Ferry – pros and cons
Flights to Culebra – pros and cons
How to get around the island
25 best things to do in Culebra, including

Fantastic Culebra restaurants
Best sunset locations
Shopping spots on the island
Secluded beaches in Culebra
Best beaches for snorkeling, families and more

What to pack
Where to stay in Culebra
Tips for visiting
Quick note: if this is your first time to Puerto Rico, I highly recommend staying on the mainland for at least 2 nights before arriving on the island. Check out all the cool things to do in Old San Juan, the San Juan Fort and El Yunque National Forest. There's so much to do on mainland Puerto Rico!
Quick note #2: this guide provides everything you need to know about Culebra assuming you're spending more than a day on this island. However, if you're short on time and looking for a Culebra day trip, here's a Flamenco Beach and snorkeling tour from San Juan or day trip to Culebra from Fajardo.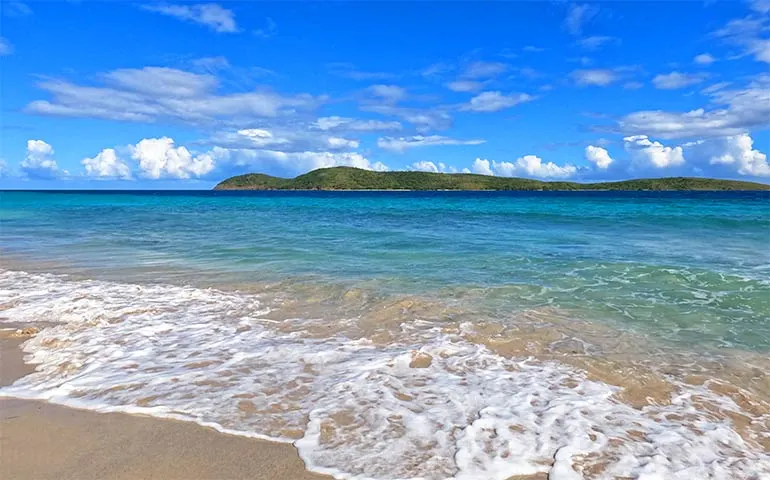 First, where is Culebra Puerto Rico?
Just 18 miles off the eastern coast of the mainland Puerto Rico is this itty bitty island. Covering just 10 square miles, the island is home to less than 2000 residents.
Here's a map with a good view of the island including the best beaches, attractions, restaurants, accommodations and more.

How to get to Culebra
Train, plane or boat. Just kidding!
Let's go through the 2 options for getting to Culebra Puerto Rico. These 3 factors will help in your decision:
How quickly you want to get there
Your budget
Location and transportation on mainland Puerto Rico
Just like the battle of Vieques vs Culebra, there are pros and cons to each.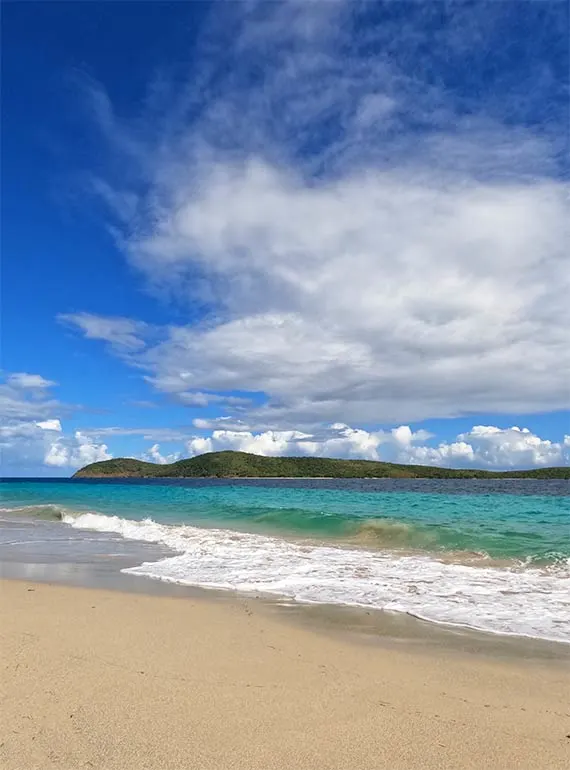 Culebra Ferry
The most affordable way to get to Culebra is by taking the ferry.
Ferry to Culebra Puerto Rico – Pro's
Affordable option at less than $5.00 per person.
Departs from Ceiba, allowing you to see more of the mainland vs. just staying in San Juan.
Several departure options throughout the day.
Short, 45 minute ride from mainland Puerto Rico to Culebra.
Space for large groups.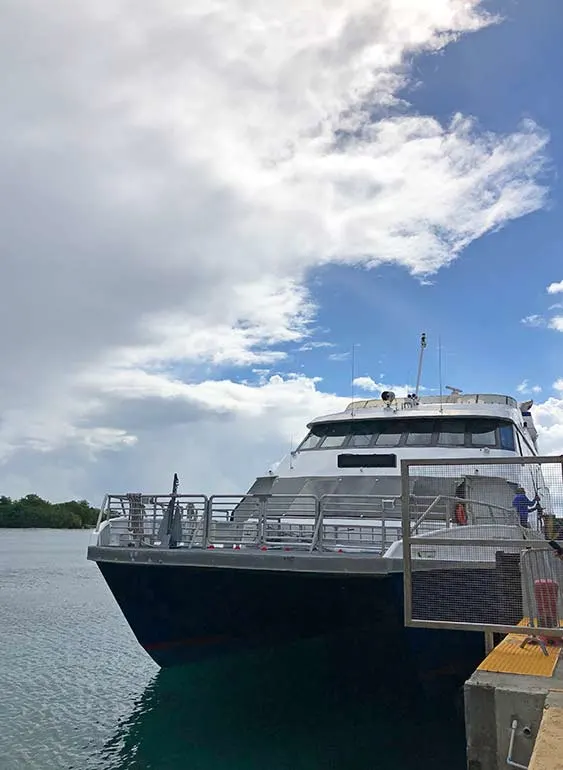 Culebra Puerto Rico Ferry – Con's
Only one ferry company operates from mainland, so you're at the mercy of their system.
Not convenient for planning; reservations can be difficult. Ferry priority is for residents (which makes sense) limiting number of seats for visitors. Tickets sell out quickly online and monthly schedules are released at the end of the previous month. Check the Puerto Rico Ferry Facebook page for release schedules.
Visitors must arrive more than an hour before departure to see if tickets are available (if online reservations aren't confirmed).
If you're staying in San Juan, you'll need to arrange transportation to Ceiba to catch the ferry. Rent a car, taxi or ride share, which will increase your cost to get there.
So, should you take the Culebra Ferry? If your plans are flexible and you're looking for an affordable option, yes!
Flights from San Juan to Culebra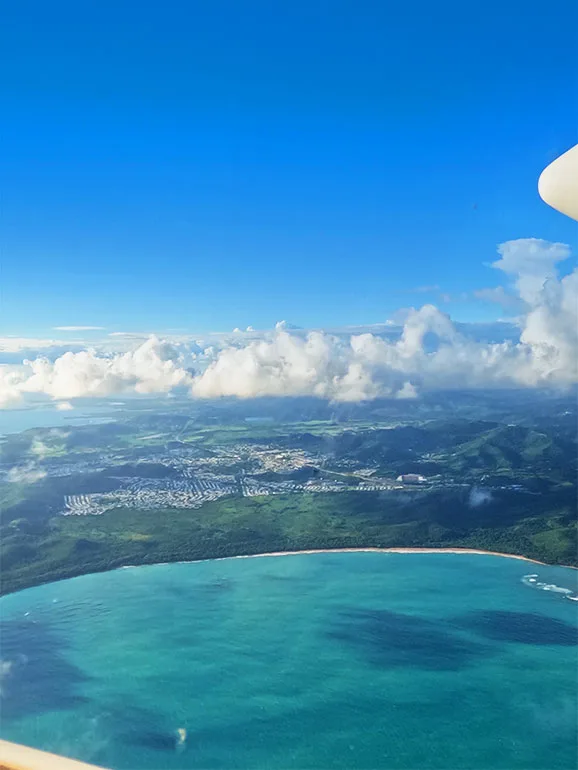 The most reliable way to get from San Juan to Culebra is to fly.
With just a couple of flight options direct from the mainland USA, most visitors will need to leave from the Luis Muñoz Marín International Airport in San Juan in order to fly to Culebra's small airport: Benjamin Rivera Noriega Airport.
Flights to Culebra Puerto Rico – pros
Guaranteed to have a reservation. Pay for it and just like a regular flight, the seat is yours.
Departs from San Juan. Convenient if you're staying in Old San Juan to get a simple ride share to the airport, vs finding transportation across the island.
Short, 30 minute flight.
Flights to Culebra Puerto Rico – cons
More expensive option to get to Culebra, with costs exceeding $60/person, per flight.
Limited flying options: 2 carriers, Cape Air and Air Flamenco. and fewer flights throughout the day, vs ferry departure times.
So, should you fly to Culebra from San Juan? If can afford the airfare, yes!
(I personally chose to fly to Culebra from San Juan via Cape Air and had a fantastic experience.)
Pro tip: catch the first flight out of the day and hit the beach by 9:00am – including breakfast!
Getting around the island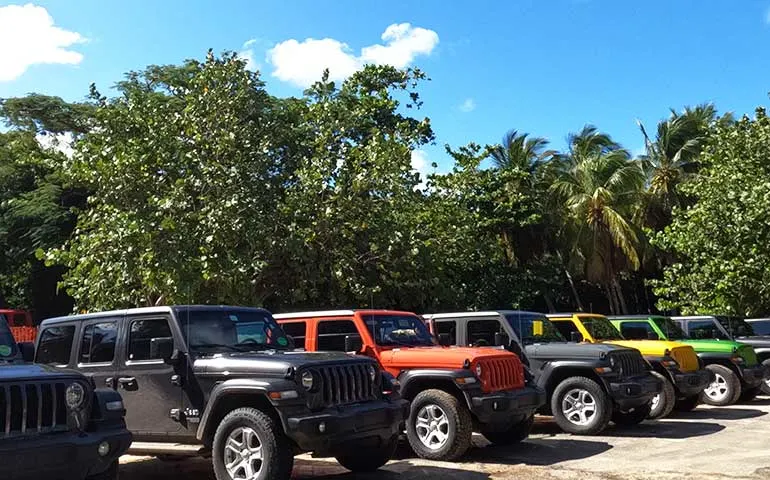 When traveling to Culebra, you'll need to rent a golf cart or Jeep. There is no rideshare, small cars and it's not a walkable island. And riding a bicycle everywhere sounds great in theory, but it's an extremely hilly island with really rough roads, so it's not practical.
I highly recommend a Jeep. The roads are rough and some inclines would be extremely difficult with a golf cart. Oh, and muddy too!
You can rent a jeep from Carlos Jeep Rental or Jerry's Jeep Rental. Both are located practically right across the street from the airport and offer convenient pickup services at the ferry dock, too.
Driving around a Caribbean island on a Jeep is a good time. Although, the last island I golf carted around was Put-in-Bay, Ohio on Lake Erie, which was a blast, too!
Anyway, be sure to reserve your rental in advance because on this tiny island, there's limited supply.
Be sure to read to the bottom of this post for what to pack, best places to stay in Culebra and top tips for a spectacular experience! For now, let's get into the best activities on the island.
Things to do in Culebra Puerto Rico
If you're here because you want to know what there actually is to do – and if it's worth a visit – I got you!
Here's a list of the top activities and things to do in Culebra.
1. Visit the gorgeous Flamenco Beach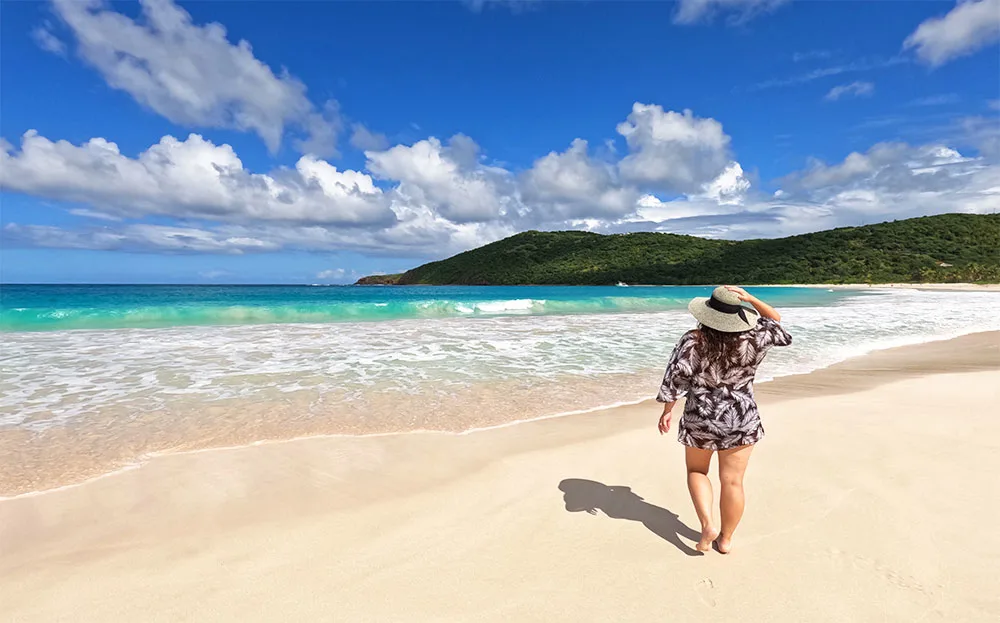 This just miiiiight be the thing that drew you in. Flamenco Beach is rated as one of the top beaches over and over again. And trust me you're gonna agree once you see it for yourself.
You may have heard it called Culebra Beach – but in fact, it's name is Flamenco Beach, and it's another level of perfection!
A few things to know about Flamenco Beach:
It's a crescent shaped beach with stunning turquoise water, super soft sand and the surrounding area looks like a real-life dream. Seriously.
There are a few amenities like rinse stations, food and drinks.
You can rent chairs, a beach umbrella and other gear for the day – at a cost. Take cash or have your Venmo ready.
It costs $2 per car and $5 per person to enter. #worthit
Location: 312 PR-251, Culebra, 00775, Puerto Rico

2. Eat at Zaco's Tacos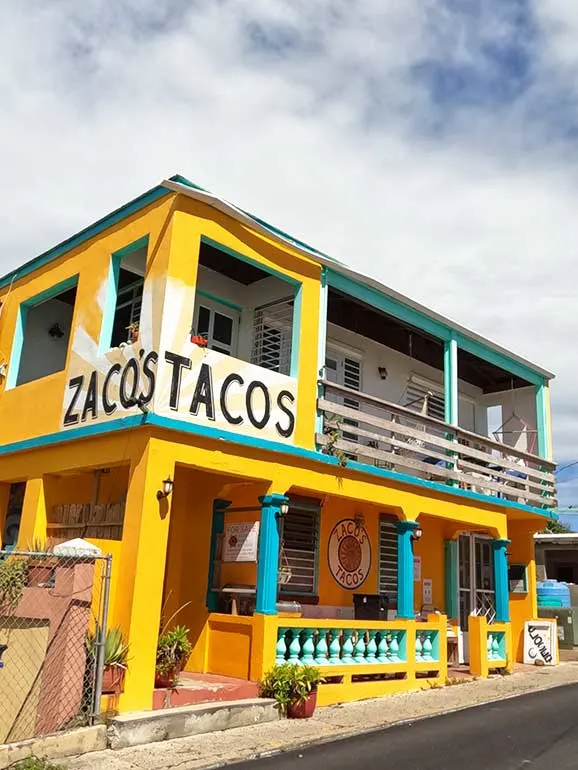 One of the island favorites is Zaco's Taco's! Open for limited hours on the weekends, try the beef tacos, Baha fish tacos, chicken tandoori tostada. The menu changes daily, so since you're on an island, go with the flow, ok? 😉
Oh, and the fresh, homemade salsa is to die for so be sure to add that to your order, too.
Location: Cll Pedro Marquez, Culebra, 00775, Puerto Rico
3. See the manatees in Culebra PR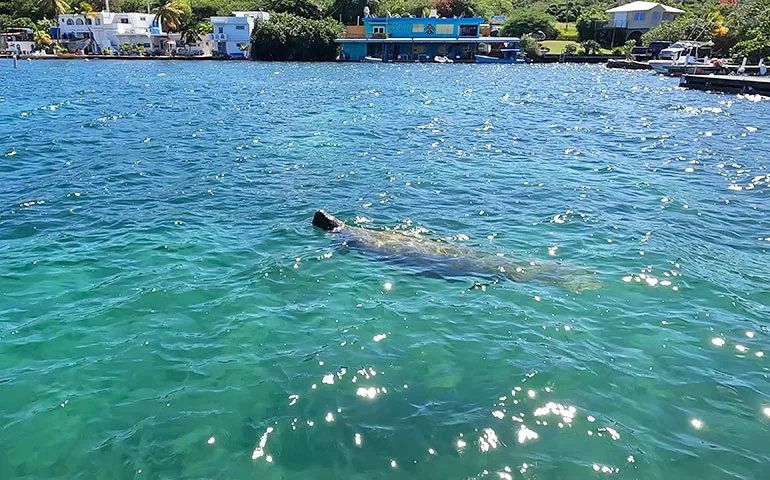 One of the coolest surprises I had during my time on Culebra Island Puerto Rico was seeing manatees! The last time I'd seen some was in Anna Maria Island, Florida and it really surprised me that they are as far south as Puerto Rico.
Anyway, I saw 2 manatees while at the pier in Ensenada Honda in Culebra. It sounds like locals regularly see manatees, so if you spend a little time at the pier, you may just find them too!
Location: PR-250, Culebra, 00775, Puerto Rico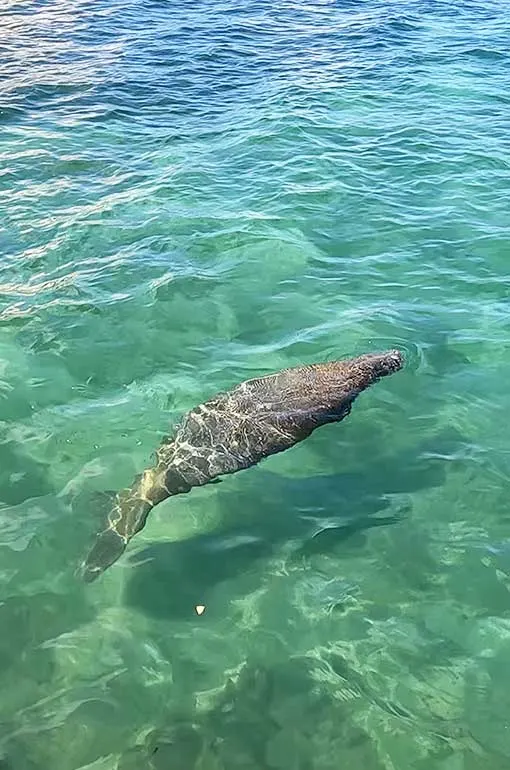 4. Visit the Culebra National Wildlife Refuge
Part of the main island of Culebra and 22 smaller islands in the area, including over 1500 acres of land make up the Culebra National Wildlife Refuge. These marine ecosystems are protected including seabird nesting areas, dry tree forest, the boulder forest and so much more.
Fun fact: an estimated 40,000 Sooty Terns (a type of bird) nest on the Peninsula Flamenco. This happens to be the largest seabird nesting colony in all of the Caribbean.
The easiest ways to enjoy the refuge is to hike to Resaca Beach to see a completely natural and preserved area of the island. This is also a sea turtle nesting area, so respect any signage that's placed there seasonally.
Isla Culebrita is also part of the Culebra National Wildlife Refuge. It's available via boat for a day trip – see #10 below.
Location: here's a map of the Culebra National Wildlife Refuge
5. See Hector el Protector the Troll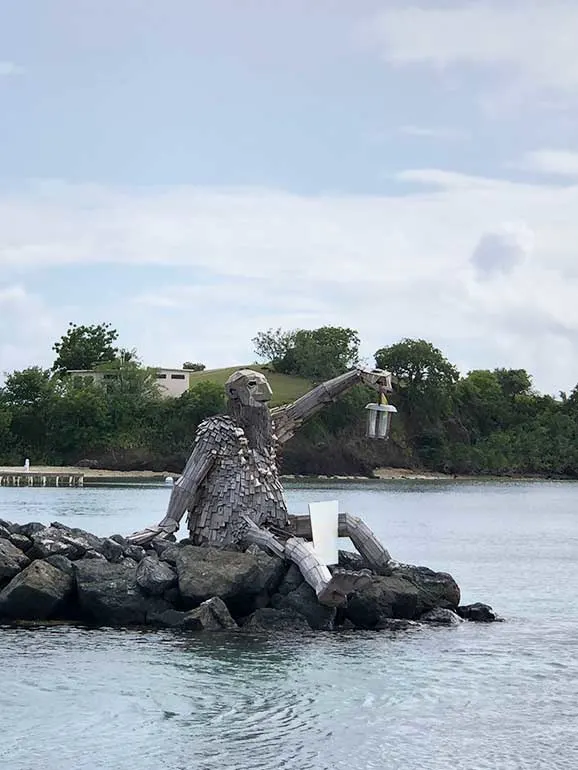 One of the most unique things to do in Culebra Puerto Rico is see the wooden troll. It's there to protect the island – a mascot of sorts! It also greets passengers that take the ferry to the island. If you're not taking the ferry, you can see the troll from the marina.
The troll is a unique, manmade art structure by the artist Thomas Dambo. I first saw his work by visiting the Breckenridge Troll in Colorado. Thomas and his team have such a unique way to recycle materials and show the world that recycling is a way of the future..
Hector El Protector troll actually was demolished by Hurricane Maria. The residents missed him deeply so they set up a fundraiser to pay for plane tickets for the team to come back and rebuild him. What a cool story!
Anyway, if you're downtown to grab a bite to eat, stop by the marina to see the wooden troll.
Location: 8M2X+92 Culebra, Puerto Rico (Terminal de Lanchas de Culebra)
6. Feed the Tarpons (a unique thing to do in Culebra Puerto Rico)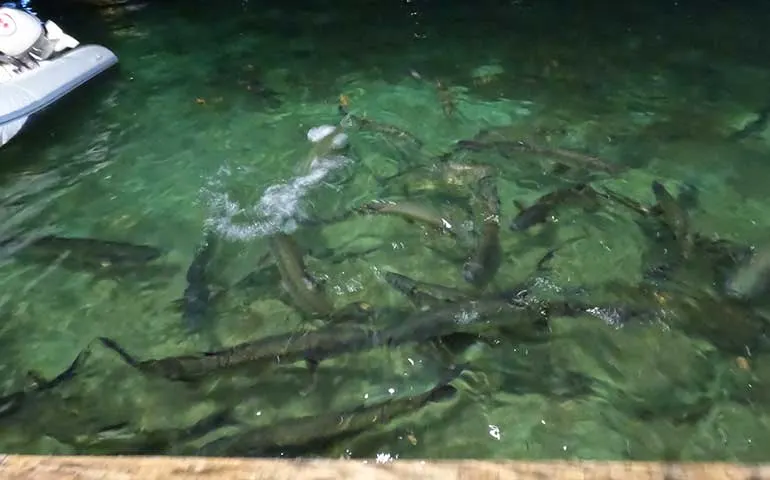 Large Tarpon fish are quite the sight to see in the bay. Unlike mainland Puerto Rico or even Florida, they're protected in Culebra which means they're plentiful!
The locals feed them and encourage it – and obviously the Tarpons love it too! If you eat at Dingy Dock's or Mamacita's, you can feed the Tarpons from there.
Location: 8P22+V7 Culebra, Puerto Rico (Dinghy Dock's)
7. Dinner at Dinghy Dock's (one of the best restaurants in Culebra Puerto Rico)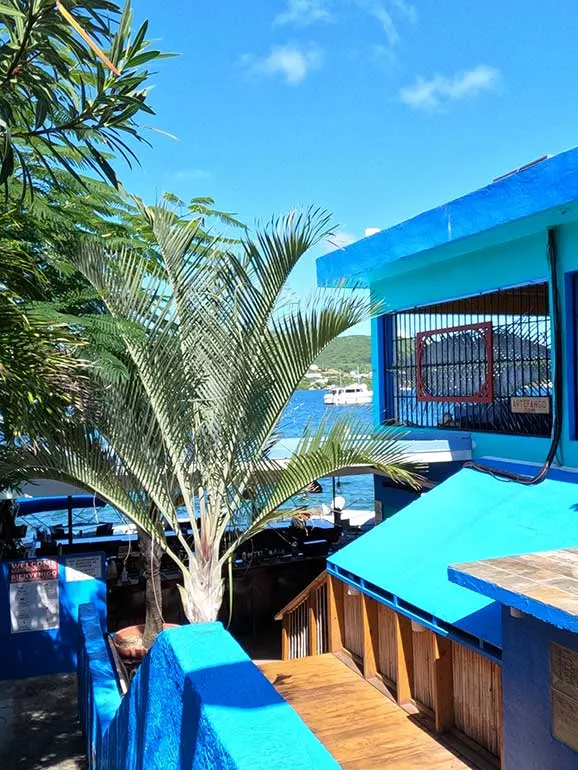 Speaking of Dinghy Dock's – this is one restaurant you gotta try! A favorite of visitors and locals, the food at Dinghy Dock's is some of the best you'll taste on the island.
From coconut shrimp to grilled Mahi Mahi to skirt steak, it's a spot worth visiting. Grab a cocktail for happy hour or go for dinner. You'll have waterfront views while dining on some good food!
Note: there will likely be a wait at Dinghy Dock's, so come a little early!
Location: 8P22+V7 Culebra, Puerto Rico
8. Catch an amazing sunset
Okay, I can't promise you'll get to see an amazing sunset. But I can recommend a few spots to watch the sunset in hopes it turns magical for you!
Note: these locations are more remote, with little to no services. Bring what you'll need to enjoy your sunset! 😍
Best sunset locations on Culebra:
Playa Tamarindo Grande
Carlos Rosario Beach
Playa De Cascajo
Punta Soldado Beach
9. Culebra snorkeling with the sea turtles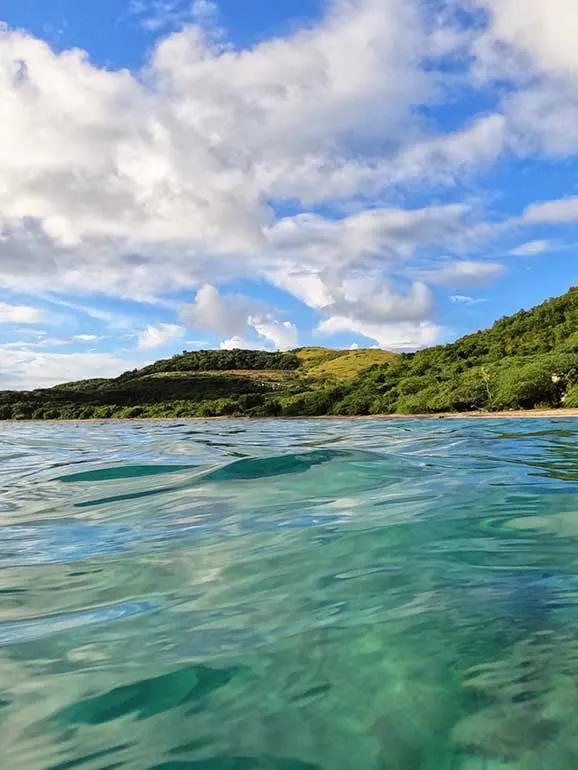 Tamarindo Beach is known for it's snorkeling! On a good day you'll see plenty of sea turtles, rays and a variety of fish. In fact, snorkeling is one of the top things to do in Culebra Puerto Rico!
Unfortunately, the reef is mostly dead at Tamarindo Beach, which means the vibrant colors you'll see in places like Turks and Caicos and while snorkeling in Kauai aren't possible here. However the sea turtles are still pretty cool to see!
Just be sure not to touch the sea turtles! Leave nature be and stay a distance during photos.
With a rocky, stone shoreline, you'll really want to bring water shoes!
Note: there are no services at Tamarindo Beach, so be sure to bring your own snorkel gear. My husband and I travel with snorkel gear to all our beachy destinations, and this is the snorkel set I used on Culebra Island Puerto Rico. I have it in teal and it worked great!
Location: Tamarindo Beach Road, Culebra, 00775, Puerto Rico
10. Day trip to Culebrita Island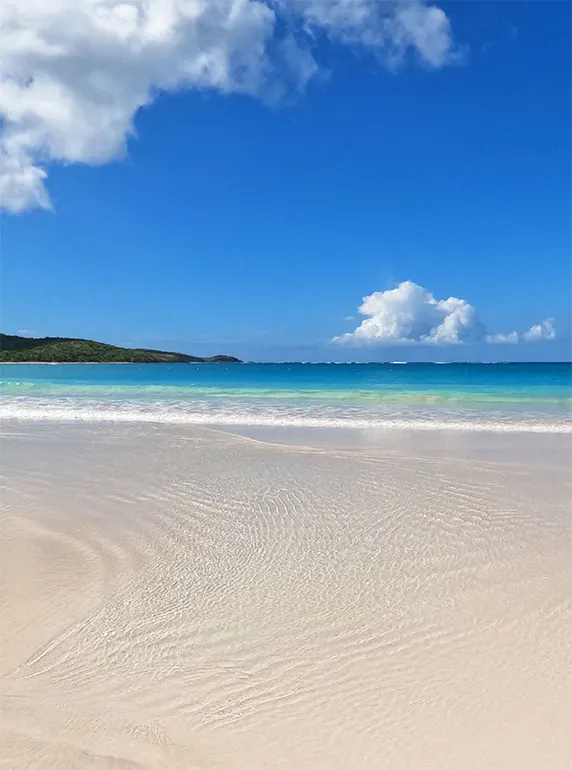 Okay, okay, this one is not technically on the island. However it's one of the top things to do in Culebra because it's a simple day trip on a boat from the coast to Culebra to Culebrita.
Culebrita is a tiny, uninhabited island about 5 miles from Culebra. It's a beautiful island with gorgeous beaches and clear water. If you're feeling adventurous, the island also offers old lighthouse ruins, hiking trails and natural pools for swimming.
Book it now: day trip to Culebrita
11. Jeep the island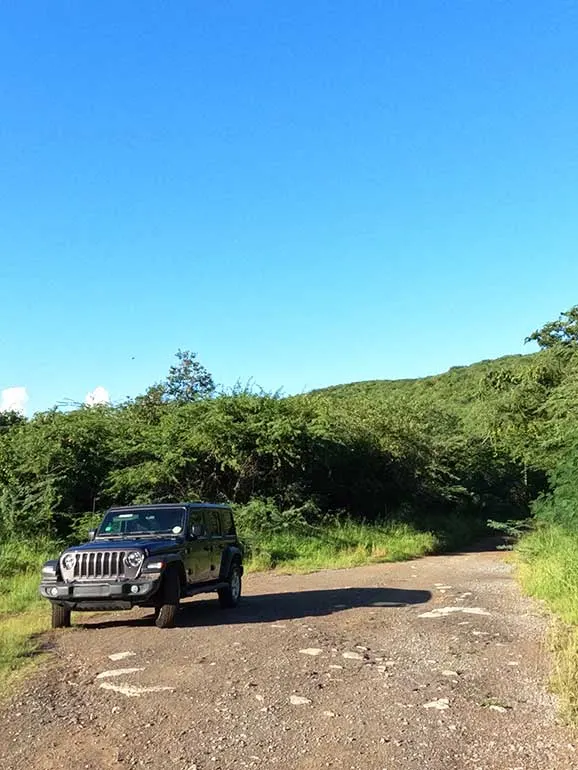 I know we already talked about rental cars. But here's the thing: one of the best parts about traveling is the ability to explore!
Driving the Jeep down the many dirt roads is a great way to see this island! Get ready for a bumpy ride!
It's beautiful and you'll see stunning landscapes. Just be sure to honor the locals and don't trespass while exploring.
12. Pina Colada on the beach (one of my favorite things to do in Culebra Puerto Rico)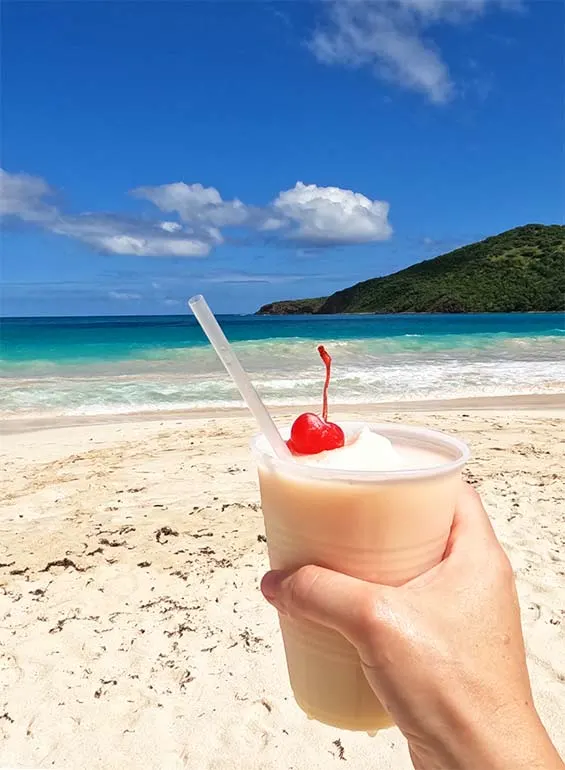 Fun fact: did you know the Pina Colada originated in Puerto Rico? That's right! It was created in Old San Juan at Barrachina restaurant, which you can still visit today.
So it's rather fitting that you can sit on a beach in Puerto Rico while drinking a delicious frozen Pina Colada! The only beach on the island where you can buy frozen cocktails is Flamenco Beach. The little beach hut selling cold drinks has them for less than $10!
Pro tip: if you're looking for a budget-friendly Pina Colada hack, try taking your own mixers and travel blender! You'll have to pack your blender in the checked luggage, but it can be worth it!
I've taken my travel blender to many beachy destinations and it's a great way to save some cash! In this case, be sure to bring a collapsible cooler, insulated mugs to keep your drink cold and reusable straws. And of course, enjoy responsibly!
Anyway, it's one of my favorite ways to spend a beach day. So grab a Pina Colada, put your toes in the sand and enjoy the beach!
Location: 312 PR-251, Culebra, 00775, Puerto Rico
13. Shop for souvenirs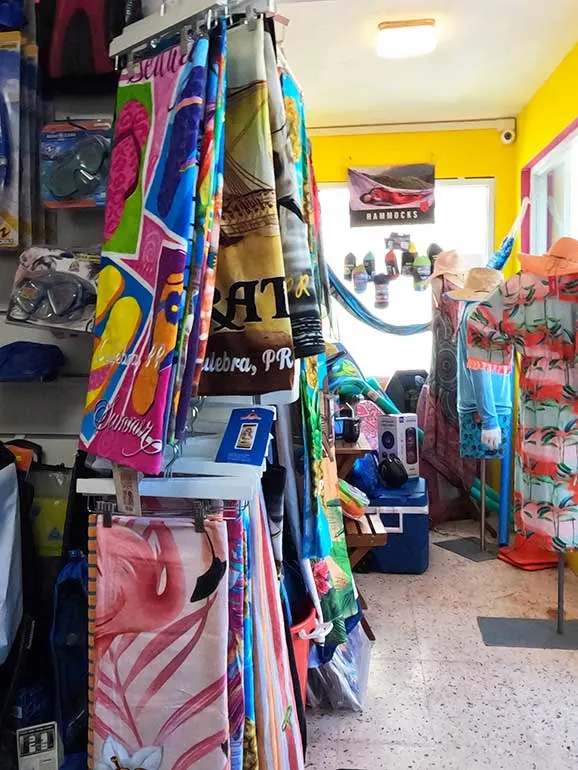 Whether you're faced with a rainy day or just need a break from the sun, shopping for souvenirs can be a fun time on vacation.
While the island is small, there's still a few shops to check out. When visiting downtown, you're most likely to hit an open store on the weekend or in the afternoon. Remember, you're on island time so if you come across a shop that's not open, check back later!
Shopping in Culebra PR:
La Cava
Galeria de Regalos
Artefango
Mi Pequena Partia Boutique
Gmart
14. Experience the beautiful Zoni Beach (another favorite on this list of things to do in Culebra Puerto Rico)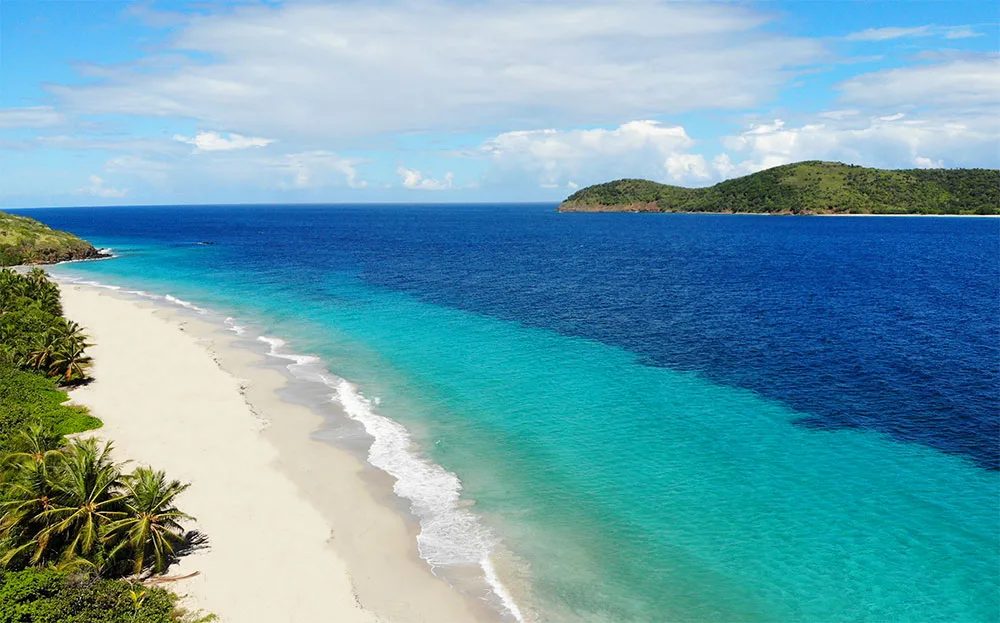 Looking for some privacy? Or maybe a little more peace than the large crowds and tours that bring people to Flamenco Beach?
Give Zoni Beach a try! The picturesque palm trees and beautiful bay will have you falling in love with this island. With a view of Cayo Norte and Culebrita Island, it's the perfect way to spend an afternoon.
Here's another reason why it's way less crowded: you may have to walk through rocky water to enjoy it. And it has more seaweed than other beaches.
If you're heading to Zoni Beach, I highly recommend to take water shoes with you. Especially during high tide, you'll have to walk through a strip of really narrow beach in order to get to the good part.
These are the water shoes I recommend – I take them on all my beach trips and wore them to walk through the rocky shore at Zoni Beach.
Don't let the short walk scare you – this beach is a gem on this island! And speaking of gems in Puerto Rico, you should definitely check out the Black Sand Beach in Vieques. It's as short flight to get there, but oh-so unique!
Location: Fraile, Culebra 00775, Puerto Rico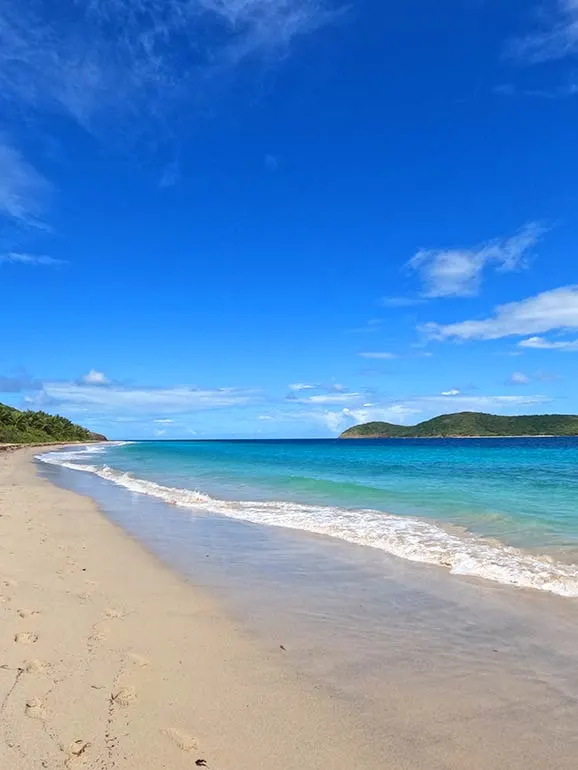 15. Ride jet skis
One of the coolest ways to experience this island is from a jet ski! It just might be a highlight of your trip, which says a lot considering all the amazing things to do in Culebra Puerto Rico!
By taking a jet ski tour, you'll get to see this gorgeous coastline from the water and experience hidden beaches not accessible by land! Visit the most scenic spots on the island, without the crowds!
16. Go boating in and around Culebra Puerto Rico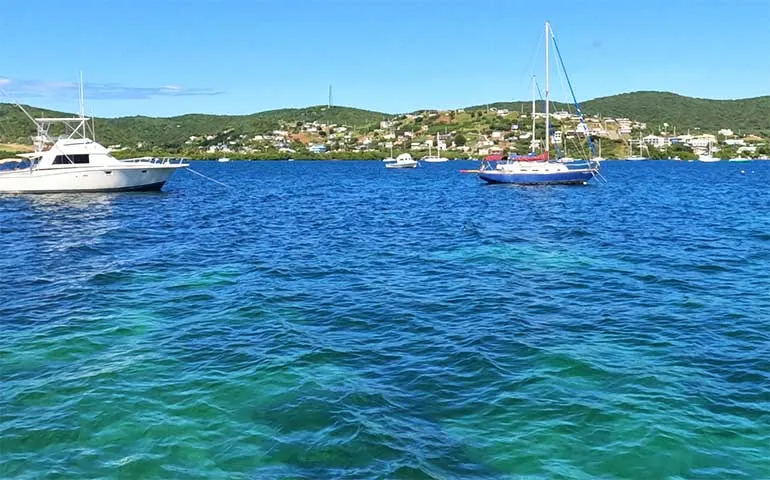 Fun fact: Culebra Puerto Rico is part of an archipelago including 18 small islands. It's quite literally perfect for any boat lover! Whether you rent a yacht, take a Culebra snorkeling excursion or fishing tour, there are so many places accessible only by boat!
Seeing all the tiny islands from the airplane on the way to Culebra made me want to check out all those empty beaches. What better way to do it than exploring via boat?
17. Experience the vibrant colors of Culebra PR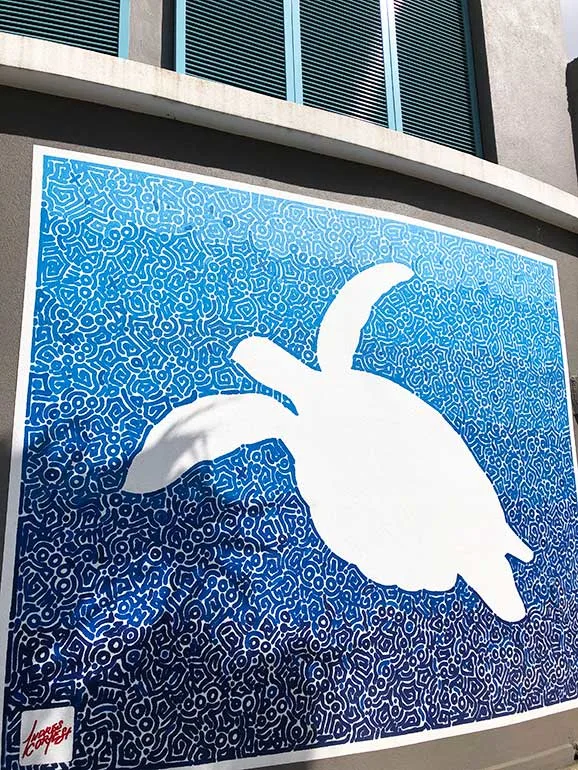 This island is naturally beautiful. With lush greenery on the hillside, gorgeous beaches and stunning water. There's not doubt you'll love it.
The locals have done a wonderful job of making the island vibrant and beautiful, too. Taking a walk in downtown, you'll see street art, brightly painted signage and inviting storefronts. Homes and businesses are painted all colors of the rainbow, which is so fun!
As you experience this island, remember to respect private property as you witness this tiny island's charm.
18. Cool treats at Rolls of Heaven
Is it time to cool off with a sweet treat? Get this: Rolls of Heaven makes ice cream and popsicles! It's literally perfection in a restaurant. 😆
Oh, and they have over 20 fresh flavors of popsicles! With flavors like Fruit Punch, Strawberry Raspberry Mojito, Coconut Cinnamon, Oreo and Pina Colada, you'll have a hard time choosing.
Then, over to their Heavenly ice cream…(see what I did there?) Choose from creations like Reese's & Oreo Ice Cream Roll, Banana Split Roll and Cookie Monster Taco Roll – you'll find something delicious!
Location: 8M2X+XC Culebra, Puerto Rico
19. See the painted tanks on the beach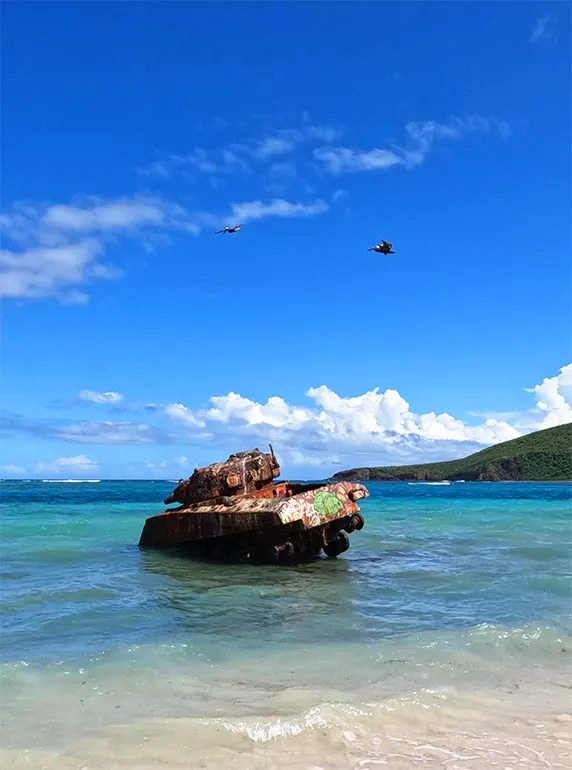 Back on Flamenco Beach, wrap yourself in history and a little bit of art by checking out the tanks. It's one of the most kid-friendly things to do in Culebra, too.
At the end of Flamenco Beach sit 2 tanks – one in the water and the other just slightly off the beach.
The remnants of the US Navy's target practice, the tanks were left on the island to rot when the Navy abandoned Culebra as a testing spot. The locals paint the tanks, to create something beautiful out of a tragic period of time.
Location: 8MMG+VVH, Flamenco, Culebra, Puerto Rico 00775
20. Visit the Culebra Puerto Rico museum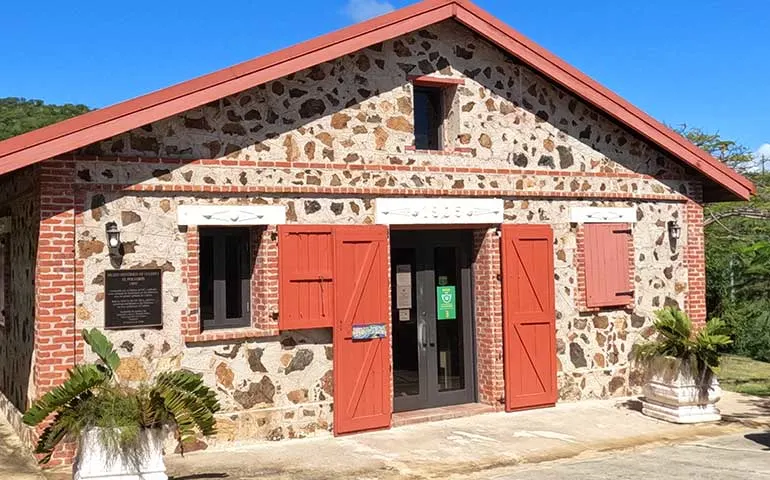 Every island has it's history, and this one has a small museum to see it. There is a $2 fee to enter the museum, which is worth it for history lovers!
The Culebra Historic Museum showcases artifacts and memorabilia of the history of the island. See details about when the native Tainos lived on the island. Or check out the collection of artifacts from when the US Navy used the island as a bomb testing site.
There's also a small gift shop inside the museum. Making a purchase is another way to help support the museum.
Location: 8P68+5P4, Fraile, Culebra 00775, Puerto Rico
21. Go hiking
One of the coolest experiences you might have on Culebra Puerto Rico could quite possibly be going hiking – to find a beach!
It reminds me of hiking the Hideaway Beach, one of the best beaches in Kauai, Hawaii. You gotta work to get there! And that means way less people, or quite possibly even the beach to yourself!
Hike to Carlos Rosario Beach by parking at the Flamenco parking lot. It's about 15 minutes walk.
A strenuous hike, Playa Resaca is a 30 minute hike past large boulders in a dense tree area. You may be the only ones at this secluded beach!
Brava Beach is accessible via a 30 minute hike from the Playa Brava trailhead.
For all of these hikes, I'd recommend comfortable water shoes, which double for hiking but also on the rocky shoreline. Be sure to take lots of water, snorkel gear, lightweight beach towel and anything else you'll want to enjoy the beach as there are no amenities at these hidden gems!
22. Find a secluded beach (a must-do from this guide to Culebra Puerto Rico)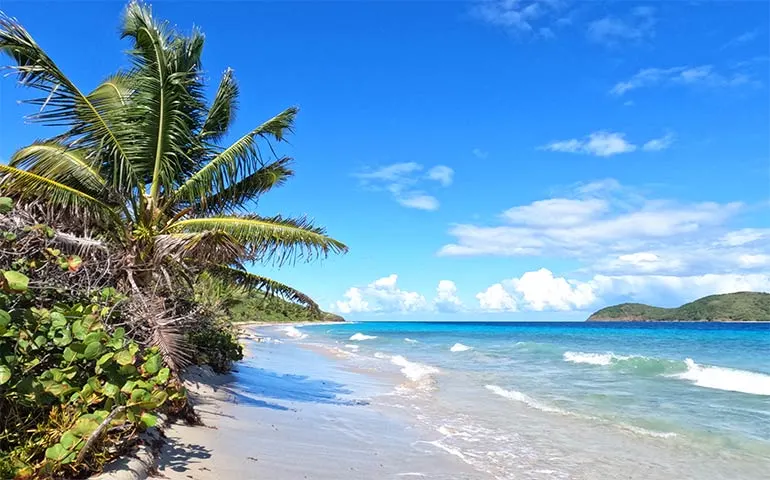 Some of my favorite memories of Culebra (and other islands, actually) are finding empty beaches and soaking in their magical charm. So while a few beaches were mentioned throughout this post, rely on the list below if you really want to find a spot all for yourself!
Culebra's hidden beaches:
Zoni Beach
Carlos Rosario Beach
Resaca Beach
23. Cocktails and views at Mamacita's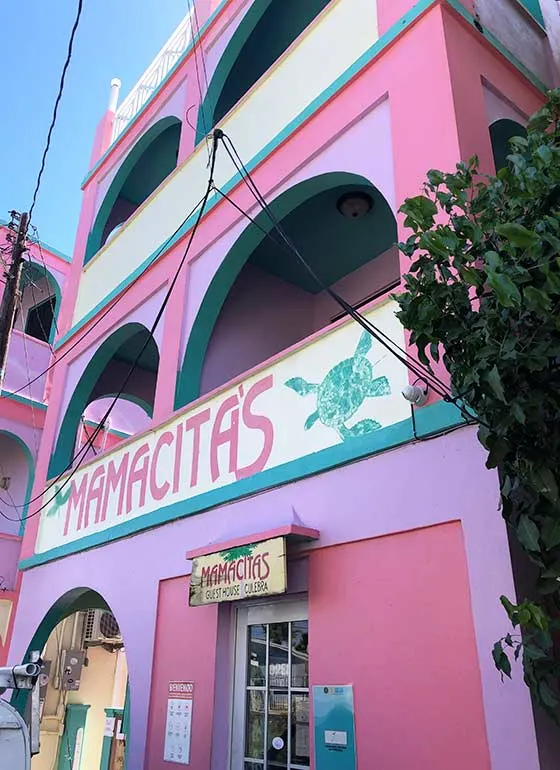 Mamacita's is a staple on the island. Located right on the water, it's the place to go for mofongo (the local cuisine in Puerto Rico) and it's also a vacation property! So if you're wanting to stay in town, this is a spot to consider.
But for the purposes of this list of things to do in Culebra Puerto Rico, I'm adding Mamacita's to the list for food and drinks. With water views, it's a great place to wind down for the day, and one of the more popular restaurants in Culebra.
Location: 64 Cll Castelar, Culebra, 00775, Puerto Rico
24. Go kayaking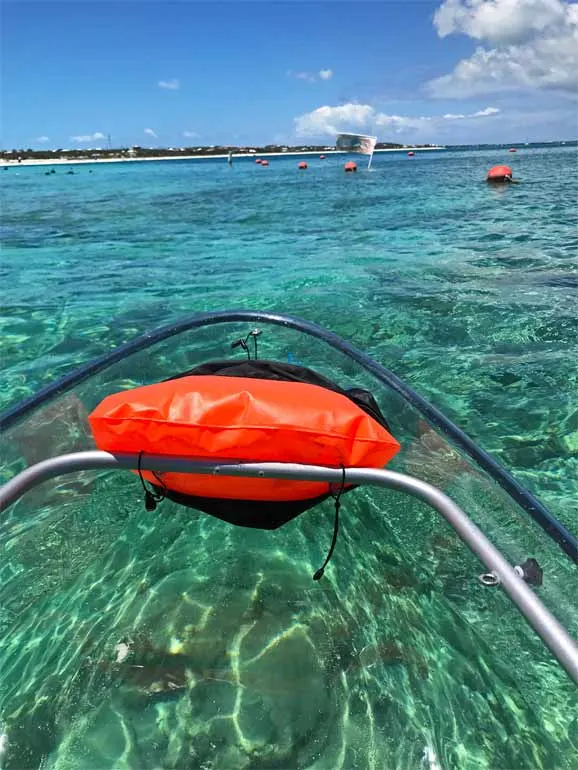 From Placencia, Belize to Siesta Key, Florida, kayaking is a favorite on any trip. So why not at a place as gorgeous as Culebra Puerto Rico?
Take a kayaking tour to see the beautiful coastline and what lies within the waters beneath! Explore the Luis Pena Channel Nature Reserve on a kayak. See colorful coral reefs, sea turtles and learn about the island's ecosystems.
What a fun way to experience this beautiful island!
Book it now: kayaking tour
Location: Tamarindo Beach Road, Culebra, 00775, Puerto Rico (departure point)
25. Visit all the best beaches in Culebra (my favorite part of this guide!)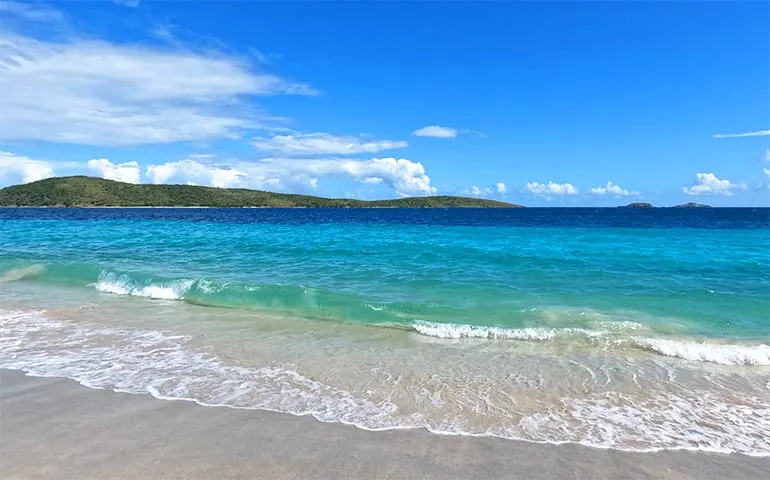 Alright, so a few beaches were already mentioned above. But you love options, right? So here's the best beaches in Culebra, and what each beach is perfect for….
Best beaches with dramatic views:
Flamenco Beach: it's probably what drew you to this island. Rated as one of the top beaches in the Caribbean over and over again. It's great for swimming, too. Enough said😊

Resaca Beach: after a challenging 30 minute hike, you'll see one of the most beautiful, empty beaches you'll ever step foot on. Resaca Beach has pretty big waves, so swimming isn't recommended. Dipping your feet in the water and enjoying the waves from afar – likely by yourself – is quite the reward after this hike!

Brava Beach: with more seaweed than some of the others, it has a natural beauty to it. With rocky areas, this beach gets some pretty strong waves so it's not recommended for swimming.

Playa Manzanilla: one of the smallest, most remote beaches on the island offers dramatic views of this beautiful place. You'll need 4×4 to get there, and it's not ideal for swimming. It's rocky shoreline with mangroves just might be a highlight of your trip!

Zoni Beach: perfect for swimming and enjoying the waves. With views of the nearby islands, it truly makes a gorgeous day on the beach.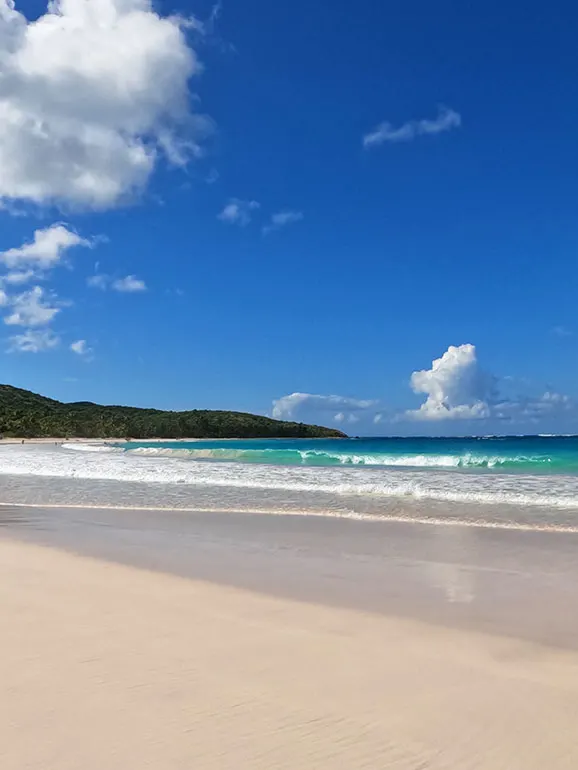 Best snorkeling in Culebra Puerto Rico:
Melones Beach: perfect for snorkeling and watching the sunset. Grab your gear though, there are no services at Melones Beach.

Playa Punta Soldado: known for its gorgeous sea life. Underwater is where Punta Soldado really shines. With colorful reefs and a variety of fish, rays and sea turtles, this has some of the most remote spot for Culebra snorkeling. Be sure to bring your snorkel gear though, there are no services here!

Carlos Rosario Beach: offers some of the best snorkeling in all of Puerto Rico! Bring your own snorkel gear, and get ready for a 15-minute walk to the beach. Hint: that makes it even more secluded! With a beautiful reef system and small waves that create near perfect Culebra snorkeling conditions, it reminds me of snorkeling off the coast of Laughing Bird Caye, Belize.

Playa Tamarindo Grande: snorkeling with sea turtles! Rocky shoreline with beautiful views of the caye just off the coast. (Note this isn't the same as Tamarindo Beach – Tamarindo Grande is a different one!)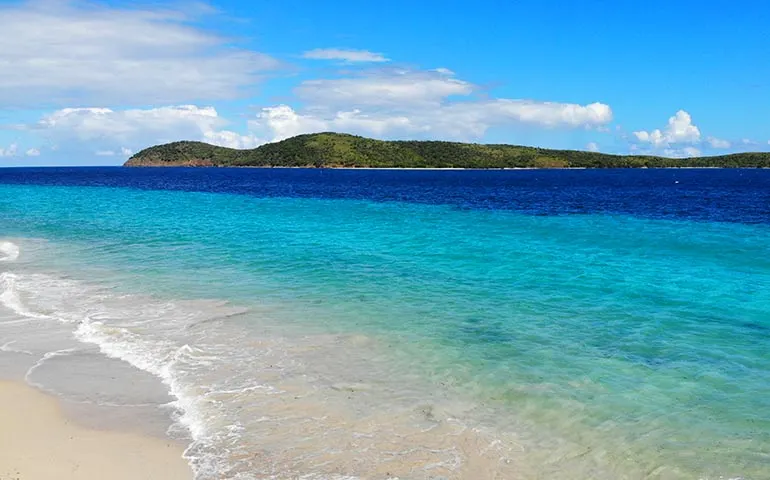 Beaches with the most calm water:
Datiles Beach: perfect beach for kids, but can be tricky to get to. This extremely shallow beach is excellent for small children, stand-up paddle boarding, kayaking and more. It's also in a great position for spectacular sunsets!

Tamarindo Beach: previously mentioned for it's snorkeling, it's also a great swimming beach…as long as you have water shoes! The waves are calm and perfect for floating. With a rocky bottom, you'll want to protect those toes, though!
That's a wrap of the things to do and see in Culebra Puerto Rico. Let's continue on with helpful info for planning your trip!
What to pack for Culebra Puerto Rico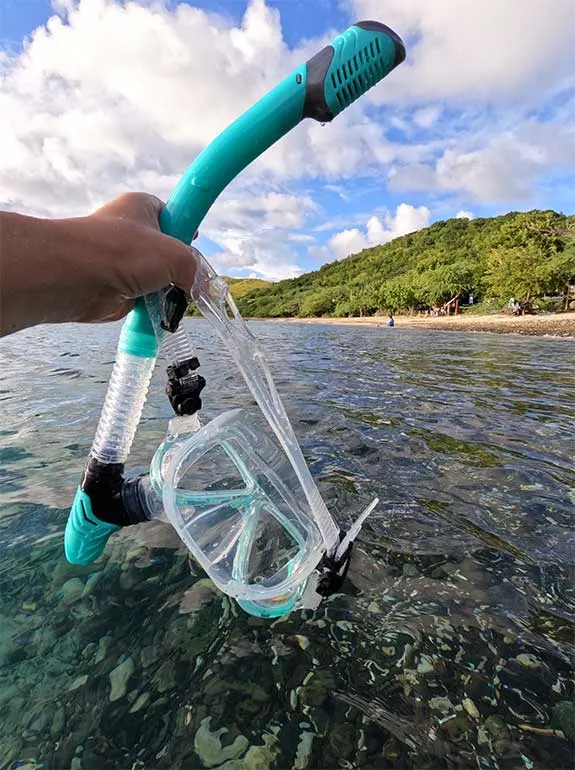 Whether you've been to 100 beaches or this is your first one, there are a few specific items you'll want for your time on the island.
Motion sickness medication. If you even get a hint of motion sickness, grab some medication before you leave home, or at the very least mainland Puerto Rico. Whether you're traveling over by small plane from San Juan or on the Culebra Ferry, you'll want to feel good during your time on the island…not sick.

Beach attire. (I mean, obviously a swimming suit for the Culebra beach). But don't forget a coverup or rash guard and sun hat (the sun is super powerful here!)

Reef-safe sunscreen. This is important! Chemicals in traditional sunscreen can damage the coral reefs, causing major problems for marine life. This is my favorite eco-friendly sunscreen. And bonus – it smells great, too!

Beach towel. Many accommodations don't provide beach gear, or if you're getting to the island in the morning way before you can check in, it's best to carry your own. This is my favorite lightweight beach towel. It's thin enough for packing and dries quickly. It also has a hidden zipper pocket for valuables!

Snorkeling gear. There's so many spots on this small island for snorkeling. If you're not taking a snorkeling tour, be sure to bring your own gear. This is the snorkel set I took to Culebra PR and it worked perfectly!

Water shoes. Mentioned previously, a great pair of water shoes will be perfect for walking on a few of the rocky beaches on the island. You can also repurpose them for hiking to a beach. These are my favorite water shoes and they go to every beachy destination with me!
These are the basics for your time on this island. For more beach essentials, check out this list on what to pack for a beach vacation.
Where to stay in Culebra PR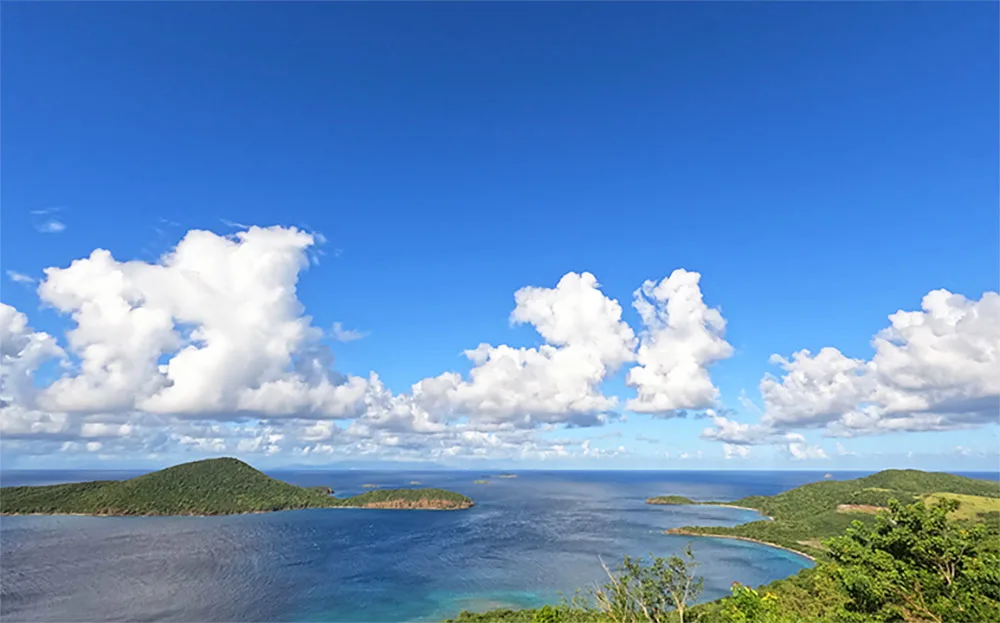 This guide cannot be everything you need to know about Culebra without some recommendations on where to stay!
After spending time on the island, it's pretty easy to see that you really can't go wrong. Deciding where to stay in Culebra will depend on your budget and preferences.
I booked a cute cottage to share with my husband using Booking.com. It had phenomenal views of the island and was definitely an adventure to get to! (It required 4×4 to climb to the top of the hill.)
If you want a quaint, affordable spot with stellar views, look for availability at Aleli Cottages.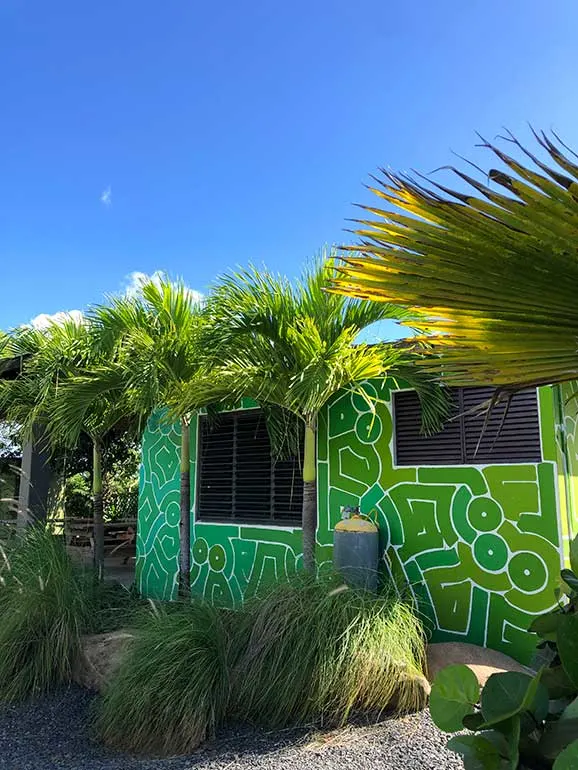 Here are a few more properties that just might be perfect for your stay.
Best places to stay in Culebra:
Club Seabourne Hotel: this mid luxury spot offers beautiful views, breakfasts, pool and a great location.
Oceana Villas: with top-notch views and perhaps the most amazing deck you've ever been on, this one just might be perfect for your island vacation.
Island Charm Culebra: on a picturesque hillside overlooking the water, this quiet spot is ultra clean and offers a great value.
Tips for visiting Culebra Puerto Rico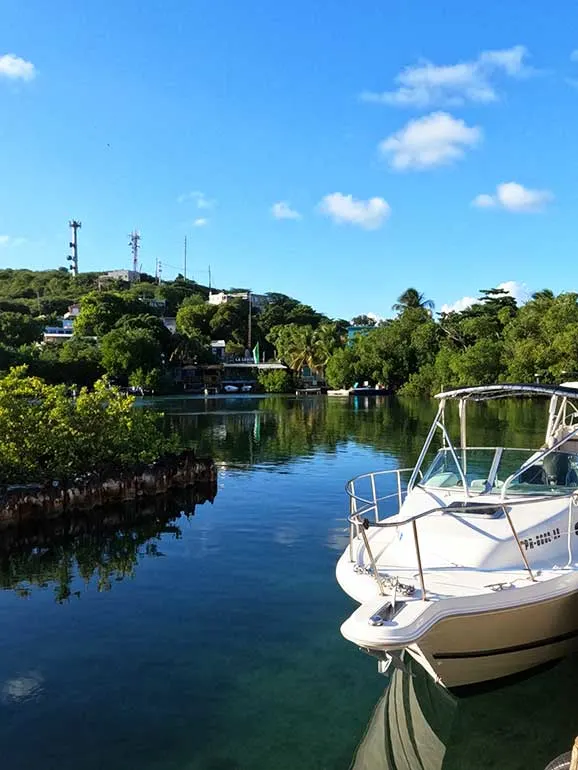 Here's a few more tips to make the most of your time on this beautiful island:
Be flexible with your meals. There's not a whole lot of Culebra restaurants. And depending on the day you might get one option for breakfast and one option for lunch. So this is your warning not to visit this island solely on the food. Instead enjoy it for what it is and be flexible.

Be respectful to the locals. This is their island and you are a guest. Don't litter. Don't trespass. Abide by local laws and be polite.

Don't touch the sea turtles. This technically goes for any sea life in any destination. When humans touch sea turtles, the bacteria on our hands can transfer to them, leaving turtles more susceptible to disease. Disturbing them can also change their feeding and mating habits, putting them at further risk. Respect the marine life and enjoy them from a distance.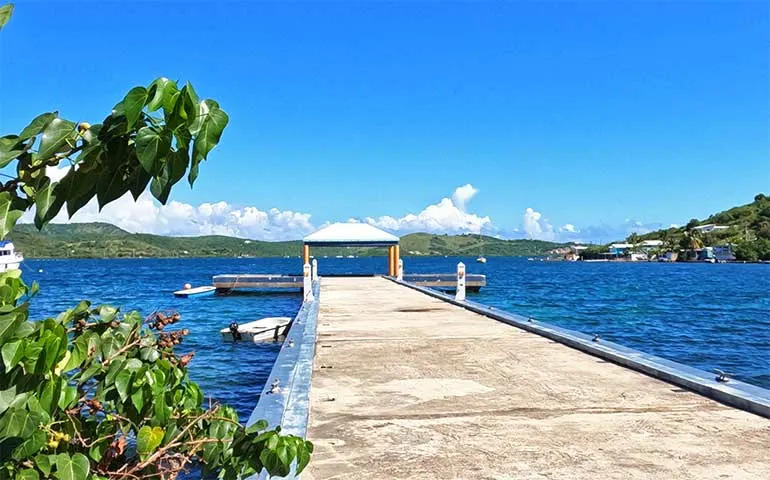 Ultimate guide to Culebra Puerto Rico (a recap)
Are you ready to pack your bag and head to Culebra? It's a gorgeous, laid-back island with just the right vibe for a vacation getaway. Whether you're looking for a romantic spot for 2, a girl's getaway or a long weekend with the family, Culebra has something for everyone.
With stunning beaches and a more natural feel than many other Caribbean islands and plenty of things to see and do, Culebra is surely a special place! Enjoy your time on the island!
Related content:
Ultimate Guide to Stunning Flamenco Beach Puerto Rico
Culebra vs Vieques: Which Island is Perfect for You?
28 Fun and Unique Things to Do in Old San Juan You'll Love
STUNNING Black Sand Beach Vieques, Puerto Rico: What to Know Before You Go
21 Cheap Island Vacations (that are Gorgeous!)
Find this post helpful? Save it for later or share it on social media!