Is there anything better than a Caribbean vacation? Aruba is a gorgeous island with a ton of unforgettable activities. This guide will go over all the things to do in Aruba that you won't want to miss!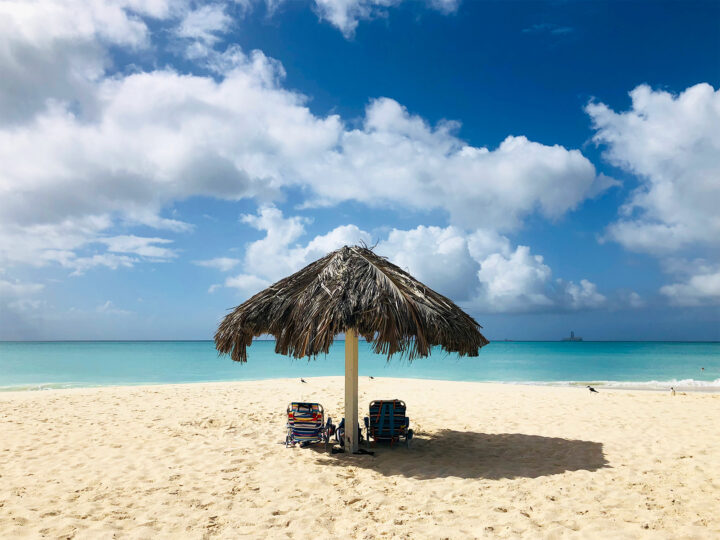 This post may contain affiliate links. For more info, see my disclosures.
There's just something unique about Aruba. Between its impeccable beaches, ultra-touristy tours and natural wonders, there's simply something for everyone! Your Aruba vacation can be total relaxation, full of adventure or a mix of both.
From the top attractions in Aruba, culturally-rich experiences, underwater explorations, delicious food and secluded beaches, this guide will help you plan your time on the island.
Best things to do in Aruba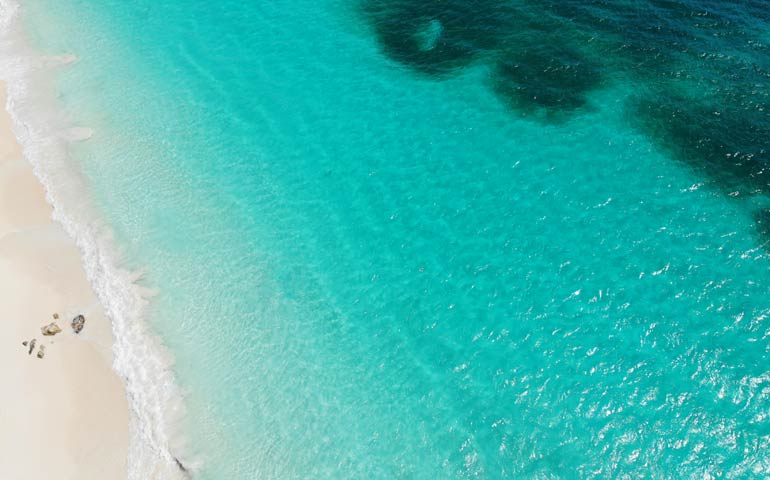 With a huge list of 65 Aruba activities, this list is broken down into categories with similar activities.
Oh, and bonus – a lot of the activities listed below are free things to do in Aruba! Because who doesn't want an awesome vacation without the hefty price tag?
Let's dive into beachy stuff first!
Best beach activities in Aruba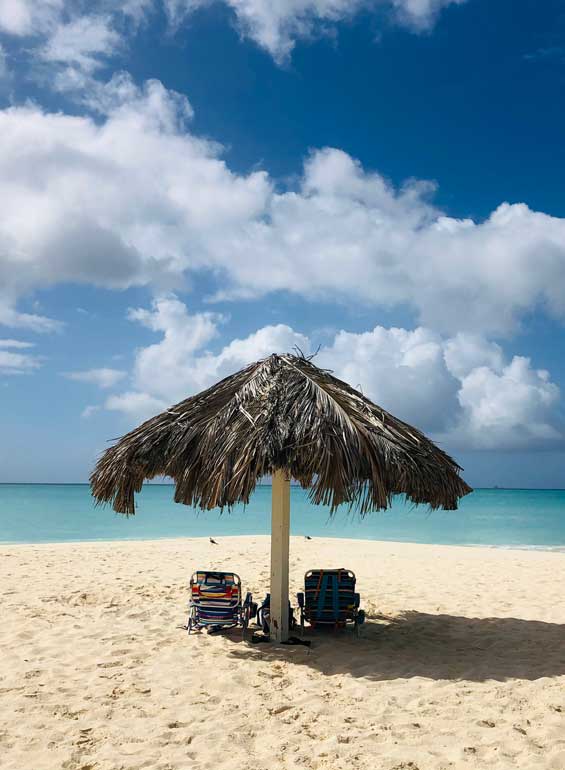 Aruba's beaches are incredible! From the perfect, pillow-soft beaches of the west coast to the rugged, untouched beaches on the east coast, there's a perfect beach for everyone.
Here are just some of the beach activities Aruba has to offer. Keep reading for more water activities later on!
Visit the best beach in Aruba: Eagle Beach! You won't regret it.
Catch a sunset on the beach. Palm Beach, Divi Beach, Eagle Beach and Manchebo Beach are the best spots to see the sunset.
Witness the pillow-soft sand at Divi Beach. With plenty of shade spots, it's the perfect way to spend the afternoon.
Stack rocks at Druif Beach. Add yours to the hundreds of piles of stacked rocks.
Hammock with a view – is there anything better? Several resorts have hammocks on the beach, but my favorite ones were at Iguana Beach. Naps encouraged 😉
Did I mention all of the above are free things to do in Aruba? Awesome, right?!

Visiting Aruba for culture and history
Want to get to know the island a little more than just soaking up the sun at the beach? Well these Aruba activities will help you dive into the history and culture.
Visit the Alto Vista Chapel. Built on the site of the first Catholic Church in Aruba, this beautiful chapel is a functioning church and one of the most photographed sights on the island.
See the Anchor in Memory of All Seamen. Honoring all those lost at sea, it sits on a hilltop near San Nicholas.
Check out the famous Fofoti Tree. Often mistaken for the Divi Tree (even by Google Maps), the Fofoti Tree is preserved on Eagle Beach. The winds are so powerful the trees grow twisted!
Get a taste of the Dutch heritage by eating Dutch pancakes at Diana's Pancake Place. The Dutch took over Aruba in the 1600's and they've been enjoying pancakes ever since. 🙂
Dive the Antilla Shipwreck. One of the largest shipwrecks in the Caribbean, it's a diver's dream!
Visit the Gold Mill Ruins on the eastern coast. Over 3 million pounds of gold was discovered on this tiny island, and you can visit the ruins of what once was.
Climb the California Lighthouse. One of the most popular landmarks, you can visit and climb the 100+ steps to the top of the lighthouse. There, you'll get spectacular views of the island and water.

High-adventure Aruba activities
This next section is for adrenaline lovers! Some of my favorite time spent here (or any other island, for that matter) included these activities. Enjoy!

Top things to do in Aruba on the water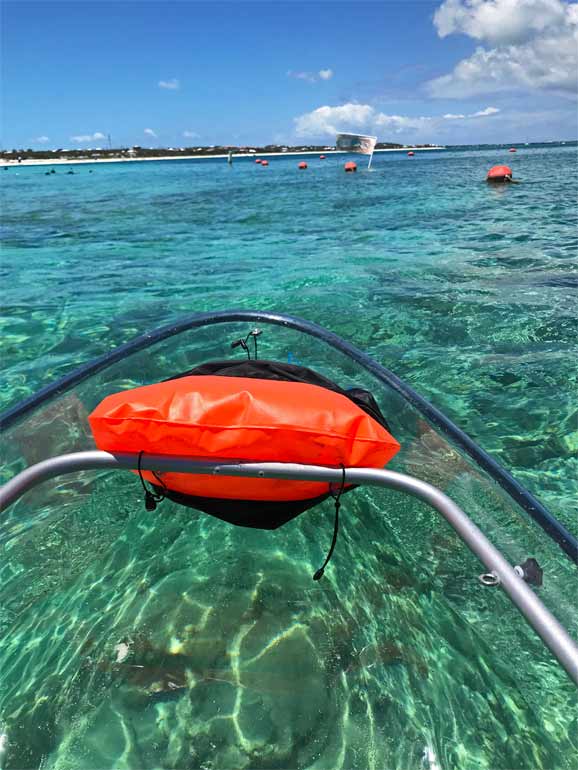 Whether you love to be in the water or on top of it, these are the best water activities when visiting Aruba! My personal favorites are #18 and #22.
Go snorkeling in Aruba! There are plenty of tours available throughout the island. Or, you can bring your own snorkel gear and go when and where you want! My favorite spot is Malmok Beach.
Try an underwater scooter tour. It's like snorkeling but with more depth!
Do a first-time diving experience! Right off the coast, experience the underwater world with no certification necessary!
If you are a diver, then night diving in Aruba is a whole new experience! See nighttime marine creatures during this night dive tour.
Take a glass bottom kayak tour near the Mangel Halto reefs. I loved seeing reefs and fish from this angle, without worrying about the snorkel gear!
Deep sea fishing! If you love fishing, Aruba is a great spot to catch unique fish.
How romantic is sailing out in the sunset? I saw plenty of sunset sail options while in Aruba.
Rent jet skis! This was one of the activities my husband and I wanted to do but we ran out of time.

Unique things to do in Aruba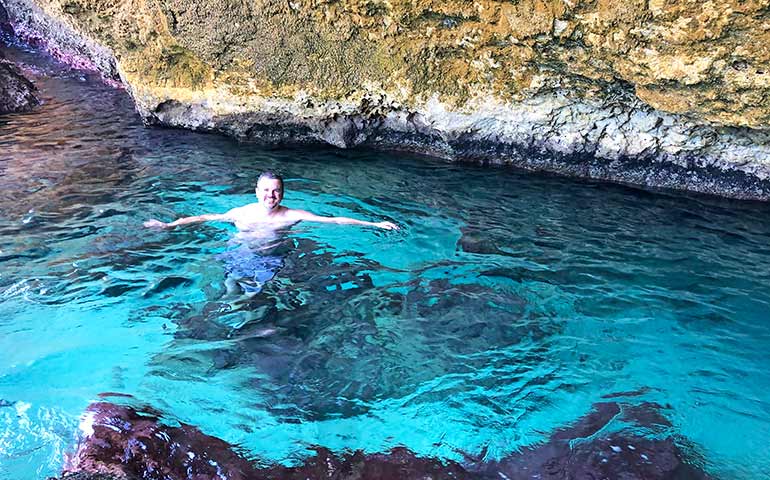 If you're looking for something maybe less popular, off-the-beaten-path or simply unique things to do in Aruba, then these next suggestions are for you. This southern Caribbean island has much to offer, and these are the most interesting!
The first in the list below was one of my favorite things to do in Aruba!
Swim in one of Aruba's natural pools! Just south of the Gold Mill Ruins is a hidden natural pool. It's perfect for cliff diving and finding adventure in while on vacation. You'll need to rent a UTV or a 4×4 vehicle to get there.
Take a day trip to De Palm Island. Relax and soak up the sun in a private cabana, experience underwater snuba or enjoy the waterpark on this private island.
See Venezuela! That's right – from the southernmost point in the island, on a clear day you can see Venezuela. It's less than 20 miles off the coast. There's also a simple lighthouse at the top of the hill that I found interesting. 🙂
If you want to see the underwater world without actually touching water, just take a submarine tour!
Best activities for animal lovers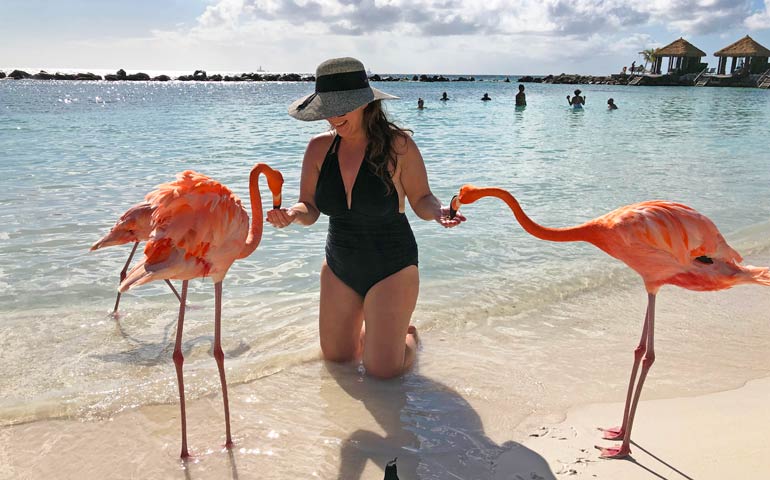 Okay, this one might be one of my very favorite things to do in Aruba! These are very unique experiences…especially the first one!
Visit Flamingo Beach. Feed the flamingos, watch them from the shore and have the time of your life! This is a private island, so check out this guide on everything you need to know before you go to Flamingo Beach.
Go horseback riding along the coast of Aruba. One of my favorite memories of riding horses happens to be in the Caribbean. 🙂
Visit the donkey sanctuary. For any donation, cuddle a donkey for up to 1/2 hour. How fun, right?
Check out the Butterfly Farm in Aruba. With species from all over the world in a secluded habitat, it's fun for all ages.
Quick note: animals all over the world are mistreated for tourism. Based on my research and personal experience, this is not the case with the recommendations above. Always do your research for animal encounters!
Things to do in Arikok National Park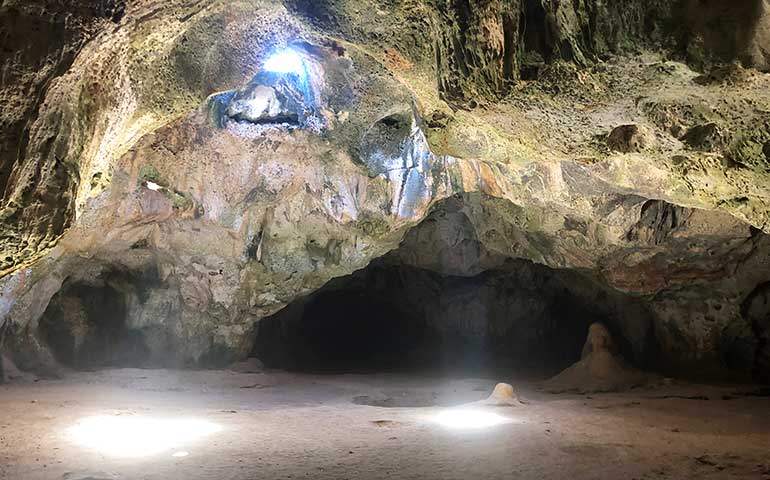 Visiting Arikok National Park will give you a taste of what the island was like was like hundreds of years ago. From ancient caves and their drawings to stunning, rugged coastlines. No visit to Aruba is complete without a trip to Arikok National Park.
Swim in Aruba's most famous natural pool – Conchi. You'll need to have a 4×4 vehicle (not a UTV) to get there. It's one of the top natural attractions in all of Aruba.
Check out the white Dunes of Boca Prins. Although you shouldn't drive or climb on top of the dunes, this is a fun spot to hike out to the dunes and soak in the view.
Visit the Fontein Cave. Check out the cave drawings dating back 1000 years, and the later settler carvings from the 1600's – 1800's. I found it to be one of the most interesting sights the park.
Explore Guadirikiri Cave. The largest cave on the island, and one of the most unique you'll find anywhere. Light beams come in through the holes in the top of the 2 large chambers.
Hike to the beaches at Dos Playa. Accessible via the dirt road with any vehicle, check out this popular sea turtle nesting area. I also saw wild goats in this area.

Free things to do in Aruba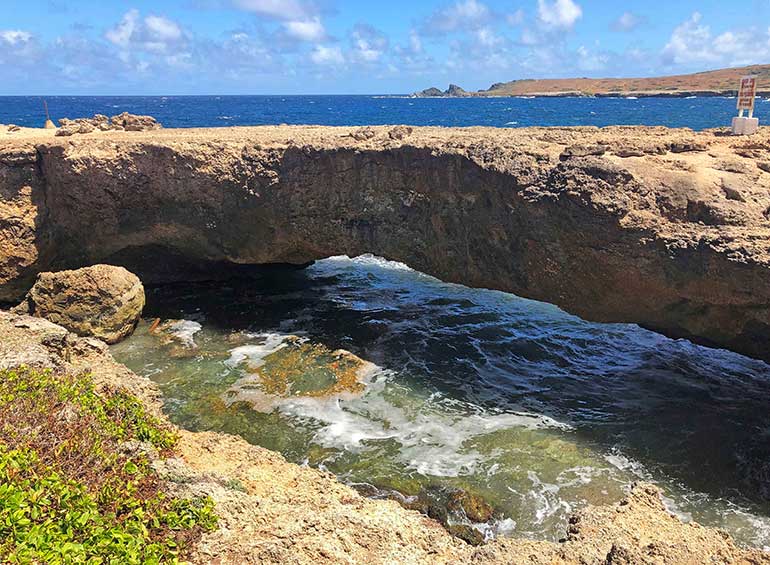 This guide has already shown a lot of the island, including many no-cost activities. But there are more free things to do in Aruba!
Visit the Natural Bridge. Unfortunately the original Natural Bridge collapsed in 2005. There's a secondary, smaller Natural Bridge that can still be seen today.
Aloe Factory and Museum Tour. Listen, aloe is a big deal in Aruba. With many natural medicinal properties, it's native to the island. Learn all about it with this free tour!
Climb the Casibari Rock Formations. These huge boulders are fun for all ages and completely free! Climb to the top and get 360 degree views of the island.
Ride Oranjestad's free trolley. Get a double-decker view of the city. Hop on and off as you please!
Oh, and by the way, check out this guide if you're looking for a cheap Aruba vacation. How to save money on flights, accommodations, food and more!
Things to do in Aruba with kids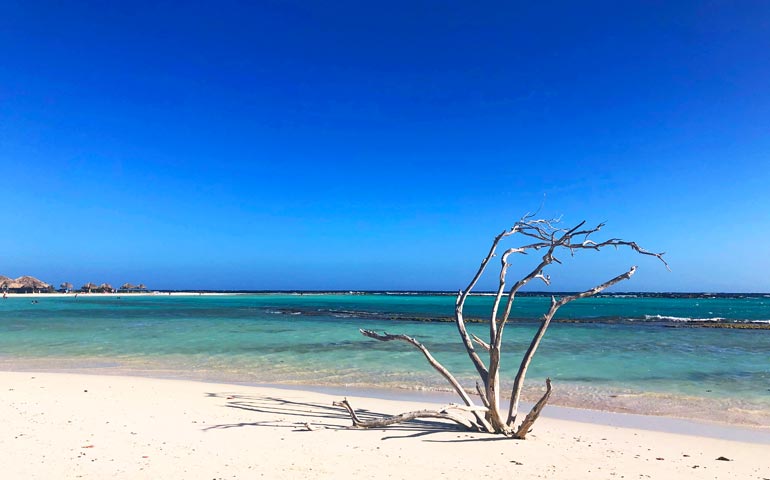 Aruba's slogan – one happy island – is true for adults and kids! While many of the Aruba activities on this list can be done by kids of various ages, the adventures below are aimed specifically at kids!
Visit Baby Beach in Aruba! Perfect for little kids and babies, the 'baby waves' at Baby Beach are some of the calmest on the island. And the sand is perfectly soft, too!
Find adventure at Aruba's Splash Park. An inflatable water park near Oranjestad, this park is great for kids and adults alike!
Tour the Aruba Ostrich Farm. Hand-feed them and learn all about ostriches during a visit to the farm.
Go tubing in Palm Beach. Perfect for older kids, this fun activity will get hearts pumping and might just be the talk of the whole trip!
Check out the large kids playground near Eagle Beach, Aruba. It's right next to the beach and offers a nice break from the sand… if the kids are up for a little variety.
Build a sandcastle. Lots of kids like time in the sand – I know mine do! Pack a few cheap beach toys for your trip to Aruba and build a castle at the beach.
Be a pirate for a day! Great for older kids, you'll board a pirate schooner and sail the coast of Aruba for 1/2 day. Swim, snorkel and rope swing off the pirate ship.
Go windsurfing in Aruba. Beginners can learn to windsurf on the gorgeous shores of this Caribbean Island with these kid-friendly lessons. Find adventure and boost confidence all while on vacation!

Fun food and drinks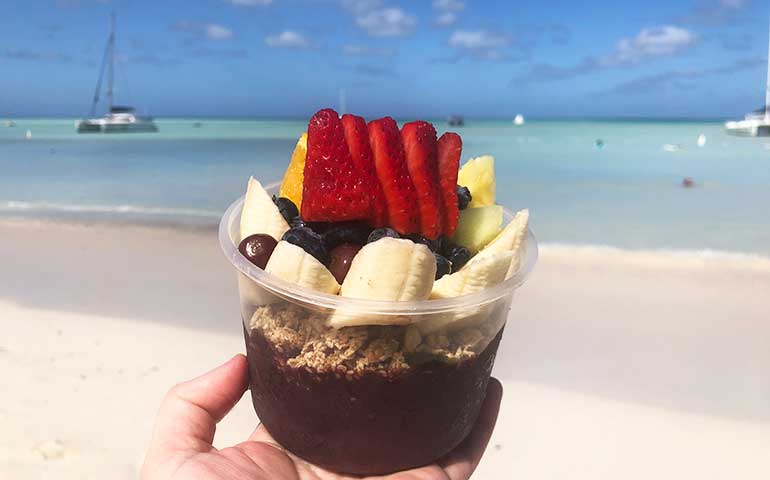 If you consider yourself a foodie, or just love to let loose on vacation, this section is for you! Although this is not a complete restaurant guide, these are just a few activities that you can find related to food and drink. 🙂
What to do in Aruba that's active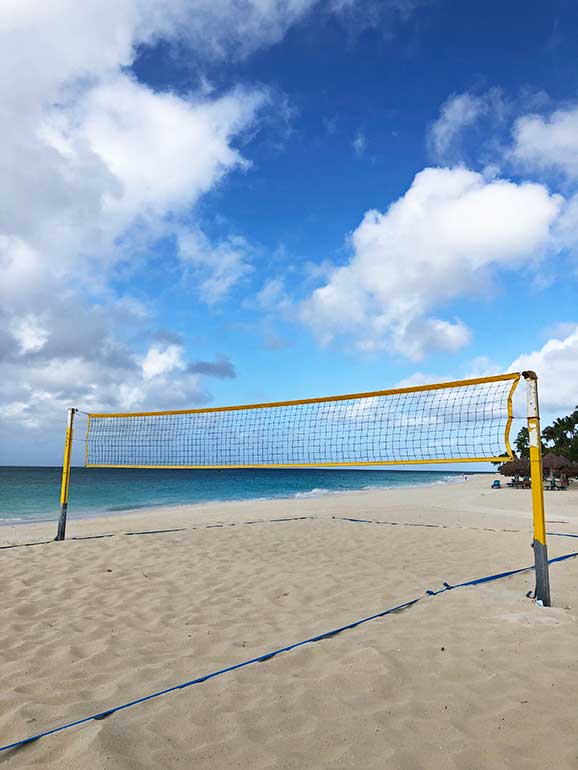 After all the food and drinks in Aruba, it's time to get active! From the sand to inland, here are the best ways to get active that the guide hasn't already covered.
Get your sweat on with sand volleyball. Divi Beach is one of the most beautiful beaches in Aruba, and it also has a beach volleyball court. So grab a ball and have some fun!
Yoga on the beach. Either by yourself or part of a group lesson, yoga on the beach adds a new level of relaxation to your Caribbean vacation!
Burn some calories by hiking Hooiberg. With over 500 steps, climbing the 2nd highest point in Aruba is no small feat. But it rewards you with fantastic 360 degree views of the island!
Go mountain biking. Ride through the backroads of the island, seeing popular sights like the California Lighthouse, Alto Vista Chapel and more – all while breaking a sweat!
Go hiking in Arikok National Park. Grab your water, good hiking shoes, sunblock and everything else you need to pack for a day hike. Try the Rooi Tambu Hike, Miralamar Hike or Cunucu Arikok Hike.
Off the beach: discover the cities on the island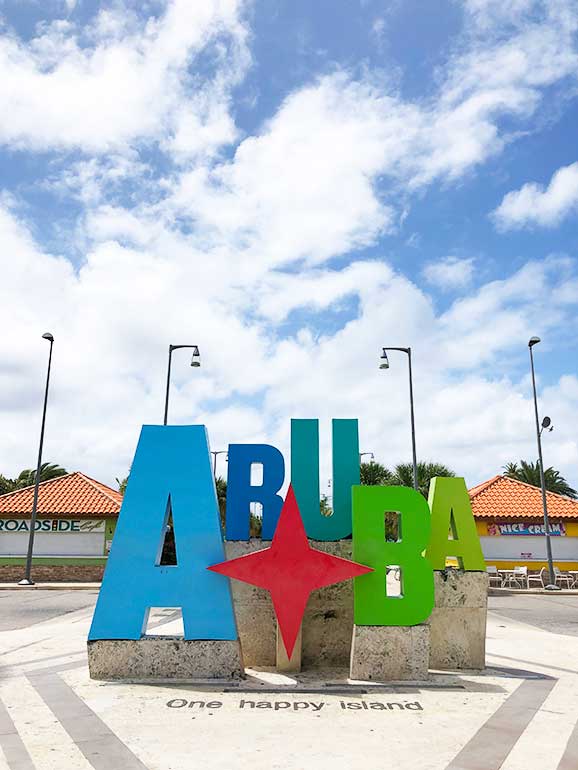 Colorful, vibrant cities on the island welcome you! So far in this mega list of things to do in Aruba, but we haven't explored the cities on the island yet. So let's do that now!
Find one – or more – Aruba signs on the island. Located in Oranjestad and Palm Beach, there's plenty of signs for photo ops!
Shop the local artisan market in Oranjestad. Crafts and goods made by the locals, you'll find brightly colored clothing, bags and other souvenirs, all with a Caribbean touch.
Right next door, shop at the the Royal Plaza Mall and Port of Call Marketplace. Here you'll find higher-end shopping options like clothing, bags and jewelry.
Take a walking tour of Oranjestad. Get to know the history and culture of the city through famous monuments, architecture and of course, food.
Go shopping at Palm Beach. Near large resorts and a beautiful beach lies a large shopping center. Walk the main strip or venture to the interior for more shopping options.
Go mural hunting in San Nicholas. It's one of the most Instagrammable places in Aruba. Have fun discovering the street art around this vibrant city.
Things to do in Aruba – that's a wrap!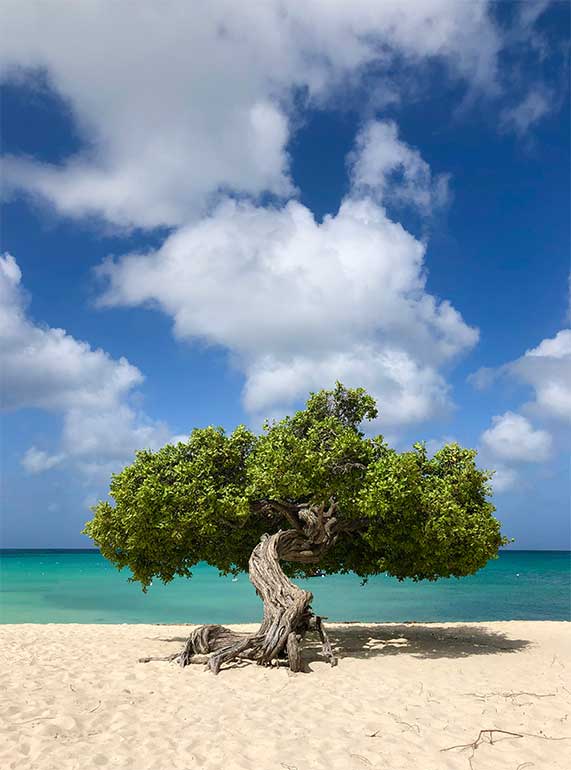 Well, did you find all the activities you'd like to do during your Aruba vacation? Are you leaning more towards beach and water activities or land adventures and city sights?
Whatever you choose, you'll have a fabulous time enjoying all that Aruba has to offer!

Related content:
26 Insanely Beautiful Beaches in Aruba (and 1 to Avoid)
Flamingo Beach, Aruba – Everything You Need to Know Before You Go
Exactly What to Pack for a Beach Vacation
Find this post helpful? Save it for later or share it on social media!