It's a dream trip to the Caribbean. The beautiful turquoise waters and pillow-soft sand are luxurious, that's for sure. But is Aruba expensive? Is it possible to visit Aruba on a budget?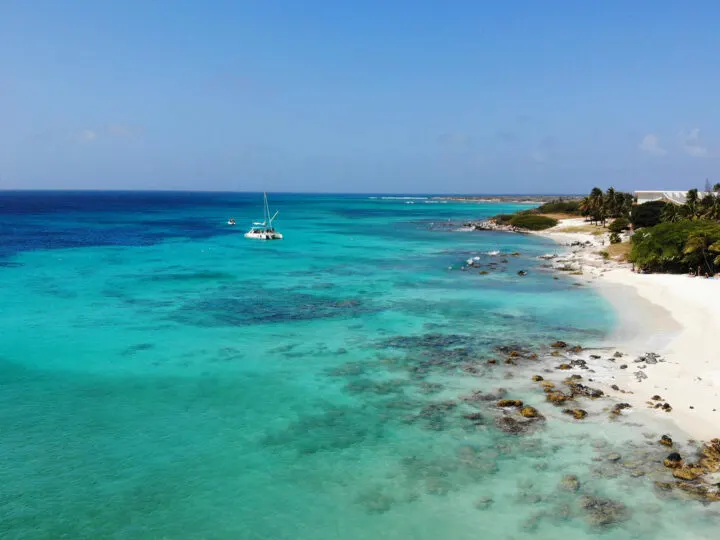 It's completely possible to travel to Aruba for less than $2000 USD per couple.
Regardless of if you consider yourself a budget traveler or prefer a luxurious vacation style, you may be surprised to hear that your Aruba vacation doesn't have to be expensive.
This guide includes Aruba price ranges for reasonable flights, accommodations, food and more. That way you'll know how much to expect for your trip to Aruba based on your vacation style.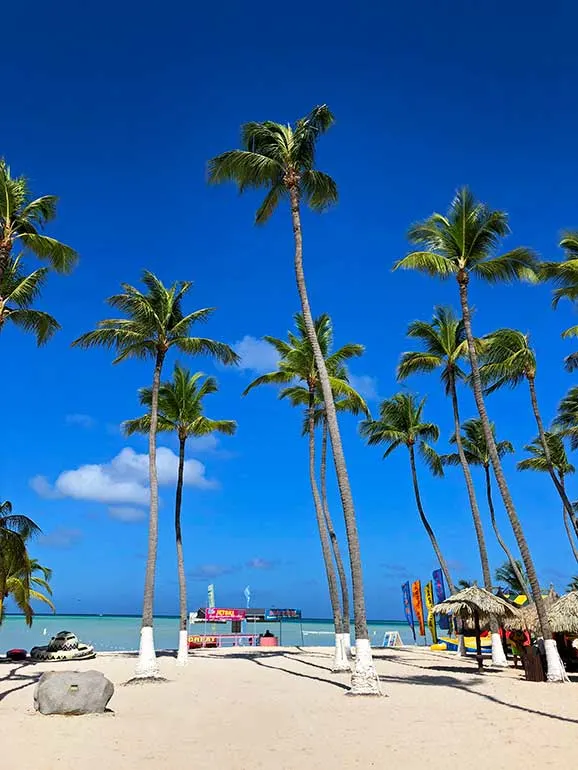 This post may contain affiliate links. For more info, see my disclosures.
Cheap Aruba vacation
While everyone's definition of cheap differs, I can say with certainty – it doesn't have to cost you a ton. My husband and I had this as a travel bucket list destination, and we were so glad we could have a fantastic vacation on a budget!
Oh, and you do not need to stay at an all-inclusive in Aruba. This island is way too interesting to stay in a small area. And it's really safe, too!
This guide will walk you through how to save money on a trip to Aruba. From booking flights and accommodations to what affordable activities when you get there, you'll learn everything you need to know about an affordable Aruba vacation.
Quick note: prices are current as of the time of publication. Let's dive in!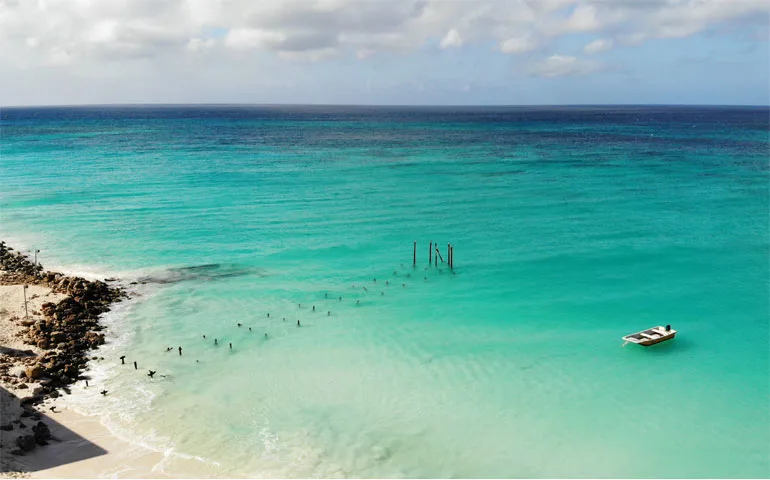 Related: 26 Insanely Beautiful Beaches in Aruba (and 1 to Avoid)

Is Aruba expensive? What about flights?
Flights to Aruba can be expensive – but don't have to be!
Depending on if you're going solo or as a large family, flights to Aruba can get pricey. The average price for flights to Aruba are $380 from an international airport in the US, $650 per person if you need connecting flights.
The key to finding cheap flights to Aruba is knowing where and when to look.
5 tips for finding cheap flights to Aruba
1. Travel in the off-season. If you're planning a weeklong vacation the week of Christmas, flights (and accommodations) will be expensive. However if you travel when it's less convenient for others to travel, your price will naturally be lower.
Also consider staying mid-week to mid-week. Flights to almost everywhere are more expensive on the weekends.
2. Sign up for flight alerts to find steeply discounted flights. My favorite flight alert service is FareDrop, and that's where I got my reduced flights. I found flights to Aruba for over 40% off!
I love the service through FareDrop because they provide alerts only – you book through the airlines directly and don't have to worry about weird 3rd party booking terms and conditions.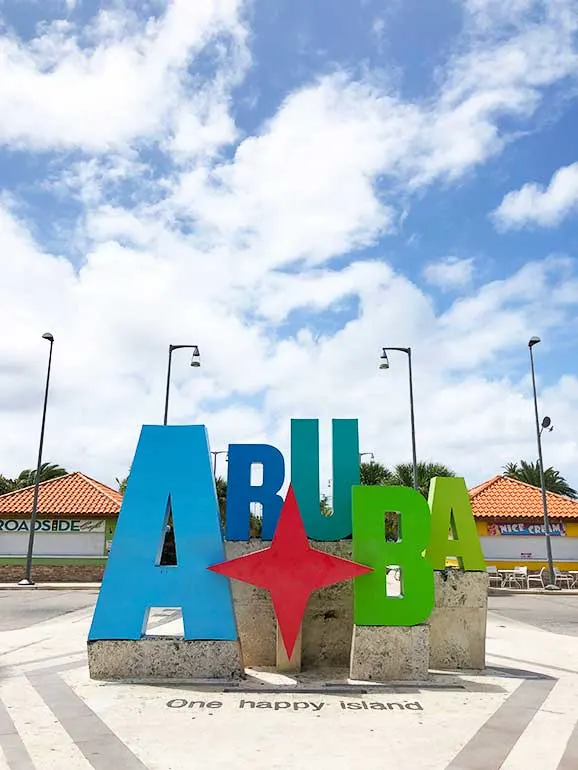 3. Consider driving to a nearby airport to save more money. If you could drive 3 hours to save $500, would you do it?
Be sure to check all airports near (or somewhat near) you for flights. I saved hundreds on my flights to Turks and Caicos (link) by driving a few hours!
4. Use Google Flights to determine the best day to travel. For instance, if you know you want to take a trip during a certain month, you can use Google Flights to look at every day that month to see what days are the lowest cost to fly.
5. Use travel hacking techniques to get free flights. With credit card or airline rewards points you can book flights completely free! Combine that with the airfare alerts from FareDrop and you'll use less points for your flights meaning more travel in the future for you.
I used rewards points for free flights to Aruba, Kauai Hawaii, Destin Florida, Jamaica, Austin Texas, San Diego, and a ton of other places I've traveled.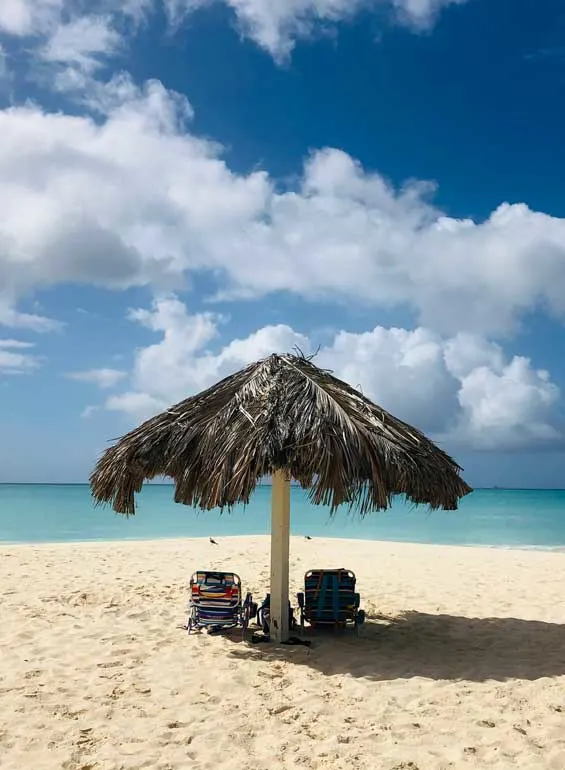 Where to stay in Aruba for cheap
There are all-inclusives, luxury resorts, cheap hotels and a whole lot of vacation rental properties in Aruba. Nightly prices for accommodations range from $60 USD per night to over $450 USD per night. Each one will provide a whole different style of vacation, too.
If you want a cheap Aruba vacation, I'd recommend against staying at a bougie hotel with an ocean-view room. Especially during peak travel seasons like mid-summer and December – February.
Tips for finding the most affordable accommodations in Aruba:
Search for a vacation rental property. That's exactly how I scored a 7-night vacation for less than $700. And it was nice.
Look for a property off the beach. Palm Beach and Eagle Beach are the most popular locations for tourists. Find accommodations away from the water or in the cities for deeper discounts.
Book your stay plenty in advance. I always recommend booking at least 3 months in advance. If you can do 6 months that's usually cheaper. The further out, the better!
Off-season stays will be cheaper. Think April-May or September-October for the lowest prices. Sometimes you can find a deal other times, but off-season is always lowest.
I like using Booking.com to find cheap accommodations. They have vacation rentals and all the hotels you can imagine. Win!
Pro tip: make sure your accommodations include beach gear. Being able to take beach chairs, a cooler and even an umbrella to spend your time on Aruba's pillow-soft sandy beaches is so nice!
Is Aruba expensive? What about activities?
When asking, 'is Aruba expensive?' I'd typically say it depends on the kind of vacation you're looking for. If you plan to spend your days lounging on a beach doing absolutely nothing, then I'd say you can get by pretty cheap.
There's a ton of free activities in Aruba, and others that are bucket-list items and those costs can really add up. So you should really ask yourself, "what do I want to do while in Aruba?"
Things to do on a cheap Aruba vacation:
Go beach-hopping to the best beaches in Aruba
Visit the Natural Bridge
Tour the Aloe Factory and Museum
Ride Oranjestad's free trolley
Hike Hooiberg Mountain for amazing views
Go mural hunting in San Nicholas
Visit the Alto Vista Chapel
Bucket-list activities that are worthy of spending a bit extra:
Aruba also has some really great snorkeling spots. You could take a snorkeling tour, or to save some money, take snorkeling gear with you to Aruba. I typically pack snorkeling gear so my husband and I can snorkel when and where we want, at any time.
This is my favorite affordable snorkeling gear from Amazon. Buying gear in advance for your trip to Aruba allows you to snorkel spots like Malmok Beach and Mangel Halto as much as you want.
Here's a full guide of all the best things to do in Aruba, if you want more inspiration!
So whether you decide to keep it low key or splurge on some activities, create your vacation budget in advance so you're not surprised by extra expenses.

Is Aruba expensive? Cost of food and drinks
Whether you're a foodie by nature or just view food as fuel, food and drinks tend to add up when on vacation. One of the best ways to travel on a budget is to grab a few simple meals at a grocery store while on the island.
If you eat out only once a day, or even twice, it will limit restaurant expenses. Since Aruba is an island, the cost of food is more expensive than the mainland USA at restaurants and grocery stores.
Restaurant prices in Aruba can really add up. Consider breakfast prices at $10 – $20 per person, lunch meals $15 – $25 per person and dinner $15-$30 per person, on average. Add more for those breakfast mimosas, lunchtime pina coladas or glass of wine with dinner.
More tips to save money on food and drinks while in Aruba:
Eat inland (without water views) or off the main strip in Palm Beach.
Research the restaurant on TripAdvisor before you go. More dollar signs means more money!
Pack easy breakfasts like protein bars or smoothie powders. That will leave you more time for activities, too!
To travel to Aruba on a budget, keep alcohol purchases to a minimum.
Pro tip: if you're planning to pack a bag and you enjoy frozen cocktails, get a portable blender. Buy some frozen mix and booze on the island and blend up your cocktails before hitting the beach. Don't forget the insulated cups and reusable straws, too!
I've done this on many, many island vacations and it's amazing how much you save on alcohol!
Aruba cost: island transportation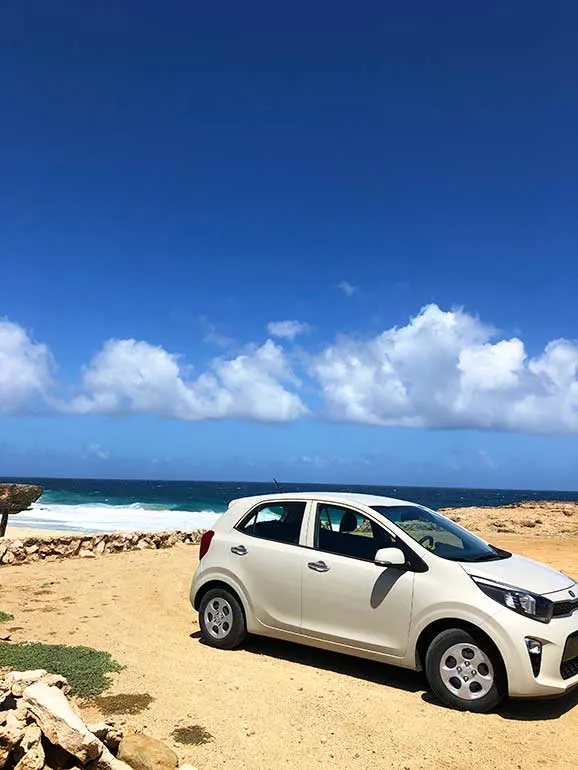 When traveling to Aruba, there's a few different ways to get around the island. If you're opting for a hotel on Palm Beach, a lot is within walking distance.
Taxi's will take you to most of the attractions on the island. Taxi service in Aruba runs about $20-$45 per ride, depending on how far you're going and how long it takes.
If you're not staying on the main hotel strip on Palm Beach for your cheap Aruba vacation, a rental car may be the best option for you. Rental cars range from $30 – $60 per day, before insurance and fees. This obviously depends on the type of vehicle.
How do you get a cheap rental car in Aruba?
Well, my favorite way to find discounted rental cars is through AutoSlash. They're a 3rd party company that finds the best rental car rates across most rental car carriers. And not saving pennies here, it's more like a discount of 30% or greater!
In other words, they look for the discounts for you! I used AutoSlash to find my cheap car rental in Aruba, as well as budget trip to Turks and Caicos, Maui and a bunch of other destinations.
Pro tip: be sure to factor rental car insurance into your budget. If you live in the USA, most US-based insurance don't cover rentals outside of US, Mexico and US territories. Insurance can cost $10-$30 per day, so it can add up fast.

More Aruba budget items: tips, shopping, souvenirs and more
There's always hidden expenses to a vacation! When creating a vacation budget, I always recommend to plan everything out, then add 10% for the unexpected! It could be another tour or activity, shopping that you didn't plan or literally any other surprise.
Plan to tip for tours or anytime you have a guide. Obviously at restaurants or taxi's too. Expected tipping in Aruba is 15% – 25%.
If you love shopping or bringing something back home to remember the trip, plan for that. Aruba has excellent shops. From hand-made items to high-end shops, you could spend some serious money on the island!
Another hidden expense is cell phone fees for international data. If you're unsure, you can give them a call before you go.
Recap – is Aruba expensive?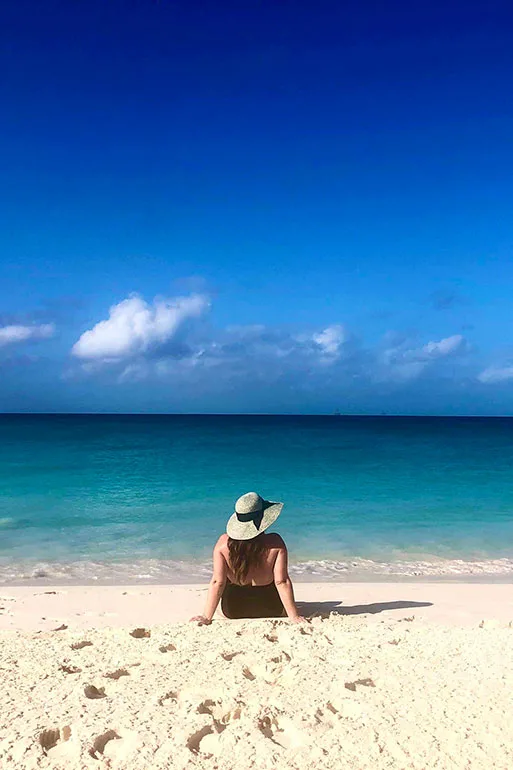 Okay so what do you think? Is Aruba expensive or affordable? Do you think you can get there for cheap?
Aruba on a budget can be an absolutely fabulous time! I travel hacked my way to free flights, stayed at a low-cost vacation rental and splurged on a couple of really cool activities.
If you have $5,000 to spend on travel, would you rather one big trip or 3 different trips for $1600 each – just like this one? I saved thousands of dollars on my trip to Aruba by being smart with my travel budget.
You can do the same. Just be flexible with your dates and decide what to splurge on and where you want to cut back. A cheap Aruba vacation is within reach!

More related content:
21 Most Instagrammable Places in Aruba
Save Thousands on a Budget Trip to Turks and Caicos
How to Visit Belize on a Budget: Money Saving Tips and Tricks
33 Amazing Spring Break Ideas for Families on a Budget
Find this post helpful? Save it for later or share it on social media!