Flamingo Beach in Aruba is one of the most stunning and memorable places you'll ever see! It's beautiful white beaches are only outdone by the entertaining and fascinating flamingos.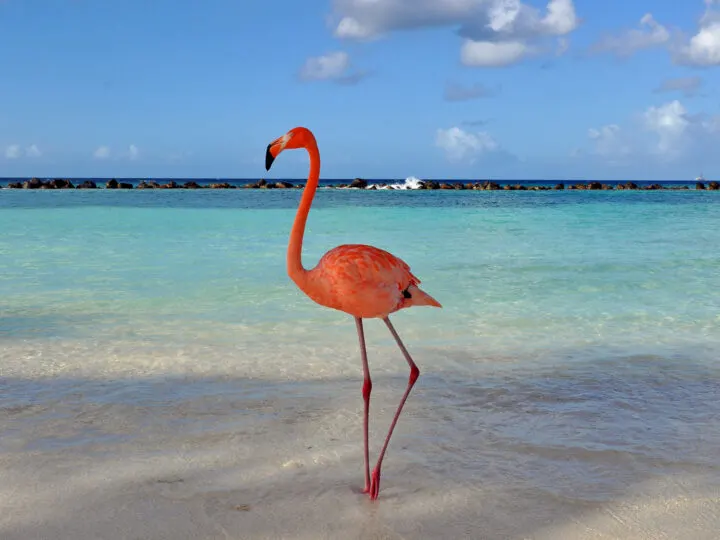 This post may contain affiliate links. For more info, see my disclosures.
So whether you're a fan of flamingos in the zoo, have seen them in real life elsewhere or you simply want an extraordinary experience in Aruba, you're in for a treat! Soak up the sun, relax on a hammock and of course – hang out with flamingos!
It's one of the top things to do in Aruba and takes a bit of planning to get to this special place. Let's dive in!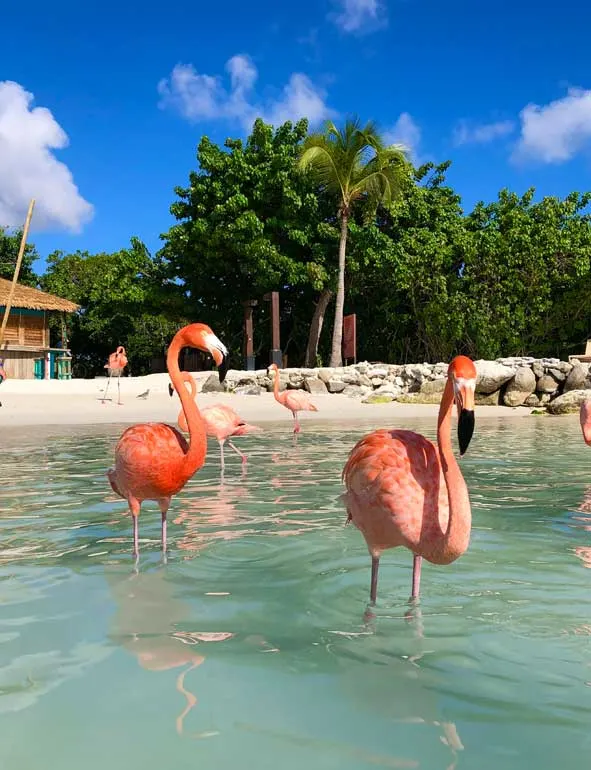 Flamingo Beach, Aruba guide covers:
Where is Flamingo Beach?
How to see the Aruba flamingos (3 ways to access Flamingo Beach)
How much does Flamingo Island cost?
Are kids allowed on Flamingo Island?
How to get to Flamingo Beach?
Things to do at Flamingo Beach, Aruba
Finding the hidden white flamingos
How to get the best photos
Tips to make the most of your time on the island
What to bring to Flamingo Island, Aruba
The verdict: is Flamingo Island worth it?
It's absolutely everything you need to know for this travel bucket list activity!
Just a quick note: animals all over the world are mistreated for tourism and travel. This is not the case here. This island is their home where they roam freely. Be sure to treat them right and remember they're wild animals!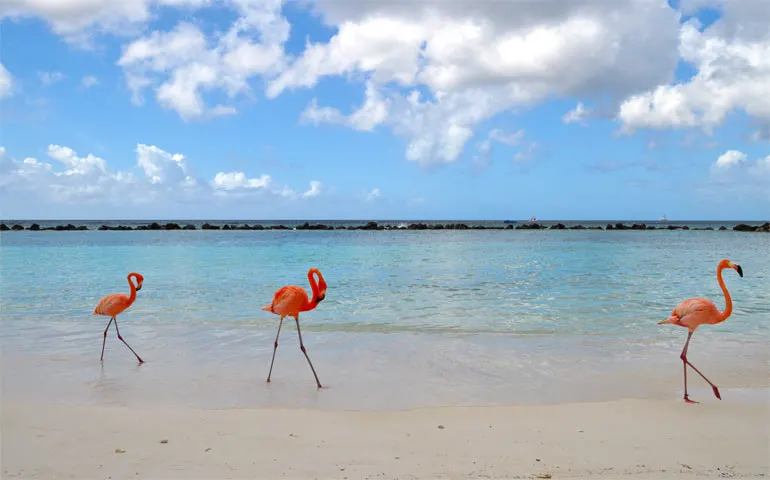 Where is Flamingo Beach?
Flamingo Beach is actually on a private island from the mainland of Aruba. It's just south of Oranjestad and requires a boat to get there.
More details on how to get there are listed below.
How to see the Aruba flamingos (3 ways)
Since you're headed to a private island, there's a fee to visit Flamingo Beach, Aruba. It's owned by the Renaissance Aruba Resort. Here are the details on the 3 ways you can see the Aruba flamingos.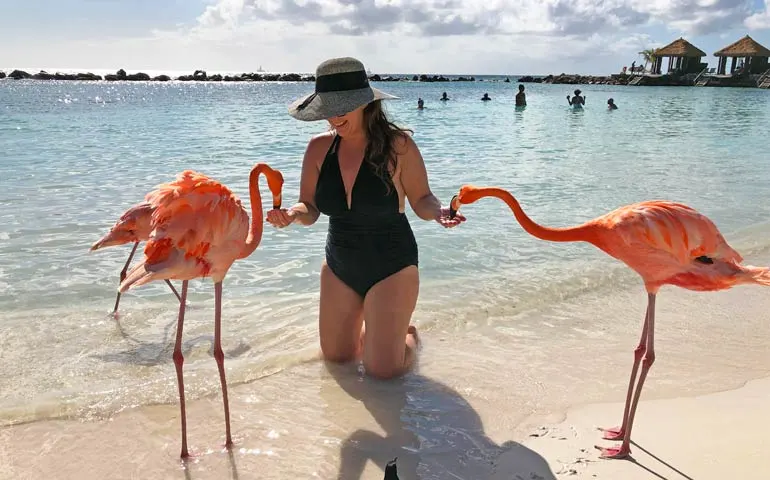 1 – Stay at the Renaissance Resort in Aruba
If you stay at the hotel, you'll have unlimited access to the flamingos in Aruba, from 7am to 7pm. The hotel is actually on the mainland of Aruba, but many of the guests spend time on the private island during their stay.
Check out resort availability here.
Depending on your vacation budget, staying at this resort the whole time while you're in Aruba may be more than you want to spend. If that's the case, I'd recommend staying here 1 or 2 nights and your other accommodations the rest of the trip.
Pro tip: if you stay at the Renaissance Resort for 1 night, you'll get access to this beach for 2 days – the day you check in and the day you check out!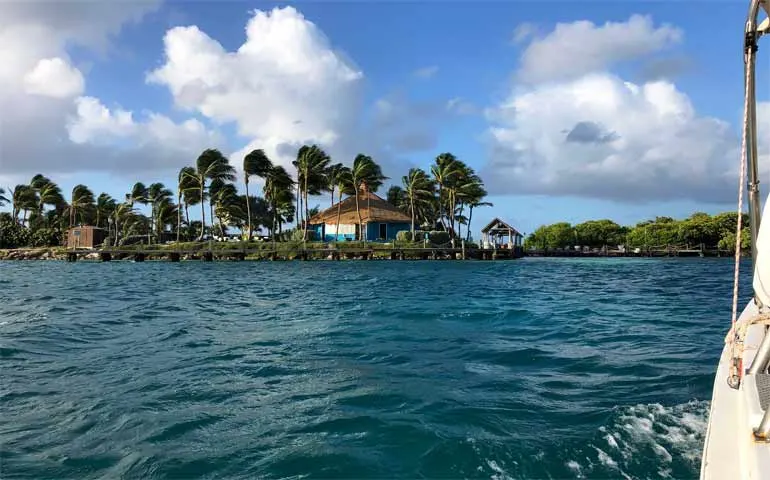 2 – Buy a Renaissance Island Aruba day pass
This is a common way to see Flamingo Beach. If you're traveling to Aruba on a budget, this is the most affordable way to include this activity. Day passes are limited, and aren't available very far in advance. So it's not something you can buy when you book your trip week or months ahead of time.
Here are the best tips to buy day passes to Flamingo Island:
Passes can sell out quickly. The number of passes are limited and if the hotel is full or close to capacity, they don't sell day passes during that time.
I kept reading online the passes are available at 7am the day before. However, I was able to buy them at 9pm 2 days before I went.
Start looking online 2 days before and check back often.
Plan your day to Flamingo Beach early in your trip. That way, if the passes are gone then you can keep trying.
You can find a Renaissance Island Aruba day pass here.
More things to do in Aruba: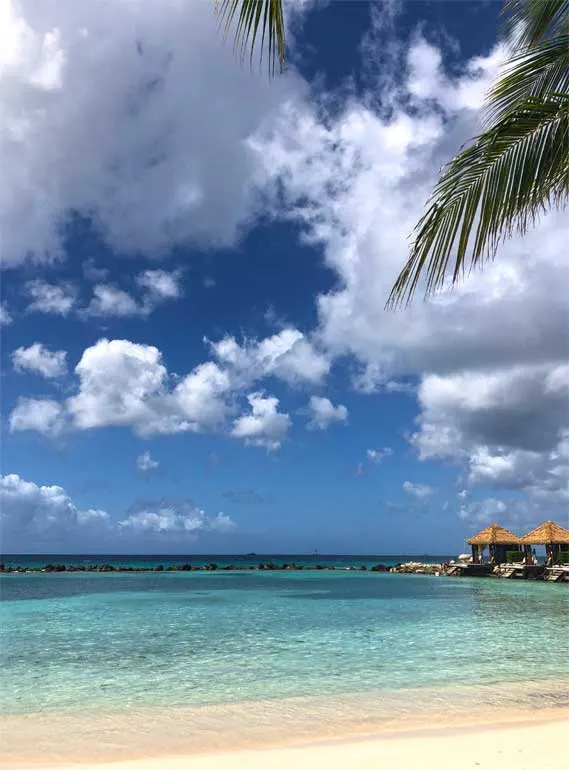 3 – Book a massage at the Renaissance Aruba Resort
The hotel has a spa, and just happens to be at the Flamingo Island. So if you don't want to stay overnight and you can't get day passes, try booking a massage. You'll get access to beach for the day and bonus – feel extra relaxed after a massage!
This is the most expensive day option, but it ensures you'll see the Aruba flamingos if the day passes and hotel are full.
Check out availability for the Island Spa Cove.
How much does Flamingo Island cost?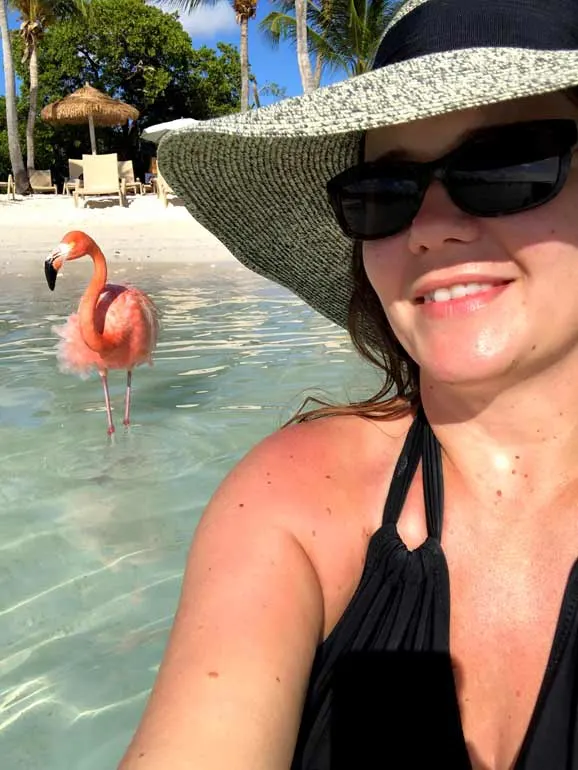 Well, I'd recommend to add this to your vacation savings plan because it can add up quick! Depending on how you plan to visit the island and the number of people going, here are the costs.
Overnight at the Renaissance Aruba Resort: $200-$400/night. This depends on type of room, season, availability and how far in advance you book the stay.
Renaissance Island Aruba day passes: $125 per person. This includes one meal and one cocktail per person.
Spa services: massage packages start at $160 per person.
Of course, if you eat more and drink more it will cost you. There's also private cabanas available to rent for $150. They're not as close to the flamingos but are a great way to spend the day.
(Pricing accurate as of the time of the article publication – pricing may change.)
Just a quick note: this is my honest review of Flamingo Beach Aruba and a guide to help you plan your perfect experience. I really enjoyed the day pass but would probably stay overnight for 1-2 nights next trip, so that we'd have access to the beach multiple days. Booking the resort early will help drive the price down. 🙂
Are kids allowed on Flamingo Island?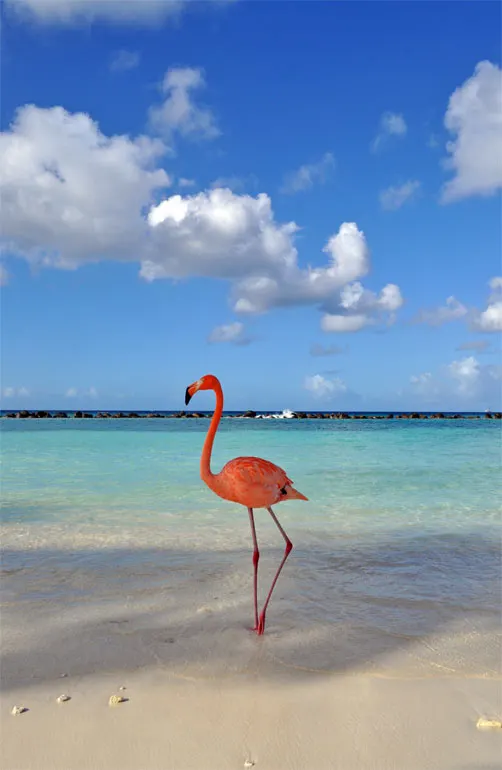 The private beach at Renaissance Resort in Aruba is kid-friendly, but it's limited. Kids are only allowed on Flamingo Beach from 9am – 10am. So if you're planning to travel with your family, get to the island early. The rest of the day is off limits to kids under 18.
However, the other side of the island is Iguana Beach! And that's the kid-friendly side where the water is more shallow. There's more family-friendly activities such as kids water activities.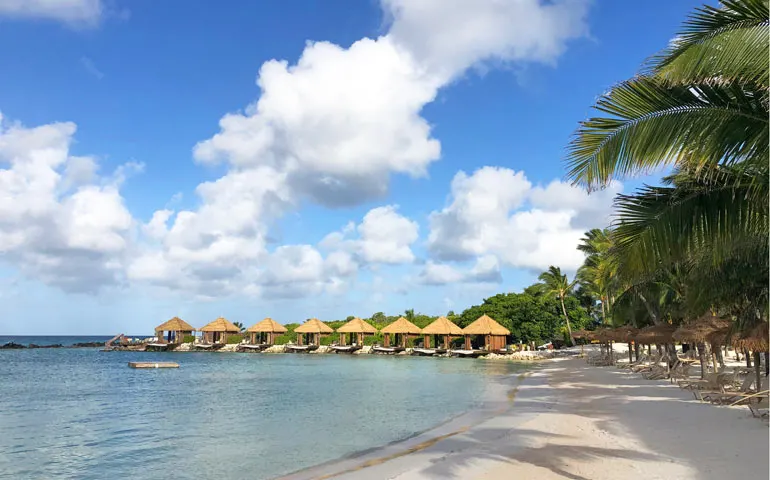 A number of iguanas live on the island, and often make an appearance on the beaches. They're harmless so no worries! Every day at noon there's a chance for kids to get interactive with the iguanas by feeding them.
There's more seating on Iguana Beach than Flamingo Beach, providing another option to spread out while on the private island.
How to get to Flamingo Beach?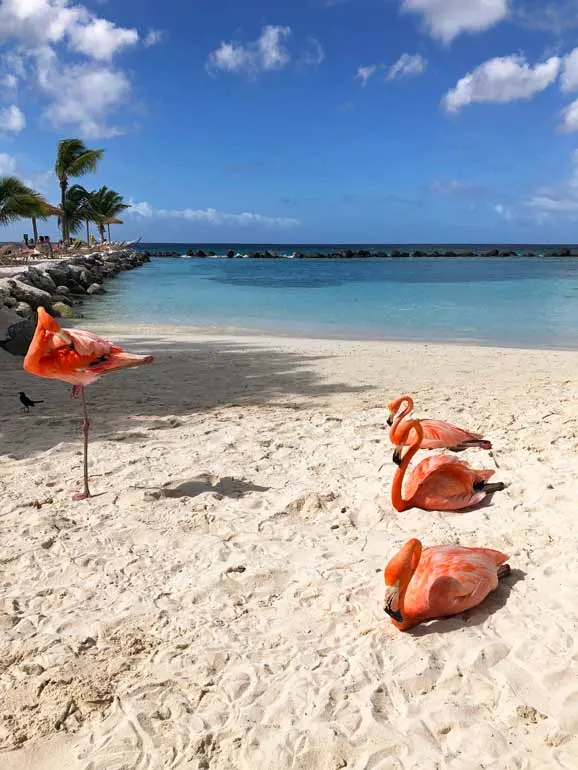 Getting there is pretty easy. You'll leave from the dock right behind the Renaissance Convention Center. If you have a rental car you can use the hotel parking lot even for a day pass. (You may want to confirm where to park at the front desk as it wasn't clearly marked during my visit.)
Boats leave the dock every 15 minutes and they do limit the number of passengers to 10. So even if there's a line, you won't be waiting long.
If you have a day pass, they'll check your QR code and you can board the boat. It just takes 10 minutes to get to Flamingo Island, Aruba, where you can start your fun, memorable day!
Things to do at Flamingo Beach, Aruba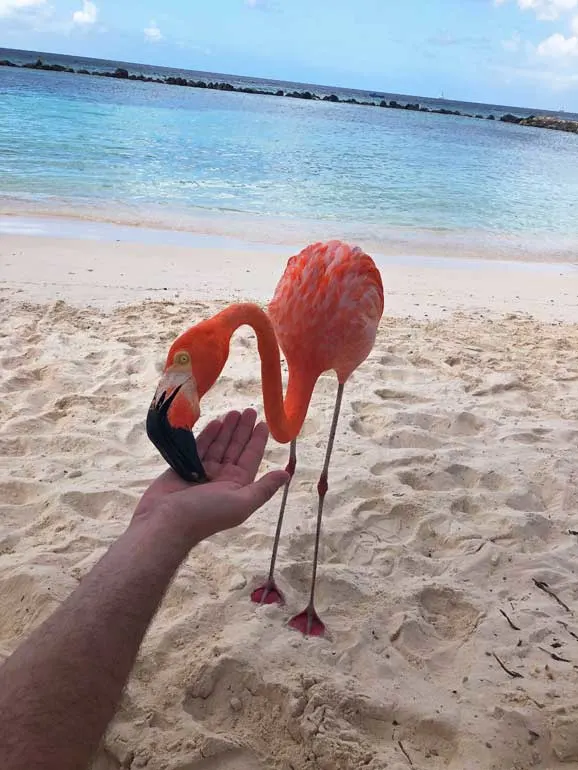 The #1 thing is to interact with the flamingos! You can feed them but cannot pet them – they're wild animals! The beach has plenty of shade and chairs so you can lounge all day watching the waves gently crash on the shore while the flamingos walk by.
It's truly an unforgettable experience!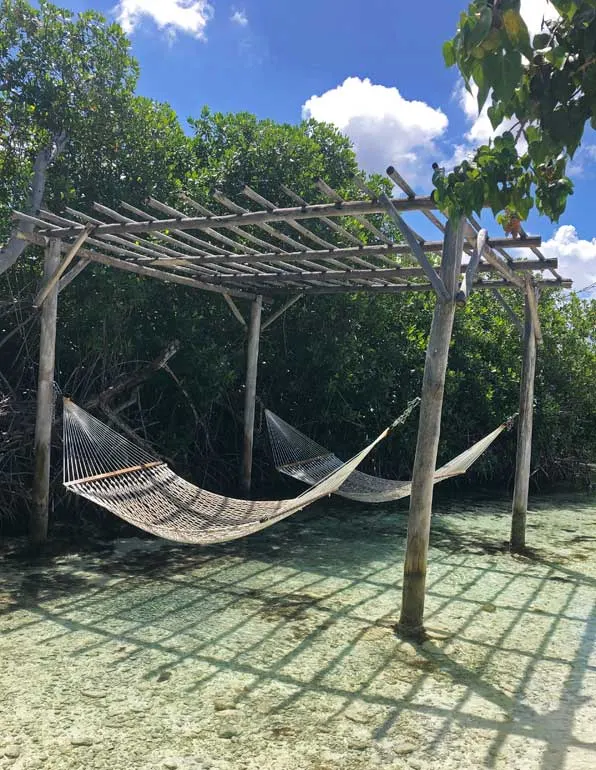 Other things to do on Flamingo Island:
Get the perfect photo of the flamingos (it can take some patience and time to do this!)
Find the white flamingos (details below)
Swing in a hammock (or nap – you're on vacation and no one's judging you!)
Enjoy a cocktail (or more!) with water views
Snorkel (free equipment rental on the island)
Lounge on inflatables (available for free)
Rent a private cabana with views of the water
Get a massage or a couples' massage
Work out at the gym (yes, the hotel has a gym on the island)
Bring your gear and play tennis at the island tennis courts
Rent kayaks and explore the surrounding waters
Shop in the gift shop for all your flamingo memorabilia
Related: 26 Insanely Beautiful Beaches in Aruba (and 1 to Avoid)
Finding the hidden white flamingos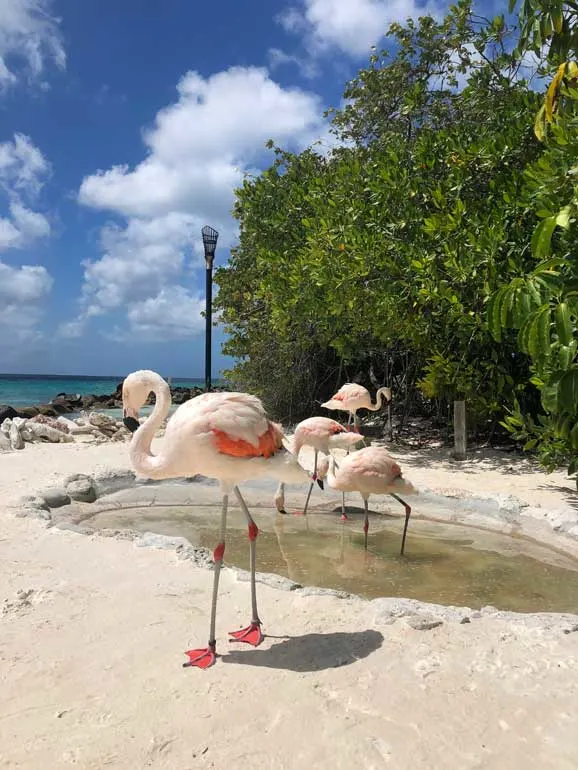 This was one of the parts of visiting Flamingo Beach that I wasn't expecting! There's just a few white flamingos on the island.
They seem to be in an area all by themselves…which they probably like without the distraction of people. I'm just not entirely sure if they enjoy it as much considering there's not a beach immediately accessible. I know I enjoy a good beach when I'm in Aruba!
Anyways, to find the white flamingos, walk over to Iguana Beach. Past the restaurants there's a path that takes you away from the beach. Take that sidewalk and there's actually a gym and tennis courts. Past that point, keep walking and you'll find a secluded beachy spot with a rocky shore.
That's where the white flamingos hang out. I didn't have any flamingo food when I went exploring so I'm not sure if they'll eat out of your hand like the pink flamingos.
I've seen other photos online of the white flamingos on the main beach, so maybe they migrate over there as needed.
How to get the best photos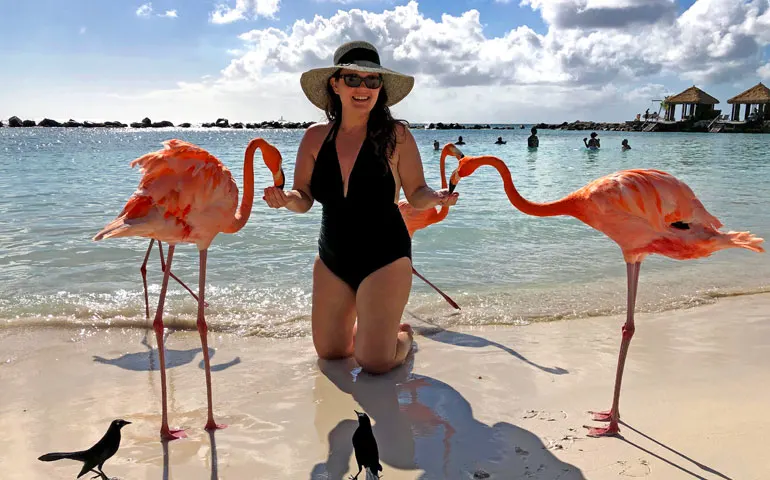 Okay so I don't even think the photos that I took are the best on all the internet. However, I was spending time enjoying my day on the island with my husband instead of spending hours getting the perfect shot.
But based on my experience and what I saw others doing, here are some suggestions on getting great photos of flamingos in Aruba or yourself and the flamingos.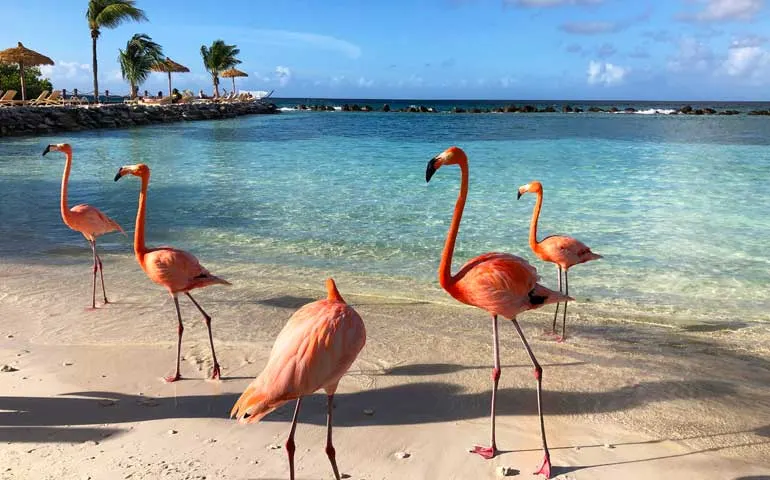 Getting the best photos of Aruba flamingos
Get there early and stay late. The flamingos are wild animals and might not be camera-ready when you want them to be!
Arriving to the island on the first boat of the day (7am) will ensure you'll have the least amount of other guests to work around.
The sun will be positioned best during midday, but the shadows will be the harshest. The morning hours the palm trees cast shadows on the water. In the late afternoon you'll be backlit.
You don't want photos of flamingo booties, so make sure to feed them to the side instead of straight on, and the photographer (or your boo) is positioned correctly.
Front row seats will ensure you'll have good views of flamingos walking past you, but won't give you much shade throughout the day.
Patience, patience, patience. The best photos I got were when the flamingos were the most active during late afternoon.
Related: 21 Most Instagrammable Places in Aruba
Some of my favorite photos were backlit and not perfect, but they were genuine and my husband and I had a lot of fun. It seemed like when everyone else was done taking their photos, the flamingos came out in full force!
More fun adventures in Aruba…

Tips to make the most of your day on Flamingo Beach, Aruba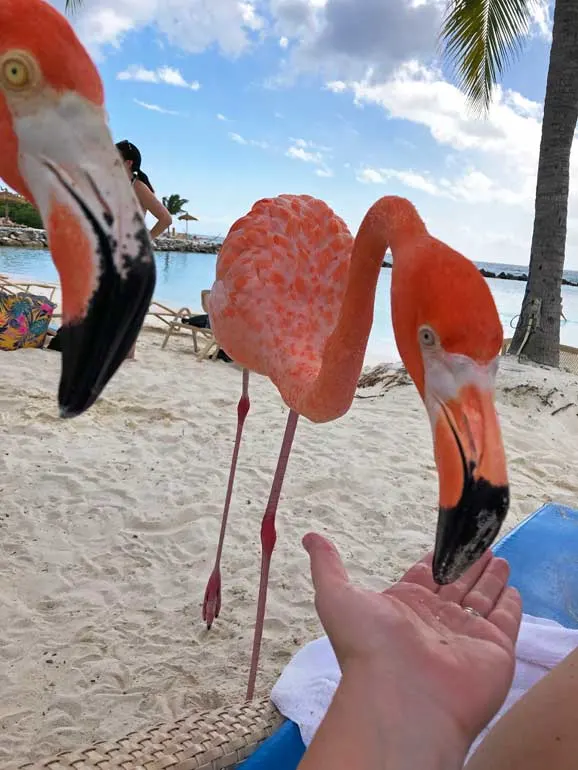 This is a bucket-list activity and you'll want to make the most of it! Here are a few more tips for you.
Get to Flamingo Island early! The flamingos are pretty active all day, but the beach will fill in by lunchtime. Plus, you want to get your money's worth.
The flamingos tend to eat most really early or in the late afternoon. By mid-morning they've had their fill from people and just want to forage through the sand.
There's one larger, more aggressive flamingo. He's a bit of a bully and will eat all the food and peck at your arm for more. Avoid the big guy!
Keep the flamingo food in a cup and keep it covered while you're not feeing them. The other birds want to get in on the action and will steal the food.
What to bring to Flamingo Beach, Aruba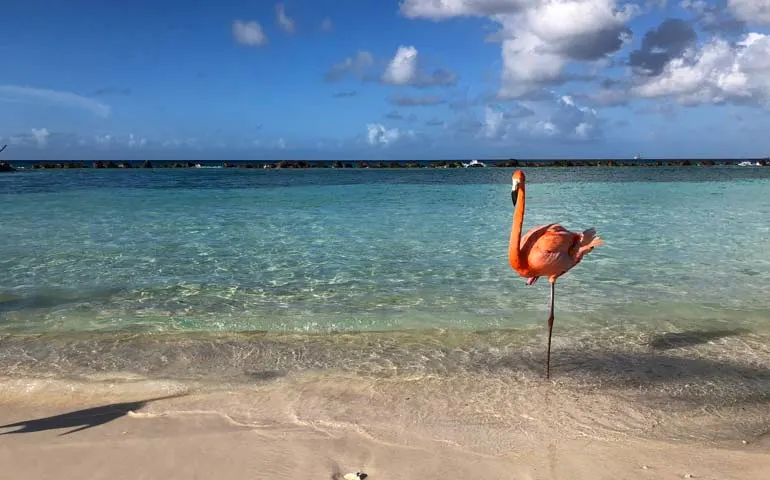 The amenities at Flamingo Beach are pretty great. So you don't really need a whole lot to have a remarkable day on the island! However, you're on a hot beach in Aruba so packing a few things will make your day smoother.
Things to pack for Flamingo Island:
Quarters to buy food for the pink birds 🙂
Money for extra drinks, food or souvenirs
Sunblock (this is my favorite reef-safe sunblock that smells awesome!)
Sun hat if you prefer
Portable charger for your phone and cord
Water shoes if you prefer them (Flamingo Beach is a bit rocky once you're in the water, Iguana Beach has super smooth sand)
They have towels for rent (free) and you're not allowed to bring in food or drinks.
Is Flamingo Island worth it?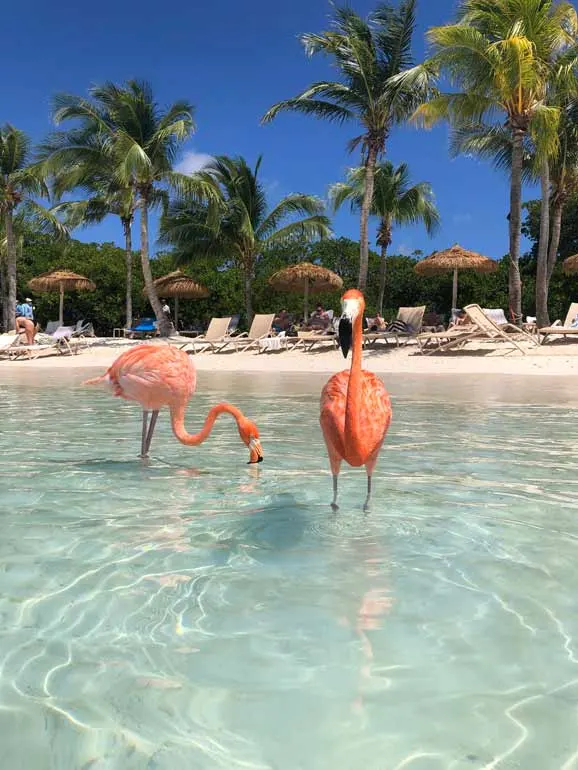 Well, if you're wondering, is Flamingo Island is worth it? My answer is:
YES!!
My husband and I spent a week in Aruba and did some pretty spectacular activities. Visiting Flamingo Beach was one of the highlights of our trip!
The island isn't overcrowded with people like some beaches are. The flamingos are really fun to watch in a natural environment.
If you stick with water or soda, you can keep the price pretty low. Eat an early-morning breakfast before you go and a late dinner off the private island.
So my honest Flamingo Beach Aruba review: I'm really glad I went, it was an incredible experience. I'd even go back if I make it to Aruba again!
Day trip to Flamingo Island, Aruba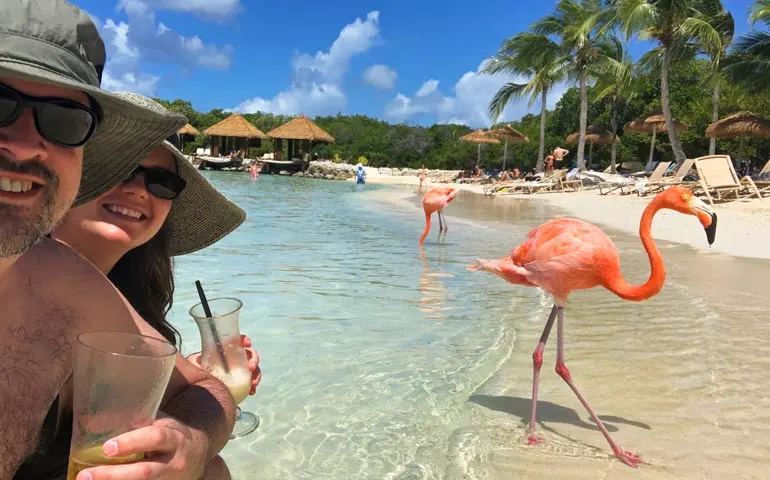 Well, that's a wrap! It's one spectacular day that you'll never forget! Spending time on Flamingo Beach as the pink feathery friends walk by is an incredible adventure in Aruba!

Find this post helpful? Save it for later or share it on social media.