A beautiful island like Aruba surely has incredible photo opportunities. From gorgeous beaches to unique landmarks, these are the most Instagrammable places in Aruba!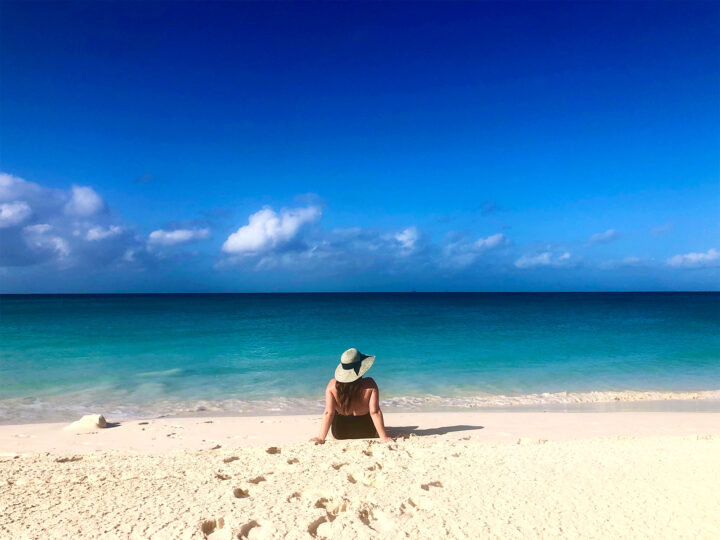 This post may contain affiliate links. For more info, see my disclosures.
White sandy beaches meet beautiful turquoise water on this Caribbean island, which is pretty much a perfect backdrop for any photo! Then add in Aruba's natural coastline, ultra-touristy hotel strip and historically significant sites and you'll have a fun set of pics and videos to post to social media.
After checking Aruba off my travel bucket list and seeing as much as possible on the island, I brought home a ton of photos. But nobody can do it all! So I called in some travel blogger friends to help me out with this list of spots to take Aruba pictures.
Quick note: the images you see below were taken by me – unless otherwise noted below!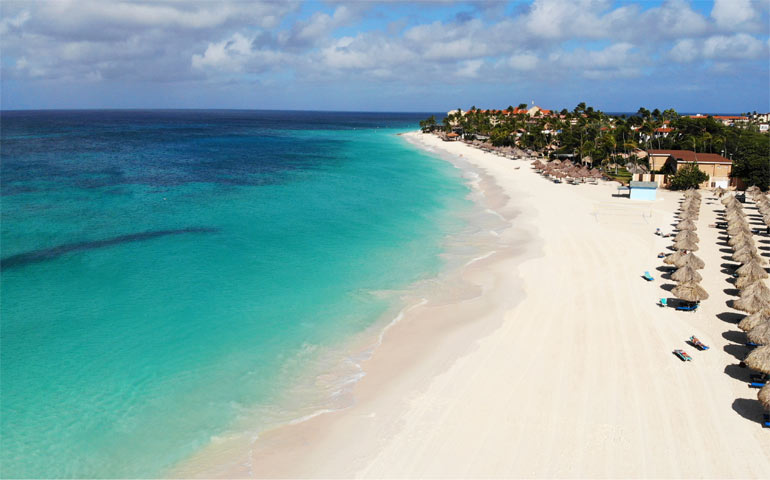 Map of the most instagrammable places in Aruba
It's so helpful to have a map to show you exactly where to grab pics. So here you go!

Alright, let's get to the details…
Photos of Aruba: best spots you gotta see!
Don't worry about searching the whole island looking for photo spots. Instead use this guide below on your vacation. 🙂
I'm starting the list off with some of my favorites…
1. Flamingo Beach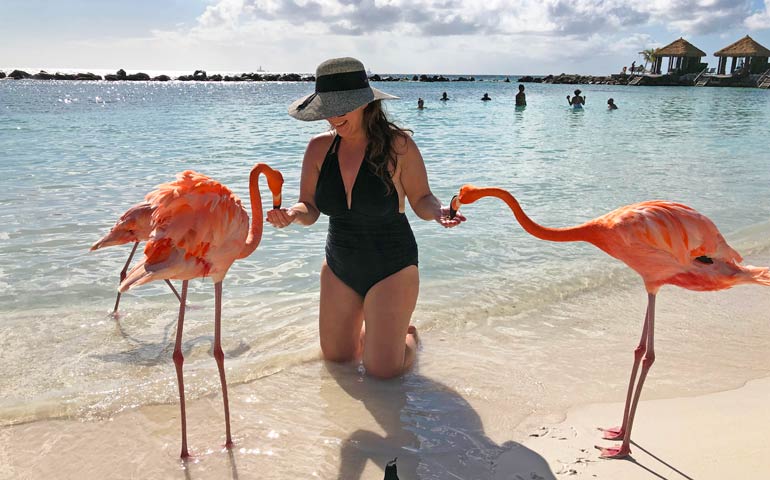 So this has to be one of the most instagrammable places in Aruba! You get to feed flamingos in their natural habitat!!
Flamingo Beach is a private island located just south of Oranjestad, and its a super fun way to spend the day. You can access it by staying at the Renaissance Resort Aruba, or buy day passes, which are limited.
Check for hotel availability here.
Anyway, spend the day interacting with the flamingos and watching them walk by your lounge chair. Get to the island early and stay late to make sure you get plenty of photos with the flamingos.
Here's a guide to everything you need to know before going to Flamingo Beach, Aruba.
Recommended by me – Nikki of She Saves She Travels
Follow on Instagram
2. Baby Beach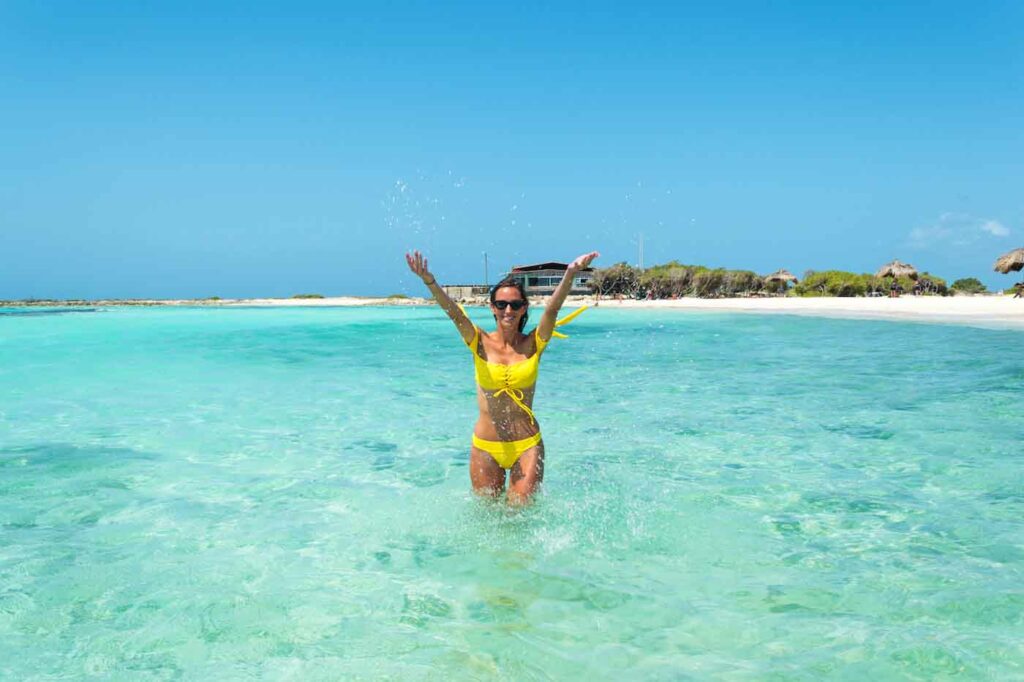 One of Aruba's prettiest spots for photos is Baby Beach. It's a shallow lagoon known for it's beautiful, turquoise water. It's located all the way at the southern tip of the island. You'll need a car to get there and you'll follow Rte 1 all the way south to Sero Colorado in San Nicholas.
The perfect time to go is during mid-morning when the water is calm and there are less people. You'll also get the best colors in the water on days where the weather is clear.
There are cute, thatched umbrellas on the beach and the blue hues of the ocean make for the perfect backdrop to your photos!
Recommended by Ashley Jansen of Jetset Jansen
Follow her on Instagram
3. California Lighthouse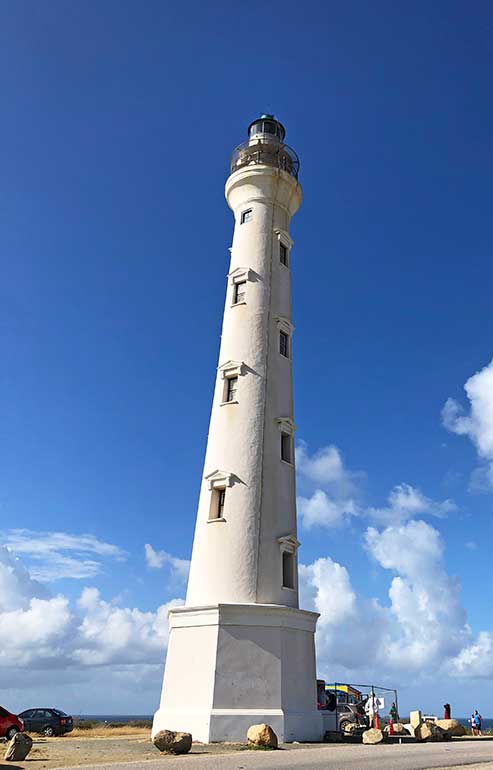 The California Lighthouse is a great spot for Instagram photos!
Located on the northern end of the island, the address is L.G. Smith Blvd, Noord, Aruba, but any cab driver will know where to take you if you ask.
It was built between 1914 and 1916 and was named after the S.S. California, which sank just off the shore. Side note: the SS California is the ship the Titanic was trying to reach that fateful night.
If you climb the lighthouse the views from the top are spectacular, fair warning the climb is steep, and there are over 100 steps!
There is no wrong time to visit the lighthouse, but it would be amazing at sunset! Aruba customs doesn't stamp your passport when you enter, but the lighthouse has a stamp and will stamp your passport!
Recommended by Rebecca of Whatever Packs Your Bag
Follow her on Instagram

4. Divi Beach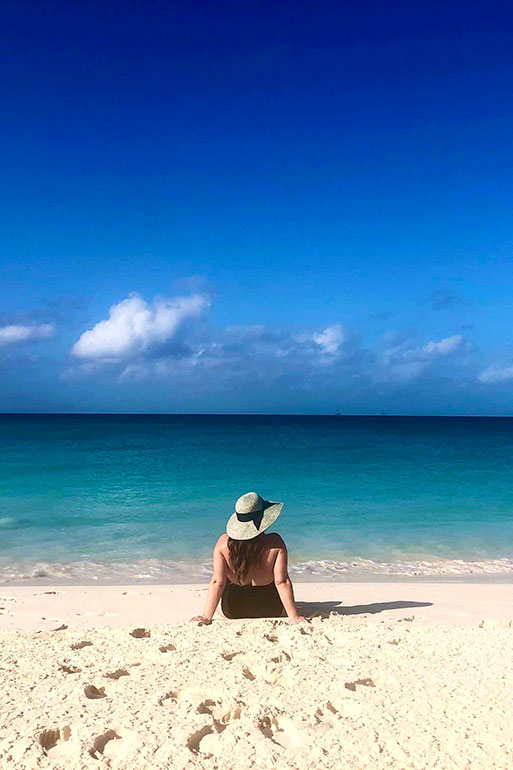 Alright this next one can technically be on any beach on the western side of the island. But I think the very best beach in Aruba is Divi Beach, so that's where I'm choosing!
Sit along the sand with nothing but water on the horizon and grab your shots. I saw so many social media influencers along pretty much any beach we went to grabbing shots of the insta-worthy beaches on Aruba!
You can easily navigate to Divi Beach using GPS. It's south of Palm Beach, Eagle Beach immediately next to Manchebo Beach.
Recommended by me – Nikki of She Saves She Travels
Follow on Instagram
Most Instagrammable places in Aruba – for the adventurer!
These spots below are off the beaten path, and a whole lotta fun!
5. Hidden Pool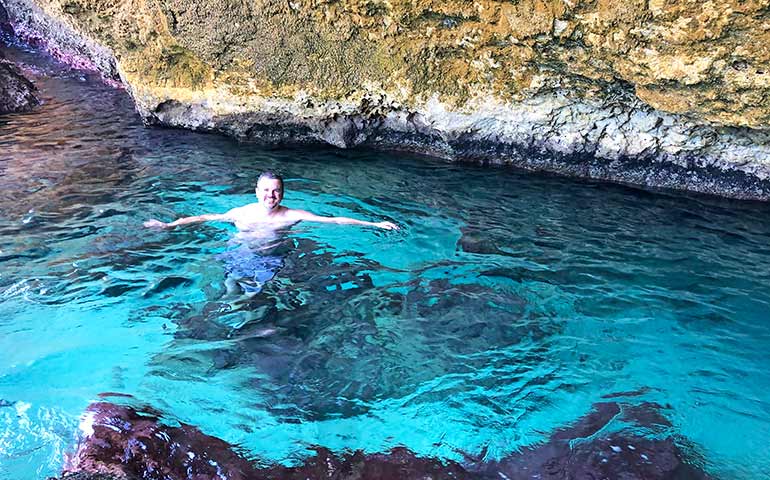 Renting a 4×4 or UTV/ATV in Aruba for a day is a perfect opportunity for adventure – and Insta-worthy pics! My favorite adventure of the day was this hidden pool.
The vivid turquoise water and purple rocks makes for a fun backdrop. We jumped from the cliff into this hidden pool, which makes great social videos too!
This pool is located just south of the Gold Mill Ruins (described below), and is a bit tricky to find. Just look for the ladder sticking up off the cliff!
Recommended by me – Nikki of She Saves She Travels
Follow on Instagram
6. Arikok National Park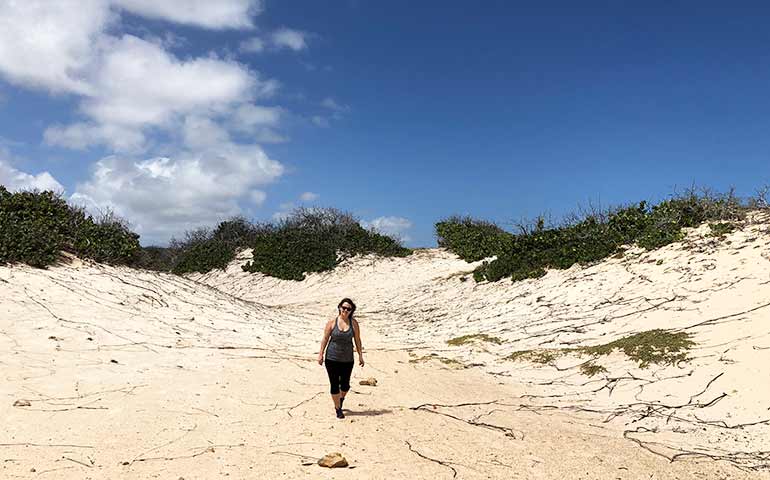 The Arikok National Park is one of the top things to do in Aruba for visitors. There's plenty of great spots to grab photos. A few of my favorite are White Dunes of Boca Prins, Guadirikiri Cave, Fontein Cave and Boca Prins, pictured above.
The white dunes can be accessed in a regular vehicle, or you can see them as part of a tour of the park. The caves are another awesome spot for photos, especially if you have a wide-angle camera lens.
It costs $11 per person to get into the park (at the time of this publication) and with that many photo spots, it's definitely worth it. Plus it's just a fun spot to explore in Aruba!
The national park is on the southeastern part of the island, and takes at least a 30 minute drive from the popular Palm Beach.
Recommended by me – Nikki of She Saves She Travels
Follow on Instagram
7. Conchi Natural Pool, Aruba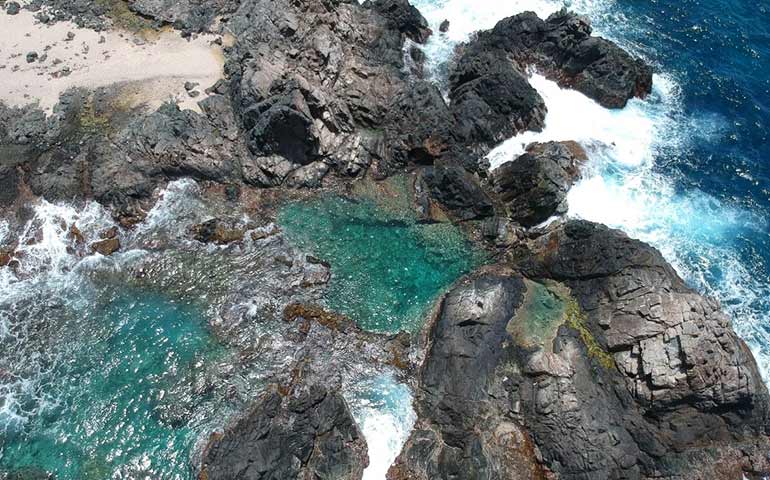 There are many sightseeing options and great photo opportunities on the island of Aruba such as the California Lighthouse, Aloe Factory, Butterfly Farm, Casibari Rock Formation. and Arikok National Park. But the most Instagrammable spot on the island is the natural swimming pool!
The pool is located on the eastern shore in Arikok National Park. It can be a bit hard to find without a guide and you'll need a 4×4 vehicle (not UTV/ATV) to get there. The natural pool is just feet from the wild waves of the sea and there is no better way to cool off from a warm afternoon than a dip in this gorgeous pool.
The rocks near the water's edge can be very slippery, so water shoes are recommended. Another tip is to bring a wet bag for cameras and cell phones because waves can crash over the walls of the pool and can get your things wet if you leave them on the rocks.
The easiest way to get there is to hire a guide with a 4×4. There are natural pool tours or you can rent a 4×4 and drive yourself.
Recommended by Alexa of 52 Perfect Days
Follow her on Instagram

8. Bushiribana Gold Mill Ruins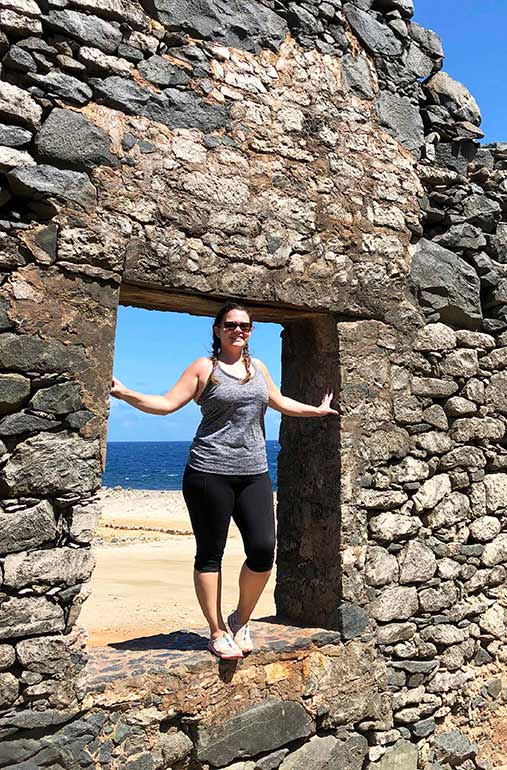 This was one of the most fun spots to stop for Aruba pictures! The Bushiribana Gold Mill Ruins are located on the eastern coast, so you'll need to take a tour or rent a 4×4 vehicle to get there.
You can climb and explore the Gold Mill Ruins freely, so I climbed a small wall to get to this lookout window. If heights frighten you, there are other photo spots throughout the ruins to enjoy.
Note: this perch is small, I'm 5'2″ and fit perfectly. Anyone taller will need to sit in side the frame.
Recommended by me – Nikki of She Saves She Travels
Follow on Instagram
9. Aruba Ostrich Farm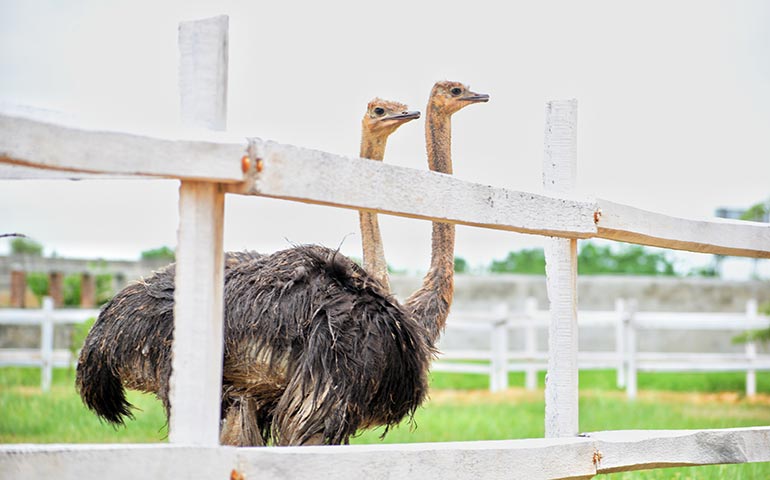 If you're near the Natural Bridge or the northern side of Arikok National Park, do yourself a favor and stop by the Aruba Ostrich Farm. While there are several amazing natural attractions on the island, this is one of the few places on the island where you can snap a photo with wildlife.
The Ostrich Farm is home to several super photogenic ostriches. Make sure you have your camera ready when you go to feed "The King of the Birds!" Your Instagram followers will love the shots of the ostriches pecking at the food in your hands!
The Aruba Ostrich Farm is located right near the Natural Bridge, making it the perfect pitstop on your way to the Bushiribana Ruins. The physical address is Matividiri 57, Oranjestad. The best time to visit the farm is in the morning before it heats up.
Recommended by Elle of 5 Suitcases
Follow her on Instagram
Back on the beach: Aruba Instagram spots
Some of the most gorgeous beaches on the planet are in Aruba. So naturally, there's plenty of spots to grab some pics. Let's go!
10. Palm Beach – pretty much all of it!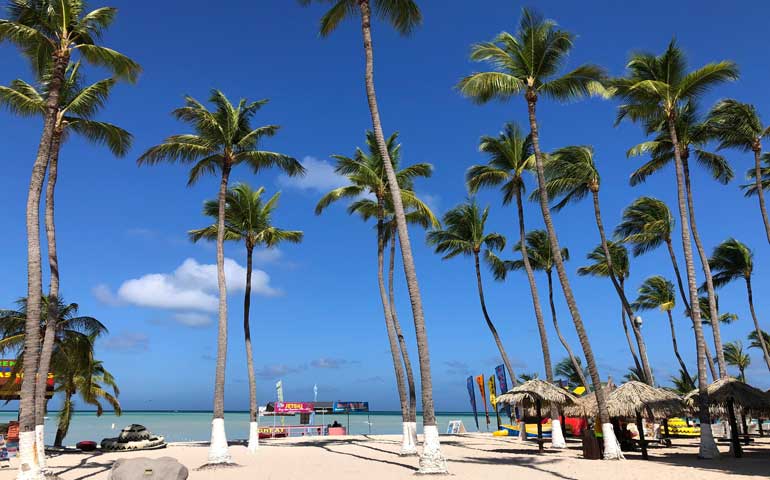 One of the most instagrammable places in Aruba is definitely Palm Beach!
The picturesque palm trees and palapas combined with the ultra-touristy signage and nooks that businesses have created to draw you in, there's plenty of options for pics at Palm Beach!
One of my favorite spots for breakfast was also very Instagrammable. Eduardo's Beach Shack is steps away from the beach and mighty delicious. They have coffee, smoothies and açaí bowls, to name a few.
The swings attached to their shack are super cute too. If you want good photos on these swings, go in late afternoon or closer to sunset to avoid harsh shadows.
Recommended by me – Nikki of She Saves She Travels
Follow on Instagram
11. Palapa on the beach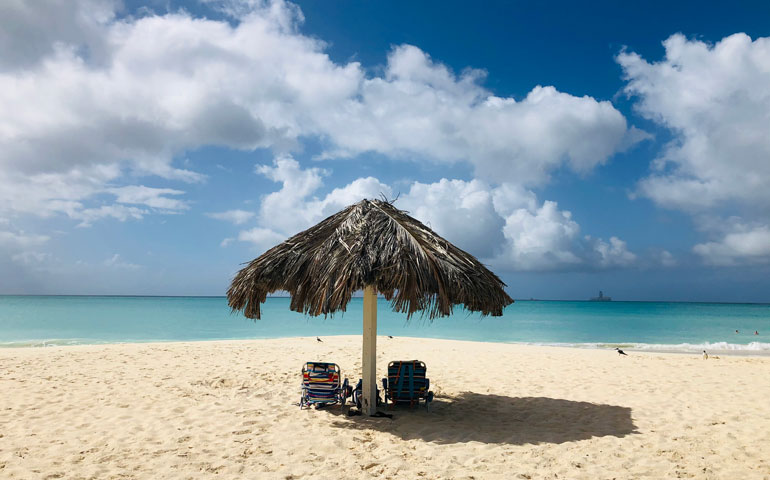 Okay, okay, one of my favorite things about Aruba is all the Palapas on the beach. They're not only picturesque, but provide awesome shade!
Many palapas are found on resort beaches, but there are some on the public beaches as well. The one in the pic above was taken on Eagle Beach – one of the top beaches in all of the Caribbean (according to TripAdvisor)!
Can you think of a better photo of a beautiful Caribbean island than 2 chairs sitting on a beach? Everyone can envision themselves sitting there. Talk about inspiring #wanderlust!
Recommended by me – Nikki of She Saves She Travels
Follow on Instagram
Related: Is Aruba Expensive? Your Ultimate Guide to a Cheap Aruba Vacation
12. Boca Catalina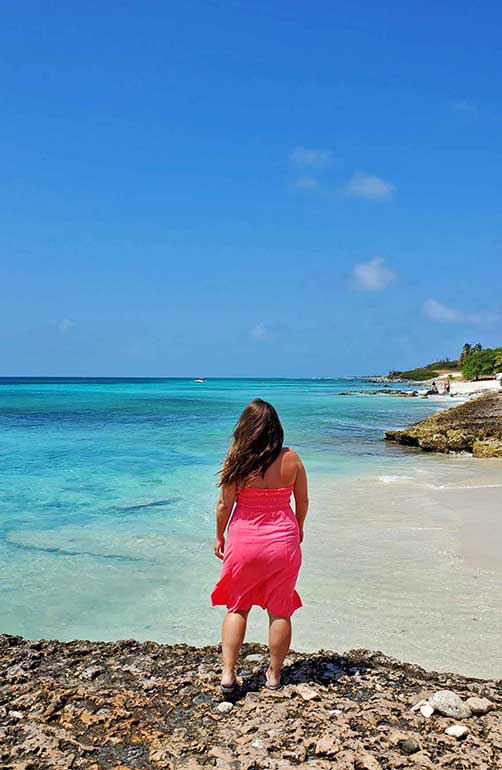 The coast at Boca Catalina is so pretty! Located on the northwestern side of the island, it's a bit less crowded than Palm Beach or Arashi Beach. To find Boca Catalina, you can enter it in your GPS or drive north on L.G. Smith Boulevard until you see the signs and parking on your left.
It's a fun spot to spend the day under the natural shade or a Palapa. The shore along Boca Catalina is speckled with limestone rock and beaches. The water is pretty much the perfect color of turquoise, too.
Recommended by me – Nikki of She Saves She Travels
Follow on Instagram
13. Fofoti Tree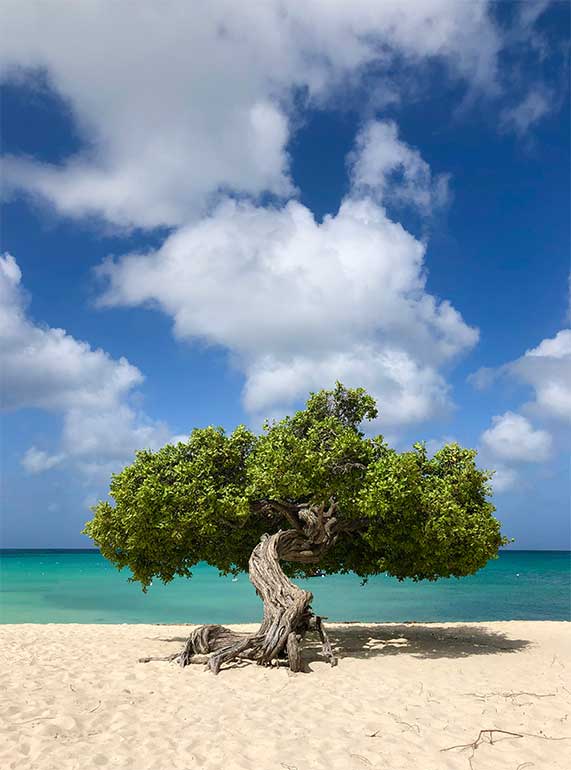 Shocker – the internet is wrong on this one! Even Google Maps shows this location as Divi Tree in Aruba. And I'd love to tell you that it is. But when you arrive, you'll see official signage saying the area is preserved for the Fofoti Trees on Eagle Beach.
So regardless of what you call them, this area is a fun spot to grab photos. The wind in Aruba is so strong the trees have grown twisted, which makes them really fun to photograph.
Note that you can't climb or hang anything on the trees, but you can sit below or near if you want to be in the pic. It's also a common spot to hold wedding photos in Aruba!
This popular tree is located on the northern end of Eagle Beach in Aruba.
Recommended by me – Nikki of She Saves She Travels
Follow on Instagram

14. Hammock time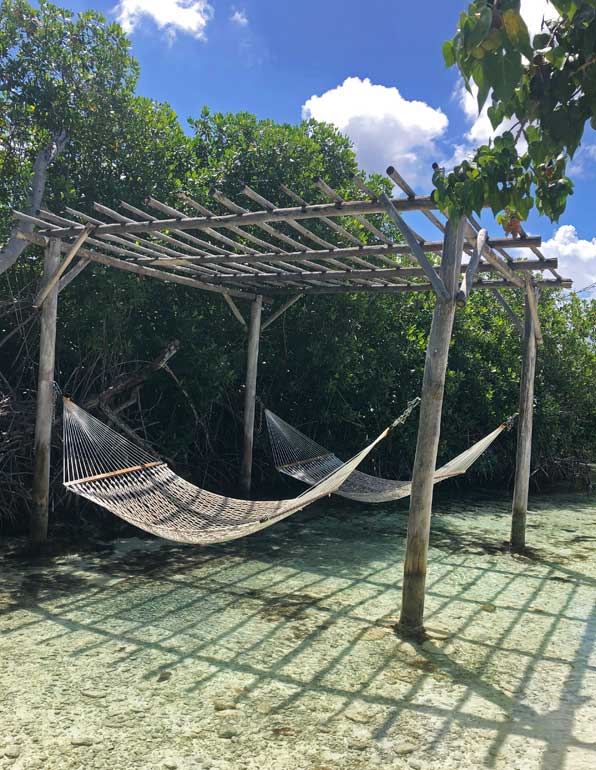 Is there anything better than hanging out (or napping) in a hammock in a tropical destination? So of course it's a fun spot for a photo.
Several of the resorts along Palm Beach have hammocks, but the ones in the photo above were at Flamingo Island. Buying day passes to the island not only gets you access to the flamingos, but also to all the other amenities, like the hammocks!
These hammocks are secluded, but there's others really close to the water. Take your pick based on your caption and which ones are taken by others lounging near the water. 🙂
Recommended by me – Nikki of She Saves She Travels
Follow on Instagram
15. Under the palms at Manchebo Beach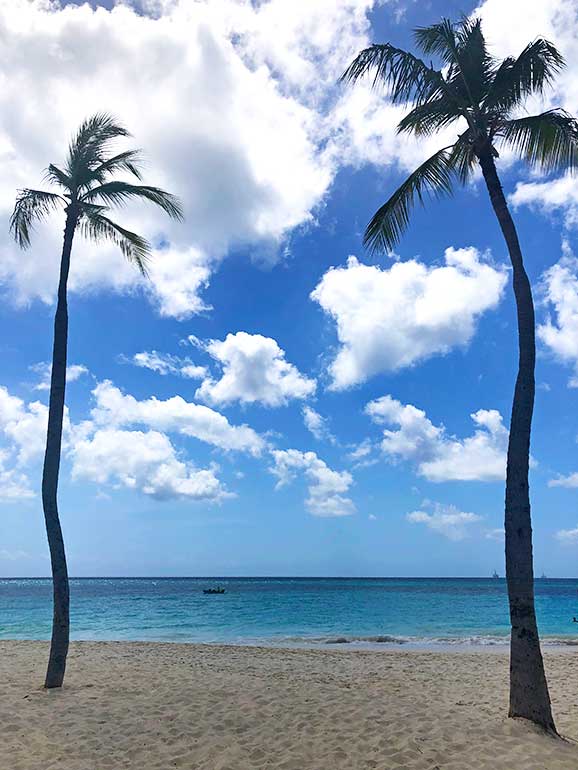 How cute would this photo spot be? Located right between Manchebo Beach and Divi Beach are these 2 lonesome palm trees. Stand below or between them for a cute pic!
To get there, navigate to the Casa Del Mar Beach Resort. The palm trees are at the entrance of the public access road. Just to the left of this photo are black rocks that jut up from the shore. I saw influencers sitting and standing on the rocks for photos too.
Recommended by me – Nikki of She Saves She Travels
Follow on Instagram
Aruba pictures – best city spots
Aruba's cities are fun and vibrant. Full of great places to eat, shop and explore, here are just a few spots you'll want to visit!
16. San Nicholas murals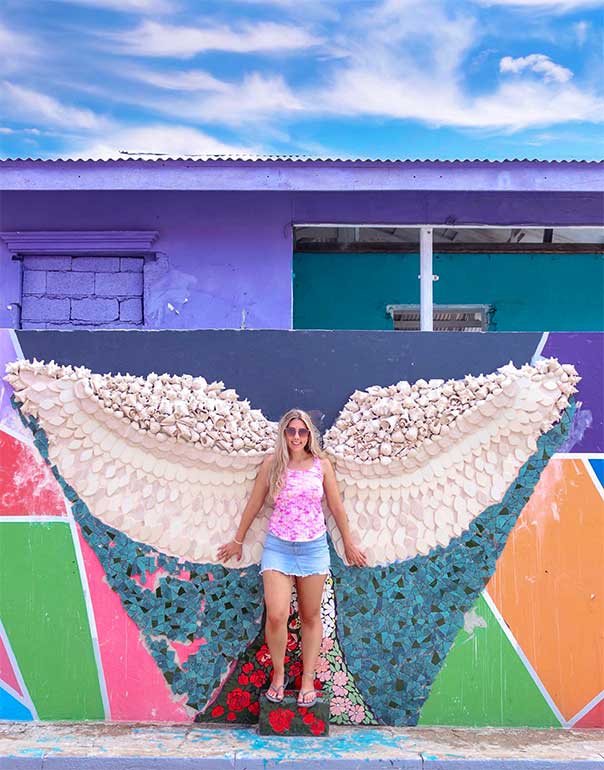 What many people don't know is that Aruba has a booming art scene! On the southern tip of the island just 30 minutes from the capital of Oranjestad is San Nicolas. It's the second largest city and artistic hub of the island.
Here you'll find 5 blocks of larger-than-life murals that make San Nicolas the most colorful spot around. Artists from all over the world and some local talents participated in the Aruba Art Fair, and now there's color around every corner.
I recommend coming early in the morning before the harsh midday sun casts shadows over the beautiful artwork. Besides, that time in the sun is much better spent at the nearby Baby Beach, one of Aruba's most popular and beautiful beaches just a hop, skip, and a jump away from San Nicolás.
Recommended by Shay of Sightseeing Senorita
Follow her on Instagram
17. Royal Plaza Mall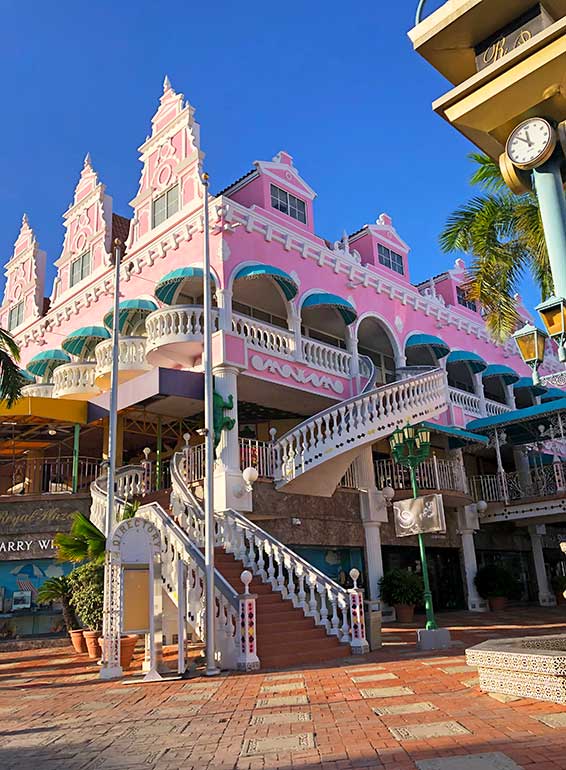 How cute are these steps at the Royal Plaza Mall? Aruba is a Dutch island, therefore the architecture is influenced by this heritage in the cities.
The Royal Plaza Mall is a super colorful area with the most adorable shops and restaurants. It's located in Oranjestad just off the cruise port. So it obviously gets busy when a cruise ship is docked!
Otherwise the best time of day for photos in the mall is mid-day for the most vibrant colors.
Recommended by me – Nikki of She Saves She Travels
Follow on Instagram

Aruba signs: most Instagram-worthy spots on the island
Giant city or country signs seem to have taken over social media in the last 5 years. I've ran across these signs in other places in the Caribbean like Belize and Puerto Morelos.
But it's a fun spot to take a photo for the memories! Here are the ones you can find in Aruba.
18. I heart Aruba sign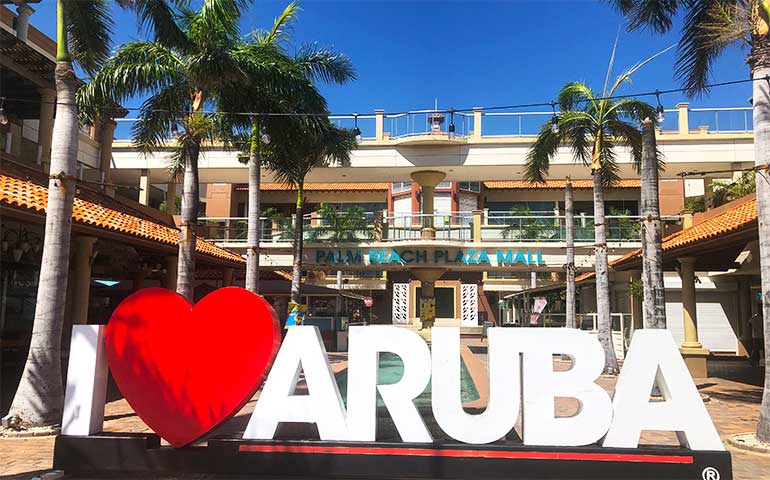 Before you even step out of the airport, you'll see the famous I heart Aruba brand. T-shirts and tank tops, mugs, hand bags and a ton of other souvenir options, all branded with this sign.
Sprinkled throughout the island are other Insta-worthy signs as well. The sign in the photo above is located at the Palm Beach Plaza Mall. It's at the entrance furthest from the beach (to the east) near the parking lot.
The fountains weren't on when I was there, but I bet it's an even more fun photo spot if the fountains are dancing behind the sign. 🙂
There's another I heart Aruba sign exactly like this one near the cruise port in Oranjestad.
Recommended by me – Nikki of She Saves She Travels
Follow on Instagram
19. We heart Aruba sign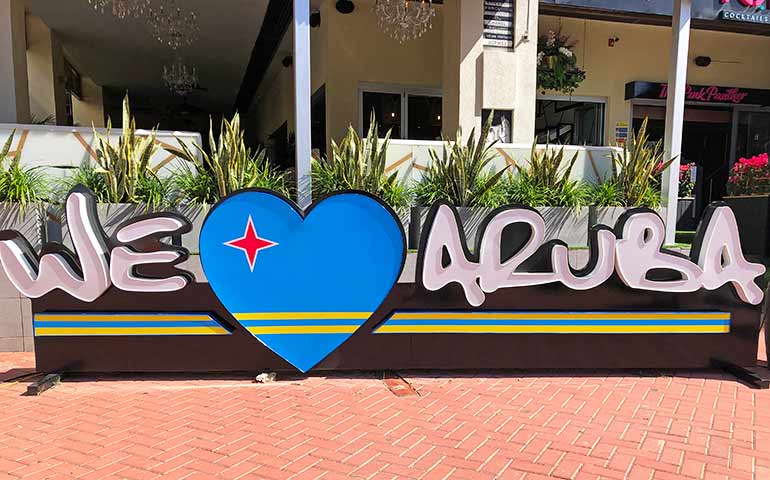 A play on the I heart Aruba sign, this Insta-worthy photo spot in Aruba is located on the main drive along Palm Beach. On the very northern end of J.E. Irausquin Blvd are a few restaurants and this sign is positioned out front.
The sign also lights up at night, giving you lots of options to get the perfect photo in Aruba!
Recommended by me – Nikki of She Saves She Travels
Follow on Instagram
20. Tourist signs on Palm Beach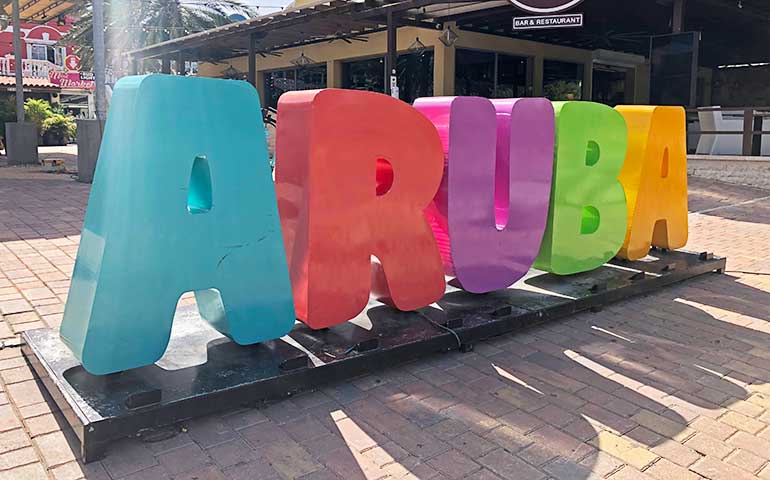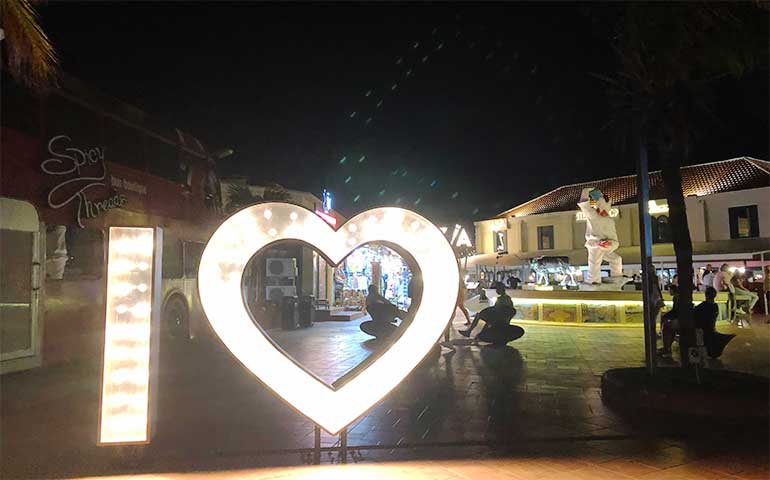 In the heart of Palm Beach is the main shopping and restaurant strip. To map to it, just drive up J.E. Irausquin Blvd and you'll see what I mean!
Anyway, after the sun goes down the main strip comes to life. Live music, plenty of shopping and dining and of course, insta-worthy photo ops. These were just 2 of the many fun spots to stop and take a photo along this popular strip in Palm Beach.
Recommended by me – Nikki of She Saves She Travels
Follow on Instagram
21. Aruba – One Happy Island Sign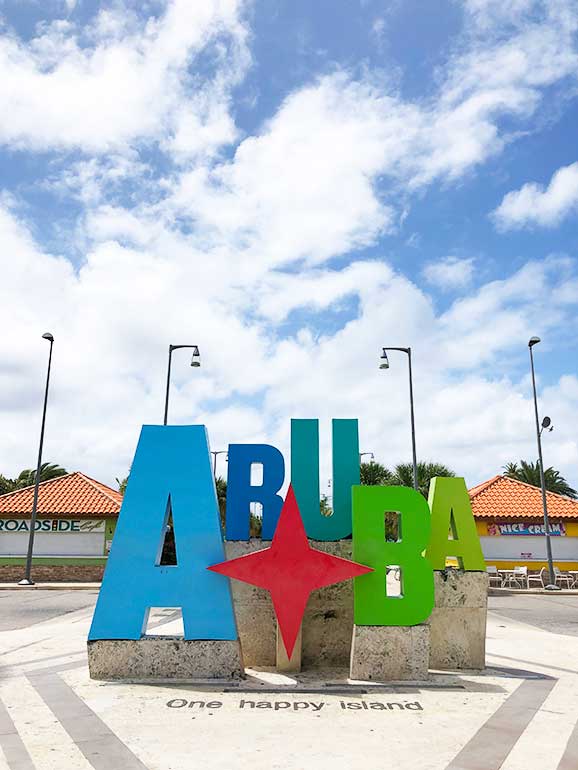 Guyyyyyz! This sign was tricky to find! I was literally 10 minutes from the airport when I finally found it! The internet just doesn't give good directions to it. So here it is…
The Aruba, One Happy Island sign is located at the Plaza Turismo in Oranjestad.
If you haven't heard, One Happy Island is Aruba's slogan. And if you have a group of people, this sign would be a really fun one for a group shot!
Recommended by me – Nikki of She Saves She Travels
Follow on Instagram
Most Instagrammable places in Aruba – that's a wrap!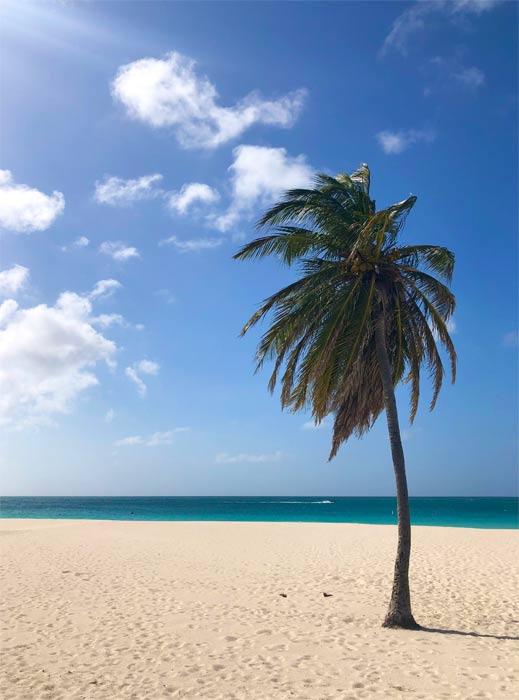 Well, did you find some cute spots you want to grab some photos? Aruba is such a gorgeous island it's hard to choose a bad spot!
As the island continues to develop and shops and restaurants try create Instagram-worthy photo spots, they'll be more and more popping up all the time.

Find this post helpful? Save it for later or share it on social media!