The state of Colorado is a little bit magical. From the stunning Rocky Mountains, alpine lakes, adorable mountain towns and adventure around every corner, this state is unlike any other! Here's an ultimate Colorado road trip guide that takes you to the top places to see and things to do in Colorado.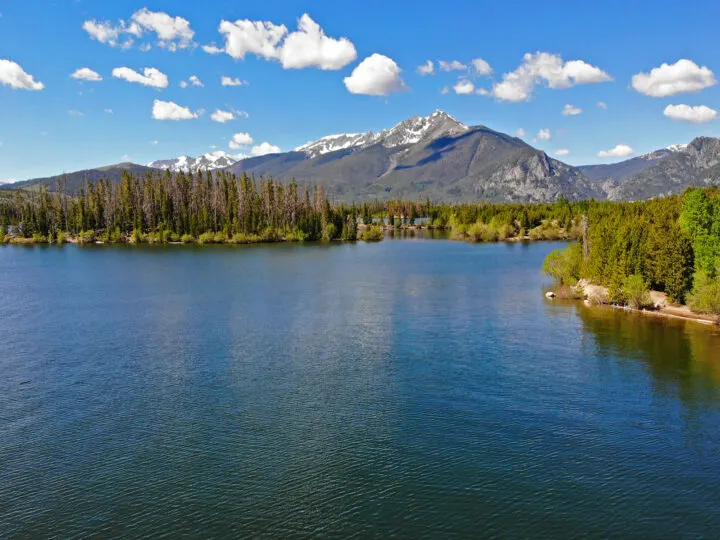 This post may contain affiliate links. For more info, see my disclosures.
Colorado trip planning is no easy task – there's so much to see and do – how do you even begin to start?!
Including all the best places to vacation in Colorado, this guide is perfect if you're looking for a Colorado road trip. You can customize your trip based on the length of your vacation. Pick and choose from the activities and road trip stops below.
To see it all, you'd need a minimum of 3 weeks, which would be an amazing Colorado road trip! This Colorado itinerary starts and ends in cities, but let's be honest – a visit to Colorado is meant to be explored outdoors! With some activities for winter and others for summer, spring and fall, this itinerary will work in any season.
Colorado road trip map
If you choose to do all 22 stops on this Colorado itinerary, here's the best route to take. Depending on where you're traveling from, you can join the loop at any point. 🙂
This Colorado road trip route starts in Boulder and ends in Denver. But if you're flying into Colorado, it's best to rent a car in Denver and then drive to Boulder to start your journey.
By the way, I recommend searching for a rental car with Discover Cars. It's a free search tool that finds the best rate from all the major rental companies. I typically save 10-30% using Discover Cars!
Road trip Colorado: what to pack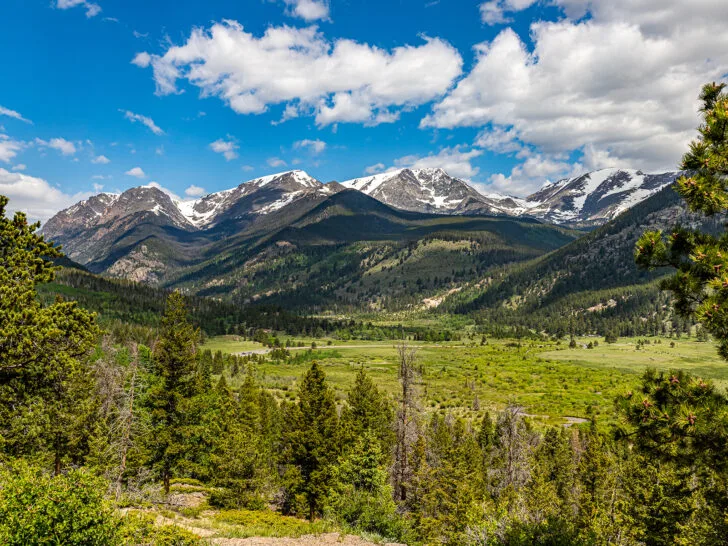 Here are some road trip essentials you might want to take into consideration as you plan a trip to Colorado…
Collapsible cooler. Perfect for traveling this cooler folds down and pops up when you need to keep food and beverages cold.

Sunscreen and layers. No matter what time of year you visit Colorado, you'll want to add or peel off layers as you adventure around these amazing destinations. And at this high of elevation, you'll need sunscreen to protect your skin.

GoPro. Take beautiful action photos and videos from your car, while hiking or sightseeing with a GoPro camera. It's perfect for smooth videos, but also allows you to save your phone battery.
Satellite communicator. Driving through the mountains and more remote parts of Colorado, you'll run into a lot of the state that's not within cell phone range. This satellite communicator allows for 2-way communication in the case of an emergency. Use it on a hiking trail, in a national park or road where there's no cell phone service.

Hiking gear. If you're even thinking about stepping foot on a trail, come prepared! Proper hiking boots and moisture-wicking hiking socks, trekking poles and hiking backpack will go a long way in ensuring you're comfortable while hiking and are adequately prepared.

First aid kit. Keep it in your car or hiking backpack for just-in-case situations. You just never know!
Ultimate Colorado itinerary and road trip stops
Are you ready to see the best places to vacation in Colorado and an awesome route that takes you through the state? There's truly so many things to see and do in Colorado!
Let's dive in!
Start in Boulder, Colorado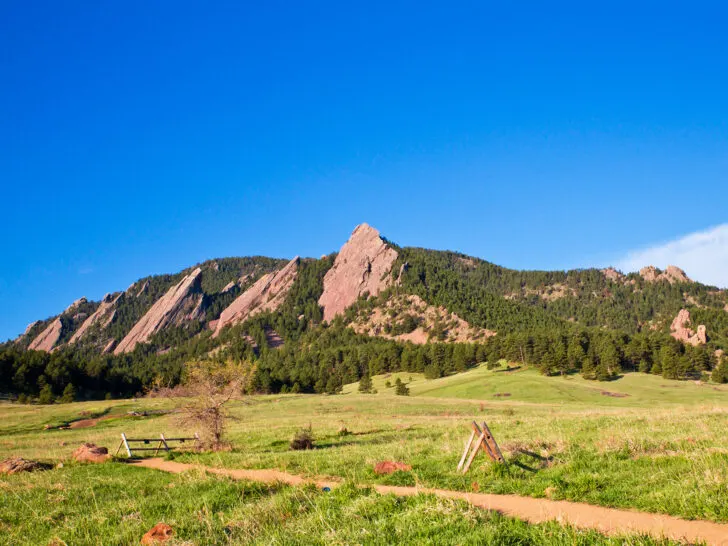 Recommended time: 1 day
From Denver, hop in a car and head straight to Boulder – just 45 minutes away. Boulder is known as a food scene, the place to be for cold brews, and a gateway to the mountains, Boulder is a good time.
It's got a cute and lively downtown that seems to be busy year-round, too!
Best things to do in Boulder
Visit Pearl Street Mall. Watch street performers, shop cute boutique stores, grab some ice cream or people watch on one of the best downtown spots in all of Colorado.

Do a tasting at a brewery or microbrewery. Boulder has more breweries per capita than any other city in the US, so you'll likely find a good one. 🙂 Here's some Boulder Breweries to check out.

Hike or climb the Flatirons. A sight to see in real life, these giant tilted rock slabs are beyond impressive. The Mesa Trail is 13 miles and will take you past the best flatirons.
Visit Eldorado Canyon State Park. View really cool landscapes and a great spot for a picnic, hike, climb, kayaking or paddle boarding. Note: check the official website for timed entry reservation days.

Food! With over 300 restaurants, there's plenty to choose from! We decided on tacos on a rooftop bar after a day exploring the area…perfection!
Speaking of food, the best road trips have great snacks!
Check out the 101 Road Trip Food Ideas: Best Fun and Healthy Snacks You'll Love
Estes Park (road trip Colorado: gateway to Rocky Mountain National Park)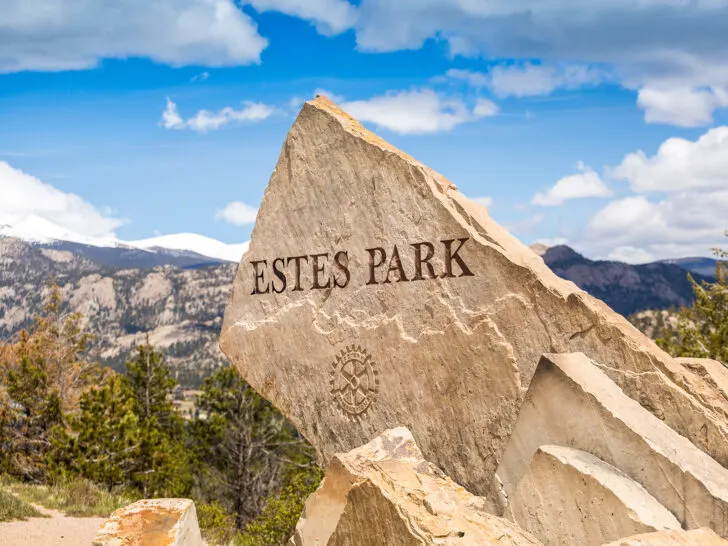 Recommended time: 1 day
Estes Park, Colorado is a fun mountain town best known for year-round outdoor activities. From snowshoeing to skiing, hiking and zip lining, Estes Park has something for everyone.
Since Estes Park is neighbors to Rocky Mountain National Park, the scenery is pretty incredible.
If you'e up for a thrill, head over to the the Stanley Hotel. It's one of America's most haunted hotels and was the inspiration for Stephen King's The Shining. (I honestly wasn't brave enough for this adventure during my time in Estes Park!)
Rocky Mountain National Park and Trail Ridge Road (a Colorado itinerary favorite)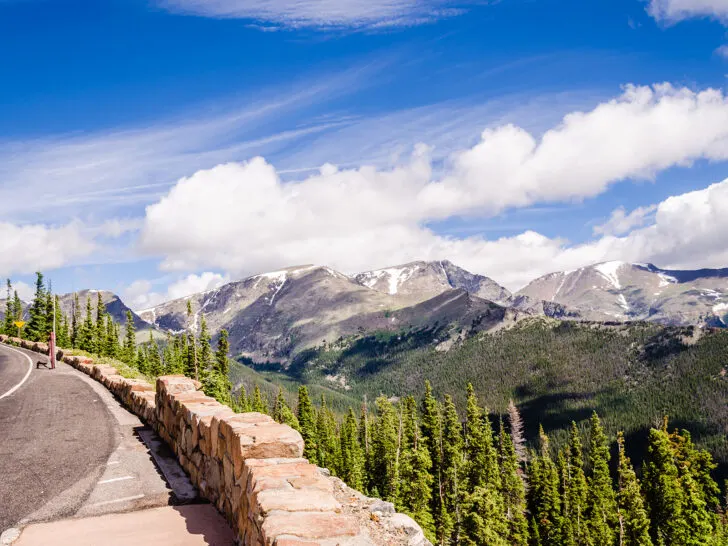 Recommended time: 1-3 days
It's the kind of place that takes your breath away. Rocky Mountain National Park is beautiful beyond measure, and a place that you could spend a week exploring without getting bored.
But since this is a Colorado road trip itinerary, let's keep it to 1-3 days, okay?
From Estes Park to the next destination in Grand Lake, you'll take Highway 34 right through the Park, also called Trail Ridge Road. And it's got to be one of the most beautiful drives in the state!
So popular, that the National Park Service is now requiring timed entry reservations for a majority of the time the road is open (it's closed during winter). This will take a bit more planning in advance, so be sure to factor this in with your Colorado trip planning.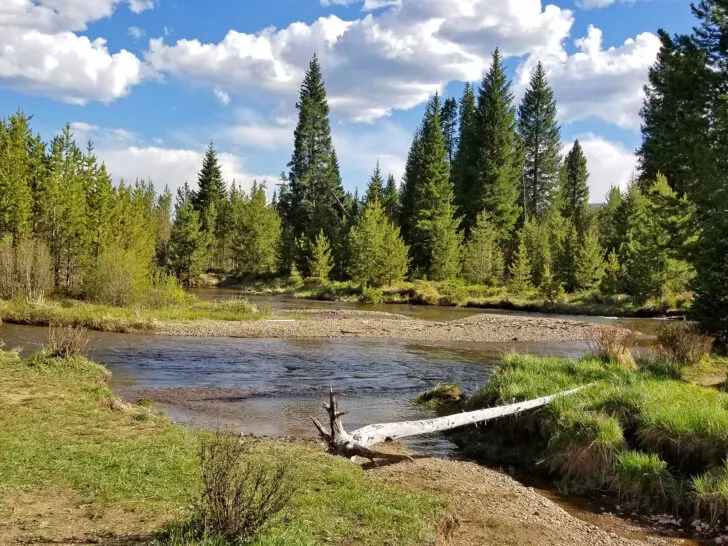 Top things to do in Rocky Mountain National Park
Hiking! There's over 350 miles of hiking trails in the park – just pack your bear spray!

Visit – or swim in – a gorgeous lake. Bear Lake, Adams Falls, or Sprague Lake are really beautiful.

Witness the alpine tundra at the Alpine Visitor Center. We visited the park in late June and found many, many feet of snow still packed on the mountainside at the visitor center. While you're there, make sure to hike the Alpine Ridge Trail to see the summit at 12,000 feet!
Pro tip: pack layers for Rocky Mountain National Park (my favorite travel pieces, merino wool, is perfect for this). Even if you're just driving through for the day, at over 11,000 feet in elevation, getting out of your car is cold even in the hottest parts of summer.
Visit the quaint town of Grand Lake, during your Colorado road trip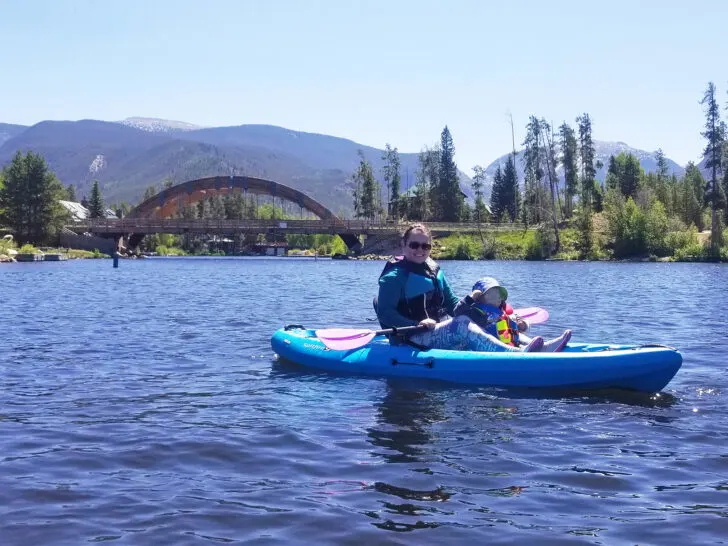 Recommended time: 1-2 days
This picturesque town in Colorado is often overlooked by tourists – which is part of the appeal in my opinion! Grand Lake offers gorgeous lake and mountain views (it's neighbors to Rocky Mountain National Park, after all) and is a quiet little village.
Walk the main street for little shops and restaurants. Or buy a souvenir to remember this amazing Colorado road trip adventure you're on! Oh, and the ice cream shop in town is to die for so make sure you grab a cone while you're there.
My favorite thing to do on Grand Lake is spend time on the water! Kayak the lakes and canals – it might just be the highlight of your trip!
Pro tip: rent kayaks, paddle boards, pedal boats or even motor boats in advance as they sell out quickly in such a small town. Grand Lake water rentals here.
Colorado road trip continued – Central Colorado
Ok, so this adventure has explored some fun parts of northern Colorado – if you choose to add them to your Colorado itinerary! More scenic spots ahead!
Hit the slopes in Keystone, CO
Recommended time: 1-2 days
Get your skis or board ready to experience some of the best skiing in the country! If you love being on the snow, the Rocky Mountains in Colorado is the place to do it.
For the purposes of this article I chose Keystone, but there's a ton of spots to ski right off I-70. Breckenridge, Aspen and Vail are popular ski resorts, too. Just make sure to rent equipment and make reservations well in advance during peak ski season.
My first (and only) snowboarding experience was in the Rocky Mountains, and I'd highly recommend it!
Beautiful Colorado road trip spot: Dillon Reservoir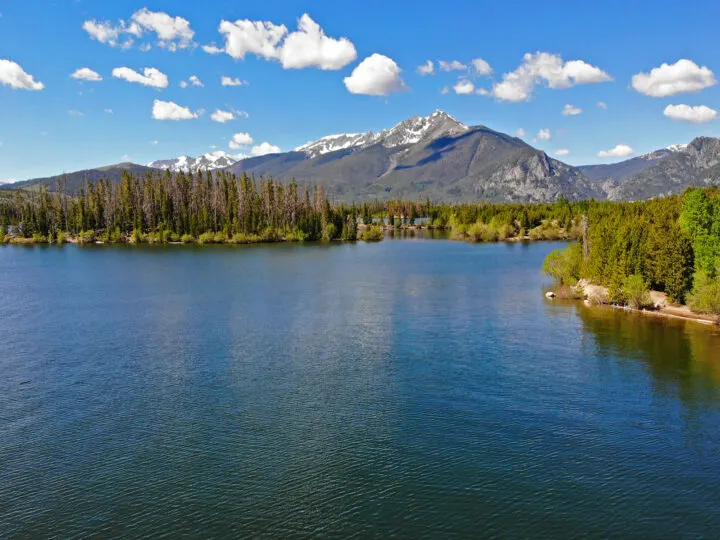 Recommended time: 1/2 to 1 day
If you like water activities, Dillon Reservoir is the place to be. A huge lake with the perfect mountain backdrop, Dillon Lake is gorgeous.
Kayaking or boating, hiking or bike riding, it's an outdoor enthusiast's dream. I highly recommend renting bikes and riding the trails around the lake for a unique Colorado experience!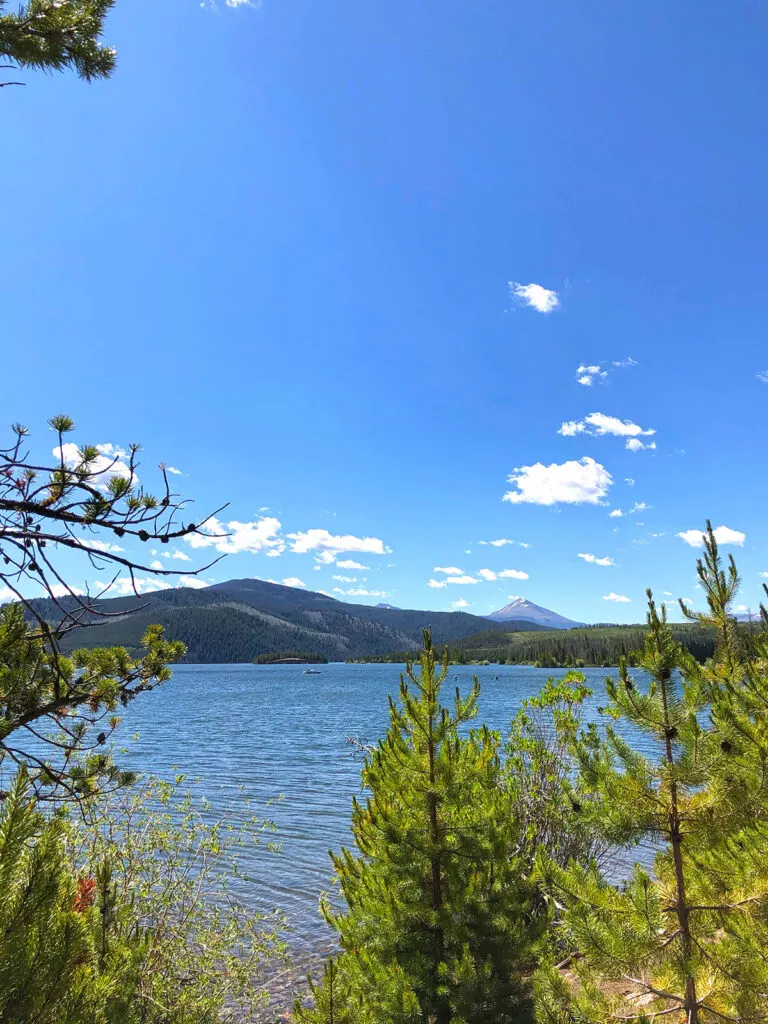 One of the coolest things to do in Dillon is hike the Sapphire Point Overlook Trail. It's more of a walk than a hike, and offers beautiful views of the lake. Best time to go is the middle of a sunny day with the sun overhead for truly sapphire colored water.
Be sure to head out to one of the local breweries in town for some brews, pizza or burgers to wind down the day. Such an amazing stop during this road trip Colorado!
Year-round adventure in Frisco, Colorado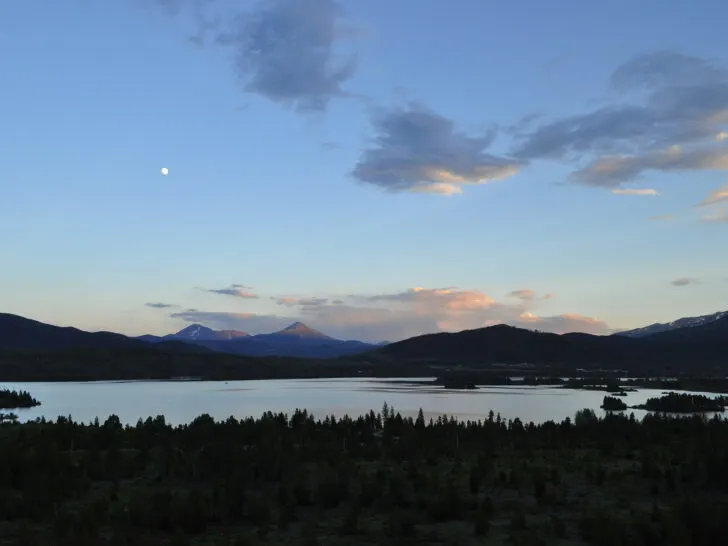 Recommended time: 1 day
Head to Frisco for all things adventure in Colorado! Of course there's skiing, but there's also tubing, snow shoeing, snowmobiling, a dirt bike track, disc golfing, kayaking and hiking.
So basically, if you like being outdoors you'll love Frisco! With plenty of options for accommodations and dining, this is a perfect one-day stop on an epic Colorado road trip.
Frisco is especially known as a winter destination for tubing and cross-country skiing in the winter. It's the perfect stop for Colorado trip planning in the wintertime.
Experience Vail, Colorado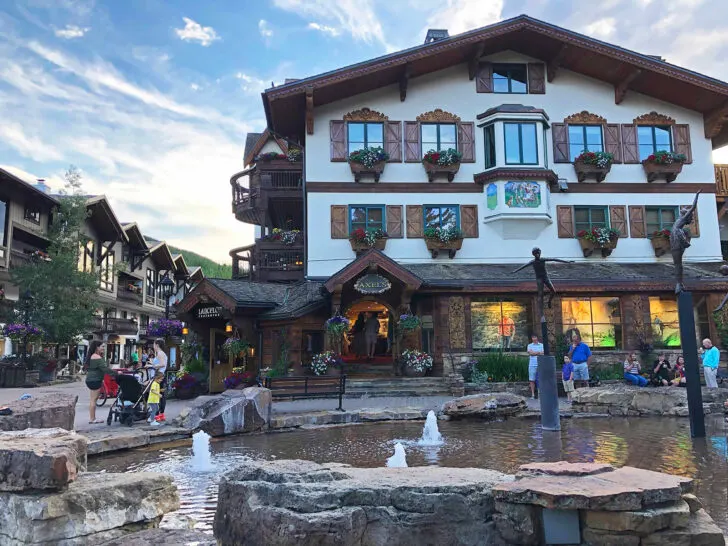 Recommended time: 1-2 days
Vail, Colorado is the largest ski mountain in Colorado and it's one of the bigger tourist spots on this list. Aside from mountain adventures, this town hosts lots of annual events and festivals, so there's always something to do in Vail.
Vail is an excellent spot to enjoy a more luxurious side of Colorado. Find your zen at a yoga class or spa. Stay at one of the nicest resorts in all of Colorado, overlooking the gorgeous Rockies.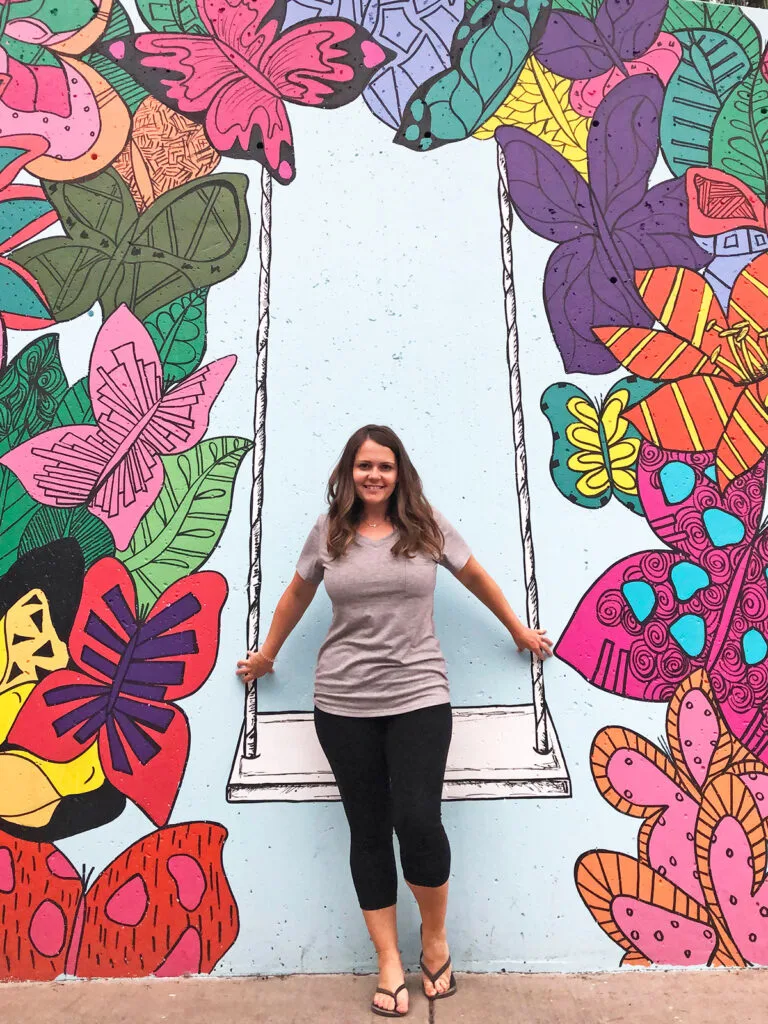 Head on over to Vail Village to experience for dining and shopping. Grab an ice cream cone at Sundae and walk the village.
Oh, and hit the slopes in over 5200 acres of terrain. If you're into snowboarding or skiing, Vail is a great spot for it!
Sylvan Lake State Park (another favorite place to vacation in Colorado)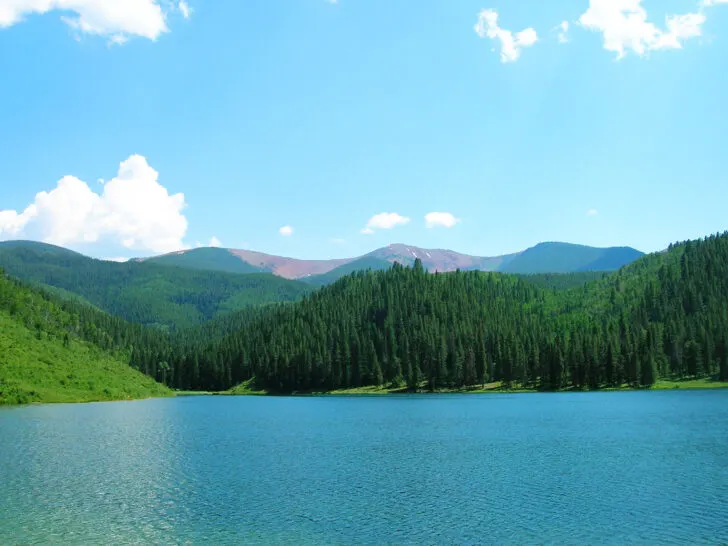 Recommended time: 1 day
Okay, okay. This might be one of the most beautiful places in Colorado! I got the pleasure of spending a week exploring Sylvan Lake State Park a few years ago and honestly, I loved every minute of it.
If you're looking for a more rustic vacation, try one of the cabins, yurts or campsites. Then rent kayaks or paddle boards on the lake and soak in the views!
Try the Sylvan Lake Trail or Sneve Gulch Trail for the best views of Sylvan Lake! Hiking through trails of Aspen trees is super fun, too. Just remember to pack your bear spray, hiking shoes and plenty of water.
Pro tip: if you're planning to do any hiking in Colorado, be prepared with the right gear. These hiking shoes are my favorite and super grippy with ankle support. And trekking poles will definitely help you with those steep inclines, plus they're compact too.
Perfect Colorado itinerary – heading west
As you transition from the jagged Rocky Mountains to the fun western part of the state, the landscape begins to change. With generally warmer weather, these destinations and activities will have you Colorado trip planning allll the places you can fit into your timeline!
Cross Hanging Lake off your bucket list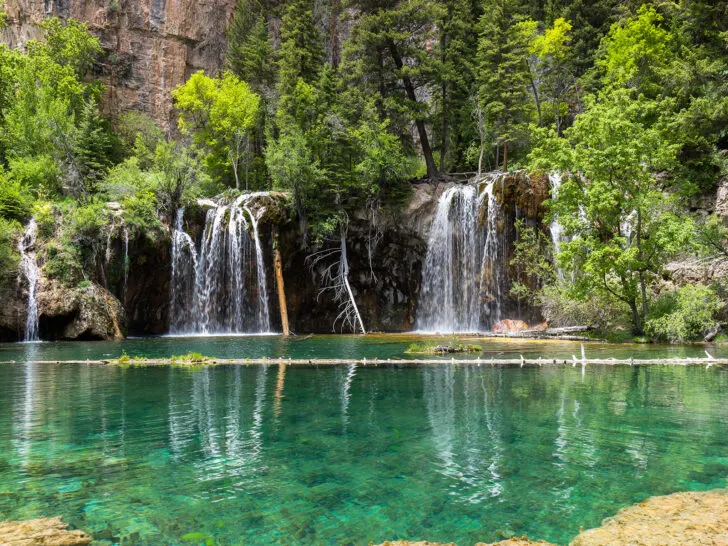 Recommended time: 1/2 day
I've already covered some beautiful places, and yet there's more! Hanging Lake is one of the most uniquely gorgeous lakes in all of Colorado, and is extremely popular. Because of the beautiful lake's allure, it's accessible by permit only.
Schedule your hike weeks in advance during the summer months as it fills up fast. This trail is 2.4 miles round trip and it's got a steep incline. You're rewarded with a gorgeous view of this geologic gem! It's so beautiful and such a unique experience, you'll have fun crossing it off your Colorado bucket list.
Make reservations for Hanging Lake here.
Go hiking in Glenwood Canyon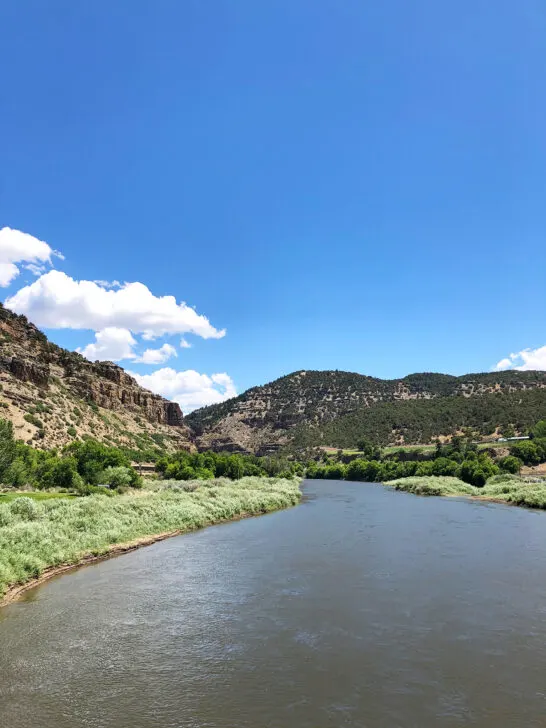 Recommended time: 1/2 day to 1 day
The Glenwood Canyon area is one of my favorite spots in all of Colorado. Interstate 70 west of Denver runs along the Colorado River and both cut right through the canyon. And while the drive through the canyon is beautiful, seeing it while hiking is even better.
Best Glenwood Canyon hiking trails
Glenwood Canyon Overlook Trail, 3.2 miles
Glenwood Springs Boy Scout Trail, 6.2 miles
Glenwood Canyon Trail, 14.3 miles
Grizzly Creek Trail, 7.9 miles
Wulfsohn Trail, 2.9 miles
Jess Weaver Trail, 9 miles
Doc Holiday Grave Trail, .7 miles
Babbish Gulch, 3.2 miles
Lookout Mountain Trail, 11 miles
Colorado itinerary continues: get hot in Glenwood Springs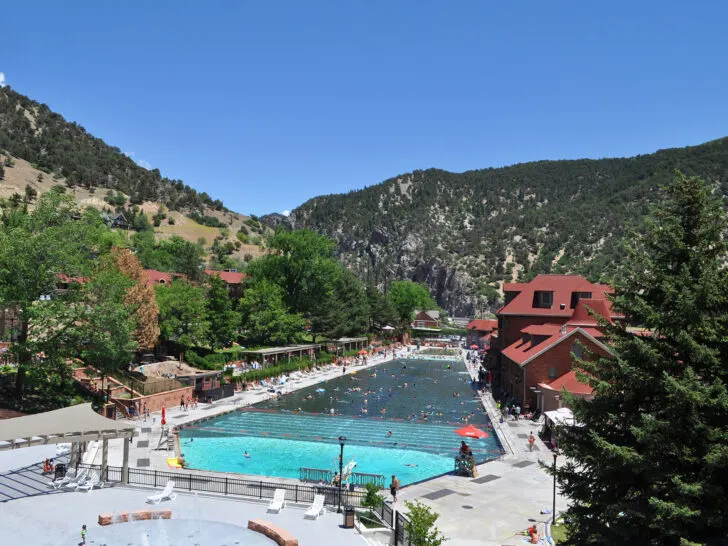 Recommended time: 1/2 day to 1 day
The biggest thing that brings tourists to Glenwood Springs is the natural hot springs. Visit the Glenwood Hot Springs Pool, which is the largest mineral hot springs in the world!
I've visited the hot springs in both winter and summer, and both seasons are fun. Make sure to get there early during summer and weekends, as the pool fills up quickly. Find out more about the Hot Springs Pool here.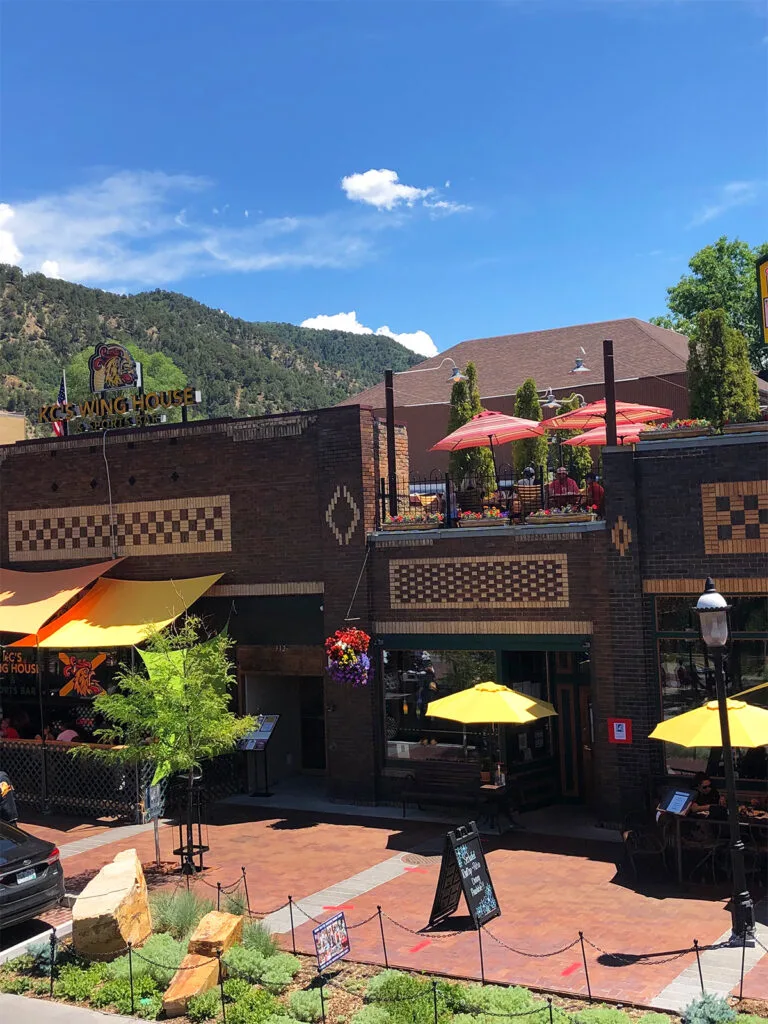 While you're in Glenwood Springs, make sure you check out the downtown historic district. It's a great spot for street performers and to grab a bite to eat.
Speaking of which, I had the best tacos of my entire life at Slope and Hatch. They've received accolades from Travel & Leisure and Insider as one of the top taco places in the US. More on that here.
Colorado road trip with kids? Visit Fruita!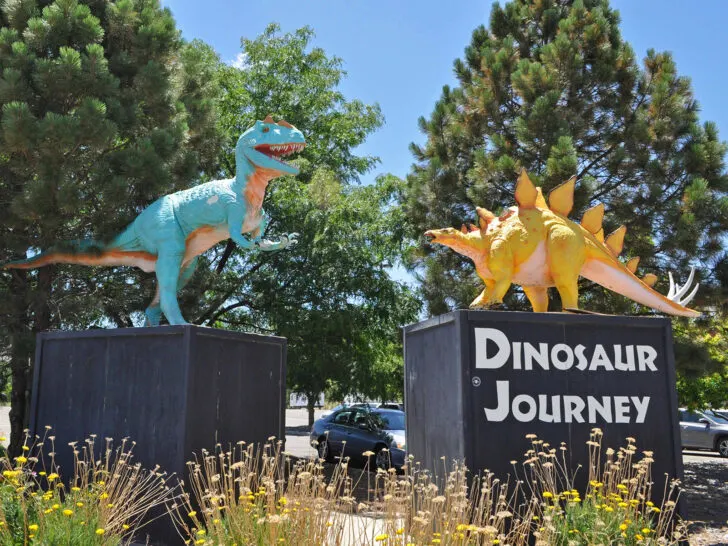 Recommended time: up to 1/2 day
The town of Fruita is relatively small, but for kids it's an adventure land! One of the main attractions is Dinosaur Journey Museum.
It's an interactive museum showcasing over 15,000 fossils, a dig site where kids can search for bones, visit a real paleontology lab, see robotic dinosaurs and more. My favorite is the Triceratops skull, which is possibly the largest ever found on earth.
Check out the Dinosaur Journey Museum's Facebook page for the latest discoveries and event information.
Visit an icon: Colorado National Monument (must-do on this Colorado road trip itinerary)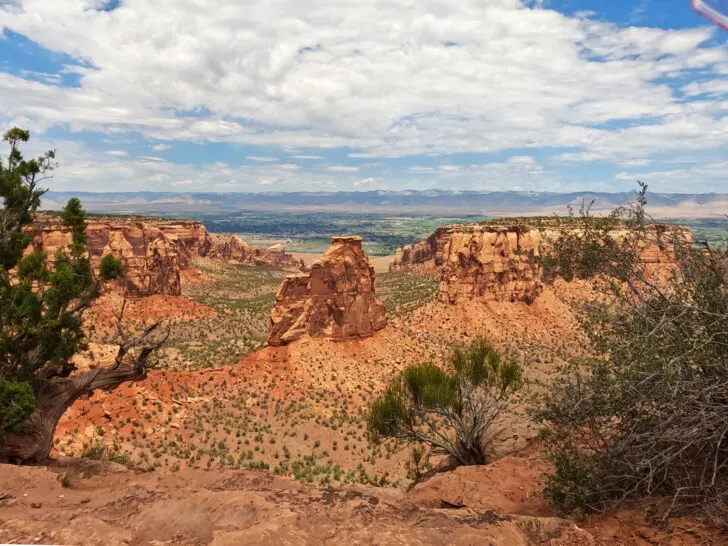 Recommended time: 1/2 day to 1 day
By the time you drive to Colorado National Monument, Colorado, you're no longer in the mountains – you're in the desert! In fact, it's one of the best stops on a Denver to Moab road trip as well!
Located near Grand Junction, on the western edge of the state, Colorado National Monument is the 2nd nationally protected on this list.
You could probably spend days exploring Colorado National Monument, but to see the highlights, make sure to take the scenic road – Rim Rock Drive. With 19 viewpoints in just 23 miles, it offers some of the best views in Colorado!
Other things to do Colorado National Monument
Catch views of Monument Canyon
Hike Devil's Kitchen, 1.5 miles
Window Rock
Balanced Rock
Independence Monument View
Cold Shivers Point
Hike the Canyon Rim Trail, 1.8 miles
Road trip Colorado – southern part of the state
While there's simply too many good spots in Colorado to cover them all, here are the highlights of the southern part of the state. And the perfect way to loop back around to the starting point, with plenty of adventures along the way.
Let's keep going!
Next Colorado road trip stop: Black Canyon of the Gunnison National Park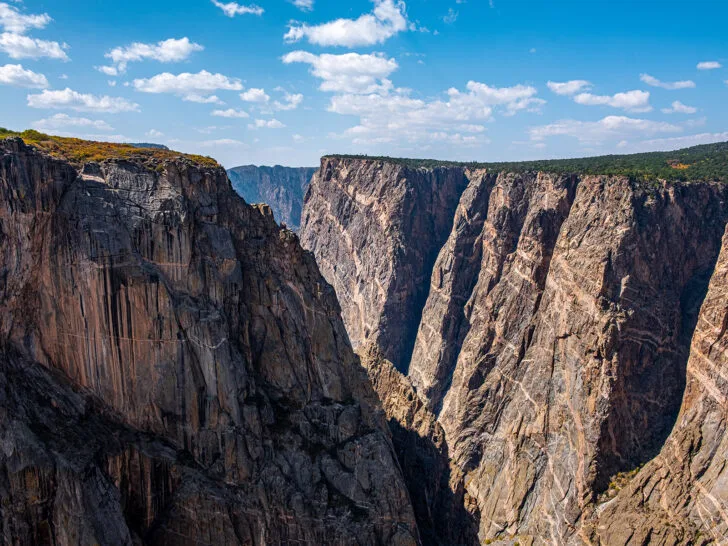 Recommended time: 1-2 days
Black Canyon of the Gunnison National Park is a huge park split up into 3 sections – South Rim, North Rim and East Portal. For the purposes of this Colorado itinerary, we're going to focus on the South Rim section.
This national park is jaw-dropping beautiful, and to be honest, not for those afraid of heights! Many hiking trails and even the road is right beside steep drop offs, so use caution in this park.
One of my favorite parts of this park is the fact that it's one of the least visited parks in Colorado. So it's not packed with people, even during peak season! Making this park one of the best places to vacation in Colorado.
Top sights and things to do at Black Canyon of the Gunnison National Park
Take the 7-mile South Rim Drive
Painted Wall Overlook
Hike Rim Rock Nature Trail, 1 mile
Devil's Lookout
Pulpit Rock Overlook
Hike Oak Flat Loop Trail, 1.3 miles
Stay until dark and stargaze – it's an international dark sky park!
Pro tip: if you're planning to visit all the national parks on this list, be sure to get an annual pass – America the Beautiful pass – through the National Park Service. It allows you access to all National Parks and Federal Recreational Lands for 12 months, which is a bargain if you plan to visit 3 or more.
I've used mine all across Colorado, but also while hiking Avalanche Lake Trail in Glacier National Park, while visiting Sequoia and Kings Canyon National Park and underrated national monuments like Petroglyph and Bandelier in New Mexico.
Drive the Million Dollar Highway: Ouray to Silverton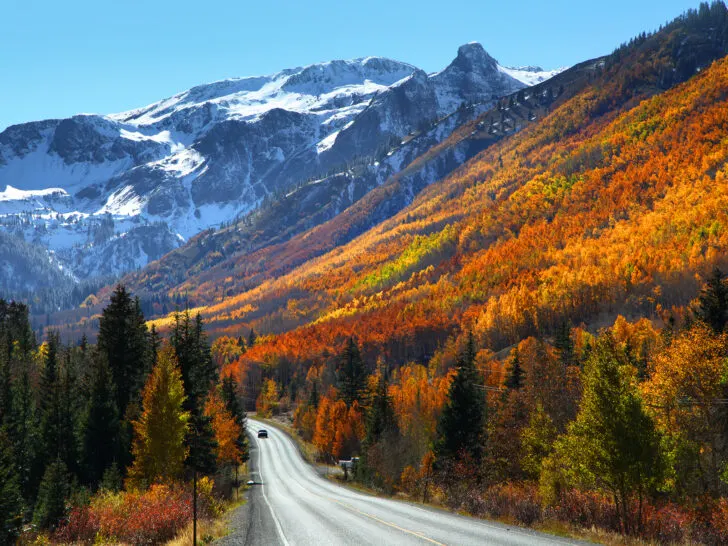 Recommended time: 1 hour
If you're looking for a scenic drive in Colorado, this is it! Highway 550 from Ouray to Silverton is part of the San Juan Skyway Scenic Byway and if you're on the best Colorado road trip ever, this needs to be part of the journey!
You'll experience hairpin turns, jagged cliffs, fun lookouts that will leave you breathless. And all in less than 25 miles of road!
Bonus if you take this road in the fall with the gorgeous changing leaves. It's truly one of the best scenic drives in all of the U.S.!
Great Sand Dunes National Park and Preserve (underrated stop on this Colorado itinerary)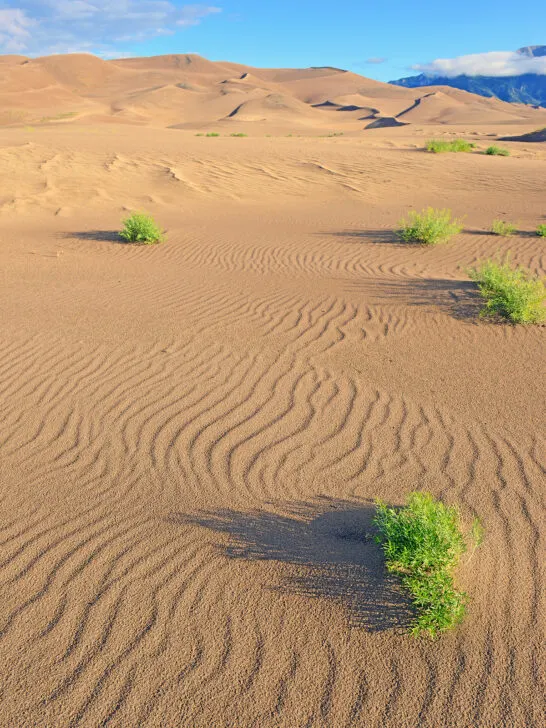 Recommended time: 1/2 to 1 day
Home to the tallest sand dunes in North America, this place is beyond impressive! And let me tell ya, if you have some adventure in you, this is a great stop for your Colorado road trip itinerary!
One of the best things to do at Great Sand Dunes National Park and Preserve is sand sledding and sand boarding! Specifically designed to help you fly down sand hills, make sure you rent the right gear! Here's more info for renting sand sleds and such.
More adventurous things to do in Great Sand Dunes National Park
Go off-roading up the scenic Medano Pass Primitive Road (4-wheel drive necessary!)
Camp with the best view of the stars!
Hike to Zapata Falls, 0.9 miles
This is such an underrated stop on this Colorado road trip, but a fun adventure for all ages!
White water rafting down the Arkansas River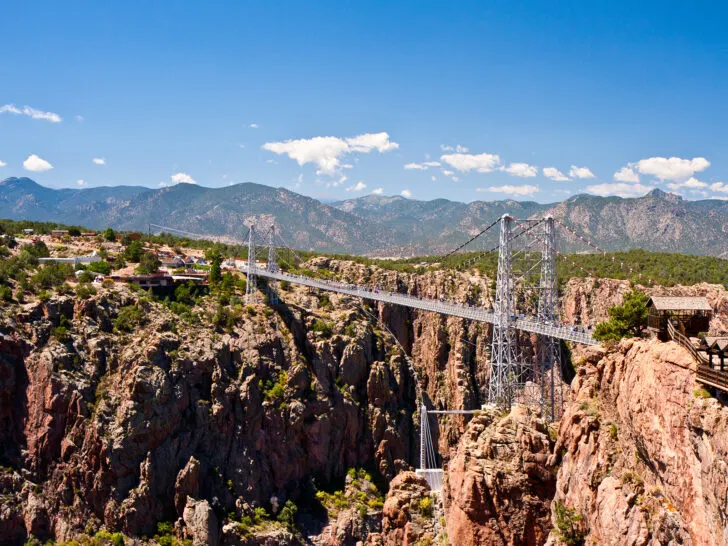 Recommended time: 1/2 to 1 day
One of my first trips I took with girlfriends was a white-water rafting adventure trip in Colorado. The Arkansas River is powerful and impressive!
There are many great options for white-water rafting in Colorado. Perhaps one of the coolest spots is taking a trip down the Arkansas River under the Royal Gorge Bridge near Canon City, Colorado.
Royal Gorge Bridge is the highest suspension bridge in the U.S. Seeing it from underneath is a whole new perspective, too! More on the bridge, here.
Back to rafting…you can take a half or whole day rafting trip. Whole day trips include lunch and typically let you experience more views of the canyon, wildlife and of course the river.
Pro tip: most rafting companies only operate May 1st – September 30th, so make sure your trip is in this window if you're wanting to raft down a river.
More on this Colorado road trip itinerary
The last stretch of this Colorado road trip is just as fun as the rest of it! With mountain views, city activities and a few more surprises, this beautiful is continuing to steal our hearts during this epic Colorado vacation!
Hang out with giraffes at the Cheyenne Mountain Zoo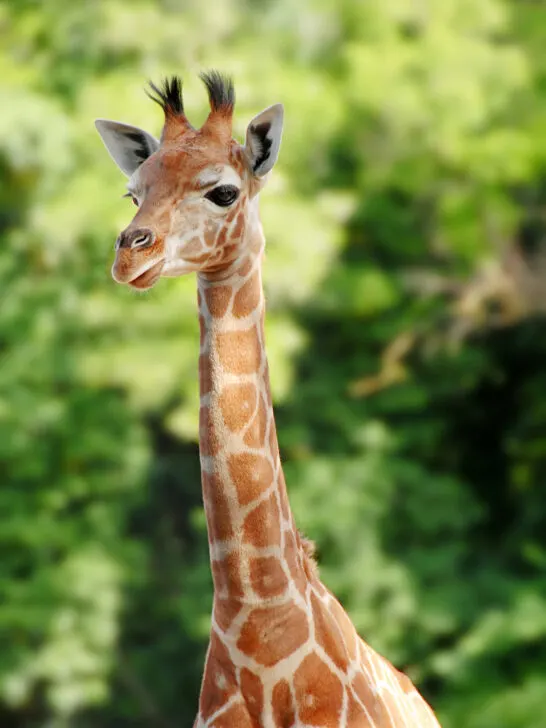 Recommended time: 1/2 to 1 day
Ranked one of the top 10 zoos in the country, the Cheyenne Mountain Zoo does not disappoint! I've visited the zoo multiple times and the animal interactions are unique and fun. Feeding the giraffes is a must-do in this zoo!
The zoo is open year-round and has indoor and outdoor exhibits, perfect for even a winter Colorado road trip! Just a note though – there's lots of hills so be prepared for a good walk when visiting the Cheyenne Mountain Zoo.
You can enjoy as little as an hour visiting this zoo, or spend 1/2 day or more. It's a fun spot for all ages on this road trip Colorado.
Visit Garden of the Gods (classic stop on this Colorado road trip itinerary)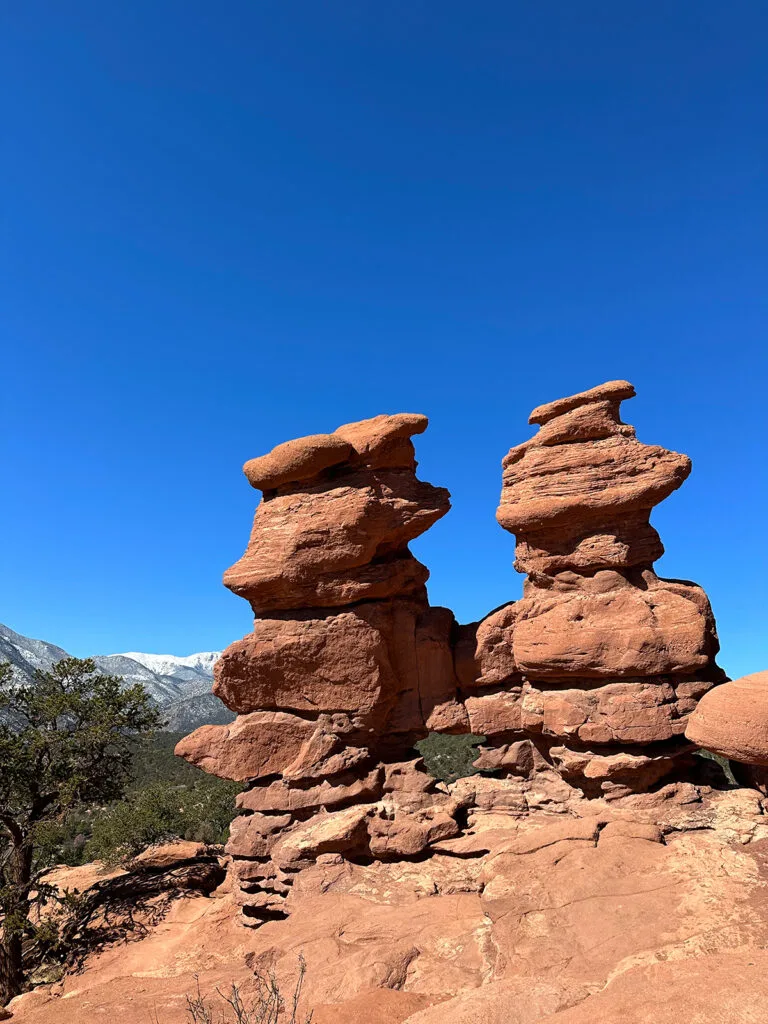 Recommended time: 1/2 to 1 day
No Colorado road trip is complete without a visit to Garden of the Gods near Colorado Springs! You could spend a day (or more) hiking the trails and checking out the scenery, but for this Colorado itinerary let's keep it to a day.
For a simple hike with tons of scenery, I'd recommend the Perkins Central Garden Trail. It' relatively flat and is about 1.5 miles. The best way to see the park is though the walking trails so plan to spend some time here checking out the scenery.
If you have a bit more time, you can hike the Siamese Twins Garden of the Gods. This scenic trail has fun views of funky rock formations, and overlooks the park and Pikes Peak.
Bonus: Garden of the Gods is free!
Colorado Springs is one of the best places to visit in August, so if you happen to be planning your adventure in late summer, you're going to love it!
Epic views at Pikes Peak (a Colorado itinerary must-see)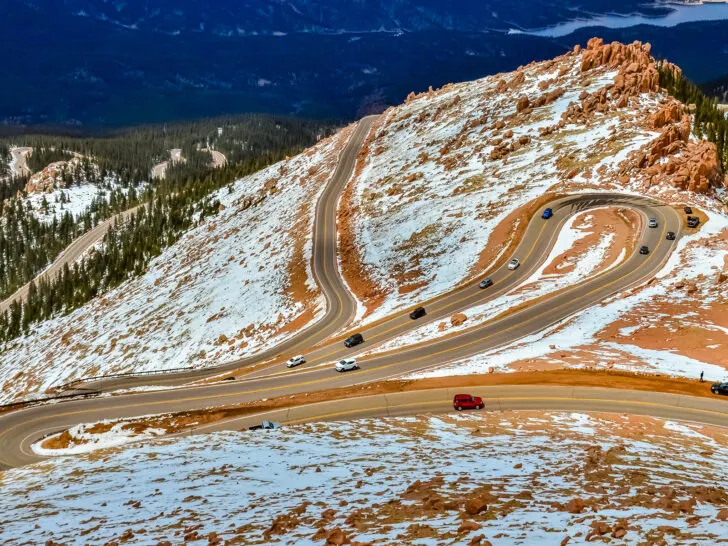 Recommended time: 1 day
Nicknamed America's Mountain, Pikes Peak is a must-do on a trip to Colorado. With an elevation of over 14,000 feet, if you choose to drive you'll have quite the climb!
Many people take a car up to the view point and visitor center. If you're maybe not quite comfortable ascending 8,000 feet up from Colorado Springs, you can opt to take a guided tour.
Oh, and expect the viewpoints to be crowded. Nearly 6 million people visit Pikes Peak each year. Starting your route early in the morning may help to beat the crowds!
Pro tip: pack your layers here. I visited in the middle of summer and wasn't as prepared as I could have been. Learn from my mistake, okay?
Colorado road trip – Denver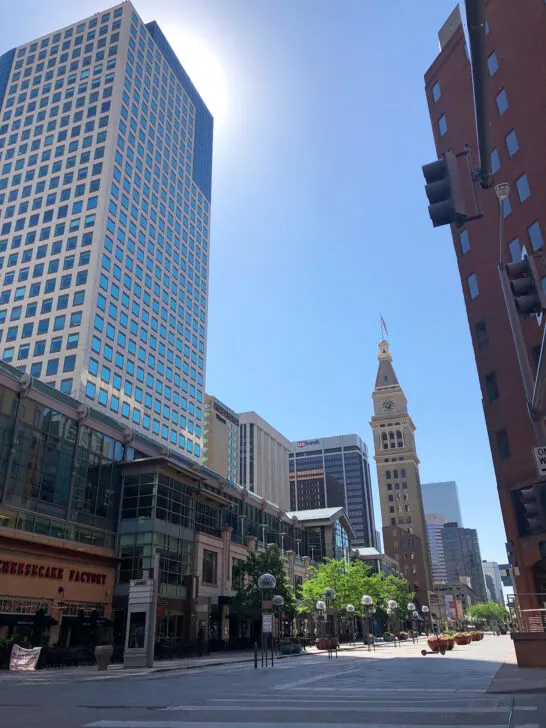 Recommended time: 1-2 days
Alright so no Colorado road trip itinerary is complete without some time in Denver. There's about a million things to do in Denver, so it can be hard to choose what to do!
Each time I've vacationed in Denver, I made a visit to the 16th Street Mall in downtown. It's the perfect spot for dining, bar-hopping, shopping and people watching. An outdoor pedestrian mall, 16th street is a mile long that offers a free shuttle, stopping at every block. So hop on and off as you please.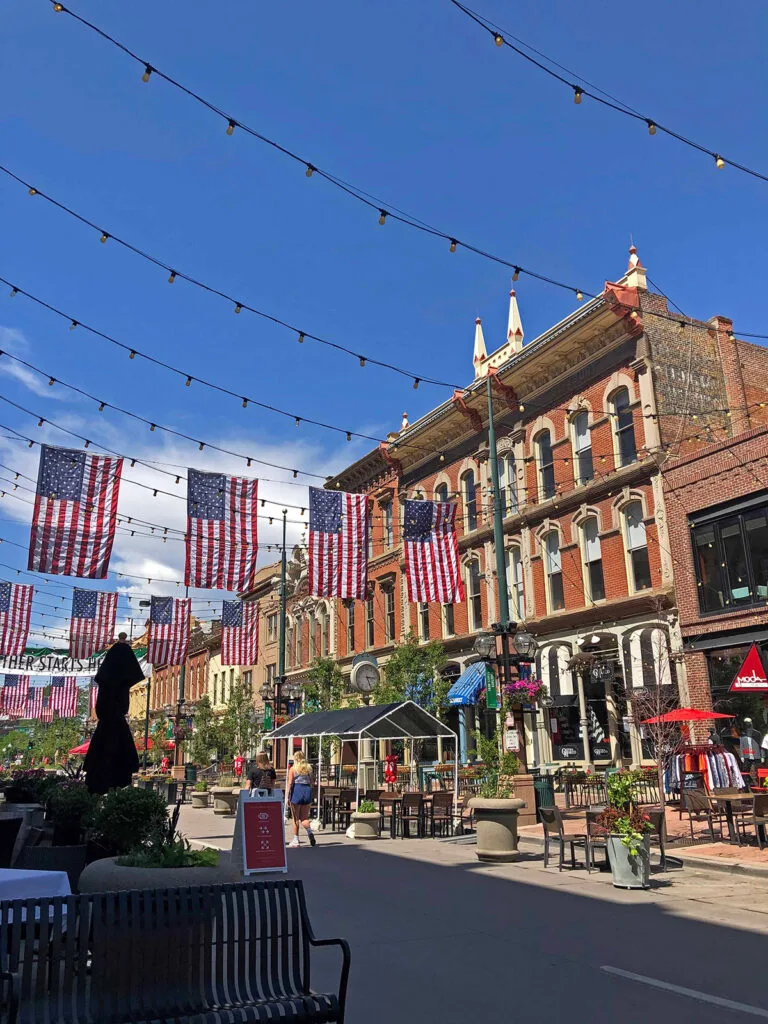 More things to do in Denver
Denver Botanical Gardens
Union Station
Red Rocks Park and Amphitheater
U.S. Mint
Enjoy a brewery or microbrewery
Art District on Santa Fe
As you finish your time in Denver, you can loop back up to Boulder, drive home or back to the airport to fly out. What an amazing adventure, right?!
Colorado itinerary: where will you go on your road trip?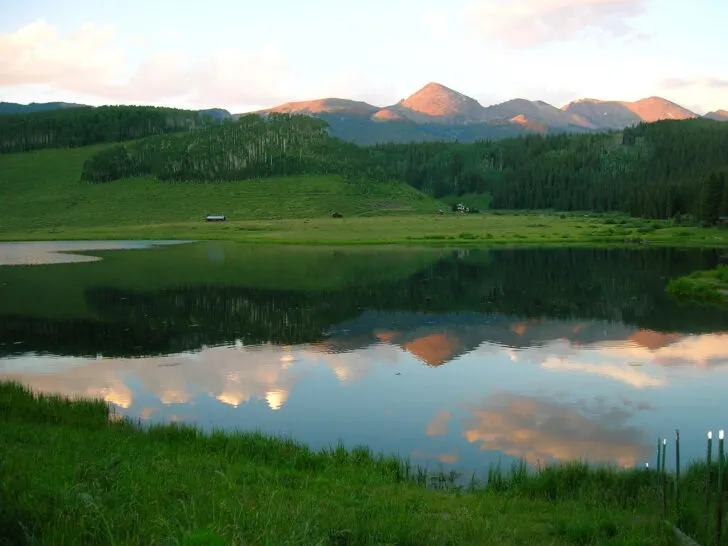 Okay so now that you've seen all 22 Colorado road trip stops, which do you like best? I mean, with all the stuff to do in Colorado, you really can't go wrong! I hope you have an amazing road trip with plenty of scenic drives too. 🙂
Comment below on which spots you think you'll hit – I'm dying to know!
Don't forget, if you're planning to rent a car for this epic Colorado road trip, check out the cheap rates on Discover Cars. I typically save 10-30%, which can really add up! They search top car carriers to find the best deal, at no extra cost to you. Check rental car rates here
Related:
Summer in Breckenridge: 30 Amazing Things to Do (Plus What to Know Before You Go)
26 Fun and Unique Things to Do in Dillon, CO
Breckenridge Troll in Colorado: Everything You Need to Know
Denver to Moab: 16 Scenic Stops You Gotta See to Believe
101 Road Trip Snack Ideas You'll Love
15 Essentials to Pack on a Road Trip with Kids
Find this article helpful? Save it for later or share it on social media!