It's one of the most fun and adventurous drives in America! The majestic Rocky Mountains to the gorgeous red desert of Utah, you'll see a variety of landscapes with plenty of adventure. Driving a Denver to Moab road trip should be on every travel bucket list!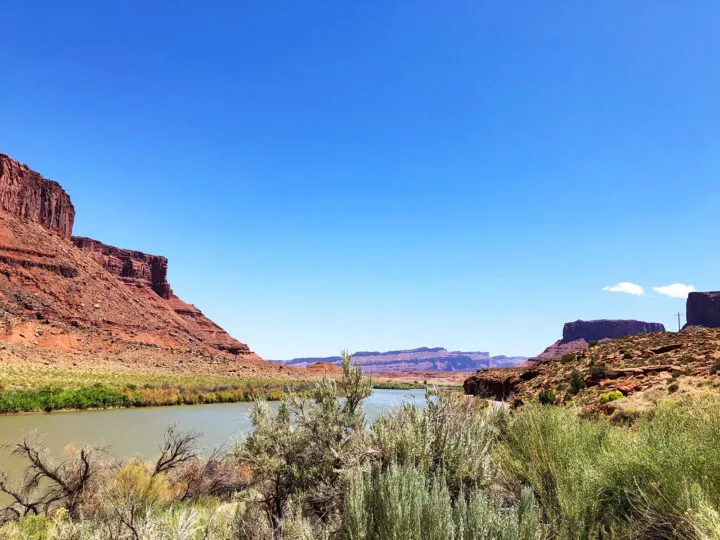 This post may contain affiliate links. For more info, see my disclosures.
The drive along I-70 through Colorado is one of the most scenic in the country. With every curve, twist and turn of the road you'll be reminded how majestic these mountains are! In fact, it reminds me of driving the Going-to-the-Sun Road in Glacier National Park in Montana.
The drive gets more flat as you hit western Colorado. Then as you turn onto Utah's scenic highway 128, you'll be amazed again how diverse the topography of this country truly is!
Denver to Moab drive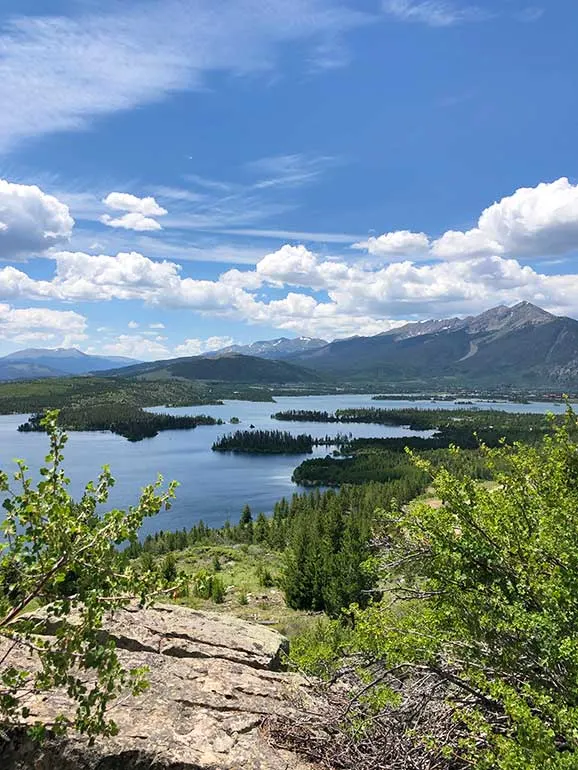 This guide is packed full of info. Here's what to expect:
Distance and route suggestion
Best time of year to go
What to do and places to stay in Denver
Tons of suggested stops along the way
Scenic optional add-ons that are a bit further off the route, but completely worth it
Things to do and places to stay in Moab
Denver to Moab 7-day itinerary
What to pack for this trip
Tips to make the most of your road trip adventure
Plan your Denver to Moab road trip
This drive can be done in a day or you could take a week (or more!) filling your days with all the things there are to do in Colorado and the Moab area.
Throughout this guide you'll find the best stops along Interstate 70, accommodation options, what to pack for your epic drive from Denver to Moab (or Denver to Arches National Park). Be sure to check out the recommended itinerary options below to create your perfect trip!
By the way, if you love a good road trip, you absolutely must check out this epic, 22-stop trip: perfect Colorado itinerary or these 12 Incredibly Scenic Drives in Colorado to see all the best sights across the state!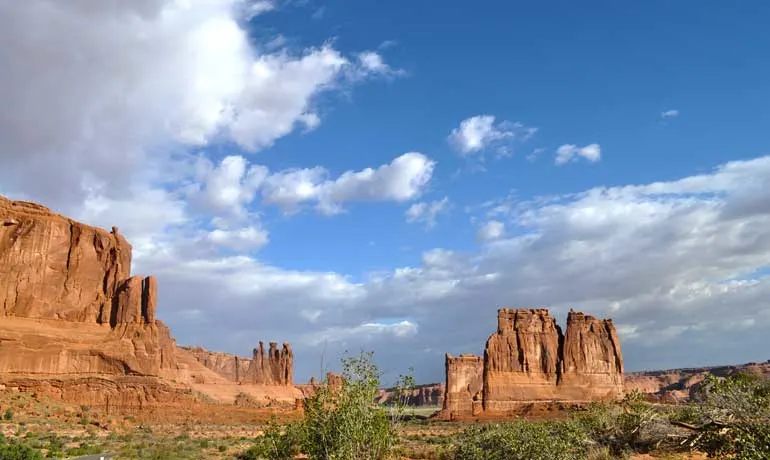 Distance from Denver to Moab
Taking a mix of the most straightforward route (I-70) to Utah's scenic highway 128, the distance from Denver to Moab is 348 miles. There are other routes through southern Colorado you could take, but Interstate 70 is a breathtaking drive with a ton to do along the way, so no need to deviate from it!
How long does a Denver to Moab road trip take?
Driving straight through, it's about 5.5 hours. Of course you'll have required stops along the way for gas or a charge, and places you'll want to see after reading this guide!
Best route: Denver to Moab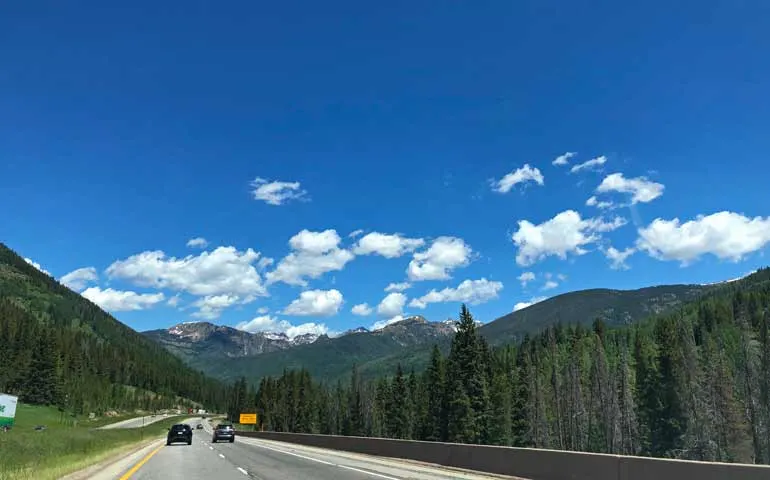 The drive is incredibly scenic, and there's many deviations you can take. As someone who's driven a few variations of this trip, and traveled extensively through Colorado and Moab, I'd highly recommend the route below.
It's a pretty simple route, here's the written instructions for the best route for a Denver to Moab road trip:
Interstate 70 out of Denver heading west (follow for almost 300 miles!)
Exit 214 to Utah 128
Drive the incredibly scenic 128 for about 55 miles
128 ends at Moab
Turn left to go to the city and right for Arches National Park
Here's what it looks like on a map, with a bunch of recommended and optional stops along the way:

How long does a road trip from Denver to Moab take?
Now, if you're wondering how many days you should take for your road trip, it's entirely up to you! You could spend several weeks exploring all the amazing places along the way. Each stop below will indicate the recommended amount of time for a stop. Customize your trip to your liking!
At minimum you should plan to spend 1 day in the Denver area, 1 day driving and 1 day in Moab, for a 3-day Denver to Moab road trip itinerary. But be sure to check out the itinerary at the end of this post for suggested activities and timeline!
Driving from Denver to Moab: best time of year
While summer is generally the best time for the weather, consider this Denver to Moab road trip during fall. The turning leaves of the Aspen trees are spectacular in Colorado in the fall!
See also: 26 Best Places to Visit in October in the USA (you bet Colorado is on the list!)
If you love that fresh white powdery stuff, then a wintertime road trip might be best for you! The Rocky Mountains are absolutely stunning in winter and you'll have plenty of outdoor skiing, snowmobiling and shoeshoing to keep you busy along the way.
Alternatively, and maybe because the drive is a bit treacherous (🙋‍♀️done it!), any other time of year may be better for a road trip of this type. Especially if you want to hike and sight see without the challenge of snow or ice on trails or attractions.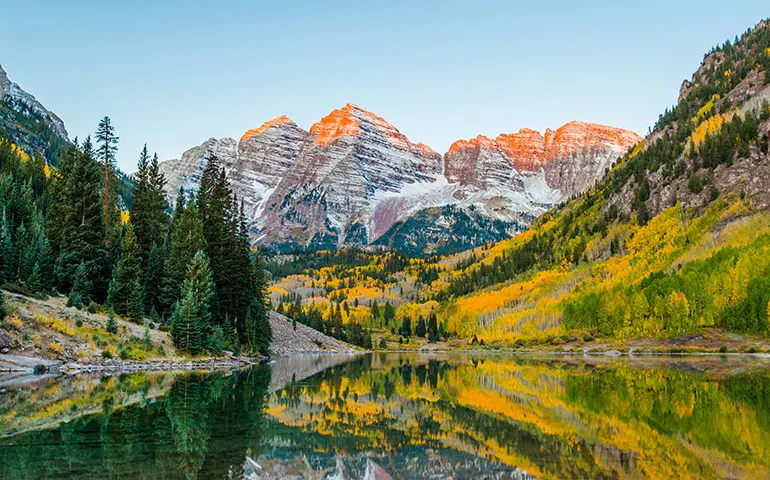 Denver to Moab
Let's dive into the road trip route! This guide is broken up into recommended stops and optional stops. Use the customizable itinerary and your timeline to determine which destinations you'll add onto your trip.
Here we go!
1. Denver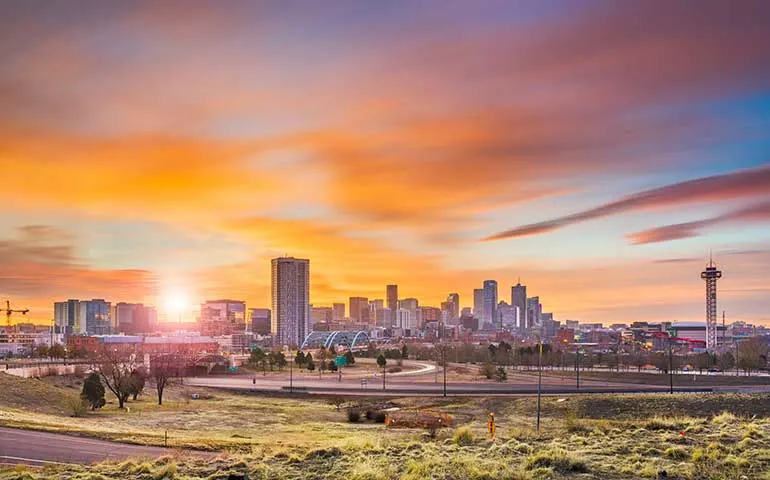 Recommended time: 1 day
You've gotta spend at least a bit of time in the city before heading off on this epic adventure! It's the city that welcomes over 300 days of sunshine a year, and one that's fun, vibrant and full of life.
As someone who's been to Denver more times than I can count, here are a few favorite activities…
Top things to do in Denver:
Union Station
Red Rocks Amphitheater
16th Street Mall
RiNo Arts District
Confluence Park
Denver Art Museum
The Mile High Step at the Denver Capitol Building
Coors Field

Pro tip: if you're flying or into Denver for this road trip, plan to spend at least a day here. That will help you adjust to the altitude to prevent altitude sickness.
The city sits at 5,280 feet above sea level and during the road trip you'll easily climb to 10,000 feet. More tips on altitude sickness later on in the post. 😊
As far as where to stay in Denver, I highly recommend staying downtown to see all the action. Get a hotel in the Central business District or Lower Downtown (LoDo).
Places to stay in Denver:
By the way, if you're flying into Denver and renting a car for this vacation, I highly recommend to check out the discounted rates on Discover Cars. I routinely save 10% – 30% on rentals. They search top car carriers to find the best deal, at no extra price to you! Here's that link again to search rental cars.
And if you're local to Denver or just love the area, try a Denver to Santa Fe adventure, one of the best RV vacations in the US!
2. Idaho Springs
Recommended time: 1-4 hours
A town with unique history, Idaho Springs was built during the Great Rocky Mountain Gold Rush in the 1850's. Today, it can be a quick stop on your way from Denver to Arches National Park and the Moab area.
From I-70, you'll see a landmark of this town – the Bridal Veil Falls and Charlie Tayler Water Wheel. Another notable feature of Idaho Springs is the hot mineral springs. Enjoy a spa service or take a dip in the hot springs swimming pool – open year round!
Explore the historic downtown area for cute shops and restaurants. I personally love little mountain towns that block off main street for outdoor dining – it has the perfect vibe for an epic vacation like this! If you're into history or are traveling with kids, learn the town's mining story and take a tour of the Argo Gold Mine and Mill.
And if you're leaving Denver in the morning and heading west, I highly recommend breakfast at Main Street Restaurant in downtown. Get the incredibly French Toast – you won't regret it!
3. OPTIONAL: Grand Lake and Rocky Mountain National Park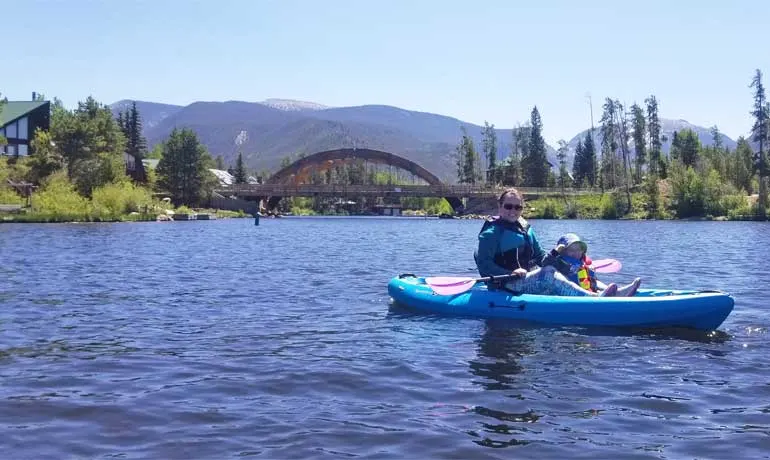 Recommended time: 4 hours – 1 day
A side trip to Grand Lake is definitely out of the way, considering it's about 60 miles (or 1 hour and 15 minutes) from I-70. But if you're taking your time getting to Moab, it's absolutely worth the stop!
My time in Grand Lake has been some of my favorite memories in Colorado, and I'm confident it can be for you, too.
Grand Lake is as picturesque as it gets: cute downtown with a stunning lake nestled within the Rocky Mountains. Honestly, it's one fo the best road trips from Denver, and is even better as a part of this journey to Utah.
The town just kisses the west side of the incredible Rocky Mountain National Park! And if you have the time, I'd highly recommend a 1-hour road trip from Grand Lake to the Alpine Visitor Center in the park. It's absolutely stunning!
Otherwise, rent kayaks, canoes or stand-up paddle boards and explore Grand Lake. The cutest little downtown will welcome you with full smiles, good eats and a fantastic ice cream at Polly's Sweet Shop.
Places to stay in Grand Lake:
4. Dillon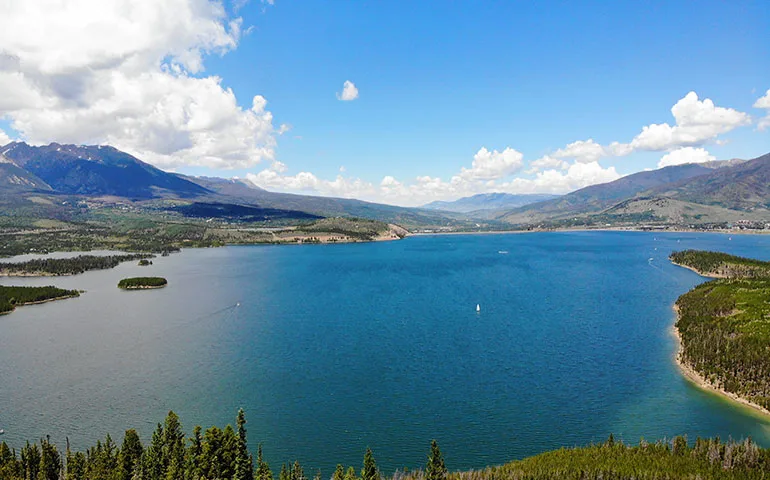 Recommended time: 1-4 hours
Home to the Dillon Reservoir, this is one of the most underrated destinations in all of Colorado. And that might just be because the way I-70 is positioned, you could pass through it and never know it existed because the road sits much lower than the lake and mountainside.
With so many activities and attractions in Dillon, you could spend an entire week just soaking up the adventures in this fun area. But since you're on a road trip, I'd at least recommended to stop and see the lake!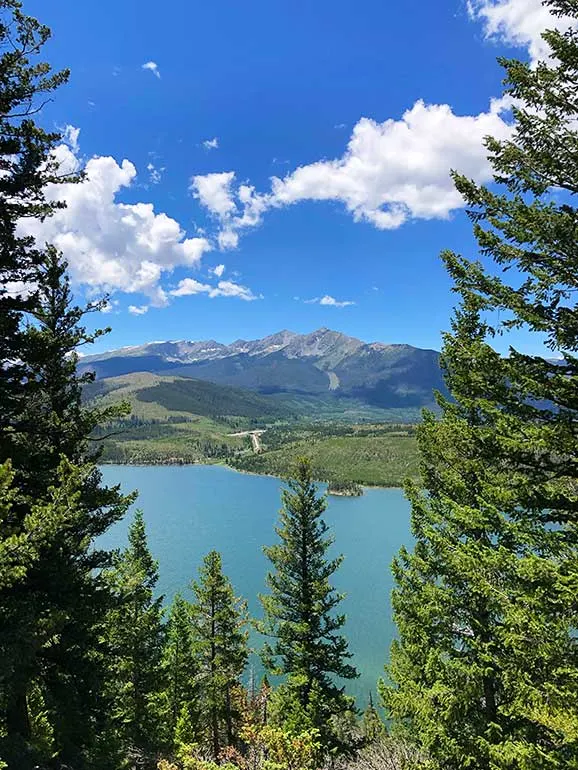 Best activities and attractions in Dillon:
During winter, visit the Dillon Ice Castles (they're spectacular!)
Take the short hike to Sapphire Point Overlook
Catch a concert the Dillon Amphitheater
Pick up a snack for the drive at the Dillon's Farmers Market
Shop the Outlets at Silverthorne
Want to spend more time here? Check out this post for a complete guide and list of things to do in Dillon.
Places to stay in Dillon:
Denver to Moab road trip
Pretty amazing sights, right? Colorado has so much to offer – and truth is, most of this Denver to Moab driving trip takes place in this mountainous state. So let's keep going, shall we?
5. OPTIONAL: Breckenridge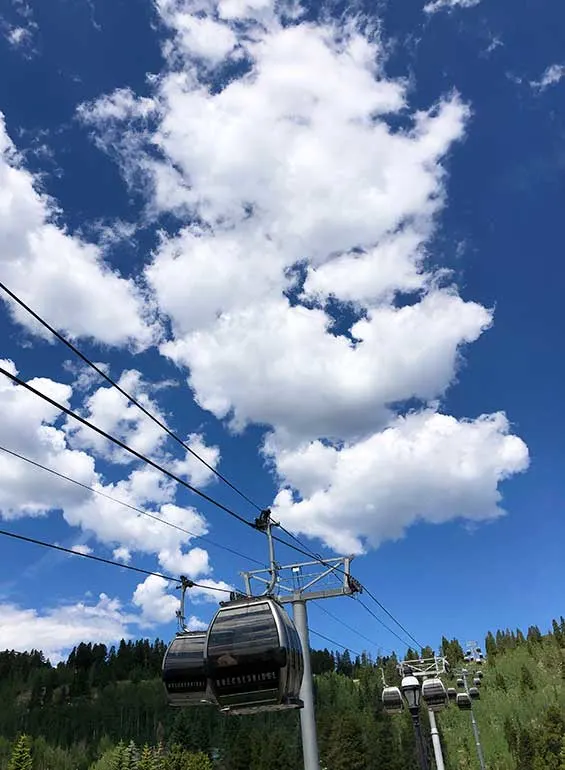 Recommended time: 1 hour – 1 day
A stop in Breckenridge is optional because it's about 20 minute out of the way, but still very close to I-70. If you're traveling with a family, you absolutely must stop in Breckenridge!
With great skiing in the winter and cute downtown in the summer, Breckenridge offers something for every type of traveler. But it makes the list because one of the largest man-made art installations in the state of Colorado is in Breckenridge – Isak Heartstone, the Troll!
Visiting the Breckridge Troll is free and easy, and a fun stop on your way from Denver to Moab.
Other Breckenridge activities include the Epic Discovery Adventure Park (including an alpine slide and roller coaster), shopping in downtown, free gondola rides, trying a local brewery and if traveling with kids, panning for gold.
Places to stay in Breckenridge:
6. Vail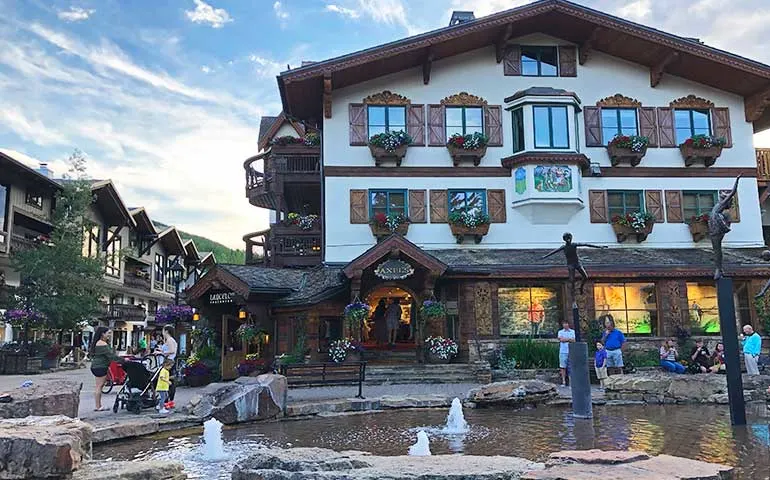 Recommended time: 1 hour – 1 day
If you love the snow, you've heard Vail is a fantastic ski town. But it's similarly spectacular during the summer! From amazing hikes to luxurious spas, Epic Discovery Adventure Park (yes, there's one in Vail, too!) and the awesome Vail Village, you won't get bored in Vail!
Top things to do in Vail:
Game Creek Aerial Adventure Zipline Course
Hike with llamas with Paragon Guides
Betty Ford Alpine Gardens
Scenic gondola ride
White water rafting at Browns Canyon
Spa day at Sonnenalp Spa or The Sebastian
This is a great spot to spend the night if you're planning to make this Denver to Moab, Utah trip a long one.
Places to stay in Vail:
7. Hanging Lake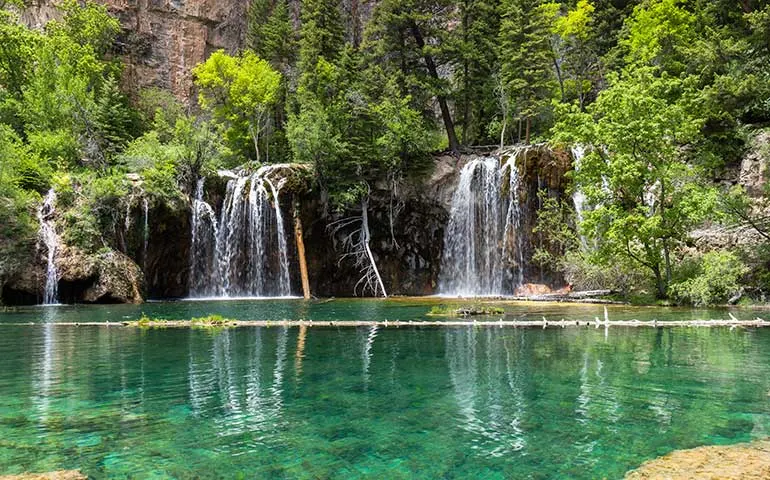 Recommended time: 1-4 hours
Note: as of the time of this publication Hanging Lake is closed due to extensive damage to the trails and roads caused by the 2020 Grizzly Creek Fire. I've included in this list of road trip stops from Denver to Moab since it's one of Colorado's top tourist attractions and is being rebuilt.
It's a must-stop as you drive through Glenwood Canyon. But wait, you have to have a reservation to get there! Hanging Lake is one of the most scenic waterfall lakes in all of the USA. Because of its rise in popularity over recent years, and to preserve the area, a reservation system is in place.
Permits go fast so be sure to plan early to make this stop on your road trip! Find Hanging Lake updates and reservations here.
Denver to Moab (favorite stops up next)
Honestly, the next stop is where I'd choose to spend the night if you're breaking this drive up into 2 days. It's a scenic area with a lot of accommodation options, as well as restaurants and nightlife.
Alternatively, if you're trying to get to Moab from Denver quickly, at least make a quick stop here!
8. Glenwood Springs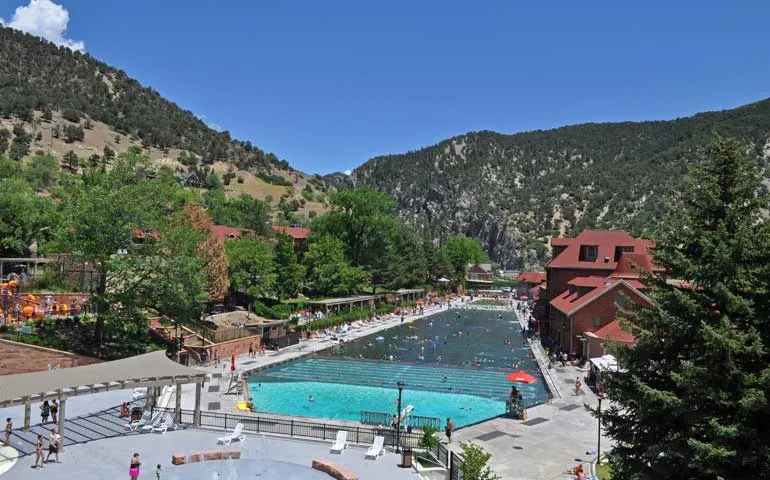 Recommended time: 1 hour – 1 day
This gem in Colorado is one of my favorite cities on the western part of the state and it sits right on I-70.
First of all, driving through Glenwood Canyon on I-70 is incredibly scenic! With massive cliffs immediately beside you, you're driving through this huge valley that just makes you go 'woah.' (I've driven it many times and every time I have the same reaction.😆)
Anyhow, this town is built on a natural hot spring, and it's proud of it. Open all year long, the Glenwood Hot Springs Pool is the world's largest mineral hot springs! Be sure to buy tickets in advance as it fills up quickly.
While you're stopping in Glenwood Springs, check out the picturesque downtown. It's everything you expect a historic mountain town to be – great architecture, shops and dining and musicians playing in the street.
Enjoy amazing tacos and margaritas at Slope and Hatch, who's received awards for the best tacos in the US. (they're seriously so good!) For a sweet treat afterwards, grab ice cream at the Chocolate Moose Ice Cream Parlor.
You could literally spend an entire week with all the things to do in Glenwood Springs, so it might be hard to pull yourself back on the road!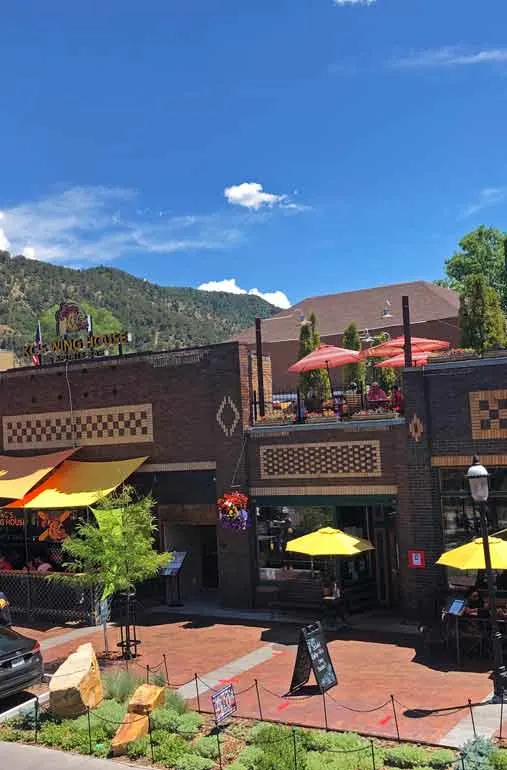 Places to stay in Glenwood Springs:
9. Rifle Falls State Park
Recommended time: 1-4 hours
This gem in Colorado looks so beautiful! It's Colorado's only triple waterfall and is 80 feet tall. Let me say that again.. it's a triple waterfall!
(I don't have a photo of Rifle Falls because sadly I missed it during my last trip from Denver to Moab, but it's on my list for next time!)
Located about 20 minutes north of the town of Rifle along I-70, this stop will likely be one of the less crowded stops you make. With other popular tourist attractions in the area like Hanging Lake and Glenwood Springs, it seems like Rifle Falls State Park is overlooked.
If you're up for stretching your legs, try hiking the Rifle Falls Coyote Trail. It's just over 1/2 mile and is rated as easy on AllTrails.
10. Grand Junction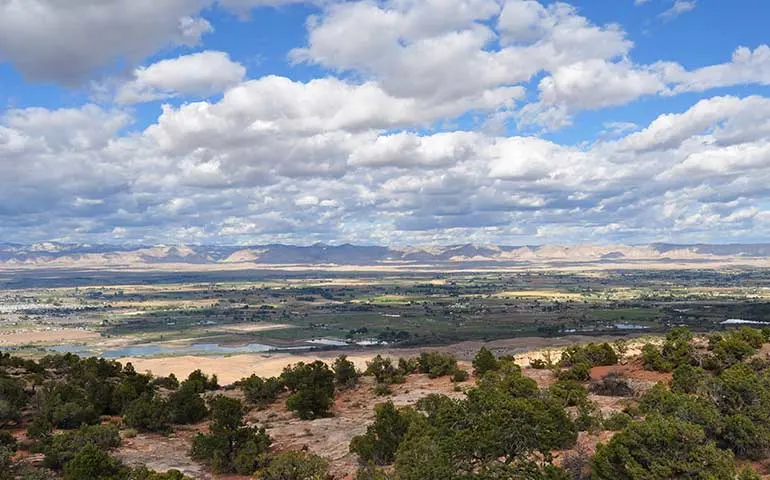 Recommended time: 1 hour – 1 day
One of the western most cities in Colorado, Grand Junction looks small on the interstate as you pass through it, but actually there's a ton to do!
Grand junction is home to the cutest downtown filled with shops and restaurants. With year-round events, you may even be passing through during an outdoor street concert, event or festival. Check the downtown Grand Junction schedule here.
Another fun attraction, and perhaps one if you're planning to stay overnight in Grand Junction, is to visit one of the local wineries!
Two Rivers Winery: 2087 Broadway, Grand Junction, CO 81507
Stoney Mesa Winery: 221 31 3/10 Rd, Grand Junction, CO 81503
Beyond downtown and wineries, there's even more…
Things to do in Grand Junction:
Grand Junction Motor Speedway
Eureka! McConnell Science Museum
Western Colorado Botanical Gardens
Lincoln Park and playground
Cross-country skiing in the wintertime
Pro tip: when in Grand Junction, make sure to get gas if continuing straight onto Moab!
Places to stay in Grand Junction:
Looking for more road trips from Denver? Check out the Denver to Albuquerque driving trip with 10 stops along the way. So fun!
11: OPTIONAL: Land's End, Grand Mesa, Colorado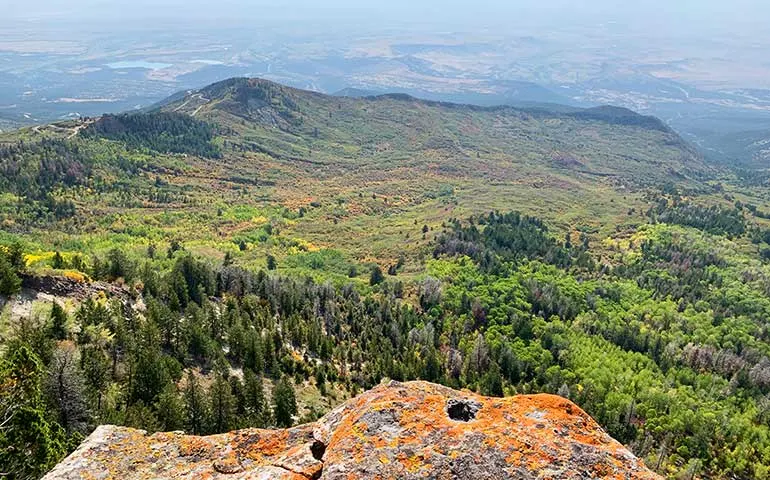 Recommended time: 1/2 day to 1 day
There's a lot of really cool views in Colorado. But this is perhaps one of the most underrated and impressive spots in all of Colorado!
This is a definite jaunt from I-70 though, at about an hour and 10 minutes from Grand Junction. But if you've got the time, it's totally worth it!
The Grand Mesa in Colorado is the largest flattop mountain in all of Colorado…and the world! Plus it's still really high in elevation at over 10,000 feet, making it even more…grand. 😆 Grand Mesa covers 500 square miles, so this small stop can't possibly cover it all, but you definitely need to go to the Land's End Observatory.
At the observatory you'll be greeted with steep drop-offs and stunning views. Look west and you'll even see the La Sal Mountains in Utah!
Pro tip: once you get to the Lands End Observatory, go to the trail called the Views Trail at the northern end of the observatory. At just .4 miles round trip, the trail will take you along the mesa rim where you'll see into Grand Valley!
Learn more about the incredible Grand Mesa here.
12. OPTIONAL: Black Canyon of the Gunnison National Park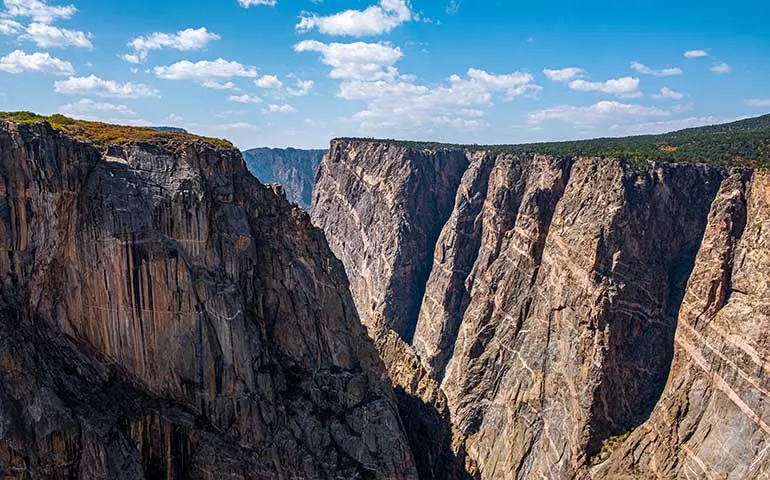 Recommended time: 1/2 day to 1 day
One of the most underrated national parks in the USA, and definitely one that sees far fewer traffic than the popular Rocky Mountain National Park in Colorado, this gem is a must-see if you're in the area. It's about an hour and a half southeast of Grand Junction.
If you don't want to allow a full day to see the park, you'll want at least 2-3 hours on a scenic drive to see the highlights. The Black Canyon of the Gunnison National Park has a South Rim Road, North Rim Road and East Portal Road.
I recommend the South Rim road, where you can see the impressive Painted Wall, Chasm View and Gunnison Point. However there are 12 overlooks on this road and I have a feeling you'll want to see them all!
And if you're up for it, grab your hiking shoes and hit the Rim Rock Nature Trail. It's an easy to moderate trail, and will feel good to stretch your legs after all that riding in the car! It's about 1.5 miles round trip and walks along the rim with expansive views of the Gunnison River. So cool!
Pro tip: if you're heading to multiple national parks during this trip (and I have a feeling you are!) you'll want to grab an America the Beautiful annual parks pass. It's a good value as you only have to visit 3 national parks in a year to make it worth the annual fee.
I've used my America the Beautiful pass the last few years to get me into some spectacular spots like spending a week in Glacier National Park in Montana, doing the best hikes in Mt Rainier National Park in Washington and seeing all the things to do in Badlands National Park in South Dakota.
Places to stay near Black Canyon of the Gunnison National Park:
13. Colorado National Monument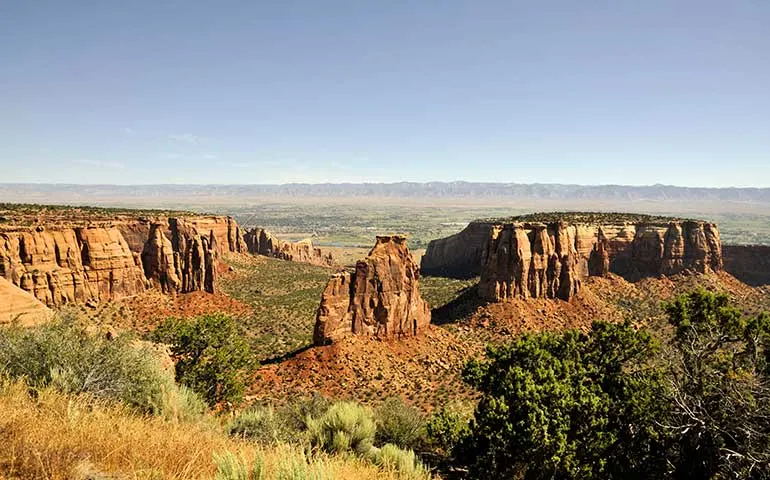 Recommended time: 2-4 hours
Located in the far western part of Colorado, about 15 minutes southwest of Grand Junction, this icon is a preview of the scenic landscape you'll see in Utah! Instead of the Rocky Mountains that cover so much of the state, the scenery here is layer upon layer of red rock in a desert setting.
One of the best ways to see the Colorado National Monument is by taking the Rim Rock Drive. Straight through, it takes about an hour to make the drive, but you'll likely want to stop at a few scenic overlooks!
If you're up for some light hiking, I'd highly recommend the Canyon Rim Trail to Window Rock. Coming in at just 1.8 miles round trip, it's one of the easiest hikes in the park with incredible views!
With no shade cover and intense sun, remember water, sun block or sun hat and anything else you'd pack for a day hike.
Places to stay near Colorado National Monument (Grand Junction):
Denver to Moab: leaving Colorado and entering Utah!
Well most of this trip so far has been focused on Colorado. And for good reason! I mean there's just to much to do in Colorado! But we're finally going to leave I-70 and head on over to the scenic 128. It starts off a bit flat but gets more interesting as you drive.
Let's keep going!
14. Cisco, Utah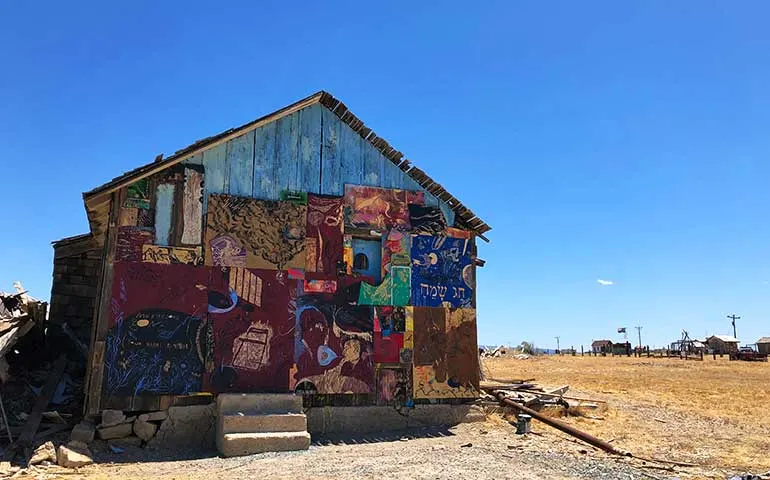 Recommended time: simple drive-by
Once a thriving railroad town turned ghost town, and now a single proud resident owns and lives in Cisco. It's a stop along scenic Highway 128 just after entering Utah from Colorado.
But you won't find any gas stations or stores here. It's a ghost town by all measures, abandoned by its residents in the 1990's. Dilapidated buildings and what seems like an endless junk yard.
However in 2015 Cisco was purchased by one woman, an artist who is rejuvenating the town and bringing new life to it. She's even inviting other artists to take part in the rebuild. Read more of that story here.
But back to the fact that it's a stop on this Denver to Moab road trip. It's really cool to see the former ghost town, now being revived with a new look. However it's important to respect the town and owner's property, so please don't trespass. Taking photos from the road is permitted.
15. Sandy Beach River Access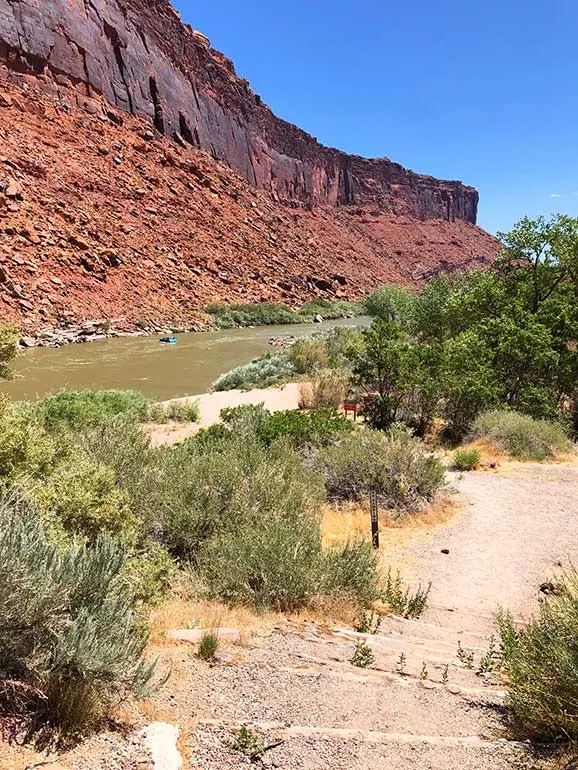 Alright at this point you're deep into the incredible scenery that Utah's 128 offers. Following the Colorado River as you swing through this canyon is such a treat! You may have already seen speed boats, white water rafters or kayakers on the river.
But did you also know you can sit and enjoy the river, beachside? It was a stop I absolutely had to make my last trip from Moab to Denver. As an avid beach lover who's been to beaches all over, this shoreline has sand as soft as the best beaches on the Gulf Coast!
Bonus: there's restrooms at the stop, which may come in handy considering the lack of stops between Grand Junction and here.
Anyhow, this is a great spot to stretch out from the long drive from Denver to Moab, and even enjoy the water. During the morning and evening hours the sand is cool but during the heat of the day it can get really hot! Be sure to pack water shoes if you're planning to dip your feet in the water.
These are my favorite water shoes, and the ones I took for this same trip! Plus I've worn them all over the world, including the best beaches on Kauai, gorgeous beaches in Puerto Rico, to the Caribbean during my budget trip to Belize, the rocky shoreline of Lake Erie at Put-in-Bay and the softest sand beaches in Turks and Caicos.
Back to the beach: it's only a short amount of time left until you reach Moab, but the scenery here is amazing 💯 and you'll want to make the stop!
16. Moab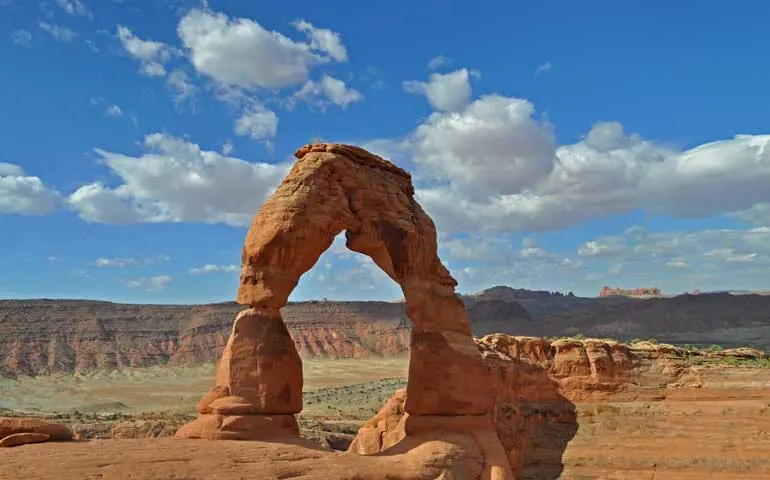 Yayyy! You've made it from Denver to Moab. And need I say, the exploring just might be beginning!?
Moab is an adventure lover's dream. Seriously.
National parks. State parks. Heart-pumping thrills. Unique adventures. Cute downtown. The list goes on!!
Denver to Arches National Park road trip has been an incredible adventure, and yet theres's so much more to see in Moab. Check out this complete list of 30 things to do in Moab. Here's some of the highlights..
Top Moab attractions:
Arches National Park
Canyonlands National Park
La Sal Mountain Loop Road
Paddle boarding, kayaking or rafting in Moab
Wineries and breweries
Oh, and when you're hungry, be sure to check out the awesome food truck park in downtown Moab. I had the best quesadilla of my life at Quesadilla Mobilla. (Seriously don't pass it up!)

If you're into hiking (even the easy trails count!) then you'll want to check out these 2 hiking guides once you get to Moab from Denver:
While I'd highly recommend multiple days in Moab, definitely plan to spend at least 1 day in Arches National Park, exploring the top sights and even hiking a few trails.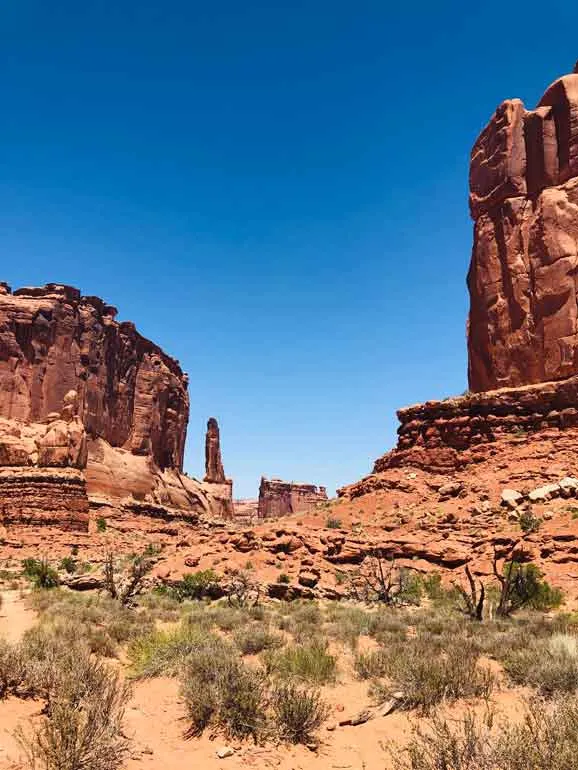 Places to stay in Moab:
Denver to Moab itinerary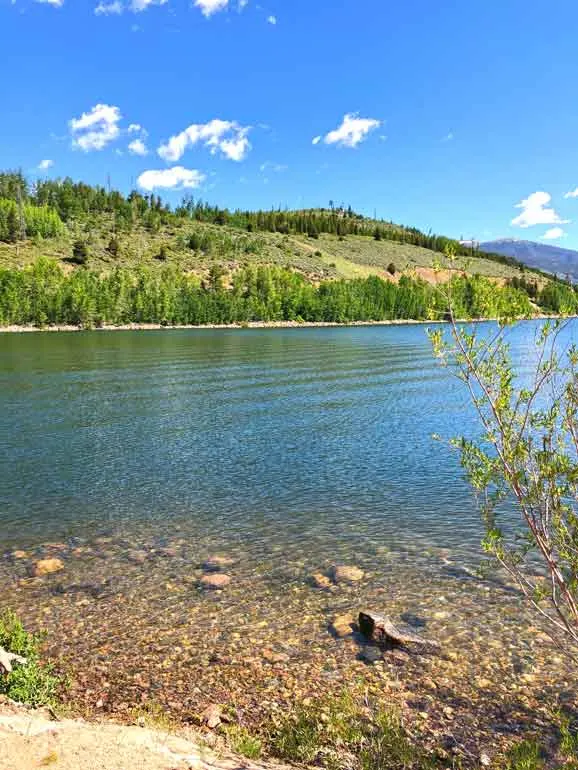 Here's a week-long suggested itinerary for this epic adventure! Of course you could make it shorter or longer depending on how much time you have!
Day 1: Denver
Arrive in Denver the night before
Spend the day walking downtown and seeing the sights:

Union Station
RiNo Arts District
Confluence Park
Denver Capitol Building

In the evening, catch a concert at Red Rocks Amphitheater or catch the nightlife on the 16th Street Mall
Overnight in Denver
Day 2: Idaho Springs, Grand Lake and Rocky Mountain National Park
Breakfast in Idaho Springs (trust me, you'll wanna eat at Main Street Restaurant)
Drive to Grand Lake and through Rocky Mountain National park's scenic drive to the Alpine Visitor Center
Lunch in Grand Lake
Rent a paddle boat, kayaks or stand-up paddle boards at the marina and enjoy the lake
Drive to Dillon Colorado
Enjoy dinner at a local brewery, pizza place or at the Tiki Bar at the marina
Overnight in Dillon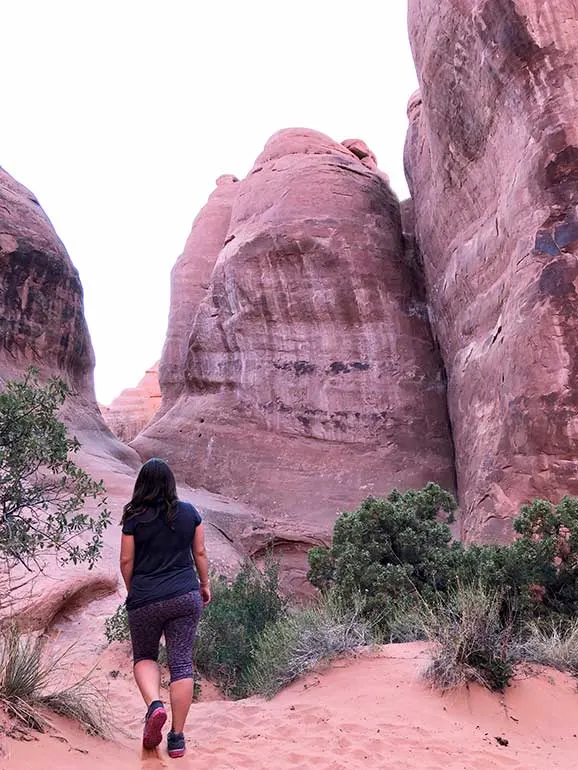 Day 3: Breckenridge and Vail
Wake up early morning views of Lake Dillon at Sapphire Point Overlook (easy hike) or the Ptarmigan Trail (moderate hike)
Visit the Breckenridge Troll, ride the free gondola and check out all there is to do at the Epic Discover Adventure Park
Eat lunch in the cute downtown Breckenridge
Spend the afternoon in Vail:

Hiking with llamas
White water rafting or
Relaxing at the spa

Dinner at Vail Village (so many options, you can't go wrong)
Overnight in Vail
Day 4: Hanging Lake, Glenwood Springs, Rifle Falls and Grand Junction
Check out the gorgeous Hanging Lake (with an advanced permit)
Swim at the natural hot springs in Glenwood Springs – perfect anytime of year!
Eat lunch at Slope and Hatch
Hike the easy trail to Colorado's triple waterfall at Rifle Falls State Park
Drive to Grand Junction just in time for a winery and dinner
Overnight in Grand Junction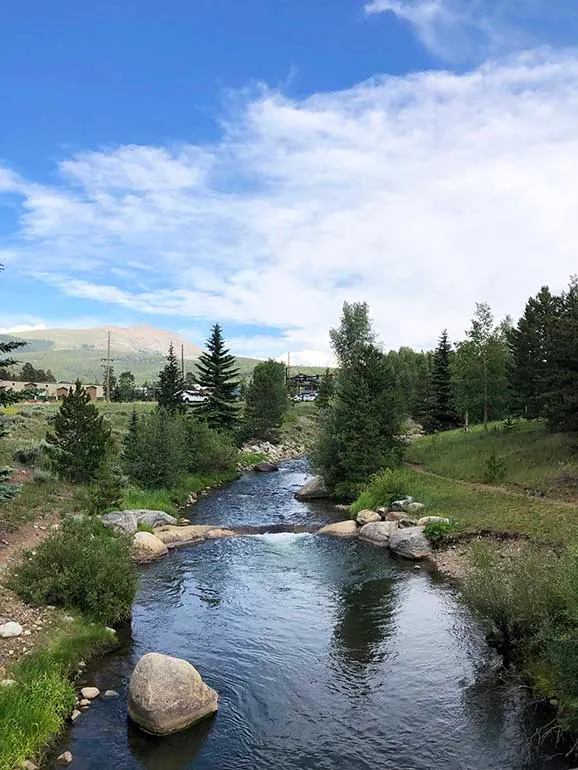 Day 5: Grand Mesa and Black Canyon of the Gunnison National Park and Colorado National Monument
Drive to Grand Mesa and Lands End Observatory for epic views
Hop back on Highway 50 towards Black Canyon of the Gunnison National Park
Drive the scenic South Rim Road with amazing views of the canyon and park
Back to I-70 and catch a sunset at Colorado National Monument
Overnight in Grand Junction
Day 6: Utah Scenic 128 and Canyonlands National Park
Quick stop by Cisco, Utah
Drive the incredibly scenic 128 to Moab!
Dip your toes in the Colorado River at the beach access
Once in Moab, head straight for Canyonlands NP for amazing views
Hit a few hiking trails in Canyonlands National Park including the easy and must-see Mesa Arch Trail
Overnight in Moab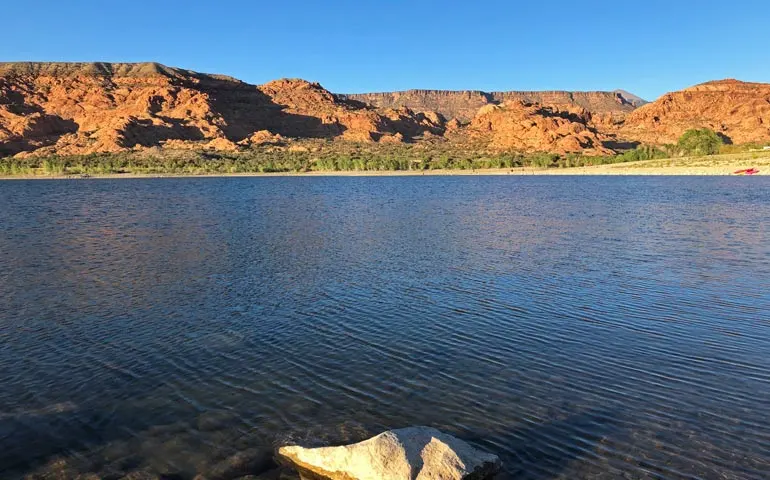 Day 7: Arches National Park and Moab
Get to Arches NP early to hike to the famous Delicate Arch
Experience Arches Scenic Drive
Hike to the famous Landscape Arch or visit The Windows and Double Arch
Late lunch at Quesadilla Mobilla (trust me just do it)
Afternoon tour at Hell's Revenge or relax at Ken's Lake
Whew! what a full, adventure-packed week, right? This amazing adventure from Denver to Moab has some of the best scenic views and drivable routes in the country!
What to pack for your Denver to Moab road trip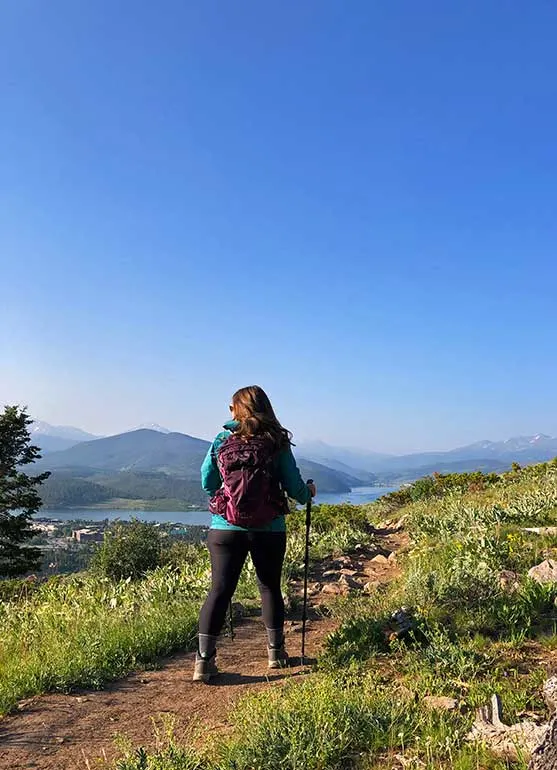 As you prepare for this amazing trip, let's talk about the things you'll need to help make your experience spectacular.
Tips to make the most of your Denver to Moab adventure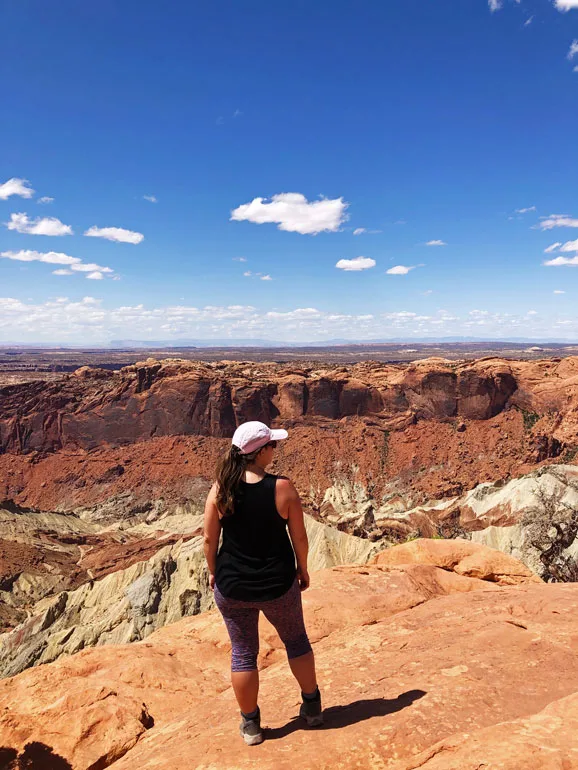 You're going to have an amazing time going from Denver to Moab, no matter how many stops you make. Here are a few last tips before wrapping up this guide!
The climate here is dry! Make sure you're drinking lots of water, apply lotion and chap stick regularly.

Altitude sickness is a real thing. If you live in considerably lower altitudes, plan to drink plenty of water and bring something for headaches. In my many trips to Colorado, I've only had it once and only for a day.

Expect to smell pot/marijuana as it's legal to purchase in Colorado. But it's not legal to use it in public places, and the same rules apply to driving under the influence as other types of alcohol and narcotics. You may smell it more in the larger cities (like Denver) and less as you get further west.

Be flexible. Although this itinerary is set up for the perfect vacation, you never know when there will be bad weather, road closures due to construction. In the summer and early fall, watch for wildfires and smoke across the state.
Moab to Denver – that's a wrap!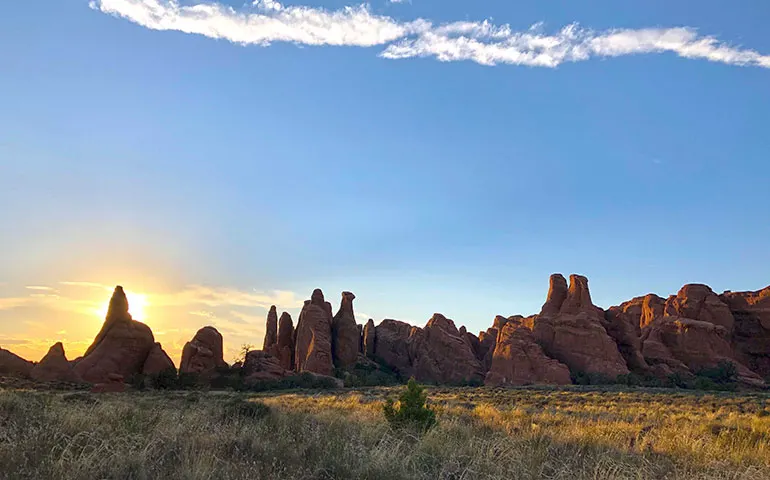 How excited are you for this trip?! You're in for an epic adventure! Whether you're planning a quick weekend trip from Denver to Moab or you'll be able to spend a week or more exploring all the sights, you're going to have a great time!
One of the best things about Colorado and Moab is that you can customize your adventures to fit your needs. There's such a variety of things to do on this route.
It's an incredibly scenic drive and one you'll remember for a lifetime!
Related content to read next:
30 Cool Things to Do in Moab, Utah
One Unforgettable Day Itinerary in Arches National Park
Colorado Road Trip Itinerary: 22 Epic Stops
Underrated Dillon, Colorado (26 Awesome Things to Do)
Summertime in Breckenridge – What to Do and See
Arches National Park Hikes: 12 Top-rated Trails You'll Love
Incredible Views while Hiking Canylands National Park
Find this post helpful? Save it for later or share it on social media!