The 50-30-20 budgeting rule is a simple plan to manage your money. It's perfect if you're looking for an easy budget strategy or new to budgeting. I'll break it down for you here and provide a 50 30 20 rule and spreadsheet.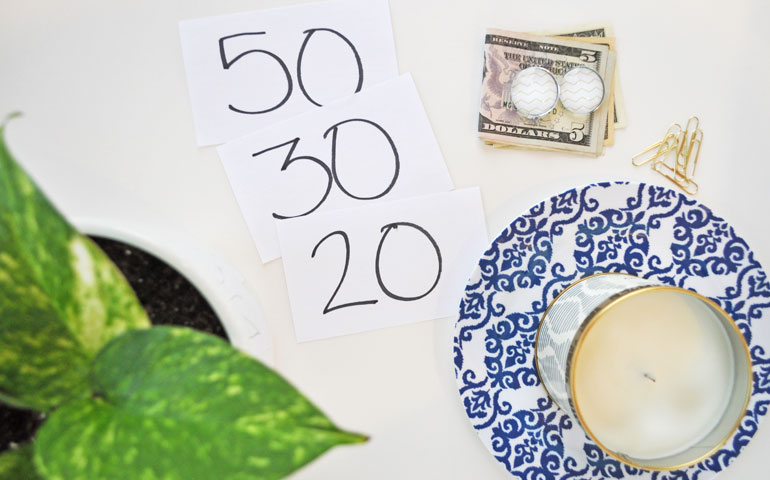 This post may contain affiliate links. For more info, see my disclosures.
How this budgeting strategy started: Senator Elizabeth Warren founded the rule in her book, "All Your Worth: The Ultimate Lifetime Money Plan." (Buy it here on Amazon.) It's a strategy designed to balance your needs and wants, while making sure you're saving for a solid financial future.
Basically, the 50 30 20 budgeting rule is the foundation for getting your financial life in order.
Make sure to read to the bottom of the article to download the free 50 30 20 rule spreadsheet!
Here's how to use the 50 30 20 budgeting rule
Simply put, 50% of your income goes to needs, 30% to wants and 20% to savings.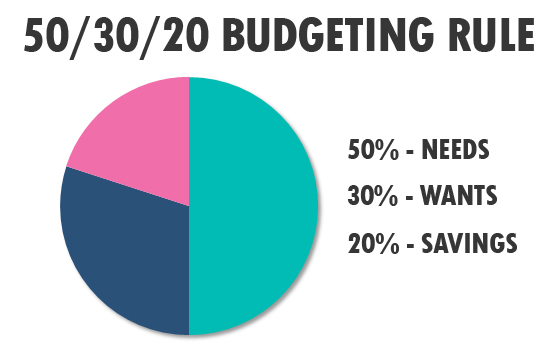 Needs – 50%
This budgeting category includes anything you need to live, work and survive this crazy life.
Medical
Housing and insurance
Utilities (just the essentials!)
Car and insurance (we'll get to car payments later)
Groceries (just the basics)
Prescriptions
Wants – 30%
Also known as lifestyle choices, this category includes the 'extras' in life or certain lifestyle choices you've made that make you happy.
Childcare
Dining out
Cell phone bill
Pets
Internet, Netflix, etc.
Shopping and entertainment
Vacations
Giving and tithing
Non-essential vehicle purchases/upgrades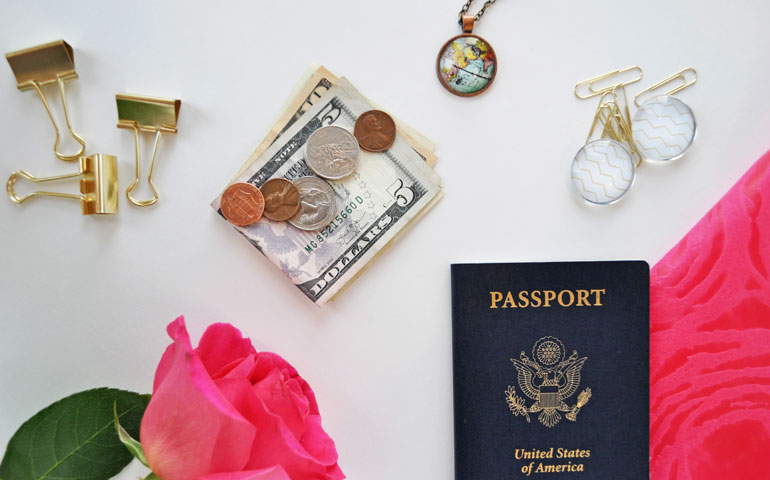 Savings – 20%
The savings category includes savings and debt repayment (although many times your debt is a 'want' so it should go there!)
401(k)
IRA
Saving for a specific item like a new car or vacation
Debt repayment
How to start calculating a 50-30-20 budget
You'll use your after-tax income to start your calculations. So exclude federal requirements that your employer takes from your paycheck: state and federal income tax, Medicare and social security.
If you have health insurance or retirement is taken out automatically, add that back in to include those costs in your 50/30/20 categories.
Remember this budget strategy is meant to be simple so don't overcomplicate it!
Next, let's take a look at 2 example budgets to see how the 50/30/20 rule works.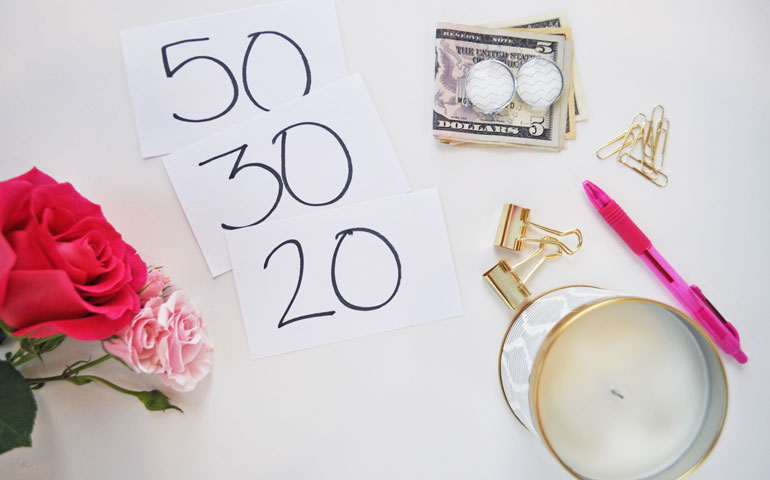 50/30/20 budget – example with a $48,000 income
For the first example, I'm going to review a single woman making $48,000 per year. Based on current tax laws at the time of article publication, I'm estimating her employer deduction for taxes, Medicare and social security at 25%. Find the annual US tax brackets here.
Income per month: $4,000
Deductions (25%): $1,000
So her 50-30-20 budget starts with $3,000 per month
Needs: 50% or $1,500
Wants: 30% or $900
Savings: 20% or $600
Remember to keep reading to the bottom for the 50-30-20 rule spreadsheet!
50% – needs on a $48,000 annual salary
So as you can see, at $48,000 per year as a single person, paying something like $1,300 for a high-priced home or rental is going to be tough.
If she chooses to pay $554 per month for a new car (the average car payment in the US), that expense should go in the 'wants' category because she could probably get a more affordable car.
Let's say she pays $750 per month for rent or mortgage, then she has $750 left for her remaining needs. Another $175 could go to utilities, $225 for her car (including low payment, insurance and maintenance), $175 for medical insurance and $175 for basic groceries.
Using this example, the 'needs' budget appears to be tight, and downright unrealistic in some housing markets. But this budgeting plan is meant to set you up for the best financial future. Meaning, this woman will need to watch her expenses closely to make it work on her $48,000 income.
Let's review the 'wants' category for this income.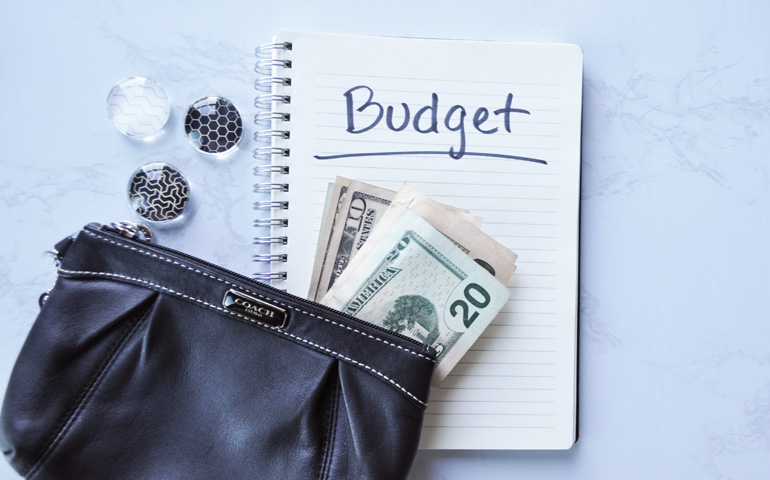 Read next: How to stick to a budget: 15 tips to win with money
Wants (lifestyle) category with the 50/30/20 budgeting rule on a $48,000 salary
With a $3,000 monthly income and allocating $900 to this category, it might look like this:
She might spend $200 per month for eating out, $250 per month for travel (she loves a good vacation!), $50 for a pet, $100/month for a cell phone bill and $50 per month for internet. That leaves her $250 for entertainment, donating to charity or other lifestyle choices.
Related: Exactly How to Save Money for Vacation (a Vacation Savings Plan)
20% savings with a $3,000 monthly income
As a money coach and someone looking out for your best interest, I'd highly recommend to save no less than 10% for retirement. In fact, financial experts recommend 15%-20% for retirement. So in this scenario, let's assume 10%, or $300, will go to a 401(k). Then another 5%, or $150 to a Roth IRA.
That leaves her with $150 for other savings or debt repayment. For this scenario, we're going to assume she's debt-free besides her car. It's sometimes difficult, but completely possible to be debt-free!
So she's saving the other $150 per month for an emergency fund.
Let's move onto another example.
50-30-20 household budget percentages – a $125,000 income example
This example is a couple making $125,000 per year. I'm also assuming a 25% tax and employer deductions (before retirement and medical benefits).
Also, note in this scenario, the couple has made the choice to have 3 children. Two of them are in full-time daycare. The national average cost of daycare per child is $9,300 annually, so that will be a factor in their 50/30/20 budget.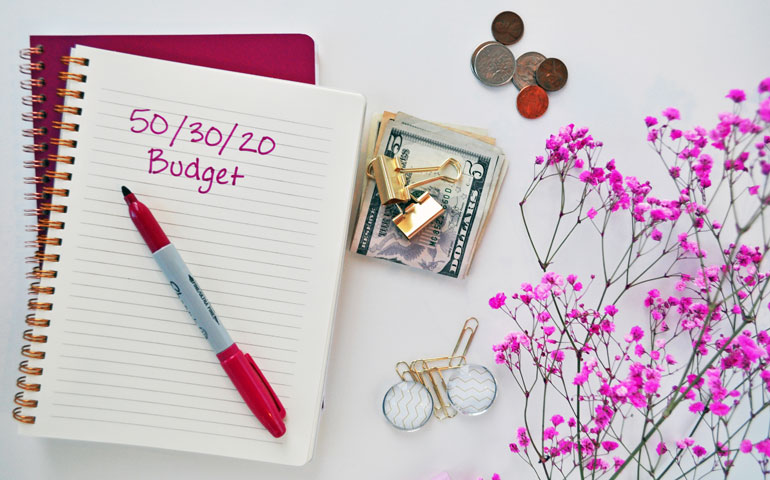 Income per month: $10,417
Deductions (25%): $2,604
So their 50-30-20 budget starts with $7,813 per month
Needs: 50% or $3,906
Wants: 30% or $2,343
Savings: 20% or $1,562
50% of their 50/30/20 budget goes to needs
This family has 3 children and has bought a modest home, which they pay $1800 per month for. They're both paying on car loans and by the time they add in insurance and maintenance, it's $800 per month total.
Oh, and their employer-based insurance is $500 per month. They're paying $250 for utilities. They spend every penny left of the $556 per month on groceries for their family of 5.
Read next: How to Save Money on Groceries (Advice You Haven't Heard Before)
30% on wants
Their 'wants' category is tricky because most it's eaten up by childcare at $1550 per month, leaving them with just $793 for everything else. Remember having kids is a lifestyle choice, so other sacrifices may need to be made in this category to keep within budget.
Childcare for their youngest 2 kids: $1550
School lunch for their oldest child: $45
Cell phone bill: $160
Eating out: $250
Pets (2 cats): $70
Entertainment for themselves and their kids: $125
Internet and Netflix: $90
Miscellaneous shopping and household items: $53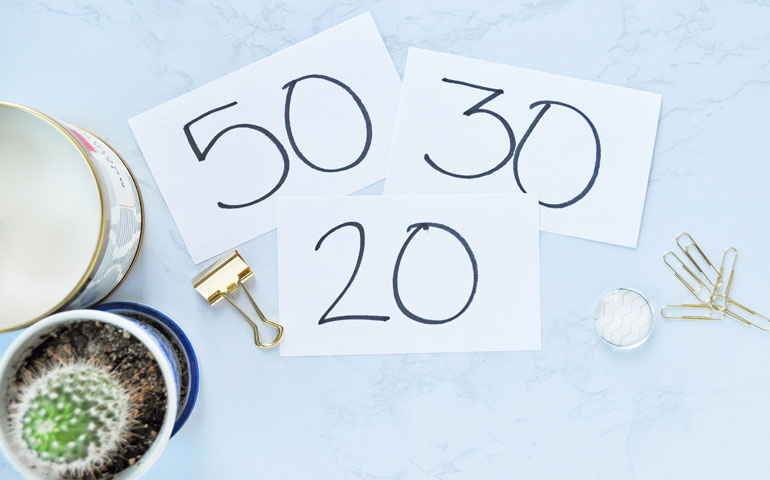 Savings is the other 20% of their household budget percentage
This family sees the value of savings, but with their student loan and credit card debt, they just can't save much extra. They're contributing just 10% to retirement, but get an employer match at 4% so they feel okay with this amount.
Retirement: $781
Student Loans: $450
Credit card payments: $331
So now you've seen how this household budget percentages system can work for 2 very different scenarios. Learn more with Elizabeth Warren's book:
Highlights of the 50/30/20 budgeting rule
The budgeting rule is meant to help control your expenses and help you make wise choices so that you can set yourself up for success in the future.
You can be a little flexible in the needs and wants categories if your financial situation merits it. For instance, if you live in a high mortgage/rent market, you might have to sacrifice in the wants category to afford your home.
On the flip side, if you have high debt repayments you might need to minimize your wants or needs to afford your debt.
Whatever your situation, do not drop savings and debt repayment below 20%! This might mean making hard decisions in other areas, but it's important to keep your savings budget at (or above) 20%.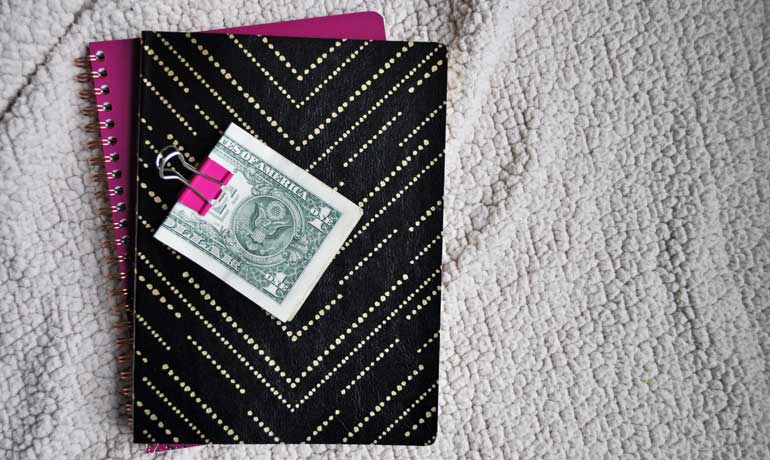 Sticking to this budgeting system is simple in theory, but can be challenging, just like any budget. The point is to set yourself up for success, so if you're used to spending in excess or have high payments, you'll need to re-evaluate your spending to make room for your debt repayment and savings.
Just remember that a budget should tell your money where to go. The 50-30-20 budget is just one way to budget. You ultimately have the choice where your money goes, even if you're not in an ideal situation now. With hard work and creativity, you can change your financial future.
Related topics:
Budgeting 101: 3 simple steps to budgeting
How to Save $1000 in 30 Days or Less
55 Ways to Save Money Now
20 Budgeting Skills You Need to Crush Your Money Goals
50 30 20 rule spreadsheet
So, are you ready to tackle this budgeting system? Enter your email below to get the 50-30-20 rule spreadsheet and start using the budget today!
Just be sure to bookmark this article or save it for later on Pinterest so you can refer back to it as you work through the budget spreadsheet.
One more thing – add a little extra to your budget this month!
Open a new account through SoFi and fund it with $100 within 14 days, you'll get a $50 bonus for opening your account.
Yep – free $50!
You should definitely check out all their program details, because they could change. As of this article's publication, their money account pays 1.6% APY interest rate and no monthly maintenance fee!
Here's the link to open your SoFi account and get $50.