How was Christmas last year for you? Did you show love and appreciation by buying the gifts you wanted to buy? How did your gift giving and celebrations affect your finances?
Christmas is right around the corner and for many people it's the most expensive time of the year. So if you haven't started making a Christmas budget, right now is the time! It's never too early to start planning how you're going to pay for Christmas.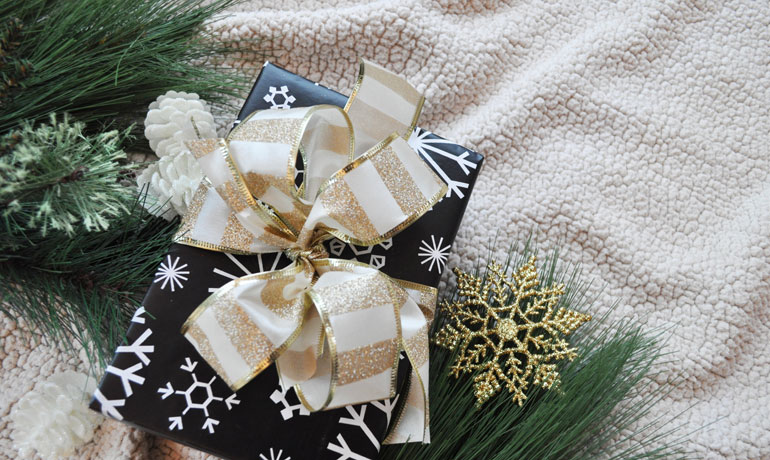 This post may contain affiliate links. For more info, see my disclosures.
Last year Americans created, on average, $1,054 in holiday debt. And over 74% admitted to not budgeting properly. Friend, set yourself up for success this Christmas season!
You can absolutely be the hero and watch your kids' eyes light up on Christmas morning. If you have a plan in place, you can show your friends and family you care for them without breaking the bank. Planning is the key to staying on track with your spending and staying out of debt at Christmas time.
Either fail to plan, or plan to fail
Many years ago my husband and I were completely overwhelmed with the Christmas season. We were attending many holiday parties and Christmas dinners, happy hours and white-elephant gift exchanges. So that, of course, meant spending a lot of money (and a lot of time) during the holiday season.
After years of working through the process of figuring out how to reduce our stress and spending during Christmas, I realized a few key things:
Saying no is so unbelievably important. Just have be honest and polite, and politely decline with grace and respect.
Creating a Christmas budget, and a plan, helps maintain our sanity over the holiday season.
While our Christmas season has definitely changed over the years, especially now that we have children, it's still be stressful at times. But at least we have a hold of our finances and that's not adding to the stress!
You might also be interested in:
30 Unique Travel Gifts They'll Actually Want
25 Winter Activities that Don't Cost Money
6 Steps to Build an Emergency Fund
Creating a Budget for Christmas
1. Make a plan for gifts
An easy way to start your gift list is by determining who you bought gifts for last year. Do you have a list somewhere? If not, create one! Start with your immediate friends and family, co-workers and acquaintances.
Then move onto the people that aren't as easy to remember. Like your kids' teachers, extracurricular activities coaches or leaders, neighbors, or whoever else you've bought gifts for in the past. Keep in mind your kids' gift exchanges if they're not old enough to buy their own gifts.
Okay, now think about who else might be on your list this year. Did your kids start any new activities that you'll need to consider? What new relationships have you established? Was there someone last year who caught you by surprise that you feel you should add to your list?
Write them all down on paper, an excel spreadsheet, note app in your phone, or somewhere. The key is to create this list and then save it for next year, too.
Read next: Budgeting 101: How to Make a Budget in 3 Simple Steps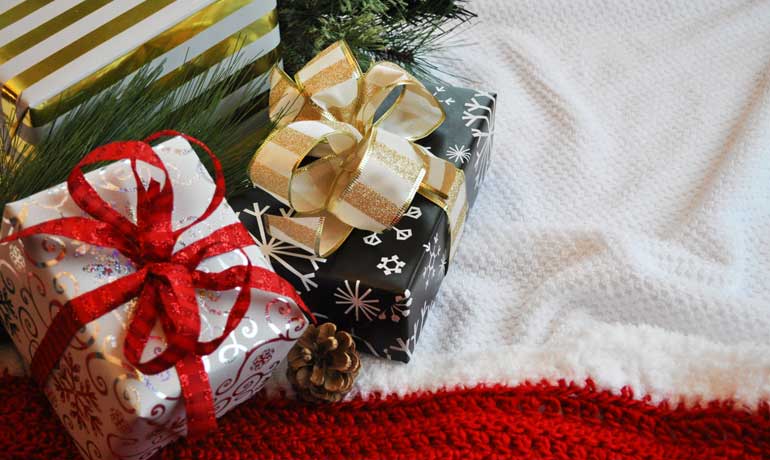 2. Include all the extra's around the holidays
Here's what always used to get me. The extra money spent on all the extra things around Christmas time. So aside from all the Christmas celebrations with family, remember the work holiday party and a friends get-together. What about any white elephant exchanges or secret Santa's?
Also include any special outfits your kids will need. And think about all the food you'll make, the wine you'll take, and the clothing and accessories you'll buy beforehand. If you send Christmas cards or make treats for anyone include those in your list, too.
Are you hosting? Well, that just creates a whole new level of 'extras!' So include any new decor, food, serving items, cleaning supplies, or whatever else you'll need. Write 'em down, friend!
3. Include any holiday travel plans
Heading home to see the parents? Making a road trip with the kids to visit their cousins? Or maybe you're escaping the cold over the holidays and taking a couples trip to a warm beach. Be sure to figure out how much your travel will cost you. Include clothing, gas, food and anything else you'll need.
You might also like: How to save $1000 in 30 days or less
4. Find your grand total
A really easy starting point is to figure out how much you spent last year at Christmas time. If you can't remember, no big deal. Take a look at the list you just created and write down a round dollar amount. So $30 for a co-worker, $15 for your kids' art teacher, $50 for your mom, or whatever is appropriate.
Next go through your 'extras' above and estimate amounts you need for everything. Finally, add in your travel expenses. Don't forget food, gas, snacks and wine. 🙂
Okay so add up all three categories and you've got your grand total.
Read Next:
10 Items to Buy That Actually Save You Money
How to Save Money for Travel: Your Vacation Savings Plan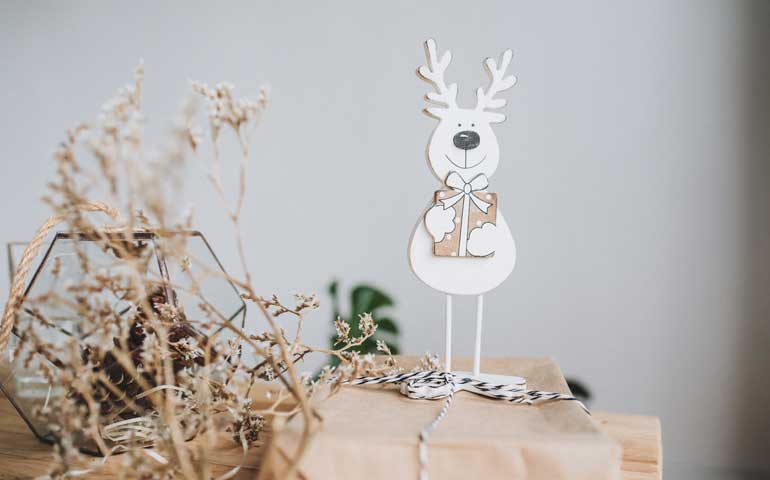 5. Figure out how to pay for it
Here is the interesting part. How will you pay for all the things? If you have been saving throughout the year, you're probably in a good spot to stay out of debt. If you haven't, that's okay too! You'll just need to plan carefully to avoid debt this Christmas season.
Related read: 55 Ways to Save Money – Simple Tips to Save Money Now
There are 3 basic ways to come up with the money to pay for Christmas:
Use extra money that you typically use on miscellaneous spending and put it towards your Christmas budget. Like orders from Amazon, clothing, eating out, etc.
Earn more money. Can you add a side hustle or pick up extra hours between now and Christmas? Can you sell some stuff that you don't need on Craigslist, Facebook marketplace, or another online consignment retailer?
Reduce your spending by reducing the size of your list, or spending less per gift. This one is hard! But ultimately the less gifts you have to buy, the easier it will be to stick to your Christmas budget.
A way to make this more attainable is to break this down even further. Figure out how many days or weeks are left between now and Christmas.
How much will you need to save on a weekly basis? What about a daily basis? And what can you cut out weekly or daily that will help you pay for Christmas this year?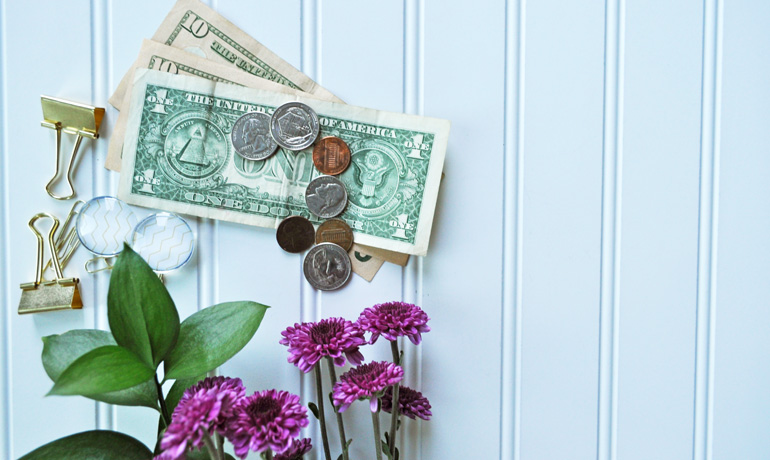 Saving Money for Your Christmas Budget
Saving money can be hard work. But watching the smiles on the faces of those who open your gifts can absolutely be worth the time and energy that goes into creating a Christmas budget.
Be sure to check out these 10 Easy Ways to Save Money for Christmas and get started!
So what actions can you take right now that will help you plan, and stick to, your Christmas budget? Comment below with your commitment.
If you loved this article, share it on social media with your friends or pin it for the future.