Filled with small-town charm, picturesque cottages and beautiful beaches, this Florida island will take your breath away. There are so many things to do in Anna Maria Island, you won't get bored!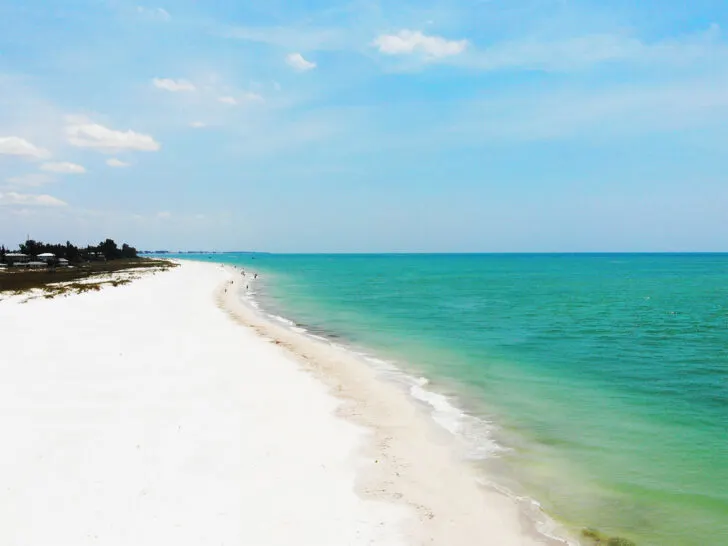 This post may contain affiliate links. For more info, see my disclosures.
And when it's finally time to go home, you'll be filled with sadness as this beach town will leave a special place in your heart. So whether you're heading to Anna Maria Island for a family vacation, couples getaway or a girls' weekend, you're in for a great time!
👉Don't have time to read the whole article? This is the best clear kayak tour and the best parasailing tour, which is a fun way to see the island
After hearing about this super fun beachy spot for years, I finally visited this beautiful place. Here are the absolute best things to do in Anna Maria Island.
Where is Anna Maria Island?
It's a question often asked. With all the hype of this beautiful island, it's good to know where it is!
Anna Maria Island is southwest of Tampa, on the western side of the Florida peninsula. The closest airport to fly into is Sarasota. It can take around an hour's drive from the Sarasota Bradenton International Airport, depending on traffic.
It's also an hour southwest of Tampa and about 30 minutes north of Siesta Key, Florida.
Map of things to do in Anna Maria Island Florida
Here's a map with the location of this beautiful vacation destination, as well as many of the Anna Maria Island attractions on this list.

Tips for visiting Anna Maria Island
Before we get to the list, here are a few tips that I wish I would have known before vacationing to this beautiful island.
The island has limited parking. Take a bicycle, golf cart or get there early if you have a rental car. And by 'there' I mean anywhere. 🙂

Join this Anna Maria Island Facebook group for more insider tips. You'll see real-time events, wildlife sightings and can chat with locals.

If you're staying on the island for a week or a few days, you don't really need a rental car. You can rent bikes, a golf cart or use the free trolley to get around the island from 6am to 9pm. If you want flexibility to travel to the surrounding areas, grab a rental car!
If you're driving to the island from Sarasota, Siesta Key or anywhere else, be sure to hit the road early. The traffic into the island can be really heavy stop-and-go.

Do the 'stingray shuffle' as you enter the water so you don't step on one of those. In other words, don't step straight into the ocean, shuffle your feet instead to wake any sleepy guys up.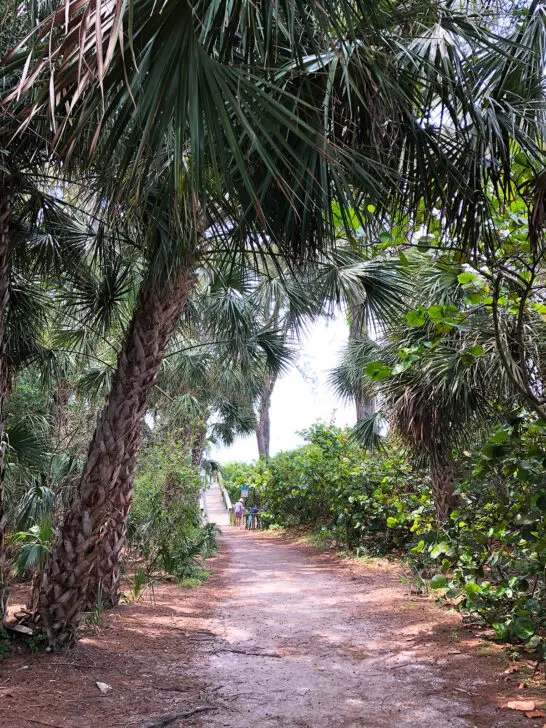 What to bring to Anna Maria Island
Here are a few items that you will likely want to bring to Anna Maria Island.
Reef safe sunblock – protect those ocean creatures while you enjoy the water!

Sunglasses cloth. The humid, salty air will fog over your glasses. I had to clean mine often with a high quality cloth (way better than a t-shirt). Pack a few in your beach bag!

Water shoes if you prefer. Most of the beaches are soft, but a few spots you (or your kids!) might be more comfortable in water shoes.
Here's a complete list of what to pack for the beach.
Alright, already! Let's get to the list!
Things to do in Anna Maria Island
These are the best activities and things to do in Anna Maria Island. It's such a relaxing beach destination, you'll have a fantastic time!
1. Visit the best beach Anna Maria Island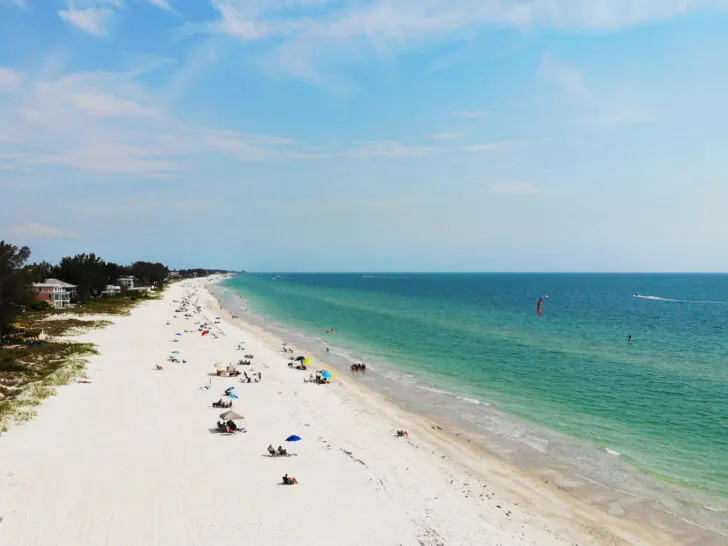 Of course this is the first thing on this list of what to do in Anna Maria Island! If you're not a beach lover, you're likely not spending a vacation here. The nice thing about the beaches here is that the sand is so soft!
If you want to know which beach is the best beach in Anna Maria Island, it's the one with a parking spot nearby! Kidding, of course.
Most of the beaches on the island are picturesque and perfect for a beach day. If you're looking for a beach with amenities – like restrooms, washing stations and food, my favorite was Manatee Public Beach.
Here's a list of the best beaches in Anna Maria Island:
Holmes Beach
Manatee Beach
Beach at Bean Point
Cortez Beach
Coquina Beach
Bradenton Beach
Bayfront Park Beach
Watch for a few of these beaches in detail below!

2. Anna Maria City Pier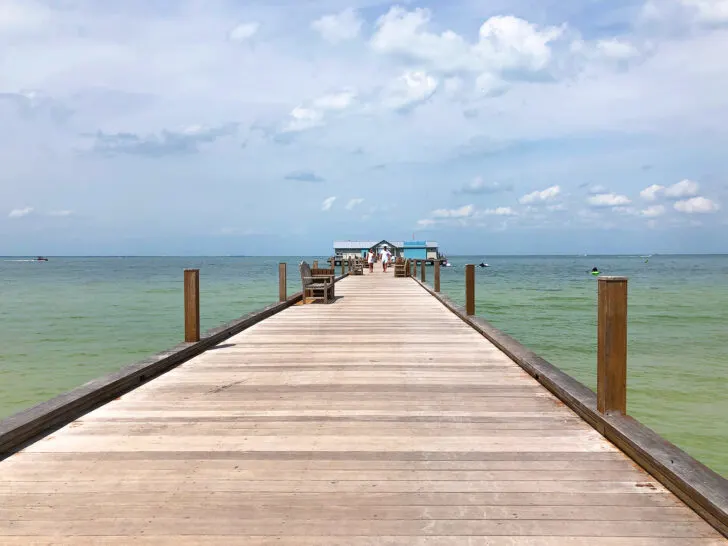 A fun spot for fishing or just checking out the wildlife, the city pier is a must on your list. While I was there, I witnessed a school of fish rushing the surface over and over. Just a few days before my visit, a resident with a drone saw dozens of Cownose Rays congregating near the pier.
You'll also find the City Pier Grill and Bait Shop, picnic tables and benches for fishing. It's a fun spot to relax and enjoy the water and marine life without the sand. It's definitely a must-see and one of the best things to do on Anna Maria Island.
Location: 100 N Bay Blvd, Anna Maria, FL 34216
Side note: the Rod and Reel Pier is a really popular spot nearby for food!
3. Poppo's Taqueria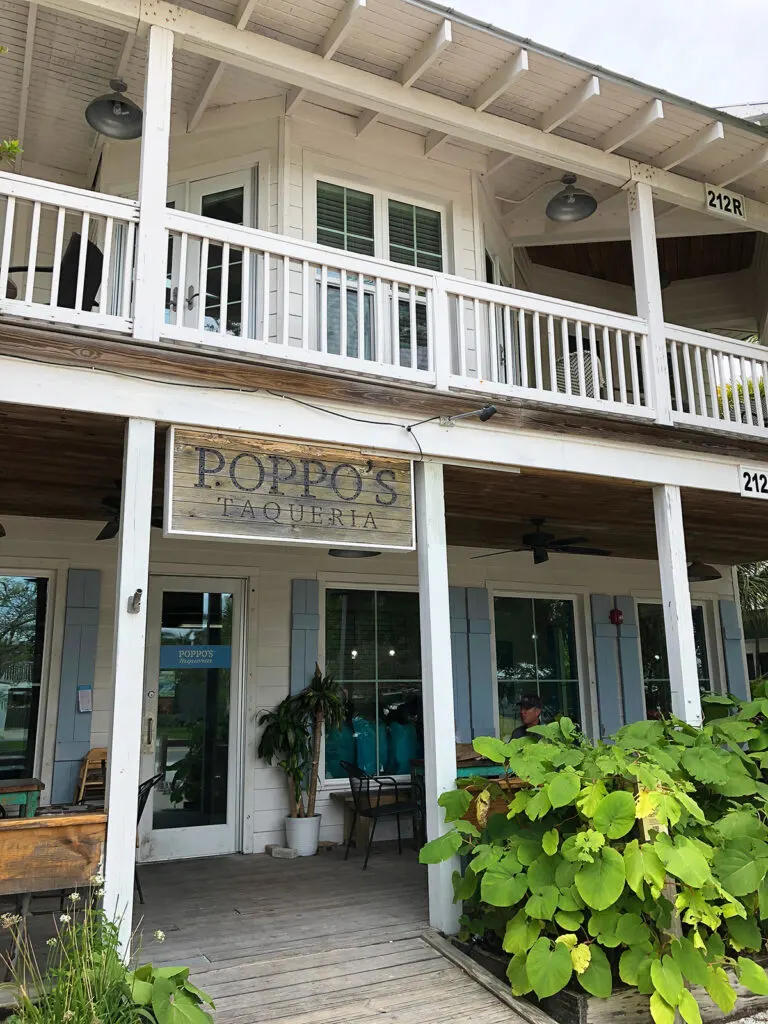 Guyssssss! Make it a point to come to Poppo's Taqueria! The tacos are amazing and budget-friendly too! Walk in the door and based on the aroma, you'll immediately know it's going to be delicious!
They have tacos, quesadillas and burritos, chips and salsa – all the good stuff! It's made to order right in front of you. Seriously, go here. You won't regret it!
Location: 212C Pine Ave, Anna Maria, FL 34216
4. Bean Point Anna Maria Island (one of the absolute best things to do Anna Maria Island)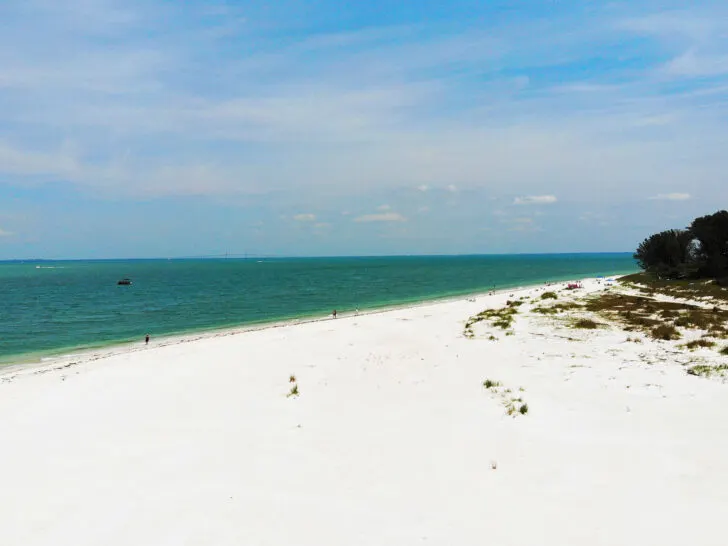 One of the most relaxing spots, and best things to do on Anna Maria Island is visit Bean Point Beach. With very little parking, the crowds are limited on this part of the island. You'll have more of the beach to yourself!
The northern end of Bean Point at the end of the island has more seaweed, but as long as you stick the west side, the beach is clear and beautiful! The sand under foot is super soft on the western side of Bean Point Beach, too.
Because parking is challenging, my best advice is to navigate to Bean Point then look for street parking. These are neighborhoods though, so make sure to follow the no parking signs and be courteous to the residents. This is where renting bikes comes in handy…
Location: navigate to Bean Point, Anna Maria, FL 34216
5. Rent bicycles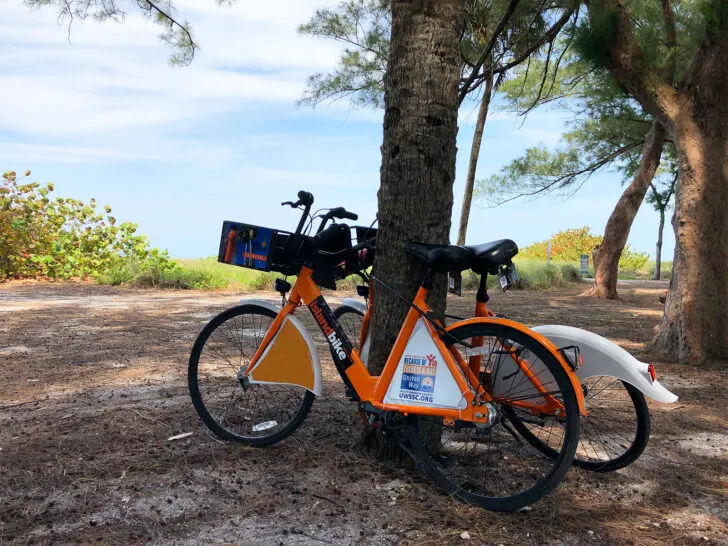 I mean, is there anything more fun than biking around an island? It reminds me of the time I did a Miami to Key West road trip. There were definitely more bikes than cars on Key West, too.
Anyway, use them to get from your vacation rental to the beach, restaurants, etc. If you're staying in the town of Anna Maria, this is an ideal way to get around. You won't have to worry about parking, either. Rent bikes for a day or multiple days while on the island.
Looking for a vacation rental? I've found really good rates and a lot of variety using Booking.com. Here are some options for Anna Maria Island.
6. Visit Bradenton Beach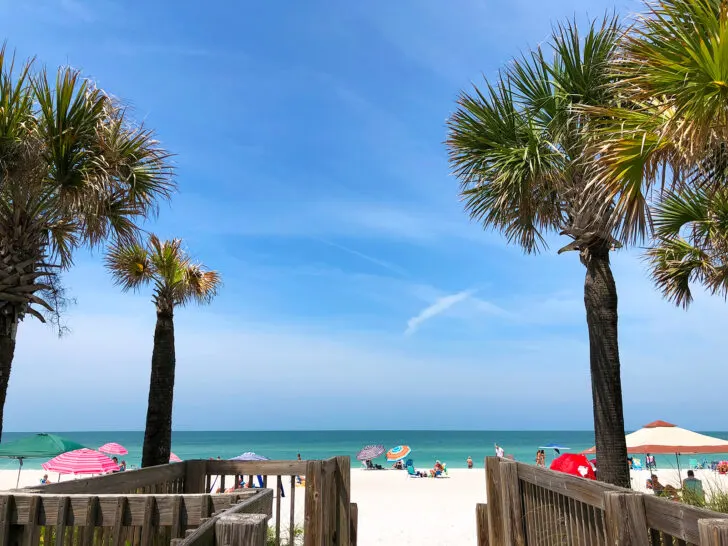 The white sand beaches here will draw you in! Bradenton Beach in Anna Maria Island is one of the more popular beaches because it has ample free parking within walking distance.
The sand is filled with more seashells than Bean Point, but it's not too overwhelming. If you prefer to use water shoes for this beach, these are the water shoes that work awesome for beaches like these.
With lifeguard stations and amenities nearby, Bradenton Beach is one you'll love when visiting Anna Maria Island!
Location: navigate to the beach at 200 Gulf Dr S, Bradenton Beach, FL 34217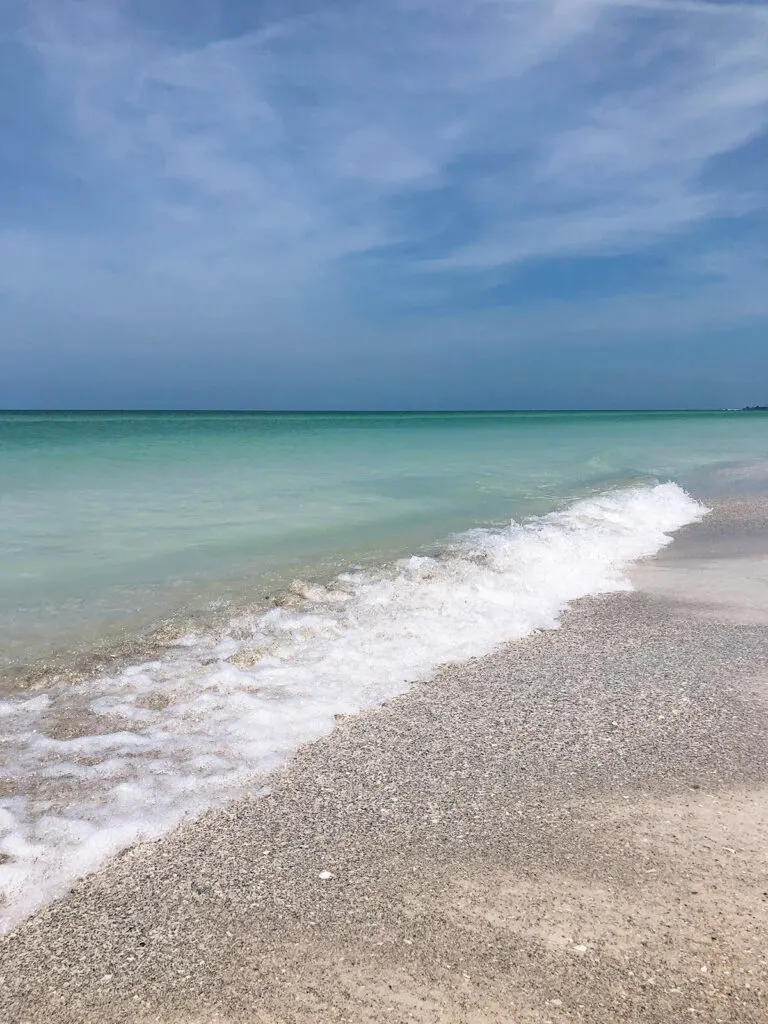 7. Historic Bridge Street Pier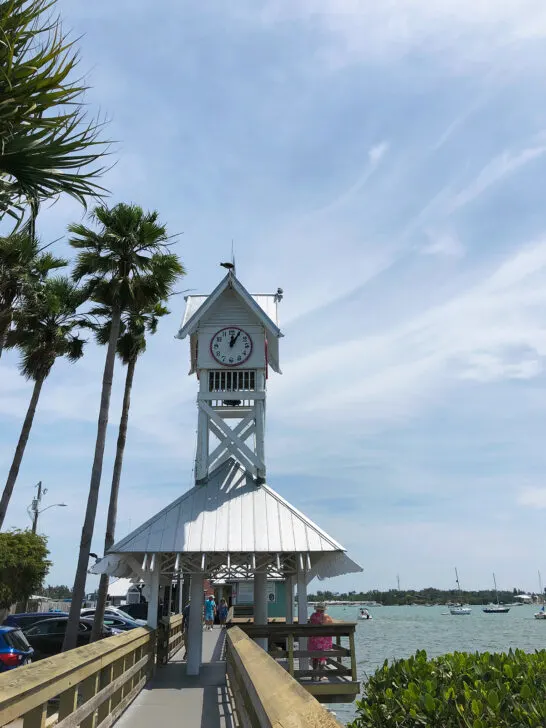 While you're in the Bradenton Beach area, be sure to visit the clocktower and the pier. It's a great fishing pier and you can see the harbor and bay side from it.
One of the most well-known restaurants in this part of Florida is also right on the pier. The Anna Maria Oyster Bar is the place to get oysters on the island! They also have awesome fish and chips, shrimp and plenty of other seafood options.
Location: 1-15 Laverne Dr, Bradenton Beach, FL 34217
8. Shop at Bradenton Beach (another fun one on this list of things to do on Anna Maria Island)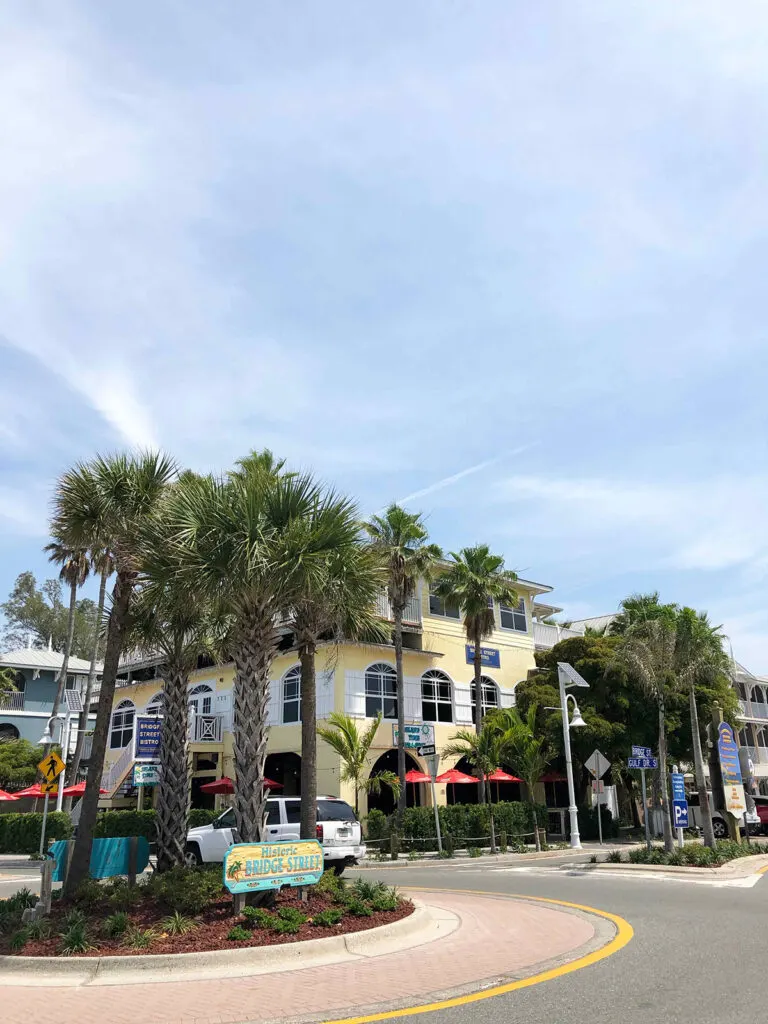 A cute little main street with shops and restaurants, Bradenton Beach is perfect if you need a break from the beach, and is one of the best things to do in Anna Maria Island! From jewelry to clothing, beachy home décor and souvenirs, this cute little town has something for every shopper!
Morning, noon and night this area is alive. From the first coffee of the morning until closing down the bar at night, this area is a fun spot for a day trip from Anna Maria city or even to stay in a vacation rental near Bradenton Beach.
Location: navigate to Bridge Street, Bradenton Beach, Florida 34217
9. Farmers market
What's more authentic and local than visiting a farmer's market? One of the most unique things to do in Anna Maria Island is hitting the farmer's market. The Bridge Street Market in Bradenton Beach adds a local vibe on your vacation.
Find local produce for a beach picnic, sculptures and artwork or souvenirs from your trip. As of the time of this publication, the farmer's market in Bradenton Beach runs November – April, Sundays 10am – 3pm.
Location: navigate to Bridge Street, Bradenton Beach, FL 34217
10. Ice cream at Small Town Creamery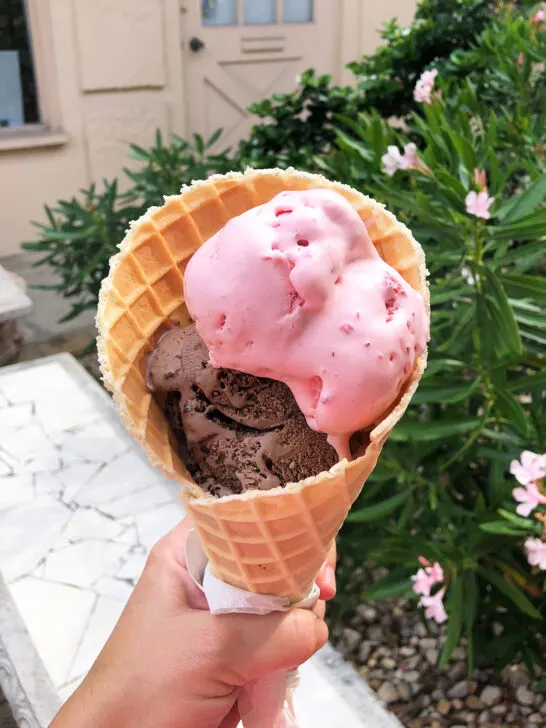 Love ice cream? Coming from someone who booked a vacation around ice cream (true story), I love the stuff. So when I recommend this next place, I mean business!
This is THE perfect place to spend an hour on a hot afternoon while on vacation.
At Small Town Creamery, there's ice cream, fudge and sweet treats to please every adult and kid in your group. But since my heart is in the ice cream, I'd highly recommend the cookies 'n cream, cheesecake, chocolate and pistachio. Just be sure to eat it fast before it melts!
Location: 5404 Marina Dr, Holmes Beach, FL 34217
Here's more things to do in Anna Maria Island
Seen enough yet? This lovely little island offers so much more. Let's keep going!
11. Kayak through the mangroves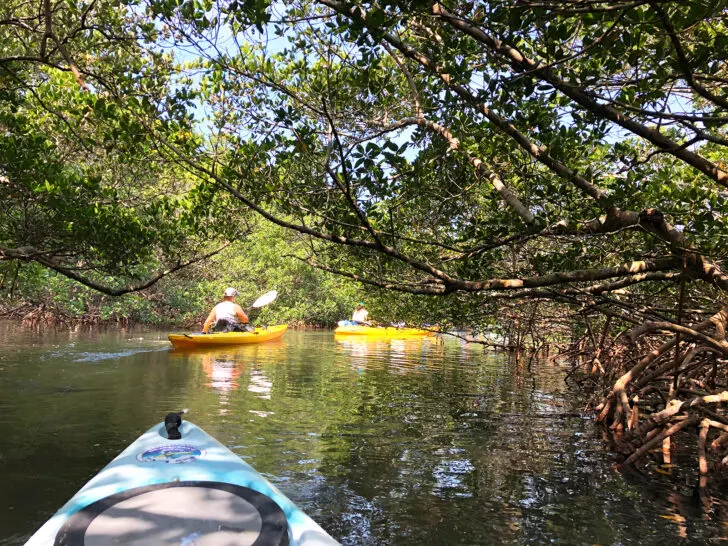 A bit further down the road on the very south end of this island chain is Lido Key. You'll need a tour reservation and a rental car to get there, but it's absolutely worth the trip, and by far one of my favorite things about this area!
Mangrove trees grow directly in the water and the tunnels built through these trees are so much fun to explore in a kayak! Tour guides can fill you in on the local wildlife and plant life you'll see as you kayak through these tunnels. Bring your water shoes, sunblock and water-safe camera for this kayaking tour.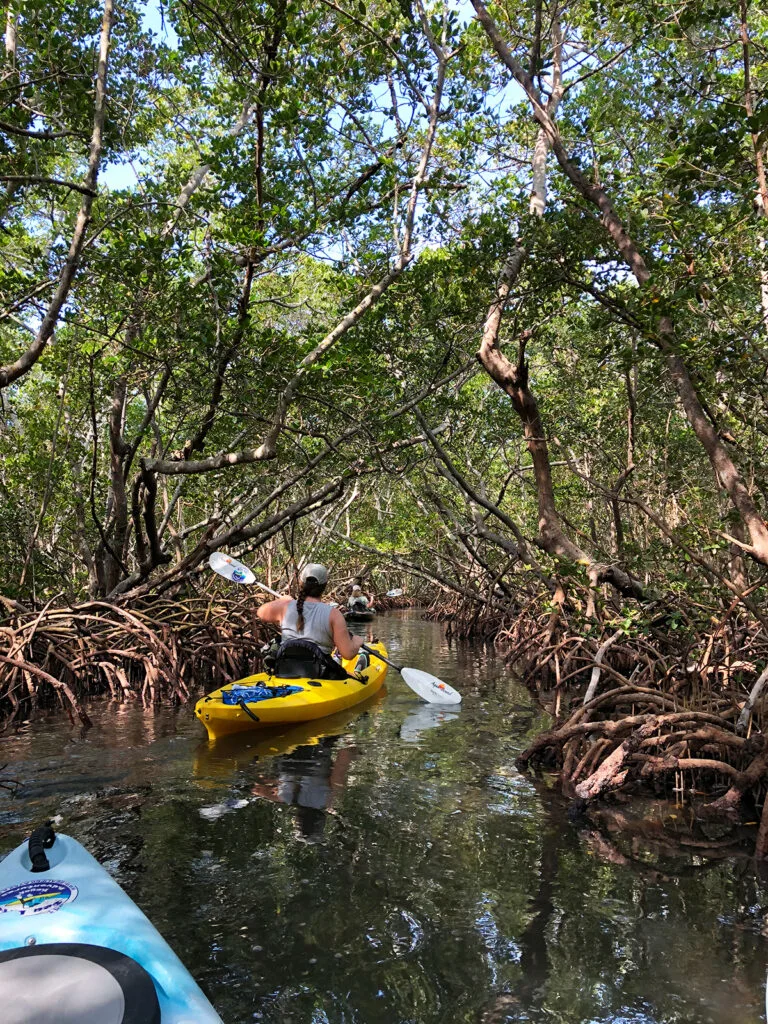 This was one of my highlights of my trip to Anna Maria Island!
Location: Ted Sperling Nature Park, 259-201 Taft Dr, Sarasota, FL 34236
Book it now: kayaking tour through the mangroves.
12. Visit Coquina Beach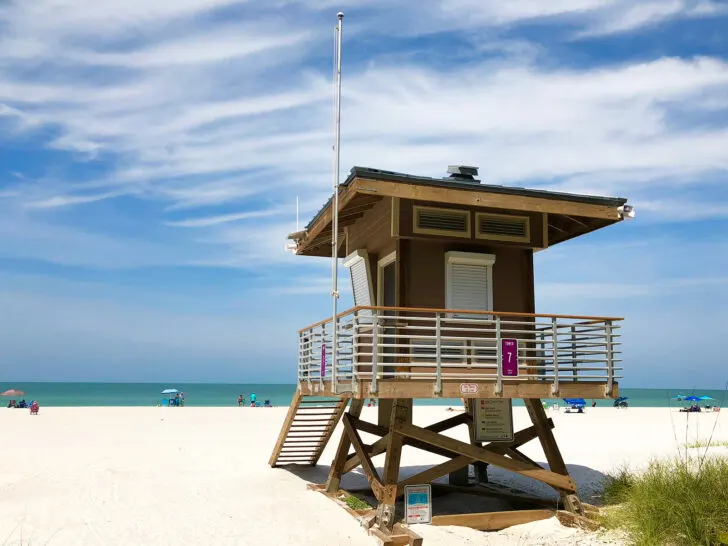 Coquina Beach is a wide, deep beach that's perfect for an afternoon on the beach. Less crowded than Holmes Beach or Manatee Beach, come here if you want to enjoy the surf but get away from large groups!
The sand was a bit more rocky and has lots of small shells as you walk, but it's not typically overrun with seaweed. The beach is that beautiful white sand that you'll see all along Anna Maria Island!
Location: navigate to public parking at Gulf Dr S, Bradenton Beach, FL 34217
Oh and by the way, if you're looking for more Gulf Coast beaches, be sure to check these out for your next getaway!
13. Check out the Beach Market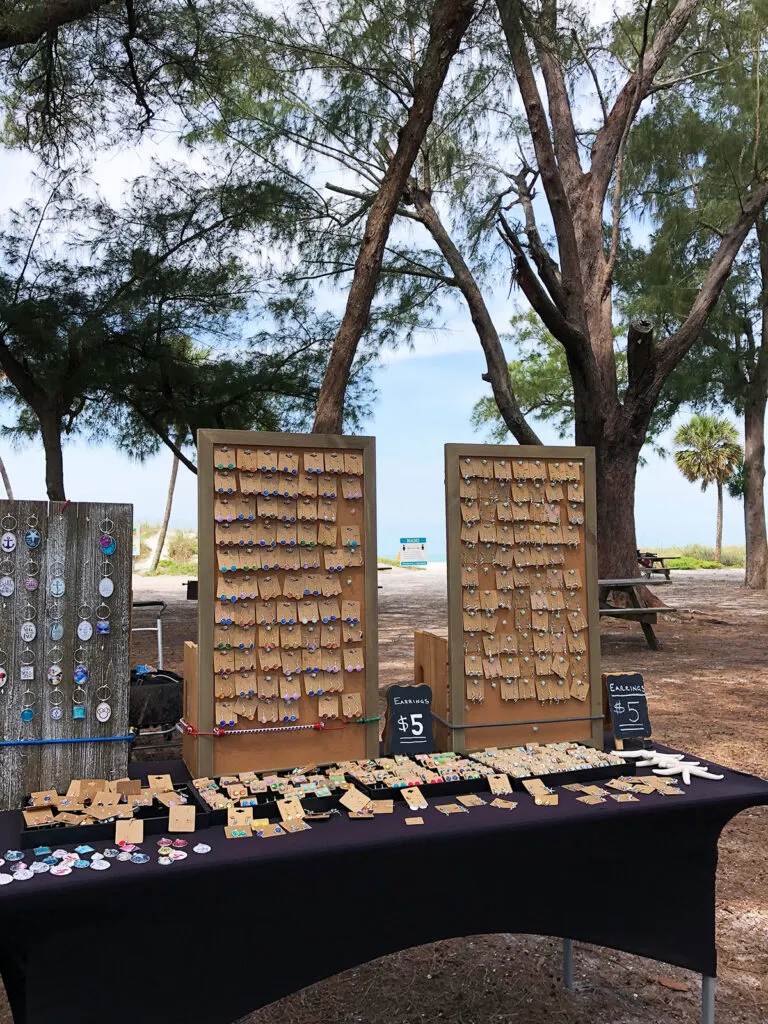 A fun break from the ocean, the Beach Market at Coquina Beach is a really fun spot to shop for artisan crafts, souvenirs, snacks and live music! I enjoyed looking at the trinkets and jewelry and smelling delicious candied almonds while walking through the beach market.
One of the nice parts about visiting the beach market is that it's in the shade, giving your face and shoulders a break from the powerful sun.
As of the time of publication, the Coquina Beach Market is on Wednesdays, Fridays and Sundays at Coquina Beach. Note this can change seasonally so check their page for updates before you go!
Location: 2650 Gulf Dr S, Bradenton Beach, FL 34217
14. Build sand art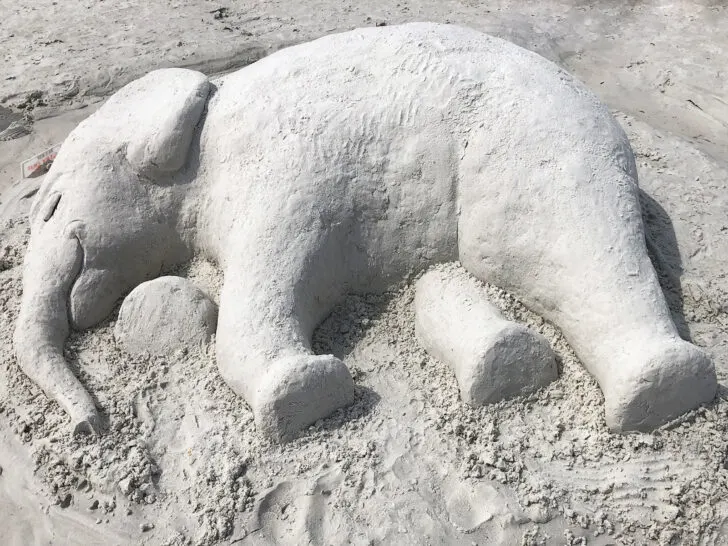 Whether you're 2 or 102, does playing in the sand really ever get old? The sand on this island is perfect for building sand castles, mermaids or whatever your mind can think of!
If you're traveling with kids, pack those beach toys and dig in! Pack sand crafting tools like this kit in your luggage!
Location: any beach!
15. Take a dolphin or manatee tour (a favorite on this list of Anna Maria Island things to do)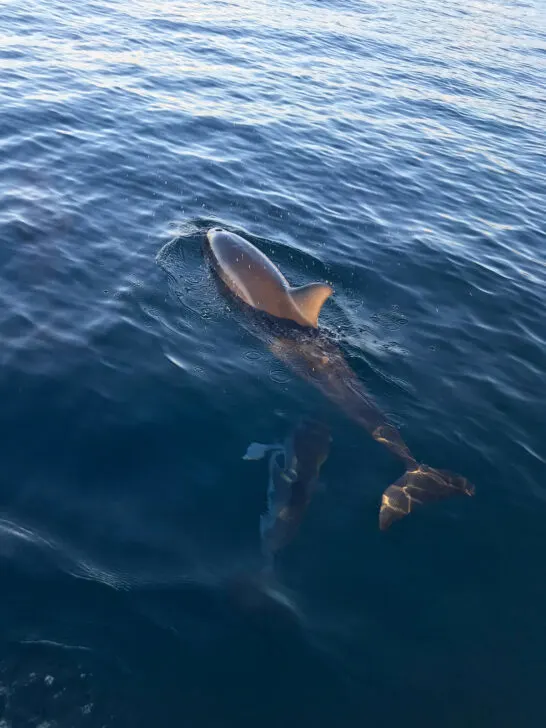 One of the best ways to spot wildlife near Anna Maria Island is by boat! Dolphins, sting rays and manatees are popular wildlife seen in the area, and taking a tour is a fun option for a couple, group or family.
An unforgettable experience is to take a private yacht tour for half a day, perfect for groups up to 6 people. Or take a shorter two-hour dolphin sighting tour. Either way, you're sure to have a great time on the water!
Taking a dolphin tour may just be a trip highlight, as it's one of the very best things to do in Anna Maria Island. 🙂
16. Hunt for seashells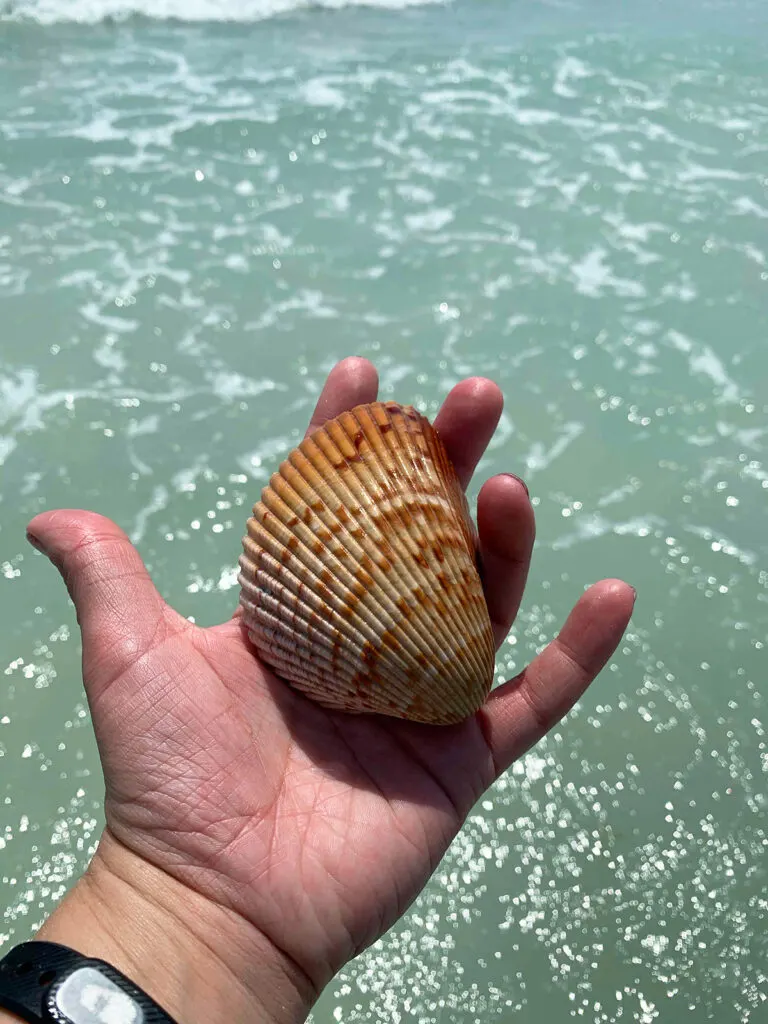 This part of Florida is filled with so many unique seashells! Whether you're a collector or just find it fun to search for them while on vacation, you'll have plenty of them to find here. It's a fun activity for all ages, and gives kids something to do on the beach when boredom sets in.
The best beaches for hunting seashells on Anna Maria Island are Bradenton Beach and Coquina Beach.
17. Meaney's Mini Donuts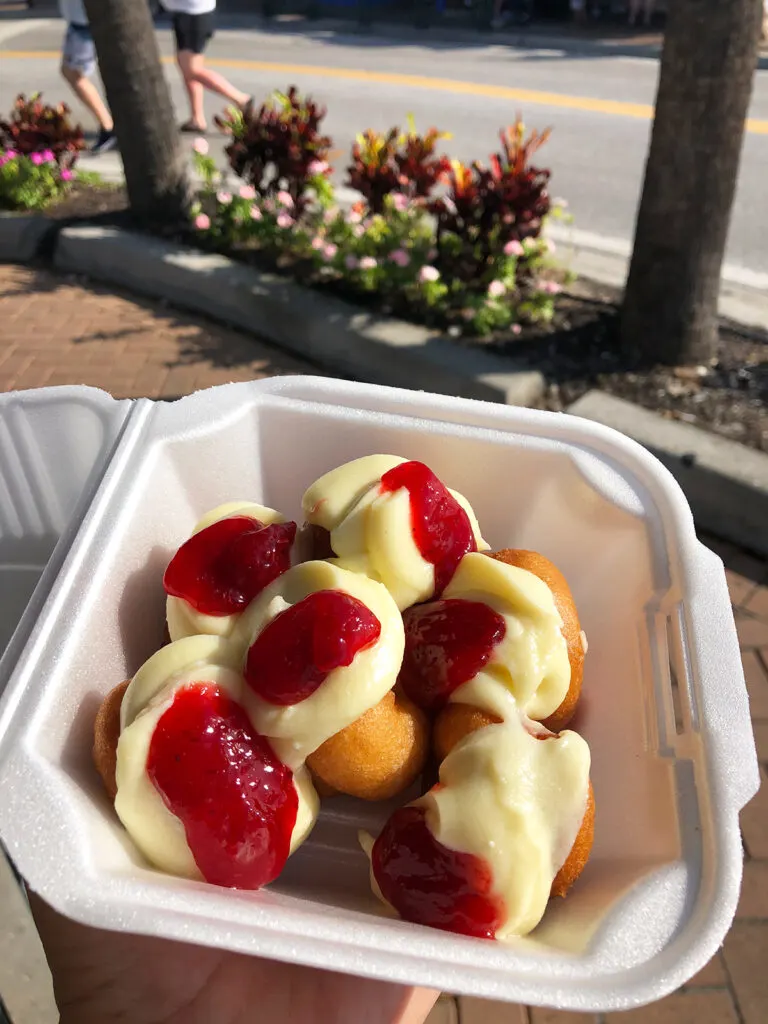 This place is an absolute must! I know so many items on this list of things to do in Anna Maria Island are food-related. But trying new foods is one of the best things about vacation, right?
These delicious pastries actually remind me of eating malasadas, one of the best things to do in Kihei Hawaii!
You NEED to try Meaney's Mini Donuts. They're completely addicting and definitely a food your whole group or family will love. With specialty flavors like strawberry cheesecake, apple pie, chocolate delight and turtle cheesecake, it's hard to choose.
You'll have to travel a bit further down the island to get here, but it's worth the drive!
Pro tip: order the cinnamon and sugar ones. You' won't regret it!
Location: 386 St Armands Cir, Sarasota, FL 34236
More fun things to do in Anna Maria Island
So far this list of Anna Maria Island activities has covered some great white sandy beaches, awesome food, natural gems and some of the best spots on the island. Let's keep going to see what else there is on this cute little island!
18. Sunset on the beach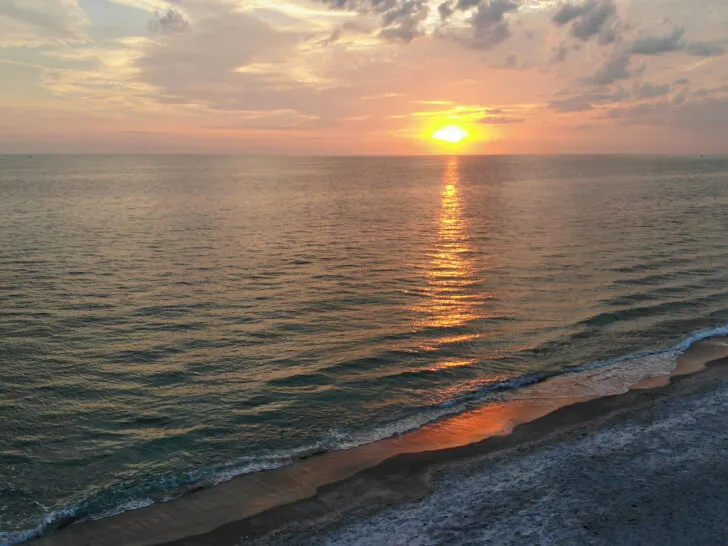 I know, I know it's cliché. But honestly beach sunsets are the best! They certainly now how to draw a crowd. And since the beaches all along Anna Maria Island face west, this is literally the perfect place to catch a sunset.
Be sure to charge up that phone, you'll want to document this beauty!
Location: favorite spots for a sunset here are Manatee Beach or Bean Point
19. Catch live music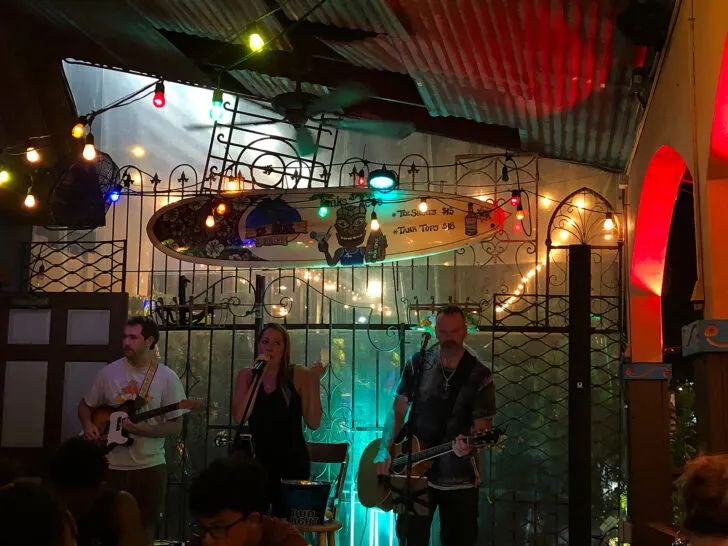 Anna Maria Island is not a huge island with a lot of nightlife. It has more of a family-friendly vibe. So live music isn't always the easiest to find. But live music helps you let loose a bit more on vacation!
Great spots to find live music on Anna Maria Island are:
The Ugly Grouper
Bamboo Island Bar
Anna Maria Island Beach Cafe
Island Time Bar and Grill
Freckled Fin Irish Pub
20. Cocktails at Daiquiri Deck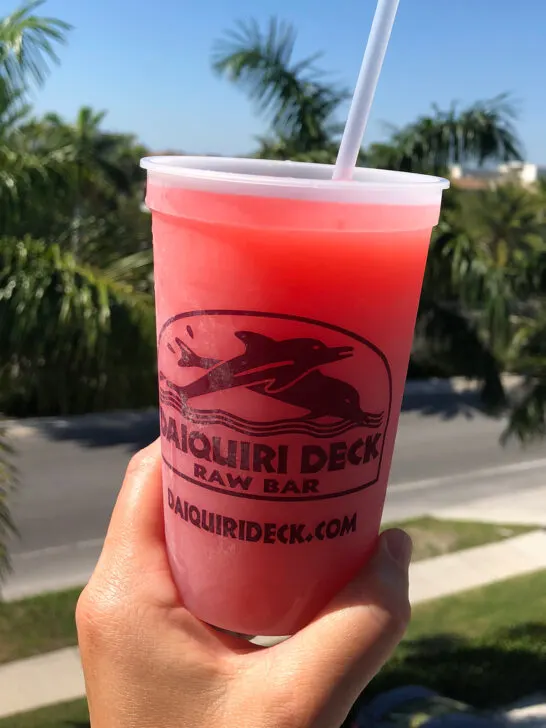 If you love frozen cocktails, you'll love this one! The Daquiri Deck in Bradenton Beach is a fun hangout and delicious adventure.
Frozen drink machines that line the bar, these cocktails are delicious! With fun names like 'The Karen' "Decksickle' and 'Floozie' this is definitely the place to be for cocktails.
Of course, they have food too. After visiting Daquiri Deck multiple times, I definitely recommend to try the Blackened Mahi Bites. They are absolutely amazing!
Pro tip: be sure to go during happy hour for your biggest bang for your buck, 1/2 price drinks!
Location: 107 Bridge St, Bradenton Beach, FL 34217
21. Lounge on Longboat Key Beach (another favorite on this list of things to do near Anna Maria Island)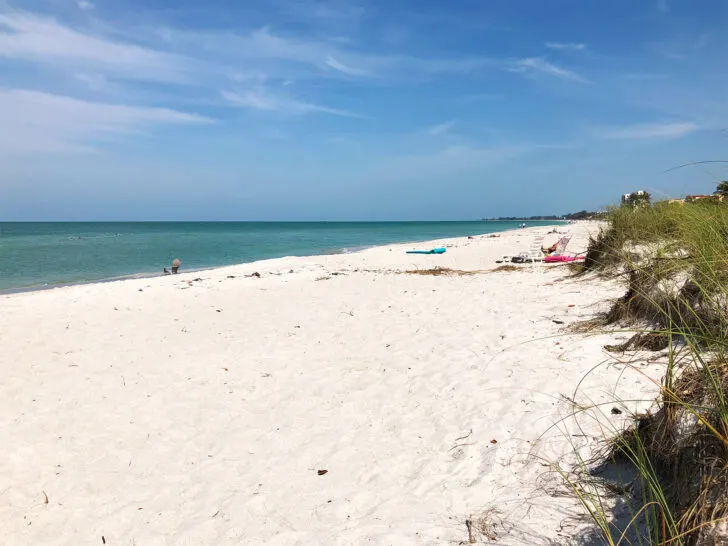 One of my favorite spots in the Anna Maria Island area is Longboat Beach. Way more relaxed and with zero amenities, this beach is perfect if you like a more peaceful, natural beach setting.
With soft, white-sand beaches and very little seashells, it's a gem! It would be a perfect spot for a picnic, set up a tent for shade and just relax and enjoy the day.
Location: public beach access at 2825 Gulf of Mexico Dr, Longboat Key, FL 34228
22. Visit Saint Armand's Circle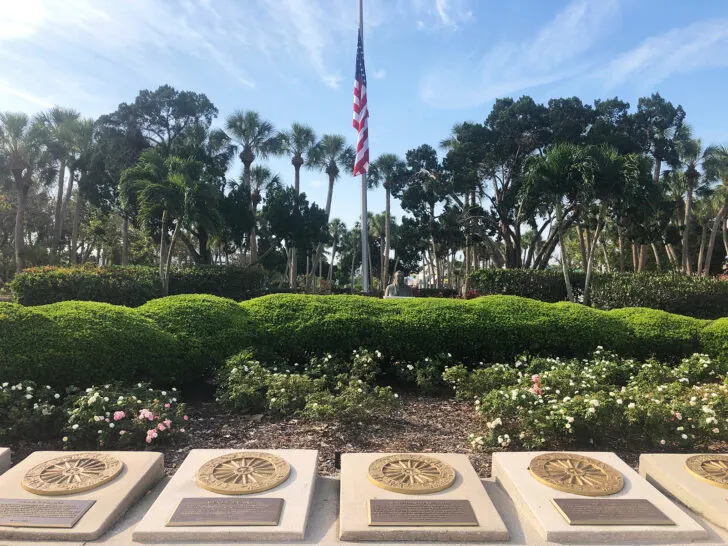 Located on the way to Anna Maria Island from Sarasota, Saint Armands Key is an upscale community with a fun history. If you're a history buff, this is your spot!
John Ringling was partially credited for the creation of St. Armands City. The circle layout was inspired by the circus and considering it was a winter home to the Ringling Brothers and Barnum Bailey Circus, it has monuments and statues all throughout in memory of circus greats.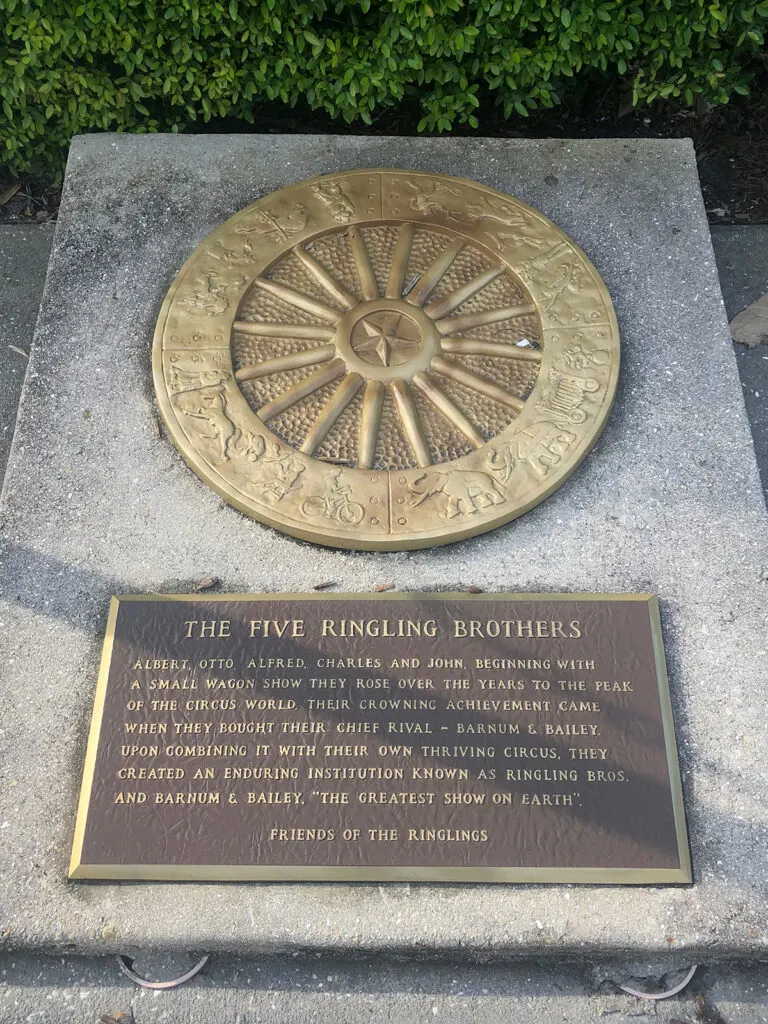 Bonus – with over 100 stores, this is a great place for shopping and dining, too!
Location: navigate to Saint Armand's Circle, Sarasota, FL 34236
23. Go parasailing
No more wondering what to do in Anna Maria Island…
If you've got a sense of adventure and no afraid of heights, parasailing tours offer visitors the chance to see the island from a unique perspective. Enjoy the scenic island while flying through the air! Perfect for families with older kids, couples or even larger groups, this will surely get your adrenaline going!
I was nervous my first time parasailing, but it's actually a super fun experience. And Anna Maria Island is the perfect spot to do this high-adventure activity.
Location: departs from Bradenton Beach, FL 34217
Book it now: Anna Maria Island parasailing
24. See some wildlife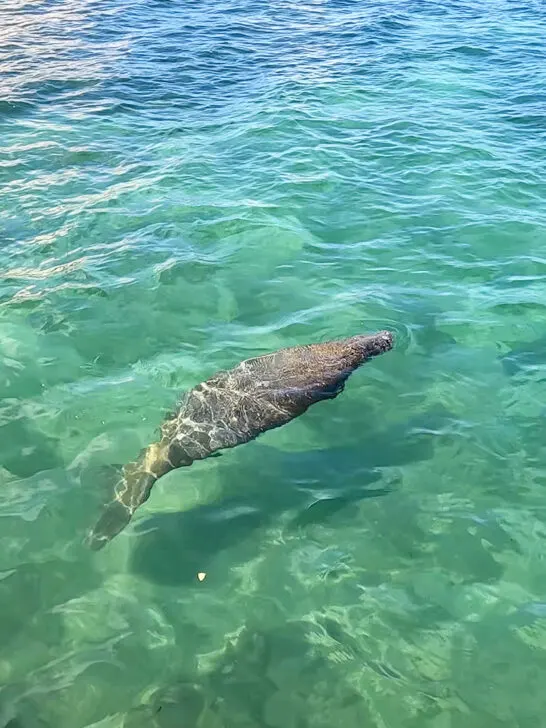 Okay I cannot guarantee any of this, but I will say that Anna Maria Island has a ton of wildlife to be seen! Most commonly are sting rays, manatees, dolphins, herons, sea turtles plus the obvious fish and birds.
The city pier is a fun spot to see wildlife. We've seen manatees at Bean Point and dolphins on the bay side. Plus a turtle at Manatee Beach. But basically, keep your eyes peeled at all times for unexpected surprise!
Viewing wildlife is definitely one of the top things to do in Anna Maria Island Florida!
Location: anywhere
25. Picnic on the beach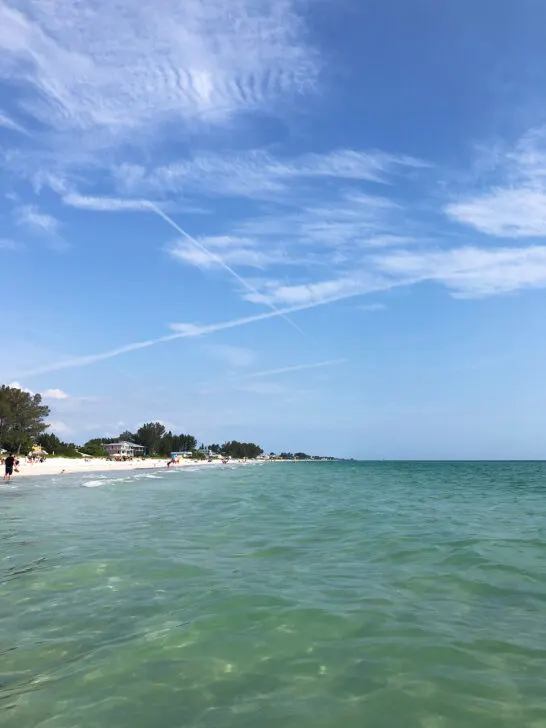 I mean, does life really get any better than spending a whole day on the beach? Grab a cooler from your vacation rental properly (or pack a collapsable cooler) and hit the beach.
One of my favorite ways to stick to my vacation savings plan is to hit a grocery store as soon as I roll into town. Pack a cooler with sandwiches or salads to go, or whatever sounds great to you! Spend the day relaxing on the beach and eat when you're hungry. Perfection, right?
Location: any beach!
Top things to do in Anna Maria Island Florida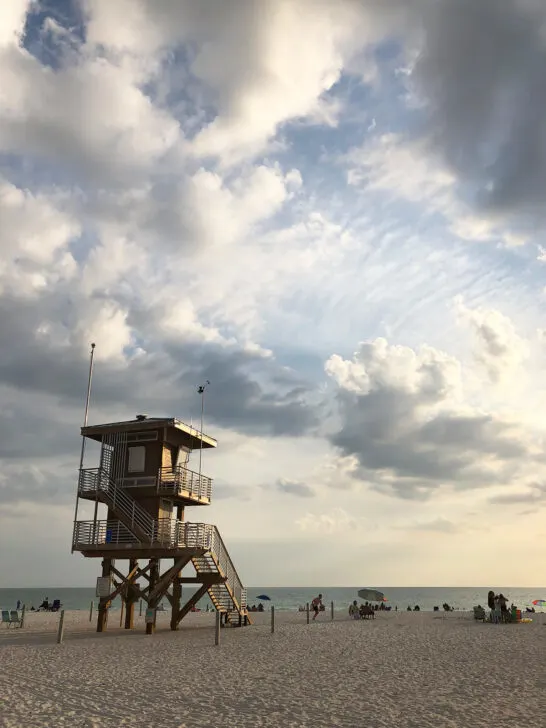 Well there you have it! This beautiful island is full of fun sights, activities and beaches. What it lacks in size it makes up for in charm and adventure!
Let's recap that list again, in a much quicker format!
Anna Maria Island: things to do
Visit the best beaches
Anna Maria City Pier
Poppo's Taqueria
Bean Point
Rent bicycles
Visit Bradenton Beach
Historic Bridge Street Pier
Shop at Bradenton Beach
Farmers market
Ice cream at Small Town Creamery
Kayak through the mangroves
Visit Coquina Beach
Check out the Beach Market
Build sand art
Take a dolphin or manatee tour
Hunt for seashells
Meaney's Mini Donuts
Sunset on the beach
Catch live music
Cocktails at Daiquiri Deck
Lounge on Longboat Key Beach
Visit Saint Armand's Circle
Go parasailing
See some wildlife
Picnic on the beach
Whew! What a fun list! I hope you have a fantastic Anna Maria Island vacation. It's a gorgeous little island worthy of a visit!
By the way, if you're planning to rent a car for your vacation to this gorgeous island, check out the discounted rates on Discover Cars. I typically save 10-30% using their free service. They search top car carriers to find the best deals at no extra cost. Here's that car rental link again.
Quick note: we all love the turquoise green water at Anna Maria Island. But in recent years there's been red tide, toxic algae blooms, seagrass die-offs and fish kills due to 150-year old decisions of water mismanagement in Florida.
Captains for Clean Water is trying to change that by providing education and funding for the Comprehensive Everglades Restoration Plan, which restores Florida's natural waterways, and reduce these toxic (not to mention unpleasant) extreme algae occurrences. Consider supporting this non-profit to ensure future trips to Anna Maria Island are enjoyable. (And bonus – they're rated amazing by Charity Navigator, so give with confidence. 😊)
Related content to read next:
Destin vs. Gulf Shores: Which is Your Perfect Vacation Spot?
22 Stops on a Miami to Key West Road Trip
Tips for Flying with Kids
Find this post helpful? Save it for later or share it on social media.