You're going to absolutely love Siesta Key, Florida! This beach town near Sarasota is busy and full of life, yet has a small town feel. If you're looking for the best things to do in Siesta Key, here's your list!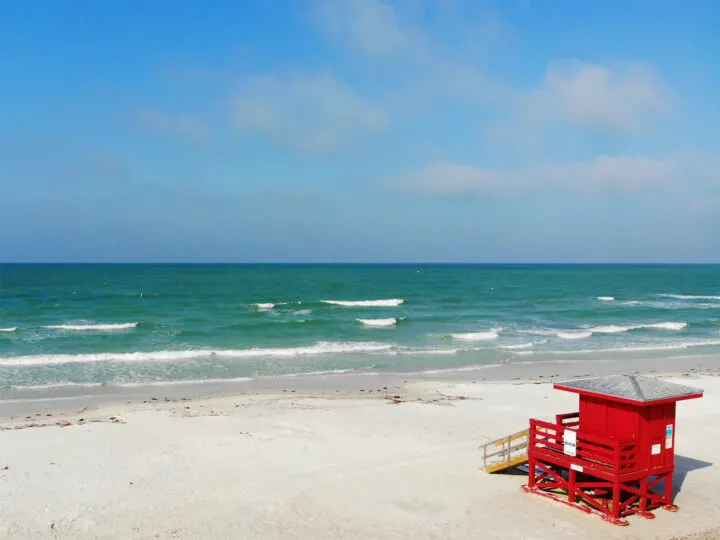 This post may contain affiliate links. For more info, see my disclosures.
Just one visit to Siesta Key and you'll fall in love with this island. It's the perfect getaway for families, couples, friends' trip (hello bachelorettes) or solo travelers. This barrier island is one of the best beaches on the Gulf Coast, and offers so much considering it's size.
Use this guide to plan your perfect beach vacation to Siesta Key. Of course there's gorgeous beaches, but this fun island has so much more to offer!
What you need to know about Siesta Key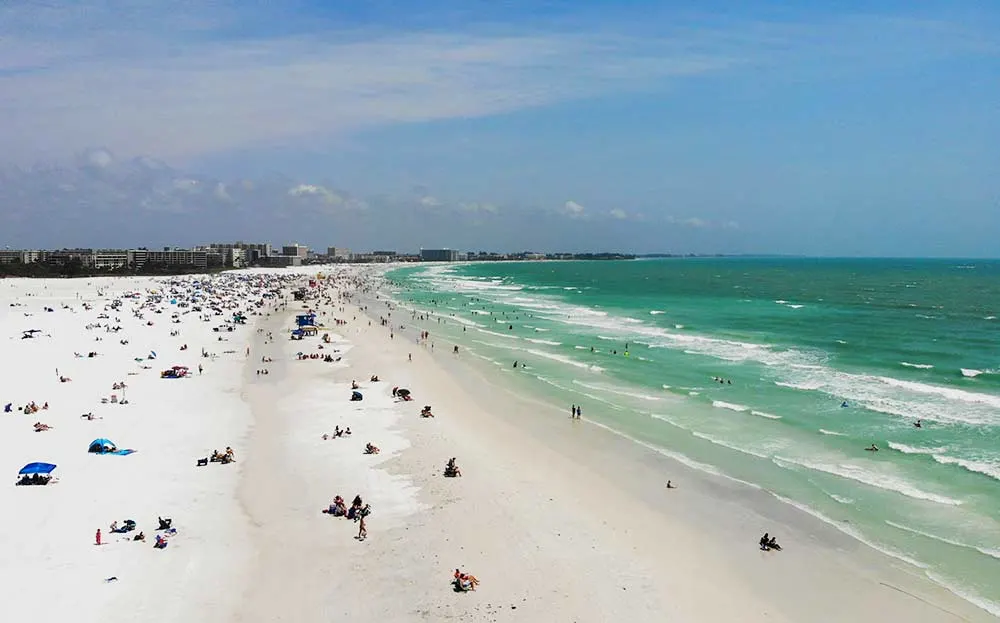 First, let's go over some important info – how to get here, where to stay, etc.
Best time to visit Siesta Key
I mean, you're going to a beautiful beach in Florida – is there really a wrong time? Likely not.
However, if you're looking for the absolute best time to go to Siesta Key, it's April to May. The weather is warm but not too hot, the crowds are less than during peak summer tourism and those looking to escape the winter. And to top that, prices are affordable comparatively.
September and October are also great months to visit Siesta Key based on crowds and affordability. However, hurricane season peaks in August-September, so consider that. And if you do take advantage of the lower prices this time of year, just be sure to have good travel insurance just in case!
Of course, a winter getaway just might be the best time of year to visit. The gorgeous beach views and plenty of Siesta Key activities is the perfect warm winter vacation spot. 🙂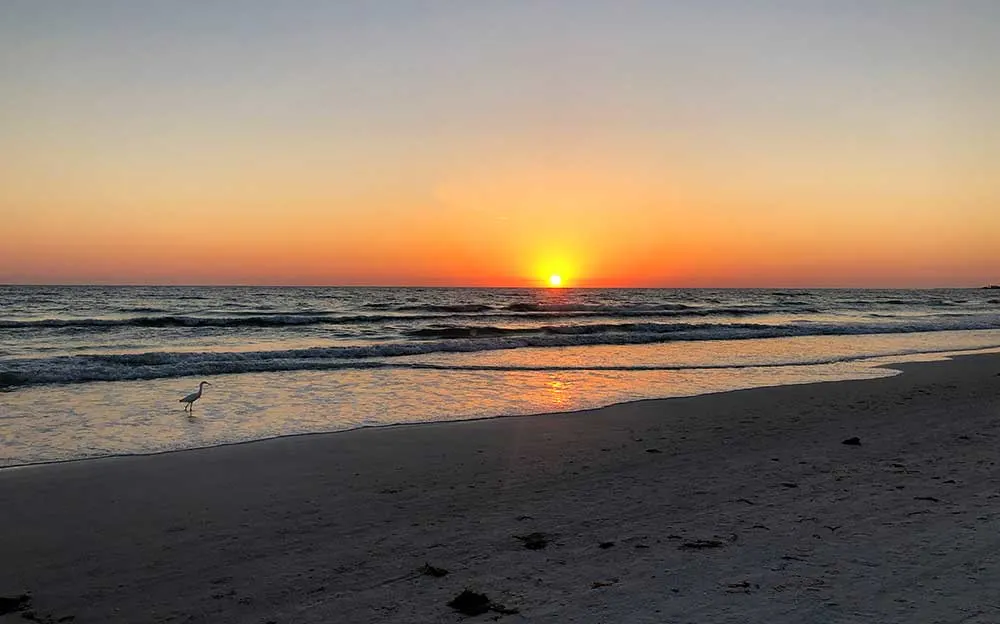 Closest airport to Siesta Key
The closest airport to Siesta Key is in Sarasota, Florida. That's the SRQ airport or Sarasota Bradenton International. Fly into SRQ and rent a car. It's about a 45 minute drive from the airport.
Alternatively, you could fly into Fort Myers or Tampa for a longer drive to Siesta Key.
Pro tip: use Google Flights for the lowest price dates!
By the way, when renting cars my favorite cheap car rental spot is Discover Cars. I typically save 10-30% and it's a free service. They search the top car carriers to find the best deal. Search cheap car rates now.
Best Siesta Key Hotels
Alright, you may not want to hear this, but there's not really big-name hotels in Siesta Key. This is awesome for the locals who want to keep the island more natural and reduce large crowds.
It also means you'll need to look at smaller, local hotels or vacation properties. I loved the options on booking.com and ended up finding a lot of condos to rent. I absolutely loved our view and location, too!
You're excited about this trip, right? Let's get to the list!
Things to do in Siesta Key
Whether your vacation style is laid back or on-the-go, you'll find a bit of both on this list. I'll start off with some of my favorite experiences on the island!
1. Siesta Key Beach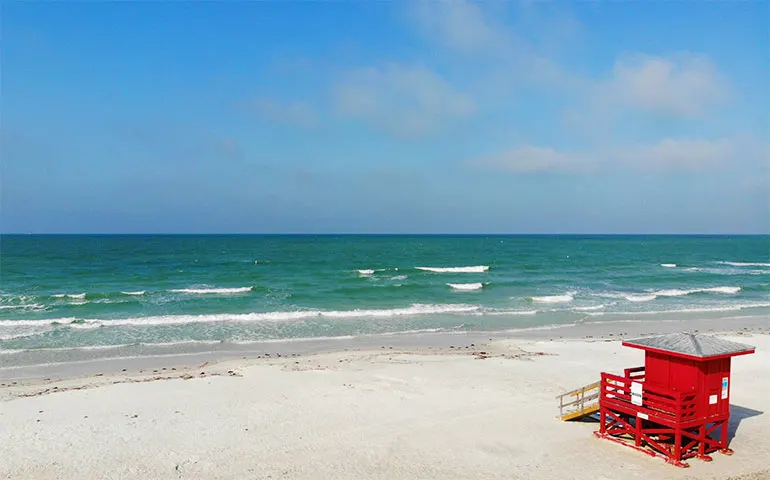 Rated one of the top beaches in the USA by TripAdvisor's Traveler's Choice Awards™, this beach is absolutely deserving of that title!
It's incredibly soft sand is like walking on a fine powder. It truly doesn't even feel like sand! The sand is actually made up of 99% quartz, making it the softest sand you'll ever step foot on.
Siesta Key Beach is one of the most family friendly beaches in Florida for this reason!
It's the perfect spot to spend a day soaking up the sun, building sand castles, wading in the water, watching the kite surfers or simply enjoying this fabulous sand.
The parking lot the size of a convention center lot, so this beach gets busy! On a Saturday afternoon, I witnessed easily over 2000 people there at once. Good thing it's an extremely large beach!
Tips for visiting Siesta Key Beach
Get there early or go late. The peak of the day (11am – 4pm) is the most crowded. If you want a more peaceful experience, go early or stay for sunset.
Walk to the north or south end of the beach for the least people. We found the most space the furthest away from the main entrance.
Take beach chairs with you. If your vacation rental has beach gear, be sure to grab it!
Wear eco-friendly sunscreen so as it wears off, those fish and reefs are safe.

2. Play beach volleyball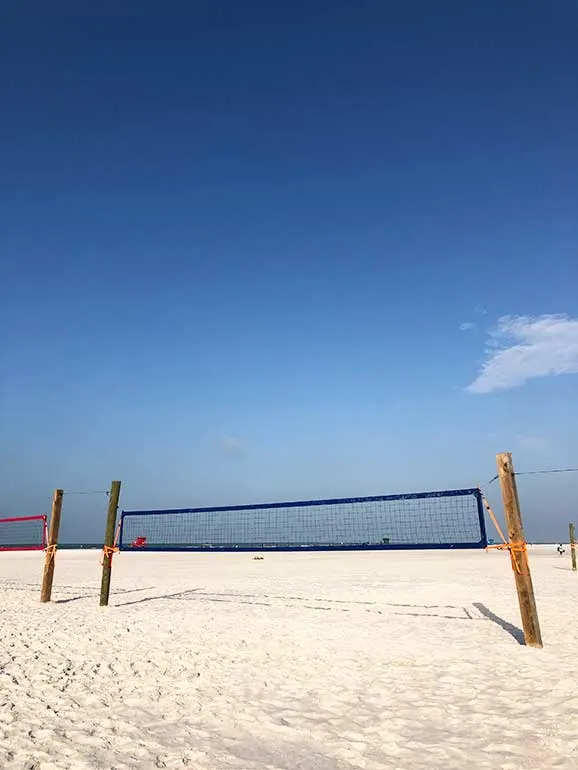 While you're at Siesta Beach, grab a volleyball and some friends and hit a few. It's a fun way to get some exercise while taking a break from the water and the crowds.
The volleyball courts are located near the southern end of the Siesta Beach parking lot.
3. Ride the Siesta Key Breeze Trolley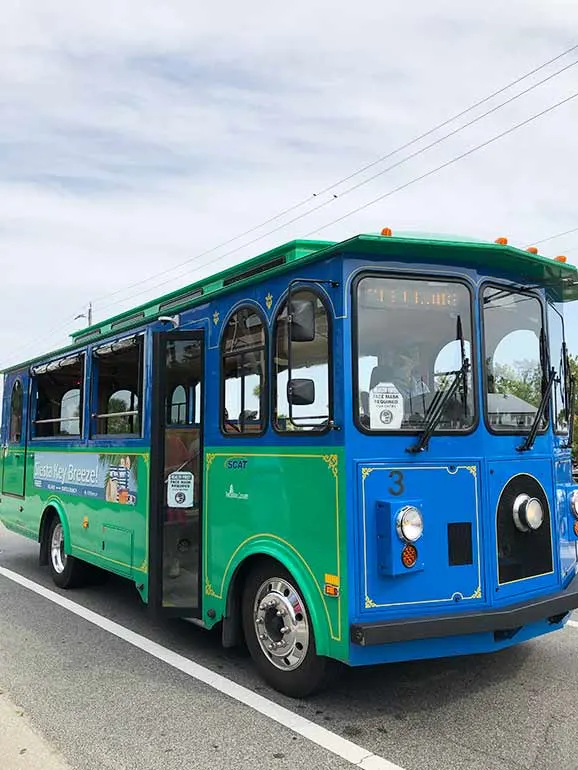 Guysssss! I didn't know there was a free trolley before I arrived on the island and man it was amazing! Providing vacationers and locals free rides, the Siesta Key Breeze Trolley runs daily 10am – 10pm except on Friday and Saturday nights until Midnight.
It runs from the Village to Turtle Beach and will pick up or drop off anywhere along the route. The Siesta Key Breeze Trolley website says it runs every 30 minutes, but I found it was more like every 10 minutes! Just be prepared to hop on the last trolley of the day at least 30 minutes early so you're not stranded.
If you have a hotel or vacation rental right on Beach Road / Midnight Pass Road, it's an easy way to get around the area. You really don't even need a rental car for this vacation if you plan to stay on the island!
4. Siesta Key Village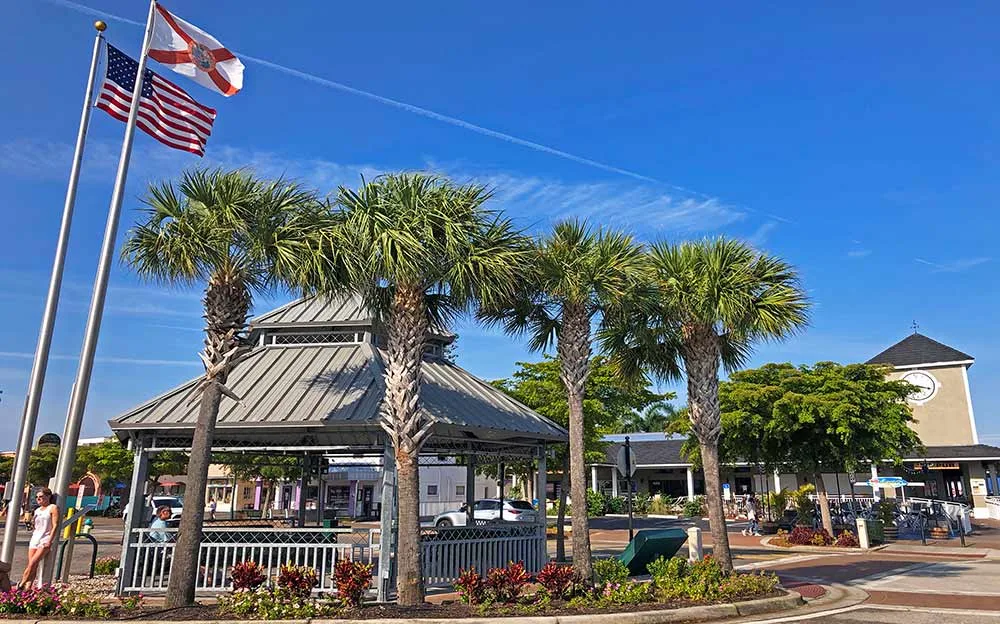 Full of shopping and dining, the Siesta Key Village is a really cool spot on the island. It's busy with vacationers and locals alike, enjoying the quaint town square.
Take a walk around the village and find the perfect spot to eat, check out an art gallery, hang out in the village circle or grab a souvenir for a loved one.
Grab groceries for a budget-friendly getaway at the local market. Or find the perfect lunch or dinner spot during your island vacation or Florida road trip.
Siesta Key Village has some of the best nightlife on the island and it's kind of the thing to do after the sun goes down. Lots of people enjoy the sights and sounds of this area, so just be prepared for crowds and long wait times at restaurants.
5. Bike rentals Siesta Key (favorite way to see the island)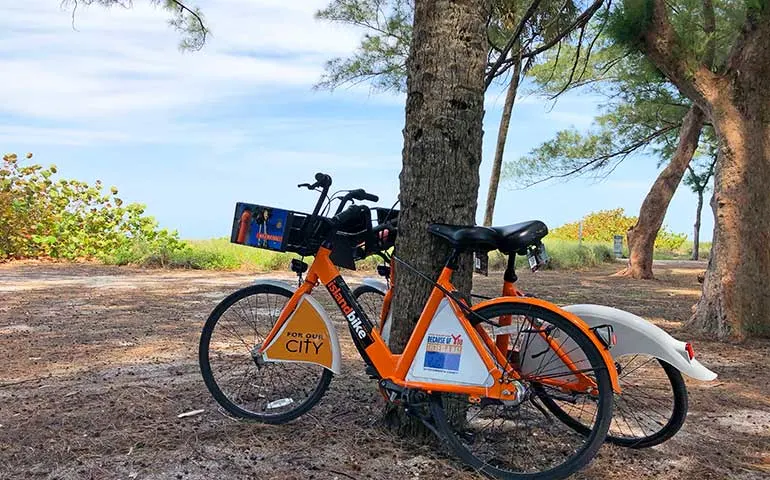 Whether you rent bikes for the day or even an electric bike tour, this is a great way to see the sights of Siesta Key quickly. The island is completely bike-able, with a bike lane to choose on the street or just ride directly on the beach! If you want to take it easy, opt for the electric bike sunset tour.
Biking the island is by far one of the top things to do on Siesta Key!
Book it now: electric bike tour of Siesta Key
6. Crescent Beach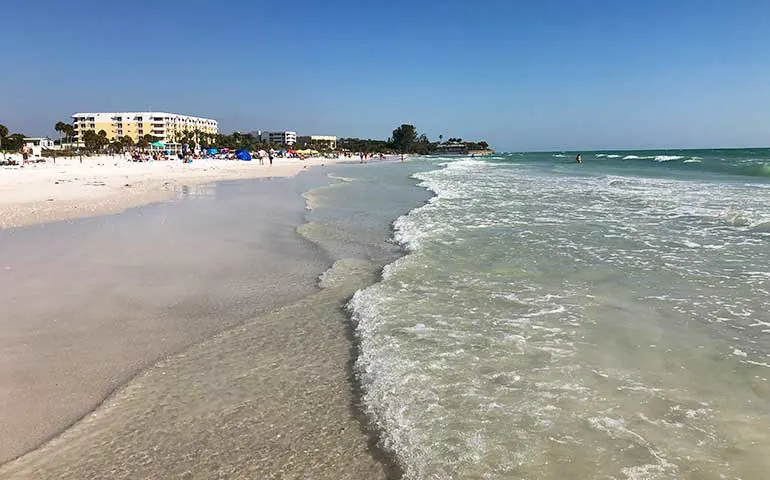 Just to the south of Siesta Key Beach is Crescent Beach. It's along the main strip and easily accessible via the trolley. With the main attraction on the island up at Siesta Beach, it leaves Crescent Beach desirable for less crowds.
The sand isn't quite as fine as it's famous neighbor, and there's a few more seashells hanging out too. But the nice thing about Crescent Beach is that it's a short walk to several restaurants and bars, providing lots of options for entertainment.
My favorite break from Crescent Beach is up next…
7. Daiquiri Deck
If you're a fruity drink lover, then Daiquiri Deck is your spot! The lineup is fully blended cocktails in early every flavor imaginable. With fun drink names like Banana in the Bush, Monkey Berry, Voodoo Love Shake and so many more, this place is a good time!
The two-story restaurant offers excellent open air seating, perfect for half-wet swim apparel.
Oh, and did you hear open containers are legal here? Grab some drinks to go and hit the beach! I recommend taking a reusable, insulated mug to keep your drink cool. It worked out great during my days on Siesta Beach and Crescent Beach!
Here's that link again…and don't forget the reusable straws too!
Siesta Key: things to do
Can you believe this list? We've barely scratched the surface of all the awesome things to do in Siesta Key! One of my favorites is up next…
8. Mangrove kayaking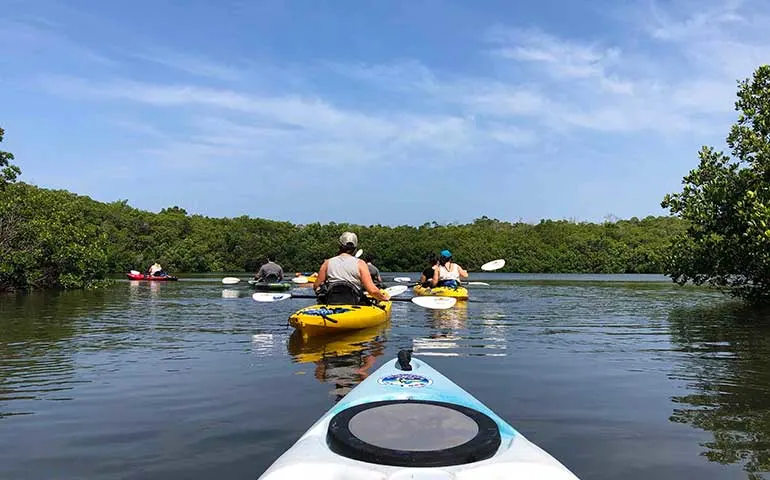 Okay, this on isn't exactly on the island, but it's so close – and so much fun – that it has to be included on this mega list!
Located on Lido Key, this kayaking experience is like no other! You'll kayak through the mangrove tree tunnels at Ted Sperling Park and nature preserve. Bring your own kayaks or take a mangrove tour with knowledgeable guides.
You'll want to spend a few hours on the water, which by the way, is easy to row and not too intense of a workout. Plan a morning tour or afternoon over on Lido Key.
Watch for wildlife as you kayak your way through mangrove tunnels. It's such a cool experience!
Book it now: kayak tour through the mangroves.
9. Catch live music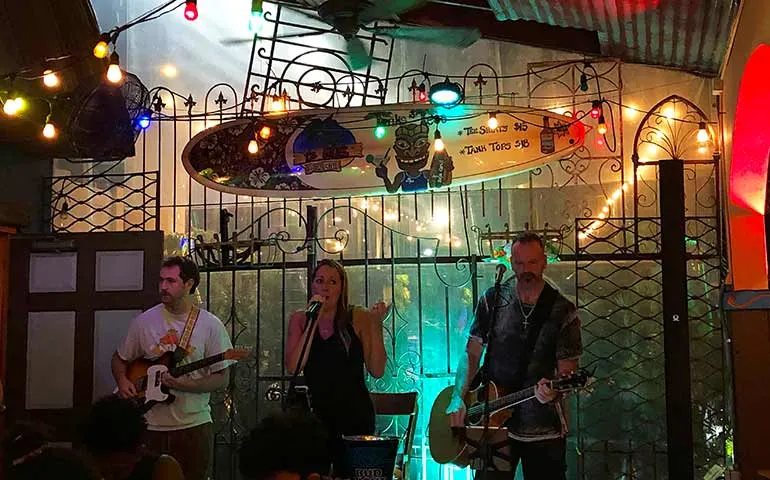 I mean, with open containers and beachy vibes, you knew there was nightlife, right? Well this small island is mostly residential, vacation rentals and restaurants, but there are a few places to catch live music.
Live music on Siesta Key:
The Hub Baja Grill
Gilligan's Island Bar and Grill
Capt. Curt's Crab and Oyster Bar
Daiquiri Deck
The Beach Club Siesta Key
10. Dessert for breakfast: specialty donuts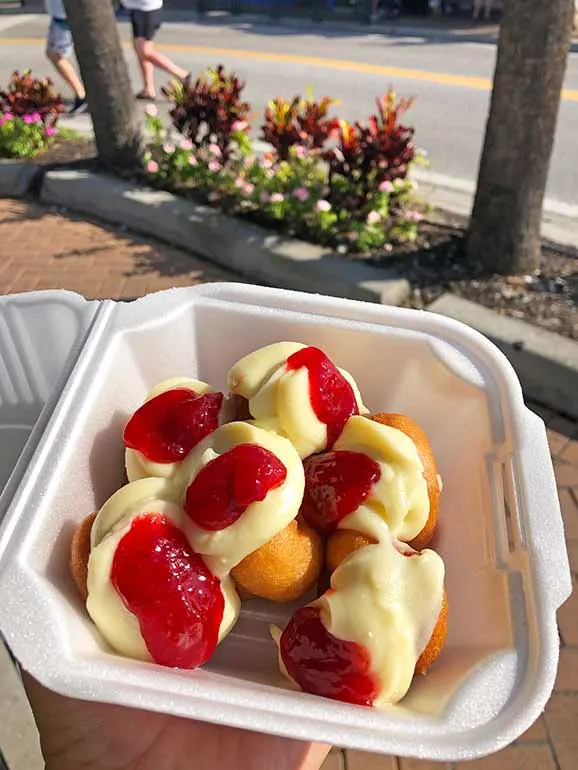 If you have a sweet tooth, are a donut lover – or both, then this is the spot for you! Meaney's Mini Donuts & Coffee House in the heart of Siesta Village is a must visit!
With flavors like strawberry cheesecake, apple pie, chocolate delight, peanut butter cup and bavarian cream, you really can't go wrong!
The restaurant is just a walk-up and no matter when you go there's likely going to be a line. It's that good.
Get them to go and grab a seat at the village center. Meaney's Mini Donuts is a local favorite and you'll wish you had this gem back home.
Pro tip: you absolutely must get the cinnamon and sugar donut holes. Simple – but the best they offer.
11. Go parasailing (one of the most epic things to do in Siesta Key)
If you love extreme sports or high adrenaline activities, then parasailing is for you! My favorite part was floating a hundred feet above the water, you can practically see the whole island!
There's several parasailing tours and spots to choose when in the area. You'll depart from Sarasota or Anna Maria Island – and get gorgeous views of the Gulf!
Book it now: parasailing over the beach
12. Kids playground at Siesta Beach
Alright, back at the main beach, there's quite a bit in the area. And if you're traveling with kids, there's a park right at the beach, awesome for young kids.
Partly shaded, the playground is perfect for a break from the beach or even on a cool day where you don't want to spend time in the water.
13. Lunch with a view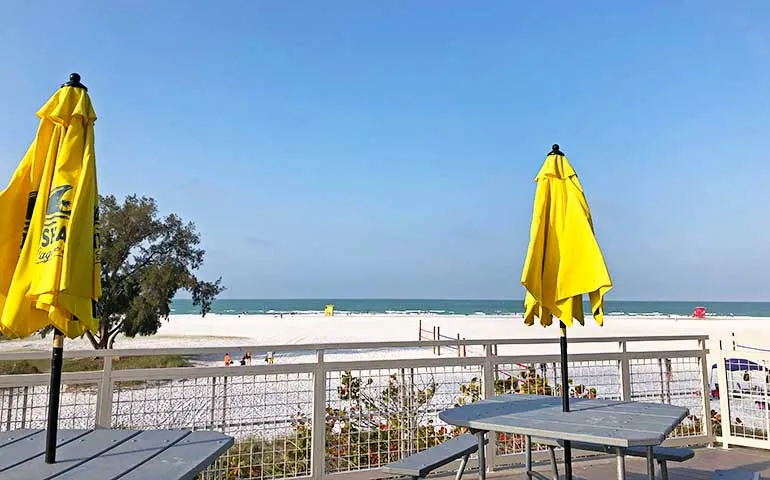 And when the kids (or let's be honest – the adults) get hungry from all that play, it's time for some food with a view.
There's a couple of restaurants right on the the main public beach complex at Siesta Key Beach. There are restrooms and showers right there too.
On the northern end of the complex is a food kiosk with drinks. Towards the southern end is a second level restaurant, which has a great view.
Fill up on snacks or lunch and then hit the beach!
14. Kiteboarding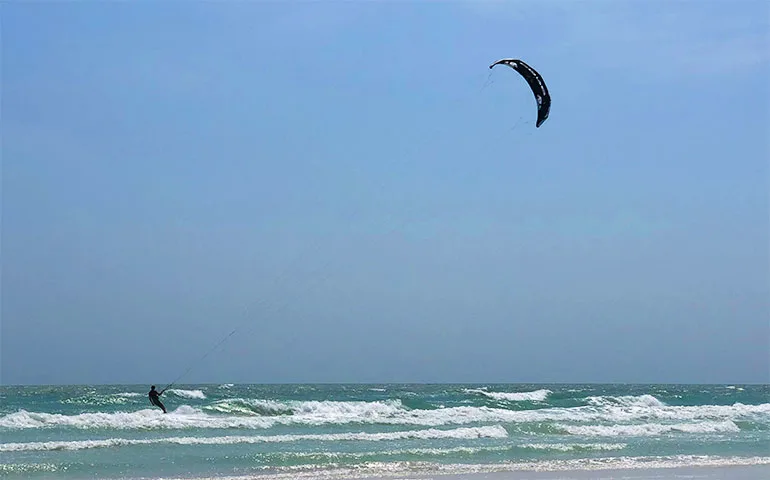 Wondering what to do in Siesta Key? What about kiteboarding?
My girl friend and I spent one windy afternoon on the beach, watching the kite boarders. With shallow water and a beach as far as the eye can see, it's perfect for kiteboarding!
Rent some gear, grab a guide and get ready for the experience of a lifetime!
More things to do in Siesta Key
Well we're over half way done with this mega list. Hopefully you've added a few Siesta Key attractions to your vacation plans. Let's keep going. 🙂
15. Day trip to Anna Maria Island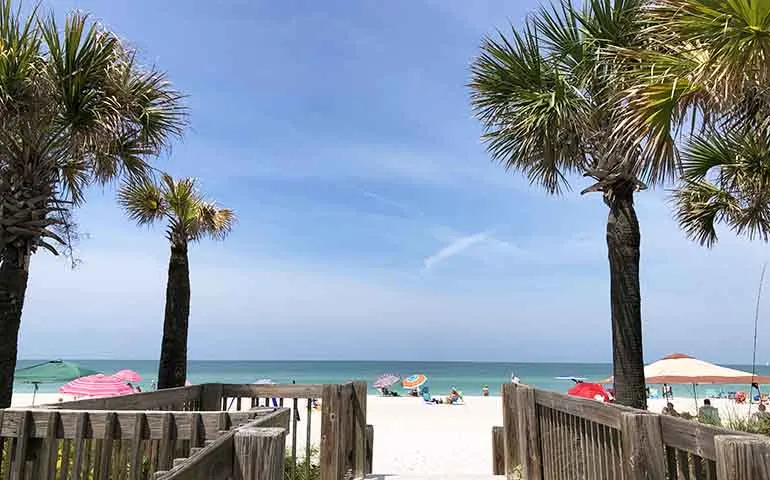 When you're in the area, you absolutely must visit Anna Maria Island. About 30 minute to an hour's drive from Siesta Key is Anna Maria Island. It's got a small-town vibe that's simply different.
There's quite a bit of things to do in Anna Maria Island, and more than enough to fill an entire day. So if you've got some time to explore, head north to the island!
A few of my favorites on Anna Maria Island include:
Hanging out at the beach on Bean Point
Grabbing lunch at Poppo's Taqueria
Bradenton Beach and the Historic Bridge Street Pier
Pro tip: start your day early. Traffic in and out of Anna Maria Island can create quite the delay. Plus, you'll want to find a parking spot for Bean Point early. 🙂
16. Shopping in the Village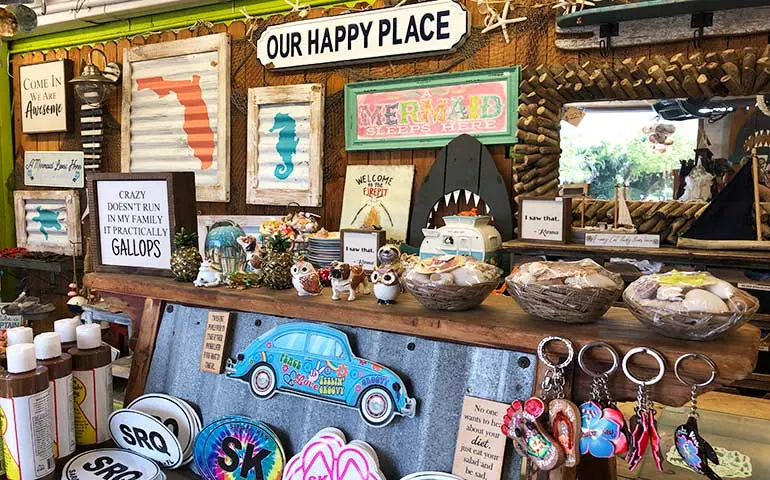 Back in Siesta Key Village, be sure to check out the best shopping spots. If you've left any beach gear at home, this is the place to find the replacement.
Grab a souvenir to remember your trip – or for a loved one. Find beachy or even bohemian style dresses, craft jewelry or ocean-inspired decor. There's even an art gallery with pieces made by local artists.
If you love shopping while traveling, this is your spot!
17. Ice cream at the beach (one of my favorite Siesta Key activities)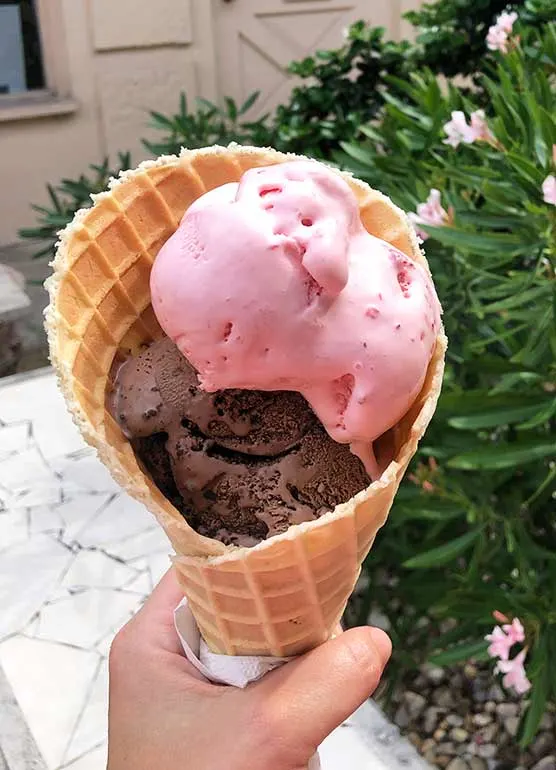 Ice cream and vacation go together like peanut butter and jelly! You've got to take a beach break with ice cream. In the Siesta Key Village there's a few places to grab a refreshing cool treat. And what's more fun than ice cream?
Walking around the village, it's easy to spot ice cream in just a couple minutes. But a favorite in Siesta Key is Big Olaf Creamery.
18. Dolphin tour Siesta Key
What better time to see some wildlife and have an unforgettable experience than on vacation?
Well taking a boat out for half a day, watching for dolphins and seeing the local sights will be a highlight of your trip! Being on the beach is fun, but being on the water is an adventure all it's own, too.
So take a boat tour to top off your fabulous vacation to this incredible part of Florida. If you go in the springtime, you may even see manatees, too!
Book it now: 1/2 day boat tour.
19. Turtle Beach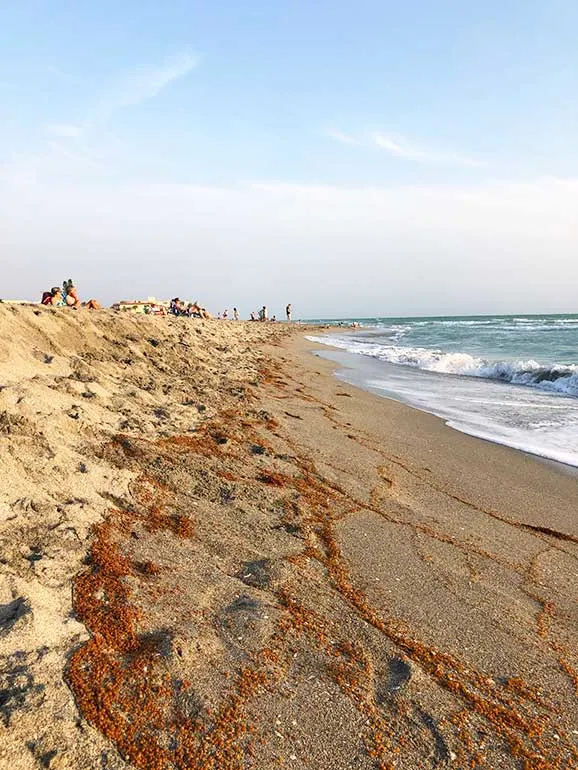 This hidden gem is a local's favorite. It's on the southern end of the island, and is the last stop for the island trolley. There's a large park with an outdoor pavilion, plenty of picnic tables and of course, the beach!
Even though it's just a few miles down the coast from Siesta Key Beach, the sand is more course, is darker in color and has more seaweed. Turtle Beach also has a more cliff-like shoreline, which makes for a great seat and fun to play in the sand.
So if you're looking for a bit of isolation, choose Turtle Beach!
20. World-famous sandwiches at Anna's Deli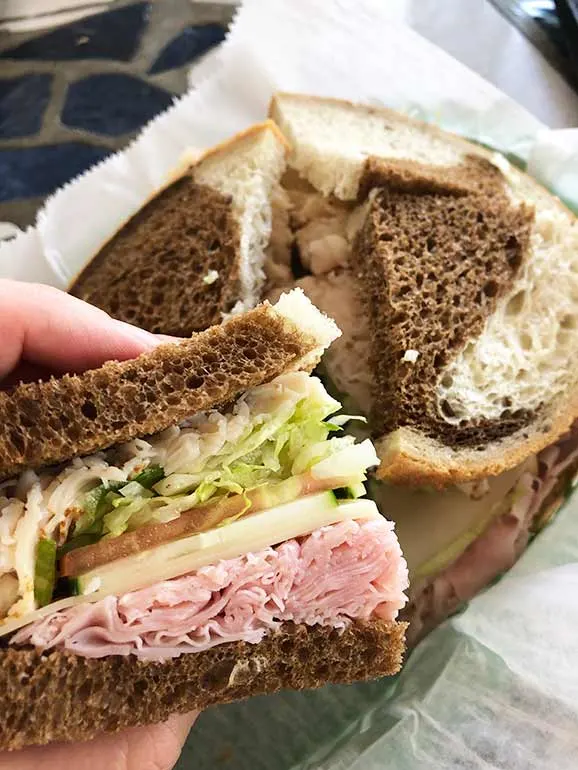 You might be thinking…really? A sandwich on a list of things to do in Siesta Key? But yes, it made the list. It's literally world famous!
Family owned since 1971, the signature 'surfer sandwich' which includes Anna's famous sauce. In addition to the sauce, this place is known for their hefty portions, perfectly shaved meat and fresh baked marbled bread.
21. Sarasota sightseeing tour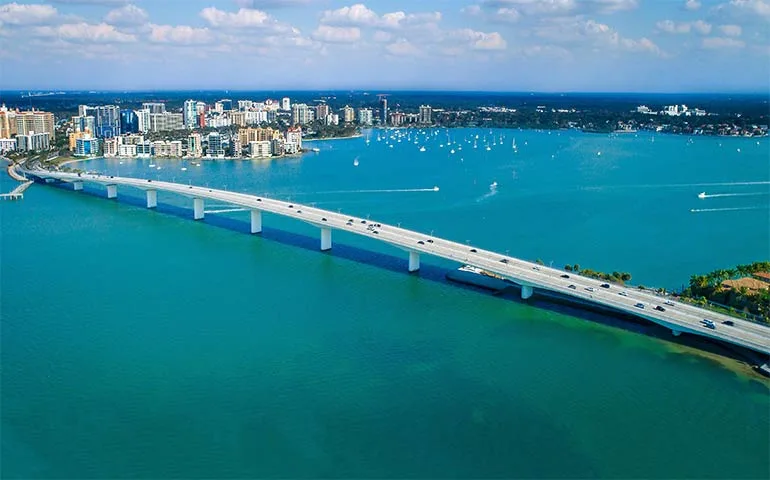 Alright so the last thing on this list of Siesta Key attractions is in the neighboring town of Sarasota. Because you're likely spending so much of your time on the island, this is a fun alternative to see the area a bit more.
Get to know Sarasota's colorful history with this sightseeing tour. From the Ringling Brothers Mansion to the Rose Garden, the Sarasota Bay and the best restaurants, you'll have such a good time in Sarasota.
Book it now: sightseeing tour of Sarasota.
Best things to do in Siesta Key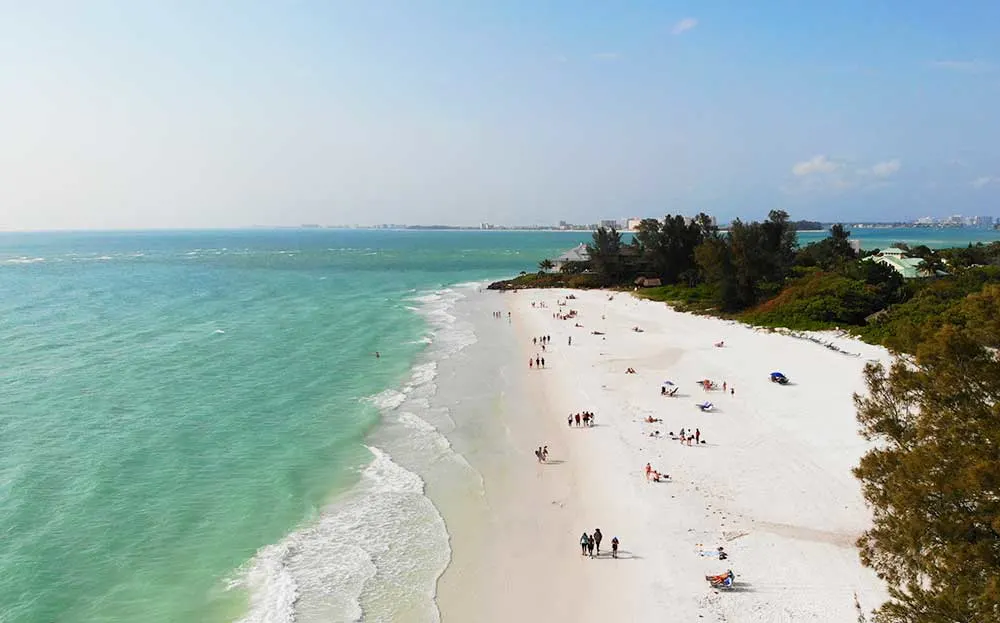 Well, that's a wrap! Siesta Key is beautiful and inviting, with fun, food and activities for all ages. So whether you're planning a weekend getaway or a week-long vacation, you'll fill your time easily!
Let's take a look at what to do in Siesta Key again, in a quick list…
Siesta Key things to do:
Siesta Key Beach
Play beach volleyball
Ride the Siesta Key Breeze Trolley
Siesta Key Village
Bike rentals Siesta Key
Crescent Beach
Daiquiri Deck
Mangrove kayaking
Catch live music
Dessert for breakfast: specialty donuts
Go parasailing
Kids playground at Siesta Beach
Lunch with a view
Kiteboarding
Day trip to Anna Maria Island
Shopping in the Village
Ice cream at the beach
Dolphin tour Siesta Key
Turtle Beach
World-famous sandwiches at Anna's Deli
Sarasota Sightseeing
So, what will you do first when you get to Siesta Key, Florida? Assuming the best beach in Florida is on your list…what else?
Be sure to download this beach packing list for your trip!
Real quick: we all love the turquoise green water on Siesta Key Beach. But in recent years there's been red tide, toxic algae blooms, seagrass die-offs and fish kills due to 150-year old decisions of water mismanagement in Florida.
Captains for Clean Water is trying to change that by providing education and funding for the Comprehensive Everglades Restoration Plan, which restores Florida's natural waterways, and reduce these toxic (not to mention unpleasant) extreme algae occurrences. Consider supporting this non-profit to ensure future trips to Siesta Key are enjoyable. (And bonus – they rate 80 by Charity Navigator, so give with confidence. 😊)

Related content:
25 Things to Do in Anna Maria Island
26 Beaches Along the Gulf Coast You Need to See
21 Best Beaches in Florida for Families
Destin vs. Gulf Shores – Which is the Perfect Spot for You?
22 Florida Keys Road Trip Stops You'll Love
Find this post helpful? Save it for later or share it on social media!