Dreaming of an island getaway right now? What about one that's surprisingly affordable? Well this list is for you! Here are the 21 cheapest island vacations that you need in your life.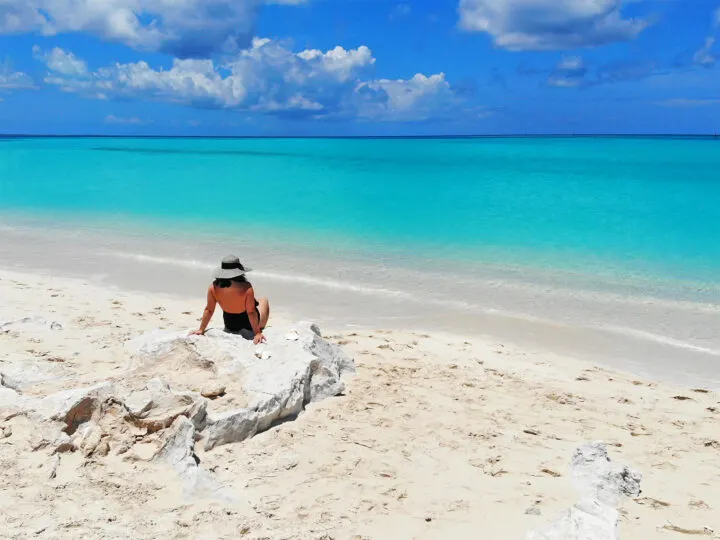 As a beach-lover and someone who's always making my vacation dollars stretch, I've been on some pretty cheap island getaways. But I know I haven't seen them all, so I recruited some back up.
I asked my favorite travel bloggers to help! Covering regions from all over the world, this list of the cheapest island vacations is going to inspire you to start searching for flights!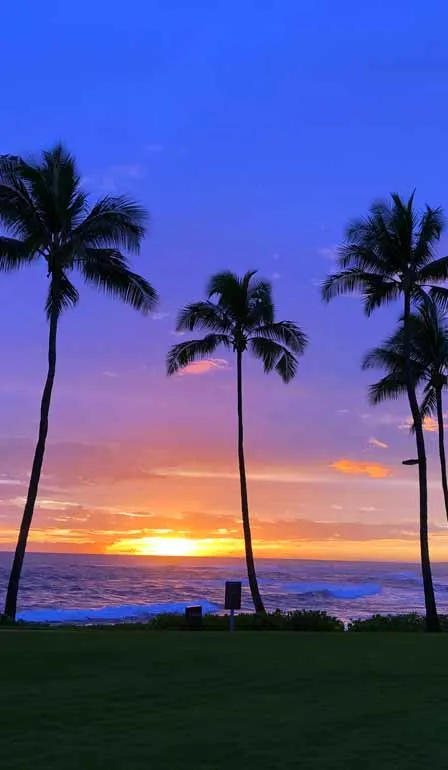 This post may contain affiliate links. For more info, see my disclosures.
Cheapest island vacations – where are they?
Click and zoom on this map for the locations of these dream-worthy islands. And check out the photos and tips below on how to make it work, and what to do in each location.
Just a quick note: cheap can mean many things to different people, so this list has a variety of island destinations you can travel to on a budget.
Best of the Caribbean – island vacations for cheap
Let's head to one of my favorite regions of the world first – the Caribbean! Crisp, white sand beaches meet beautiful, warm water. You'll find a diverse culture in the Caribbean, with delicious food and even more sought-after beaches.
1. Punta Cana, Dominican Republic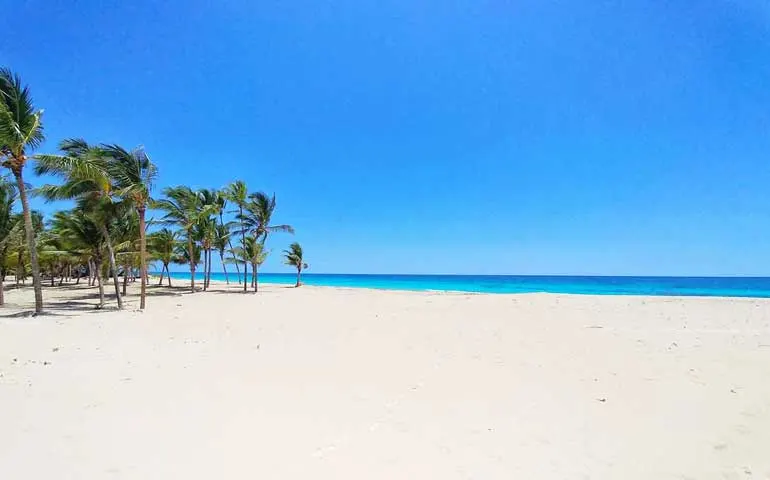 Punta Cana is one of the most famous destinations in the Caribbean. While there are definitely a lot of luxury resorts in the area, it's also possible to travel to Punta Cana for a cheap island vacation.
When traveling on a budget, you have 2 options to organize your vacation in Punta Cana. If you like a beach vacation with food, drinks, entertainment and activities included, you can book one of the cheap all-inclusive resorts Punta Cana has to offer. For as low as $60 USD per person per night, you can get decent accommodations.
In general, the quality in Punta Cana and the Dominican Republic is amazingly good, considering what you get for your money. Even in an
affordable all-inclusive resort, you have food, drinks and entertainment included all day long.
If you prefer to travel on your own, you can also book one of the several Airbnbs in Punta Cana or individual accommodations. In Bavaro, rates start from around $15 USD per room per night. This is particularly recommendable if you want to explore all the hidden gems Punta Cana has to offer.
Secluded waterfalls, off-the-beaten-track hikes and pristine beaches are just some of the things you can explore. Public transport in Punta Cana is available for as low as 1 USD per ride.
Punta Cana and the Dominican Republic are safe to visit either way. For whatever way of travel you decide, you'll have a great island vacation for cheap in Punta Cana!
Recommended by Chris of Punta Cana Travel Blog
2. Caye Caulker, Belize
A short boat ride from Belize City sits the tropical island of Caye Caulker. It's just 5 miles long and a few blocks wide. The aqua blue waters will have you thinking you've just stepped onto a Caribbean island. The prices on the island will make you believe you've stepped back into the 1980's.
From world-class snorkeling and scuba diving to renting a bicycle and traversing the few square miles of this mostly desolate island, Caye Caulker, Belize is the ultimate cheap island getaway in Central America. The food, drinks and accommodation on the island will set you back just a fraction of the cost of a Caribbean getaway. And you'll see far fewer people, too.
But arguably the coolest trait about this spectacular vacation destination is that the only cars allowed on the island are government vehicles that fix powerlines and other utilities. Otherwise, you won't hear honking horns and there will be no cars to watch for when crossing the bicycle and golf-cart filled dirt streets.
It's pretty easy to do Caye Caulker on a budget. It's easy to save big if you stay in a hostel, take in the plentiful happy hours and go snorkeling for free off the many nearby reefs, including Iguana Reef at the edge of town.
Recommended by Jarrod of Ramble Around the World
Related: 20 Things to Do in Belize for an Epic Vacation

3. Turks & Caicos Islands (one of my favorite cheap island getaways)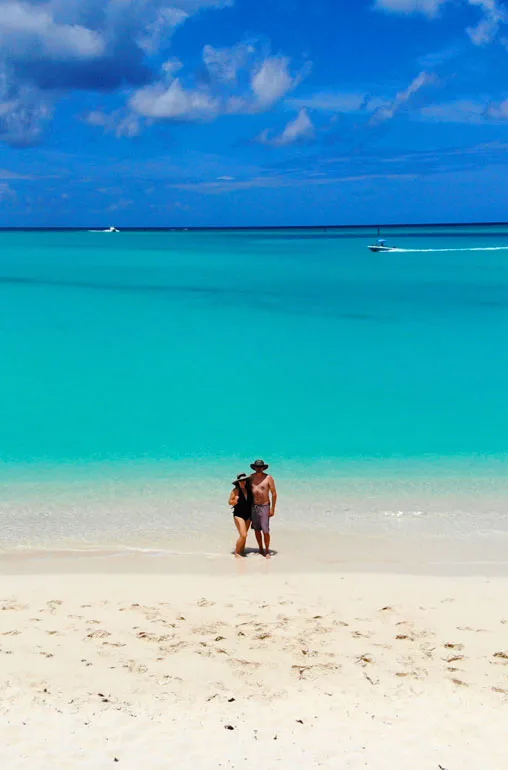 If you're looking for soft white sand with the most turquoise blue water you've ever seen, you need to go to Turks and Caicos! The best part of visiting this island chain is that it's cheaper than you'd think!
You'll find plenty of things to do in Turks and Caicos, including some of the best beaches in all of the Caribbean!
Here are 4 ways to doing Turks and Caicos for cheap:
Stay in a vacation rental off the beach. Skip the pricey hotels on this island to save big!
Book cheap flights using flight alerts like FareDrop. I saved hundreds on flights this way!
Avoid peak tourism season for better prices. Travelers typically escape to Turks and Caicos over the winter and summer months, so try a trip in the spring or fall instead.
Hit the grocery store when you first arrive. Packing simple meals for the beach means less money at pricey restaurants.
Turks and Caicos islands are one of my favorite cheapest island vacations I've ever done. I'd 100% recommend adding this one to your bucket list!
Recommended by me – Nikki of She Saves She Travels
4. Isla Holbox, Mexico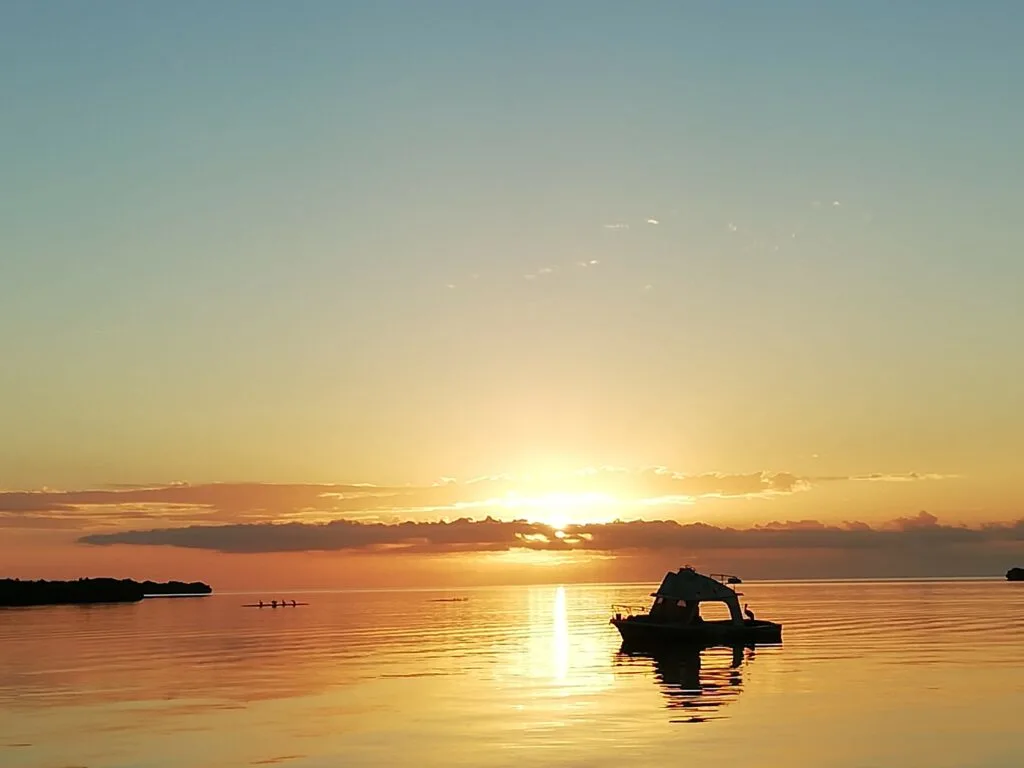 Mexico is one of the best destinations for budget travelers who are looking for beaches and beautiful weather. However, many people never make it beyond Mexico's tourist hotspot of Cancun. It's a shame, because just a few hours away there's a stunning island waiting to be discovered.
Isla Holbox is the perfect island destination for people who love relaxed and laid-back vibes and cool street art. There are almost no cars at Isla Holbox, so the best way to get around and explore this small island is by bike or golf car.
Some of the best things to do are going on boat tours to visit more islands around Isla Holbox, check out the mangroves and potentially crocodiles, see bioluminescence, go whale shark watching, chill at the beach, and of course sip cocktails at sunset!
Which brings us to one of the best budget-saving tips for Isla Holbox.
Generally speaking, island life is more expensive than living on the mainland, and the same applies to Isla Holbox. However, we're still talking about relatively cheap Mexican standards here, making it one of the cheapest island vacations there is.
Yet, one way to save a lot of money on Isla Holbox is by utilizing Happy Hour. Seriously, if you want you can just find a happy hour every hour, just make sure you're at the right bar at the right time! Find budget-friendly accommodations and hostels with this guide to the best hotels in Holbox.
Recommended by Lara of The Best Travel Gifts
5. Varadero, Cuba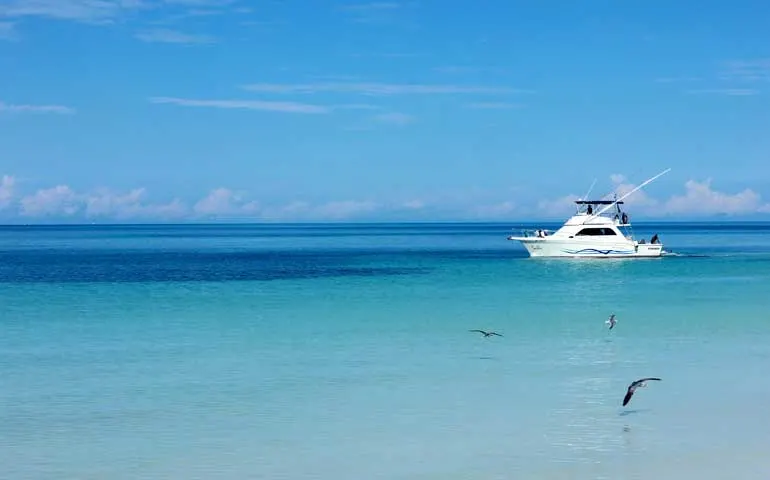 Just 2 hours east of Havana, Cuba, Varadero is the beach you're likely picturing when you think of a Caribbean. It has perfectly crystal waters and endless white sand. Despite being a favorite for visitors to Cuba and within Cuba alike, it still remains a budget friendly getaway.
One secret to travel to Varadero that makes it budget friendly comes from its expansive length of white sand beach. It's almost 18 kilometers, most of which is public, and with public entrances every few blocks.
With access to relatively private and serene spots all up and down the beach, you won't feel like you're missing out on anything. Especially if you're not staying in an expensive all-inclusive resort just a few minutes' walk down the beach.
Airbnbs and private home rentals in Varadero can be quite inexpensive as well. Some are beachside or just a block or 2 from the water. Just a few blocks off the the main road where many restaurants and bars cluster, you'll find a variety of inexpensive restaurants. Delicious Cuban food goes for just $4 or $5 for a complete meal.
A favorite budget splurge in Varadero is fresh lobster, which you can find for under $10. You can enjoy beach excursions by catamaran to nearby white sand cays. Also popular are trips to nearby underwater caves with their own swimming holes under the stalactites.
Recommended by Carley Rojas Avila of Home to Havana
Cheapest island vacations in the USA
It may be hard to believe that an island vacation in the USA can be affordable, but it's possible! Cheap island vacations are kinda my thing and I've been on many USA getaways on a dime. Here are a few of my favorites!
6. Oahu, Hawaii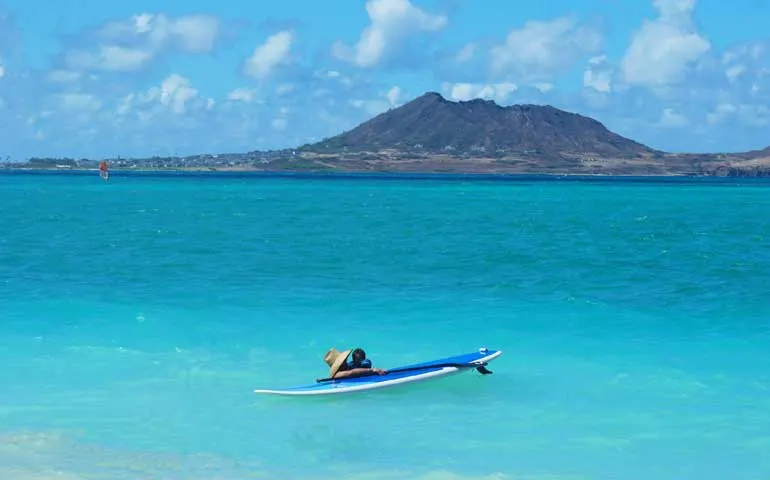 Most people think Hawaii is a very expensive spot. But there are ways to have a very cheap vacation to the islands. If you visit the main island hub at Oahu, more flights are offered to Honolulu. Many with cheap flight incentives to travel to the island.
Also cheaper hotels, bargain website offerings, staying at vacation rentals and even camping can be cheaper alternatives. Visiting the main attractions can also be affordable if you do them on your own and take public transportation which is easy.
Outdoor adventure activities like snorkeling, swimming and renting a cheap boogie boards are an inexpensive way to enjoy a day at the beach. One of the best, inexpensive ways to see the island is on foot, like these easy Oahu hikes that are perfect for beginners or traveling families.
Eating can also be fairly cheap with food trucks, food courts and take out counters with delicious local food offerings. If you do a lot of picnics with a view, you'll definitely save from high fine dining prices. And you'll get the same or better views!
Here are some of the best free or cheap things to do around Oahu for more inspiration. You'll find that you really can stretch your budget here and have a fantastic vacation in Hawaii.
Recommended by Noel of This Hawaii Life
7. Key West (a surprisingly cheap island vacation)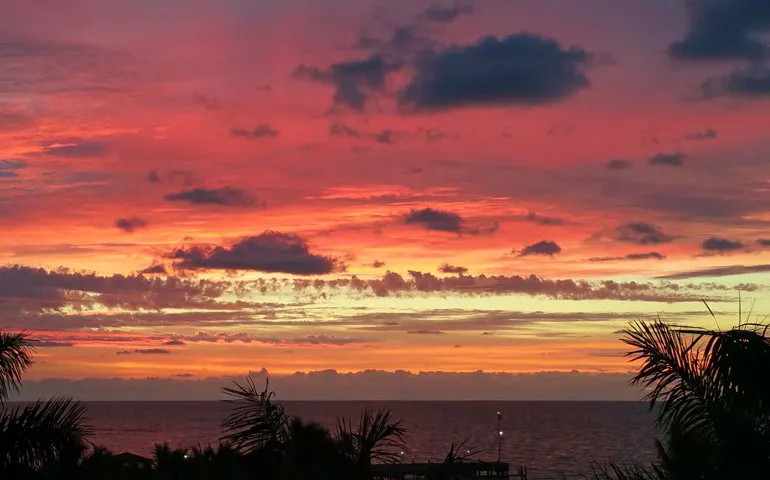 Key West, Florida is a super fun island the furthest south you can drive in the continental USA. The Florida Keys are individual islands connected by over-the-water bridges, making this island chain a unique part of the United States.
Furthest south you'll find Key West. It's a common stop for Caribbean cruises and has a reputation as a party city. But with all the history and family-friendly activities, it can be enjoyed by most anyone looking for a cheap island getaway.
Key West can be pricey if you're not careful, but can also be done for cheap if you get creative!
Flights directly into Key West can be expensive, so the best way to get there is to fly into Miami. From there, and take a Miami to Key West road trip. But don't hang onto the rental car during your time on the island. Bikes are the preferred way to get around and can be rented for a fraction of the cost.
Also be sure to avoid peak season, which is the winter months. They're the priciest and the beaches will be full.
When you're in Key West, make sure to catch a sunset at Mallory Square, take a kayaking tour through the mangroves and dine on a delicious slice of world-famous key lime pie!
Recommended by me – Nikki of She Saves She Travels
Key West is also included on this epic list of 26 Gulf Coast beaches, if you're looking for more beachy ideas!
8. San Juan, Puerto Rico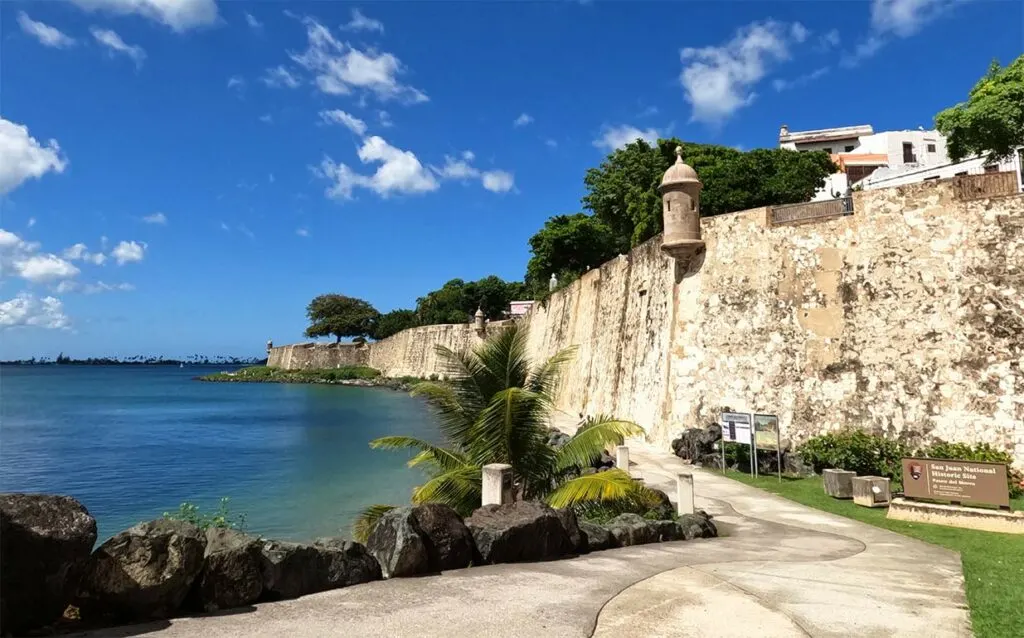 San Juan, the capital of Puerto Rico is an absolutely gorgeous city on the northern coast of the Caribbean island. It is also one of the cheapest island destinations in the USA.
The reason it's so affordable is that most people still haven't discovered this gem. San Juan is known for its historic old district bubbling with risque bars, old taverns and the birthplace of the Pina Colada.
One of the best things to do in Old San Juan is walk the cool city. You'll discover the proud castles Castillo San Felipe del Morro and Castillo de San Cristobal that stand on the edge of the cliff.
You'll find other interesting places like Chocobar Cortes and the famous Calle Fortaleza with the hundred hanging umbrellas. Of course, the gleaming beaches spread across Puerto Rico are equally enticing. (A favorite among beach lovers is the stunning Flamenco Beach, Puerto Rico.)
The bioluminescent bays sparkle like a thousand stars during the night and visitors love to take tours to see them in the bays near San Juan. Lastly the El Yunque rainforest is probably one of the most gorgeous hikes you will ever do.
The best thing about San Juan is that it is a very affordable destination. If you are a budget traveler you'll find plenty of good clean hostels. The food and transportation are also surprisingly very low compared to the other good beach destinations. San Juan is definitely one place where you can enjoy the best of both worlds.
Recommended by Kanupriyaa of My Lost Camel
You might also like: Culebra, Puerto Rico – 25 Things to Do + Best Beaches and How to Get There
9. Kauai, Hawaii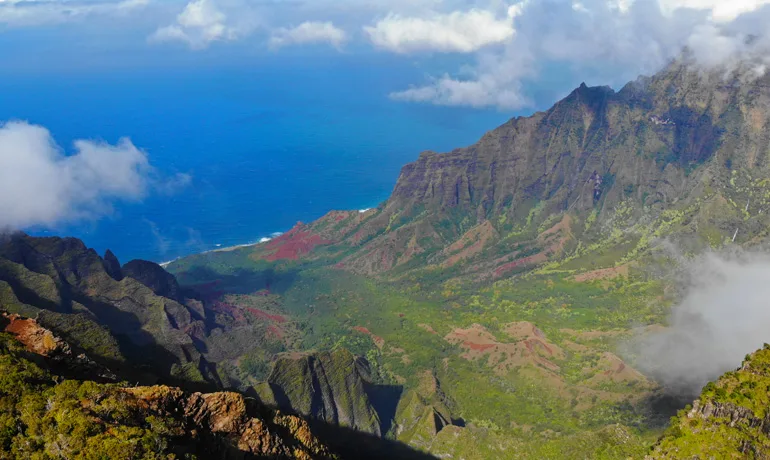 Well it might be hard to believe that Hawaii can be on this list of cheapest island vacations. As someone who's been to Kauai on a budget, it's 100% possible and also 100% amazing!
The first thing I'd recommend is watching for cheap flights using FareDrop. You could also travel hack your way here, using credit card or airline rewards points!
For accommodations, skip the pricey hotels. I've visited Hawaii many times and can tell you that you'll likely be spending most of your time outside. So you really don't need a pricey hotel room.
Lastly, opt for cheap entertainment. While one of my favorite memories on a trip to Hawaii was a helicopter tour over the NaPali coast, it was a splurge. Instead, hit the best beaches in Kauai – which are all free!
And if you're an avid hiker, then this is your paradise! My favorite easy hike was the Maha'ulepu Heritage Trial (with spectacular ocean views). A more challenging hike was the Waimea Canyon Trail, which opened up to one of the most stunning views of Kauai ever.
Recommended by me – Nikki of She Saves She Travels
Affordable islands in Europe
Let's head to Europe for the next few islands! A region known for it's picturesque blue water and and stunning sea-side villages, you'll surely find a European island vacation for cheap to visit.
10. Ios Island Greece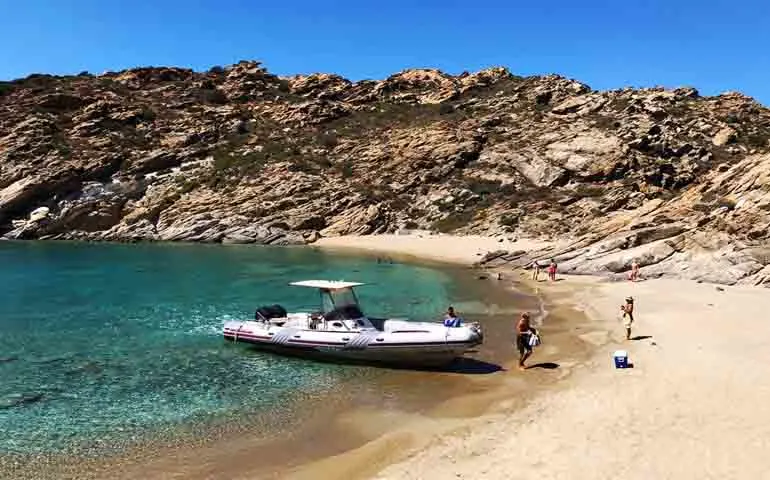 In the last few years, Ios has become a haven for backpackers thanks to its buzzing nightlife, stunning towns and beaches, and relatively cheap accommodation. Whether you're there to dance 'til dawn or not, you can certainly find a load of great things to see and do on Ios island on a budget.
Some of the best free things to do in Ios island include wandering around the pretty harbor and main town (Chora). Plan to visit churches and chapels scattered across the island including the Church of Agia Irini. Also check out the site of Homer's Tomb which can be reached from the town of Plakotos.
Other cheap attractions include the Bronze Age settlement of Skarkos and the Archaeological Museum which has entrance prices of just $4 each.
Travelers can find dorm beds in some of Ios' best hostels for 15-20 per night. Or, if you're traveling as a couple on the cheap, you can find a budget hotel room or Airbnb for less than between 25-50 a night.
If you're really looking to save money on your cheap island vacation, try traveling outside of peak season. And book your accommodation and ferry tickets in advance. Buy your own food and drink to enjoy in the comfort of your apartment for some of your meals.
Recommended by Chrysoula of Travel Passionate
11. Tenerife, Canary Islands (a beautiful and cheap island vacation)
Tenerife in the Canary Islands is the ideal island destination for a cheap vacation. Tenerife has year-round sunshine and many affordable accommodation options from 2* to 5* most of which offer an all-inclusive package which can be great value for money.
If you don't stay all-inclusive then options for eating out are extensive. You can find restaurants to suit any taste from traditional Spanish to Italian, Chinese and English cuisine.
Many local restaurants offer a menu del dia which is excellent value for money for 3 courses. It often includes tasty local dishes like tapas and paella, some even include a free glass of wine.
Tenerife has many exciting things to do and it's not just about visiting the beautiful beaches which have both yellow and black sand. You can find tours for whale watching, jeep tours of Mount Teide, snorkeling with turtles or even scuba diving at one of the many dive sites on Tenerife.
The best way to explore the island is to rent a car from as little as 7 euro per day . Taxis can get very expensive, so this will also give you chance to explore the island thoroughly. Be sure to drive up through the quaint little villages on the mountain and explore all the beautiful beaches and towns around the coast.
Recommended by Steph & Lewis of Book It Let's Go
12. Madeira, Portugal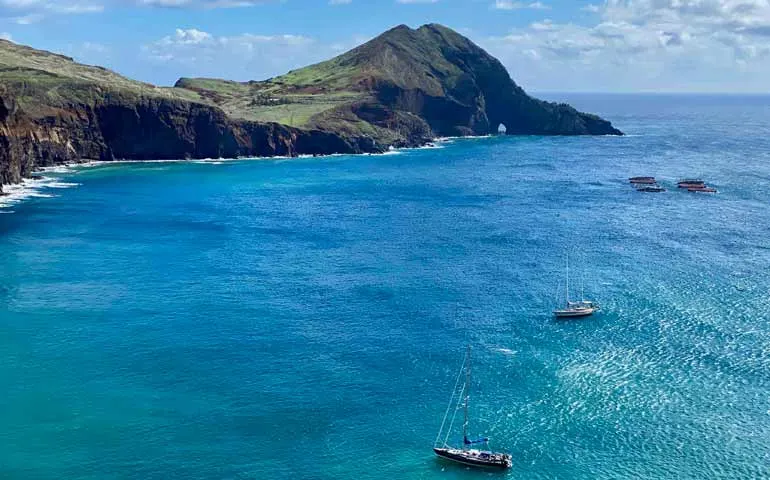 Madeira is a hidden Portuguese gem located in the Atlantic Ocean. The island has a warm climate all year long which makes it the perfect place to visit during the off peak season. The Portuguese archipelago is quite often compared to Hawaii.
It's a destination for nature lovers with hundreds of hiking trails and walks spread across the island. If you love wild beachy landscapes, you have to go to the Eastern Peninsula of São Lourenço. You can hike there for a few hours and enjoy the incredible cliffs and volcanic landscapes.
Funchal, the capital of the island also offers exciting activities. You can visit the botanic garden, enjoy a panoramic view of the city with the cable car or go sledding with the traditional toboggan ride.
This destination is perfect if you travel on a tight budget as everything is very affordable. You can easily eat for cheap on so many restaurants, with tasty local seafood and the Madeira wine you definitely have to try. And the Portuguese food is delicious!
You can expect to pay about $50 per person per day for a one week trip. And that includes great accommodation, meals and the car rental. This is one of the cheapest island vacations on the list. It's highly recommended for family holidays, hiker lovers or even for a romantic trip with your love one.
Recommended by Lauriane of Always Ready to Check-in
13. Sifnos, Greece (one of the cheapest island vacations in Europe)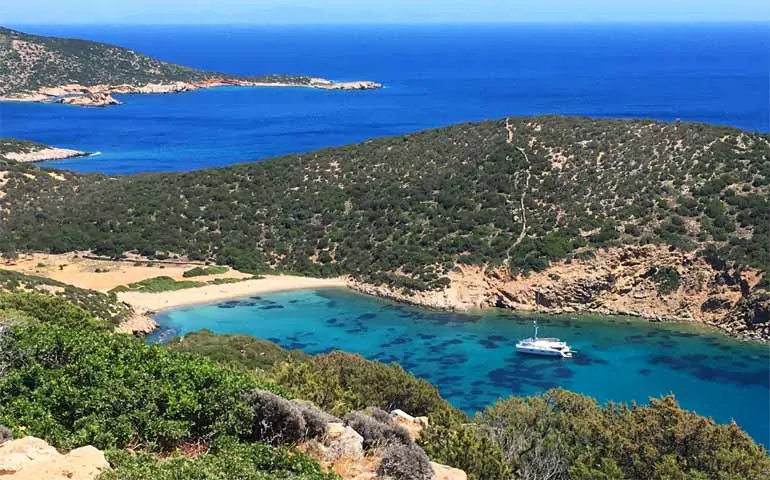 One of the best islands to visit in Europe is the small island of Sifnos, Greece. This hidden gem in the Cyclades island group has a laid back beach vibe that you notice as soon as you arrive.
It's full of soft sand beaches, whitewashed buildings, hiking trails, authentic restaurants and the perfect amount of island nightlife. Sifnos is also famous in Greece for its pottery and hand-crafted souvenirs. You can hunt for the best items at affordable boutiques and shops all over the island.
Sifnos is easily reached by ferry from Athens or other island routes. The main ferry is in the port of Kamares, which is also an ideal place to stay. There you'll find Kamares beach surrounded by rocky hills with whitewashed houses.
It's circled with beach bars and cafes that you can enjoy from a rented beach chair with drink service. Kamares is a short trip to other lovely waterfront destinations like Vathy Beach. It's more remote and local with nearby tavernas along the gorgeous protected cove.
Faros Beach is one of the most authentic beaches on the island. It's located adjacent to a small fishing village with a long stretch of sandy coastline. The picturesque village is one of the most serene places on Sifnos island with incredible views.
Sifnos is an affordable alternative to some of the other Greek islands. It's got some of the best soft sand beaches in Greece and so much to do and see while you're there. It's a cheap island vacation in Europe, and one you'll remember for a lifetime.
Recommended by Derek and Mike of Robe Trotting
Cheapest island vacations in Asia
Know for it's luxurious – and dirt cheap – accommodations, Asia is the perfect place to book an island vacations for cheap. Depending on your location, getting there can be expensive. Be sure to check out these budget travel tips for finding cheap flights.
14. Belitung Island, Indonesia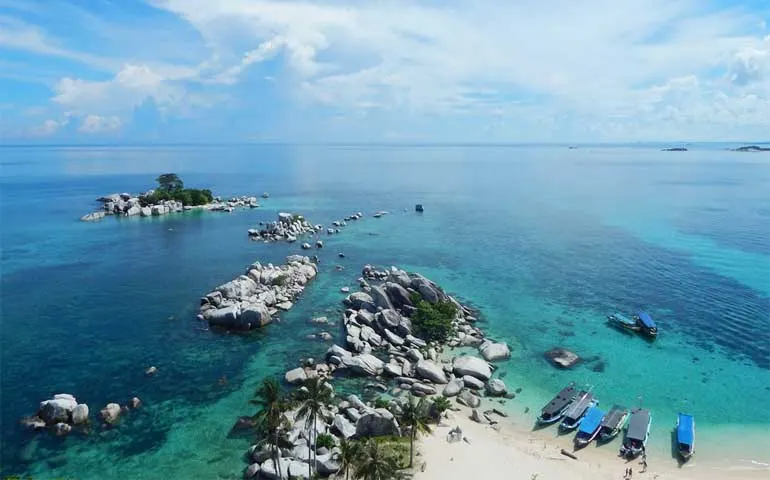 Belitung Island is not a famous beach destination in Southeast Asia like Bali, Lombok, or Phuket, but that doesn't mean its breathtaking natural landscape is inferior to others. If you're looking for a cheap island vacation, you should add Belitung Island in Indonesia to your list.
Belitung is one of the many perfect islands you must visit in Indonesia. The island is surrounded by more than 100 islands decorated with perfect soft-white sand, granite rocks, and heavenly scenery that you can't find anywhere else. It's a perfect place to laze on the beach.
So after arriving in Belitung, what can you do to utilize your great escape here? If you're only going for a short visit, here are some of the many tourist attractions to check out in Belitong, as the locals pronounce it.
There's the most famous little island called Pulau Lengkuas. You can see the historic lighthouse that was built by the Dutch colonial in 1882. Climb up the 50-meter tall tower, although the highest level you are allowed on is the third floor, you'll be able to enjoy the most perfect view there. Pulau Lengkuas is also a must-visit place if you enjoy snorkeling.
Not all of the tourist attractions in Belitung are beaches. You can also visit Andrea Hirata Museum, the colorful literary museum. It's a montage to Andrea Hirata, who introduced the island with his best-selling novel, and also Danau Kaolin, a man-made lake as a result of kaolin mining activity.
Recommended by Marya of The BeauTraveler
15. Koh Chang, Thailand (one of Asia's best island vacations for cheap)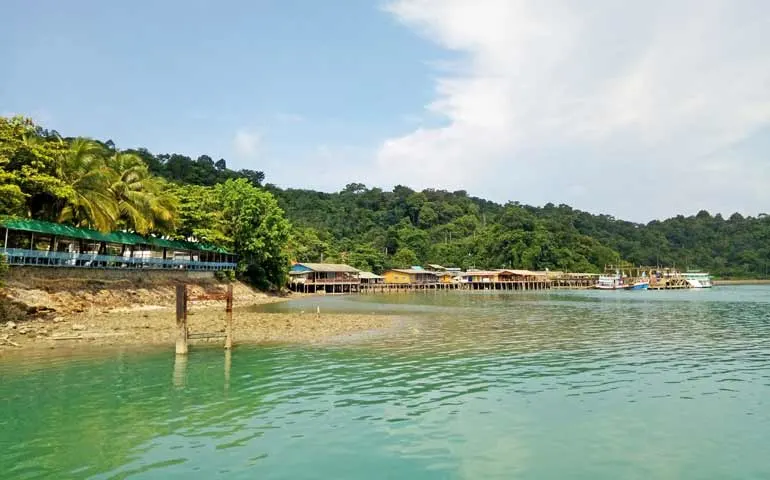 Nowhere does beaches quite like Thailand, and Koh Chang is one of the best islands to visit in the country. It is often overshadowed by other islands and doesn't make it into everybody's Thailand itinerary, but that makes it not too touristy and the beach is unspoiled. It's the perfect destination for those wanting a relaxing beach break, but also keen for a little bit of adventure!
Lonely Beach is the main backpacker area of the island. It's still relatively chilled. There's no full moon beach parties here, but if you are looking for some bars with a bit of atmosphere, it's a fun place to visit.
Other things to do in Koh Chang include diving, hiking to waterfalls, touring around the island (with a guide or by motorbike!), and taking a Thai cooking class.
Koh Chang is also one of the best cheap island vacations in Thailand. There's less tourism here than elsewhere in the country.
From Bangkok, you can take a cheap bus to Trat and then a boat to Koh Chang. I'd also recommend avoiding the peak season (October to February) if you're looking to stay in Koh Chang on a budget.
Recommended by Claire of Claire's Footsteps
16. Boracay, Philippines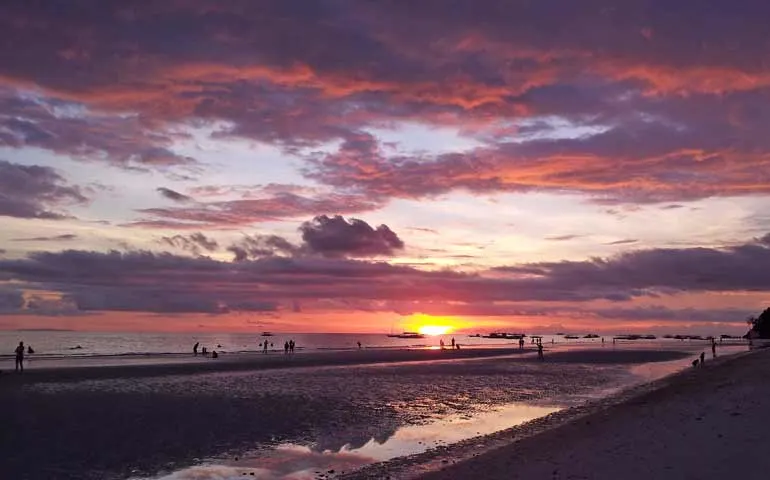 Boracay has won the title of the best beach in the world on more than one occasion. It's probably the best known of the over 7000 islands that make up the Philippines.
A 4-kilometer stretch of white sand down one side of the island makes up White Beach. It's the tourist hub of the island and the water is incredibly blue! The beach is lined with hotels, stores and restaurants and people selling their wares during the day. At night the sand transforms into pop-up bars with bean bags on the beach looking out over the water while performers busk for the coin that supports them.
From White Beach you can organize a variety of water activities including cruises, glass bottom boats, diving and island tours. Or you can relax under the palm trees on the sand. Make sure you take a walk to the top of White Beach at sunset to catch the exceptional Boracay sunset!
For visitors from the West, Boracay is an incredibly cheap island getaway. It's possible to spend less than $2,000 on a couple of weeks including all the flights, accommodation, food and activities.
During happy hour you can enjoy 2 cocktails for under $5, and have a full body one-hour massage with the waves as a backdrop for under $15. The people are incredibly friendly, but as with any poorer country it is wise to keep valuables secured. Check out the D'Talipapa for fresh seafood straight from the fishermen, and choose your cooking style from the restaurants there.
Recommended by Holly of Globeblogging
17. Hiriketiya Beach, Sri Lanka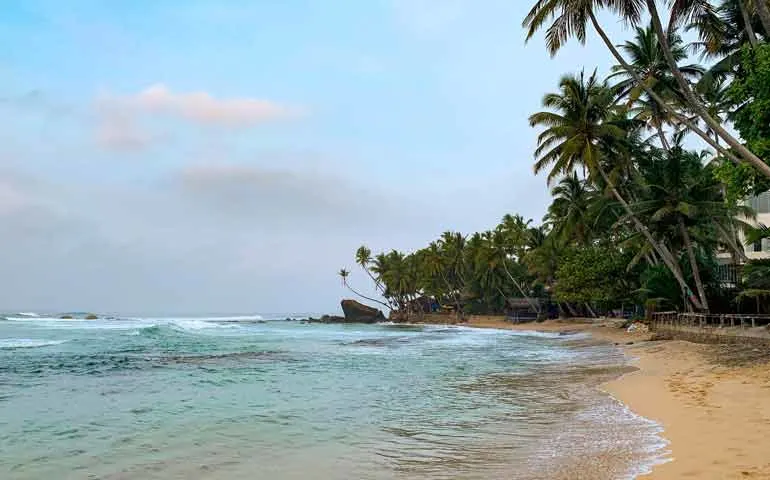 If you're looking for soft sand beaches with gentle waves and warm seas all the while not breaking your budget, you're looking for Sri Lanka. This tiny teardrop-shaped island in South Asia is often overlooked by beach-goers who instead flock to the overcrowded islands of Thailand and Bali.
But when it comes to picking the best beach in Sri Lanka it comes down to personal preference. The entire southern coast of the country is packed with lovely stretches of sand. If you enjoy a cheap surf spot you might like Hiriketiya Beach.
As one of the cheapest island vacations on this list, the secret to traveling Sri Lanka on a budget is taking advantage of their massive public bus system. Oh, and staying in the cheap guesthouse scattered all over the country. Buses cost as little as $0.25 a ride (they pick you up anywhere along the road). You can score comfortable guesthouses for as little as $6 a night.
As for activities, you don't need anything except a towel, a book, or maybe a surfboard rental ($3 for an hour). If you're looking for a more active beach day, you can also rent snorkel gear to spot sea turtles, stingrays, and coral reefs far beneath you.
Recommended by Geena of Beyond the Bucketlist
18. Koh Lipe, Thailand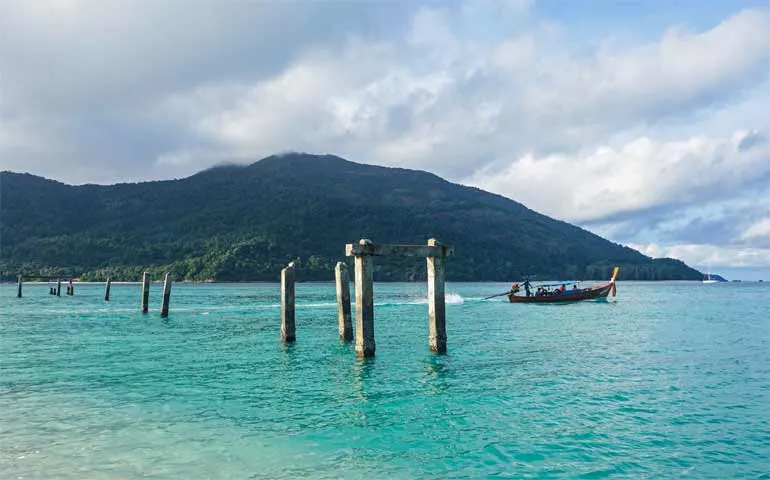 Koh Lipe is a beautiful island in southern Thailand. With its picturesque beaches and unbelievably turquoise water, you could almost believe that you have actually landed in the Maldives. In contrast to travel destinations such as the Maldives, you can easily visit the island in Thailand on a budget.
Especially during the rainy season, there are some huts right on the beach for little money. But even during the high season, an overnight stay here costs much less than in many other exotic beach destinations.
Koh Lipe is a relatively quiet island. So if you are looking for nightlife and full-moon parties, Koh Lipe might probably not be the right destination in Thailand for you. On the contrary, Koh Lipe is excellent for everyone who wants to spend a relaxing vacation on paradisiacal beaches. Koh Lipe is also a great fit as a honeymoon destination.
There are great opportunities for snorkeling, swimming, or even diving for those who are a little more active. There are also various tours on offer that you can take part in.
If you don't want to spend money on tours, it's worth bringing your own snorkel gear and swimming around the island. You'll be able to discover a lot of exotic fish in the crystal clear water.
Recommended by Vicky of Vicki Viaja
19. Bohol, Philippines (one of the best island vacations for cheap in Southeast Asia)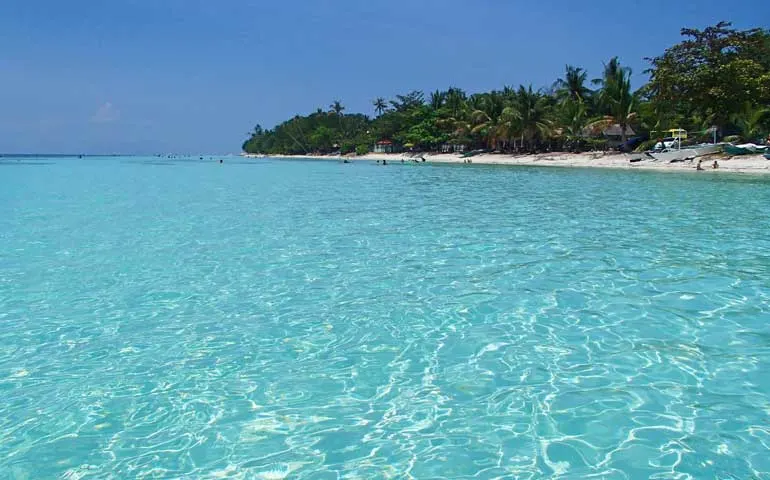 Bohol is an island located in the Central Visayas region in the Philippines. While there are some better known destinations nearby like Boracay and Cebu, Bohol is equally as stunning while being a bit quieter and cheaper for tourists.
There's a long list of activities that are unique to Bohol and are either free or inexpensive. The best known are the:
Tarsier Sanctuary (less than $2)
Chocolate Hills (free)
Hinagdanan Cave ($1)
Closer to the water there are also island hopping trips, snorkeling, dolphin watching, and some great beaches in every corner of the island.
The bus network will get you to all of these places. And while this will cost you less than $1 per trip, if the bus is full you may end up on the roof dodging tree branches….. not very safe, but it's fun! Or you can negotiate with a taxi driver to just take you around for the day.
There's a cluster of hotels, beaches and farms hidden away on a tiny adjacent (Panglao) Island just near Bohol airport. I've stayed at the Amarela Resort multiple times and while it's a 4 star hotel Bohol prices are generally cheap and it's worth treating yourself.
The hotel is quiet and relaxing, and has plenty of outdoor space. It opens up onto a beautiful white beach which is almost deserted most of the tim!.
Nearby you also have the Bohol Bee Farm which has some amazing food and honey products on sale. Plus a restaurant that overlooks the water looking back towards Amarela that is again very affordable.
Recommended by James of The Expat Angle
20. Gili Trawangan, Indonesia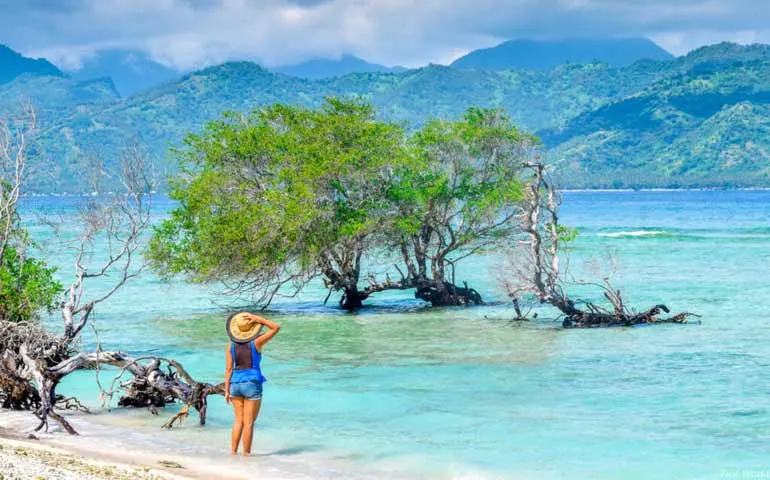 A tropical vacation is always the need of the hour. We all love whisking away to exotic islands with the bluest blue waters and a laid back yet fun island life. To top it off, a tropical paradise that doesn't break the bank truly makes up for the perfect island escape.
One such affordable island getaway is jetting off to this place called Gili Trawangan. It sits on the northwest coast of Lombok in Indonesia. While here, your perfect Gili Trawangan itinerary must include swimming in clear waters of the Indian Ocean, lying on the beaches with the view of a volcanic mountain in the distance and diving in to swim with turtles.
This island is packed with activities. But at the same time, perfect for those who want to enjoy a quiet laid back island life. Being the biggest of the 3 Gili islands, there are plenty of accommodation options ranging from hostels to luxurious resorts for guests to take their pick.
The same goes for food choices as well to sit, sip, and devour delicious meals at restaurants or even beach shacks for a reasonable price. Cycle around the island during the day. End your nights with dinner under the stars along with open-air movie nights right on the beach.
This is one island getaway that's truly an all-rounder, easy on the eyes and on the pocket too.
Recommended by Harshi and Aman of Trot.World
One more of the cheapest island vacations…
21. Southport, Tasmania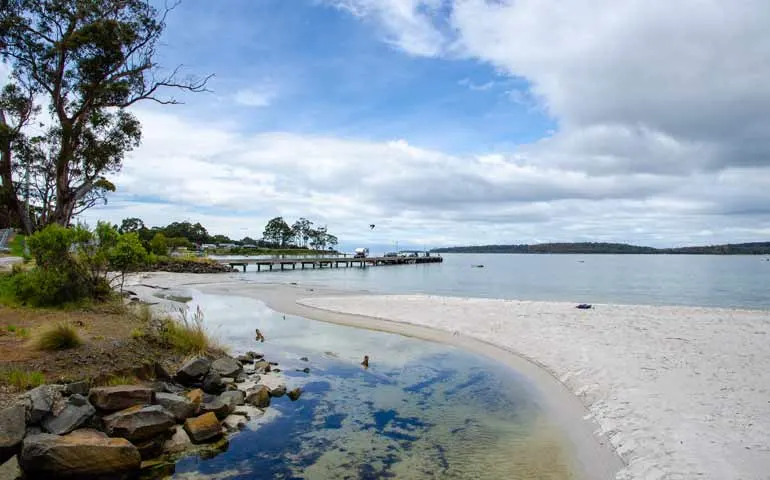 The island of Tasmania has dozens of gorgeous beaches dotted around its coastline. Plenty are famous, like Boathouse Beach or Wineglass Bay, but when you ask a local where their favourite is for a Tasmania road trip then Southport Beach will be right at the top of the list!
It's a real stunner, with soft, white sand stretching into the distance. Calm, cool waters are perfect for stand-up paddling and swimming. Families love the location because the water is so shallow and sheltered it's perfect for kids to get their first taste of beach life.
It isn't all about the beaches either, with beautiful caves located just 15 minutes away, immersive bushwalks through the rainforest, and even gem-fossicking in nearby Lune River.
Southport itself is a sleepy little 'shack town' where locals and visitors go to escape the rat race, unwind, and recharge. Forget luxury hotels and expensive high rises… Airbnbs are plentiful, with some so close to the water's edge you can even go fishing from your front balcony! It's the perfect way to do an island vacation for cheap!
Or for an even more cost-effective getaway you'll love setting your tent or campervan up on the lush green grass of the Southport Hotel and Caravan Park. Whichever is your preference, make the most of off-season pricing. Plan your visit for autumn or spring when the weather is still great, but prices aren't quite as high as at summer's peak.
Dining options are limited to the Southport Hotel (great Aussie pub fare!) and self-catering – but that's part of the charm of this quiet beachside town. No stress, no car horns, and plenty of relaxation at your own pace. And if you really need to try something new then you can always drive 20 minutes up the road to Dover where you'll find plenty more options.
If you love the quiet life then you'll love a Southport Beach escape!
Recommended by Andrew of Lap of Tasmania
Cheapest island vacations – which will you choose?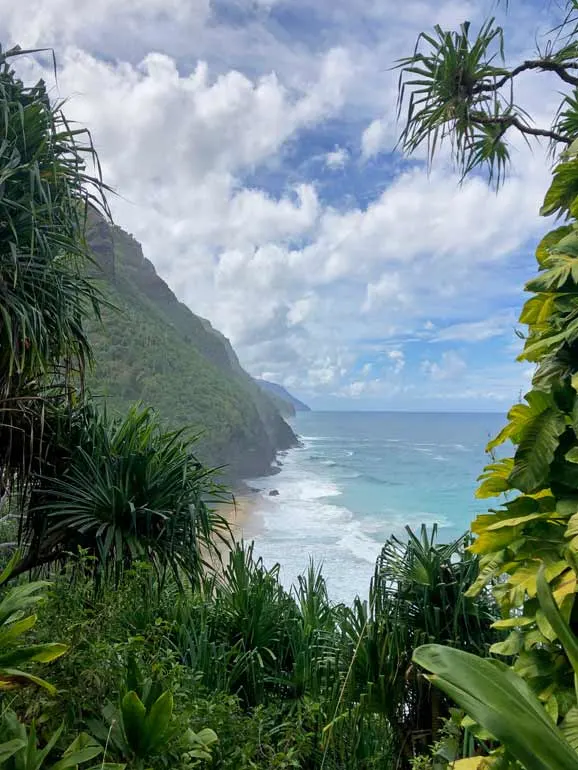 Alright so did you find it? The perfect (and cheap) island getaway just right for you? With a list like this, I hope you found more than one! 😉
Let's recap – here are the cheapest island vacations:
Punta Cana, Dominican Republic
Caye Caulker, Belize
Turks and Caicos Islands
Isla Holbox, Mexico
Varadero, Cuba
Oahu, Hawaii
Key West, Florida
San Juan, Puerto Rico
Kauai, Hawaii
Ios Island, Greece
Tenerife, Canary Islands
Madeira, Portugal
Sifnos, Greece
Belitung Island, Indonesia
Koh Chang, Thailand
Boracay, Philippines
Hiriketiya Beach, Sri Lanka
Koh Lipe, Thailand
Bohol, Philippines
Gili Trawangan, Indonesia
Southport, Tasmania
Woah, I hope you're as motivated as I am to add every one of these islands to my bucket list!
So, which one will you visit first?
Related content you won't want to miss:
35 Budget-friendly Beach Vacations: Swoon-worthy Destinations You Need to See
101 Travel Bucket List Ideas
30 Destinations for Escaping the Cold During Winter
28 Underrated Travel Destinations in the US You Need to See

Find this article helpful? Save it for later or share it on social media!