Moab, Utah is a destination built for adventure! It's a hiker's paradise and a nature enthusiast's playground. There's no shortage of things to do in Moab, and this guide covers 30 activities you'll absolutely love.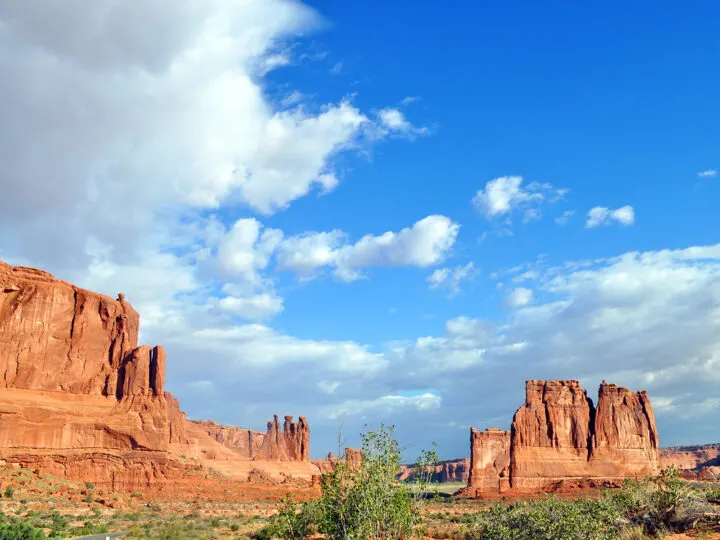 This post may contain affiliate links. For more info, see my disclosures.
The town of Moab is relatively small, but packs a punch! It's a fun desert city that truly begs to be on your bucket list. Families, singles, couples or anything in between, there's truly something for everyone.
Perhaps the most popular attraction is visiting Arches National Park, which sees more than 1.5 million visitors a year. But there's so much more to do in Moab!
Map of the best things to do in Moab
Get to know your way around the area with this map of all the Moab activities on this list.
So enough chatting already…let's dive in!
1. Visit Arches National Park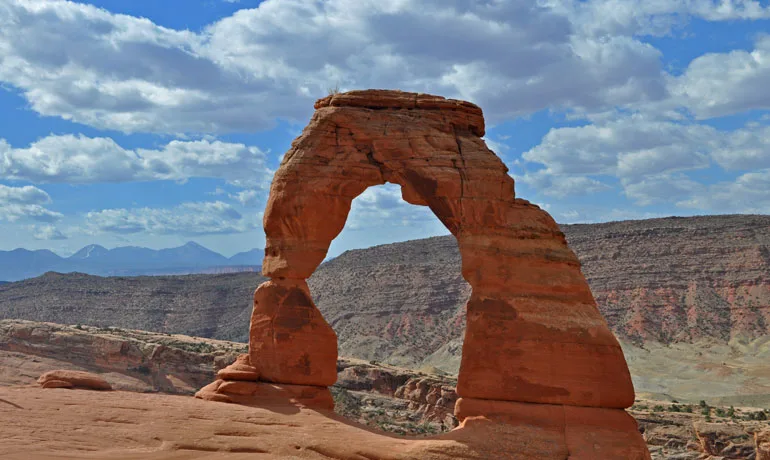 Arches National Park is what drives many people to Moab and southeast Utah. It's a place unlike any other in the USA!
It's the home of the most popular arch in the world, Delicate Arch. You'll see this arch painted on murals, artwork on souvenirs and, of course, on the Utah license plate.
If you want to hike to see the arch, it's best to go really early as the parking lot is often full. If you're only planning one day in Arches National Park, this is a must-see!
Delicate Arch is one of the most popular spots in the park, so expect it to be busy. (I got there just after sunrise and the parking lot was nearly full!)
It's also one of the most challenging hikes in the park, so make sure to bring water and good hiking shoes!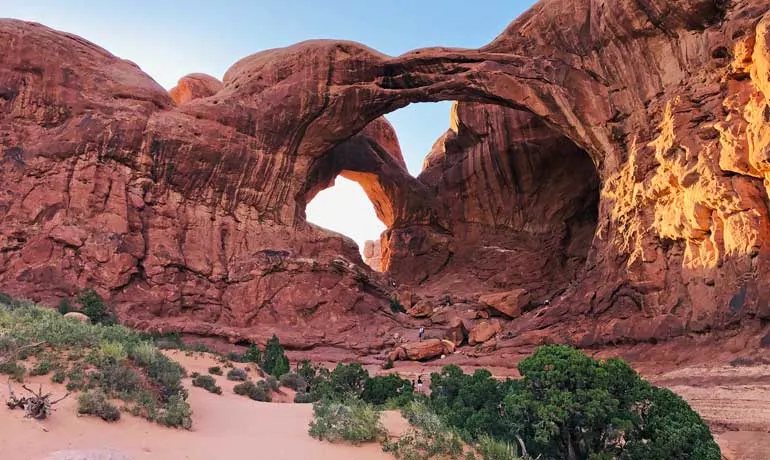 While at Arches National Park, you can't miss the Windows section of the park and Devil's Garden, where you'll find the famous Landscape Arch.
For a full list of the best spots to explore, check out these Arches National Park hikes.
2. Ken's Lake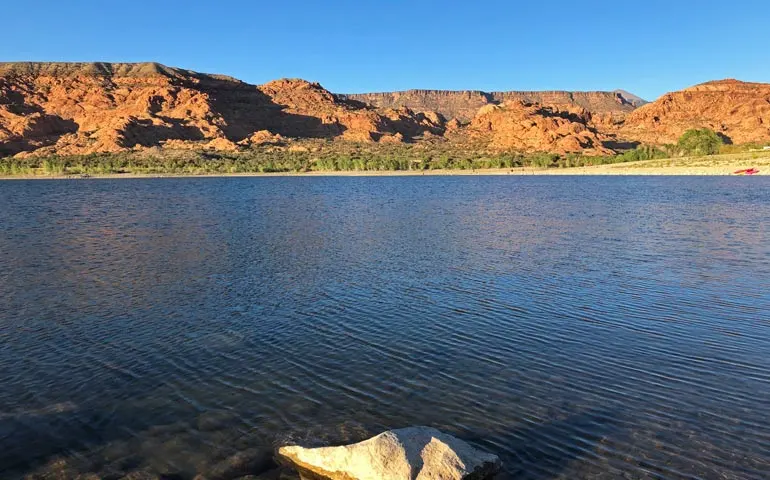 Located just 10 miles south of Moab, this lake is perfect for boating, swimming or fishing. The water is relatively clear and equally as refreshing! Head out there for a midday swim between hiking adventures.
The campground near the lake is rather large, so it's a good spot to camp for a budget-friendly vacation. Just be sure to reserve your camping spot early if that's your goal, as it tends to sell out quickly.
3. Hell's Revenge Moab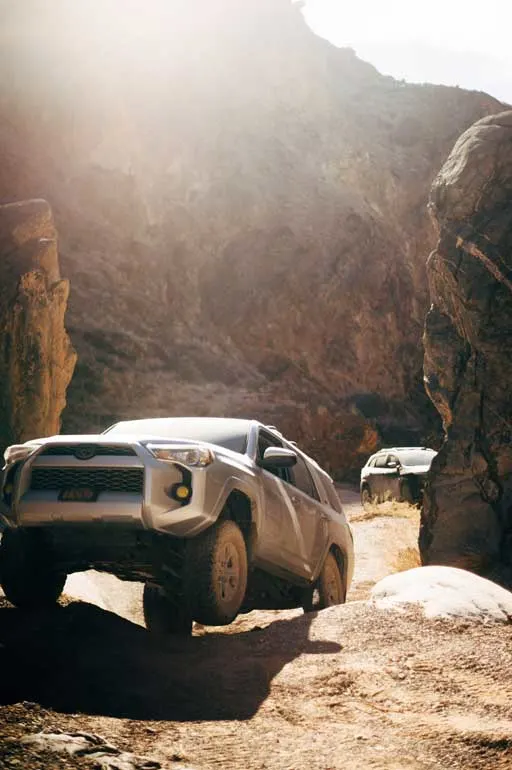 This off-road, 4×4 trail will get your heart pumping! It's a 6.5 mile trail intended for 4×4 vehicles, and only for experienced drivers.
The most popular way to experience Hell's Revenge is to book a tour. It's way less stressful that way! Expect spectacular scenery and unforgettable laughs during your tour.
Pro tip: make sure to take a face mask or bandana to prevent dirt from getting in your nose or mouth.
Hell's Revenge is a thrilling ride, and one for any adventure lover!
4. Moab Giants dinosaur park (one of the best things to do in Moab with kids)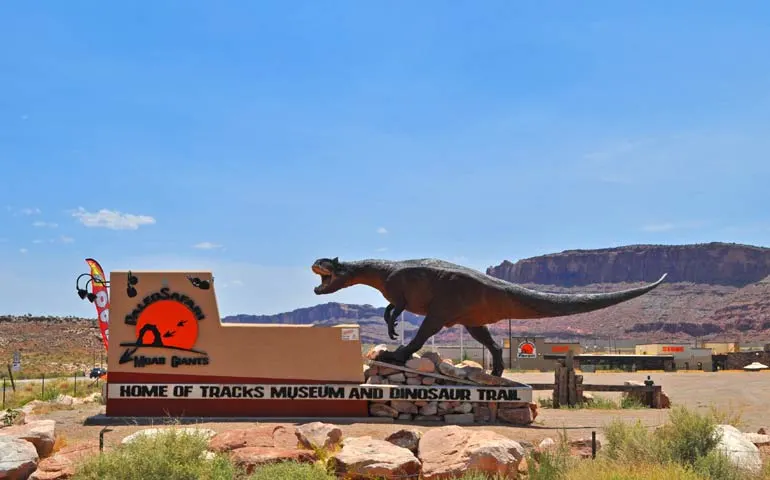 Well if you're visiting Moab with kids, this has got to be on your list! Moab Giants is all about dinosaurs! Based on the fact that many dinosaurs where found in southeast Utah, this adventure park is full of history and imagination.
It's a prehistoric aquarium, interactive museum, dinosaur playground, dinosaur trail and more! You can buy a ticket for the full experience, or outdoor-only access.
Visit Moab Giants official site here.
5. Dead Horse Point State Park (one of my favorite things to do in Moab!)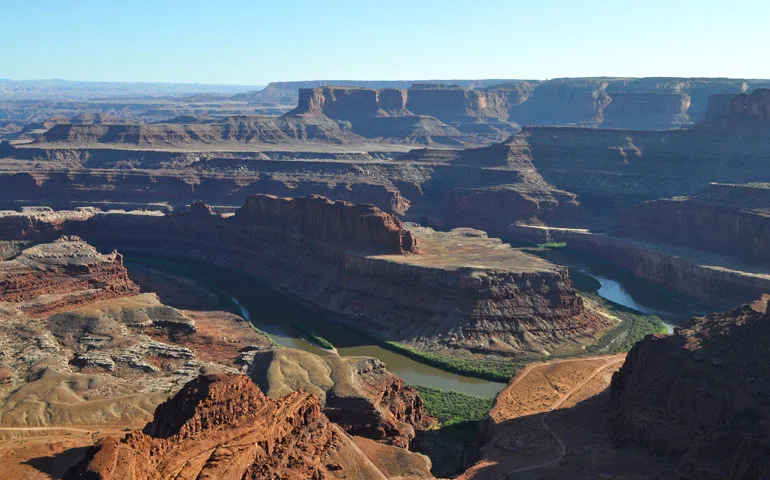 This was one of the unexpected delights during my trip to Moab! Dead Horse Point State Park is nestled right outside of Canyonlands National Park (about 25 minutes from town) and it's truly an awesome experience.
As I walked up to the lookout over the Colorado River, the sight literally took my breath away! I just marveled at the views of the winding river in the vast canyon.
Dead Horse State Park has far less visitors than either of the national parks nearby, which makes for fewer lines and less packed parking lots! So if you're wondering what to do in Moab with less crowds, this is it!
Pro tip: hiking along the rim of the canyon is relatively easy and provides expansive views round each curve. Just use caution as there's no railing.
6. Rafting in Moab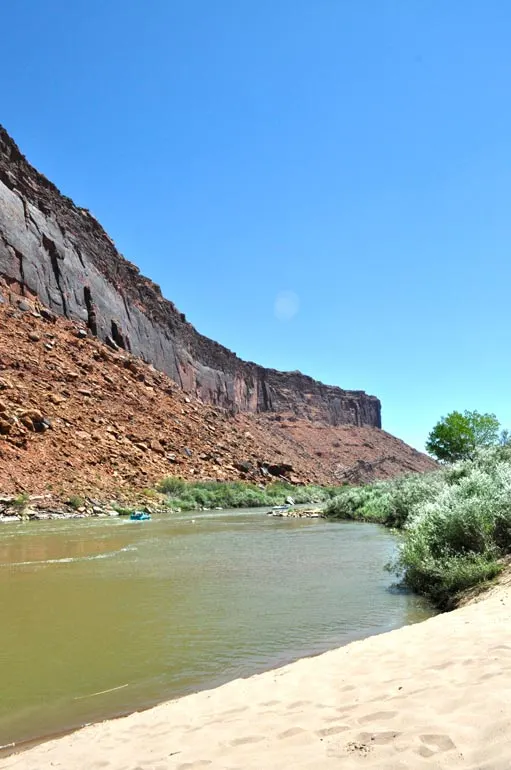 Let's get back on the water! One of the top things to do in Moab is river rafting. In the spring months the water will be very cold, but in the summer and fall it's refreshing and tolerable.
Experience panoramic views of the canyons on a Moab white water rafting tour. From calm waters to class 3 rapids, there's a variety of adventure on the river!
You can find lots of Moab river rafting tours for either 1/2 day or full day of fun! Make sure to wear sunscreen, sunglasses and bring a water bottle.
Pro tip: You'll want to plan these in advance, too as they tend to sell out quickly! Book your tour now.
7. Check out the slot canyons near Moab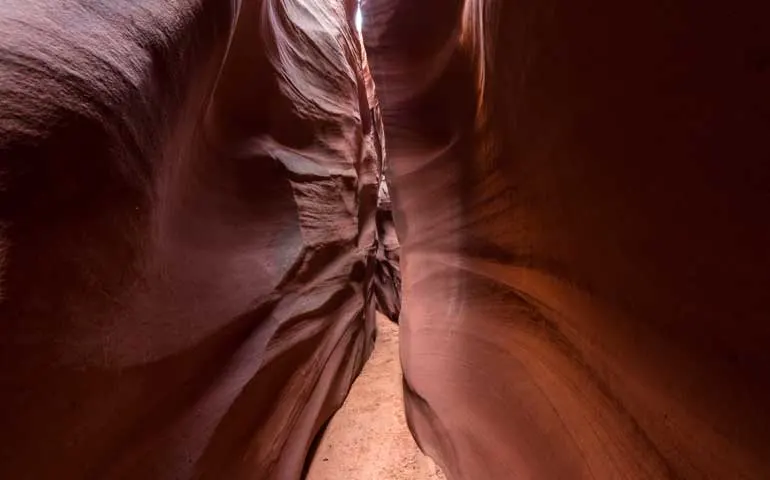 One of the best places in the world to explore slot canyons is in Utah! So it's definitely making this list of the top things to do in Moab. 🙂
Created by water and wind, these canyons, like the arches in southeast Utah, are one of nature's finest displays. And they're super fun to explore!
There aren't many slot canyons super close to Moab, but it would make a fun day or 1/2 day trip. Better yet, take a canyoneering tour and skip the stress of navigating the canyons themselves!
Best slot canyons near Moab:
Entrajo Canyon – 20 minutes south of town
Furniture Draw – Price Utah
Little Wild Horse and Bell Canyon Loop – Goblin Valley State Park
Book a tour of Entrajo Canyon here.
8. Horseback riding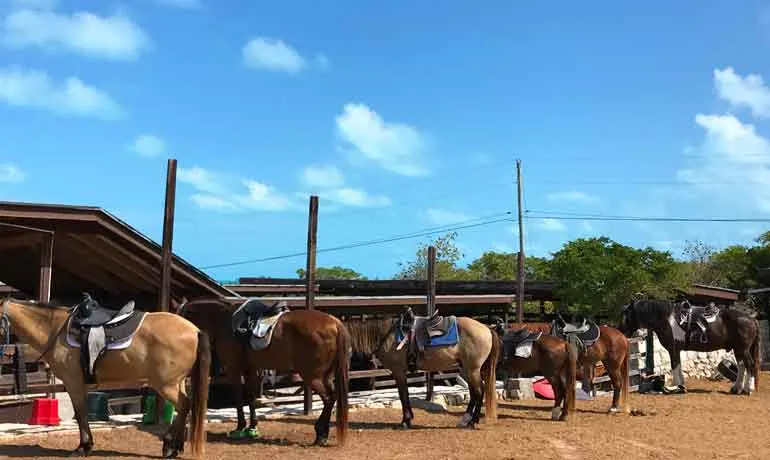 See southeast Utah in it's natural beauty on horseback! Ride the trails made famous in movies or along the Colorado River. The desert landscape is beyond impressive and what a unique way to experience it!
You'll get to enjoy the quiet away from the traffic of the city and national parks. Most tours are 1.5 – 3 hours, and should be scheduled in advance.
Each time I take a horseback riding tour while on vacation, I find the guides to be knowledgeable and I've always felt very safe on the horse.
9. Moab sand hill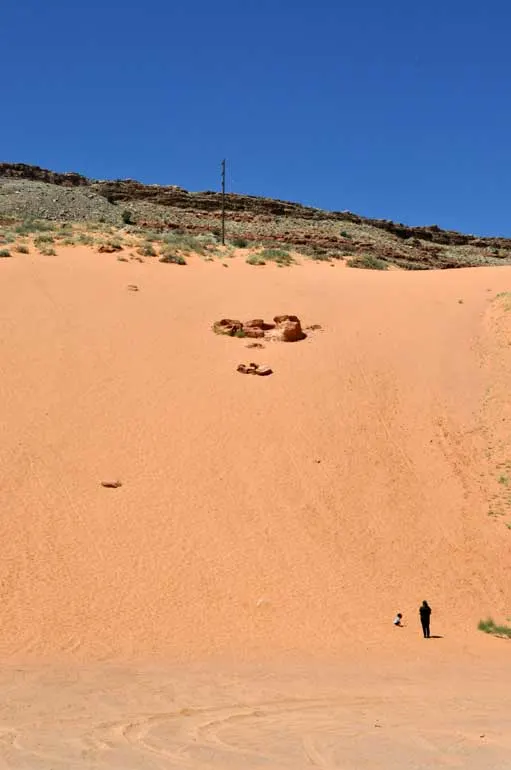 Well if you're looking for unique things to do in Moab with kids, or you're simply a kid at heart, make sure you check out the sand hill right on the outside of town. It's right between Arches National Park and the city limits of Moab.
It's basically a giant sand slide that can be used for sledding or rolling down. Every time I drove past, kids were crawling to the very top and sliding down to the bottom. If you truly want to slide make sure to bring a sand sled.
But it's not needed and it's a free activity for the kids!
10. La Sal Mountain Loop Road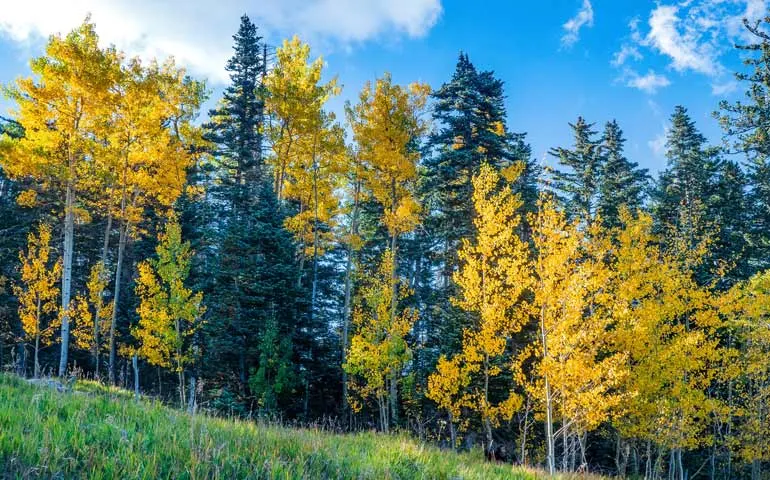 Just 20 minutes from town are the La Sal Mountains. Easily seen from various parts of Arches NP and Canyonlands NP, they offer a little different landscape from the red slab rock of southeast Utah.
It's like you're stepping into another world when you visit the Manti-La Sal National Forest. The picturesque alpine views of lush forests are a breath-takingly beautiful and a fresh alternative from the traditional sights of the area. It's actually one of the reasons Moab is one of the best places to visit in September in USA!
The La Sal mountains are the 2nd highest mountain range in Utah. The area offers lots of camping, hiking and fishing, in addition to the views!
Spend a 1/2 day taking soaking in the views on the La Sal Mountain Loop Road. It's only 60 miles but with scenic overlooks, you'll want to make stops along the way.
By the way… if you're planning to rent a car for your Moab vacation, check out the discounted rates on Discover Cars. I typically save 10%-30% on rentals. They search top car carriers to find the best deal at no extra price to you! Check rates now.
What to do in Moab
Only 1/3 of the way done with this epic list of things to do in Moab, Utah, and I'm sure you're already collecting ideas for your visit. My very favorite is up next…
11. Hiking in Canyonlands National Park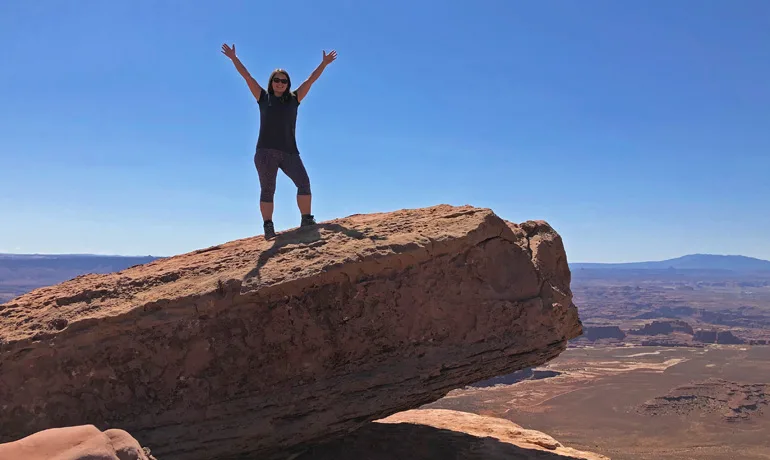 It lives in the shadow of Arches National Park, yet has scenery unmatched to no other. With hiking trails and views more spectacular around each corner, it's a must do when you're in Moab!
Canyonlands National Park is huge, and the section of the park closest to Moab is called the Island in the Sky District. I was lucky enough to spend several days hiking here and I can't say enough good things about it!
Here are the Canyonlands National Park highlights you can't miss:
Mesa Arch
Upheaval Dome
Grand View Point (best views if you hike to the end)
Green River Overlook
Looking for more? Check out this article for the 10 best hikes in Canyonlands National Park.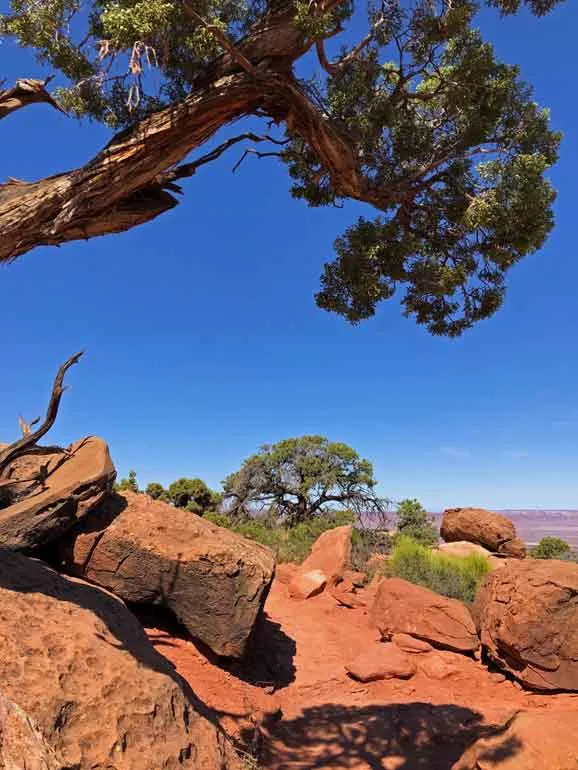 Pro tip: make sure to bring lots of water (regardless of the season) and wear hiking shoes with lots of traction. Hiking on slickrock is no joke. Here are the hiking boots I wore and they were perfect!
12. Shopping in downtown Moab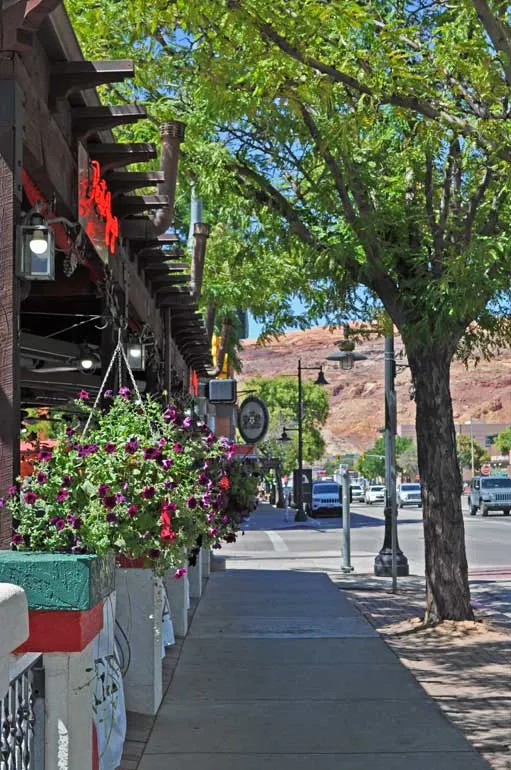 This area of southeast Utah is known for outdoor adventures, so you won't find big-name shopping stores here. But there are some fun spots to shop in downtown Moab. You'll find boutique shops full of souvenirs, clothing and sports apparel.
Visiting the shops and restaurants in downtown Moab can be a nice break from high-adventure activities.
13. Paddleboarding Moab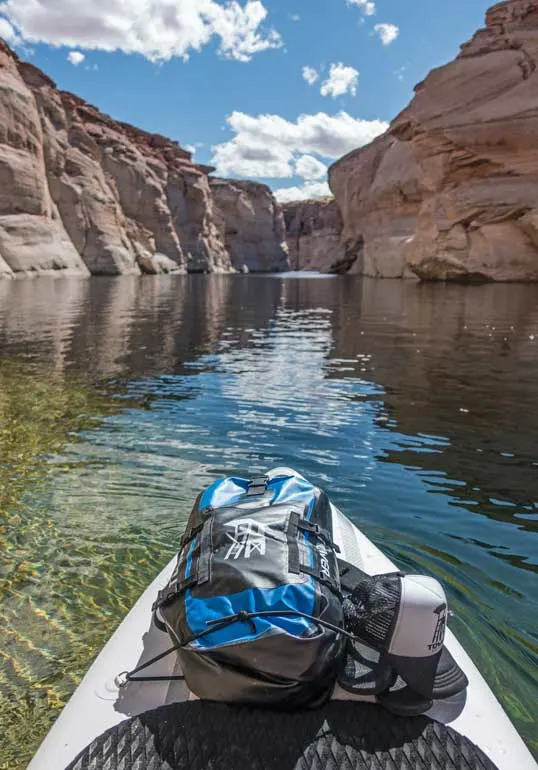 There's plenty of places in the area for water activities, and if you love stand up paddle boarding, you're in luck!
Catch views of red rock cliff, dunes and breathtaking views while paddleboarding Moab. You can rent paddleboards and find an adventure on your own, or take a guided tour.
I personally love taking tours like this because the guides know so much about the area and I feel like I learn a lot more than going myself. Also I don't have to worry about transporting the equipment. One of the best Moab activities on this list, in my opinion. 🙂
Rent paddleboards here.
Book a paddleboarding tour here.
14. Find some fun street art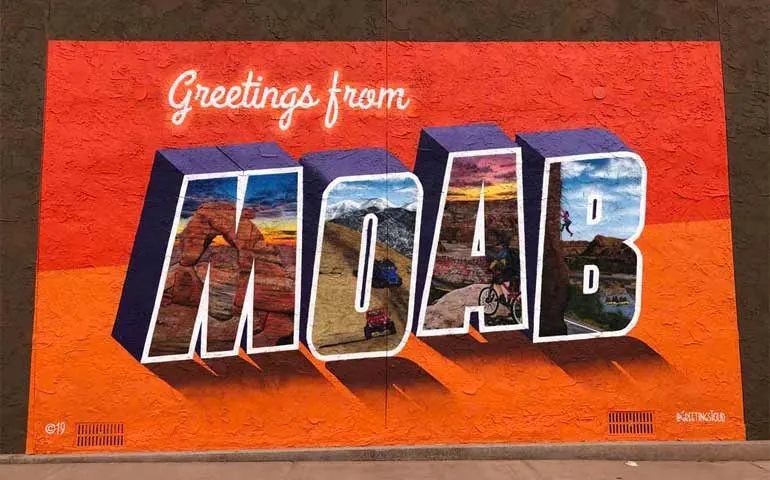 On your way into downtown Moab, it's easy to spot the Insta-famous Moab mural. Grab a photo with it, and find other fun, artsy spots in the city. 🙂
You can find artwork throughout the streets of the town. Be on the lookout in unsurprising spots – like the side of a gas station or car wash!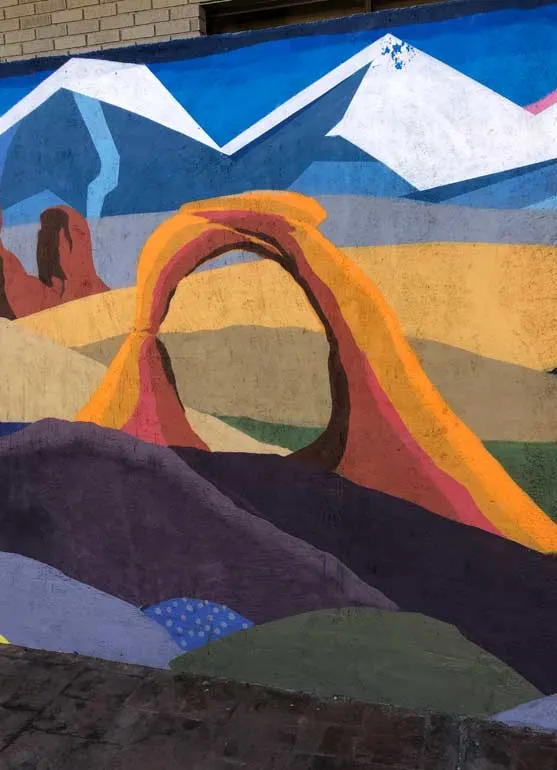 Make a day of it or just keep an eye out as you make your way around town. It's one of the most unique things to do in Moab, and is perfect, simple fun for any age.
15. See the petroglyphs near Moab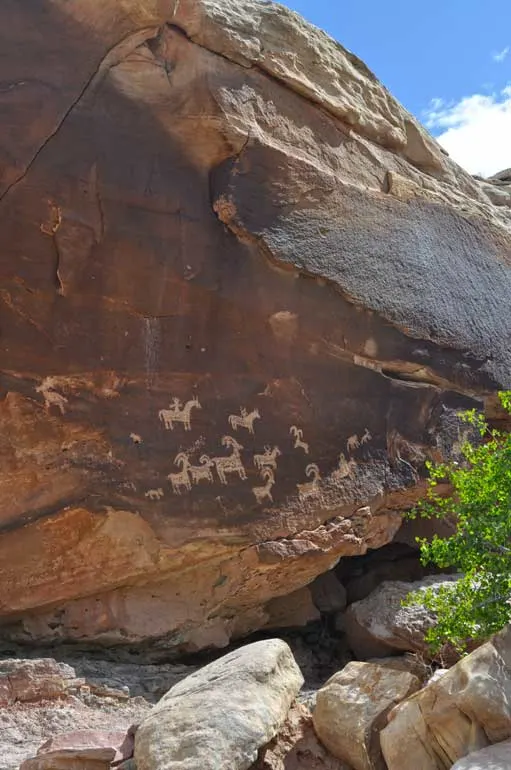 Ancient petroglyphs are just another layer of artifacts that have been found near Moab, Utah. Perhaps some of the most well-known petroglyphs are the ones located near Delicate Arch in Arches National Park.
The park has them guarded – and rightfully so – but they can be seen from a distance. It's quite incredible to think that these stories, carved into stone are thousands of years old!
Best spots to see petroglyphs near Moab:
Moonflower Canyon
Potash Road (you can also see real dinosaur tracks here!)
Birthing Scene historical landmark
Jug Handle Arch
Wolf Ranch (at Delicate Arch trail, Arches NP)
If you want to see multiple petroglyph locations in an off-roading adventure, try a scenic petroglyph tour. You'll get more info about the area's history and archeology with a tour.
16. Arches scenic drive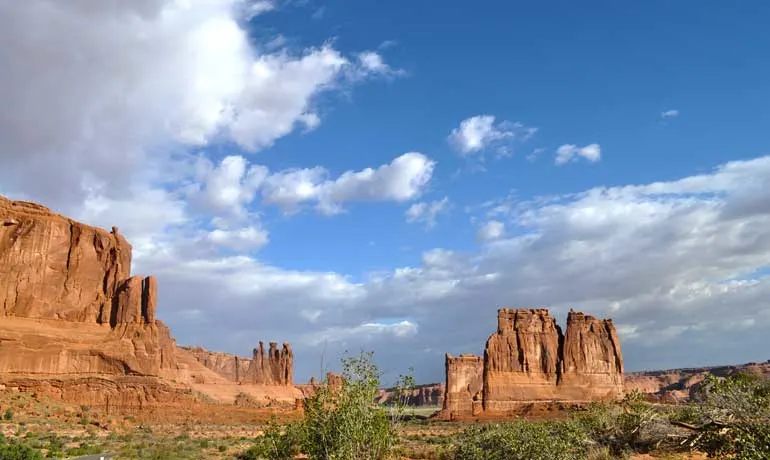 The Arches scenic drive doesn't actually show you a lot of arches, ironically! It's actually the main road in Arches National Park. It's a must to drive the entire thing, even if you don't plan to hike or get out of the car much.
In Arches National Park scenic drive, you'll see magnificent landscapes that seem truly out of this world!
Just past the visitor center, your mind will be blown with the majestic slickrock. Then the courthouse towers (pictured above), Balance Rock, and the Fiery Furnace are beyond impressive! Make sure to make it all the way to the Devil's Garden Trailhead for the full experience.
Pro tip: time your drive right! The park often fills up before 9am during the peak season of summer, so go early. And I'd highly recommend being out of the park by sunset, unless you want to be driving bumper-to-bumper around winding roads in the pitch black.
Speaking of awesome drives, if you're up for an adventure, try this drive from Moab to Denver with 16 gorgeous stops along the way. Past the red desert landscape of Moab to the east is the beautiful Rocky Mountains. With gorgeous scenic drives and tons of hiking opportunities across the state, it's a phenomenal vacation for any road tripper!
17. Moab winery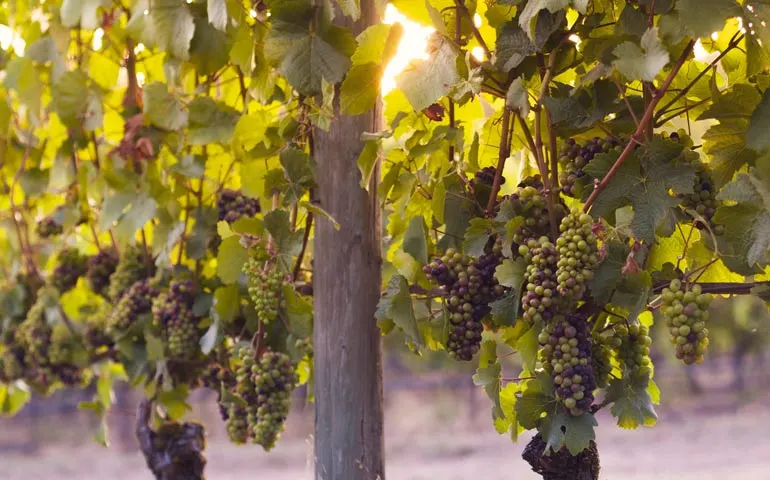 You might be surprised to hear that Moab has not 1 but 2 wineries! Both are located on the outskirts of town, and are easy to snag a tour and tasting.
Closest to town is Spanish Valley Vineyard and Winery. Bonus: they also have a bed and breakfast to get the whole experience!
About 15 minutes outside of town is Castle Creek Winery. This Moab winery offers picturesque views of the Colorado River that you can't beat!
I was lucky enough to see both wineries on my trip to Moab, and I'd highly recommend them. So if you're wondering what to do in Moab for adults-only or even for a girls' trip, visiting a winery is a great option!
18. Moab Brewery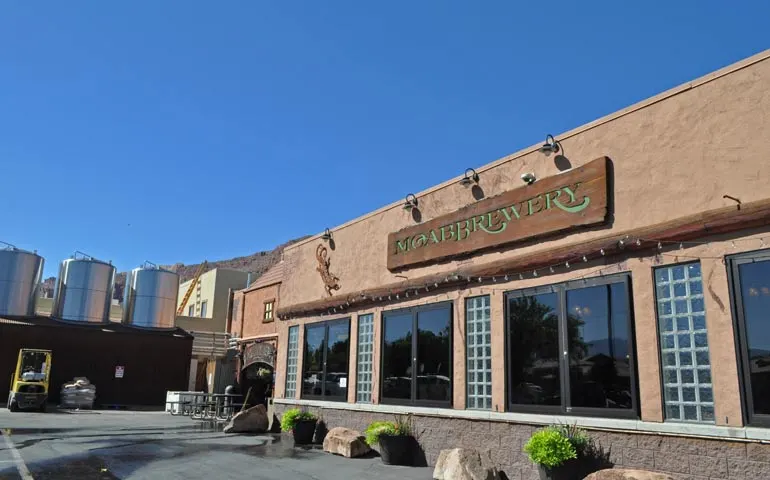 Let's talk about another favorite: local beer! The Moab Brewery is the only microbrewery in the area, and it's a favorite amongst locals and travelers alike.
So after your long day of adventuring around the area, grab some food and a local beer to wind down from the day. Oh, and be sure to grab a Dead Horse Ale, one of the best brews they make!
19. Eat at the food truck park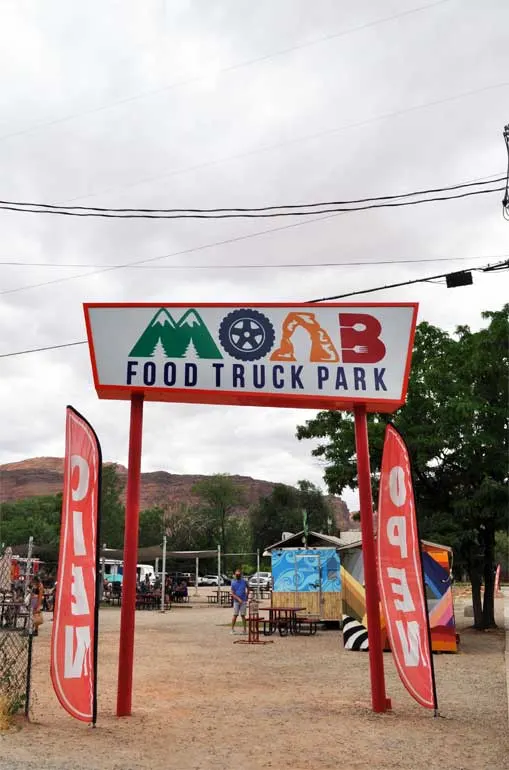 For a fabulous, inexpensive meal in town, you need to hit up the local food truck park. You'll find Southwest flavors as well as local cuisine and simple favorites at the food truck park.
I had the best quesadilla of my life while in Moab. Seriously, writing this makes me want to go back. So obviously my favorite truck was the Quesadilla Mobilla, which happens to also be one of the top rated restaurants in town.
Pro tip: Go early! Trucks shut down for the day when they run out of food.
20. Air tour of Arches and Canyonlands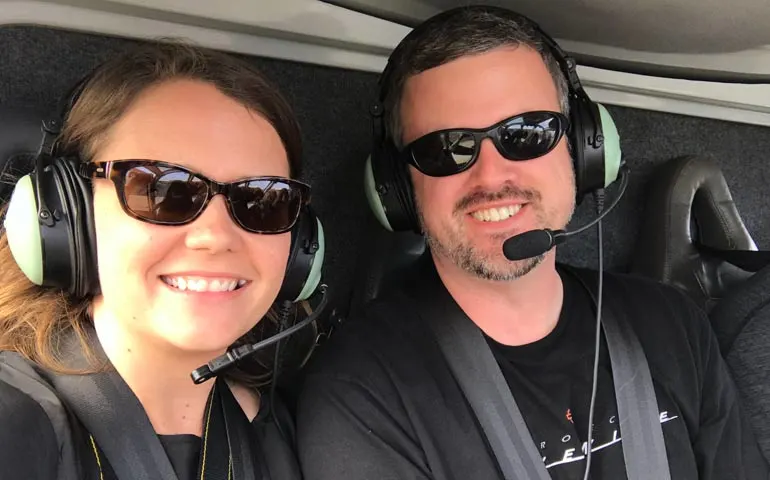 Seeing a destination from the air is a unique perspective and a totally different experience than seeing it from the ground. It's a thrilling new way to experience the natural beauty of the area.
There are several air tours in the area, so if you want to get your adrenaline pumping, choosing which tour is the next step. Usually you'll need to book a small group tour, like 6 people, depending on the size of the aircraft.
Air tours near Moab:
Just a note about air tours – they can be pricey. I'd recommend putting tours like this in your vacation savings plan and budgeting accordingly. Also, be sure to book them in advance!
More things to do in Moab, Utah
With all the awesomeness that is southeast Utah, can you believe we still have 10 incredible Moab activities to get to?
Lets keep going!
21. White Rim Trail on a 4×4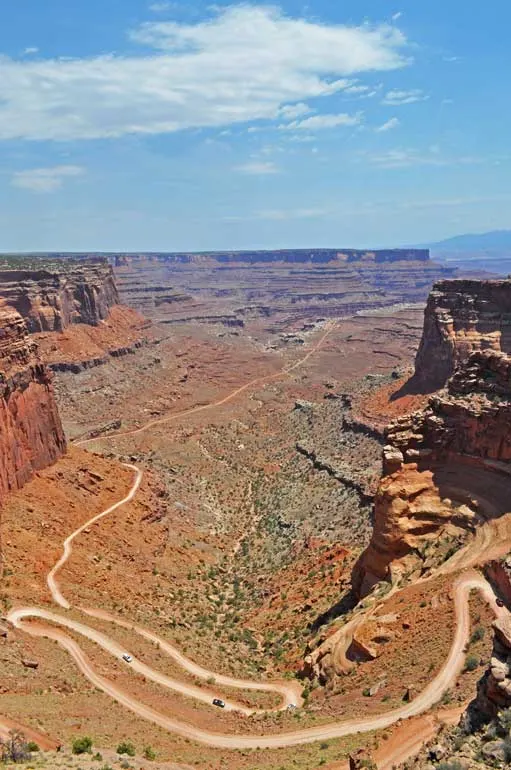 In Canyonlands National Park, there's a famous trail called Shafer Trail, or it's larger counterpart, White Rim Trail. It's a high adventure trail that can be driven, but isn't for the faint of heart!
Winding roads along steep cliffs take you deep into the canyon. A vehicle with 4-wheel drive is a must for this road, and it's suggested to only go if the conditions are dry.
If you're feeling up to it, make the drive deep into the canyon for spectacular views of the white rim. Or, take some pressure off and go with a guide! They'll do the driving and you get to do the sightseeing.
By taking a 4×4 White Rim Trail tour, you'll see parts of the park often overlooked by visitors! You can book a 4×4 tour here.
Oh, and by the way, visiting Moab in the fall will help avoid the crowds. In fact, Moab is one of the best places to visit in October in the US!
22. Cool down with an ice cream treat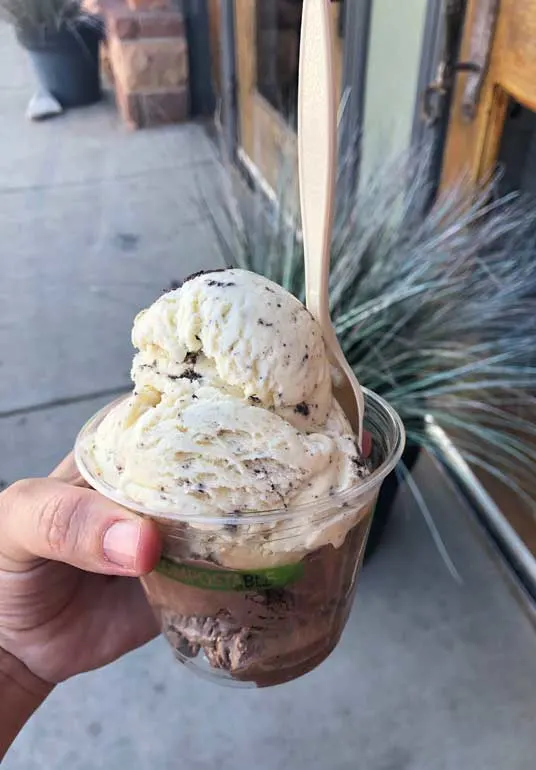 I mean, I'm not sure that there's ever a wrong time to eat ice cream. But after a long day of hiking, it sure feels like the best time! There are a few spots in town to get ice cream, all of them delicious.
I really enjoyed grabbing ice cream and walking downtown Moab. You'll get a small-town feeling, even though you're in a destination that sees millions of travelers each year.
Anyway, grab the ice cream. You won't regret it. 🙂
23. Faux Falls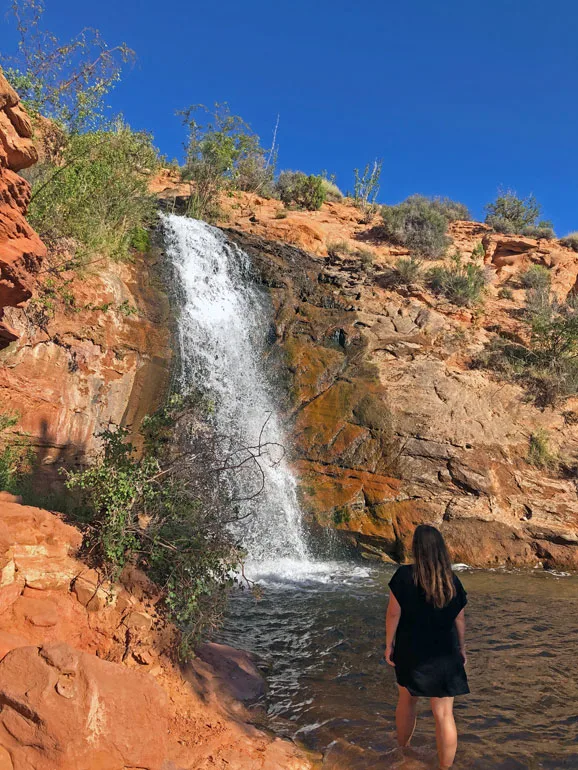 Located near Ken's Lake, Faux Falls is just like it sounds – a man-made waterfall. But it's beautiful and a fun spot to explore. When I was figuring out what to do in Moab and stumbled upon Faux Falls, I was thrilled!
The cold water is refreshing on a hot summer day in the desert after a full day of hiking. From the campground, hike the .5 mile trail along the stream up to the falls where there's a small pool (about the size of a hot tub) or explore underneath the waterfall as you cool off from the day.
Faux Falls isn't a very large waterfall and stream, so if you see a lot of other cars in the parking lot, expect it to be crowded.
Pro tip: bring water shoes for this one! The rocks are very slippery and you'll have to cross the stream in order to get to this part of the falls.
These are the water shoes I wore and they've traveled all over the world with me. Here they are on Amazon (I have them in gray).
24. Rock climbing Moab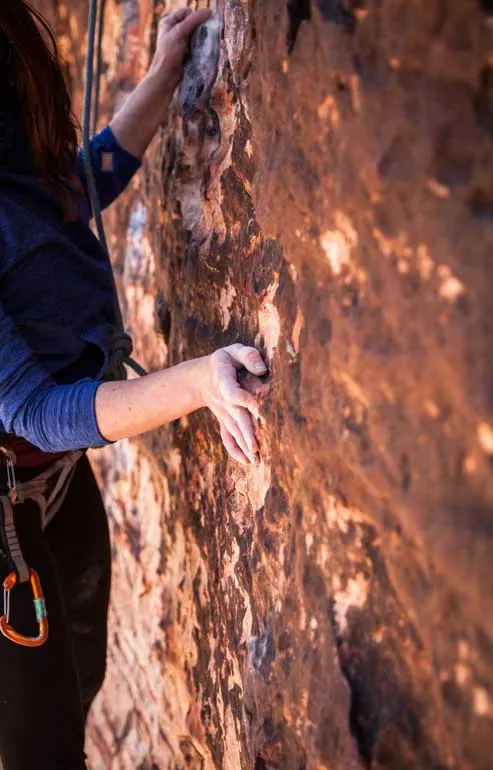 Moab climbing is at the top of any experienced climber's list! The giant red rocks that jut out of the soil create one giant playground for rock climbers.
And if you're a newbie, guides can take you out on your first adventure. What a awesome spot to try climbing!
Perfect spots for climbing Moab:
Fisher Towers, 30 minutes from Moab
Indian Creek, just south of town
Trisstin's Tower, Lockhart Basin
Washer Woman Tower, Canyonlands NP
Castle Valley monoliths, Canyonlands NP
If you're new to rock climbing, here are some tours with knowledgeable guides:
25. Watch the starry night at the national parks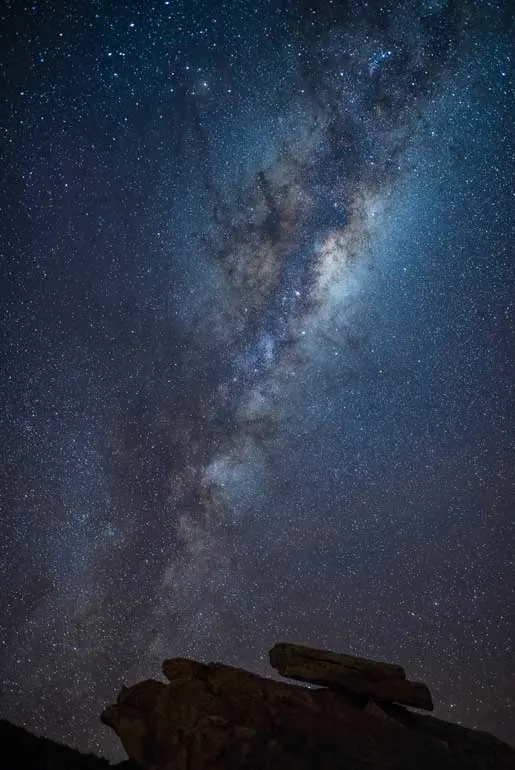 One of the coolest part of Arches National Park and Canyonlands National Park is how dark they get at night. With very limited light pollution, you're able to see the Milky Way clearly after sundown.
Both of the national parks near Moab have been named International Dark Sky Parks, which means the nocturnal environment is protected. Not to mention the fact that the unique landscape of the parks is a stunning contrast to the lit up sky.
Pro tip: get to the parking lot of your choice by sunset. I saw tons of people setting up chairs and blankets to catch their perfect view. It's an unbelievable night sky you'll never forget!
26. Stay in a yurt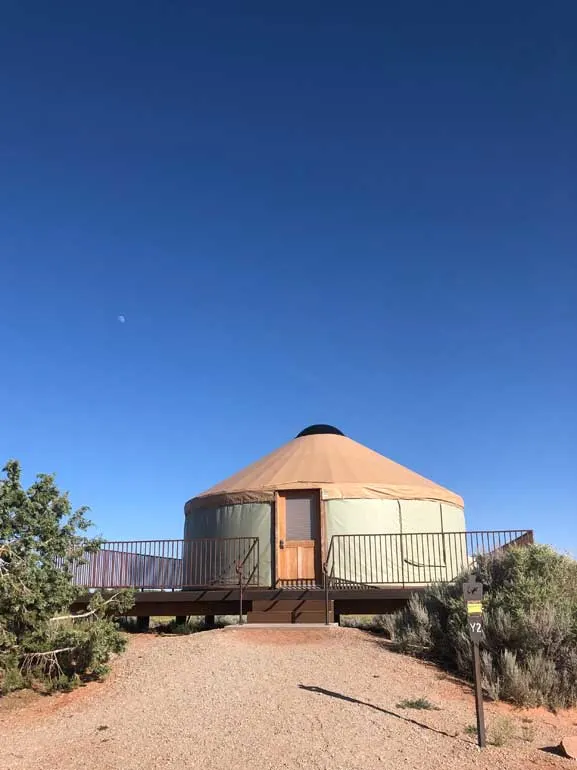 Alright, this one was just too fun to pass up! The Dead Horse Point State Park has a few yurts available for overnight stays. It's a fun way to spend a night (or more) and experience Utah's dark sky parks!
There's only a few available, so make sure to reserve your space really early! If you're looking to do a lot of activities on this list of the best things to do in Moab, Utah, I'd recommend not staying here the entire trip, as it's not very conveniently located.
27. Scenic byway 128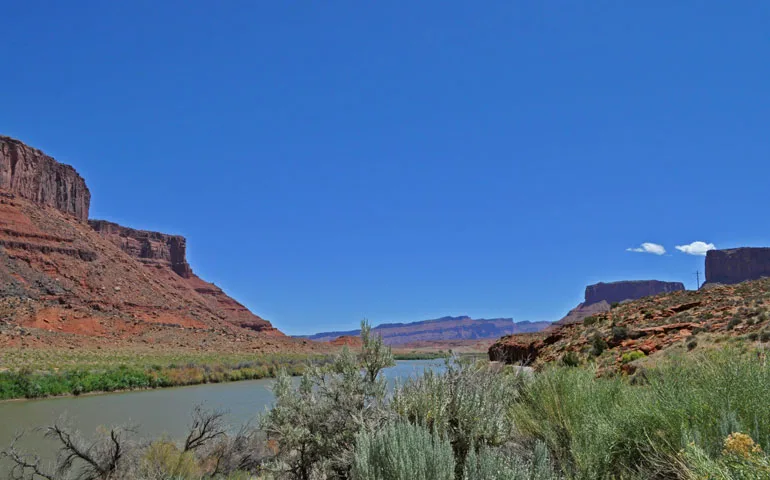 Driving this road was one of the most beautiful roads I saw in Utah. Scenic byway 128 follows the winding Colorado river and then jumps off for more desert scenes. You'll catch views of the red rock spires of the Fisher Towers and the La Sal Mountain range.
Each curve and turn is a beautiful sight to see on the scenic byway. Take an hour out of your day to drive up and back, or if you're connecting and heading east out of Moab you could take it to meet up with I-70.
Just before reaching Interstate 70, you'll see the ghost town of Cisco. It's eerie and creepy, yet somehow intriguing at the same time!
Just a word of warning, I would not recommend taking this at night as there are hairpin curves, and once and at some point the highway becomes a county road, if you're heading towards I 70 and so it is less maintained. And there are no services available.
Pro tip: make sure you have plenty of gas, water and snacks as there are no services on this route.
28. Zip lining in Moab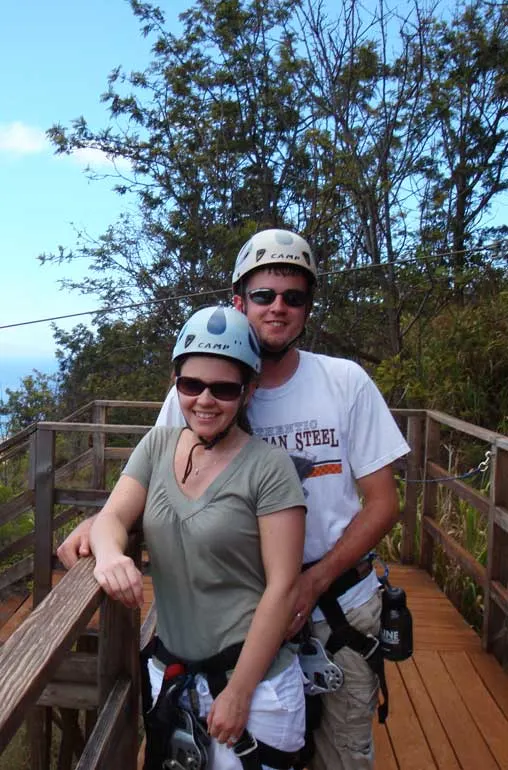 For a high-adventure activity that's family friendly (for older kids), check out ziplining in Moab! Ziplining is a thrilling adventure, which really just feels like a oversized slide…except with nothing underneath you. 🙂
Part of the fun of ziplining in Moab is climbing the elevation needed to get to the top of the zipline course. Most zipline tours will take you up via an ATV or off-road vehicle, which is exhilarating!
A ziplining adventure is usually a 1/2 day activity, and should be booked in advance to make sure your spot is reserved. It's one of the most adventurous on this list of Moab activities.
29. Lions Park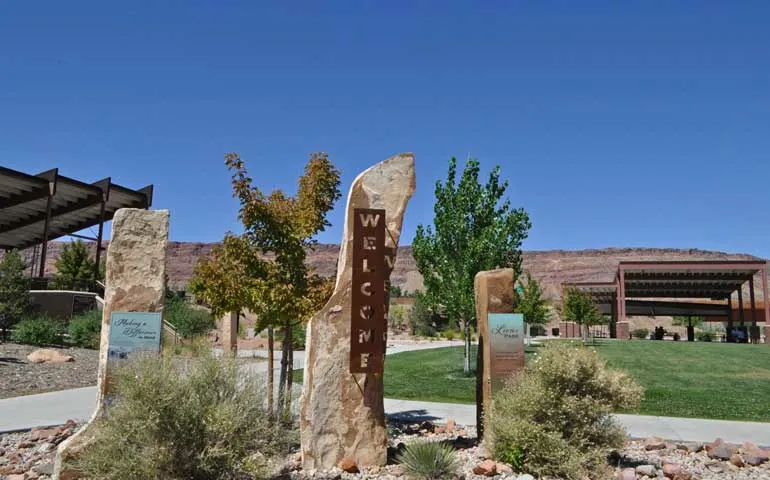 Sitting right between the cit limits and Arches National Park, Lions Park is right in the Colorado River valley. It's actually the only spot in town that I saw green grass growing in the whole area!
Lions Park is a fun spot if you're looking for things to do in Moab with kids. It has a natural playground and a bridge that spans the Colorado River. There's an extensive path perfect for walking and biking, too.
With plenty of shade in Lions Park, it's a perfect spot for a picnic or to escape the desert sun.
30. Rent an ATV or UTV and hit the trails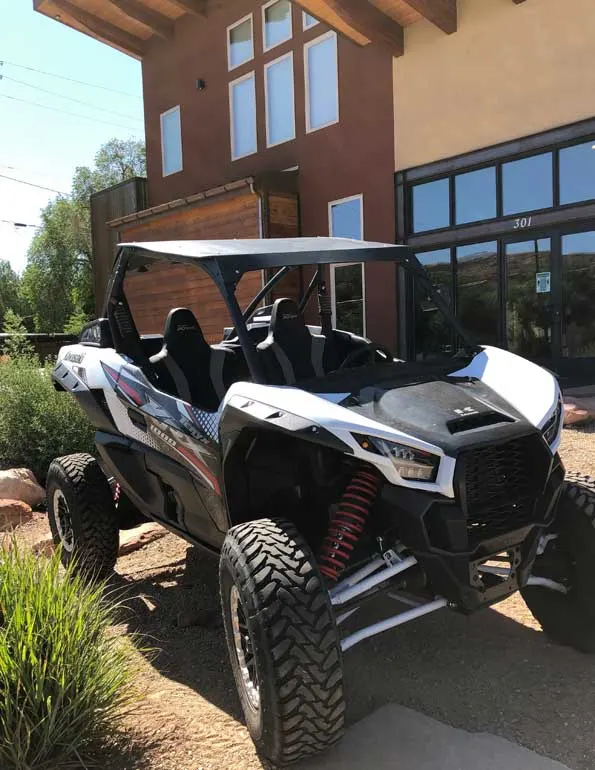 By now you've probably noticed that off-road vehicles are a favorite for visitors to this desert town. Well you can rent an ATV or UTV and hit many trails in the area!
White Wash Sand Dunes, Bartlett Wash Road and Monitor and Merrimac Trails are popular spots to go off-roading with an ATV rental in Moab. And of course, if driving isn't your thing you take a tour with a friendly guide.
ATV tours in Moab:
Pro tip: be sure to bring a face mask or bandana so you're not eating the dust!
Things to do in Moab (a recap)
Moab is truly a destination that almost any outdoor enthusiast loves to explore. Between the epic views and the amazing adventure, Moab is full of exciting possibilities waiting for you around every corner.
Here's a recap!
Moab: things to do
Arches National Park
Ken's Lake
Hell's Revenge
Moab Giants dinosaur park
Dead Horse Point State Park
River rafting
Slot canyons near Moab
Horseback riding
Moab sand hill
La Sal Mountain Loop Road
Hiking in Canyonlands National Park
Shopping in downtown Moab
Paddleboarding Moab
Find some fun street art
See the petroglyphs near Moab
Arches scenic drive
Moab winery
Moab Brewery
Food truck park
Air tour of Arches and Canyonlands
White Rim Trail on a 4×4
Cool down with an ice cream treat
Faux Falls
Rock climbing Moab
Watch the starry night at the national parks
Stay in a yurt
Scenic byway 128
Zip lining in Moab
Lions Park
Rent an ATV or UTV
Related content to read next:
10 Best Hikes in Canyonlands National Park that Promise Incredible Views
Arches National Park Hikes: 12 Top-rated Trails You'll Love
One Day Itinerary: Best Sights in Arches National Park
Discover the Hidden Gem near Moab: Faux Falls
Find this article helpful? Save it for later or share it on social media!