Who doesn't love a good road trip? Better question: who doesn't love a good road trip snack? Well here's a mega list of road trip food ideas that you'll want to pack along.
One of the worst things that can happen on a road trip is running out of food and dealing with a hangry family member. Don't let that happen! Keep your ride peaceful with these road trip snack ideas!
This list of road trip snacks goes beyond gas station junk food and difficult-to-eat-on-the-go meals. The best road trip foods are convenient, satisfying and healthy (but also sometimes not!)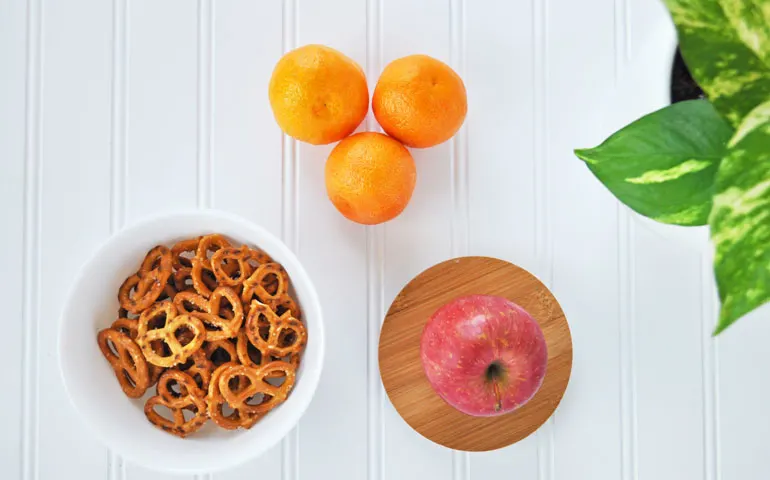 This post may contain affiliate links. For more info, see my disclosures.
On this mega list of 101 road trip food ideas, you'll find:
Healthy road trip snacks
Homemade road trip snacks
High energy foods on the go
Road trip snacks for kids
Vegan road trip snacks
Ideas for your sweet tooth
Meals for road trips
Packing tips and food containers
Essential supplies you'll need
Best road trip food
As someone who checks off bucket list locations and takes many road trips every year, I know my road trip food. 🙂 It's important for food to be portable, easy to eat in the car and it needs to be able to travel well.
Some of the food ideas below you'll want to prepare and package up at home before you hit the road. Be sure to pack a cooler to keep foods fresh as needed.
Note: stick around to the end of the list for the best packaging solutions and containers. Because it matters when packing food for a road trip!
Healthy road trip snacks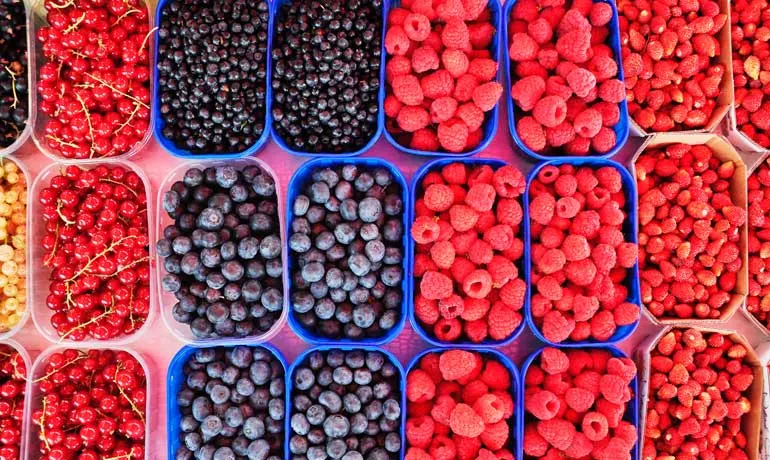 You want something convenient and healthy, right? Well it's just as easy to grab an apple for a long car ride as a bag of Doritos!
Now, before you head to the store to buy a bunch of fruit, make sure to think through them all. Like bananas…
Bananas are not a good option for road trips, as they get mushy. On my road trip to Moab, Utah, the bananas I packed split open and made a mess of my reusable grocery bag. So skip the bananas, okay?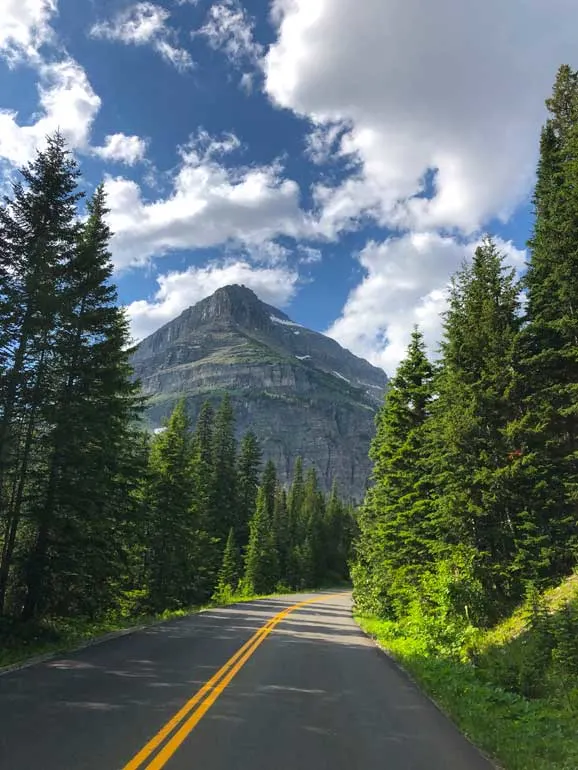 Here's the list of healthy road trip snacks
Apples
Sugar snap peas and ranch
Healthy granola (think savory seasoning, not sweet ingredients)
Popcorn (my favorite budget-friendly snack using this air popper)
Oranges
Homemade trail mix
Carrots and ranch
Strawberries
Sugar-free, gluten free muffins
Veggie chips (store bought or homemade)
Blueberries
Basil, tomato and mozzarella salad
Rice cakes with nut butter
Grapes
Cottage cheese and almonds
Pita chips and hummus
Healthy zucchini muffins
Yogurt with mix-ins (just watch the sugar content)
Homemade road trip snacks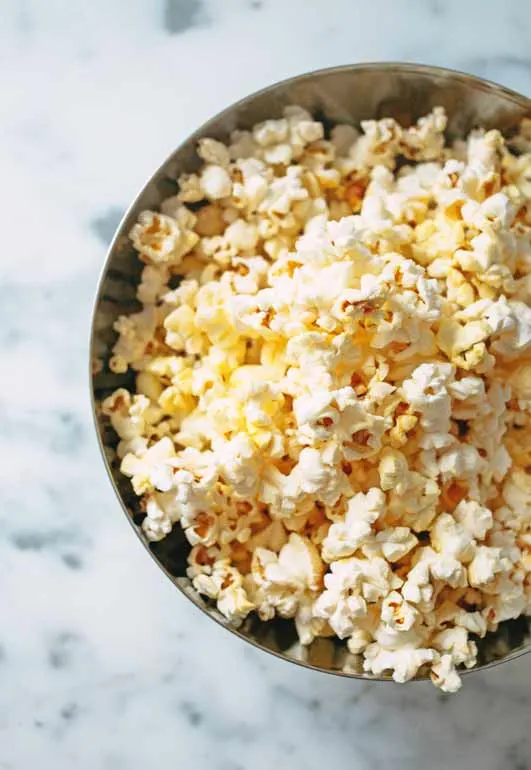 Next let's dive into the things you can make – or bake – from home. My kiddos always ask for a few of these on every road trip. Their favorite on our way to Glacier National Park was # 20 below!
Rice crispy bars
Or their yummy cousin, fruity pebble bars
Other cereal bars – think Cheerios, Lucky Charms…the possibilities are endless!
Paleo, keto and Whole 30-friendly nut bars
Cheese quesadilla
Pretzel hugs (just don't pack a bunch – they're addicting!)
Ditch the flour with these black bean brownies
Sweet trail mix (DIY – just throw pantry staples together!)
'Cookie' protein balls
Almond bark with mix-ins
Spicy roasted cashews
Peach oatmeal muffins
High energy foods on-the-go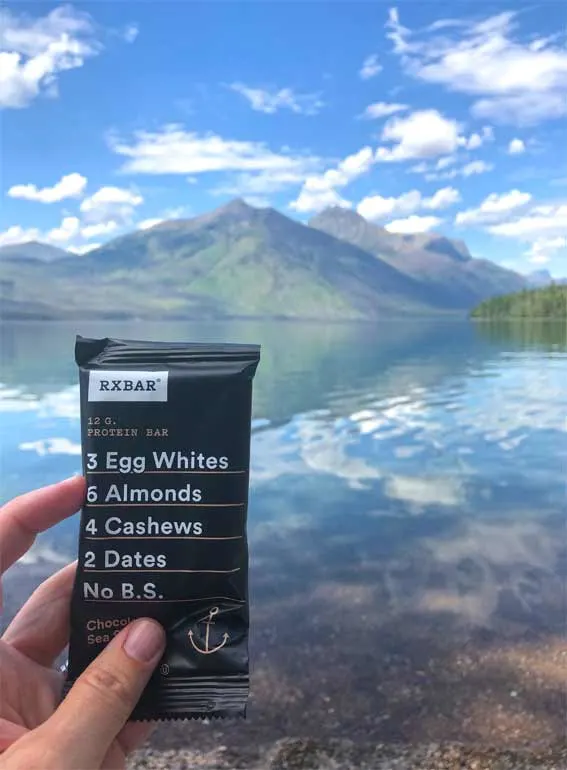 Sitting in the car can be B-O-R-I-N-G and an energetic snack can help to pick you up. Or if you're driving an all-nighter like I did from Omaha, NE to Gulf Shores, AL, you'll need some energy to get you through the long drive.
Here are some of my favorite high-energy snacks for the car:
Beef jerky
Greek yogurt
Ham, chive and cream cheese pinwheels
String cheese
Cinnamon apple energy bites
Hard boiled eggs
Pistachios
Energy bars (RX bars are my favorite for road trips and hiking snacks)
Salmon in a pouch
Mixed nuts
Favorite energy drink (as needed) for driving over night
Road trip snacks for kids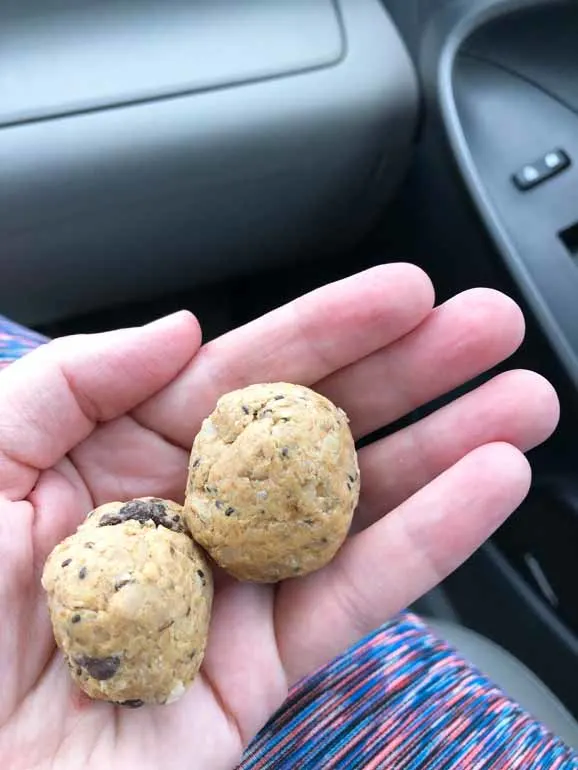 Let's focus for a minute on food for little ones. While most road trip food on this list can be given to kids, there's just some foods that are naturally designed for kids.
Pro tip: make sure to give the kids healthy road trip snacks first. It's way harder to get them to eat an orange after having a bunch of chocolate. Don't ask me how I know. 😉
Just a quick note: many of these food are pre-packaged which isn't the most eco-friendly way of traveling. However if you balance it with homemade and reusable packaging when possible, it lessens the environmental impact.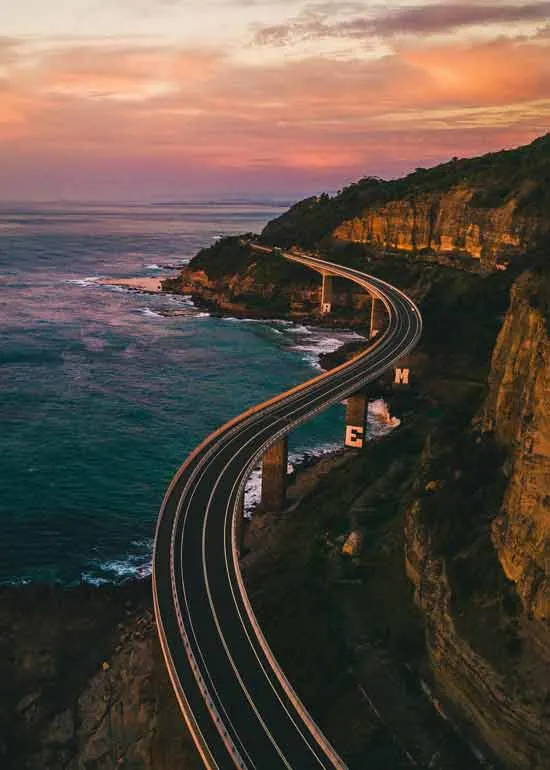 Kid-friendly road trip snacks:
On-the-go yogurt
Homemade double chocolate zucchini muffins (my kids go crazy over these!)
Cuties
Kid-friendly trail mix
Suckers (or any long-lasting sucking candy)
Applesauce pouches
Fruit snacks (save money by buying them at a bulk bin grocery store)
Pepperoni slices and cheese cubes
Baby carrots
Juice boxes or pouches
Kid-friendly pinwheels
Fig bars
Fun cheeses, like Baby Bell or Laughing Cow
Raisins or cranberries
Healthy toddler mini muffins
Also make sure out check out the 15 Things to Pack on a Road Trip with Kids
Vegan road trip snacks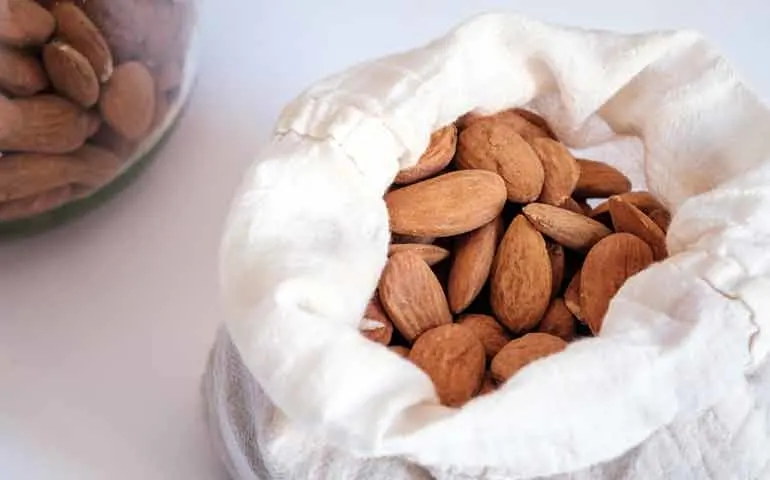 If you're more comfortable with the vegetarian or vegan diet, here are some great options for your next road trip. Many of these will need to be prepared or portioned out ahead of time. (See recommended containers below.)
Veggie chips (sweet potatoes, beets, parsnips, etc.)
Bell pepper slices and hummus
Celery and nut butter
Cherry tomatoes with vegan ranch
Cinnamon apple chips
Cajun roasted chickpeas
Roasted pumpkin seeds
Vegan lemon blueberry muffins (homemade)
Chocolate-drizzled caramel popcorn
Ideas for your sweet tooth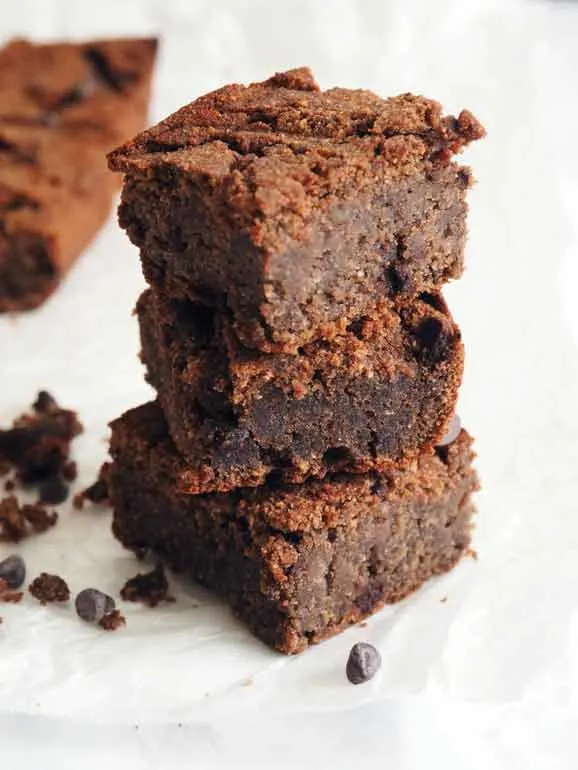 Okay there comes a point in the road trip where cravings take over. Some of my favorite food to take on a road trip are the special sweet treats. I just try not to pack too many!
Yogurt dipped pretzels
Puppy chow / muddy buddies
Chocolate covered almonds
Medjool dates
Scotcharoos
'Crack' popcorn (candy covered popcorn with sprinkles)
Homemade cookies
Candied almonds (make them in the crock pot before you leave to save money)
Gummy bears, or chocolate covered gummy bears
Your favorite candy bar (mini size bags are perfect for sharing)
Meals for road trips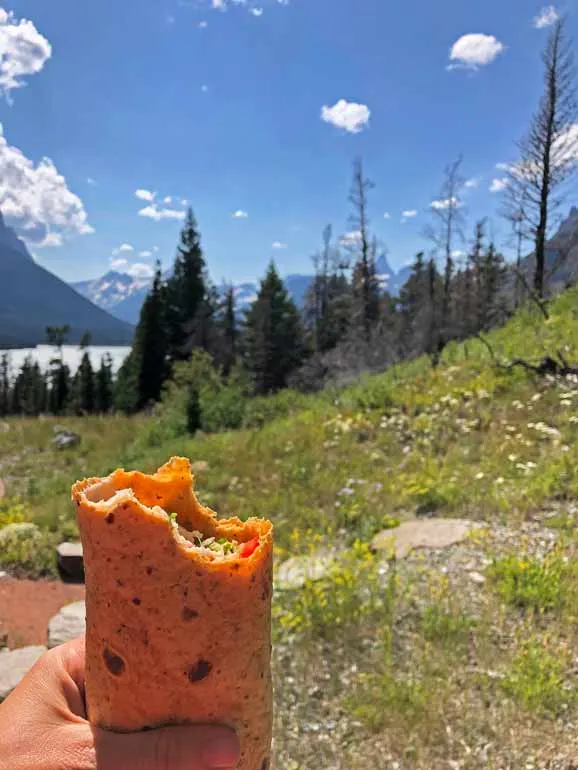 It's sometimes nice to plan stops for gas or stretching around mealtime. And eating out is nice and convenient when on the road!
But it can also really add up! If you're on a budget trip, then eating out every meal isn't always a great option.
Pro tip: make sure to pack items that you won't mind eating cold or room temperature. I sometimes freeze snacks and to keep them longer and prolong ice in the cooler from melting.
One strategy my family uses for road trips is to pack food for the first meal in a cooler. We'll stick other road trip snacks in there too, and if it's a long road trip we'll pack multiple meals.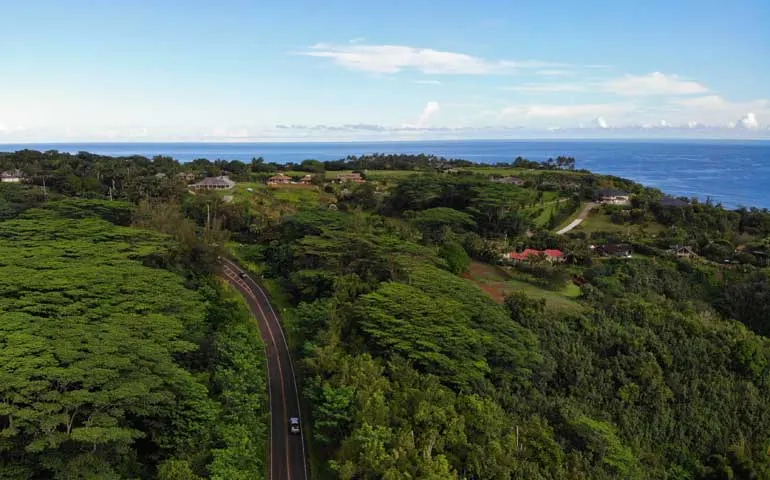 Anyways, back to best meals for road trips:
Egg salad sandwich
Cranberry almond chicken salad wrap
Pre-portioned salads (homemade or store bought)
Peanut butter and jelly sandwich
Packaged tuna (not canned) and crackers
Fruit salad (misc. fruit with a splash of honey and lime)
Deli meat and cheese sandwiches
Chips and guacamole (buy the small portion guac so it doesn't go bad)
Banana bread muffins for breakfast
Gluten free strawberry oatmeal bars
Milk, orange juice or iced coffee
More snacks to pack on-the-go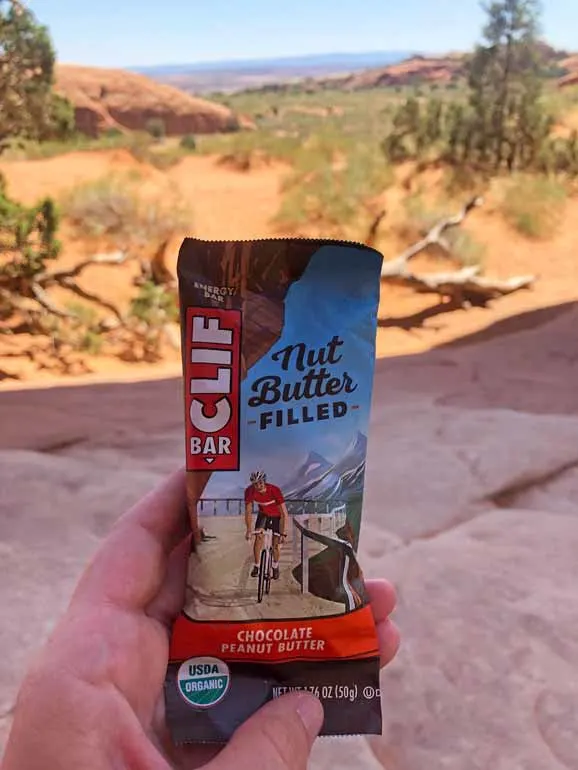 We're almost there! Here are a few more ideas to add to your road trip food list:
Water (of course this needs to go with!)
Peanut butter filled pretzels
Store-bought breakfast bars
Mints or tic-tac's (helps to pass the time)
Traditional chips
Sweet Tarts
Hot Tamales (my husband's favorite!)
Yogurt covered raisins
Dried fruit
Jelly on rice crackers (use jelly packets for this)
Mini cheese and cracker sandwiches
Almond butter packets
Sunflower seeds (what gets me through overnight driving)
Packing tips and food containers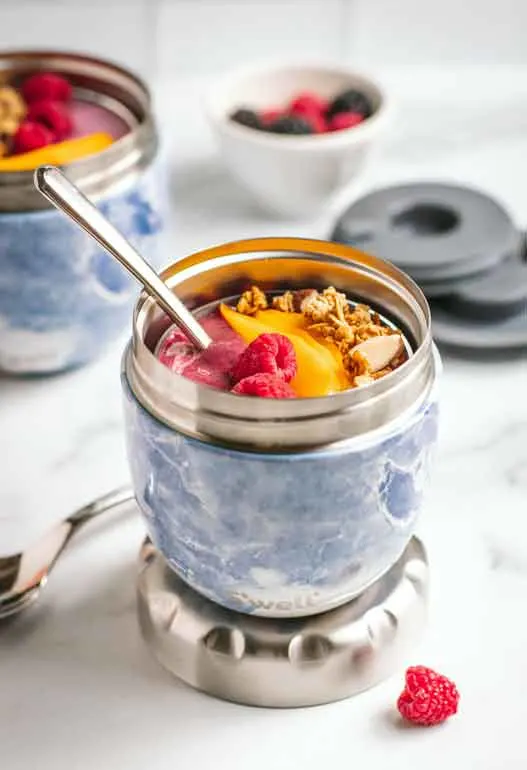 So now that you have a ton of ideas, let's move onto packaging. Breaking foods up into convenient portion sizes ahead of time saves a lot of headache – not to mention mess – in a moving vehicle.
Here are my favorite packaging solutions that are convenient, eco-friendly and ultimately will save you money.
Coolers – my family usually travels with a small, collapsible cooler in an easy-to-reach spot in the car that's filled with drinks and snacks. Then we put meals and back-up drinks in the large cooler in the back.
Collapsible containers – great for making meals ahead of time and takes up less space in your car.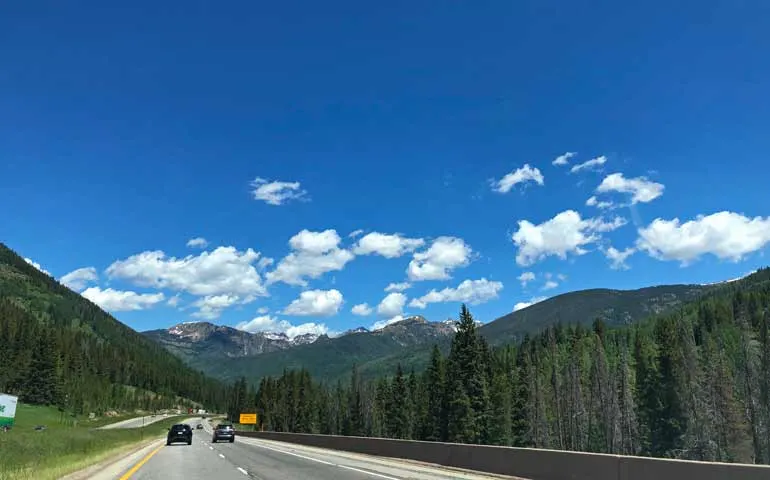 Mini containers – perfect for dips, trail mix, salad dressings and kid portions. I love these mini containers for road trips! I'll even use them for snacks that I buy while on the road.
Reusable water bottles – my whole family has reusable bottles that we use for water on road trips. We usually put filtered water in old milk jugs (that have been cleaned) to refill water bottles throughout the trip. These water bottles are perfect for hiking or beaches, too!
Portable silverware set – perfect for meals, yogurt and to eliminate the need for plastic utensils during drive-through's.
More supplies for your car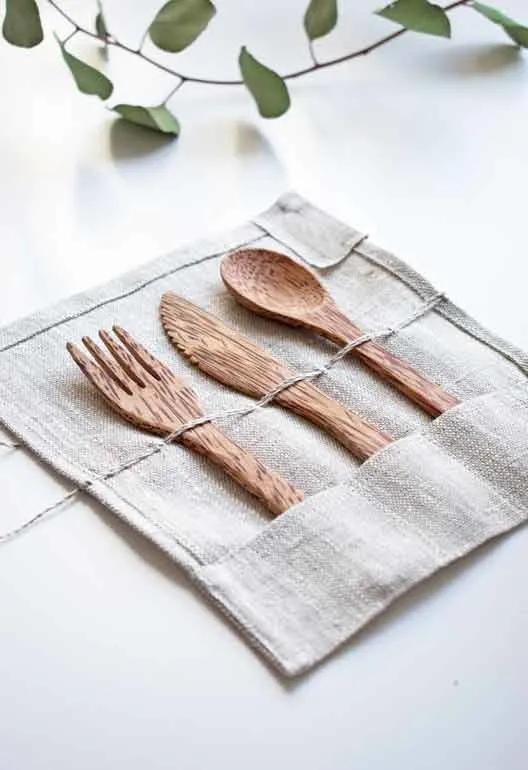 Alright now that you have your food list and packaging solutions, it's time for the extra supplies that may help on the road. These are items I pack that help with snacks and meal times.
Paper towels/napkins
Gallons of filtered water for refills
Wet wipes for sticky fingers
Anti-bacterial gel
Sharp knife for food prep (as needed)
Plastic bag for trash
Road trip food – that's a wrap!
Well there you have it! 101 ideas for road trip food! With a huge variety of options, you're bound to find some you can buy or make ahead for your upcoming trip.
Hope you have a great trip, stay safe and satisfied!
Check out these fun road trip destinations you'll love:
Perfect Colorado Itinerary: 22 Road Trip Stops You Need to See
16 Midwest Road Trips: Scenic Routes You Can't Miss
Miami to Key West Road Trip: 22 Awesome Activities You Need to Do
Denver to Moab: 16 Gorgeous Stops Along the Way
Find this article helpful? Save it now or share it on social media!